Our Materials 101 series takes you back to the basics and tells you everything you need to know about building materials used in Indian homes. The right kind of bathroom flooring can easily enhance the look and feel of your space. But the multitude of options out there makes it difficult to make an informed decision on what's best for your bathroom.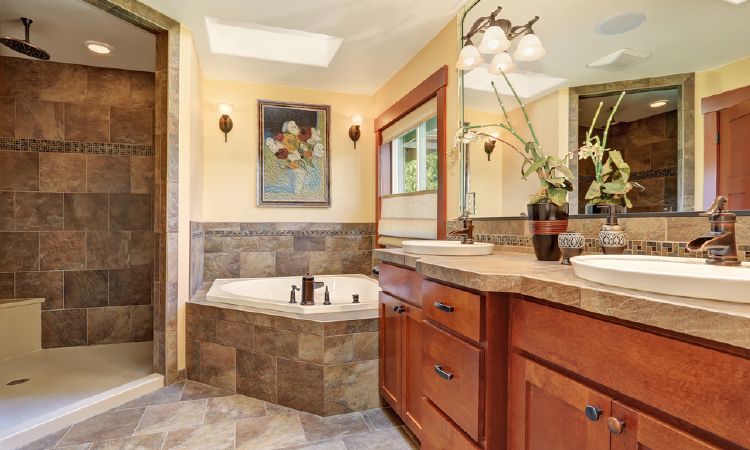 Unlike their western counterparts, Indian bathrooms usually have wet floors and lack proper segregation of different areas like the commode, bath area, basin etc.
Your bathroom flooring should ideally fulfil these criteria:
Moisture resistant or non-porous
Durable and comfortable to bare foot
Easy to clean and maintain
Comprise large tiles for easy cleaning
Include small tiles for areas that need better traction
Complement the wall finish
Here's our compilation of best bathroom flooring options for Indian homes:
1. Ceramic tiles
Timeless in style and design, ceramic tiles are highly recommended for several reasons. Apart from exhibiting the above characteristics, they are scratch resistant and require no polishing. Not just that, they can be easily repaired when broken or damaged and are easy to install.
These are available in a variety of color, patterns, textures and finishes and anti-skid ceramic tiles are the most commonly preferred bathroom flooring choice in India for their cost-effectiveness and fire-proof properties. Cleaning and maintenance involve washing with water or mopping with a damp cloth.
2. Porcelain tiles
One of the pricier options, porcelain adds a luxurious dimension to your bathroom experience. It is a good choice due to its toughness and durability as it is even harder than granite. Resistant to stains, these tiles are extremely easy to clean and maintain.
The installation process can be time-consuming but it is worth the effort as these tiles are long lasting and look good as new even after years of use.
4. Stone tiles
For a unique and natural appearance, look no further than stone tiles. They are durable and can be polished if scratched. The most common types of stone that homeowners go for are slate, marble, granite and travertine among others in India.
However, it is advisable to seek professional help when remodelling bathroom flooring with stone tiles as it is a costly process. Maintenance involves using the right cleaning agents and resealing every two years. If you are worried that these tiles are too slippery, you can opt for naturally textured ones like slate or sandblasted finished versions.
However, if you are looking for something less expensive choose indigenous materials like Kota or Cuddapah stone as your bathroom flooring.
5. Concrete
More often than not, concrete as an option for bathroom flooring is often shirked. It's an extremely economical material and only requires periodic mopping once it is sealed. Its moisture-resistant and stain-resistant properties ensure that your bathroom remains free of germs.
Compared to other materials, it is more sustainable and offers a rustic touch to your bathroom. High-gloss or stained finish varieties are trending now as well.
These bathroom flooring materials are available in various price brackets. So go on and pick something that not only fits your budget but also embraces your style and requirements.