Every season brings with it new trends in interior design. While some are functional, others are purely for aesthetic purposes. When it comes to floor design, functionality trumps cosmetic beauty. After all, you need solid ground under your feet, don't you! However, there is no harm if the flooring in your home can be functionally sound and pretty too.
Here is a curated list of the 5 best floor designs from the latest #LivspaceHomes.
Floor Design #1: Hardwood Flooring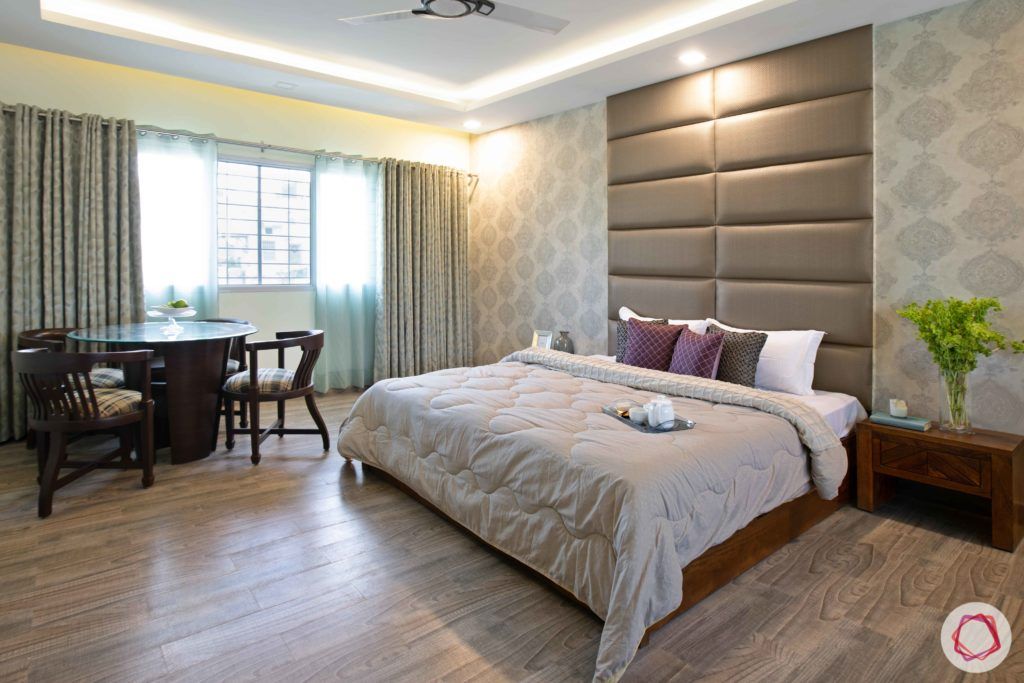 If you are going with neutrals, hardwood flooring is your best bet. As we can see here, the demure brown shade of the flooring complements the neutrals in the rest of the room. This kind of flooring works best with solid wood furniture in classic dark shades. Humidity is a factor that must be taken into consideration while opting for this type of floor design. Hardwood flooring does not bode well with moisture that can make it swell up. So wipe away spills instantly and keep the cleaning process as dry as possible.
Floor Design #2: Marble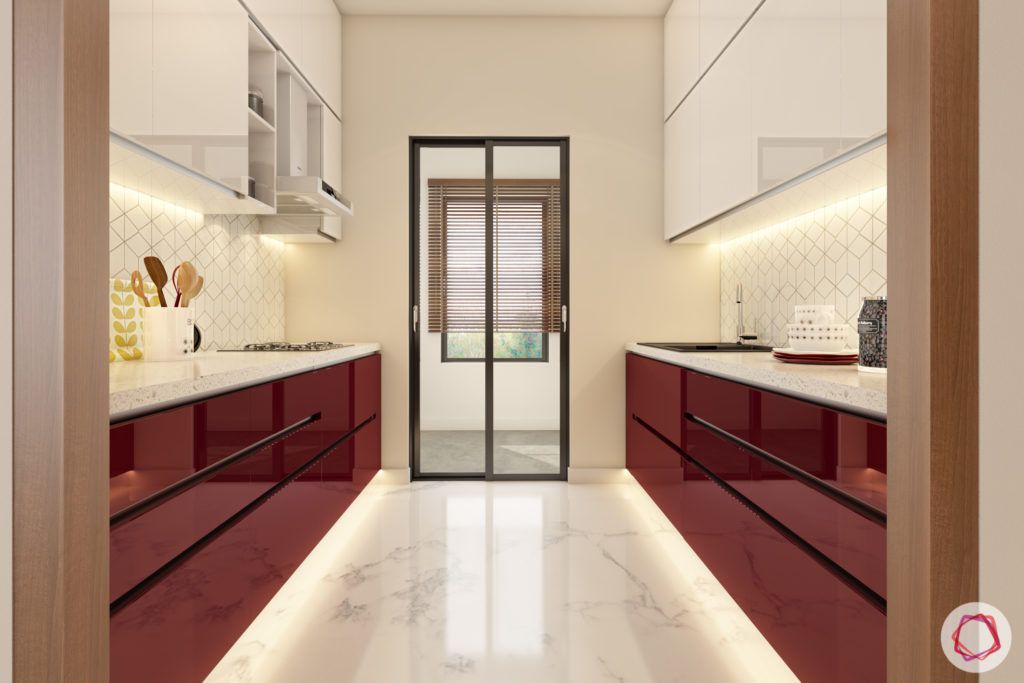 Using marble slabs for your home flooring can be one of the best decisions to take. Not only does it make your home look glamorous, but also matches with every kind of style. This parallel kitchen flaunts pristine white marble flooring with natural veins on it. LED strip lights under the base units illuminate it brilliantly. Our clients love it and so do we! Marble is available in various designs and patterns in the market. While maintenance is simple, one must avoid acidic floor cleaners if they have marble flooring at home.

Floor Design #3: Patterned ceramic tiles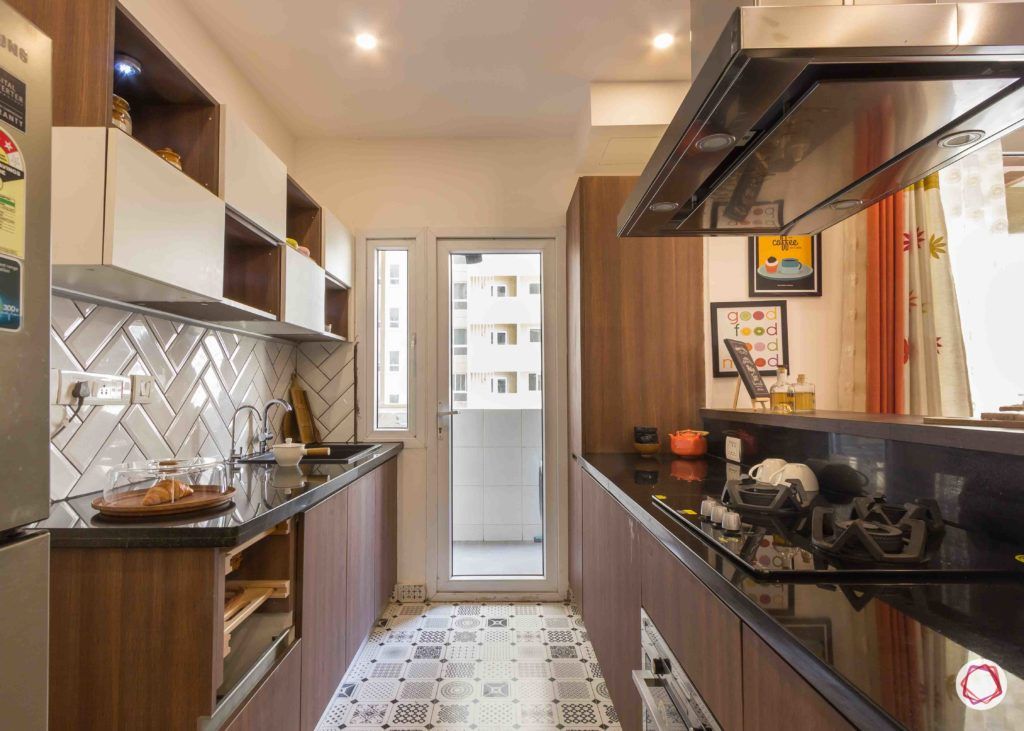 Love patterns but afraid of overdoing it? These subtly designed tiles are your cup of tea then! We love how these playfully-patterned ceramic tiles breathe life into this kitchen. It also complements the herringbone tile pattern for the backsplash. This would make great flooring for your kitchen since ceramic tiles are easy to maintain, anti-skid and anti-scratch as well.
Floor Design #4: Mix of wooden flooring and Moroccan tiles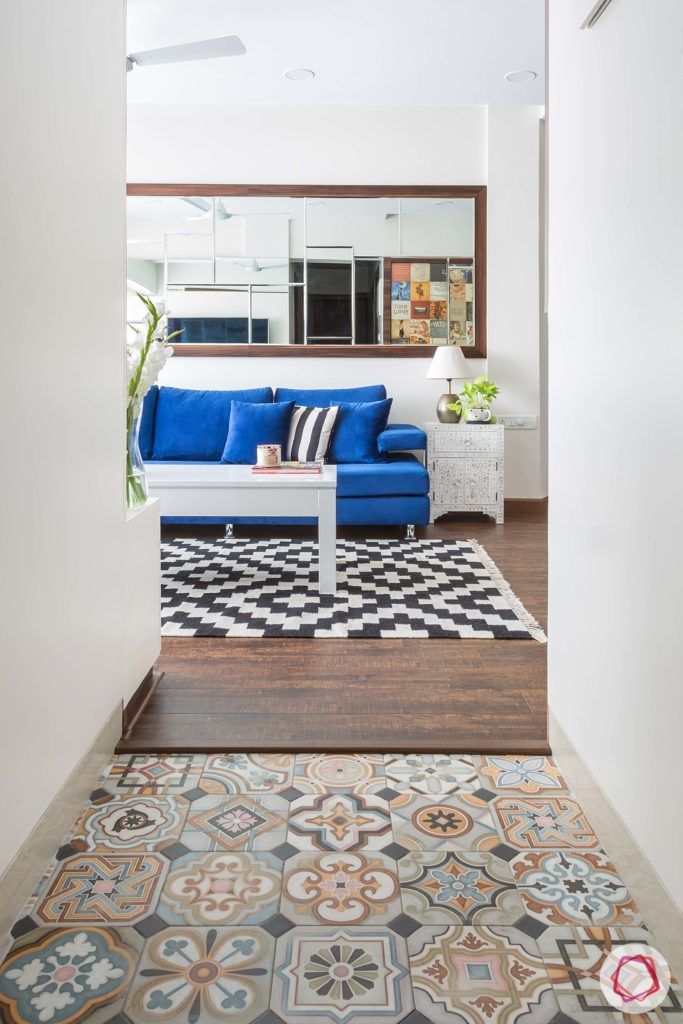 A combination of wooden flooring and Moroccan tiles is the perfect blend of skilled craftsmanship. Add more character to wooden flooring by including Moroccan tiles to it. Here, the passage leads into a bedroom and the moroccan tiles lend intriguing patterns and charm to the passage. Simply use water and detergent to clean moroccan tiles. Avoid using harsh chemicals that can damage the tiles.
Floor Design #5: Handcrafted tiles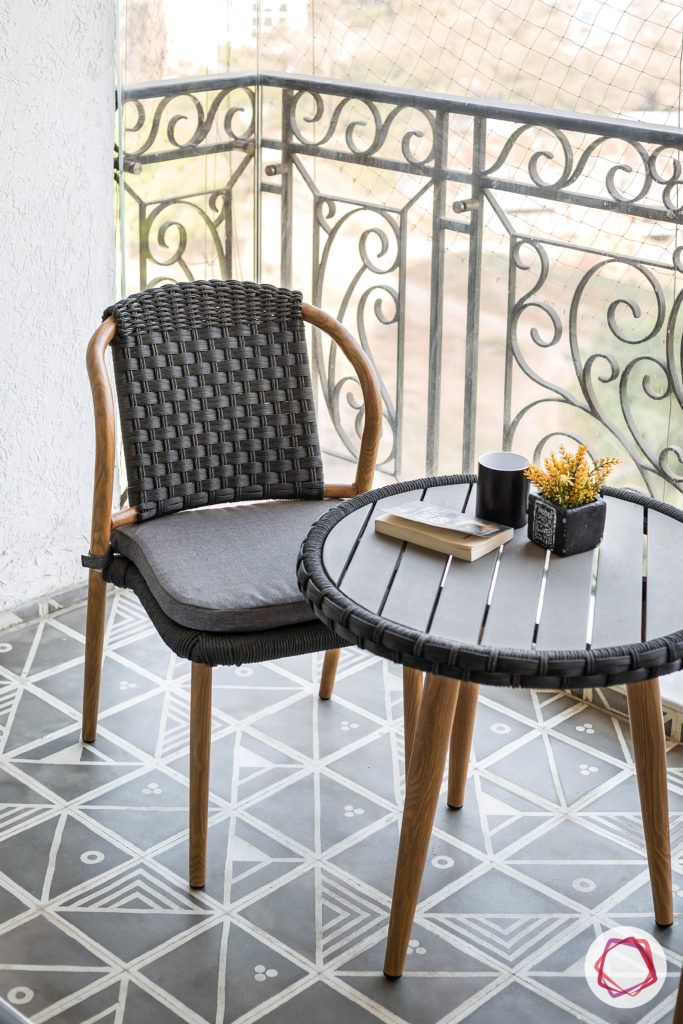 The best way to make your home look extraordinary is to choose handcrafted tiles. These dot and dash tiles are hand-made, one tile at a time by skilled artisans. They come in a wide range of designs and patterns with each tile being as unique as a fingerprint. Conforming to their delicate appearance, handcrafted tiles are low maintenance. Use plain water to mop the tiles and avoid using chemical cleaners like phenyl and bleach to clean them.
Want to look at some more flooring options? Check out what our designers recommend – 6 Designer Options for Flooring at Home.
Send in your comments and suggestions.