A cosy, wooden cottage, up in the mountains, a hot cup of tea and a plate of Maggi; now, isn't that a dreamy sight! Wood makes everything so much better, warmer and cosier! No wonder wooden flooring is so popular among Indian homeowners. But, while wood is the perfect choice in cold and hilly areas, we also need to consider the tropical climate in most of India. So what do we really mean by wooden flooring in India?
What does wooden flooring mean in the Indian context and why?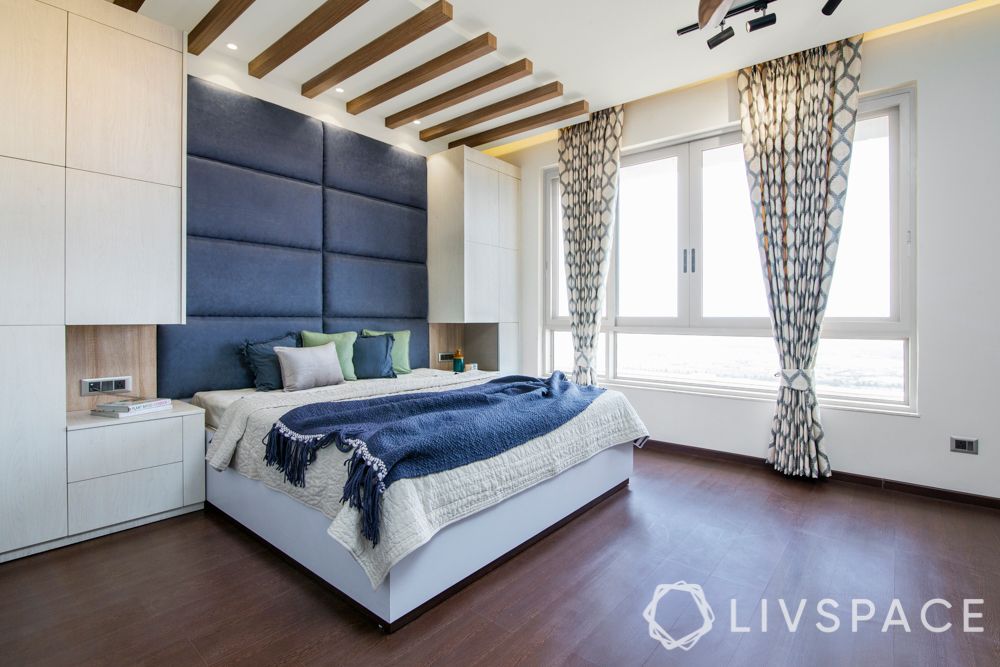 In the Indian scenario, wood is not feasible or convenient. Why? First, India is a country that sees a high-level of humidity and heat. Moisture can make wood deteriorate quickly, making it an unsuitable choice. Second, India also witnesses huge extremes in temperature, especially in cities like Delhi. Temperature fluctuations can make hardwood shrink or expand.
So, what is the wooden flooring that you generally see in homes and hotels in India? It's laminate sheets that look like wood. Wooden laminate is created using a synthetic material that looks like wood, which is then laminated. This type of wood gives the same aesthetic look as solid wood, but without the high maintenance or cost. It is also the ideal choice in tropical countries like India.
Advantages of laminated wooden flooring
Easy to install
Easy to clean
Cost-effective
Durable and low-maintenance
Moisture-resistant
Disadvantages of laminated wooden flooring
It cannot simulate the feeling of actual wooden grains
It is slippery and not a good choice in households where there are seniors and kids
Laminated wood is tough to recycle
Once the top layer wears out, the entire floor has to be replaced
It can release formaldehyde, which is can be slightly toxic
Dos while installing laminated wooden flooring
Measure the floor before installation
Choose a quality underlayment
Always order 10% more material
Ensure that the subfloor is clean and dry
Keep a 10 mm gap around the perimeter
Don'ts while installing laminated wooden flooring
Never install laminated wood on any floor with a drain
Don't continue with the installation if the first row is not straight
Avoid installing a double layer of underlayment
Never forget to use a transition moulding if there are openings that are less than 48″ wide
Don't try to seal or sand the wooden flooring

Laminated wooden flooring maintenance tips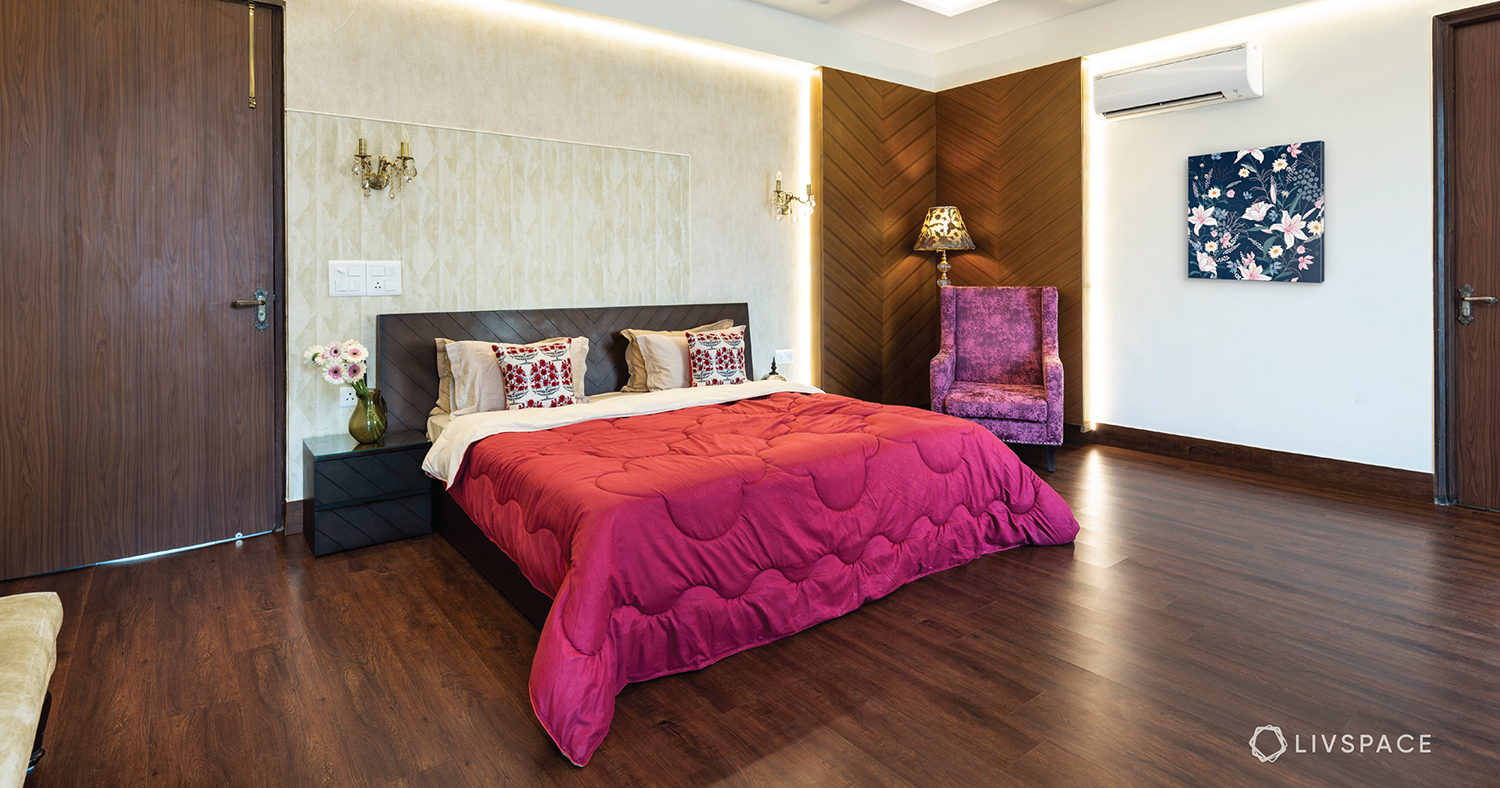 A laminated wood floor can look stunning and add a rustic vibe to your home. But, you also need to maintain it properly to ensure it looks as good as new a few years down the line!
Liquids can damage your floor so clean spills immediately
Laminated wood floors are not scratch-resistant so be sure to use soft brooms and mops while cleaning the floor
While wet cleaning, use a damp mop and not a completely wet one
Always use laminate-based cleaners; you can also use DIY cleaners using unscented dish soap and hot water
What are the cheaper alternatives to wooden flooring?
One of the biggest advantages of laminated wooden flooring is it's low cost. Solid wood floors can be very expensive, impossible for most people to have in their homes. Laminated wood, on the other hand, gives the look of wood but costs much less. So, what are the two most common flooring alternatives to a solid wood floor?
Vinyl flooring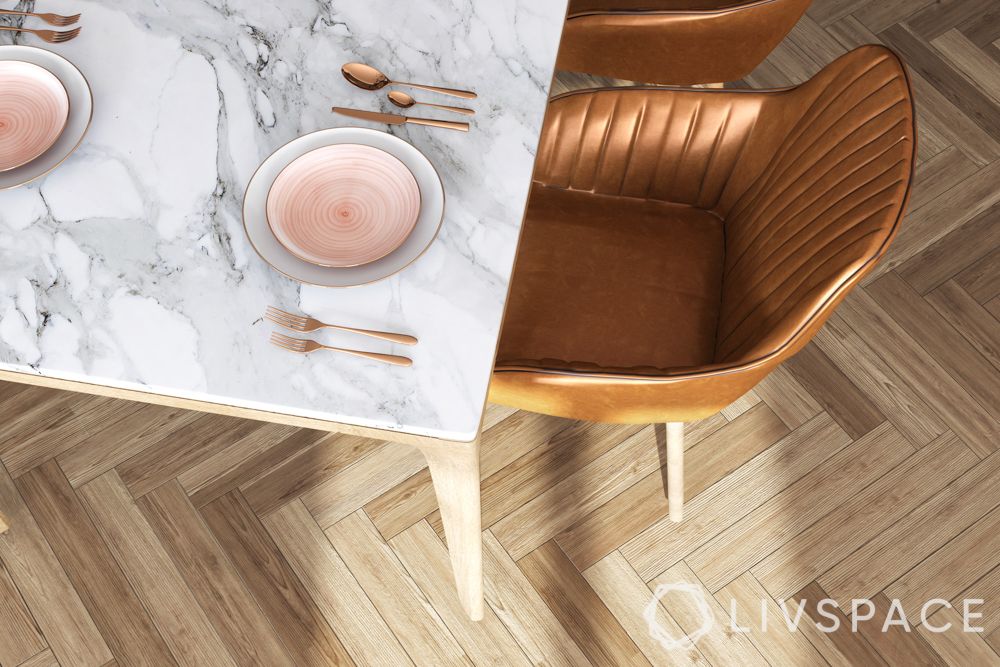 One of the most durable materials available in the market, vinyl primarily comprises of polyvinyl chloride or PVC. This flooring is available in two varieties: sheets and tiles. These floors can last anywhere between 5 and 25 years; they also are moisture-resistant. As a result, contractors in India commonly use vinyl as an alternative to solid wood floors. But how is it different from laminate? Laminate usually contains some wood in the form of a wood fiberboard core. Vinyl, on the other hand, is entirely made up of synthetic materials.
Linoleum Flooring
The second type of wooden flooring alternative is linoleum. Linoleum is made from materials like solidified linseed oil, pine resin, sawdust and mineral fillers. The main benefit of linoleum is that it is resilient; it compresses and bounces back when you walk on it. This makes it much more durable than other materials. With proper maintenance and care, a linoleum floor can last up to 40 years. Another advantage that linoleum enjoys over vinyl is that it is eco-friendly. Unlike vinyl, which comprises synthetic materials, linoleum is all-natural!
9 laminated wooden flooring designs that we love
#1: When the floor matches the TV unit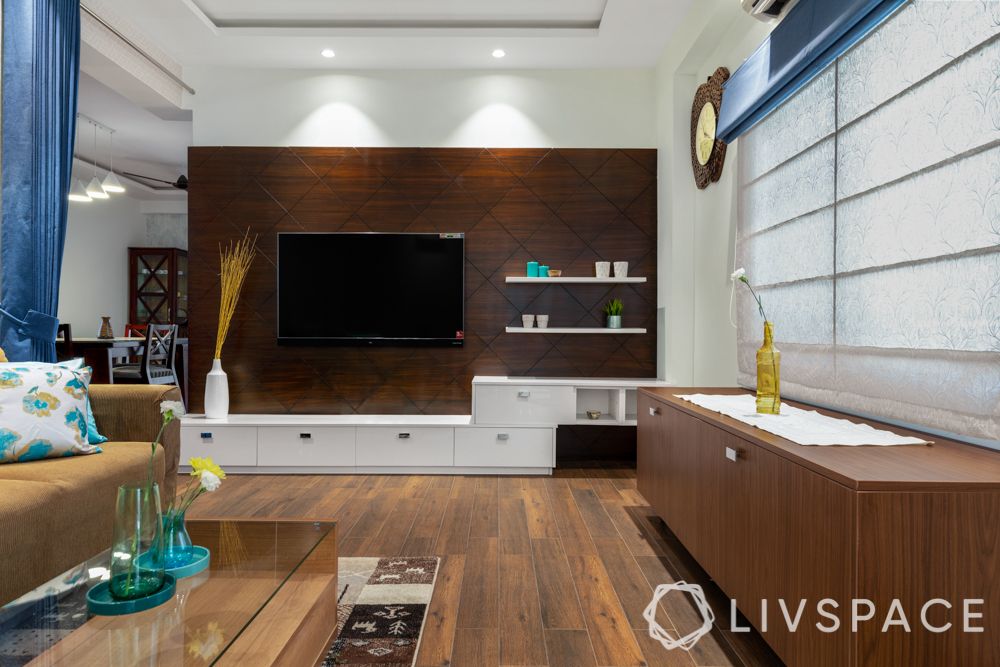 What we love
The combination of the wooden flooring, wooden TV unit and furniture made of wood gives this room a warm and cosy vibe.
#2: Curl up with a book on a cold, rainy afternoon!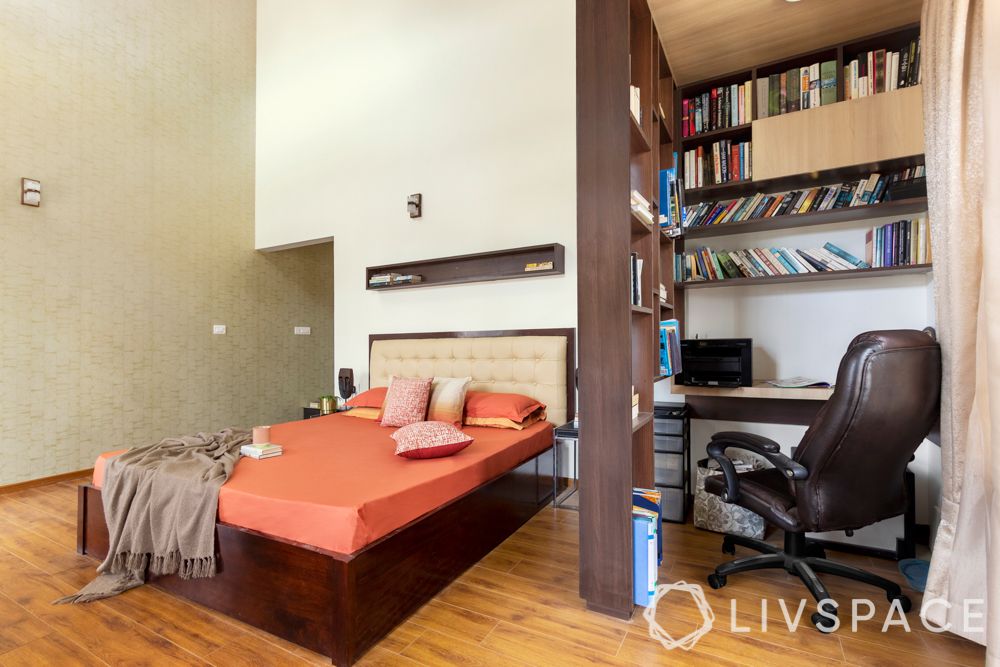 What we Love
The bookshelf that has been used as a partition between the bedroom and the study area.
#3: The warmth of wood against the elegance of white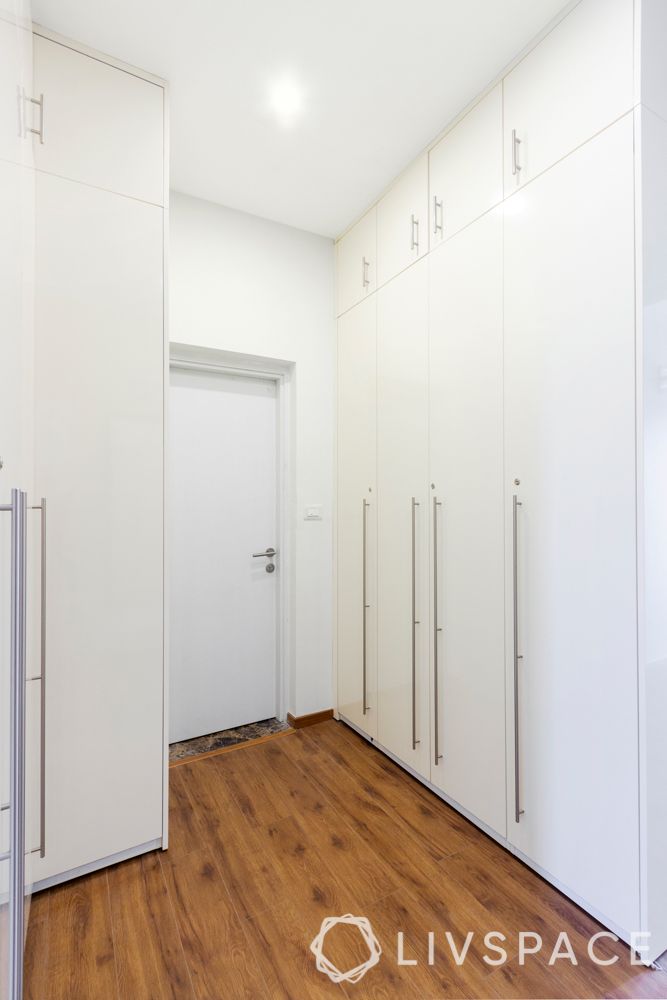 What we Love
The white wardrobe makes the space look big while the wooden flooring perfectly offsets the white interiors.
#4: Beauty lies in simplicity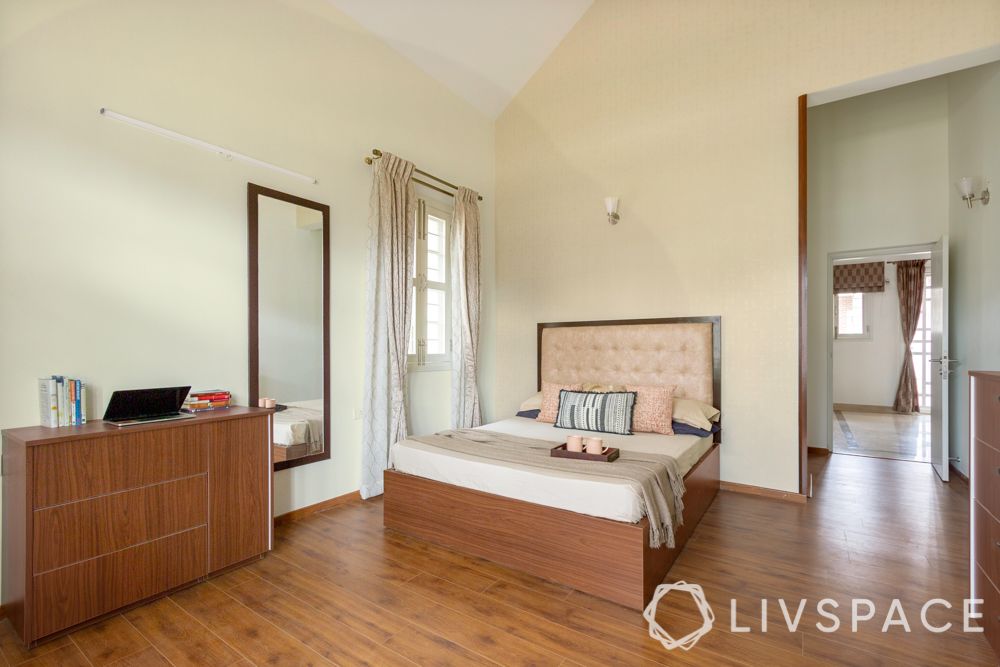 What we Love
The use of wood for the flooring and furniture to create a traditional, old-school look — reminiscent of colonial homes.
#5: Beachy vibes and the charm of wood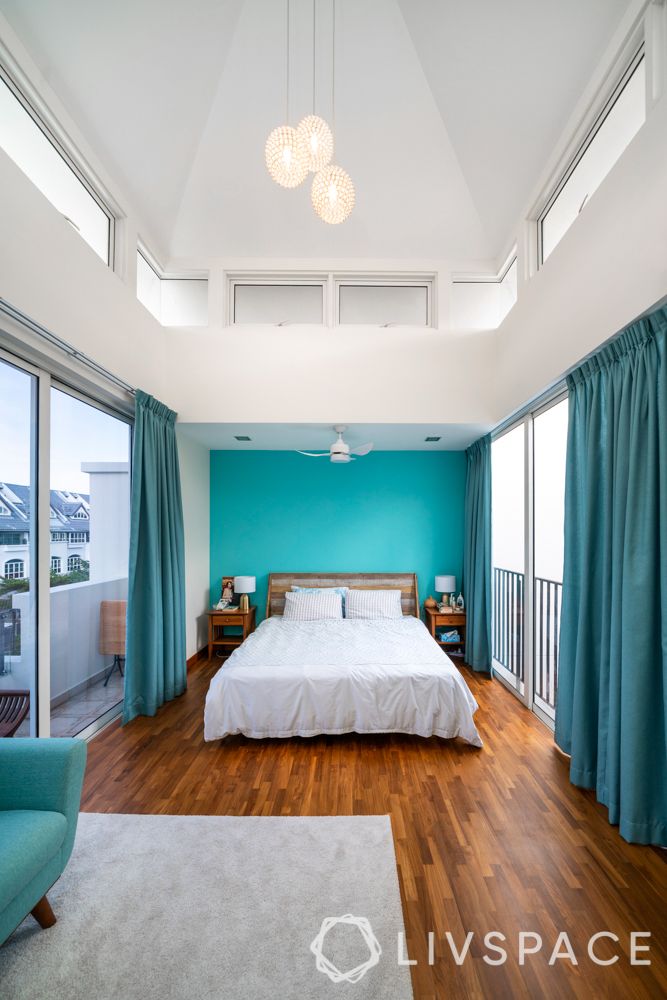 What we Love
The perfect combination of warm wood floor and cool blue and white interiors.
#6: A smart wooden passage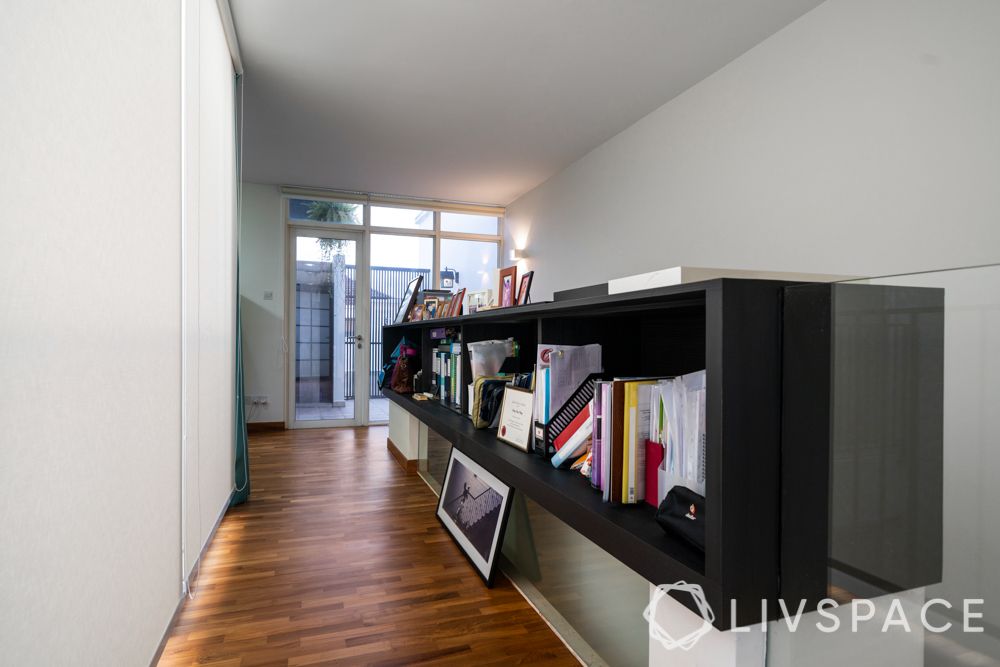 What we Love
The wooden flooring and bookcase adds character to this otherwise nondescript hallway.
#7: Wooden flooring can add charm to your balcony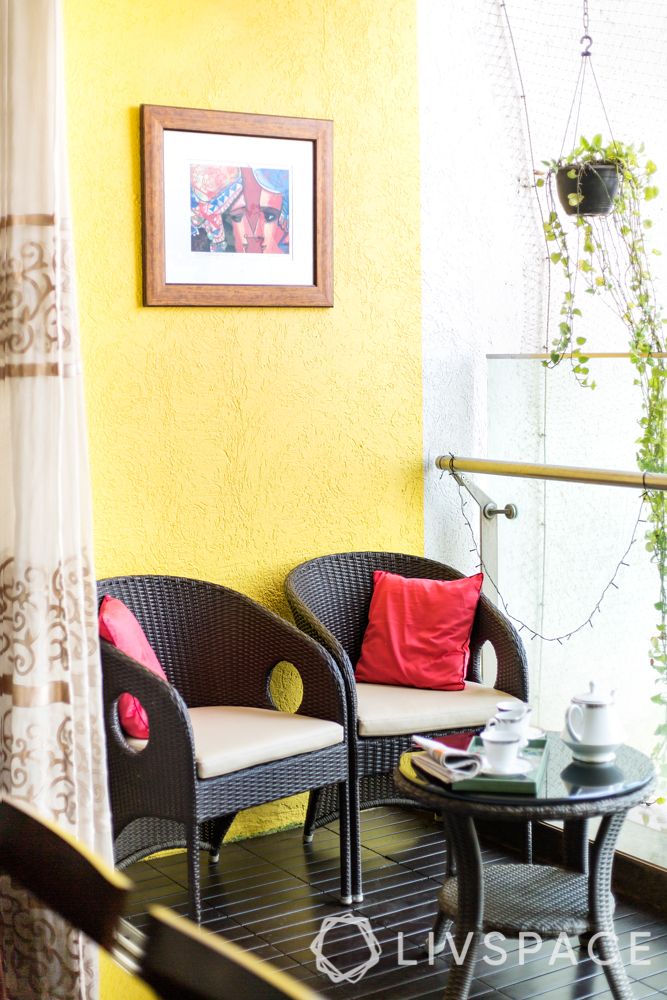 What we Love
The use of furniture that matches the wood floor to give symmetry to this quaint balcony.
#8: A rustic wooden bedroom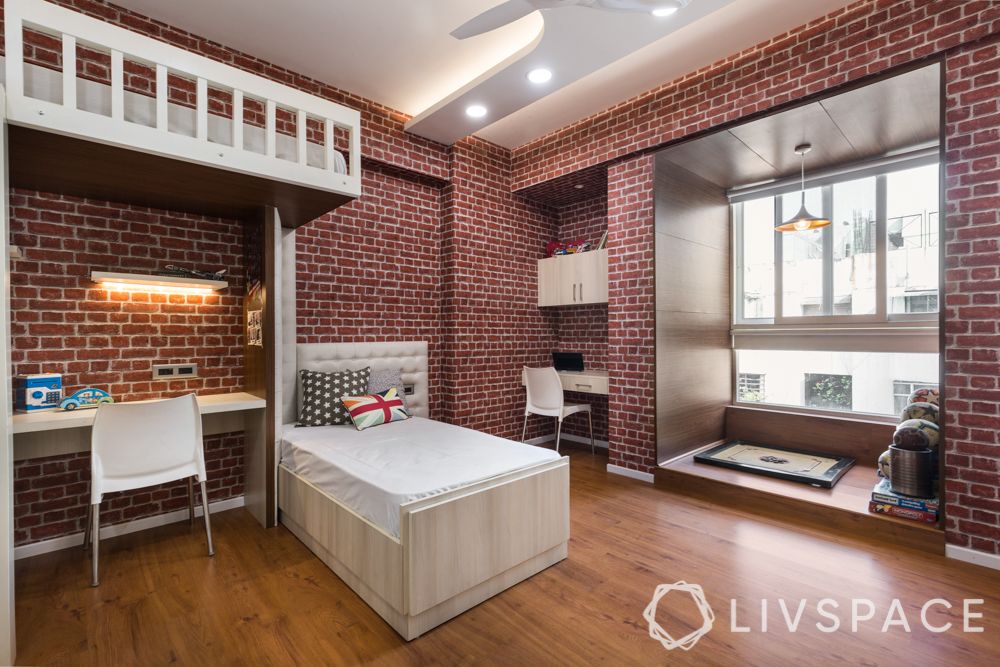 What we Love
The brick-like walls and wooden flooring together makes this bedroom look both rustic and industrial.
#9: Dine in style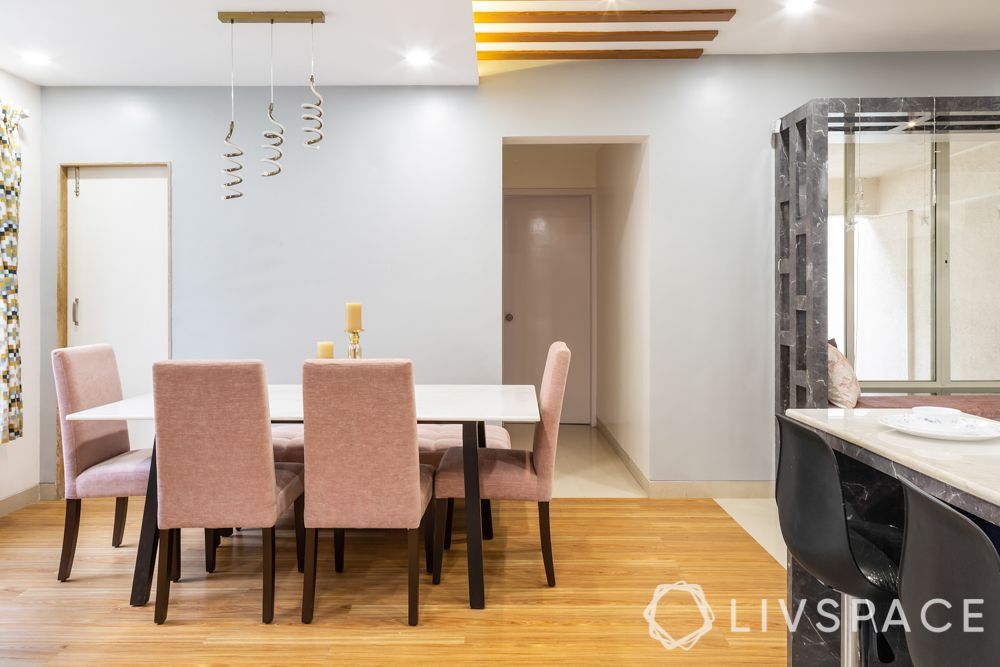 What we Love
The wooden rafters in the ceiling that match the wooden flooring.
So, you see, wooden flooring does not have to be expensive or high-maintenance! You just need to know the best perfect alternatives for it.
Confused between wood and tiles? We're here to help! Read this guide for answers to all your questions.
We love hearing from you! Write to us with your comments and suggestions at editor@livspace.com