Imagine it's a lazy Sunday, and you're lying on your bed, contemplating whether or not to order pizza. You look up, and at the sight of your unattractive, cracked ceiling, your appetite says BYE BYE! The 5th wall in any home is often overlooked but is a crucial part of your interiors. While there are multiple ceiling design options, a wooden ceiling is a favourite for Indians! From our cultural preference for wood, rose the demand for wooden modular rafters.
And they are so much more than just embellishments for your ceiling. Let's take a thorough look at modular rafters in the context of home design. We begin with the lens of history here.
History & Evolution of Modular Rafters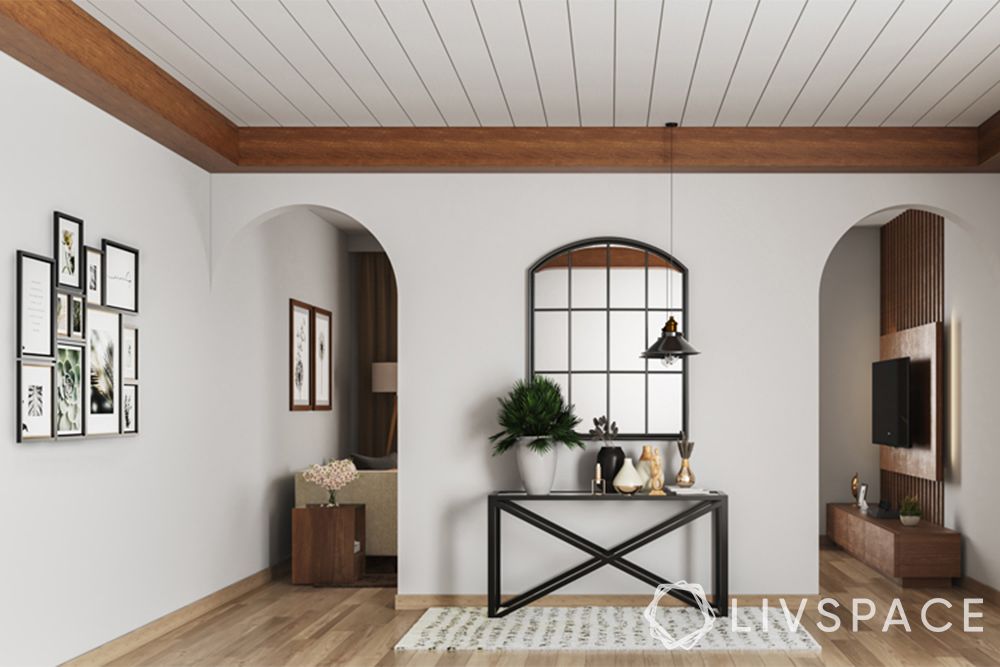 Before we get into the nitty-gritties of modular rafters, first let's understand what they actually are. Rafters were originally wooden beams that were used as structural elements during construction. These beams are the inspiration behind the wooden false ceiling rafters we see today.
Traditionally, homeowners had to hire contractors who would use gypsum or MDF to create the rafters and veneer finish, which looks like wood, to give the ceiling a touch of authenticity. But this was a time-consuming, expensive and inconvenient process.
Considering these drawbacks of on-site rafters, we, at Livspace, came up with modular rafters, which is a range of solid wood rafters. It is made of rubberwood panels and modular hardware. Available in three different finishes, these modular rafters come as single modules, offering homeowners the flexibility to choose a suitable number of rafters and also pick the design they like.
Why Should You Choose Modular Rafters?
Wondering if rafters are worth your while? Livspace modular rafters offer several benefits:
Easy-to-install
High durability
Available in single modules allowing flexibility to add as many modules as you want
Available in five cross-sections and three finishes
Individual units can be easily removed, repaired and replaced
Cost of modular rafters: Rs 800/rft

Looking for some inspiration on how to use modular rafters in your home? Check out these stunning designs!
#1: Flat Rafters for a Wooden Ceiling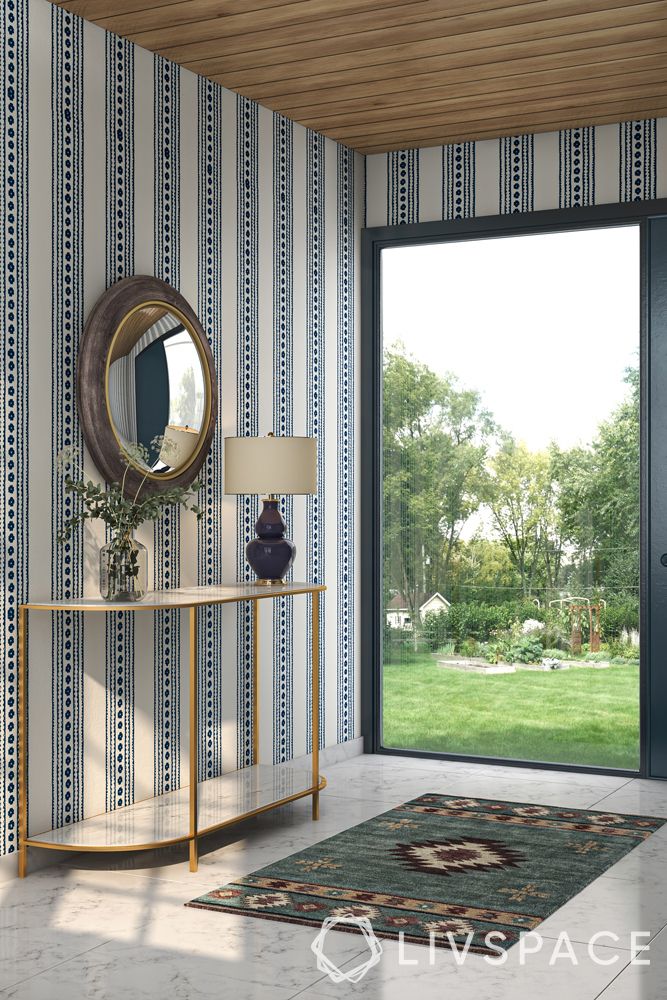 We've all heard of the saying, "the first impression is the last impression"! This holds for your home as well. The foyer is that one area that sets the tone for the rest of your home. But unlike other rooms, the decor of your entryway area must be understated. A wooden false ceiling created with the help of modular rafters is a great way to get a warm, welcoming and subtle look. You can pair it with the wallpaper of your choice. Don't forget to add a well-designed console table too!
#2: White Rafters for a Textured Ceiling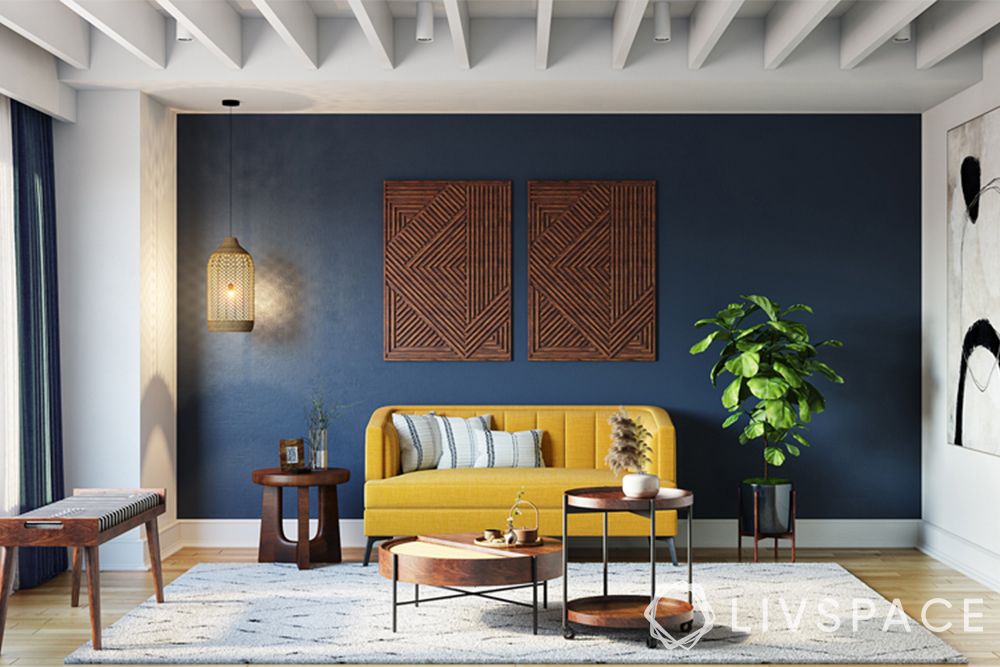 Don't you love it when your guests compliment your home decor? So, it goes without saying that your living room should be the showstopper of your home! And what better way to add some drama to your hall than with a gorgeous wooden ceiling design? Want a light, airy look for your living room? Paint your modular rafters in light neutral colours. You can complete the look of your living room with a stunning accent wall and wooden furniture to add some warmth.
#3: Wall and Ceiling Panel with Rafters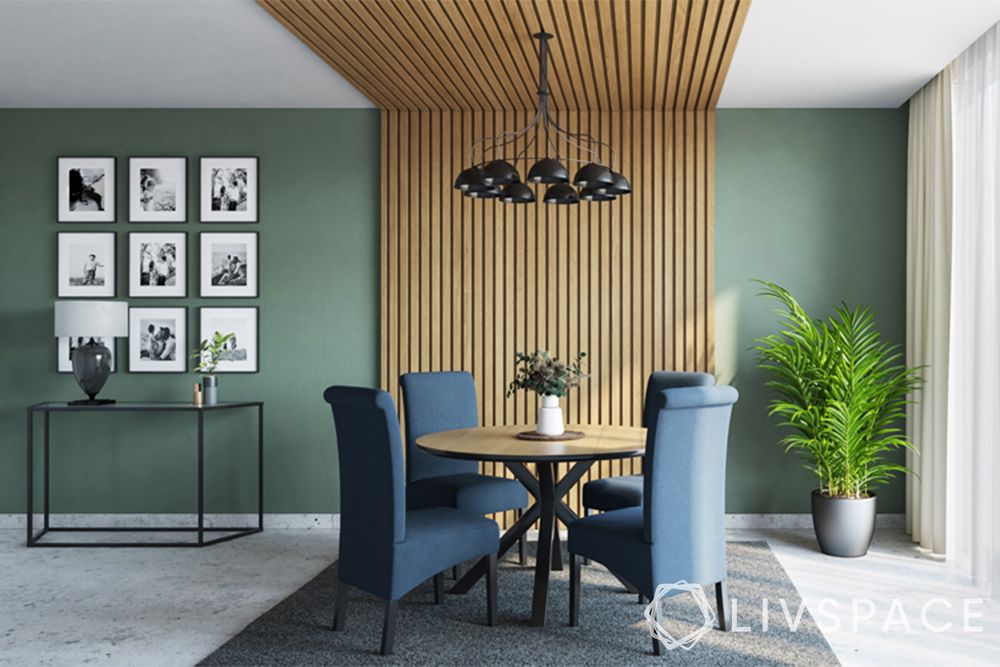 Families that eat together, stay together! And a space where you share your meals should feel as warm as your family. Now, what better way to add warmth to your decor than wood. However, a fully wooden false ceiling can be expensive. Using modular rafters for a part of the ceiling is so much more cost-effective. We also love how the rafters extend down the wall. This creates the illusion of height and makes the room look taller than it is.
#4: Wooden Rafters for a Country-style Kitchen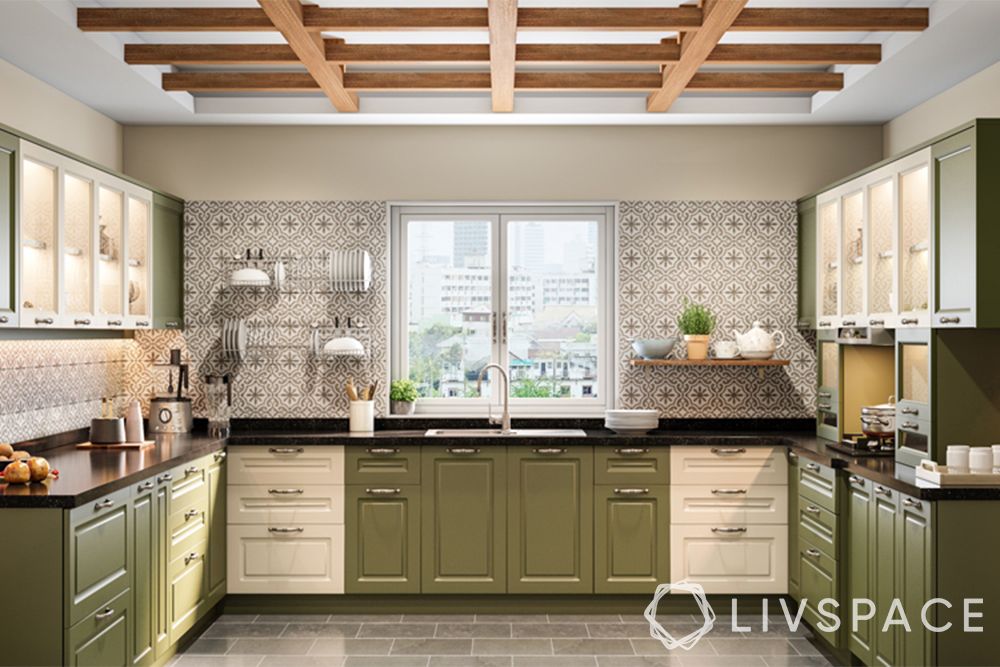 The kitchen is the hearth of your home and should bring you joy while cooking. While functionality is important, we could never say no to some aesthetic beauty! This wooden ceiling design adds such a rustic touch to this farmhouse-style kitchen. The grid-like pattern is unique —considering our modular rafters are available in single modules — you can always choose the design of your choice.
#5: Wooden Rafters for a Cosy Bedroom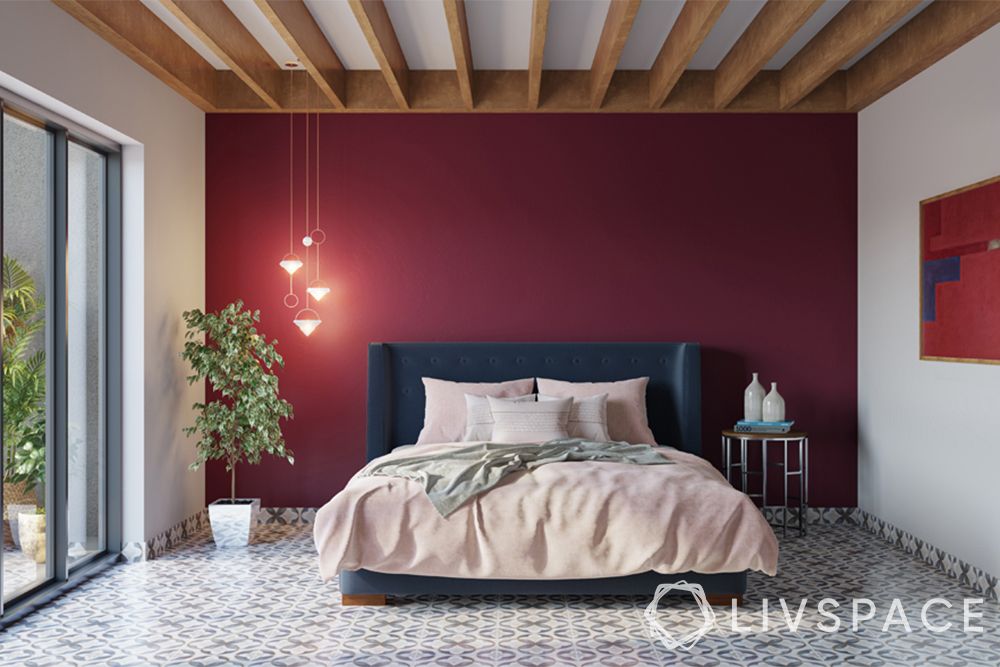 A bedroom should first and foremost be comfortable and have a relaxing ambience. And what sets the atmosphere of the bedroom? The design, furniture, walls and the bed. And when we say walls, we also mean the 5th wall, which is basically the ceiling. More often, young millennials are looking for simple, contemporary, clutter-free designs for their bedrooms. This is a prime example of what an elegantly designed, spacious bedroom should look like! While the room in itself is minimally designed, the wooden modular rafters and the accent wall add some jazz and also make the space cosy.
#6: Pooja Room with Modular Rafters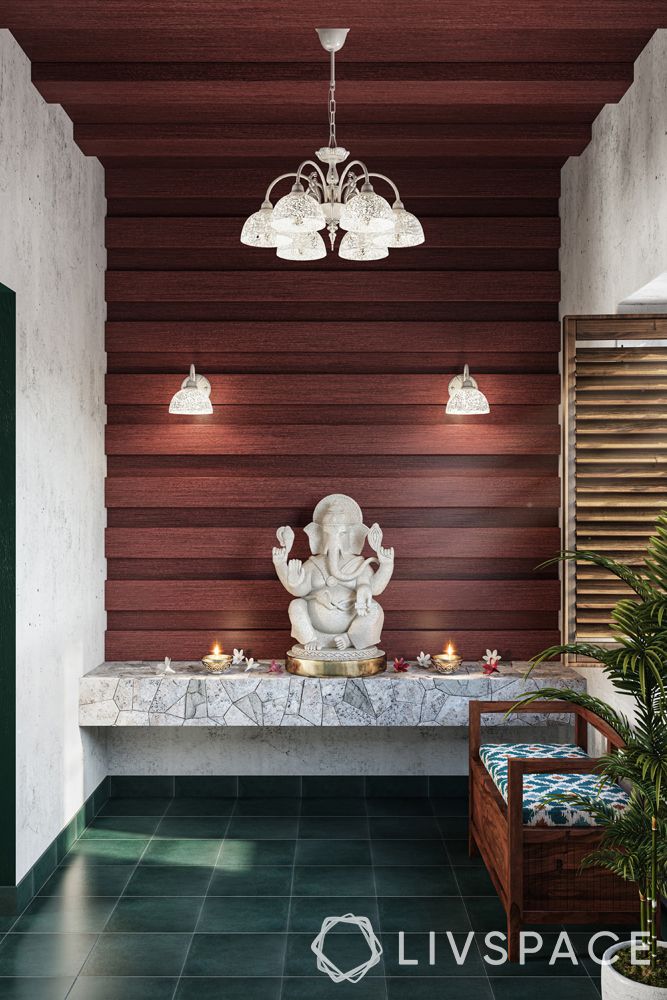 A quintessential Indian home is incomplete without a pooja room. Even while designing their homes, homeowners pay particular attention to their mandir design. It's essential for the pooja space to be attractive and vastu-compliant. The wooden ceiling design using modular rafters adds a special charm to this pooja room, while setting it apart. The dark maroon colour adds a mystical vibe, and the strategically placed lighting will ensure only positivity enters this mandir at home! This kind of design is most suitable if you are using a part of your living area or passage to create a pooja corner.
#7: Modular Rafters for Outdoor Spaces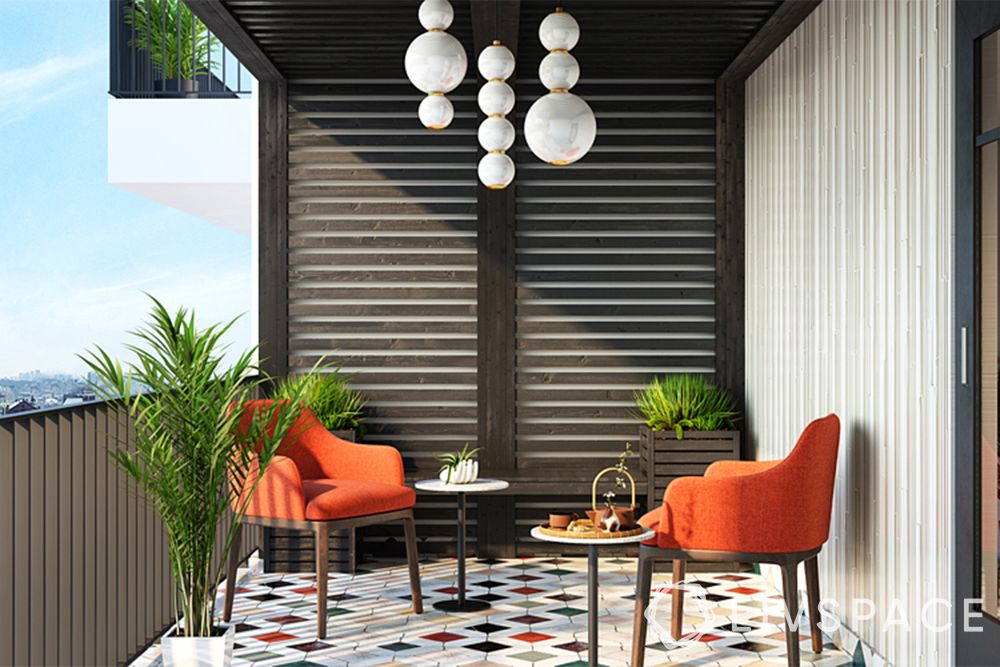 After the COVID-19 pandemic and the nationwide lockdowns, the importance of a balcony has risen manifold in our lives. From an outdoor workspace to the place where you enjoy your daily evening cuppa, the balcony has so many roles to play! So, why skip out on the decor of your favorite outdoor space? Dark-coloured modular rafters will transform even the barest of balconies into a design marvel! Don't forget to add some greenery and comfy chairs for your very own at-home open-air cafe!
A wooden ceiling design can add warmth to your apartment and our modular rafters are the perfect way to get that wooden look without burning a hole in your pocket!
Also, check out these stunning wooden false ceiling designs for some inspiration!
See more false ceiling designs:
We love hearing from you! Write to us with your comments and suggestions at editor@livspace.com