You see them in pretty passageways. You see them in Instagrammable corners. Also, you see them occupying wall space in every other home. So whether you know console tables by name or not, you are sure to have seen them. Although they are among the common items of furniture found in most contemporary homes, there seems to be some confusion surrounding consoles. The main ambiguity being, their allegedly difference from the other members of the table family.
Console Tables vs. Side Tables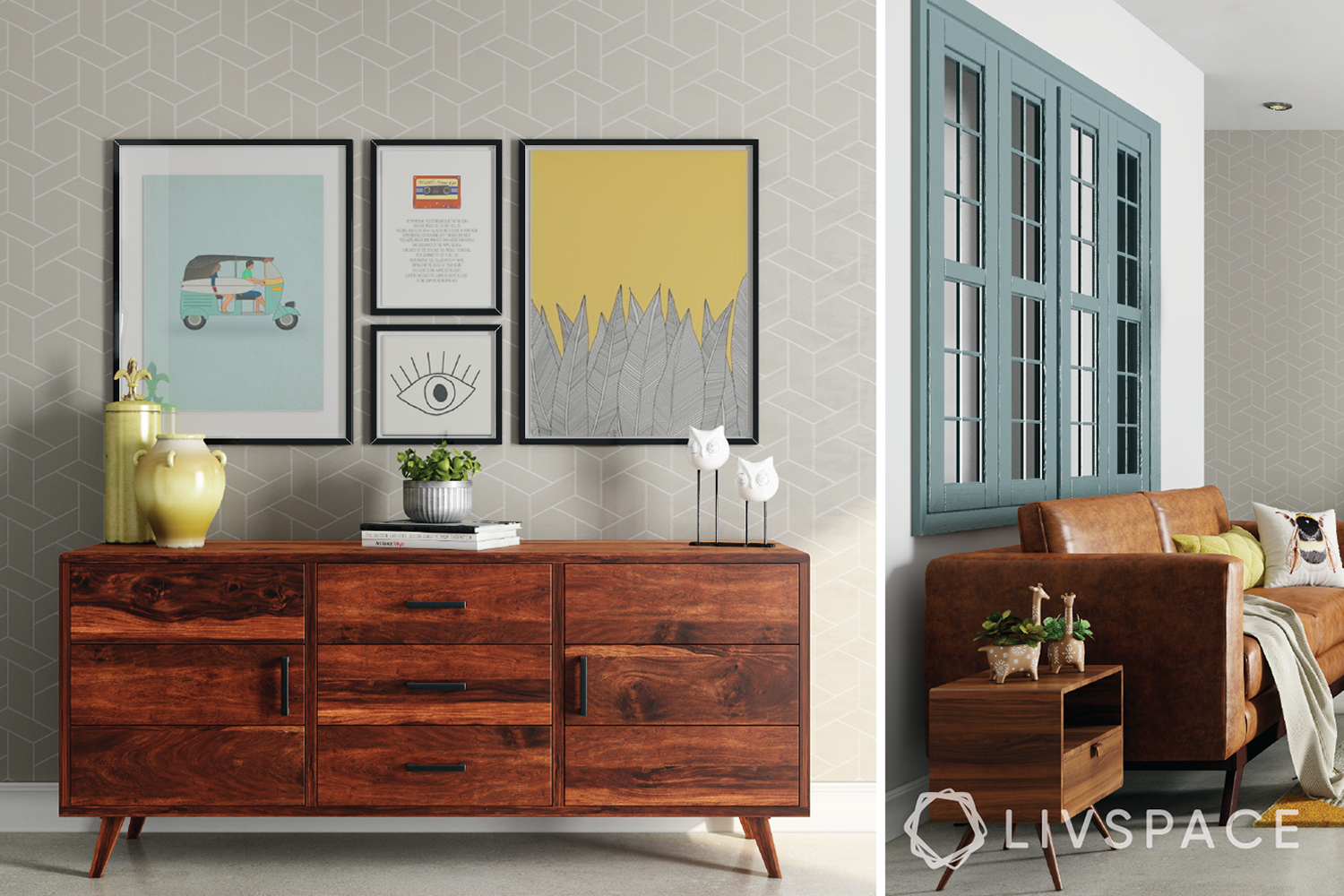 It's not just side tables and console tables, we have many other types of tables at home like dining tables or coffee tables. But consoles are most often confused with side tables, so let us spell out the differences.
The ideal height of console table is 30 to 36 inches while that of a side table is 20 to 24 inches; so consoles are supposed to be taller than side tables
Side tables make sense only when there is other furniture like sofa or armchairs around but console tables can stand on their own
Though side tables may look decorative, their purpose is to serve while consoles are mainly accent tables with purpose packed into them
How to style a console table?
The space on a console is typically used as a display space. And this video shows us just how to make the best possible use of that space.
You can discover more than one way to style consoles here.
Our Best Designs for Console Tables
#1: Console for a square foyer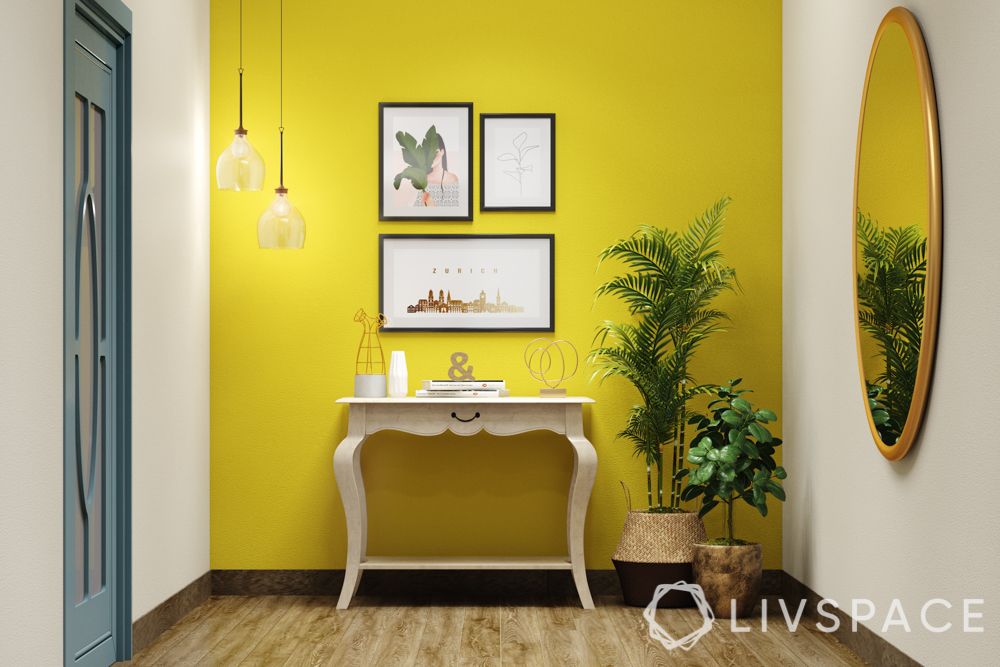 Style: Bohemian
Use: This kind of console table is used only for display. In fact, there is no element of storage here as the curvy table is mostly an accent piece.
Placement: A table like this is best placed in a spacious foyer or at the turn of a winding staircase.
#2: A wide console to cover the wall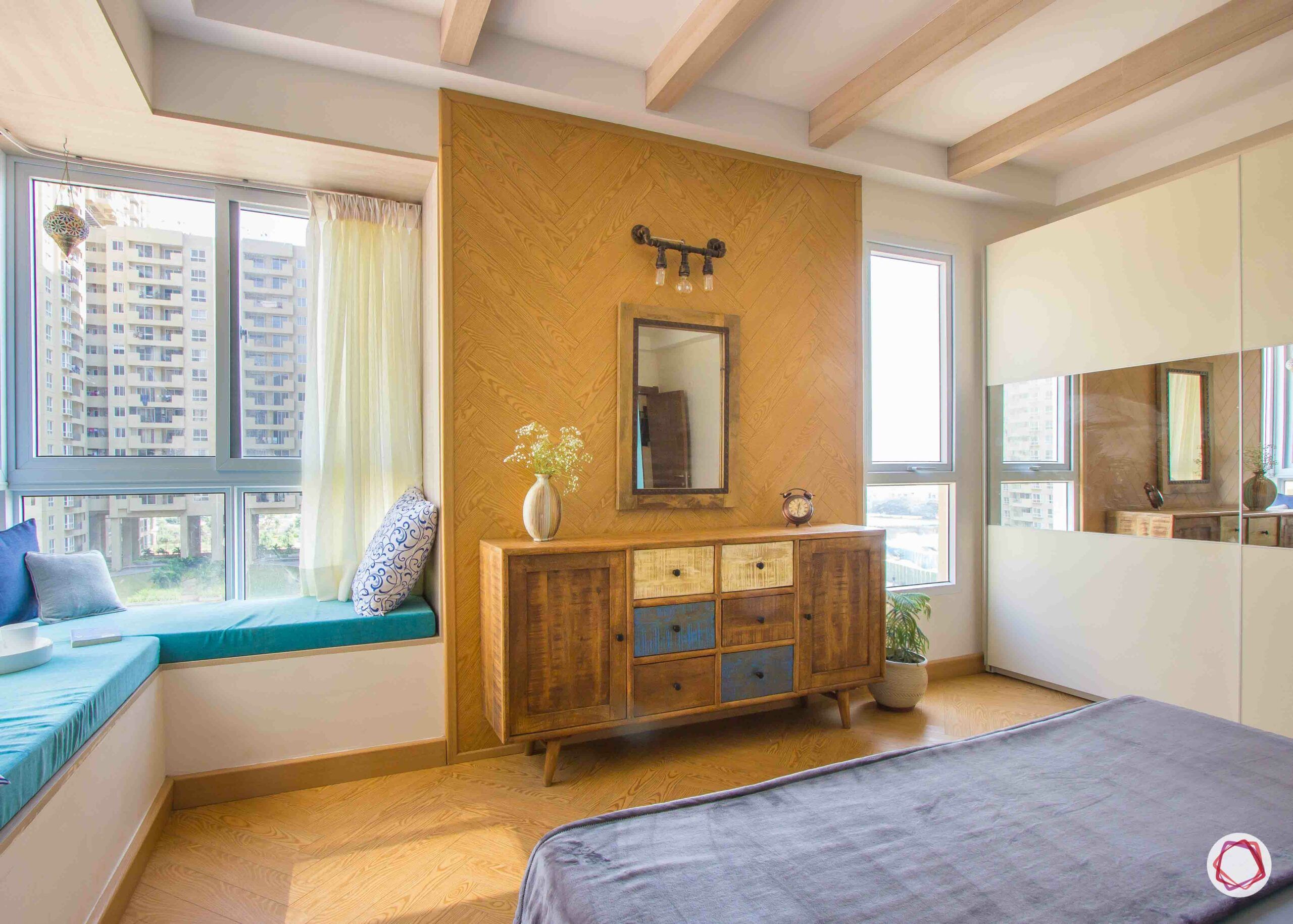 Style: Mid-century modern
Use: Consoles such as this one have storage and display. They can also be used as accents or dresser units.
Placement: Due to its length, a console table like this should ideally cover the length of an accent wall. Moreover, add a mirror over it and it can be the statement you need for your bedroom.
#3: Sleek console for narrow passageway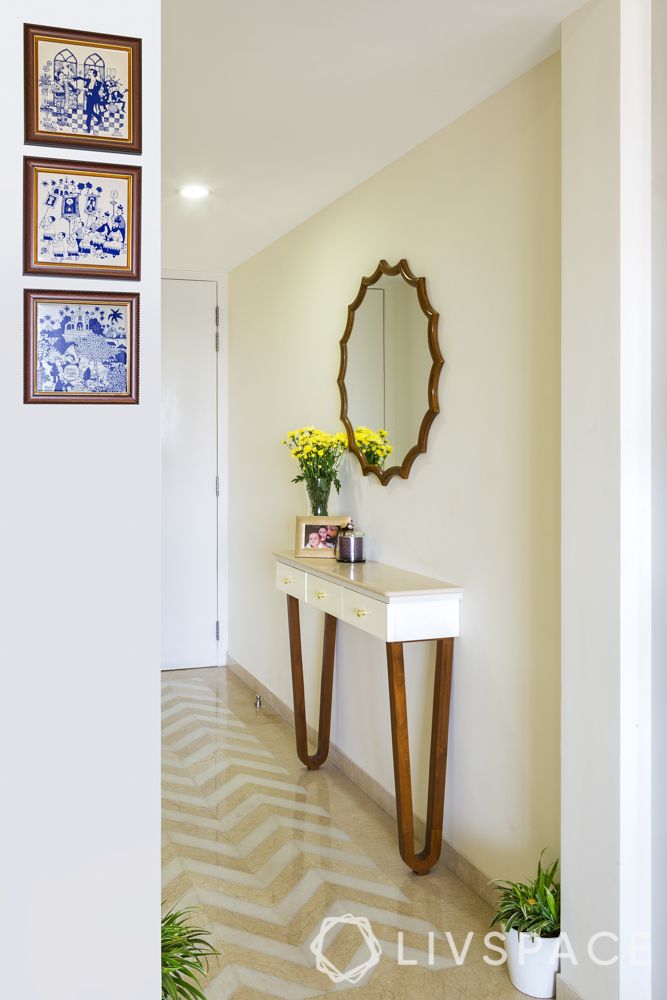 Style: Neo deco (the curves of art deco but the striped down design of minimalism)
Use: The use of such console tables is mostly utilitarian as they offer space-optimised storage in narrow spaces.
Placement: Such consoles can either be wall-mounted, as the original French console tables were, or they can be placed along the wall in passageways and foyers.
#4: The statement console to glam up your living room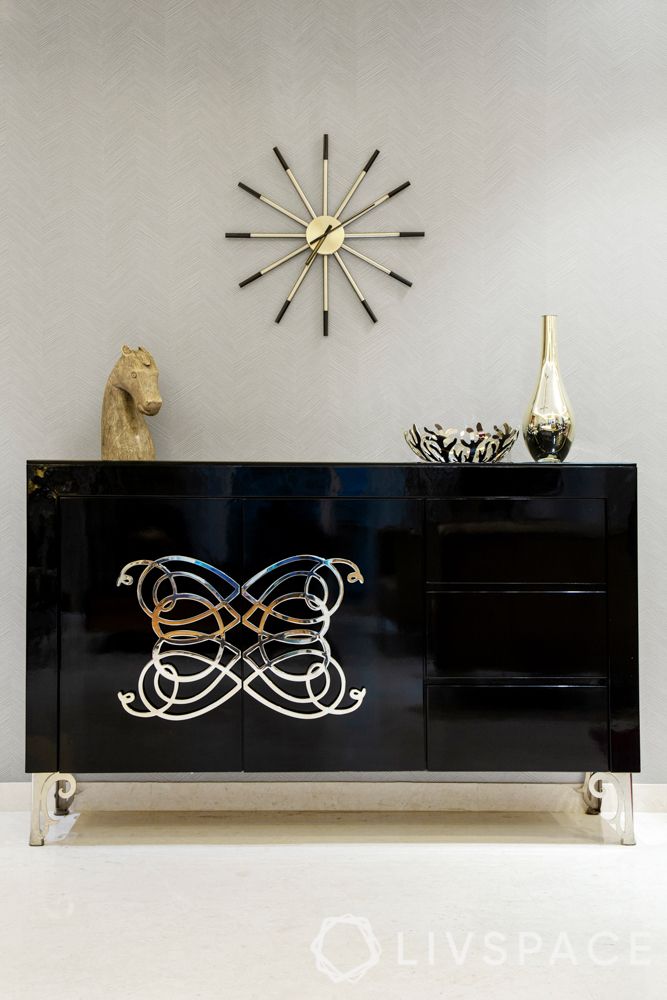 Style: Minimal glam
Use: A console like this can be used for storage and also to colour block a wall.
Placement: Place it wherever it gets maximum visibility, preferably in a large room.
#5: For the kid's corner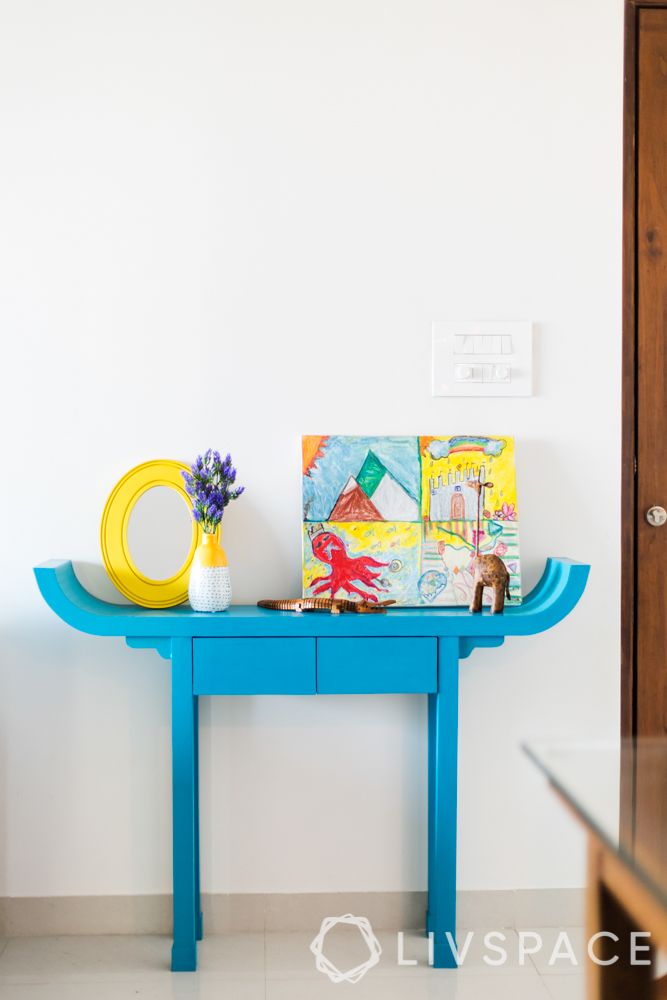 Style: Contemporary
Use: This type of console can be used to store miscellaneous items and also to display your child's accomplishments.
Placement: Ideal for a kid's room but can also be used in the living room to add some zesty colours.
#6: The artsy corner table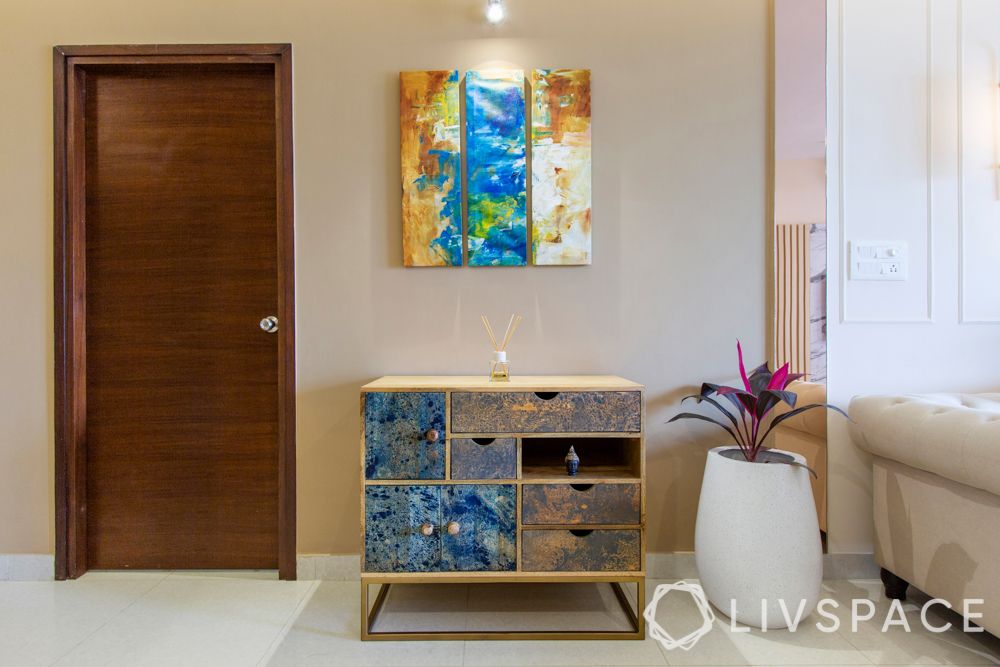 Style: Eclectic
Use: With open and closed units, this console is perfect for storage and display. Moreover, thanks to its distressed painted finish, it is also the perfect accent piece for any room.
Placement: Due it's universal style appeal, this type of console tables can fit into any space.
#7: The good, the glamorous and the glossy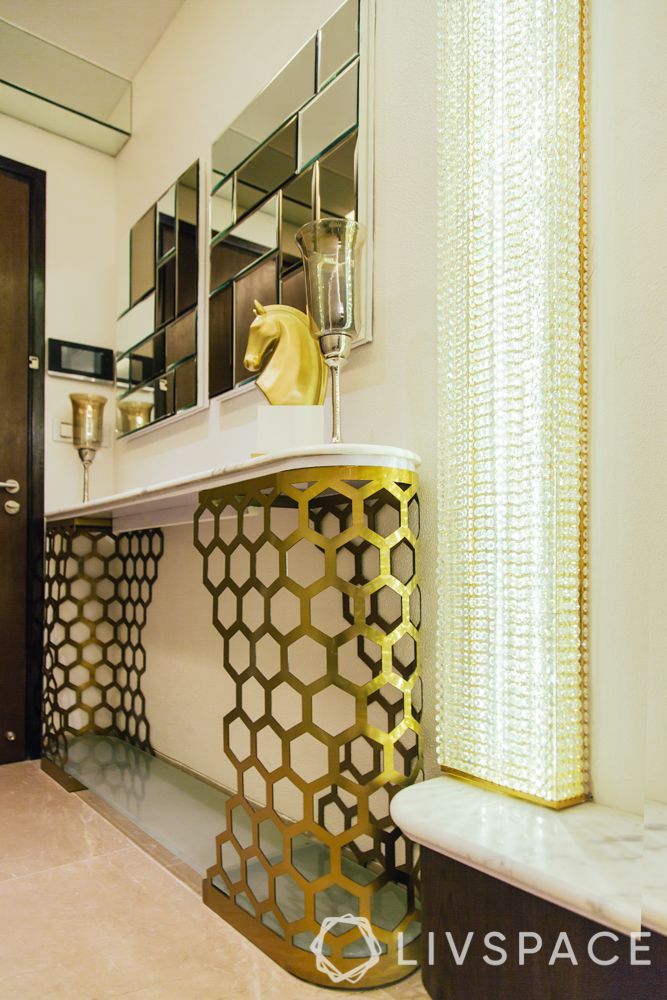 Style: Art deco
Use: A marble top and a shiny metal, this is the perfect table for displays in a narrow space.
Placement: The economy of its size ensures that you can place it along the wall in passageways or the foyer. But it will be equally at home in your living area or bedroom, thanks to the snazzy design.
#8: Old world wooden charm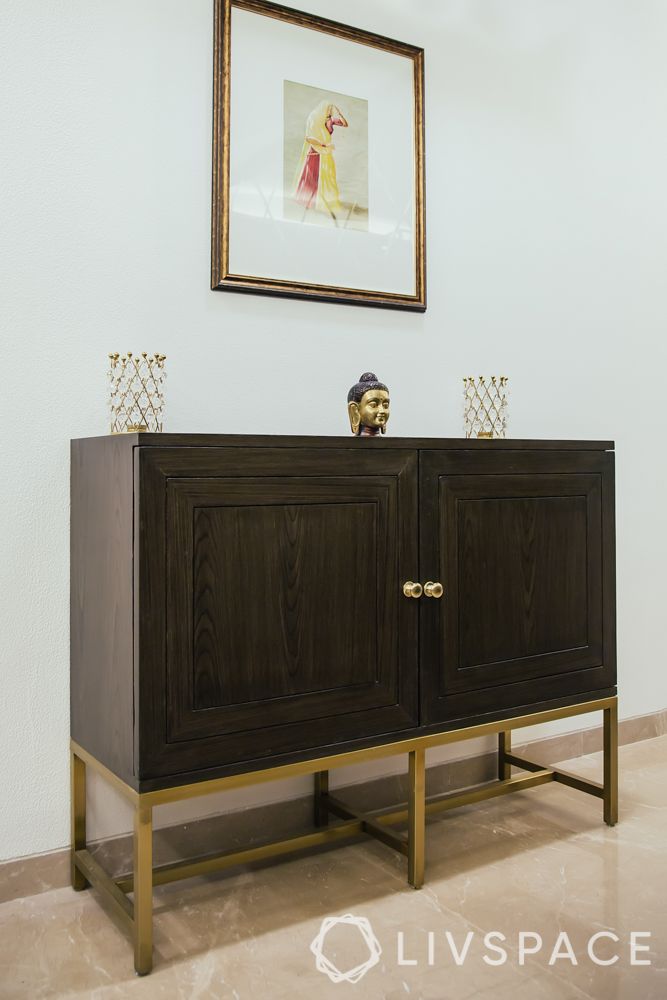 Style: Colonial
Use: Such console tables are perfect for storing items like books while the top can be used for keeping decorative items like vases or candle stands.
Placement: As this is a boxy design, keep it away from narrow spaces. This should ideally be in a dining area or a reading corner where it's useful.
#9: The zig-zag table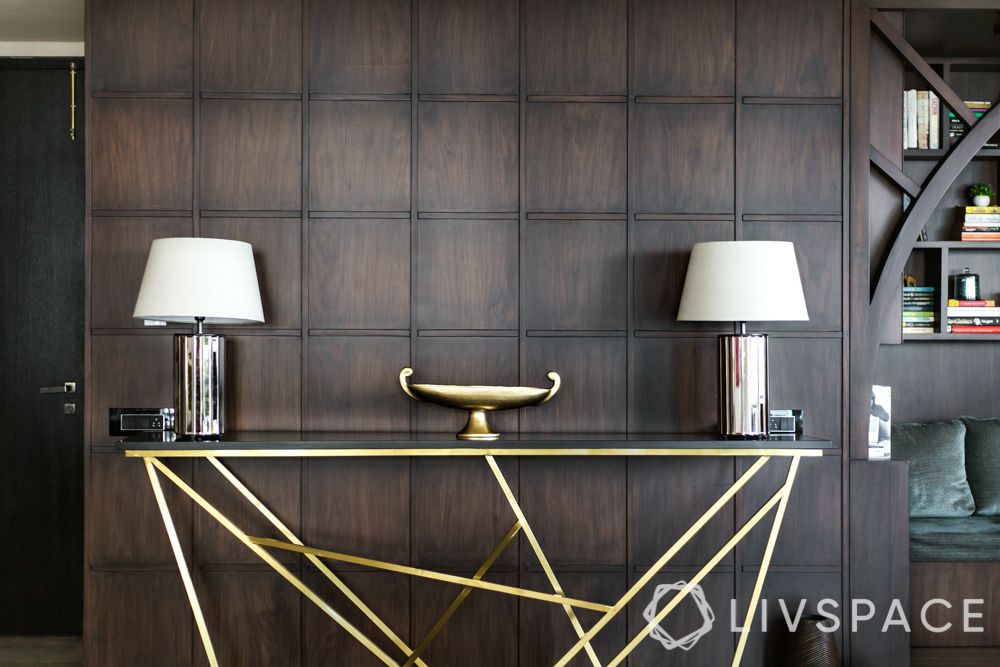 Style: Art deco
Use: The console here is an art unto itself. You only have to see the web of zig-zag metal legs to know for sure.
Placement: A table such as this one is perfect for a den or any living room. With its metallic glints and chromium top, it will fit into glamorous settings.
#10: The cool colour-block table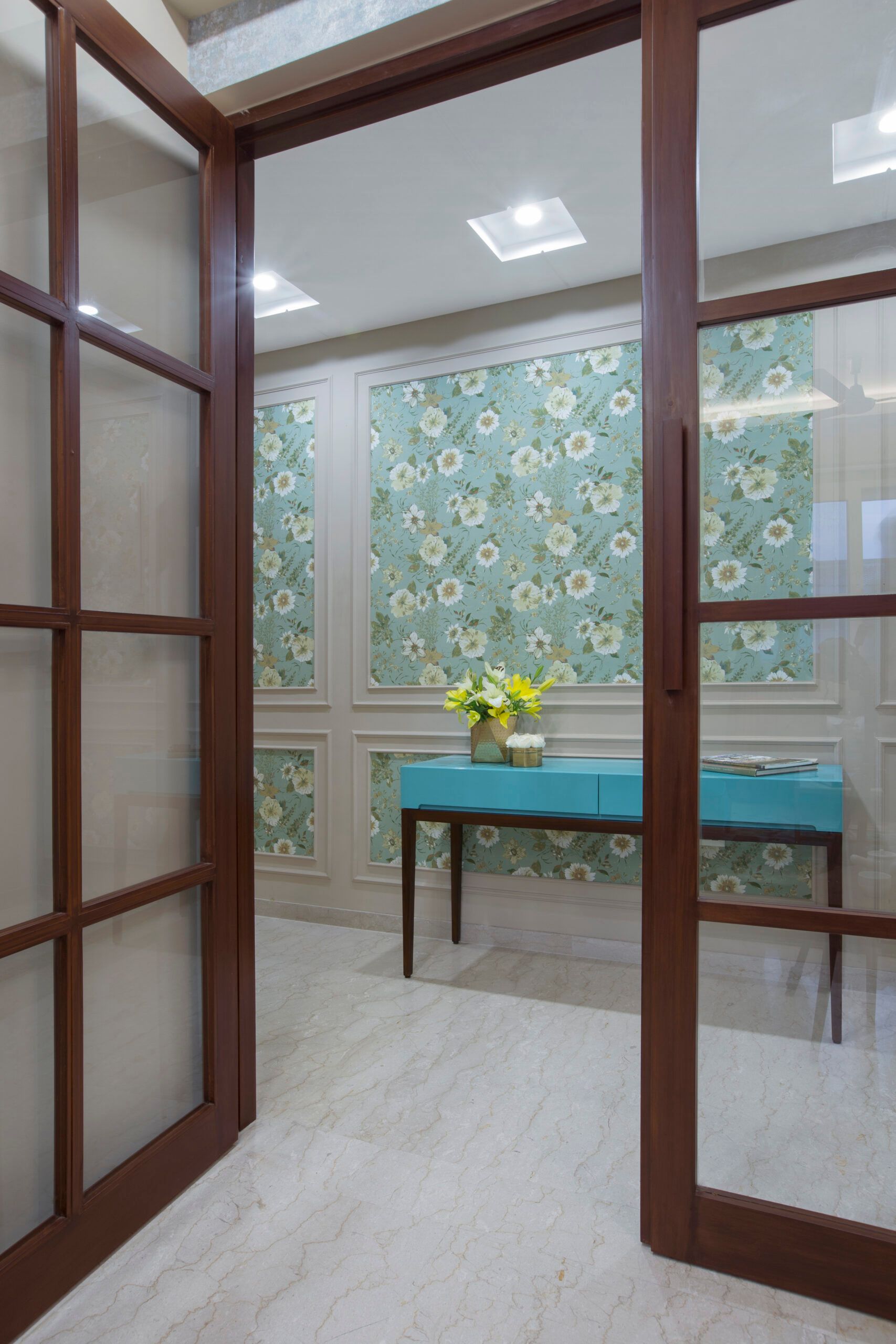 Style: Contemporary
Use: Ideal for storing smaller items, a console table like this one is mainly decorative in purpose.
Placement: Place it wherever some colour or colour-blocking is needed.

#11: The bare and beautiful console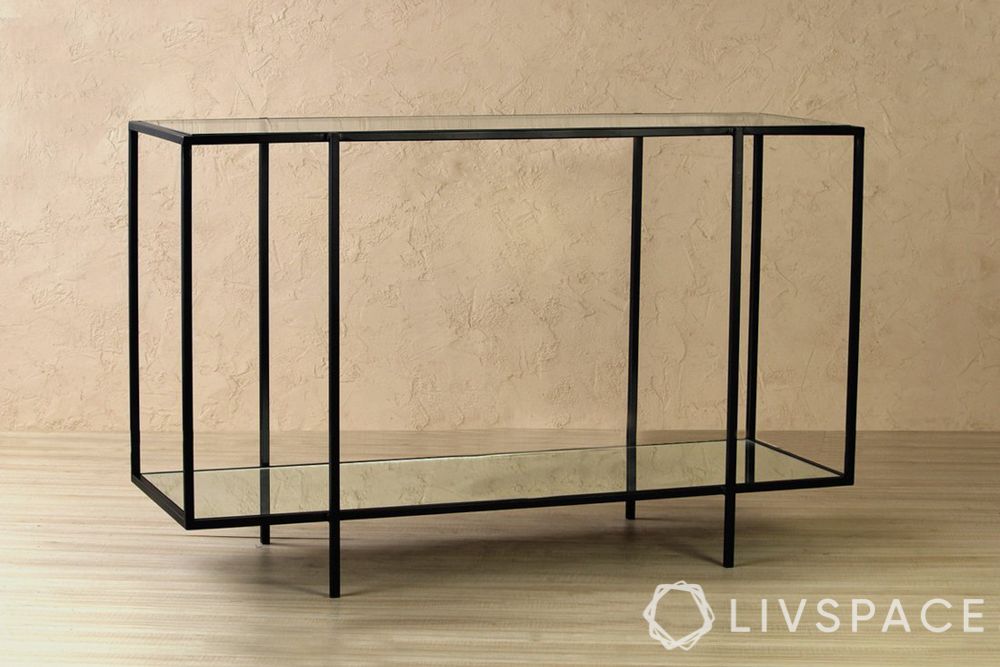 Style: Minimal
Use: Such console tables are usually used only for display. You can also use the base to black up your better looking hardbound books and magazines
Placement: It's sleek enough to fit into narrow spaces. However, it can be placed wherever needed because it is functional and not decorative in purpose.
You can buy more console tables here.
#12: An understated and elegant console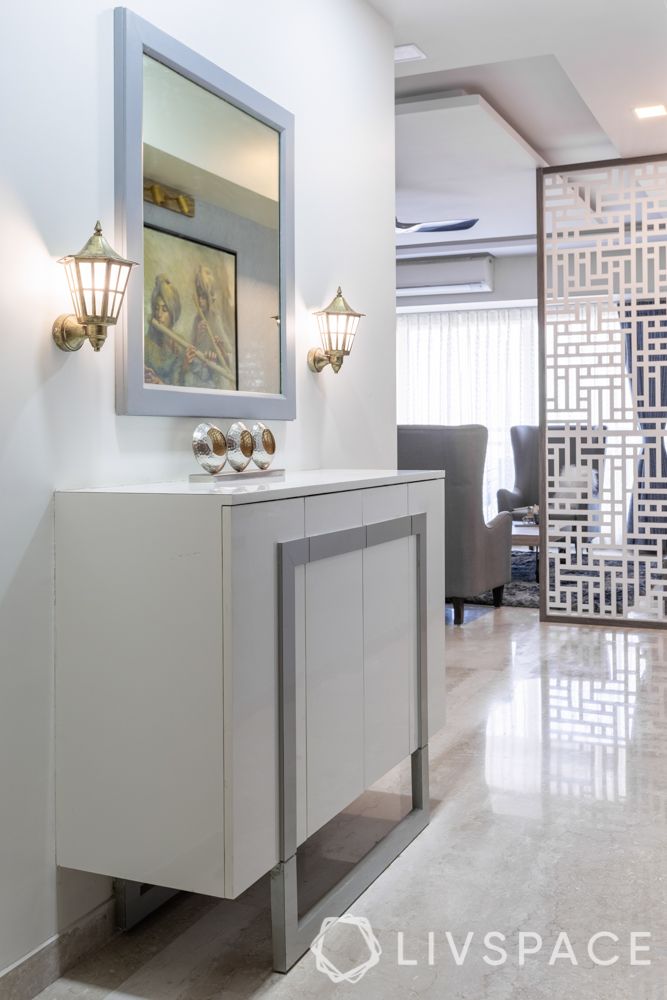 Style: Scandinavian
Use: This is a wholesome console that has both storage and display while working as an accent as well.
Placement: You can place it in a wider foyer or use it to highlight a statement wall. Make sure you light it according to it's placement. For instance, if it is used as an accent, it will require portrait lights.
#13: The console for the sitout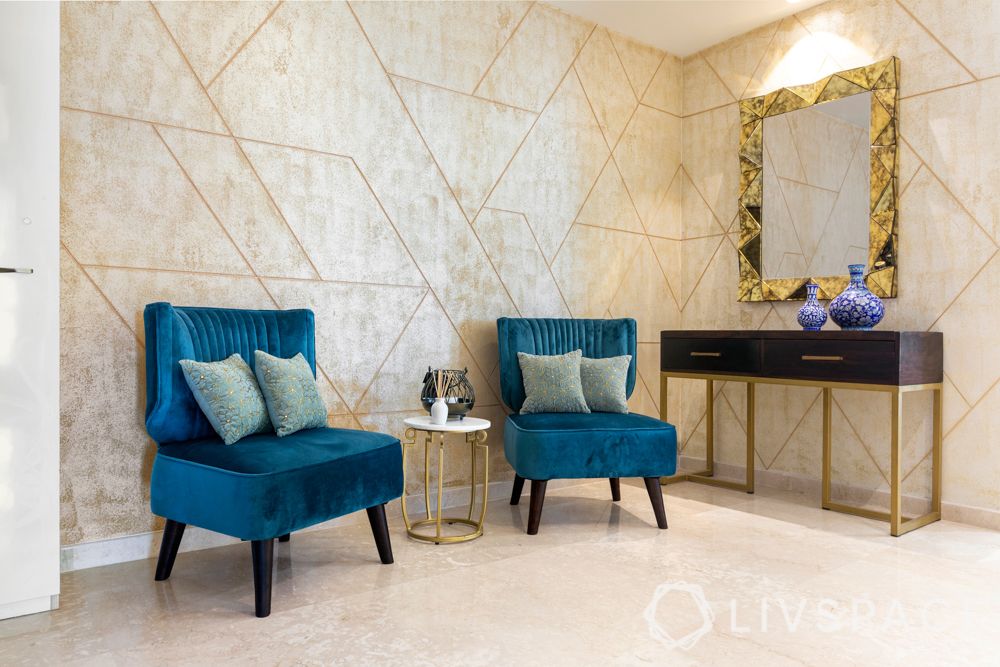 Style: Minimal glam
Use: We have mentioned before that a console table can stand on its own unlike side tables. Here, however, we see the console being used as an accompaniment for the accent chairs.
Placement: You can place neutral console tables like these in between two chairs or ottomans to create a seating area.
#14: Console desk for multi-functional spaces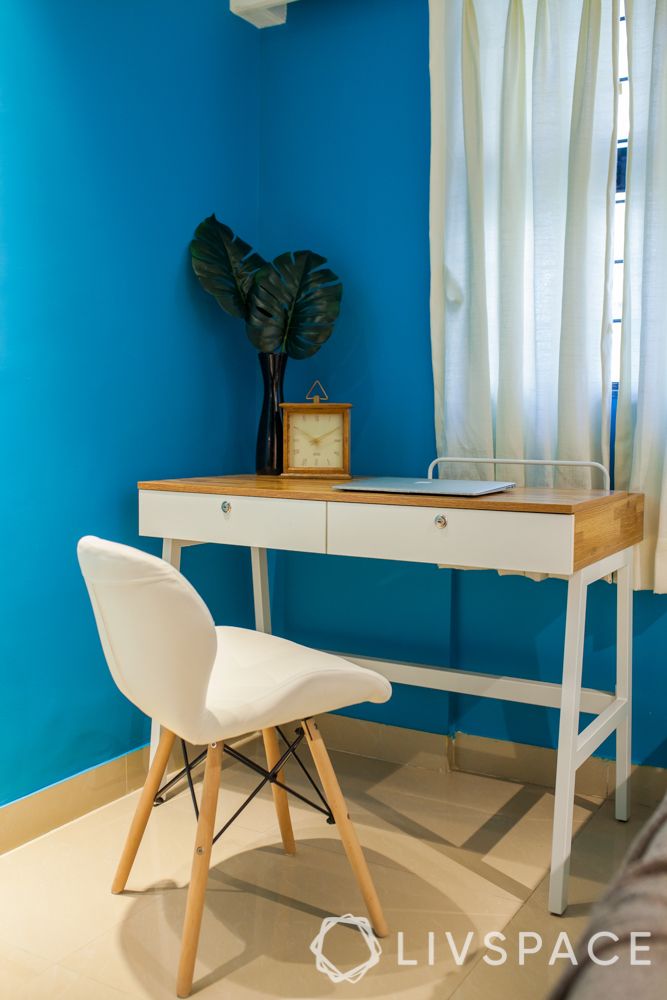 Style: Contemporary
Use: This is a new-age combination of a writing desk and a console that has emerged during the lockdown when people were in need of workstations and study tables all of a sudden.
Placement: Place it in a quiet corner where you work or study. You can pull the char away when not needed.
#15: The minimal but glam console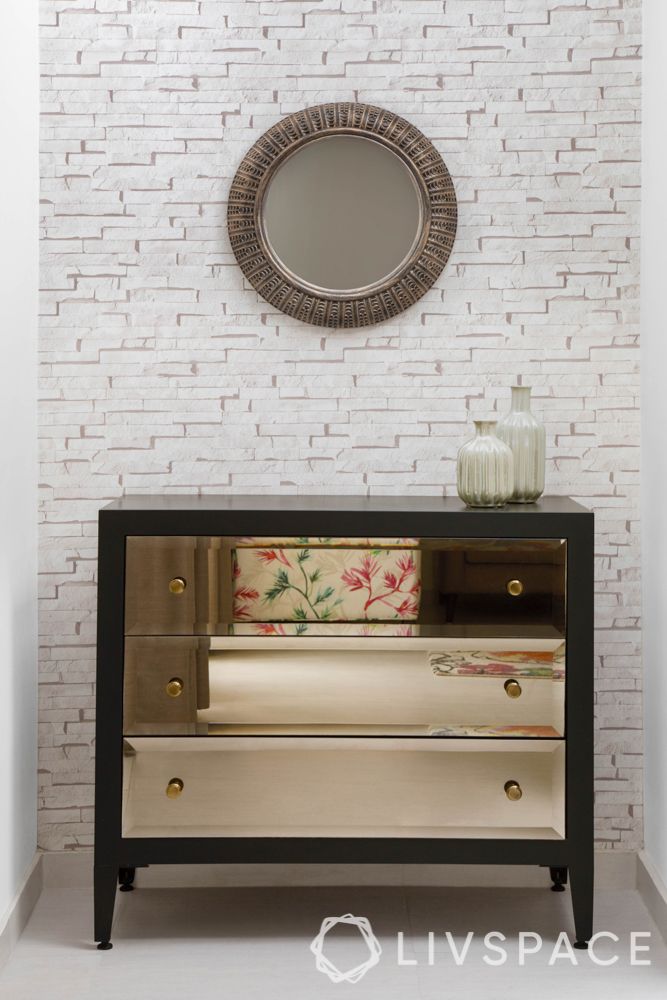 Style: Minimal glam
Use: While this console can be used for both storage and display, it's main purpose is to make a cramped corner look roomy. All thanks for the reflective finish!
Placement: Place it in cosy corners or narrow spaces.
#16: Etched and enameled console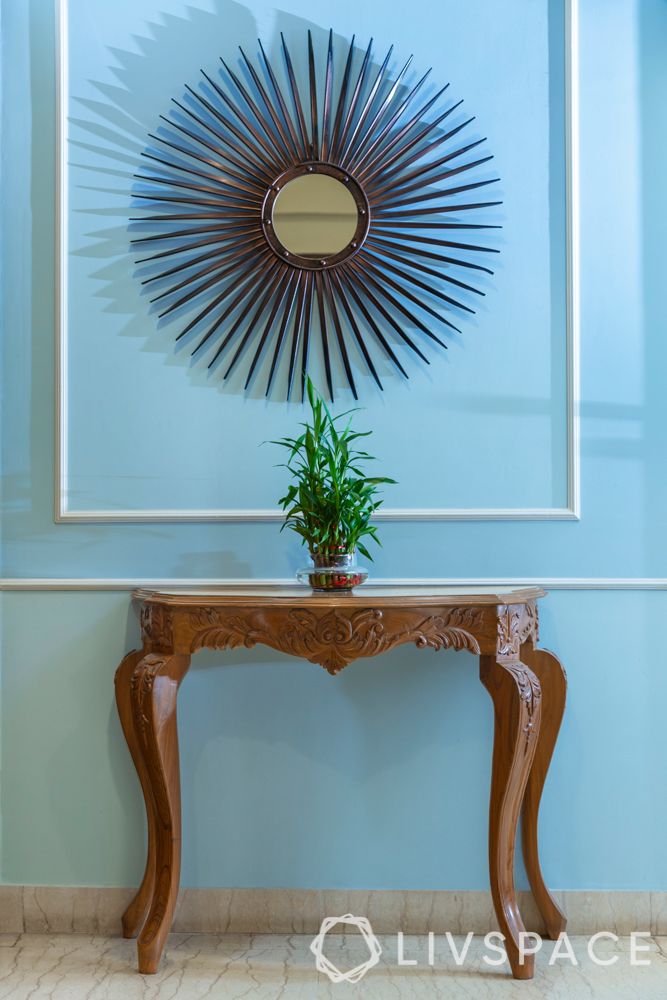 Style: Indian traditional
Use: The carving and etching on the enamelled wood of this console leaves no doubt about its use; in fact, it's a perfect accent for a traditionally furnished living room.
Placement: Place it along the wall or use it to divide space in a large living area.
#17: Cool and curvy console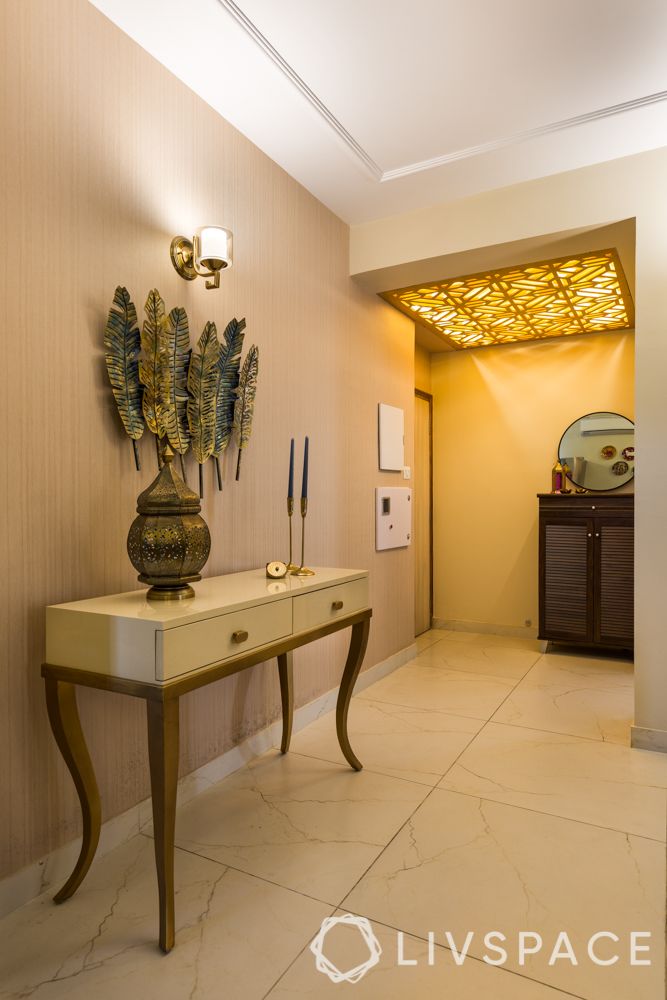 Style: Contemporary Indian
Use: A table such as this one is mainly for display. While this table is not striking enough to be the accent in a space, it will still complement the accent piece (in this case, the wall fixture).
Placement: Keep it near a statement piece of decor or place the accent decoratives on it.
#18: The busy bling console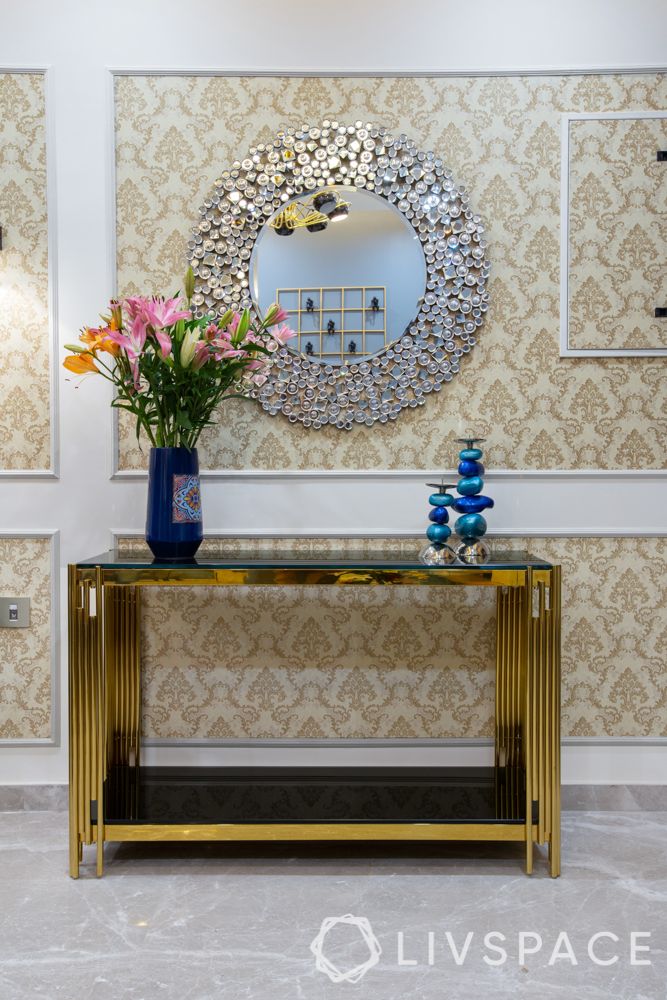 Style: Contemporary
Use: Display all the way!
Placement: A simple yet glossy console like this one is best paired with mirrors against the statement wall.
#19: A console for all seasons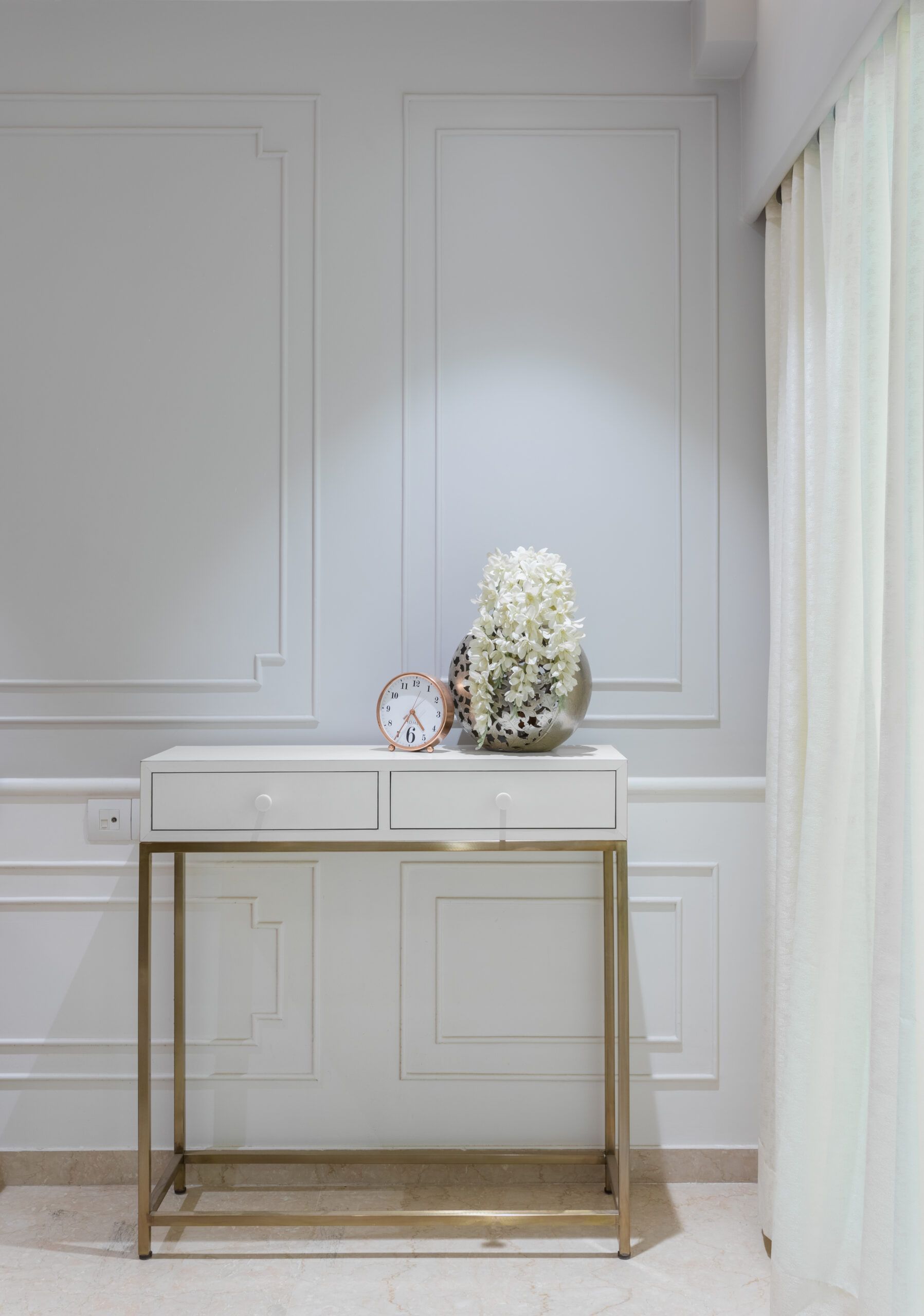 Style: Minimal
Use: A console like this can be used for both display and limited storage.
Placement: Due to its compact design, it can be placed literally anywhere.
#20: The rustic rune console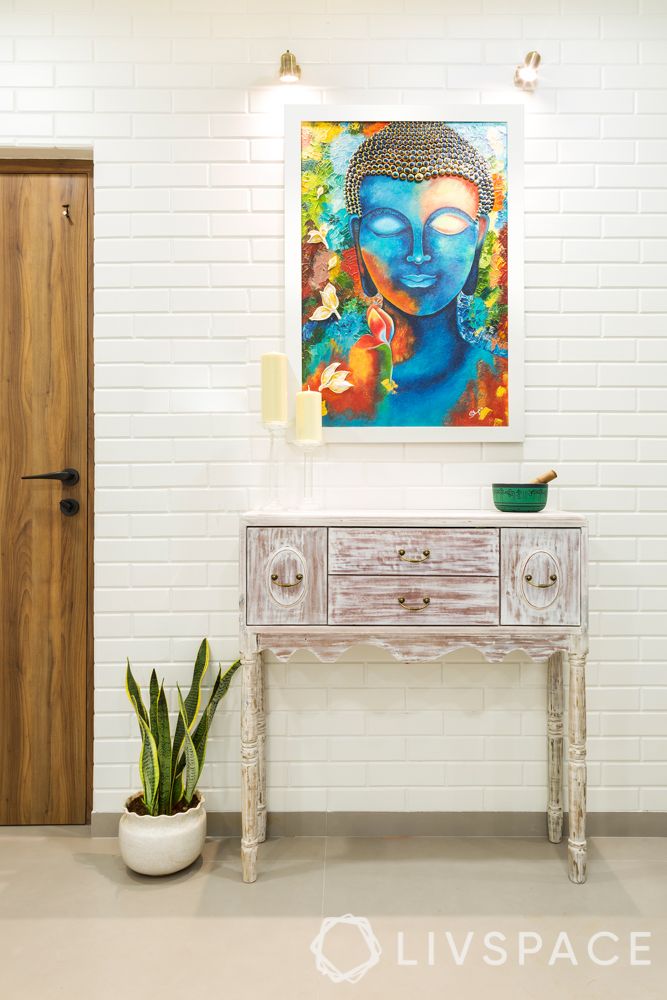 Style: Industrial
Use: Perfect for limited storage and some display, the distressed finish of this console makes it an item of interest.
Placement: Place it among a mix of other unrelated items in an eclectic setting. In fact, it's rustic vibe will stand out against pops of colour or gloss.
#21: Some much needed wooden warmth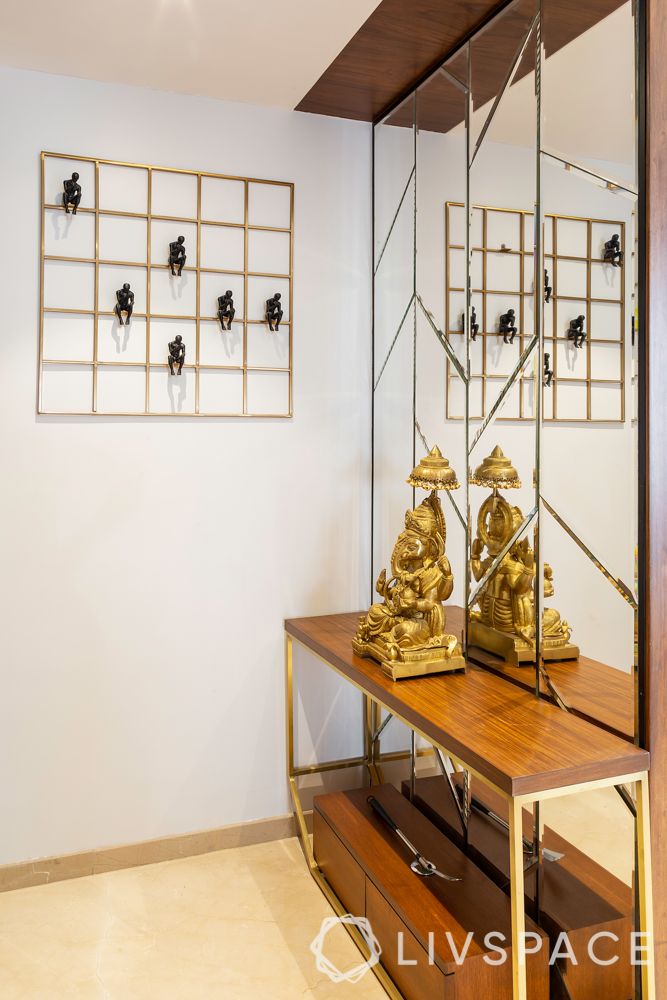 Style: Contemporary
Use: Display only
Placement: As plenty of wood is used in Indian homes, a console like this could fit in perfectly anywhere. But, the brevity of its size and design means that it can fit into narrow spaces like entryways.
You can also explore how to make your entryway useful.
We love hearing from you! Write to us with your comments and suggestions at editor@livspace.com