Everyone has a TV at home, sometimes even more than one, and it is not just a device where you can watch your favourite programs. It's also a meeting point for family and friends. It does not matter whether you watch cricket, science fiction or drama, the important thing is to be comfortable and share the experience with your loved ones. Since the TV is already an investment in itself, it is natural that you would be concerned about the price of the TV cabinet you'll need with it. So, we bring you a mix of low-cost simple TV unit designs and medium and high-range TV units with prices. If you need that extra storage or want to make the best impression on your guests, here's how to stand out with a TV unit.
Meanwhile, don't miss the 5 important things that can help you stick to a tight budget for your TV cabinet.
Standard Low-Cost Simple TV Unit Designs With Their Prices
If you want to follow the current trends, floating furniture is your best ally to meet your budget. This type of furniture is usually simple without unnecessary details, thereby keeping the price low.
#1: The Price of a Minimal TV Unit Design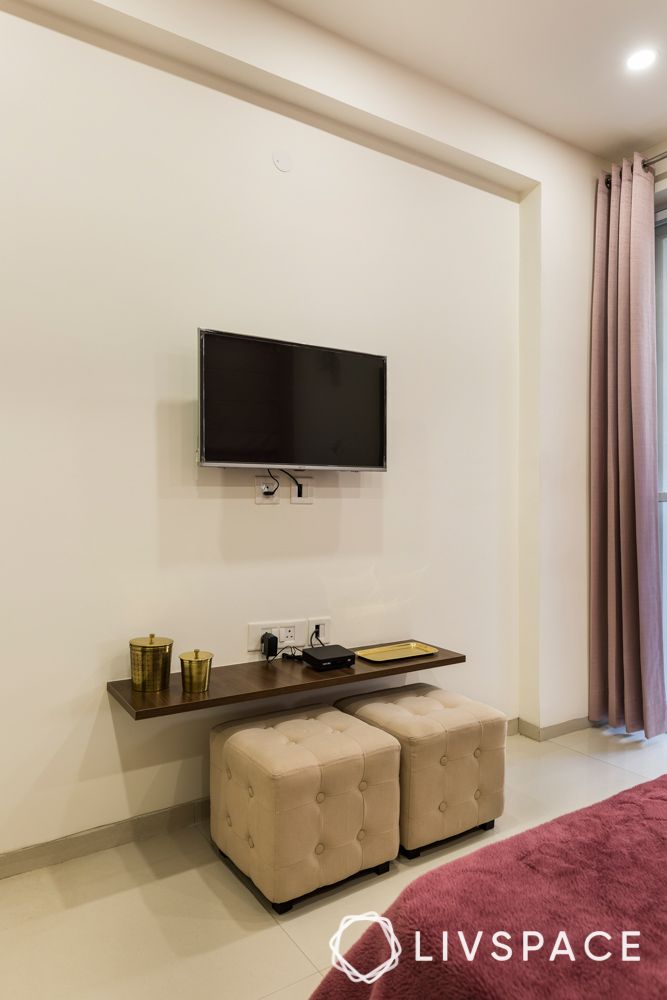 The cost of the TV unit in the picture above is astonishing. It comprises nothing but a simple laminated ledge, fixed below your wall-mounted TV. However, this design is only suitable for your bedrooms and not your living rooms as it is too simple.
#2: Price of TV Cabinets With Storage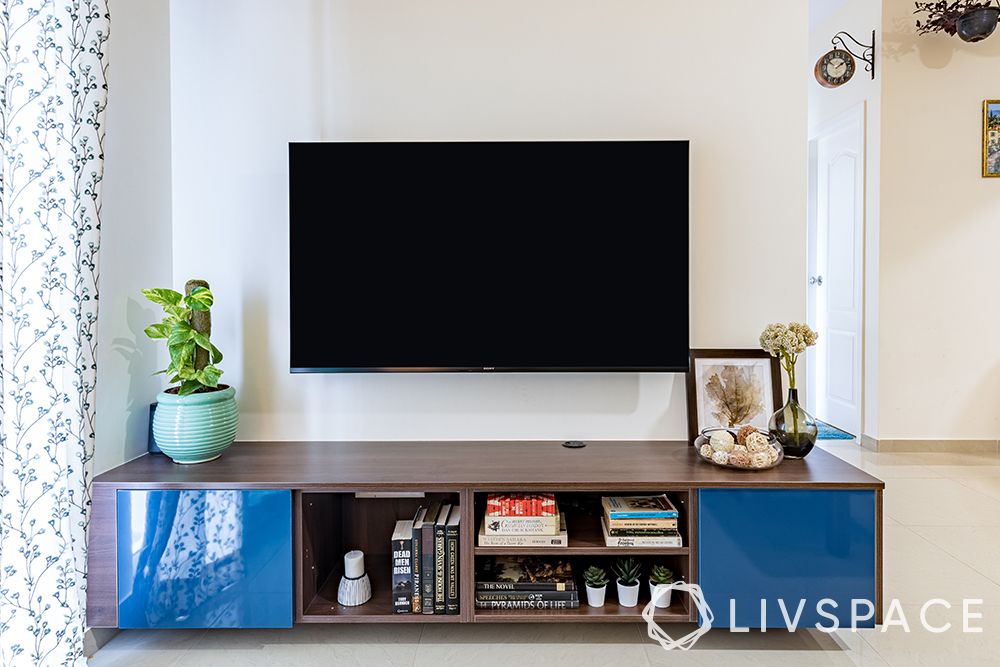 This floating TV unit design with some storage is ideal for your living room. It has glossy blue and dark-wood laminates, and both open and closed-type cabinets, which vary in cost.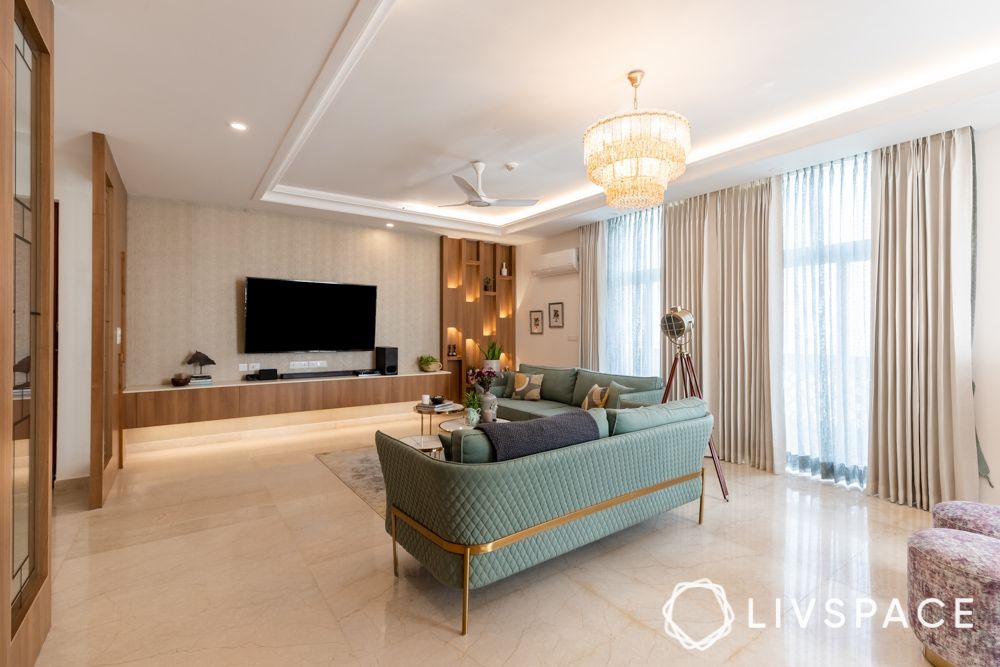 This luxurious-looking cabinet has a wide design but small cabinet depth. There are more elements, apart from the cabinet, that make this design – take a look at the wallpaper and the profile lights under the cabinet. The wallpaper is available at ₹5,000 per roll including the cost of installation, and the profile lights are priced at ₹2,000 per metre.
***Colours and finishes are subject to availability. Please check with your nearest Livspace store to check availability.
Prices of TV Cabinets With Custom Designs
If you think your custom designs are going to cost you a bomb, we have good news for you – they don't have to. Here are some popular low-cost simple TV unit designs that were customised to suit common requirements of Livspace homeowners.
#1: The Price of a Low-Cost Simple TV Unit Design With Open Shelves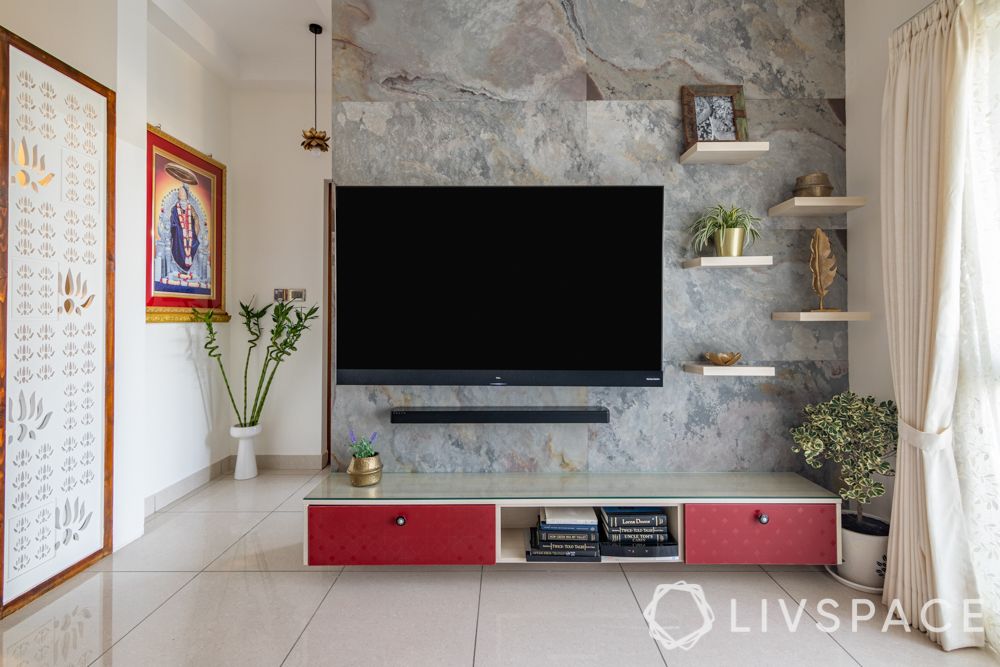 You can get some storage space with floating shelves as well if you go for this low-budget TV unit design. To make your console design look trendy, place it at a height of 10 to 50 cm from the floor.
#2: The Price of a TV Cabinet With a Low-Cost Wall Treatment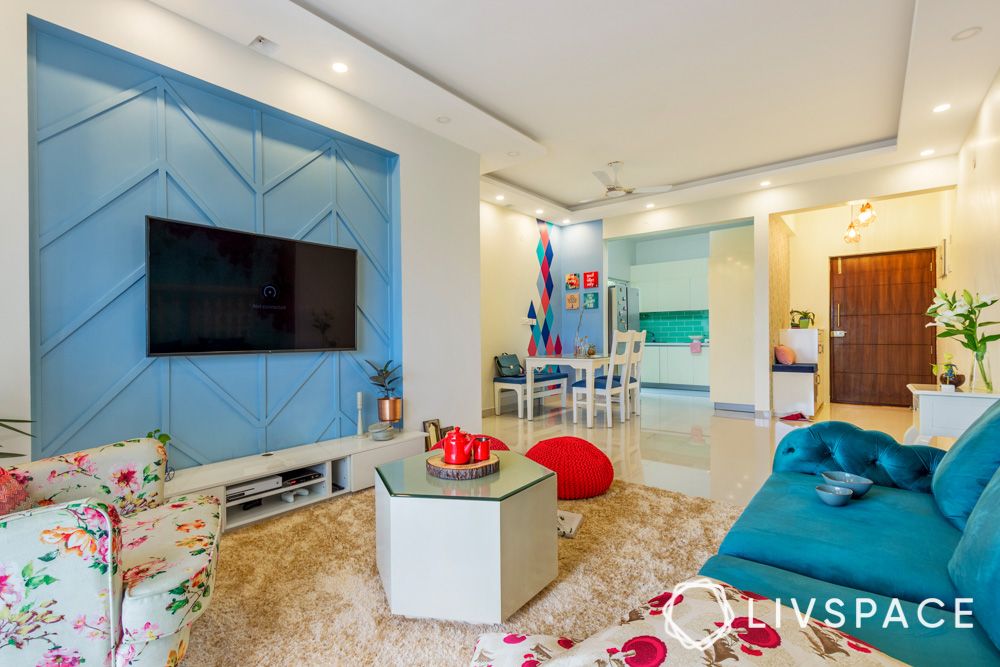 Your low-cost simple TV unit design, like the one in the picture above, can be more attractive if you use clever wall treatments. If you want a similar chevron-pattern wall design like this, you will need to bear the cost of inexpensive wooden trims and a painting job in addition to the price of the TV cabinet mentioned above.
#3: Prices of TV Cabinets With a Lot of Storage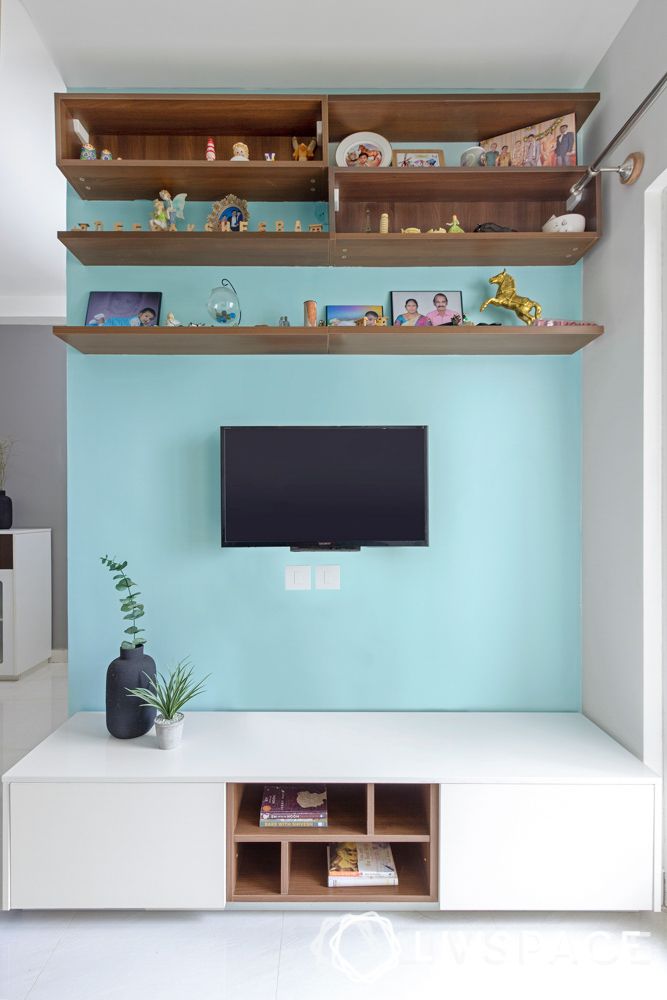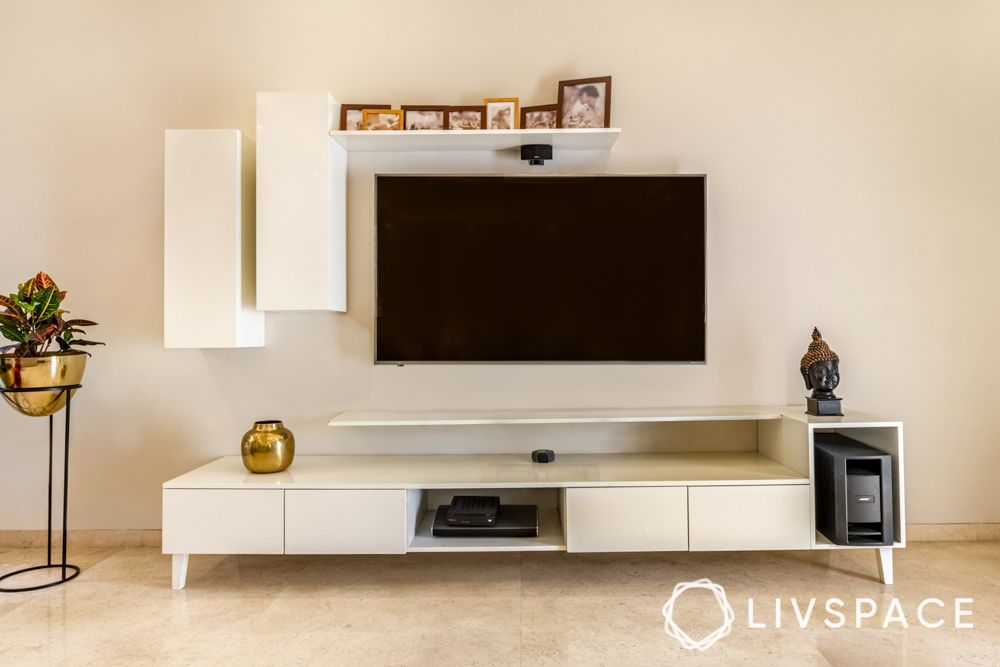 Your storage needs are unique to you and your home, and there's no need to ignore them. Here's a fun fact: open shelves cost much less than drawers. In fact, when you pick open shelves for storage and display instead of drawers or cabinets, you are saving plenty on the cost of your TV cabinet.
#4: Prices of TV Cabinets With High Storage Capacity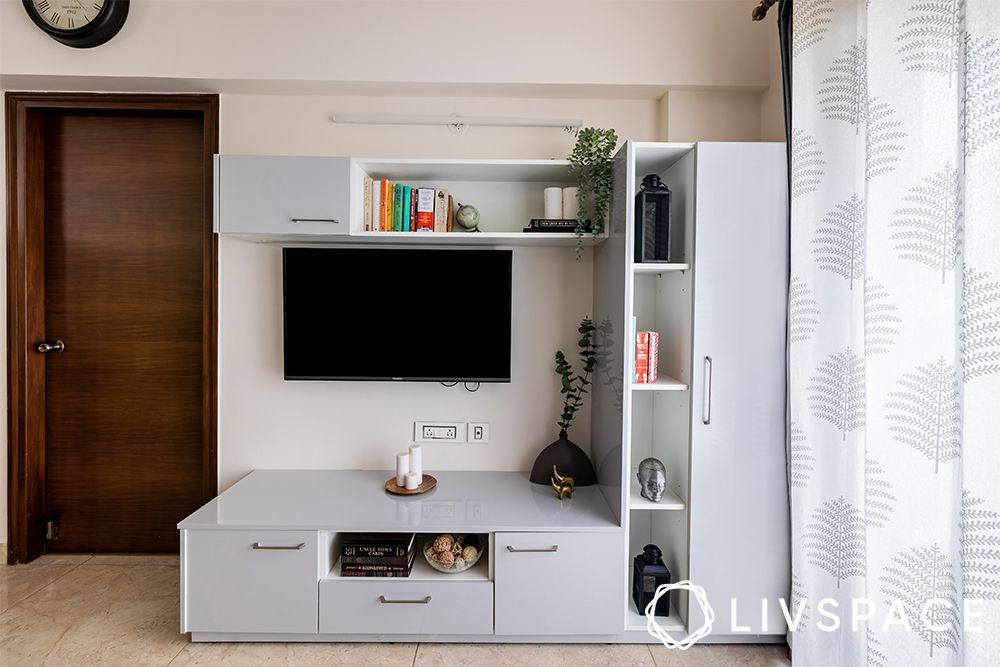 When you have high storage requirements, you can go for more economical and quality materials like MDF and laminate for your living room TV units. You will be amazed at the wide range of finishes and textures that are available at incredibly low prices.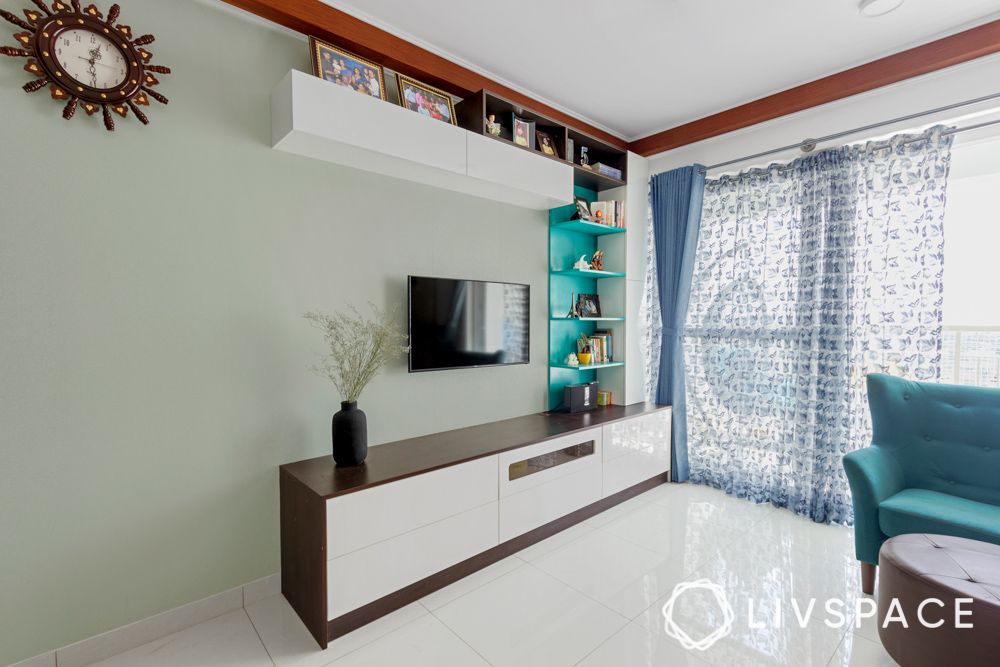 Another way to go about your high storage demands is by choosing economical open storage designs. The homeowners of this TV unit saved on design and raw material, but splurged on the expensive PU finish instead to get a longer lasting piece of furniture.
***Colours and finishes are subject to availability. Please check with your nearest Livspace store to check availability.
Prices of TV Cabinets With Back Panels to Mount Your TV
Back panels in TV units come with many advantages apart from their contemporary looks – they hide your wires and cables effortlessly, besides providing a less messy TV-mounting surface.
#1: The Price of a TV Cabinet Meant for Small Spaces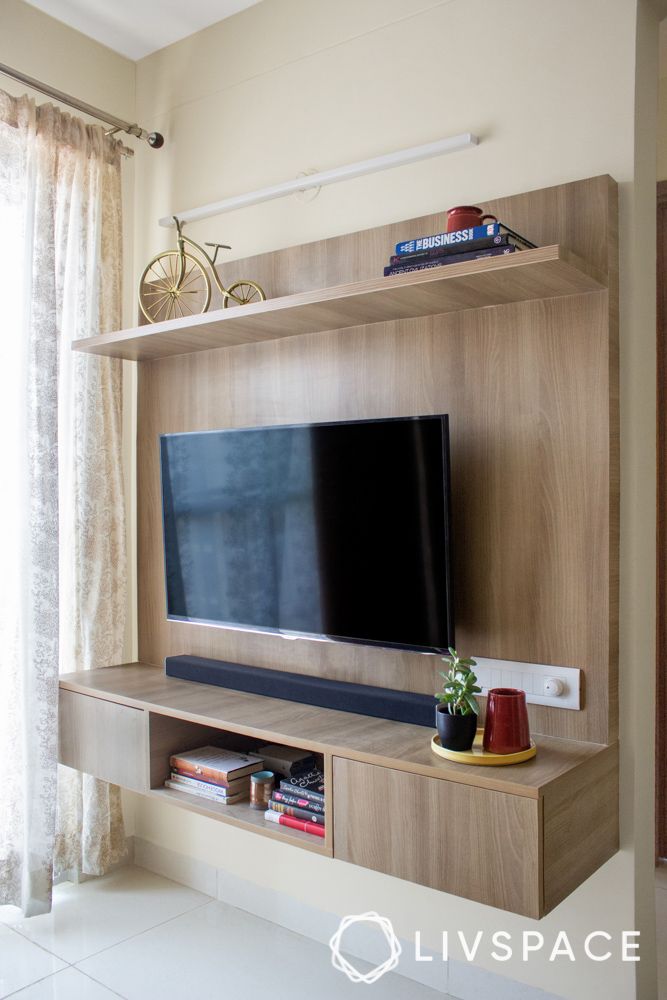 When your furniture sticks with the brevity of space, you know you got the design right. This compact TV unit ticks all the boxes for a small space. You can customise your design using different modules, sizes, materials and finishes.
#2: The Cost of a Low-Budget TV Unit Design With Maximum Storage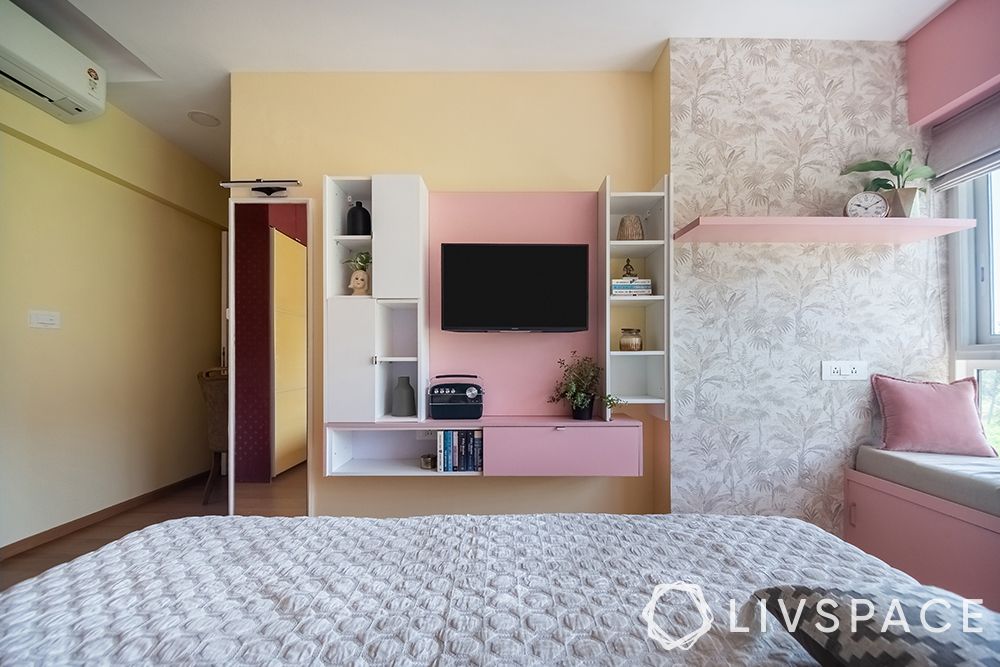 Wondering how we got all this storage here that is usually not a part of low-cost, simple TV unit designs? It's customised, of course, but only partially. Most of the modules are picked from the Livspace catalogue and this checks the price of this affordable piece.
#3: Price of a Wide and Clean TV Unit Design Made of MDF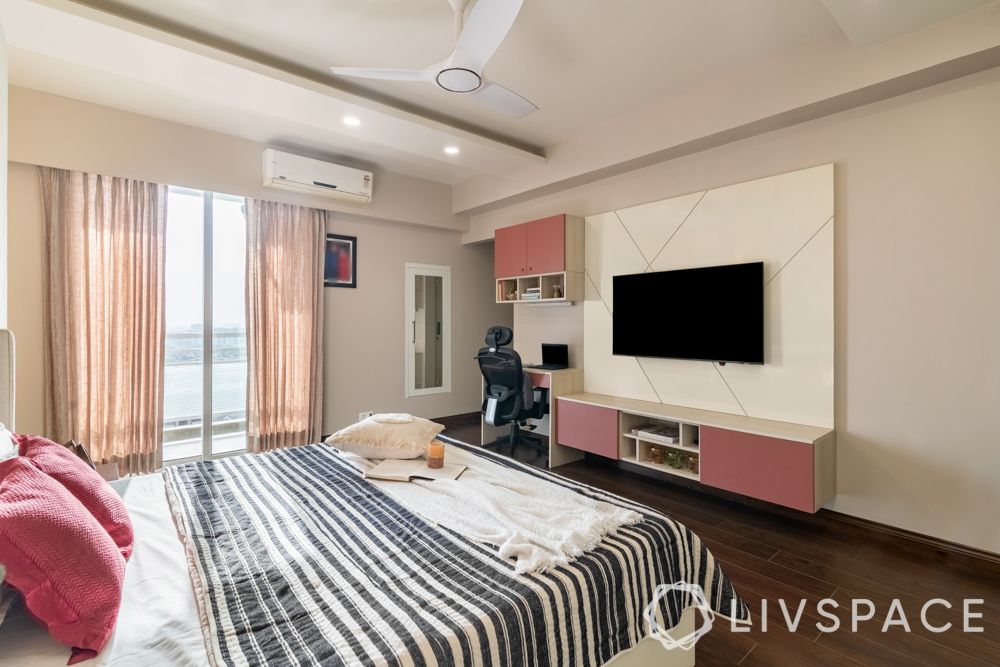 The material used for the base cabinets of this piece is MDF, which is an affordable variety of engineered wood. Hence, despite its size, matte-laminates and the grooved back panel, the price of this TV unit is lesser than expected.
#4: The Cost of a High-Gloss Finish TV Unit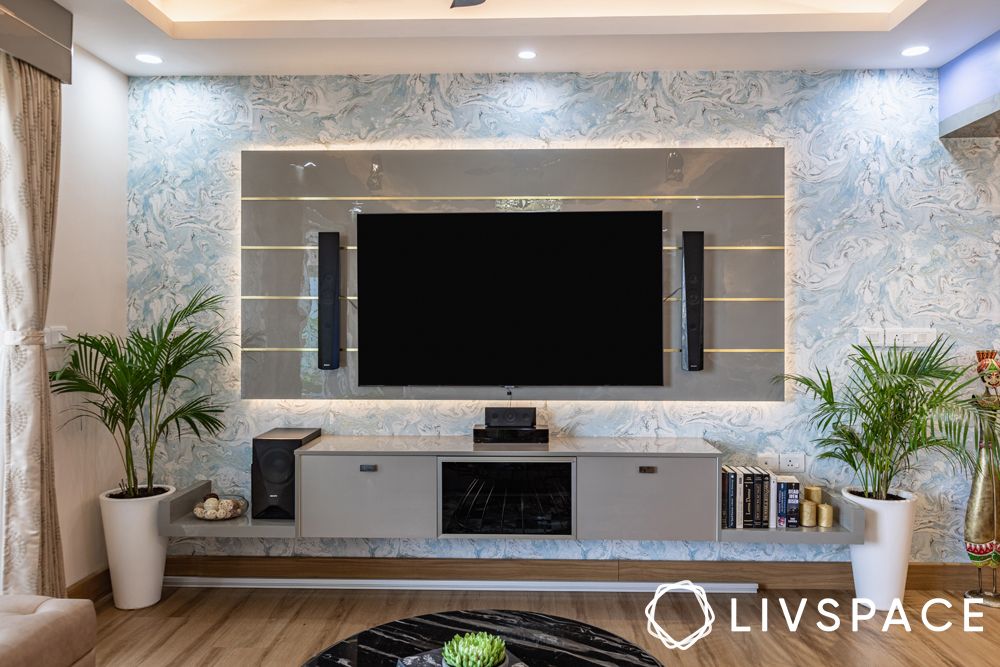 We already talked about the great advantages of laminates for low-cost simple TV unit designs. In fact, in a compact space, glossy finish can be your best friend. This finish is a favourite for small spaces as it reflects the light and will make the space look bigger. You can have a luxurious TV unit for an affordable price too.
#5: The Price of a High-End TV Unit Design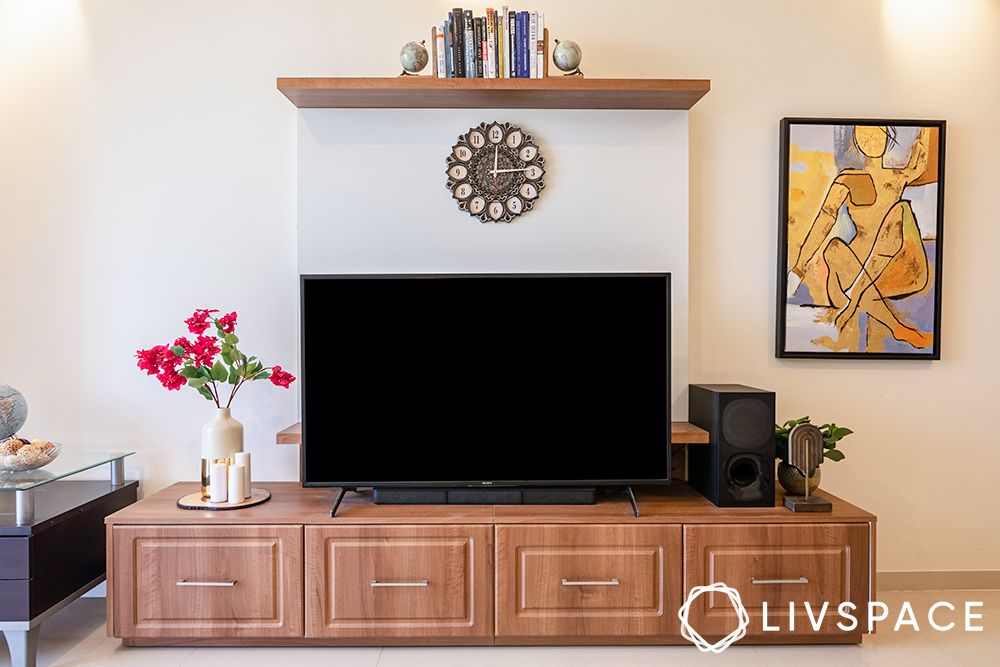 Despite the simple design of this TV unit, it is costly because of its membrane-finished modules. Membrane finish lasts longer, is easier to maintain and is even child-friendly with its scratch-resistant quality. There is one more advantage of this finish – it is highly mouldable. This makes it suitable for intricate designs as well.
***Colours and finishes are subject to availability. Please check with your nearest Livspace store to check availability.
For more TV unit design ideas, check out:
How to Create Low-cost Simple TV Unit Designs?
There are many things you can take into account to achieve low-cost simple TV unit designs. But below you will find the 5 most important ones, if you keep them in mind, you can save a lot of money without sacrificing style.
#1: The size matters: The smaller the size, the lesser the cost
#2: Materials are the base: Use engineered wooden instead of plywood or solid wood
#3: Pick the perfect finish: Pick affordable finishes like laminate or wallpaper
#4: The structure design: Keep in mind that drawers cost more than open sleeves
#5: Modular or Custom: Modular furniture will always be more affordable but you can customise your furniture within a smaller scope to save on costs.
We hope our ideas and designs have helped you design your low-cost simple TV unit design. If you are still confused about the designs and prices of TV cabinets, take help of a Livspace designer. Here are some of our customer reviews.
Check out more TV unit designs:
How Can Livspace Help You?
We hope you found our ideas useful! If you want your home to be just as beautiful, then look no further. Book an online consultation with Livspace today.
We would love to hear your thoughts! Send in your comments and suggestions to editor@livspace.com