Everyone has a TV at home, sometimes even more than one, and it is not just a device where you can watch your favourite programs. The space where the TV is will always be a meeting point for family and friends. It does not matter if you watch cricket, science fiction or drama, the important thing is to be comfortable and share the experience with your loved ones. Since the TV is already an investment in itself, it is natural that you want to save on the cabinet in which it is placed. So, we bring you 12 low-cost simple TV unit designs.
Also, don't miss the 5 things you should keep in mind if you want to stick to a tight budget for your TV cabinet. . Keep reading and check out the latest images of TV unit design for hall 2021.
ALSO READ: We Counted 8 Different Kinds of Living Rooms. Which is Yours?
#1: Floating TV Unit to Save Space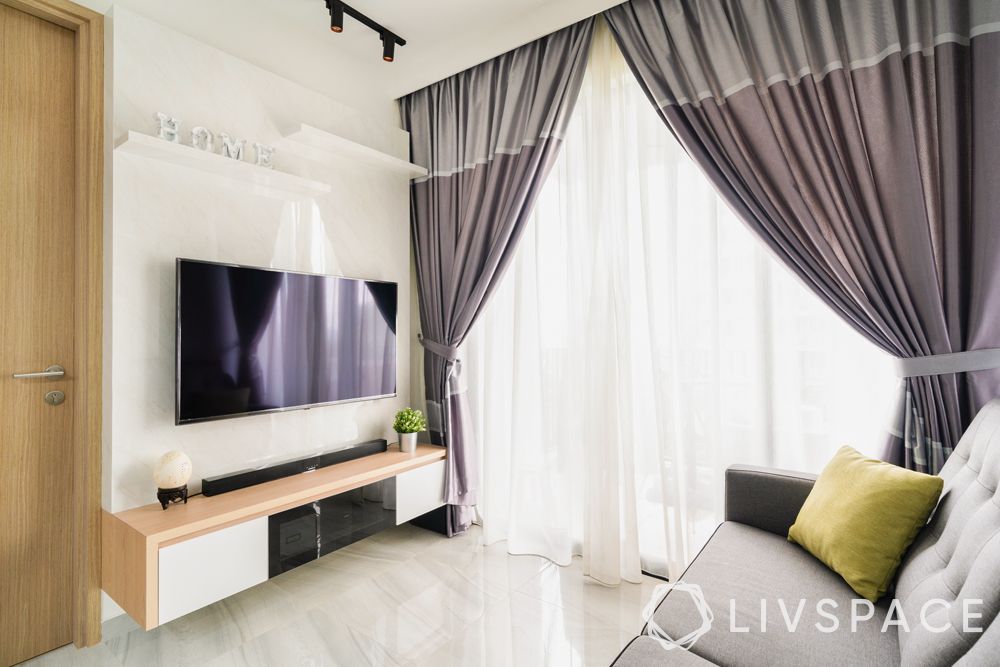 If you want to follow the current trends, floating furniture is your best ally to meet your budget. This type of furniture is usually simple without unnecessary details, which helps to keep the price low. You can also get some storage space with floating shelves as well. To keep your TV unit design simple and modern, place it at a height of 10 to 50 cm from the floor.
#2: Laminate Panel for Los-cost Simple TV Unit Designs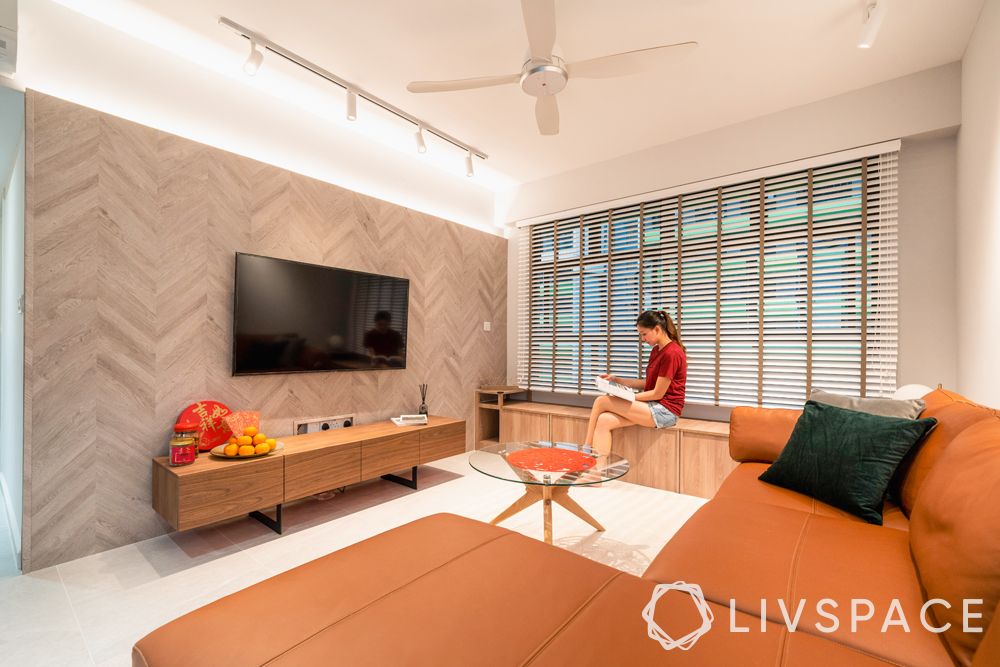 Laminate finishes are an economical and quality option. This material allows you to add the colours and finishes of your choice. Depending on the style of the room, you can choose the colours and type of laminate for your TV unit. You will be amazed at the wide range of finishes and textures that are available at an incredibly low price. If you want to know more about how to use laminate in your home, read this Your Search for the Right Laminate Ends Here.
#3: Readapt Your Existing Furniture as a TV Cabinet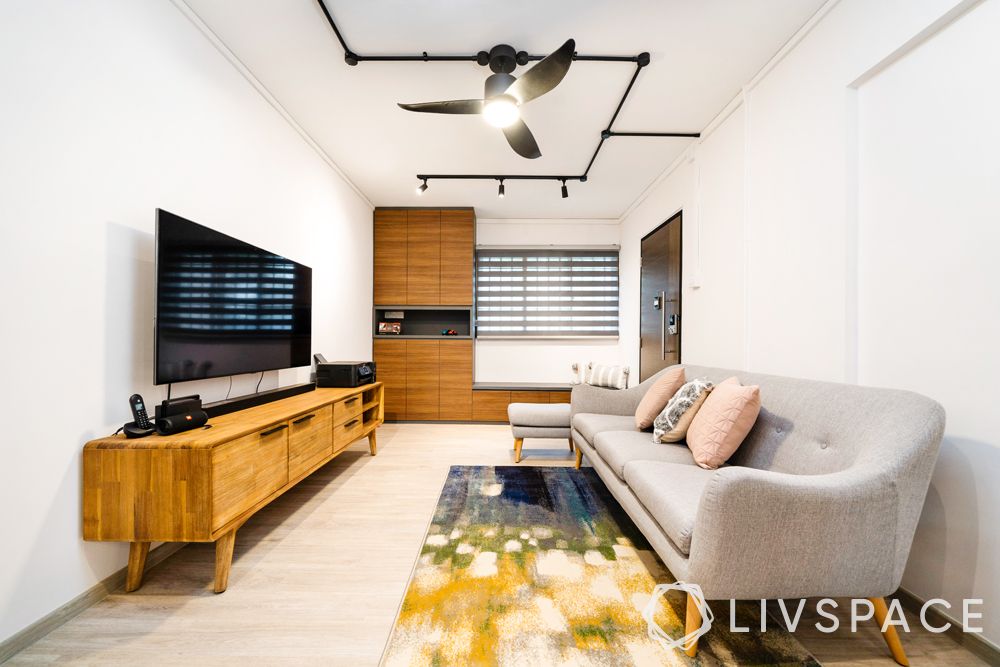 Freestanding items can also be statement pieces that will lead the style of the room. This type of furniture is perfect for when you have a lot of space as it fills the room without cluttering it.
Also, on many occasions, we already have freestanding furniture and instead of changing it, you can make a few small changes to revamp your TV unit.. Instead of spending money on new pieces, think about refurbishing your old furniture and add a vintage touch to your home. Also, this is the sustainable route!
#4: TV Unit Design for a Small Space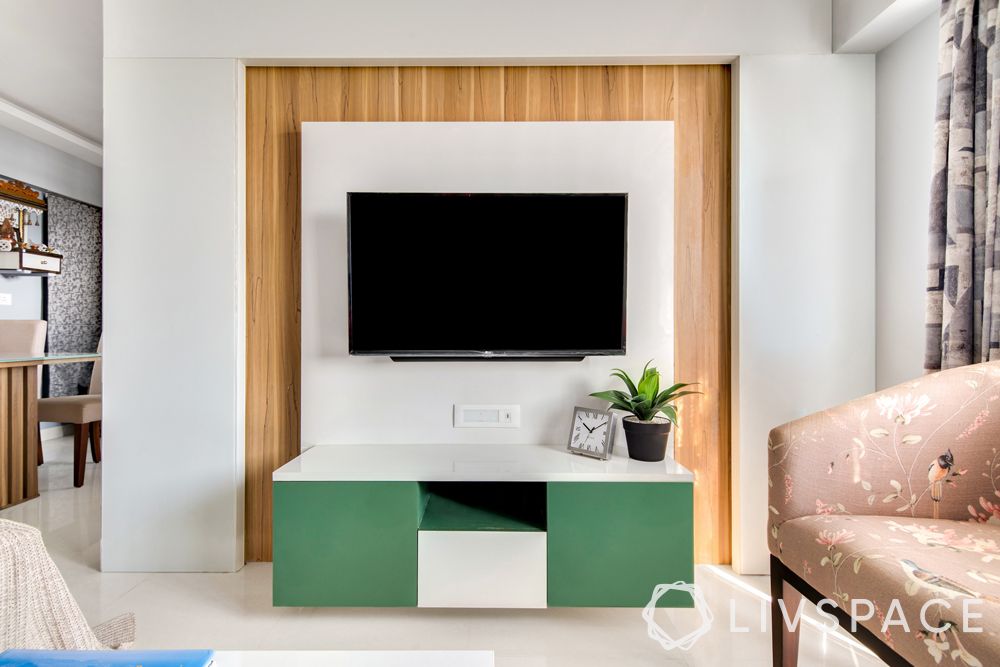 When your furniture sticks with the brevity of space, you know you got the design right. This compact TV unit ticks all the boxes for a small space. There is a white back panel, a pop of colour and some contrast too!
For more modern TV unit ideas, explore 60- Stunning Modern TV Unit Design Ideas for 2021.
#5: Customised TV Unit With a Pop of Yellow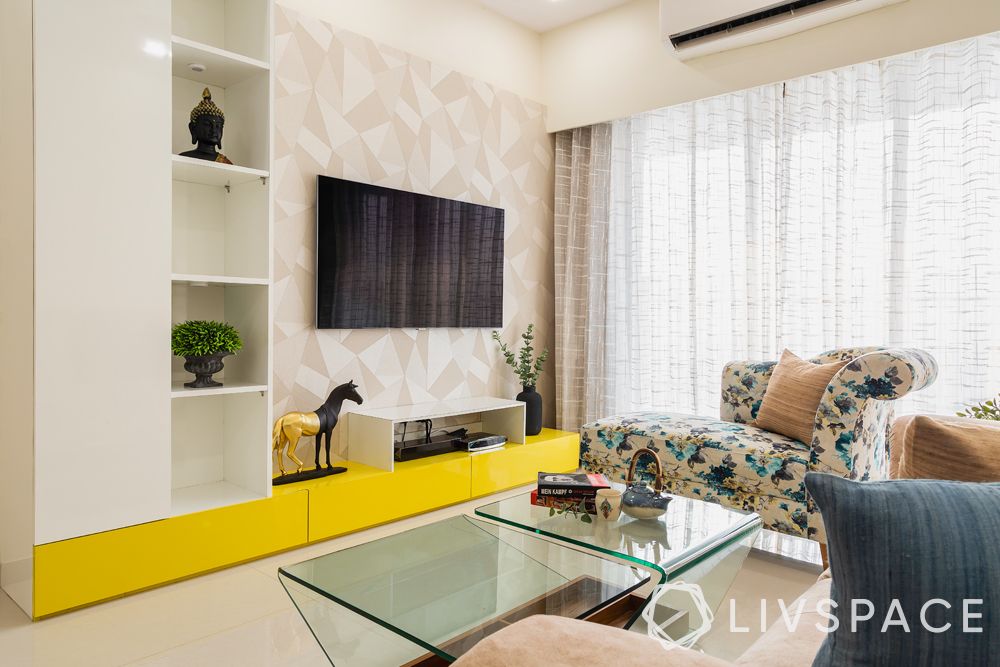 Wondering how we got that bright pop of yellow here that is usually not a part of low-cost simple TV unit designs? It's customised, of course, but only partially. Most of the modules are picked from the Livspace catalogue save the yellow drawers at the bottom. This checks the price of this affordable piece.

#6: Modular Low-cost Simple Tv Unit Designs With Wallpaper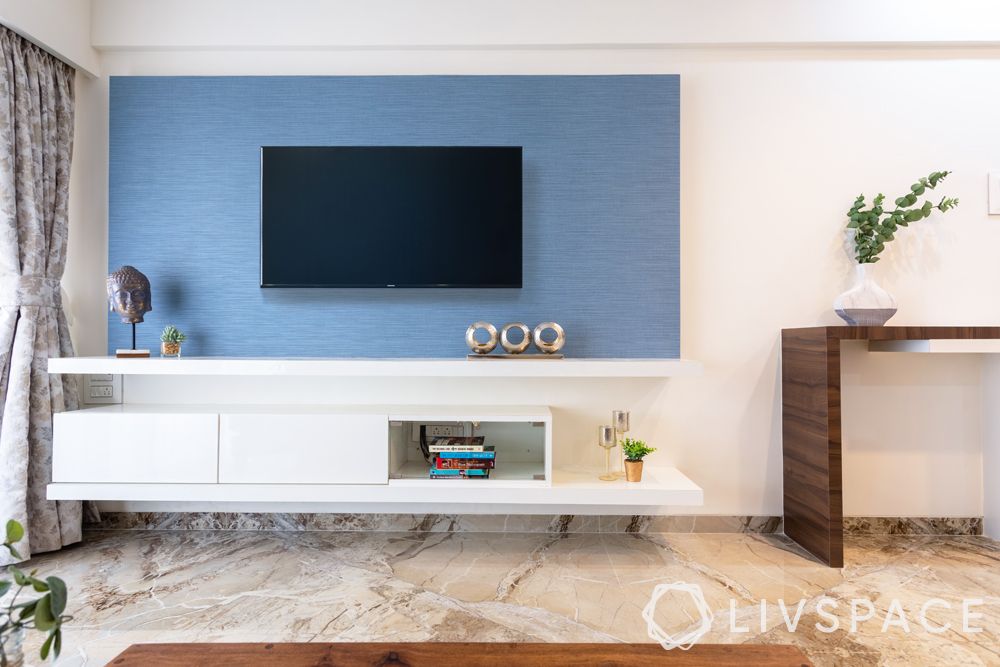 The pop of blue on the wall is undeniably the highlight of this TV cabinet. But, the interesting point to not is that it is also super affordable because the back panel is actually blue wallpaper. The white floating unit below complements the blue perfectly.
#7: Low-cost Simple TV Unit designs Made of MDF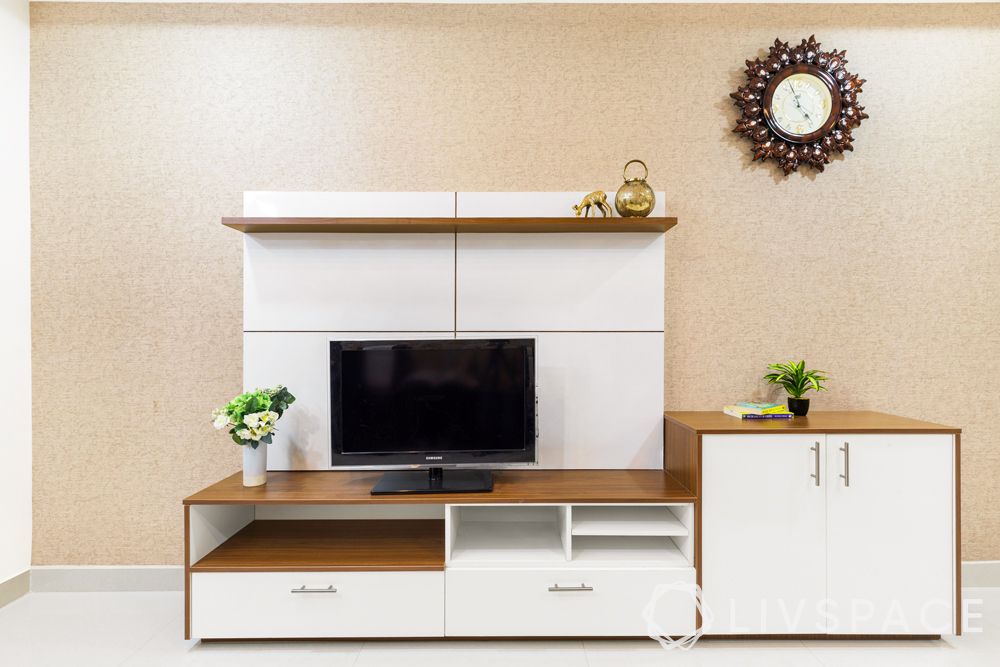 The material used for the base cabinets of this piece is MDF, which is an affordable variety of engineered wood. This material is perfectly suitable for TV units because the TV is usually not placed in an area that is damp. This is because MDF is not moisture-resistant. So check the walls for dampness.
#8: A TV Unit That is Also an Accent Wall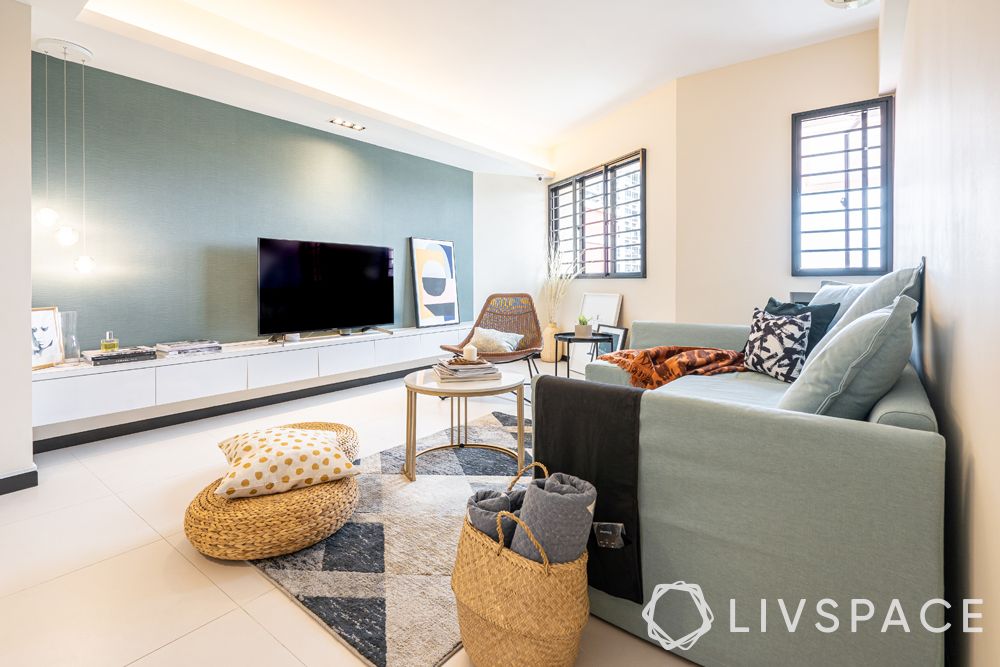 All living rooms usually have a TV unit; they also have an accent wall that serves as the highlight of the space. If you combine both, you have cut your costs by half! And that is exactly what we did here.
#9: TV Unit Design With Open Shelves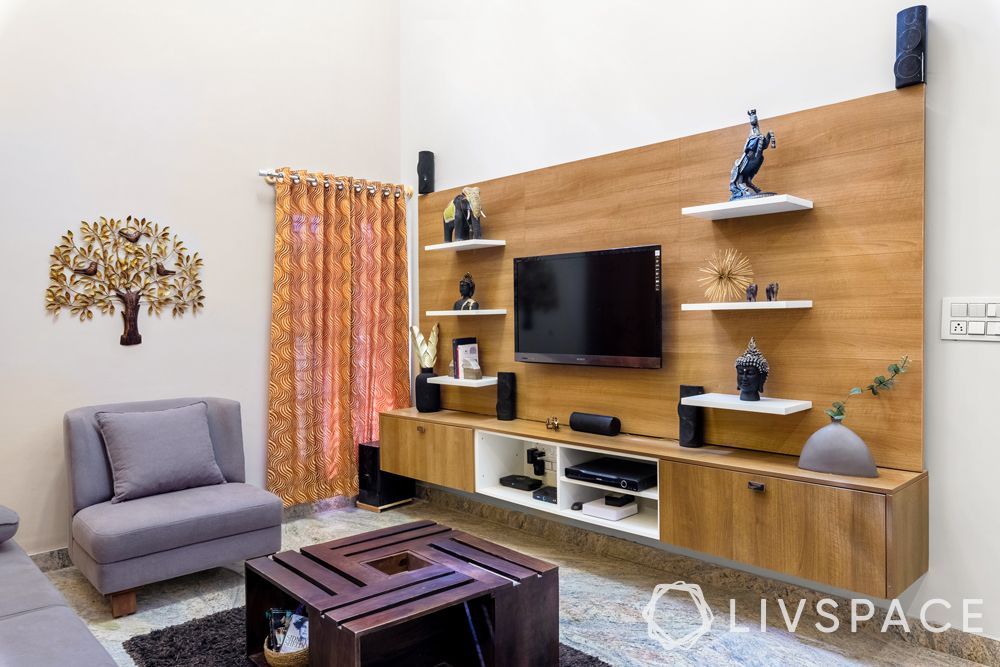 Here's a fun fact, open shelves cost much less than drawers. And when you pick open shelves for storage and display instead of drawers or cabinets, you are saving plenty on the cost of your TV cabinet. Moreover, it also looks rather fine, doesn't it?
#10: Low-cost Simple TV Unit Designs Using Modular Units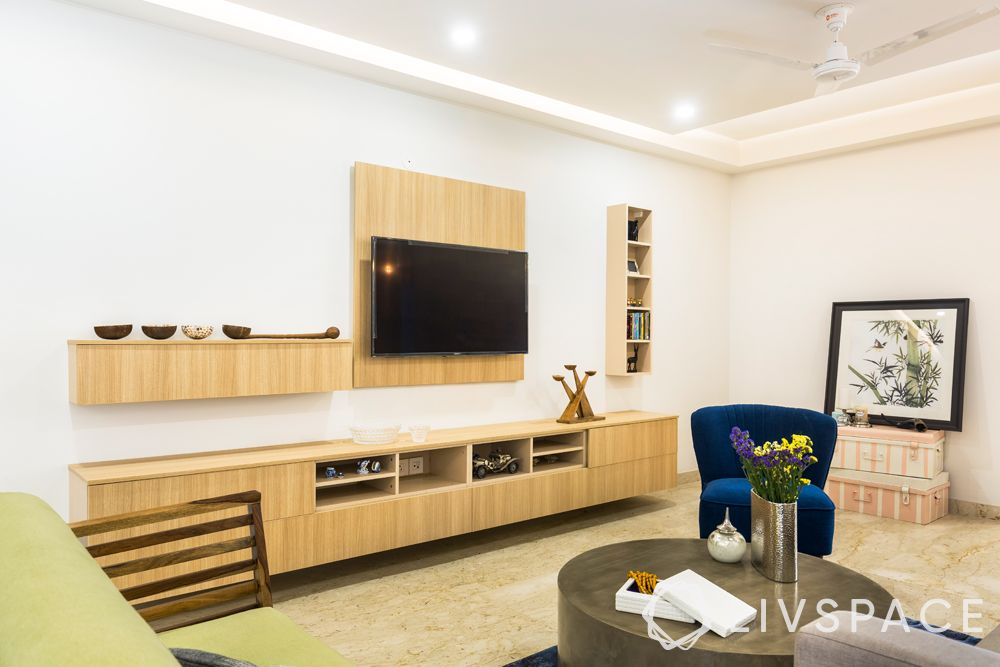 Modular furniture is always more affordable tha custom pieces. But, you can still customise your TV unit design within your budget. For instance, this TV unit has a fully customised design that has been created using different modular units from our catalogue. And doesn't it look dapper!
#11: TV Unit Design With Wallpaper Finish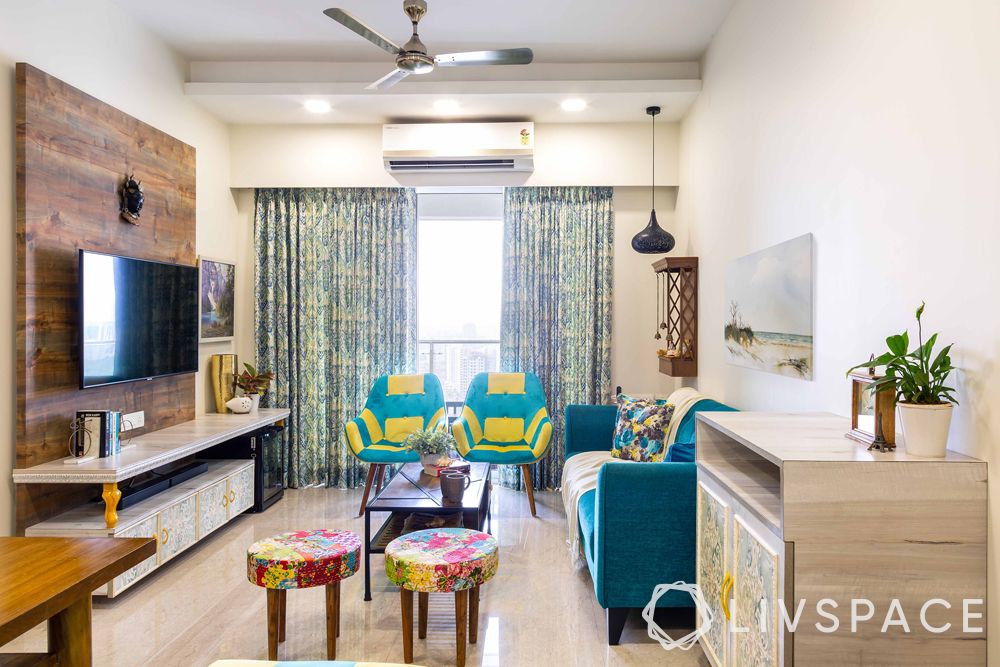 Yes, wallpaper can be used as a finish for furniture and it is very budget-friendly. If you are not making furniture for the long-haul, consider opting for wallpaper finished for your TV unit to keep it quirky and low-cost.
#12: High-gloss Finish for Compact TV Unit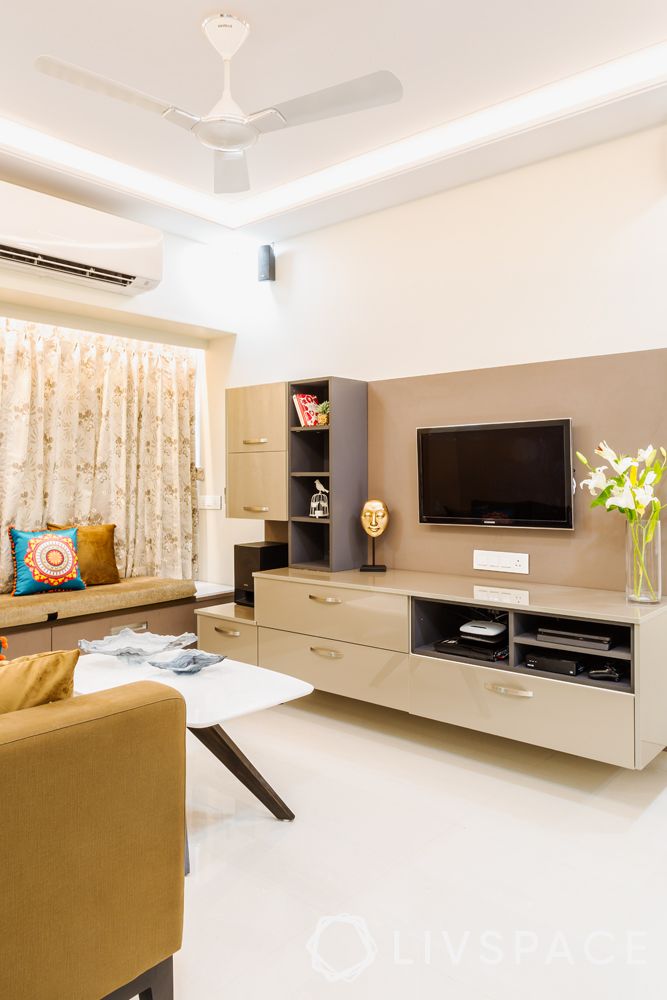 We already talked about the great advantages of laminates for low-cost simple TV unit designs. In fact, in a compact space, glossy finish can be your best friend. This finish is a favourite for small spaces as it reflects the light and will make the space look bigger. You can have a luxurious TV unit for an affordable price too.
How to Create Low-cost Simple TV Unit Designs?
There are many things you can take into account to achieve low cost simple TV unit designs. But, below you will find the 5 most important ones, if you keep them in mind you can save a lot of money without sacrificing style.
#1: The size matters: The smaller the size, the lesser the cost
#2: Materials are the base: Use engineered wooden instead of plywood or solid wood
#3: Pick the perfect finish: Pick affordable finishes like laminate or wallpaper
#4: The structure design: Keep in mind that drawers cost more than open sleeves
#5: Modular or Custom: Modular furniture will always be more affordable but you can customise your furniture within a smaller scope to save on costs.
How Can Livspace Help You?
If you have been sufficiently impressed with the Khannas' kitchen and are looking to renovate your kitchen too, then book a consultation with Livspace. Specialising in small kitchen interior, we will deliver quality and safe interiors without any hassle. You can learn more about our COVID-19 safety standards here.
If you have any other questions about how to design a low cost TV unit, please contact us at editor@livspace.com.