Did you think modular furniture was your only option while doing home interiors? Firstly, it's not and secondly, you are not alone. There is so much information overload around modular furniture that it's not unusual for people to think of it as 'the only way' to furnish homes. Modular obviously has its benefits but it isn't your only option. Customised furniture is a viable alternative for homeowners who don't want to choose modular furniture.
What is customised furniture and how is it different from modular?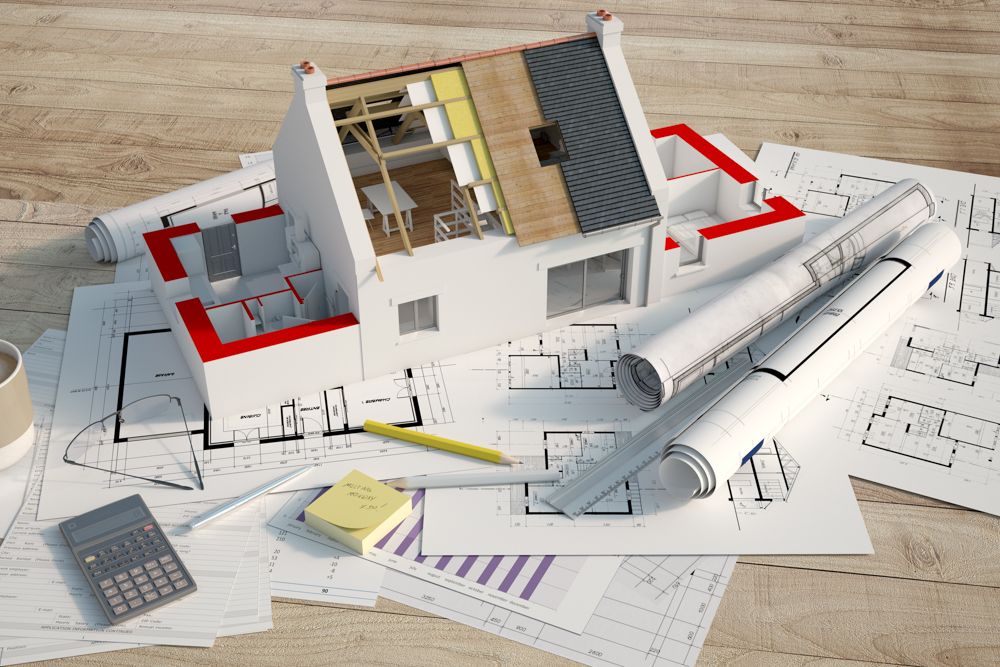 The main difference between modular and customised furniture is the way they are manufactured. Modular furniture is made in factories with preset dimensions and then assembled on site. Custom furniture, on the other hand, is made on site with specific dimensions. The obvious benefit is that it fits the space much better than modular options. However, the design and execution process is much slower.
What are the reasons for customisation?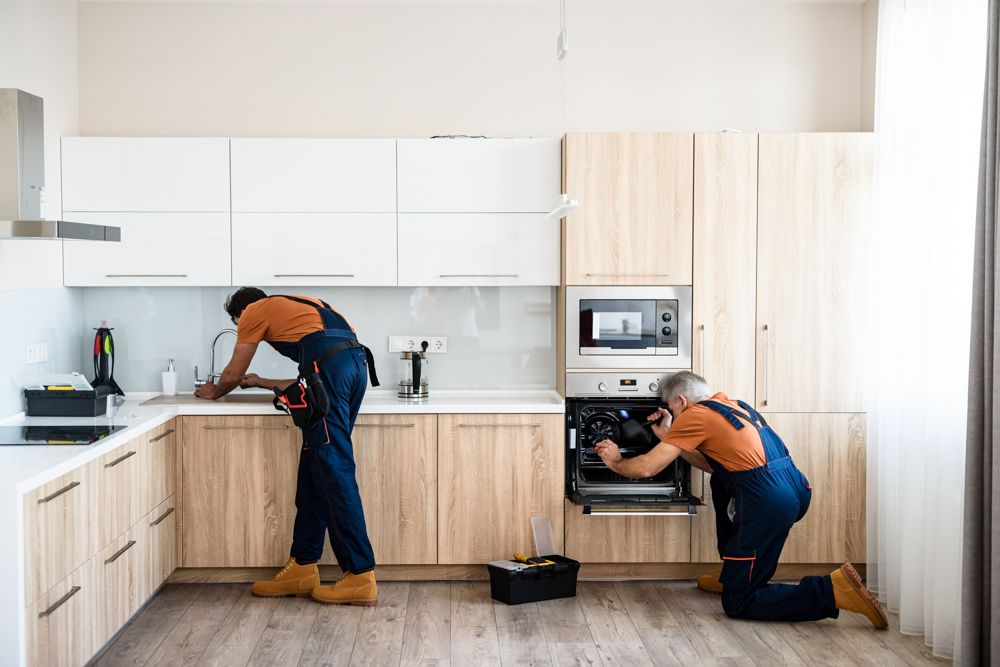 #1: You get furniture that fits your home better.
#2: The range of finishes and materials you can pick from increases widely.
#3: There is no bar on the kind of designs you can opt for.
#4: If you have space constraints, then custom furniture helps with options like pull-out features.
When should you opt for customisation and when you shouldn't?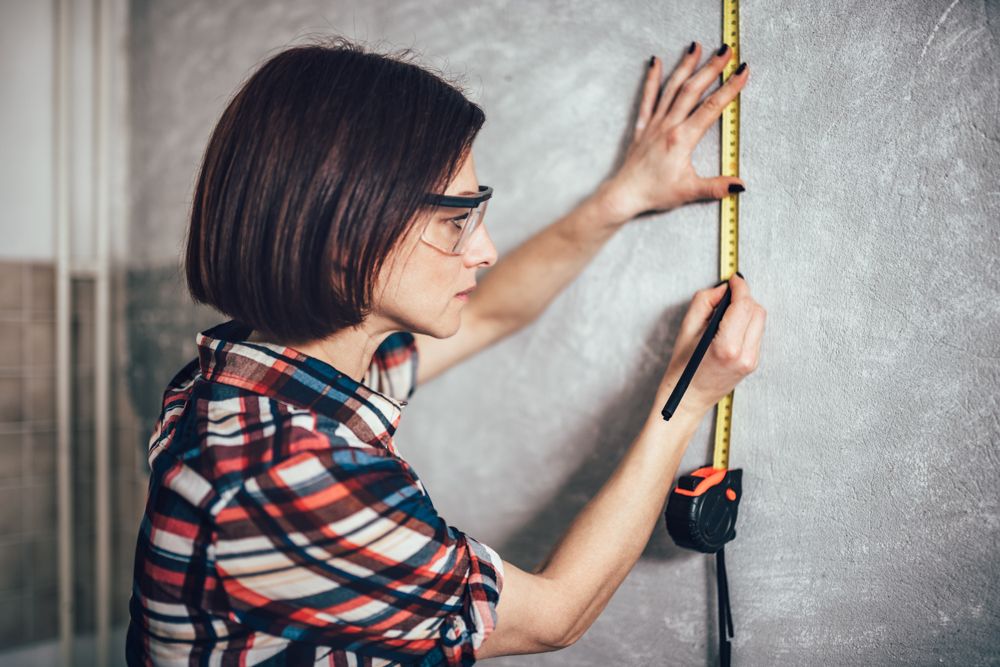 Opt for custom furniture if:
You have a really compact house and would like to use the space judiciously
The space for furniture has an unusual shape (i.e. anything other than square or rectangular)
You want designs that are novel or very specific
Hiding storage in plain sight is your goal
You want to experiment with materials that are not commonly available in modular furniture (like back-painted glass or jaali)
You want storage solutions to address a lifestyle problem that is unique to your family
Do not customise furniture if:
You live in a rented apartment
Moving homes frequently is a part of your lifestyle
You have a modest budget (as custom furniture is more expensive than modular)
You want the furniture within a short period of time
Modular options are available for the type of furniture you want
How much does customised furniture cost?
Thumb Rule
The extent of the cost, however, depends on the following factors:
The types of materials and finishes you choose
The kind of design you opt for; the more complex or detailed the design, the higher the cost
Scope of the customisation; how much of a unit is customised

How customised furniture worked for our best #LivspaceHomes?
The human mind understands concepts in the best possible way when you take them in context. And what better way to add context than the homes designed by us? So, let's take a look at some of our favourite homes in which custom furniture has solved real design problems.
#1: Integrated furniture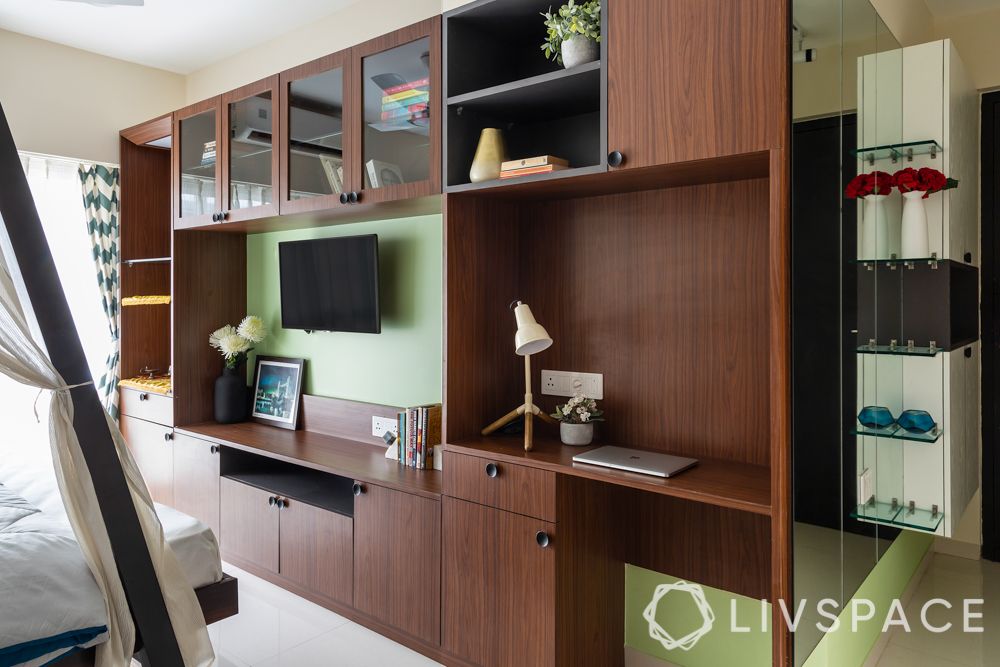 Abhijit Mitra wanted dedicated space for a number of different things in his primary bedroom. Hence, our design team suggested this integrated piece with a TV unit, display cabinets, a workstation and a dressed unit (behind the mirrors). Can you also see the pooja unit at the fag end of this enormous cabinet? One piece of furniture, four different functions!
See the rest of this storage-stocked 2 BHK here.
#2: Pull-out features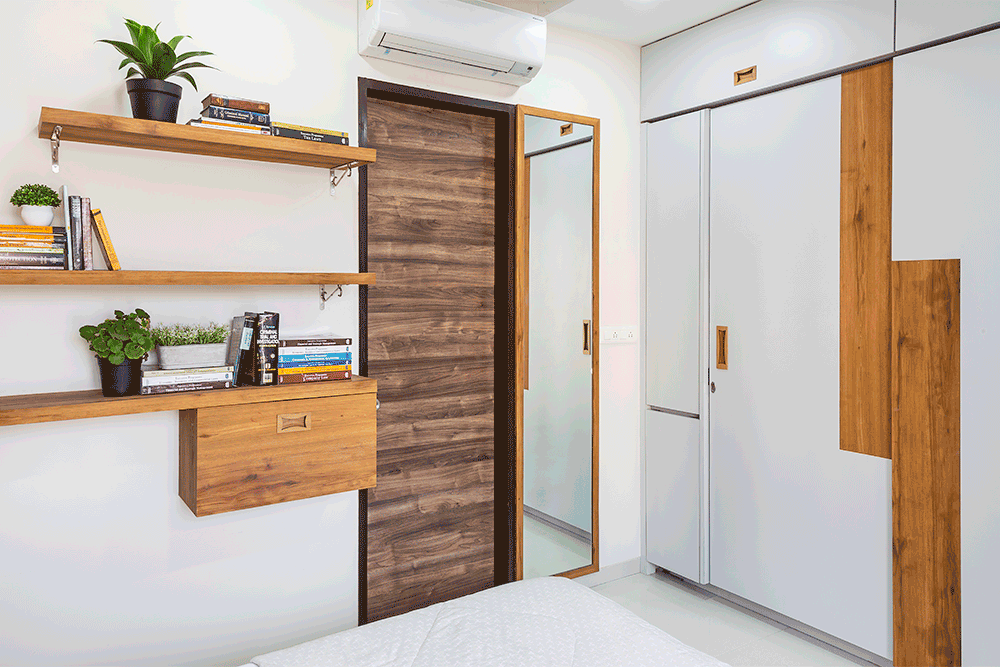 Rahul Dhumal's 2BHK is an example of a typical Mumbai apartment. It was super compact and thus it had to be designed in a space-efficient manner. A family with a growing child will need storage space, if not now then later. So how did we make sure they had everything they needed? With amazing pull-out features. This wardrobe opens up into a dresser unit and a pull-out ironing board to ensure that the family meets all its needs and has the storage space, too.
See all of this compact 2BHK here.
#3: Addressing lifestyle problems
The Varmas had a unique ask for their bedroom. They wanted a space for clothes that were worn once but not to be washed immediately. Keeping such clothes back in the wardrobe makes it stink and if you leave them on a chair, they just gather dust. The design team solved this lifestyle problem by creating a unit within the wardrobe with a louvre style shutter. The openings in it allow air circulation so the worn clothes stay fresh and don't get dusty either.
See the rest of this sleekly customised home here.
#4: Hidden storage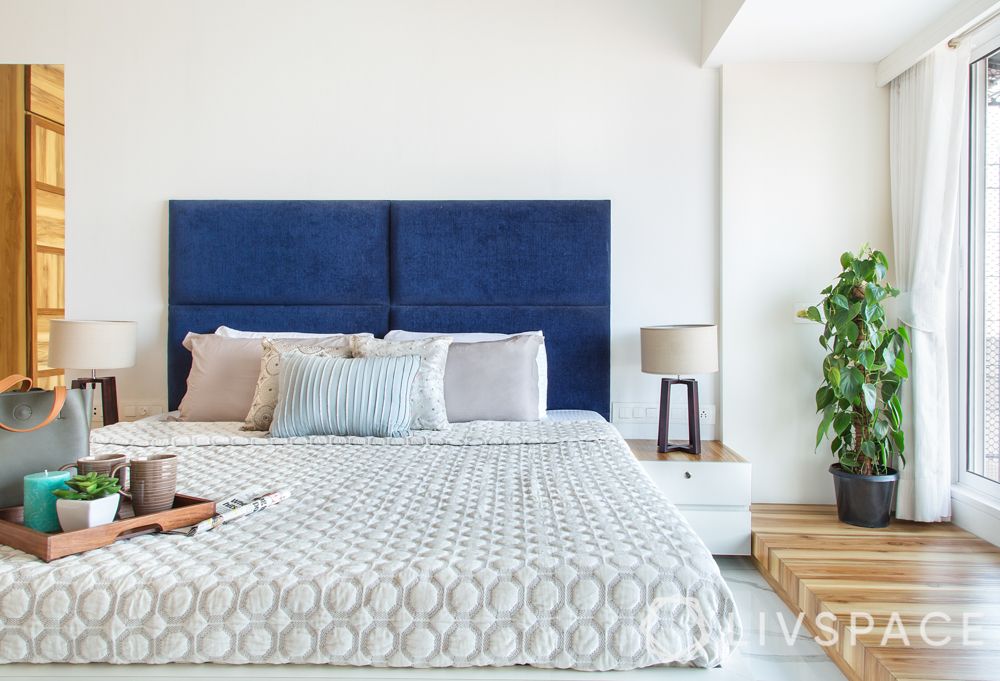 Another Mumbai home with a similar problem of space constraints and another ingenious solution! The Jains are a joint family of 6 adults and 3 children who live in a 2BHK. The need for storage in their house needs no elaboration. Hence, our design team used customised furniture to hide storage in plain sight. Could you have guessed that this ledge has storage underneath it?
See the rest of this storage-efficient home here.
#5: Customised for a theme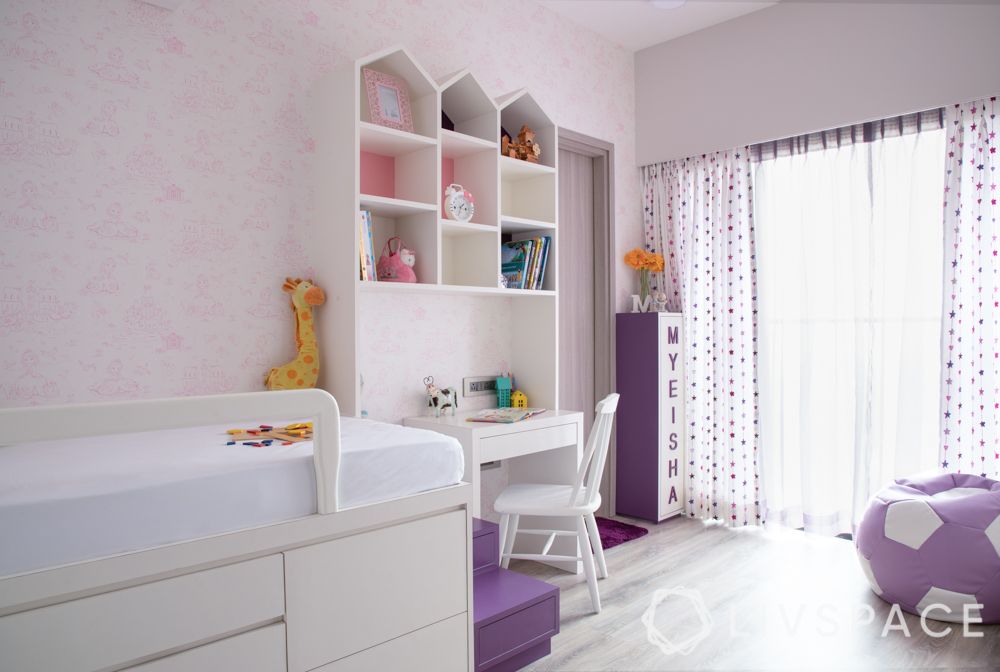 Little Myeisha wanted her room to look like a princess' castle but she knew she wouldn't like pink forever. So the design team put together a loft bed with deep storage units within and a bookshelf that looks just like a gilded castle. But the cherry on this cake is a storage unit with the princess' name on it!
Custom furniture can be used to add personal touches to any space.
See more images of this fully customised home here.
#6: Unique materials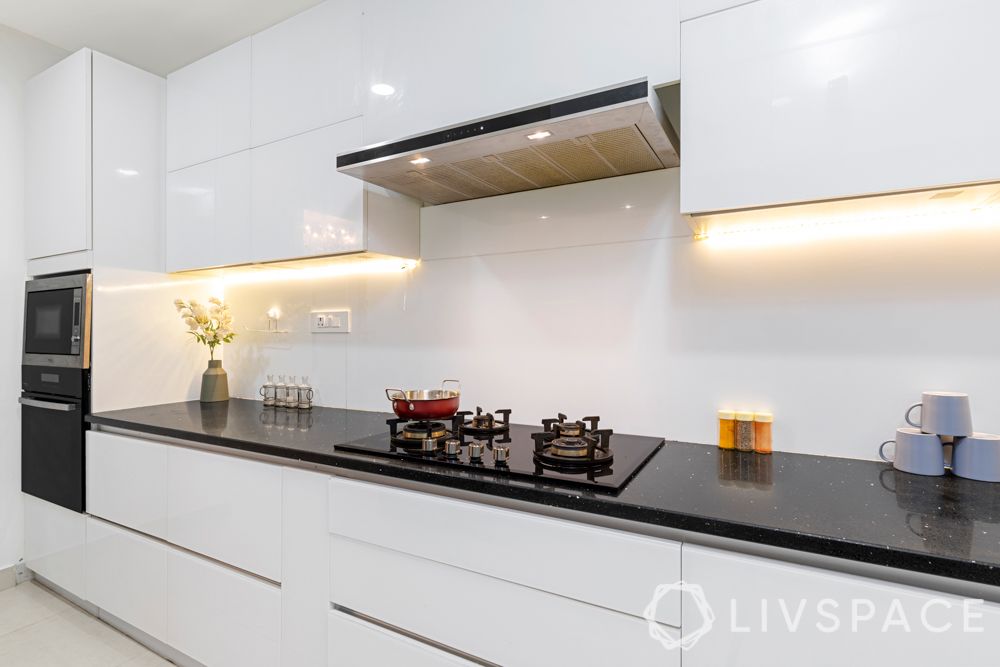 Believe it or not, this Hyderabad family cooks in a glass kitchen! It's true, this pristine white kitchen has back-painted glass shutters. And if you want to make a novel choice of finishes like this, customisation is your best bet.
See more images from this customised home in Hyderabad here.
Send in your comments & suggestions at editor@livspace.com