This home plan 2BHK includes some really unique pieces of furniture from our catalogue.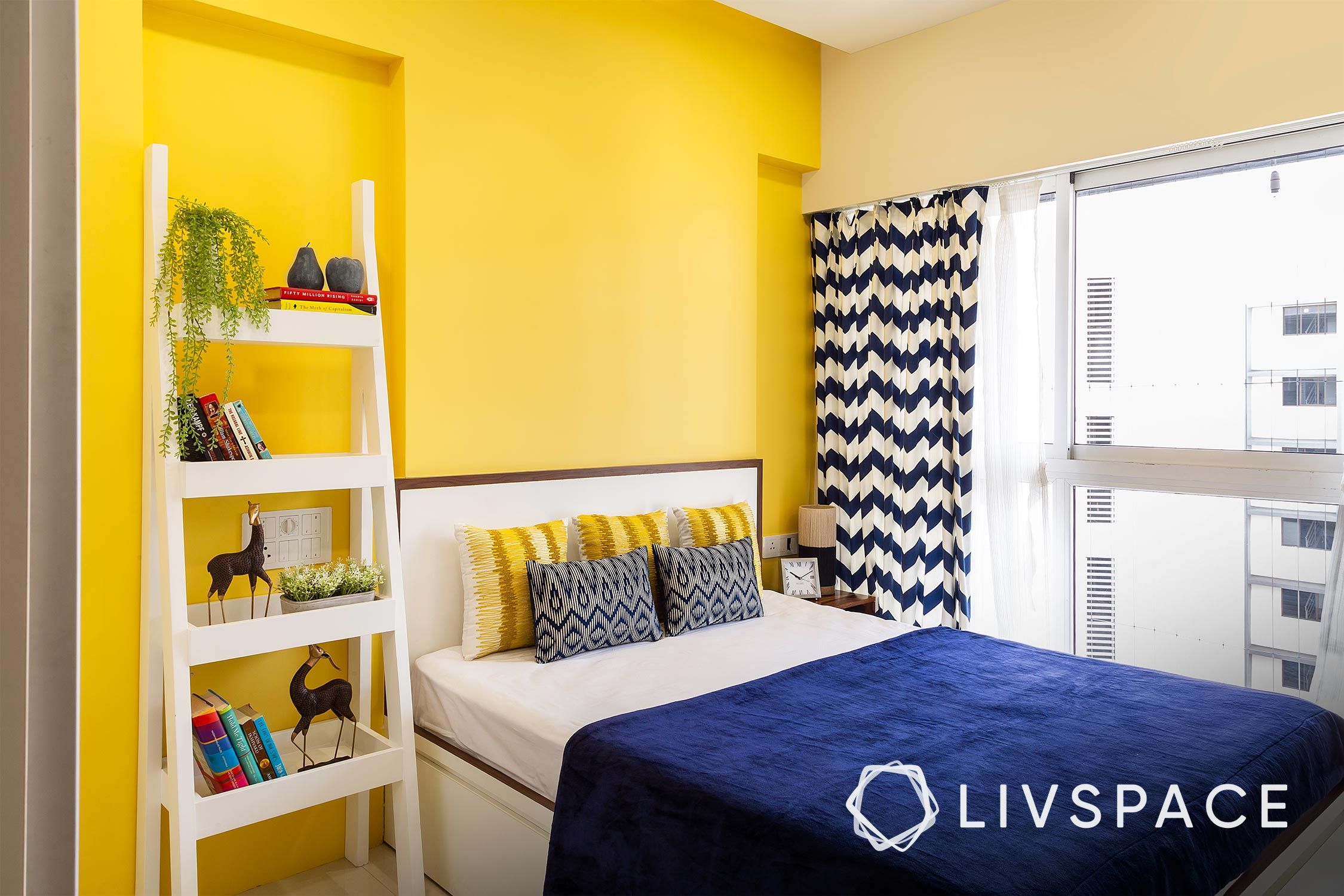 ---
Who livs here: Abhijit Mitra with his family
Location: Godrej Shell Tower, Mumbai
Size of home: A 2BHK spanning 970 sq ft
Design team: Interior Designer Sumeet Rawat and Project Manager Abhishek Singh
Livspace service: Full Home Design
Budget: ₹₹₹₹₹
---
Every home tells a story; the people who live in that home should be the main characters of this story. That is what our designer Sumeet Rawat believes. So when he was assigned the task of devising a home plan 2BHK for Abhijit Mitra and his family, he started by asking them all there was to know about their lifestyle.
And what did he find out? They are a Mumbai family of three, and they are thrilled about their new apartment in Godrej Shell Tower. Being Bengalis, this family loves to eat seafood and also has a penchant for reading. Thus, the kitchen needed a strong chimney and the home required storage for a large collection of books. While the family essentially includes the couple and their kid, their parents visit often. So the kid's room would have to be usable for an elderly couple as well.
Every step of designing this Godrej Shell Tower 2BHK was dictated by the lifestyle needs of the Mitras. Let's take you through the rest and you can see for yourself.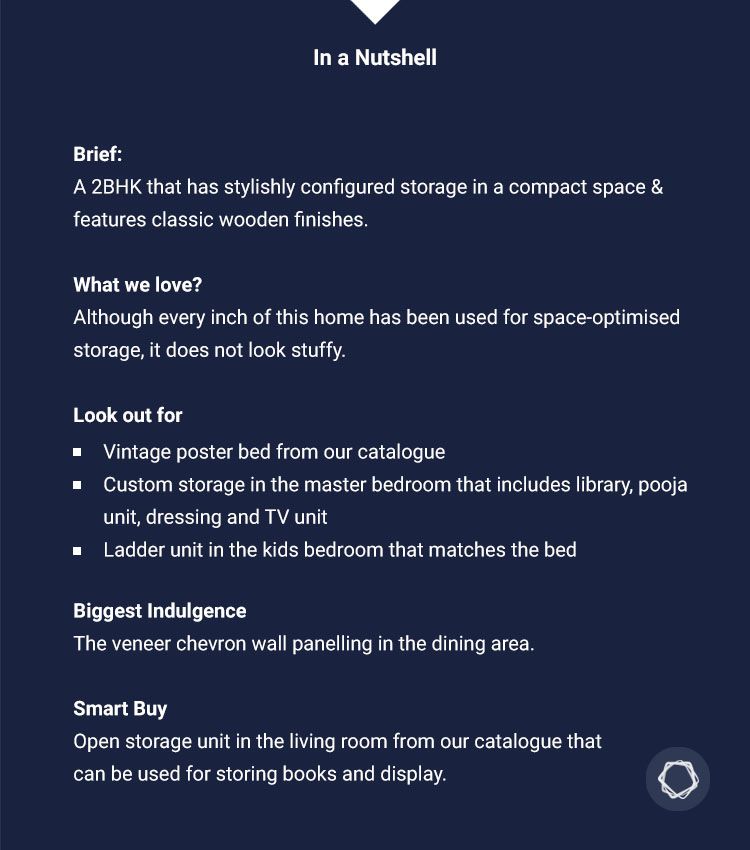 Out-of-the-box Furniture from Livspace
The kind of furniture you choose makes the actual difference between a great home and a good one. So Sumeet guided the Mitras through our exhaustive Livspace catalogue to pick out furniture that really stands out in this home plan 2BHK. Our favourite is the modern take on a four poster bed in the couple's bedroom. Not only does it add a vintage charm to the space but also makes the furnishing look very luxe!
Moving on, we have the couch and armchairs from our catalogue. But the open ladder unit in the living area is a real steal. It has a rugged industrial edge about it and is also super useful for storage and display. And you will never believe how much it costs! We are very impressed by the white ladder unit in the kid's bedroom, which was made on site. It fits like a fiddle into the compact space by the bedside! The family was particular about having a white bed that has hydraulic storage, so this item too was custom made by our vendors.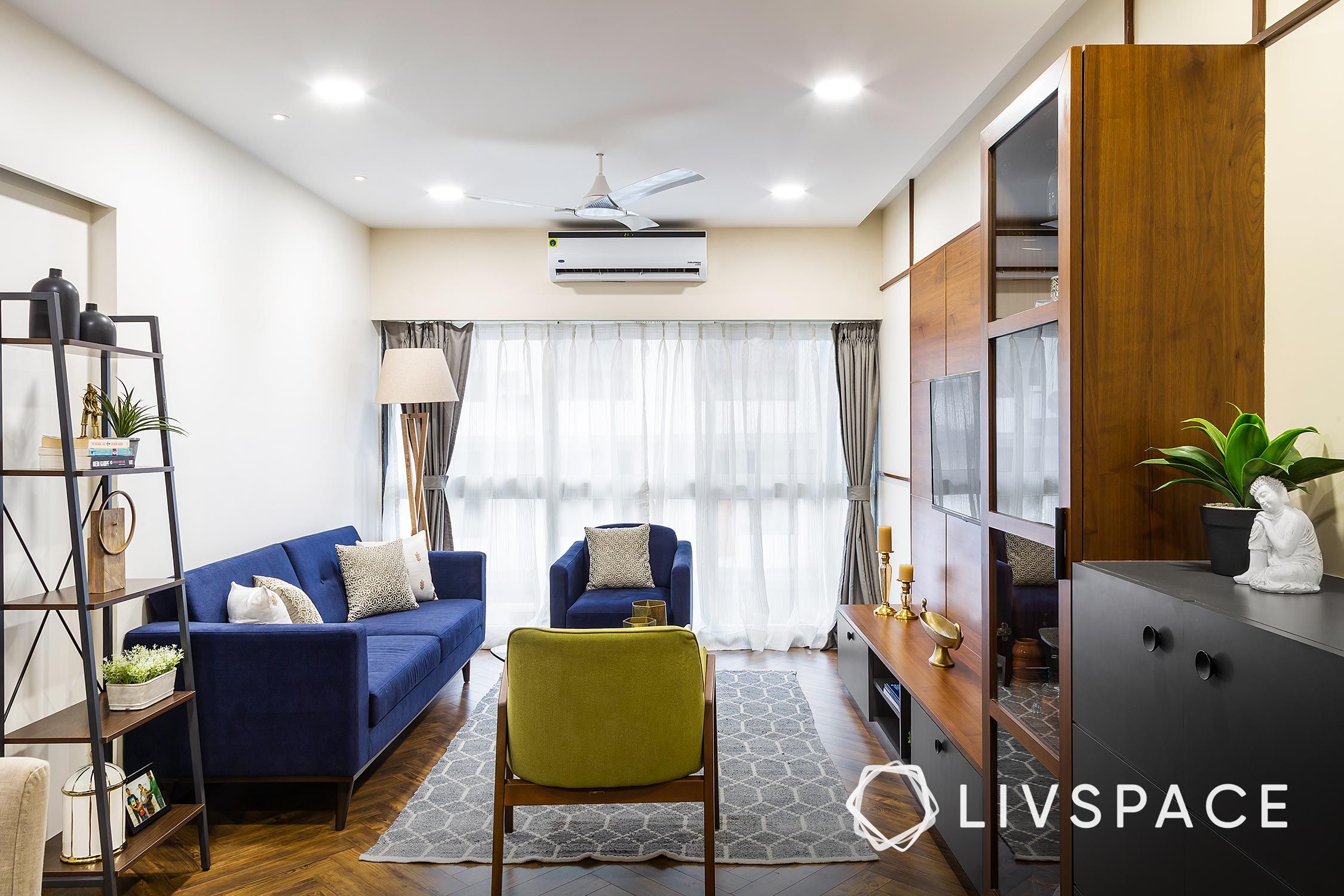 "The planning, designing and execution of our home was done with absolute precision by the Livspace team. The look and feel of our home was just as we had imagined. In fact, Abhishek from the project execution team also painstakingly fought out tough deadlines to deliver our home in time."

– Abhijit Mitra, Livspace Homeowner

Compact Modular Storage
The most determining factor about this home plan 2BHK is that it spans just under 1,000 sq ft. While this may seem like a small space by pan-Indian standards, this Godrej Shell Tower home will be considered roomy in Mumbai. And being a native Mumbai designer, Sumeet was just the right guy to fit in sufficient storage into this home without making it look stuffed.
He installed a sliding wardrobe with a mirror shutter from our catalogue in the kid's bedroom. Both the white colour of the laminate and the mirror helps to open by the cramped space here. Moreover, this bedroom has a study table with modular cabinets also in white. In the master bedroom, he has gone with brown laminate keeping with the wooden theme.
The kitchen is a particularly interesting part of this home plan 2BHK; it is really compact but very smartly designed. The Mitras have opted for open shelves on one side instead of wall cabinets to ensure that their two-toned kitchen does not look crowded. In fact, this allows the family free access to things like tea, sugar and spices. These were prerequisites for the family as they are ardent foodies and seafood lovers in particular!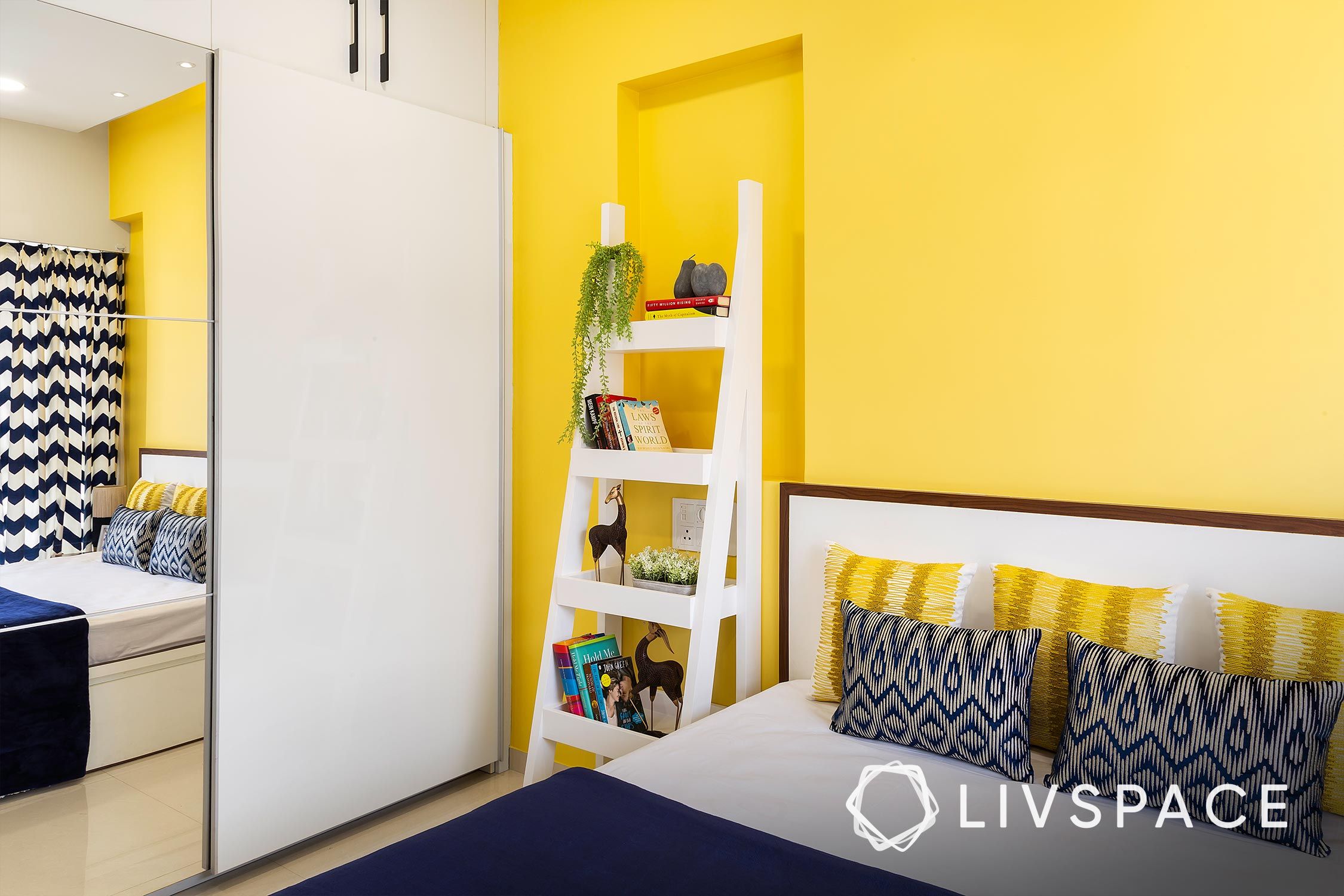 Tons of Made-to-order Storage
All of us can learn a thing or two about space optimisation from Mumbaikars. One really has to marvel at this home plan 2BHK for the way it slips in custom storage without making it obvious. In this regard, the multi-purpose storage unit in the master bedroom is a benchmark. It is a TV unit that extends into a study table. Behind the TV unit, there is a full-fledged library because this is a family of avid readers. Additionally, there is also a dresser here. Can you figure that out!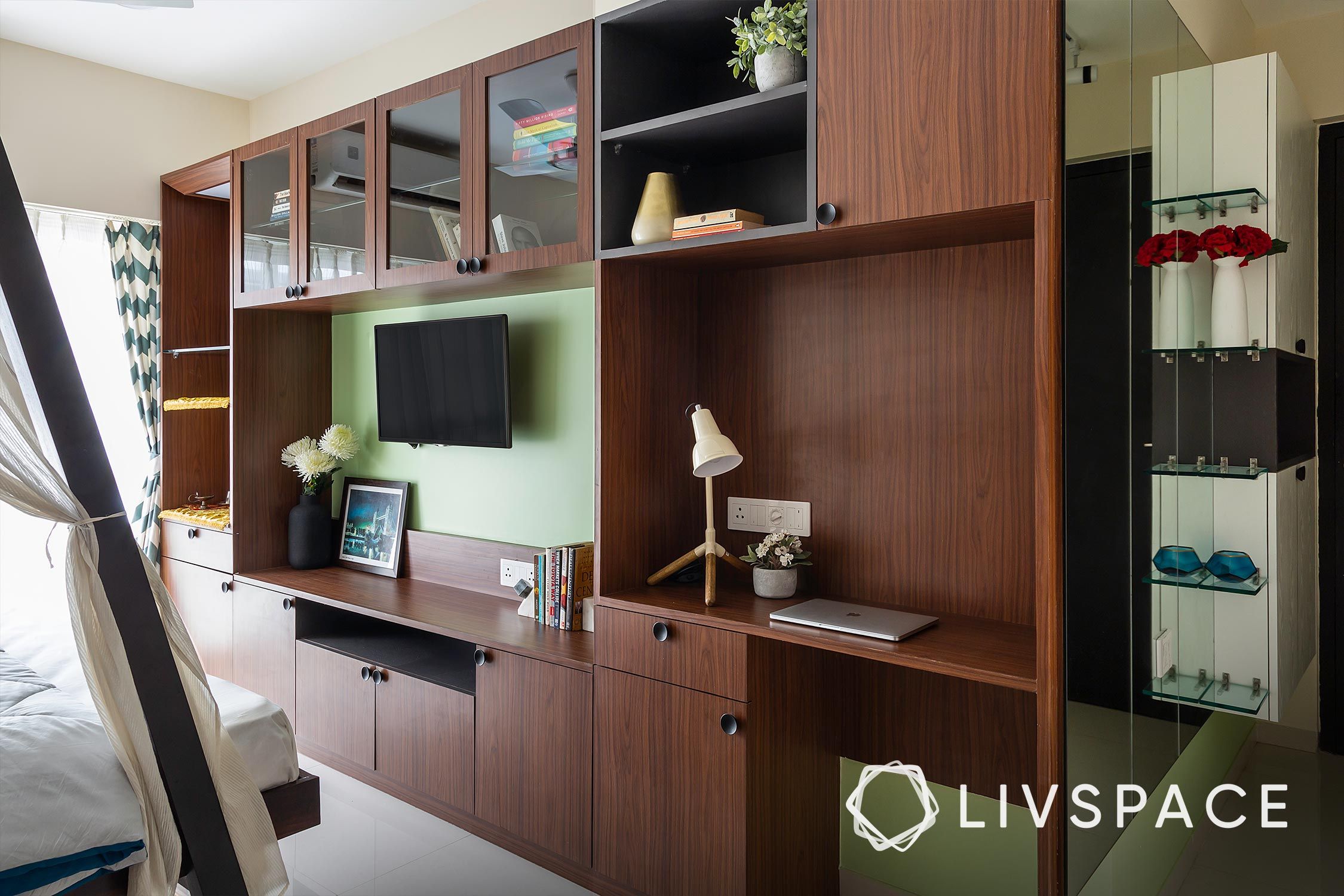 The Showstoppers
Apart from the essentials like furniture and storage, this home has a few frills that you should not miss out. For example, the laminate flooring in the living room has a textured Herringbone pattern that stands out as an accent. In addition, we are big fans of the veneer finish chevron pattern wall in the dining area. Not only does it give structure to the dining area and segregate space, it also serves as a statement piece for this Godrej Shell Tower home.
Designer Speak
"Abhijit Mitra and his family were a pleasant lot to work with. They spelled out their requirements very clearly and were very accepting of the design ideas we suggested. It was easy to bounce ideas off them and develop the design strategy according to their feedback, which was clear and precise."

– Sumeet Rawat, Interior Designer, Livspace
If you loved the furniture from our catalogue in this Godrej Shell Tower home, also See How We Furnished This Home Completely From Our Catalogue.
Send in your comments and suggestions.