We designed this simple yet stunning home for a humble couple in Mumbai's Malad. They were surprised at how spacious their compact homes looked after we finished designing it. Check out how we did this small house interior and delivered it on time too!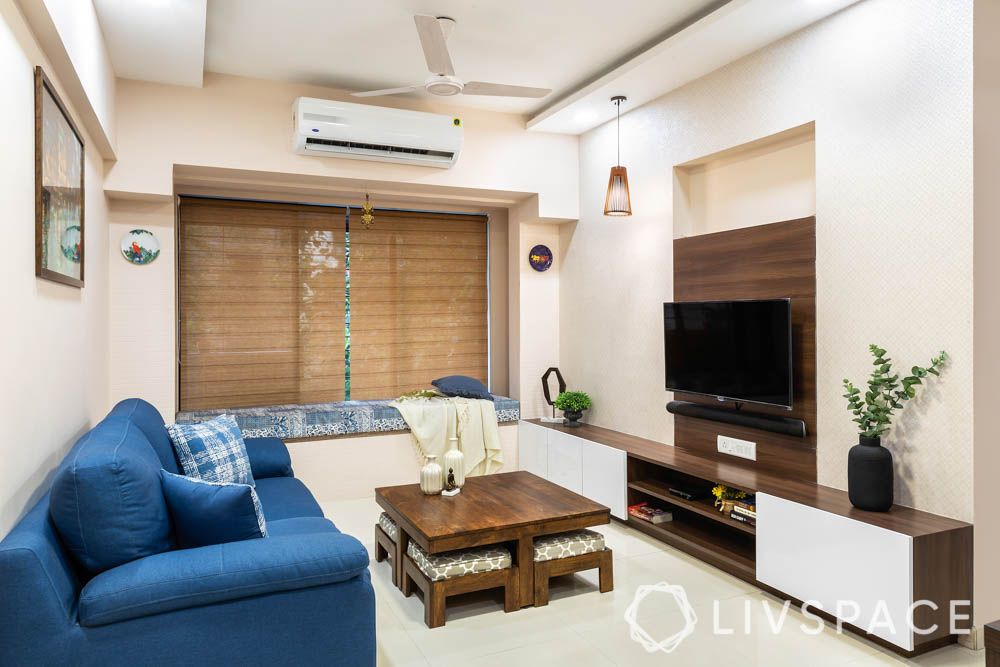 ---
Who livs here: Shalini Kamath with her husband and their son
Location: Krishna Regency, Malad West, Mumbai
Size of home: A 2BHK spanning 800 sq ft approx.
Design team: Interior Designer Smridhi Jain and Project Manager Roshan Jangid
Livspace service: Full home design
Budget: ₹₹₹₹₹
---
What's a home without a welcoming vibe? Also, if you reside in Mumbai, you know you want to come back to a saner space where you can unwind and relax. Therefore, we believe in designing homes that exude warmth and wood is the best way to infuse a space with it. The Kamath family came visiting us at the Experience Center one fine afternoon and they were really impressed with the space and the concept. This couple wanted their home to wear a subtle but a completely new look in a few weeks.
So how do you think we achieved it? Along with this understanding couple, we made quick decisions when it came to the designing phase. Something that really helped them were the 3D renders that we made for them. Isn't it easy if we see what our home is going to look like even before it is completed? That's why we have our 3D artists creating a lookalike of your homes for you to make the right choices. Also, do not miss the jaw-dropping makeover!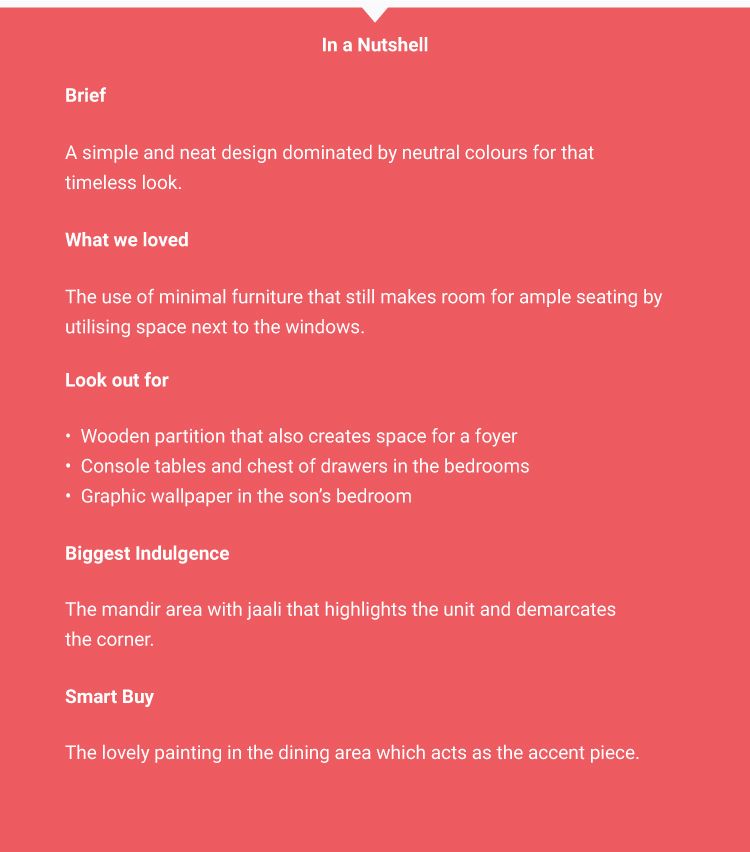 The before-after effect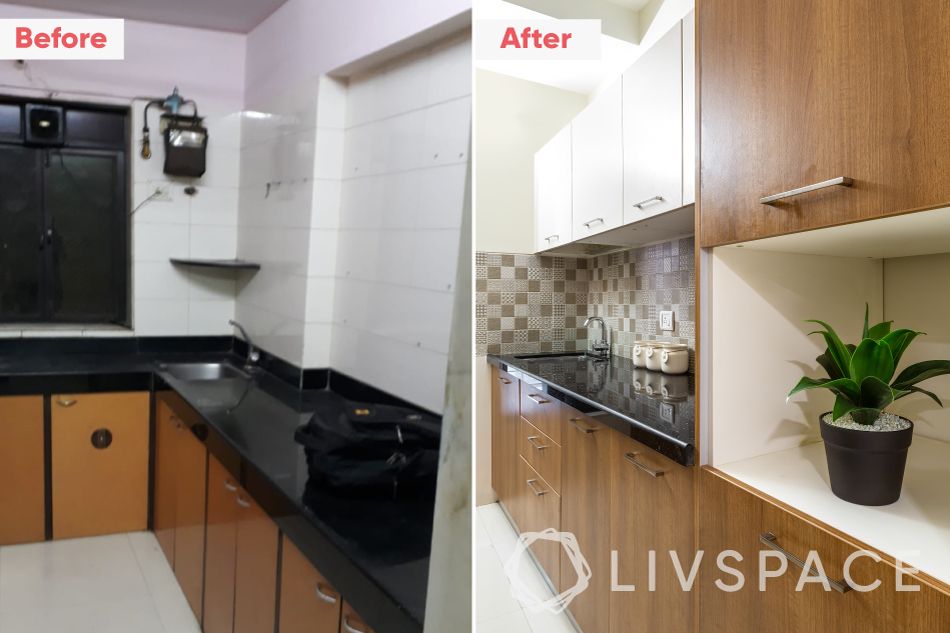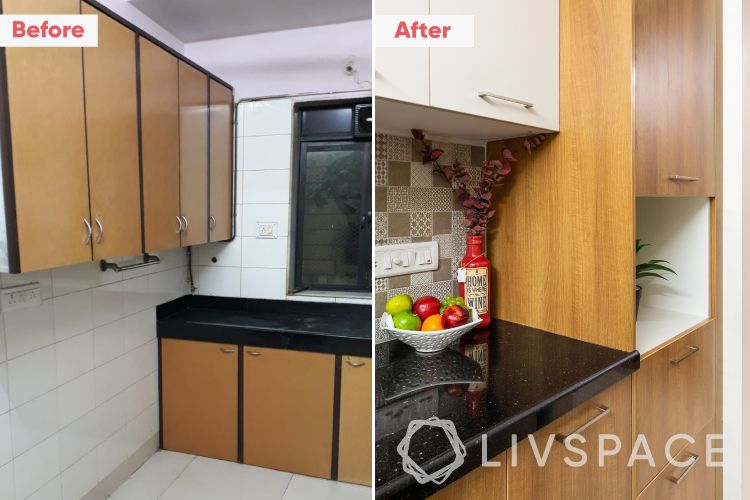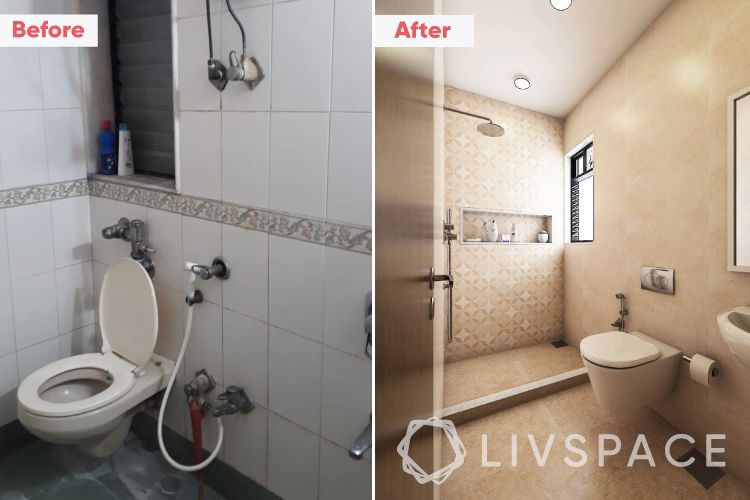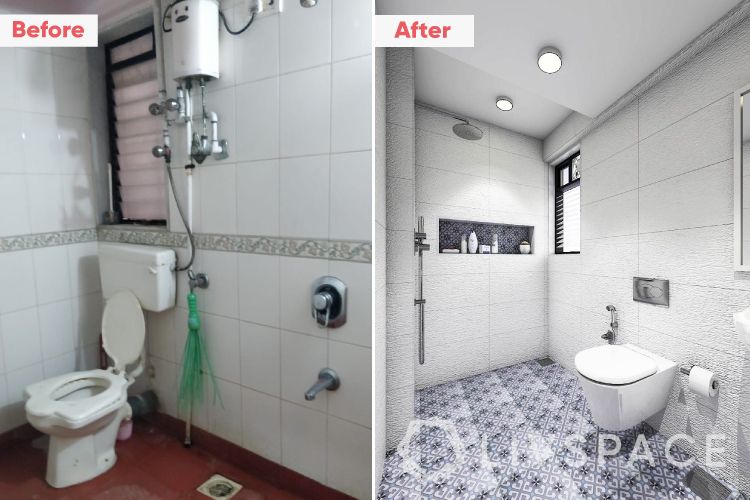 One of our major services is giving a fresh new look to an old or a newly acquired home. We love makeovers as much as you do! Therefore, we wanted to show you what an amazing facelift the kitchen and the bathrooms in both the rooms got. So from dull and drab interiors to bright and functional spaces. The transformation is REAL!
A render to reality check!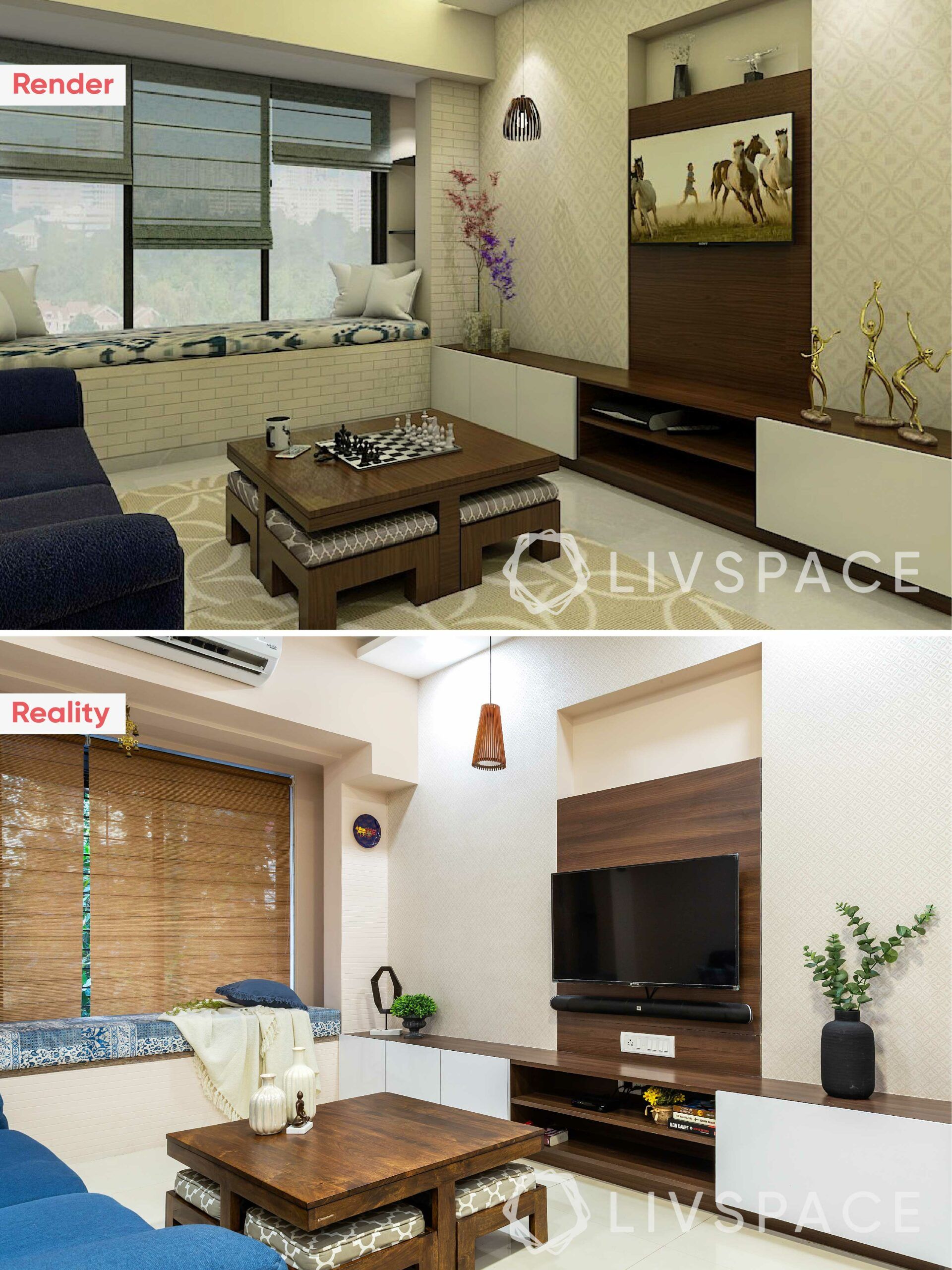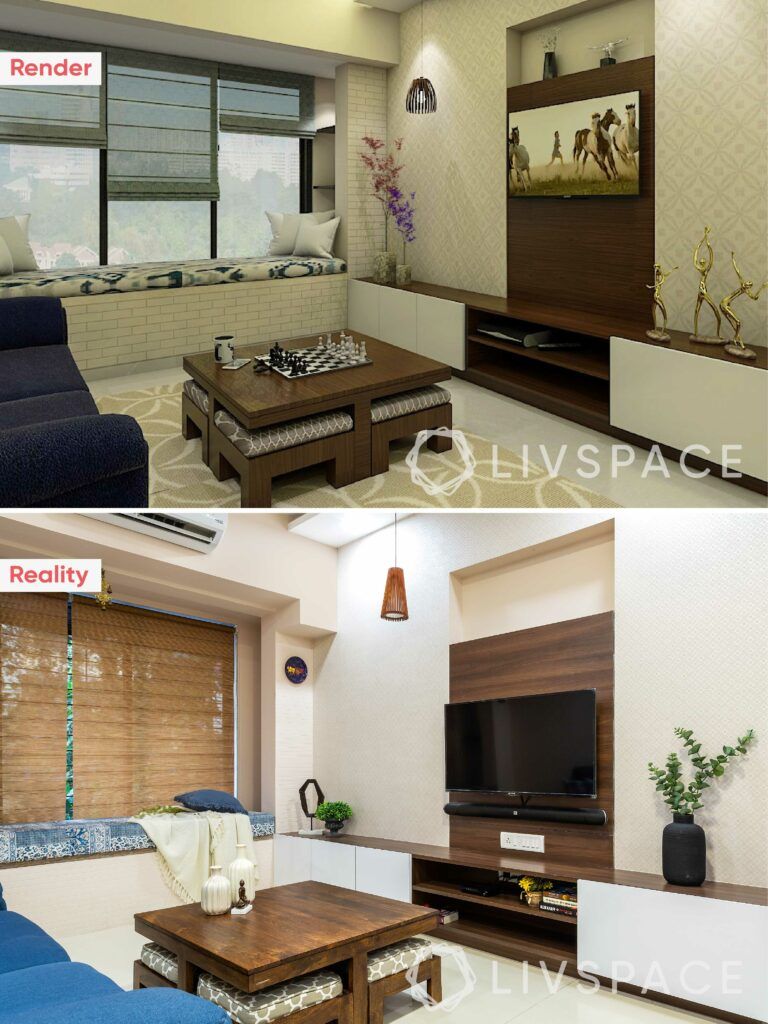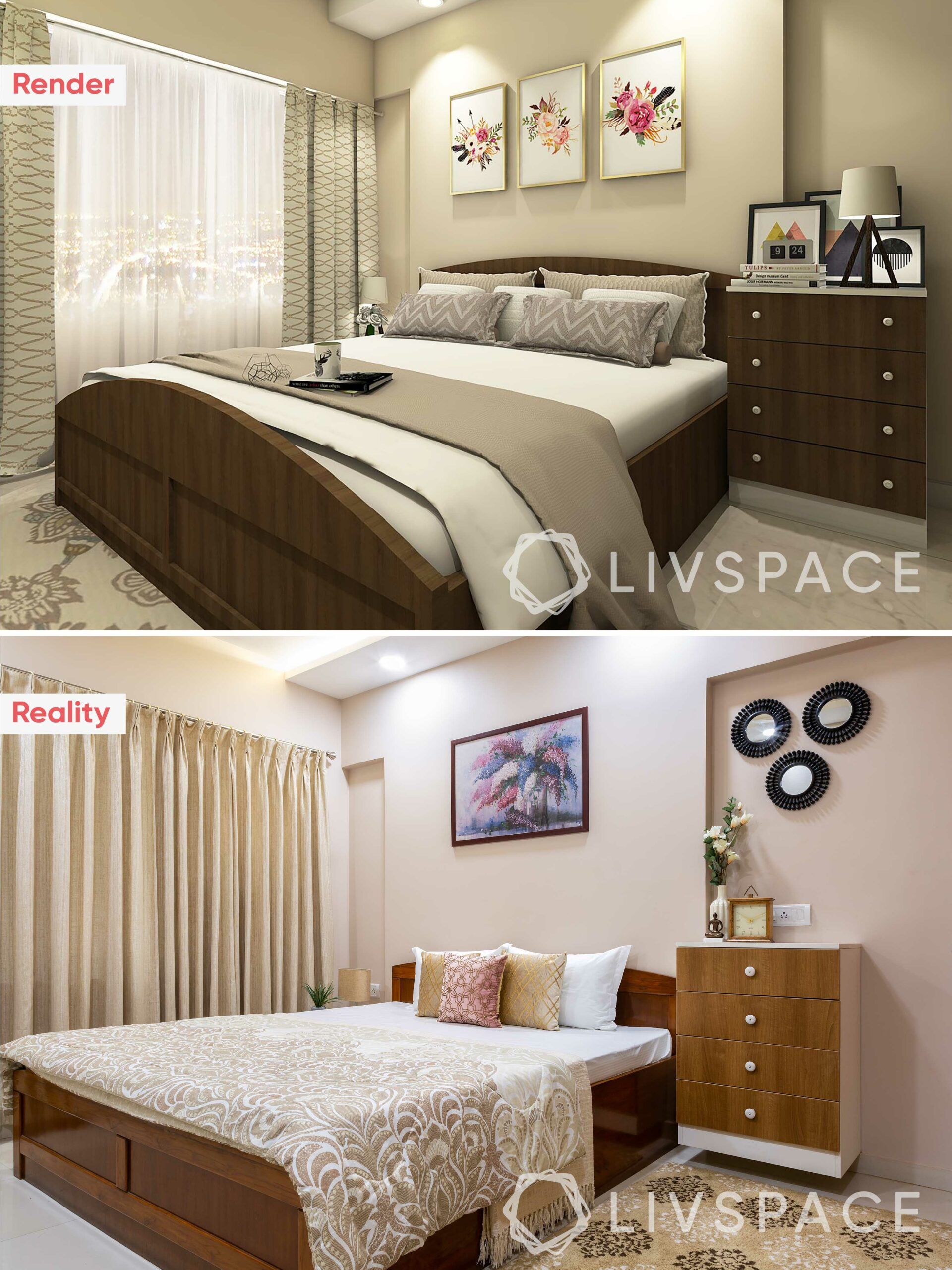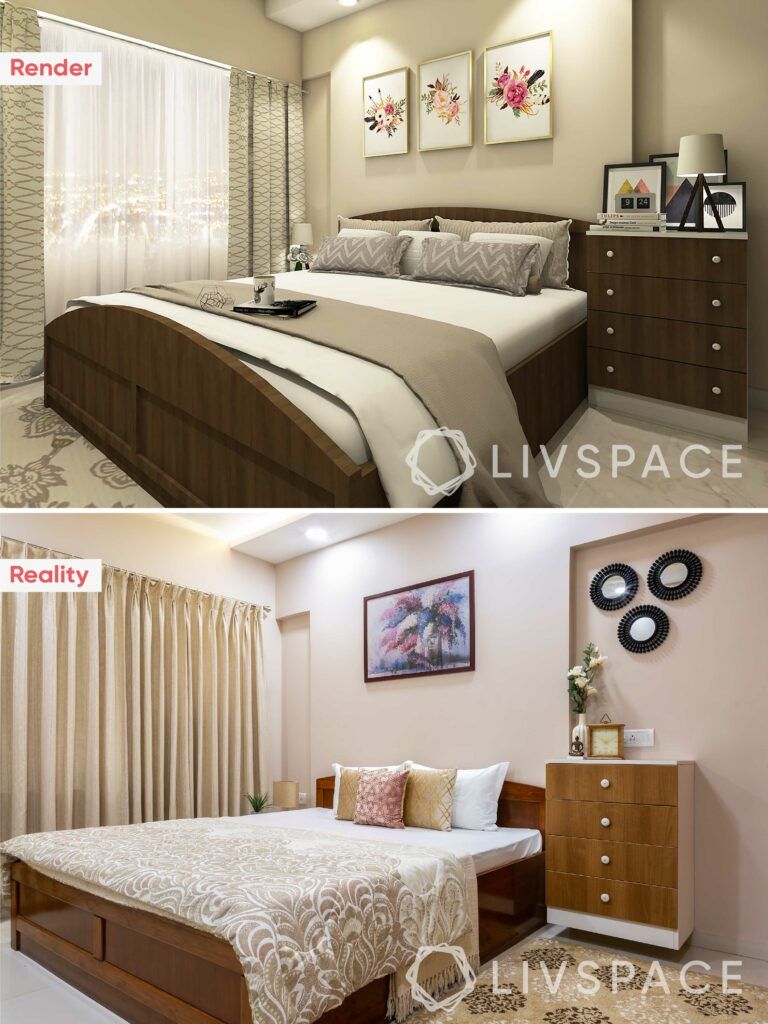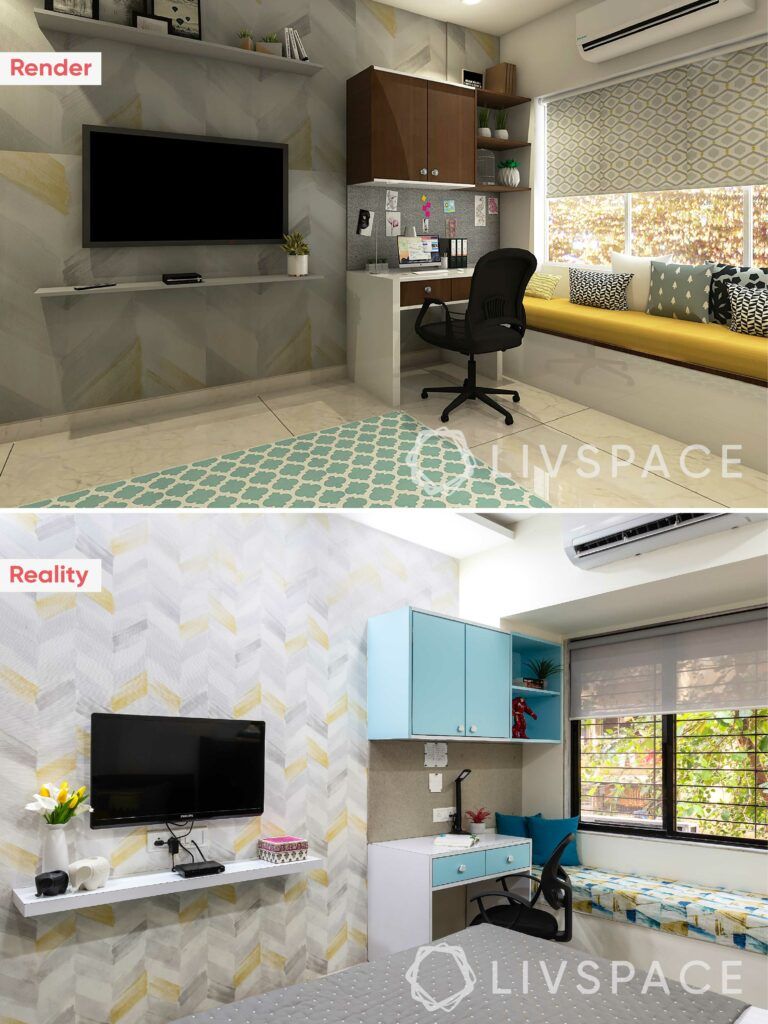 This is something that we proudly admit – 3D renders for your home will be created so that you can see how the end result is going to look like. Shalini and Dinesh have also admitted that these renders for their small house interior made it very easy for them to make decisions. They could select wallpapers, finishes and so much more once they saw how it all looked together in one frame.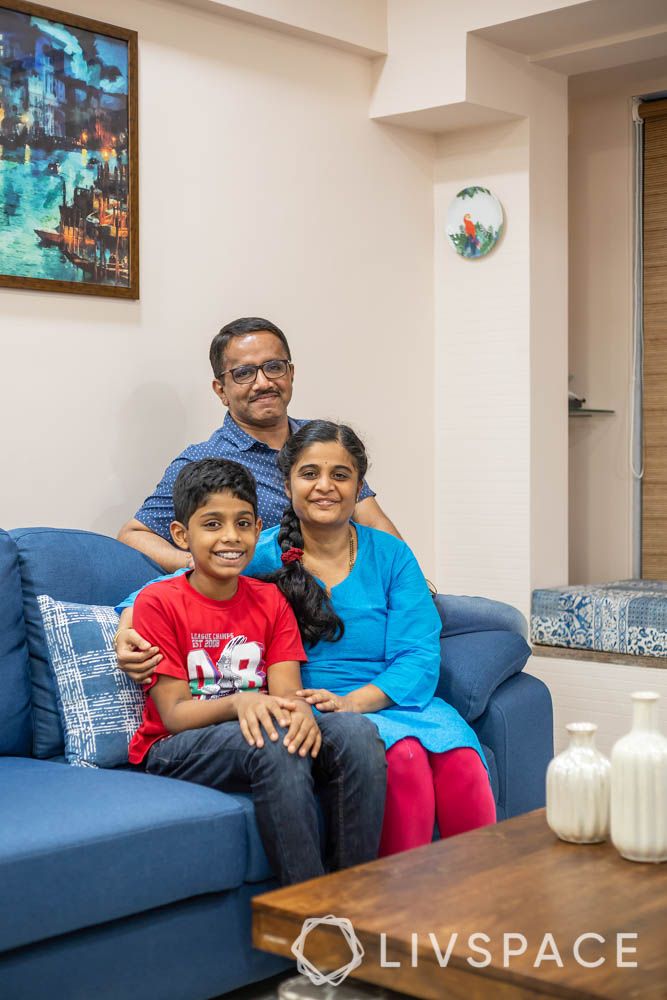 "We are extremely happy with the way our home looks. Smridhi and Nausheen have done an amazing job with the designing. I wanted a simple, subtle and neat look for our home and the mandir was our main requirement since we spend our time there everyday. I and my husband were unsure about bright colours but the designer convinced us and we are glad we went ahead with her suggestions. The 3D renders also made our decision-making process simpler."

-Shalini Dinesh Kamath, Livspace Homeowner
Let's show you how we made their life modular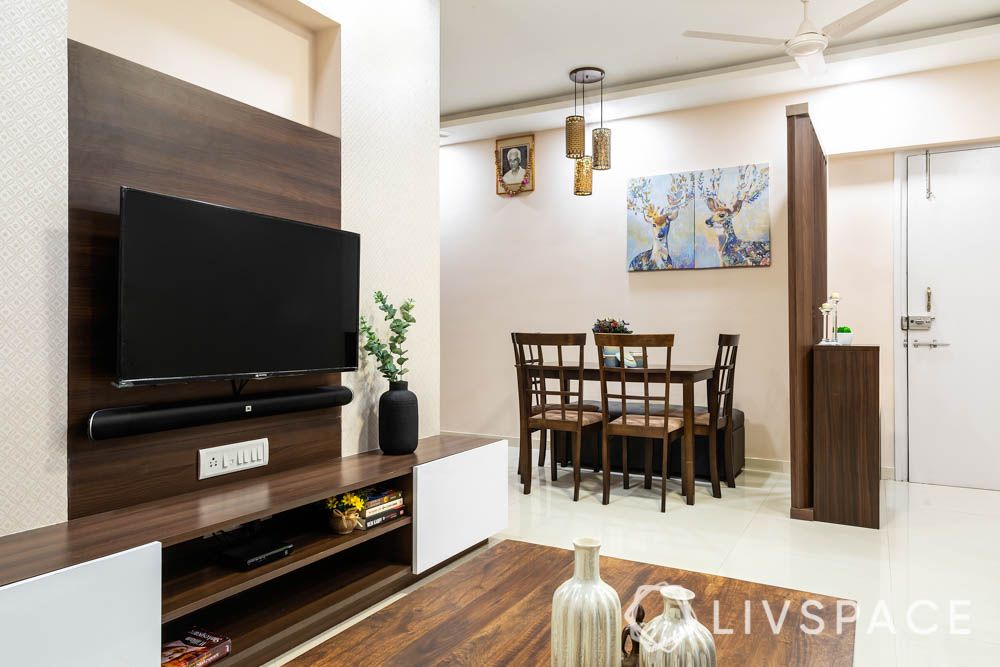 Most of the home is modular and we'll tell you how it made their life simpler. The TV unit in the living room, for instance, is a wall-to-wall unit that can store everything from set top boxes to remotes and other items. Since the couple wanted a clean look for their home, we gave them a combination of open and closed storage. This also makes it easy to access everyday things and keep the rest stowed away!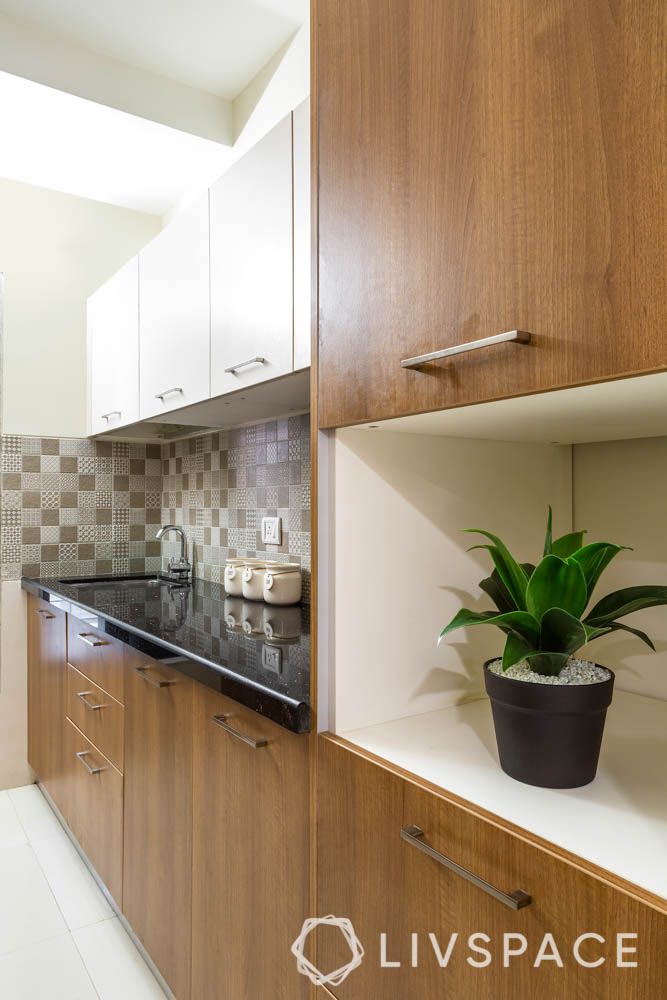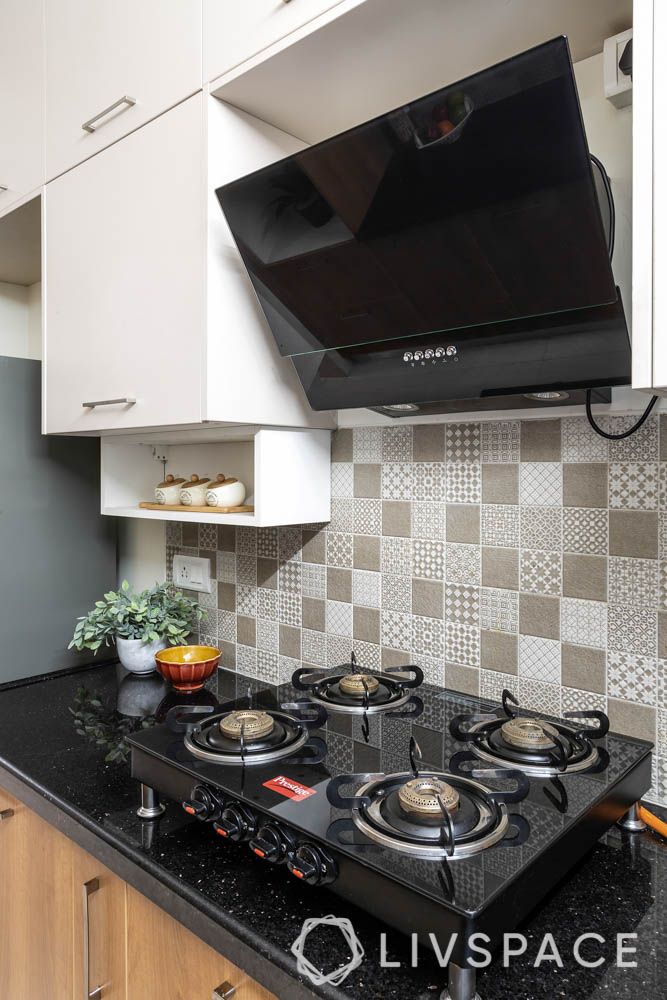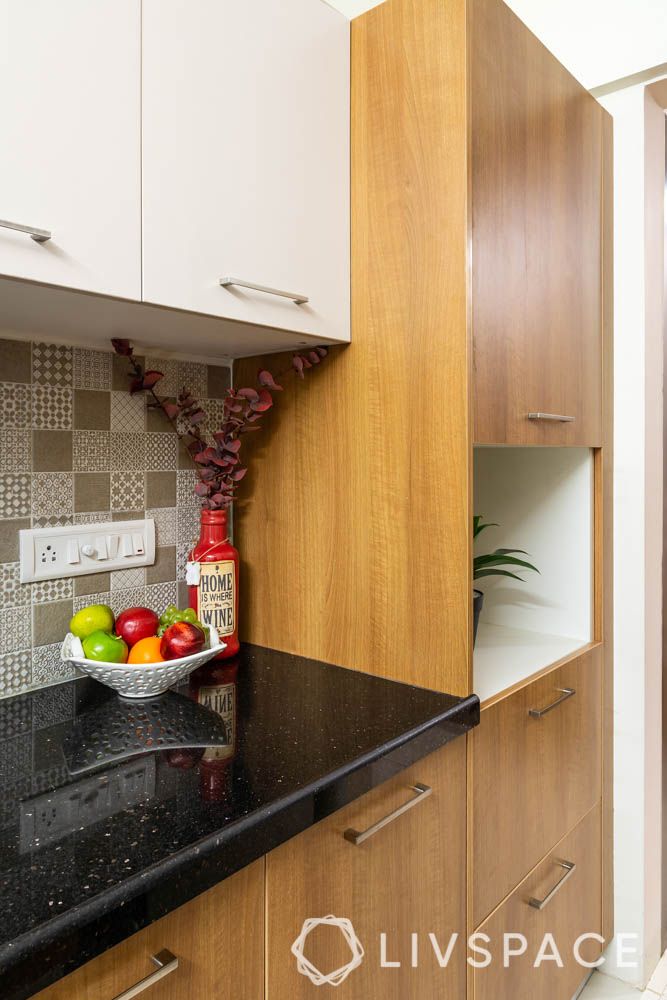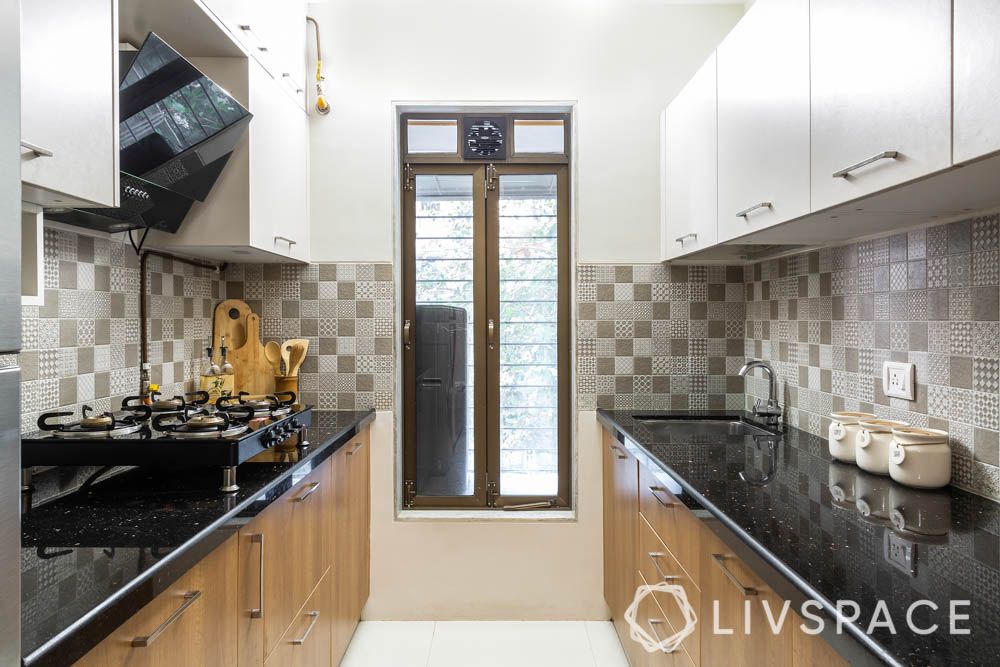 Now let's take you through this lovely modular kitchen in the small house interior now. Since cost was a constraint, Smridhi and Nausheen have given this kitchen a complete laminate finish. Also with walnut laminate for the base units and cream for the wall units, this kitchen looks visually larger. AThe L-shaped layout was changed to a parallel layout to maximise efficiency. A granite countertop makes sure that it is easy to maintain and look aesthetic as well. Therefore, this kitchen is not just pretty but functional too.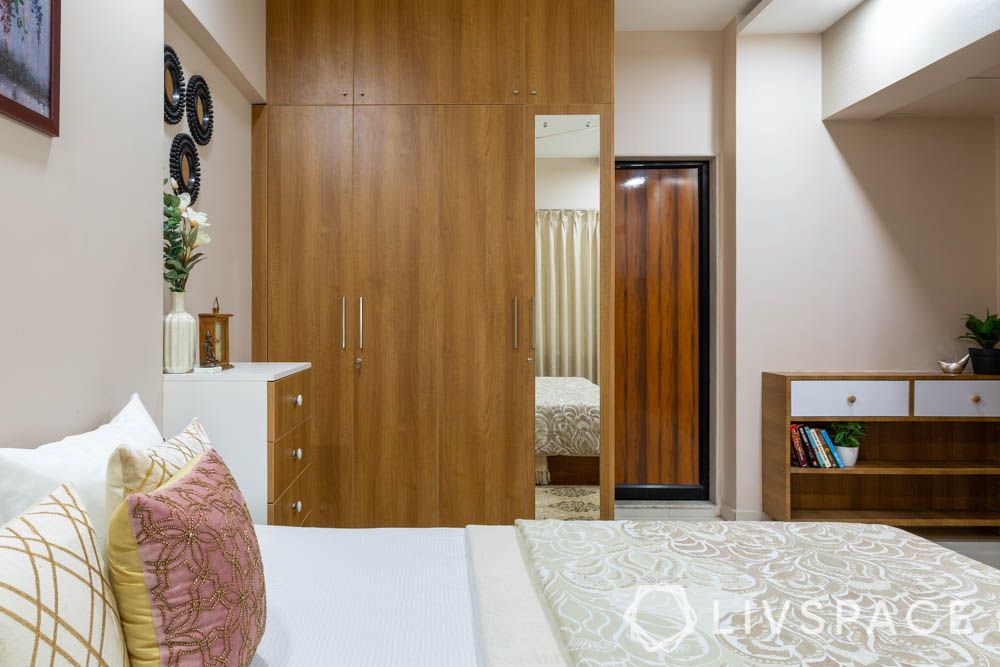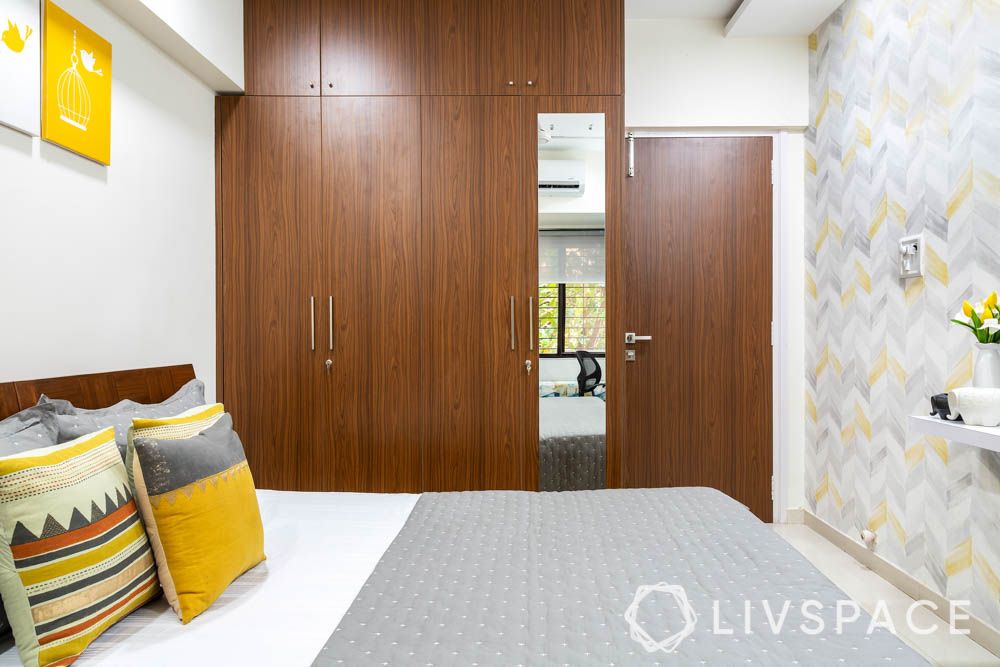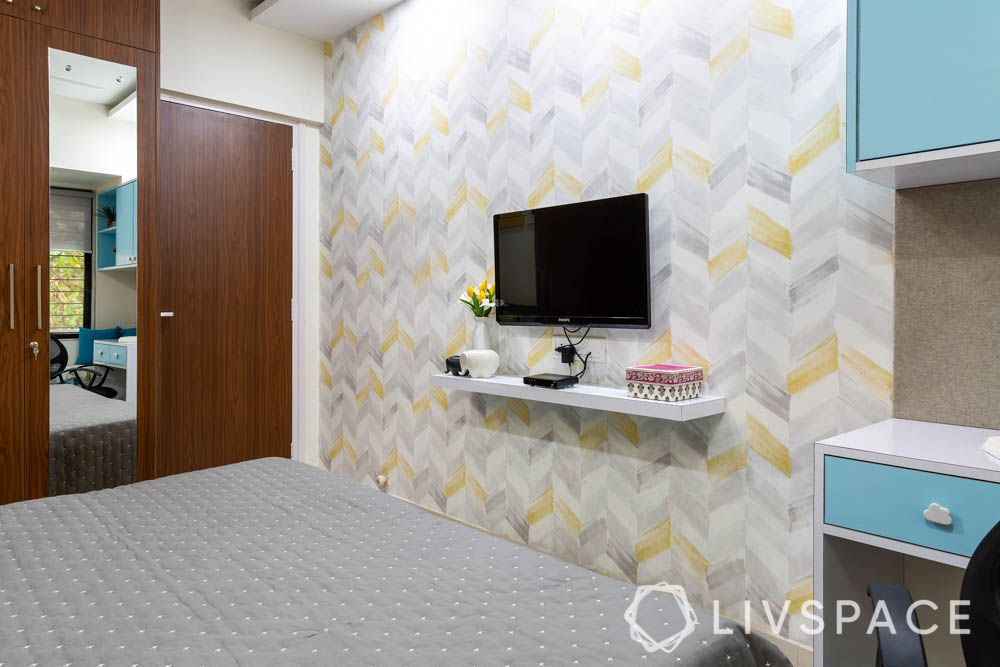 Coming to the modular wardrobes in both the rooms and the sleek TV unit in the kids bedroom. We all know how important space utilisation is in apartments in Mumbai. Therefore, you have to utilise every inch of space in small house interior. Our range of laminate finish modular wardrobes was the perfect choice for this home since they come with ample storage and have lofts on top. Both wardrobes come with a mirror on the shutters and hence doubles up as the dresser without having to use up extra space to place one.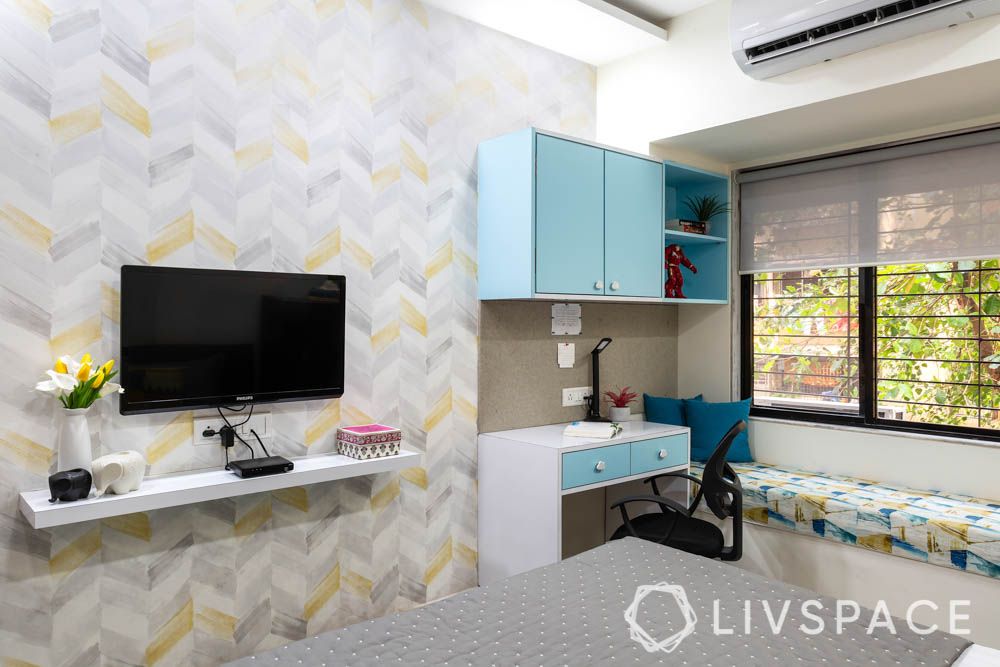 The study table in the kid's bedroom wears a cool blue colour and has the right amount of storage space in it. Drawers, cabinets and shelves – you name it and this one has it. Also, it sports the right size and fits perfectly in this room.
Did you that all their loose furniture was from our catalogue?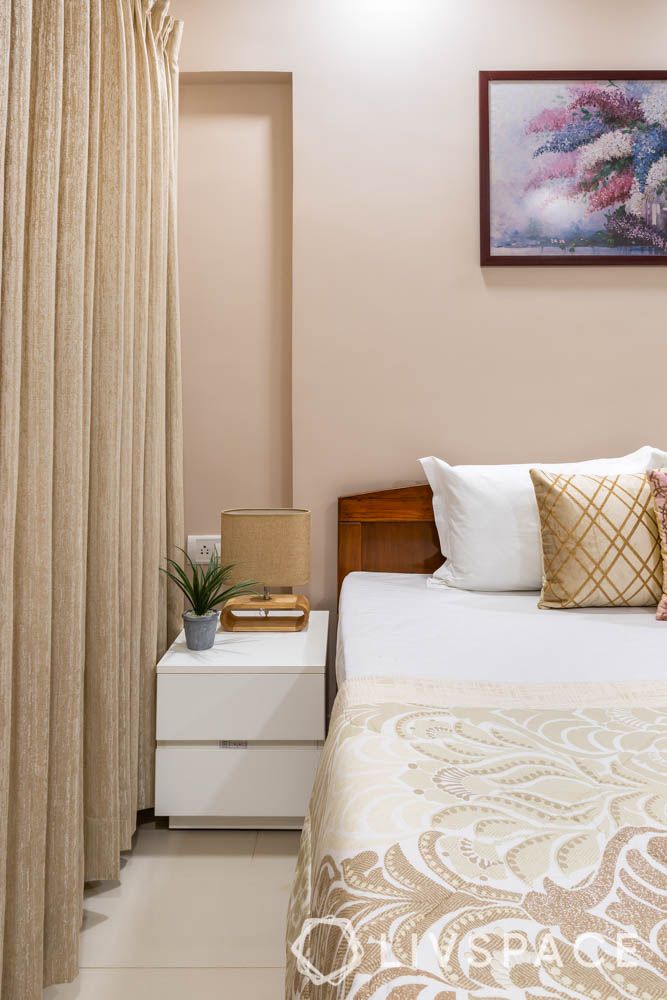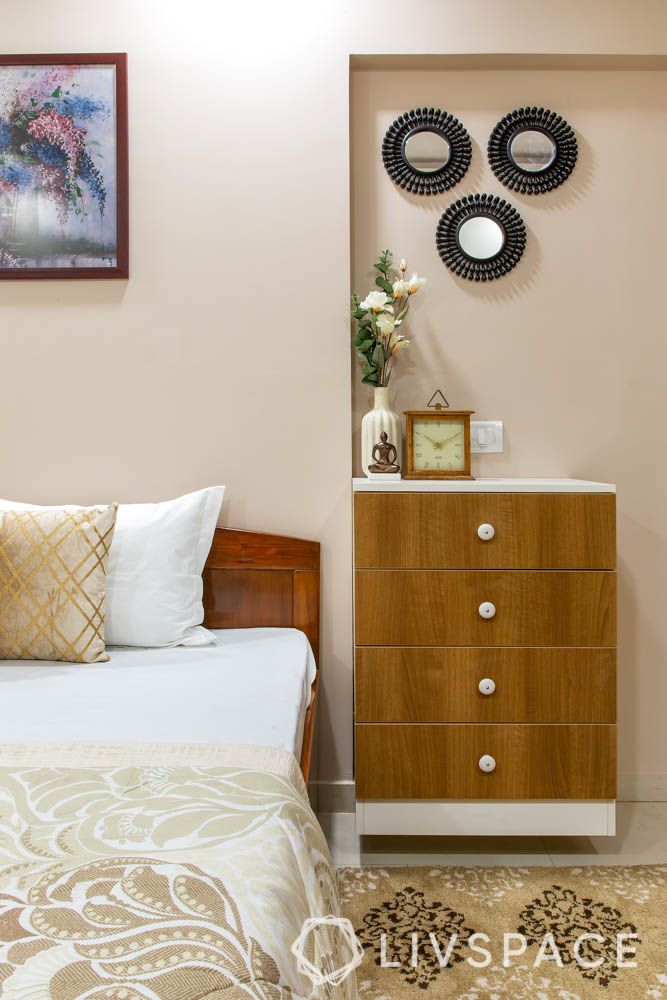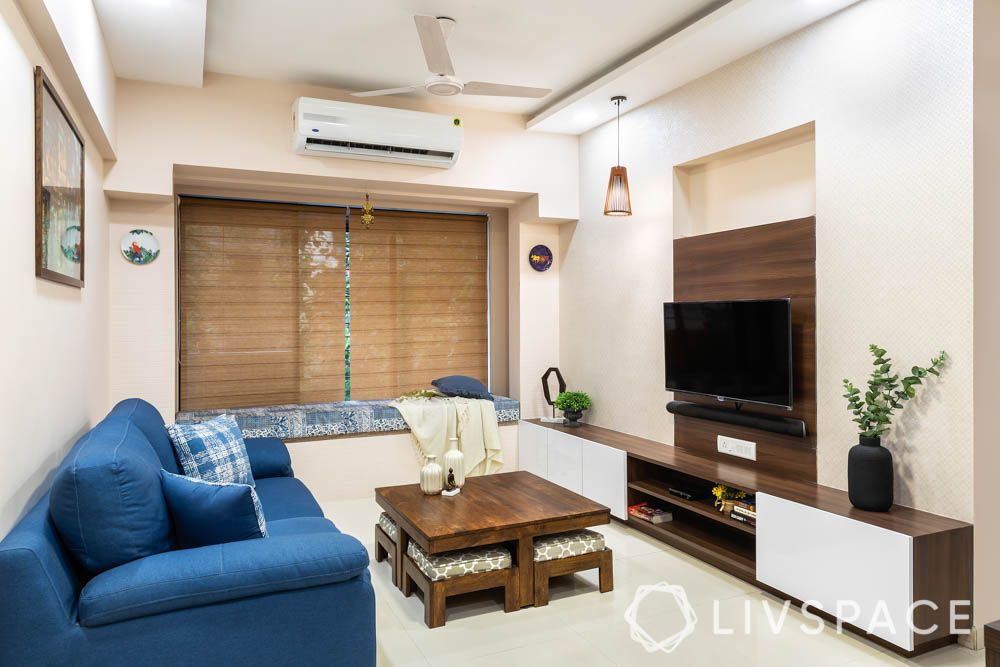 From the centre table in the living room to the side and console table in the bedrooms, every piece of loose furniture adds some character to this home. As you might notice, most of the furniture in this 2BHK is loose and can be moved around. Also, we love the centre table in the living room that comes with low stools that can slip right under it. The chest of drawers in the master bedroom along with the side tables is a great alternative to traditional storage units. They look sleek and can store a lot of things!
How about some showstoppers now?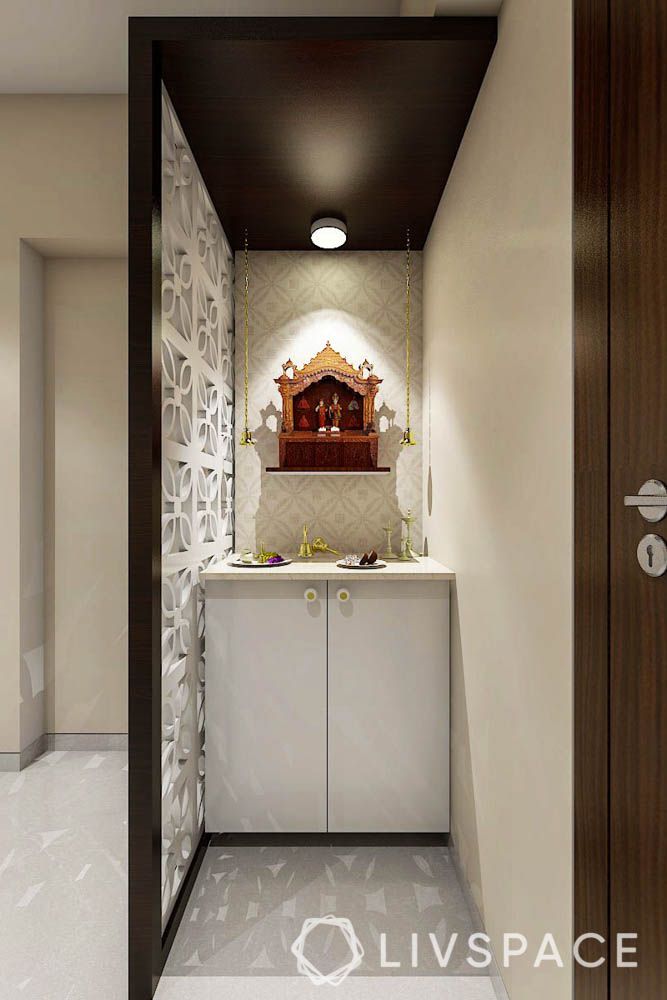 This stunning corner was not born in a day. Great things take time and this pooja unit was the brainchild of the designers and the couple together. The family always wanted a mandir that would look pretty and incorporate jaali in some way. So Smridhi carved out this amazing corner with a jaali panel that separates it from the rest of the home. This unit comes with storage and a wallpaper that adds a finishing touch.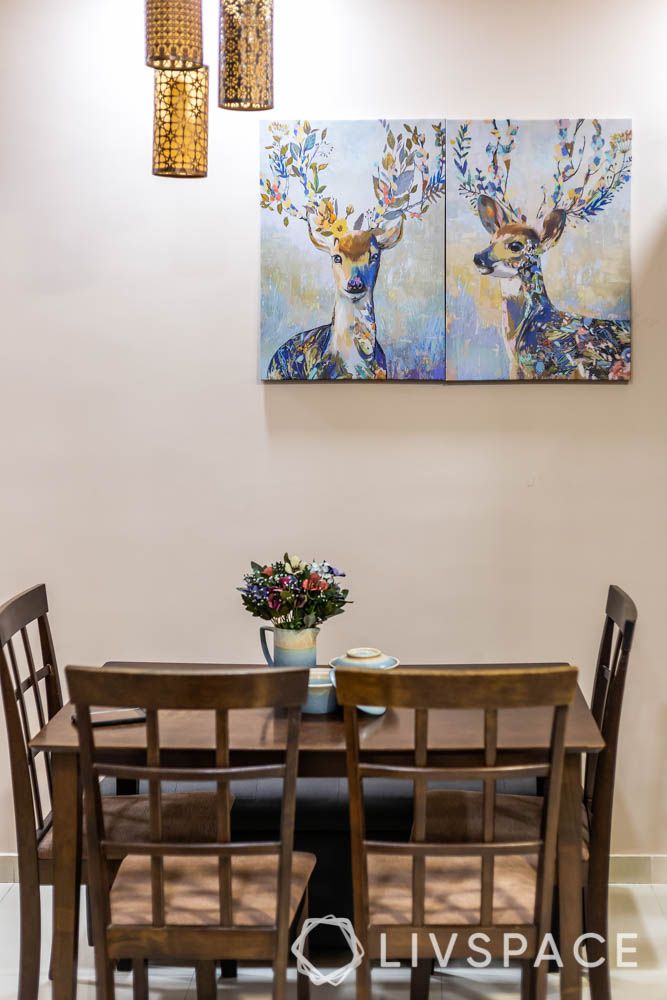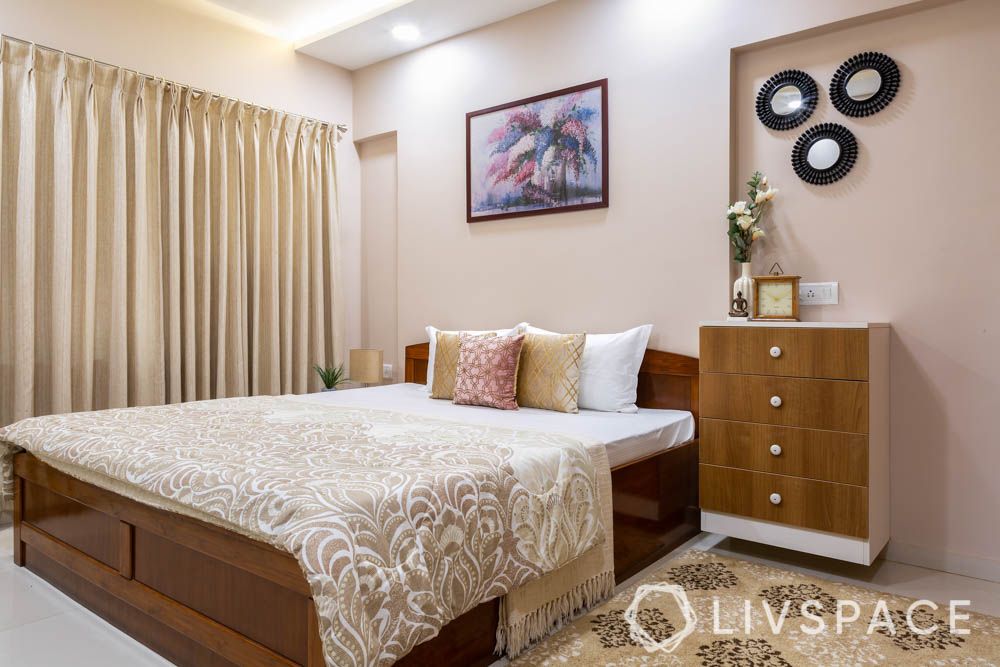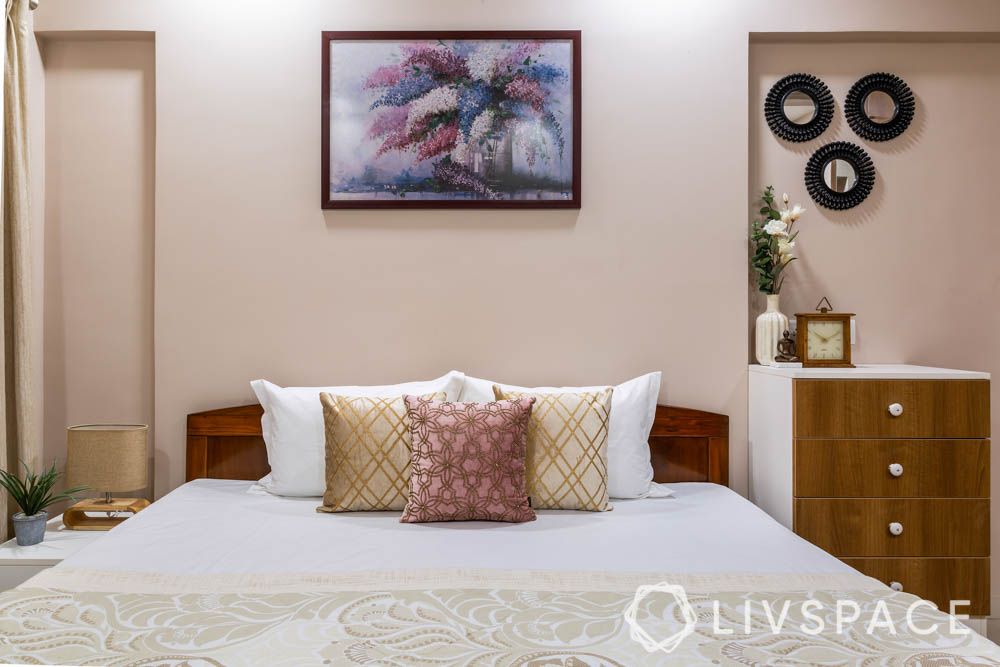 Paintings and other decor pieces were also picked up carefully in consultation with the designer. So, check out how each piece of decor adds to the aesthetic appeal of the room. Same goes for the lighting and rugs!
Seating by window was carved out from balcony spaces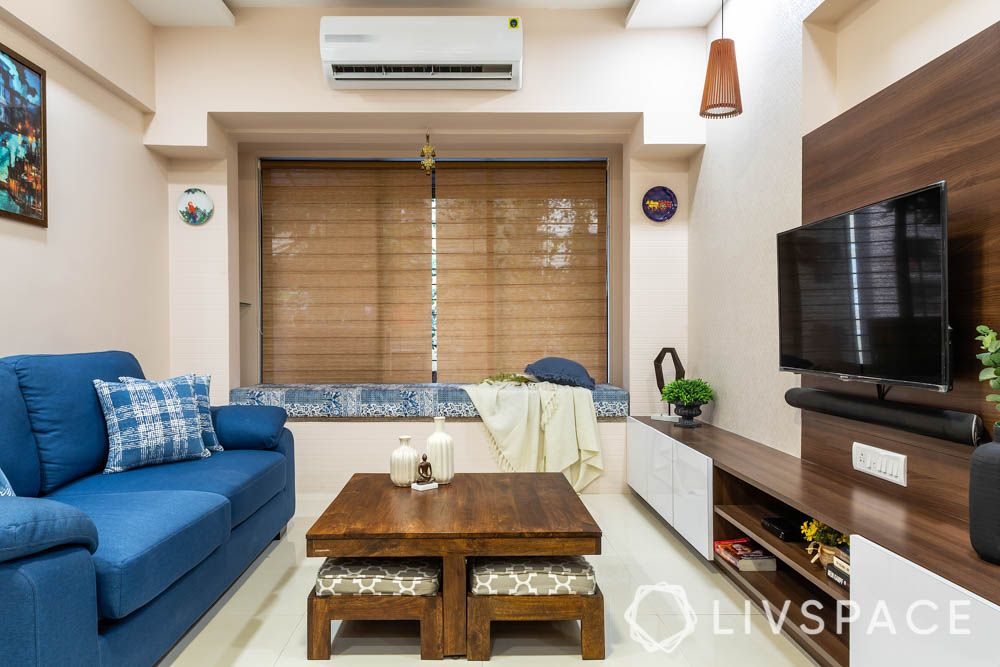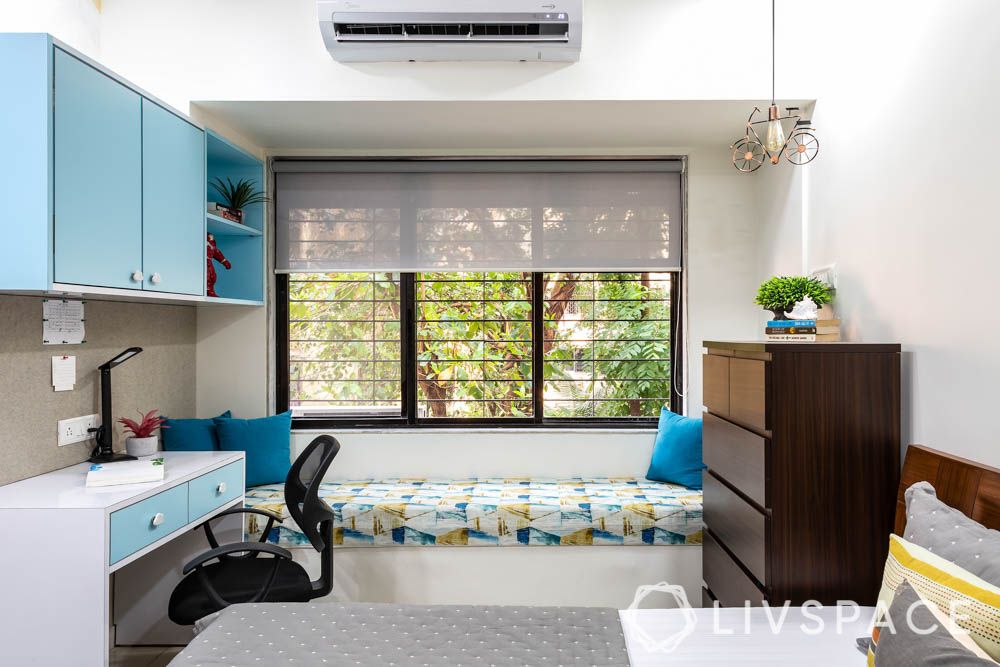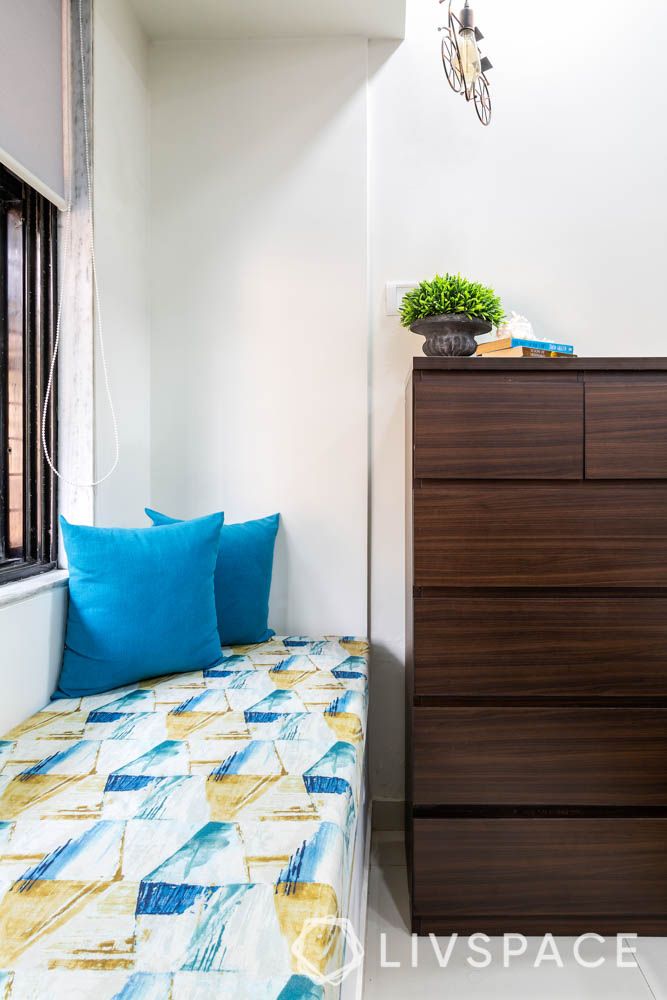 Another feature that was also a part of the couple's requirement in this small house interior is the seating by the window. Smridhi has incorporated the balcony space into the living and the master bedroom to create lovely window seating spaces. The family loves relaxing their with a hot cuppa or a book and we think it's a great idea!
"Mr. & Mrs. Kamath were extremely easy to work with. They visited our Experience Center and we immediately hit it off from there. Since we were working on a tight schedule and a strict timeline, we made sure there were no hiccups. We executed the project in the promised time and we are so happy that they love their new home. It's quite a makeover and it's amazing to see the end result."

-Nausheen Javeri, Design Manager, Livspace
We hope you enjoyed reading this. Take a look at this Mumbai home for more inspiration: Gorgeous Interiors in 3BHK at Raheja Ridgewood.
Send in your comments and suggestions to editor@livspace.com