This 2 BHK in Bangalore is a lesson in finding the right balance between bright colours and neutrals. Designed for a bold and cheerful person, this Bangalore home design reflects her personality.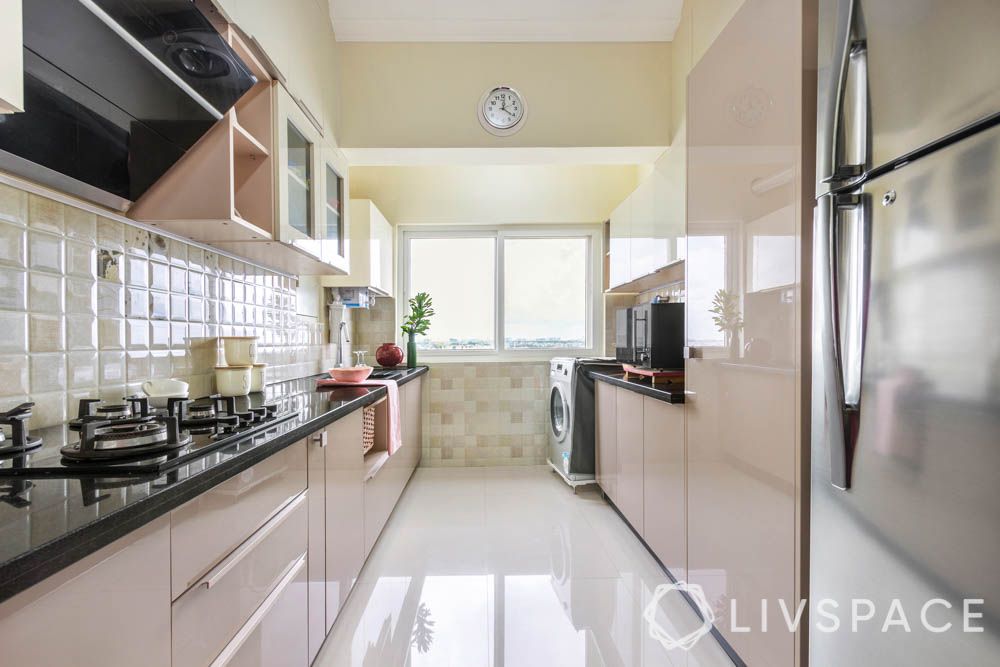 ---
Who livs here: Shruthi Kolagad
Location: Salarpuria Cadenza, Bangalore
Size of home: A 2BHK spanning 1,100 sq ft
Design team: Interior Designer Sushritha Surya PS and Project Manager Sachin Hegde
Livspace service: Full Home Design
Budget: ₹₹₹₹₹
---
We craft each Livspace home with care so that it's just right for you! So when Shruthi approached us for designing her 2 BHK in Bangalore, our designer Sushritha Surya kept in mind the homeowner's requirements as well as her sense of style. So we combined soft colours and plush furnishings to craft a home that makes no compromises on style or functionality! Walk into this home, and you'll know why we love it so!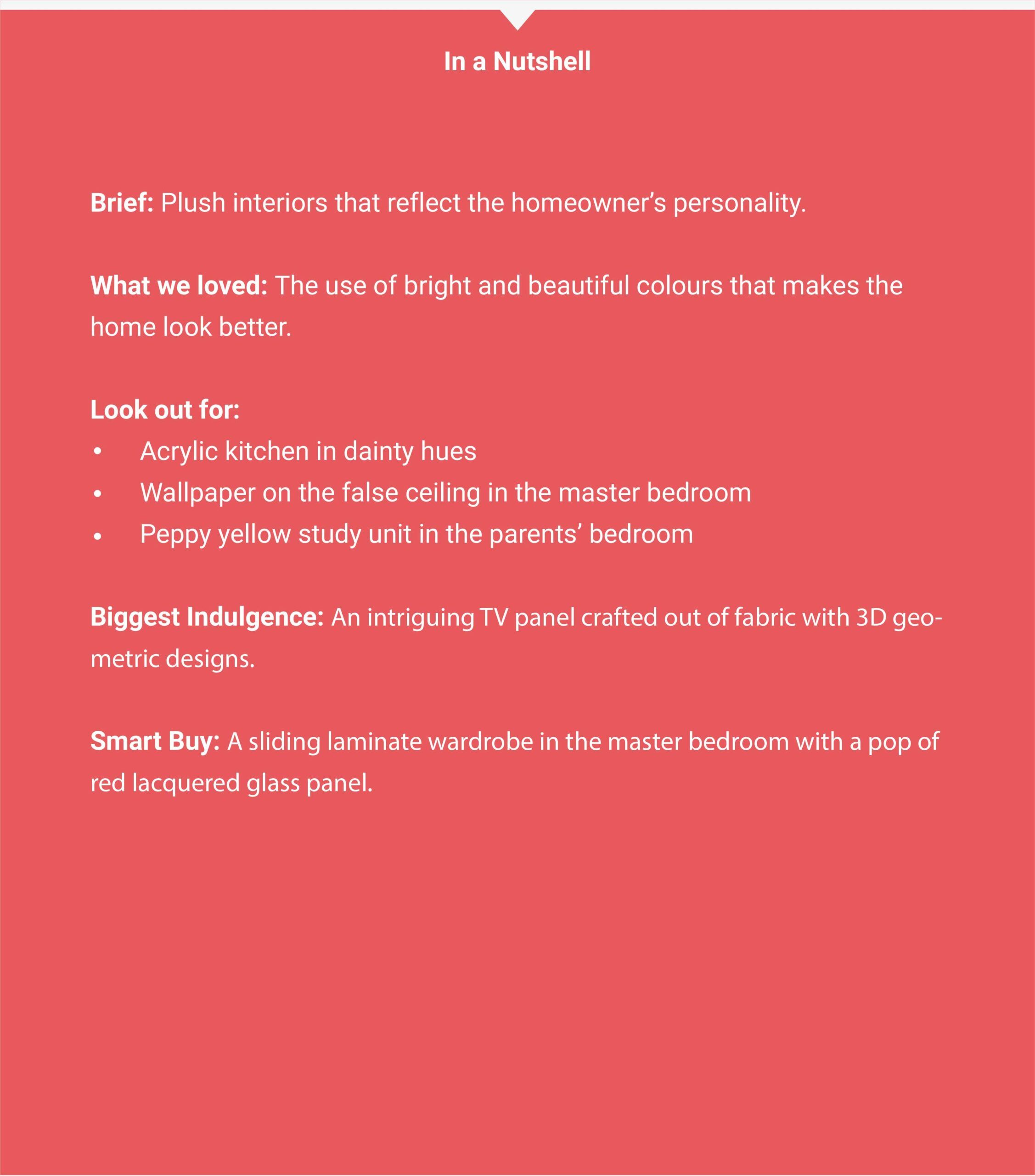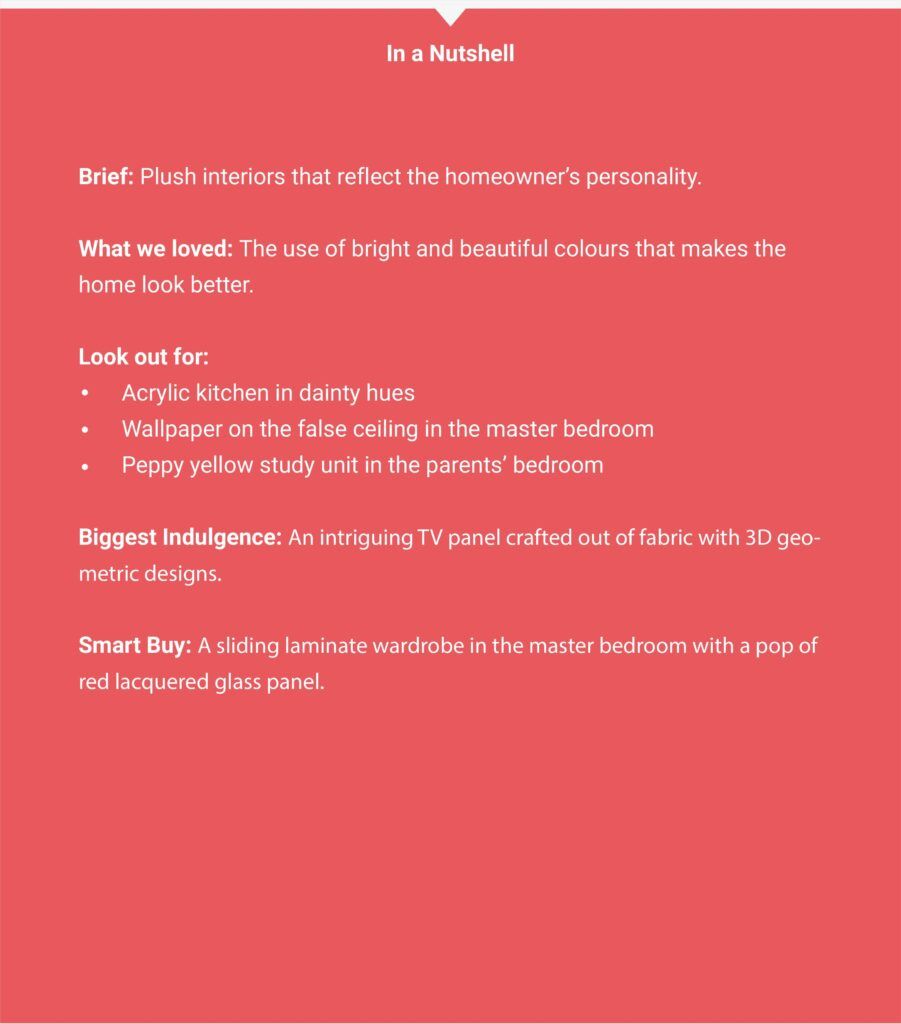 Functionality takes precedence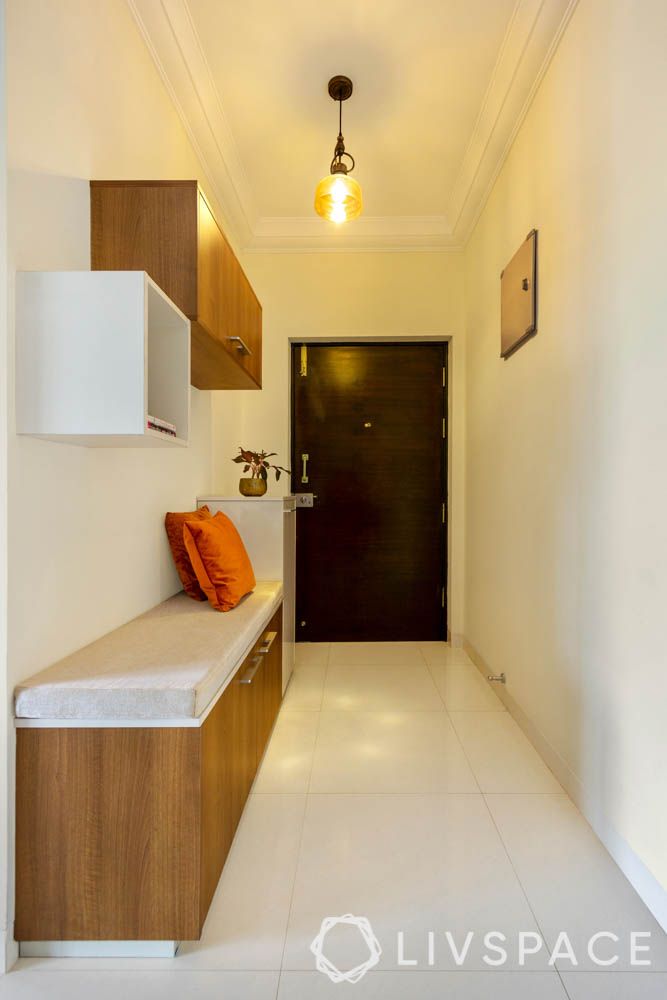 To style a narrow foyer, you need special care. The space needs to have the essentials, but without looking cramped. So our designer, Sushritha, gave Shruthi a functional space in this Bangalore home design with a shoe cabinet that doubles up as a seating space. Warm walnut finishes tie the place together.
---
What We Love
By using white in abundance, Sushritha has helped make this narrow space appear more spacious. The walnut finishes add a desi touch, and the traditional pendant light adds to the charm!
---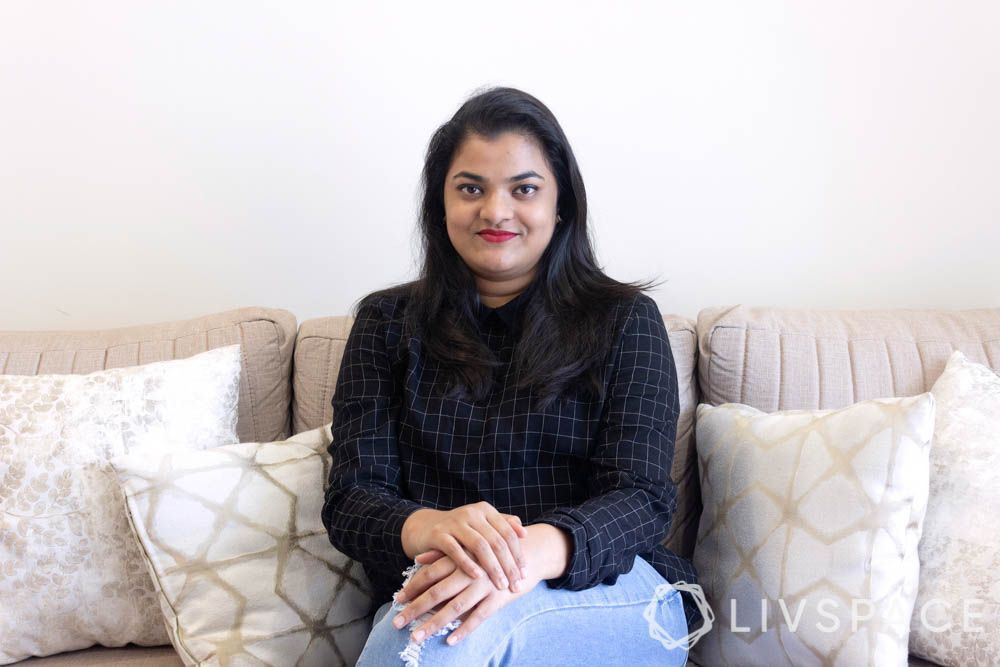 "Livspace made the process of designing my home a breeze! My designer, Sushritha Surya, kept in mind my requirements and put extraordinary efforts in designing and planning. My family and I had varying opinions and perspectives, but thanks to her consultative approach, we were able to finalise what's best for us. The designing, project management and execution was carried out beautifully and I am so thankful for it. I have hardly made any changes to the decor since the home was handed over to me!"
– Shruthi Kolagad, Livspace Homeowner
But there's always place for luxury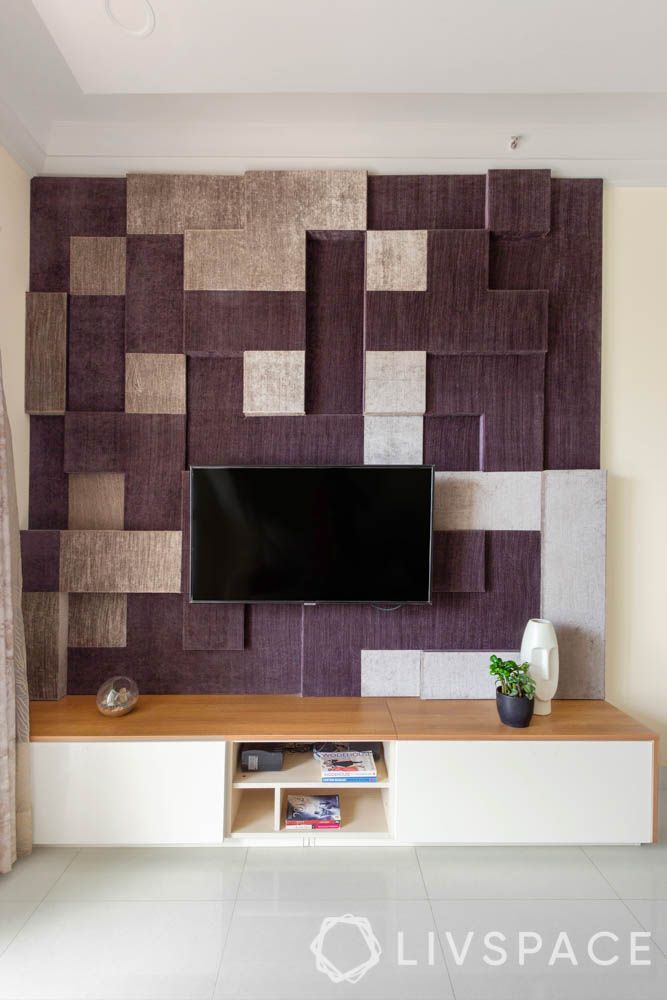 For the living room in this 2 BHK in Bangalore, Shruthi wanted a unique TV unit – so we gave her just that! Check out this plush TV unit that comes with fabric upholstery. Composed of multiple squares, this unit stands out with its adherence to straight lines. We love this 3D TV unit, don't you?
---
What We Love
While our previous brushes with such upholstered units have primarily been in the entertainment room, we can't help but admire this plush unit that immediately makes the living room look super luxurious!
---

We added some contemporary charm to the kitchen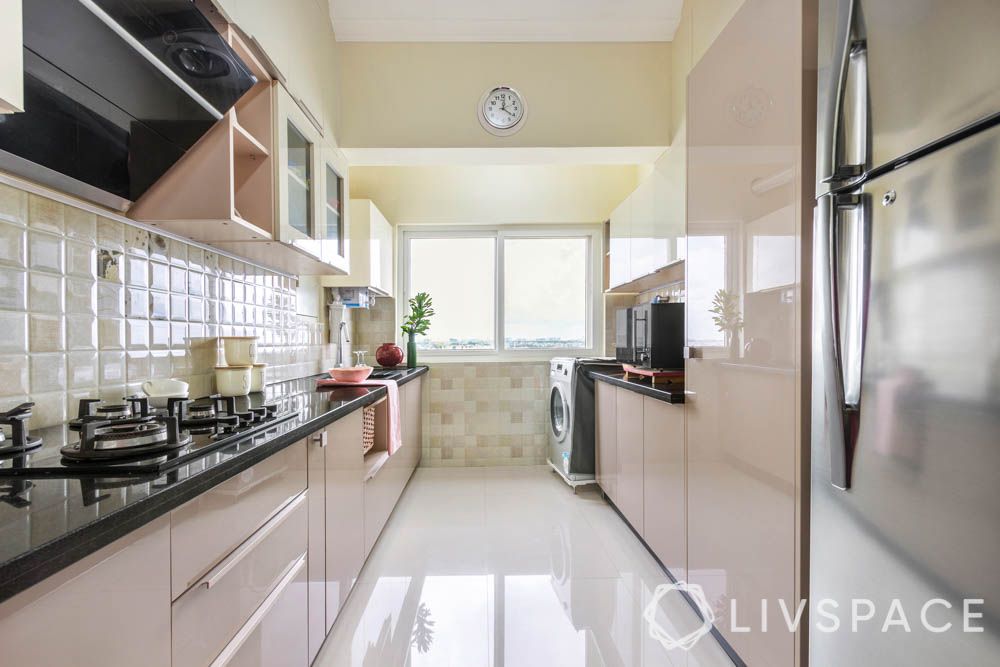 Light beige and cream hues make up this chic contemporary kitchen in our latest Bangalore home design. Sushritha also suggested edge profiles to make this kitchen look seamless. With its glossy acrylic finishes, this kitchen looks as dainty as can be! What's more, there's so much storage space here!
---
What We Love
Since Shruthi wanted to retain the tiles on the backsplash, Sushritha wove the kitchen design around them. And with careful planning, this parallel kitchen optimises space efficiently to fit in maximum storage, as well as hold appliances and a pantry pull-out. Neat, isn't it?
---
And gave a spirited person a bedroom to match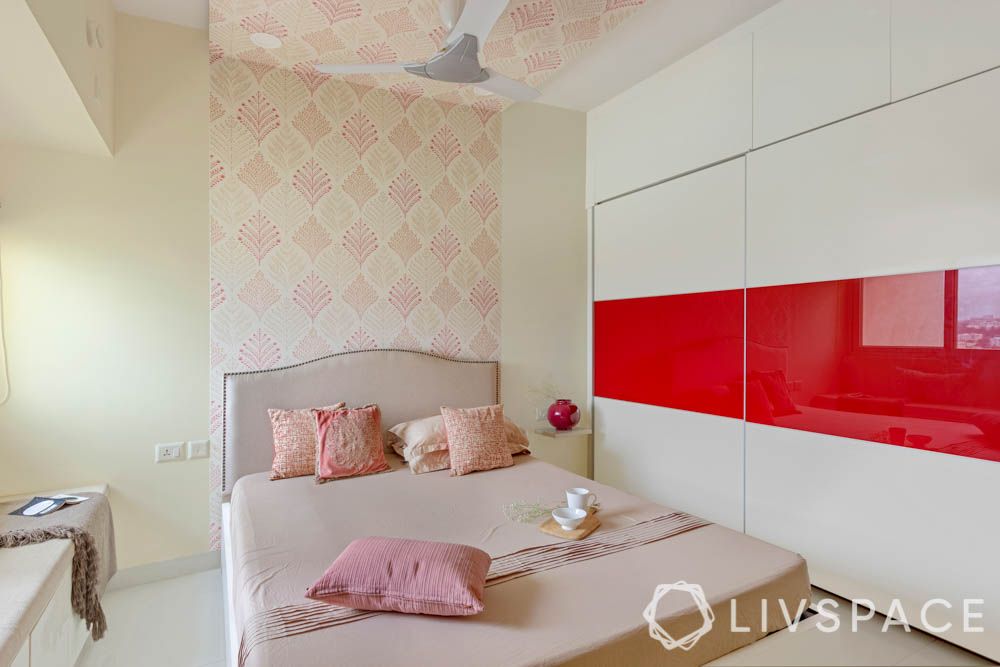 Shruthi loves red – and that's the one thing she was very sure she wanted in her bedroom. So Sushritha came up with the idea of a wallpapered false ceiling. After picking a desi traditional wallpaper that Shruthi loved, Sushritha made it the highlight of the room by continuing it down the accent wall as well.
To add another pop of red, the sliding wardrobe from the Livspace catalogue comes with a red lacquered glass panel. Display shelves in off-white laminate hold Shruthi's books, while the bay seating comes with storage options.
---
What We Love
The Livspace team had to incorporate generous amounts of this colour in Shruthi's bedroom in this 2 BHK in Bangalore, without making it too overpowering – and we love the results! From the dainty patterns on the ceiling and the bold splash of red on the wardrobe to the sleek sliding panel for her laptop, this room is all about details. We also love how the sliding panel transforms her wall-mounted bookshelf into comfy workspace!
---
To round it all off, we have beachy vibes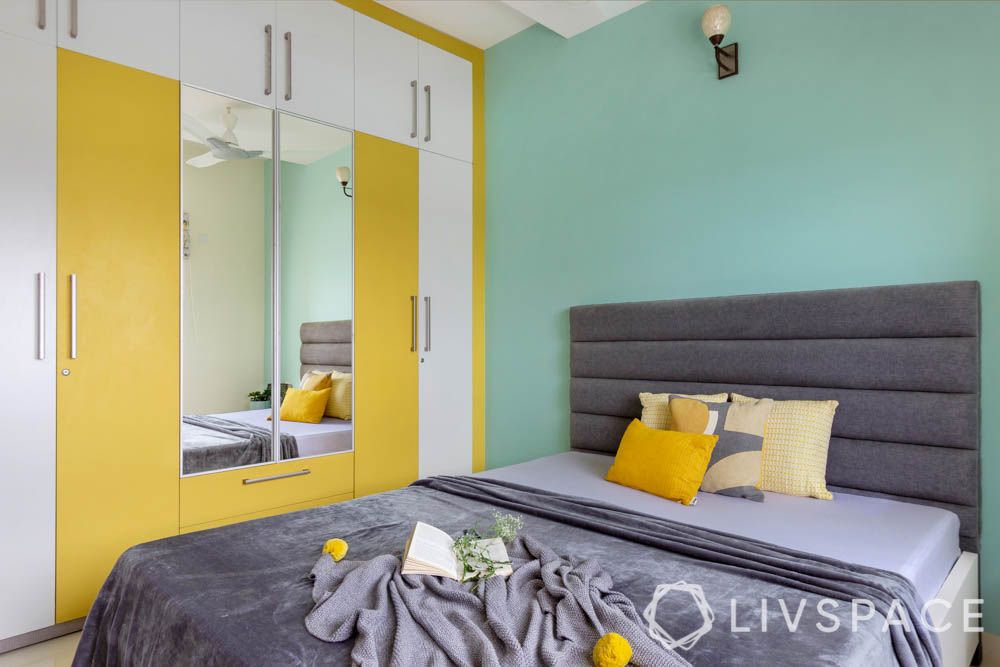 While Shruthi was designing her 2 BHK in Bangalore, she wanted a room crafted with her parents in mind. Here, she and her parents wanted some cheerful colours, so Sushritha came up with this combination of pastel green and yellow. The room comes with a grey bed and headboard that blend perfectly with the feel of the room. The yellow and white wardrobe adds to the cheerful vibe in this room, and the yellow study unit in PU adds to the sunshine hues!
---
What We Love
The parents' bedroom in this 2 BHK in Bangalore is our answer to all those who are worried about experimenting with colour. There's nothing like a dash of yellow to brighten up a room, but that doesn't mean you forget about the lighting! So we have a dainty lamp with a mother-of-pearl finish that adds that desi touch to this room!
---
"Shruthi wanted plush furnishings for her home, with a mix of both traditional and modern elements. Her parents were a large part of the decision-making process, and they were all open to ideas and took my suggestions into consideration. I enjoyed working on it, and love how beautifully it has come out!"

– Sushritha Surya, Interior Designer, Livspace
Want to browse more 2 BHK in Bangalore? You can start here: This 2BHK Packs Quite a Punch on a Budget.
Send in your comments and suggestions.