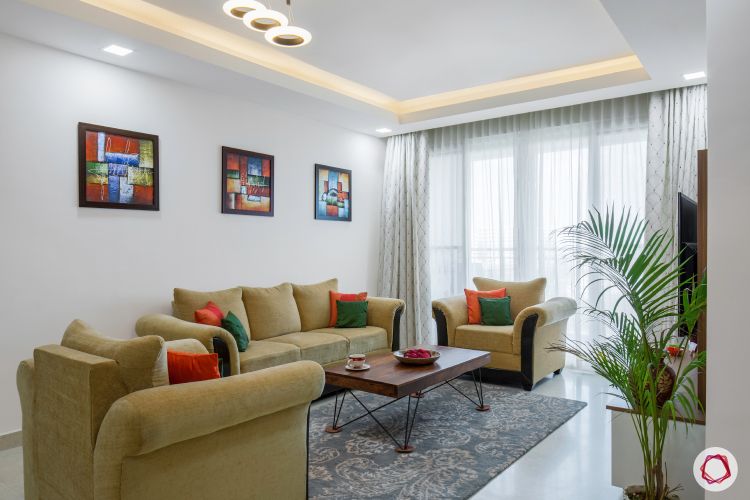 —————————–
Who livs here: Abhijit Kaisare with his wife Tanushree and children Anaya and Aniket
Location: Brigade Cosmopolis, Whitefield Main Road, Bangalore
Size of home: 3 BHK spanning, 1720 sq ft approx.
Design team: Interior Designer Aditi Badaya with Quality Manager Guru Vinayak
Livspace service: Full home design
Budget: ₹₹₹₹₹
——-——————–
Abhijit Kaisare and his wife Tanushree Pandit are hard-working, creative and family-oriented, much like a lot of young families that reside in the bustling city of Bengaluru. When their first home at Brigade Cosmopolis was ready to be handed over, they considered a lot of vendors for the interiors. However, they were not quite impressed. And with carpenters, they couldn't visualise the decor.
All they wanted was a one-stop-shop for their interior needs, and to work with someone who understood their tastes and preferences well. Their search eventually ended with Livspace and their meeting with designer Aditi Badaya. What really clicked in this collaboration is the fact that Tanushree had a clear idea of what she wanted her home to look like, down to the last detail. This made things relatively easy for Aditi who then brought her vision to life. What ensued were many shopping trips, midnight calls and iterations, one that led to this beautiful home design. The idea was to be simply luxurious, without being gaudy. Take a look and let us know if you think they achieved their goal!
Warmth in the Welcome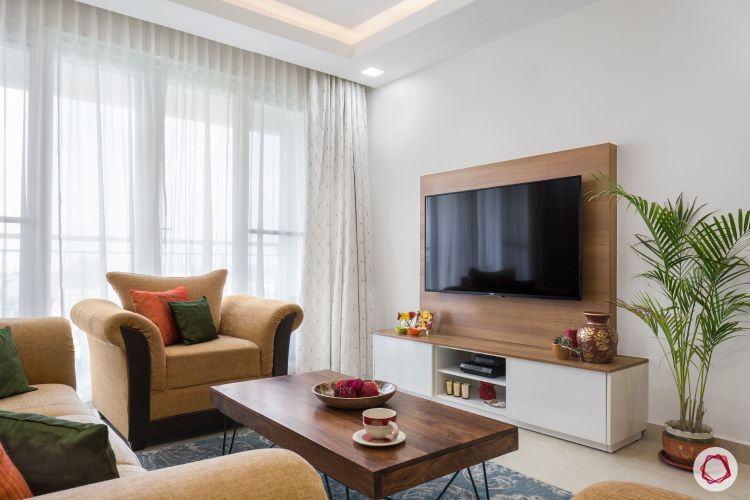 Being a creative person herself, Tanushree wanted contemporary interiors but with warmth that tradition brings. Keeping the fact that someone as creative as Tanushree would tire of her interiors soon, Aditi suggested they keep all the fixed furniture in neutral, muted shades like Walnut Brown and Champagne White. This would leave Tanushree plenty of room to play around with the accessories, decor and furnishings, at a lower cost.

The entertainment unit is basic, but sleek, and complements everything else in the living room. The Walnut Brown gives a feel of veneer at the cost of laminate. Aditi also convinced the couple to get false ceiling and lights done which add so much character to the room! She also put in a pelmet to raise the height of the curtains and conceal the fittings. Top that off with sheer curtains in white, it gives the room a light and airy feel.

Simple Dining Spaces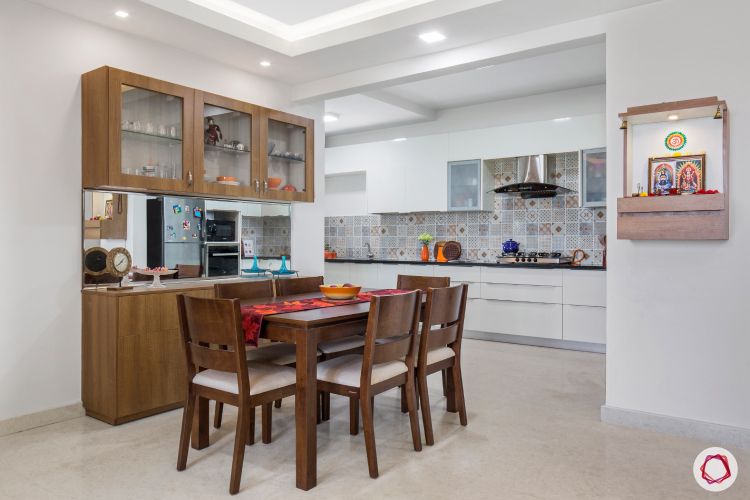 Open dining spaces that link the kitchen to the living can be quite tricky. Sometimes it's the simplest solutions that work in tricky situations. A simple six-seater dining table is complemented by a crockery cabinet. What's interesting is that Aditi put in a mirror between the overhead and bottom cabinets to make the room look more spacious! It also looks like a semi-partition between the dining and kitchen.
Kitchen Delight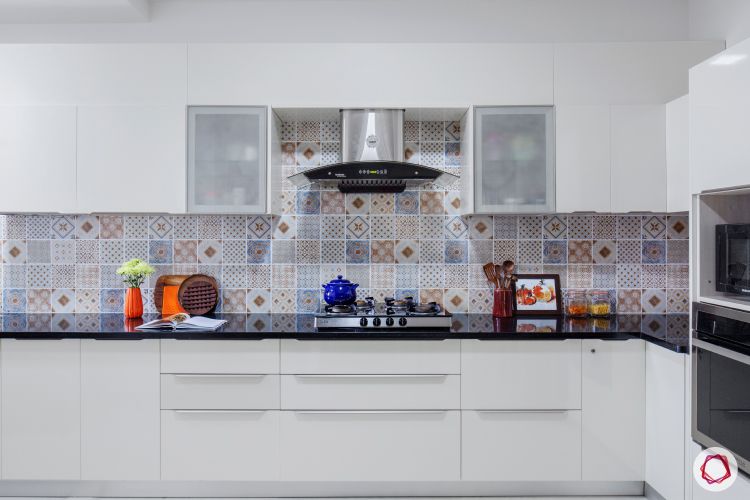 Going with their mantra of keeping it light and simple, but classy in approach, they picked out Champagne White for the kitchen cabinets. Aditi says, "While Tanushree paid a lot of attention to the look and Abhijit concentrated on the execution, the both of them did not want to compromise on quality." This kitchen is top-notch with soft close handleless (for the overhead) cabinets, frosted shutters to break the monotony, tandem drawers and all the essential accessories installed.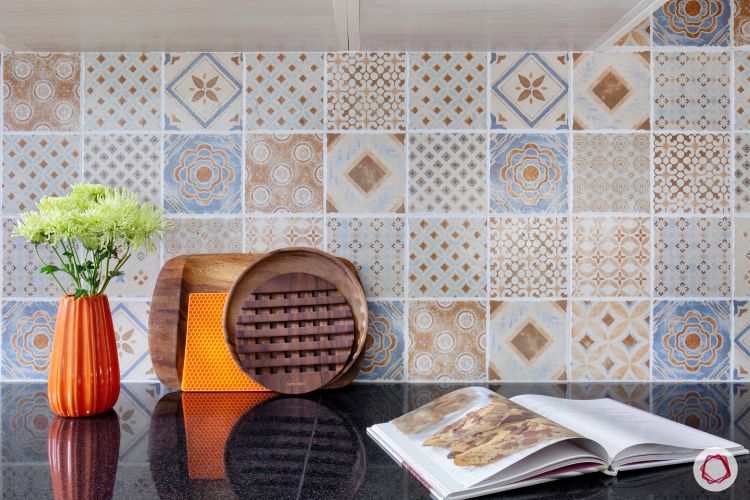 Take a look at this stunning backsplash which is an assortment of mix-n-matched Mediterranean printed tiles in muted shades. When you're seated in their living room, your eyes are drawn to it automatically! It clearly is the highlight of the kitchen.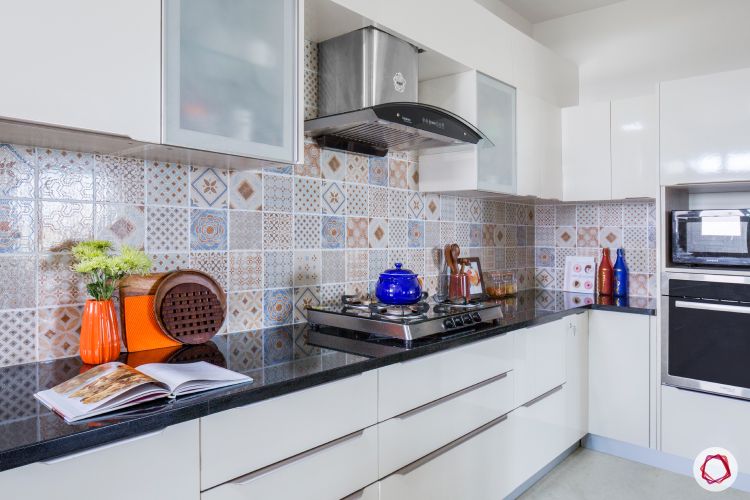 For someone who loves to cook, Tanushree needed lots of storage and counter space. So Aditi combined the kitchen and utility area, and also put in space for their oven and microwave.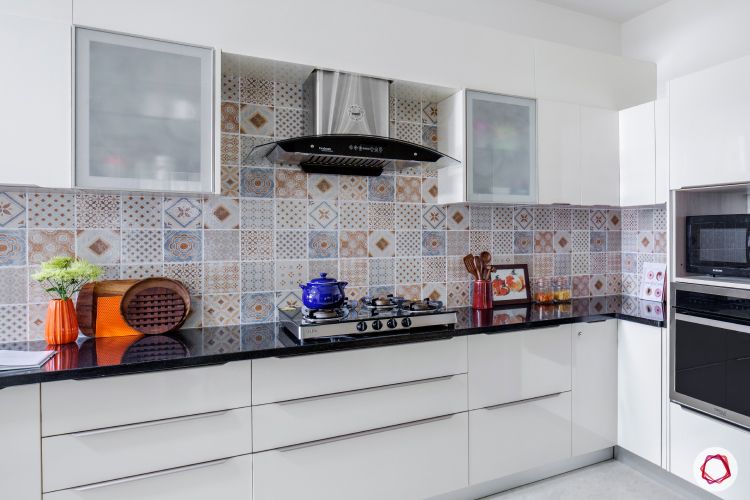 White gives illusion of space while keeping it classy. What a lovely zone to indulge in some culinary experiments! Happy cooking to you, Tanushree!
In a Nutshell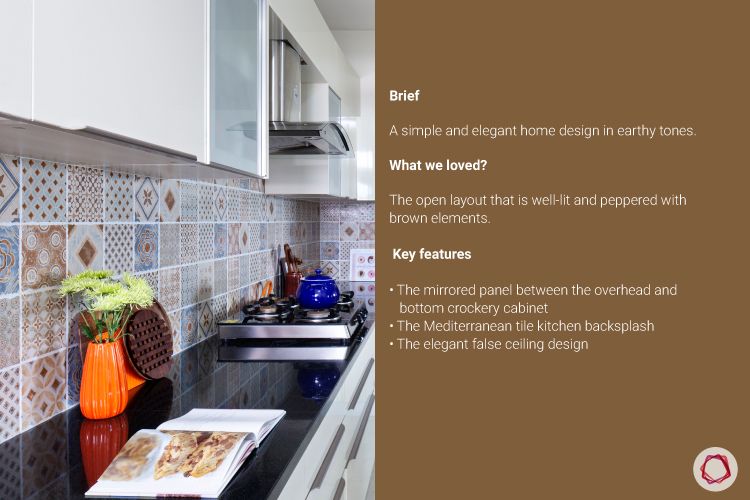 Mastery Over Wooden Tones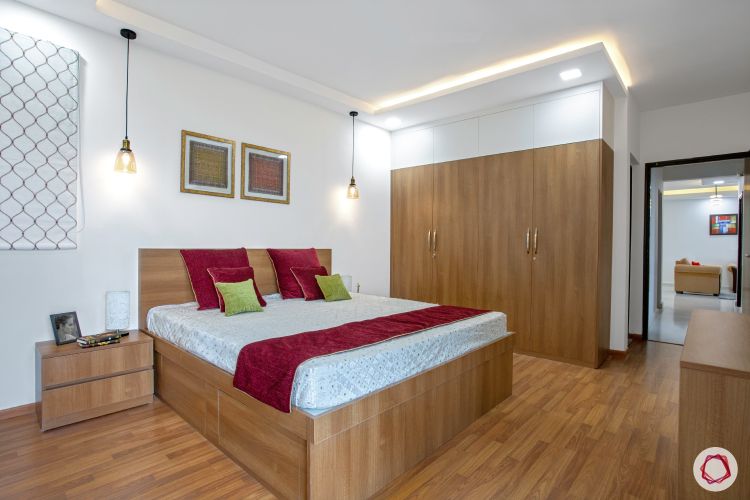 This well-lit apartment could afford to use more wooden tones, so they installed wooden flooring in all bedrooms. The master bedroom got furniture and wardrobes in the same shades to keep the vibe warm and cosy to envelop you at the end of a long day. The only exception is the loft that's been done up in white to lighten the look. It worked, we think!
Cheerful Kids Room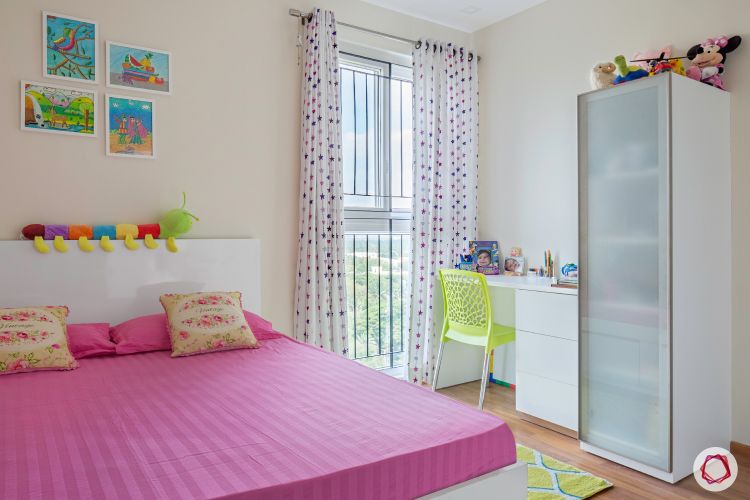 Again, staying flexible to changes in the future, the kids room is done up in all white with pops of colour in the decor. This room is shared by Anaya and Aniket, and we love the study corner next to the window. Aditi put in a tall storage unit next to it for their books.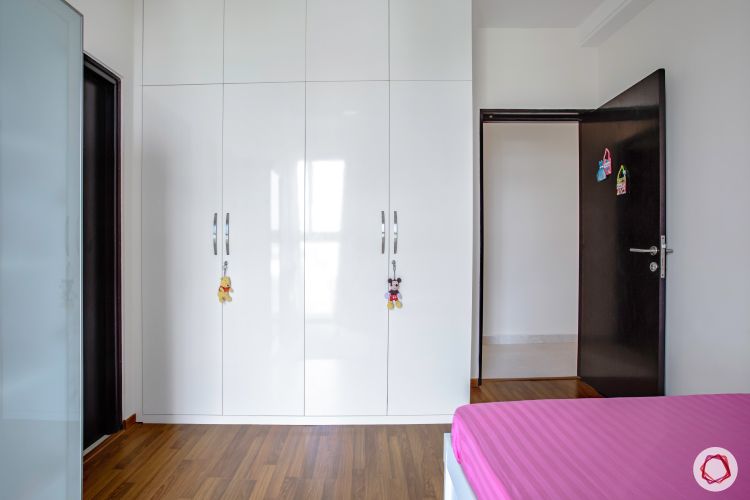 Their four-door wardrobe is also a simple matter – done up in glossy white, but with lots of storage space including the loft.
Hear It From Them!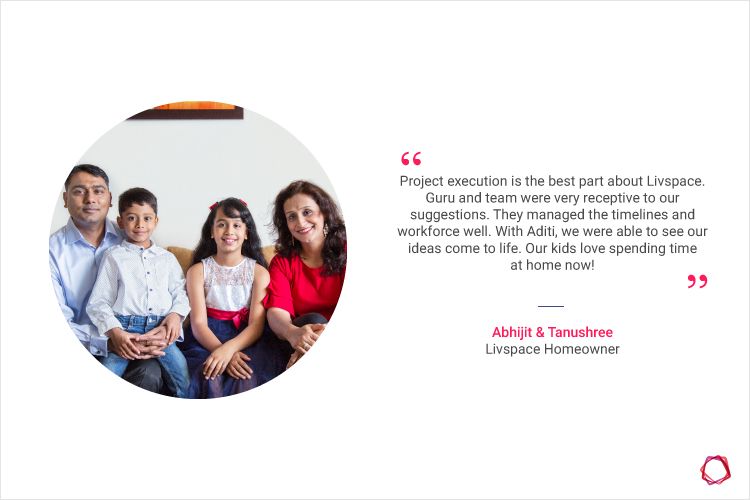 "Tanushree is the only customer I've had who was this involved and interested in how their home turned out. She wanted an emotional connect with the decor. So I was very happy to design this home that included so much of the family's taste. And while they were concerned about the look, quality always took precedence. That's a great kind of client to have. We've also become good friends over time!

– Aditi Badaya, Interior Designer, Livspace
Loved this home? If yes, you'll love what we did with this Bangalore apartment.
— editor@livspace.com