Vivek wanted a home ready in the nick of time so he could bring his bride, Sahana, home.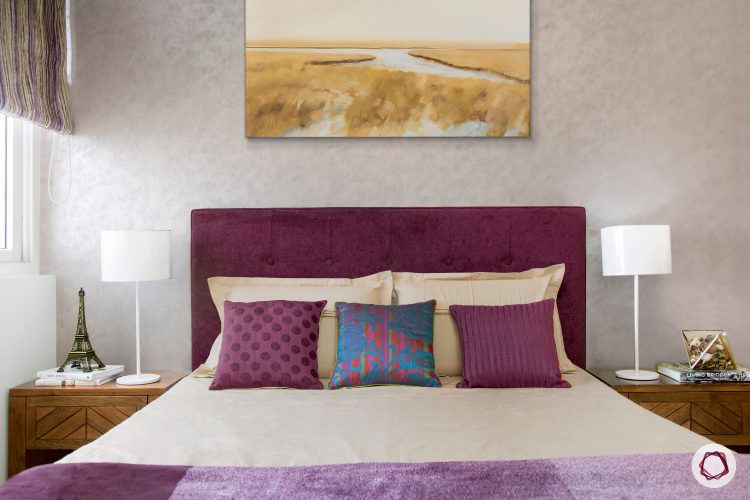 ---
Who livs here: Vivek and Sahana Yadav with their parents
Location: G Corp The Icon, Thanisandra Main Road, Bangalore
Home Size: 2BHK spanning1,305sq ft
Design team: Interior Designer Priya Shankar with Project Manager Sreevinoth T
Livspace service: Full home design
Budget: ₹₹₹₹₹
---
Located near Manyata Tech Park and Elements Mall, G Corp's The Icon is an address to aspire for. Our client Vivek and his fiance Sahana were on the lookout for someone who would have their home interiors completed within a couple of months, in time for their wedding! Livspace was their best bet and our designer Priya Shankar got to work!
Sahana, who has a creative streak, knew exactly how she wanted her home to be — a beautiful blend of comfort with some modern industrial elements. Designer Priya also found it refreshing to work with someone with clear and fresh ideas. Take a look at what Sahana's ideas and Priya's designer skills have yielded!
Functional Foyer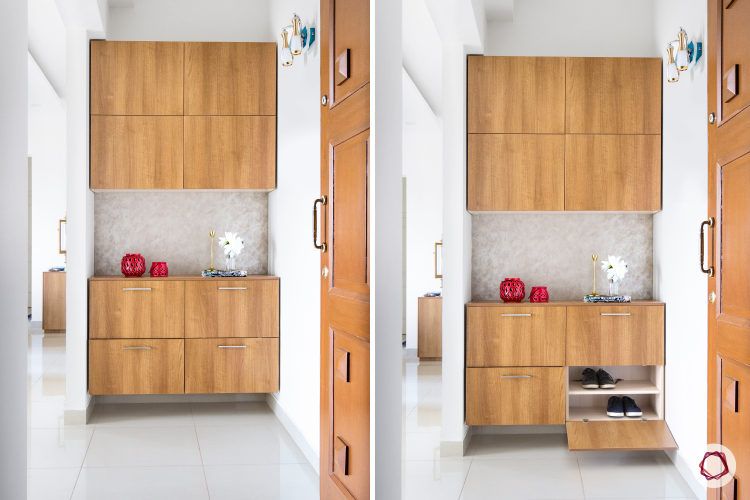 Talk about a warm welcome! This foyer, however, has been installed for good storage too. While the bottom shelves have space for footwear, the top shelves have been designed to hold the Yadavs' helmets. The two-level storage looks sleek when it has been paired with that beautiful wallpaper.
Homely Spaces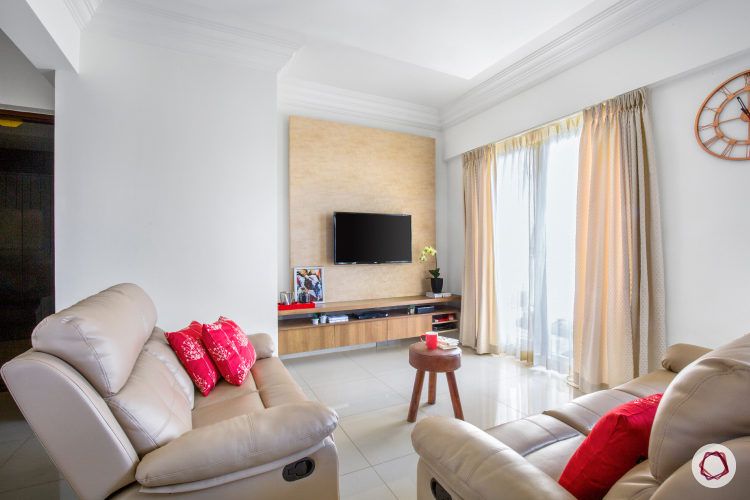 Sahana wanted to stick to neutral tones for the common areas like the living room, The beiges come together beautifully with that pop of red.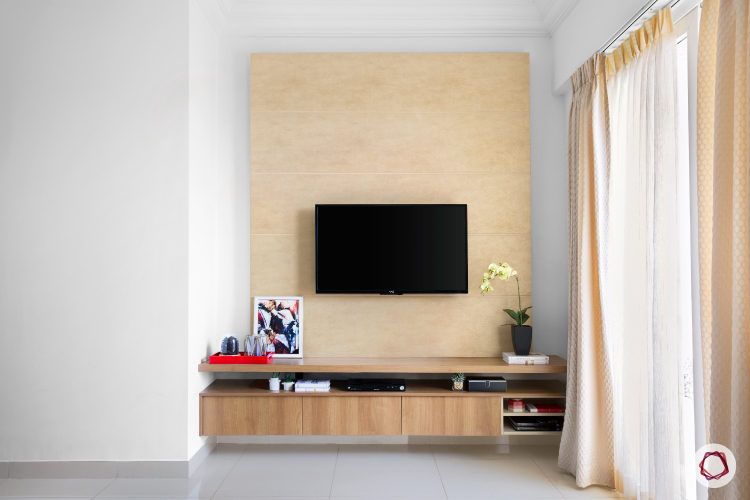 The entertainment unit has been fitted with open display space for photos and flowers, and closed storage spaces for all their nicknacks.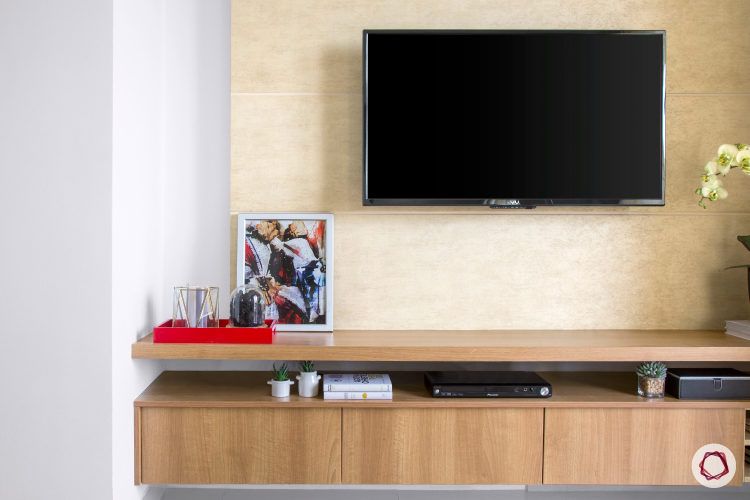 We love the details that go into every home! Take a closer look at the unit, you'll see Priya has used a golden wallpaper with grooves as the backdrop! It complements the general vibe of the room and offsets the television that's wall-mounted.
Dining Glory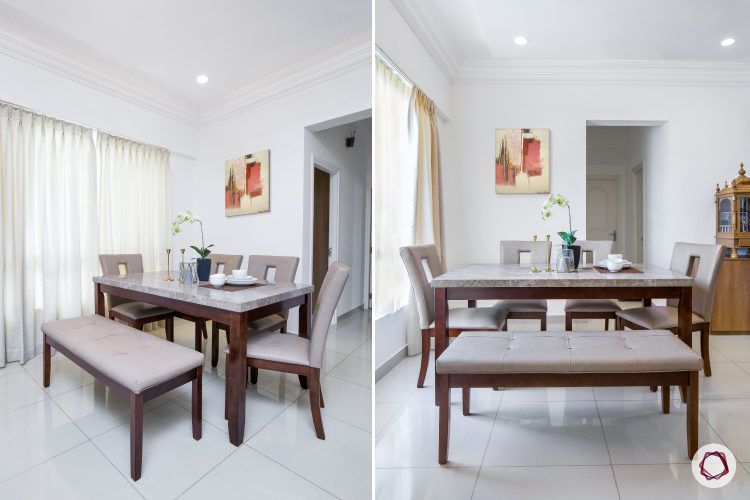 Sahana sourced this unit for their dining area in shades that would just blend in. The curtains, paintings and accessories have been paired accordingly.
Cook in Style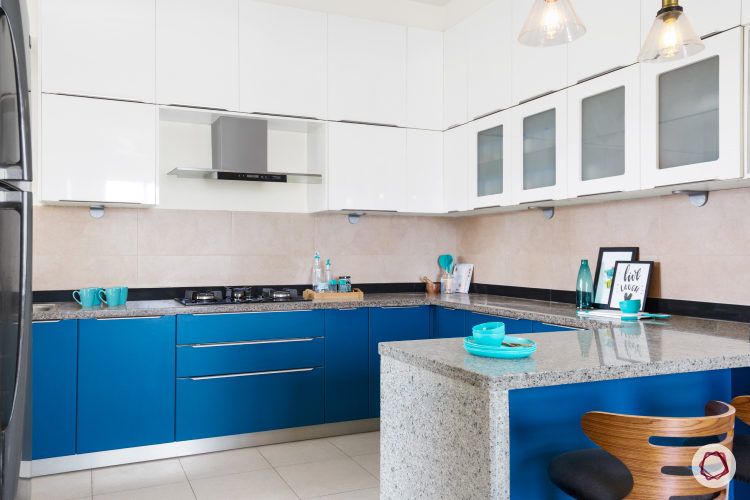 This beautiful open kitchen is basic in design, but offers that pop of colour, which is a welcome respite in a sea of sober tones. Priya installed a breakfast island for the couple with informal seating. The high-gloss Frosty White cabinets overhead give the illlusion of spaciousness. The matte-finish blue-green base cabinets have been equipped with tonnes of storage too. Sahana also wanted lofts to be added for extra storage since her in-laws would be living with them.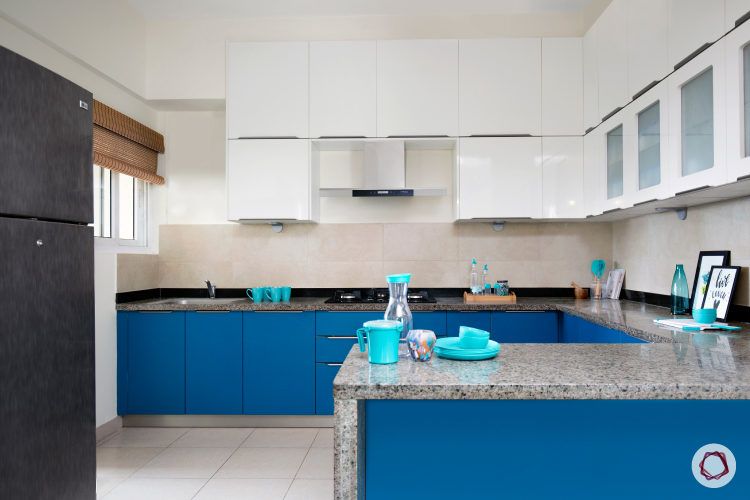 Accessorised for Ease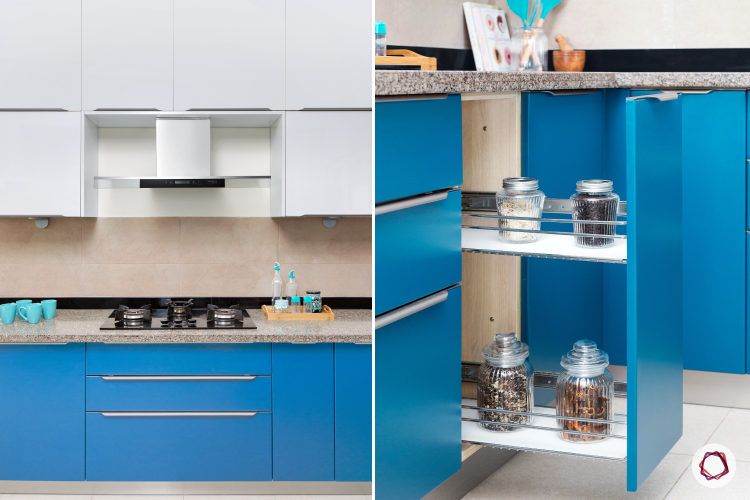 With bottle pull-outs and cutlery trays, organisation becomes a lot easier, as you can see. You can refer this article on accessories that will make your kitchen a dream to work in!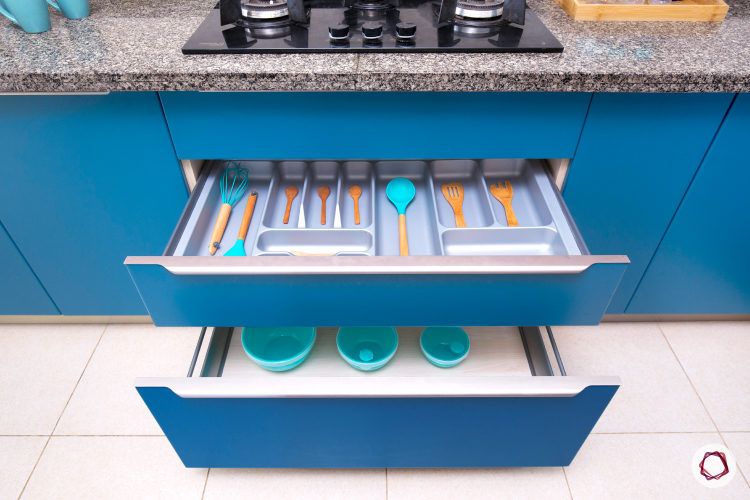 Weave Magic into the Master Bedroom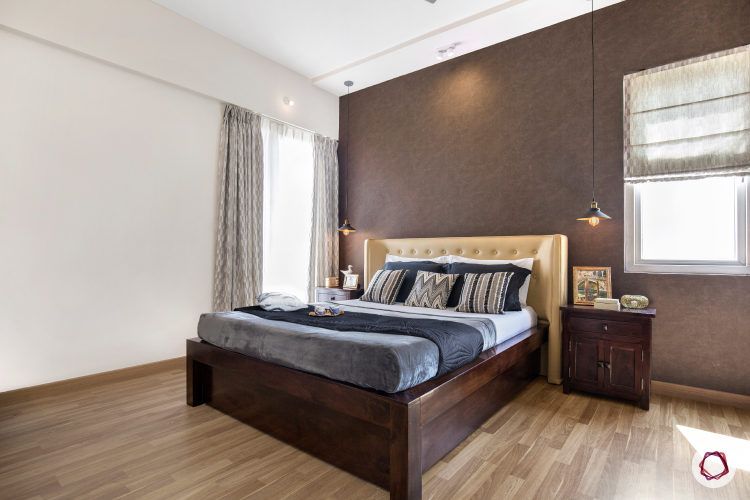 Sahana was inspired by a look that she saw on Livspace.com and wanted to get the exact same done for her bedroom. They used Almond Cream leatherette for the tufted headboard and an Auburn Walnut Finish for the furniture. It was all offset by grey industrial walls and accessorised by the Edison bulbs.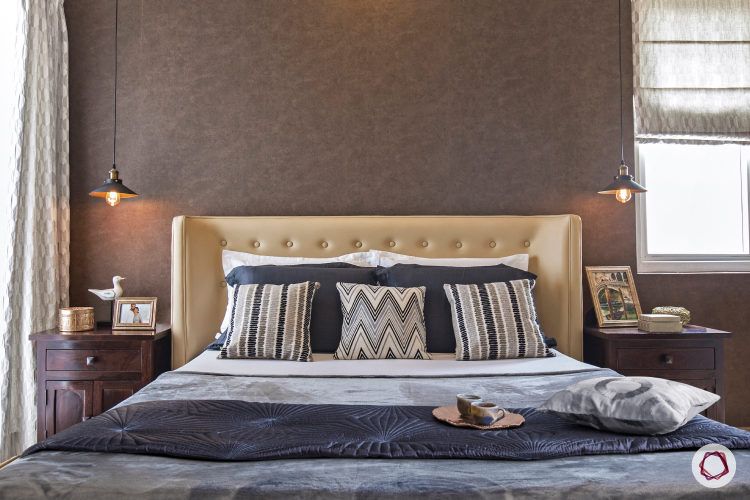 This room exudes warmth and style impeccably, and has no doubt become the favourite zone for the couple.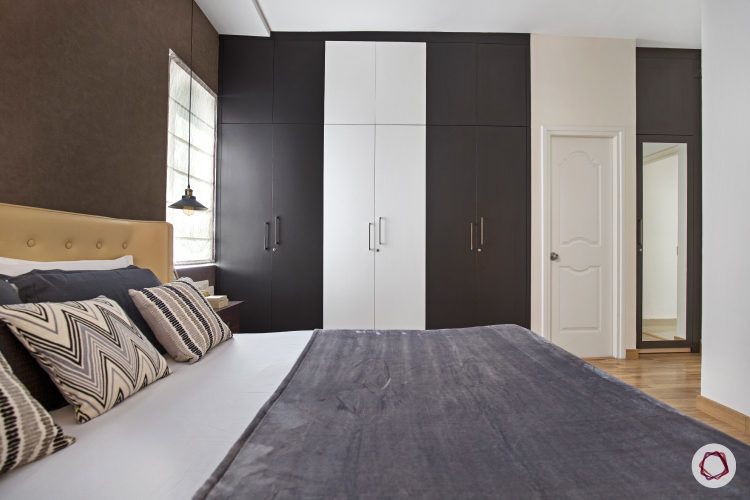 The wardrobes have also been done up in grey and white. Apart from the 6-shutter wardrobe, there is another matching dresser unit that has been installed next to the bathroom door, with a long mirror and internal shelves.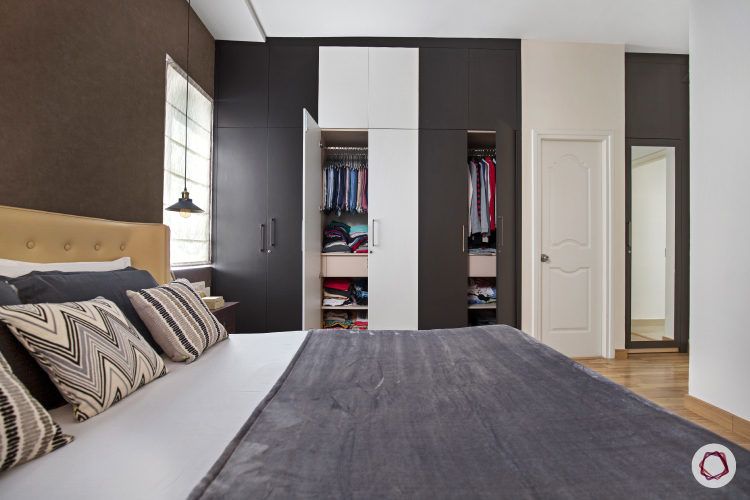 Since Vivek is the neatness freak in this house, you can see how much he has enjoyed organising the internals of the super spacious wardrobe.
In a Nutshell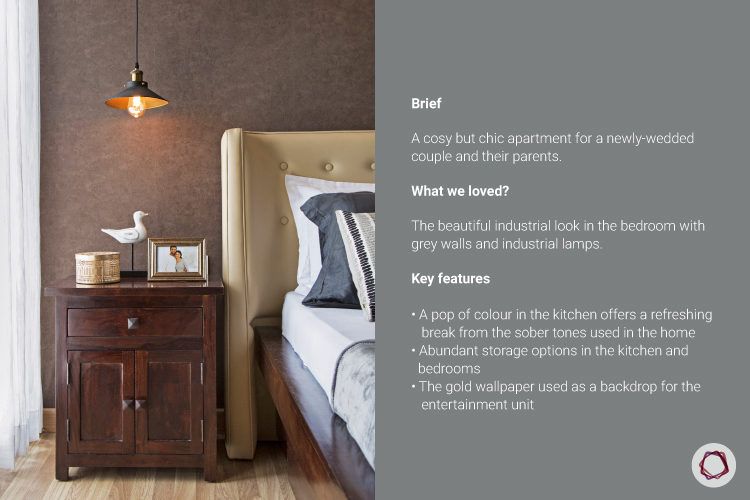 For the Parents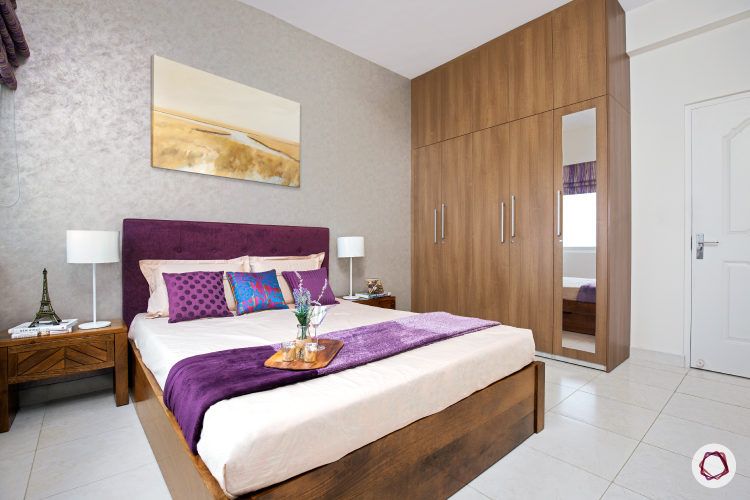 The parents' room has been done up in wood grain finishes that they felt was more appropriate given their ages. However, they decided to add a pop of colour with the Plum Purple in crushed faux velvet for the headboard. The walls had to be levelled before installing the wallpapers.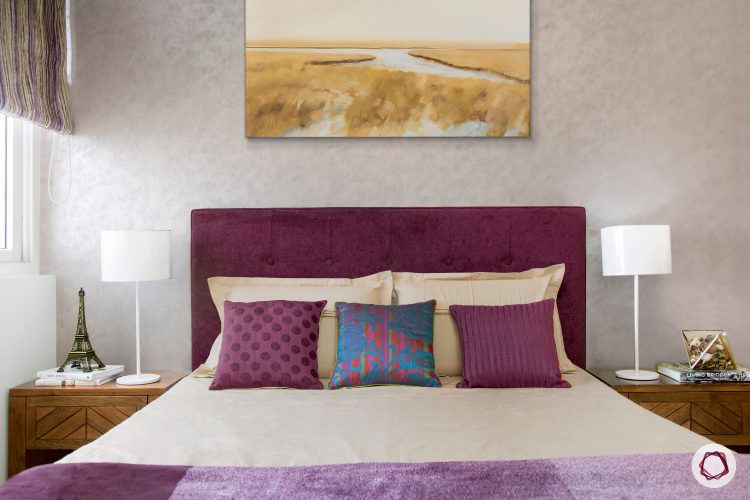 The wallpaper has a sheen to it that adds a bit of drama to the room and complements the purple beautifully. The room has become a warm space to rest after a long day.
"Sahana is a creative person and came with a clear idea of what she wanted her marital home to look like. Since I was used to doing a lot more traditional designs, this project gave me an opportunity to explore more design options. It was an enjoyable experience to work with a young couple with such fresh ideas!"

— Priya Shankar, Interior Designer, Livspace
Indeed, this has turned into a great space to start a family. Also, Sahana tells us that her guests showered them with compliments on their new nest. We wish them a lifetime of happiness!

Loved this home? Check out another Bangalore home with easy-care interiors for a couple on the move!
— editor@livspace.com