Builder floor houses are built differently than regular apartments. For instance, the ceiling design in Gurgaon builder floor houses is much higher and their floor area is much greater too. This makes getting basic interior work for such builder apartments tricky, as the house may still look empty after some work is done. But here is how you can tackle this issue when you want a low budget flat interior design in Gurgaon.
First, you can opt for our Livspace Select service module, which offers basic furniture like kitchen, wardrobe and storage at budget-friendly prices. The second challenge of the space and the ceiling design in Gurgaon homes such as these is easily tackled by our capable Livspace designers. They have rendered interiors that utilise the space in a creative and practical manner so you'll love the way you Liv.
One of the Livspace homeowners, Kanu Priya talks about her experience with us in this video tour of her house with a high ceiling design in Gurgaon.
"We needed someone professional to make our ideas turn into reality. Livspace did it for me. They designed my kitchen, the wardrobe and the storage areas. Functionality and looks — I am happy with both of these aspects. I love what Livspace did for me design wise."
— Kanu Priya, Livspace Homeowner
The house, overall, is colourful, just like Kanu Priya wanted it to be. It also has a practical design that makes her 3BHK interior in Gurgaon look decorated but spacious at the same time. For a builder house with a high ceiling design in Gurgaon, our designer Sushmeeta Chaudhry used many ceiling designs that match the aesthetics of each room. Keep reading to find out more.
Try a Layered False Ceiling Design in Gurgaon for the Living Room
If you are on a budget, then make the storage furniture that you want to build in your living room to work harder for you. Kanu Priya got this bay window seating incorporated in her storage design for her 3BHK interior in Gurgaon and she loves it!
This is one of the ways you'd want to save so you can reallocate the money to the ceiling here. Our designer Sushmeeta did just that. Take a look at this layered ceiling design in Gurgaon that not only solves the problem of the high ceiling but also maintains the spaciousness of the hall. Additionally, it eliminates the need for making a loft to cover up the empty space left above your standard tall furniture, thereby saving the cost of carpentry as well.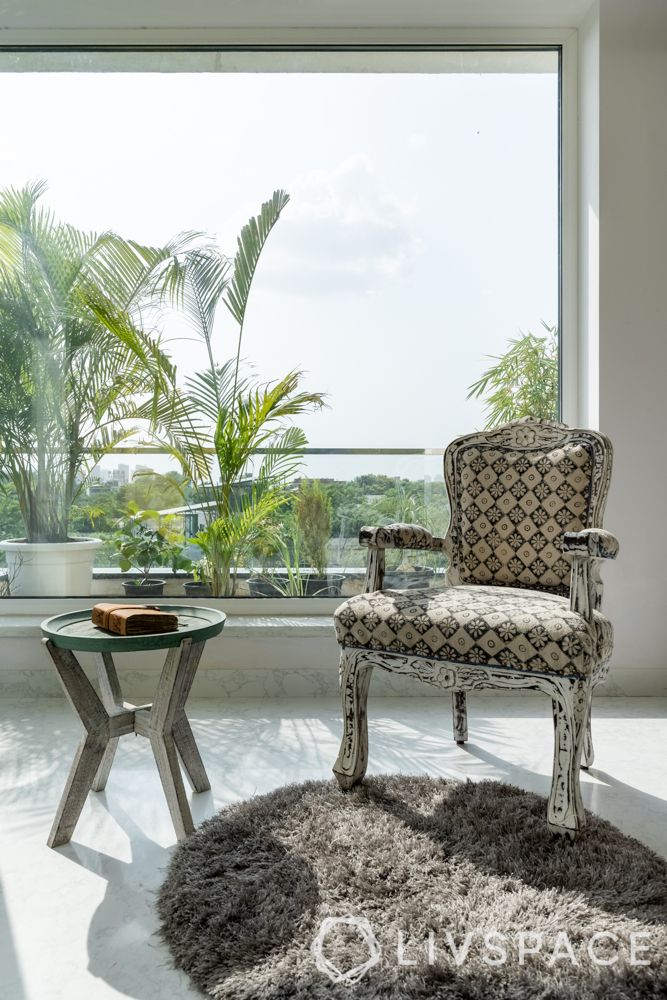 If you have managed to budget your interior expenses using smart solutions like the bay window seating with storage and the ceiling design in Gurgaon homes like this one, then you can also look at our catalogue products for economical furniture to put in your house.
Splurge on the Modular Kitchen But Wisely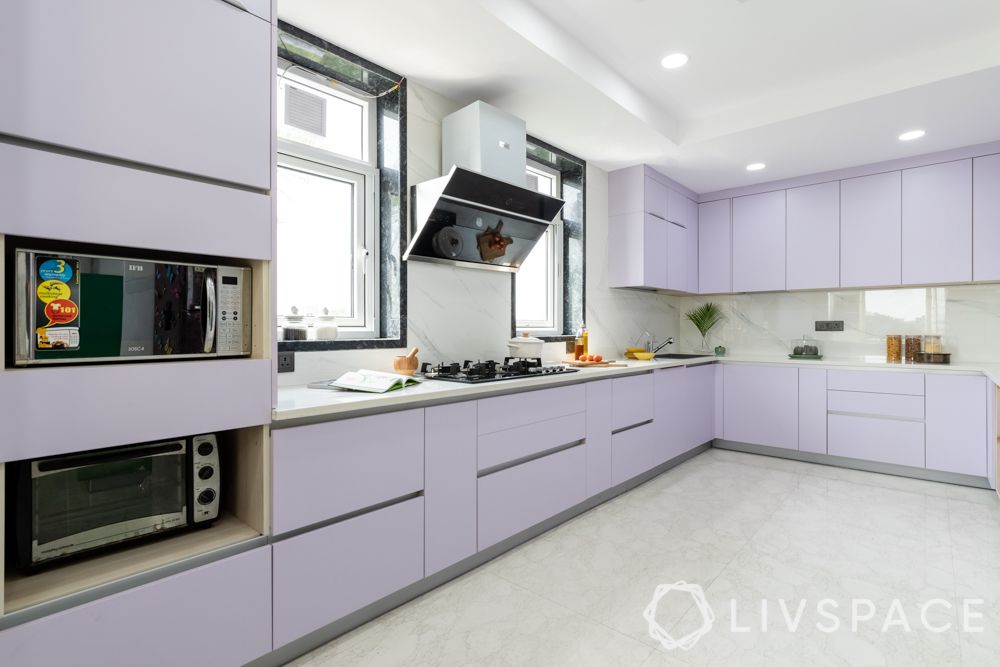 Kanu Priya chose to splurge on her modular kitchen because she needs a spacious kitchen that looks decluttered. Sushmeeta also designed the modular components in a way that Kanu's workflow is supplemented by the quick access to the things she needs while cooking. Just like the bay window seating, Kanu's kitchen is also personalised to her taste. The lilac-coloured laminate used in the kitchen also reflects her colour-loving personality.
Sushmeeta also managed to give this kitchen a matching false ceiling design in Gurgaon. It complements the block design of the kitchen with seamless plane surfaces.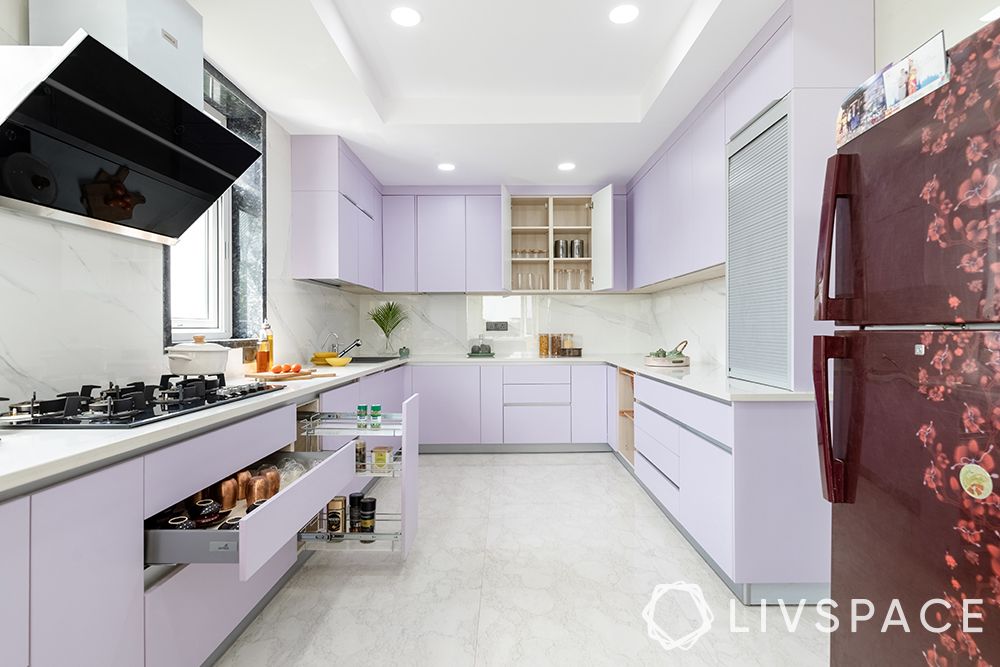 The kitchen has tall upper cabinets but no loft to save on carpentry. There is also the dropped false ceiling instead to make the design seem continuous. Ideas like this can help your low budget flat interior design in Gurgaon.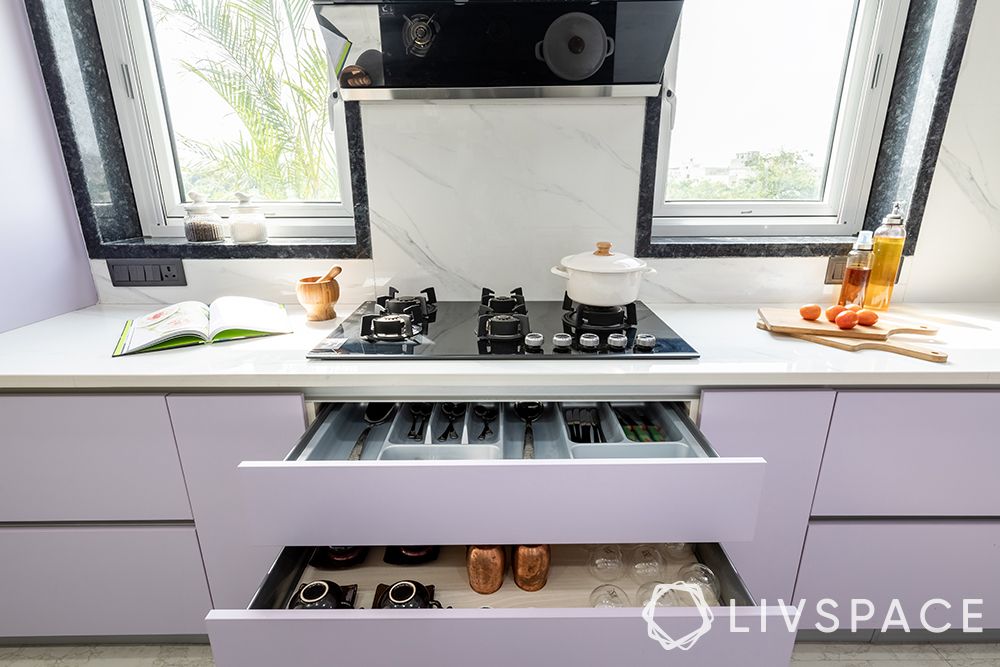 Acknowledge the Need for a Modular Wardrobe in Gurgaon Homes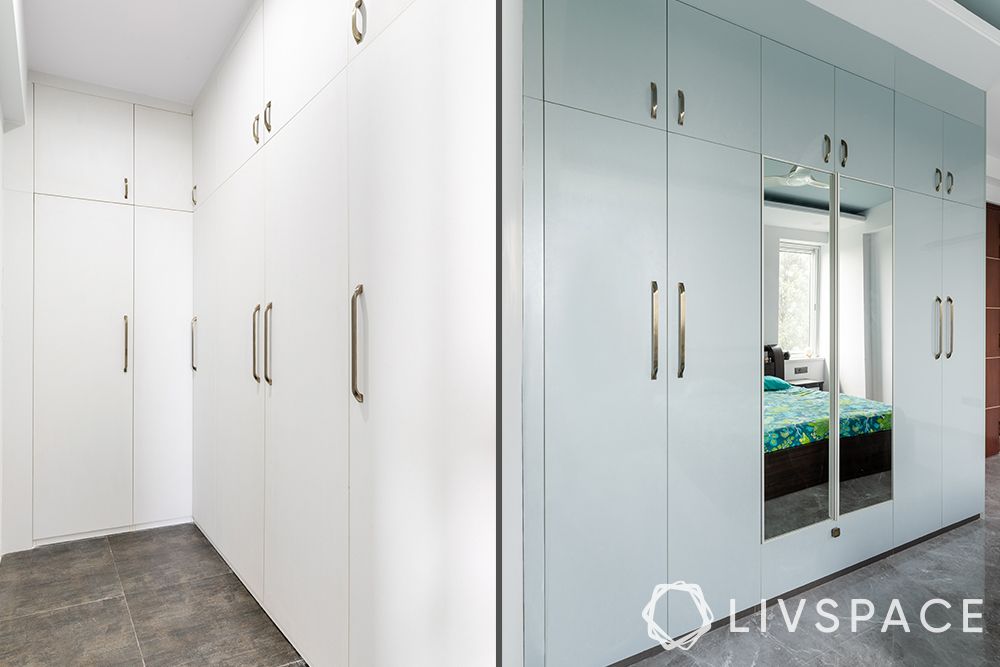 The high ceiling design in Gurgaon homes can finally amount to something in your bedrooms! Get tall modular wardrobes in Gurgaon interiors, particularly those with lofts above them to maximise storage in your house. But if you have extremely high ceilings, then opt for a plain coved false ceiling design in Gurgaon interiors. This is much more economical and doesn't burn a hole in your pocket.
High ceilings are necessary in the harsh climates that most of north India faces. They help regulate the temperature inside the house. So it is advised that you don't completely get rid of the high ceiling design in Gurgaon. Consider the ceiling designs that we have covered in this story instead of fully reducing the ceiling height; they are all economical options.
To further reduce your expenditure, use our recommendations from this home tour. Such as getting the multipurpose bay window seating, economical furniture from our catalogue, dropped ceiling to reduce carpentry work and splurge on kitchen, wardrobe and storage. This will help you get just the basic interiors done that look beautiful and belong to the space.
To read more about this 3BHK interior in Gurgaon read: How These 3BHK Flat Design Ideas in Gurgaon Perfect Storage Solutions. If you find yourself wondering how we charge you for your interiors, read 15+ Significant Ways of Cost-Efficient Room Designing by Livspace or 8 Stunning Low-Budget Flat Interior Designs by Livspace You Must See to know the range of services we offer and all at the best prices possible in the industry. Read more about How it Works and read Livspace reviews here!
How Can Livspace Help You?
We hope you found our ideas useful! If you want beautiful interiors for your home, then look no further. Book an online consultation with Livspace today.
Send in your comments and suggestions to editor@livspace.com