We love designing homes, but more than that, we love hearing from our happy customers. And it gives us great joy when clients enjoy their homes and speak about them with love and excitement. And Kanu Priya talks about her 3BHK flat design ideas in Gurgaon with such happiness that it is enough to inspire us to keep doing quality work and bring joy to homeowners.
---
Who Livs here: Kanu Priya
Location: Palam Vihar, Gurgaon
Size of home: A 3BHK house
Design Team: Livspace interior designer Sushmeeta Chaudhry
Livspace service: Storage, kitchen and Wardrobes
Budget: ₹₹₹
---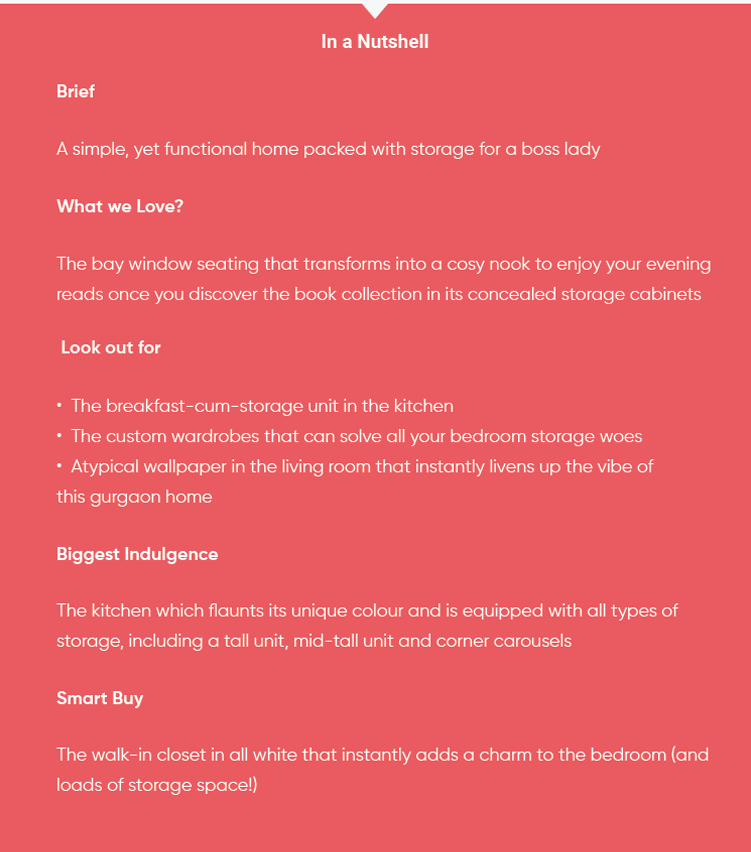 Kanu Priya approached Livspace for an overhaul of her kitchen, living room and wardrobes. And she absolutely loved what designer Sushmeeta Chaudhry came up with. Kanu Priya believed in giving her a free hand while Sushmeeta diligently understood what the homeowner was looking for. A designer with keen listening skills and Livspace-quality products? This home is a hit.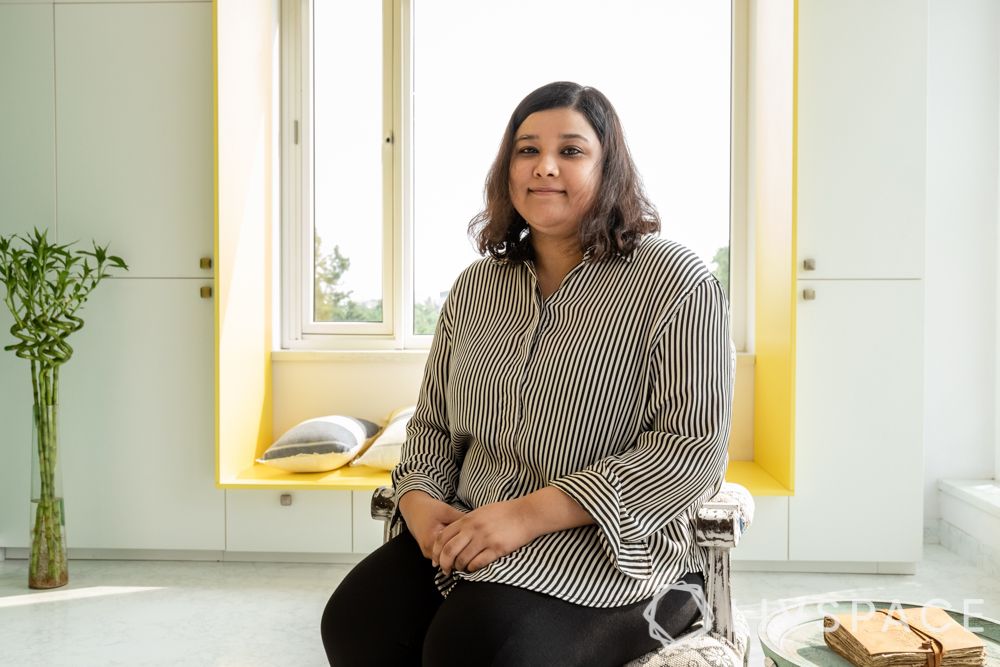 If you want to know more about how we designed this house, then take the home tour. We have loads of enthusiastic inputs from the homeowner herself. And if you too are looking for an interior designer in Gurgaon, reach out to us here today!
#1: Wardrobes to Ace The 3BHK Flat Design Ideas in Gurgaon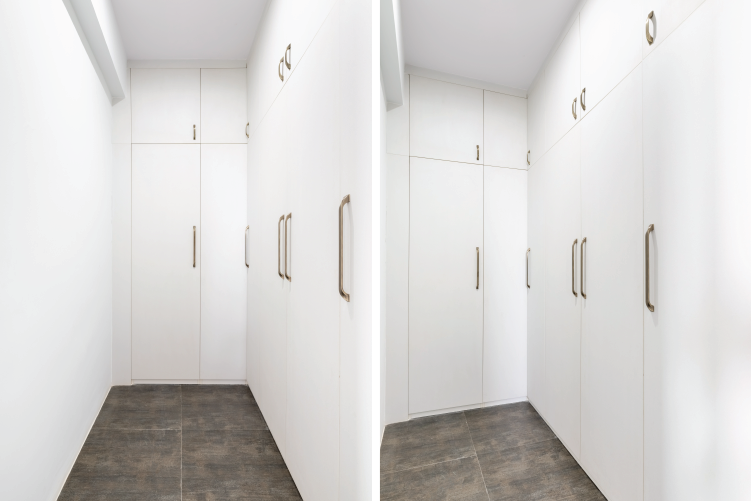 Care for a wardrobe design for home in Gurgaon? Then you've come to the right place! We are sure to inspire you from what is one of the best home interior designs in Gurgaon. Since walk-in closets are in demand, Sushmeeta decided she can squeeze one in the bedroom. This walk-in closet is in all-white to create the illusion of space in the bedroom. The result is a wardrobe design for home in Gurgaon with loads of storage and ample wardrobe accessories while ensuring it doesn't overwhelm the room.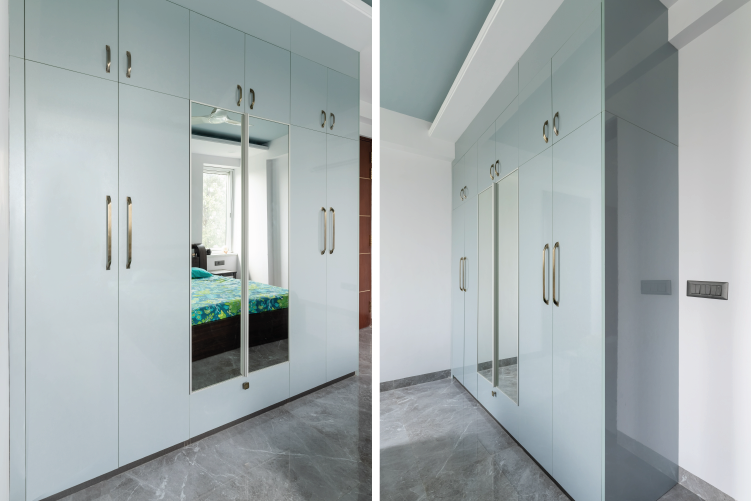 Another wardrobe design for this home in Gurgaon has been finished in glossy laminates. As materials go, the one Sushmeeta chose to go with for this wardrobe, a glossy laminate, is easy to maintain, imparts a visually light look to this wardrobe and keeps up with the contemporary appeal of the room. According to Kanu Priya, the quality is immaculate. "Especially the hinges," she says, "I can tell they are of good quality as they are not squeaky and even now hold to the test of time"
#2: Keeping It Lively in the Living Room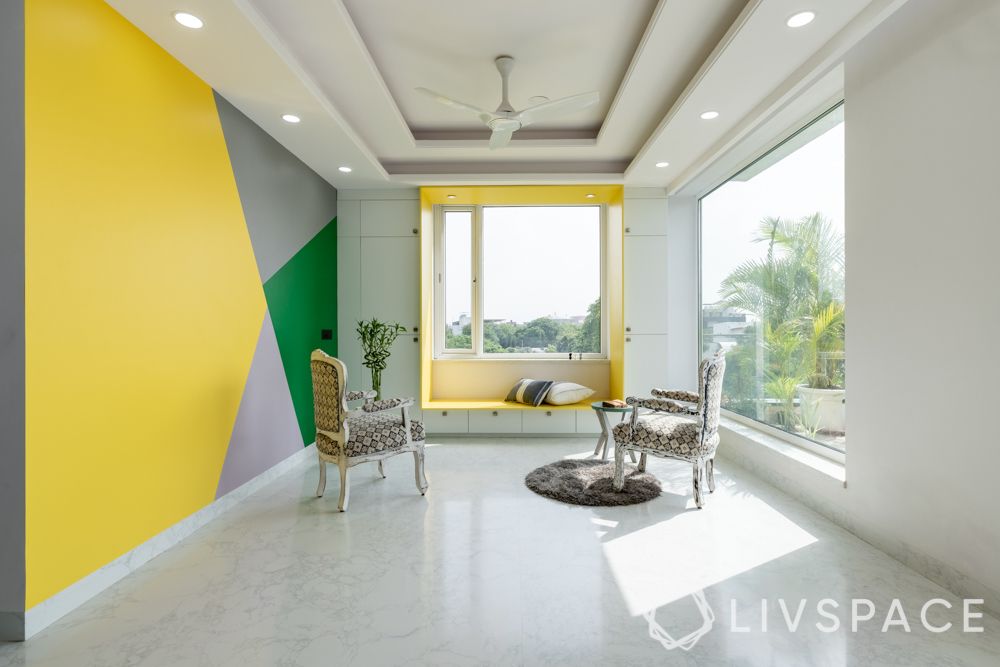 We love this living room wallpaper design in this Gurgaon home. It was suggested by Kanu Priya herself, and makes quite a bold statement. To balance the boldness of the wallpaper in the living room interior design in this Gurgaon space, the seating arrangement is minimal with select pieces. Another thing to note in this living room interior design in Gurgaon is the ceiling design, which is POP with recessed lights along the borders. Kanu Priya believes that homeowners should experiment with their ceilings to add interest to their homes, and we agree with her completely!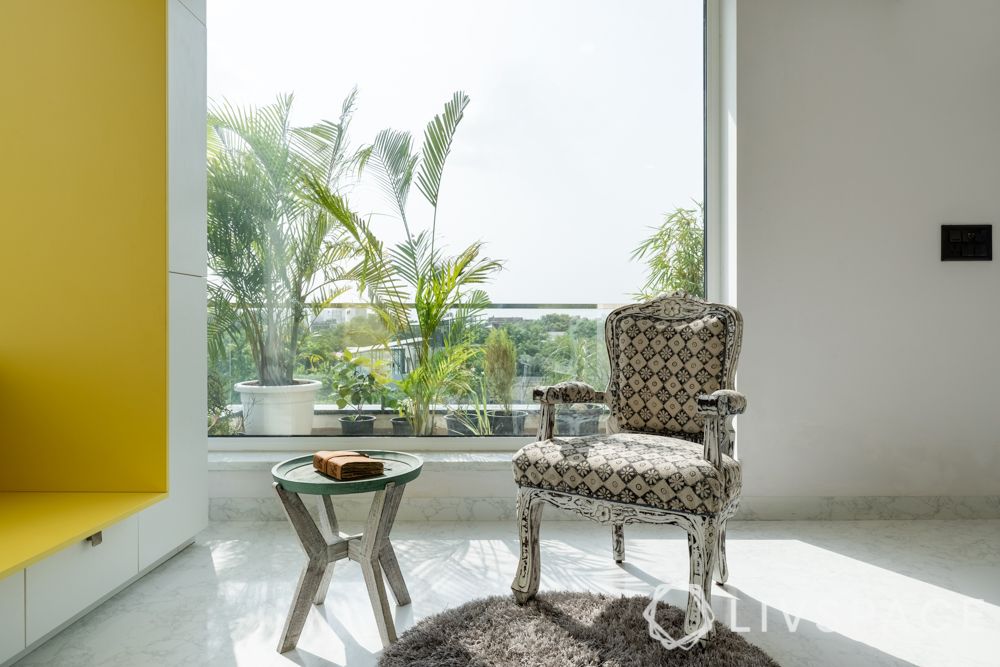 The bay window is a cosy spot in this living room interior design in Gurgaon. And that isn't all, because this bay window also has a functional dimension to it. So, if you are looking for bay window storage ideas, then this one is steal-worthy. The bright yellow colour creates a perfect medley with the living room wallpaper design in this Gurgaon home. Now for the storage: look closely and it will be easy to spot the pull-out drawers that conceal storage space. Once you open the drawers, you realise this spot is a secret library, just what Kanu Priya wanted; she loves to sit here and enjoy a good book in the evenings.
#3: A Giant Kitchen for This 3BHK Flat Design Ideas in Gurgaon: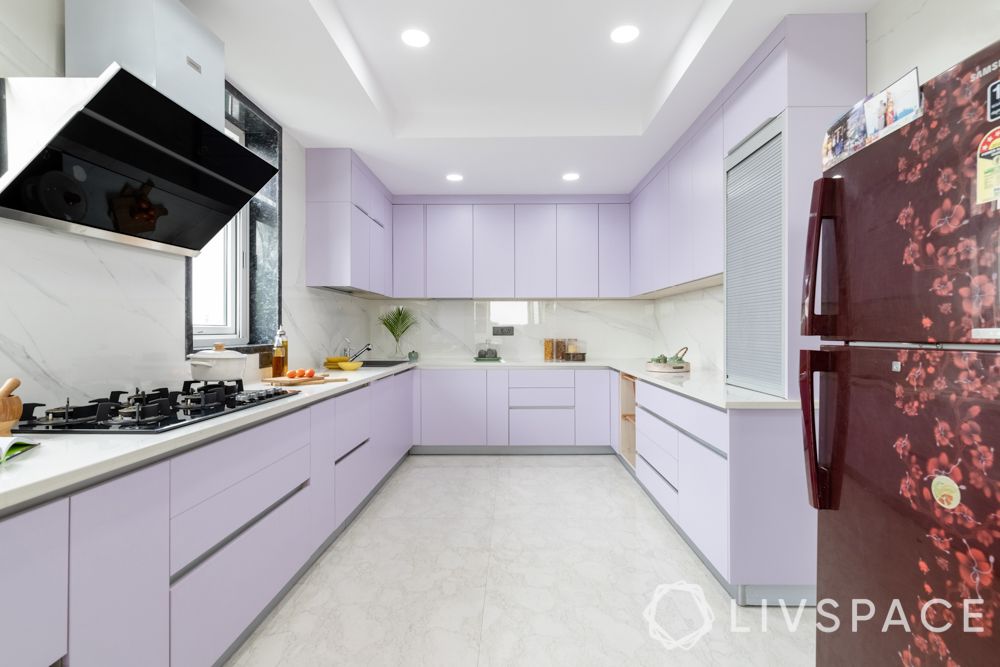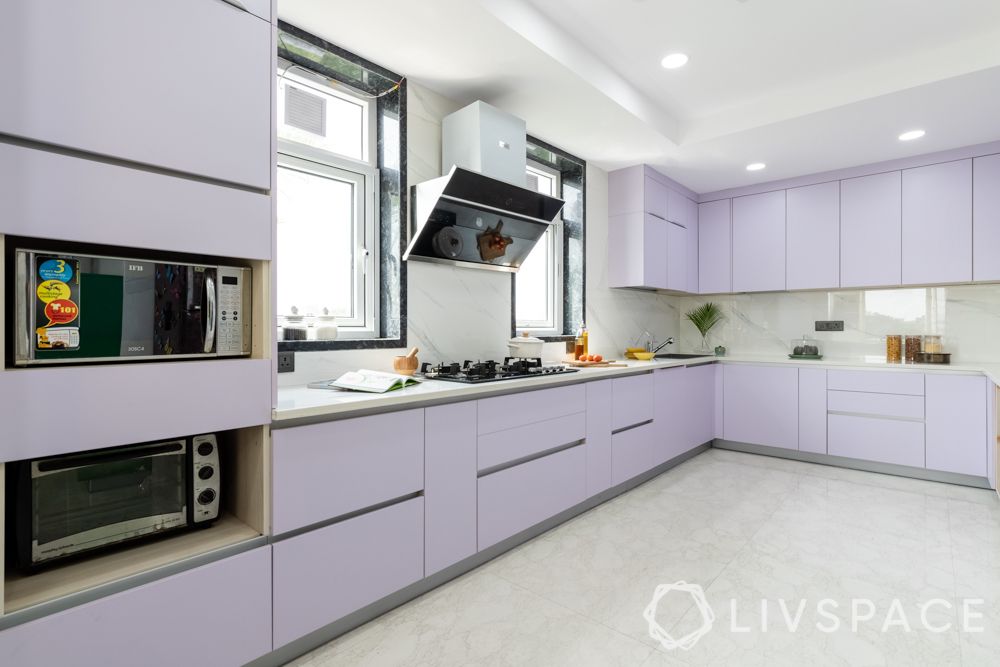 This U-shaped kitchen is the best interior design for kitchen in Gurgaon homes in our opinion! It can house an army of storage options here. Sushmeeta made sure she gave every kitchen story a try in this kitchen and ensured there were no dead corners. In fact, "rotating kitchen cabinets really surprised me," Kanu Priya recalls. We also love the beautiful pastel lilac shade that is the colour palette chosen for the kitchen. And handleless storage further enhances the seamless look of this kitchen 3BHK flat design ideas in Gurgaon.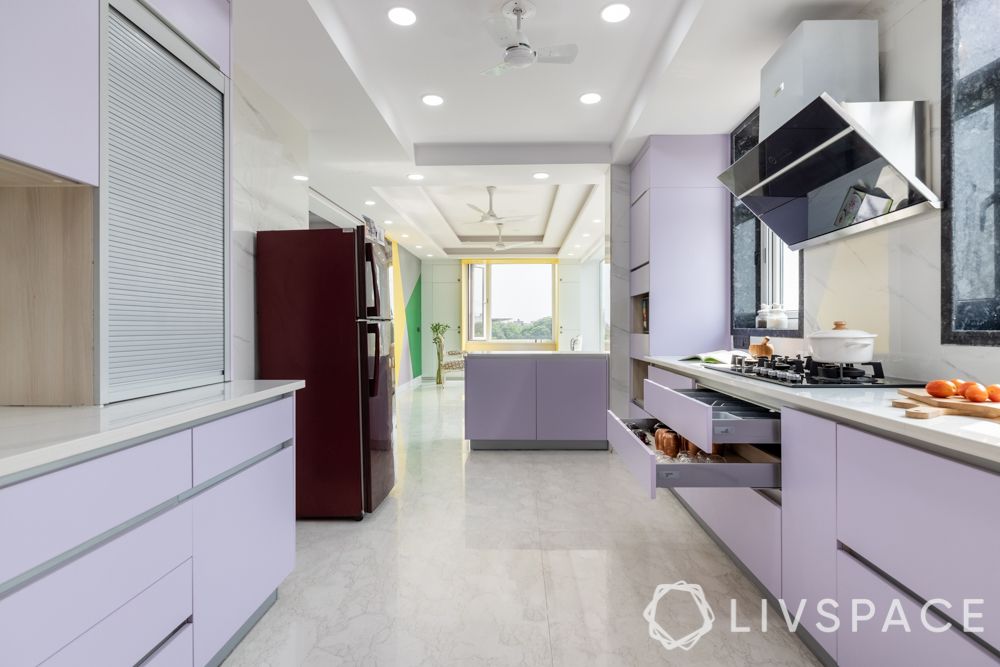 On the opposite end is a breakfast counter with storage design. It was a smart decision since the kitchen area is quite large and opened directly into the living room. The addition of a breakfast counter allowed the homeowner to skip a dining table altogether. The other benefit is that it was a good move to equip this breakfast counter with storage design. This way, breakfast cereals, condiments and pickles are all within easy reach.
#4: These 3BHK Flat Design Ideas in Gurgaon Offer Ample Storage Lessons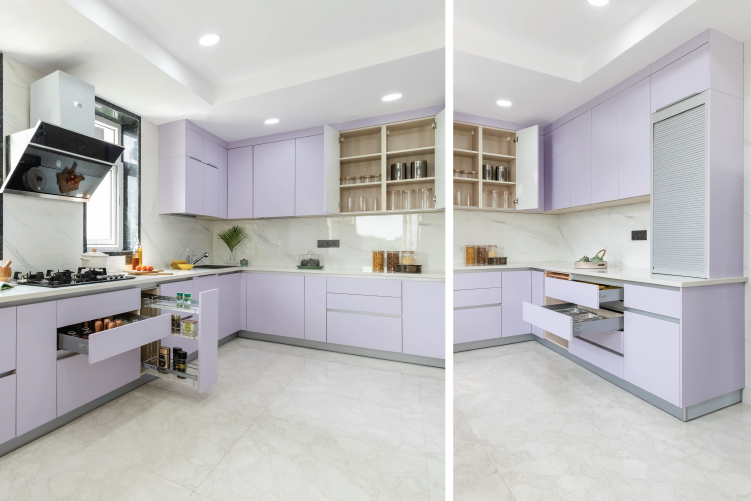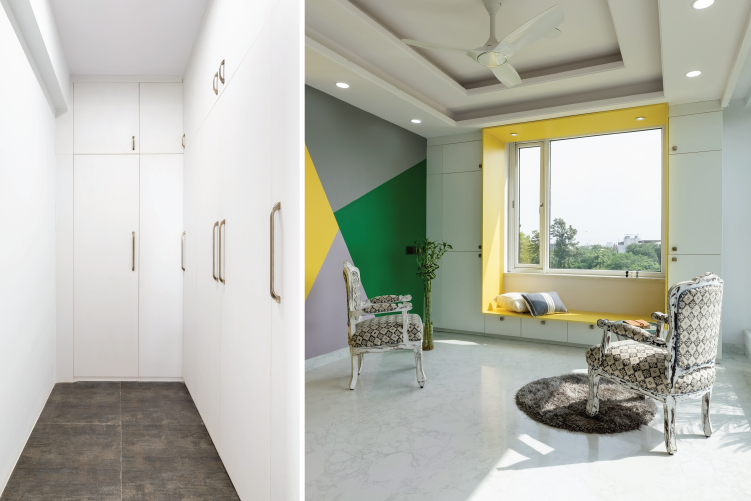 As you can see, Sushmeeta took care to include every type of storage in all the rooms she designed. The kitchen, especially, is equipped with a crockery unit, tall unit and mid-tall unit. Sleek designs ensure the space does not appear cramped. While loading up on storage, she made sure to keep up with the Livspace quality and in the bargain, created a space that boasts one of the best home interior designs in Gurgaon. The designs also do not appear visually overwhelming. This home definitely demonstrates how to do interior designs right.
How Can Livspace Help You?
We hope you found our ideas useful! If you want your home to be just as beautiful, then look no further. Book an online consultation with Livspace today.