At Livspace, we have customised dream homes for homeowners across India. From small to large spaces, our designers have done it all. One of our in-house specialities is duplex house interior design projects. Truly, the opportunity in duplex home design is exciting as the possibilities are endless. We understand that duplex design requires the owner and designer to maximise its great potential. Showcasing just that, we finally hand-picked some of the best duplex house interior designs by Livspace to inspire you!
#1: A Royal Affair
The royal vibe of this house is unmistakable. The living room is designed for showing warmth by its colours and its layout. Whereas the dining room makes a cool impression in blue and grey. The floor-to-ceiling draperies in beige complement every room in this duplex house. The mirrored panels framed in blue add to the luxury index in this room.
---
Who livs here: JPN Singh and his wife with their son and daughter
Location: Mumbai
Size of home: A 4BHK duplex design spanning 1,900 sqft. approx.
Design team: Studio manager Pallavi Goel and interior designer Hamza Pinwala
Livspace service: Full home design
Budget: ₹₹₹₹₹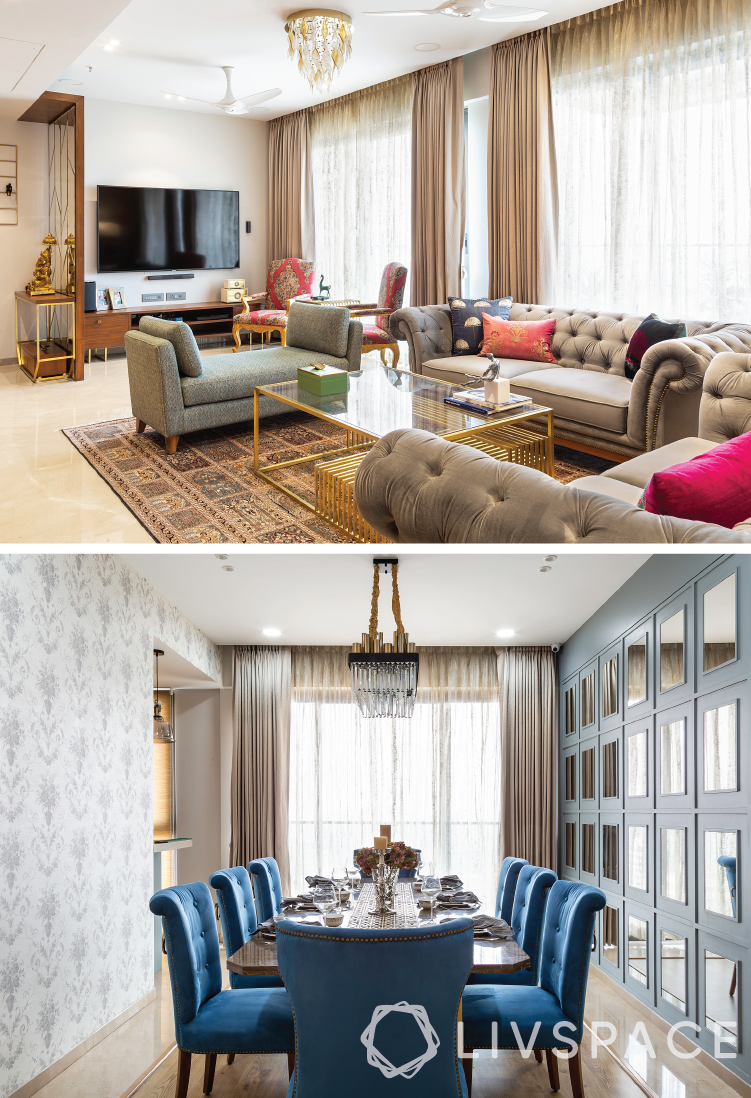 The bar adjoining this dining space was customised after breaking down an extra room. What's more, it has been personalised with the family's emblem and Mr Singh's initials! The kitchen stands out with its striking red countertop. Likewise, every room in the duplex house interior has a different theme; our favourite is the daughter's room with its French revivalist style. For some great bedroom design ideas, check out this duplex design.
Check out the video here:
#2: The Red Couch Talk
This personalised duplex design is designed keeping in mind the youthfulness of the couple staying here. You will find statement furniture scattered everywhere in this duplex house interior. This red couch, for instance, is an eye-catching piece, especially as it is set against the vast and beautiful city views.
---
Who livs here: Rajesh and Priya Ojha
Location: M3M Golf Estate, Gurgaon
Size of home: A duplex house spanning 2,000 sqft. approx. on each floor
Design team: Interior designer Shilpa Garg and project manager Chandan Gaurav
Livspace service: Living area, balcony and 2 bedrooms
Budget: ₹₹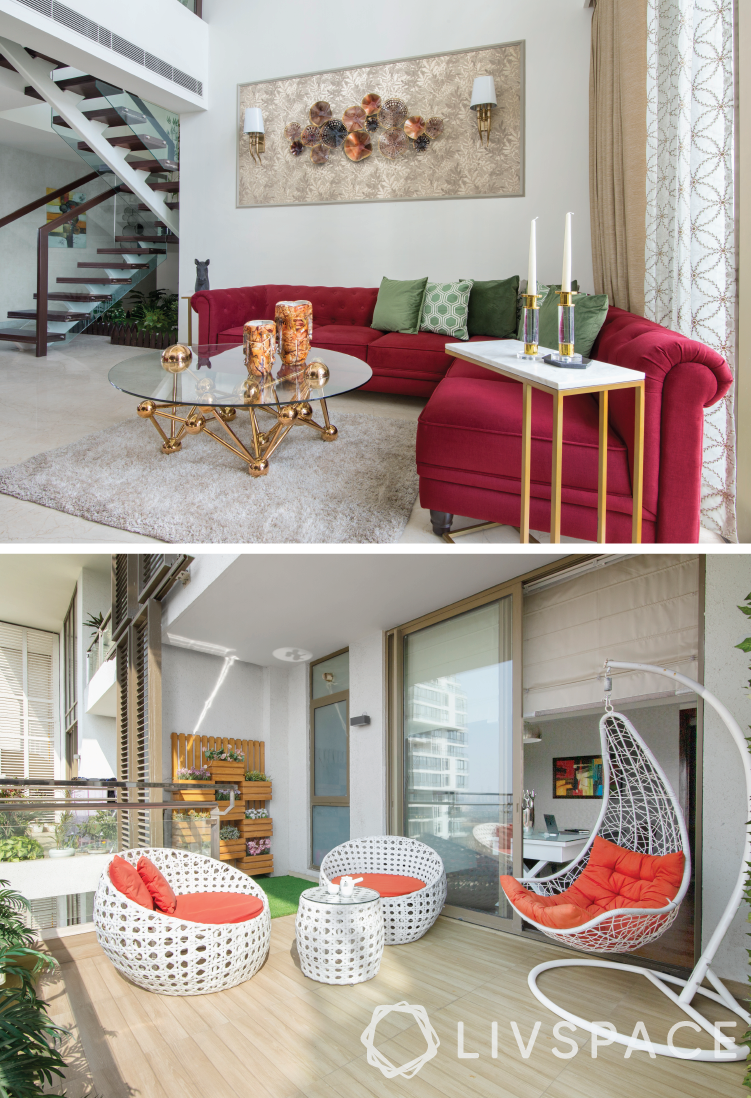 Their balcony furniture too is worth noticing; it sets the informal tone of the space. However, the double-height ceiling in the living room was a challenge. But our designer Shilpa found a statement piece for it as well – a grand chandelier. This duplex house is a rented accommodation, and hence, the interiors are designed accordingly. Everything, even the metallic fixture of the living room's accent wall, can be removed! You can see this grand chandelier and the rest of their duplex house design here. Also, don't miss out on their quirky home office.
#3: The One With Marble and Bling
This one-of-a-kind duplex house interior in Mumbai proudly shows off its Italian marble and high-quality custom furniture. Irshad and Tasleem heard of Livspace from their friend and started the full-home renovation journey with us. There was a lot of customisation work to accommodate the villa layout and the family using it.
---
Who livs here: Irshad and Tasleem Ahmed with their three children
Location: Chembur, Mumbai
Size of home: A 5BHK duplex house spanning 4,500 sqft. approx.
Design team: Interior designer Vishakha Dsouza
Livspace service: Full home design
Budget: ₹₹₹₹₹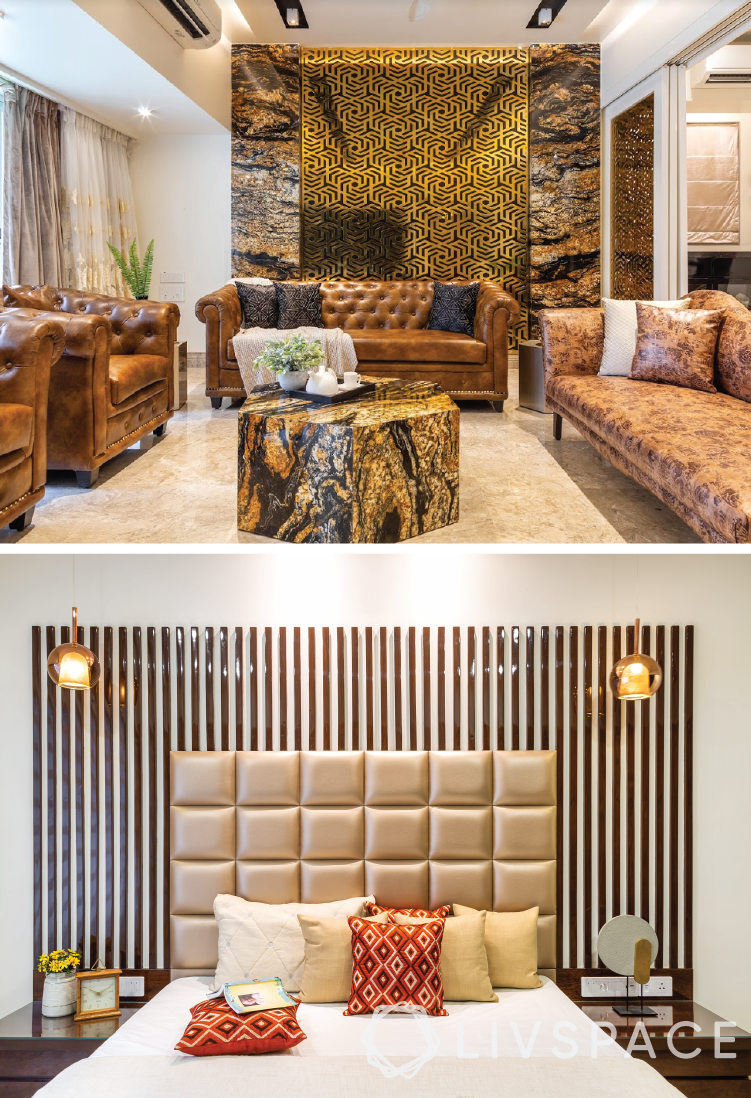 Subsequently, every room has a distinct personality all tied together with an overall aesthetic. They even opted for a variety of headboard ideas. The homeowners are more than happy about the final results and you must see their full home story. If you are also looking for an extravagant and luxurious design for your duplex house, then find the best customisation ideas here.
#4: Less is More in This Duplex House Interior
If you are not a fan of very dense design elements, then this simple duplex house interior has lessons in elegant simplicity for you. Furthermore, this house is a gateway into nostalgia with its classic jhoola and solid wood canopy/poster bed. That isn't all; the room design for their kids is even bigger on creative goals. It even has an ocean-themed mural in the kids' study painted by a street artist!
---
Who livs here: Roopa and Rajendra Chhannnali with their two children
Location: Skanda Avani C99, Mullur, Bengaluru
Size of home: 3BHK spanning 2,700 sqft.
Design team: Interior designer Pooja Das Choudhary and project manager Ashok K
Livspace service: Full home design
Budget: ₹₹₹₹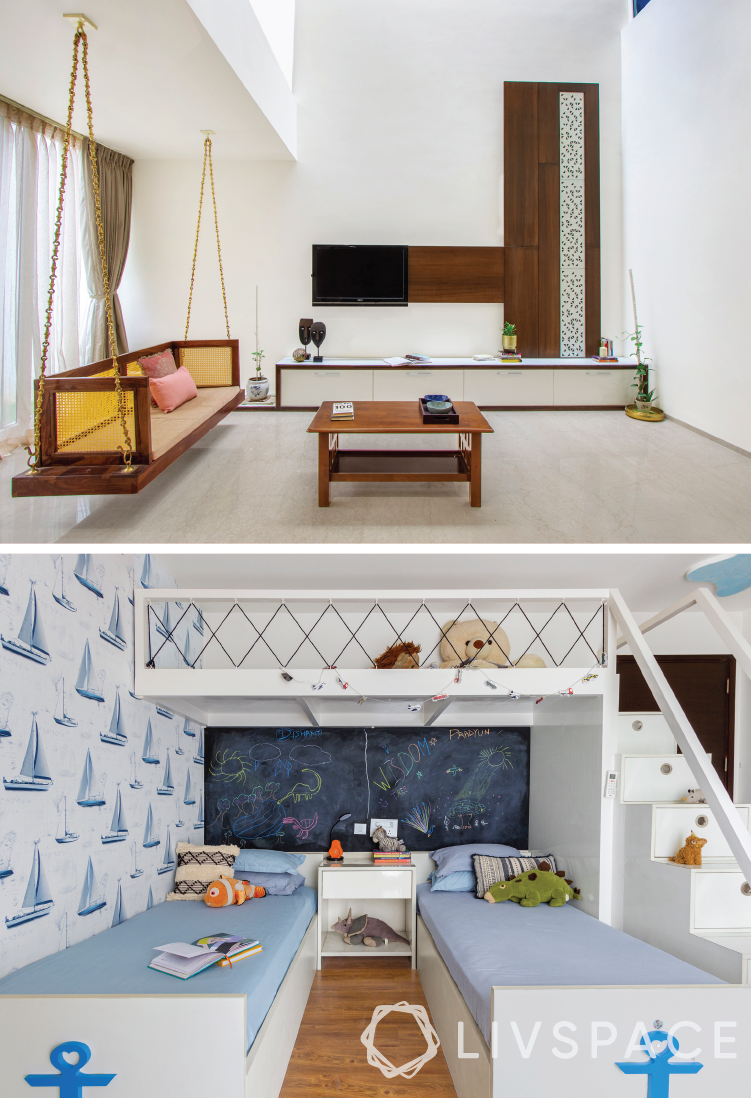 Roopa Chhannnali recalls visiting many interior designers before us, only to be disappointed with every meeting. Of all the kinds of designs, understanding a client's minimal or simple duplex design ideas can prove challenging. Yet our highly experienced designers could render what the client wanted in their budget and time frame. Read more about Roopa's experience and her duplex house here and steal their gorgeous pooja room idea.
#5: It Was a First Duplex House in Bengaluru for The Thomas'
Lisa Thomas didn't want to go wrong with her first duplex house in Bengaluru. Therefore, she hired Livspace to provide her with a simple yet sophisticated duplex house interior. She wanted her villa to be comfortable for its multigenerational residents, from her daughters to her father-in-law.
---
Who livs here: Lisa Thomas with husband Bejoy, daughters Samaara and Saira and father-in-law
Location: Greenwood Layout, Chikka Bellandur Road, Varthur Hobli
Size: 3,000 sqft.
Design team: Interior designer Tanvir Kohli with project manager Pankaj Chandak
Livspace service: Full home design
Budget: ₹₹₹₹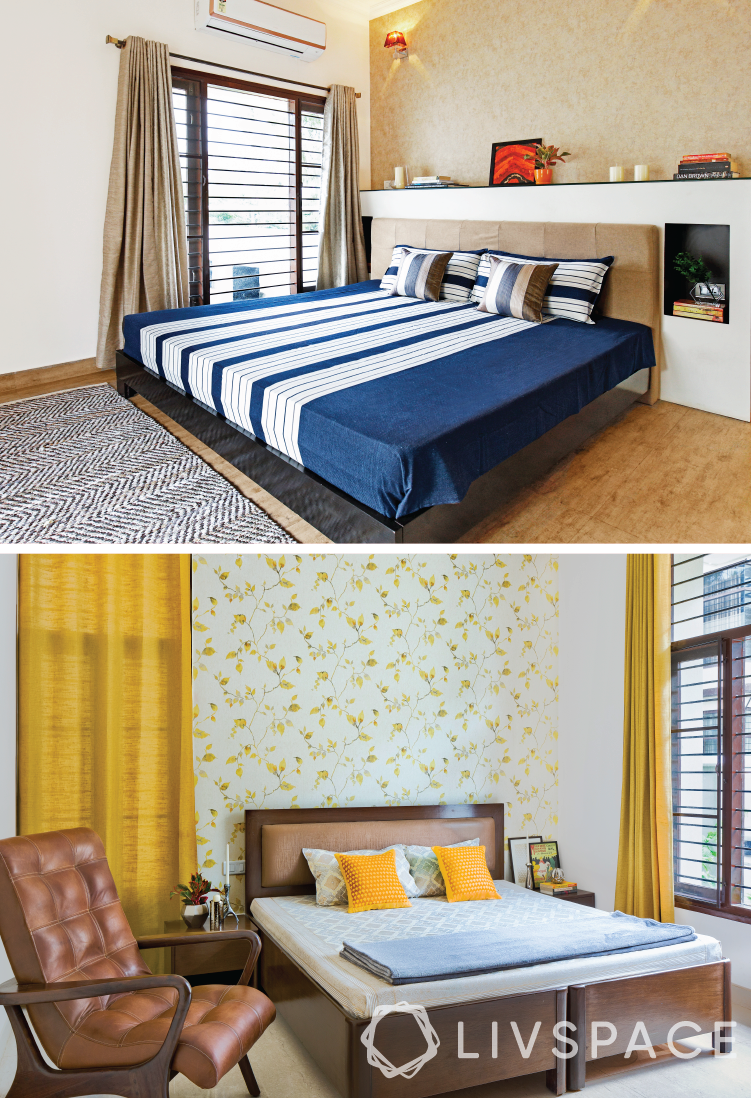 Creative wallpapers and matching soft furnishings perk up every corner of their duplex house. Visit their child- and elderly- friendly home to find more sophisticated duplex design ideas.
#6: The Blue Door
This house, called Nirvana, pays an ode to Priti's (Livspace homeowner) favourite book, The Blue Door, a World War II story that inspires hope. And as you would have guessed, the first thing that catches your eye about this home is the pretty blue English door.
---
Who livs here: Harvinder Singh and his wife Priti Arora with their son Nirvan
Location: Mahagun Moderne, Sector 78, Noida
Size of home: 6BHK duplex house spanning 4,185 sqft.
Design team: Interior designer Kajal Sood and project manager Anil Singla
Livspace service: Full home design
Budget: ₹₹₹₹₹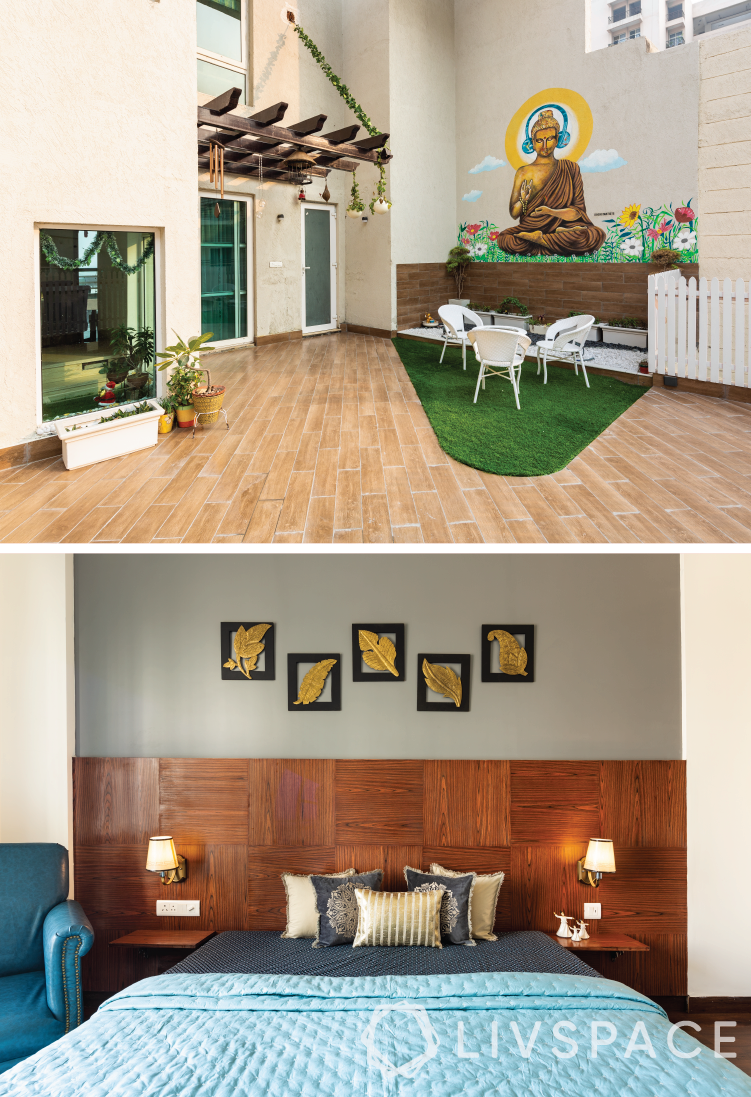 A terrace is a huge bonus to have in your home, duplex or otherwise. So just make sure you use this outdoor space well, like in this duplex house in Noida. For instance, this stunning space features some incredible Buddha-themed wall art, artificial turfing and white patio furniture. Simple enough for a clean look, perfect for your evening cuppa and safe for the kids to play on thanks to the laminate flooring.
We love the sitting room in this home with its curvy blue Moroccan-themed furniture and lights. Meanwhile, the dining space is decidedly mid-century modern. We love the home interior design ideas deployed by the designer who has managed to fit a number of styles into one duplex house interior.
#7: Modern Meets Rustic in This Duplex House Interior
Everyone needs a little space to unwind and this house does just that. Having a duplex home gives you the liberty to experiment with the available spaces. And this trendy 4BHK duplex house goes above and beyond to dedicate a room specifically as 'your space'. The patterned wallpaper, modular shelves and accent chair, indeed, create the right blend for you to unwind and relax.
---
Who livs here: Diwakar and Priya Punith with their son Achal
Location: Royal Meridian Layout, Bengaluru
Size of home: A duplex house spanning 750 sqft. approx.
Design team: Interior designer Amita Raikar and quality manager Kiran Kumar Matcha
Livspace service: Full home design (kitchen not included)
Budget: ₹₹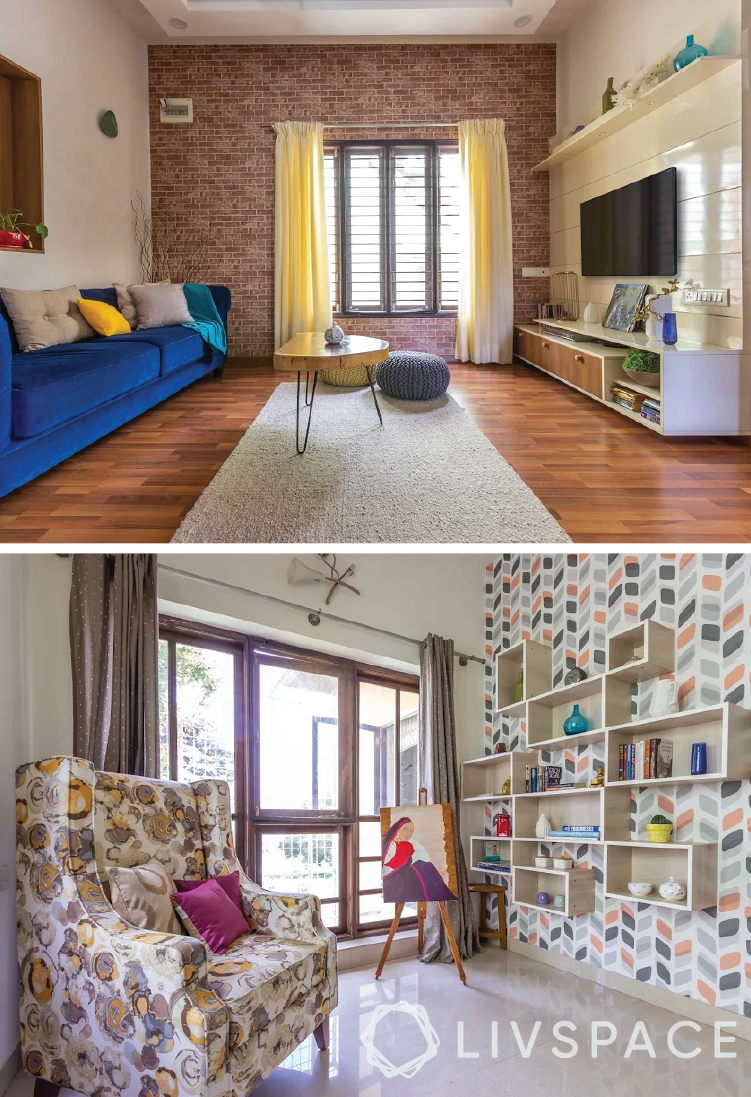 The family renovated the second floor of their duplex house interior to make 'space' for everything they wanted. The living room, in particular, is interesting with its wallpaper that mimics exposed brick. And if you have kids, you should check out the superhero-themed room for their son.
#8: Staycation Duplex House Interior
Our villa interior designer Harshita Sharma said that this family had fairly simple tastes for a villa so grand. So she used some understated design elements to create a basic yet 'wow' look in every room! Consequently, the duplex house interior resembles the cosy yet grand look of a boutique hotel, making it ideal for a staycation.
---
Who livs here: Anand Shankar with his family
Location: Noida
Size of home: A 6BHK villa spanning 4,800 sqft.approx.
Design team: Interior designer Harshita Sharma and design manager Rohit Singla
Livspace service: Full home design
Budget: ₹₹₹₹₹
Apart from sporting a beautiful colour palette, some of the duplex design ideas you can get inspired by are the various clever wall treatments and specifically, the custom bar unit. Infact, even more design inspiration from this villa can be drawn from the story here.
#9: A Tale of Two Flats
Tarun and his wife Priyanka purchased two flats that they wanted to combine into a duplex. Much like their vibrant personalities, the globetrotters wanted a modern home filled with colours and most importantly, rooms that reminded them of their favourite destinations.
---
Who livs here: Tarun and Priyanka Sachdev, their 13-year-old daughter Mannat and 8-year-old son Arman
Location: Winter Hills, Dwarka Mor, New Delhi
Size of home: 8BHK spanning 3,600 sqft.
Design team: Interior designer Harshpreet Kaur
Livspace service: Full home design (kitchen not included)
Budget: ₹₹₹₹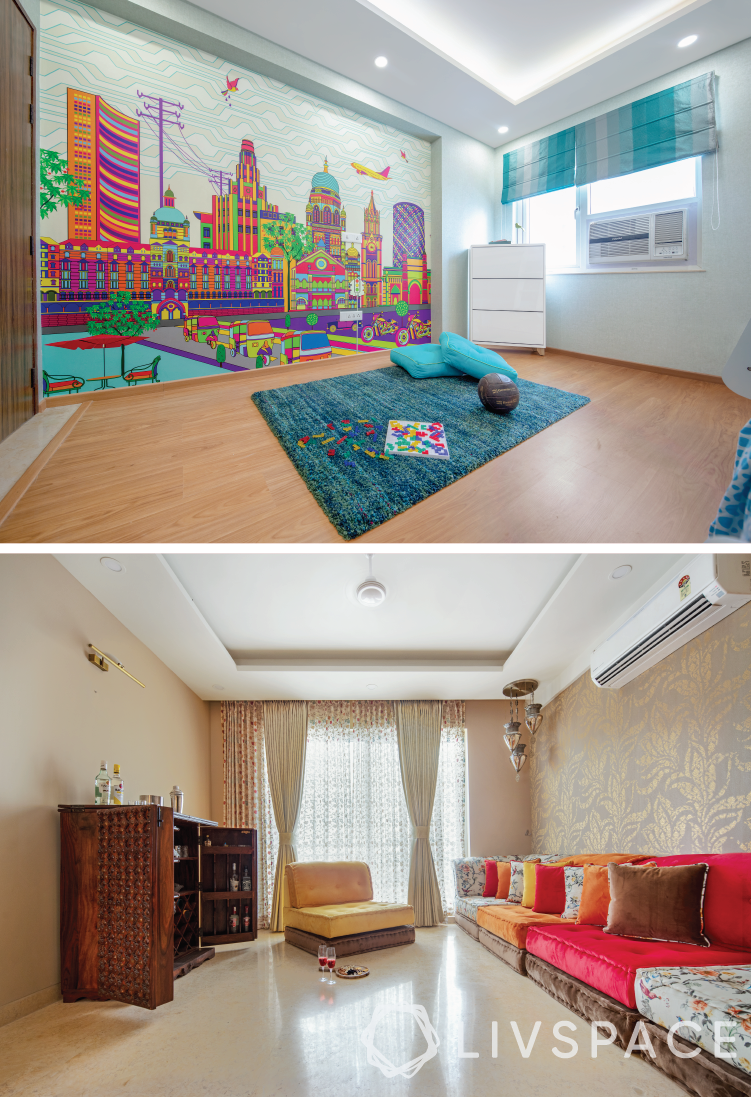 Therefore, you will find strong elements that recreate impressions of the most cherished memories from their travels. Also, they assigned neat functions to these rooms. Find out more about their duplex design ideas in this article and let your imagination guide you as you plan your own space.
#10: One for The Roof
To Raghu and his wife, it was all about comfort in style. So it's no wonder their sprawling duplex house in Bengaluru is proof of that. Thus, their requirement? Something with plenty of storage, as well as comfort, style and, of course, a designer's touch.
---
Who livs here: Raghu, his wife and their twin babies
Location: Blue Jay Nine Forum, Bengaluru
Size of home: 3BHK duplex house spanning 2,095 sqft.
Design team: Interior designer Chetana Shivakumar
Livspace service: Full home design
Budget: ₹₹₹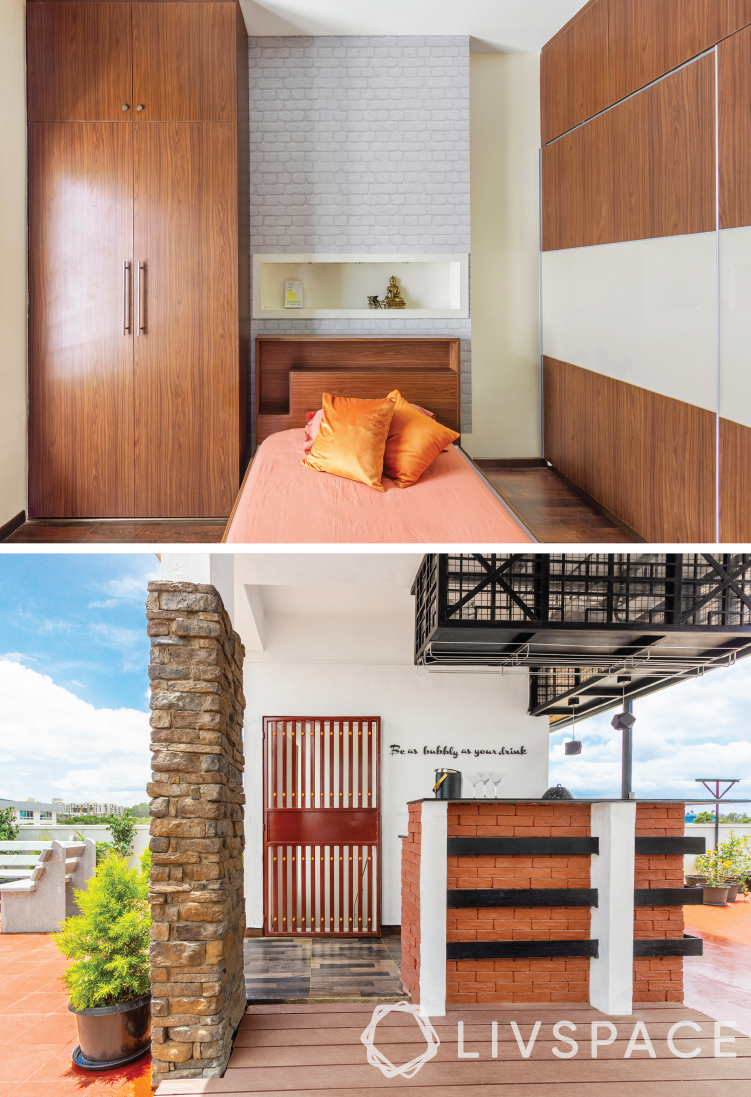 Their stunning terrace features an attached exposed-brick bar unit. Both sides of the bar are open to the sky while the bar unit is sheltered with a metal storage shelf for beverages. Evidently, the combination of the brick, stone pillar and metal give this space an overall rustic effect. Hence, the wooden walkway and red oxide floor are complementing this theme. Overall, an ideal place for your weekends with friends and family. See more of their perfectly vastu-compliant duplex house interior design here.
How Can Livspace Help You?
We hope you found our ideas useful! If you want beautiful interiors for your home, then look no further. Book an online consultation with Livspace today. Delivering safe home interiors has been our No. 1 priority. Click here to find out how interiors are being delivered following all safety protocols.