A duplex house design that sure looks dreamy!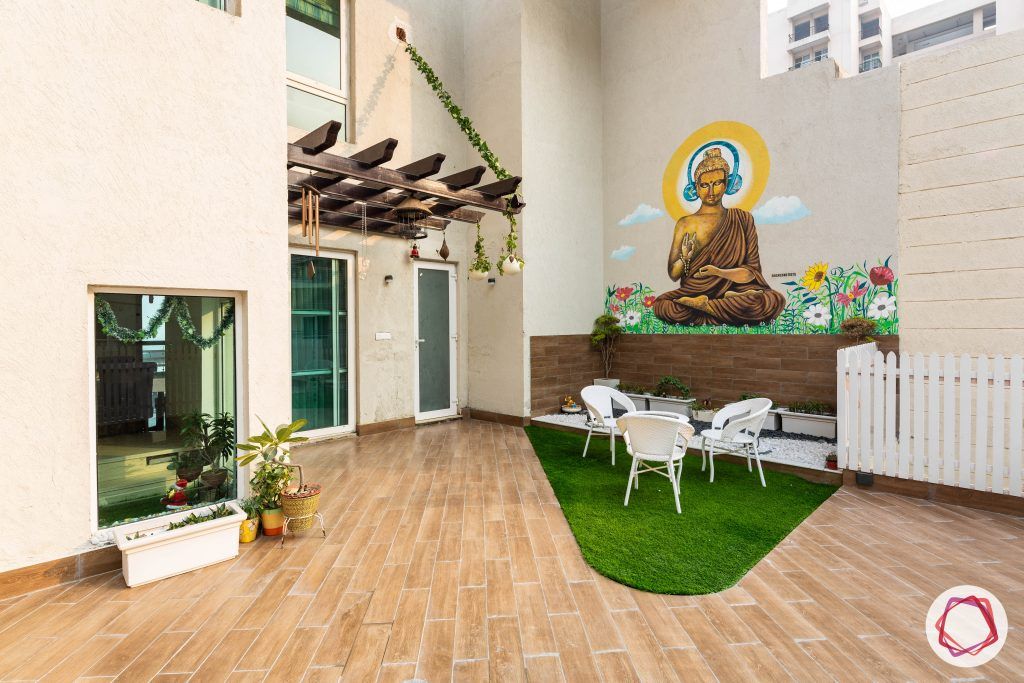 ---
Who livs here: Harvinder Singh and his wife Priti Arora with their son Nirvan
Location: Mahagun Moderne, Sector 78, Noida
Size of home: 6BHK spanning 4185 sq ft
Design team: Interior designer Kajal Sood and Project Manager Anil Singla
Livspace service: Full home design
Budget: ₹₹₹₹₹
---
Imagine waking up in your favourite storybook. Or being reminded of hope and persistence everyday in our chaotic lives. That's what Priti Arora dreamt of her future home. The journalist and her husband Harvinder Singh, a lawyer, wanted a home straight out of a book and surrounded by works from their favourite artists. "We love being surrounded by things that connect to a story," Priti tells us. The art enthusiasts are particularly fond of the cartoonist Mario Miranda and wanted their brand new home at Mahagun Moderne, Noida to feature a wall designated to his works, among other artists.
In addition to this, they also revealed they wanted a low-maintenance home, considering both floors of their 5BHK duplex added to a floorspace of 4185 sq ft. "I called Livspace on a public holiday and I was impressed with the zeal and professionalism they showed," Priti says.
For this beautiful duplex house design, the designer Kajal Sood created a home that was high on personality, design and comfort. Let's walk right in!
Duplex House Design: A Happy Entrance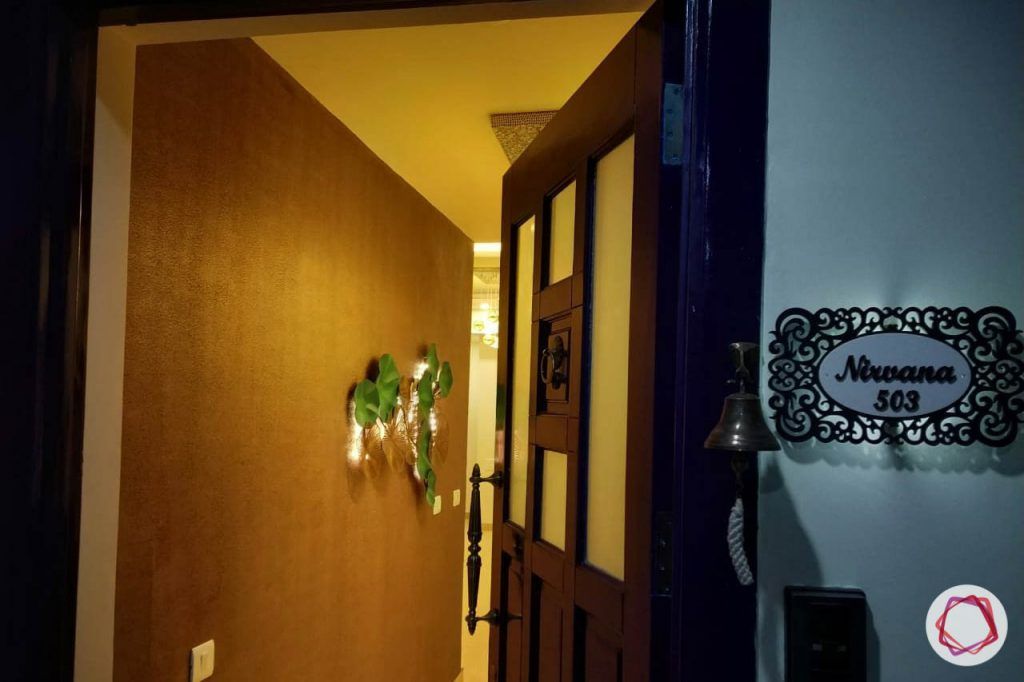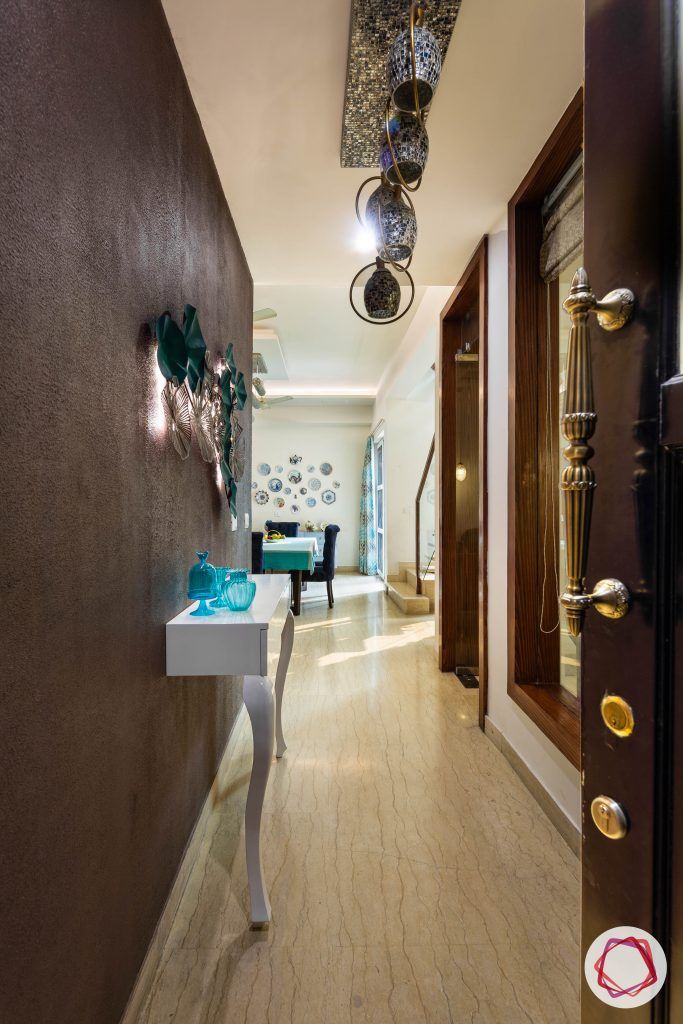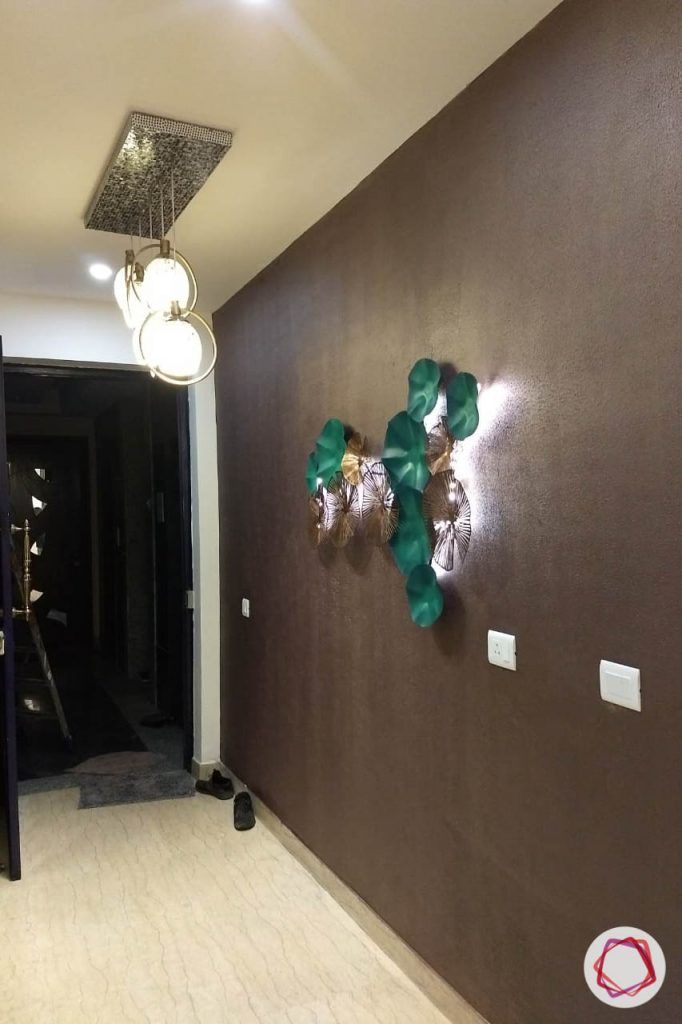 The first thing that catches your eye about this home is the pretty blue English door with features. This is an ode to Priti's favourite book "The Blue Door," a World War II story that inspires hope. The foyer wall is kept dark with a golden finish to keep the focus on a beautiful teal accent piece that is backlit. We love how this entrance makes a statement!
Duplex House Design: A Moroccan-themed Living Room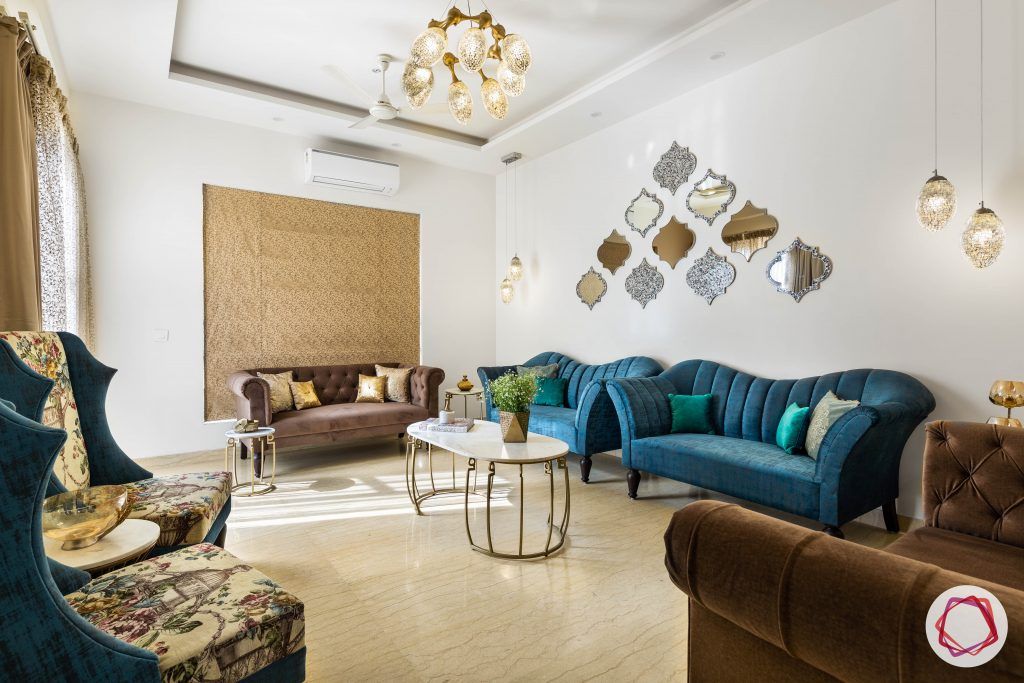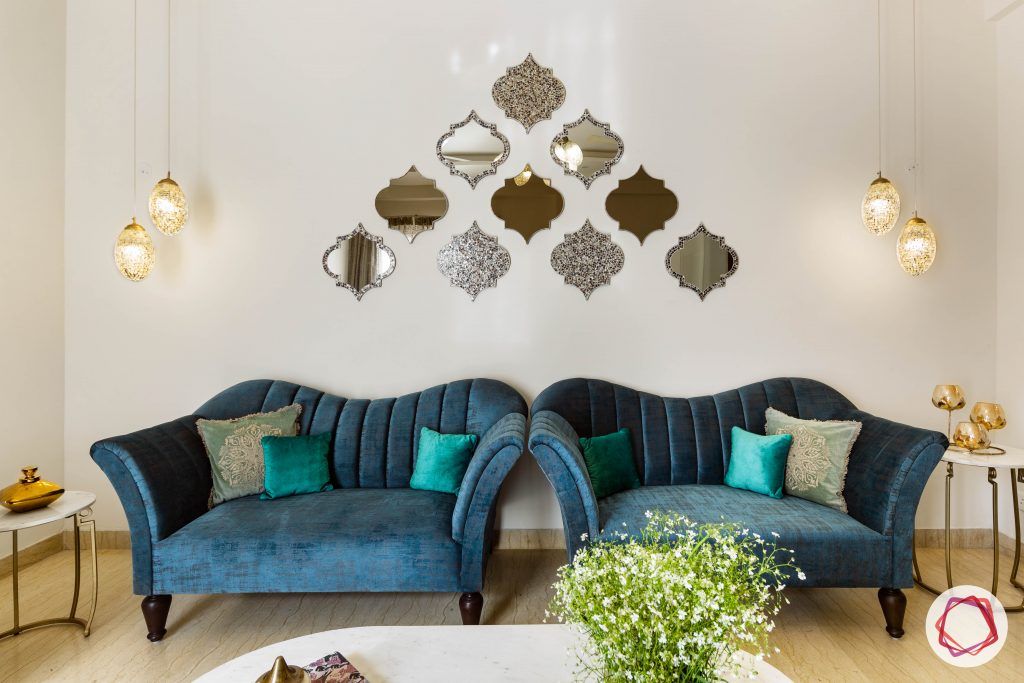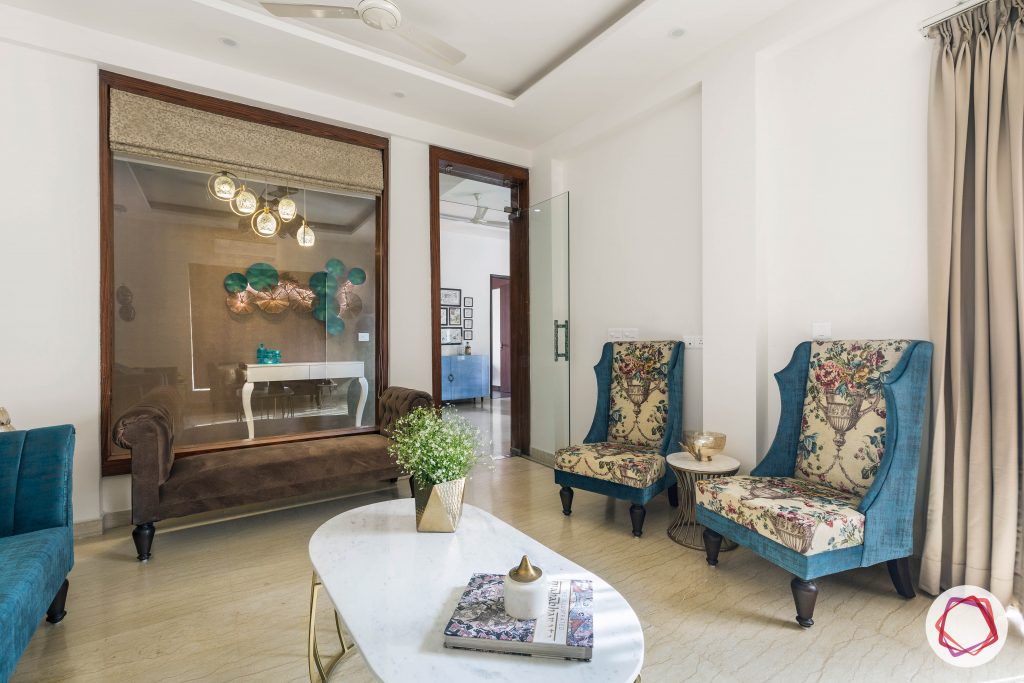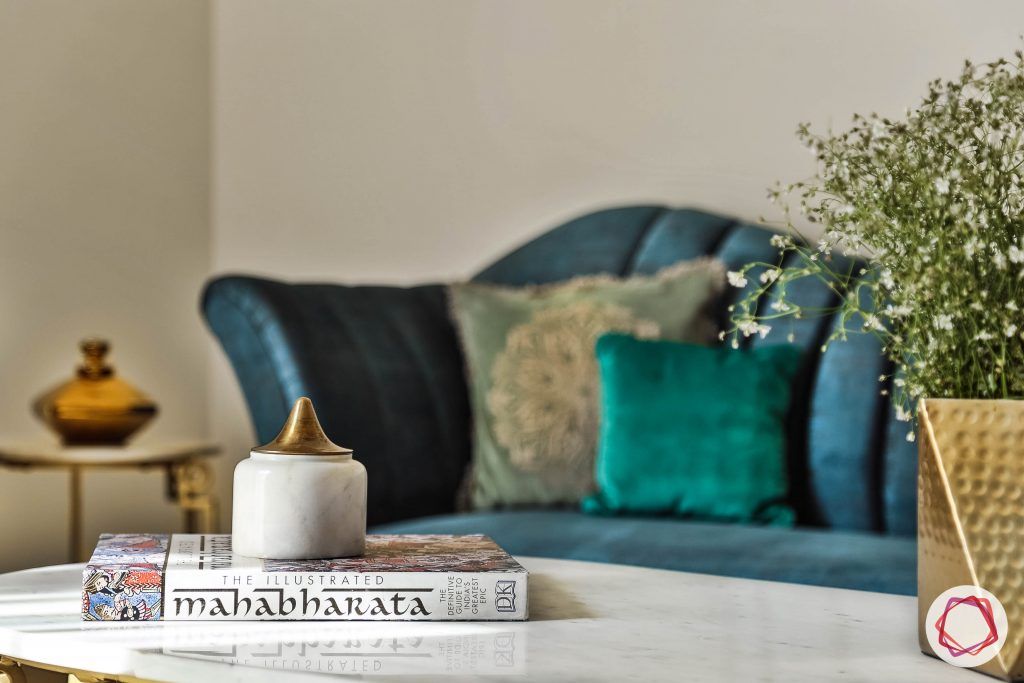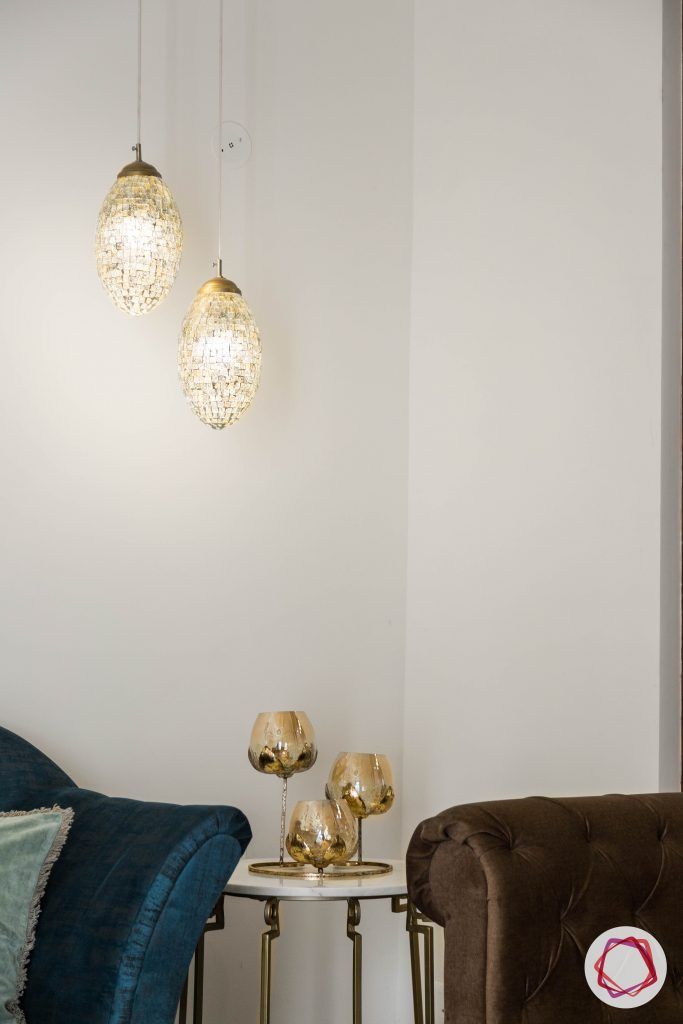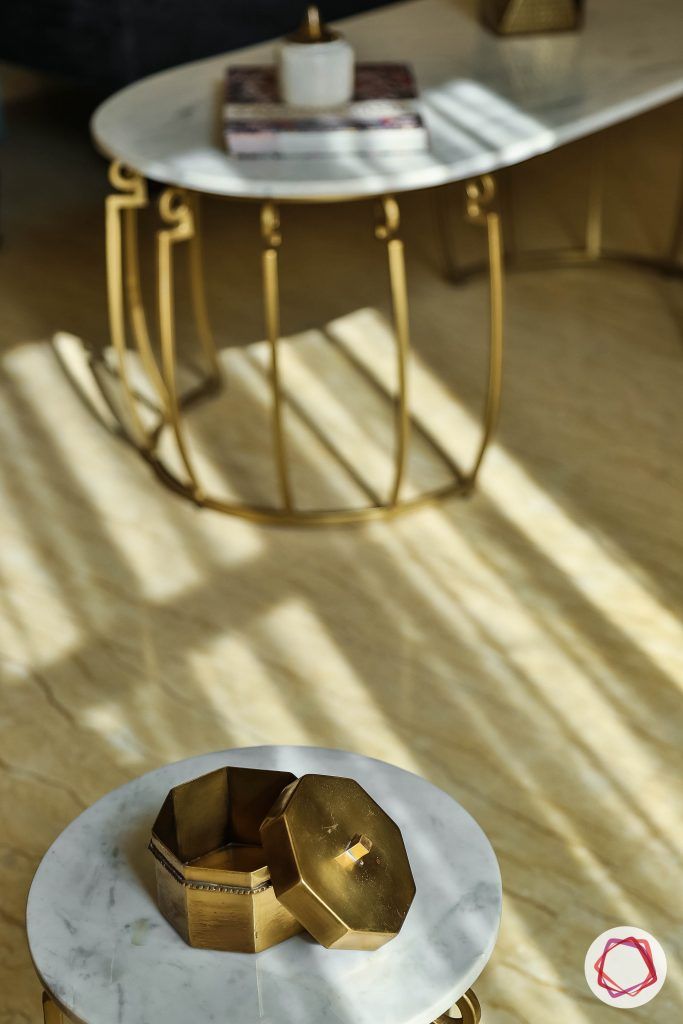 The living room of this Moderne Mahagun home is the perfect blend of elegance and comfort. From the plush accent sofas to the wingback armchairs, teal reins the room beautifully. Moreover, the Moroccan-inspired statement mirrors coupled with pendant lights add an intriguing and almost mystical touch to the space. Similarly, the marble-esque coffee tables elevates the vibe of the room.
Duplex House Design: A Laid-back Entertainment Room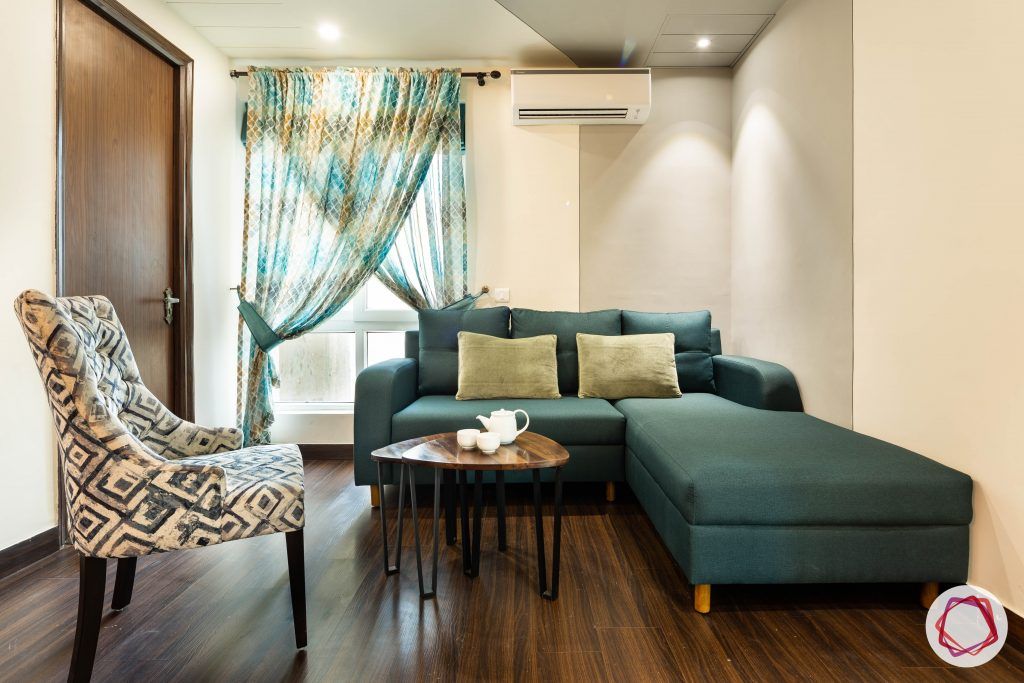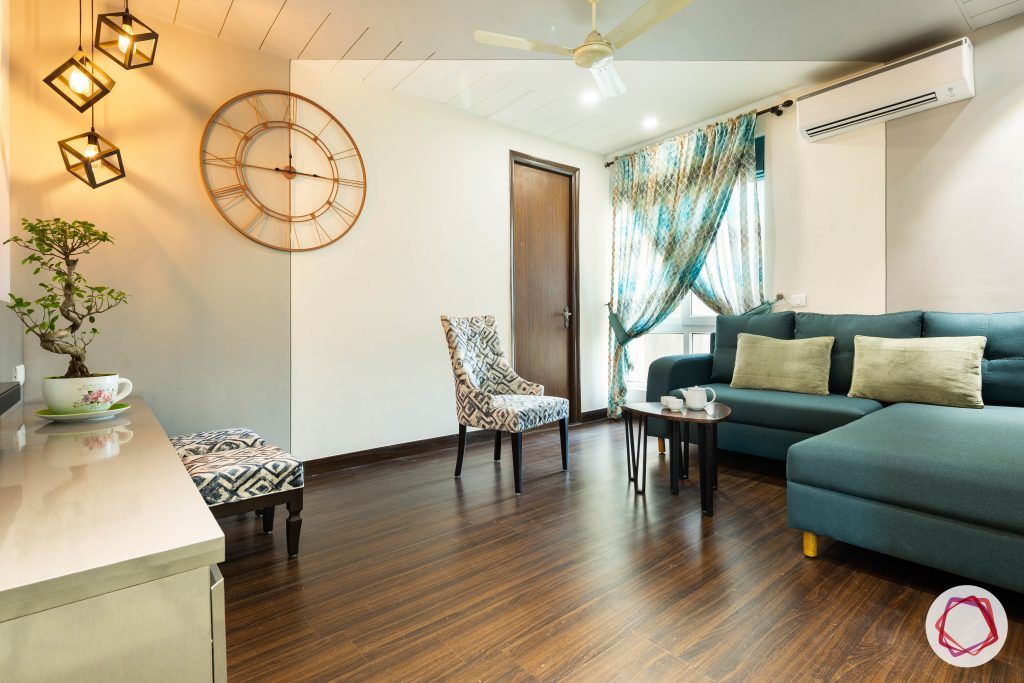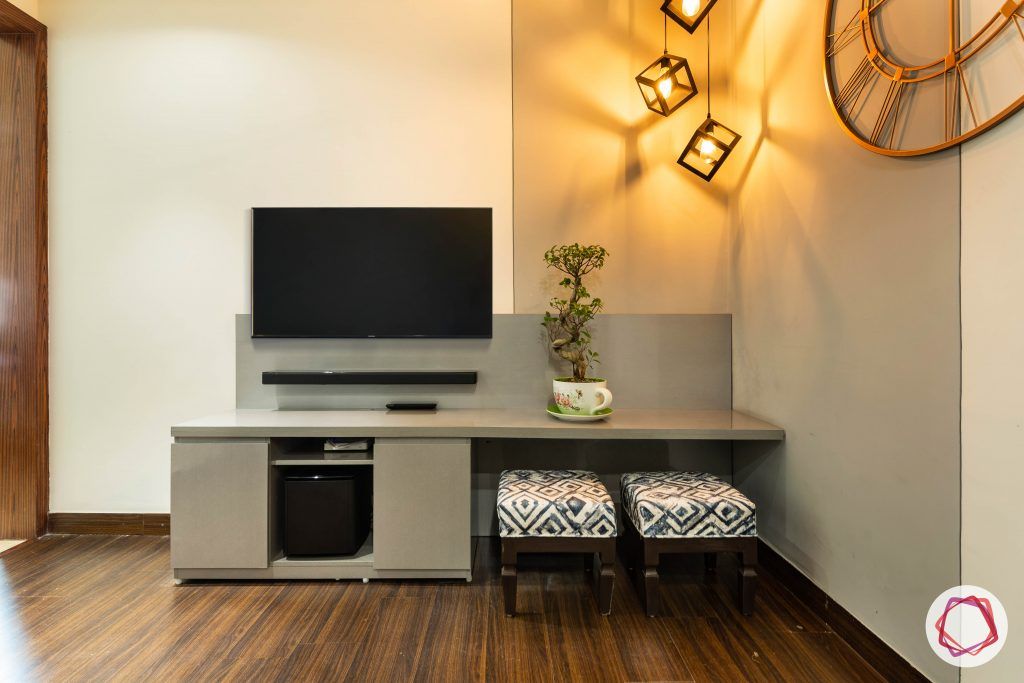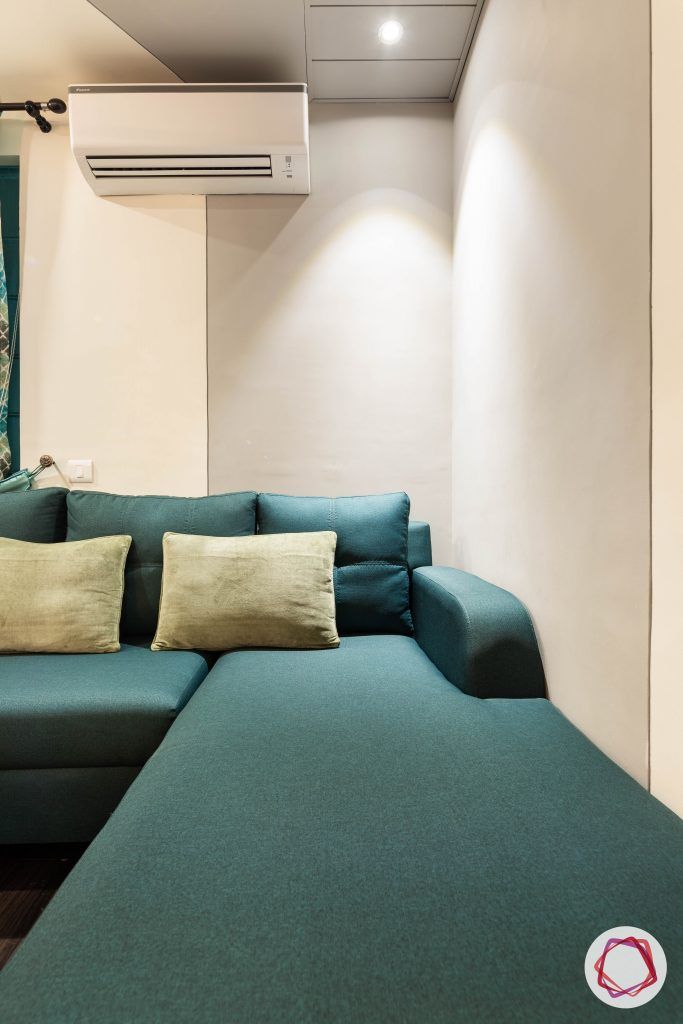 Who wouldn't want to unwind and catch up on TV shows in this uber comfy entertainment room? With a teal L-shaped sofa-cum-bed, patterned armchair and warm industrial-inspired lights, the space scores a perfect ten on comfort. Notice how the corner wall is painted in grey? In addition, the custom-made minimal TV unit in a grey laminate blends well with its surroundings. We love how two ottomans are neatly tucked under the unit. Similarly, the gold-toned clock helps to set the ambience in the room.
"After speaking to the architect and design team, I felt confident about getting my home designed by Livspace. And the outcome proved us right! Our friends and family always compliment our home when they come over. We've even had people say our home looks like a beautiful hotel lobby and I would like to thank Livspace for that! We would also like to thank our designer Kajal Sood who was very hands-on during the entire process."

Priti Arora, Livspace Homeowner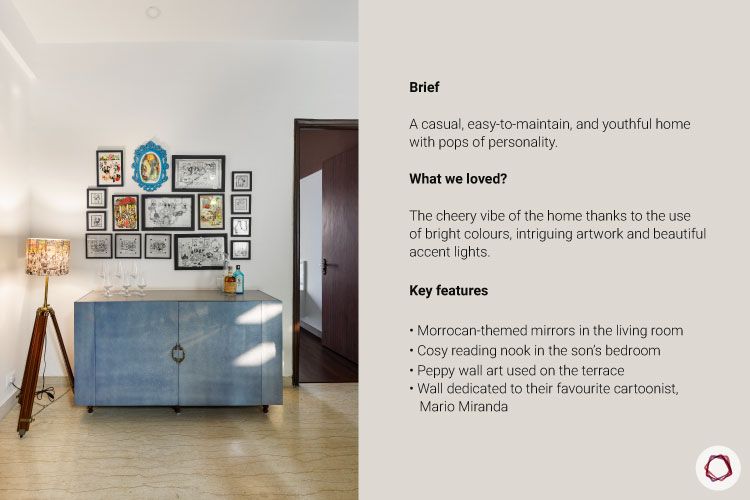 Duplex House Design: An Artsy Dining Experience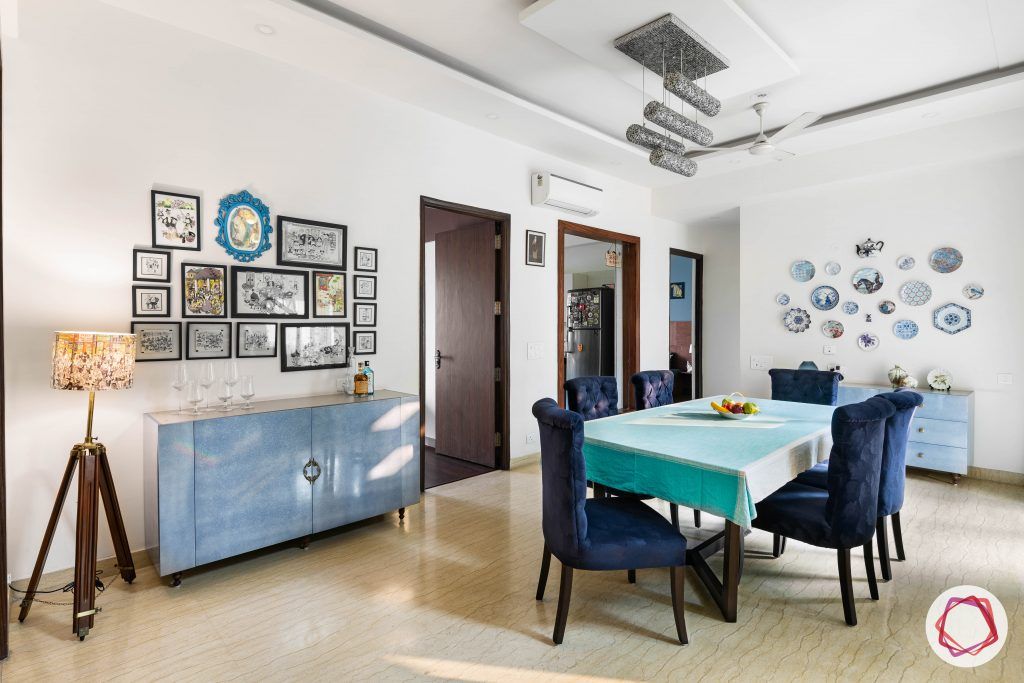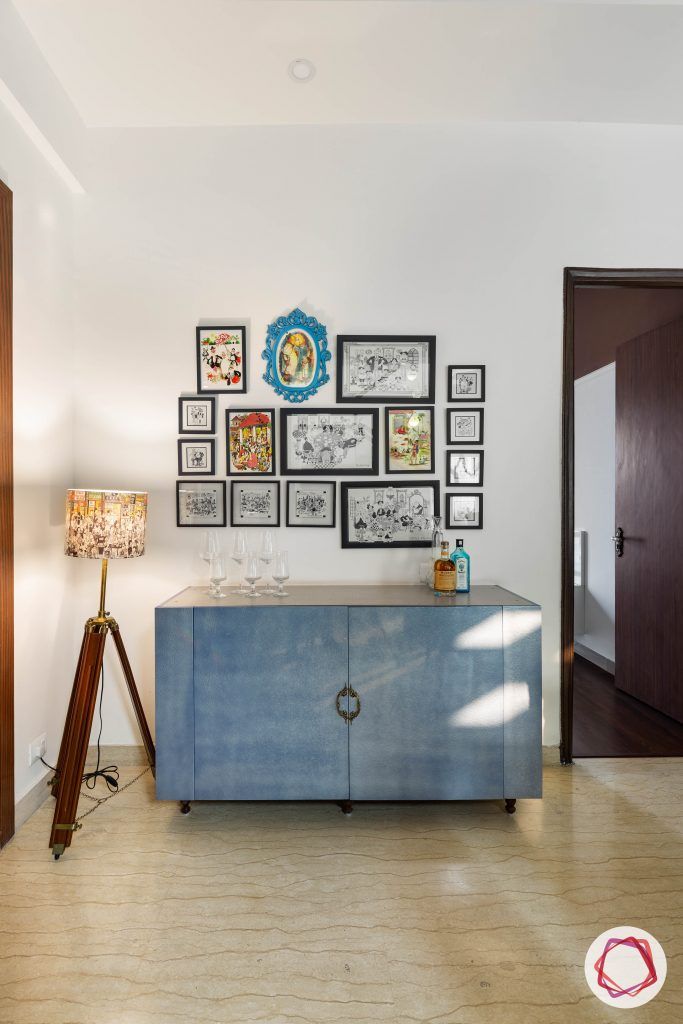 "I simply love Mario Miranda's art, which is why we wanted a wall just to highlight his work" Priti reveals. As a result, Kajal thought it was a good idea to dedicate the wall above the light teal buffet table for framed cartoons done by the renowned illustrator. However, the zest for art doesn't stop there!
Kajal also placed mix and match china plates above the storage unit, again in a calming teal. The dining table is paired with upholstered Persian blue chairs. After that, a glasswork light fixture is hung above the centre of the dining table.
Duplex House Design: A Clutter-free Kitchen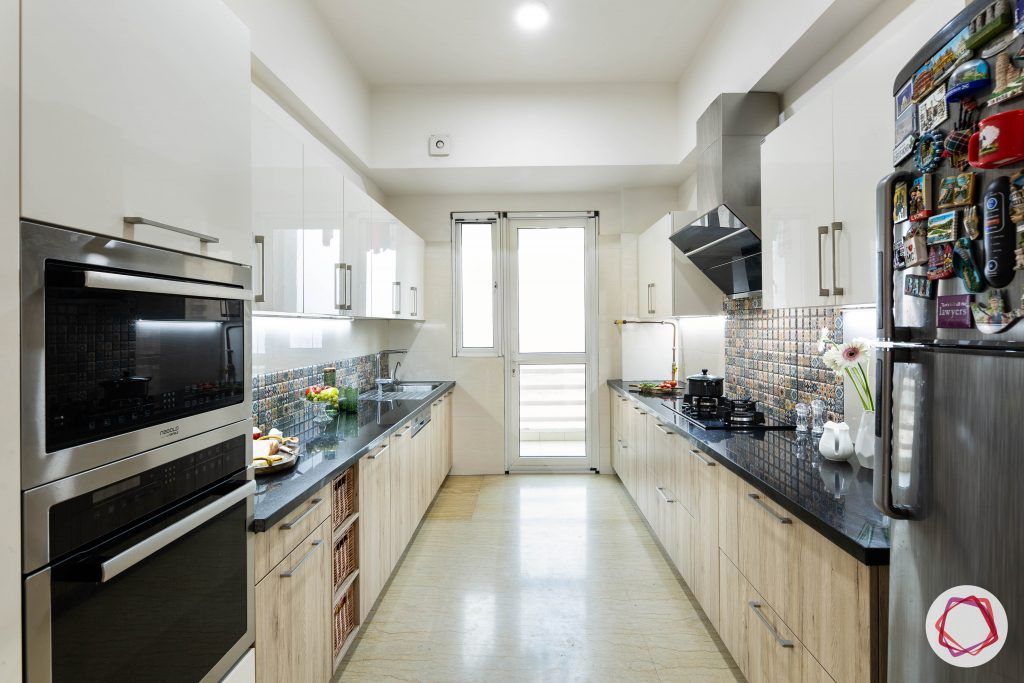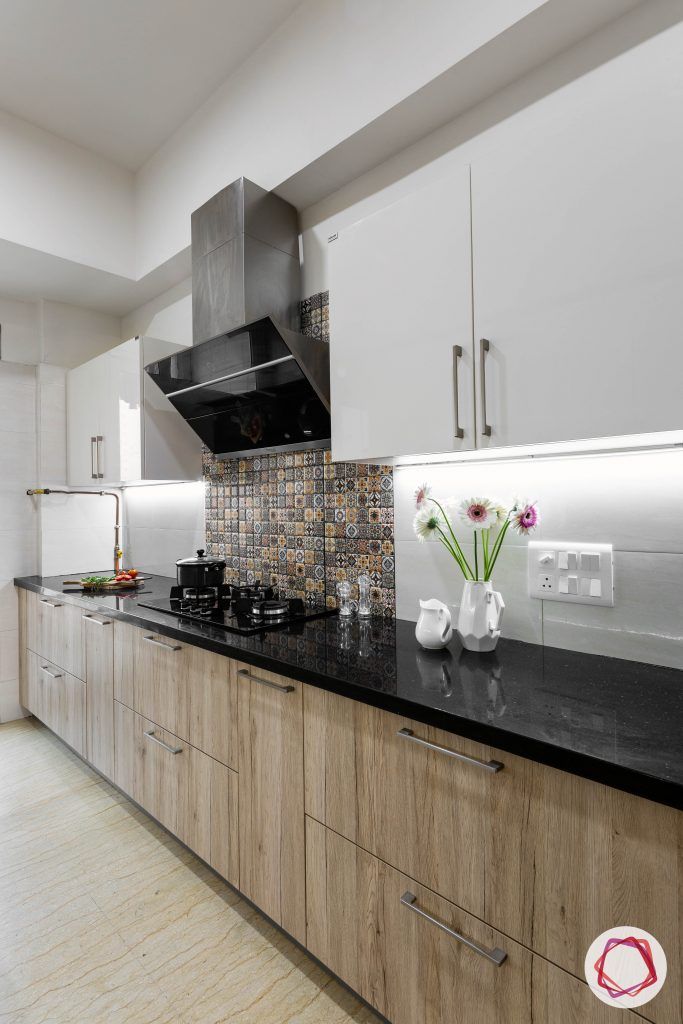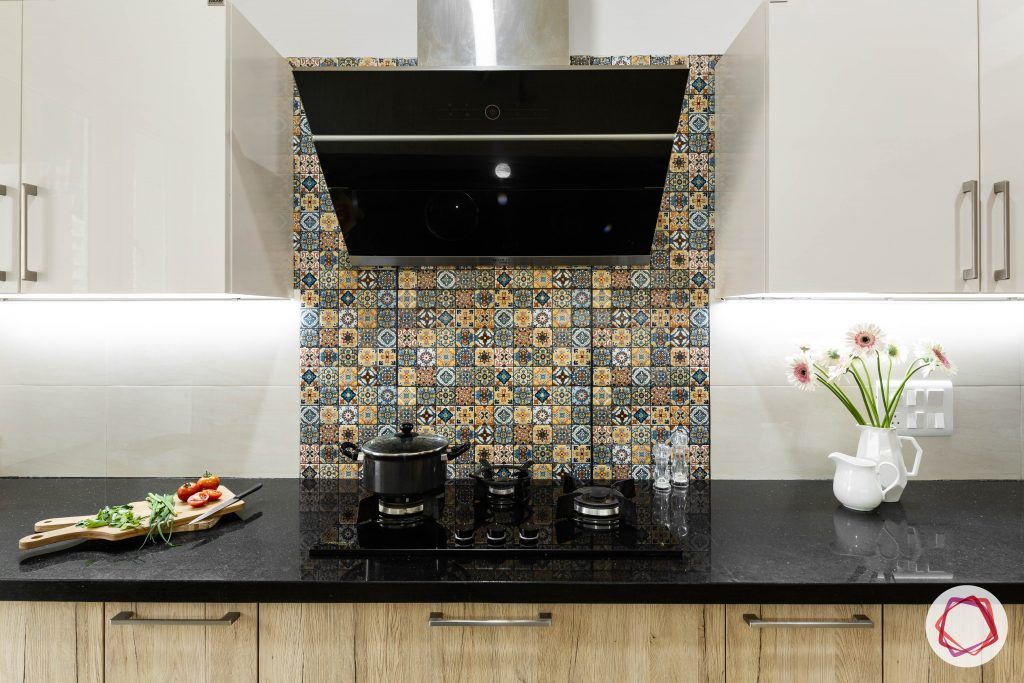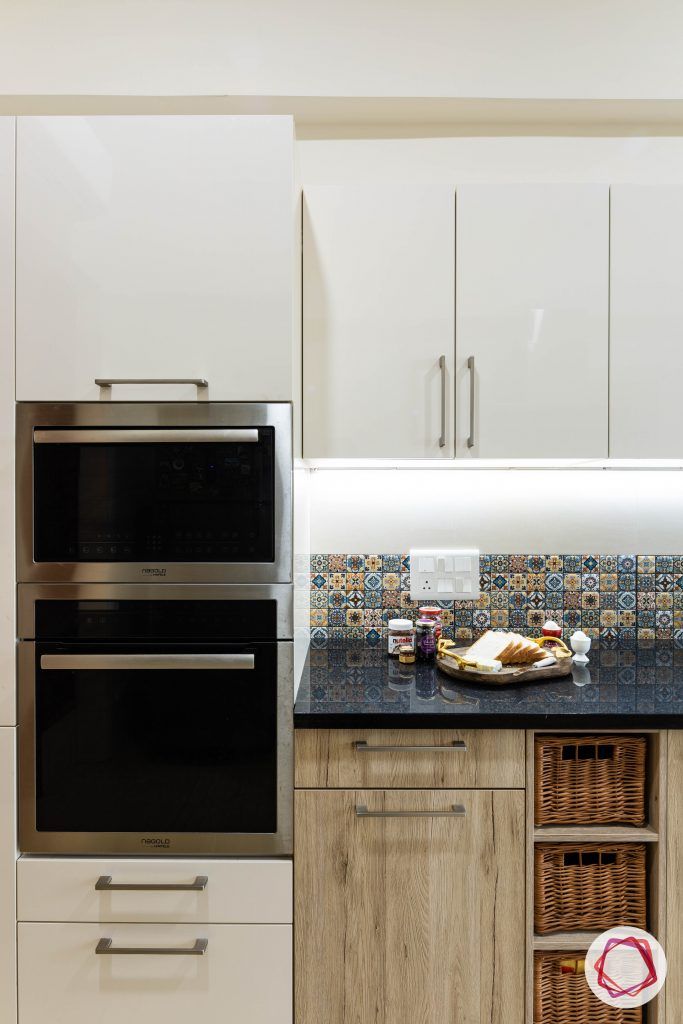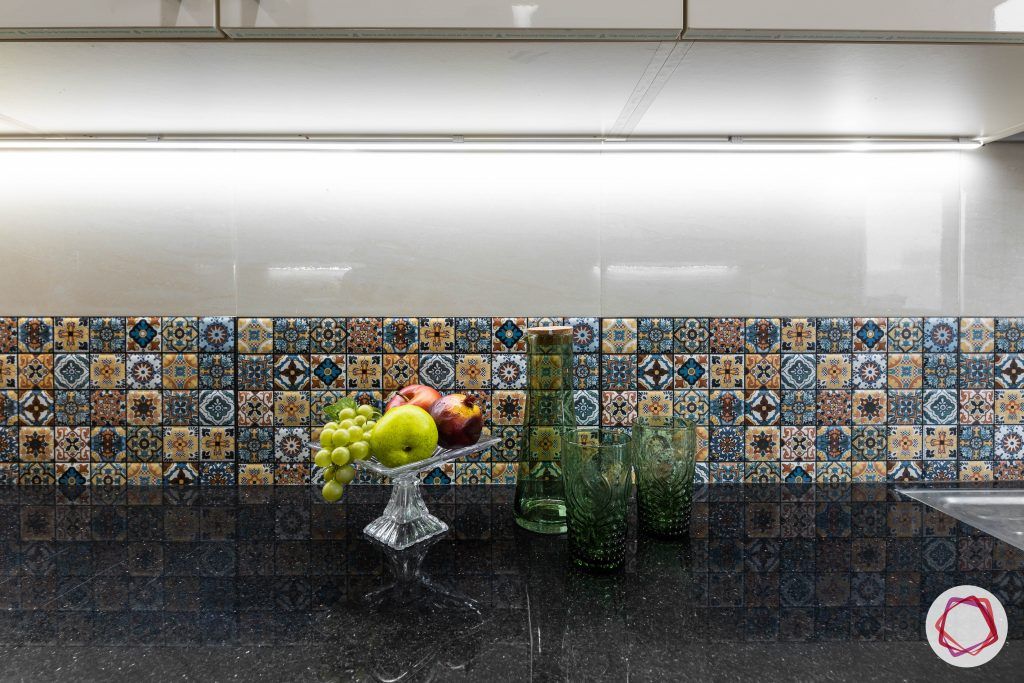 Priti and Harvinder wanted a low-maintenance, simple and bright kitchen with loads of storage. As a result, Kajal picked pristine white for all the overhead cabinets and wheat oak for the lower units. The parallel layout ensures that are ample storage options on both sides of the kitchen. Everything has been done up in laminate for easy maintenance.
In addition, profile lights has been added under the wall units to maximize the brightness of the kitchen. The backsplash is a classy combination of white and patterned tiles. The countertop is a sleek granite.
Duplex House Design: Lounge in Style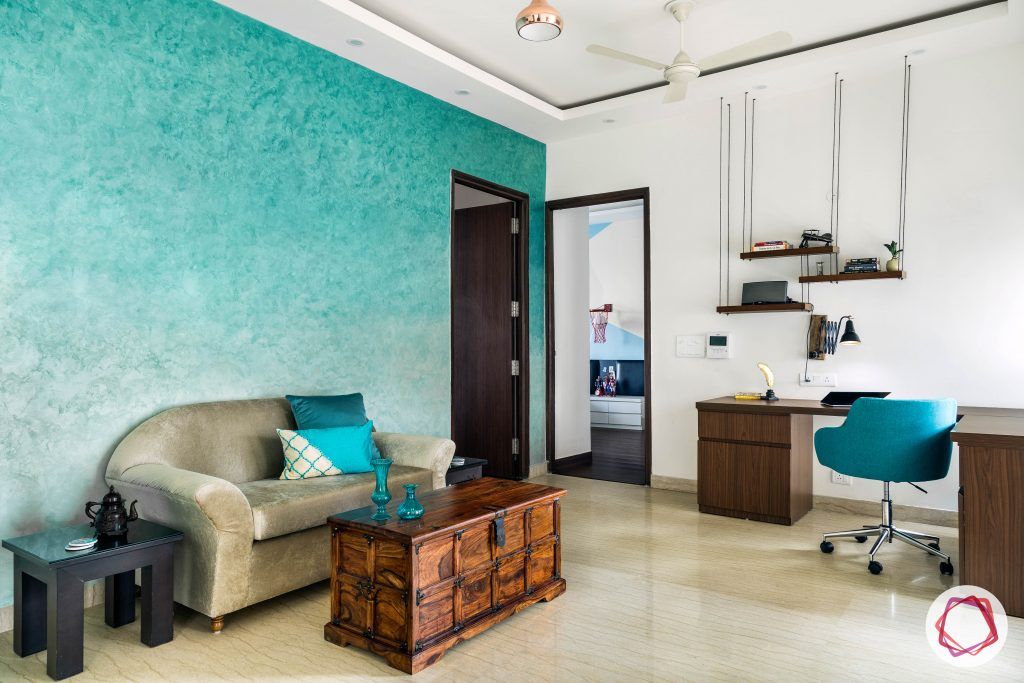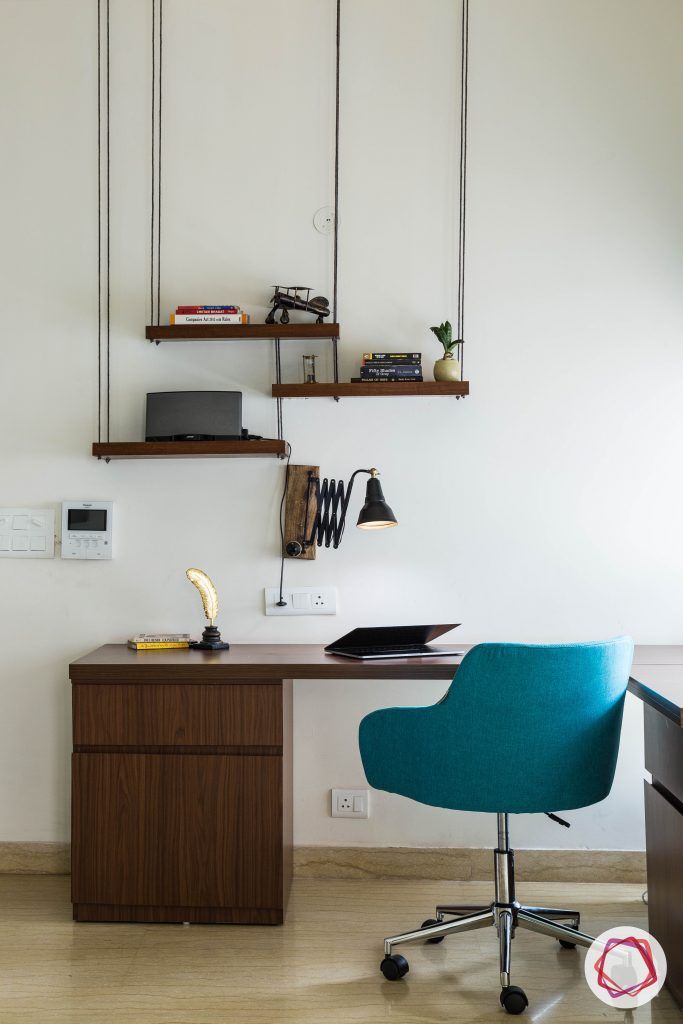 The second floor of this Moderne Mahagun home features a lounge space that also doubles as a study. We love the accent wall that's been done up in ombre textured paint. The study table is kept minimal in a chestnut laminate. The hanging shelves above it adds an intriguing touch to the room.
Duplex House Design: A Warm-hued Master Bedroom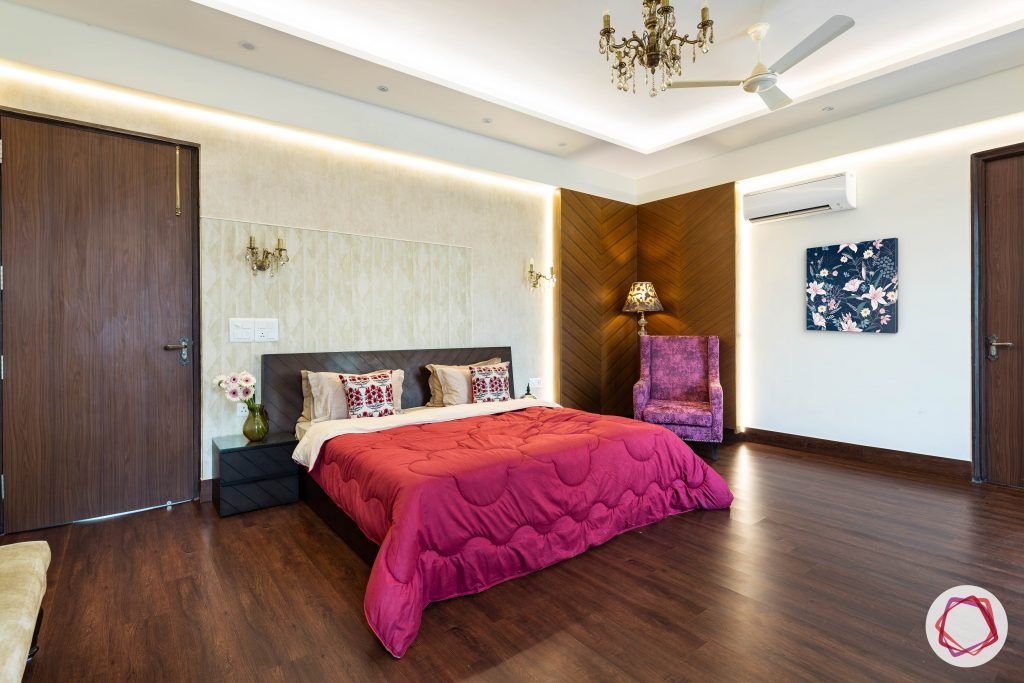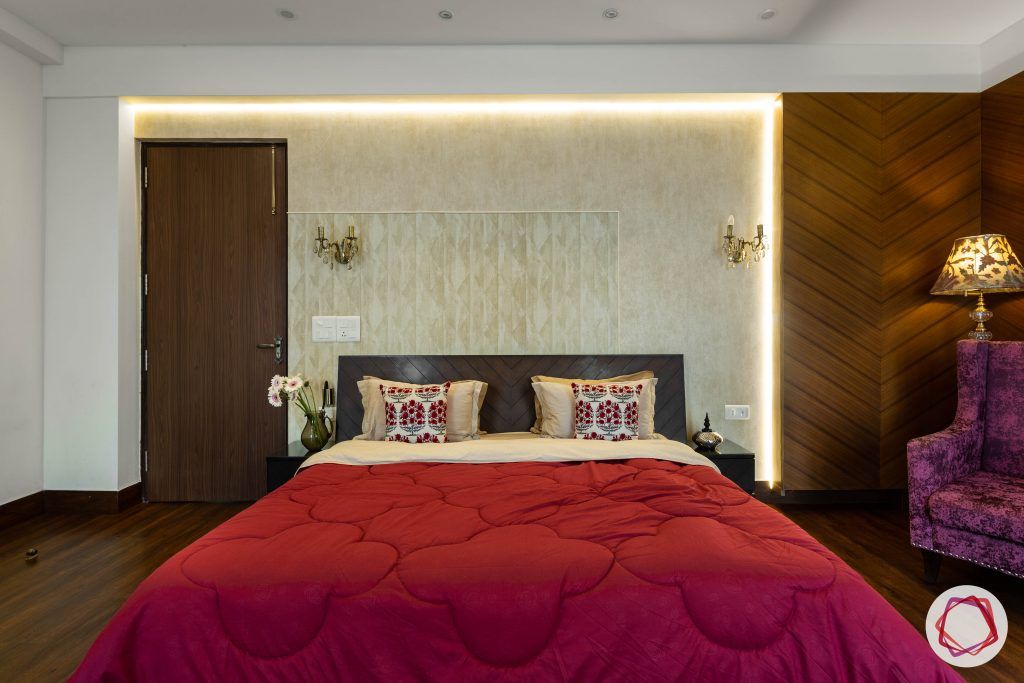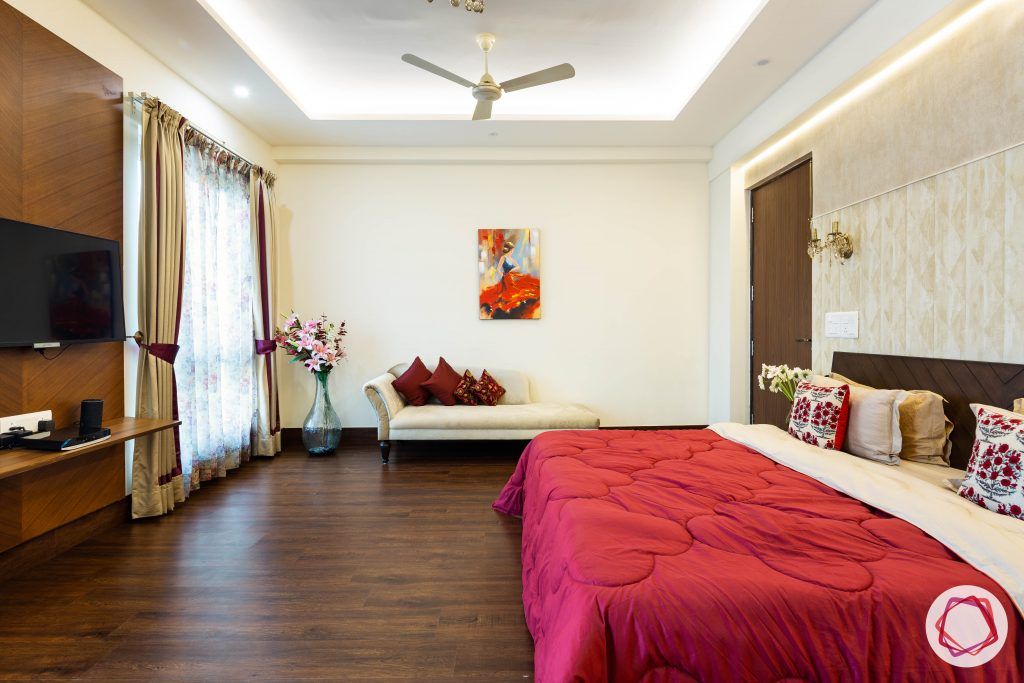 Wooden elements will always give you a sense of warmth and security. Kajal wanted the master bedroom for this duplex house design to have a cosy ambience. Priti also wanted burgundy aspects to the room. As a result, Kajal tucked a burgundy-hued armchair into the corner. We love the wooden veneer backdrop that's backlit.
Of course, the centre wall too deserves attention as well! It features an outer and inner wallpaper, both in subtle patterns. The entire centre wall is backlit as well. After that, opposite the bed, stands a TV stand done up in wooden veneer. The look is complete with dark wooden flooring.
Duplex House Design: A Statement Bedroom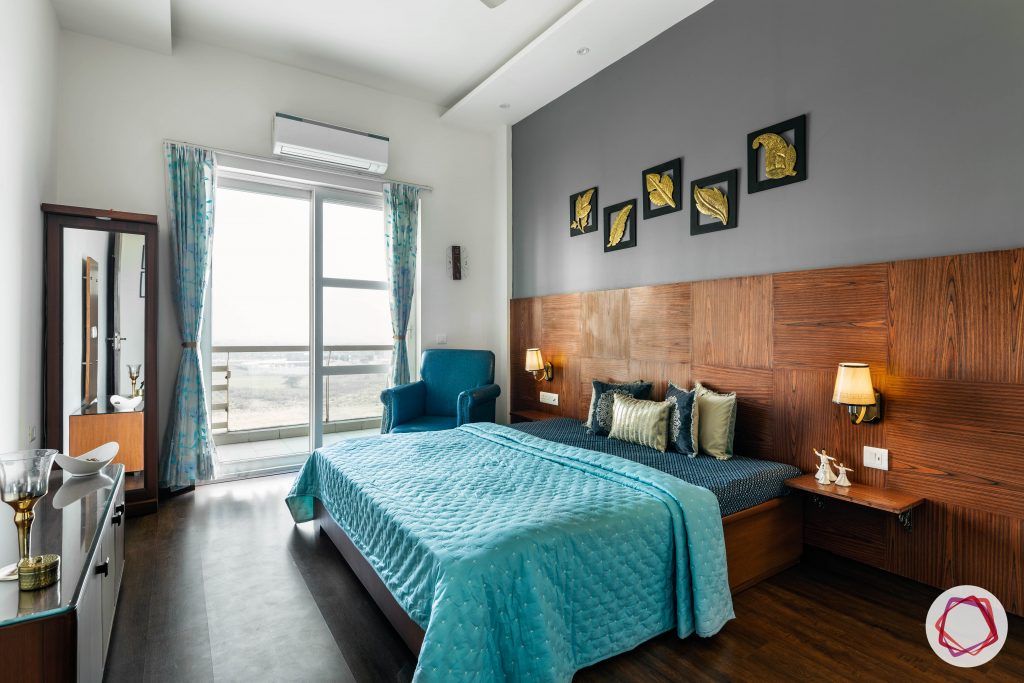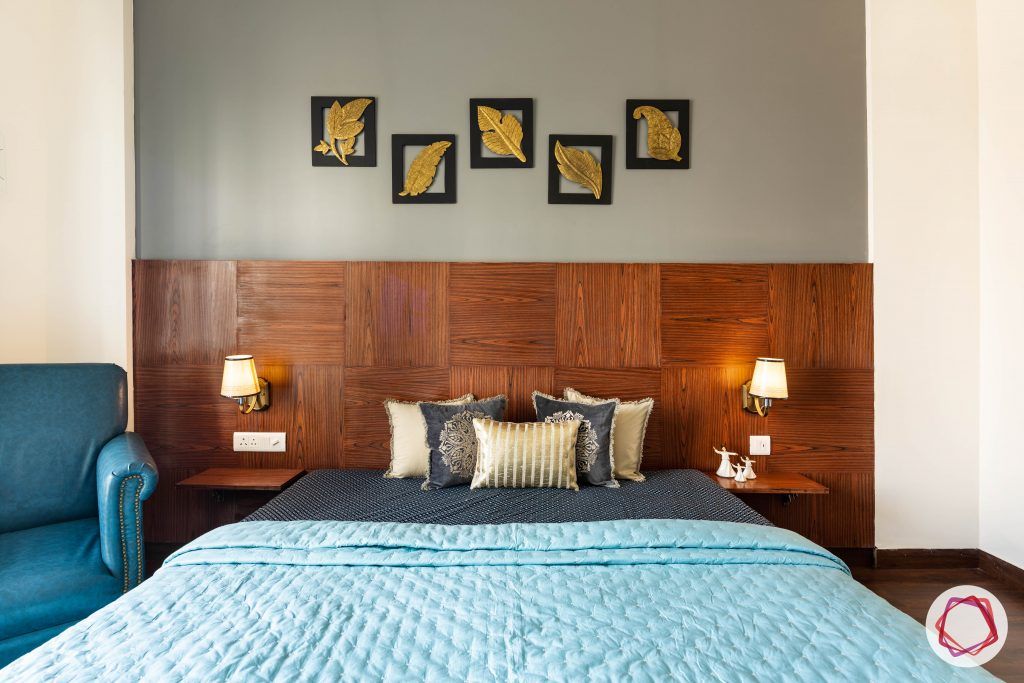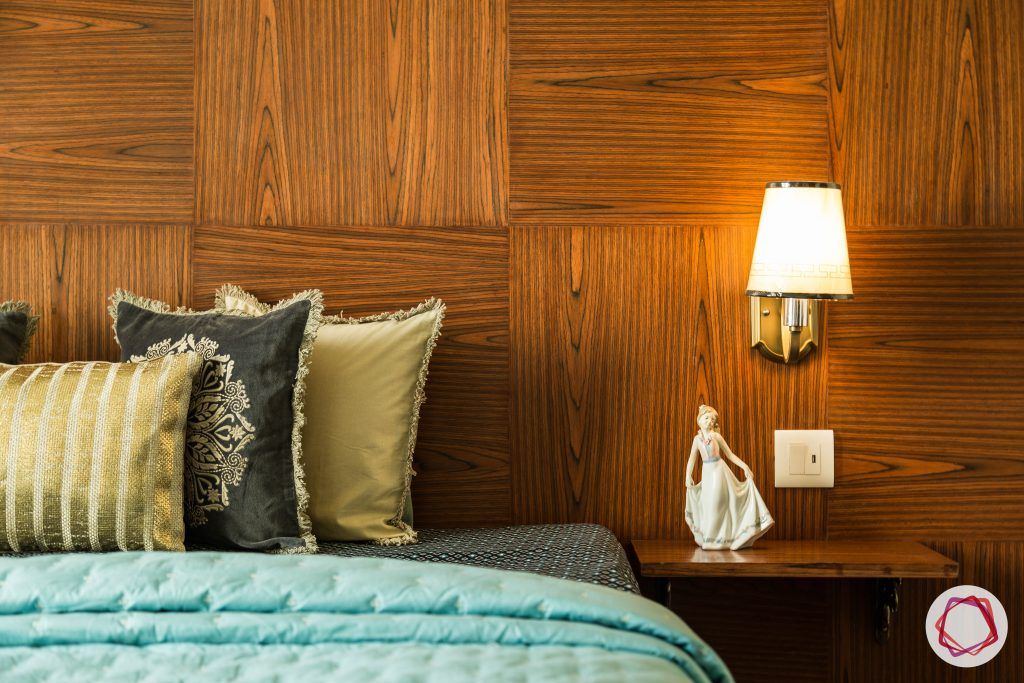 The parents' bedroom is a mix of traditional and contemporary styles. The centre wall is done up in grey paint and wooden veneer. As a result, this gives a feeling of depth to the room. Take a moment to notice the minimal and sleek wooden shelves beside the bed. Above all, doesn't the comfy teal armchair pair well with all the wooden elements in the room?
Duplex House Design: Colourful & Playful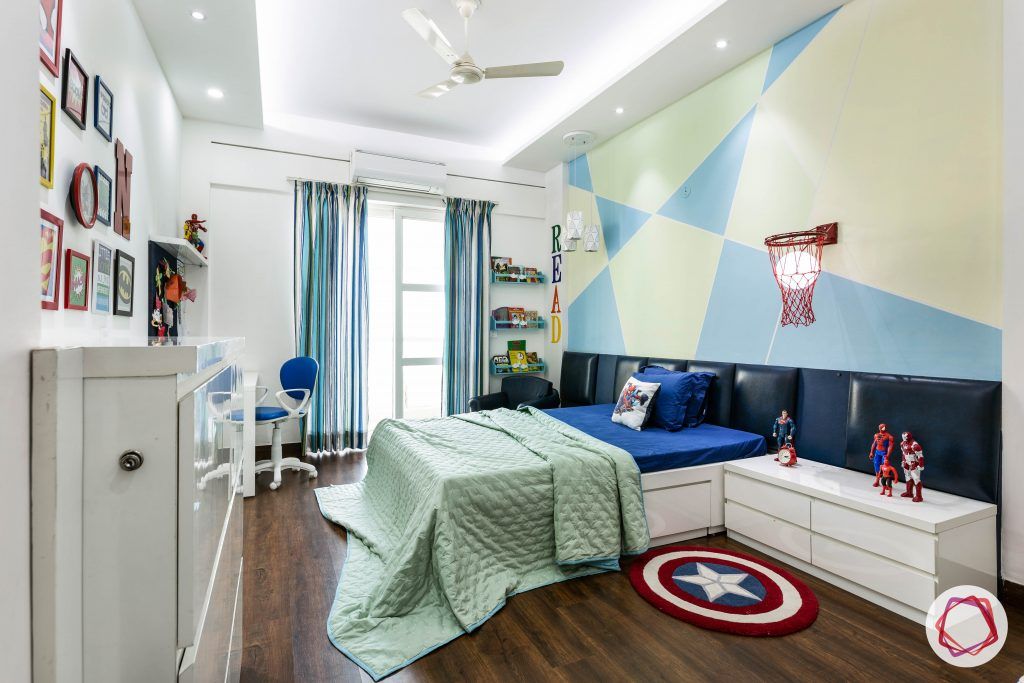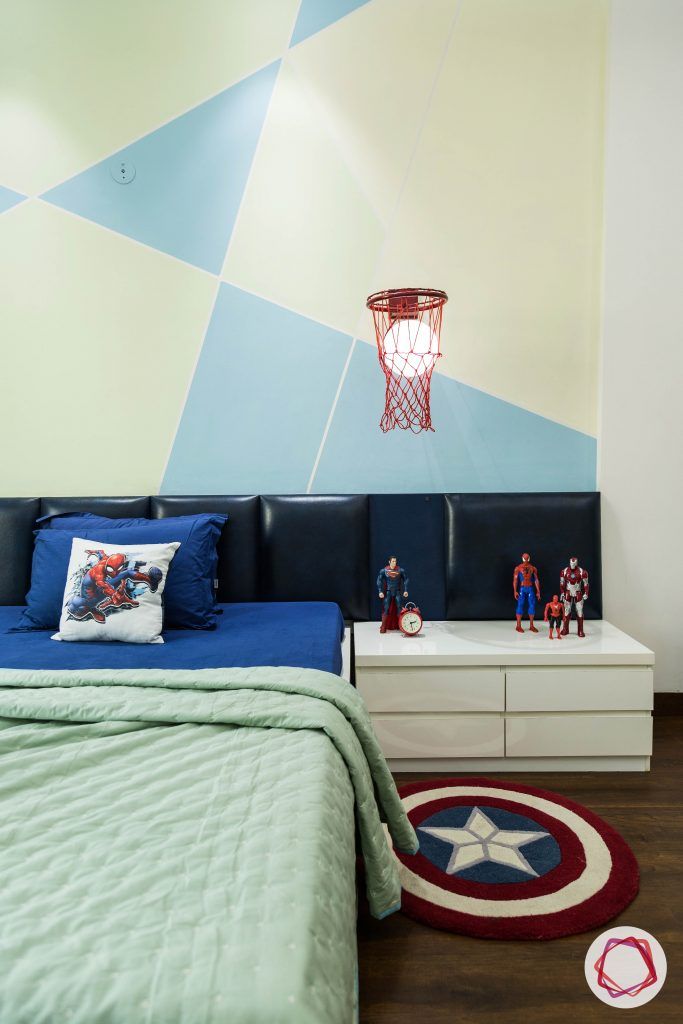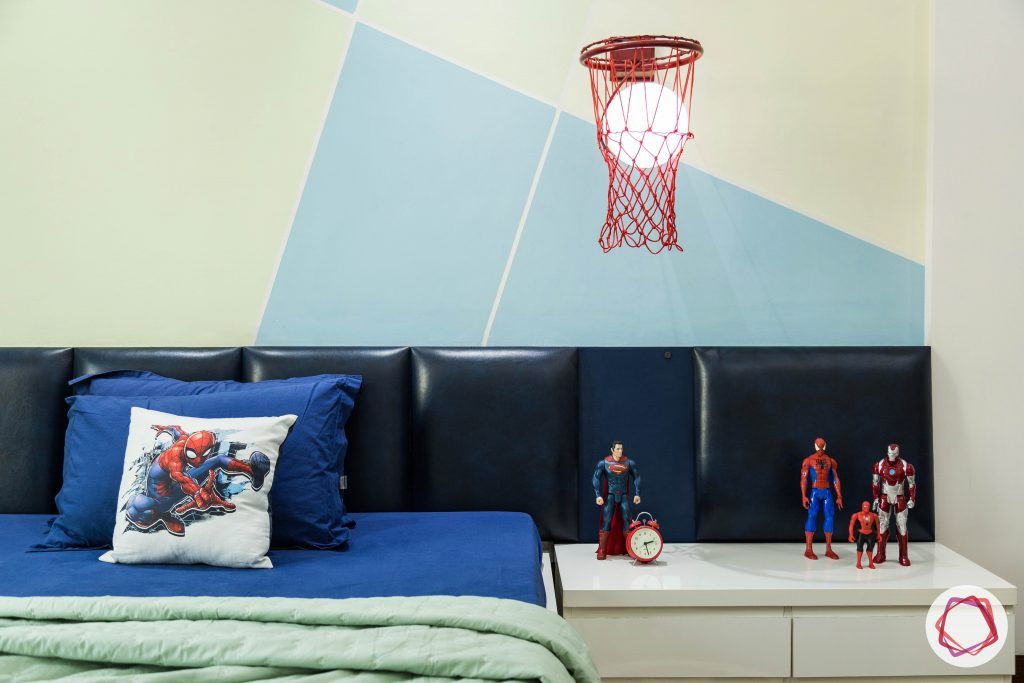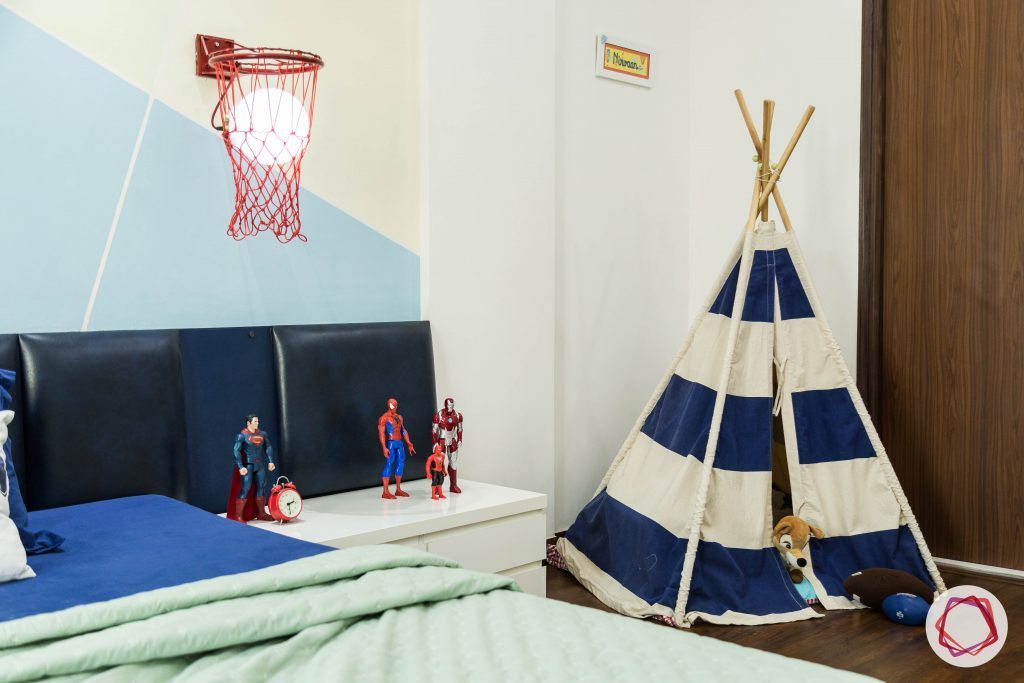 If you ever needed inspiration for a kid's bedroom, this one is serious goals. With a blue and white accent wall, a comfortably-long headboard, and a mounted basketball hoop, the room scores brownie points for playful interiors. Isn't the tent in the corner just dreamy?
Also, being an ardent reader, Nirvan also has a reading nook beside the bed. The combination of a compact one seater sofa, teal mounted shelves and the colourful wall art would make anybody want to snuggle with a book.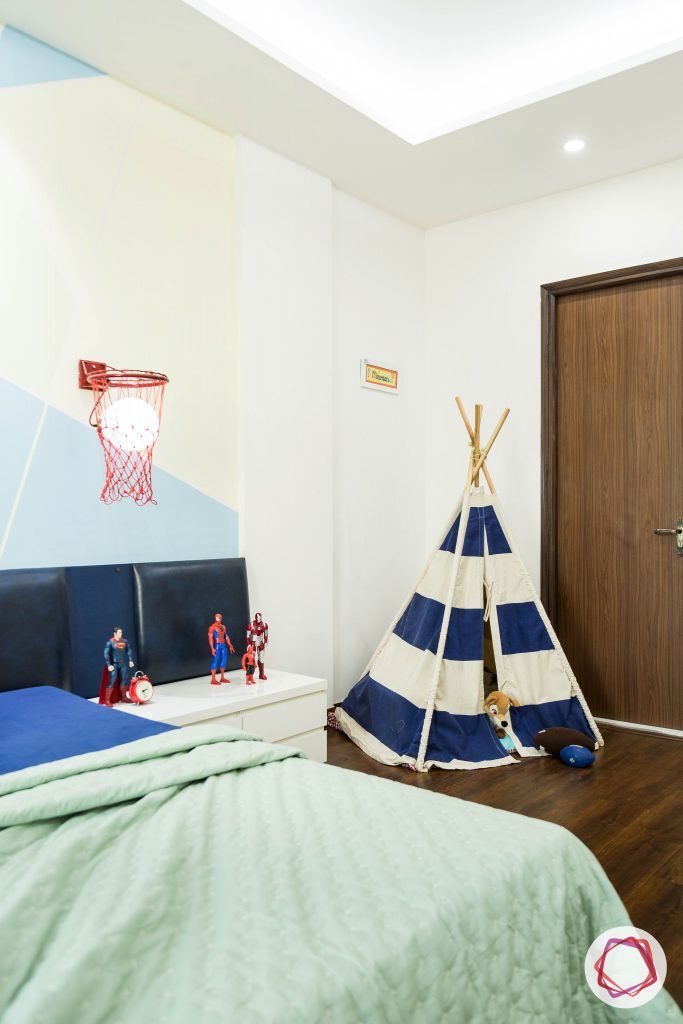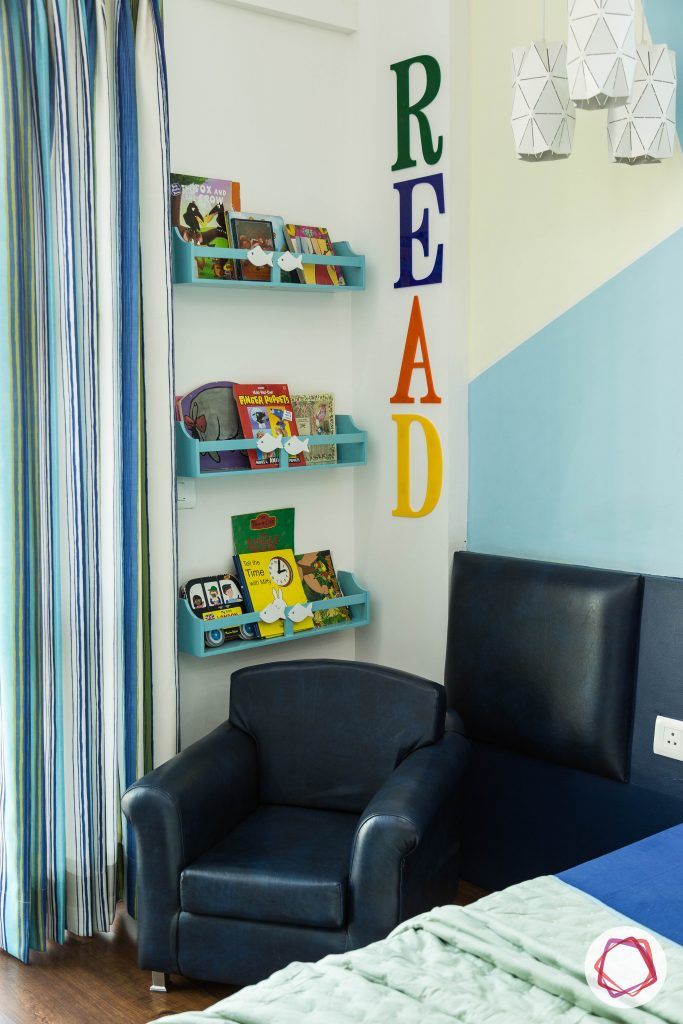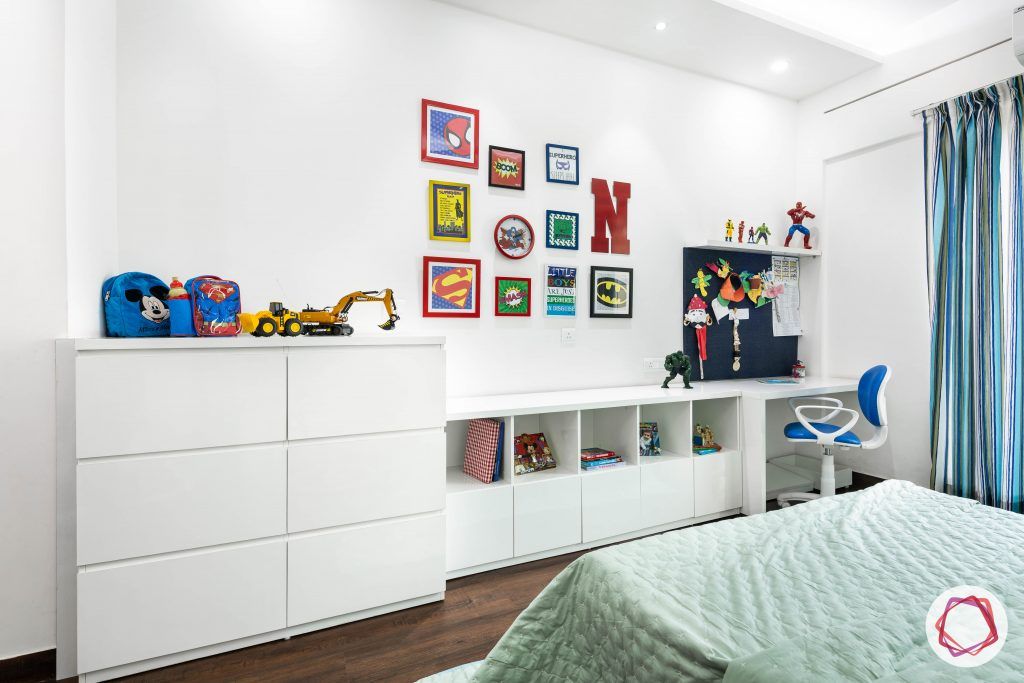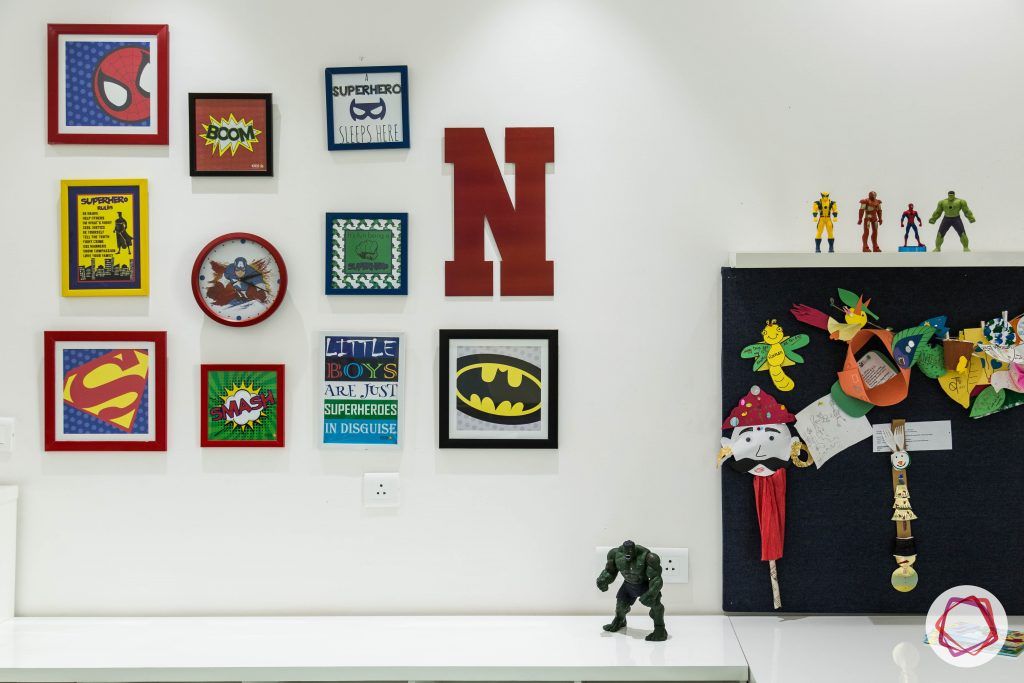 While a dash of playfulness was a priority, ample storage was equally important as well. As a result, Kajal put in plenty of cabinets, drawers and side tables as well. Above all, the storage options have been done up in laminate for easy maintenance.
Duplex House Design: Minimalist's Dream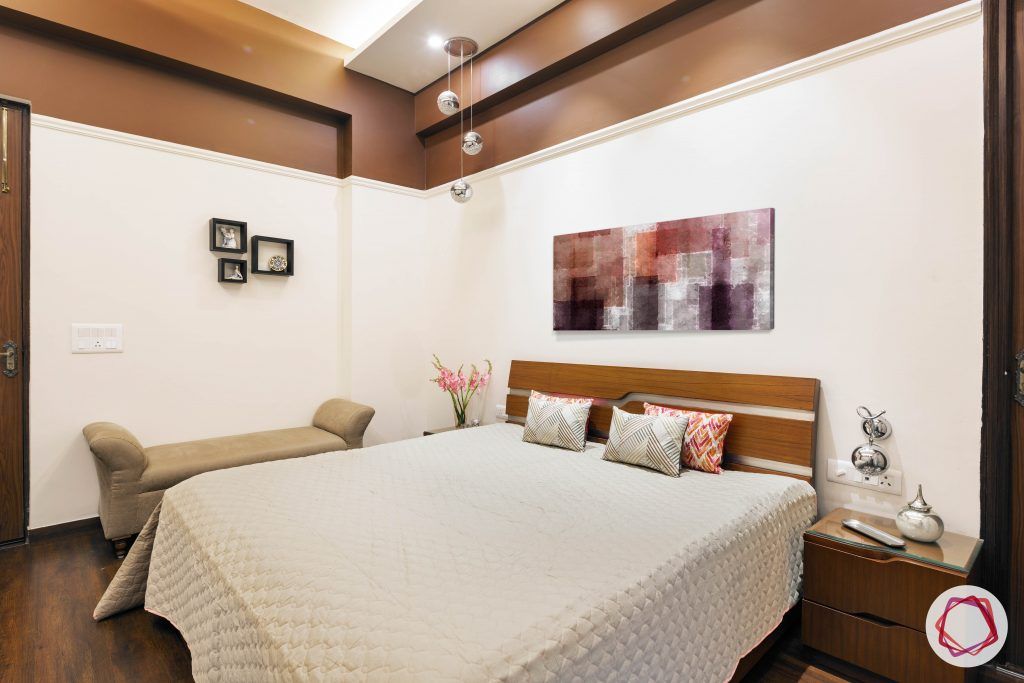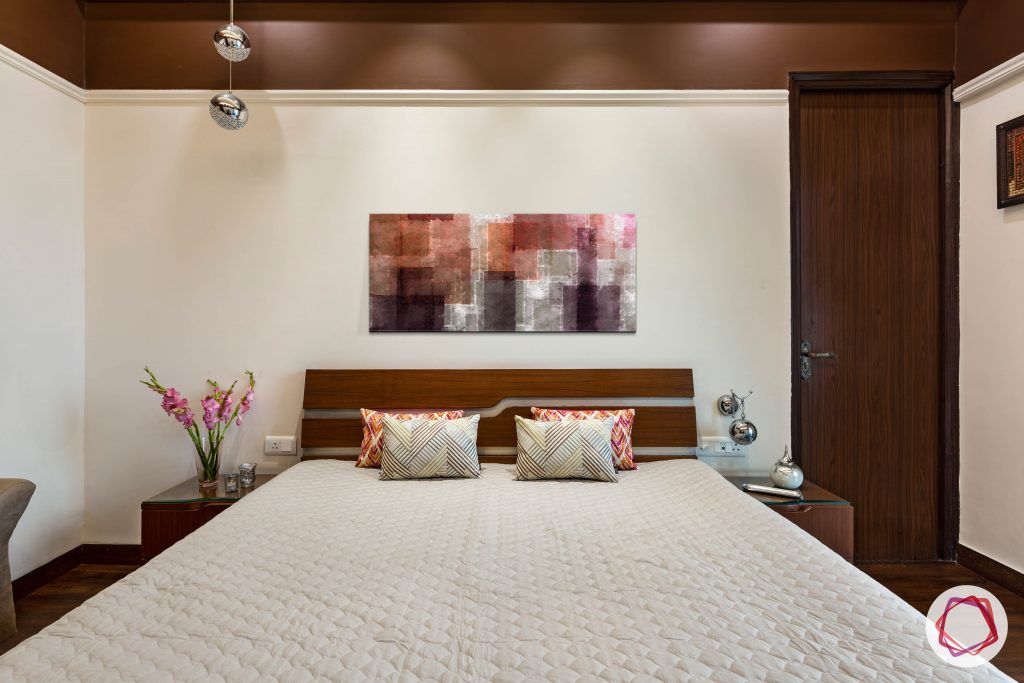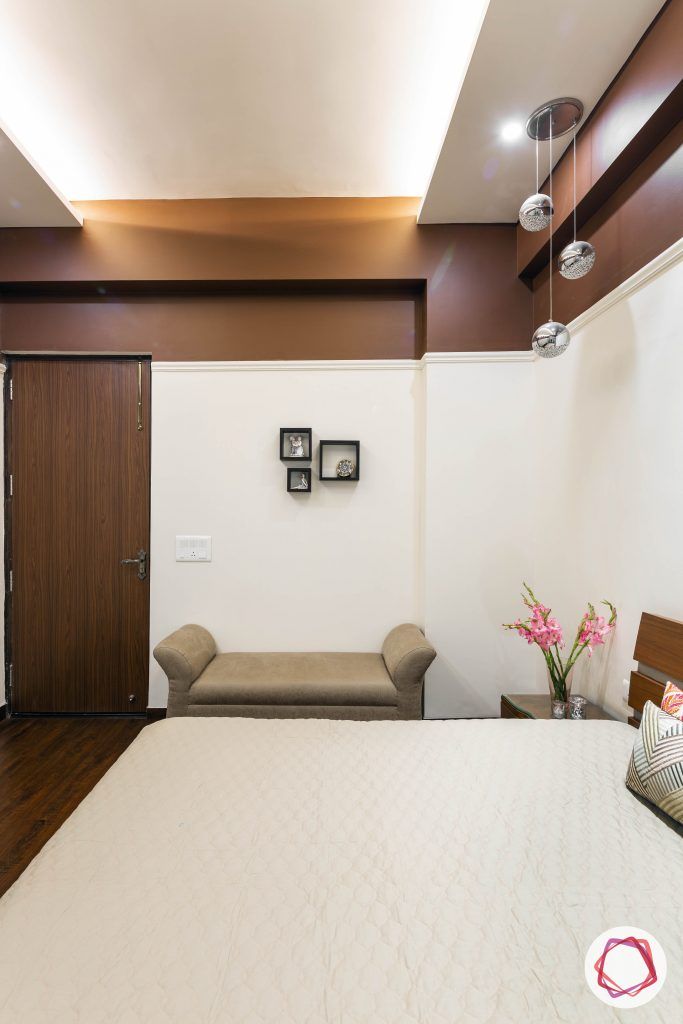 The partiality towards wood spills over to the next bedroom as well. Take a moment to admire the beautiful coat of brown paint that crown the walls in this room. In addition, the headboard, bedside tables and flooring are also crafted with soothing wooden elements.
Duplex House Design: A Grand Bathroom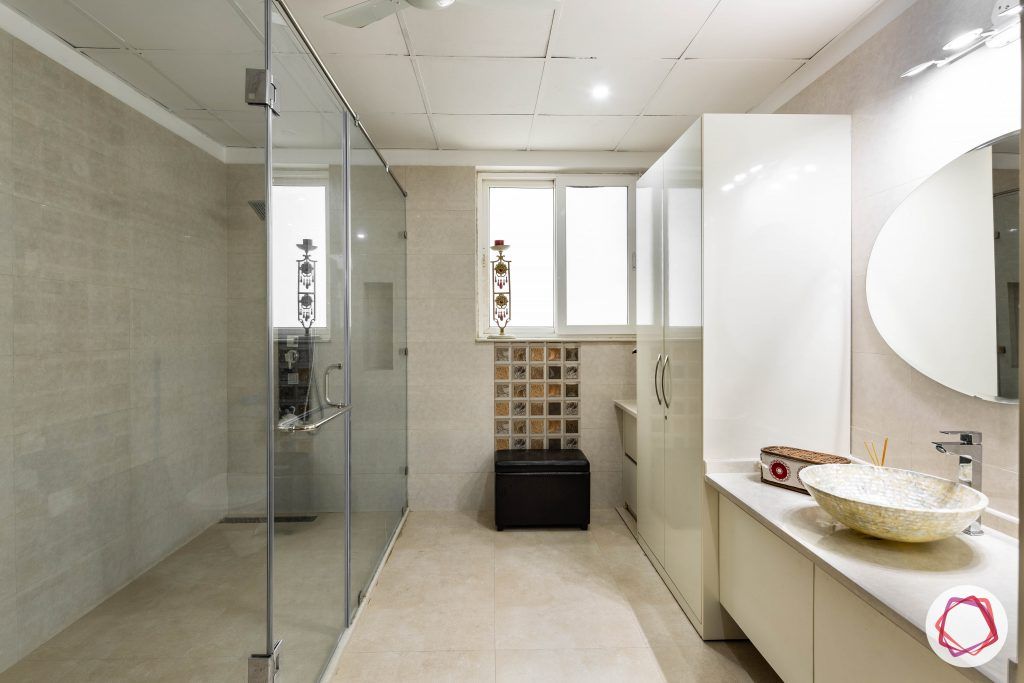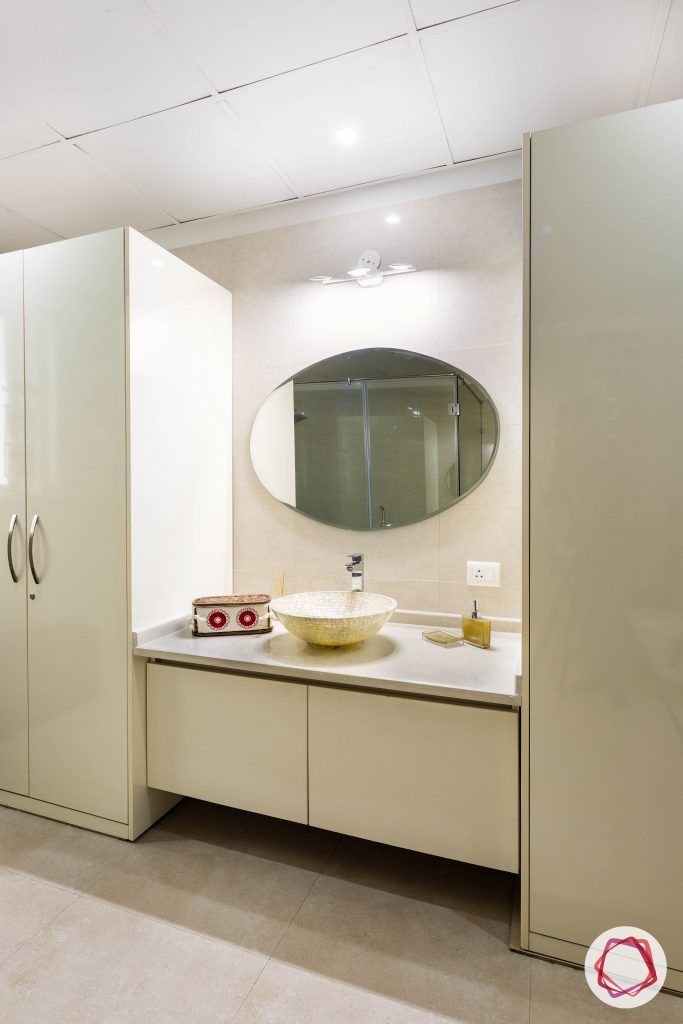 The master bedroom's bathroom is spacious and airy. Moreover, the choice of white helps to brighten the space. The laminate wardrobe seems like a smart choice to stash towels and other essentials.
Duplex House Design: Drama-filled Staircase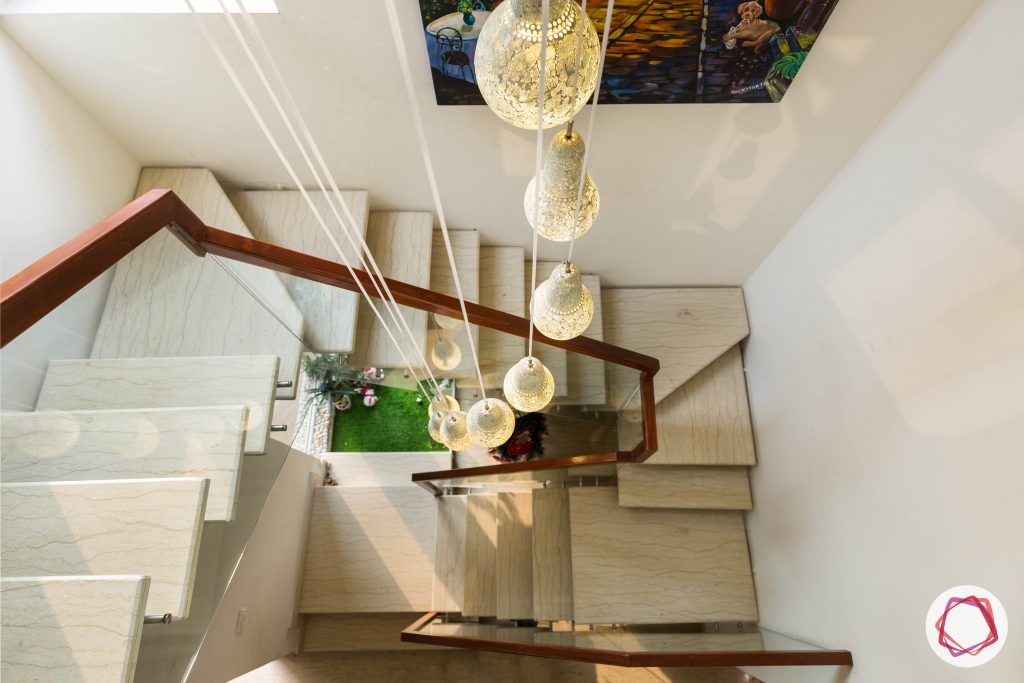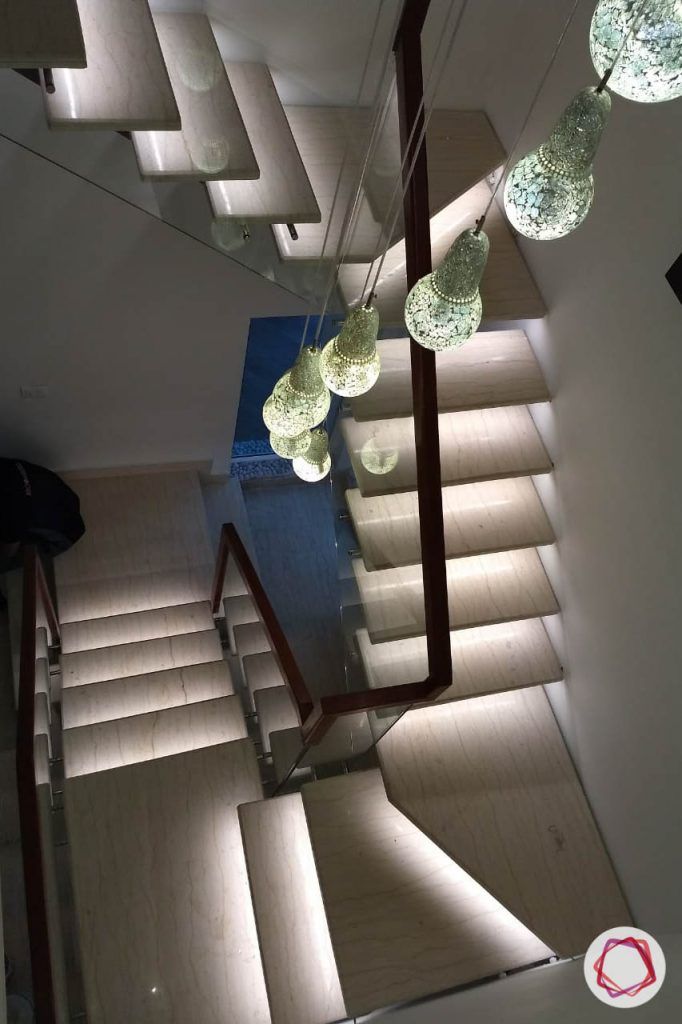 The staircase in this Moderne Mahagun home is also something you can't ignore. Originally, the staircase was narrow and difficult to walk on. Now, after the restructuring, the staircase is a breeze to walk on! In addition, Kajal also put in strip lights under each step to bring in a little drama.
Duplex House Design: Zen-inspired Terrace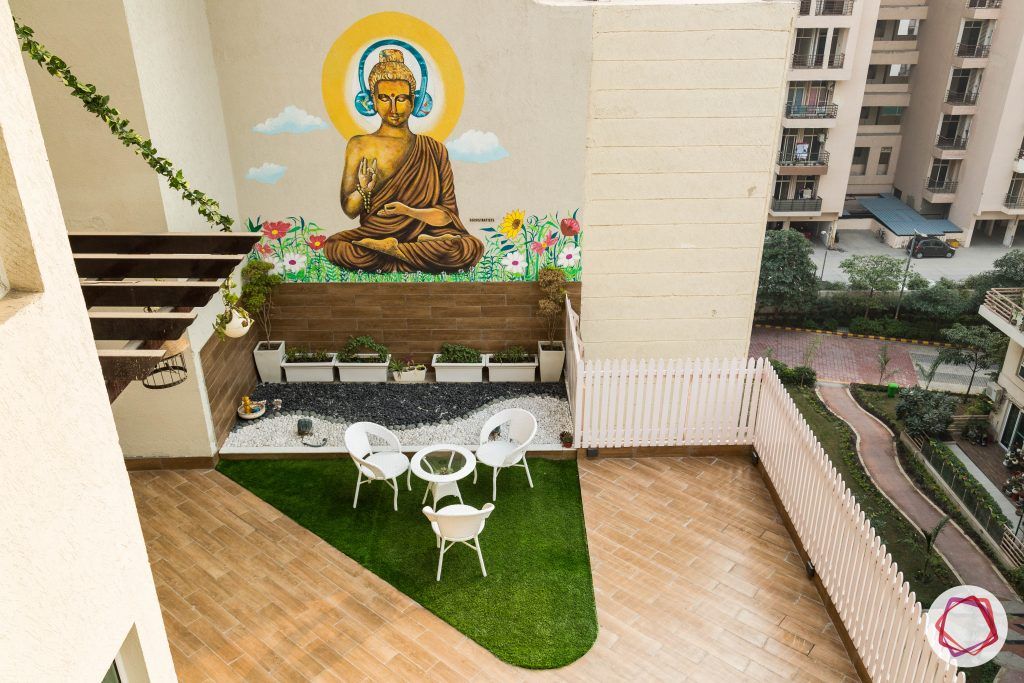 "This is our favourite part of the house," Priti tells us. The zen-inspired terrace is definitely a work of art. "I saw a picture of Buddha with sunglasses and I thought it was a brilliant idea. I wanted a happy Buddha for my home too," she explains. So, they found an artist to do a peppy wall art featuring Buddha with headphones sitting around clouds, grass and flowers.
Kajal coupled the wall art with veneer for a touch of warmth. Moreover, the lounge also features garden chairs, faux grass and a picturesque picket fence. We love the wooden rafters above the door too!
"This home was like a dream come true! There were a lot of design elements throughout the home. Moreover, it was artsy, colourful, functional and it was a lot of fun working with Prit and Harviner – all ticks for a great experience!"

– Kajal Sood, Interior Designer, Livspace
Also, check out the video here.
If you love this duplex house design, take a look at A Luxurious Travel-Inspired 8BHK
Send in your comments & suggestions.