An understated but luxurious house interior decor in Delhi.
---
Who livs here: Ms. Garg
Location: New Delhi
Size of home: A 2BHK duplex spanning 1,500 sq ft approx.
Design team: Interior Designer Ranbeer Kaur with Quality Manager Anil Singla
Livspace service: Full home design
Budget: ₹₹₹₹₹
---
When you're living in a home and a particular area for almost a decade, you tend to get attached to it. Ms. Garg, an independent working woman, feels the same way about South Delhi, and enjoys the greenery and calm that comes with it. Thus, changing her home or the locality was not an option. However, she could get her home done up in a new and exciting way! A place she could come back to, after a tiring day at work.
While browsing through options online for interior design company in Delhi, she stumbled upon Livspace and contacted us to get a new kitchen design only. But what followed was a complete overhaul of her home. Ranbeer Kaur, her designer, convinced her to get her entire home redesigned and boy, does it look good!
In conversation, she told us that her newly decorated home is the reason the workaholic Executive Director at an automobile dealership firm, loves heading back home from office. We could not agree more!
A Simple Living Room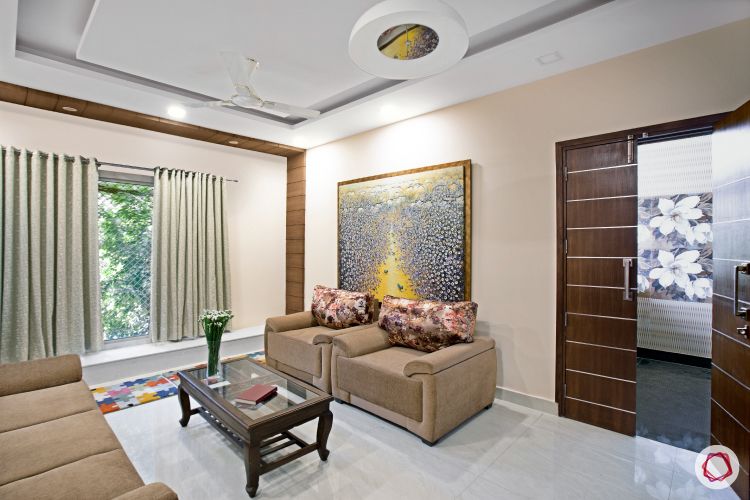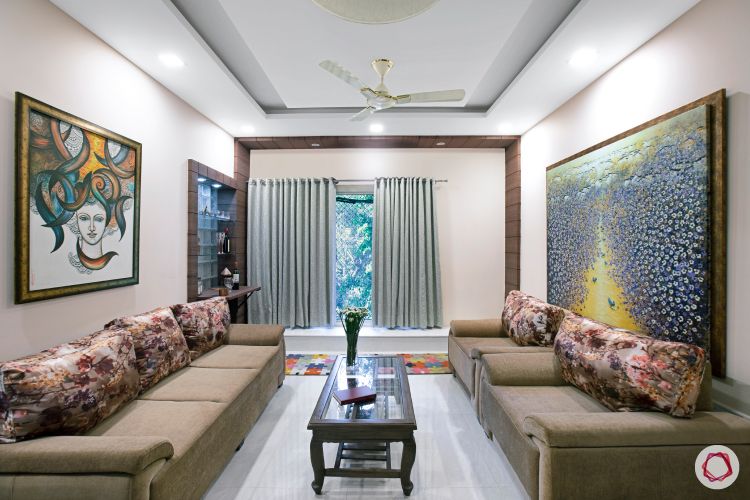 Don't the lovely paintings on the wall grab your attention in an instant? The client loves painting, and collecting art is one of her hobbies. Hence, Ranbeer and she picked up these gorgeous paintings, from Anyahh Art Gallery located on MG Road, and they found the perfect spot in the living room.
The paintings have a deep connect with her soul, and she tells us how the lady is a reflection of herself and the blossoms are a sign of returning back home, according to Feng Shui, which she strongly believes in.
Also, being a calm person by nature, our client wants her home to resonate her personality. So, a muted colour palette was chosen for most parts of the home. The living room is sufficiently spaced out, so she and her friends can chill over the weekends. Tasteful cappuccino sofas are perfectly in sync with the beige walls. Together, they make this room feel huge.

Let's Raise a Toast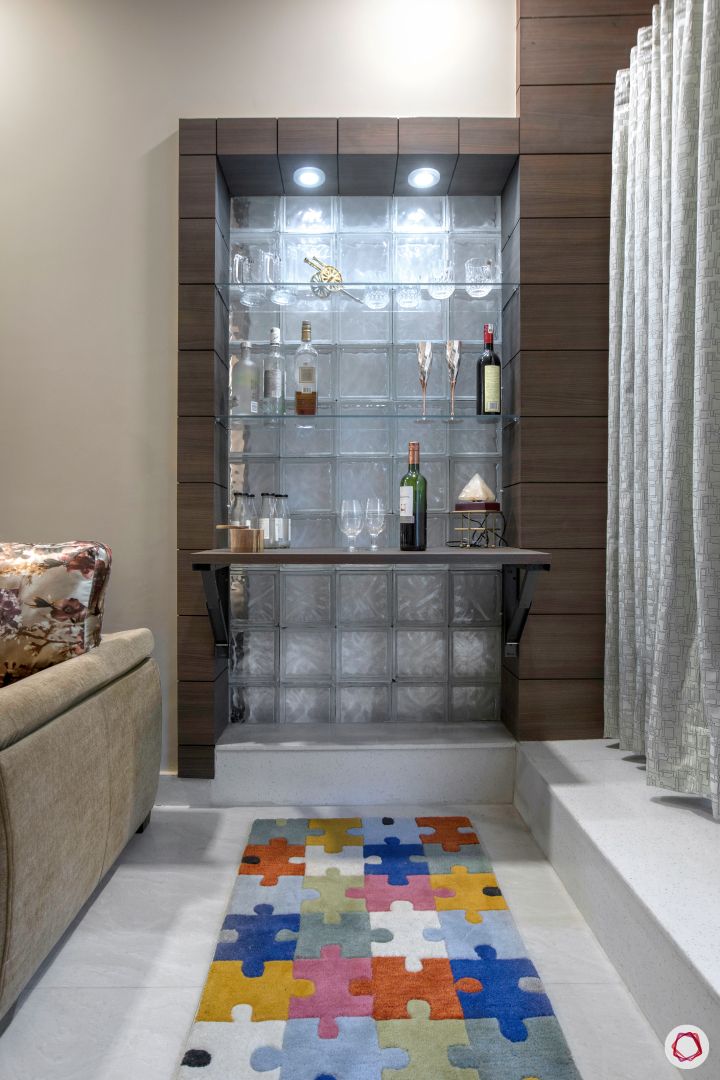 After a lot of civil work, Ranbeer carved out this bar niche for the client to enjoy some time off from her busy schedule. The glass brick wall is such an attractive background for the bar unit. She has also given her glass shelves to show off her exquisite collection of drinkware. Also, her personal favourite spot lies right beside the bar area, where she loves unwinding with her books and canvas.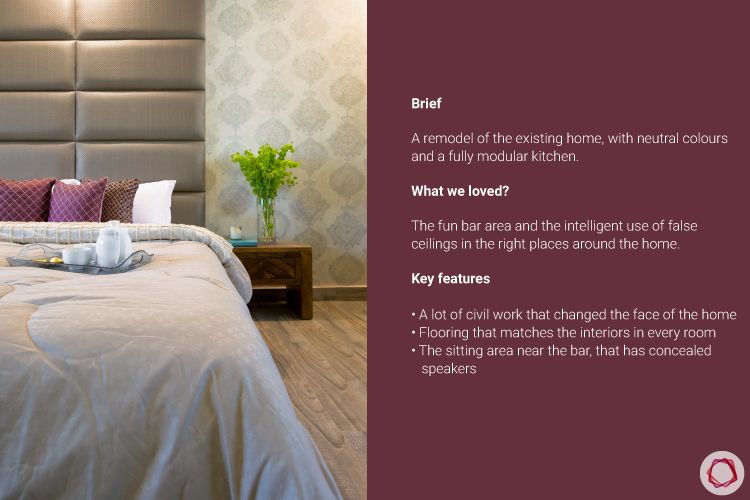 A Kitchen that Extends to the Dining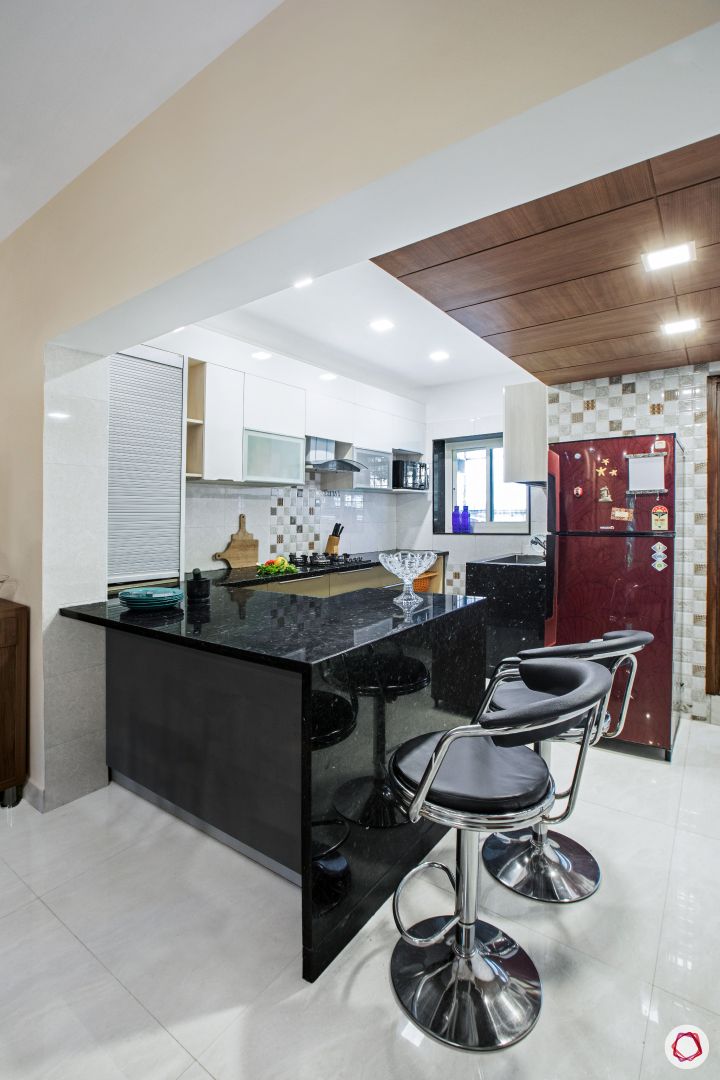 When she's not crunching numbers for work, the client enjoys cooking for leisure. Her earlier kitchen just put her off and she decided to gift herself a fully modular version that has everything in place. With this in mind, Ranbeer worked around the space and included extra place into the kitchen to make it bigger.
Frosty white glossy finish cabinets make up the wall units and black granite adorns the countertop. Complete with corner units, tandem boxes, bottle pull-outs and drawers, she now enjoys cooking for herself and her friends here!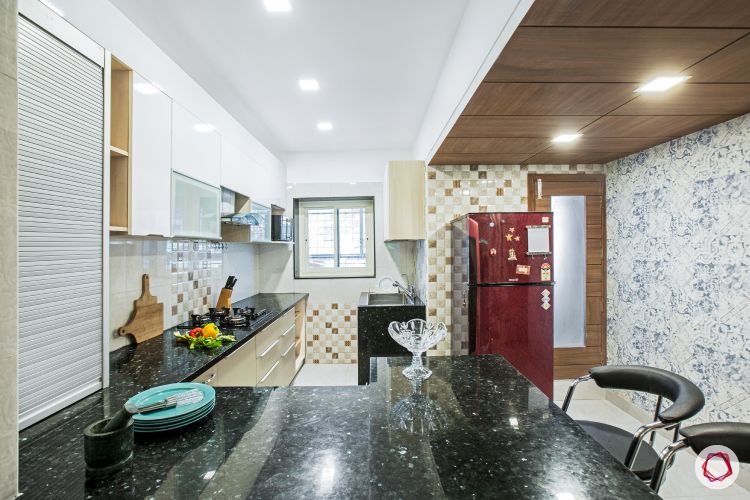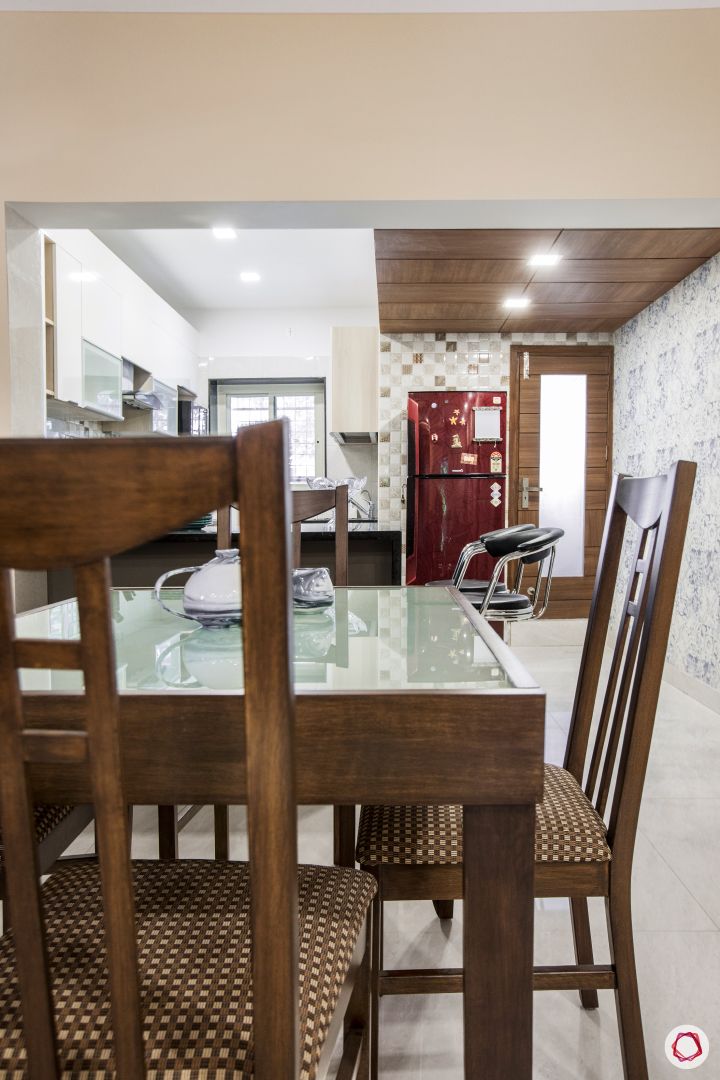 Her kitchen extends to the dining room, which has a simple glass top wooden dining table and chairs. Our client also wanted a breakfast counter in her kitchen, so Ranbeer accommodated one, where she could host parties with friends and family.The wallpaper along with the ceramic tiles and the wooden false ceiling sets that area apart!
A Serene Master Bedroom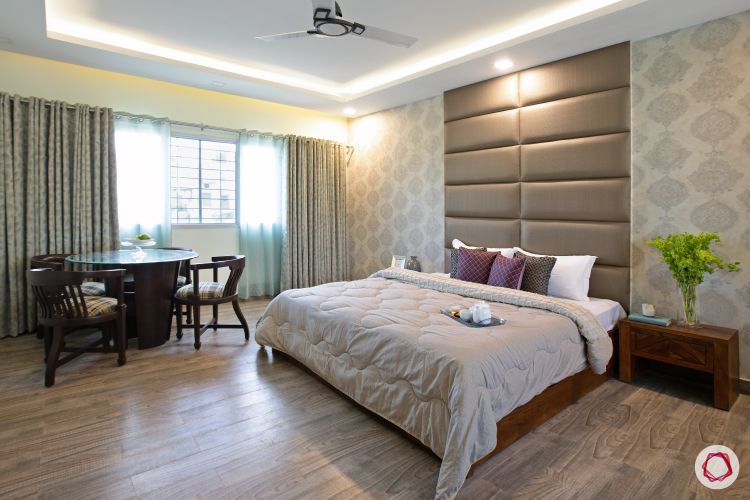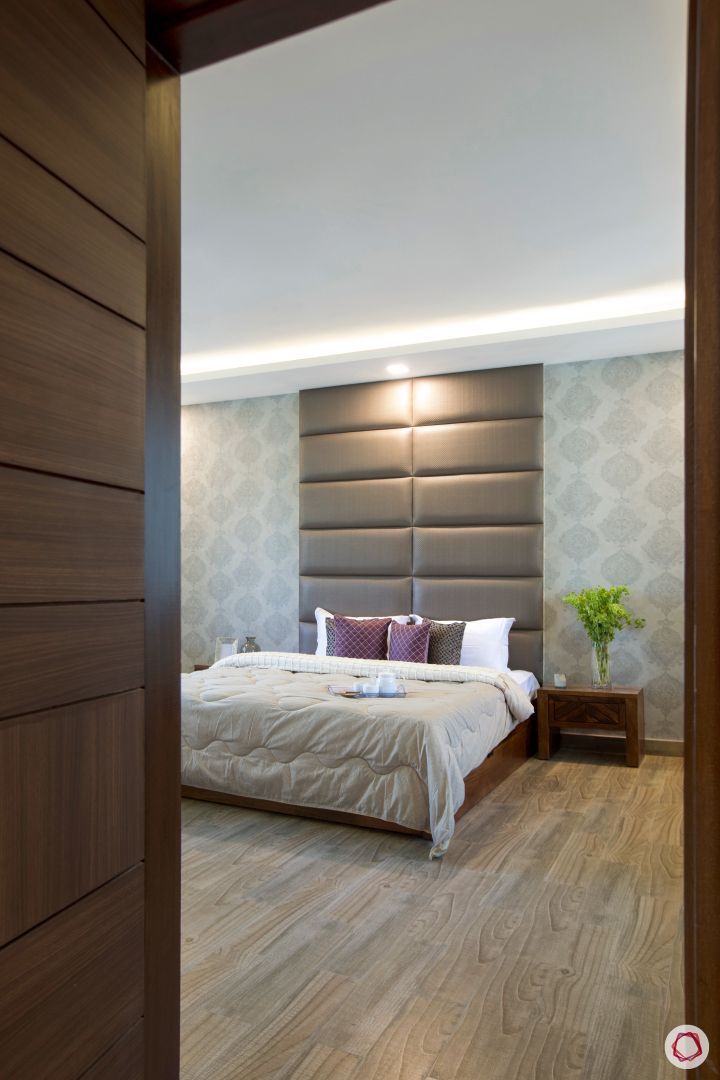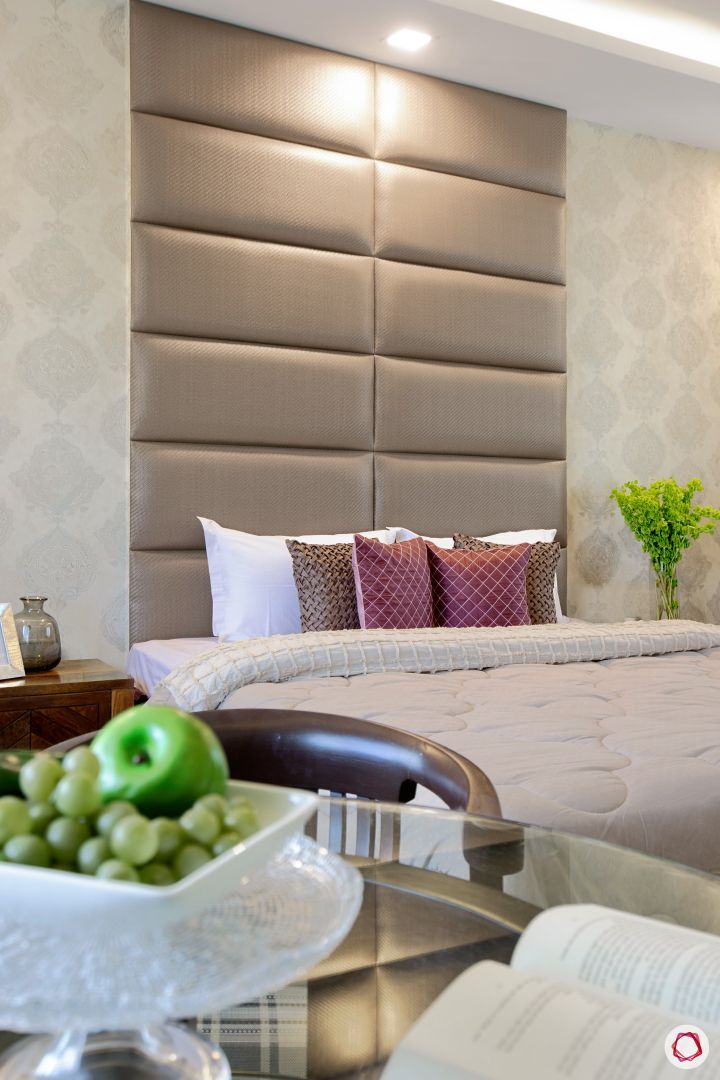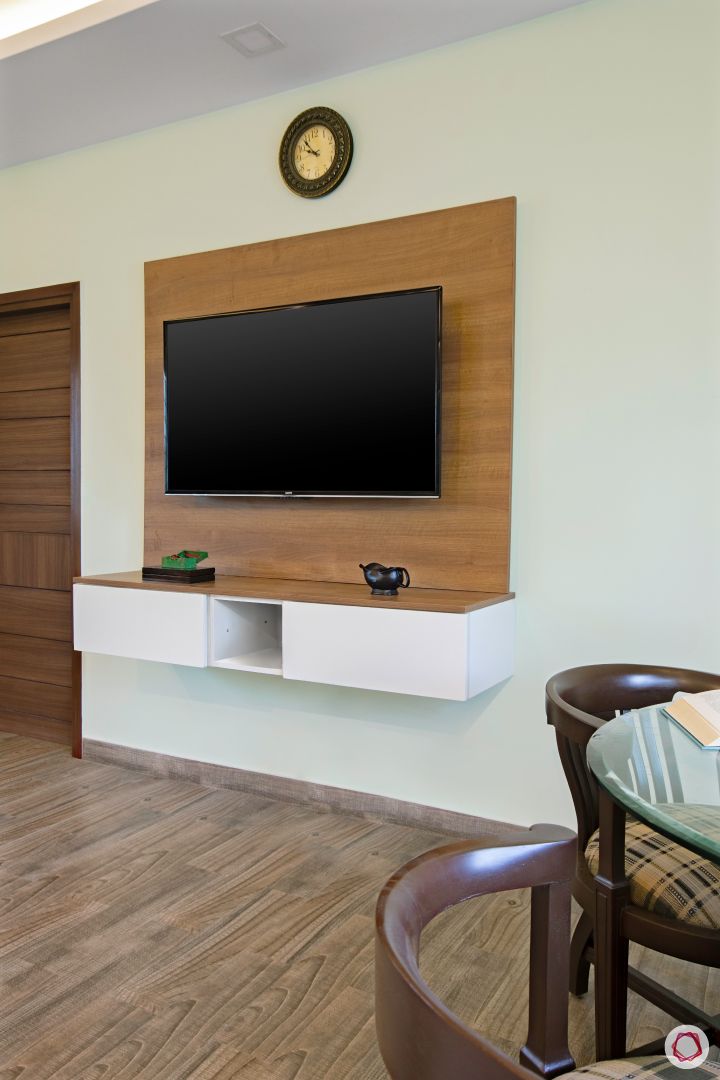 Well, the master bedroom is designed in such a way that the client can use it to relax and work, both at the same time. Since she loves browns and beiges, Ranbeer gave her a fully upholstered panelled headboard in beige, with motifs on the wallpaper.
The bed and the side tables are solid wood, which blends in with the theme of the room. The floor is not the regular hardwood flooring, rather, it is made up of wooden tiles. These are more durable and long-lasting. The small seating area is meant for the client to finish up work.
A Walk-in Wardrobe for One!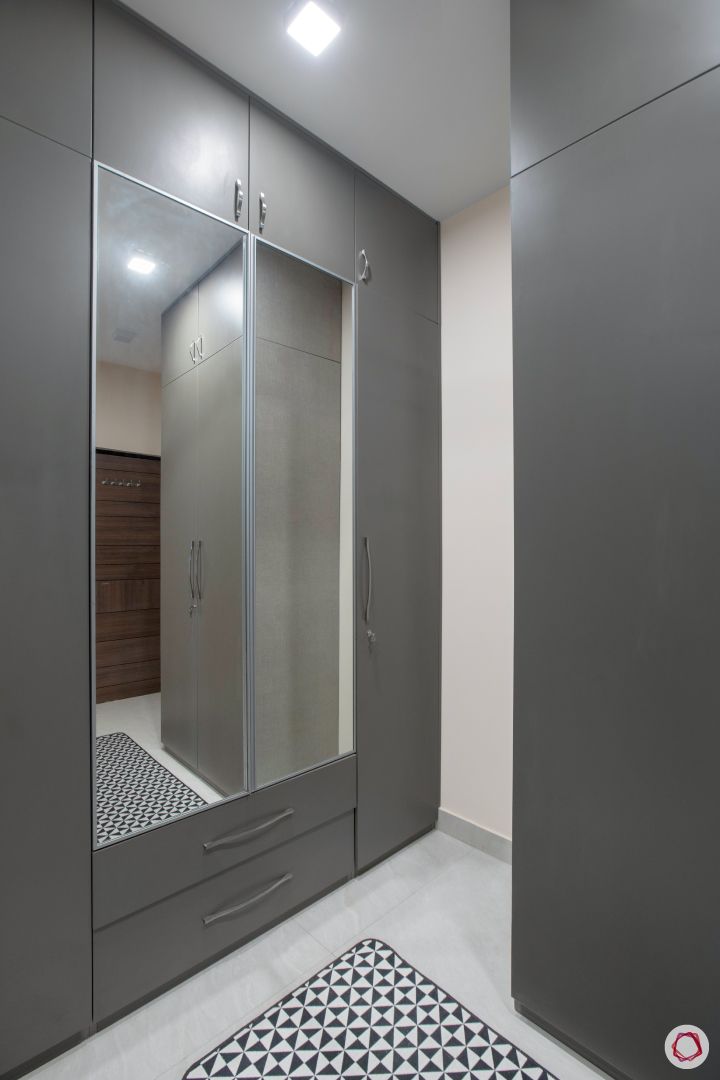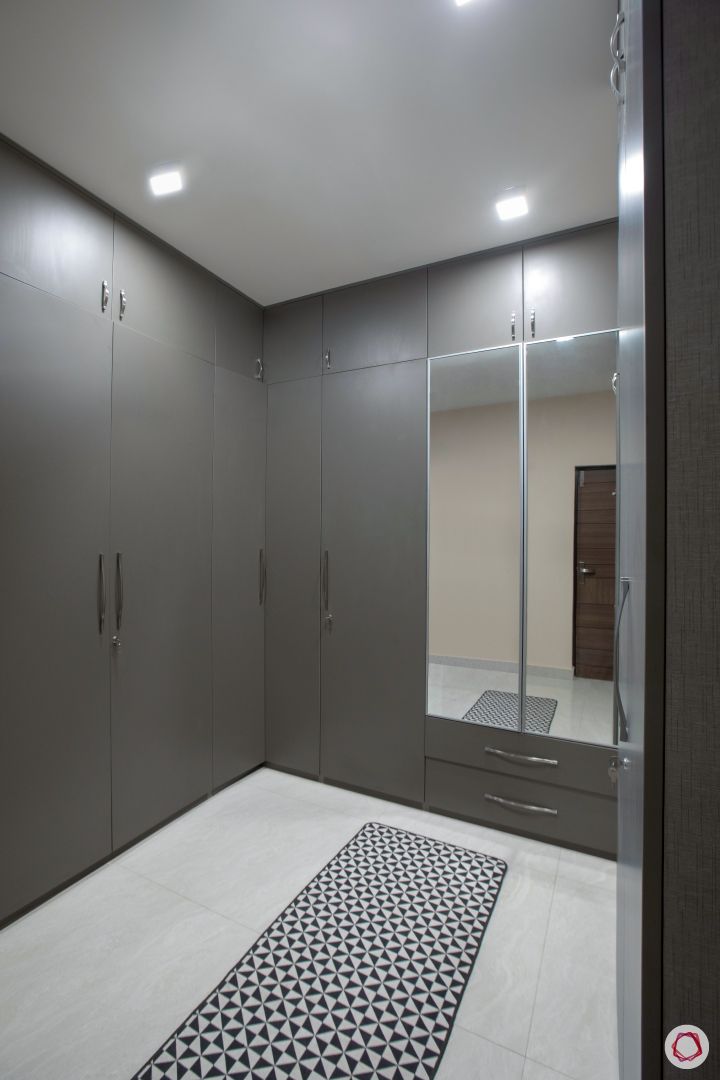 Being the sole inhabitant of this duplex, the client had the luxury of converting one room into an elaborate walk-in wardrobe. Soothing autumn leaf finish adorns it the easy-to-use swing doors, and make things super functional and efficient.
Vanity Affairs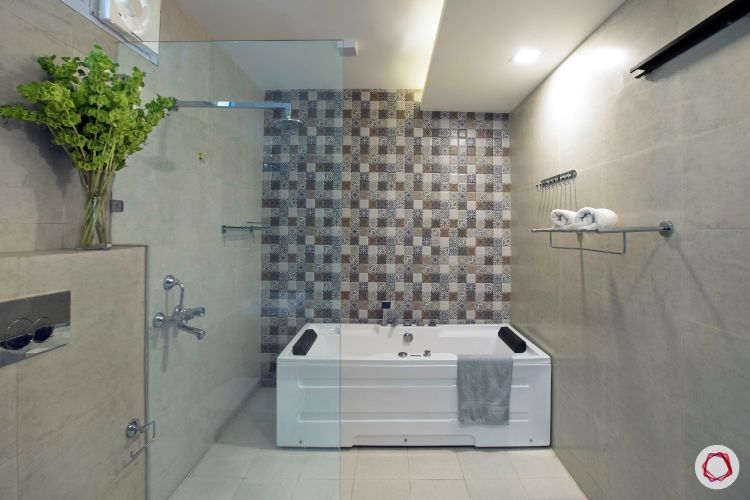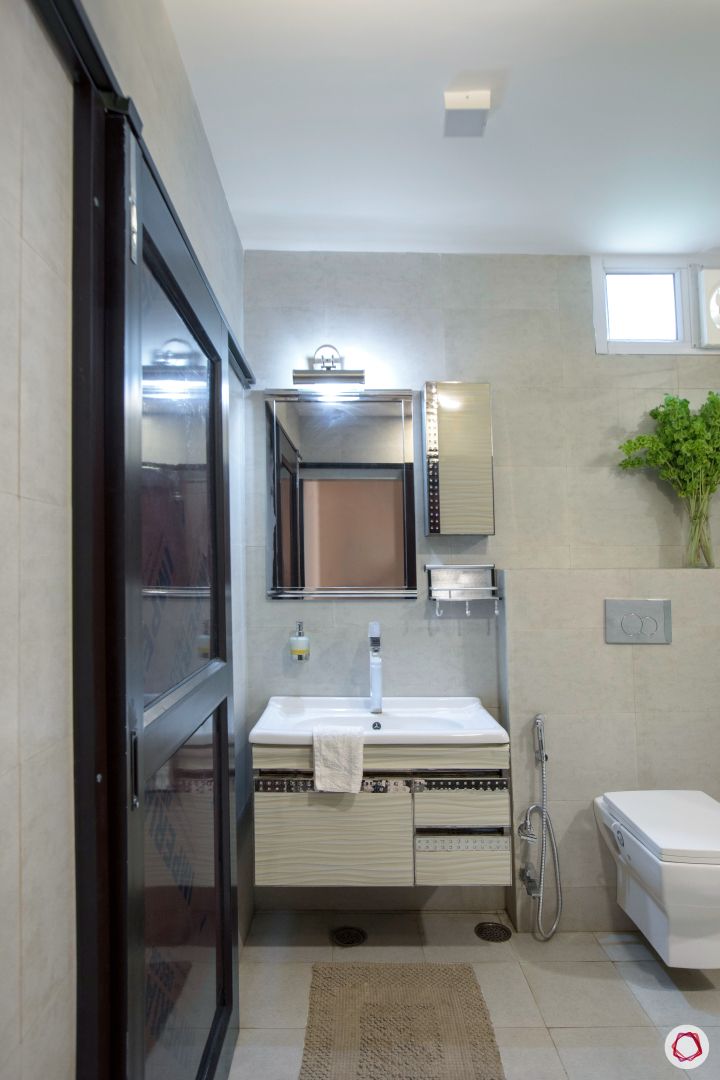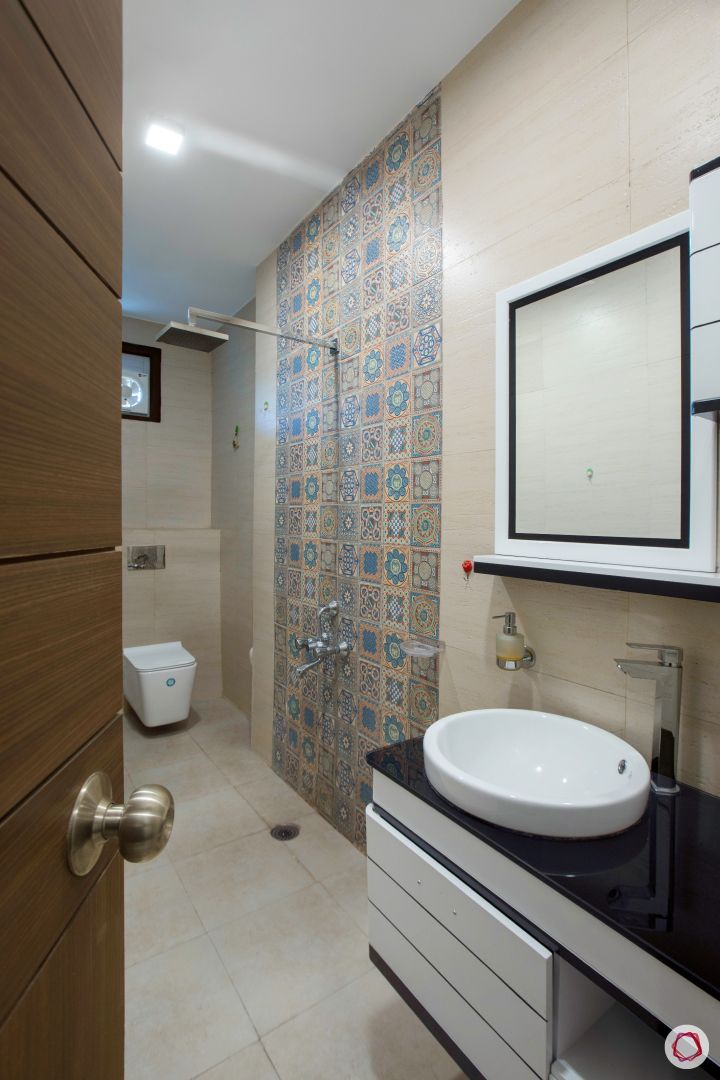 The bathrooms in this duplex wear patterns in a way that they follow the theme of the home, strictly. Therefore, Ranbeer gave one of the bathrooms, very Rajasthani-feel tiles, just how our client likes it to be. In the other bathroom, a bathtub finds place and a combination of brown, white and beige tiles create a beautiful pattern on the wall.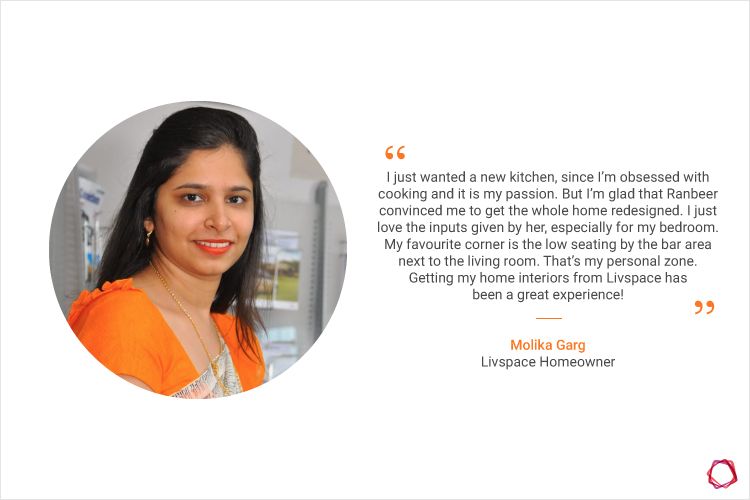 ---
"This was one project that involved a lot of civil work and the space had to be opened up considerably. I love challenges and enjoyed working on this one. The client was very specific about certain things and the rest of the designing and execution went on like a breeze!"

– Ranbeer Kaur, Interior Designer, Livspace
Loved this home? Well, you can also take a look at this urban retreat in Gurgaon, to see how to play around with neutrals and bold colours.
Send in your comments and suggestions!
If you are looking for interior designer in Delhi, reach out to us!
How Can Livspace Help You?
We hope you found our ideas useful! If you want your home to be just as beautiful, then look no further. Book an online consultation with Livspace today.