Modern home design for a family of four!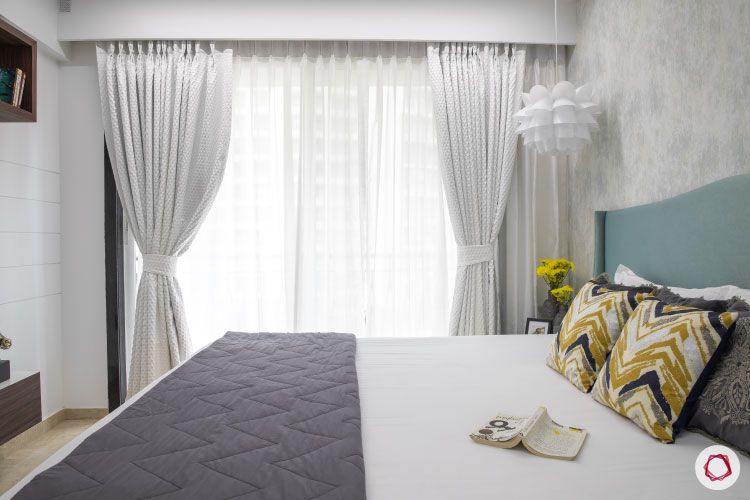 ---
Who livs here: Mr. Saleem with his wife and two kids
Location: Satyam Empress, Kharghar, Mumbai
Size of home: A 3BHK spanning 1,800 sq ft approx.
Design team: Interior Designer Radhika Kulkarni with Quality Manager Ramesh Parmar
Livspace service: Full home design
Budget: ₹₹₹₹₹
---
Everyone dreams of living in a home that makes them feel secure and comfortable. Born and raised in Mumbai, the city's space constraints got overwhelming after a while for the couple. Therefore, they made a conscious decision to move to Navi Mumbai, which is less populated than its counterpart. Here, they bought a house that they could call home.
While looking for options online, they came across Livspace and embarked on a wonderful journey with us. Radhika took over the task of putting their ideas to reality and giving them a design that would suit their needs. Read on and find out how this modern home took shape. You'll be surprised at how much can be done with a simple space.
A Well-Planned Living Room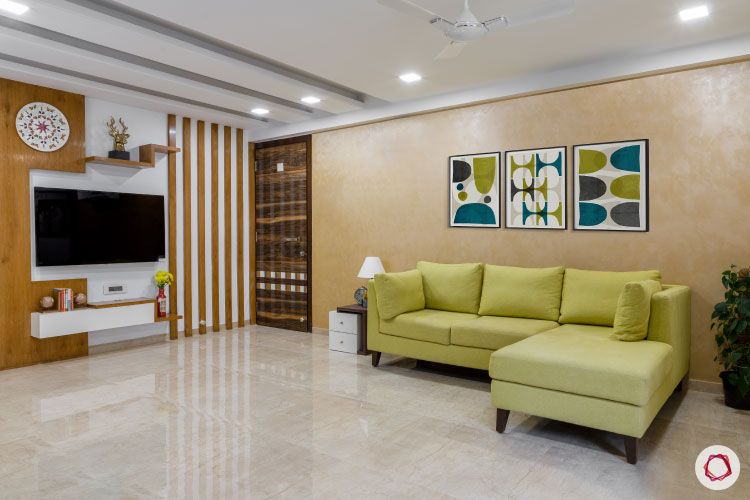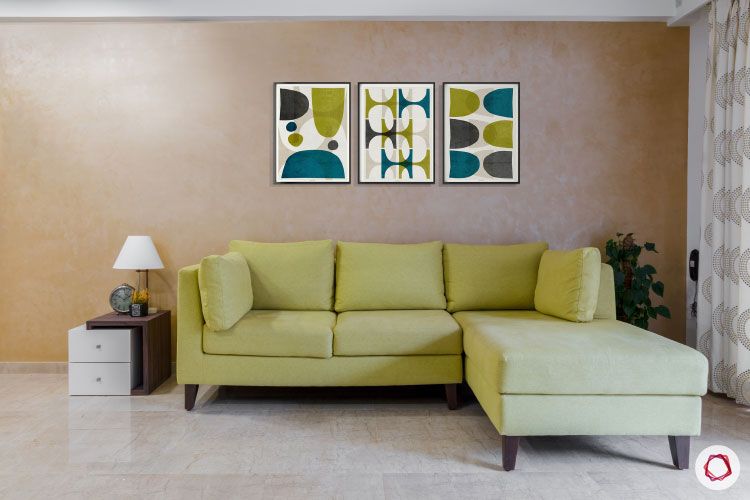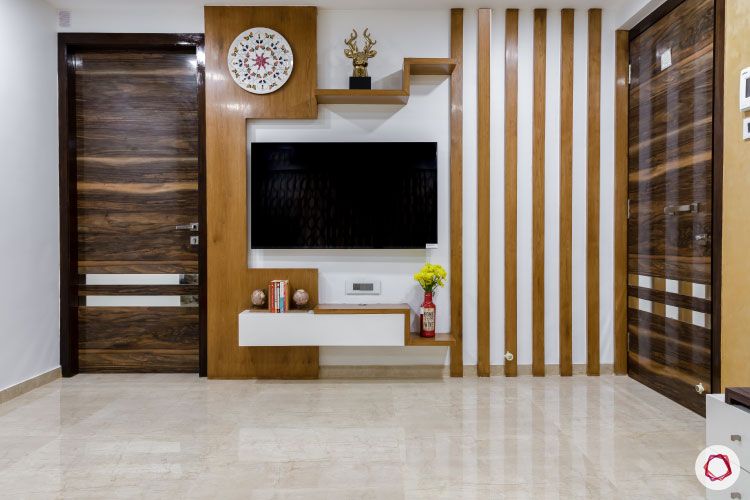 When the clients met Radhika, they were very clear about having a living room that is not cluttered with furniture. To bring in some colour and liveliness to the space, she gave them a light green two seater sofa with a chaise and textured paint on the wall. If you notice the TV unit and the wall behind it, you will see the lovely use of matt finish veneer rafters that complement the shelves and panels around the television. This room design leaves a lot of free floor space to accommodate guests.
Bright Green Kitchen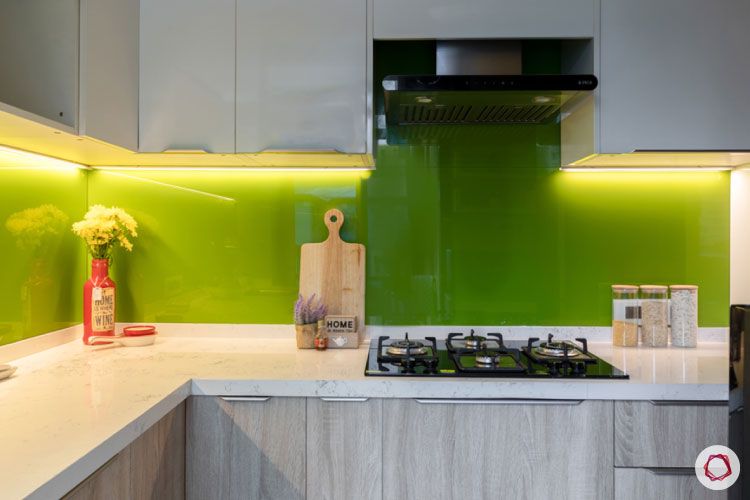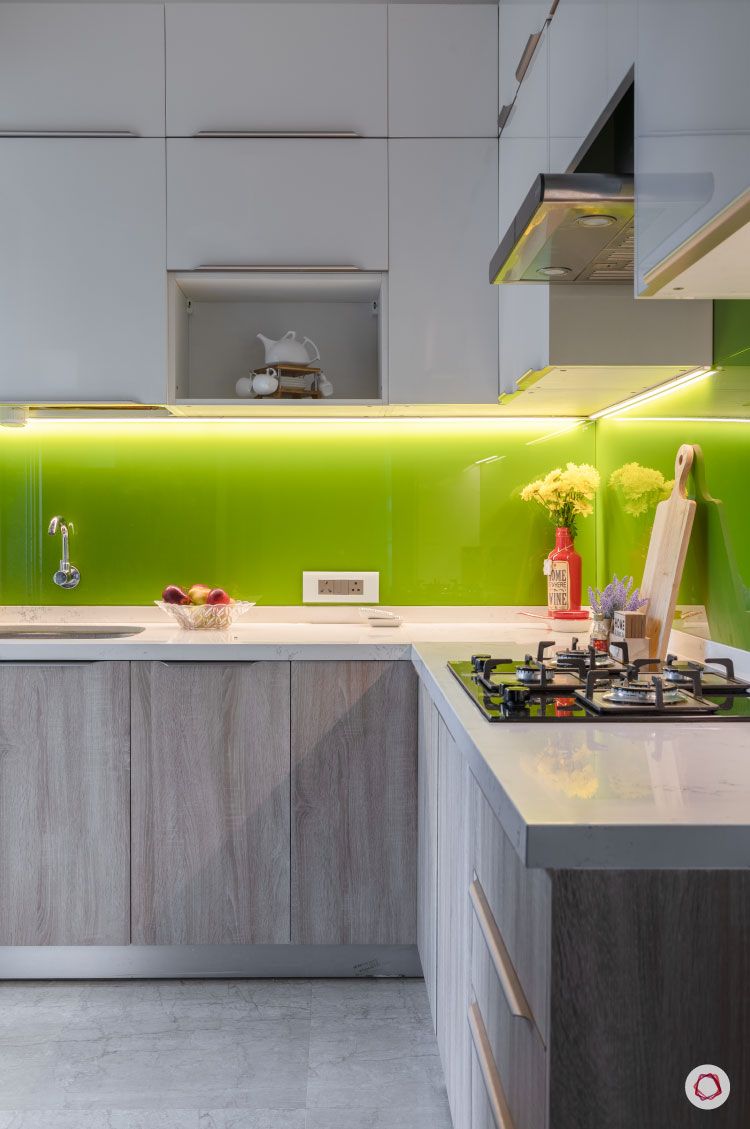 The first thing you notice when you enter this kitchen is the bright green back painted glass backsplash. The couple wanted to keep the kitchen neutral and Radhika agreed, since it makes the space look bigger and open. So, she gave them light oak finish for the base units and white membrane for the cabinets and shelves. The backsplash adds the right amount of colour here!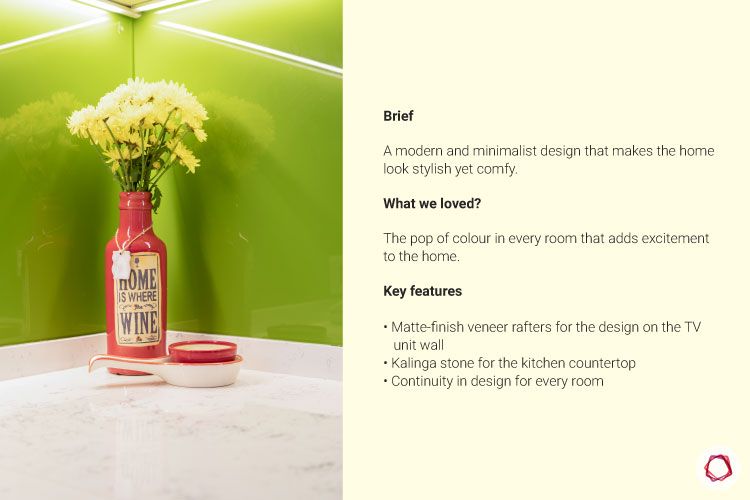 Keeping it Cool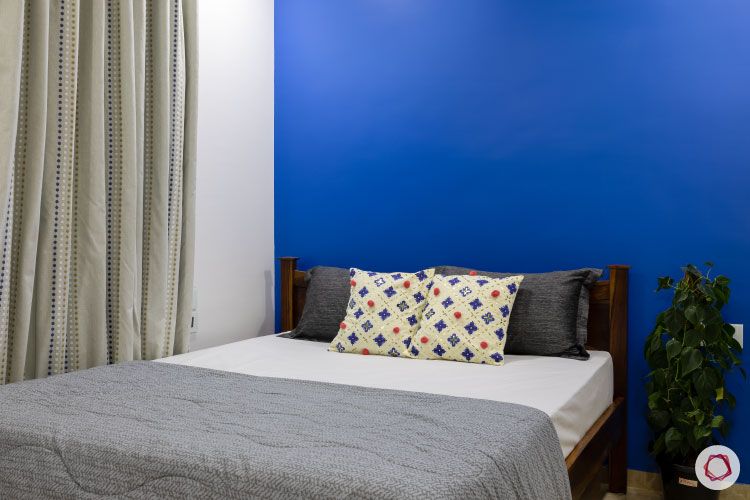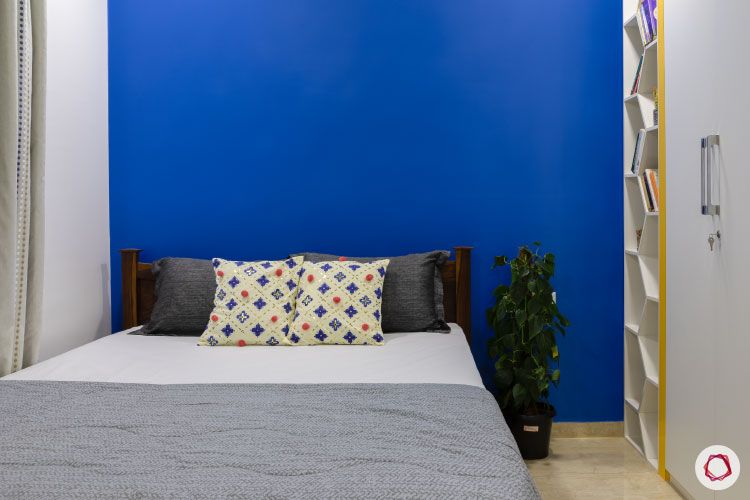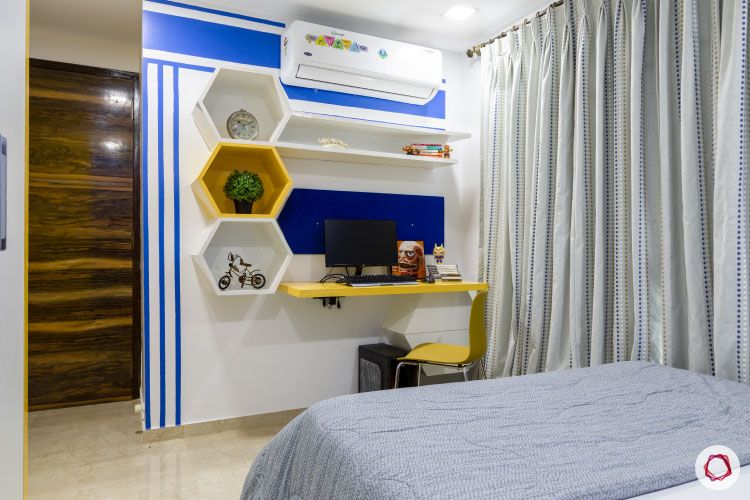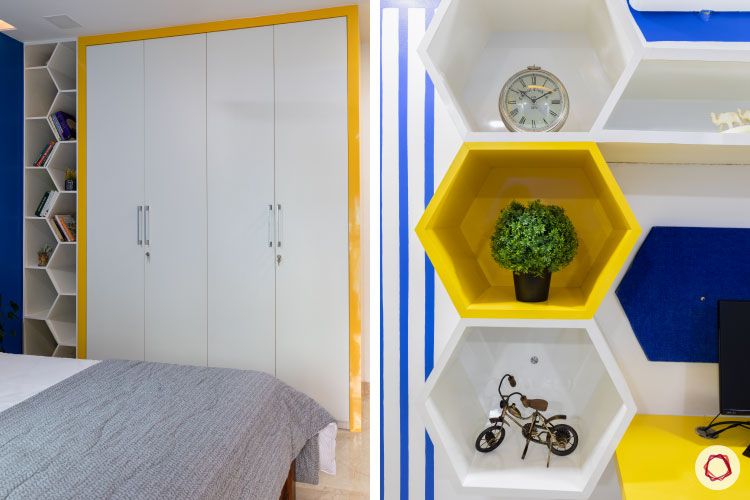 Their son did not want a regular design for his room and hence, Radhika had to rack her brains a little bit for this one. She gave him a royal blue wall behind the bed, with similar coloured stripes around the study table. To make things visually interesting, she added a splash of yellow on the wardrobe trims and shelves. The hexagonal pattern looks intriguing and serves the purpose of storing the numerous books that the family possesses.
Luscious in Pink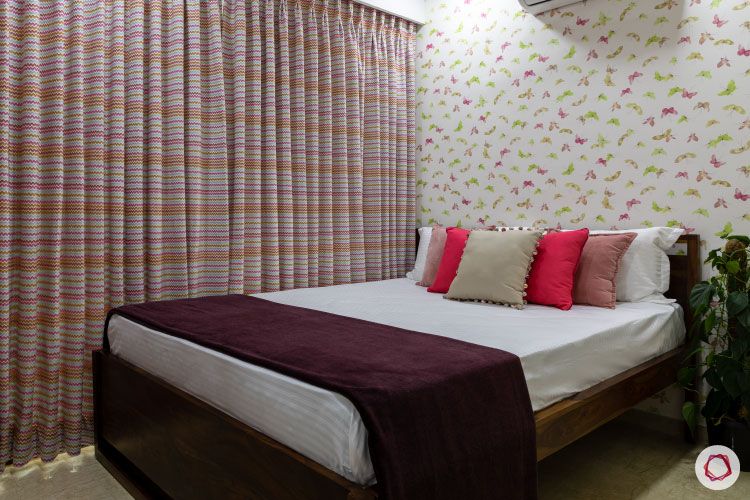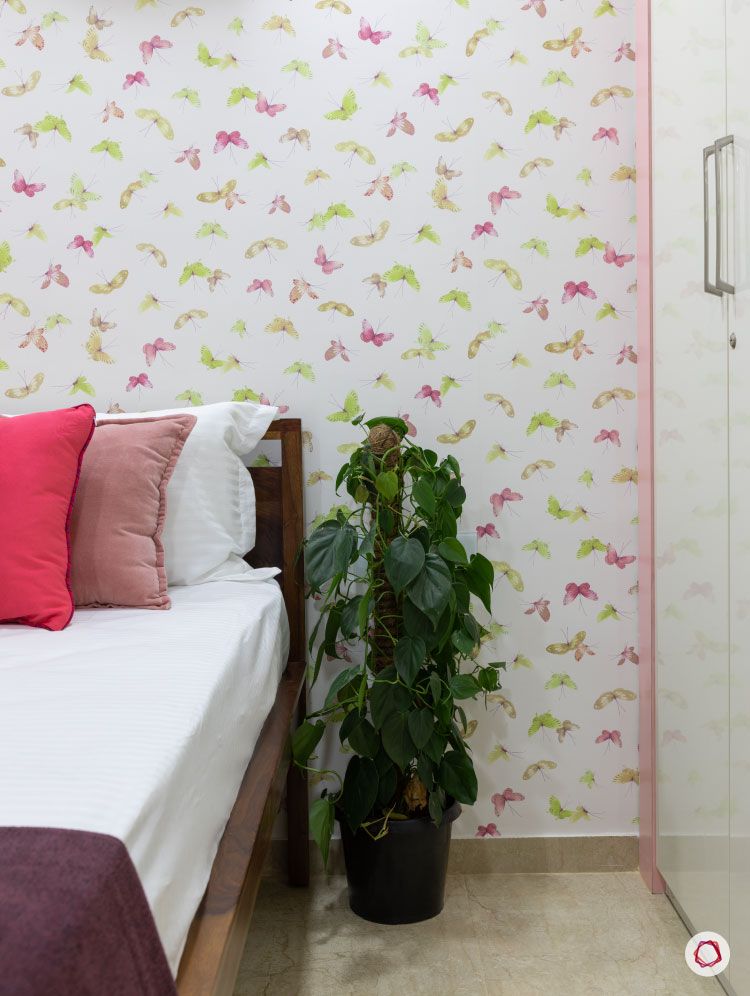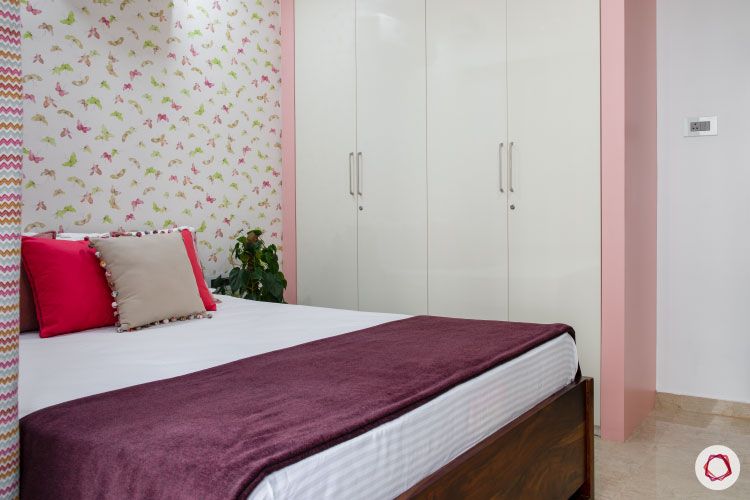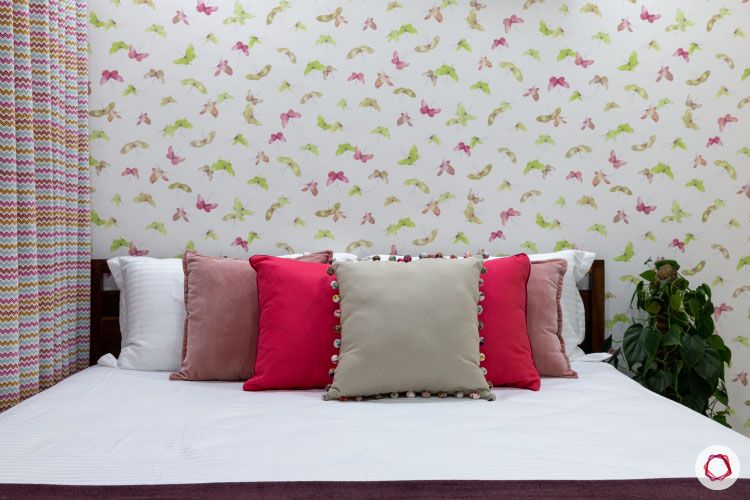 Radhika was told by the little girl of the house that she wanted her room to have everything in pink! That's quite a challenge for a designer, if you ask us. So, she put on her thinking cap and designed the room in such a way that it does not shout out pink, and still pleases the little one.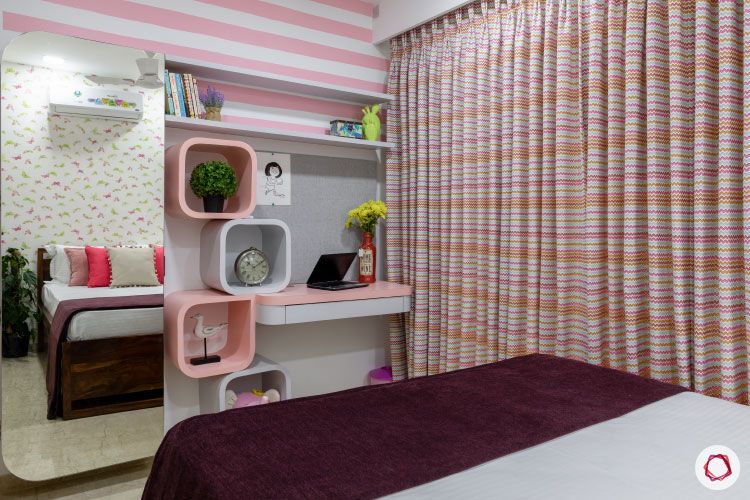 We are crushing over the lovely interplay of grey and baby pink on the study unit, instead of the predictable white and pink. Also, look at the dreamy butterflies flying all over the bedside wall. The full size mirror is a dresser that the little one uses to store her collection of hair clips, lipsticks and other knick knacks. We know we won her over, because she says she just doesn't feel like coming out of her room!
Pure Elegance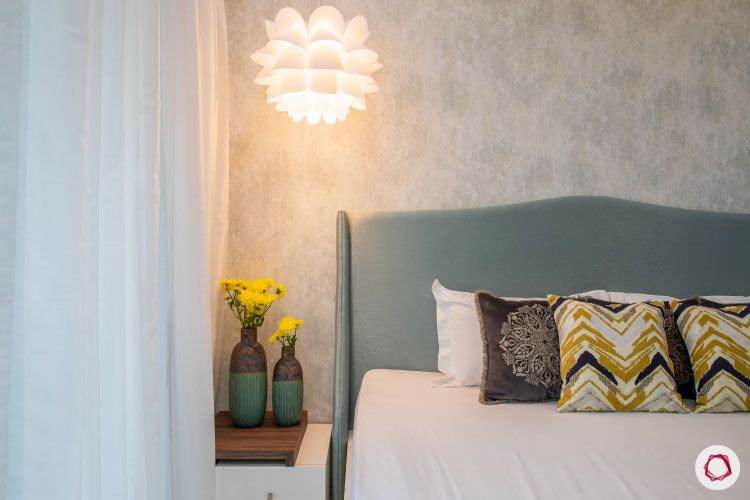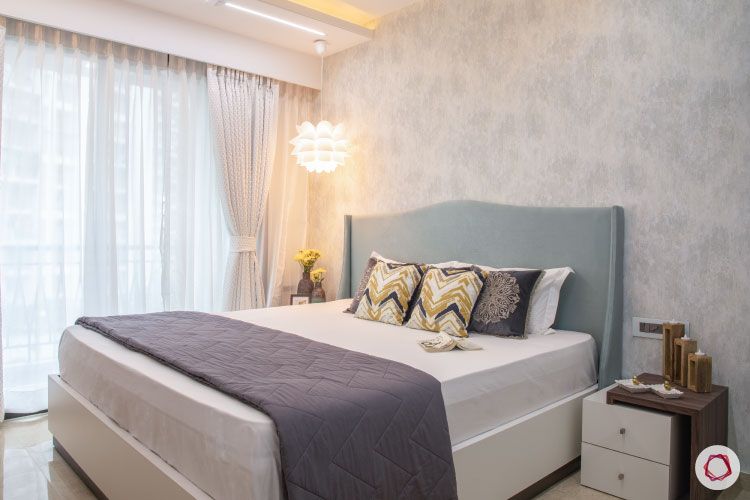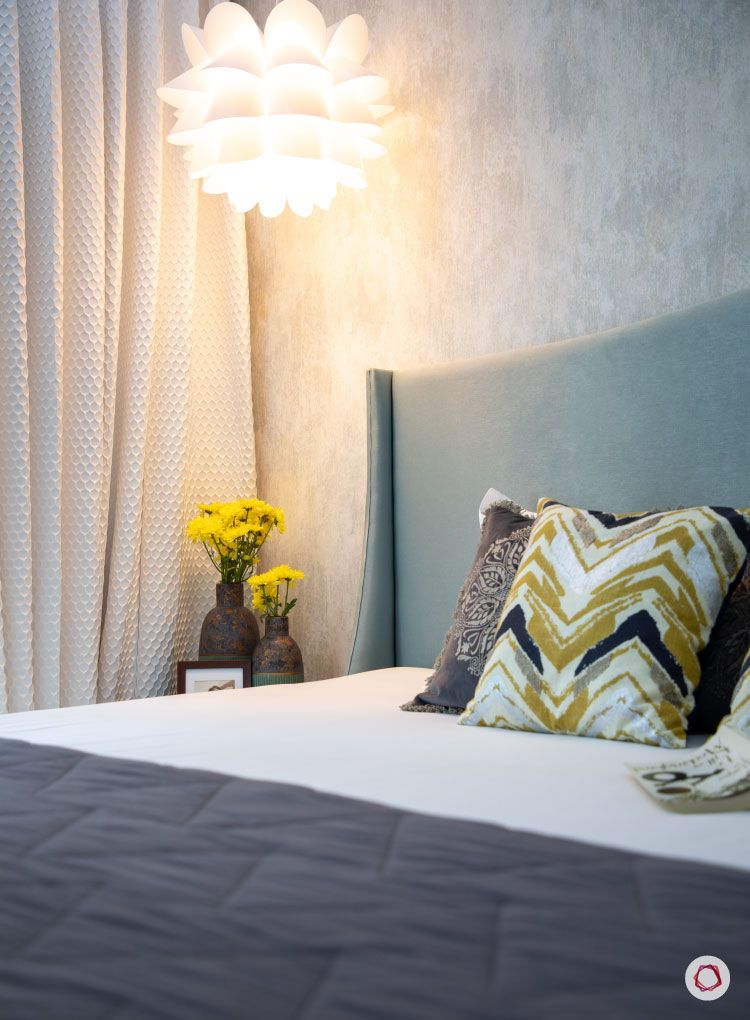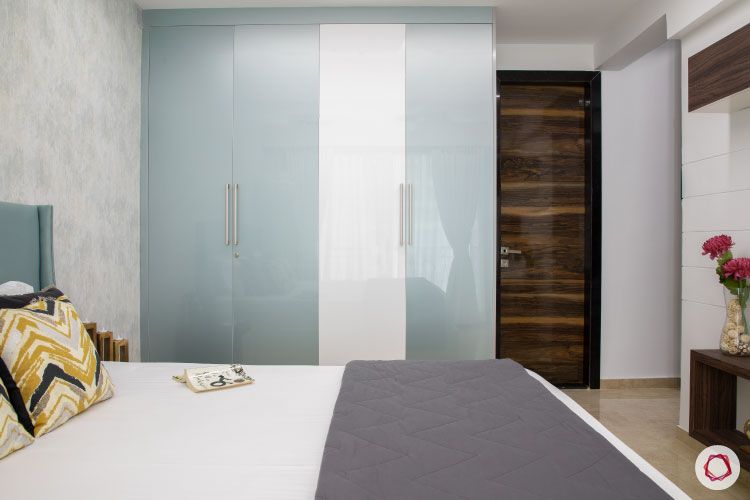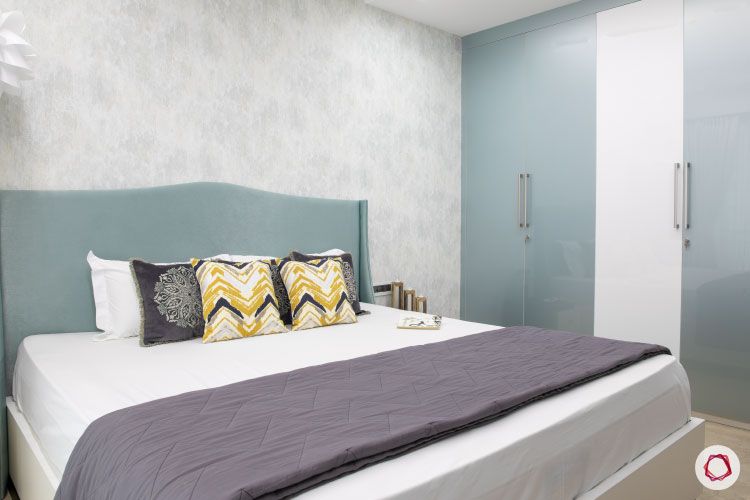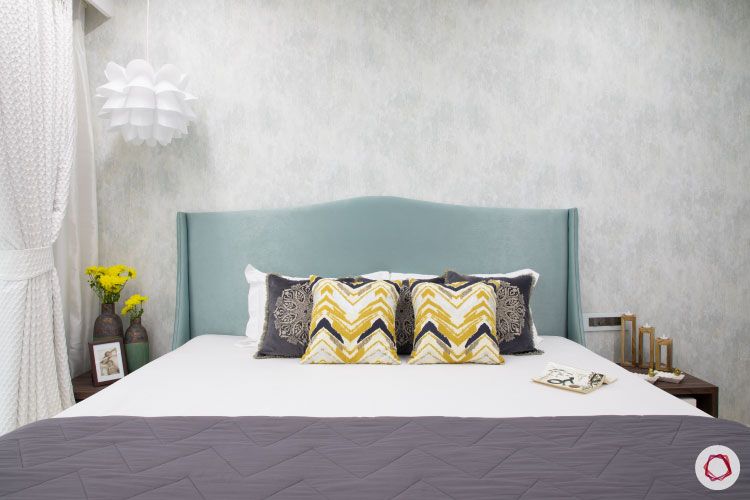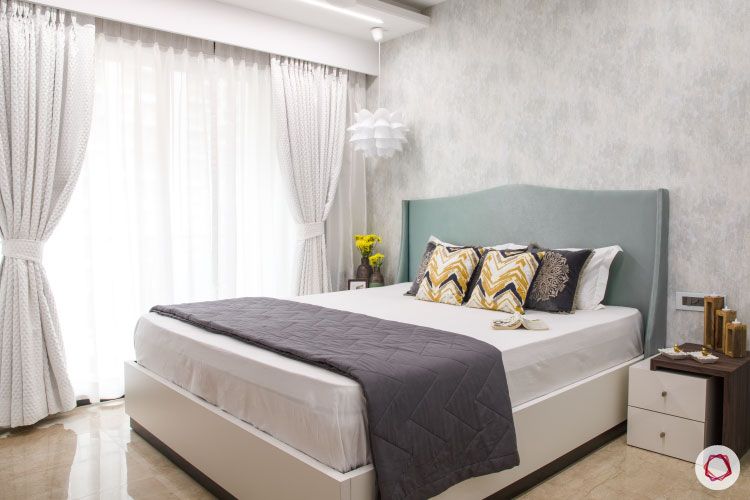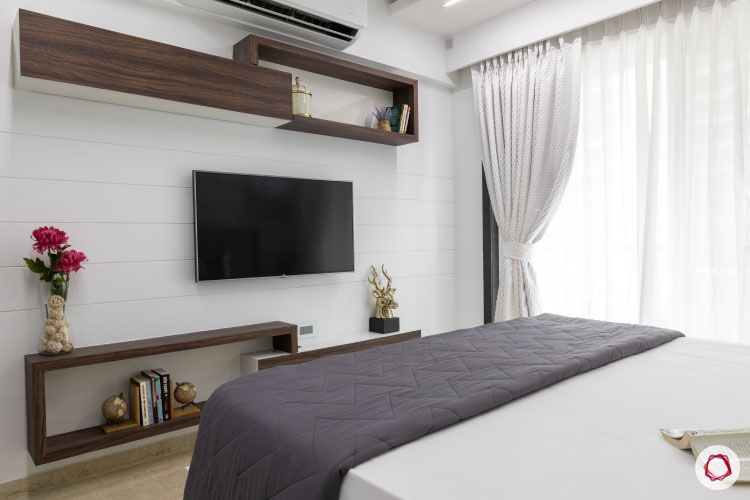 Now coming to the most serene spot at home — the master bedroom. After Radhika designed the entire home, the couple had one question, "what will our bedroom look like?" She promised to give them something they would love. Therefore, she got the headboard customised for them, in a shade that they preferred. Also, the wardrobe sports a unique pattern that the couple were skeptical about at first, but loves now. The single glossy white door amidst the powder blue doors looks very stylish and unusually appealing. The statement pendant light is something that the client got from one of his international visits and it found the perfect spot in here.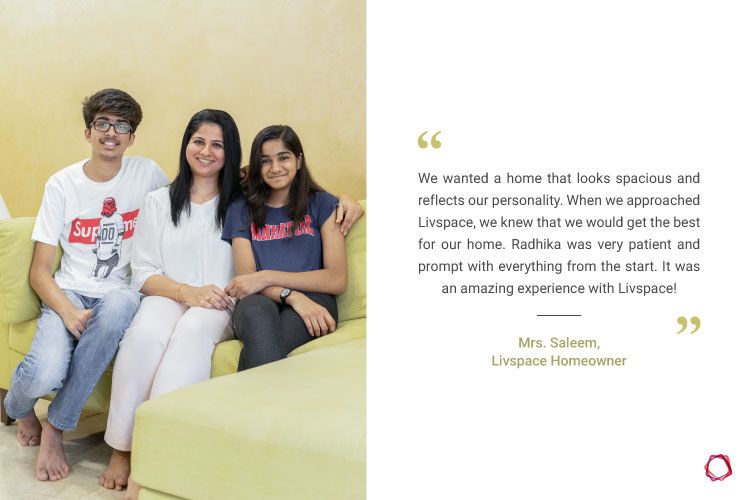 ---
"One thing that I learnt from this project was that we can create magic by combining catalogue and custom products. It was a pleasure to design for this couple since they knew what they wanted and they were also open to new ideas."

– Radhika Kulkarni, Interior Designer, Livspace

---
If this home impressed you, then do take a look at this 4BHK Hiranandani Home Dipped in Shades of Red.
Send in your comments and suggestions.