This small kitchen at Purva Paradise got lucky with storage!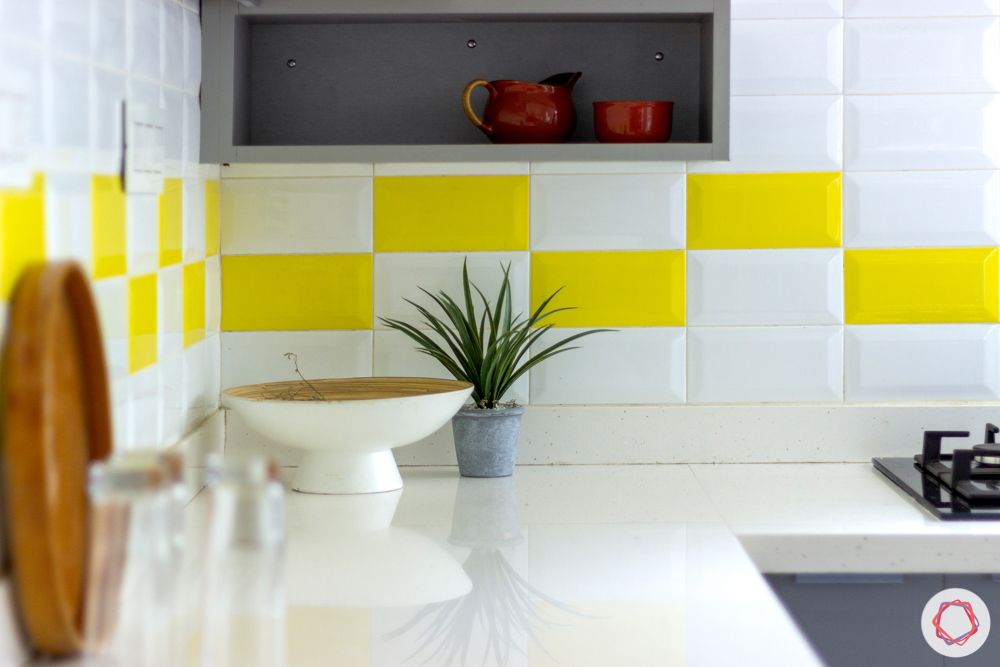 ---
Who livs here: Vrushali Karkanis with her husband Sangram and their two kids
Location: Purva Paradise, Domlur, Bengaluru
Size of kitchen: 82 sq ft approx.
Design team: Interior Designer Marita Manavalan and Project Manager Pankaj Chandak
Livspace service: Modular kitchen design
Budget: ₹₹₹₹₹
---
One look at this kitchen and you're going to believe – compact is the new stylish! While it might seem like a daunting task to design a small kitchen, sometimes it is not quite. It's all about using the right colours and modular solutions to make a tiny space work to your advantage. So, when Vrushali and Sangram decided to get their kitchen designed, they did not come with any preconceived notions. They came to us with an open mind.
Our designer, Marita Manavalan is a pro at designing compact spaces and she was the right person for this task. She knew that she had to use a light colour palette and lots of clever storage solutions to make this compact space work. And when the client is open to ideas, the task gets a lot simpler. She has used a lot of clever ideas to make this kitchen look the way it does now.
So, what should you expect as you read on:
Which colours transform a kitchen like this?
What are the ideal materials and finishes for a small kitchen?
What sort of storage solutions worked here?
How did we beautify this kitchen?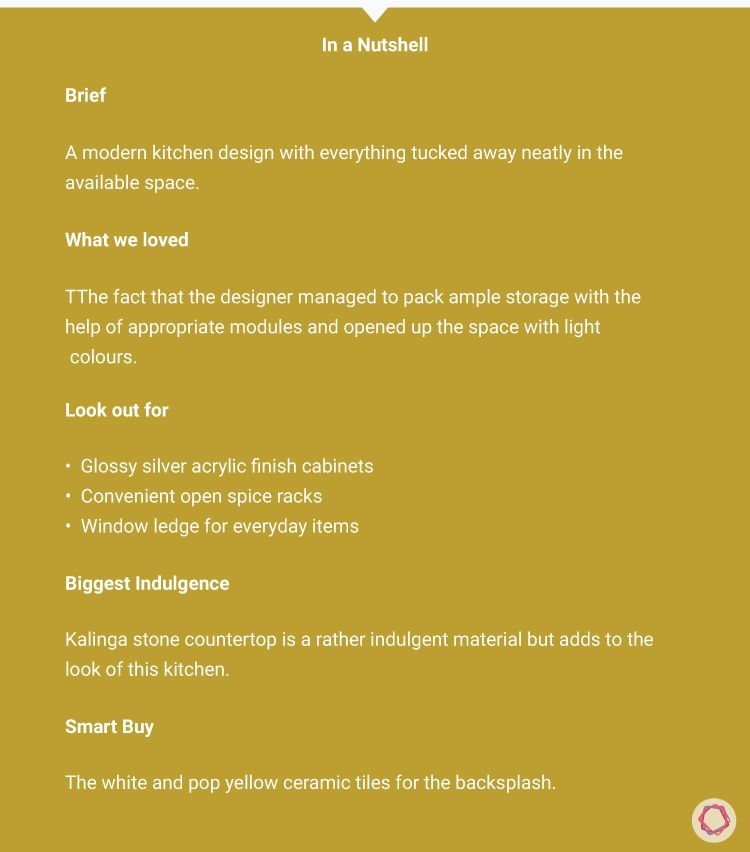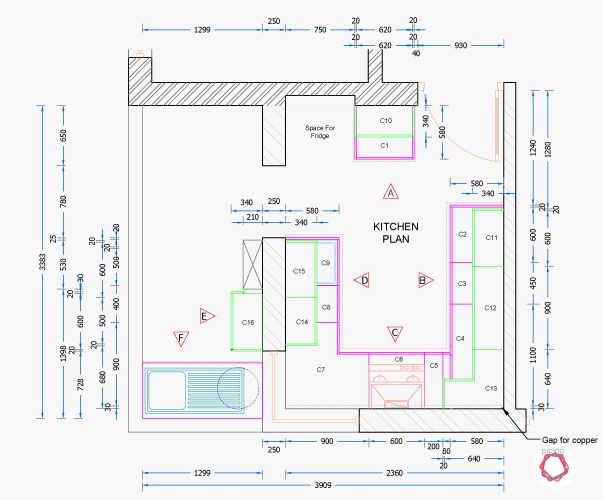 How did we open up this cramped space?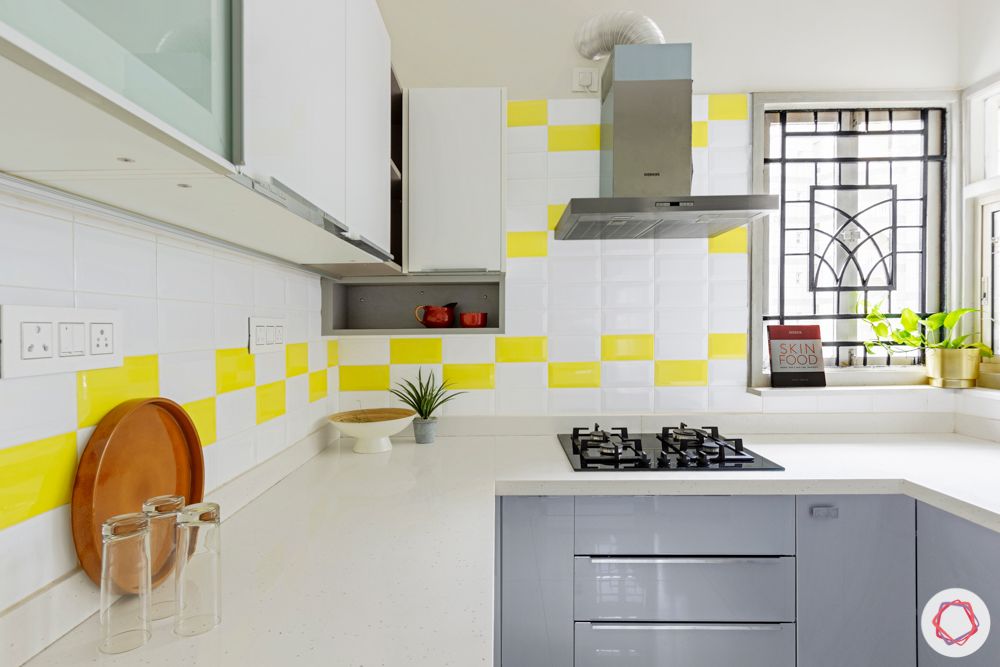 First off, the major task at hand was to visually open up this compact kitchen. Marita knew that dark colours would just make matters worse. So, she cleverly chose a subtle colour like grey for the base units and added basic white on the uppers. As you can see, this light colour combination has worked wonders in this space.

How did we pack storage?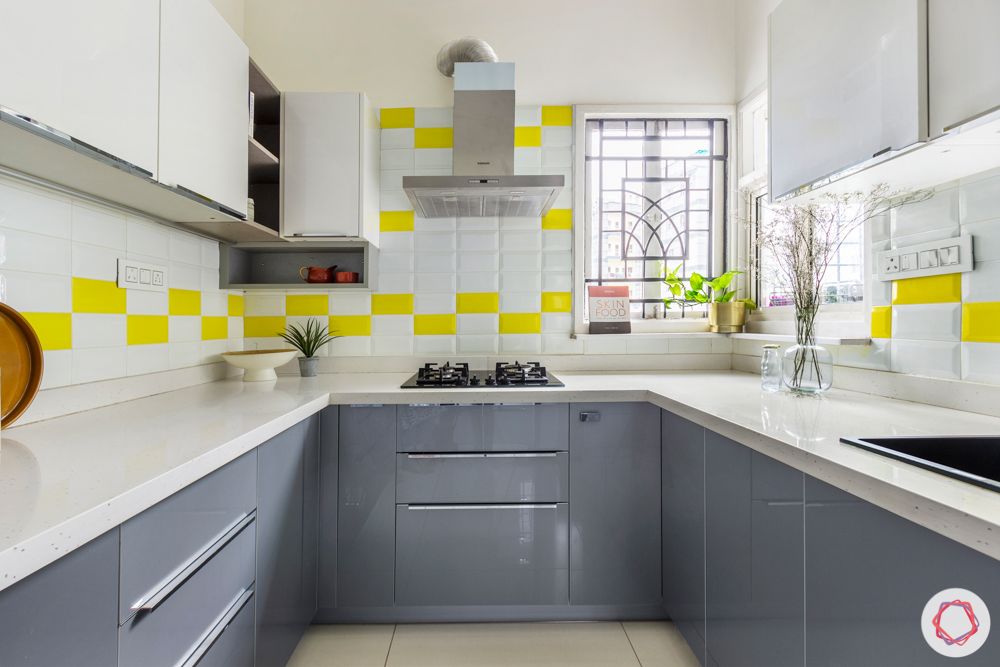 When Vrushali met Marita, she mentioned that she tends to store a lot of stuff in her kitchen. If you ask us, this must have been a cause of concern for Marita. To pack storage in a tiny space like this could mean making it look heavy on the eye. Therefore, she stuck to drawers and regular shutter cabinets since these are easy to operate and can hold a lot of things. She also gave her magic and blind corners to utilise the corner spaces that otherwise become dead space.
How did we help them hide clutter?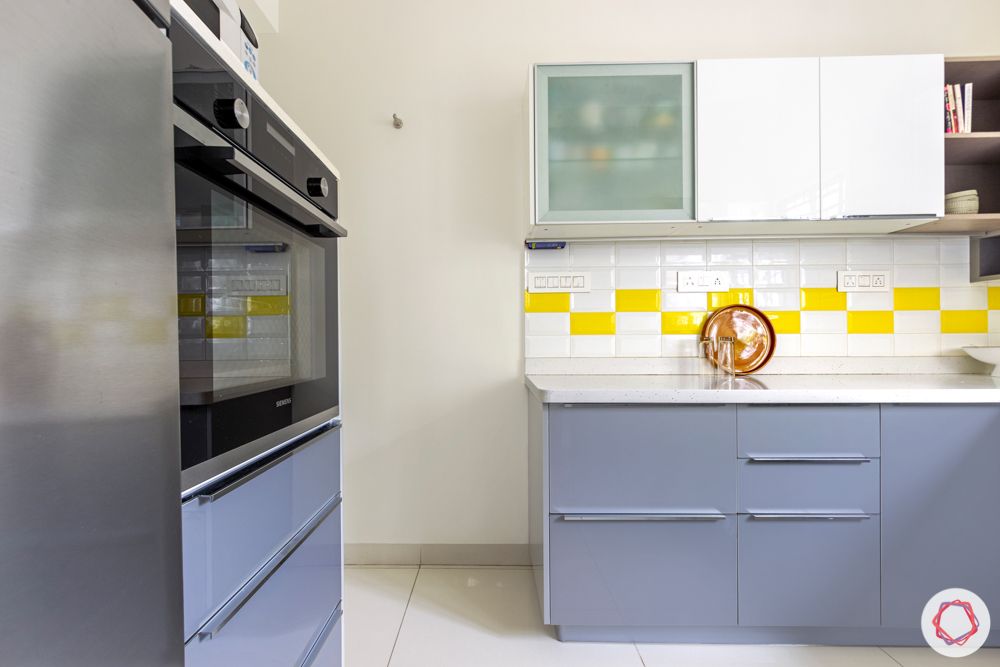 Vrushali admits that she enjoys cooking and that results in a lot of unwanted clutter in her kitchen. Also, since she does have guests over sometimes, she doesn't want any of that to be visible. So, Marita decided to give her only closed storage in the kitchen. No open shelves means no visible clutter. Everything can be neatly tucked away!
Does that mean we compromised on design/aesthetics?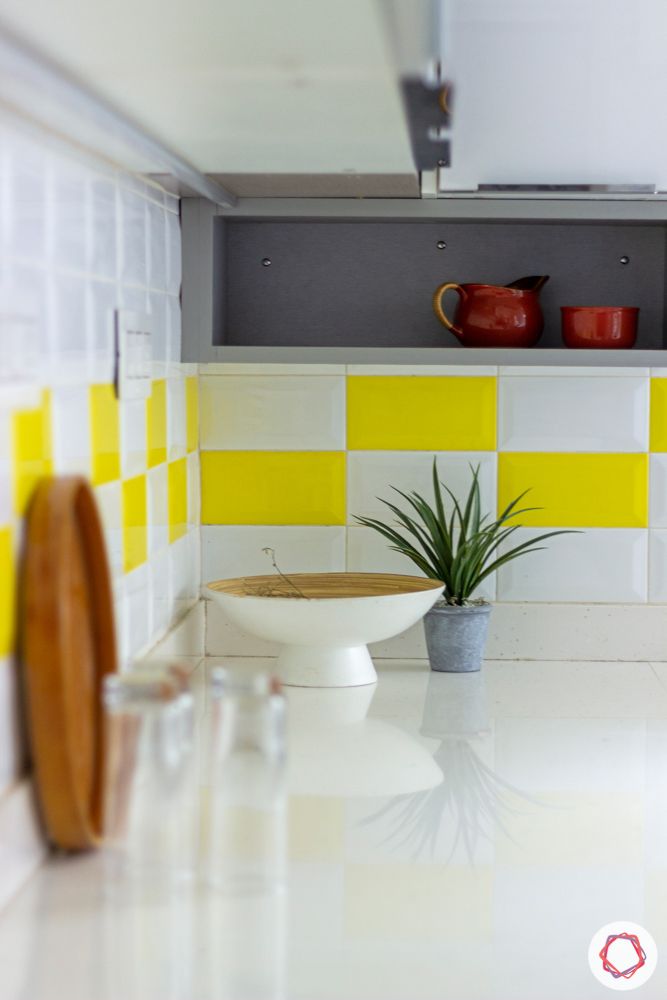 So, this kitchen is compact, sleek, easy-to-use, functional and all of that. But, did you think we'd compromise on design? At Livspace we believe that design and functionality go hand-in-hand. Therefore, while Marita made sure that this kitchen is power-packed, she also added little somethings to make it look designer. Notice how she has added a splash of yellow in the backsplash and that cute window ledge for everyday items like tea, coffee, sugar and so on. We also love how there's a small open spice rack next to the hob, on the wall.
What about maintenance, given the light colours?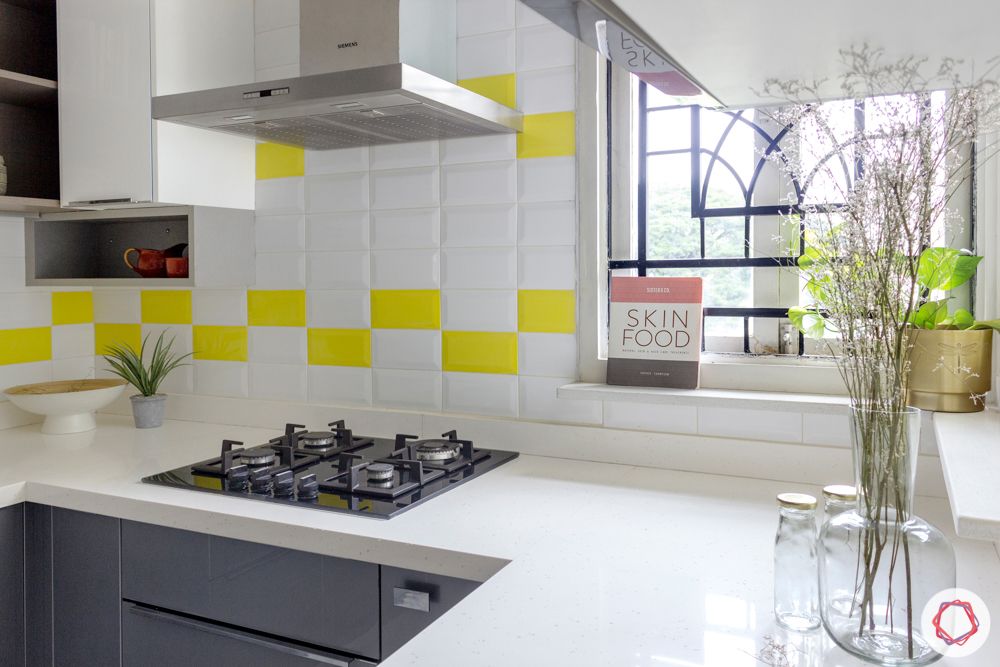 When you have kids at home and enjoy cooking, sometimes keeping your kitchen clean can be a challenge. And with a light colour scheme like this kitchen, we can only imagine how difficult it could have been. But Marita gave the couple Kalinga stone for the countertop that is white but can be swiped clean with a cloth. The ceramic tiles on the backsplash can also be cleaned easily. Glossy acrylic finish cabinets are also a breeze to maintain!
"It was a bit of a challenge to design this kitchen since I had very limited space to work with. But Vrushali knew what she wanted to an extent, which made things easy. I filled the space with storage and utilised each corner. The end result is quite satisfying."

-Marita Manavalan, Interior Designer, Livspace
Interested to see another lovely kitchen we designed in Bengaluru? Check this out: Compact & Efficient Kitchen on a Budget.
Send in your comments and suggestions.