You are bound to feel the warmth this home exudes as soon as you enter!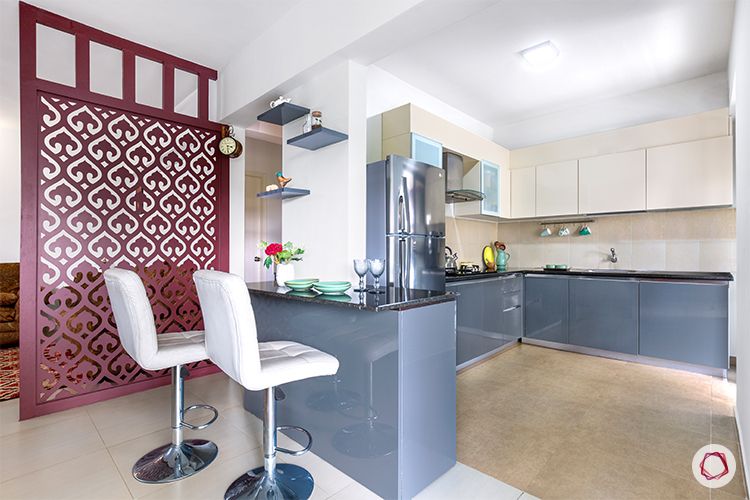 ---
Who livs here: Dhanikh Palassery with his wife Jaysha and 4-year-old daughter Deetya
Location: UKN Interlaken, Doddanekkundi, Bengaluru
Room Size: 1,150 sq ft approx.
Design team: Interior Designer Divyalakshmi with Project Manager Manoj Kumar
Livspace service: Kitchen & Wardrobes
Budget: ₹₹₹₹₹
---
Buying a dream house for your family can be quite a daunting task, not to mention, getting the interiors done! Our client Dhanikh Palassery's wife Jaysha had the task of finding the most suitable interior designer in the city. Coming from a product designing profession, aesthetics and design were crucial for Dhanikh. So when they found Livspace, it seemed like their home would be in good hands.
A few late-evening meetings and visits later, the journey to their dream home began with us! Additionally, designer Divyalakshmi proves that a stylish and minimalist household can be an attainable luxury, even with a little one running around. Take a look!
A Warm Welcome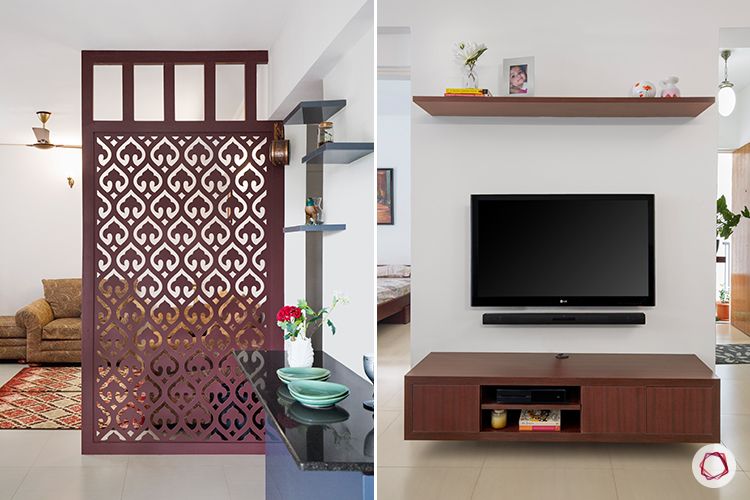 Upon entering this cosy Bengaluru address, I was greeted by this pleasing family of three relaxing happily in their living room. Post pleasantries, my eyes move directly towards an intricate jaali cut divider in Mahogany finish which stands pretty on my right. While talking to Divyalakshmi, their interior designer, I found out that the family, which hails from Kerala, loves Mahogany. Right opposite the sofas, the TV unit in Mahogany adorns the wall.
Designed smartly, the TV unit can conceal wires and therefore, the couple opted for panelling on the wall. The wall is kept blank, since the couple wanted their little one to do the damage first, and then cover up with wallpaper later. Smart, indeed!
Smart Kitchen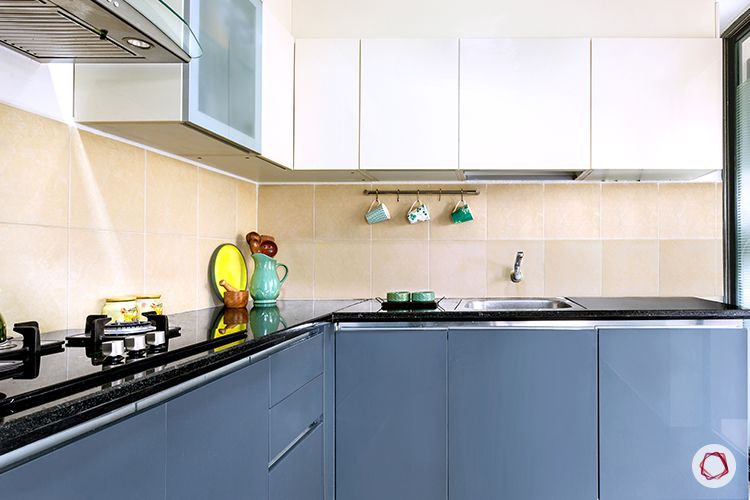 Divyalakshmi, with her unerring sense of design and functionality, gave the kitchen a complete makeover. Jaysha had complete authority to decide what she wanted in this corner of the house. She wanted a very easy-to-work-in modular kitchen, complete with drawers, cabinets, and dustbin and bottle pullouts. We also installed frosted glass shutters to keep things handy and accessible, yet concealed.
Breakfast by the Balcony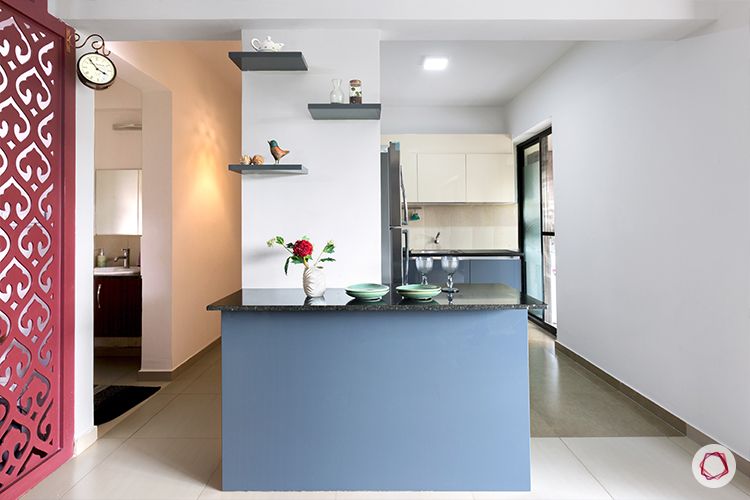 The breakfast counter doesn't just maintain aesthetics in the home. While it sits pretty at the entrance of the open-plan kitchen, it is also their daughter, Deetya's learning corner. She sits there and studies, while her mama cooks up a storm!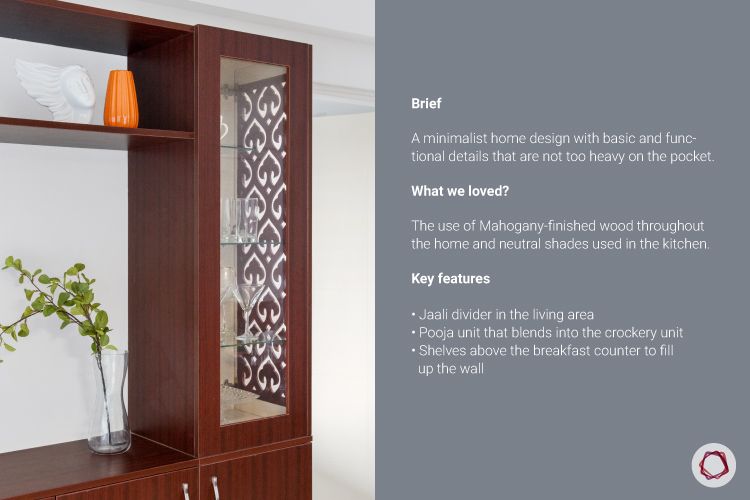 Smartly Designed Crockery and Pooja Unit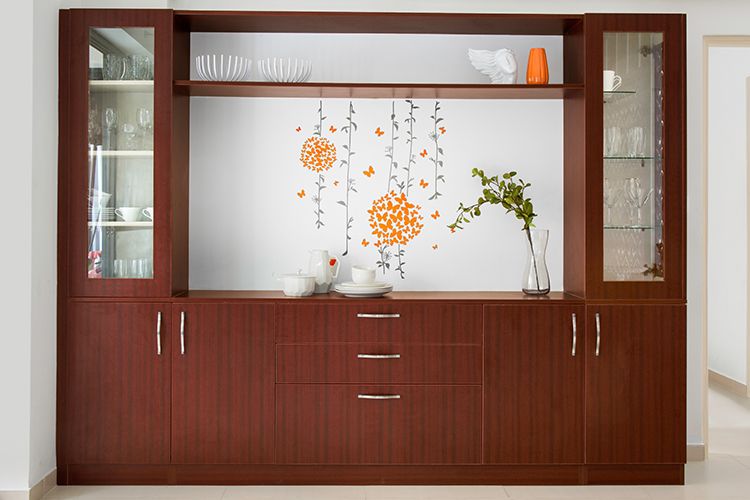 Dhanikh and Jaysha, both hail from families that love having crockery units at home. Therefore, Divyalakshmi has designed a customised version which is replete with plenty of space in terms of drawers, shelves, cabinets and an open shelf to store extra stuff while hosting parties.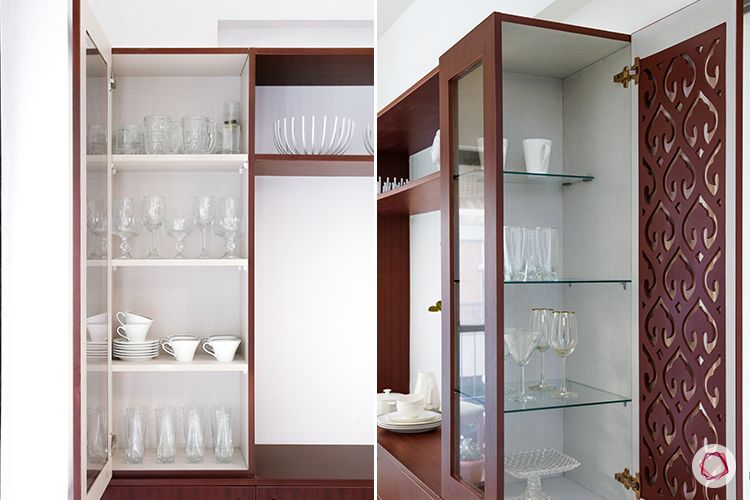 The jaali on one side of the crockery unit matches the jaali partition separating the living and the dining areas, to create a flow in design. Divyalakshmi designed this portion of the crockery unit in such a way that it can be used as a pooja unit, too. Also, glass shutters make it easy for the couple to display their exclusive dinnerware in style!
Spacious and Sensible Storage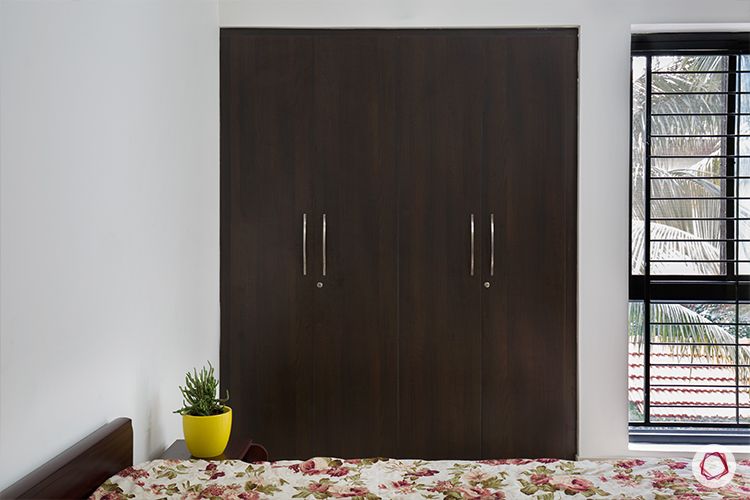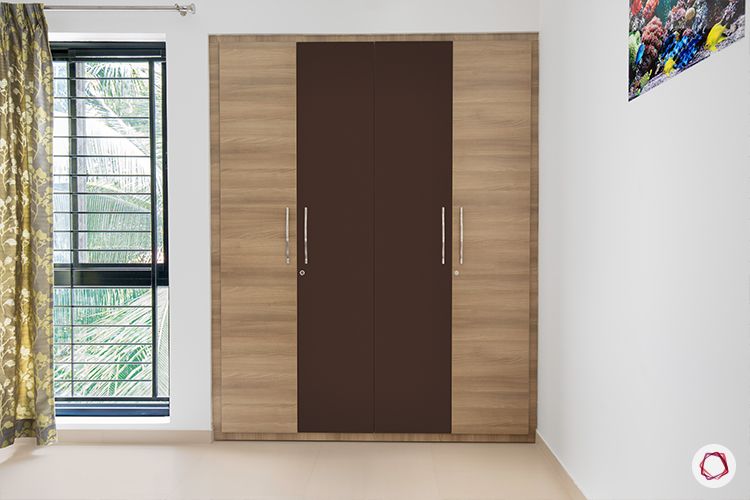 The wardrobes in the master and the kids' room are customised completely to each one's needs. Dark Walnut and Acacia finishes add warmth to the wardrobes, and sleek stainless steel handles make sure that they are long-lasting and easy to operate.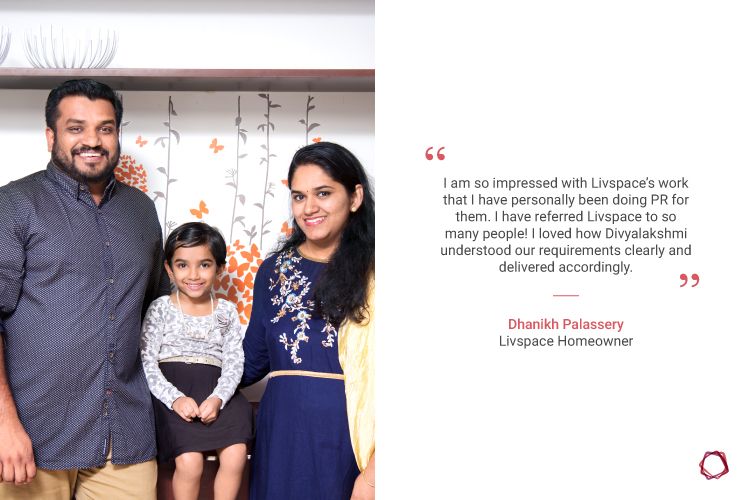 ---
"We used to have a lot of late evening meetings and odd visits to the experience centre to decide upon various things. But, the couple was lovely to work with, and they knew exactly what they want. This made it easier for me to design and deliver perfectly!"

Divyalakshmi, Livspace Interior Designer
If you loved this Bangalore home's interior design, we're certain you'll find this home in Yelahanka endearing as well. Take a look!
Disclaimer: All contents of the story are specific to the time of publication. Mentions of costs, budget, materials, finishes, and products from the Livspace catalogue can vary with reference to current rates. Please get in touch with a designer for more details on pricing and availability.
— editor@livspace.com