A Nirala Aspire flat designed by Livspace!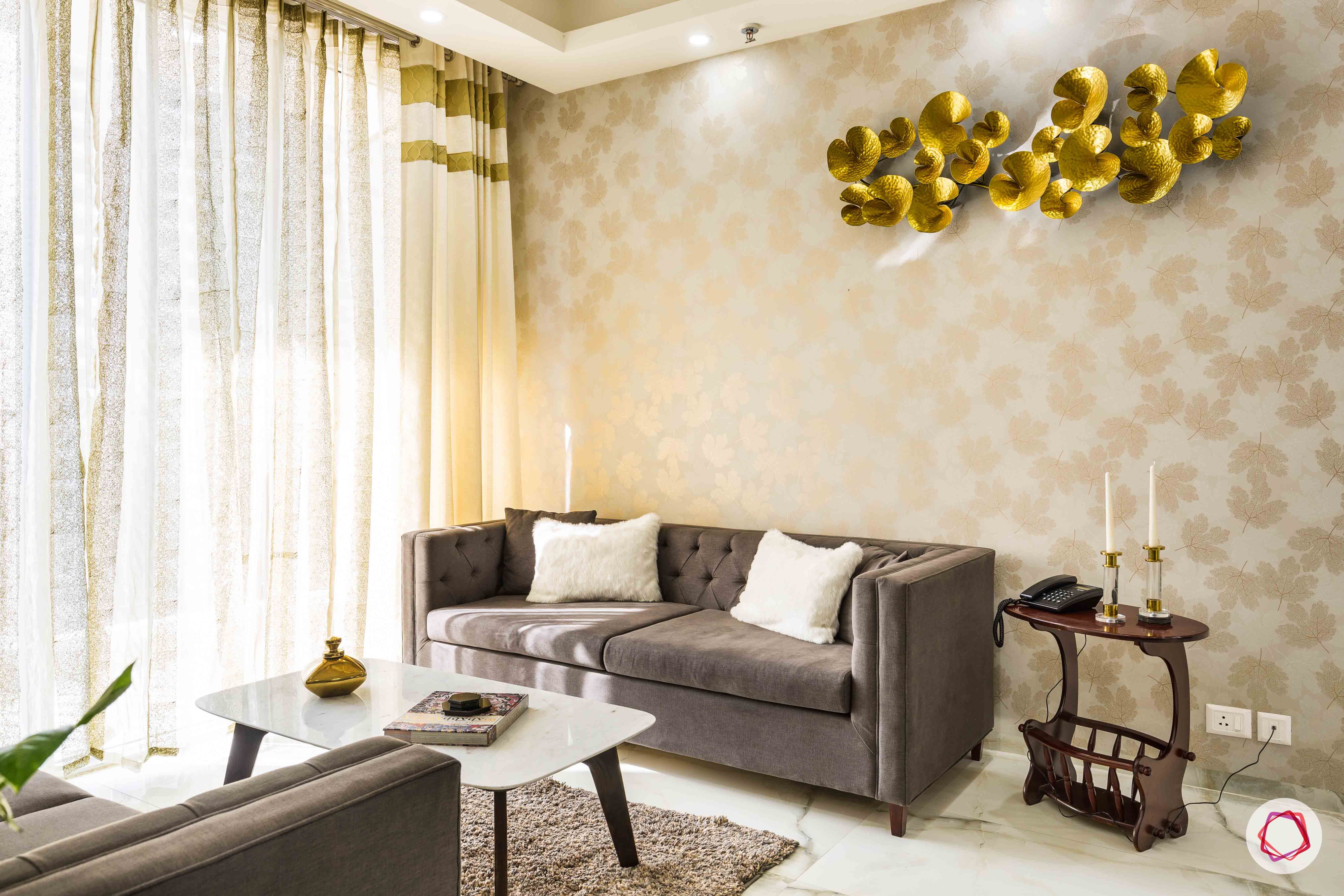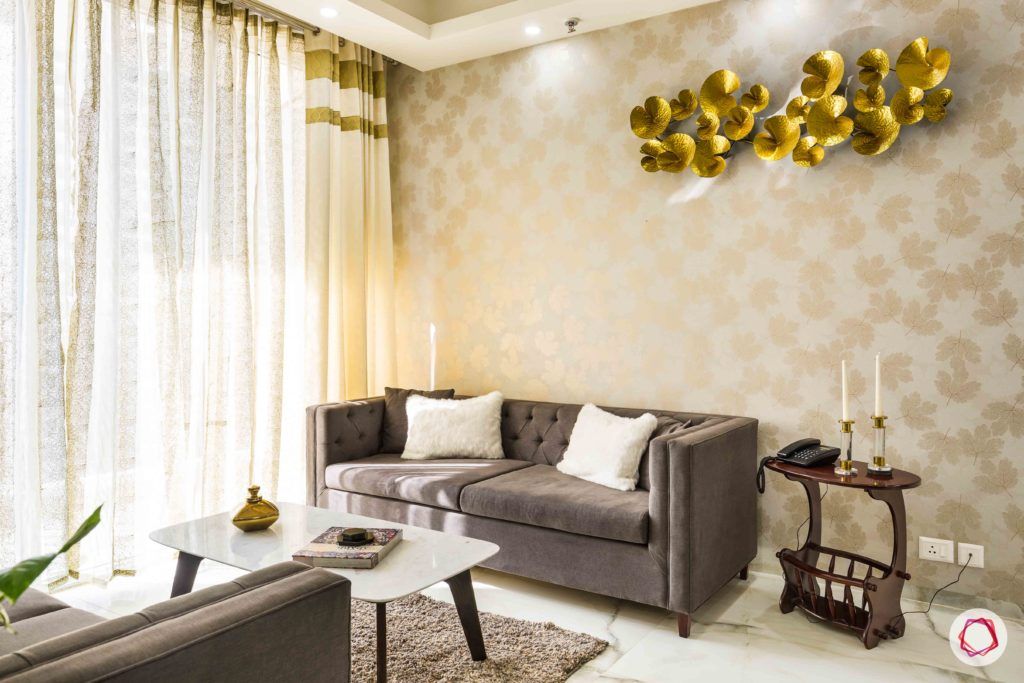 ---
Who livs here: Anil and Anu Saroha with their two children, Aarshia and Aarav
Location: Nirala Aspire, Sector – 16, Greater Noida
Size of home: 4BHK spanning 2,450 sq ft
Design team: Interior designer Ojasvi Gombhar
Livspace service: Full home design
Budget: ₹₹₹₹₹
---
Basking in abundant sunlight is Anil and Anu Saroha's new address in Nirala Aspire. This particular Noida flat is very close to their hearts because the family had finally found their forever home after an extensive house hunting period. So it only made sense they wanted picture-perfect interiors for their swanky new flat! Enter our designer Ojasvi Gombhar, who was excited to deck up their sprawling 2,450 sq ft home.
"They wanted a contemporary and classy home," explains Ojasvi, "They wanted it to look dreamy and inviting where everything had a place for everything. No clutter and plenty of breathing space."
While Anil works in IT and Anu does coaching for students, their son and daughter too had a few ideas of how they wanted their room to be. Keeping white as the base colour palette, Ojasvi crafted a complete home, from the elegant flooring to gorgeous wall treatments and everything in between. Let's walk right in!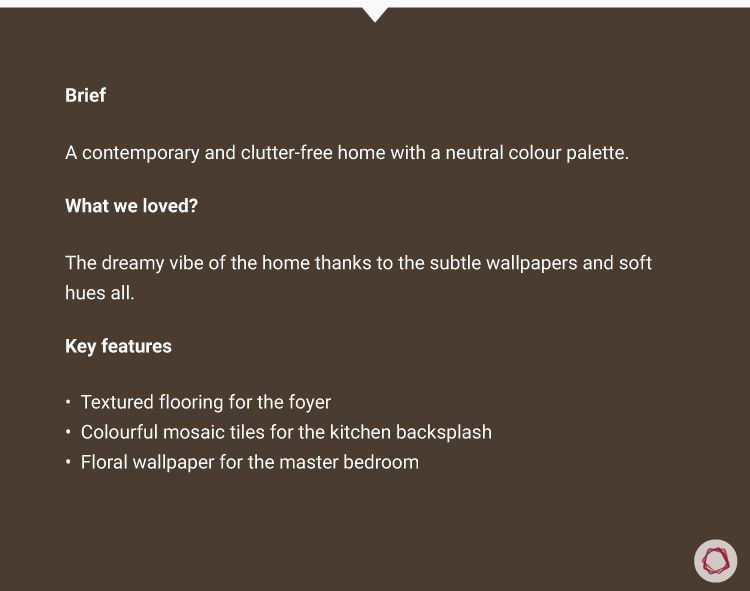 Nirala Aspire Apartment Design: A functional and classy foyer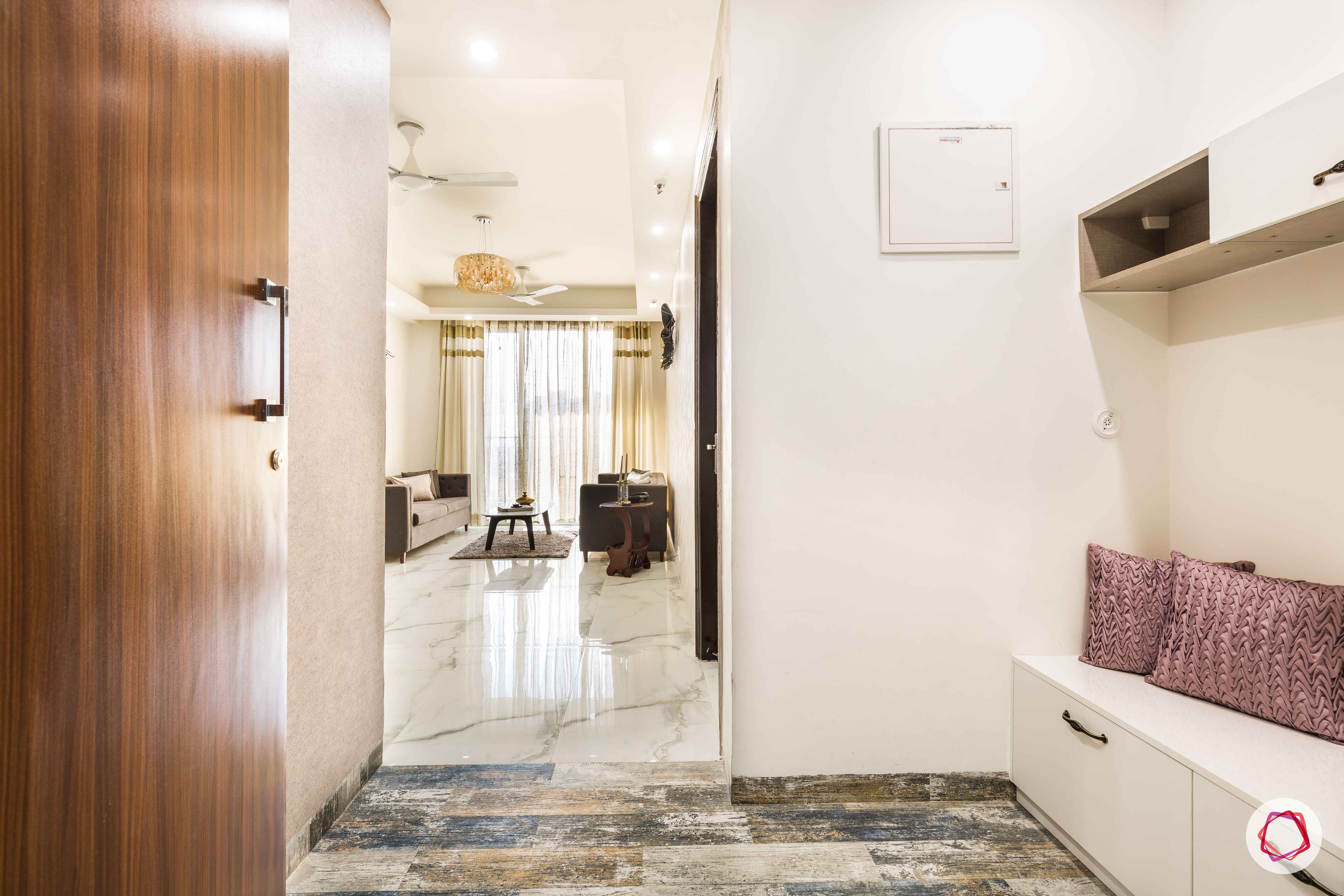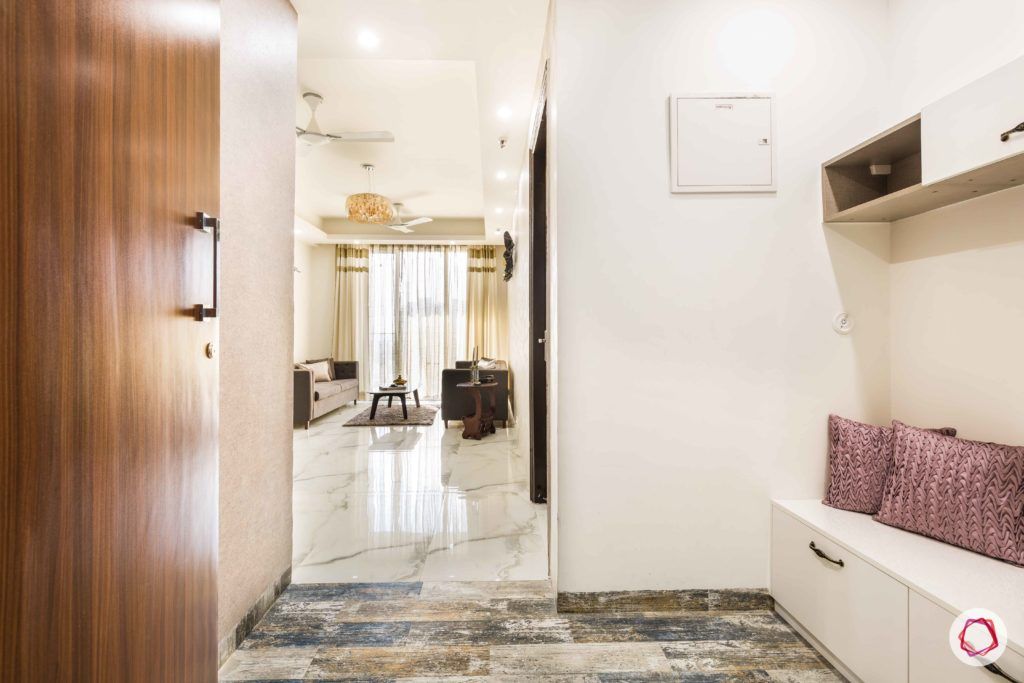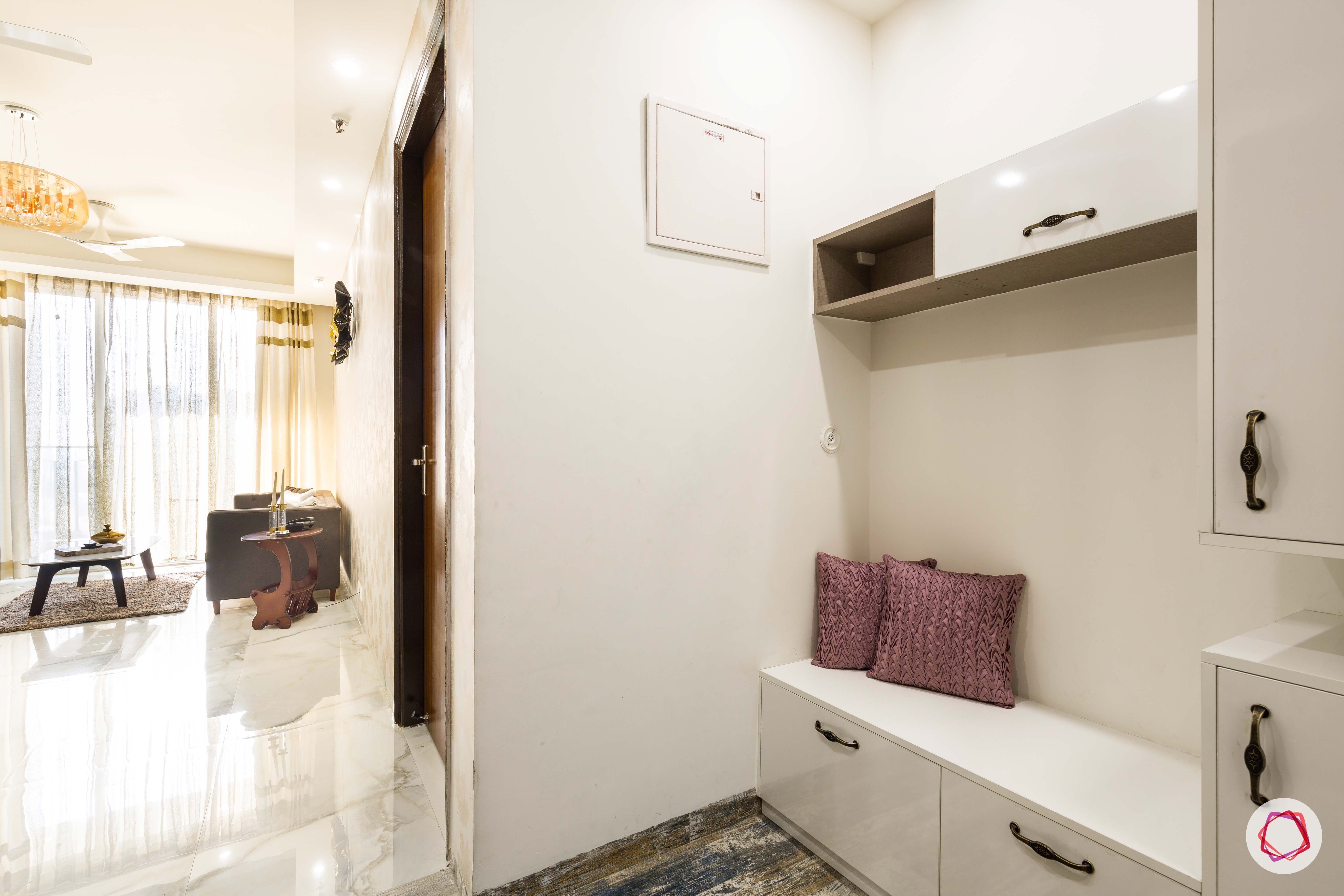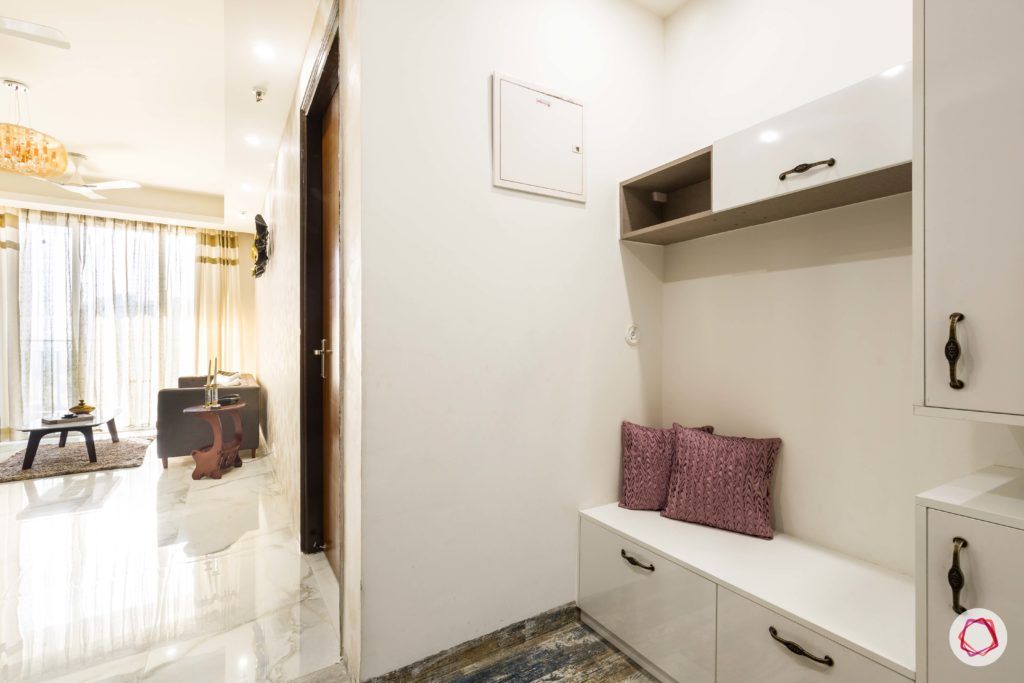 Most of us picture shoe cabinets as bulky or tall units. But here's a minimal unit that can easily pass off as sleek furniture. With country style handles, plenty of storage and a low seating feature, we love how functional the space is!
Notice the colourful flooring? This is a rugged textured flooring that's ideal for entryways. People could come in, sit on the low bench and take off their shoes in comfort. While one wall is in a light pink hue, the other side of the wall features a subtle wallpaper, where the family will eventually hang photographs and artwork.
Nirala Aspire Apartment Design: Glorious Greys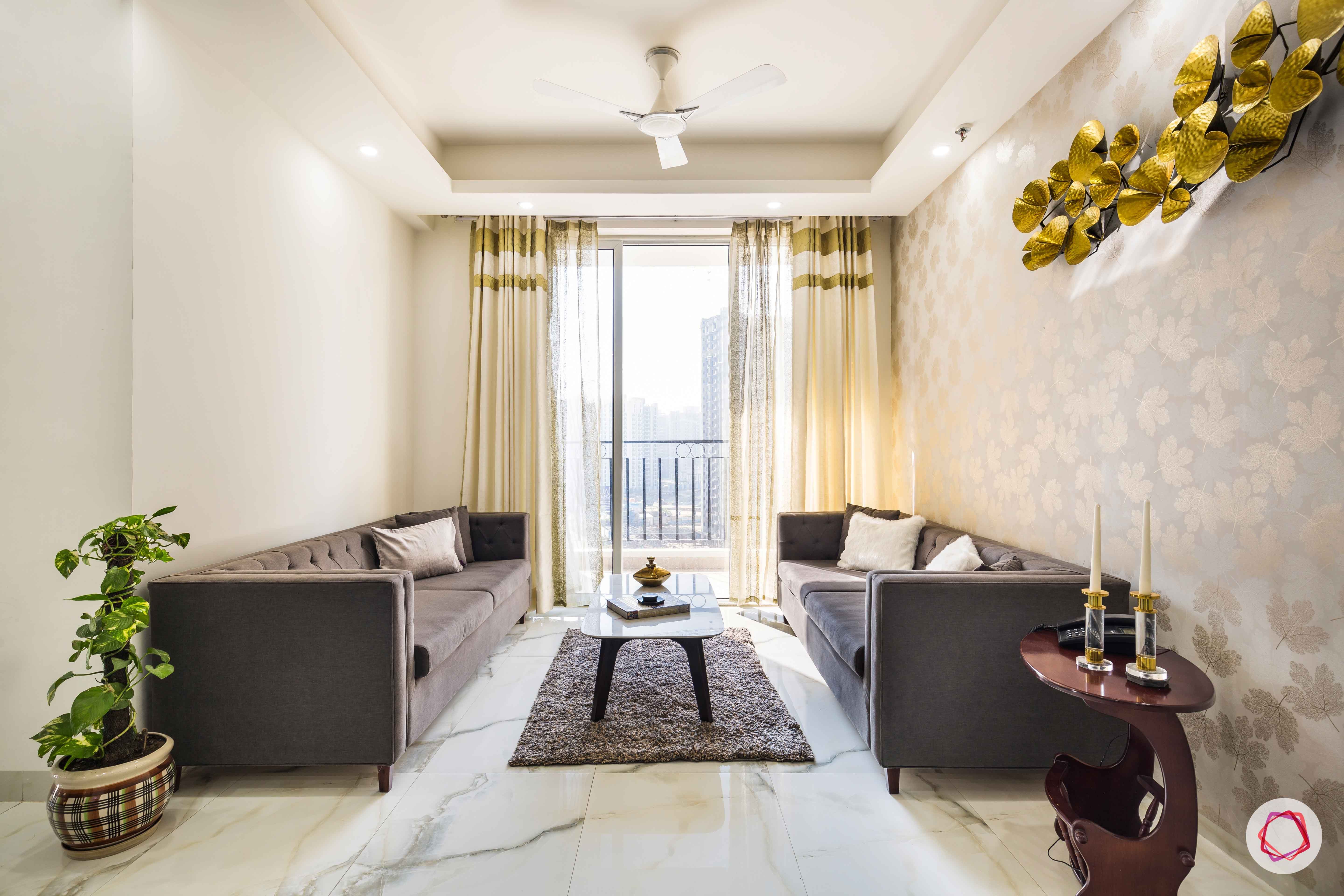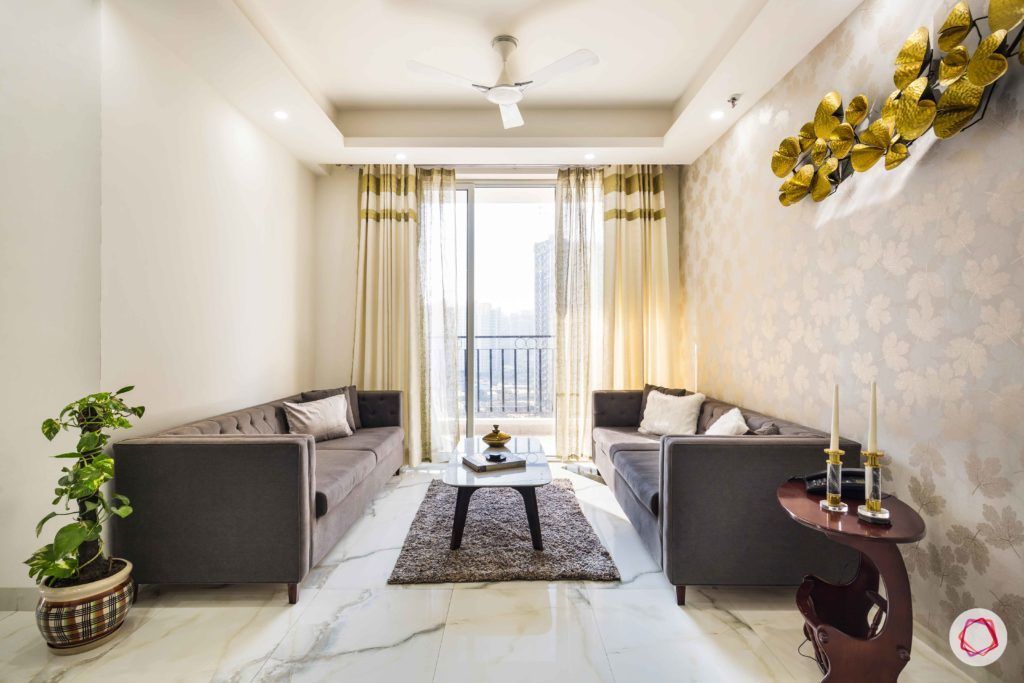 The living room is purposely kept minimal. As a result, there's no blocking of all that lovely sunlight pouring in. It houses two grey tuxedo sofas, a pristine white coffee table and a wooden side table. A metallic leaf wallpaper serves as the perfect backdrop for this space.
"We love our home right from the entrance! Our designer Ojasvi Gombhar did a really good job in translating our thoughts into reality. From the white base palette to the wallpapers and the contemporary vibe, everything is just perfect!"
Anil & Anu Saroha, Livspace Homeowners

Nirala Aspire Apartment Design: Dine in Style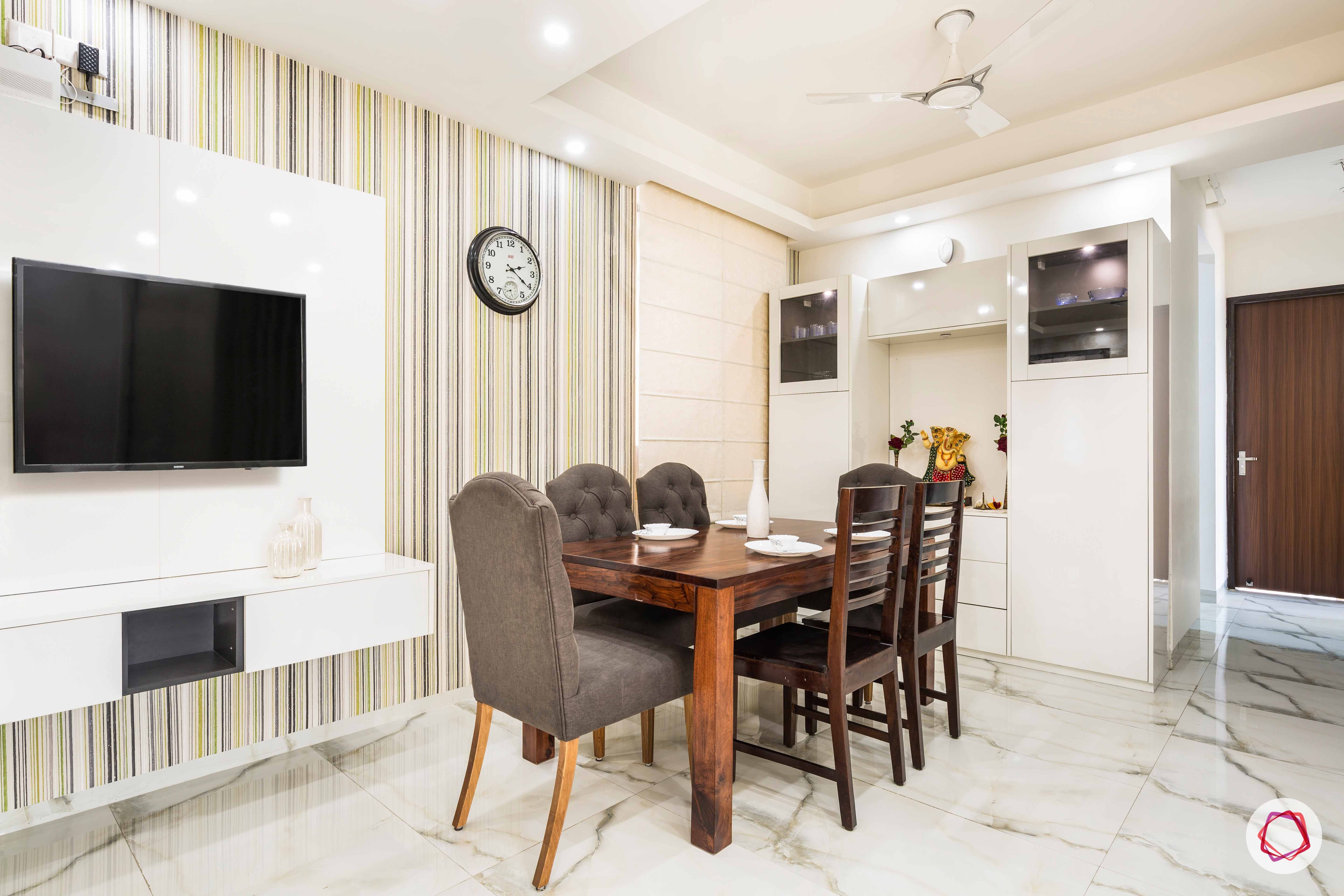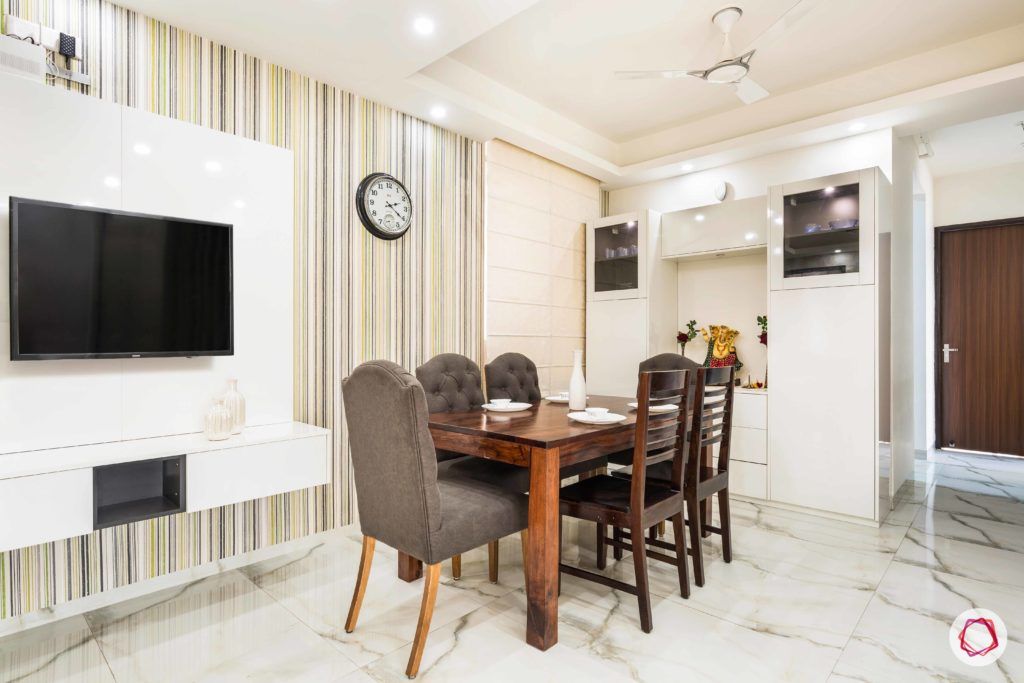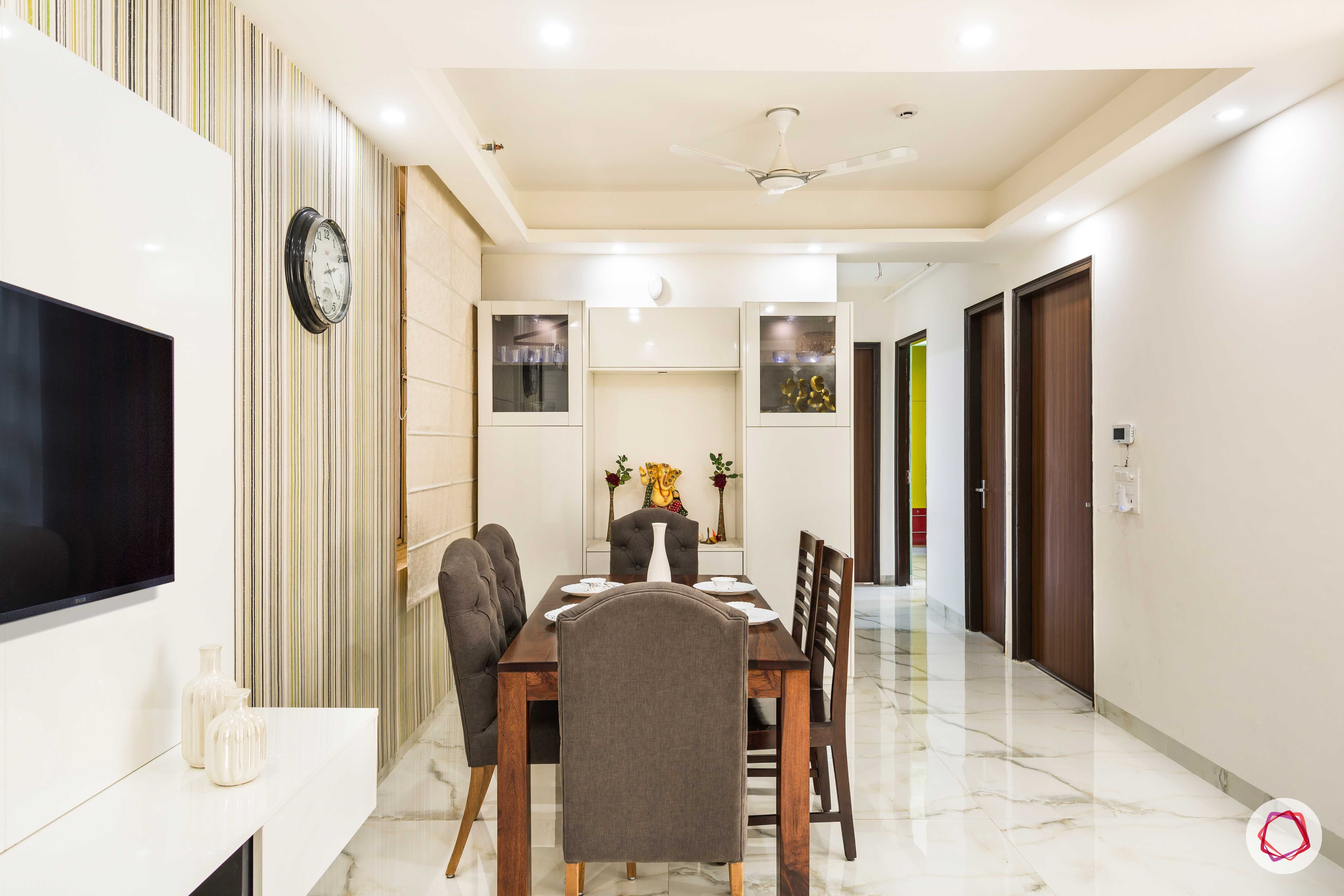 Notice how the space is devoid of partition walls? This is to keep the living and dining as one airy and spacious room. As a result, Ojasvi thought of another way to make a subtle disctinction in space. She put up an intriguing wallpaper with colourful vertical lines for the dining section, where a white laminate TV panel is mounted. A wooden table and grey upholstered chairs make up for the dining nook. Two extra wooden chairs are also placed that can easily be moved to the living room for additional seats.
Behind this, stands a white laminate crockery unit. While the unit houses plates and glasses on either side, the middle section is used as a pooja as per vastu.
Nirala Aspire Apartment Design: A bright and elegant kitchen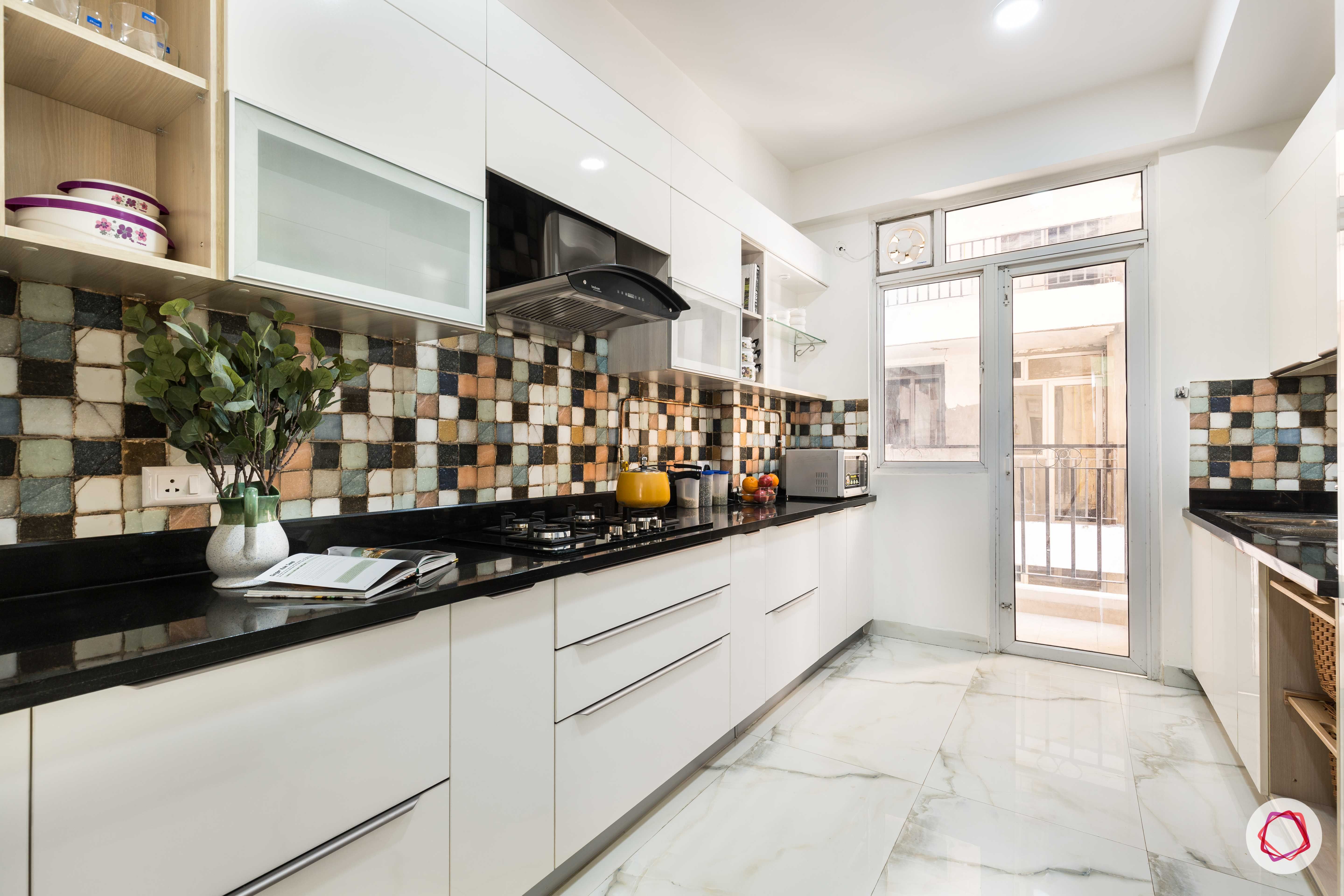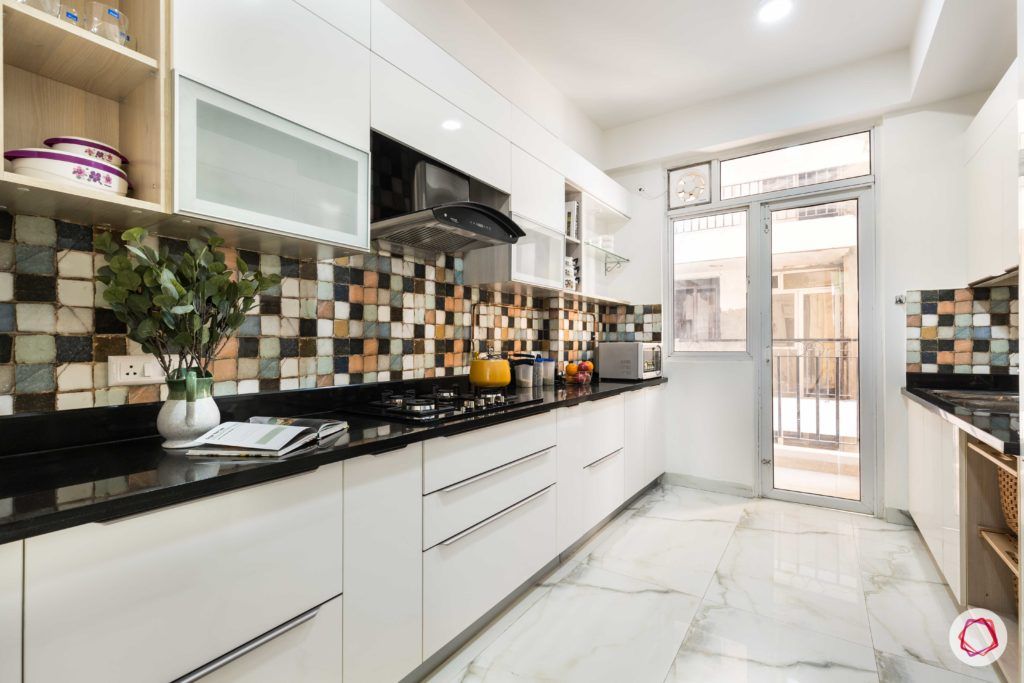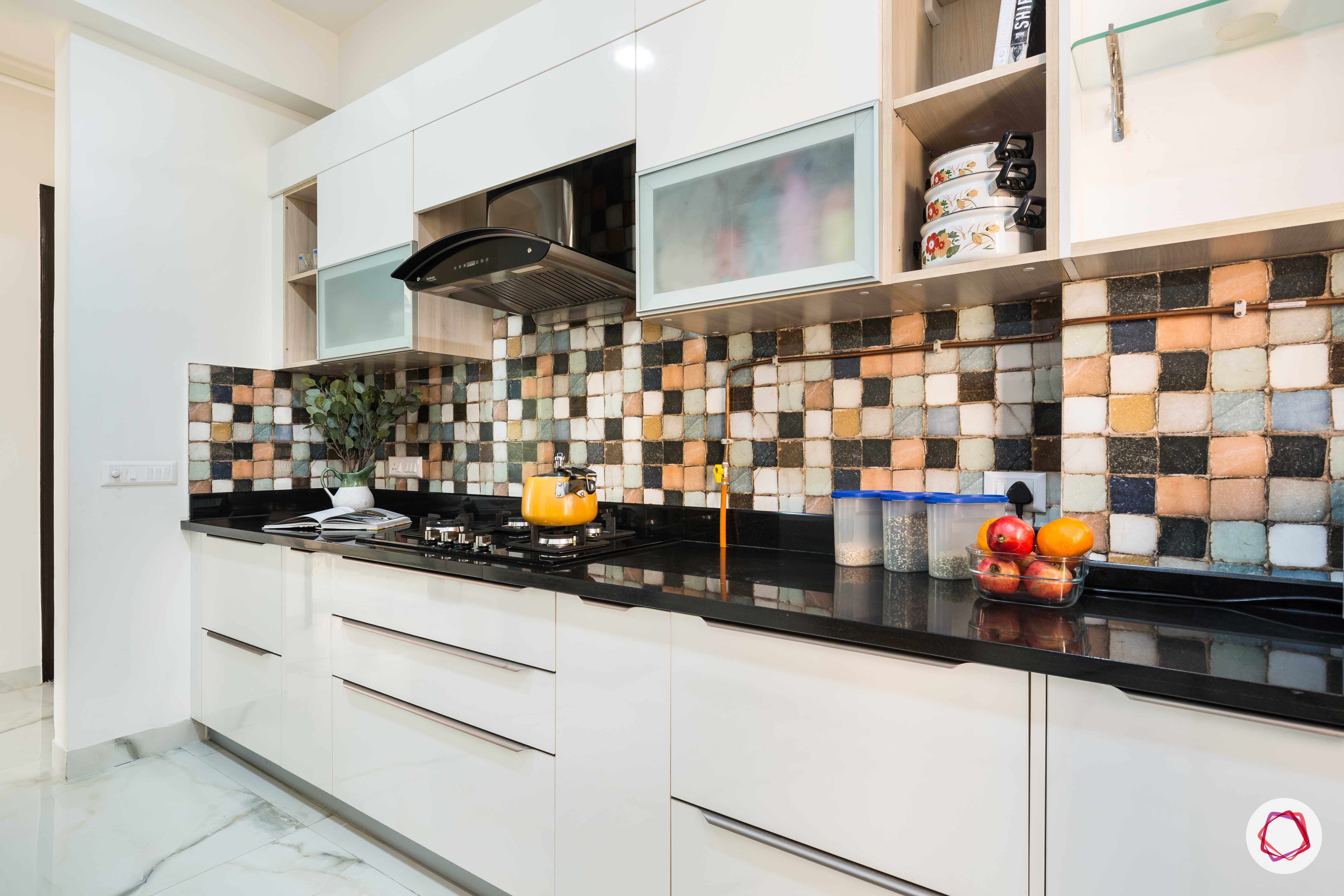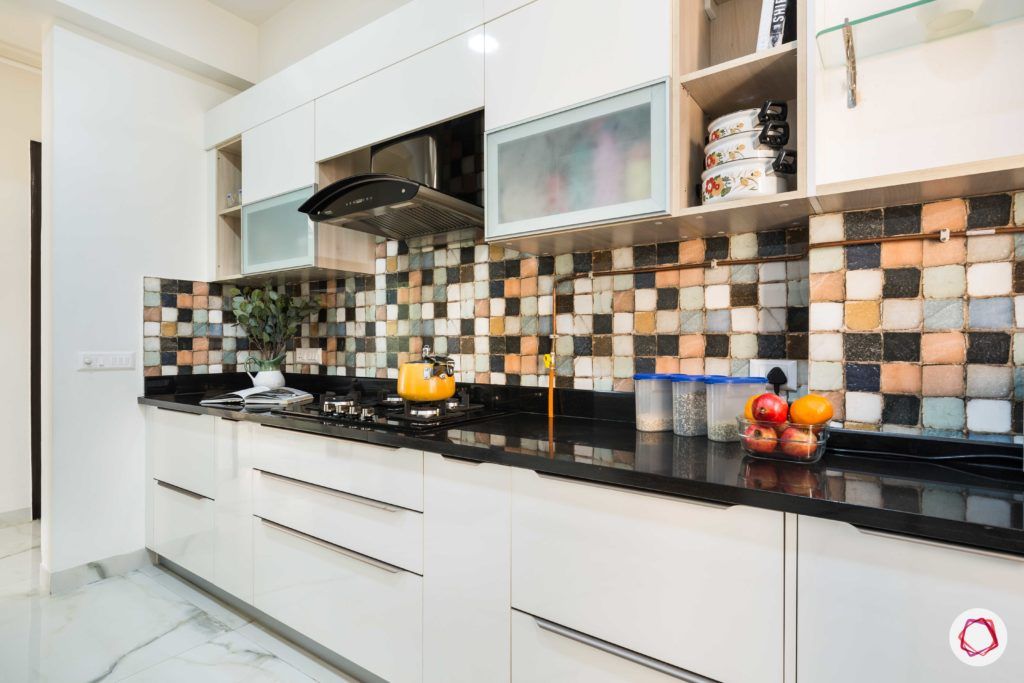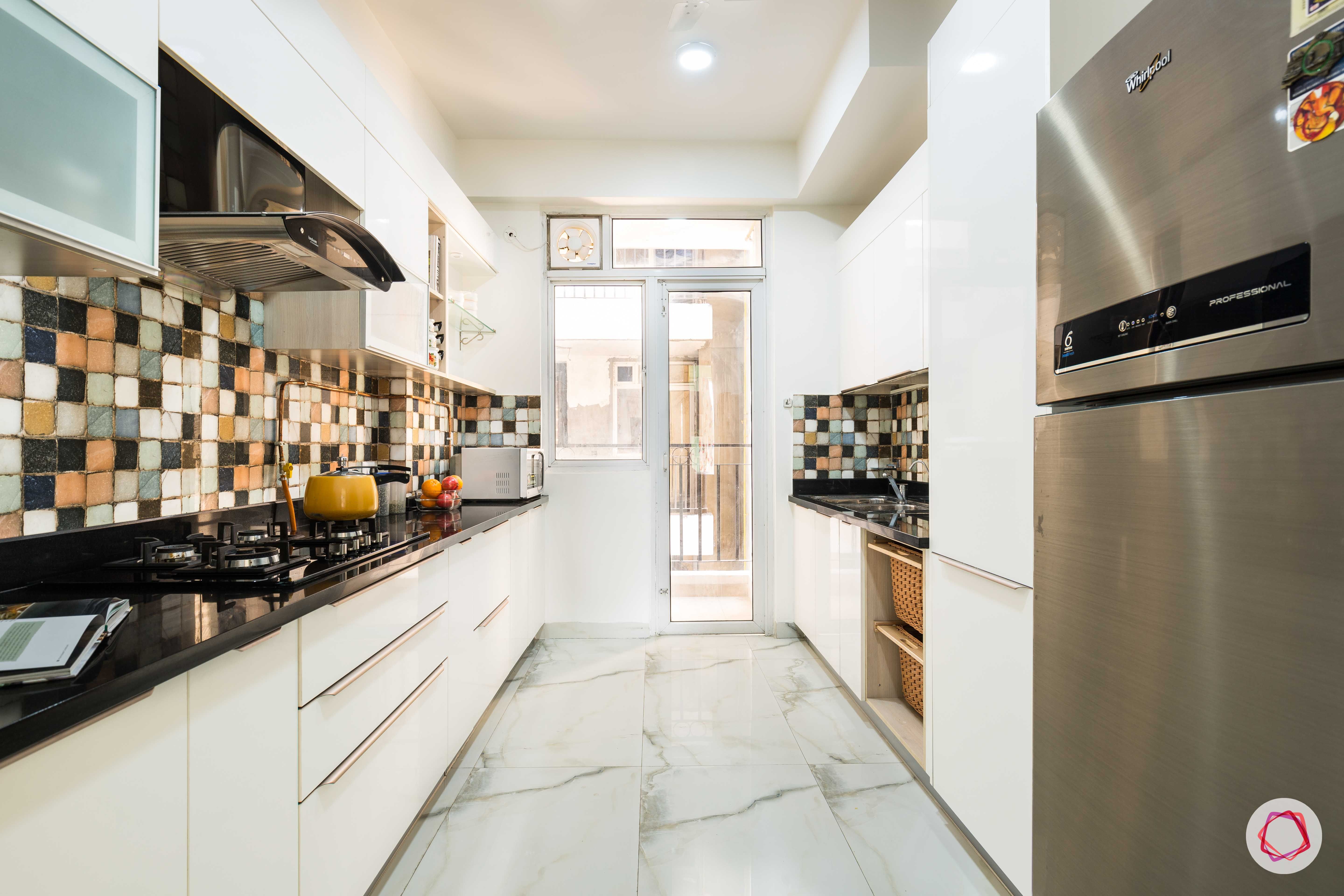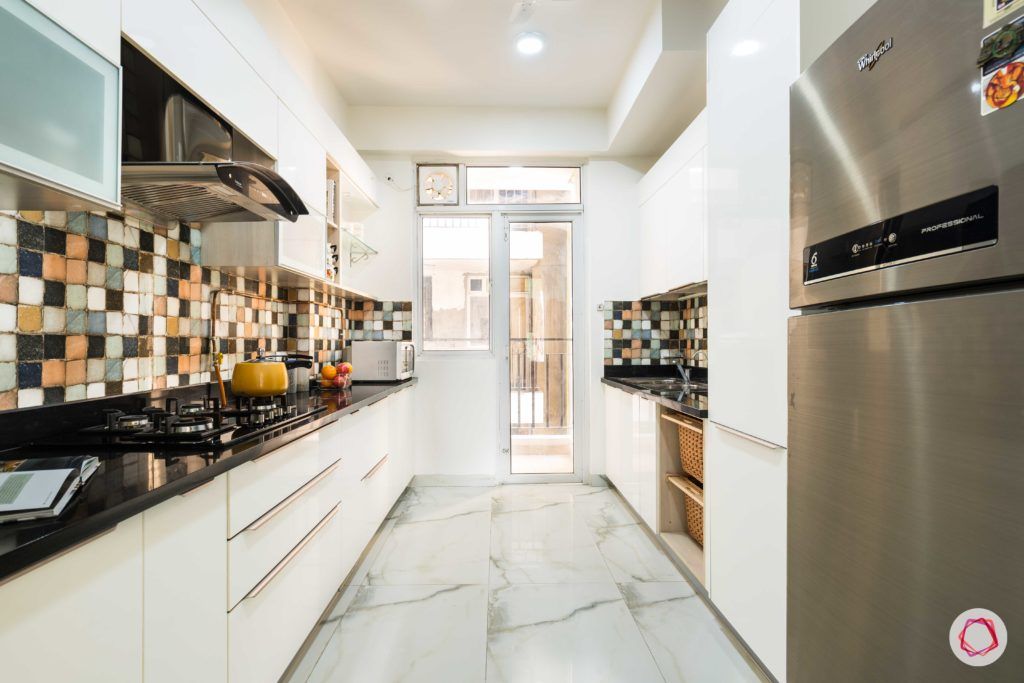 You can never go wrong with a pristine white kitchen. While the overhead and base cabinets are in white laminate, the backsplash tiles stand out in colourful mosaic tiles. The storage-packed kitchen is fitted with wicker baskets, tall units and cabinets all around with edge profile handles. Moreover, the jet black granite countertop completes the look.
Nirala Aspire Apartment Design: Sweet dreams are made of these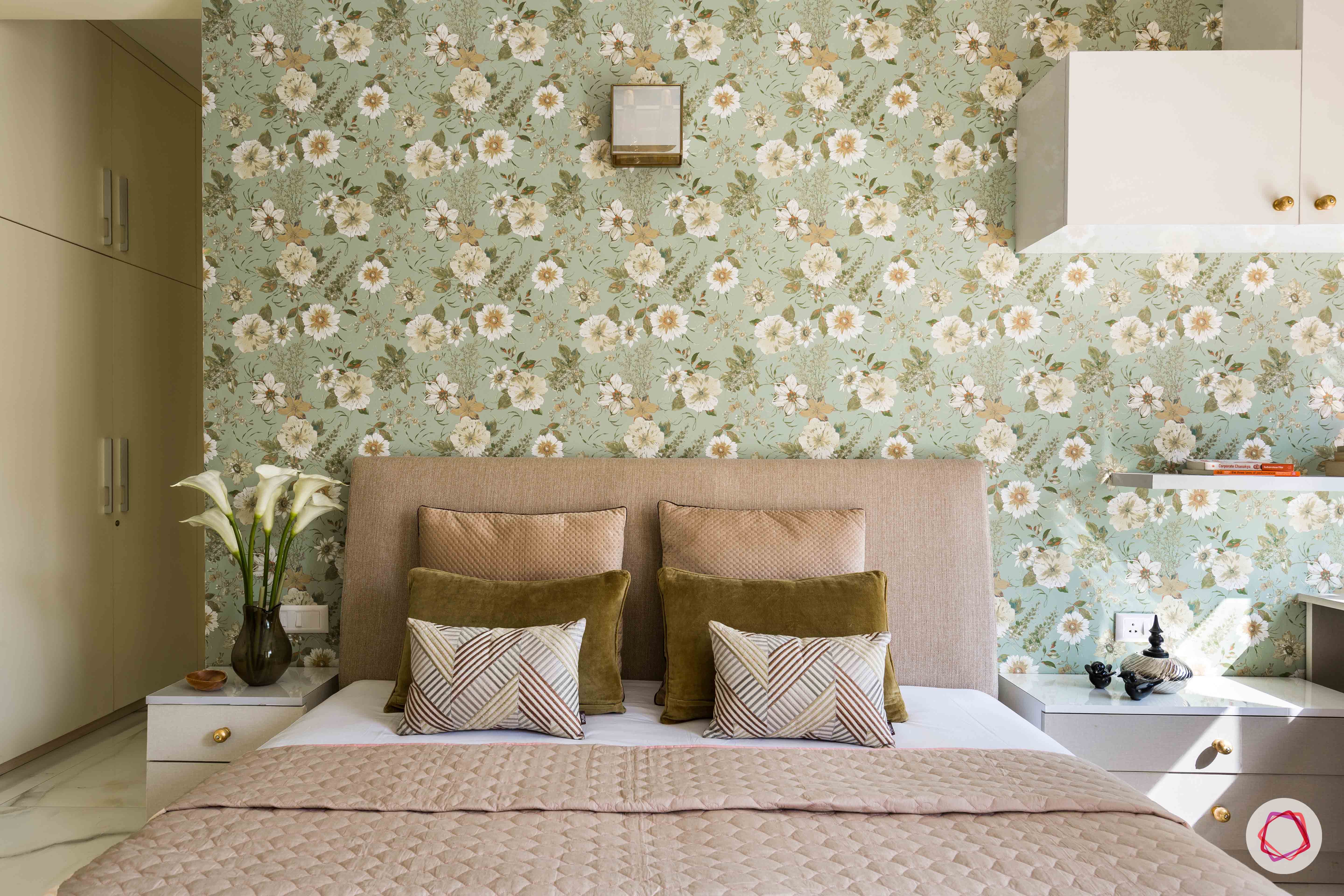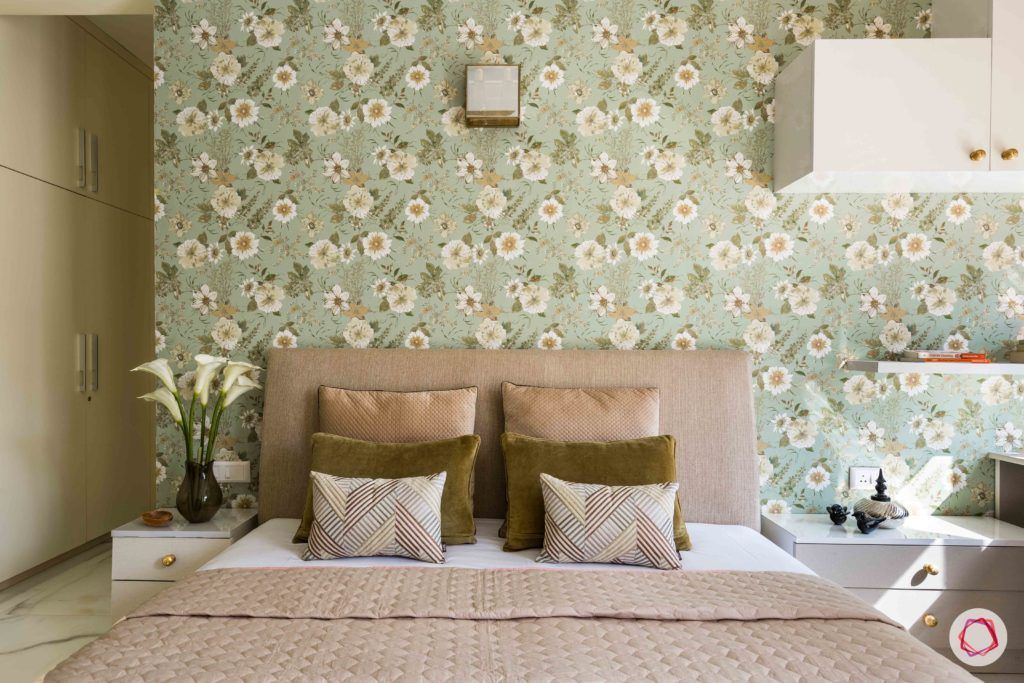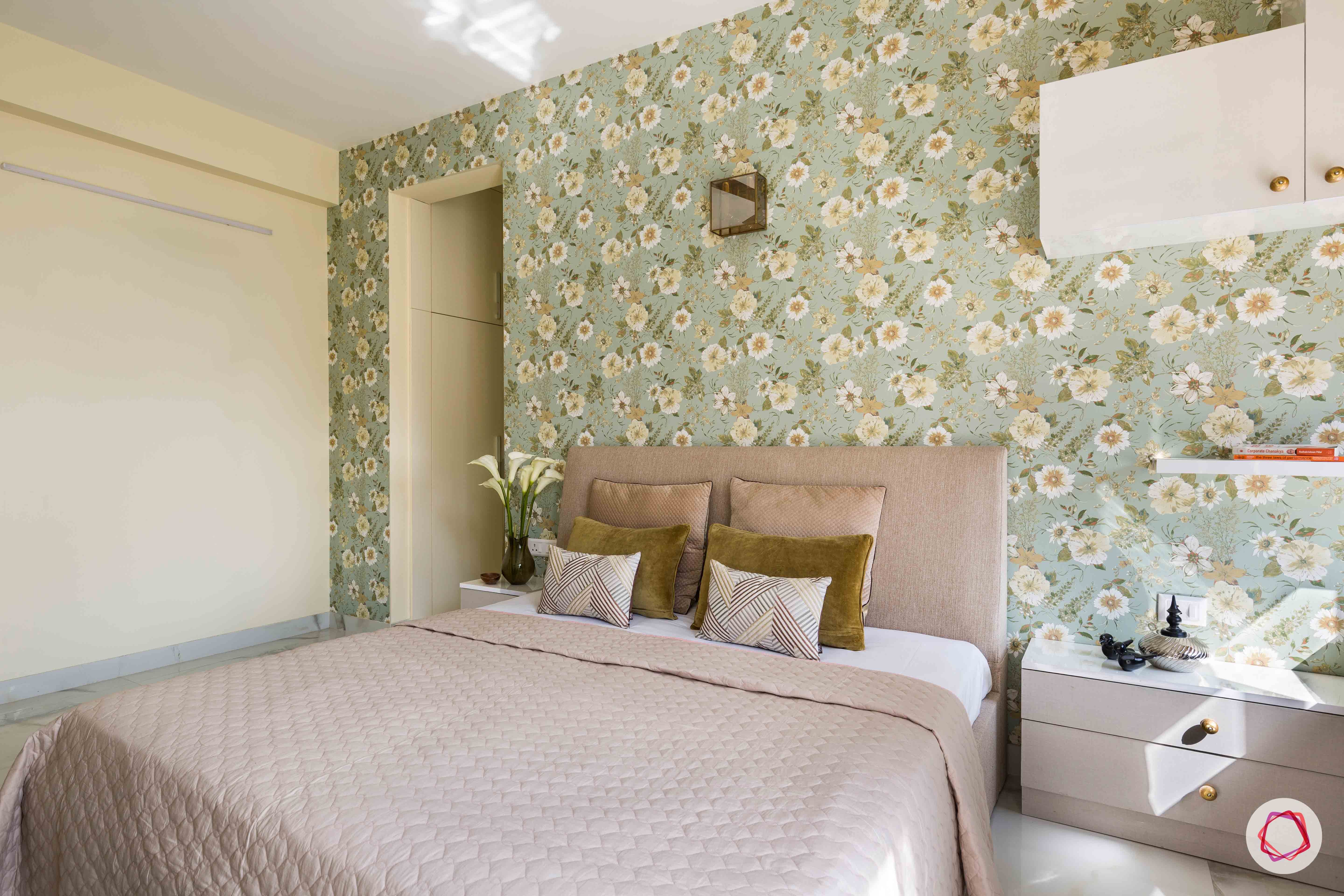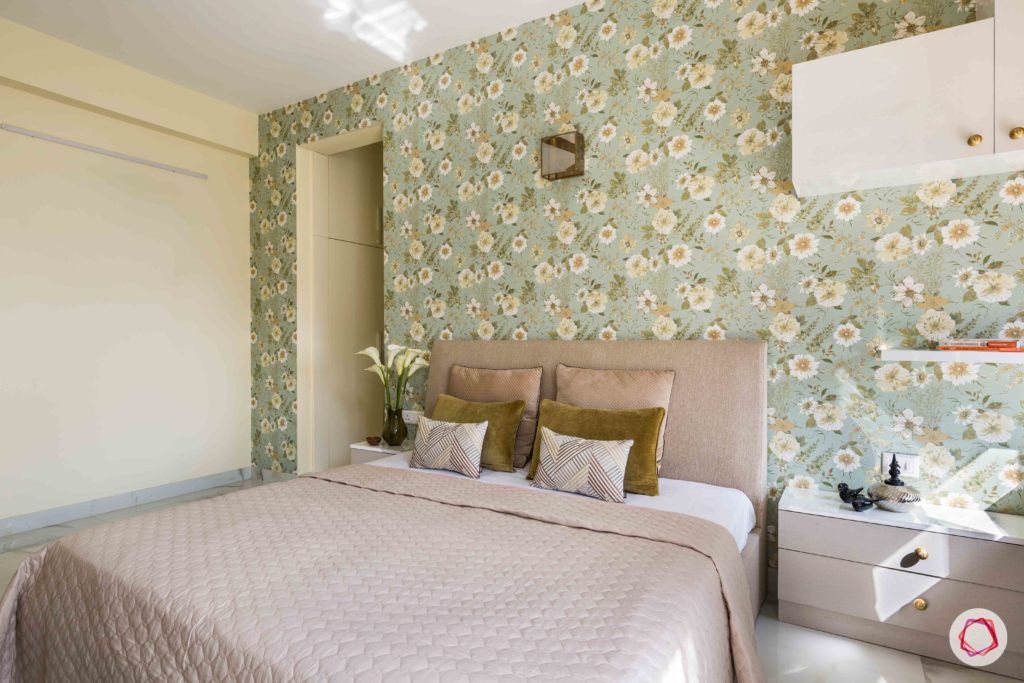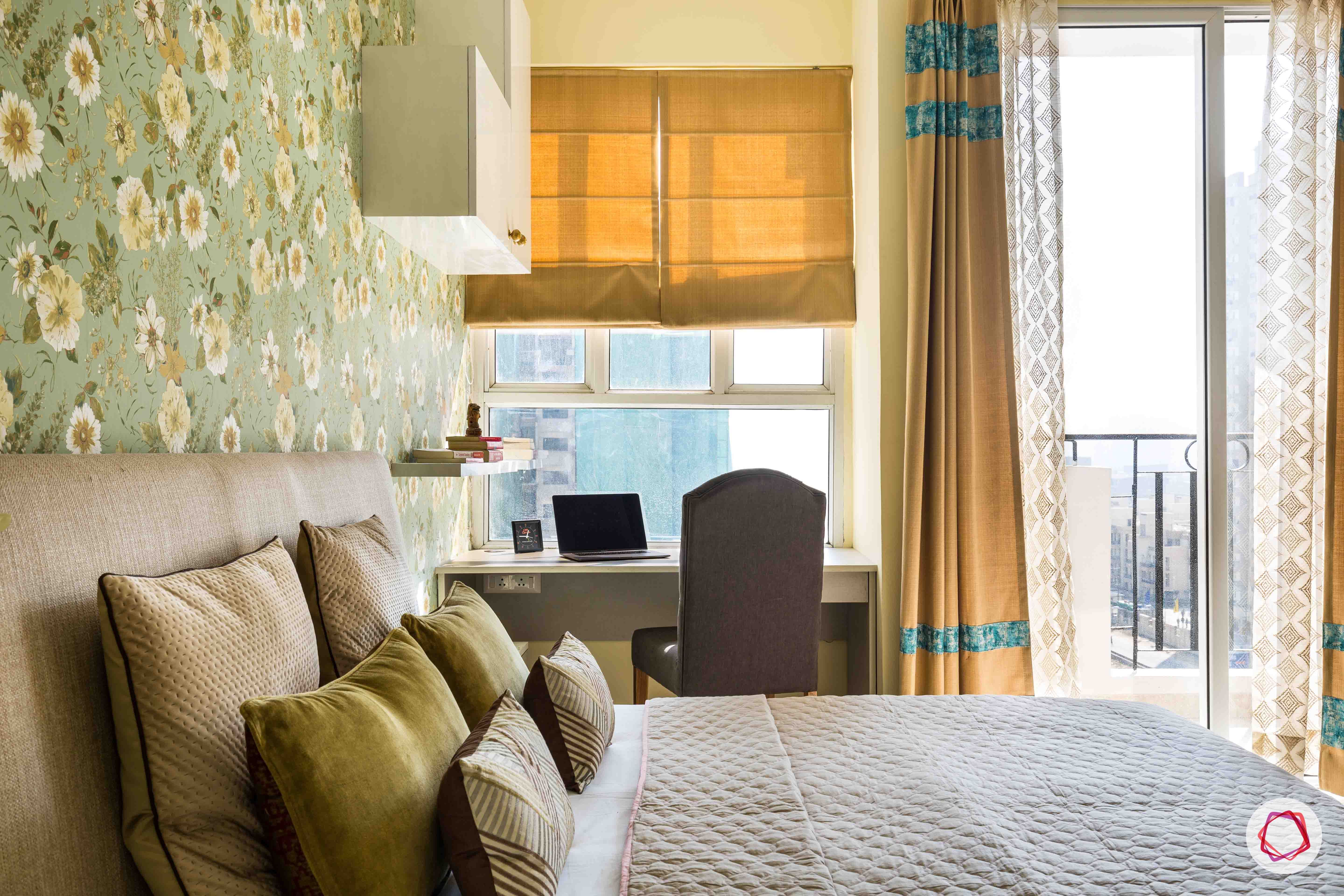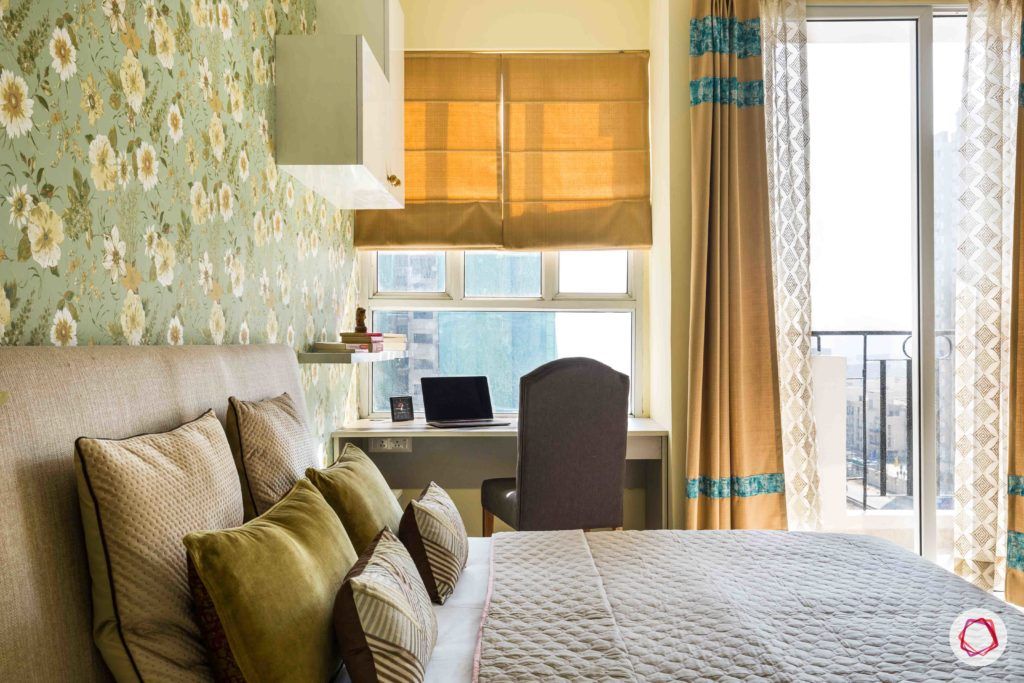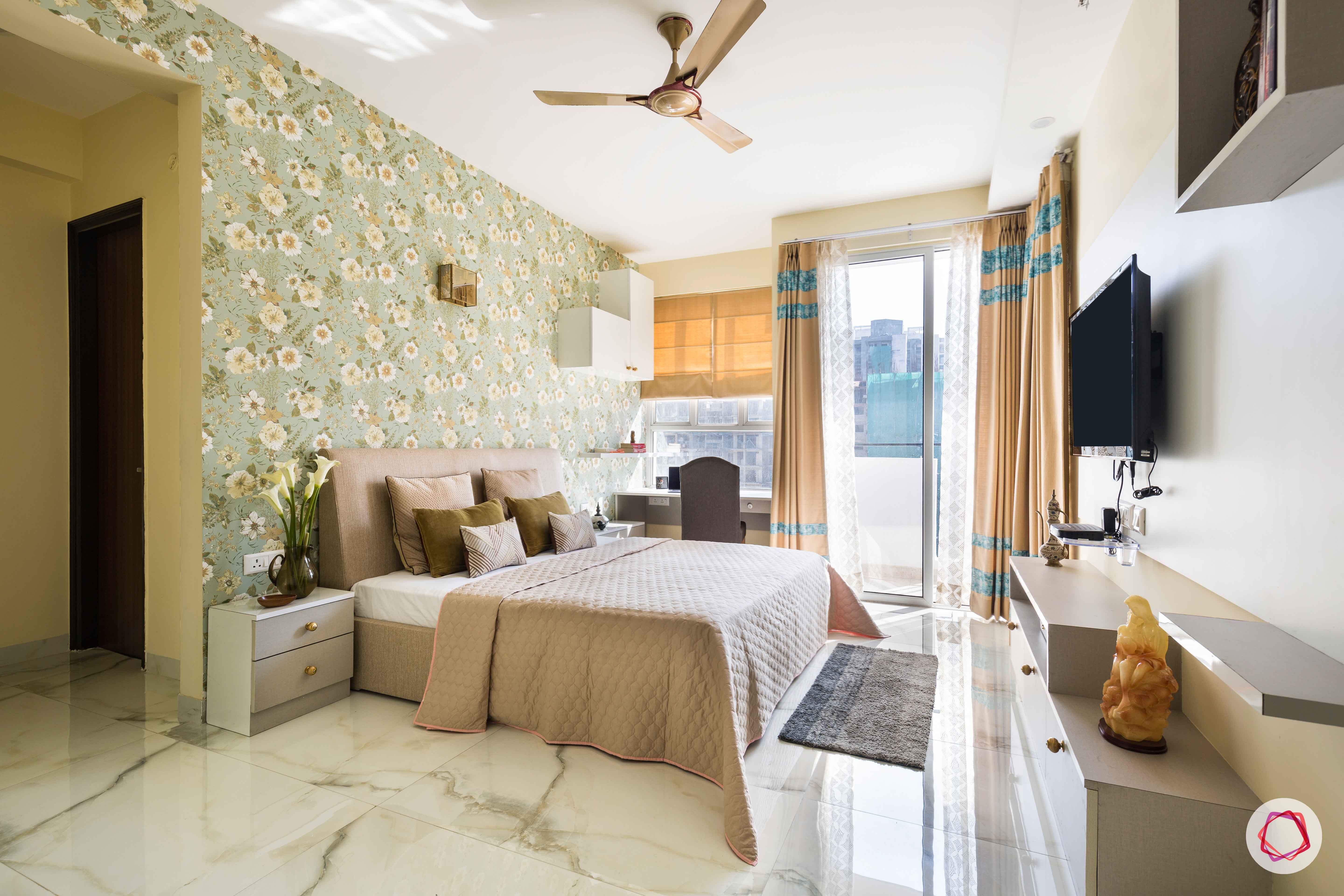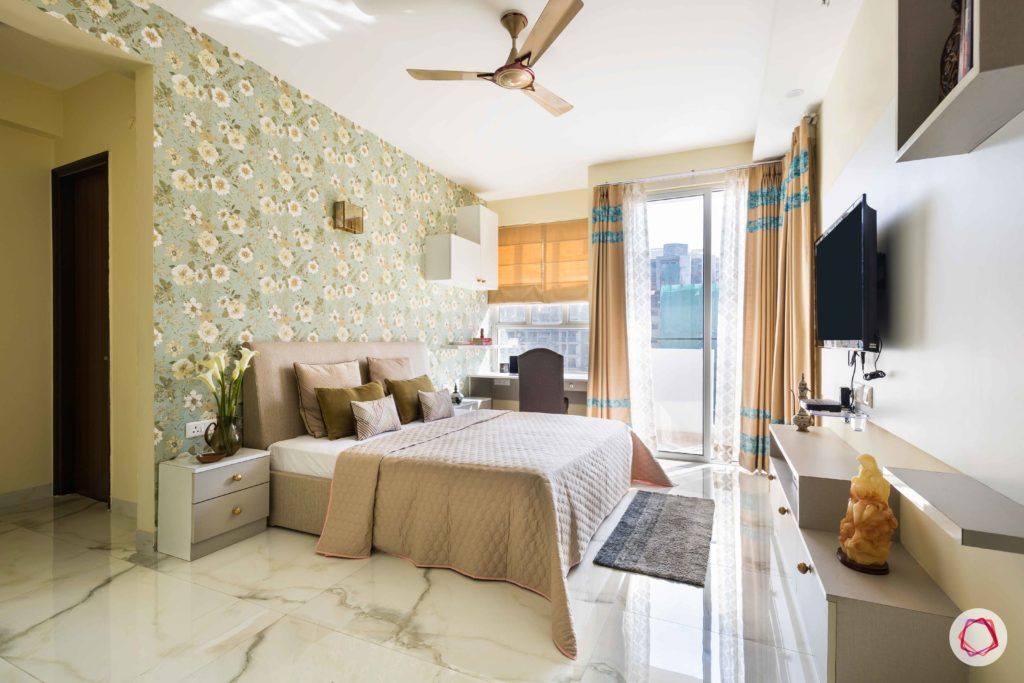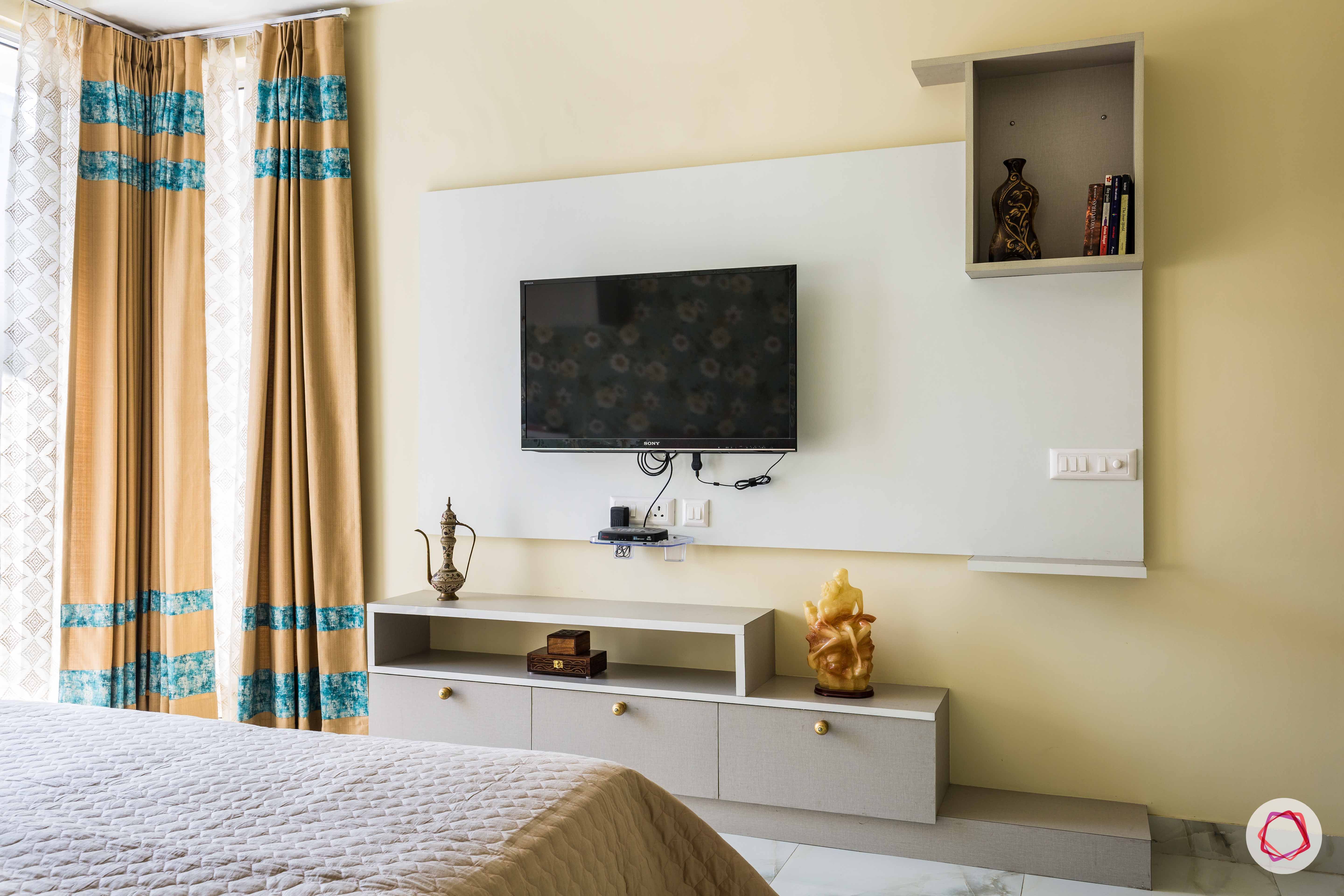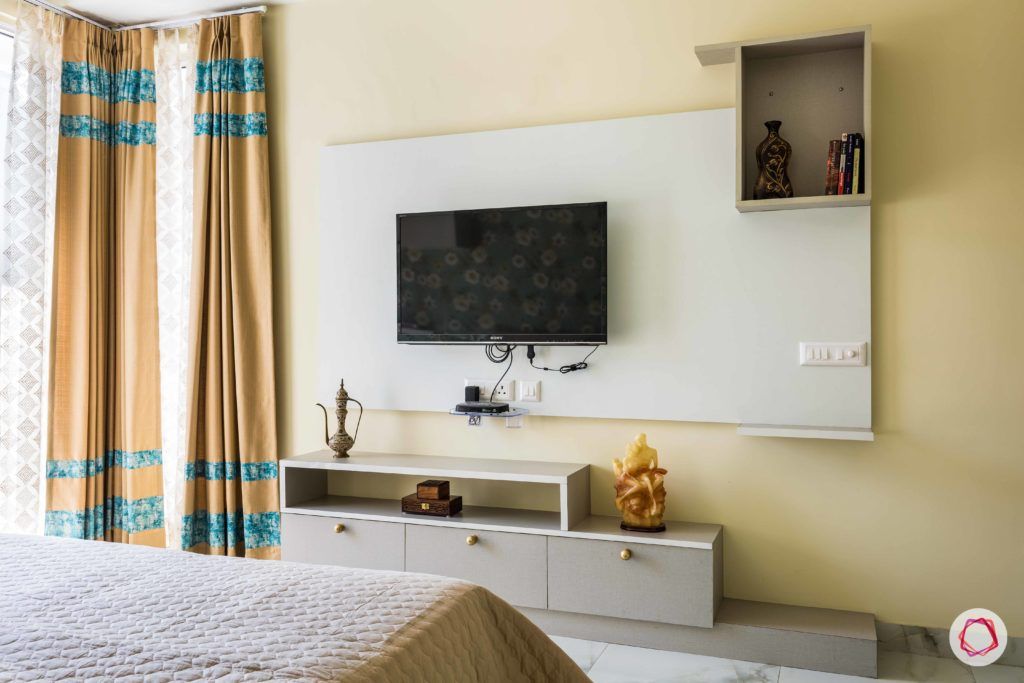 Anu loves anything floral. Since the master bedroom is huge, Ojasvi maximised its full potential and covered the entire centre wall in an elegant floral wallpaper. We especially love how it doesn't look overpowering. While the headboard is a subtle khaki colour, it complements the high gloss laminate side tables that are in gorgeous hazel cambric.
Because Anil loves to read, Ojasvi added a lone shelf for him to stack his current books and a no-fuss study table. An elegant TV unit featuring a sleek panel, open shelves and drawers dressed with gold knobs soften the bedroom as well. A walk-in wardrobe in the corner nook flaunting the same hazel cambric colour offers plenty of storage. Also, thanks to the L-shaped window, the room basks under abundant sunlight. All ticks for a gorgeous home!
Nirala Aspire Apartment Design: A minty fresh kids' bedroom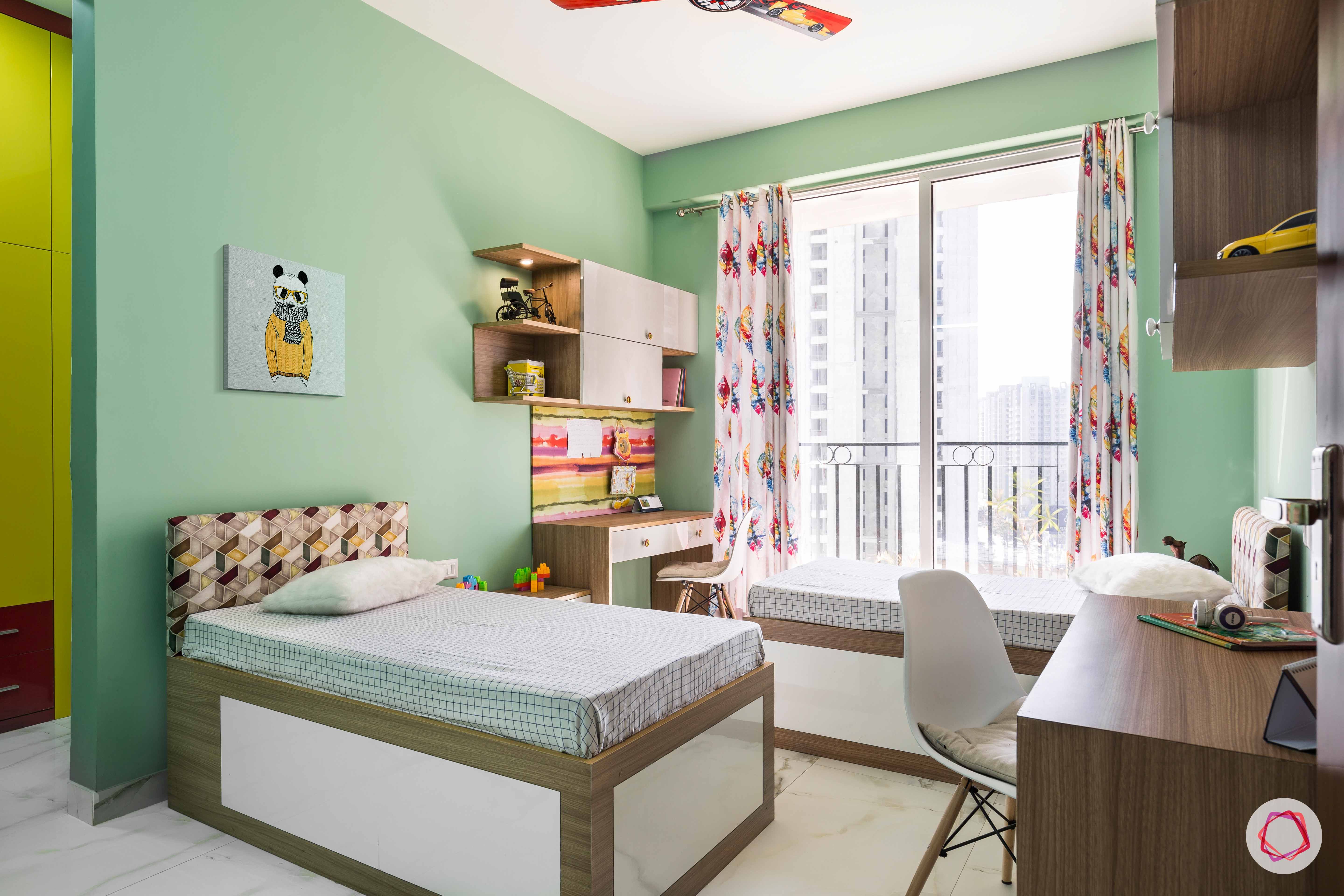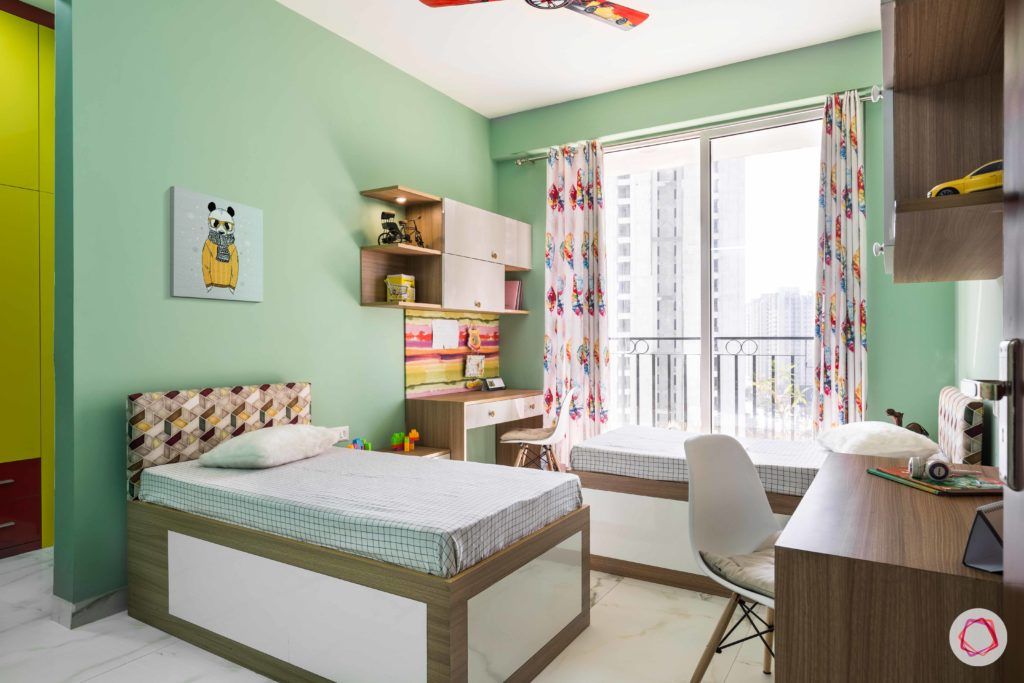 The kids bedroom stands out from the entire home, thanks to its refreshing mint green walls. Housing two individual beds with a hydraulic lift for storage, Ojasvi used white to a bare minimum for this room. Notice the patterned headboards? These are crafted out of a special polymer fabric that makes it easy to clean.
While their daughter Aarshia wanted yellow and their son Aarav preferred red, Ojasvi thought of an intriguing way to bring in their favourite colours. She put in a striking colourful acrylic panel between the upper and lower sections of the study unit. The rest of the unit has been done in white laminate and wood.
Nirala Aspire Apartment Design: A soft-hued bedroom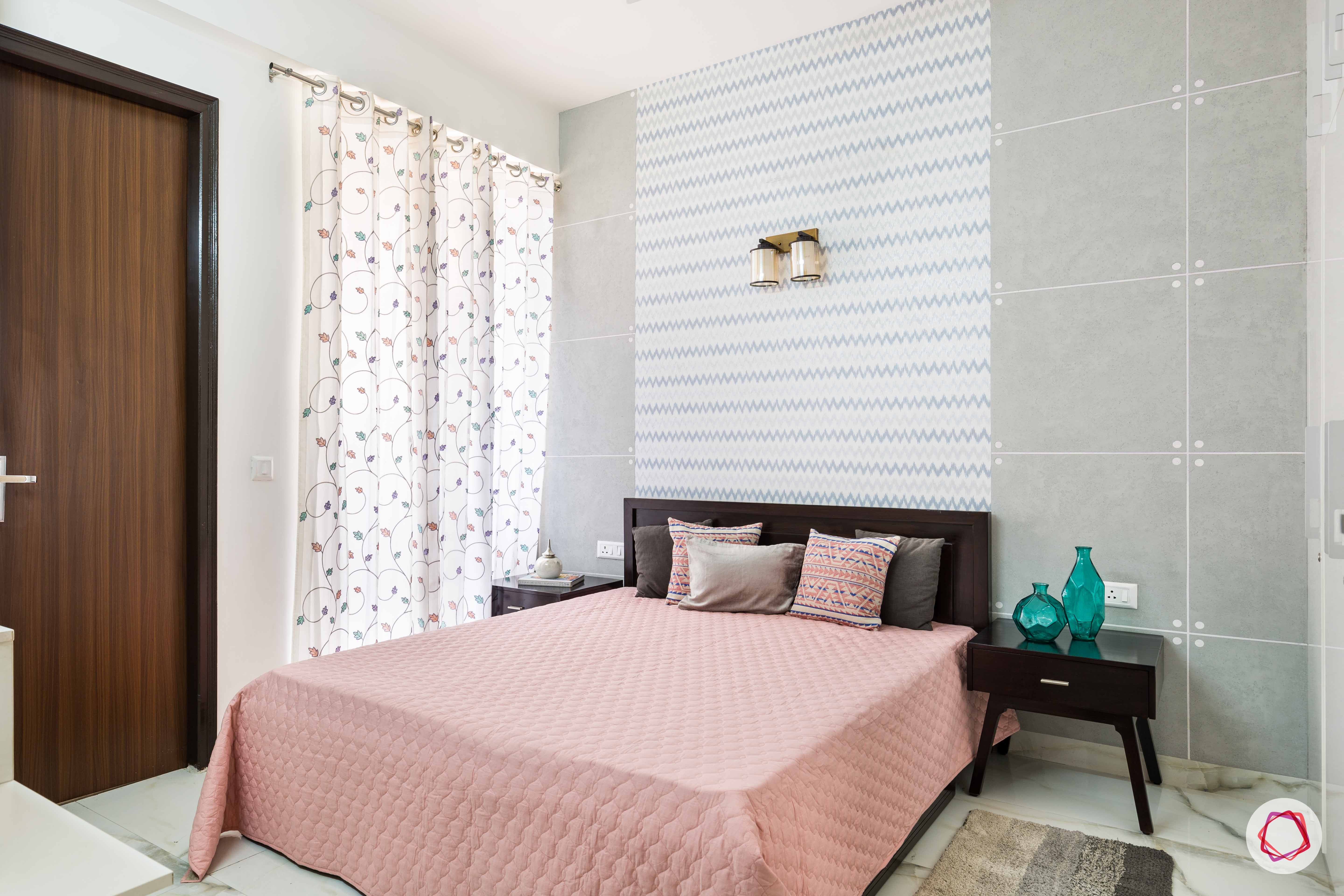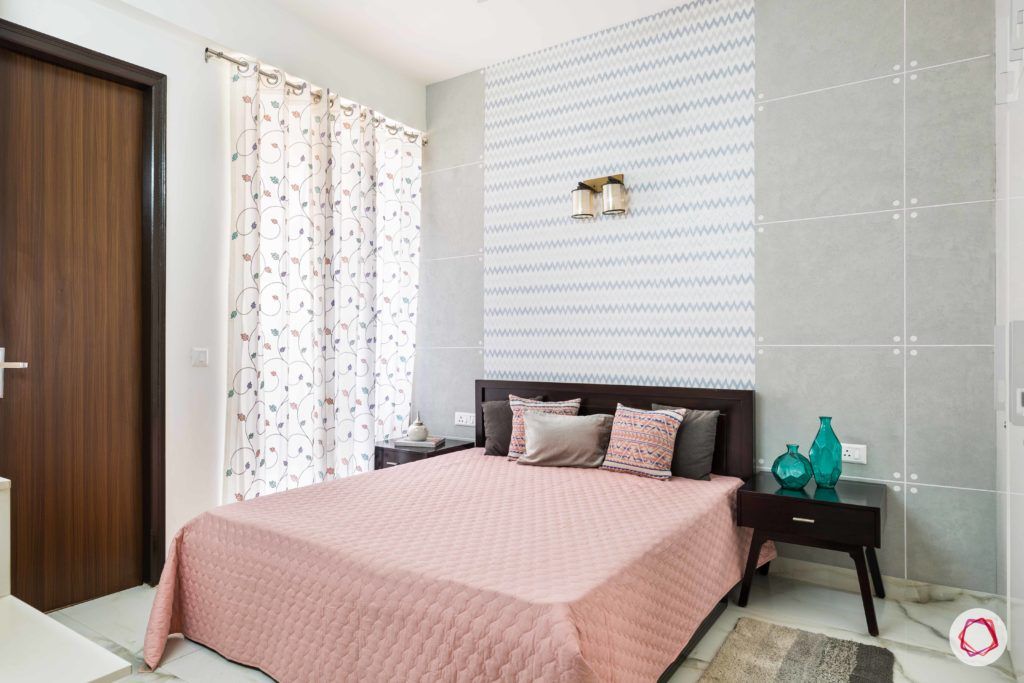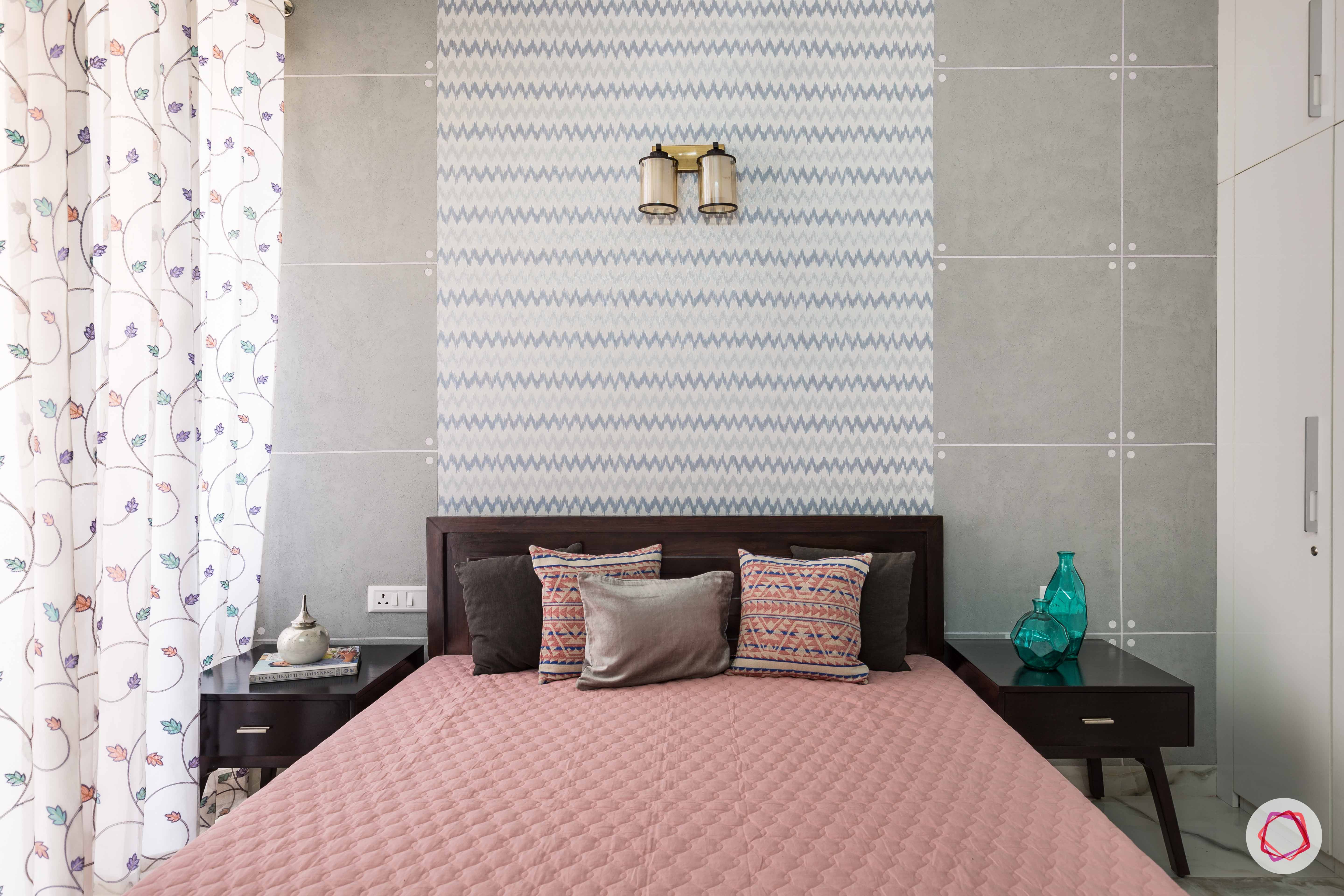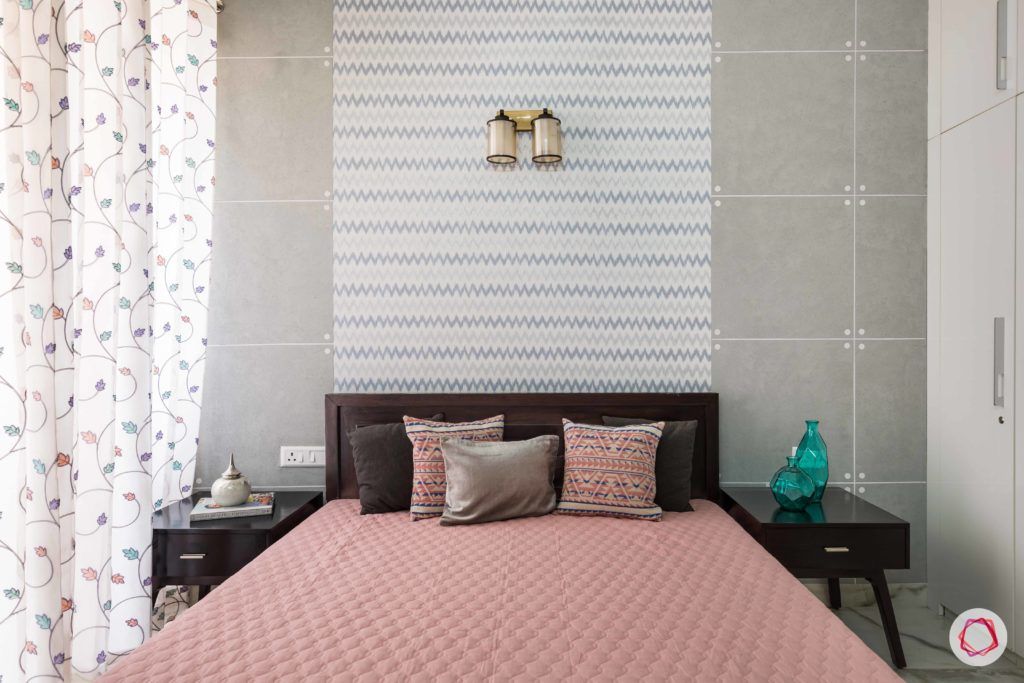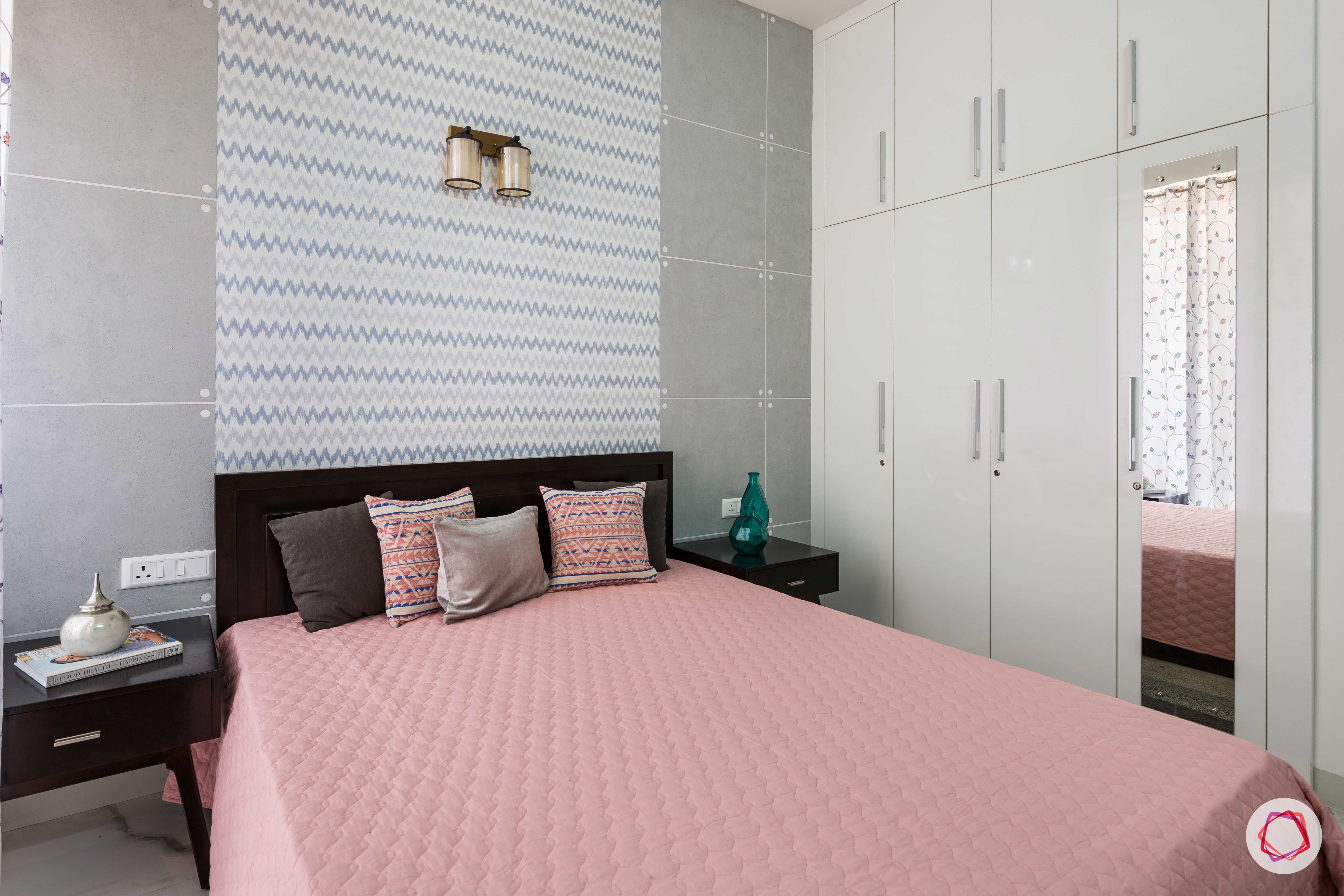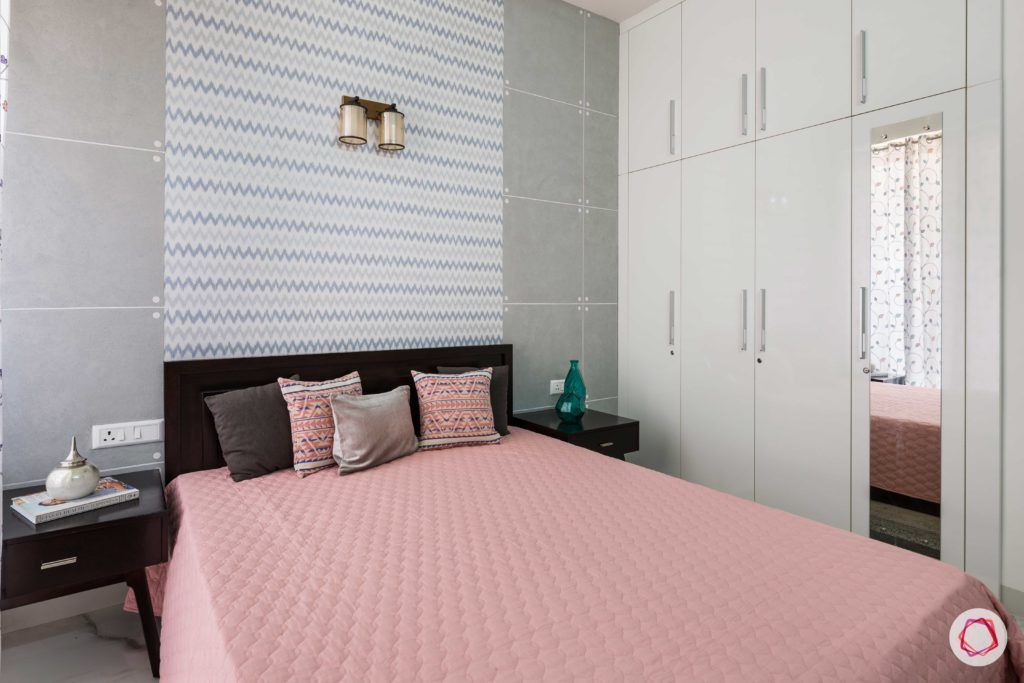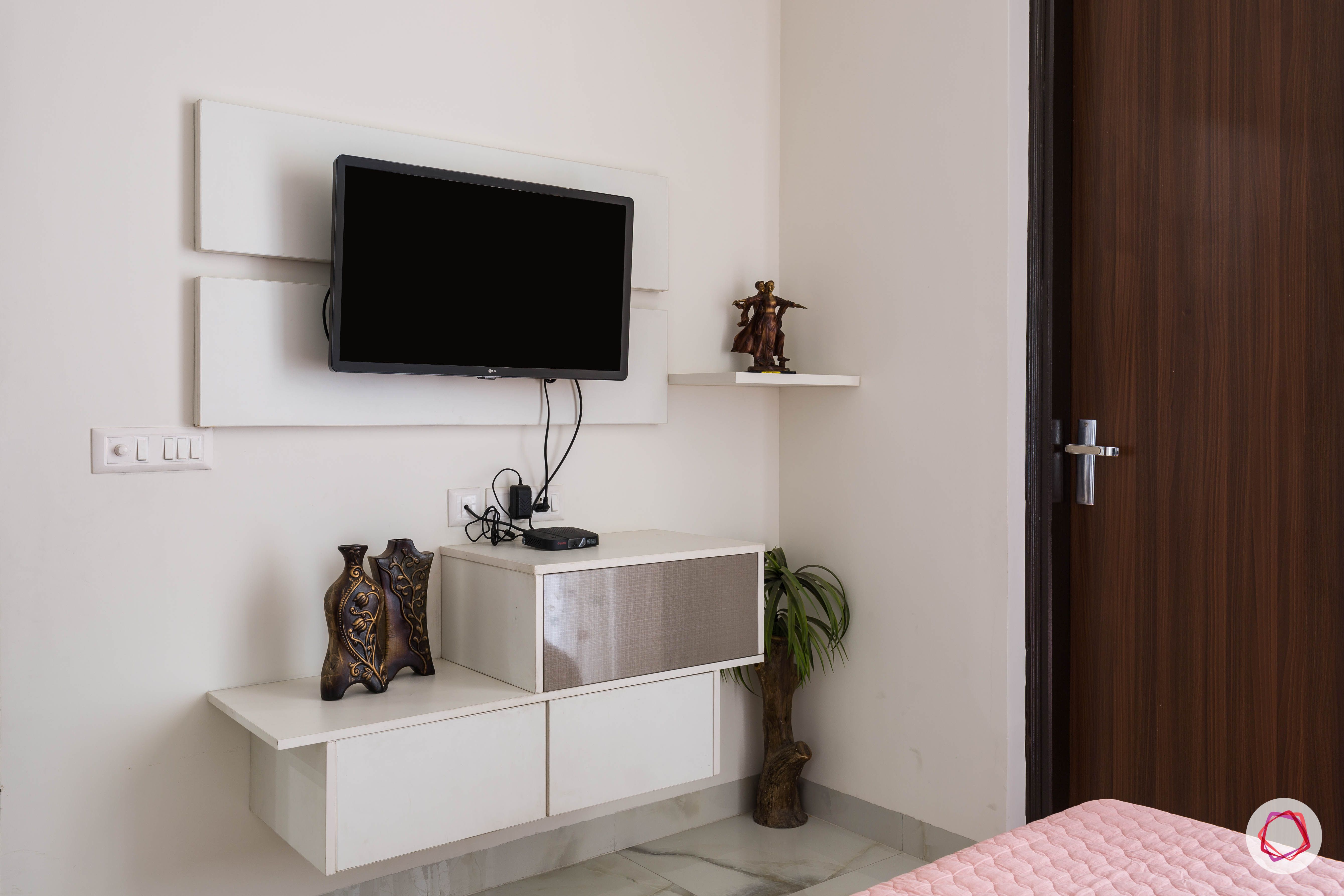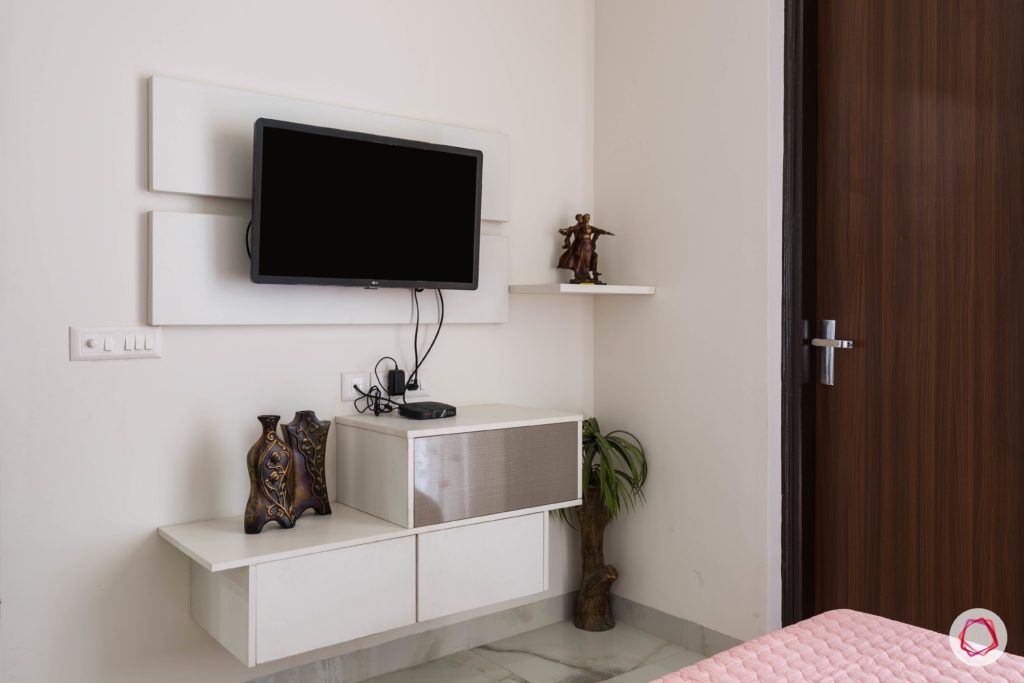 Anil's parents room, which doubles as a guest bedroom, is doused in soothing shades as well. Since his parents were to have this room, the couple were particular that it had to be minimal and calming. As a result, Ojasvi put in a subtle centre wall, which is a combination of grey paint and a pop of chevron patterned wallpaper in the middle. In addition, the breezy curtains flaunt petals for ambience.
Opposite the bed, a TV panel in white laminate and closed shelves add to the softness of the room. In addition, a white laminate wardrobe with lofts has been fitted with mirror to avoid putting in a separate dressing unit.
Nirala Aspire Apartment Design: A dash of playfulness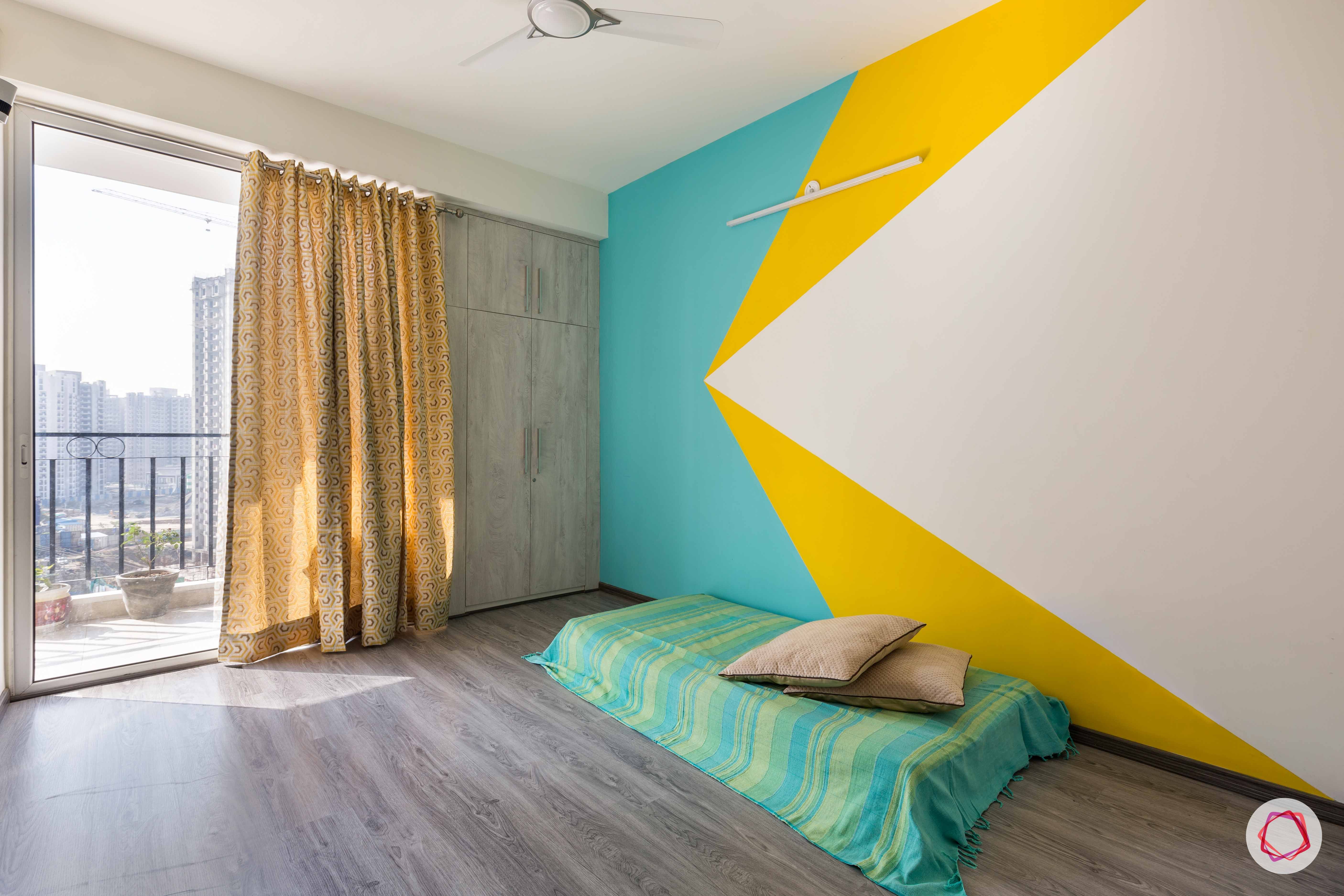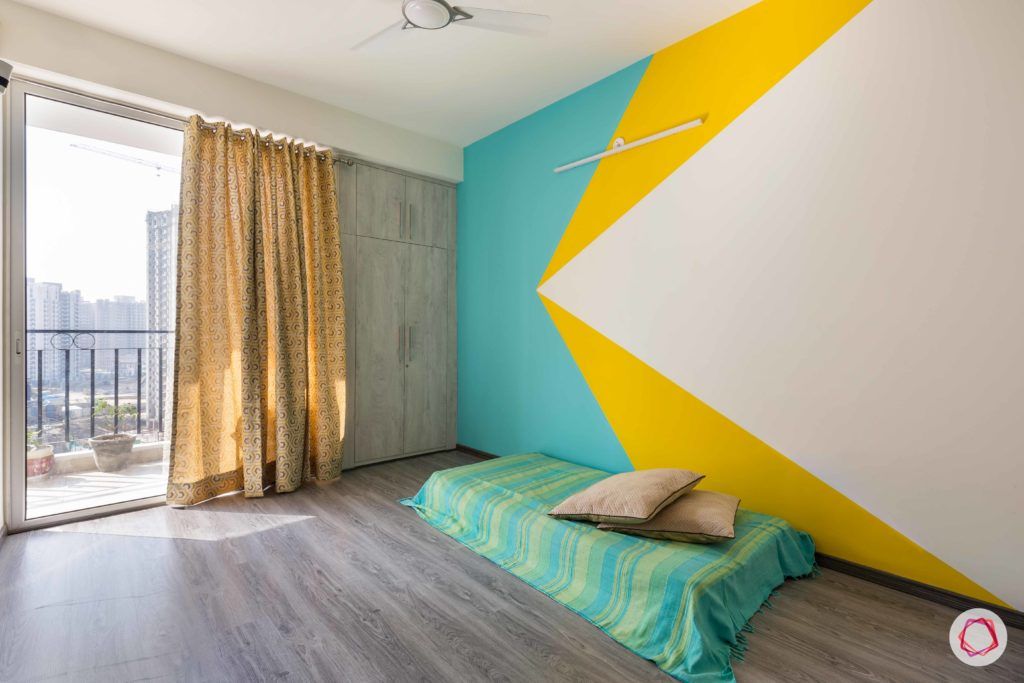 When Anil and Anu paid a visit to our Experience Centre in Okhla, they fell in love with one of our painted walls. So much so that they wanted it in their home as well! It proved to be the perfect backdrop of Anu's tuition class. Moreover, children would love the vibrant colours.
A barely-there membrane wardrobe stands in the corner that completely matches with the dark wooden flooring. Because of the minimal surroundings, the focal point of the room will always remain on the wall.
Nirala Aspire Apartment Design: Bathrooms Galore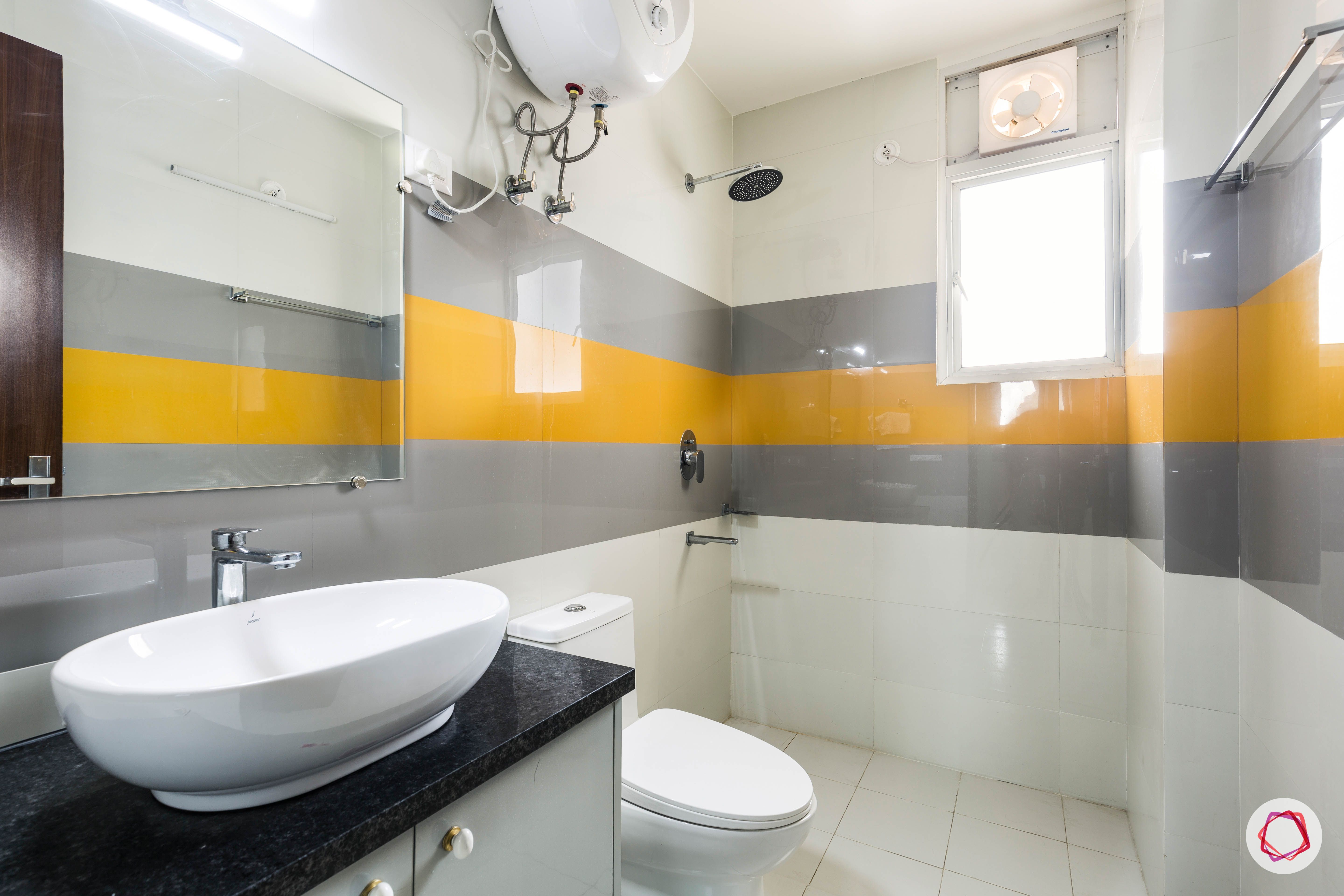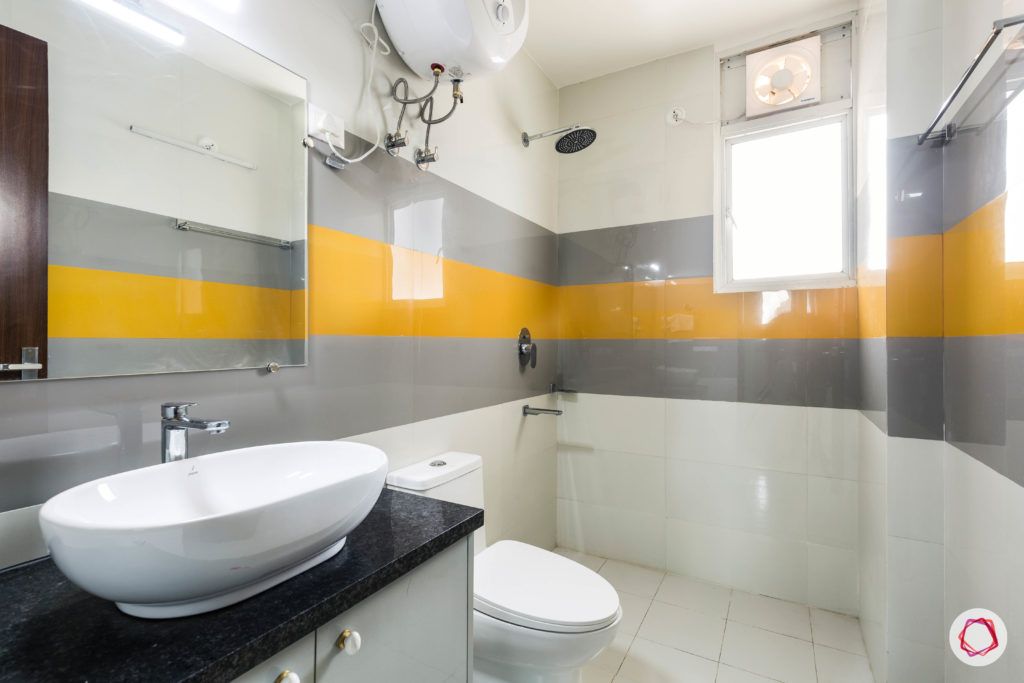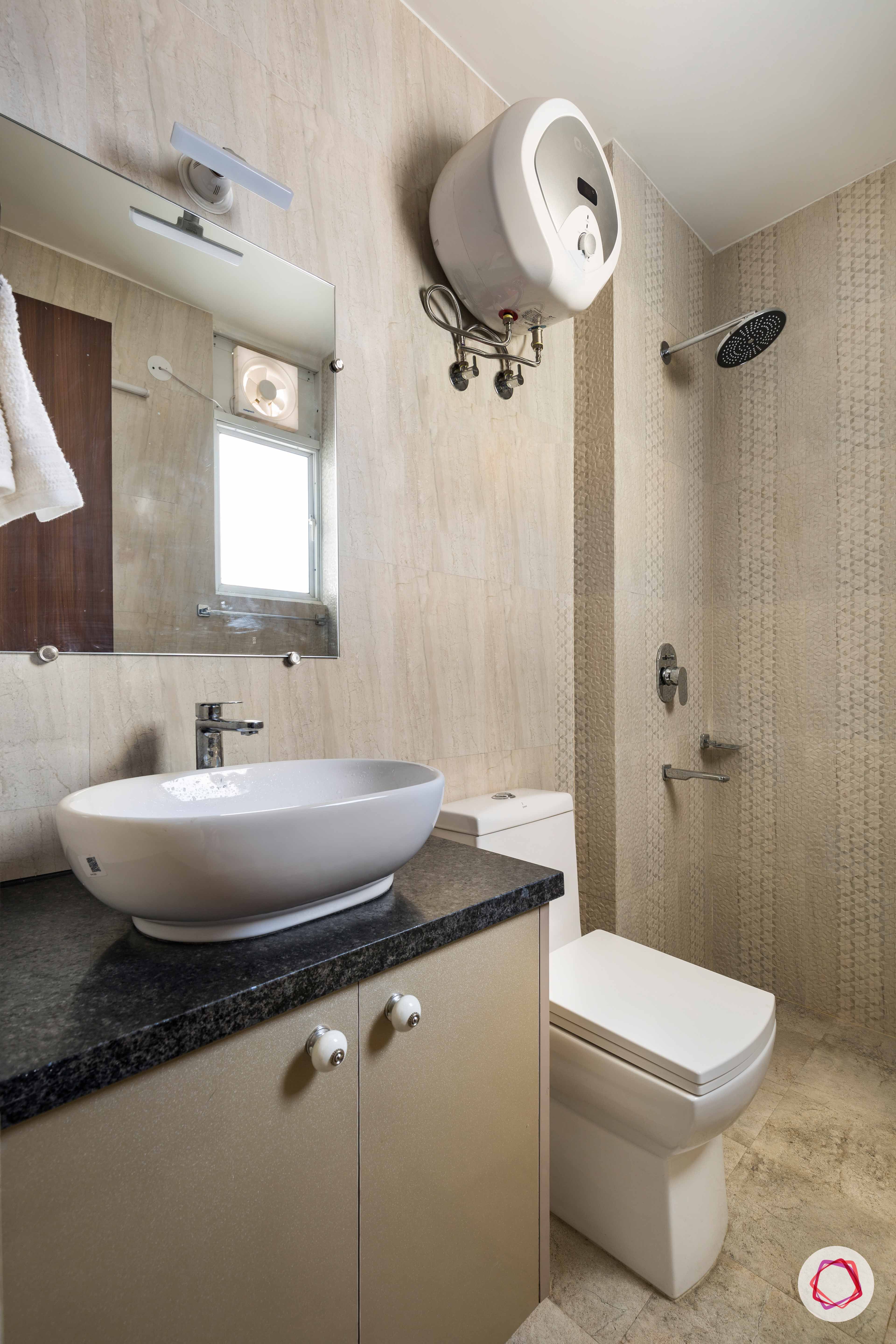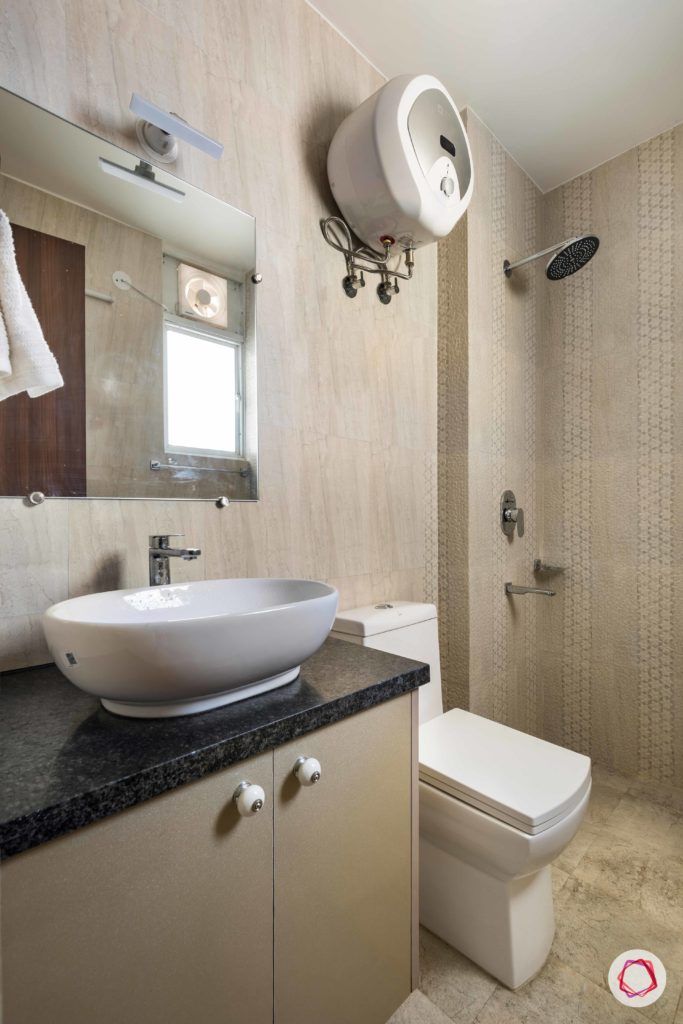 While the guestroom bathroom is done up in neutrals and printed rustic tiles, the kids' bathroom is a different story! They wanted something sleek and colourful. As a result, Ojasvi put in wide strips of dark grey and yellow ceramic tiles to create a vibrant look.
"I've been working for 10 years in this field. And Anil and Anu are by far the most perfect clients. I had the greatest time designing their home. They are extremely cooperative people. The brief they gave me for each room was so clear that the entire design process went smooth. This is one of my favourite projects!"

– Ojasvi Gombhar, Interior Designer, Livspace
Send in your comments and suggestions.