Get inspired by these beautiful wall designs!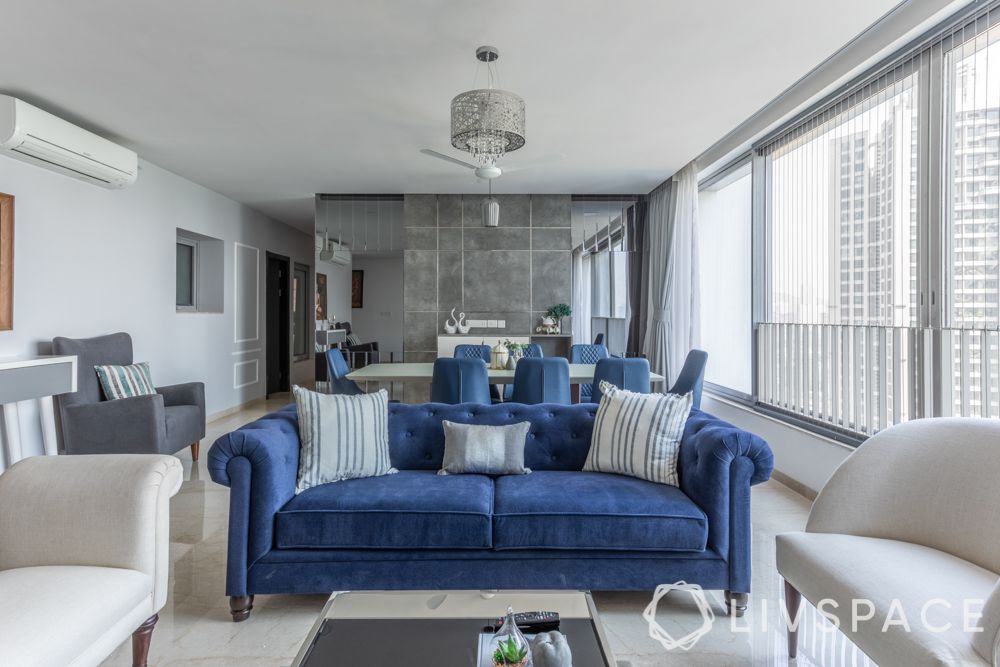 If you're stepping into the world of interior design, you have probably heard the word 'contemporary' far too many times. But what is contemporary style? A home featuring abstract wall treatments or beautiful wall designs? The use of asymmetrical or geometric shapes? Usage of state-of-the-art materials? Read on to find out!
#1: Industrial wall accent for the dining room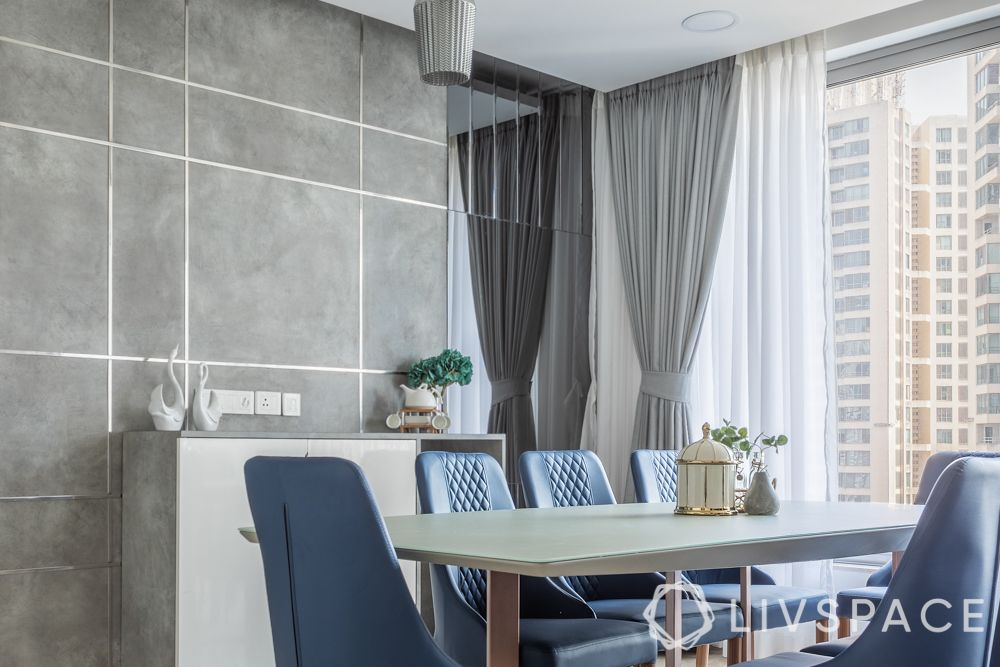 Homes that have open floor plans and tall floor-to-ceiling windows make a great setting for a contemporary design. Contemporary-style homes were born out of the Industrial Revolution in the early 20th century. Therefore, this style mimics designs with building materials like iron, steel, glass and cement and has an unfinished look on purpose.
Keeping this in mind, Sakshi has incorporated these elements in the most suitable way possible. The accent wall in the dining room features a wall covered in stone grey laminate giving it a cement look. Used to embellish this wall is silver beading in geometric lines resembling steel. Moreover, this wall has tinted mirror panelling on either side that opens up the dining room space, giving it a luxurious look.
Take a tour of this Classy 3BHK at Oberoi Esquire for Jyoti Punja to get more insights!
#2: A dramatic floor-to-ceiling headboard for bedroom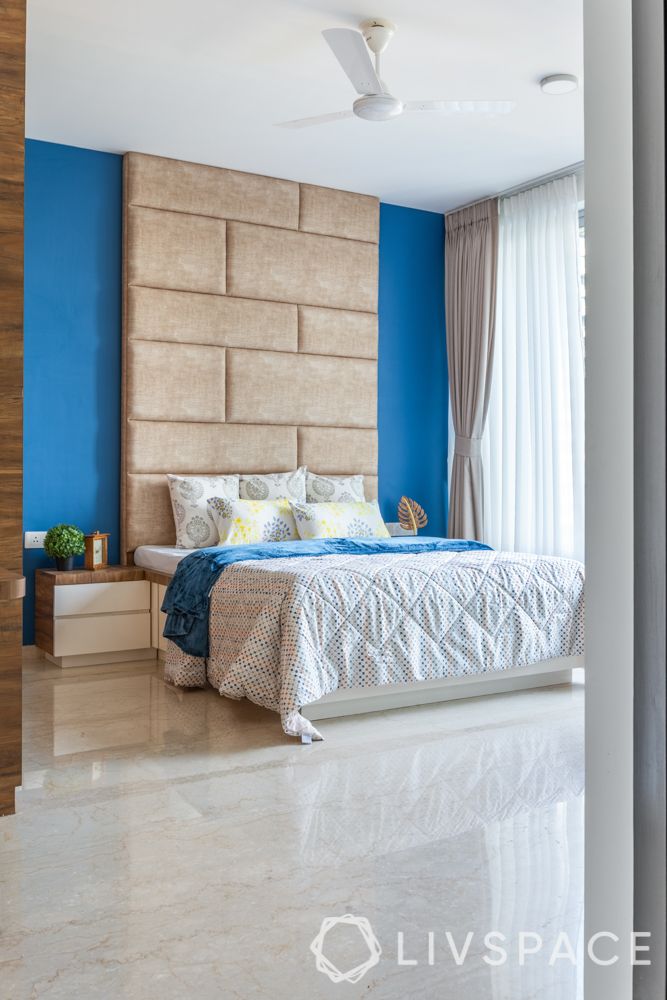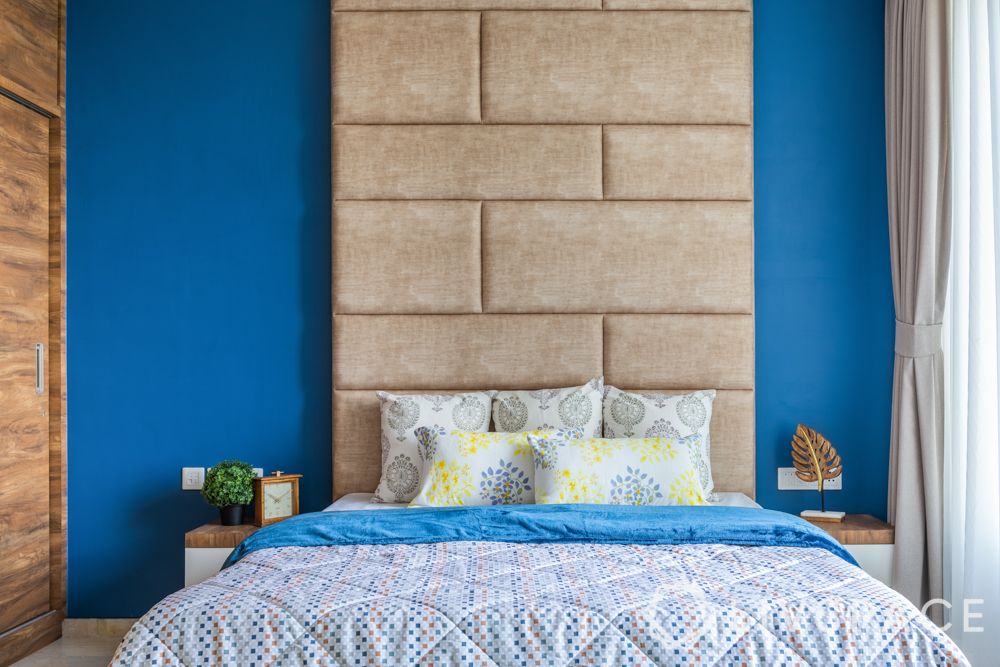 This minimally furnished room has one eye-catching element – the headboard. Set against a bright blue background, the luxurious headboard is a subtle yet grand addition to the beautiful wall designs. The full-height upholstered headboard runs from floor to ceiling and is made of soft suede. Not only does this sizable, vertical interior design make the ceiling seem higher, but it also makes you want to get into this cosy bed with a cup of tea and a book.
#3: Minimalist and rugged wallpaper for the guest bedroom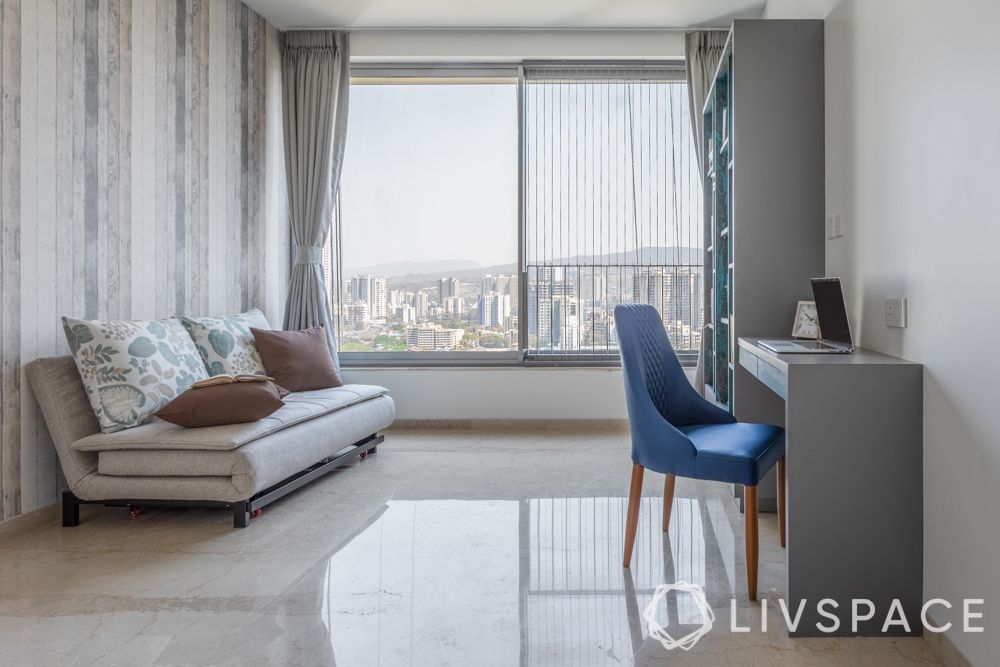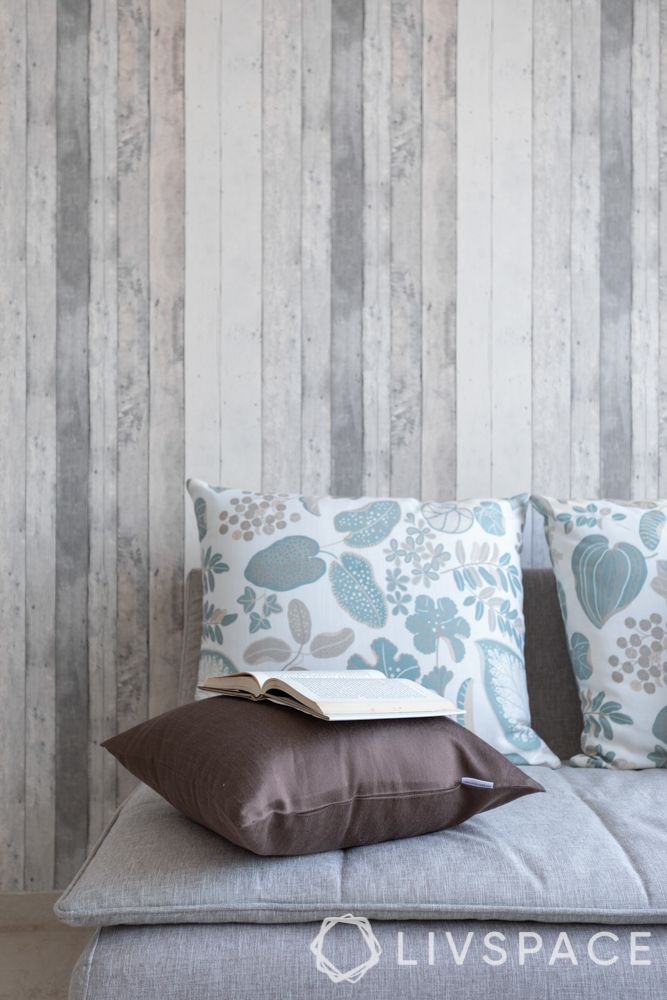 The home stands out because of its clean lines, plenty of sunlight and a one of a one-of-a-kind grey and blue theme. These beautiful wall designs extend to the guest bedroom as well. Furthermore, this grey and blue-themed room has a simple yet noteworthy accent wall. The wallpaper used here is in shades of grey and white with a wooden panelling design.
Are you wondering if Can You Personalise Rooms While Using the Same Furniture? Find your answers here!
How can Livspace help you?
Livspace caters to your specific needs and customisations for your dream home. Our team of seasoned and creative designers is ready to collaborate with you to bring your vision to life. Whether you aspire to replicate the exact ambience of this space or desire a bespoke design tailored to your preferences, Livspace has you covered.
The platform offers a range of services, including design consultations, 3D rendering, project management, and installation. You can also find the perfect home decor pieces for your home by browsing through products on the platform's online store.
Book an online consultation with Livspace today. To know how our customers feel about working with us, check out these Livspace reviews for more details!