When you approach a design service to style your interiors, cost is often the first thing you look into. However, getting your interiors designed is a one-time investment, so it's not a bad idea to invest in the right things that'll stand the test of time. In fact, they add value and equity to your home as well. This interior design for Prestige Royale Gardens in Bangalore shows you why interior design is worth the investment.
So, let's take a look at what exactly a ₹25 lakh budget can get you using this interior design for a Prestige Royale Gardens flat. Also, if you're a fan of luxury design, this 2.5BHK is bustling with ideas you can borrow. Let's start the tour!
---
Who Livs here: The Pradhans
Location: Prestige Royale Gardens, Bangalore
Size of home: 2.5BHK
Design team: Interior Designer Premika Ramesh
Livspace service: Full home design
Budget: ₹₹₹₹₹
---
IN A NUTSHELL


Brief

To design a luxe home that's perfect for a young couple

What We Loved

The use of visual textures to amplify the feeling of luxury

Look Out for

– The seamless cabinetry used in the kitchen
– The mirrored accent wall that creates depth of space in the dining area
– The use of fluted wall panels in the master bedroom to create a sleeping zone where the bed is placed


What Livspace Services Were Covered Within the ₹25 Lakh Used in This 2.5BHK's Interiors?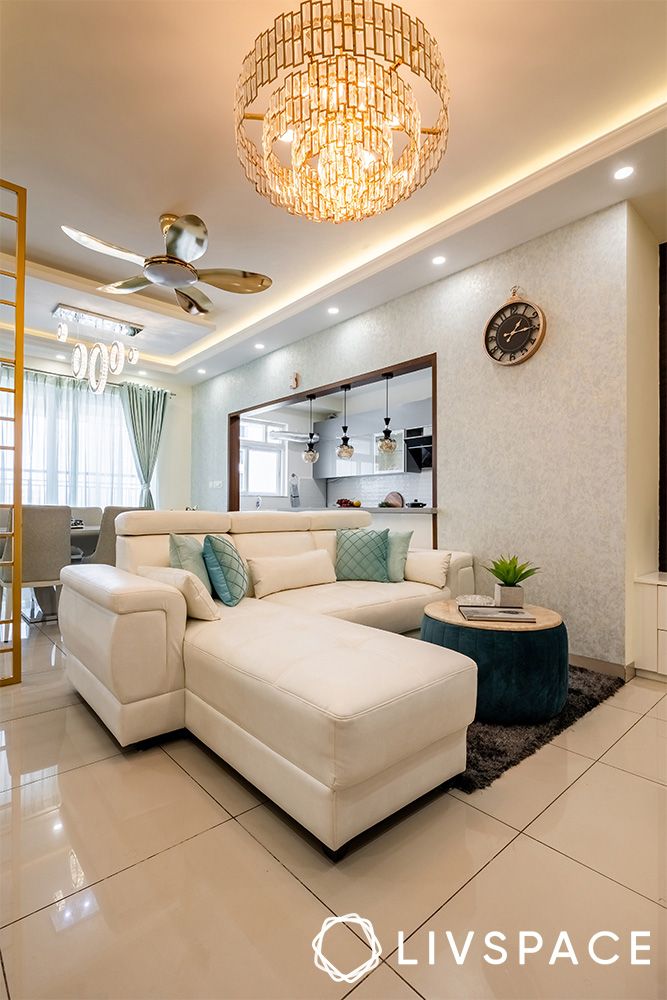 When it comes to designing your home, ₹25 lakh can be quite the investment. So, before you decide how much goes towards what, you'd love to know what is it exactly that you're getting for your budget. Using this interior design for Prestige Royale Gardens in Bangalore as a reference point, we can show you the many services that come for the budget:
Modular kitchen
Storage
Wardrobes
Furnishing
Wall treatment and finishes
Appliances
Lighting
False ceiling
Painting
Plumbing and electrical
Civil work
Here, it's important to note that different services can have different price ranges. Moreover, the size of your home and degree of changes required also play a huge role in determining what services are needed.
This interior design for Prestige Royale Gardens in Bangalore was a full home design that required more interior detailing in terms of functional requirements and constructability constraints. Thus, depending on your scope of work, your budget can vary.
Now, let's look at some tips you can steal from this luxury 2.5BHK apartment at Prestige Royale Gardens. Be sure to take notes because these ideas can be recreated for your home just as easily!
1. Use a Mix of Materials and Finishes to Create Opulent yet Durable Interiors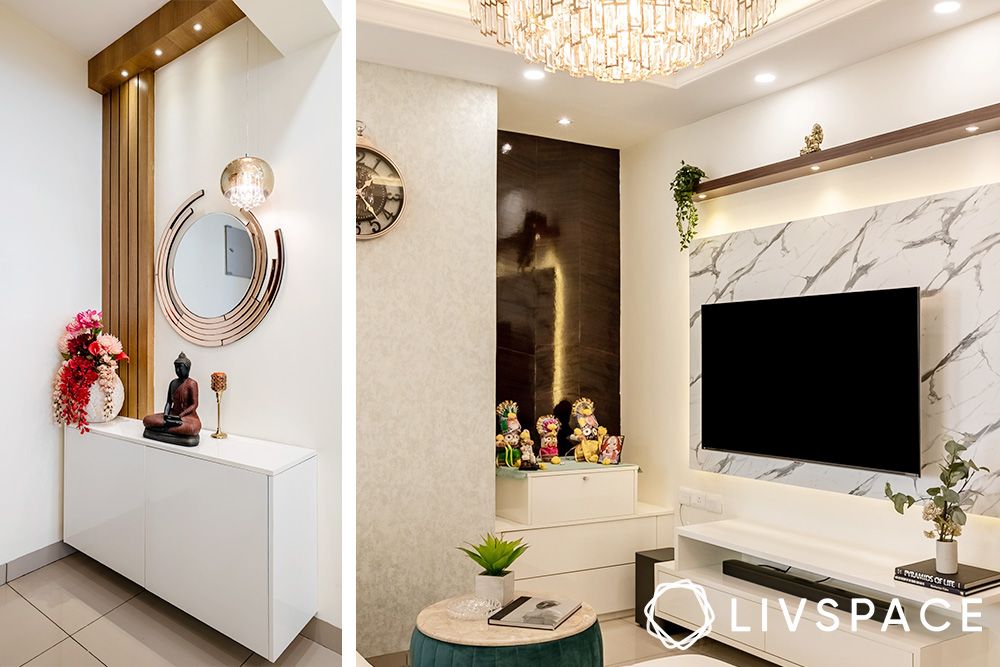 While looking at this apartment's interior design for Prestige Royale Gardens in Bangalore, you can't help but be mesmerised by the opulent finishes that the interiors have.
In Sujit's interior design for his 2.5BHK apartment at Prestige Royale Gardens, the cabinets are made using MDF as the core material. Among the material options available in the market, MDF is of superior-quality, as it doesn't have blemishes or knots that wood often does. If you're on the fence about whether to go for MDF or not, you can be rest assured with our 10-year warranty on modular interiors.
Depending on the look and function you require, you can dress your core material of choice in different finishes. The finish you choose can further influence the cost of your cabinetry. To curate a luxury theme, consider using high gloss laminates for your finishes.
Also Read: What Is MDF Material? Is MDF Good for Home Interiors?
2. Consider Using Visual Textures That Have Luxury Appeal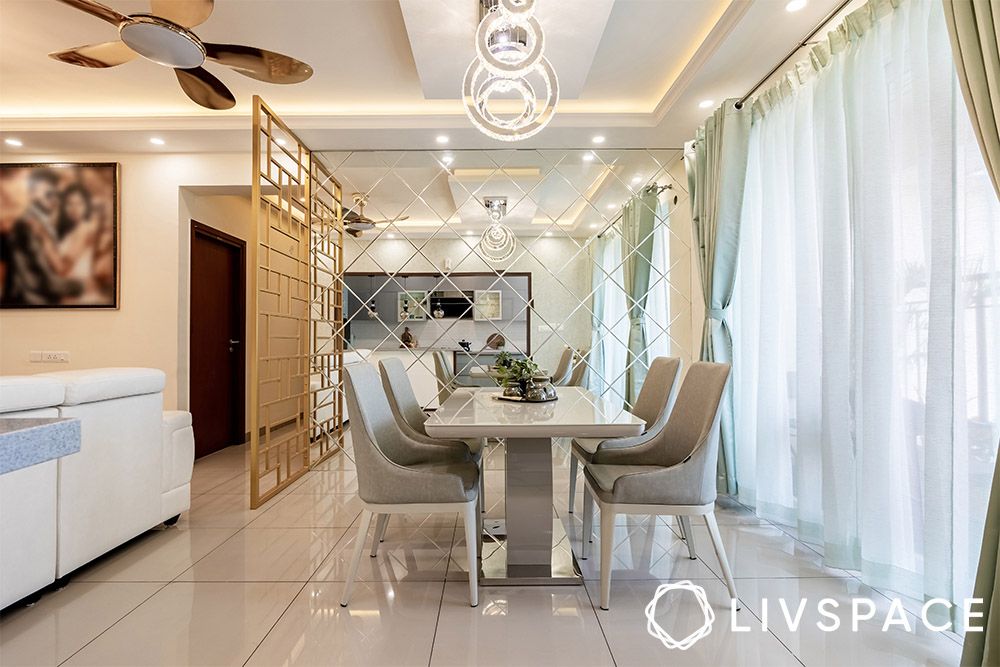 If you're extending your budget for your interiors, you might as well go all out. Here's where using textures and finishes that offer a luxe touch are ideal. In this home's interior design for Prestige Royale Gardens in Bangalore, you'll notice gold accents and sleek finishes at every corner.
In the dining area, the mirror accent wall takes centre stage as it gives the room more depth. This is also a neat visual illusion to play with if you live in a compact home.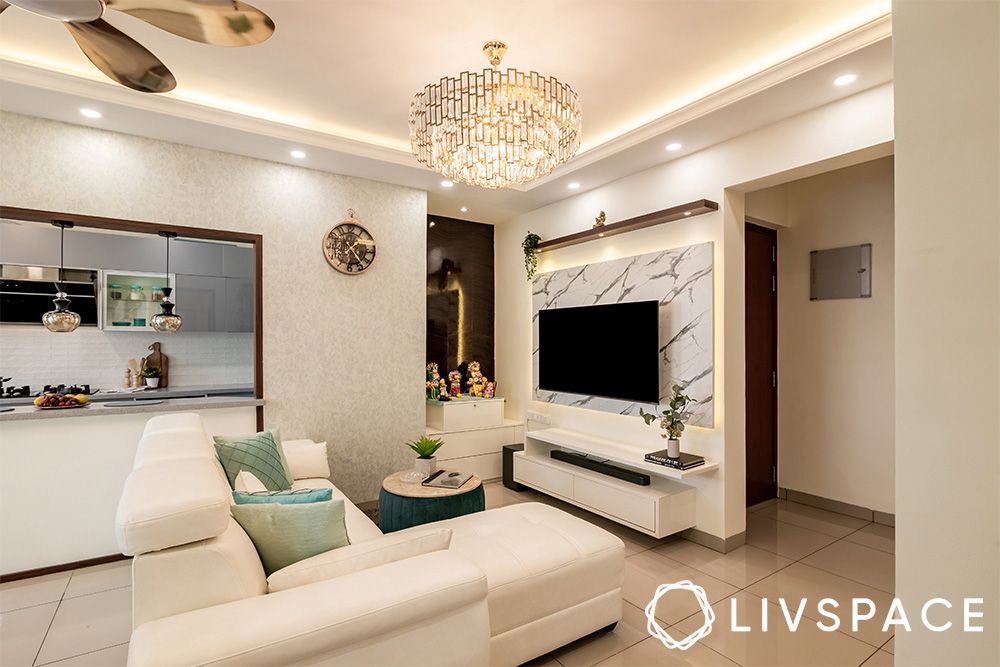 This interior design for Prestige Royale Gardens in Bangalore also makes use of classy lighting solutions to give the home a luxe edge. Both the dining and living areas use distinct chandelier designs to anchor each space in the open layout.
Besides glass and gold accents, you can also consider using textures similar to marble. The veining on marble floors is often associated with the look of opulence. However, you need not go for marble sheets to get the look, either. That's because marble can be porous and might not do so well because of its soft metamorphic nature.
Instead, opt for panelling that has a marble texture (or coat it with marble veined wallpaper) to add visual interest without being weighed down by the cons marble, as a material, comes with.
A few other textures and finishes that have luxury appeal include – leather, velvet, reflective gloss, and wood grains.
3. Seamless Cabinetry Is Ideal for a Clean and Chic Look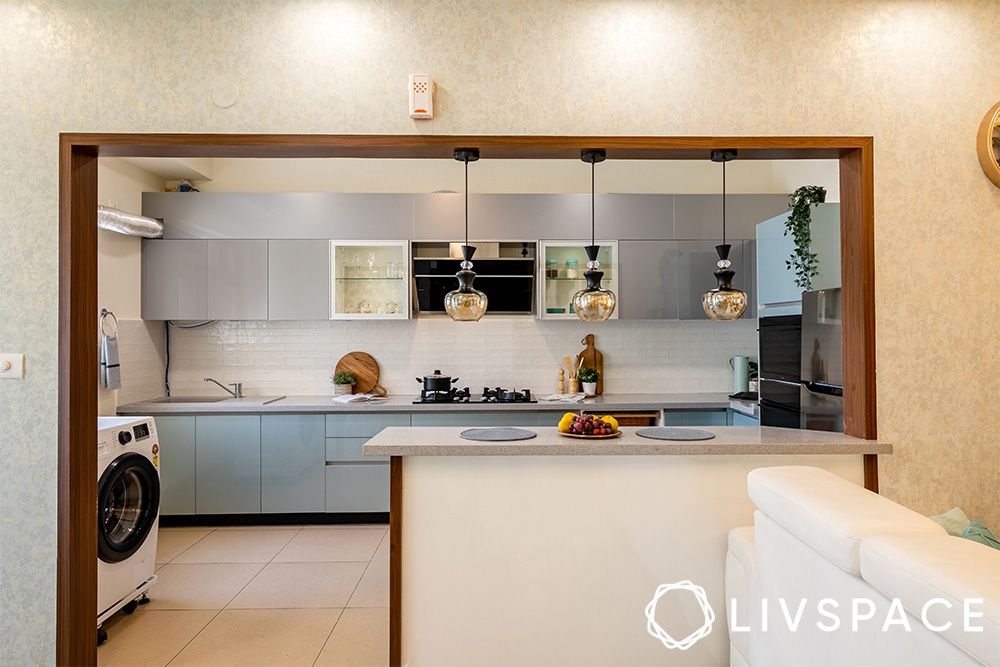 What's one thing that all luxury homes have in common? It's the clean and expansive feel their interiors offer. But how functional is this look, especially in Indian homes where storage is a concern? This interior design for Prestige Royale Gardens in Bangalore can give you an idea.
The first thing that had to be done was to open up the kitchen. Our design team broke down the kitchen wall to allow the rooms to seamlessly flow into each other.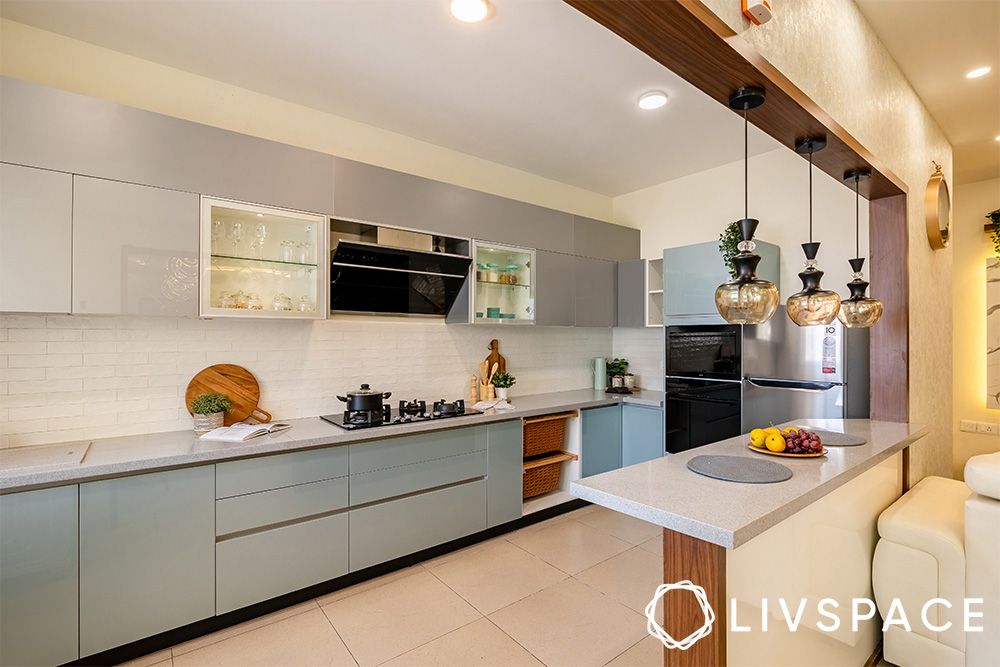 However, the goal is not to keep your interiors looking bare, but instead, to use the right furniture to get a clean and sleek look. So, how did we pull this off in this interior design for Sujit's Prestige Royale Gardens flat? We went with seamless cabinetry to match the open layout!
Notice how all the cabinets in this 2.5BHK apartment at Prestige Royale Gardens don't have handles? This helps give the home a sleek look that's unhindered by clashing handle designs. It allows the entire home to flow smoothly from room to room, maintaining continuity in design.
Also Read: Interior Design in Bangalore: Latest Trends, Cost, Popular Designs and the Best Designers
4. Pair Your Headboard With an Accent Wall to Add Depth & Splendour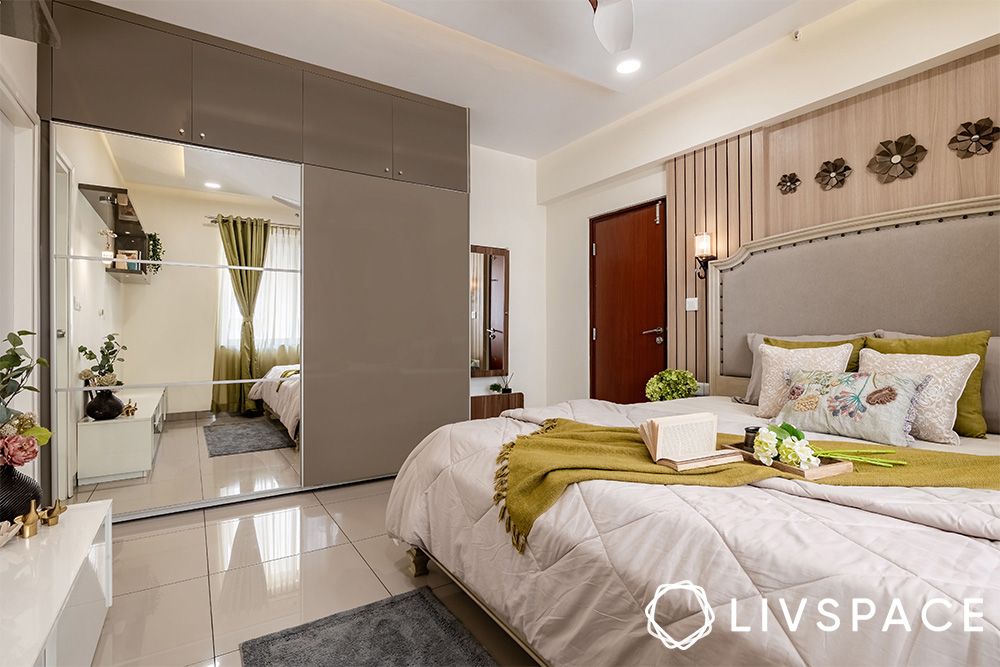 If you had to create separate zones within a room, how would you go about it? Would you use a room partition, or would you prefer using paint to create distinct zones? Though either of these methods can do the trick, we have another route you can take.
While planning your bedroom interiors, consider throwing in an accent wall to support your headboard. You get bonus points if your headboard and accent wall match each other's theme. This helps create the illusion of length, drawing the eye upwards.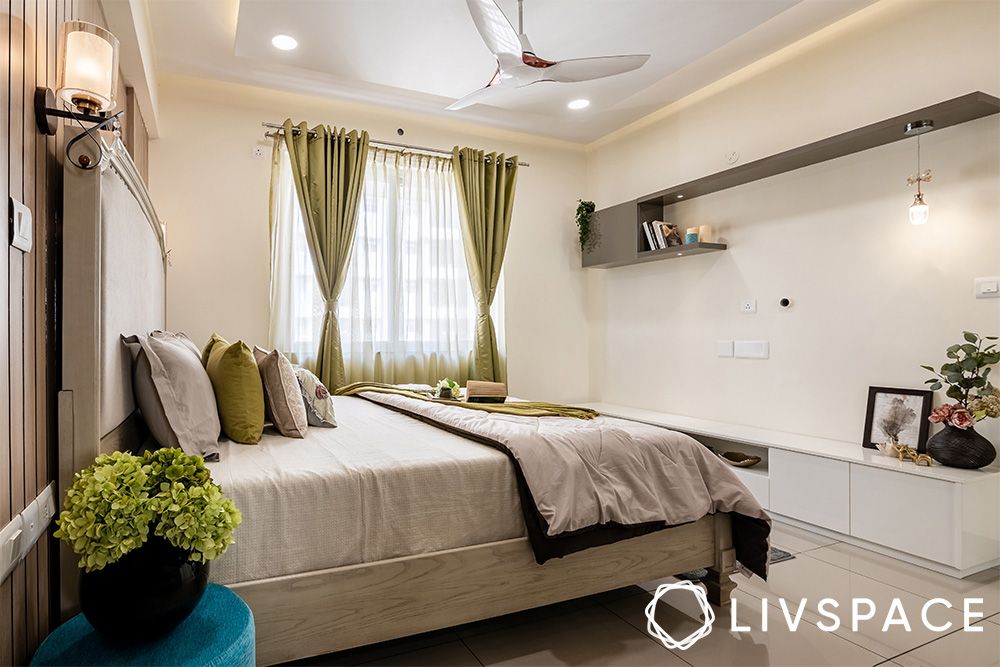 Besides adding vertical length to your room, an accent wall behind your headboard also helps demarcate the space. Take the master bedroom in this Prestige Royale Gardens interiors for example. The fluted accent wall now acts as a frame for the bed, clearly marking it as an individual zone for sleeping.
5. Use Rich Colours Like Blue, Gold, and Beige to Strengthen the Luxury Theme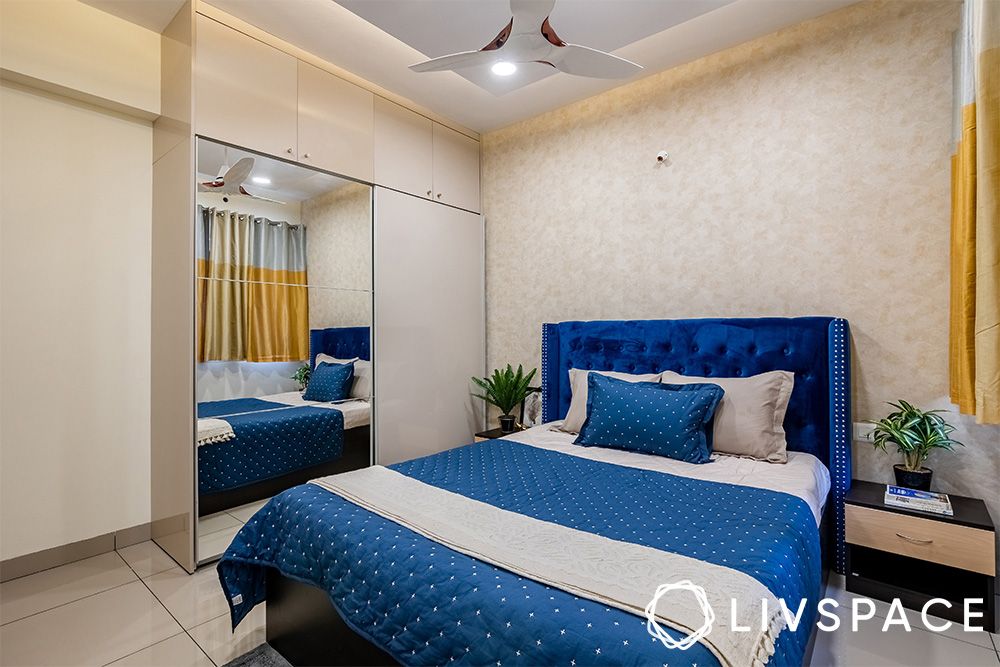 There's nothing that says luxury better than an opulent colour scheme. As you toured this home's interior design for Prestige Royale Gardens in Bangalore, you might have noticed a few recurring colours in each room. The living, kitchen, and dining areas were kept neutral with muted shades and gold accessories.
However, a touch of colour seeps into the frame as we move into the bedrooms. For the master bedroom in this Prestige Royale Gardens 2.5BHK home interior design, we see a touch of green in the curtains. This helps mix in a subtle earthy vibe without breaking the overarching neutral colour scheme.
In the guest bedroom, a rich blue bed becomes the focal point of the room. The reason this shade works so well, despite being the boldest colour used in the home, is because the rest of the room is relatively toned down. All thanks to the beige in action! So, if you're looking to make a statement in a neutral themed home, don't be shy to throw in a pop of colour in your headboard or soft furnishings.
How Can Livspace Help You?
We hope you found our interior design ideas for Prestige Royale Gardens in Bangalore useful! If you want beautiful interiors for your home, then look no further. Book an online consultation with Livspace today.
Have any thoughts or suggestions you'd like to share with us? We're all ears! Drop us a line at editor@livspace.com.
Disclaimer: All contents of the story are specific to the time of publication. Mentions of costs, budget, materials, finishes, and products from the Livspace catalogue can vary with reference to current rates. Talk to our designer for more details on pricing and availability.