Interior design is no longer associated with only the rich. Now, almost everyone can get the interiors of their home done. Budgeting is no longer a challenge. But before you begin your interior design journey, we are sure you have questions that you want answered. In this article, we have identified and answered six FAQs. Additionally, we have also provided the cost of interior design in Bangalore. Read on.
#1: Which Are the Best Interiors in Bangalore?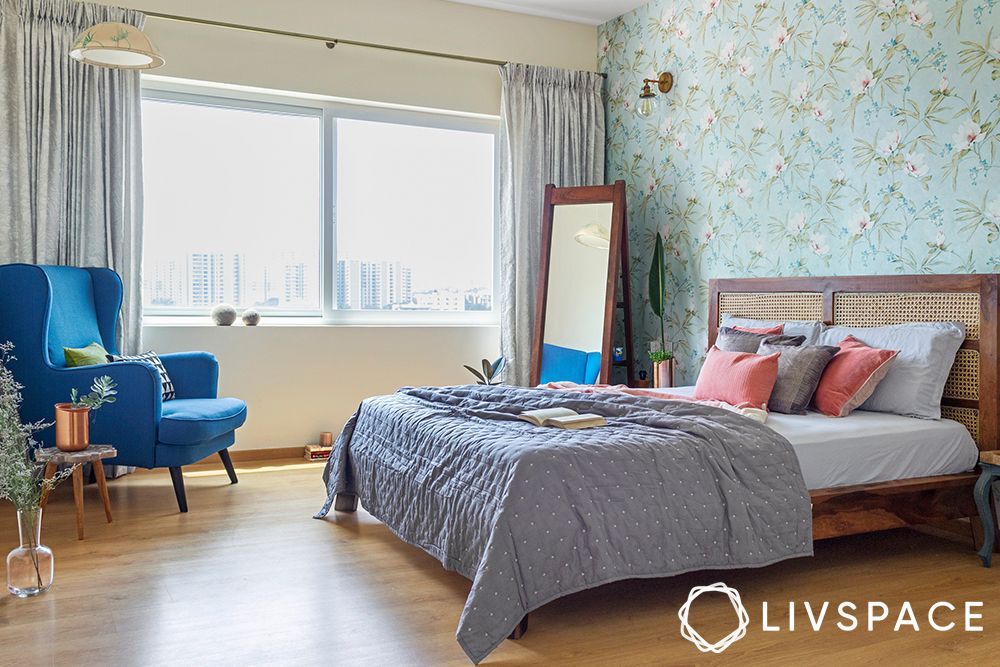 By saying the "best interiors in Bangalore", we actually mean the "best interior designers in Bangalore". Hiring an interior designer is a smart thing to do. A designer not only helps you get the best interiors but also stick to your predetermined budget. Therefore, most homeowners are turning to interior designers for doing their home interiors. As a result, there are multiple options available for you in the market.
Livspace is among the best interior designing firms in Bangalore. At Livspace, we offer end-to-end solutions to deliver your dream home. We not only understand your vision but also stick to your predetermined budget. Therefore, we guarantee to make your interior design journey a smooth one.
#2: What Is Included in Interior Designing?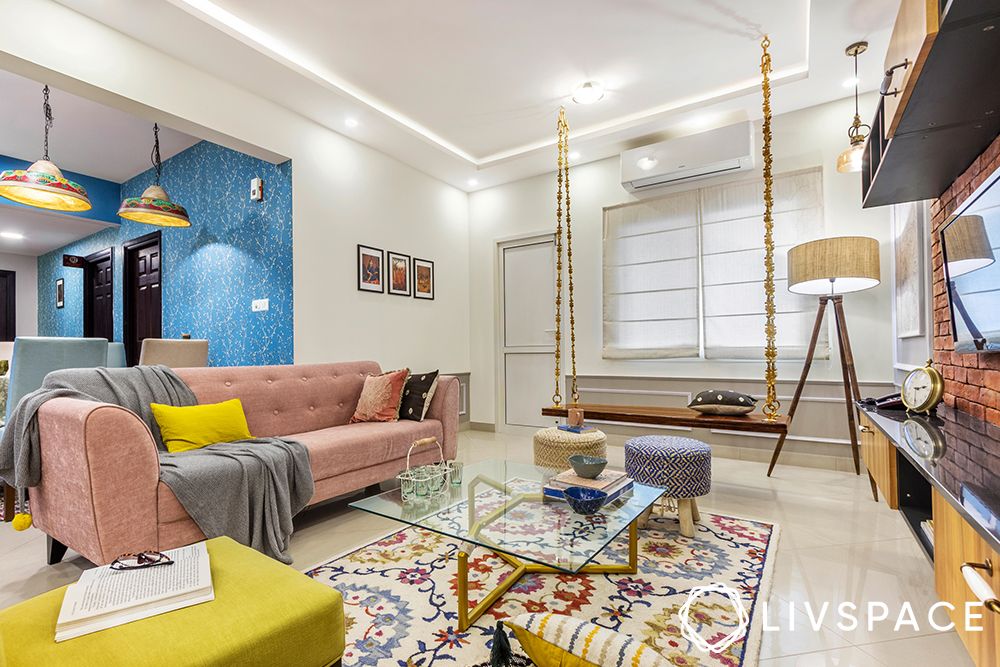 Interior design is more than just designing your home. It not only involves designing your home to make it stunning, but comfortable too. Thus, an interior designer needs to pay attention to all the elements of interior design. In general, there are 7 elements of design. These are:
Colour – Colour is one of the most important elements of design. Whether you like neutrals or bold shades, colours determine the look of your space
Form – Form refers to different shapes such as geometric, curved, open and closed. This helps in creating a theme for a room
Light – Light can set the mood of a room, be it artificial or natural light. Moreover, lighting also affects the sense of space, and can make a room look bigger or smaller
Line – By lines, we mean horizontal, vertical and dynamic. Lines help us in perceiving a space. In addition, they help in setting the ambience
Pattern – Patterns are collections of lines that help in adding texture to your interior design
Texture – Texture refers to how a room looks and feels. Moreover, you can play around with textures in a neutral setting to create a theme
Space – This involves thinking about the positive and negative spaces in a floor plan of a home. Negative space adds to the sense of openness in a room, whereas positive refers to the area filled with decorative items
#3: What Are the Latest Trends in Home Interior Design?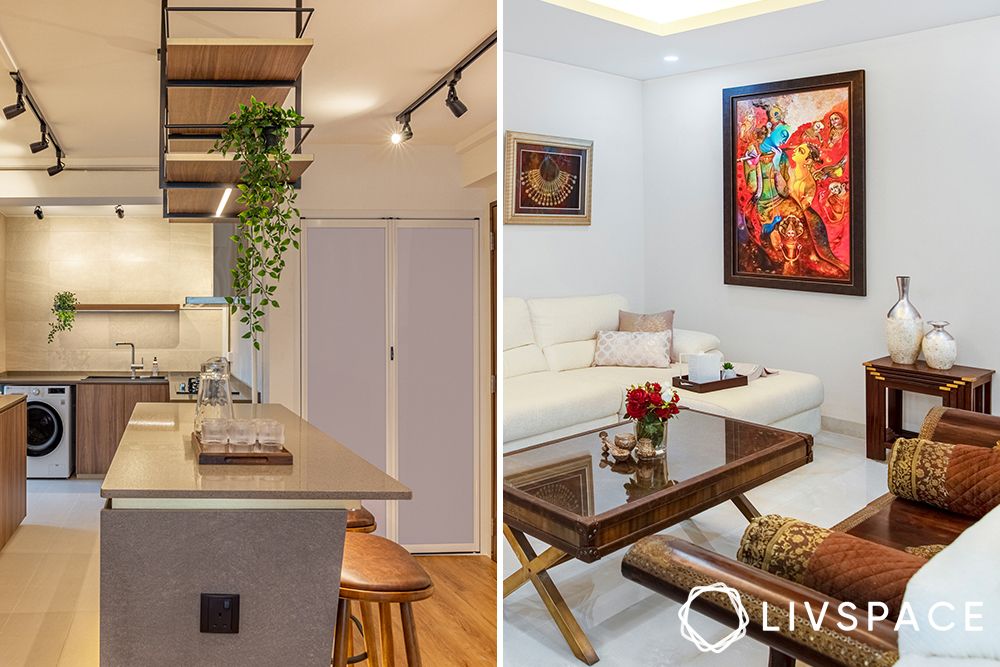 Every year, we notice the exit of some trends and the entry of new ones. Interior design using plants, also known as 'biophilic design' is one of the most popular design trends. Moreover, reeded furniture is in! Some of the latest trends in home interior design include:
Less is more – Minimalism, in its Indian reincarnation, also known as Indian minimalism, is trending
Sustainable interiors – Most homeowners are trying to be sustainable. Moreover, biophilic design, or the use of plants in interior design, is popular
A warm and earthy colour palette – Chocolate browns and caramels are among the top design trends
Exposed surfaces as well as natural finishes – Homeowners are going for textures wall alternatives that do not cover up the bones of a building
Innovative décor – Eclectic spaces have become popular. Homeowners are also more open to mixing design styles. Moreover, unique design techniques are trending
Furniture with clean lines – Function over form. In addition, symmetry is trending in interior design
Smart homes – Most homes now feature some form of smart technology
#4: What Are the Different Types of Interior Design Styles?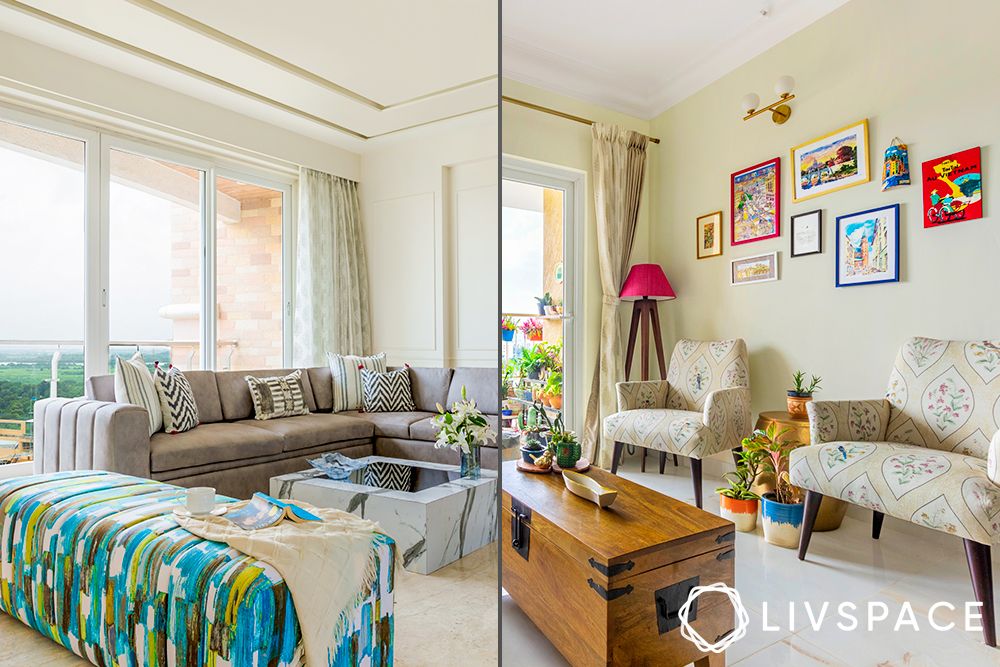 There are 11 interior design styles that you can pick from. However, while selecting the style, choose the one that matches your lifestyle. Here are the 11 design styles:
Interior Design Style
Features
Contemporary
Natural light
Neutral colour scheme with pops
Texture is key
Clean design
Indian Traditional
Indian statement pieces
Generous use of colours
Refurbished, solid wood furniture
Handicrafts and folk art items
Minimalism
Open layouts
Monochromatic colour theme
Concealed storage
Organic materials
Bohemian
Decorate with items from different places
Vast collection of patterns
Low seating
Refurbish and reuse
Art Deco
Deep wall colours
Arched windows and doors
Metallic accessories
Mirrors and lighting fixtures with crystal and glass
Scandinavian
Open layout
Neutral colours with texture
Natural fabrics
Light wood furniture
Minimal Glam
Clean layout with plush accessories
Simple colour palette
Add unique textures
Metallic decor items
Mid-Century Modern
Connect with the outdoors
Pendant lights
Tall arching lamps and décor
Organic shapes
Transitional
Mix of old and new designs
Clean and straight lines
Neutral colours with subtle patterns
Statement art
Colonial
Dark wood furniture
Wooden beams and rafters for your ceiling
Large windows with louvred shutters
Statement fans
Eclectic
Mix of styles
One neutral colour with an accent colour
Commonality in décor
Gallery wall
Additionally, Indian minimalism is also a rising style in India.
#5: What Are the Types of Interior Designs Popular in Bangalore?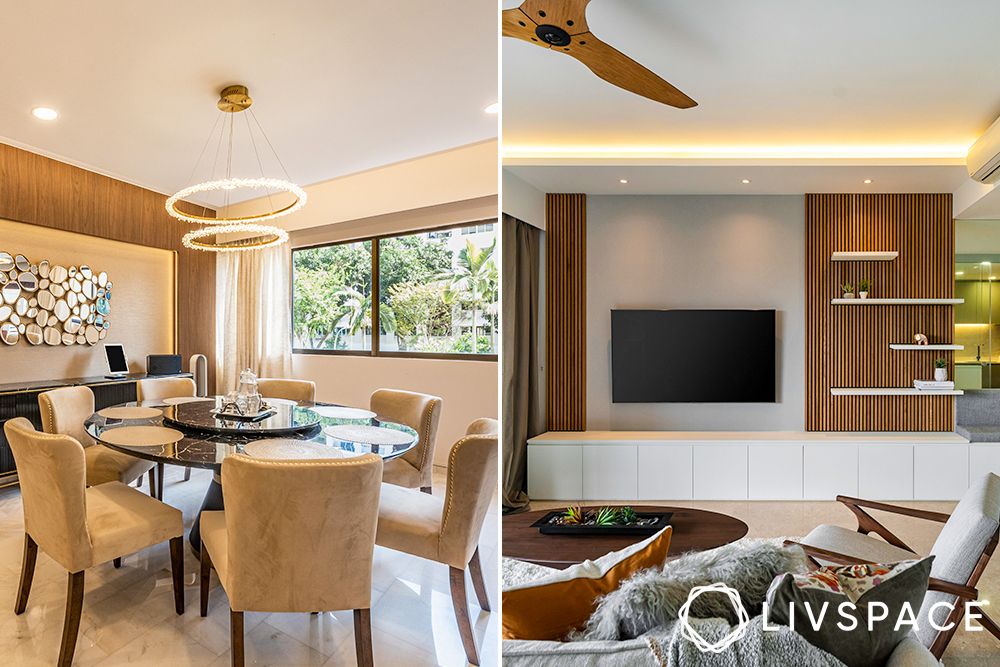 So, which interior design style is popular in Bangalore? Bangalore is home to mainly working professionals. As such, they prefer easy-to-maintain interiors that are both functional and comfortable. Therefore, the contemporary design style is popular among Bangaloreans. This design style features clean lines, basic colours and tons of natural light.
#6: What Is the Cost of Interior Design in Bangalore?
To help you understand the cost of interior design in Bangalore, we have considered a 3BHK in Bangalore with a total sq. ft. range of approximately 750 – 1,400 sq. ft. and given you the cost breakup of each room.
Room
Total Interior Cost Range
Scope of Work
Kitchen
₹180,000 – ₹4,50,000
Modular kitchen,
electrical,
painting,
civil work,
appliances
&
small breakfast
counter
Living Room
+
Dining Room
₹2,50,000 – ₹5,00,000
TV unit,
pooja unit,
partition, crockery,
unit, storage unit,
sofa,
centre table,
dining table,
accent chairs,
wall panelling,
curtains,
wallpapers,
false ceiling,
electrical and
painting costs
Master Bedroom
₹2,00,000 – ₹3,00,000
Bed, wardrobe,
TV unit,
storage unit,
bed's back panelling unit,
accent chairs,
curtains, wallpaper,
false ceiling, electrical
and painting
costs
Kid's Bedroom
₹1,50,000 – ₹3,00,000
Bed, wardrobe,
TV unit,
storage unit,
bed's back panelling unit,
accent chairs,
curtains, wallpaper,
false ceiling, electrical
and painting
costs (kid's theme)
Guest Bedroom
₹1,25,000 – ₹2,50,000
Wardrobe, bed,
storage units,
curtains,
wallpapers,
electrical costs,
additional decor
Bathroom
₹30,000 – ₹50,000
Storage units,
false ceiling,
mirrors,
electrical work,
wall painting
However, it's good to note that interior design prices depend on a number of factors like location, styles you choose for, civil treatments required, structural changes, wall and floor treatments, electrical work, finishes and materials used and more.
We hope this article answered your questions on interior design. Additionally, if you have more questions, you can take a look at this article.
How Can Livspace Help You?
We hope you found our ideas useful! If you want your home to be just as beautiful, then look no further. Book an online consultation with Livspace today.
If you also want to know how our customers feel about working with Livspace, you can check out the Livspace reviews!
Also, send in your comments and suggestions to editor@livspace.com
Disclaimer: All contents of the story are specific to the time of publication. Mentions of costs, budget, materials, finishes, and products from the Livspace catalogue can vary with reference to current rates. Talk to our designer for more details on pricing and availability. 
Please note that the designs showcased within the story are subject to availability and will vary based on the year the homes were designed in. Consult our designers for more details on the latest designs.