When you go to buy a sofa, your first priority is probably the size, material and colour. In this rush, to ensure you're getting a good deal, the style of sofa design might end up taking a back seat. For the uninitiated, differentiating between the various sofa designs for home interiors might not even come easily. Here's where we can help you make the right decision.
Whether you're in the market for the latest sofa design or a simple sofa design, we've got it all covered. So, go on and pick the one that best suits your personality! 
Latest Sofa Styles for Your Home:
#1: Chesterfield Sofa
A classic sofa design that can be traced back to the 4th Earl of Chesterfield. It debuted in the 18th century and has never really gone out of style (we can see why!). Chesterfield sofas are typically identified by their tufted or quilted upholstery.
Owing to its tufted design, sitting on these types of sofas won't crumple your clothes. Though this is not a new sofa design, it can work just as well for modern interiors.
#2: Mid-Century Modern Sofa Design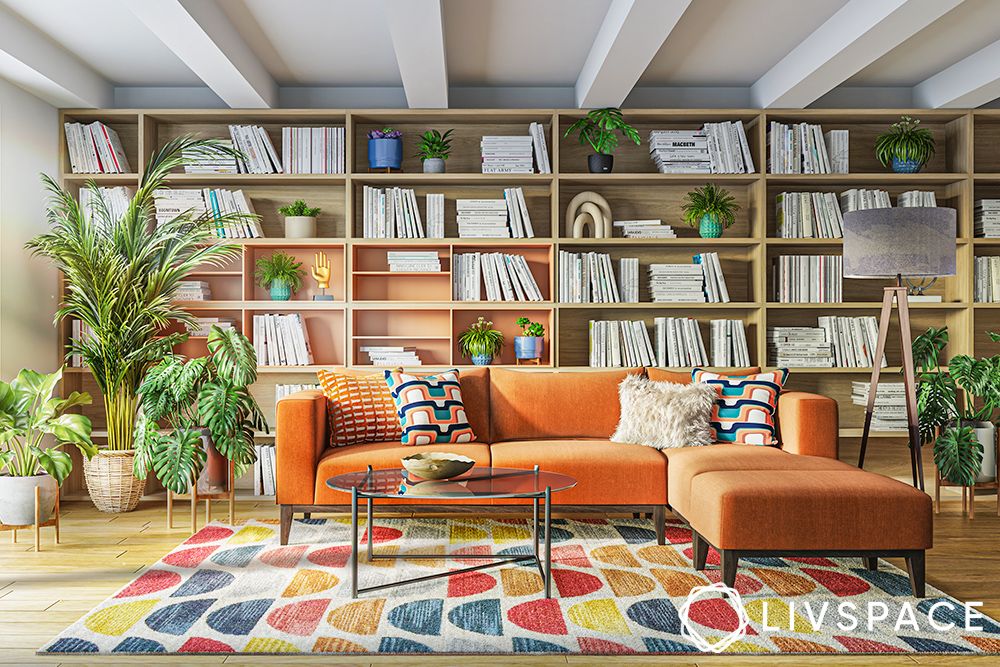 Although this sofa design was more popular between the 1930s and 1970s, mid-century pieces still make an appearance in modern homes. Since the mid-century modern sofa design is transitional in style, it adheres to the clean lines of minimalist design.
If you live in an apartment, this can be one of the most ideal sofa designs for home interiors. This is because a mid-century modern sofa offers optimal comfort in a small living room.
#3: A Dapper Tuxedo Sofa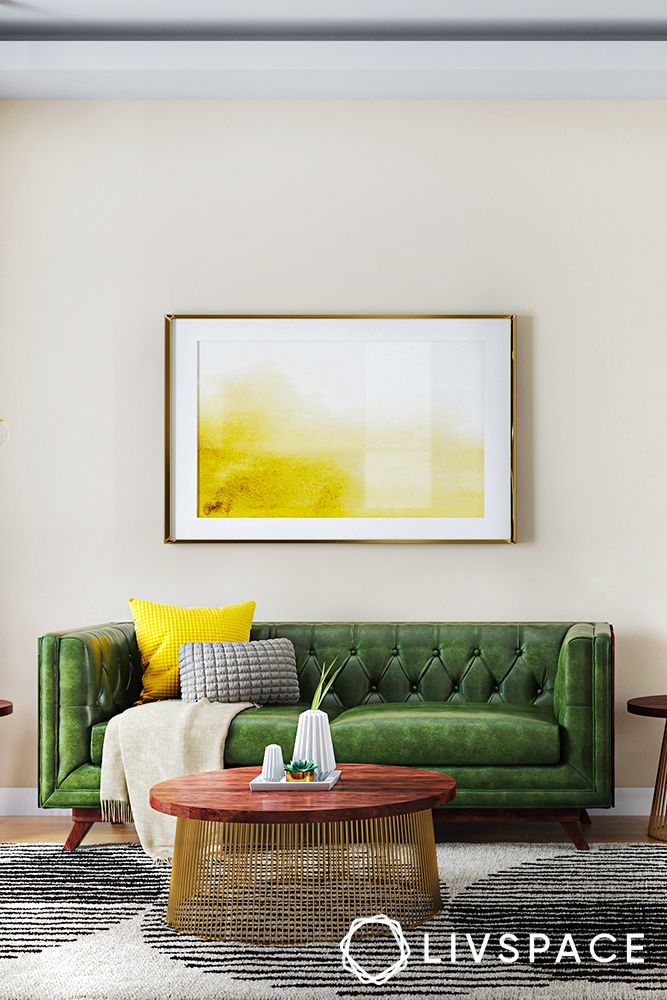 This is one of the classic types of sofa designs that's instantly recognisable due to its boxy appearance. One distinguishing feature of these sofa designs for home interiors is that the arms are in level with the sofa's back.
However, it may not be very comfortable to sit on a tuxedo sofa because its armrests are too high. Instead, it may be ideal for formal living rooms or office receptions where people prefer to sit upright. 
#4: The Lawson-Style Sofa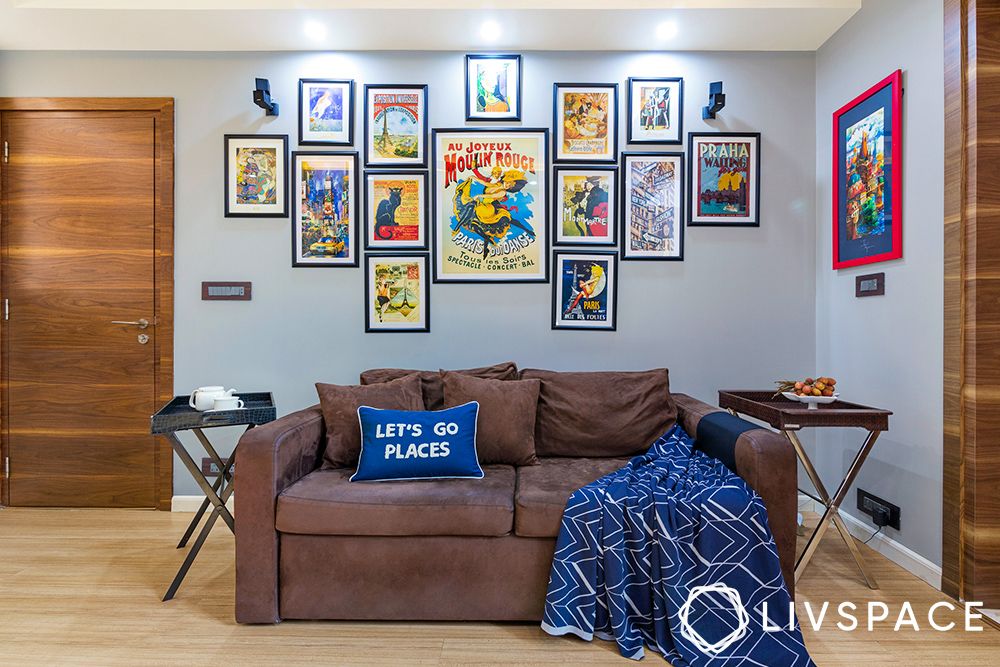 The Lawson-style sofa is a more comfortable version of the Tuxedo sofa design. Named after Thomas Lawson, an American financial broker, it dates back to the early 20th century. The demarcating feature of a Lawson-style sofa is that the cushions that form its back are separate from the main structure. 
In the simplest terms, its unique design makes the Lawson-style sofa uber comfortable. With this sofa design for hall and common areas, you can use different coloured or patterned cushions for visual effect. 
#5: Simple Sofa Design – A Sectional Couch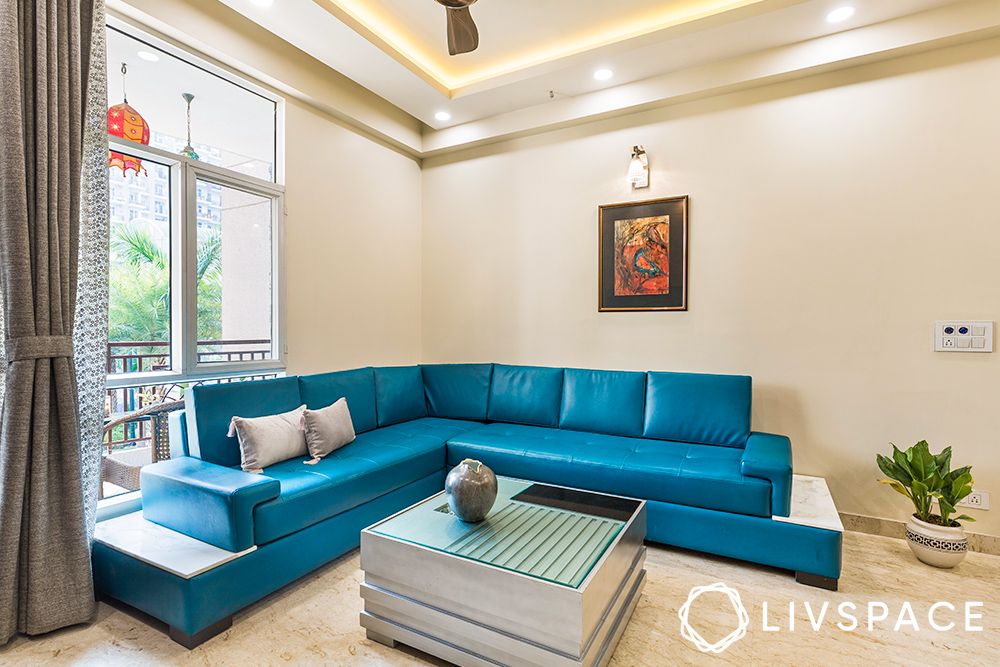 Sectional sofas were used as far back as the Victorian age. However, in its modern form, this sofa design for hall interiors has made an appearance since the 1950s. 
A sectional sofa design is nothing but a combination of multiple pieces of sofas. Typically, the arrangement has three or five pieces that are fixed together to form a large sofa in an 'L' or 'U' shape.
These sofas are perfect for large living rooms where you need to segregate space. What's more, they're also one of the latest sofa design styles you'd find in most modern homes.
Also Read: Leather Crush | 5 Living Room Designs With Leather Sofas
#6: Contemporary Modern Sofa Design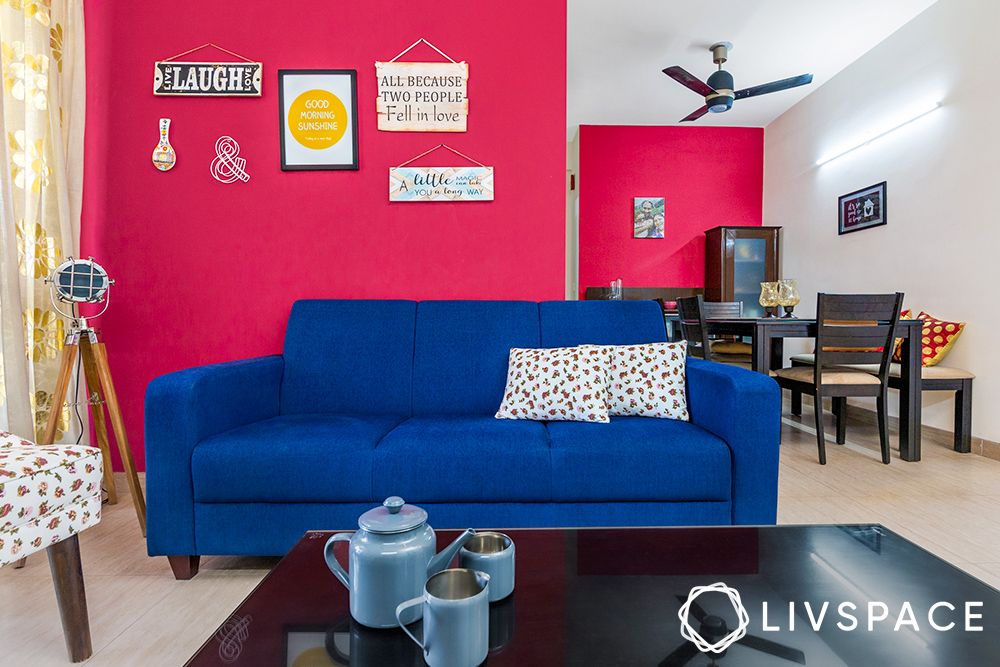 In line with new sofa design styles, we have a contemporary take on modern sofa design. As this style draws heavily on mid-century modern design, it is casual and apartment-friendly. 
The structure of this sofa design is more or less the same as mid-century modern sofas, with some streamlining. Similarly, this design works well in vibrant colours, adding some contrast to modern homes. 
#7: Recliner Style Sofa Sets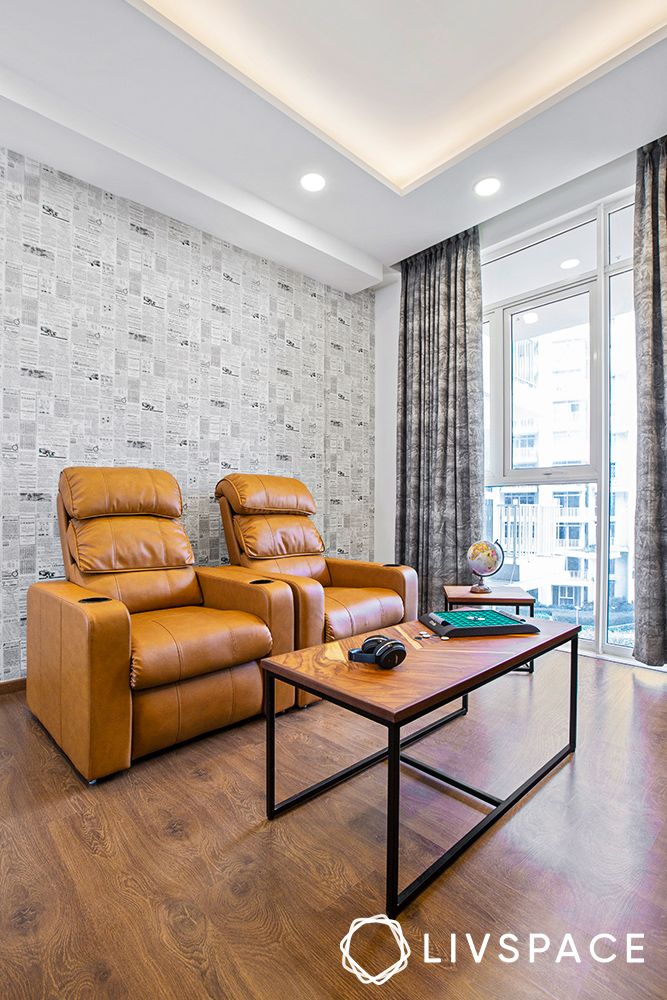 If you're an avid TV buff, chances are that you're already acquainted with this type of sofa design. As we spend more time in front of our TV sets, reclining sofas have made their way into the list of latest sofa design styles.
This comfortable sofa style works well in entertainment or family rooms. Moreover, this stylish modern sofa design is ideal for a relaxed environment and not so much for formal living rooms.
#8: Sofa Design for Hall – The Settee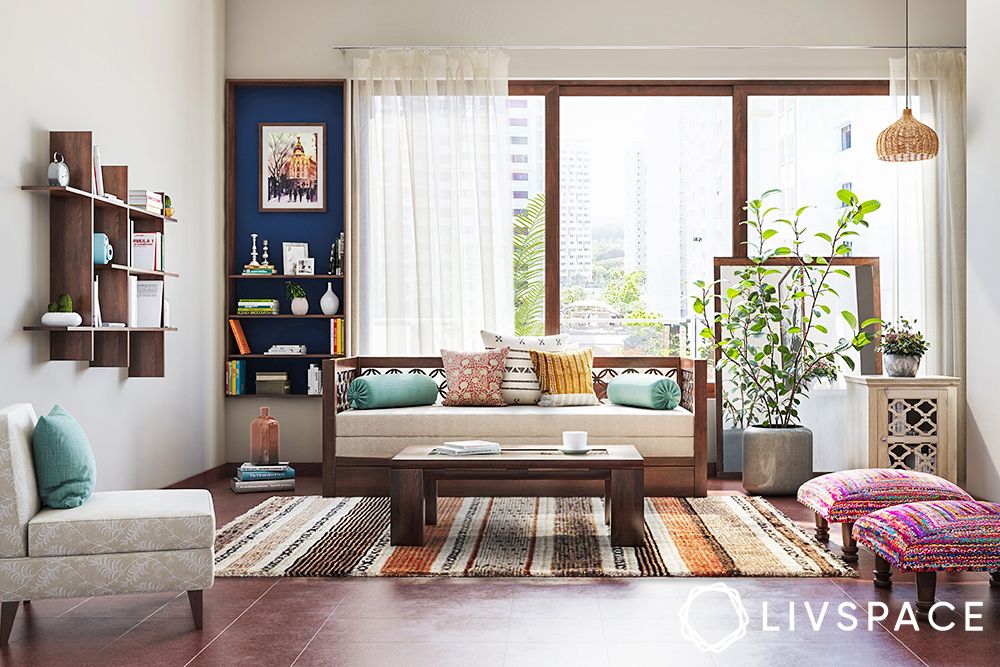 This sofa style oozes old world charm because it originated in the first half of the 18th century. We can see many examples of such furniture during the time of Queen Anne of England.
Traditionally, a settee is a long wooden bench with a backrest that seats two or more people. It is more or less a bare version of the loveseat that seats only two. 
Settees are perfect for small living rooms as they are narrow and do not consume too much space. In fact, they can even add a distinct traditional touch to your interiors.
#9: Futon Sofa Designs for Home Decor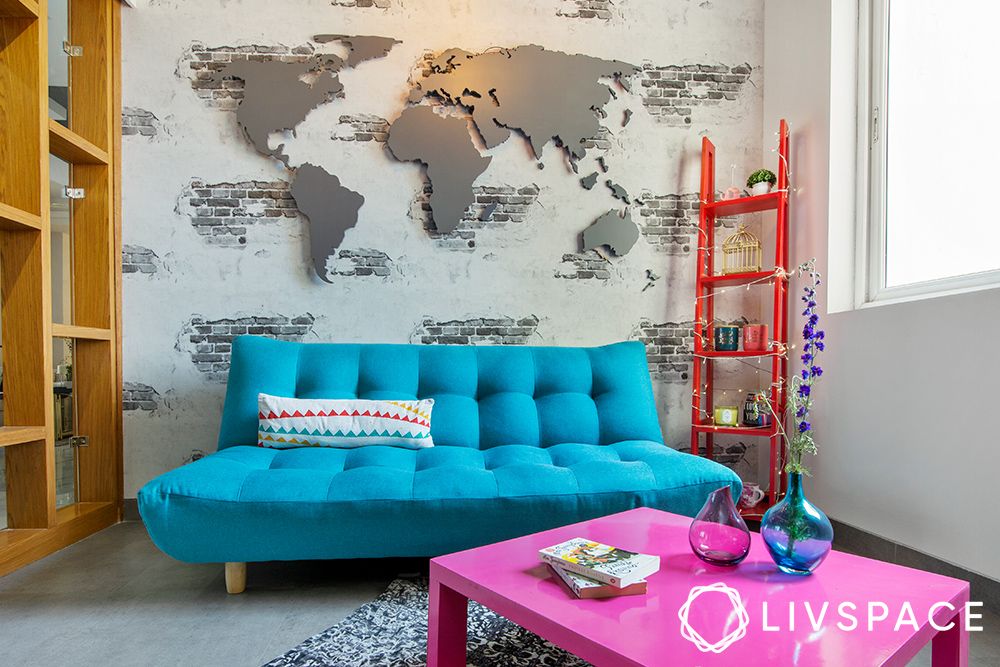 The word 'futon' in Japanese means bedding. The comfort element of futon mattresses were basically discovered by the soldiers who came home from World War II. American furniture designers accommodated it in the framework of a sofa to fit into small apartments or outdoor spaces. 
In other words, a futon comes with the frame of a sofa but instead of upholstery, it has a mattress that can be rolled out on the floor for sleeping. Moreover, a futon sofa doesn't have armrests. This multi-functional element of futons makes them a perfect match for compact apartments and single occupants.
#10: Traditional Camelback Sofa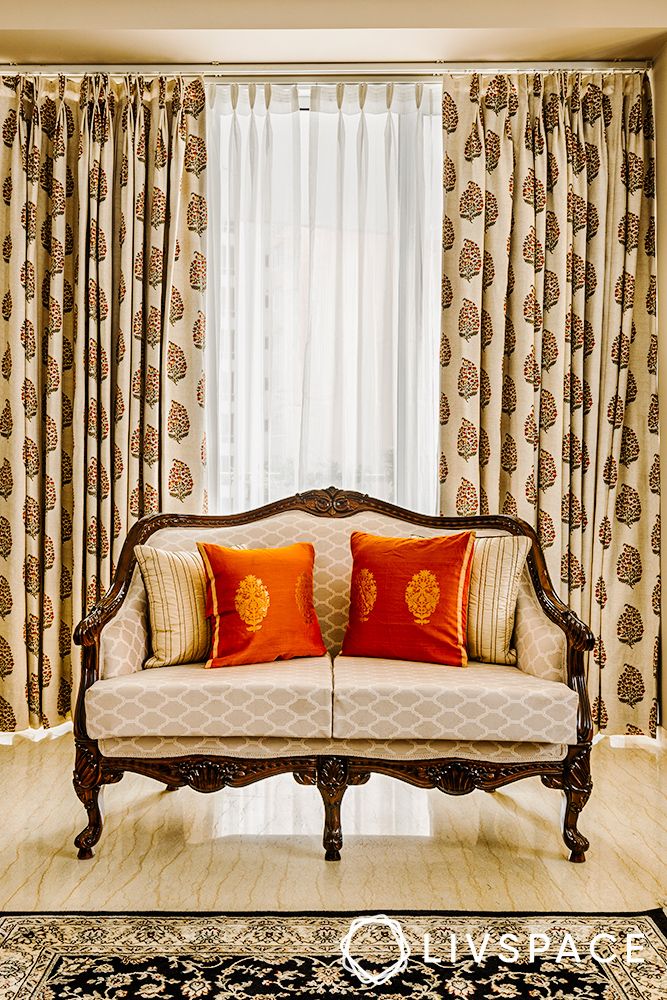 This design goes straight back to the famous Thomas Chippendale of England. In the 18th century, noble families preferred this style for its exquisite carvings. But even today, such sofas are generally used as statement pieces in traditional style homes. 
A camelback sofa is marked by a distinctive rise in the centre of the backrest, which resembles a camel's hump. This kind of sofa is almost always wooden and has exposed wooden legs. Though it is not contemporary in nature, this type of sofa design has immense vintage value.
Also Read: Trend Alert: Fun & Fresh Sofa Colours
#11: A Vibrant Chaise Lounge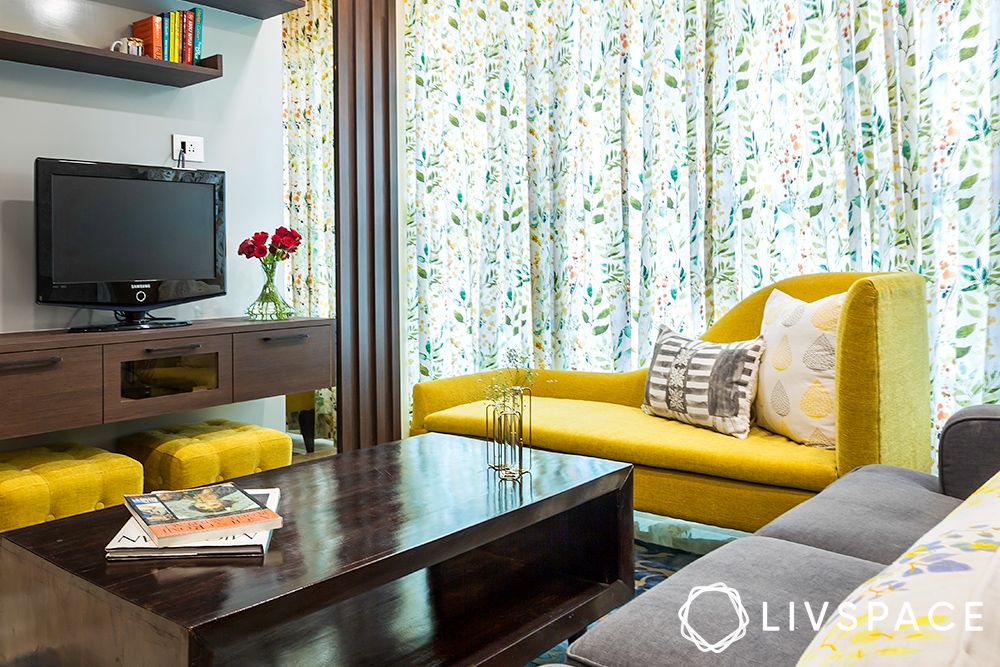 While earliest designs of the Chaise Lounge date back to the ancient Egyptians, its current form can be attributed to the Rococo period of French style, which is in the 16th century. Even back then, these sofas were considered plush possessions and were made using the most expensive wood and upholstery materials. 
A Chaise Lounge in French literally means 'a long chair'. It basically combines the functions of a daybed and a chair. These sofas are most prominent in living rooms and bedrooms, adding some plush flair to the space. 
#12: Daybed to Decorate the Hall
You might already be familiar with divans that decorate most Indian homes. They are nothing but a cushioned bench that comes with or without armrests. Bolster pillows are often paired with these sofas to make them more comfortable.
Similarly, daybeds offer the same function and the terms are often used interchangeably. In terms of function, a daybed is not very different from a chaise lounge sofa, as it is mainly used to lounge, read, or rest.
#13: Modern Sectional Couch With Storage
What's better than a sofa design that's specifically made for compact apartments? A sofa that comes with storage! Some modern sectional sofas offer the advantage of storage compartments within their design. This is especially helpful to have when you're crunched for space.
While selecting a sofa, consider going for sectional units that come with concealed storage compartments. In fact, you also have the option of getting a sectional sofa with built-in shelves at the side of it.
#14: Stylish Modern Sofa Design (Curved Couches)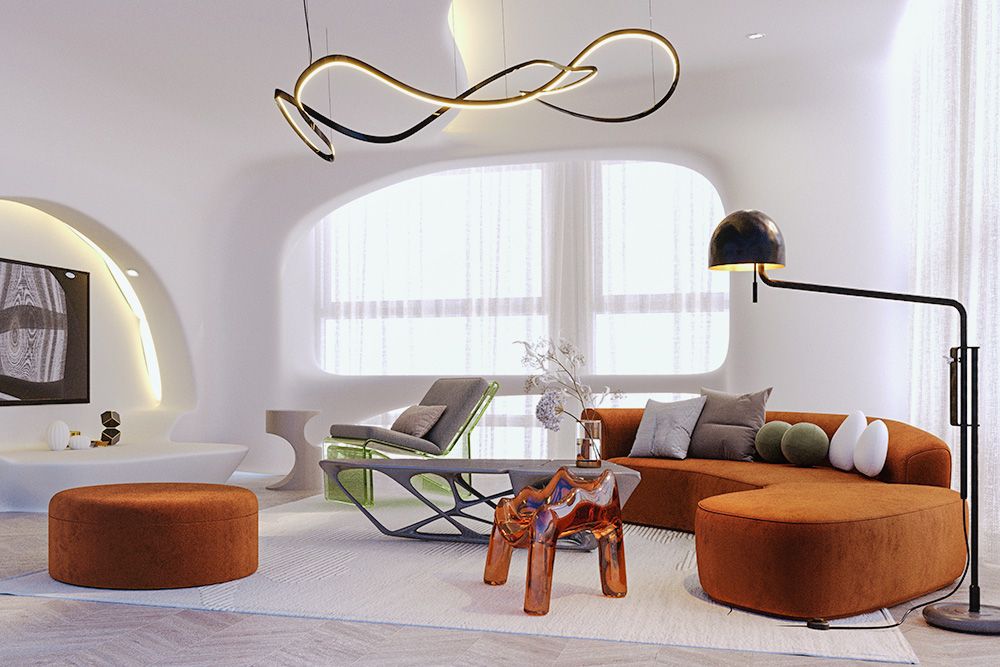 Here's a stylish modern sofa design that's quickly gaining ground in the interiors scene. Though these types of curved sofas are widely seen in luxury TV homes, they can work just as well off screen.
These bean shaped sofas are the perfect addition to modern and minimalist homes as they can make a subtle yet impressive statement. Given their shape and design, they are better used as accent pieces in spacious apartments.
#15: The Latest Sofa Design in Tufted Styles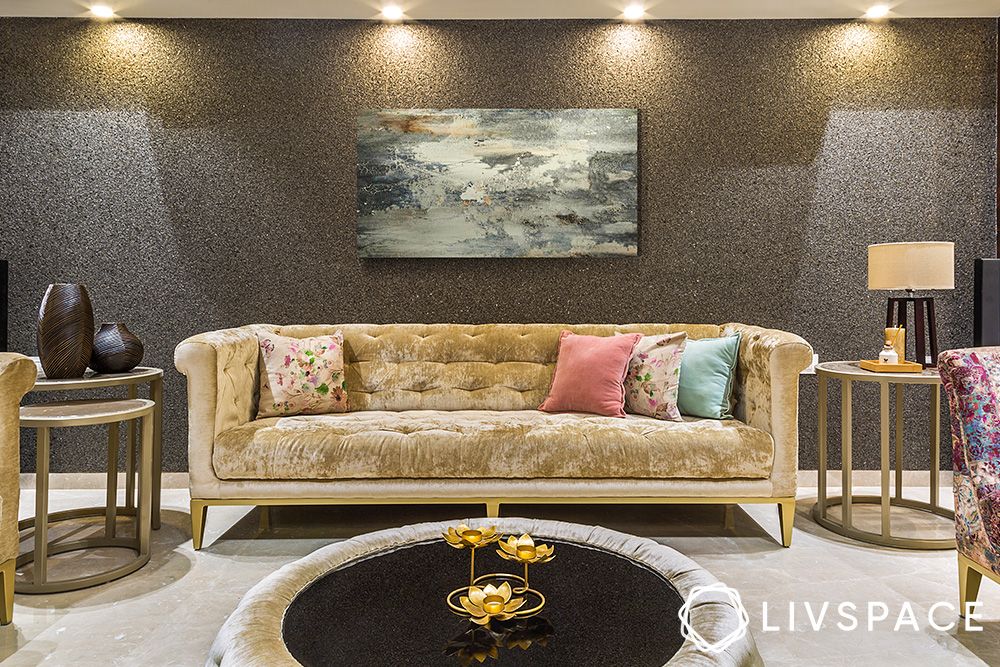 We've already looked at the Tuxedo style of sofas where tufting is the focus. But aside from this, there are different takes on tufted sofas for you to consider. Take the sofa used in this home for example. The sofa uses velvet upholstery to further complement the plush theme of the home.
Textures like velvet add to the other accessories and fixtures in the room, creating a fine look of luxury. So, if you're looking for a way to play up your tufted sofa, go for velvet upholstery to amplify the look.
How Do You Choose a Sofa for Your Living Room? 
While shopping for a sofa, there are a few things to keep in mind to ensure a more informed purchase. The first thing is to understand the purpose you are looking to fulfil with the sofa's design. Is it for lounging, socialising, or reading? Once you know what the function should be, you can then move onto the next steps: material, size, and colour.
You also need to ensure that the sofa you select matches the rest of your interiors, as well as your lifestyle. If you have children or pets, you probably want a low maintenance sofa that can keep up with rough usage. Similarly, if you're going for a more luxe vibe, you might want fine upholstery with detailed armrests to make a statement.
How Can Livspace Help You? 
We hope you found these sofa design ideas useful! If you want beautiful interiors for your home, then look no further. Book an online consultation with Livspace today.
Have some thoughts or suggestions you'd like to share with us? We're all ears! Drop us a line at editor@livspace.com.
FAQs
1. Which Sofa Shape is the Best?
Rectangular and L-shaped sofas are the best for most homes as they can offer more seating and define the space. However, be sure that the sofa shape you choose fits into the size of your apartment before buying it.
2. How Do I Choose a Sofa Design?
First, measure the size of the room you want to place the sofa into. Next, you need to figure out the sofa's orientation and how it can be placed in the room. You can now go for a design style that fits into these dimensions.
3. Which Type of Sofas Are in Trend?
Curved sofas are currently trending as they are shaped differently compared to sectional sofas.
4. Which Colour Sofa is Best?
Neutral shades like grey, beige, white, and brown are some of the best shades for sofas. You can also go for vibrant colours like blue, orange, and yellow.