Sofas are a massive investment, so you don't want to be second-guessing your choice of material or style at any point in time. To avoid future 'what ifs' and regrets, take time to select the right material for your sofa — whether customised or not. You'll be happy with your choice for years to come and won't have to shell out extra for maintenance or upkeep! Putting durability, comfort and style first, here are a few sofa set fabric choices you could look at.
Best Sofa Material Types
#1: Leather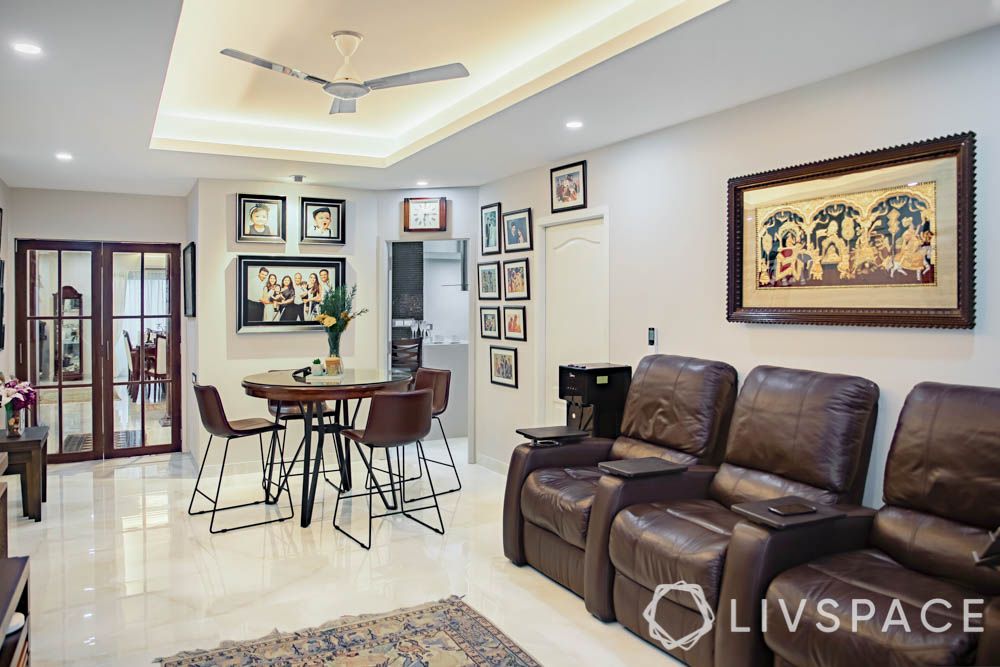 An age-old favourite, leather is a no-brainer when it comes to sofas of any style. It's easy to clean, holds up well over time and comes in a variety of colours, finishes and textures that deliver on visual appeal. Most leather sofa material today has a stain-resistant finish, making it ideal for houses with high footfall in the living area. That said, leather is quite vulnerable to scratches and may develop cracks if levels of humidity fluctuate.
#2: Linen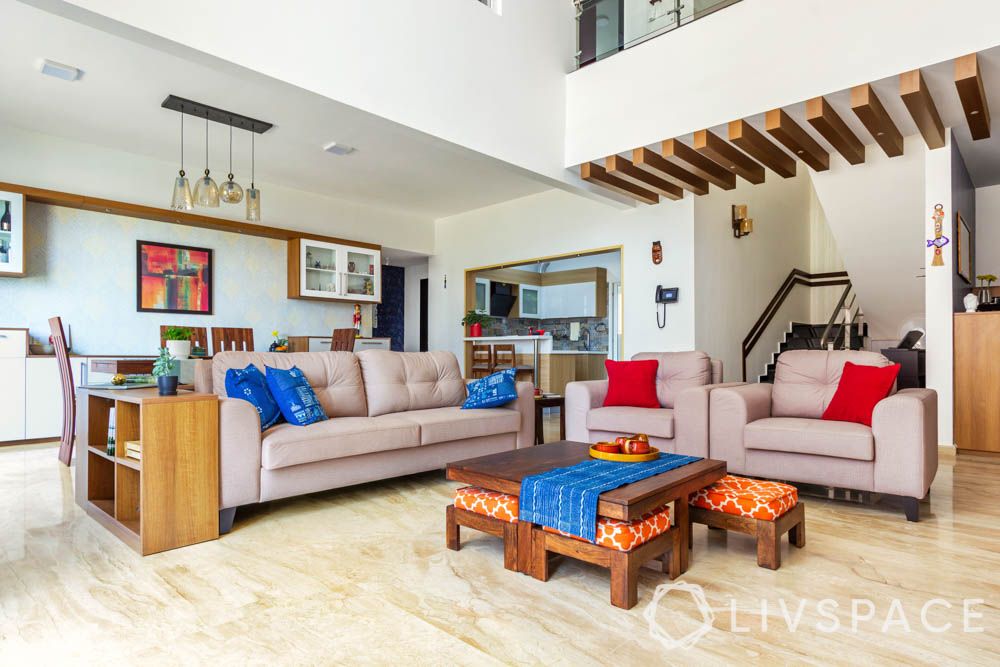 Linen is a tough textile and has a luxe feel, which makes it an enviable sofa material choice. However, this fabric is ideally suited for homes with adult inhabitants rather than families with young kids or pets as linen doesn't hold up well under duress, especially if the chosen linen fabric is made of loose weaves. Lighter colours don't hold a candle to other materials when it comes to stain resistance and it's hard to keep it wrinkle-free at all times.
#3: Cotton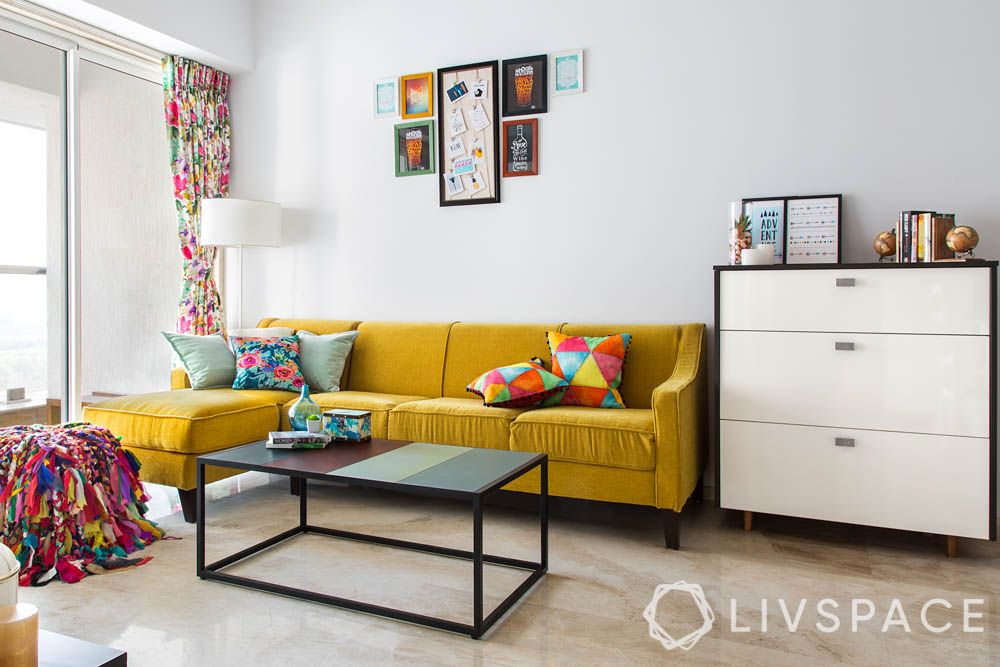 Quite similar to linen, cotton is also a breezy and durable fabric but doesn't hold up well in areas where there is a chance of too many people gathering at a time, like the living room. This sofa material can be treated and made stain-resistant but even then, it isn't quite as easy to clean. Densely woven cotton fabrics such as denim and canvas are a clever way around these caveats; pure cotton, despite being able to resist piling, absorbs stains and colours faster.
#4: Wool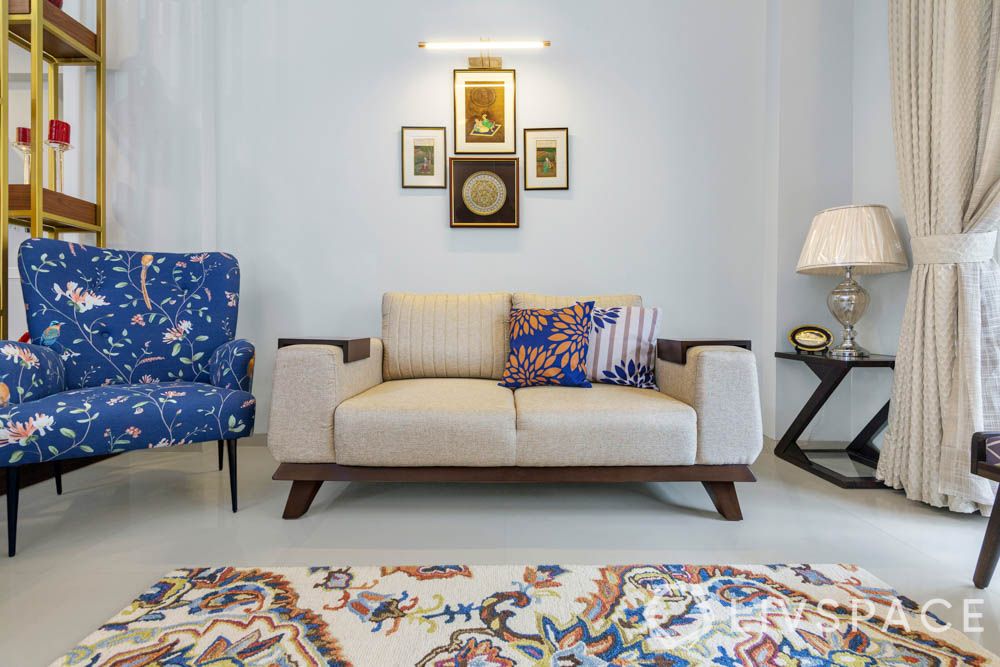 Wool and wool blends make ideal sofa material choices because they're durable and warm. They're also a good choice for kid-friendly homes because they don't experience much piling and wrinkling. Wool is also easier to spot-clean in case of spills and stains; running a vacuum over it removes dust. However, this fabric might not be an ideal choice for warmer climes as it retains heat.
#5: Suede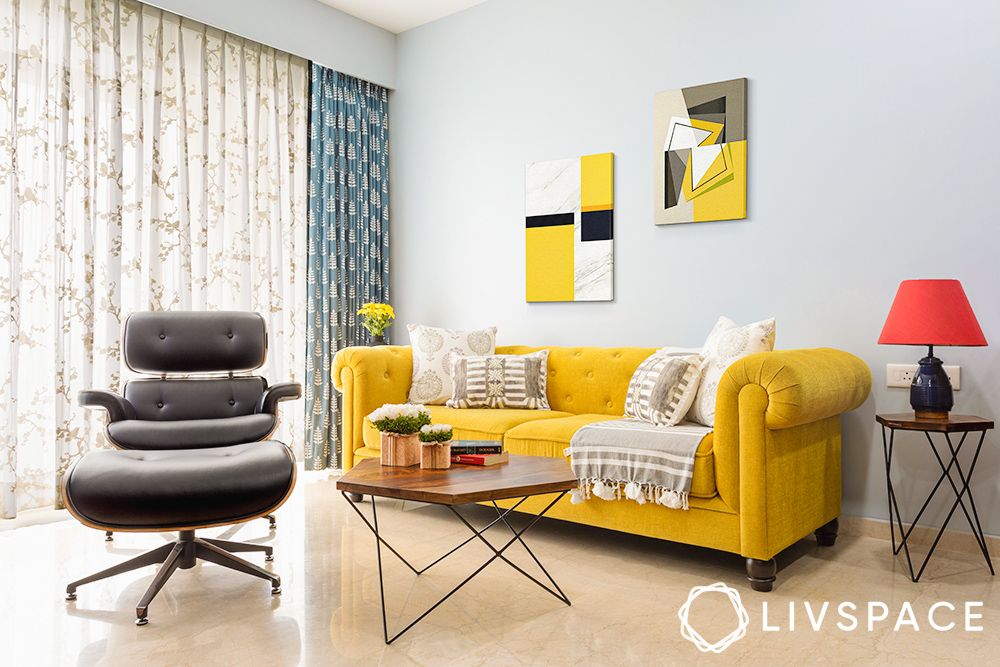 Dabble in a touch of high-end glamour with a durable suede couch. Though this sofa material can be a sight for sore eyes, it's just as high maintenance. Due to its ability to attract dirt, regular upkeep is required to ensure you're getting the best of it. Though this is a relatively durable material, it can get dirty quickly if you live in a home with pets and kids. However, if you're someone who cleans your upholstery regularly, you need not worry.
#6: Velvet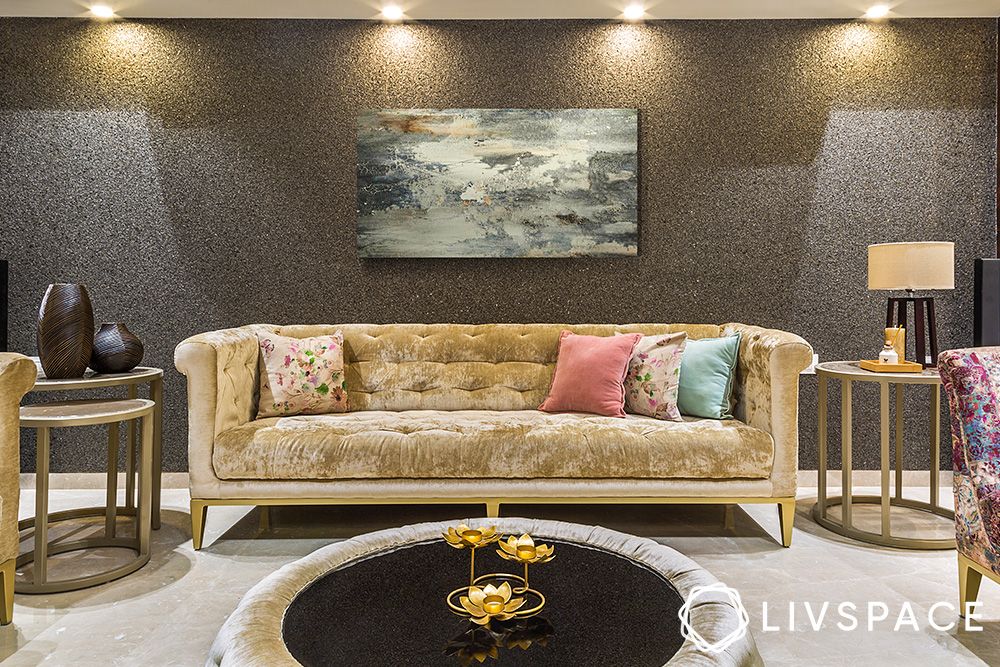 If there's anything more representative of the luxe life, it's a velvet sofa. This soft and textured material is luxury personified and is the perfect element to dress up your interiors. Though a luxury material might seem like it requires more maintenance, velvet is relatively easy to maintain. In fact, it can handle daily wear and tear just as well as any other material.
7: Chenille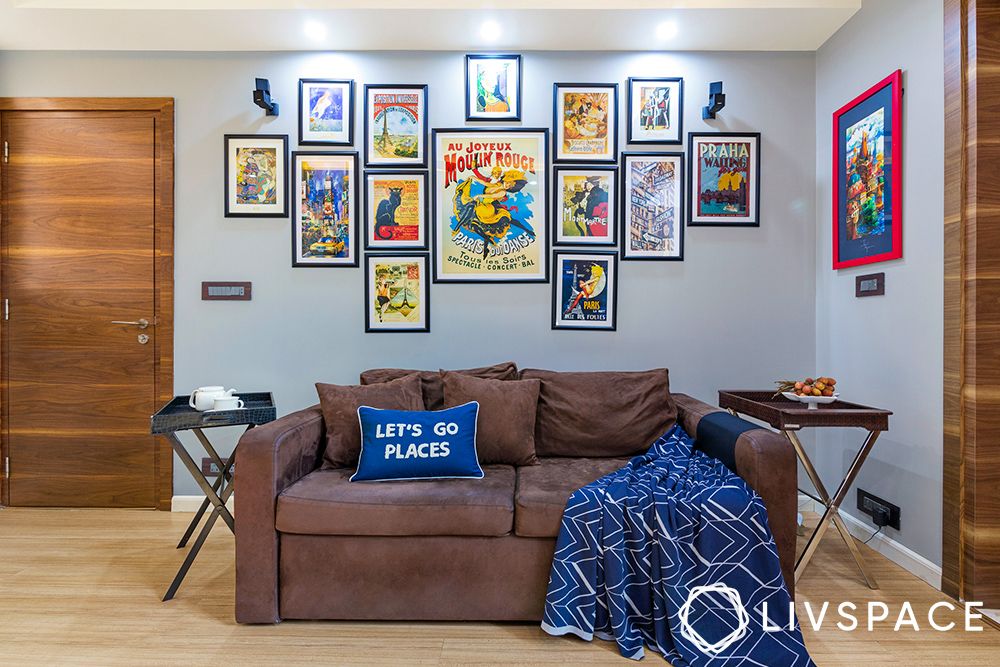 Durable and soft, chenille sofas have a high pile (the raise surface of thread) which makes them great for upholstery. As they are typically soft to touch, they lend a subtle fuzzy feeling to your furniture. However, chenille is not as durable when directly exposed to sunlight, leading the material to fade. Be sure to position your chenille couch away from windows to keep your upholstery looking brand new.
So, which is the best sofa fabric option based on durability?
Leather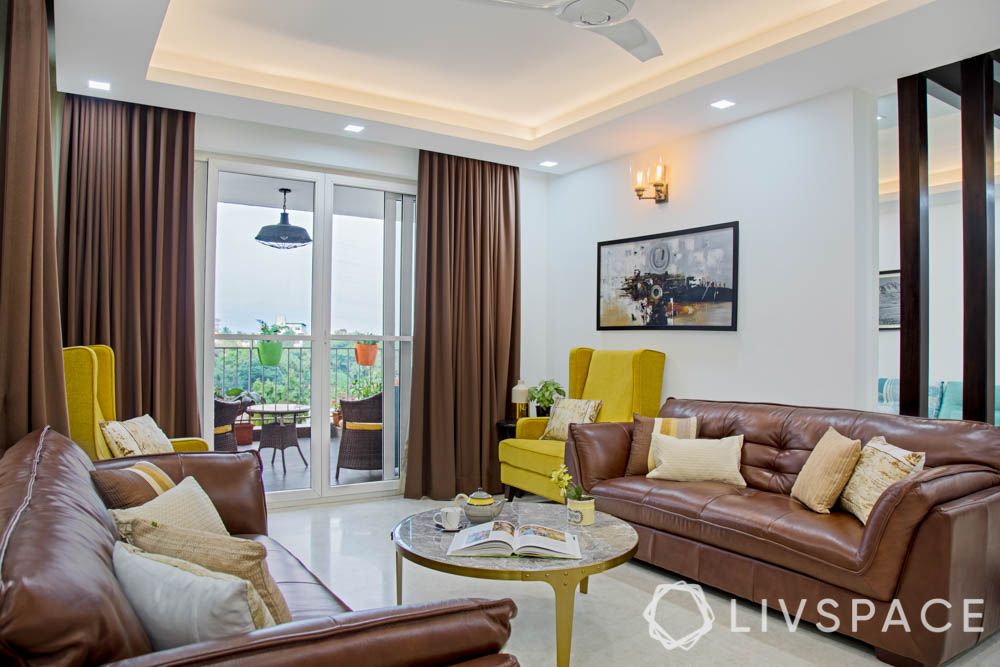 Leather stands head and shoulders over other sofa materials when it comes to durability. It's quite an investment but stands the test of time and holds up well under distress. If you're worried about kids or pets staining the material, consider opting for distressed leather — any blemishes will blend right in. 
PRO Tip:
How can Livspace help you?
Due diligence when picking out your sofa material will help you avoid future regrets and unremovable stains! To make the perfect choice, you can seek Livspace's expertise. Book a consultation with our expert designers to get safe and quality interiors. You can learn more about our COVID-19 safety standards here. 
While you are exploring sofas, have a look at the 12 Iconic Sofa Styles.
Send your comments and suggestions to editor@livspace.com