When we think of curtains for the living room, patterns, designs and prints run through our heads. We also take into account the length of the curtains. However, the curtain fabric you choose is just as important, if not more. Every material drapes and falls differently. Moreover, each of these materials have their own properties. Some are easy to wash while others block out sunlight completely. You need to pick a fabric that meets your requirements and also choose a suitable curtain design to go with it.
So we have compiled a comprehensive list of curtain fabrics you can use for your living room so that you make an informed choice.
Curtain Fabric for Living Room #1: Colour Blocking Linens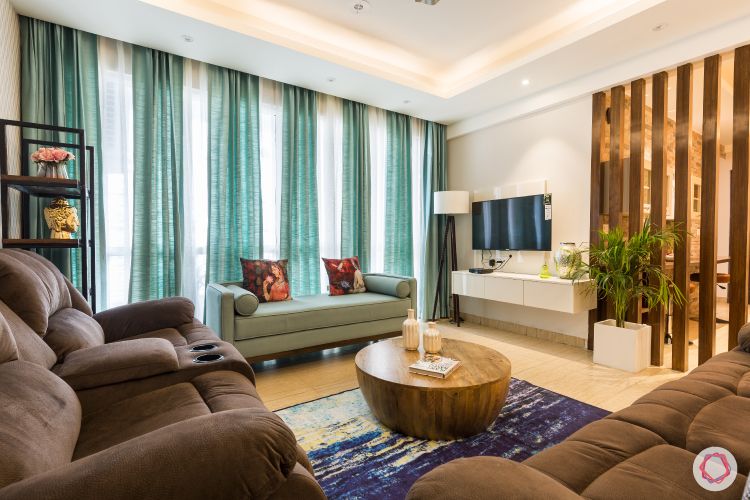 Linen is a fabric that is very summery in its look and feel. Hence, linen curtains add a breezy vibe to your living room. Earthy shades work best with this material, and we love the way this home has used alternate dark and light shades of blue for a colour blocked effect.
Curtain Fabric for Living Room #2: Brocade in Metallic Tints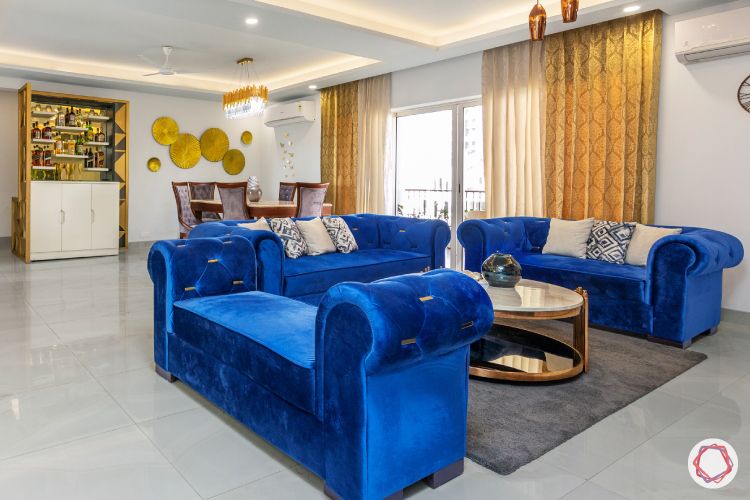 As the saying goes, if you want to go bold, try gold. And glitter of gold, or any other metallic shade for that matter, is best brought out by brocade. The material is quite heavy by itself, and thus, balances the weight of metallic colours rather well. You can match such a type of curtain design for living room with other metallic fixtures and richly colour upholstery for furniture.
Curtain Fabric for Living Room #3: Thick Cotton Blinds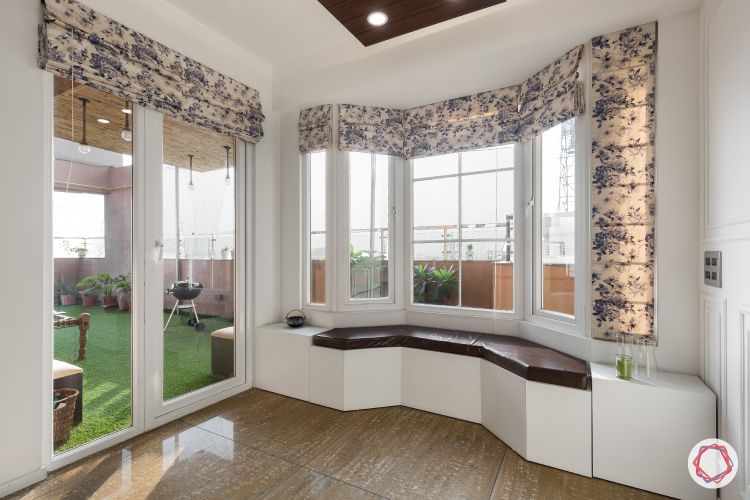 There is a fabulous economy of design when it comes to blinds. They are not bulky and must be made to fit without a ruffle. Thick cotton with prints are patterns compliments this type of design. The material is not puffy or swishy, so your blinds will stay neatly in their place.
Curtain Fabric for Living Room #4: Silk in Indian Prints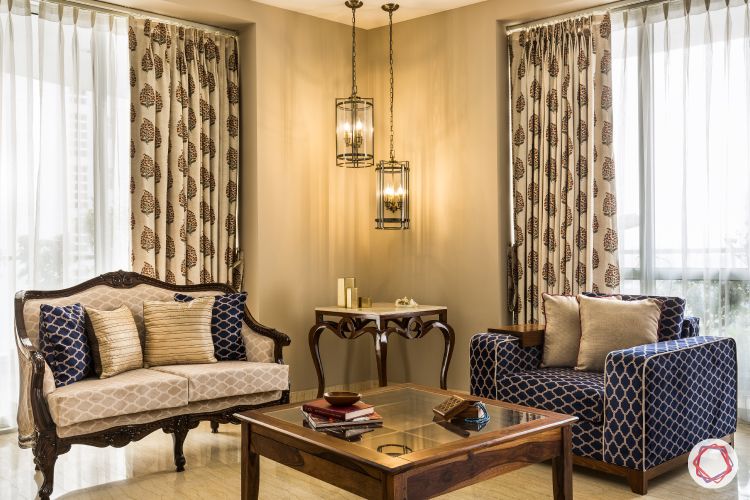 If you are taking the traditional route while picking a curtain design for living room, there is nothing quite like silk. No material can match its richness, and it will drape your windows with a delicate grace. Opt for sophisticated ethnic prints for silk curtains to match the touch of tradition that comes with it.
Curtain Fabric for Living Room #5: Viscose in Rainbow Colour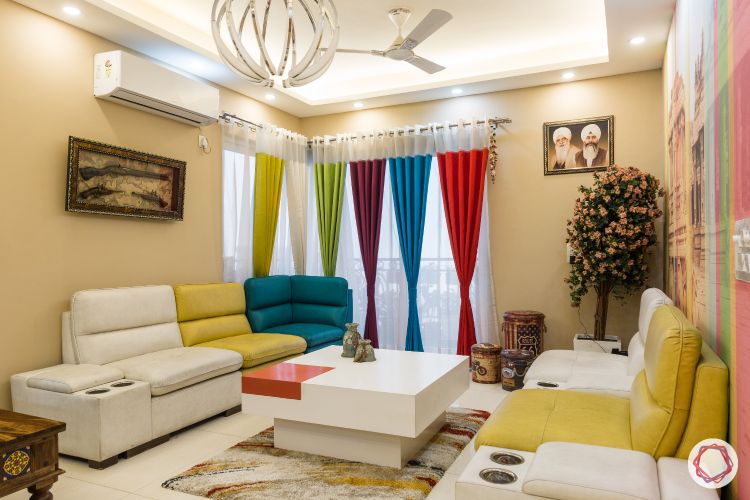 If you are saying affordable, bright and easy-maintenance in one breath, it can be none other than viscose for your curtains. This type of curtain fabric is easy to wash and comes in a variety of vibrant colours. So pick all the colours of the rainbow if you like for a rather playful vibe!
Curtain Fabric for Living Room #6: Sheers With Patterns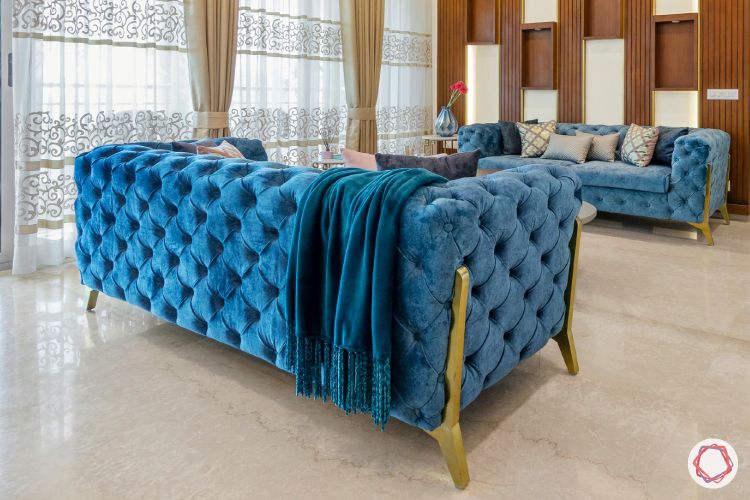 Sheer curtains paired with thick ones are not a new phenomenon. However, sheers with intricate patterns call for a trend alert. Not only do these patterned sheers look exquisite in your living room, they also create a play of sunlight if the angle is right.
Curtain Fabric for Living Room #7: Velvet in Rich Colours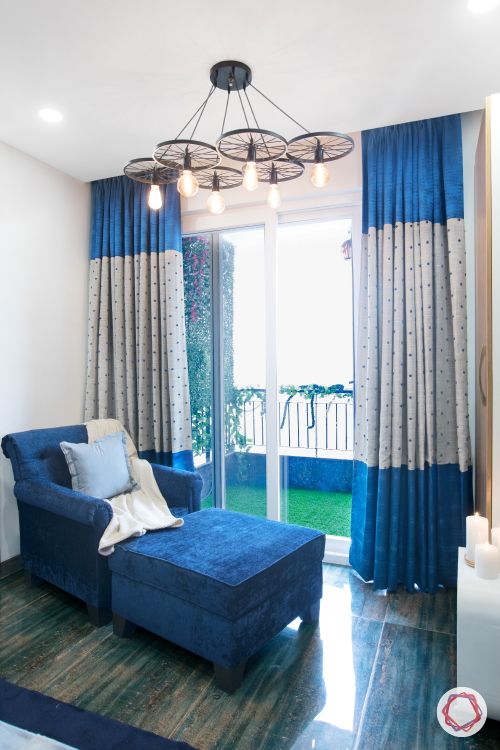 Velvet curtains do two things for your living room; firstly, it blocks out blazing sunlight completely, and secondly, it adds a plush look to space. And you are opting for this luxurious fabric, match it with the upholstery of your furniture too!
Curtain Fabric for Living Room #8: Lace in White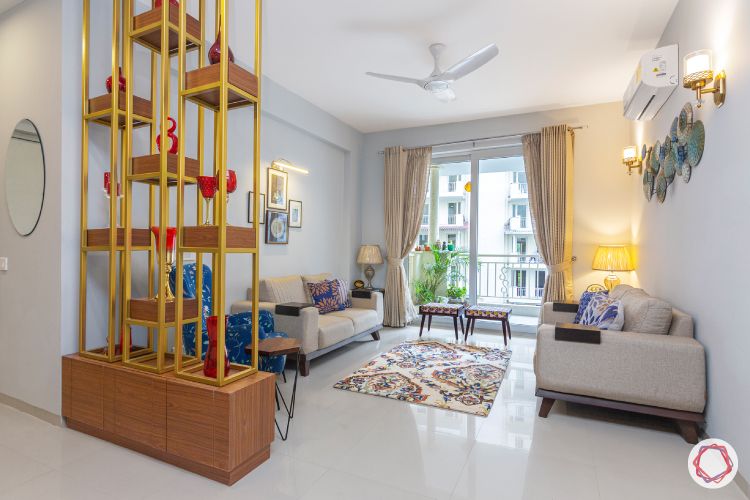 Some styles never really go out of fashion. Lace curtains might be a tad bit Victorian in style but they are, to this day, unmatched in grace and beauty. And when you are going for something as obviously vintage as lace curtains, stick with white, which is its trademark colour.
If you enjoyed reading about curtain design for living room, also explore Curtains, Drapes, Blinds & Shades.
Check out living room design ideas:
Send your comments and feedback.