While doing the interiors for a home, we usually leave the prospect of buying curtains till the end. But no one mistakes picking curtains to be an easy task. Firstly, curtains are quite an investment; they are rarely cheap. Secondly, curtains can make or break the look of your home. So it cannot be a purchase that you take lightly.
While buying curtains may be the last job on your interiors checklist, it is certainly not the least in terms of importance. And any mistakes made while buying curtains are bound to be expensive errors. So let's try and minimise the chances of errors by answering 10 basic questions.
#1: Should I go for readymade or tailored curtains?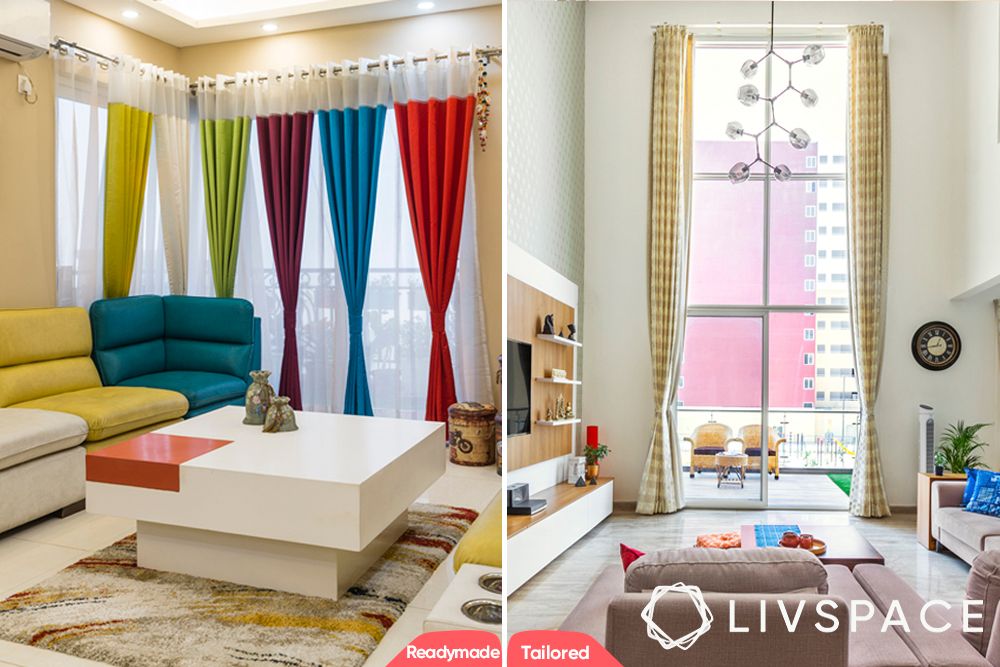 This is the first question that must be answered before you select curtains for your home. Both tailored and readymade curtains have their pros and cons.
Tailored Curtains
Tailored ones can be very personalised. So you get to choose the exact length, fabric, pleats and even the stitching style of the curtains. You can get the exact drape, lining and accessories that you opt for. However, tailored curtains are always more expensive than readymade ones and take time to stitch. Moreover, you need to find a reliable tailor to stitch for you and also an expert to take the measurements from your home. Only then will these curtains have the desired effect.
Readymade Curtains
Readymade curtains come in standard sizes; you can pick them off the racks or just order online. They are more affordable than tailored curtains but have a standard quality and can be returned if not suitable. However, the element of choice is greatly reduced if you are buying curtains that are readymade.
PRO Tip
#2: What should be the optimum length of the curtains?
The most critical aspect of curtains is their length because it determines how the curtains look when you hang them. A couple centimetres can make all the different in the world here. So let's take you through the three most popular lengths for curtains. While every home will have specific measurements, we are merely definitely generic standards based on the fall of the curtains.
Here are the types of curtains based on length
Float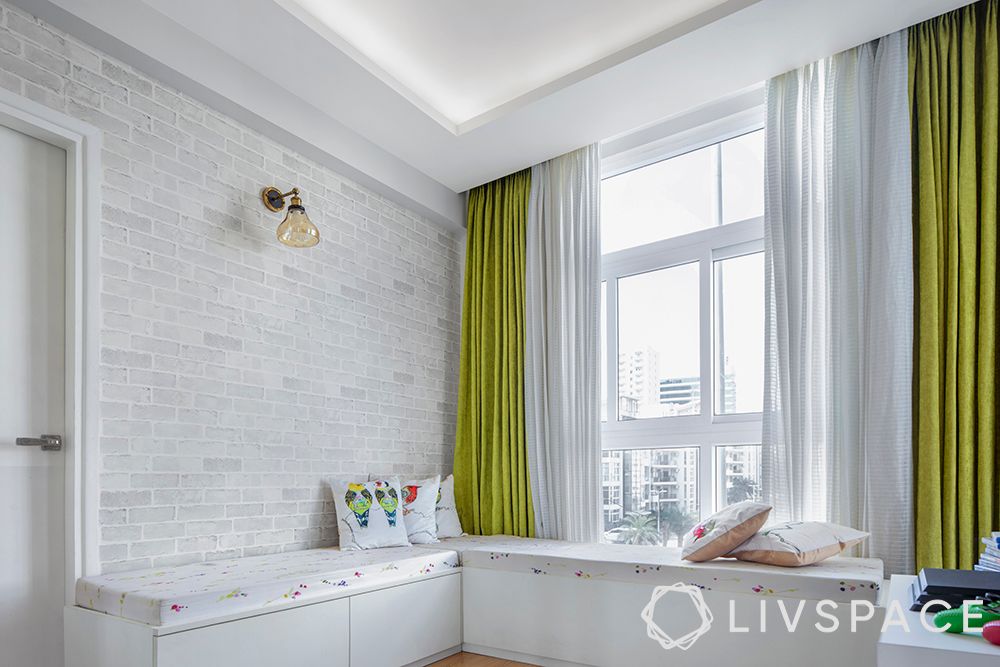 Float could imply half curtains of apron length or curtains that stop a few inches short of touching the floor.
Kiss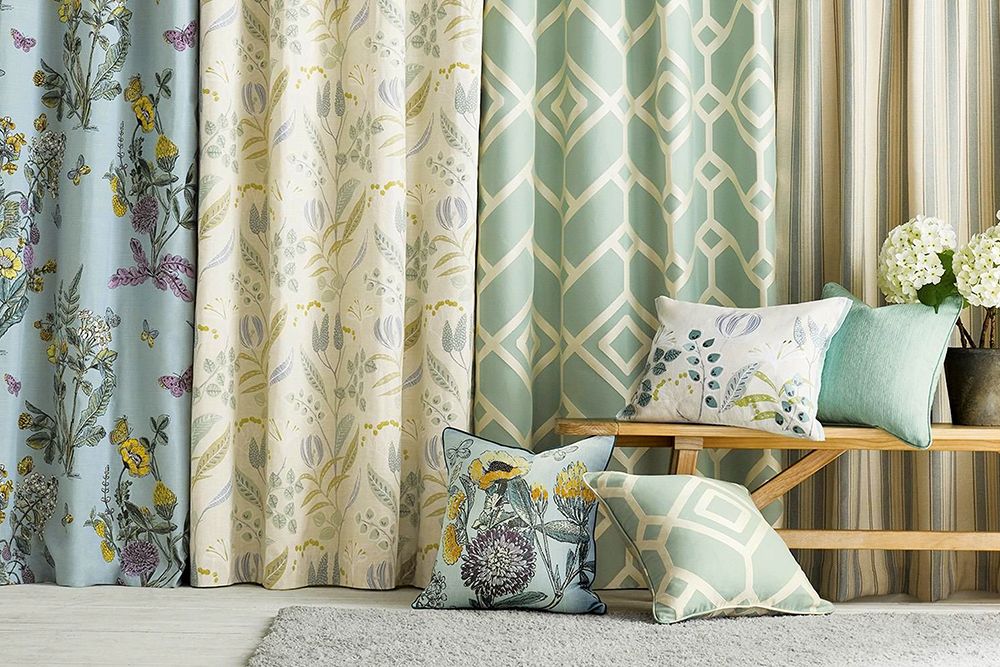 When the hem of the curtains brushes against the floor, it's called a 'kiss' drape. You need exact measurements for this drape to feel right.
Puddle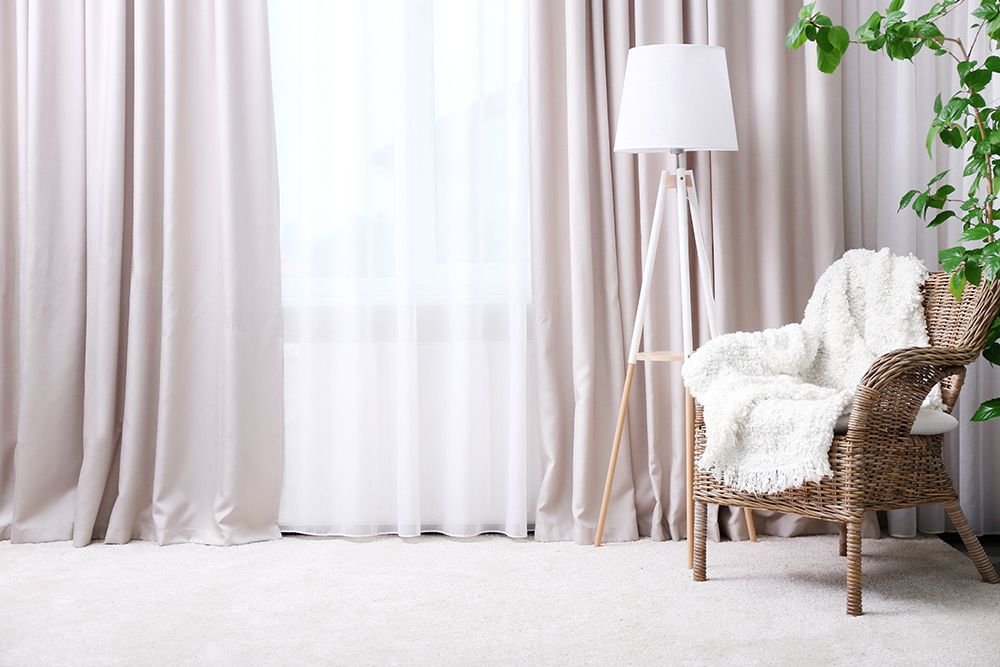 This is when the hemline of the curtains is slightly longer than the length of the door or window; just enough to make a 'puddle.' Though it looks romantic, this length is not practical for areas of the house where there is a lot of movement. This is because people might trip and fall very easily.
PRO Tip
#3: Where are these curtains going up?
The type of curtains you put up in your living room is most often very different from the ones you would choose for your bedroom or study. Here is some insight into why and how these subtle differences implement themselves.
Common Areas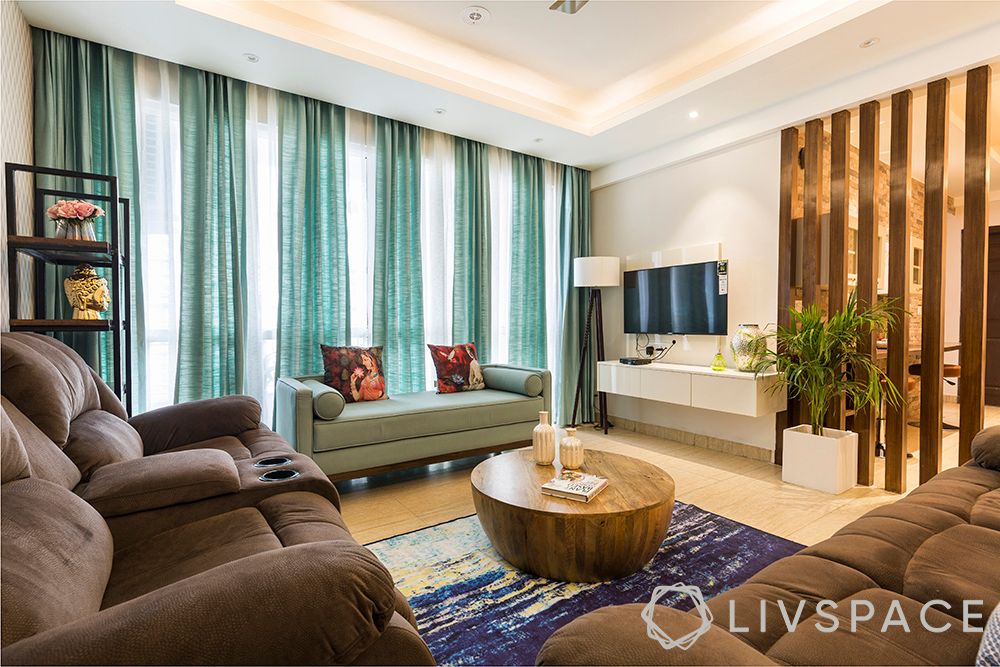 Curtains in common areas of the house like the living room, dining room or kitchen don't have to be very thick. You can get experimental and use linen curtains or translucent ones in these spaces. This is because these areas don't have a requirement of absolute privacy. Moreover, people usually tend to spend more money on the curtains of the living or dining area because this is where you host guests.
Private Spaces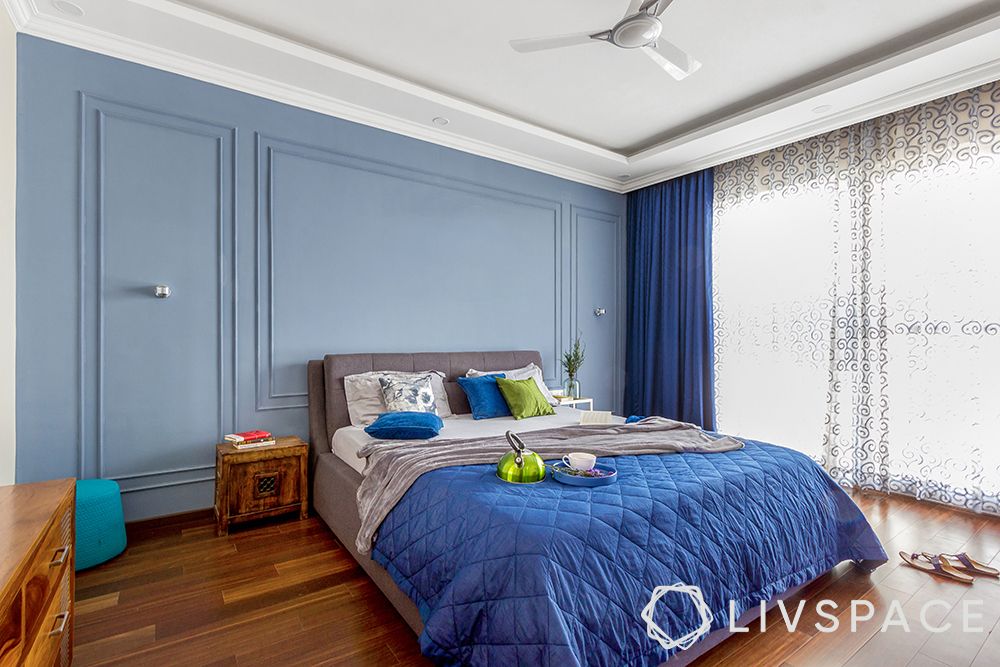 In private spaces like bedrooms, you need blackout curtains because there is a need for complete privacy. However, if you do not want to cut out natural light completely, you can opt for double layered curtains, the first layer being sheer. Also, bedroom curtains are not usually as fancy as the ones we see in living rooms. However, this depends on the discretion of the homeowner.
#4: What curtain fabric is suitable for my needs?
How to choose curtain fabric is a pertinent question because two basic aspects depend on it: transparency and the fall of the curtains. Each fabric has its own properties and hence, is suitable for a different part of the house.
Cotton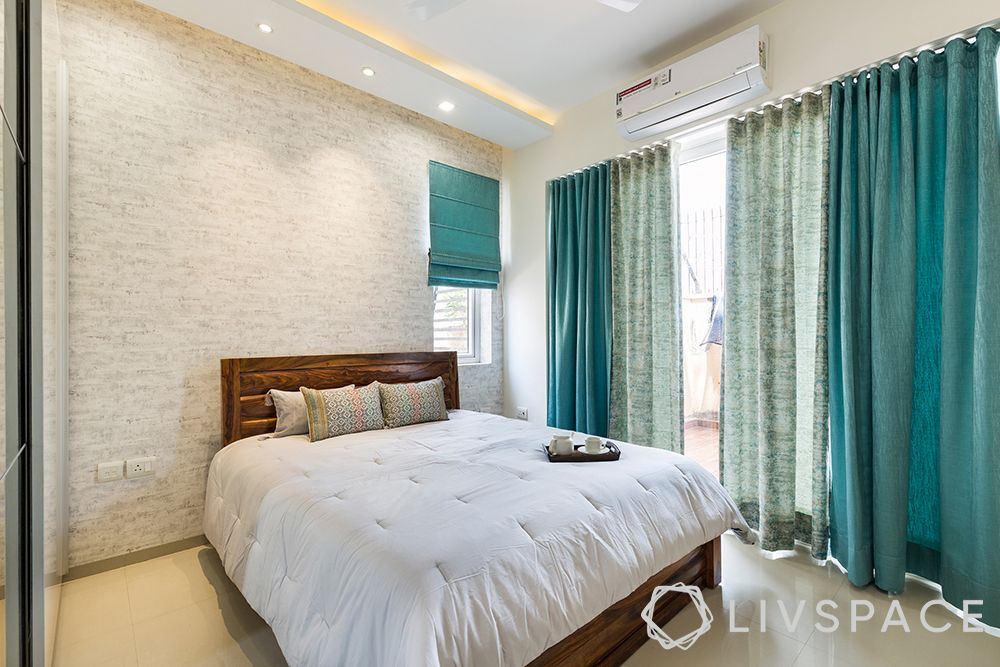 Cotton curtains are easy to wash at home and give a very earthy vibe to the space. If you are choosing thick cotton, you can forgo the lining but 25% lining is always advisable. Also, cotton is an affordable material and also an ecologically sustainable one. It is ideal to go for cotton curtains in your bedroom or study.
Polyester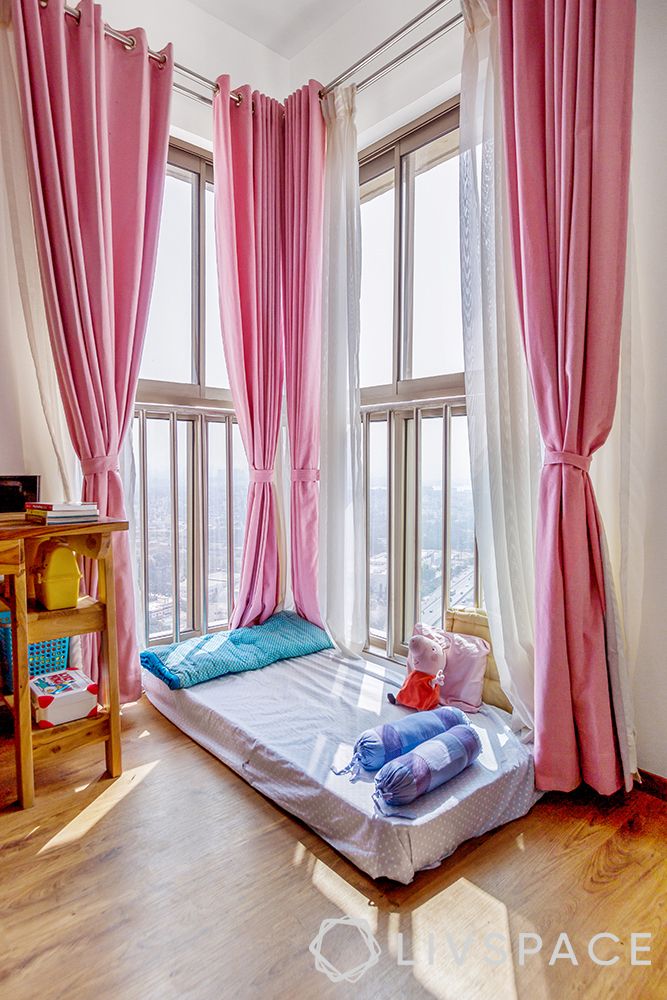 Probably the most affordable of the lot, polyester curtains can be machine washed. They come in a variety of colours and don't usually need lining. If you are running short of budget or time, this is a go-to fabric for you. This works very well for a kid's room because it's easily washable.
Silk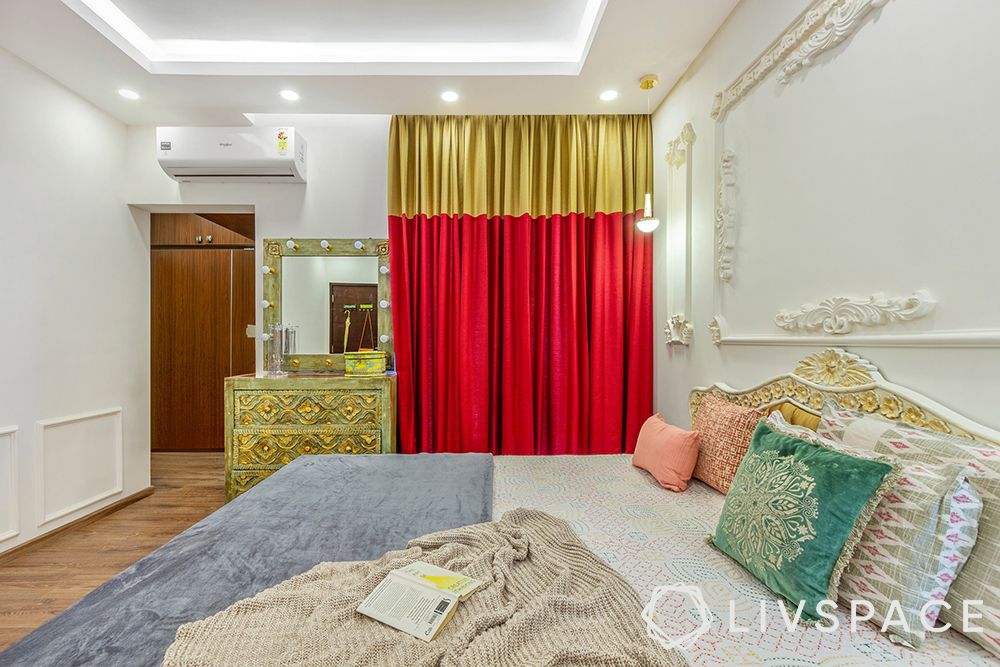 The most expensive fabric on this list, silk, will require heavy lining to serve as curtains. Silk curtains require dry cleaning and delicate handling. Also, silk curtains are usually seen in living rooms as they are really fancy.
Velvet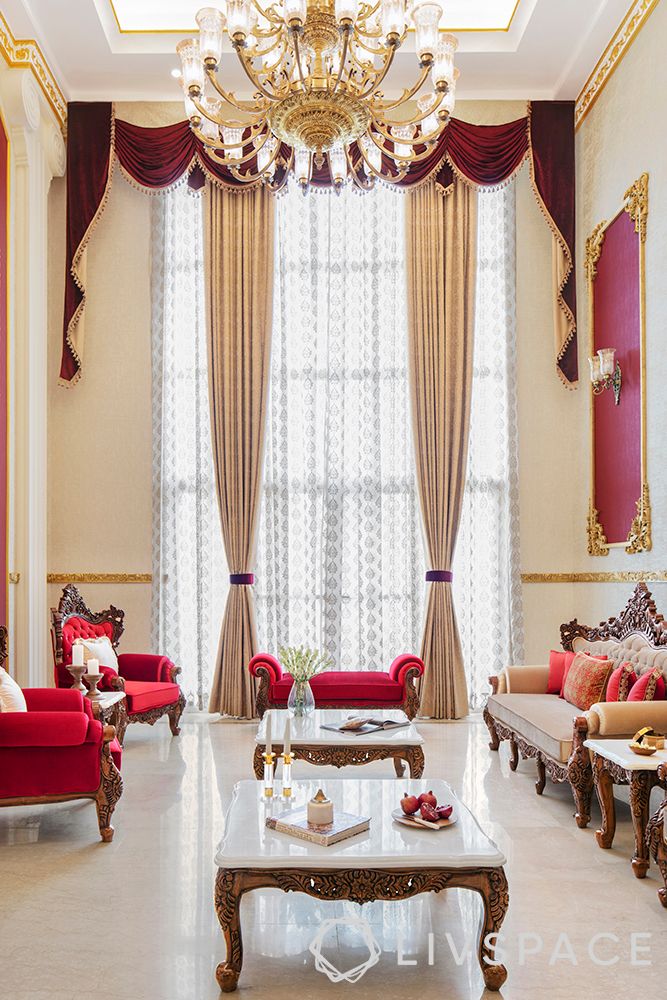 Velvet is usually used as a trim for curtains but can also be used for making heavy black out curtains. As it is a very thick fabric, it requires almost no lining. Velvet is an expensive choice and requires dry cleaning and extensive maintenance as it tends to collect dust.
Sheers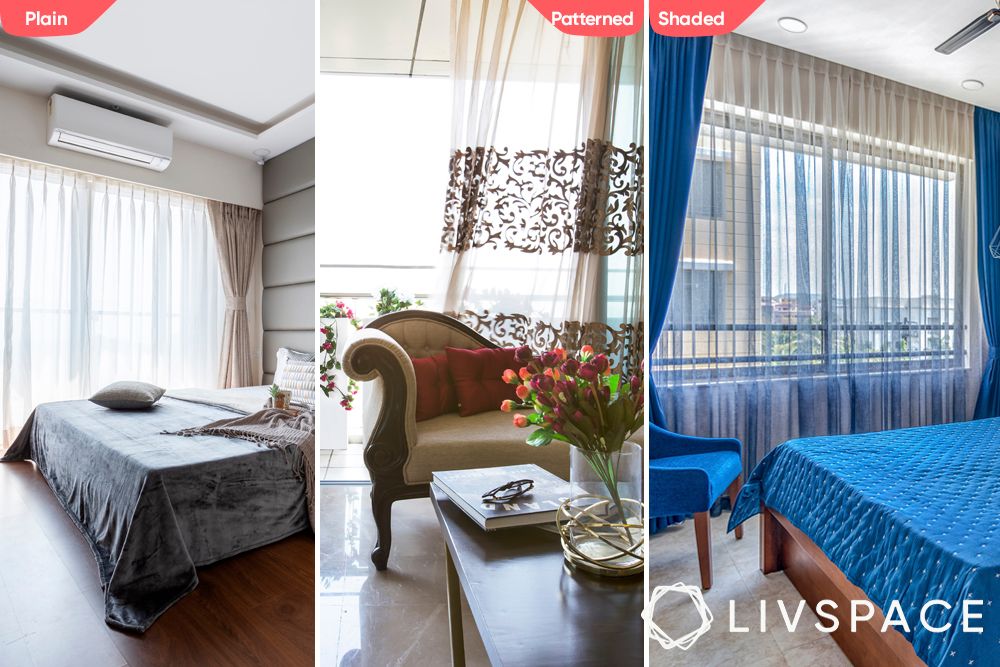 Sheer curtains are usually used when you opt for double layered curtains. They are transparent to translucent, letting you make most of the natural light. However, sheers can rarely be used on their own because they offer no privacy. It is always better to dry clean sheer because they tend to shrink easily.
PRO TIP
#5: How much sunlight does my home get?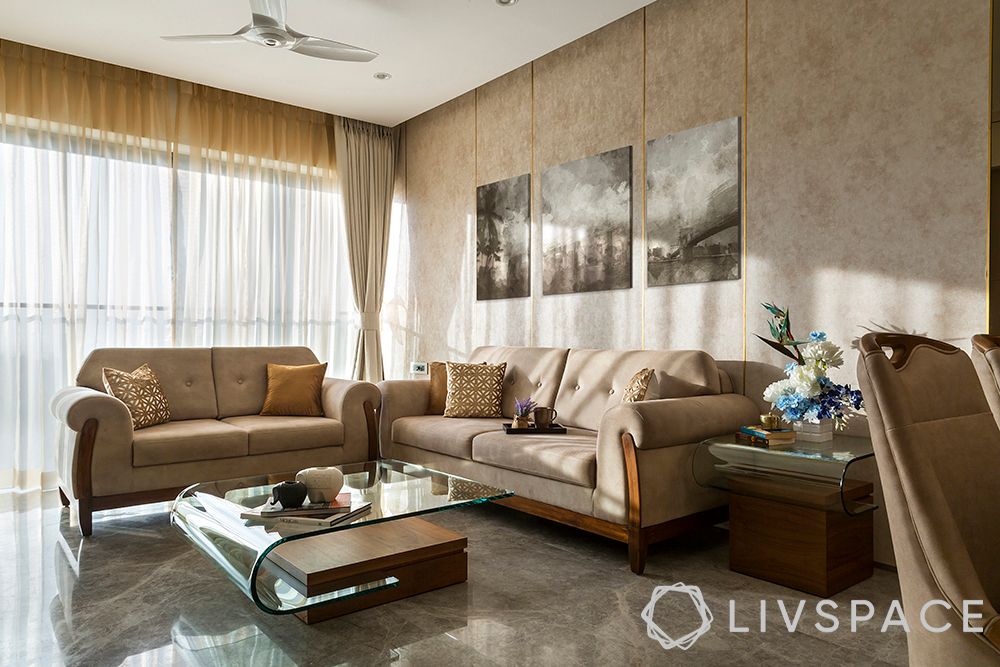 The amount of sunlight your home gets depends on two aspects, the side your home is facing and the part of the country you stay in. The amount of sunlight that streams in will also differ from one room to another.
In terms of buying curtains, if you get blazing sunshine, you need to opt for blackout curtains with heavy fabric and lining. However, it is always advisable to go for double layers, with one being sheer, so that you make the most of the natural light during dawn and dusk.

https://www.livspace.com/oembed/magazine-details-more-articles?slug=guides&title=More Articles
#6: What type of curtain hardware is available/needed?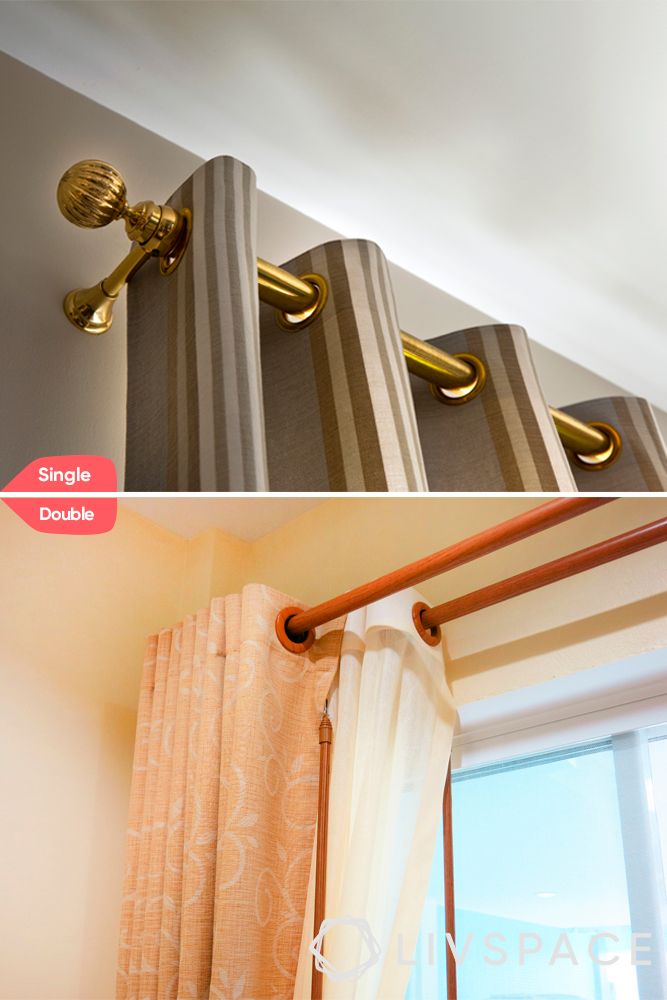 If it is your own home, then you have the liberty to pick any kind of curtain accessories. However, if it is a rental, you need to see what kind of curtain hanging system you have. Most homes have single rods. You can always opt for double rods if you want two layers of curtains.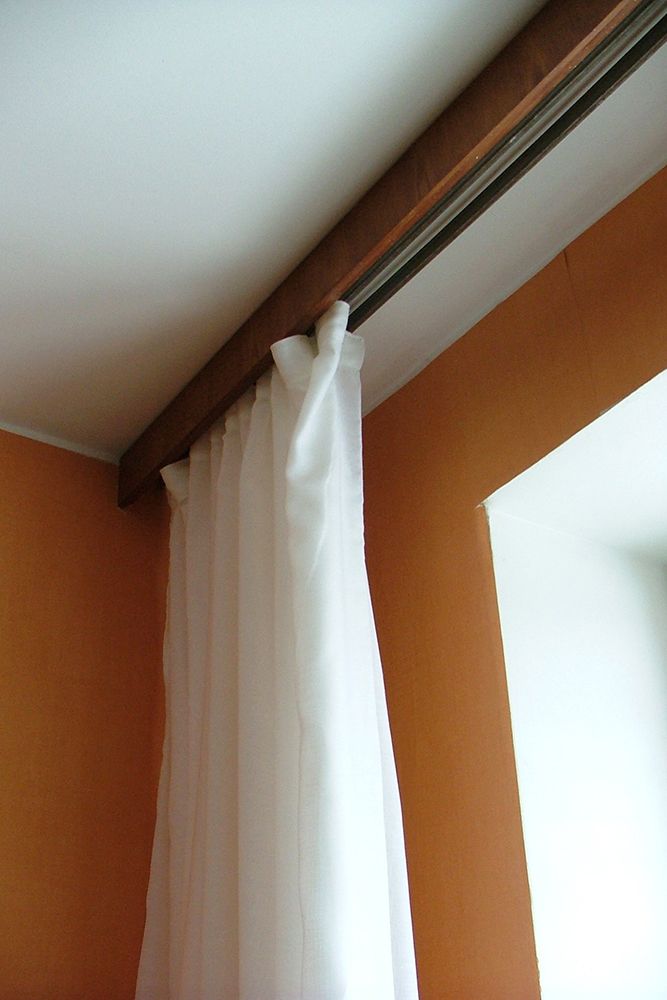 If you have a M draft channel, pinch pleat curtains are your best bet.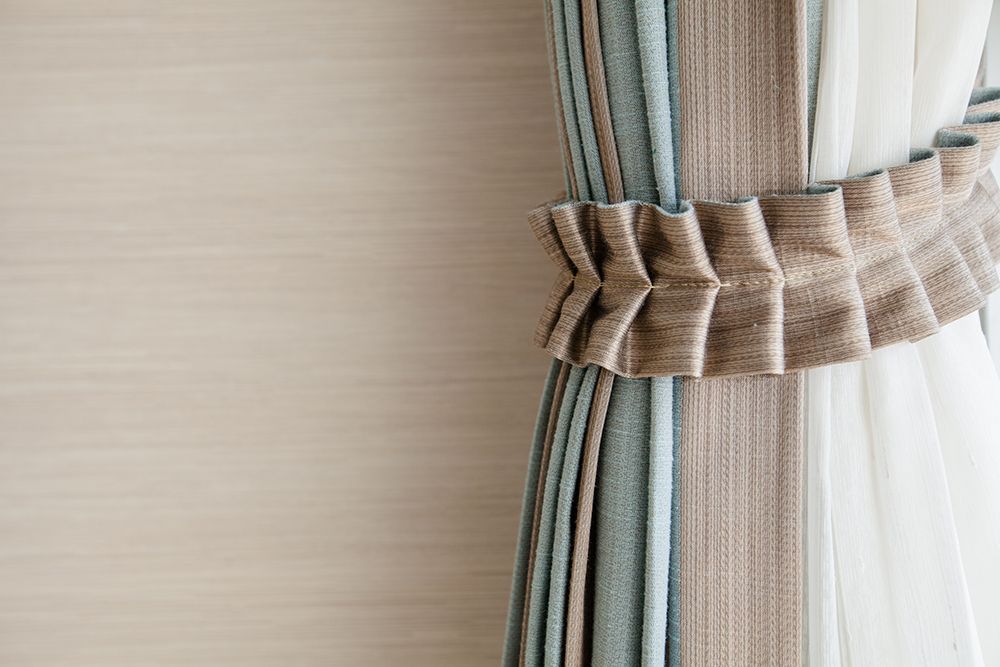 PRO Tip
#7: What is the style statement I am making in my home?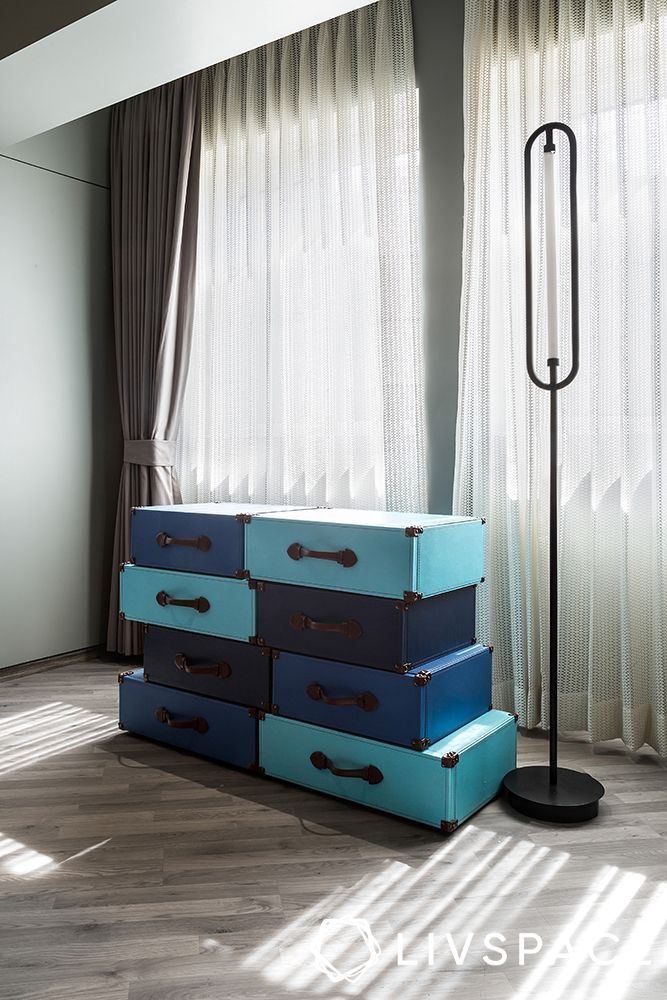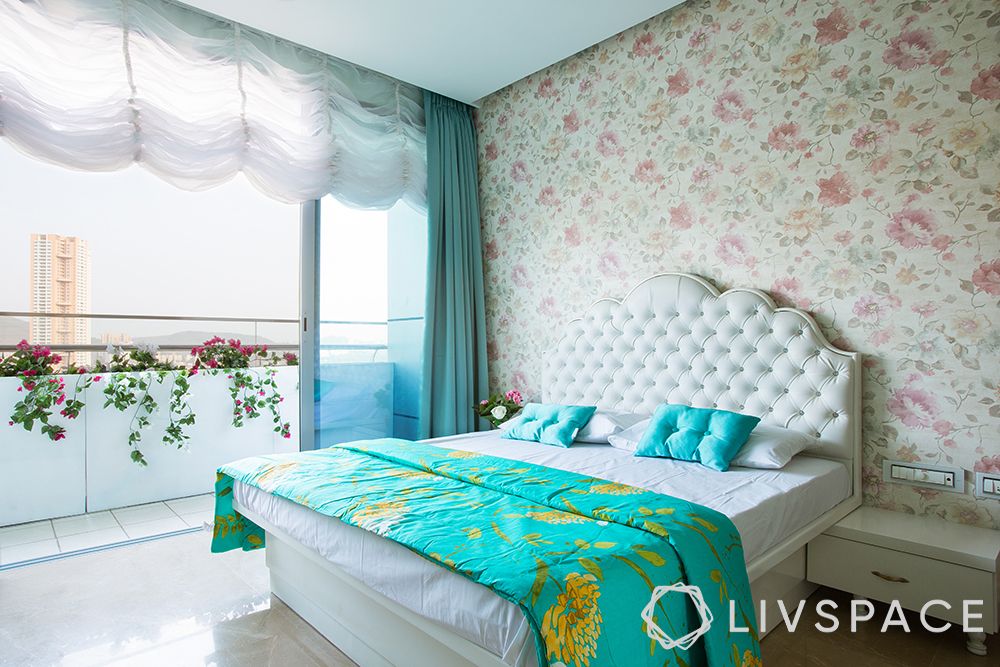 If you are aiming to apply a design style to your home, buying curtains that fit this style is important. For instance, for a contemporary look, curtains will be basic without too many frills or bright colours. For a more dated or classical look, you can for fancy French rolled curtains or elaborate stitches. The main idea here is to ensure that the curtains subscribe to the same style as the rest of the interior decor.
#8: Should I go for complementary or contrasting colours for curtains?
There is no end to the permutations and combinations you can opt for when it comes to the colour of your curtains. But it makes sense to stick with some thumb rules.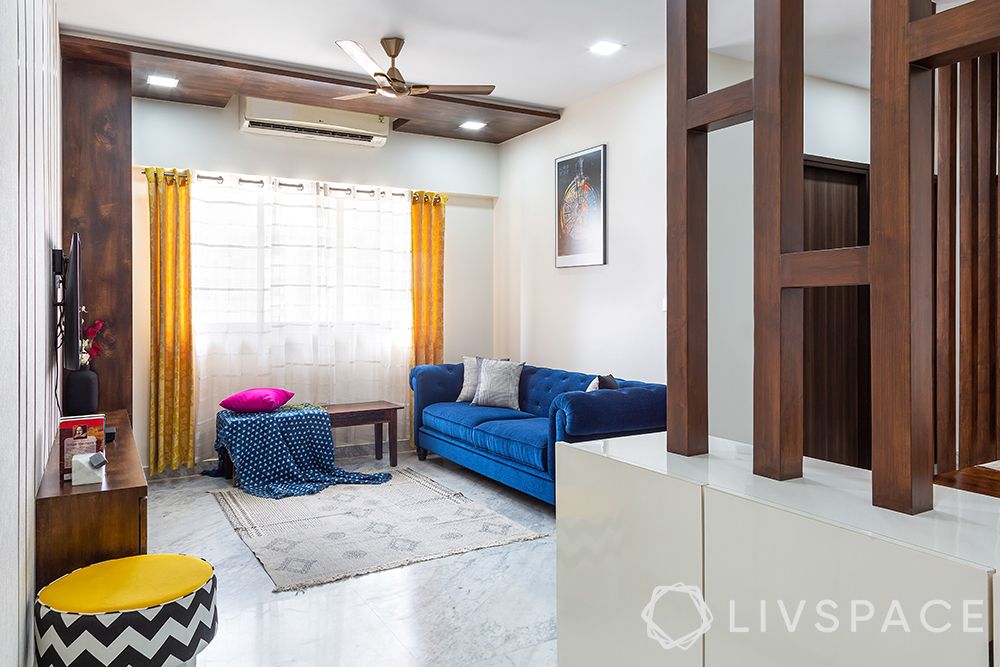 Firstly, colour blocking is a great way to get your curtain choices right. Ideally, this helps to add colour to the room without making it look too obvious. For colour blocking, pick a colour that contrastings with the walls and ensure that this shade is repeated in your soft furnishings or furniture upholstery for a sense of continuity.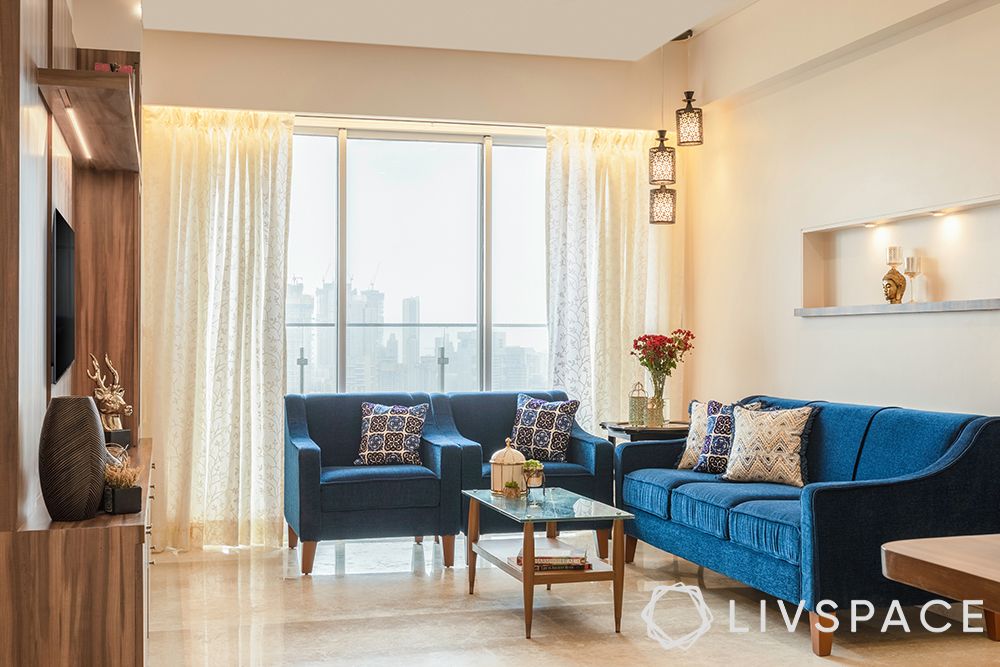 If you want to use a complementary colour for your curtains then it should be as close to the colour of your walls as possible. This makes the curtains blend seamlessly into the background. So now, your furniture, lighting or other statement elements can shine.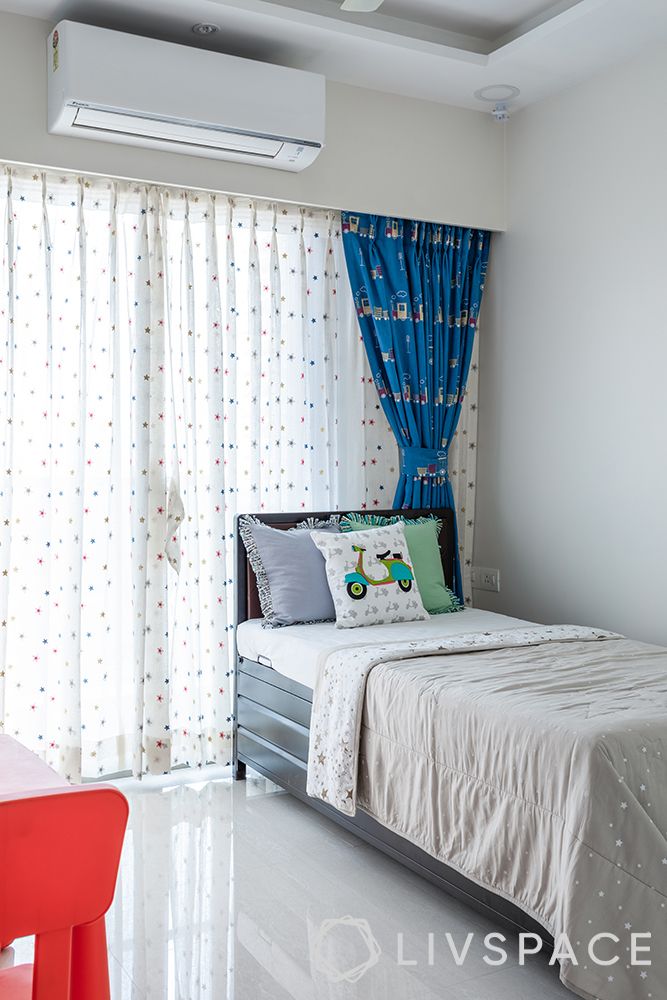 If you have basic white walls and don't want to do too much with them, pick a pop colour for your curtains. A pop colour must not only be contrasting but also be bold or rich. This design move will make your curtains the statement piece in the room.
PRO Tip
#9: How to pair curtains with wall treatments so that they don't clash?
Wall treatments for accent walls are designed to be the centre of attraction in the room. Hence, we must ensure that the curtains you choose don't fight with the accent wall for attention. This can be accomplished in several ways; let's take a look at the two most basic ones.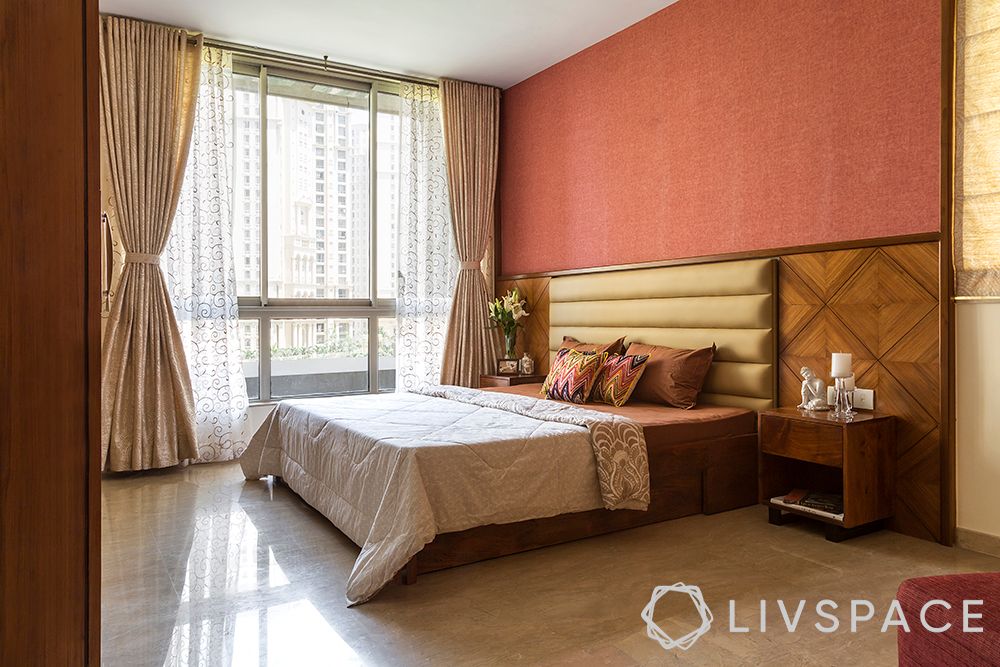 The accent wall here has a wooden panel and a single colour wallpaper. The curtains are very basic and have a colour that comes from the same family as brown, which is the colour of the panel. This ensures that there is continuity but the accent wall stands out.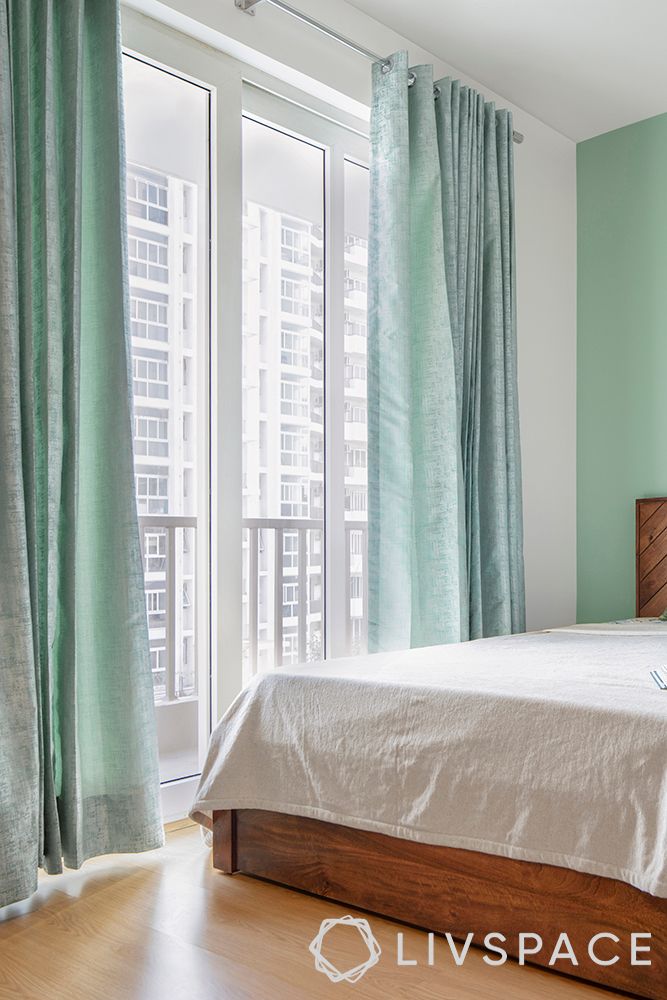 Here, the pastel green wall is the accent wall. But because it is a very simple accent wall, the curtains are in the same colour. This gives an illusion of spaciousness to the room without diverting attention from the accent wall.
#10: How often should I wash my curtains?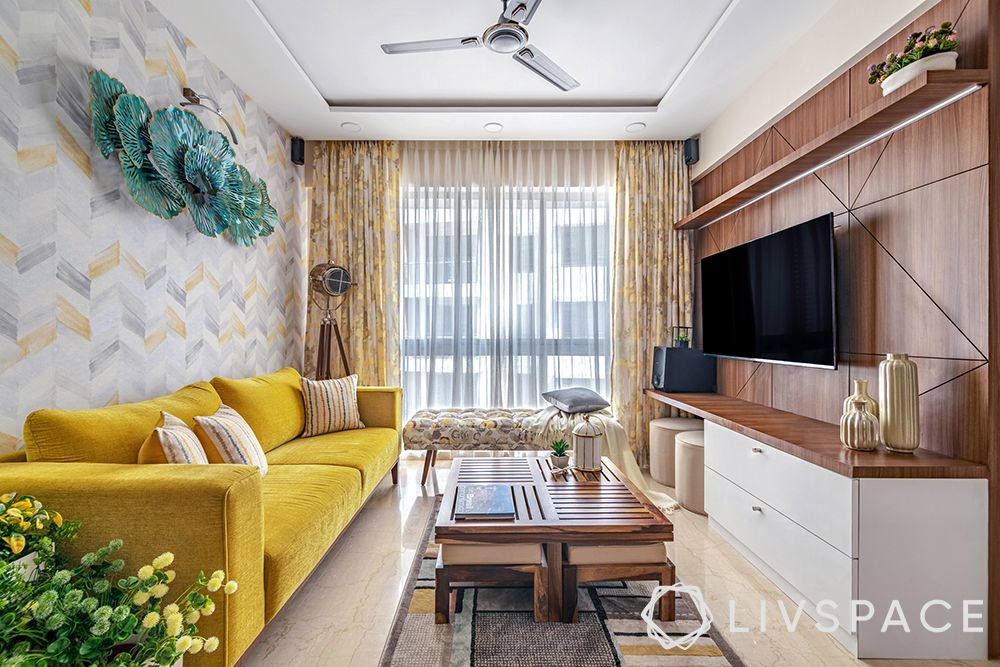 Maintenance is a key factor when it comes to curtains. While you don't need to wash curtains on a weekly basis, it is advisable to wash them once in 6 months at least. If you intend to wash your curtains more often then opt for cotton or polyester ones. Usually, readymade curtains can be machine washed but require heavy ironing.
For fancy or heavy curtains with lining, dry cleaning is the only maintenance solution. The more diligent you are about maintaining your curtains, the longer they will last.
If you enjoyed reading about buying curtains, also get some design inspiration.
Check out living room designs:
Send in your comments and suggestions.