Whether you live in a studio apartment or have an open kitchen plan that you would like to do more with, a well-placed partition design can do wonders to enhance storage, aesthetic appeal, privacy, and functionality. If you are looking to fashion one in your space, take a cue from these expert room divider ideas that work well for every room in your home.
#1: Room Divider Ideas for Foyer/Entrance
A) Slat Wall Divider Ideas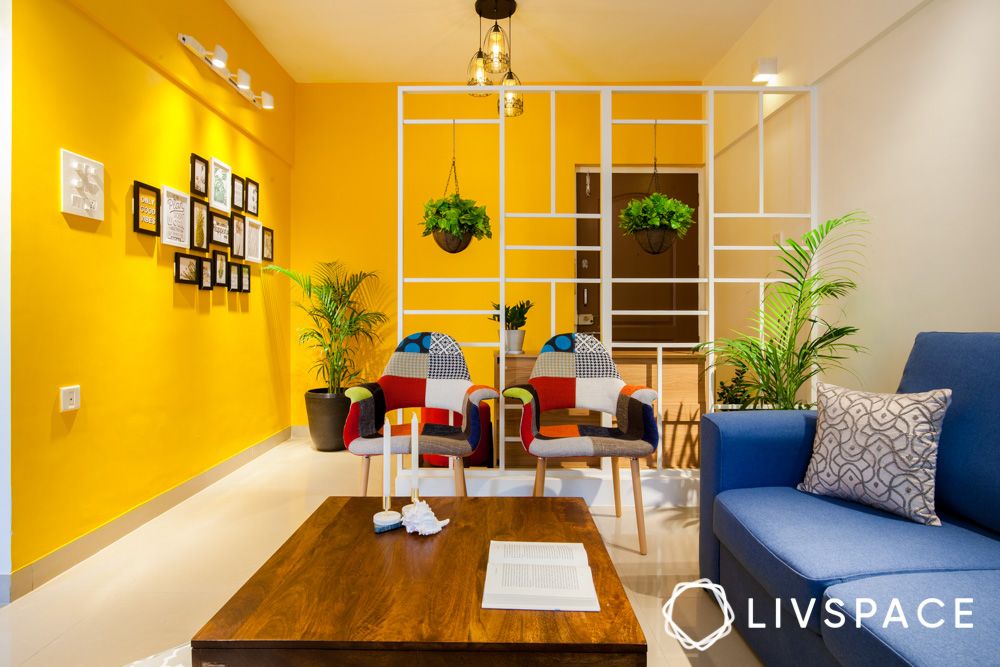 Fashion a simple foyer with some stunning room divider ideas. All you need is a slat wall divider design. This creates a sense of privacy, thus limiting direct view of the living area to entrants.
The open slat partition facilitates an organic flow of light and space. Moreover, add planters and wall decor to give the space some character!
Also Read: Stunning See-Through Partitions for Every Room
#2: Room Divider Ideas for Living Room
A) Minimalistic Room Separator Ideas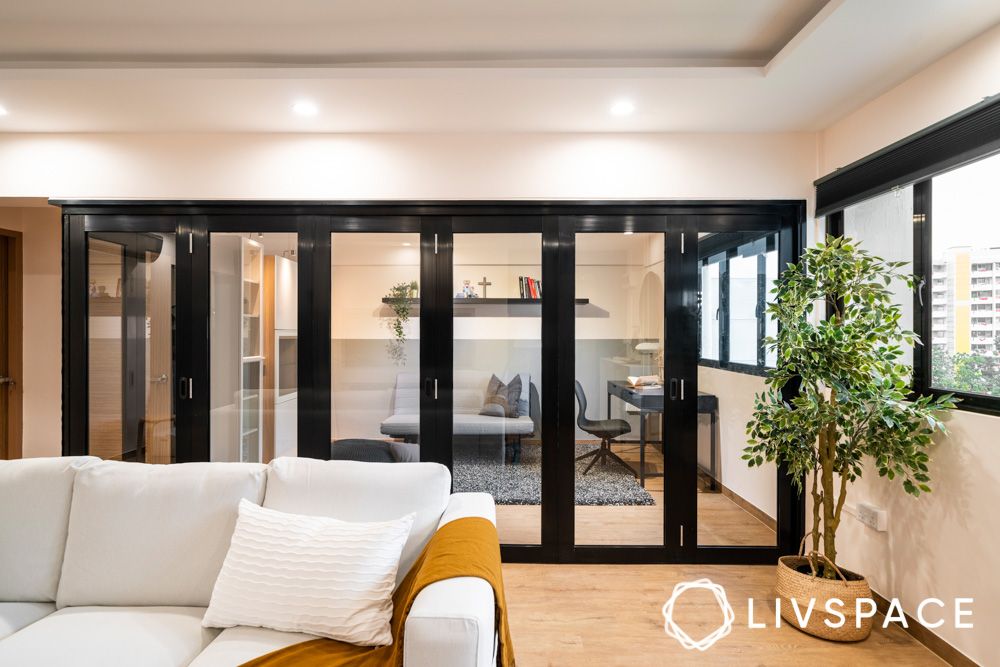 A minimal wall divider design will look perfect in modern flats. If you are looking for room separator ideas for your living room, opt for glass doors. If you want more privacy, you can opt for frosted or opaque glass.
B) Wooden Wall Divider Ideas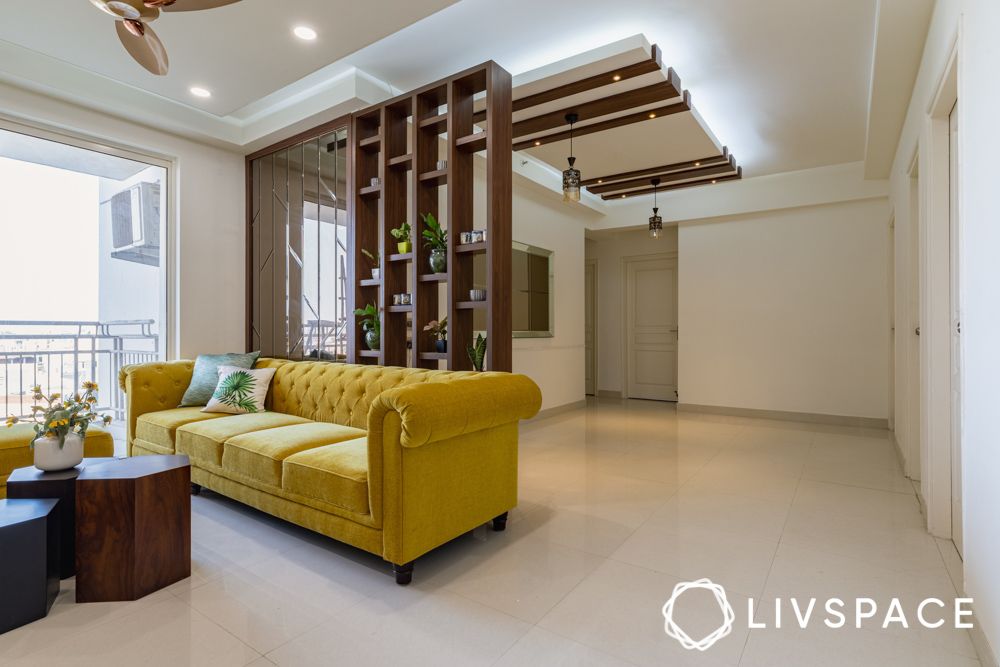 Wood is a favourite among Indian homeowners. So if you want to give a traditional twist to your interiors, choose a wooden partition. Wooden room divider ideas look stunning in both small flats and large villas. Elevate your partition with the right decor.
C) Room Separator Ideas With Freestanding Shelves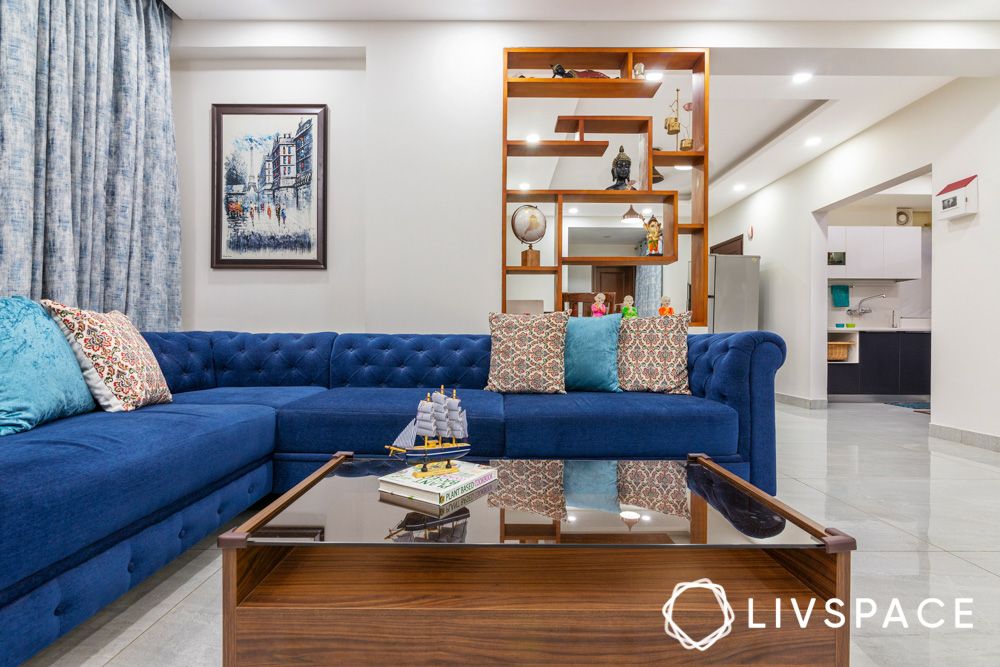 Looking for room separator ideas that can also help with storage and display? Opt for a partition design with freestanding shelves. You can use these shelves to display your decor.
D) A Simple and Elegant Divider Design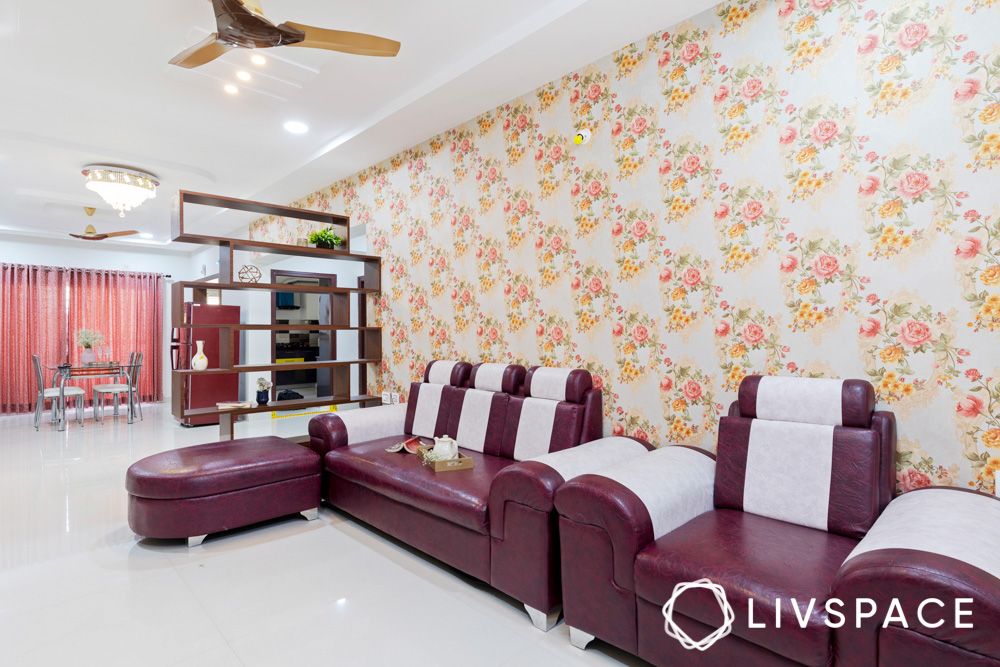 A simple divider design is always a winner, especially in modern flats. Choose room divider ideas that complement the decor of your home. A partition with simple slats looks elegant while also offering privacy.
E) Partial Glass Wall Divider Ideas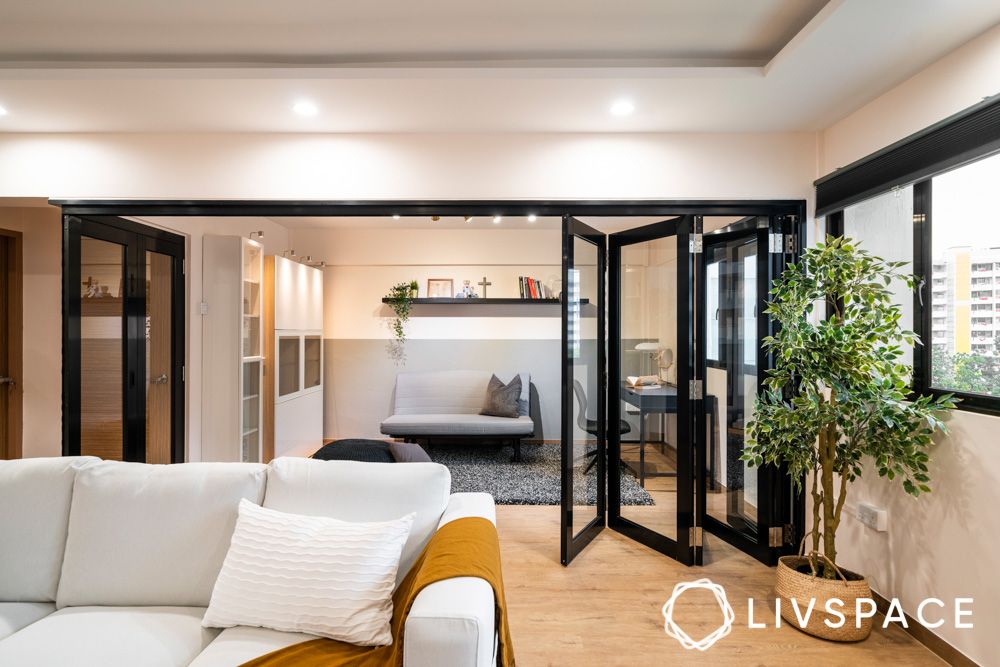 Opt for a partial glass partition if you want unique wall divider ideas. A partial glass divider will also help in opening up the space, making your living room look spacious.
F) Floor-to-Ceiling Drapes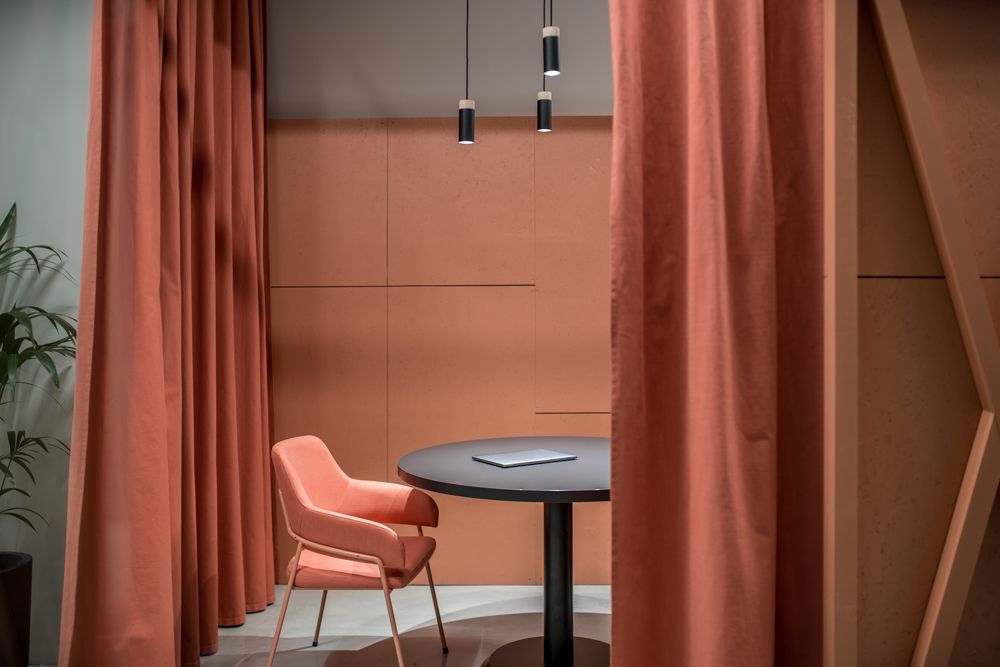 This is a DIY method to create a partition in your living room. Just hang some floor-to-ceiling drapes to give you some privacy.
Check out living room design ideas:
#3: Room Divider Ideas for Kitchen
A) DIY Folding Room Divider in Wood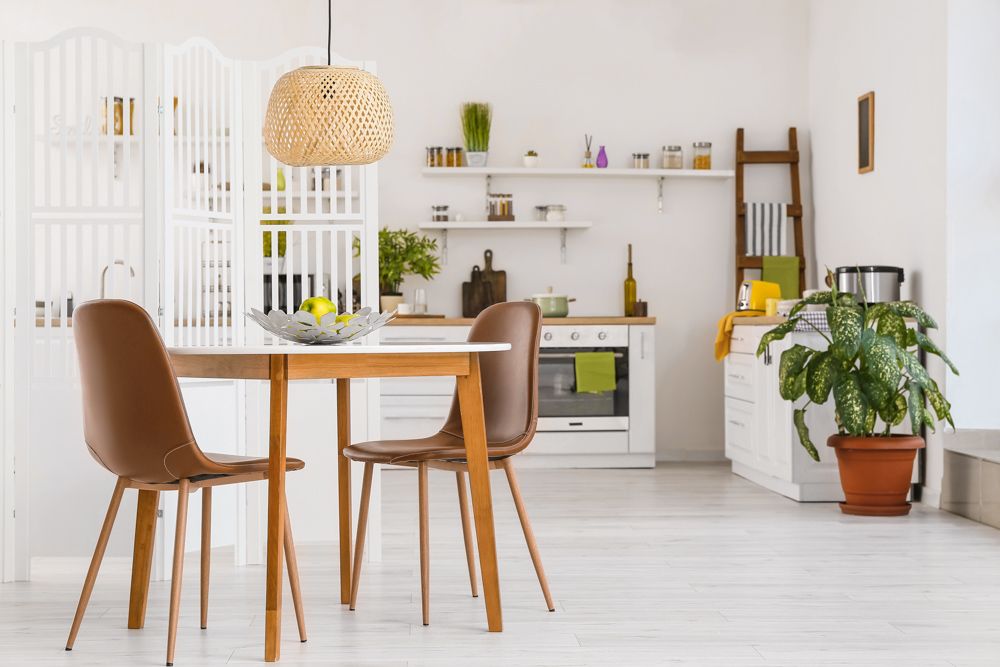 Looking for DIY options for your kitchen? Opt for a folding room divider in wood. This is an easy solution that will give you some privacy while you cook in the kitchen.
B) Hanging Room Divider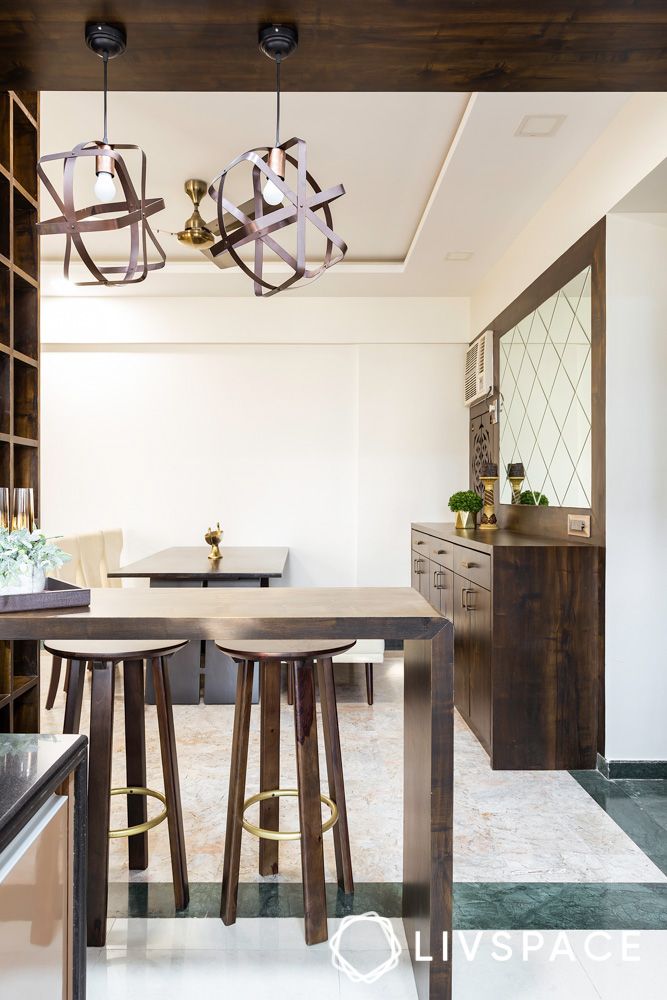 You don't need a separate partition to create some privacy between your kitchen and dining room. All you need are some statement hanging lights, placed strategically, to demarcate the space.
#4: Room Divider Ideas for Bedroom
A) Wooden Wall Divider Design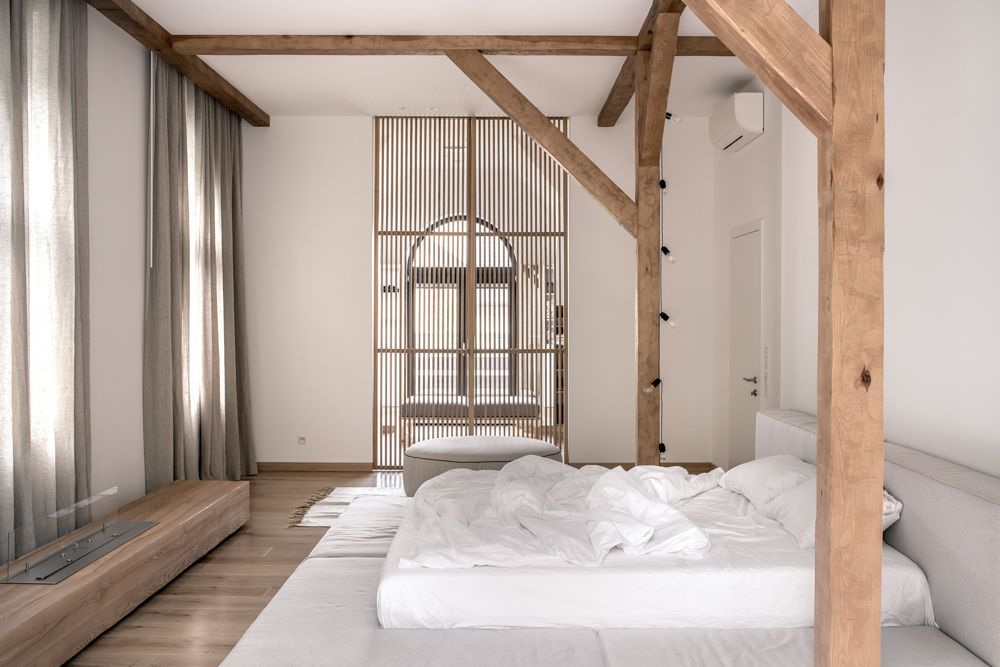 Wood is always a winner! If you want a wall divider design for your bedroom, opt for something in wood. This will add a warm and cosy vibe to your space.
B) Frosted Glass Sliding Doors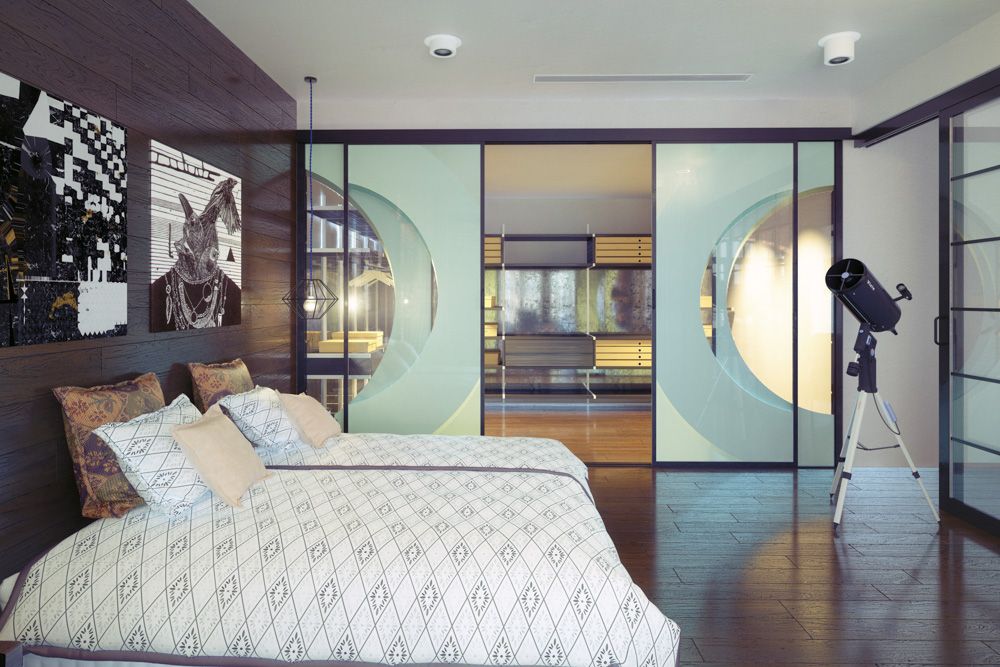 When it comes to room divider ideas, sliding doors are a contemporary and convenient option. However, opt for frosted glass to ensure privacy in your bedroom.
Also Read: 10 Beautiful Hall Partition Designs That Can Spruce up Your Living Room
#5: Room Divider Ideas for Pooja Room
A) Fabric Partition Ideas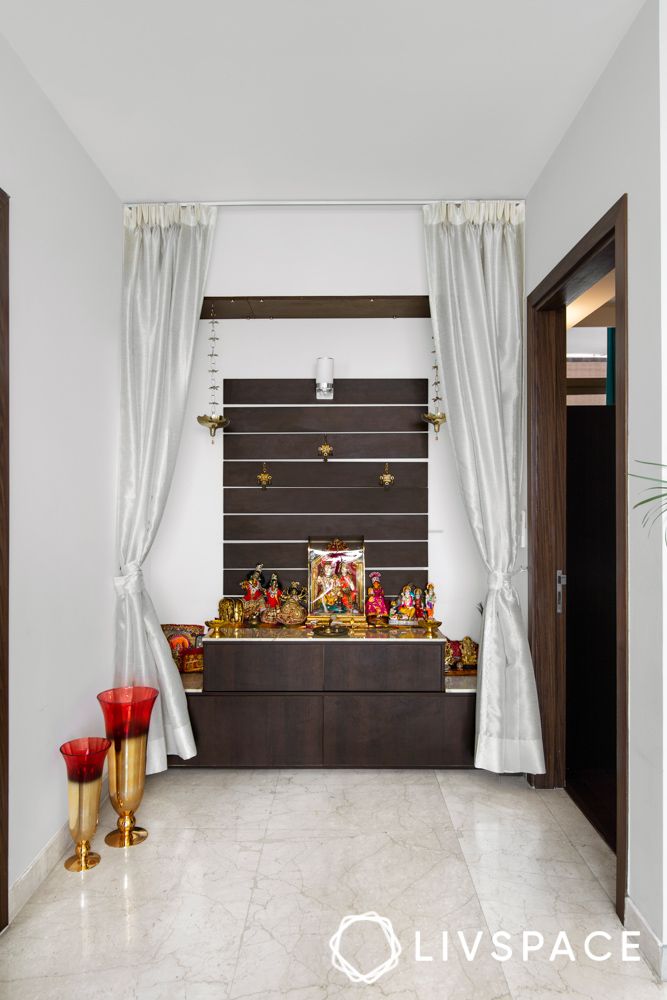 If you want a DIY partition idea for your pooja room, hang some drapes in a vastu-approved colour, like white. This is a cost-effective option that will also look elegant.
B) Classy Jaali Partition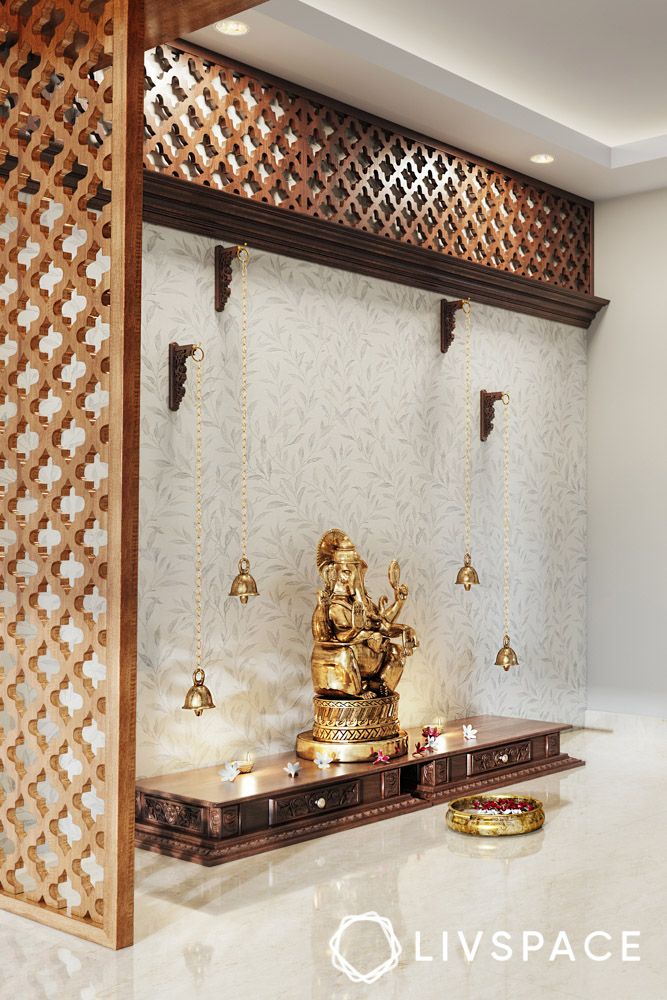 When it comes to your pooja room, you want something Indian and traditional. Jaali is a great partition idea for your mandir. Ensure that the jaali matches the aesthetics of your pooja room.
Give any of these innovative and imaginative room divider ideas a shot, and let us know what you think!
If you liked reading this. You can also take a look at this: Stylish Divider & Partition Ideas.
How Can Livspace Help You?
We hope you found our ideas useful! If you want your home to be just as beautiful, then look no further. Book an online consultation with Livspace today.
Wondering how our customers feel about working with Livspace? You can check out the Livspace reviews here!
Send in your comments and suggestions to editor@livspace.com