Most homeowners prioritise the decoration and design of their living rooms over their bedrooms. Bedrooms are more personal and this privacy can allow you to be who you are. And that is a liberating feeling. In your bedroom, you are not decorating to impress your guests. Hence, the style you pick for your bedroom must resonate only with you (and your partner, if applicable). Thus, bedroom design ideas are essentially personalised.
Things to Remember While Finalising Bedroom Design Ideas
No matter what bedroom design ideas you choose, it's important to remember that the tranquillity of the space should not be compromised
When you pick a style, stay true to the aesthetics or design language of that style
Without proper lighting, even the best bedroom design ideas will not have the desired effect
ALSO READ: The Ultimate Guide to Lighting for Your Home
The Best Bedroom Design Ideas Inspired by Iconic Styles
#1: Indian Traditional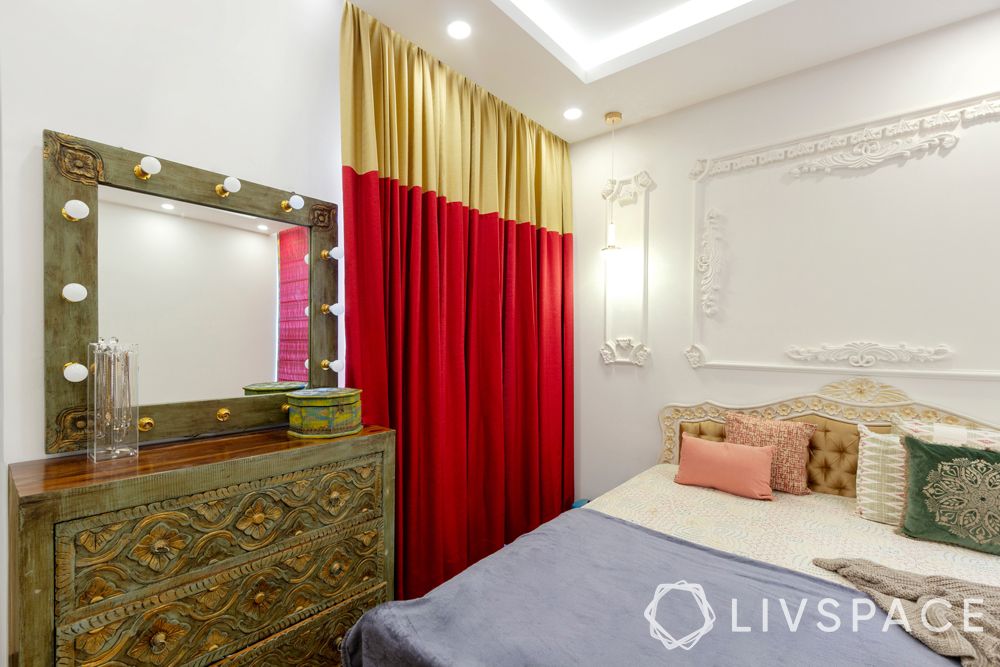 The best part about using the traditional Indian style for bedrooms is that you can use the rich fabrics of our country for soft furnishings. In this bedroom, a Kanjeevaram saree is repurposed as a curtain! Cool, isn't it? You too can use an old dupatta with traditional prints like dabu, ajrak, buti, etc to make cushion covers, quilts, bed sheets and other soft furnishings. Go all out with traditional prints and patterns as well as rich colours. Pick solid wooden furniture with intricate carvings to stay true to the style.
#2: Colonial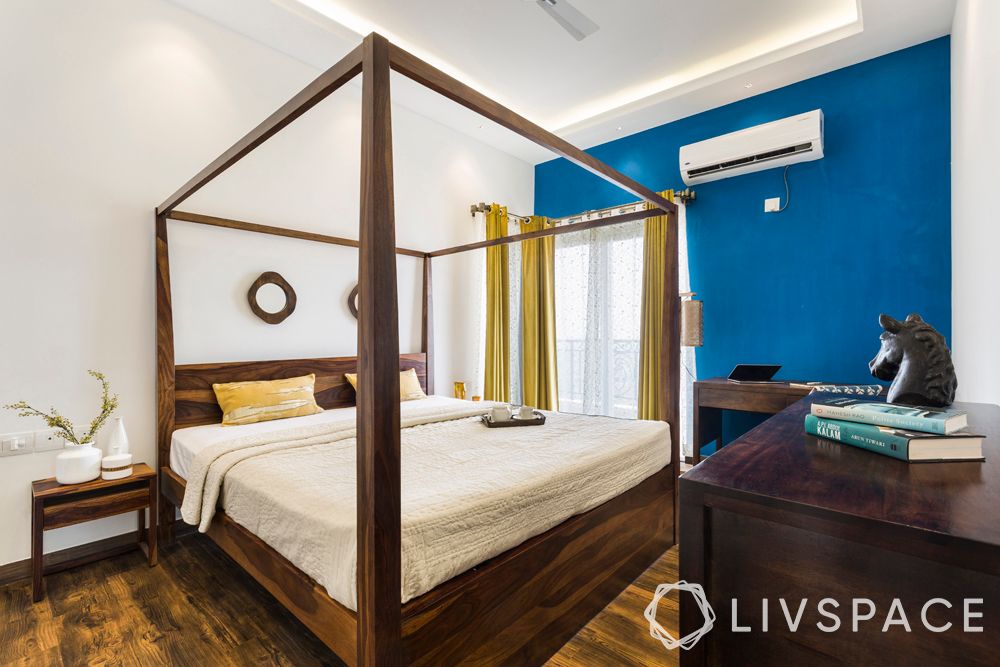 The colonial design style came to us from the British sahebs who had an insatiable appetite for collecting culturally significant artefacts. Be it African masks or tribal totems that had adivasi origins, one was likely to find an eclectic ensemble of these in colonial homes. The easiest way to have a colonial bedroom is to pick a four-poster bed made from locally available dark-coloured wood and a decorative fan with a light. You can also use rattan cane furniture and tropical plants like areca palm to use as decor elements.
#3: Mid-century Modern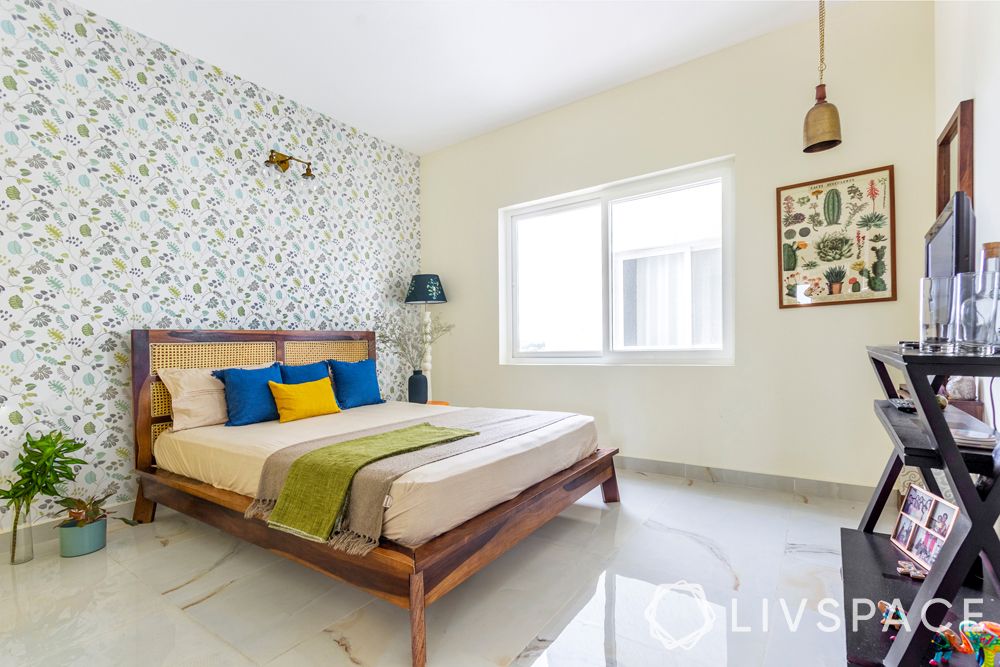 It is from this design style that we get the famous quote, 'form must follow function'. And that is a must in your bedroom with furniture that is ergonomic in nature. Use fresh shades like teal, orange, mint etc, instead of the primary colours. In patterns, go for chevron, herringbone and other geometric shapes. In a mid-century modern bedroom, you must be able to see the legs of all the furniture pieces. Also, this style originally evolved for apartments. Thus, it's well suited for homes with compact bedrooms.
#4: Contemporary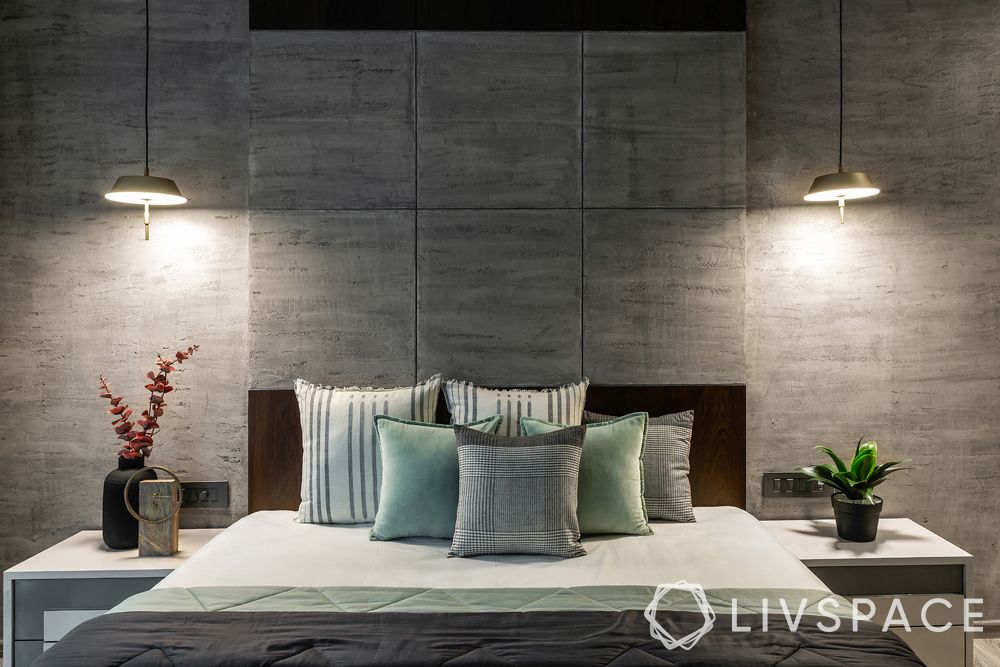 Contemporary happens to be the most misunderstood among design styles. To begin with, it is not a style but an extraction of different style elements that are currently trending. So what's contemporary today may not be so in 10 years' time. Currently, for instance, a clean layout, uncluttered design and straight lines, like we see in this bedroom, are contemporary. Also, stick with neutrals, greys, whites and the occasional pop of colour for this bedroom design idea.
#5: Art Deco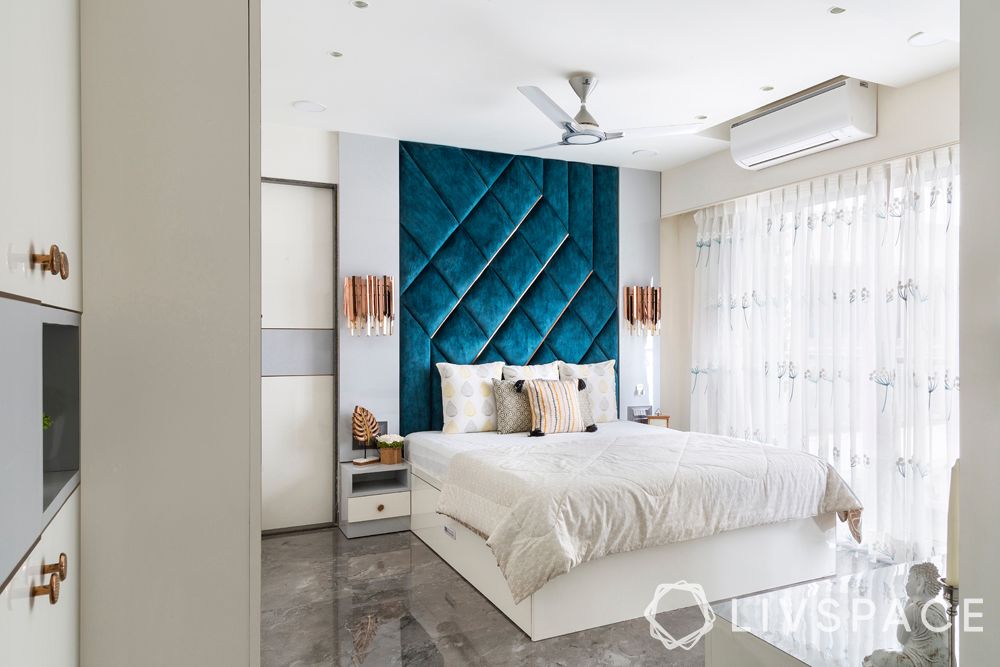 The art deco style comes out of a Parisian art movement and is suitably flamboyant for its origin. Think glitz and glamour. Imagine metallic tints with novel materials like lacquered wood and ebony. Opt for plush upholstery and fine fabrics for soft furnishings. The sunburst theme is a recurring pattern used in this style. The crystal lights you see in this bedroom are typical to the art deco style. If you need bedroom design ideas for a very large space, this is your got-to style.
#7: Bohemian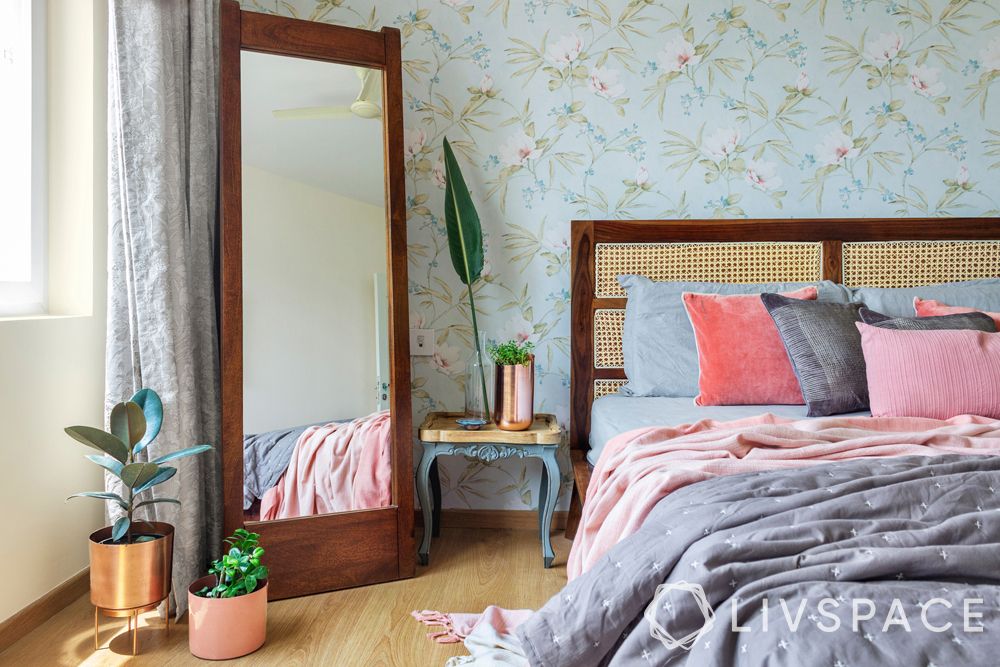 Don't like rules? Then try bohemian decor for your bedroom. The style prescribes a deliberately mismatched collection of items that seem as though they are 'thrown together' but make sense organically. This bedroom, for instance, has a vintage mirror and a low-height rattan cane bed. Matched with it is a distressed side table. The most important aspect of this style is the use of plants to decorate the bedroom.
#8: Minimal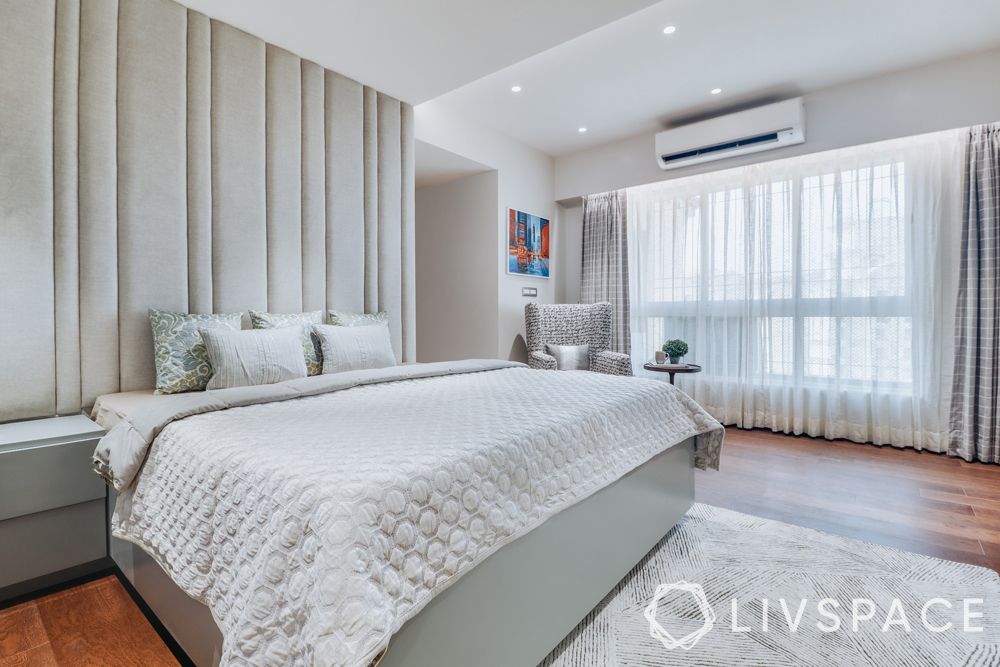 Minimalism is not just a design style but a lifestyle choice that urges people to get rid of excess and live with the bare essentials. In terms of design, this means striping a room down to its most basic requirements. You must understand that though minimalism is a belief in 'less is more', it does not imply frugality. However, every piece of furniture or design element in the bedroom must have a purpose. Also, this style is anti-ornamentation; so, you must use patterns to create visual interest. The use of colours must also be restricted to pastels, neutrals, browns or whites.
ALSO READ: How to Design a Minimal Home That Indians Can Fall in Love With?
#9: Minimal Glam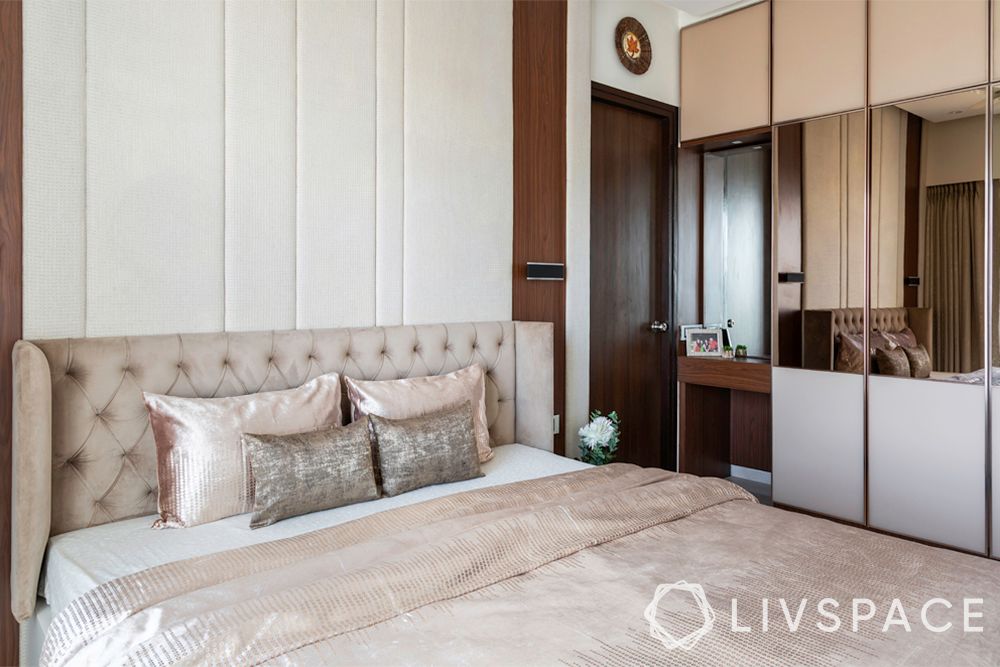 Globetrotting Indians might believe in the minimal style, in theory. Haven't all of us been raised on a generous dose of Bollywood and it's love of glamour? There is plenty of drama and at least a little bit of bling flowing in our veins. To find a middle path, Indian designs follow what is known as the minimal glam style. It sticks with a simple layout and uncluttered design of the minimal style. But when it comes to finishes, soft furnishings and accessories, going plush is allowed. While taking bedroom design ideas from the minimal glam style, remember that you can have colours but do exercise restraint while picking them.
#10: Eclectic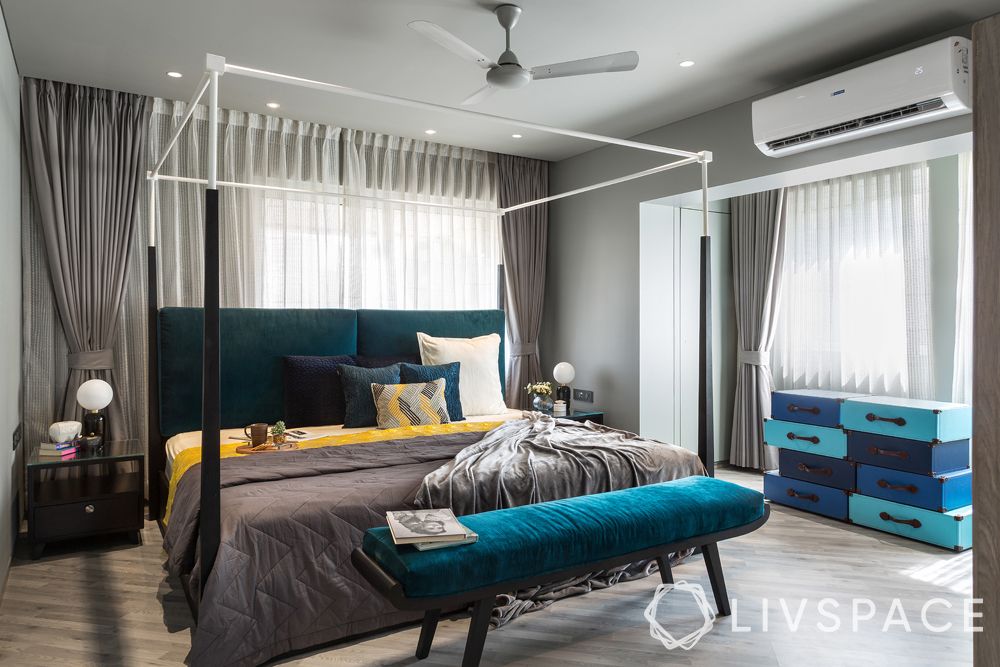 You like the lighting accessories of art deco but the layout of the minimal style. And isn't the ergonomic furniture in the mid-century modern style so chic! If your heart is set on different aspects of many styles, go eclectic with your bedroom. You can enjoy a smattering of different styles by mixing and matching their features. While there are no rules, the space should come together organically and not look kitschy. A word of advice — it's very easy to go wrong with this style, so you best employ an interior designer.
#11: Industrial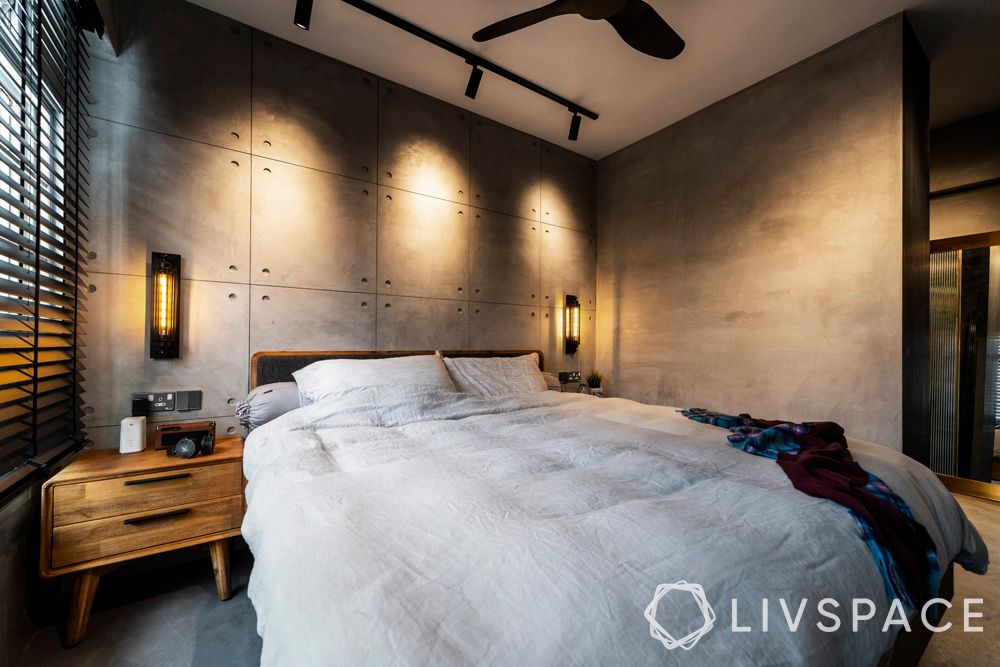 If you have walked into any of the new pubs in the metros, you would be familiar with industrial decor. This style originated in the early 1900s when factories and warehouses were shifted out of city limits in America. These abandoned spaces were later turned into low-cost housing — referred to as loft apartments — using whatever materials were available, like pipes, ducts, ropes, machine parts, wheels etc. Industrial spaces have a deliberately unfinished look about them. Rugged finishes like exposed brick walls, cement screed or distressed paint can give your bedroom a classic industrial look.
#12: Zen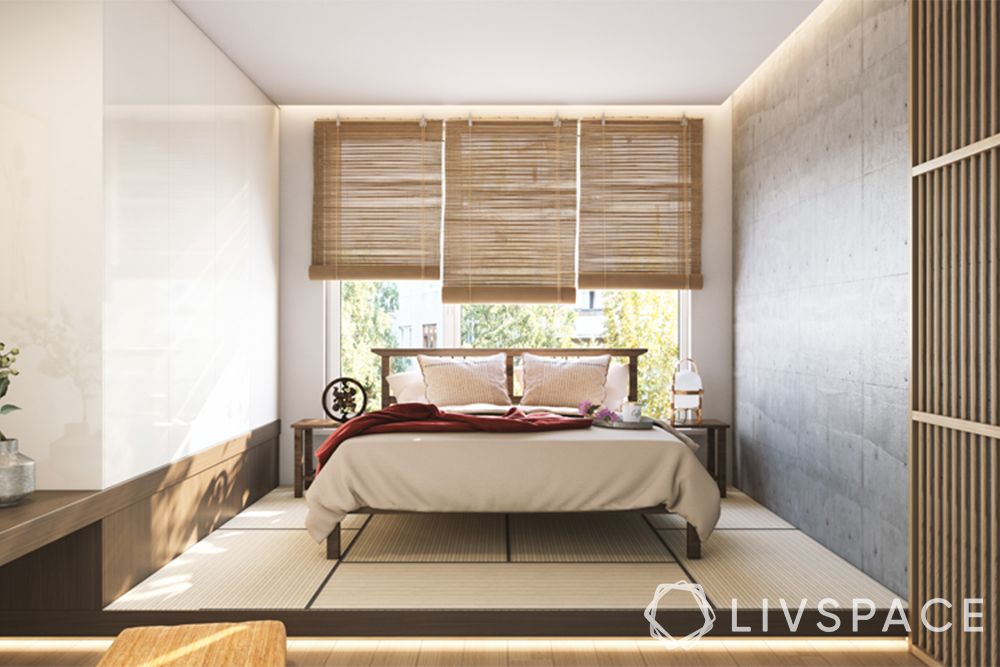 The zen style comes to us from Japan, just like Marie Condo, and hence it is fitting to say that this style sparks joy! Go for low-lying furniture and soft lighting to recreate the tranquil vibe of an Asian bedroom. Coupled with whites and muted shades, a zen bedroom is very good for sleep. Also ensure that you keep the furniture sparsely spaced out, which means you need fewer things in the room. Knitted rugs and rattan blinds are inherent elements of this style. Moreover, the zen style states that having a waterbody with flowing water inside the bedroom helps rejuvenate energy.

#13: Scandinavian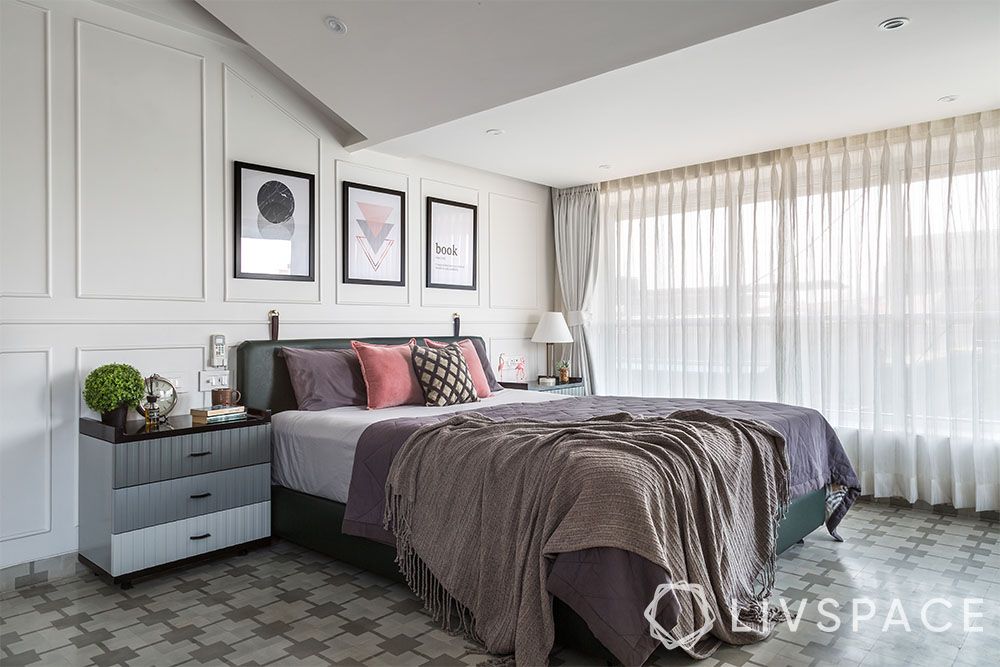 If you enter your bedroom and feel like you have walked into an IKEA store by mistake, you've got your Scandinavian design on point! This style that originated in bitterly cold Scandinavian countries stresses on 'hague', which is a Danish word for a unique, cosy sense of well-being. The stress is on creating warmth by using light-coloured wood and maximising natural light by not blocking it. Like the minimal style, you must only have the bare essentials in your bedroom for this look.
#14: Farmhouse/Cottage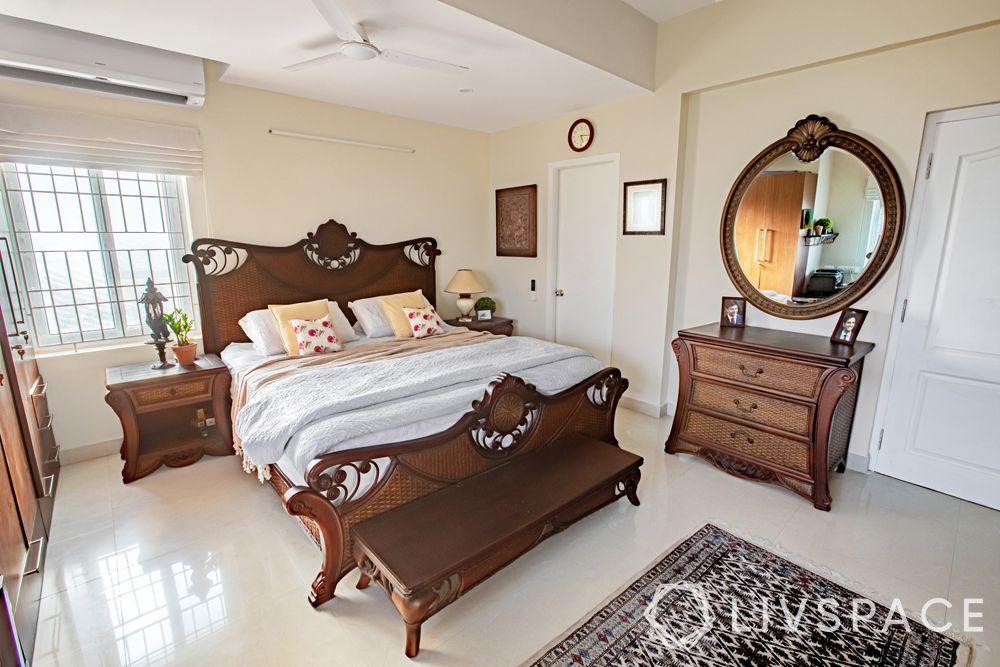 This style comes to us from Germany where homes built in the country were very different from homes in cities. The current trend is to adopt some specific style elements of farmhouses or homes built on barns in city homes. The most identifiable factor of this style is the use of wood. Also, as barn houses tend to be large, the furniture is accordingly bulky and slightly dated. Comfort is key in this kind of style but you should try it only if you have a large bedroom.
#15: Tropical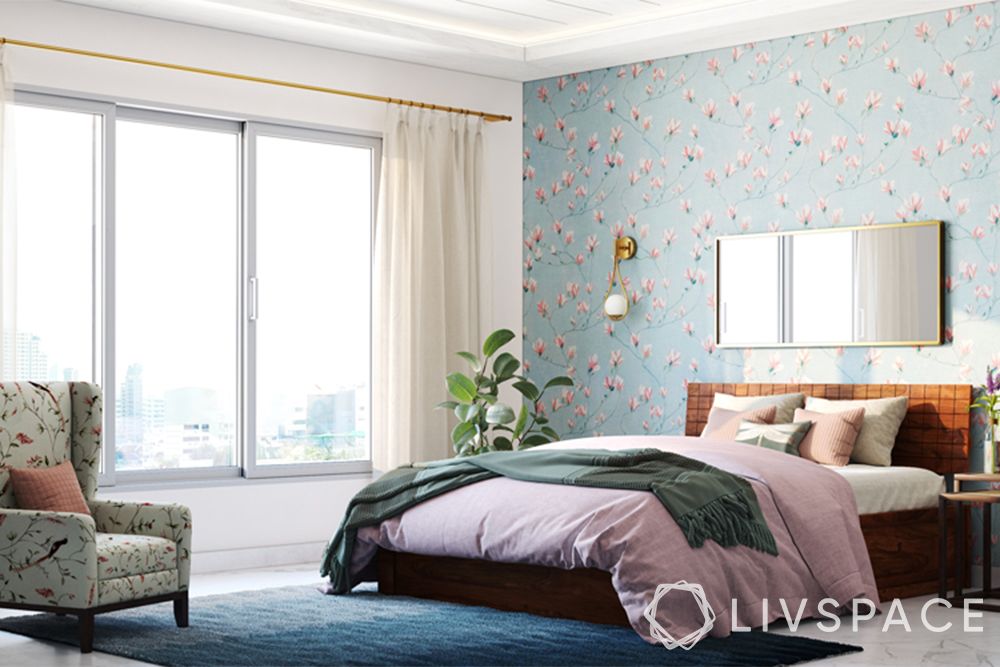 Firstly, topical design is all about ventilation because you are combating the heat of the tropics! So bedroom design ideas from this style fit right into the Indian context. Secondly, we see the use of fresh and cool colours like green, blue, teal etc in this style. Another distinctive feature of this style is the use of leaf or floral patterns in upholstery, wallpapers and soft furnishings.
#16: Grandmillennial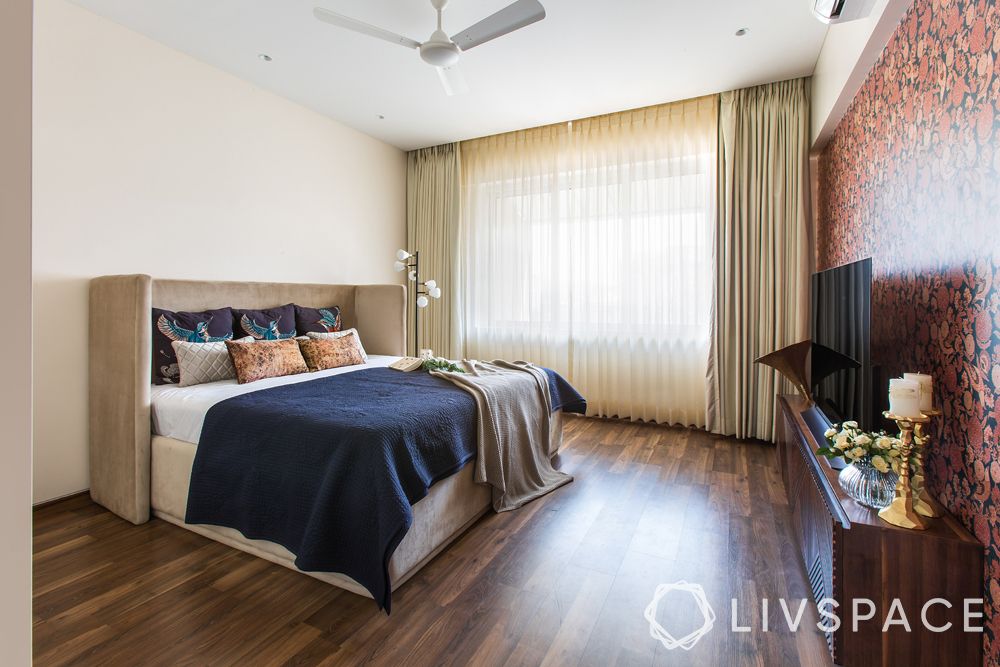 Before you get to style, let's first clarify who is a grandmillennial! A grandmillennial is a 25-to-30-something who is too exhausted with the monotony of design (both at home and in fashion) on the average Instagram feed. Though young and restless, they are a new breed of traditionalists who like to 'collect' things from the past.
The main idea is to layer homes with personal collections to express themselves. Thus, a grandmillennial bedroom would include many seemingly archaic elements that are part of their personal 'collection'. For instance, the candle stands and gramophone speaker on the TV cabinet in this bedroom definitely echo the grandmillennial style.
#17: Maximalist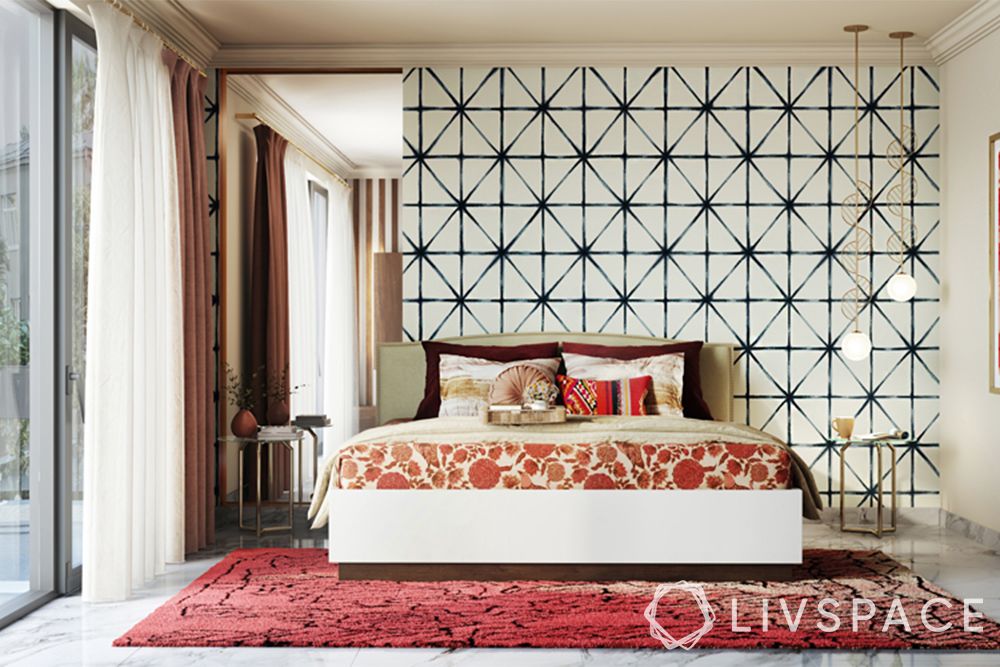 Maximalism, as the name suggests, is a style that makes the maximum use of colours, repetitive patterns and precious showstoppers for an extravagant and lavish look. As Indians, we are culturally inclined to hoard. Thus, the maximalist style suits us very well. However, this style requires a keen eye for detail and knack for bringing things together with careful intent. No colour is excluded from the maximalist palette and includes the use of patterns like paisley, chevron etc. If you want a bedroom that looks busy, this is your style!
#18: Transitional
This style is best described as a space where design elements of two different time periods exist. The transmission from one period to another is covered by this style, as though showcasing the evolution of aesthetic trends over time. Bedroom design ideas that are transitional have old and new elements within the same space. This bed, for example, is a modern modular piece. The console, however, is antique. The mirror, with its sunburst design, is from the 1920s.
#19: French Classical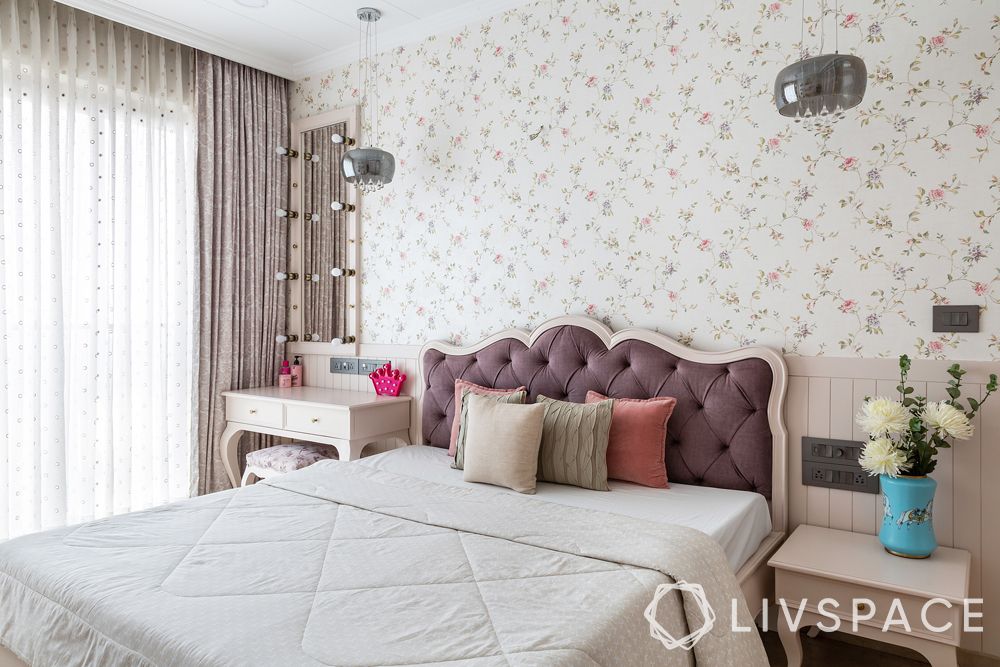 Like everything classical, the French classical style harps on symmetry in shape and dimensions. The curvy silhouettes of furniture pieces in this bedroom are reminders of a bygone era, and are more elegant and less functional. The floral or vine prints are decidedly French. The colour palette is mostly white with hints of pastel and pinks. This is a style that was prevalent in Paris from the 1880s to the 1920s.
#20: Modern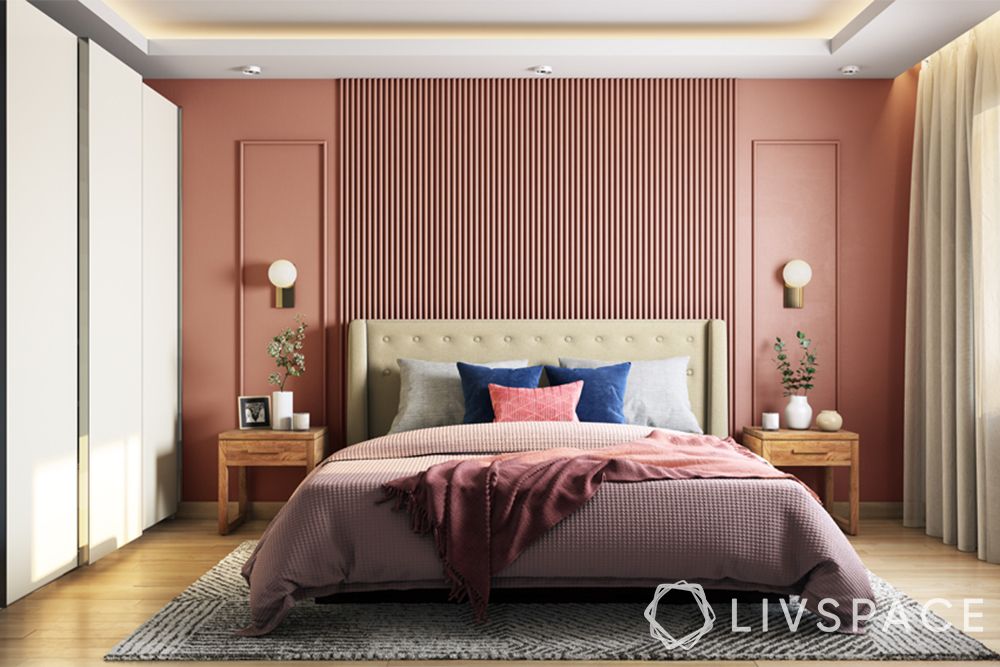 If we go by the calendar, the modern era ended in the 1950s. Everything that came after that is postmodern. Though historically correct, this would be a very limited way of looking at modern interior design. In fact, how the common person understands the term 'modern' is quite simple. Whatever is not traditional is modern just by exclusion. In the Indian context, modern would mean straight lines, fluted panels, portrait mouldings on walls and a move towards modular furniture. Backlighting or profile lighting is also an aspect of modern bedroom design ideas.
#21: Hollywood Regency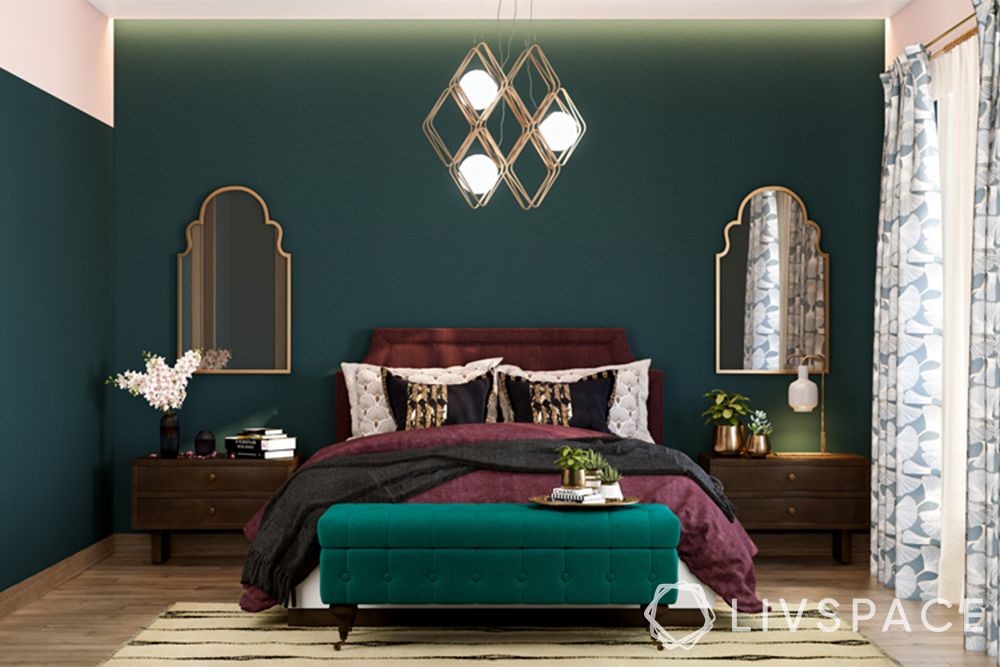 This style draws from the golden age of Hollywood, which is the 1930s, when film sets were as opulent as they get. There was no such thing as too lavish when it came to a Joan Crawford movie! So when this translates into a home decor style, the bedroom in question must look dreamy and detailed above all else.
We can easily draw parallels with Bollywood here. A Hollywood Regency style is what you can see in celebrity homes like Shah Rukh Khan's Mumbai mansion. While it may not look doable or realistic, this style resonates with a majority of the Indian homeowners as it is highly aspirational.
How Can Livspace Help You?
We bet you liked our one-wall wooden temple for home designs. If you want to get a beautiful mandir for your home too, then look no further. Consult Livspace's designers for quality and safe interiors. For more information on the COVID-19 protocols we take, click here.
If you enjoyed reading about different bedroom styles, also explore 12 Kitchen Design Styles That are Best Suited to Indian Homes.
We love hearing from you! Write to us with your comments and suggestions at editor@livspace.com