Home may be where the heart is but the bedroom is where your soul resides. It is your peaceful sanctuary, the place where you retreat at the end of a tiring day. No wonder we invest so much of our time choosing the perfect interior design for the bedroom. And when it comes to room decoration ideas for your bedroom, there are so many options to choose from. 
In this article, we've curated a list of modern bedroom decoration ideas based on styles, colours and users! Read on to know all about bedroom decor ideas.
How to Begin Your Bedroom Decoration Process?
Judge your room by size, light and ventilation, and then research relevant bedroom decorating ideas. You can then come up with a layout that suits your needs and works the best for your room at the same time. After this, you should rework your ceiling, walls and floors before you start placing/building your furniture.
24 Stunning Room Decoration Ideas
#1: Cosy and Airy Bedroom Decoration Ideas
One of the most important things you should remember while decorating your bedroom is to avoid building bulky lofts in order to save the spaciousness of the room. Moreover, the mix of open and closed shelves as bedroom decoration reinforces the roomy impression, just like the room in the picture above. You can also choose lighter and muted colour palettes to enhance lighting. Moreover, using wooden furniture in such rooms is an added advantage because it makes your room look cosier.
Also Read: 8 Wall Decoration Ideas To Make Your Home Look All Kinds of Stunning
#2: Elegant and Luxurious Room Decor Ideas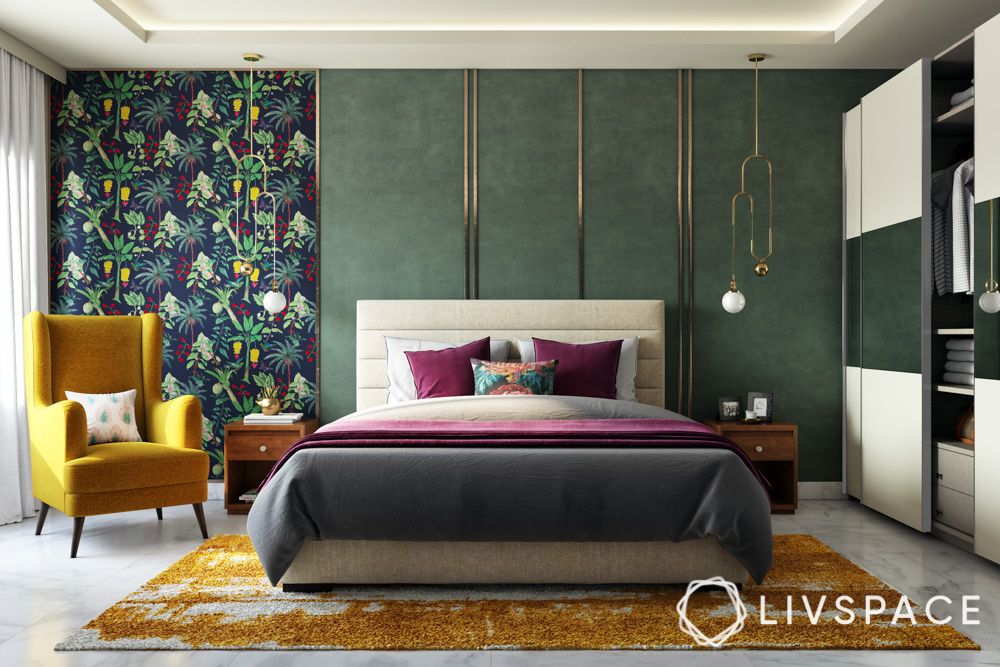 The size of your budget will influence a lot of decisions regarding your bedroom decoration ideas. But you should know that there are many budget-friendly alternatives available to get that bedroom design of your dreams. For example, if you are looking for glam room decoration ideas, opt for a luxurious wallpaper instead of texture paint to achieve similar results within a budget.
#3: Neutral and Simple Room Decoration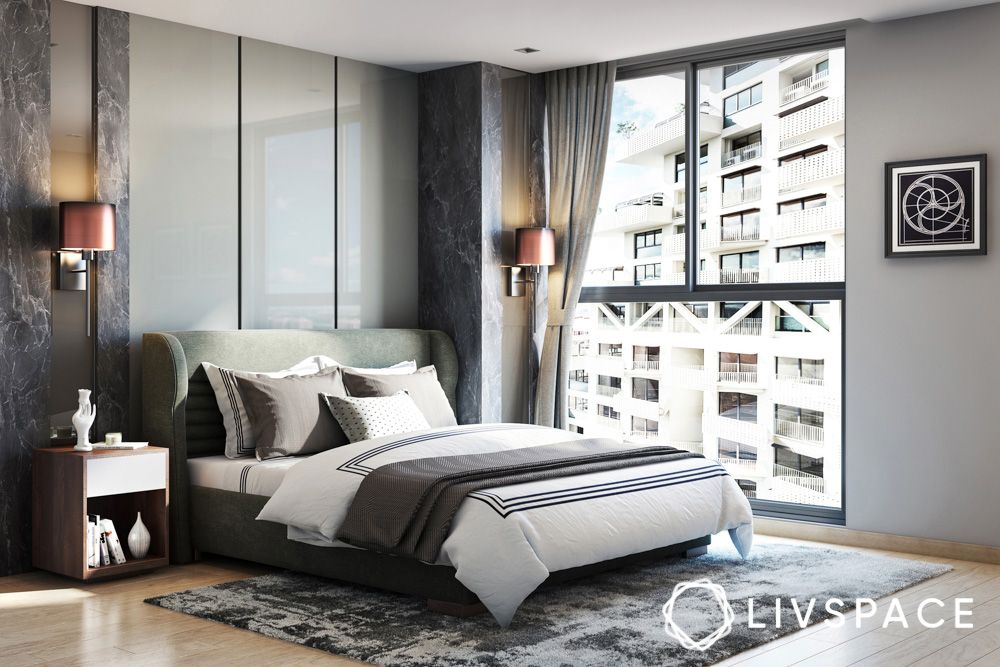 This bedroom decor idea is a viable one for millennials. Although it has different tones of just one colour (grey), it manages to be charming because of its pleasant colour balance. Make sure you reinforce the greys with little black highlights and full white/light colour ceilings to avoid making the room look dull and dark.
#4: Colourful and Bright Room Decoration Ideas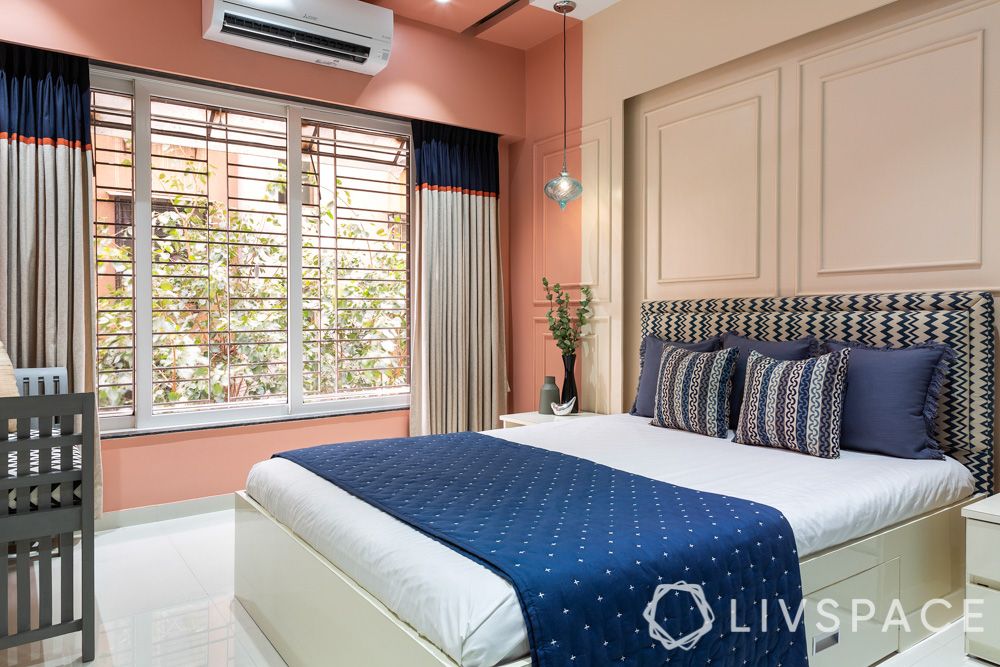 Another bedroom decoration idea that is suitable for young people involves bright and happy colours. These colours can ensure a far cheerier space than a bedroom designed in muted tones. Since creating a pleasing colour balance with this idea can be tricky, you can always fix this issue with colourful soft furnishings. Take an example of the bedroom decoration in the picture above. It has curtains in blue and peach hues to balance the blue used in the bed.
#5: Traditional and Humble Bedroom Decoration Ideas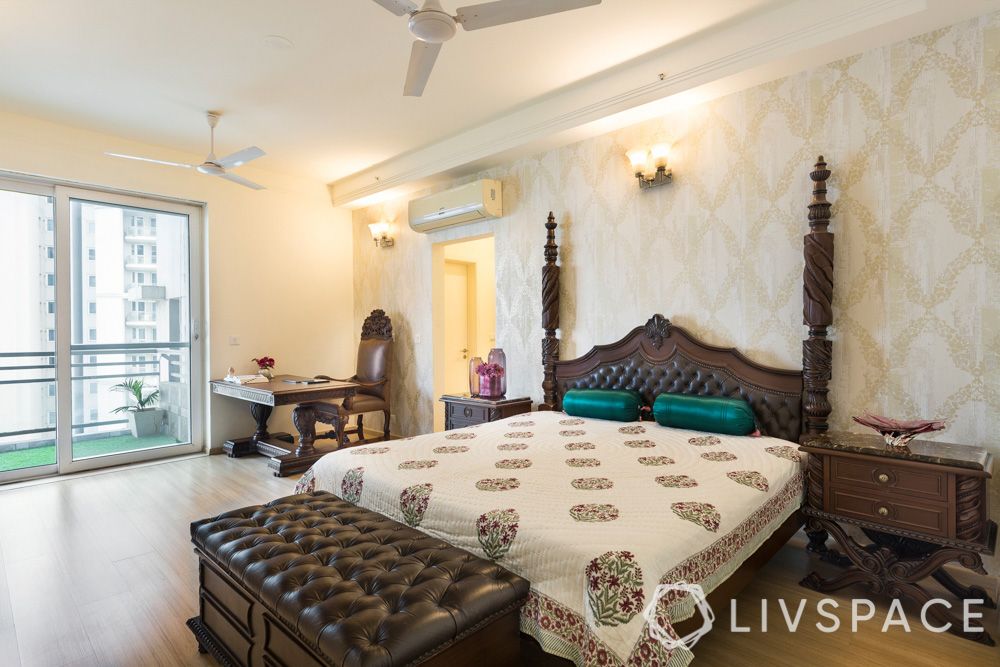 Using vintage furniture in your modern layouts is a bedroom decorating idea that is both unique and creative. Additionally, most traditional or old furniture is made of wood, which is considered to be a vastu-friendly material for your home. So, if you are looking for vastu-compliant bedroom decoration ideas, then traditional furniture pieces can be your go-to options.
#6: Modern and Woody Bedroom Decor Ideas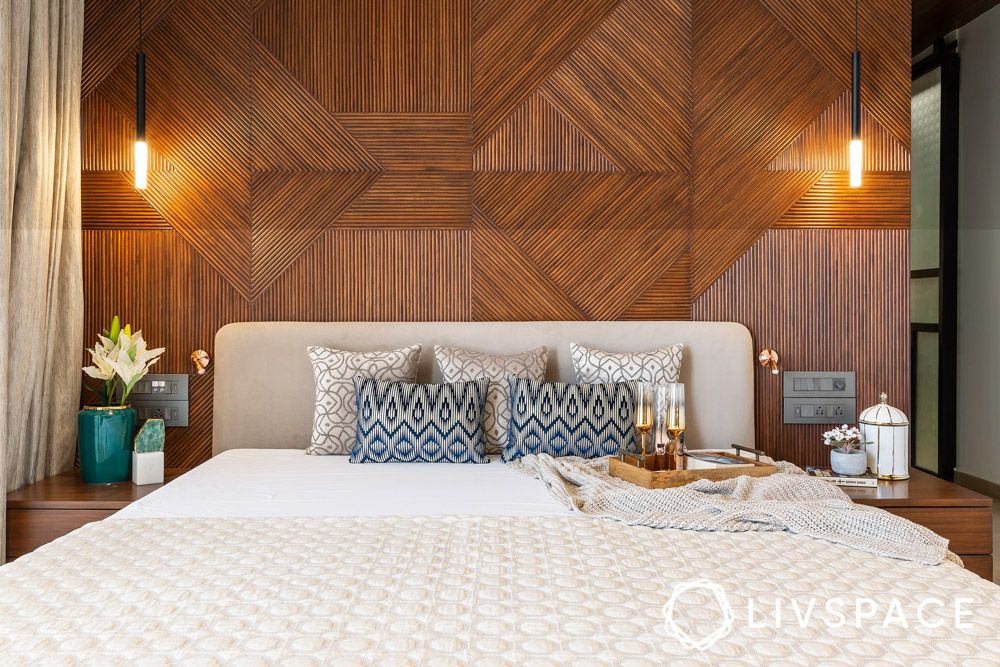 It is not necessary that the wooden elements you use for your vastu-compliant bedroom decoration should be traditional or vintage. You can use modern bedroom decoration ideas like wooden panelling to create the look you desire. Since the accent walls are the highlights of your bedrooms, they have a critical role in defining how your room is finally perceived. Hence, it is important to stay consistent with your aesthetic throughout the room.
#7: Scandinavian and Minimalist Room Decoration Ideas
The Nordic aesthetic principles are great for small room decor ideas and even better in rooms with low ceilings. This is because their light-coloured and minimal furniture concept allow the rooms to look bright and spacious at the same time.
#8: Bohemian and Homely Small Room Decor Ideas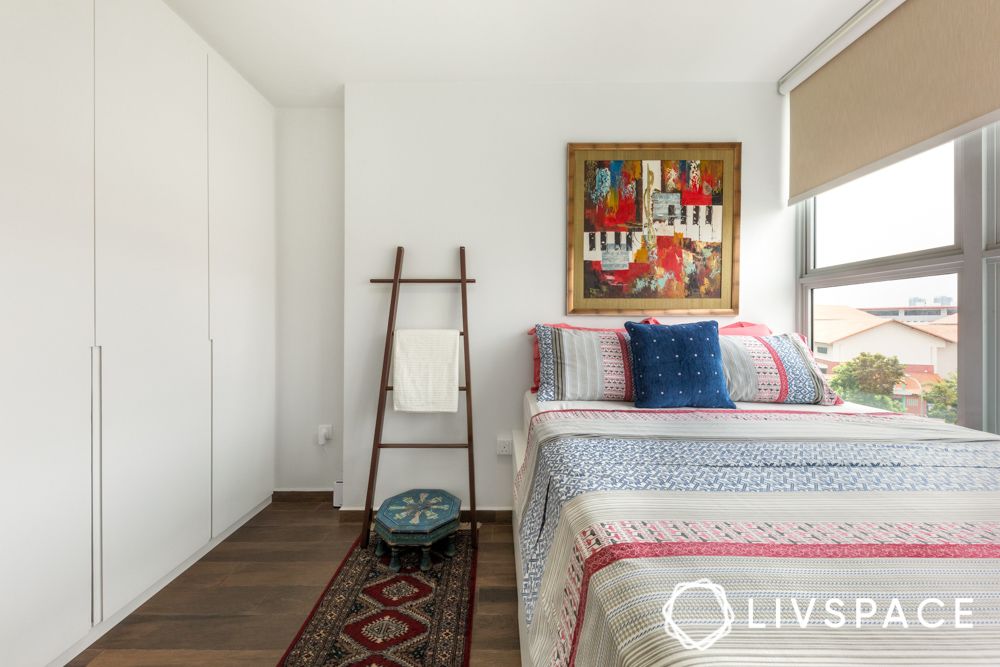 While Scandinavian designs are known for their clean and straight lines, the curved and soft features in Bohemian bedroom decoration ideas add comfort to your space. You can make your bedroom look cosier with these chic ideas while keeping it bright.
#9: Small Bedroom Decorating Ideas for a Bachelor's Haven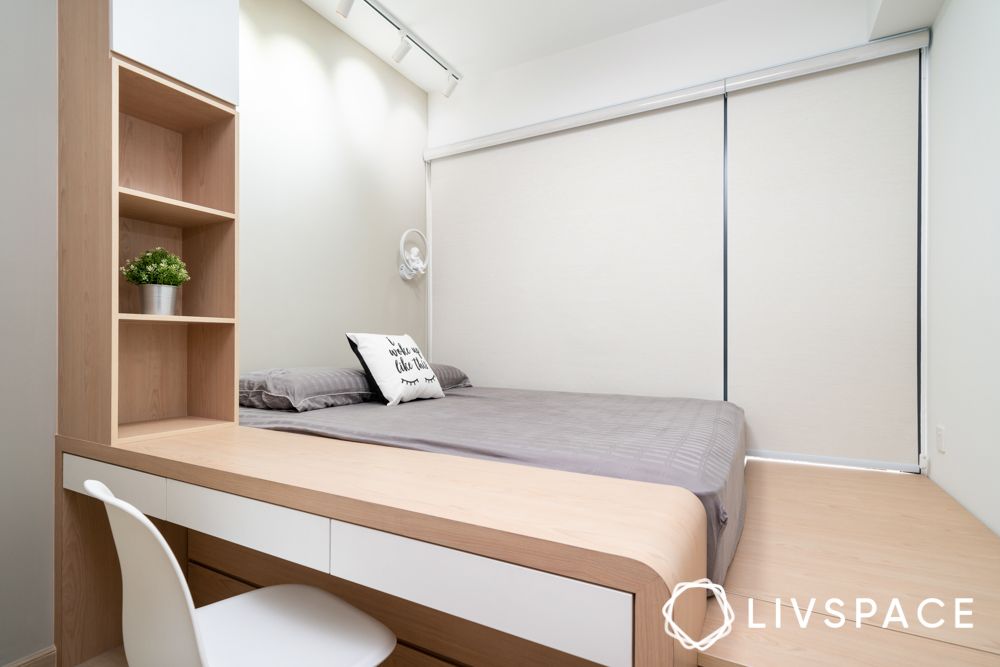 Bedroom designs in India usually take into consideration the compact size of our apartments. For instance, bulky storage units for apartments in metros are best avoided as they take up too much space in small rooms. This increases the importance of small room decor ideas. As such, innovative space-saving ideas to combat free-space issues are the best solution, for both singles and families living in small homes.
#10: Room Decoration Ideas for a Fashionista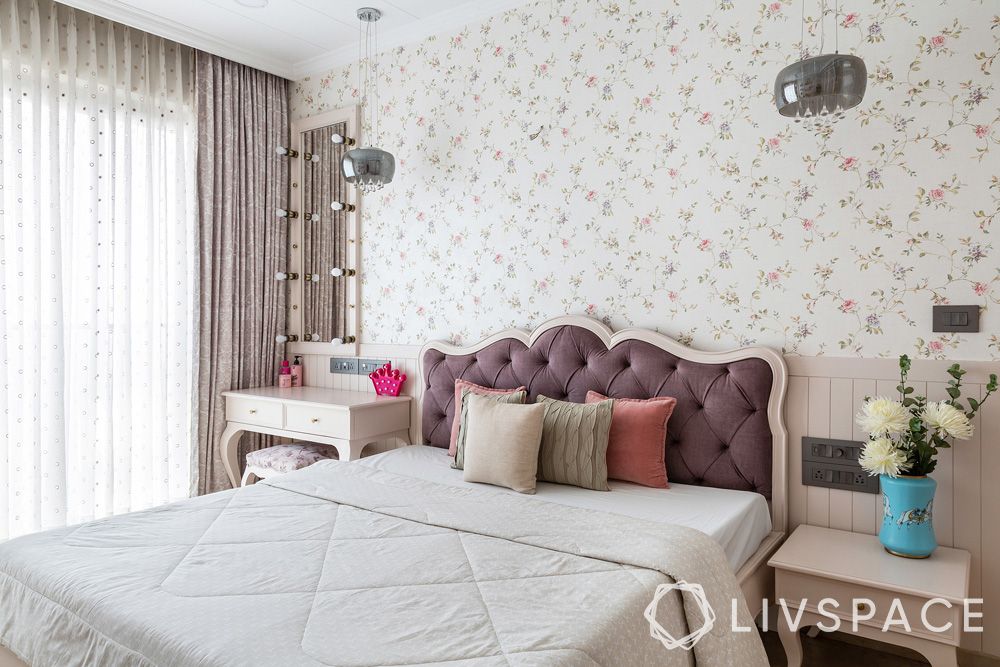 Different bedrooms, different requirements; don't worry, we have bedroom decoration ideas for all. For people or kids who enjoy dressing up and looking their best, you can opt for a celebrity-like vanity table. This table, in the picture above, for instance, has a mirror surrounded by light bulbs to throw a straight light at the user so they can have a salon-like experience at home!
#11: Bedroom Decoration Ideas for a Teenager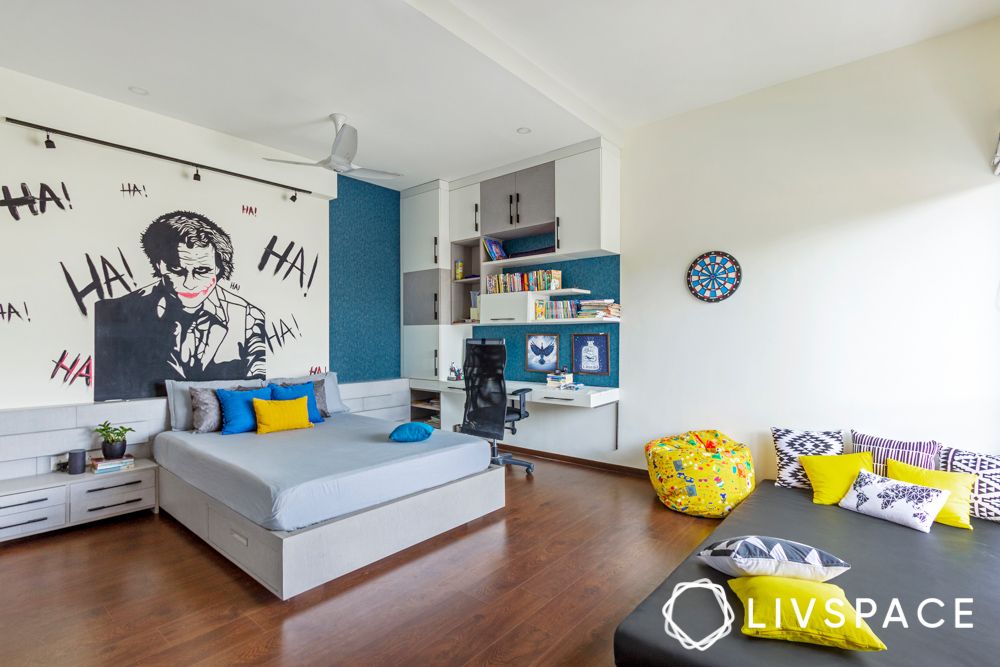 A common behaviour seen in teenagers is their constant need to project their personalities in their surroundings. This means that their bedrooms are typically a reflection of themselves. Usually, such bedroom decorations require ideas customised to the teen, not to mention creating a lot of space to enable their growth!
#12: A Shared Bedroom Decor for Your Kids' Room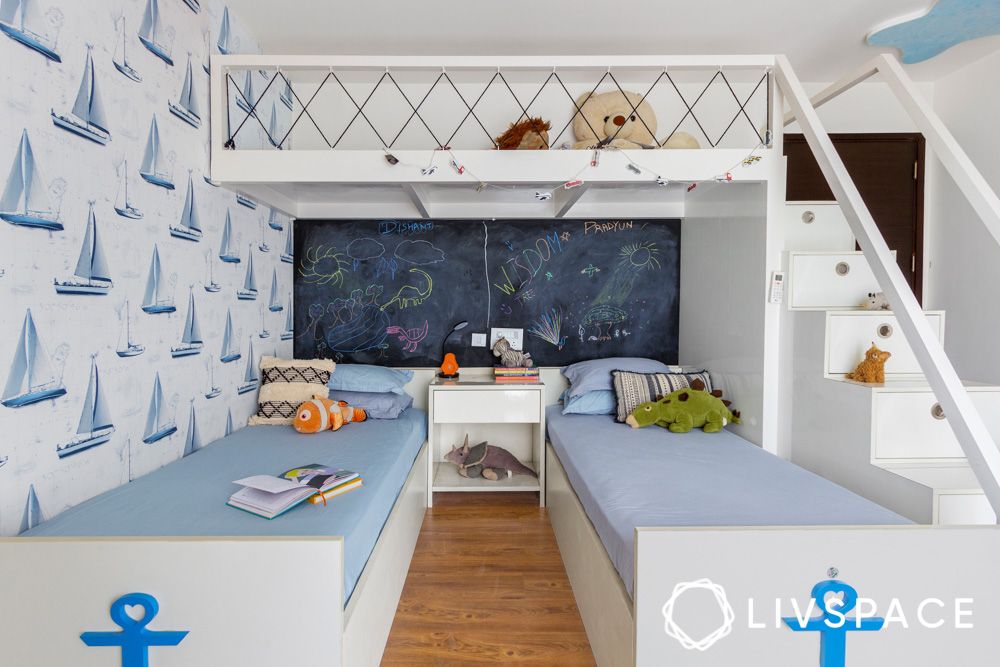 Planning free space in shared bedrooms can be challenging but not so much with our shared bedroom ideas. There are many innovative and clever designs for kids' bedrooms that offer free space for their learning and growing. These designs are often expensive but completely worth it.
#13: A Glamorous Bedroom Decoration Idea Using Mirrors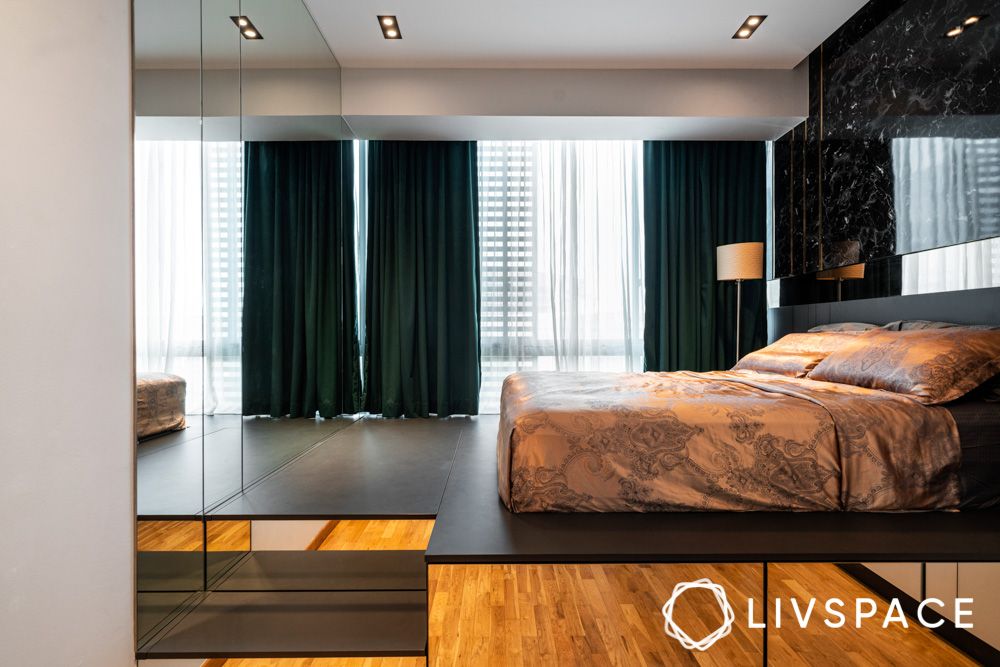 The use of mirrors can create magic in bedrooms. The warm light reflecting from these mirrors can amplify the size of your small bedroom. Not to discount the fact that it is guaranteed to make you feel glamorous! However, mirror cladding is not cheap, so go for this idea if you have the budget for it.
Also Read: 15 Tips to Decorate With Mirrors: Mirror Decor Ideas for a Stunning Look
#14: A Bedroom With a Fancy Poster Bed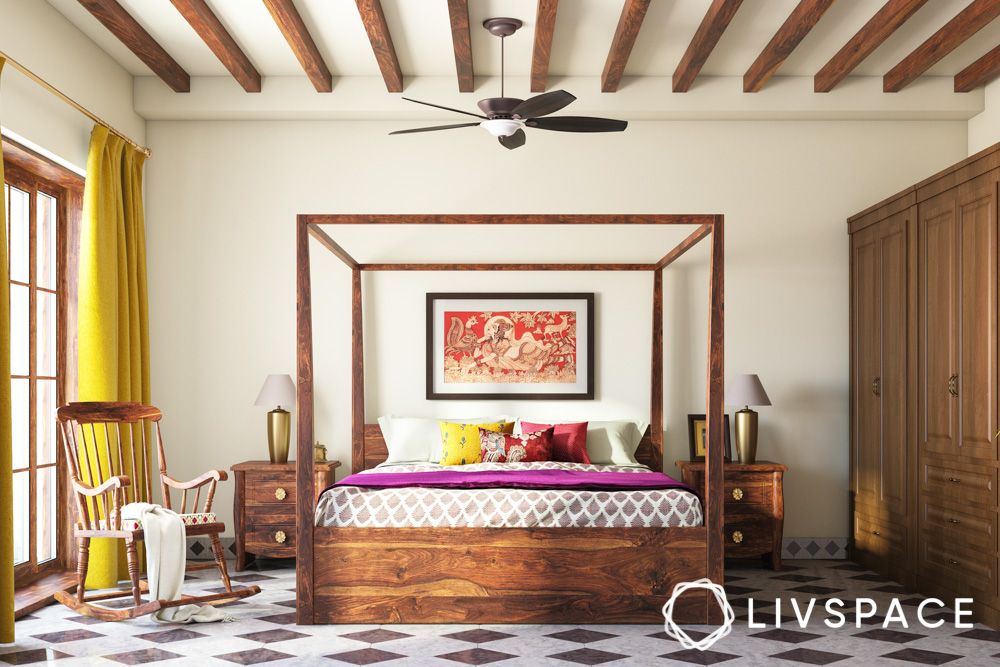 European-style poster beds can certainly add a sense of opulence to a space. In India, these are generally made of solid wood like Burma teak wood. Since almost all colours pair well with wood, your primary wall colour becomes an important factor in creating any kind of ambience in your room. Room decoration ideas with warm colours will make your bedroom inviting while cool colours can induce a sense of relaxation.
#15: A Roomy Bedroom With Space-Saving Furniture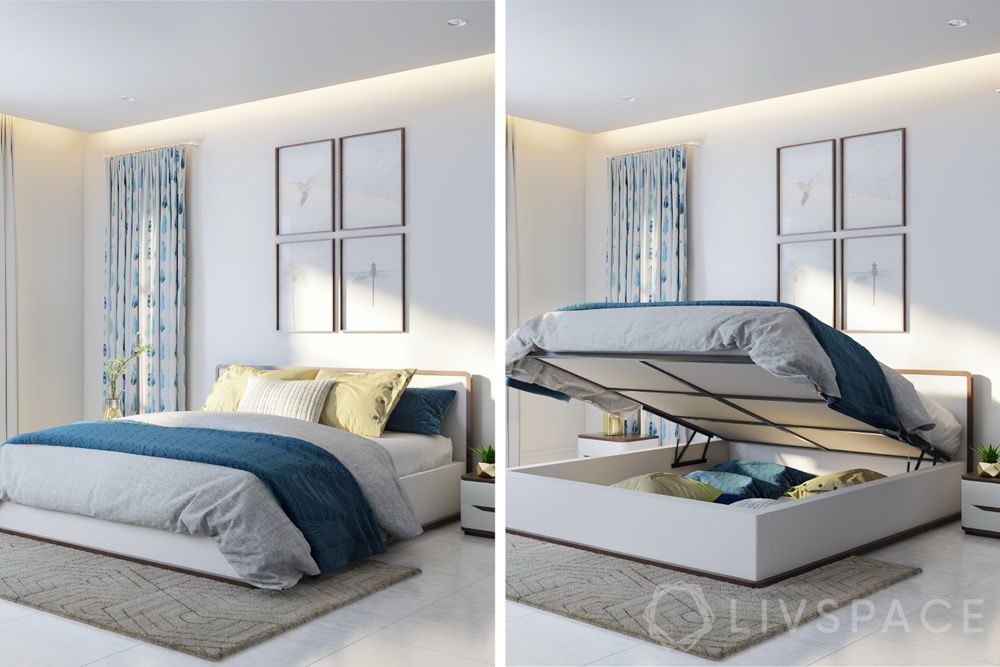 If you have a small bedroom, hydraulic beds are great for your bedroom interior! Adding enough storage in compact bedrooms can be difficult. This is where these beds come in. Hydraulic beds make use of the space inside the frame, converting it into storage space.
#16: Combine Light and Dark Decor As Bedroom Decoration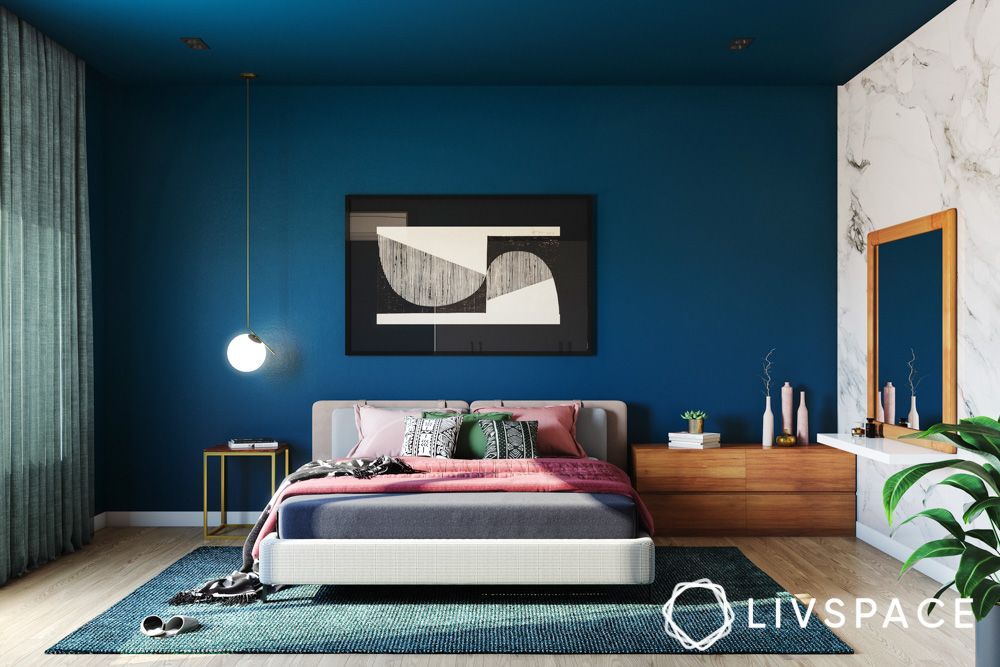 If you are looking for small bedroom decorating ideas on a budget, this is a good one! Instead of just sticking to one colour family, play around with both light and dark shades. Moreover, you can also choose dark and light shades of the same colour, like blue, to tie the look together.
#17: Create a Focal Point With Wall Panelling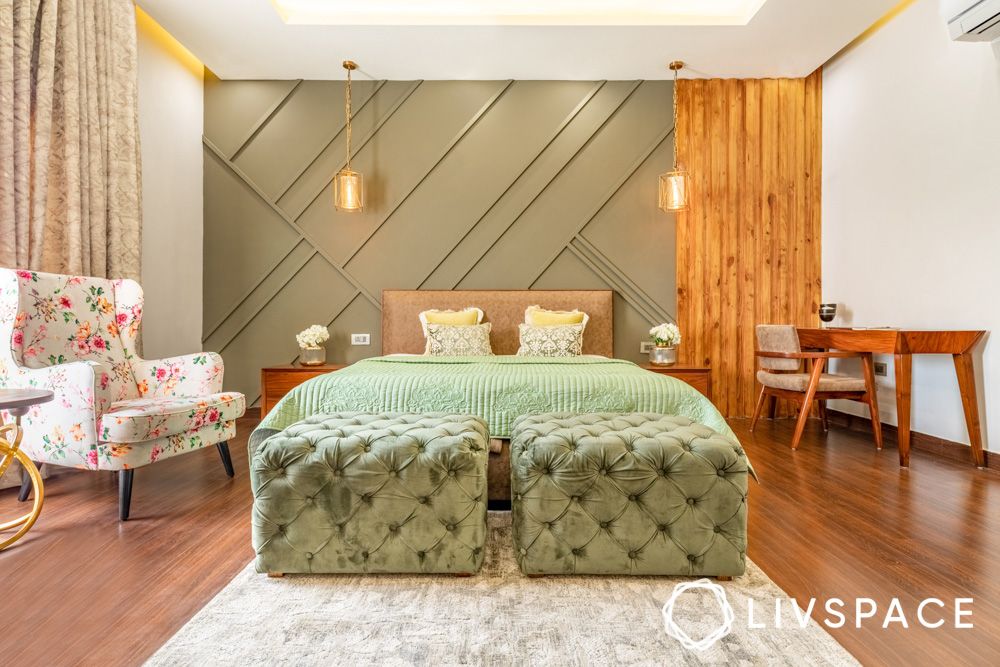 When it comes to room decor ideas, it's important that you create a focal point and plan your design around it. An easy way to do so is via wall panelling. From paint to wallpaper, there are multiple ways to panel your walls. Ensure the rest of your decor complements the wall panel.
#18: Customised Room Decoration Ideas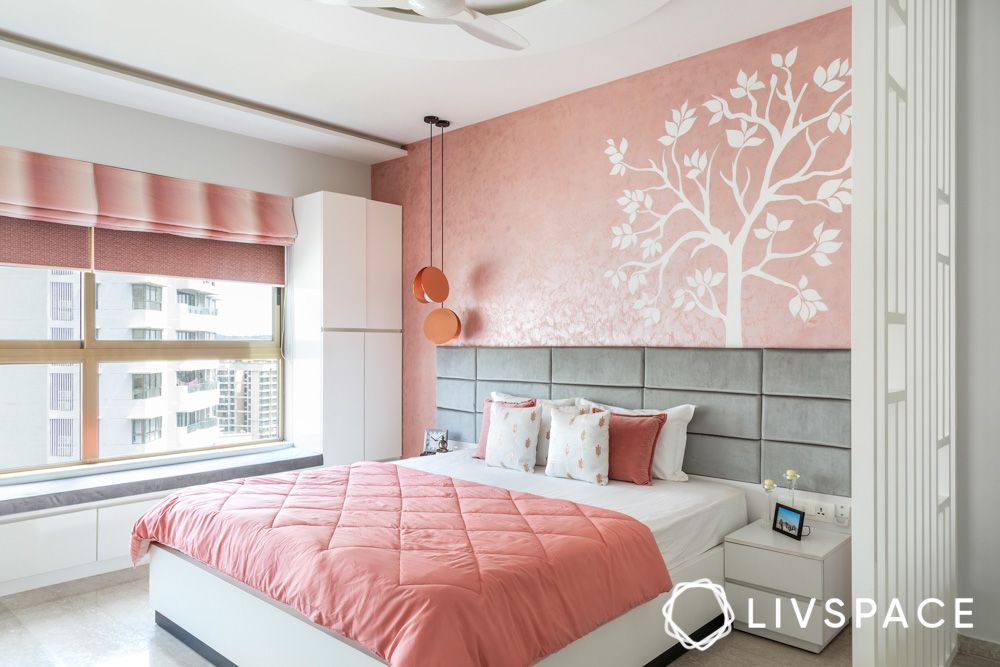 Not just teenagers, but adults too can customise their bedrooms. Moreover, it's not as difficult as it might seem. For instance, you can opt for some stunning wall art to personalise your room as per your requirements. Similarly, choose colours and decor that you like to create a haven in your bedroom.
#19: Simple Room Decoration for Your Bedroom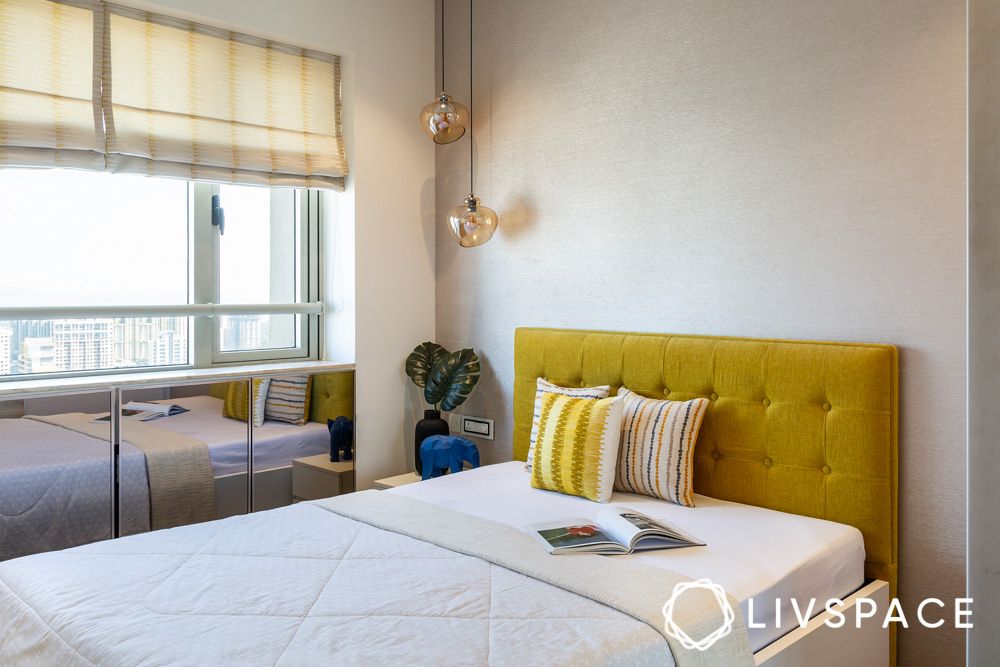 We love glam designs, but nothing quite beats the beauty of simple bedroom decorating ideas. While the overall design of this bedroom is basic and simple, the sunny yellow headboard adds a lovely pop of colour.
#20: Luxurious Room Decoration Ideas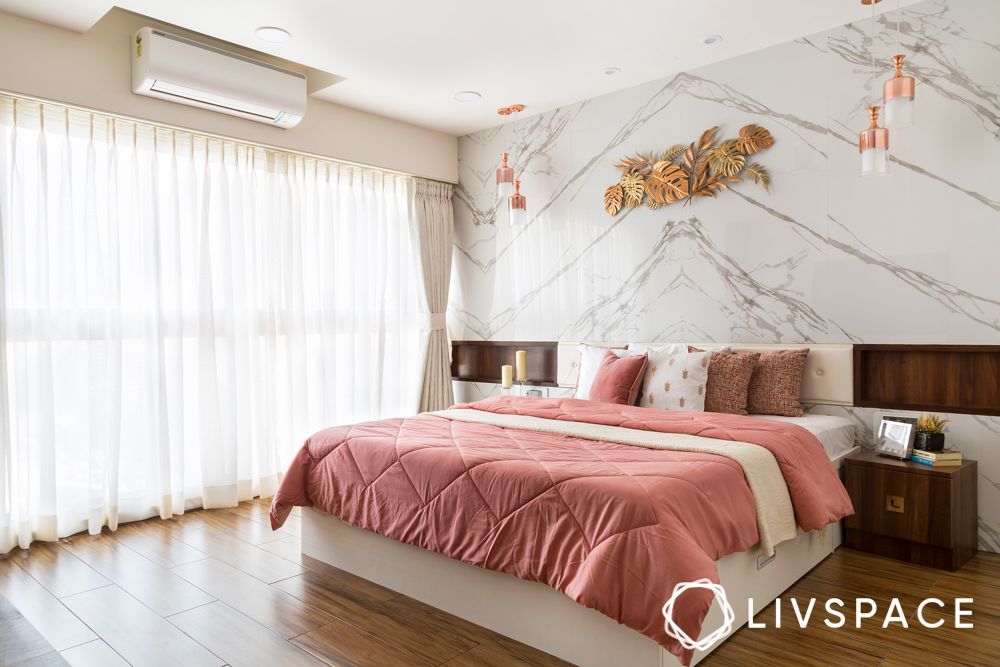 If you want your bedroom decoration to be classy and glam, you must bookmark this! Opt for a high-end material like marble and create an accent wall. You can also opt for marble flooring if you want to keep your walls simple. The right lighting, decor and colour palette will complete the look.
#21: Decorate the Walls of Your Bedroom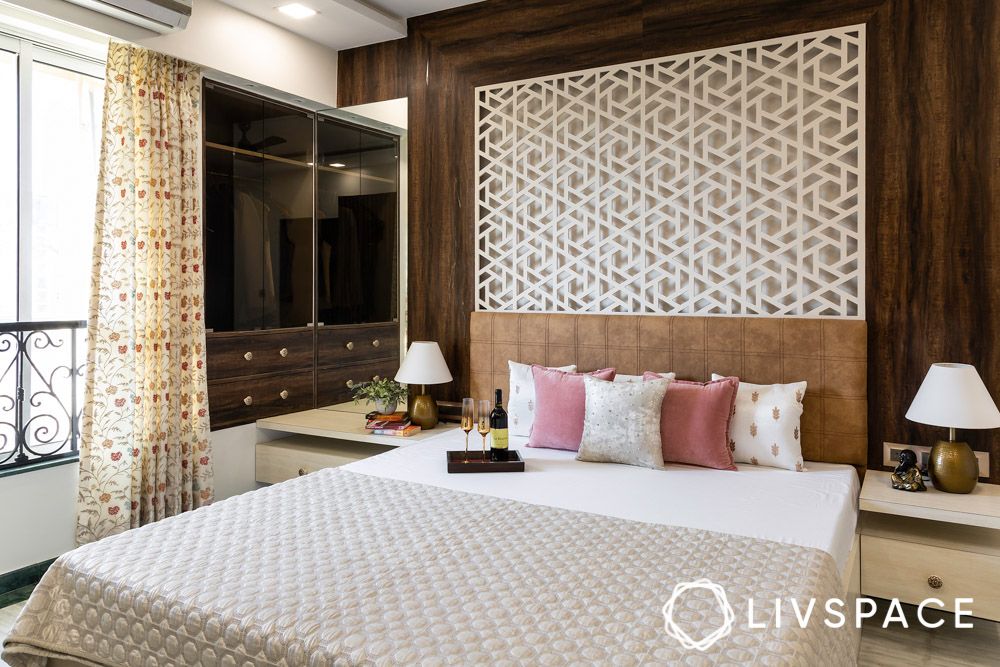 When it comes to room decor ideas, homeowners often ignore the walls. Your walls can be used in a variety of ways. For instance, you can add a jaali to create an accent wall. Similarly, with some help from your designer, you can build storage spaces within your walls.
#22: Wallpaper Your Space
If you are looking for bedroom decorating ideas, a wallpaper is always a good option. You can use this economical choice to create unique wall designs. For instance, if you want a rustic look, you can opt for brick-like wallpaper instead of texture paint.
#23: Geometric Room Decoration Ideas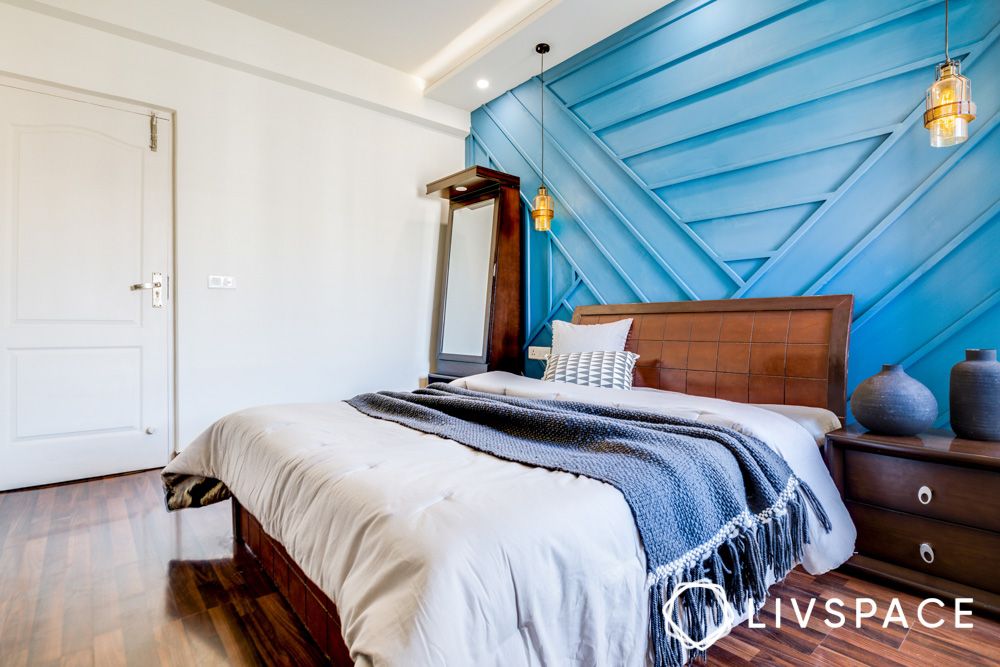 While coming up with room decoration ideas, you must make sure that your decor matches the interior design style of your room. For contemporary homes, geometric patterns are a good option.
#24: Fun With Fabrics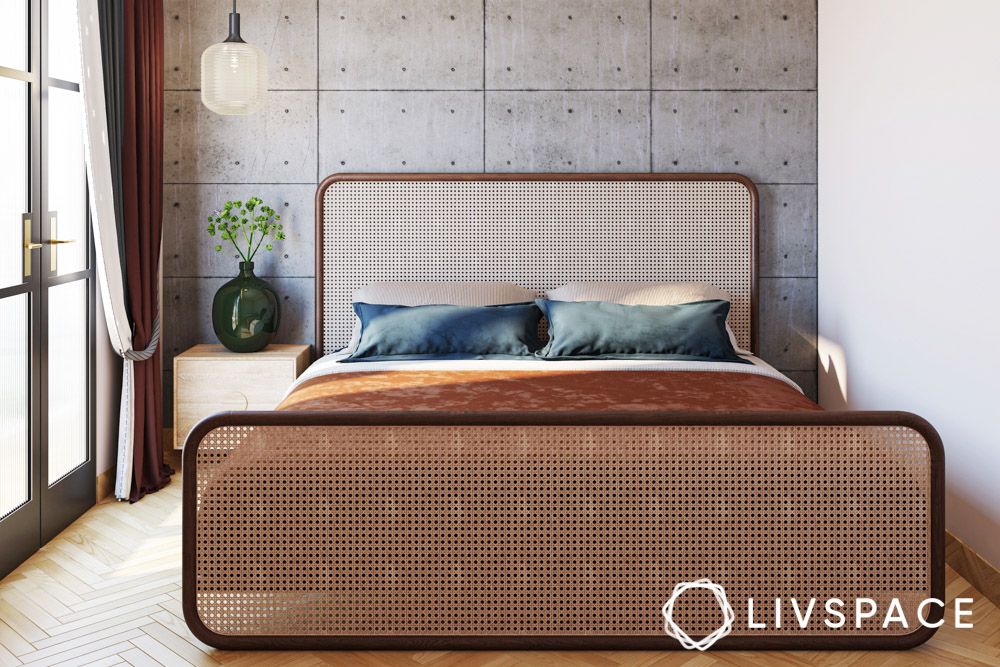 The best room decoration idea is one that serves both aesthetic and functional purposes. For instance, adding fabric to your headboard wall not only looks stunning and cosy but also makes it a safe option for kids and elders.
5 Bonus Bedroom Ideas for Indian Homes
Wait, there's more! Here are some of our favourite Indian-style bedroom designs.
#1: One With a Full-Length Headboard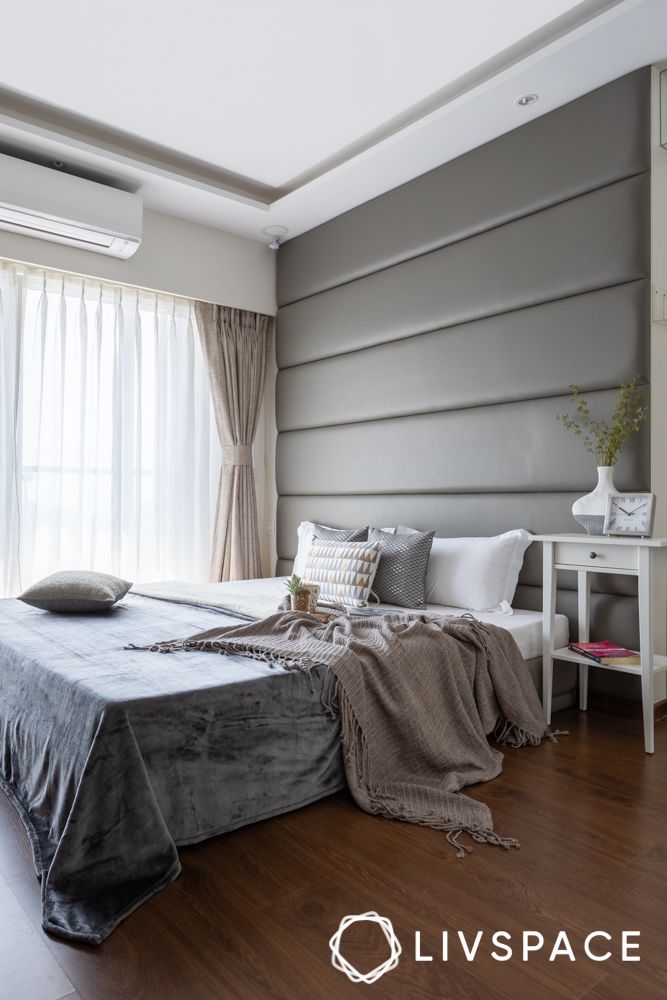 Look how this unique headboard livens up the entire bedroom decoration. This floor-to-ceiling headboard is not only striking but also perfect for a good night's sleep!
#2: One With a View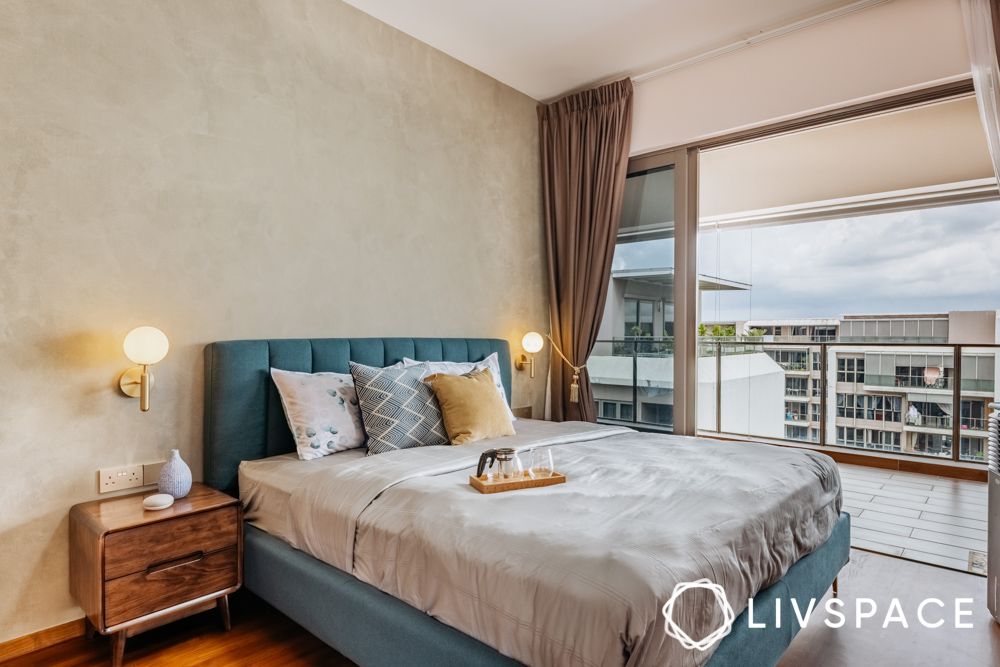 If you are one of those lucky few who enjoy a bedroom with a view, make the most of it! The view should be the focal point of your bedroom design. Avoid placing any furniture in front of the window/door. Also, use full-length curtains to amplify the look of your bedroom decoration.
#3: One With Relaxing Decor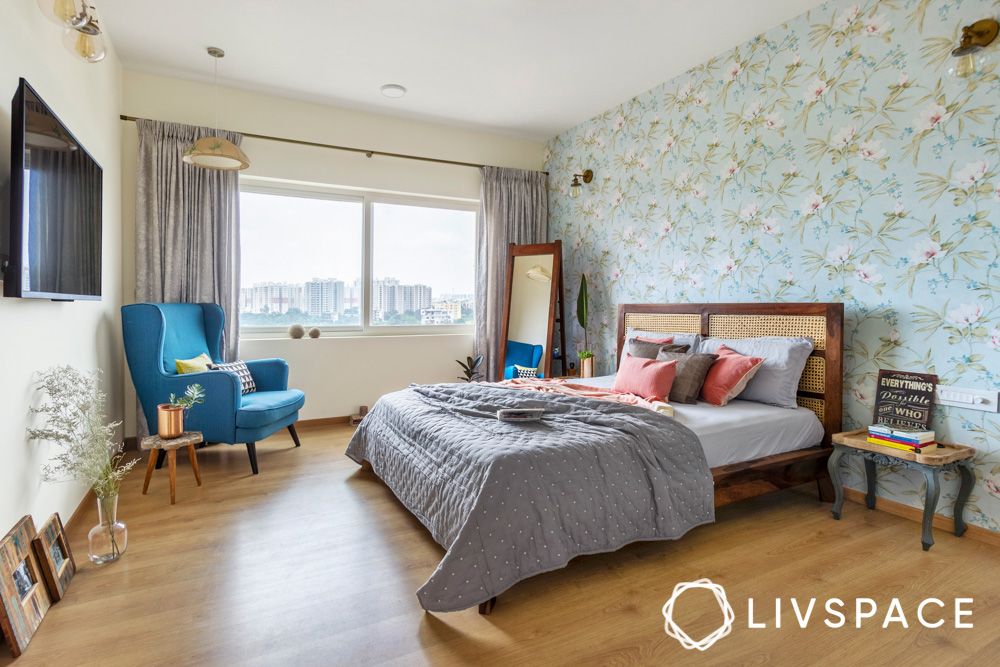 Who would want to get out of bed if they had such a gorgeous bedroom! Whether it's the pretty, floral wallpaper or the comfy couch in a striking blue, we love every aspect of this room!
#4: One With Some Golden Glam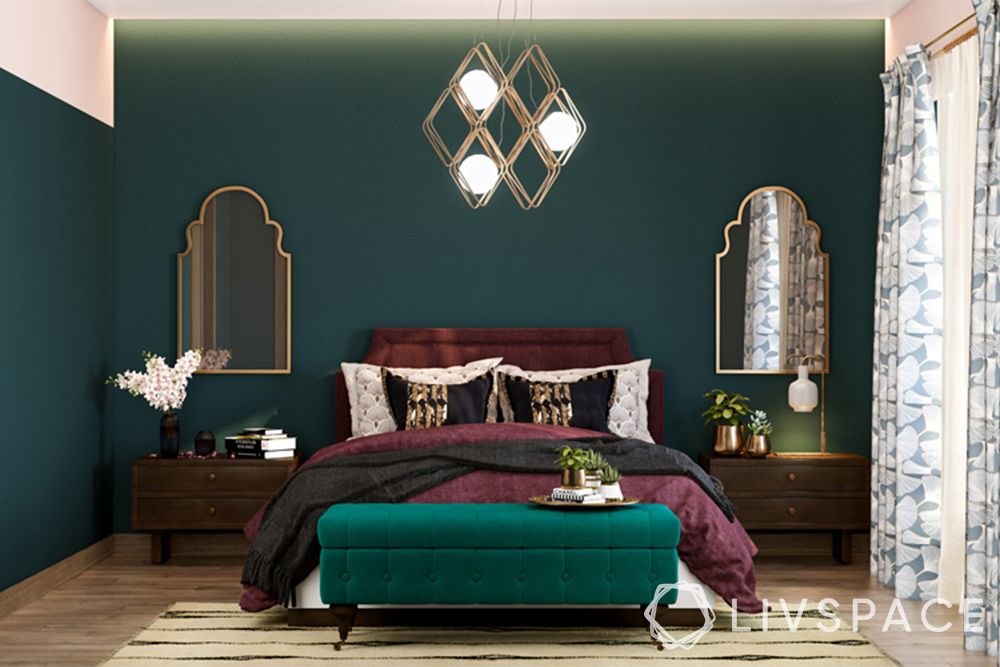 The art deco interior style has become quite popular in India. It makes use of these golden brass or stainless steel highlights that make your interiors appear plush and expensive. You can use these shiny accents in your bedroom decoration to elevate the style of your room.
#5: One With the Cottage Vibes
When confused, go with wood! Cottage-like interiors add a timeless charm to your bedroom design and are easy to maintain. Moreover, there is no such thing as too much wood! From the flooring to the ceiling, you can add wooden elements to every aspect of your hotel-style bedroom decor!
Trending Colour Combinations for Your Bedroom Decoration
There are many colour combinations that are trending these days and most of these tones are earthy. Additionally, the colour green is becoming popular in most trendy homes as it gives your bedroom an exotic vibe. Green, when paired with wooden textures, creates a warm and woody ambience that will always stay on trend.
Essential Furniture That You Must Include
In a bedroom, the most essential pieces of furniture are beds and storage. You can later choose to include a study table, dressing table, bedside tables or extra seating on the basis of the space left in your room. Soft furnishings for bedroom decorations include curtain/blinds, rugs, throw pillows and blankets. Apart from this, you may even like to rework your lighting and ceiling design to highlight your furniture in the best way possible.
What Is the Best Way to Design and Decorate a Cosy Bedroom?
Bedroom decoration ideas that make your room look cosy are the ones that include warm colour palettes, plenty of sunlight and natural textures around the room. Hence, go for lighter colours and use warm finishes like wood to make your bedroom look cosier.
Things to Keep in Mind While Decorating Your Bedroom
Here are some tips that you should keep in mind while decorating your bedroom:
Don't begin your decoration process at the furniture store
Before starting, measure your bedroom from end to end
Create a floor plan of your bedroom
Determine what type of interior design style you want
Identify and segregate zones for different pieces of furniture
Check out more bedroom designs here:
How Can Livspace Help You?
We hope you liked our bedroom decoration ideas! We design bedrooms using high-quality finishes and modern technology. Book an online consultation with Livspace today. To know how our customers feel about working with us, check out these Livspace reviews for more details!
Have any thoughts or suggestions you'd like to share with us? We're all ears! Drop us a line at editor@livspace.com.
Please note that the designs showcased within the story are subject to availability and will vary based on the year the homes were designed in. Consult our designers for more details on the latest designs.
FAQs:
1. How to Decorate a Room on a Low Budget?
While decorating a room on a low budget, keep it simple. Opt for cost-effective finishes and furnishings.
2. How Do I Make My Room Look Rich?
Elements like artwork, throw pillows, rugs and lighting can make your room look luxe and glam.
3. How Do You Decorate a Small Bedroom to Make It Look Bigger?
You can paint your walls in light and muted colours, and add mirrors to regulate more light in the room to make it seem spacious.
4. How Can I Make My Bedroom Unique?
To make your bedroom unique, incorporate personal touches like photographs, travel mementoes etc.
---
Popular Services:
Modular Kitchen Designs | Wardrobe Designs | Bathroom Designs | Master Bedroom Designs | Living Room Designs | Pooja Room Designs | TV Unit Designs | False Ceiling Designs | Kids Bedroom Designs | Balcony Designs | Dining Room Designs | Foyer Designs | Guest Bedroom Designs | Window Designs | Flooring Designs | Wall Decor Designs | Wall Paint Designs | Home Wallpaper Designs | Tile Designs | Kitchen Cabinet | Home Office & Study Room | Home Interior Designs
Popular Locations:
Interior Designer Bangalore | Interior Designer Mumbai | Interior Designer Pune | Interior Designer Chennai | Interior Designer Hyderabad | Interior Designer Gurgaon | Interior Designer Delhi | Interior Designer Ahmedabad | Interior Designer Vadodara | Interior Designer Kolkata | Interior Designer Thane | Interior Designer Navi Mumbai | Interior Designer Coimbatore | Interior Designer Lucknow | Interior Designer Patna | Interior Designer Nagpur | Interior Designer Chandigarh
Popular Stories:
2 BHK Interior Design | 3 BHK Interior Design | 1 BHK Interior Design | Interior Design Cost In India | Painting Cost Per Square Foot | False Ceiling Cost | Bathroom Renovation | Sofa Design Ideas | POP Design for Hall | House Paint Colours | Main Door Design | Granite Countertops | Vastu For Home | Cool Wallpapers | Types of Kitchen Layout | Types of Flooring | What Is Plywood | Pooja Room Vastu | South Facing House Vastu | Which Plants Are Good for Home Vastu | Vastu Tips for Home