Home may be where the heart is, but the bedroom is where your soul resides. The bedroom is your peaceful sanctuary, the place where you retreat at the end of a tiring day. No wonder we invest so much of our time choosing the perfect bedroom design. When it comes to bedroom design in India, there are so many options to choose from. In this article, we have curated a list of our favourite bedroom designs based on storage, colour and style, that are perfect for Indian homes. Read on.
Storage
As interior designers, our customers come to us with different requirements. But if there is one thing that is common with all, it is the need for ample storage. This curated list of Indian style bedroom designs will cater to all your storage needs.
#1: Bedroom With a Mix of Storage for all Your Needs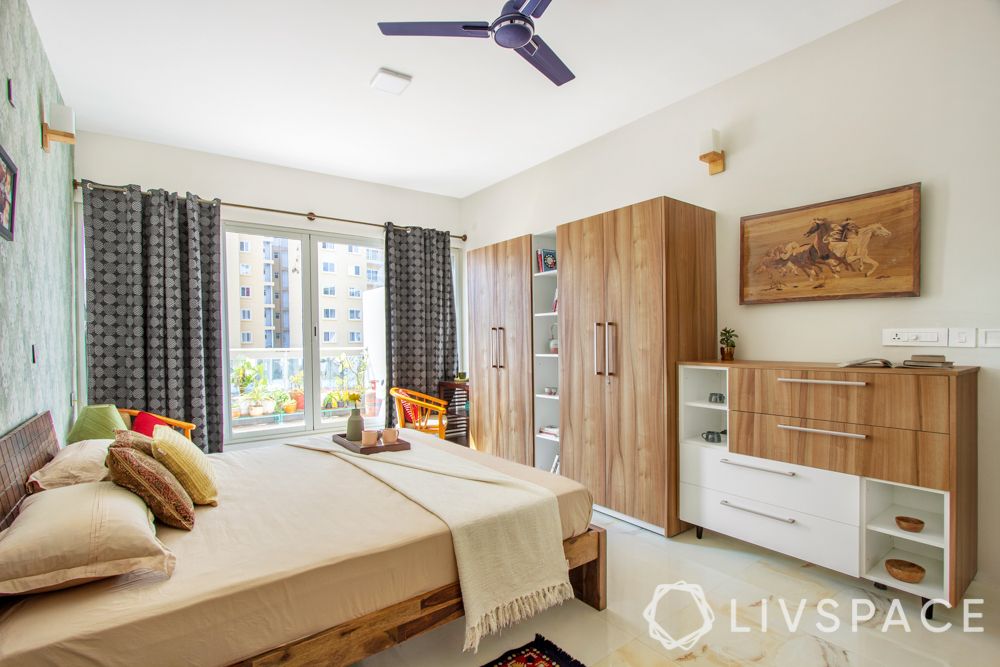 Not every person is the same – and nor are their storage needs. This bedroom design comes with wardrobes and storage units that showcase open and closed shelves. Not only can you store all your clothes, you can also display your mementoes and curios.
#2: Vanity Units That Double as a Storage Unit Cum Side Table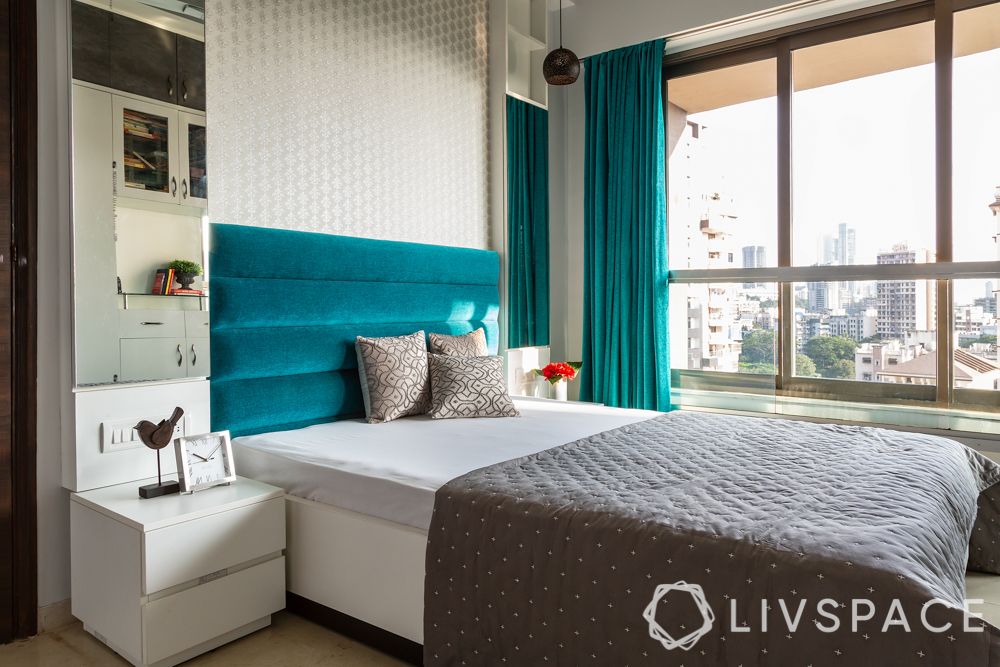 One of the primary facets of bedroom design in India is the use of furniture that serves multiple purposes. This stunning bedroom is the perfect example! The his and her vanity units beside the bed are helpful in storing things without taking up too much space.
#3: Hydraulic Beds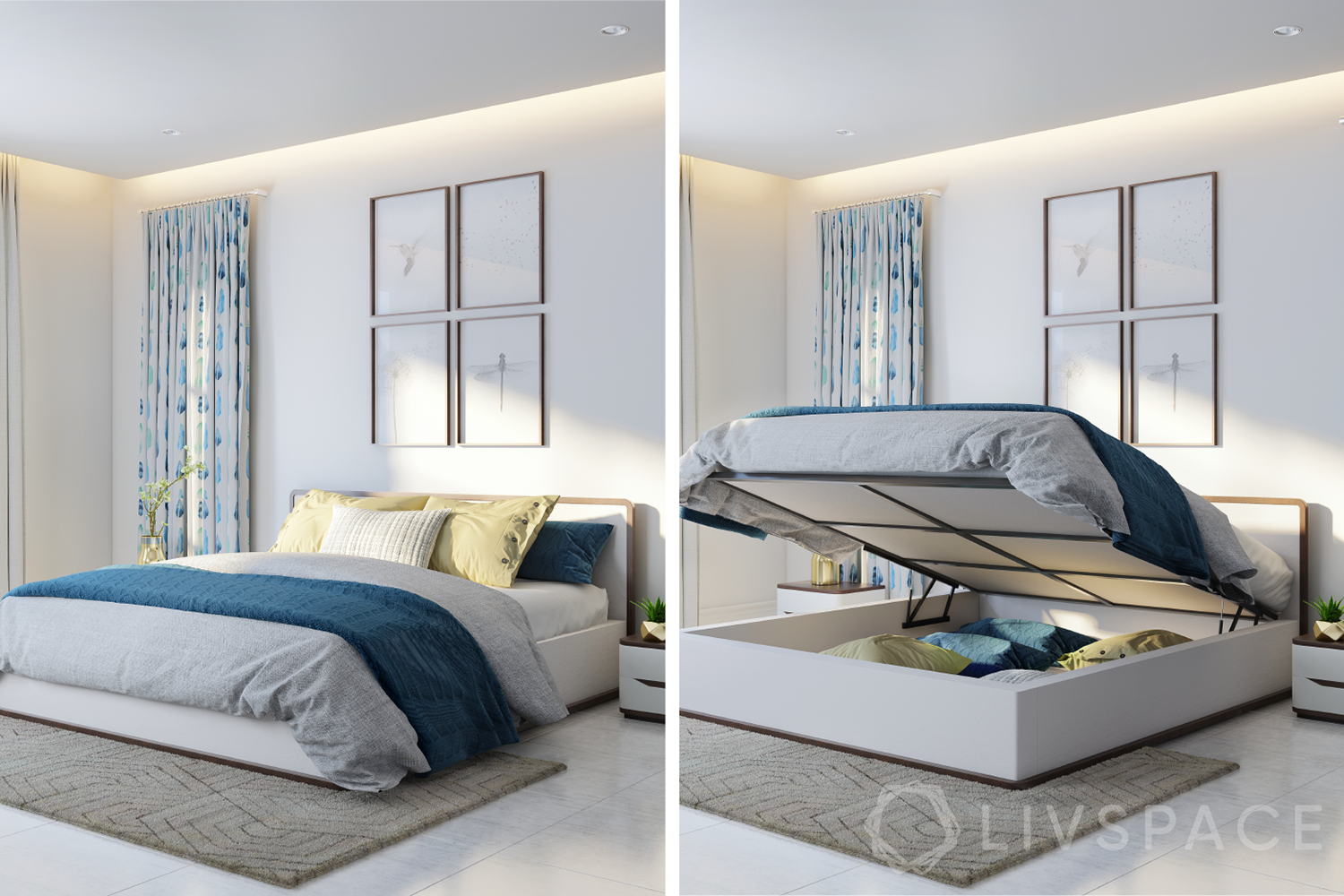 If you have a small bedroom, hydraulic beds are your best friend! Adding enough storage in compact bedrooms can be difficult. This is where these beds come in. Hydraulic beds make use of the space inside the bed, converting it into storage space.
#4: Vertical Storage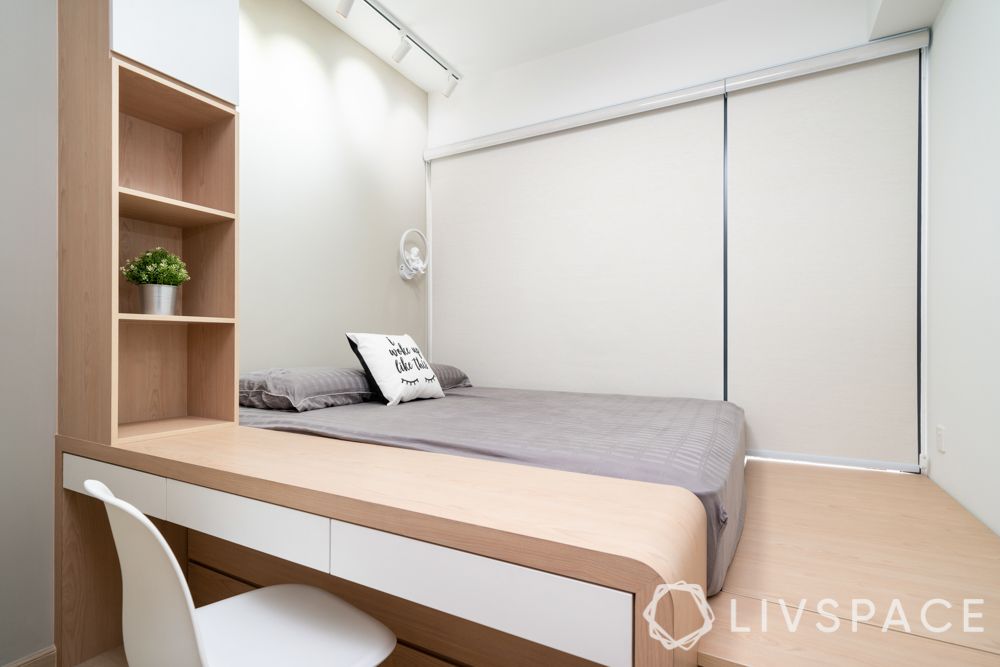 When space is scarce, go vertical! Bedroom design in India usually takes into consideration small spaces due to the compact size of our apartments. Bulky storage units take up too much space in small rooms. Instead, use vertical and wall-mounted storage units that will give you storage while keeping your floor space free.
#5: Sleek Sliding Wardrobes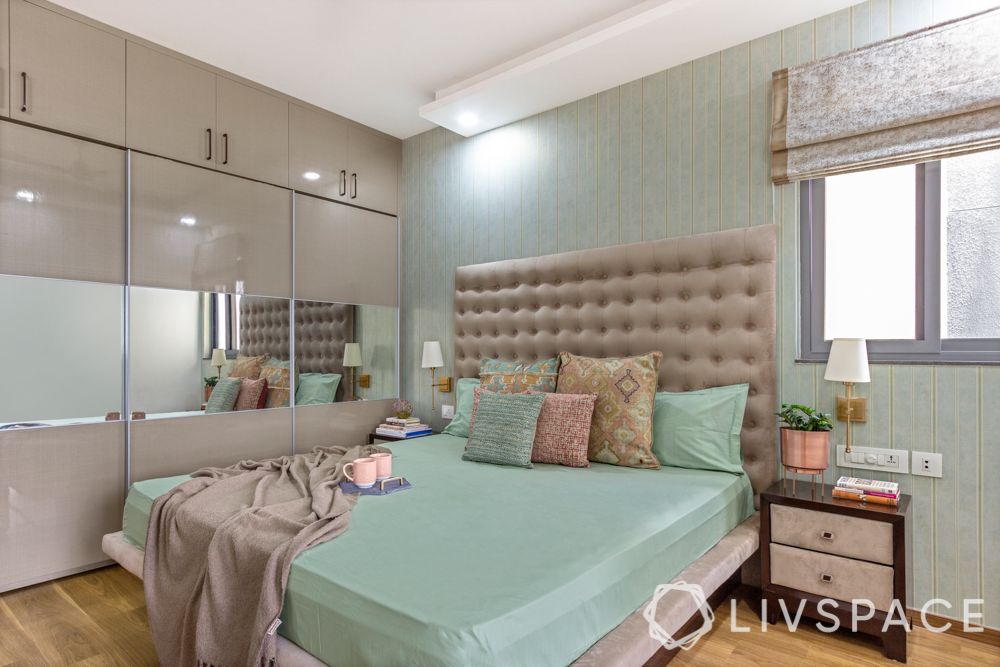 And finally, the wardrobes! Wardrobes can be of several types – swing door, sliding, walk-in, etc. But if you're looking for a sleek and space-efficient look, opt for a sliding wardrobe in a reflective, glossy finish.
Colour
What's there in a colour? Just choose one that you like! Not really! While choosing a colour, you must consider the decor of your home, the look you want to achieve and the amount of natural light the room receives. Also, it never hurts to consider vastu!
#1: Blissful Blues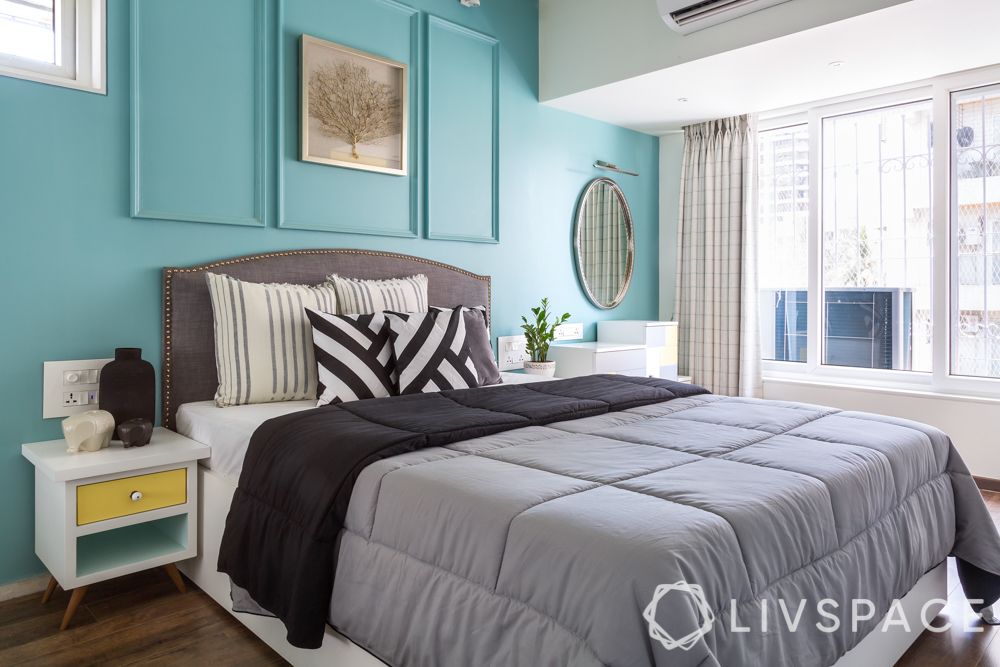 Blue is a vastu-approved colour that looks perfect in Indian bedrooms. Instead of choosing a bright shade, go for a soft, pastel blue to create a relaxing and sublime aura in your bedroom.
#2: Pretty in Pink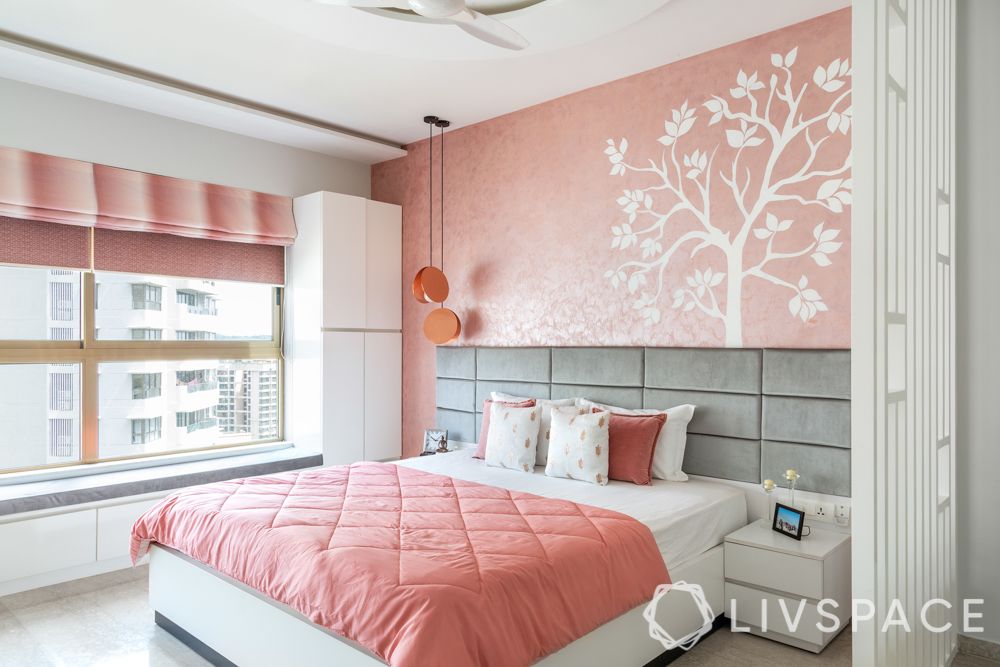 If you still think that pink is for girls, then it's time you ditch such stereotypes! A soothing shade, pink can be used in combination with neutrals like white and grey to create a subtle and elegant effect.

#3: Elegant Beige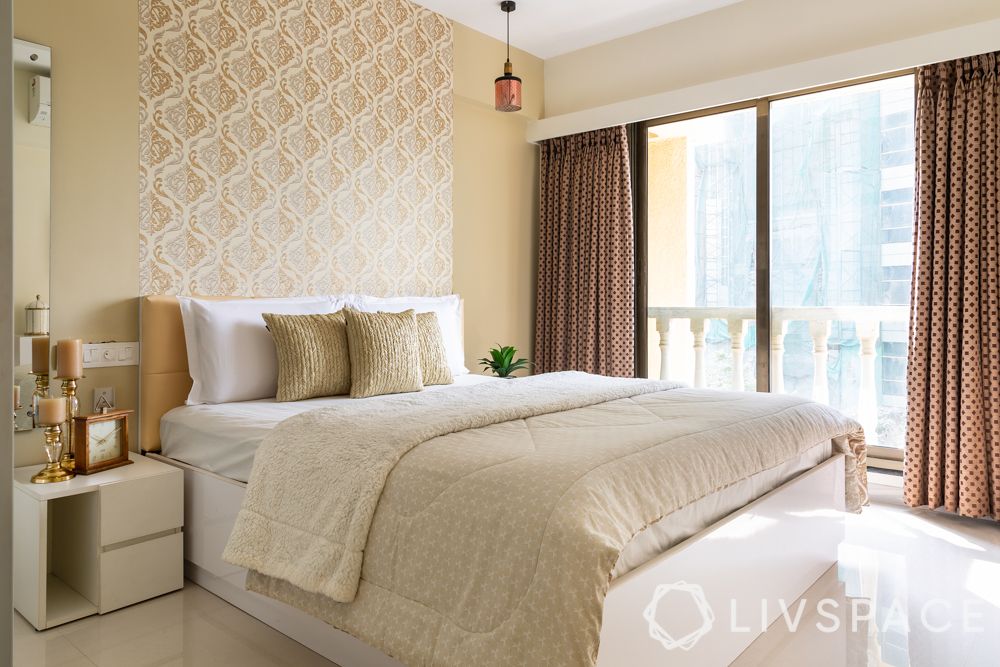 Who doesn't love plush hotel bedrooms? Why not get the look in your bedroom? For a luxurious look, choose colours like cream and beige and use wallpapers in classy designs. To wrap up the look, include some subtle gold or metallic accent pieces.
#4: Contrasting Walls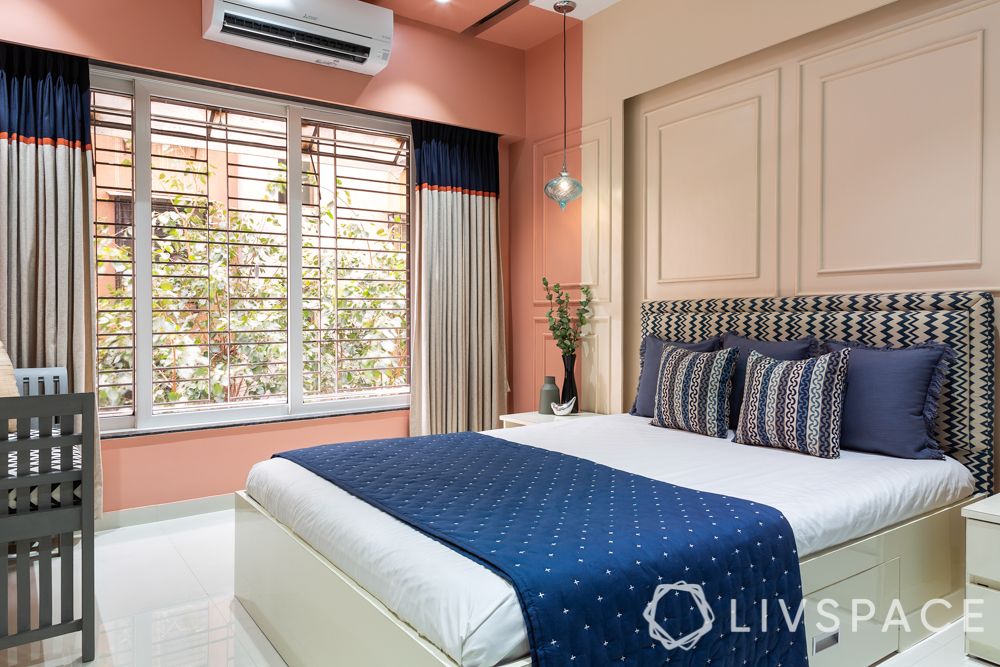 Why choose one colour when you can opt for two?! If you're looking for a bedroom design in India that is both fun and elegant, go for contrasting shades for your walls. In case you want to keep it subtle, choose shades that belong to the same colour family.
#5: Whimsical Whites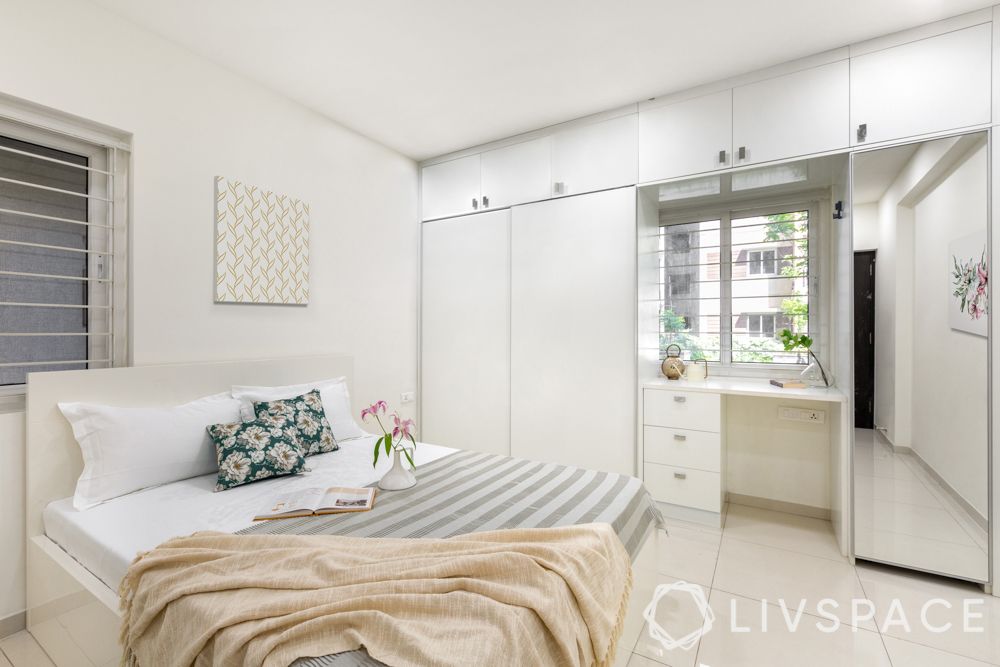 White is another colour that looks timeless, and is also vastu-approved. While an all-white bedroom can look amazing, not everyone can maintain it. In that case, you can use white for your furniture like wardrobes, tables, bed, etc.
Styles
And now we come to bedroom styles! From art déco to Scandinavian, there are so many design styles to choose from. But not all of them will suit an Indian style bedroom. So here are the styles that will look absolutely stunning in an Indian bedroom.
#1: Traditional Chettinad Style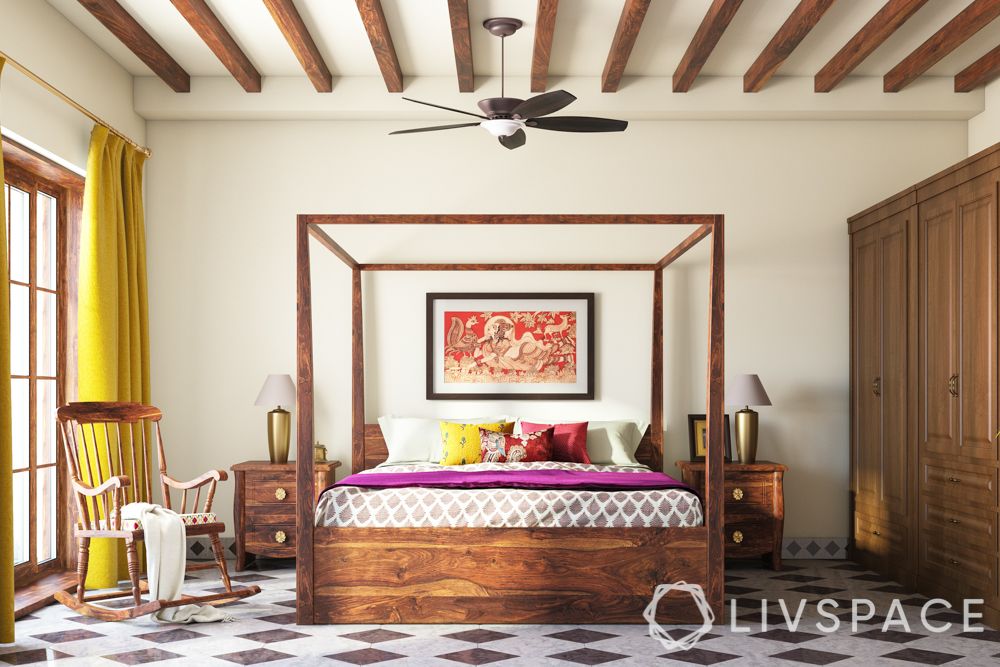 A Chettinad design style boasts of traditional Indian elements with a touch of European style. To get this look, use furniture made of solid wood, preferably Burma teak wood. Tanjore paintings and Athangudi tiles are important aspects of this design. Use thrift rocking chairs, wooden tables, drawer sets for a timeless and traditional look.
#2: A Pretty Kashmiri Bedroom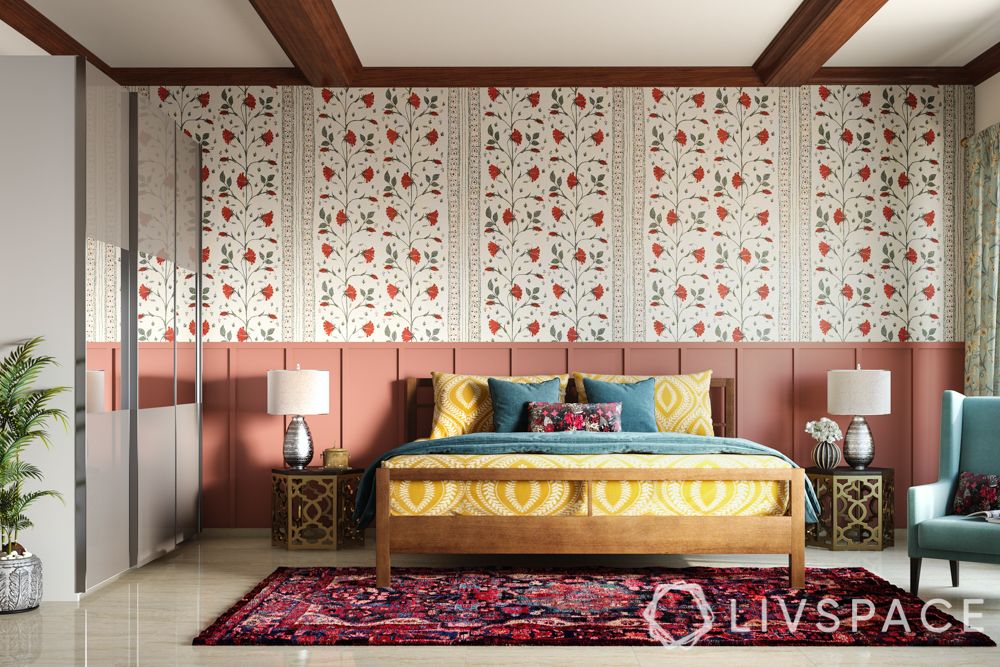 It may not be possible to go to Kashmir, but you can definitely bring Kashmir to your bedroom! If you're looking for a bedroom design in India that is unique and breathtaking, a Kashmiri style bedroom is the best option for you. To get this look, choose a bed and furniture made of solid wood and add traditional carpets and rugs. But the showstopper of your room should be hand-painted walls in traditional designs.
#3: Indian Minimal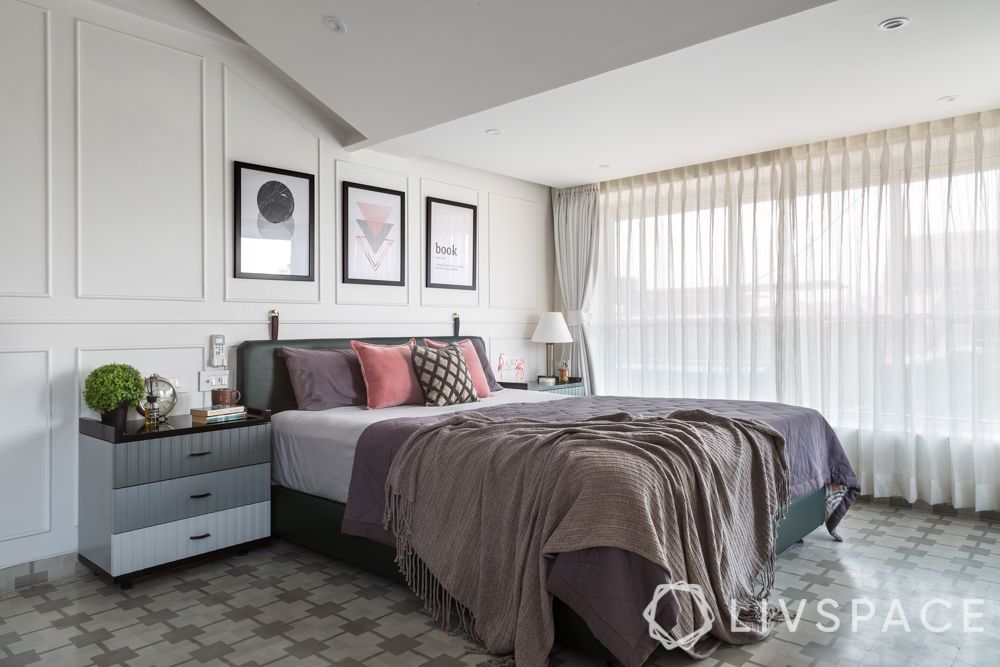 Minimalism and Indian drama don't go hand-in-hand! Or do they? Considering our love for the dramatic and the popular minimal design trend, there has been a rise of a new style – Indian minimalism. And how do you get the look? Choose an open layout and uncluttered design elements. While colour is an integral part of Indian homes, use a single colour as a focal point. Also, avoid bulky furniture and choose natural fabrics and Indian designs.
#4: Colonial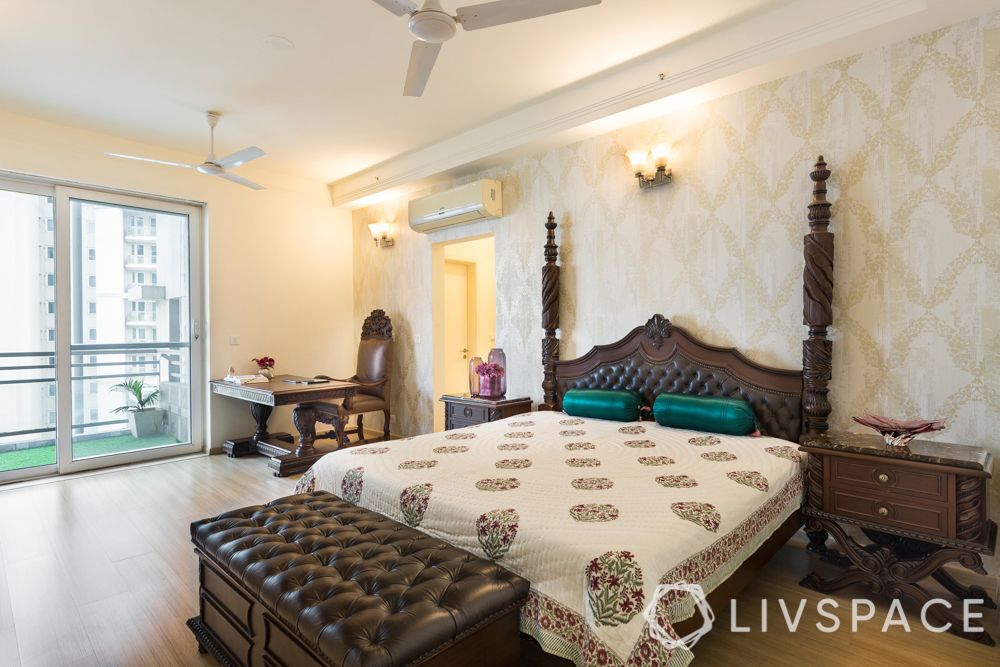 This one is for all those who can't live without some drama! Nowadays, colonial-style bedrooms can only be seen in old hotels and resorts. But this look isn't that tough to achieve. Keep the walls simple, with white or other pale-toned shades. Use furniture made of solid wood and Chintz textiles.
#5: Indian Modern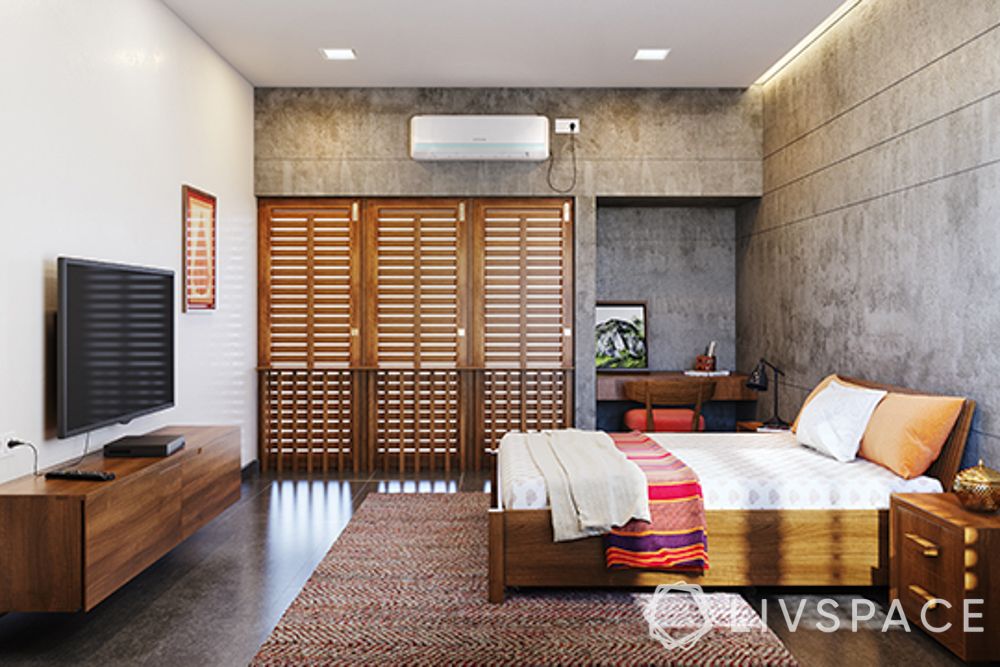 Another stunningly simple Indian bedroom design is the Indian modern style. As the name suggests, this style is an amalgamation of desi designs and western elements. This bedroom is a prime example of this style. While the wooden bed and furniture add a traditional, desi look, the industrial style walls add a touch of modern flair.
Bonus
Wait, there's more! Here are some of our favourite Indian style bedroom designs.
#1: One With the Full Length Headboard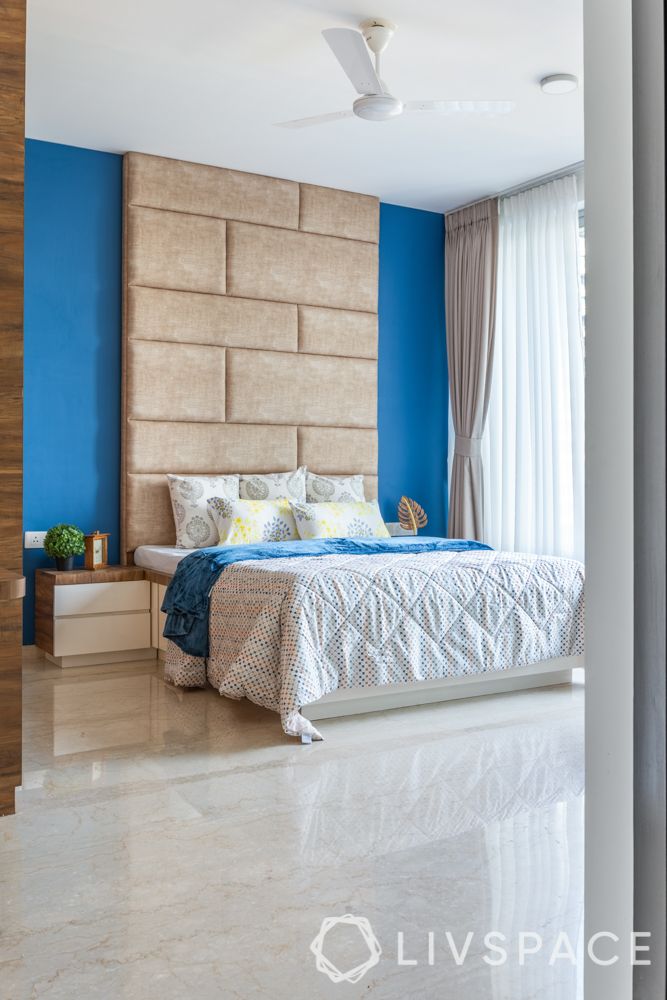 Look how this unique headboard livens up the entire bedroom! This ceiling-to-floor headboard, in a plush fabric, is not only striking but also perfect for a good night's sleep!
#2: One With a View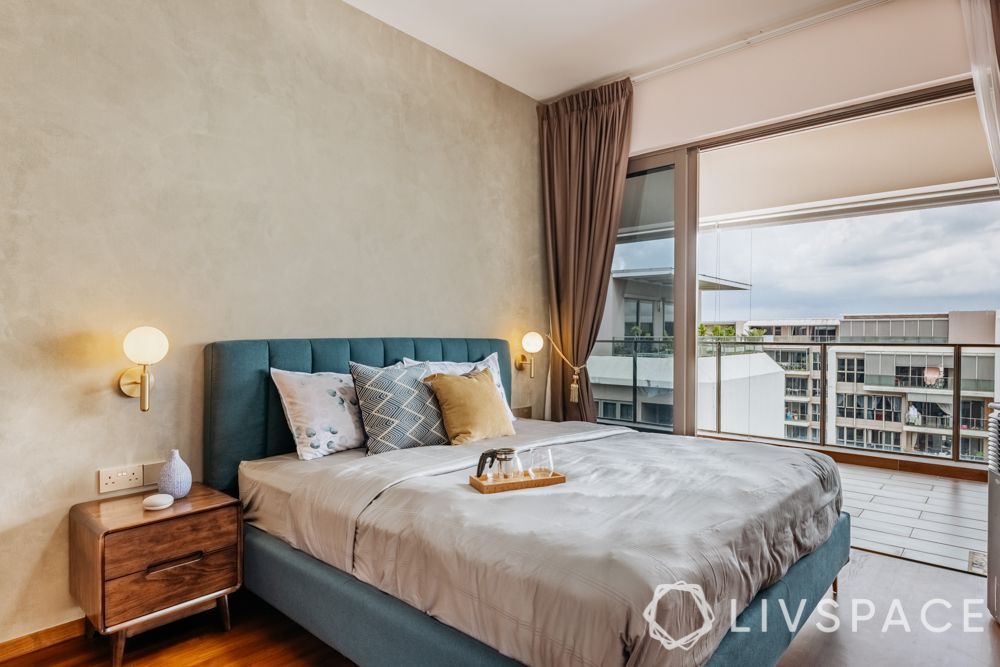 If you are one of those lucky few who enjoy a bedroom with a view, make the most of it! The view should be the focal point of your bedroom design. Avoid placing any furniture in front of the window/door. Also, use full-length curtains to amplify the look of your bedroom design in India.
#3: Serene and Relaxing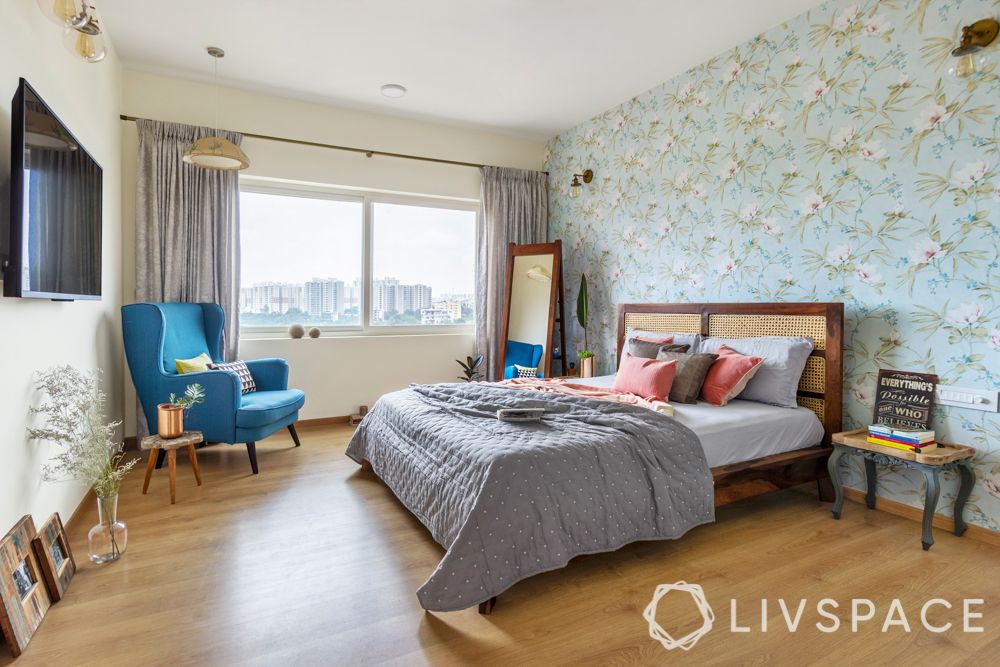 Who would want to get out of bed if they had such a gorgeous bedroom?! Whether it's the pretty, floral wallpaper or the comfy couch in a striking blue, we love every aspect of this room!
#4: Glam up With Gold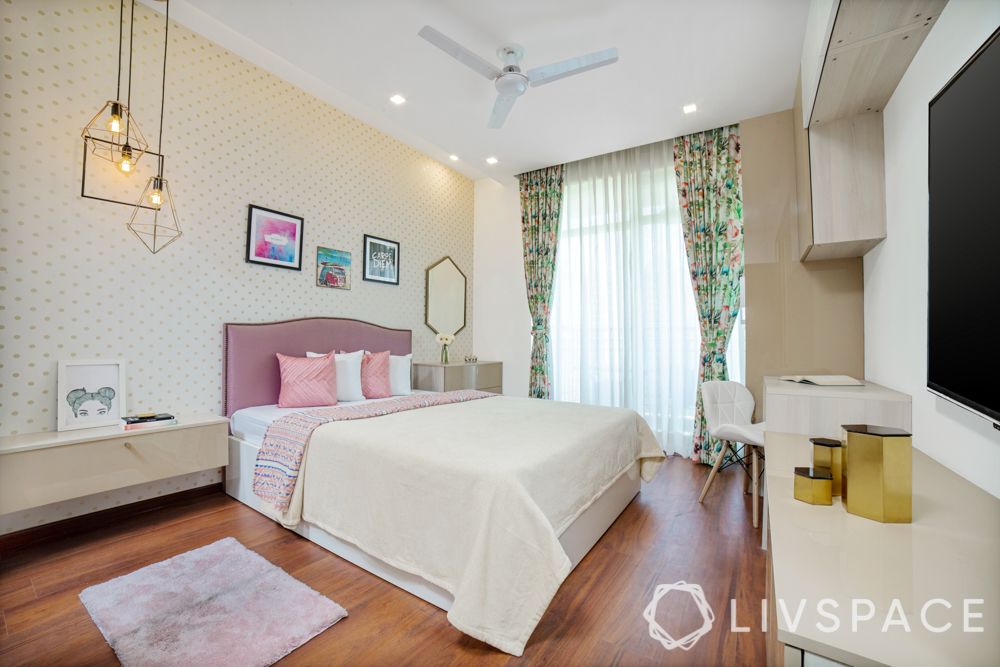 Gold looks OTT – well, not if you get the look right! If you want a gold-themed bedroom, avoid going for all-gold interiors. Instead, choose gold accent pieces like statement lights, mirrors and decor pieces. This will keep the look luxurious without being too much.
#5: Warm Wooden Vibes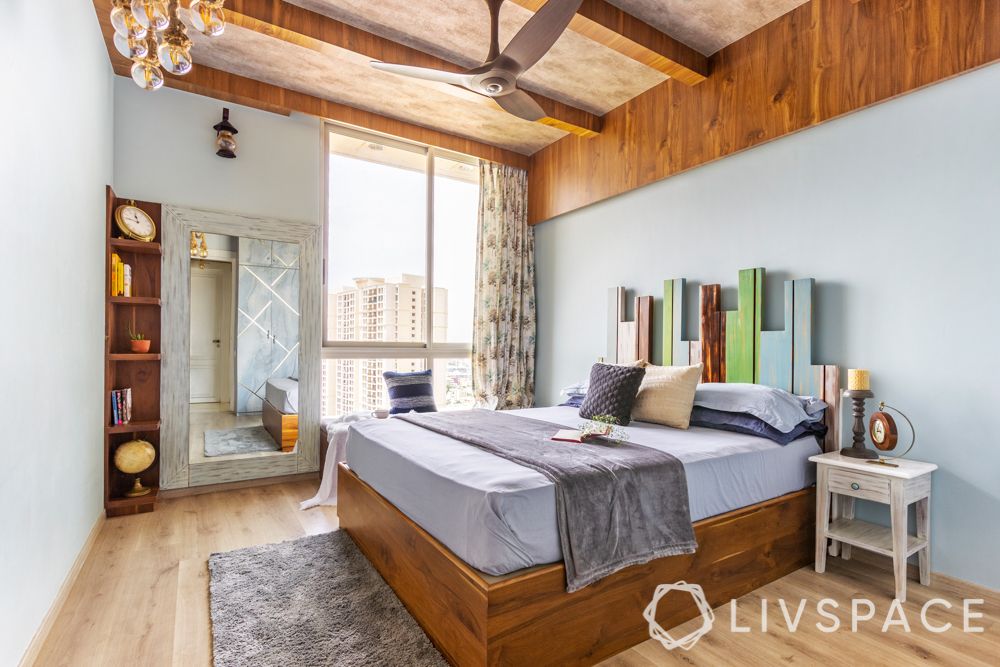 When confused, go with wood! Wooden furniture adds a timeless charm to your bedroom design and is easy to maintain. Moreover, there is no such thing as too much wood! From the flooring to the ceiling design, you can add wooden elements to every aspect of your bedroom.
Liked these ideas for bedroom design in India? Also, check out these simple ways to design a small rental bedroom. 
We love hearing from you! Write to us with your comments and suggestions at editor@livspace.com