Decorating a small bedroom can be a challenging task as you have to balance functionality and visual appeal. With a small bedroom and big dreams, you need great décor and design that can make it appear bigger than what it is. We have put together our best small bedroom ideas that will help you in making your room look bigger, better and luxurious. These modern small bedroom ideas can serve as inspiration during your next interior revamp, so let's begin!
1: Get Creative With Textures in Your Small Bedroom Design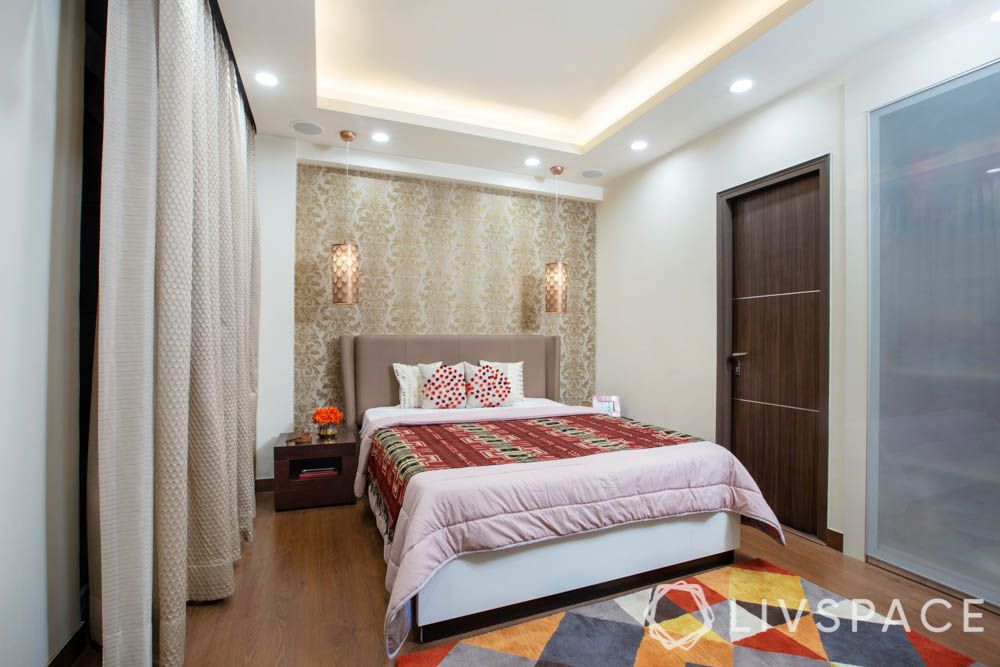 Playing with textures is one way to add dimension to a small bedroom interior design without making it seem too busy or overdone.
Whether it's by adding a faux sheepskin rug to the floor or piling on the bed linen, bringing texture into a small bedroom design can make it seem more than it actually is. The best part about this hack is that it works even if you choose a low-key or a monochrome palette.
2: Install Wall Sconces in Your Small Bedroom Interior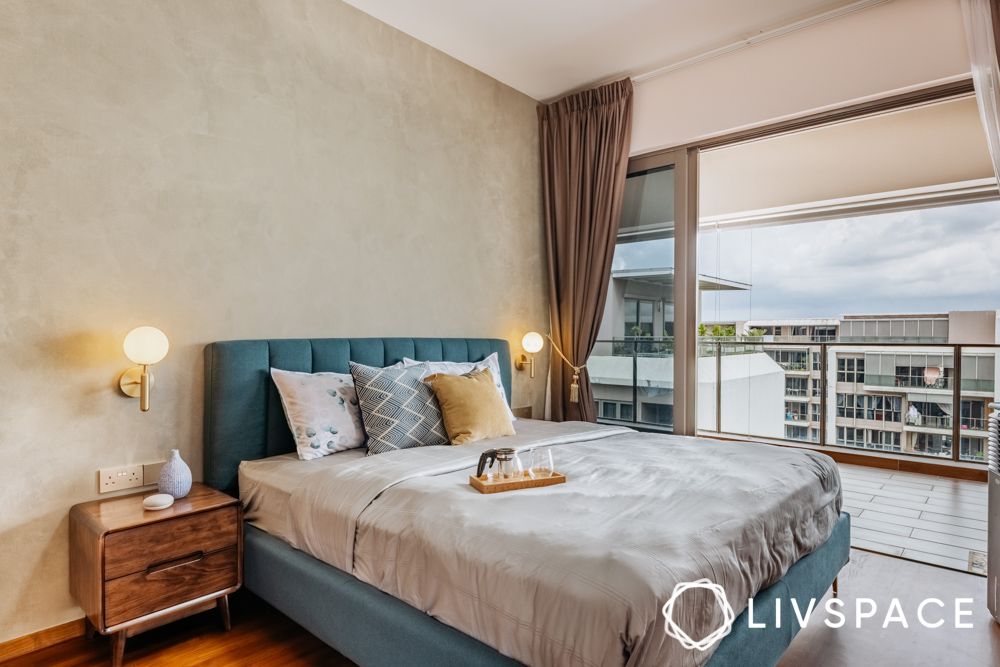 Floor space is quite precious in a small bedroom interior, but you can get creative with the walls. One of the best small bedroom ideas can be installing wall sconces instead of traditional table or floor lamps.
Oversized sconces make a room seem bigger and add more light, which naturally opens up a space. When switched off, the sconces double as décor pieces – win-win for your modern small bedroom design!
3. Consider Decorating in Pairs for Small Bedroom Ideas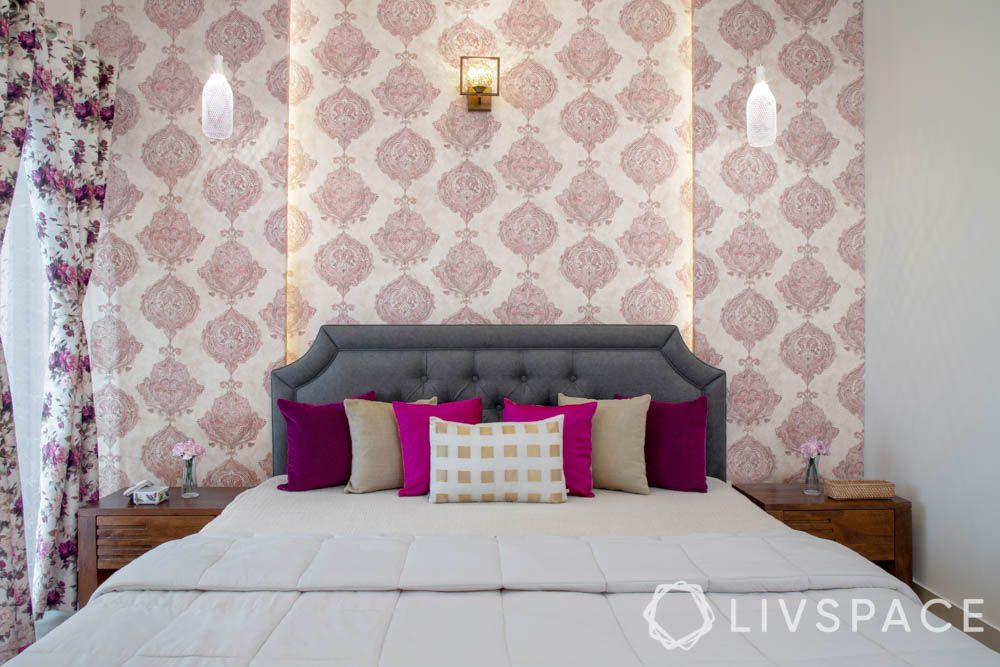 Symmetry is key to making a room feel well-thought-out and balanced, no matter the size. One of the best small bedroom ideas is to consider creating symmetry when decorating the room, by placing two of each piece if possible.
For example, installing two small nightstands on either side of the bed will look more cohesive than a single one. Similarly, paired décor pieces such as scented candles or table lamps double the impact of beautiful small bedroom design ideas. However, remember not to clutter your bedroom – as they say, "two's company, three's a crowd."
4. Think: Less is More for Modern Small Bedroom Ideas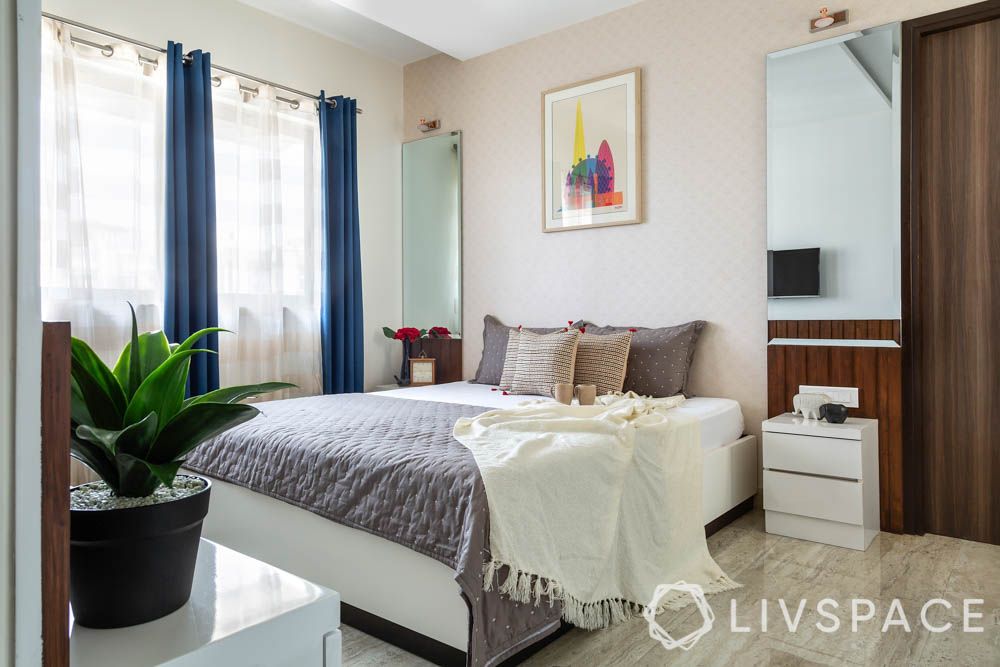 Furniture defines the purpose of a room. But in small bedroom design, it's wiser to keep furniture down to the bare essentials. For a bedroom, essentials would comprise the bed and the wardrobe.
Desks and vanity units are much-loved, but they're not absolute essentials in a small bedroom interior design. If you've to keep one of these, choose one like the desk-cum-vanity unit in the picture. By keeping the bigger pieces, you create a much grander effect than you could with a mix of tiny furniture.
Choosing multipurpose furniture can work beautifully with small bedroom ideas. When you opt for modular furniture that packs in a punch, you get to save on space and prevent clutter. Amazing, isn't it?
5. Add Mirrors in Your Small Bedroom Design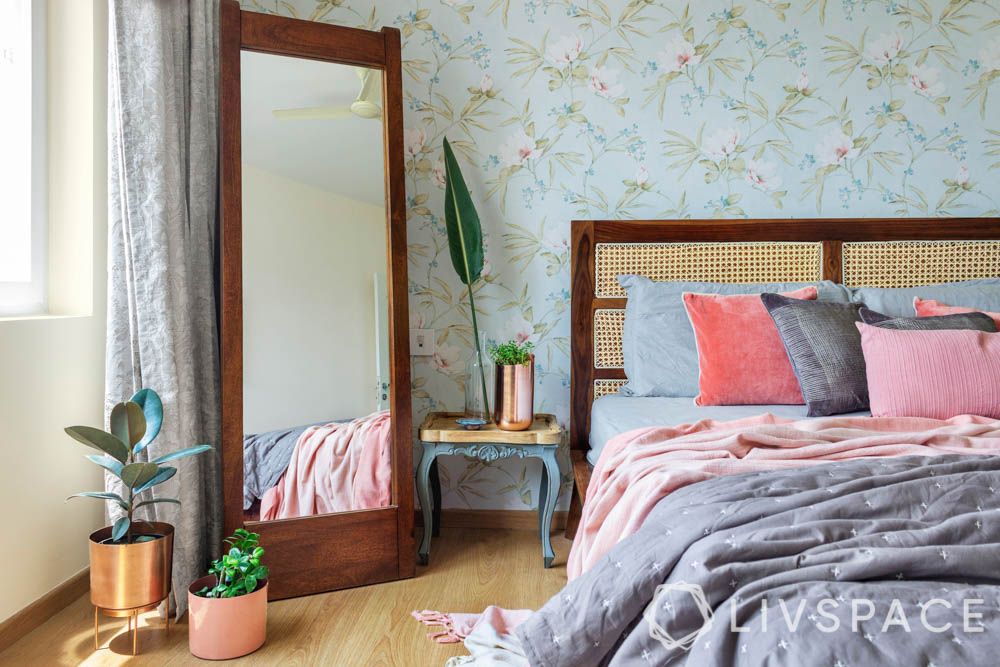 Mirrors reflect light, making a small bedroom design appear bigger. In fact, mirrors give small bedroom interior designs an airy vibe. Standing mirrors function not only as structural accents, but also serve a practical purpose.
If you're low on floor space, consider space-saving small bedroom ideas like fitting out your wardrobe doors with mirrors. These fulfil the same purpose, but keep your floors free, giving you more space to move about.
Plus, it reduces clutter and makes your small bedroom design a clean, minimalist one. Circular or geometric mirrors also double up as great wall hangings in a small bedroom interior design.
6. Don't Miss a Beat With Hidden Storage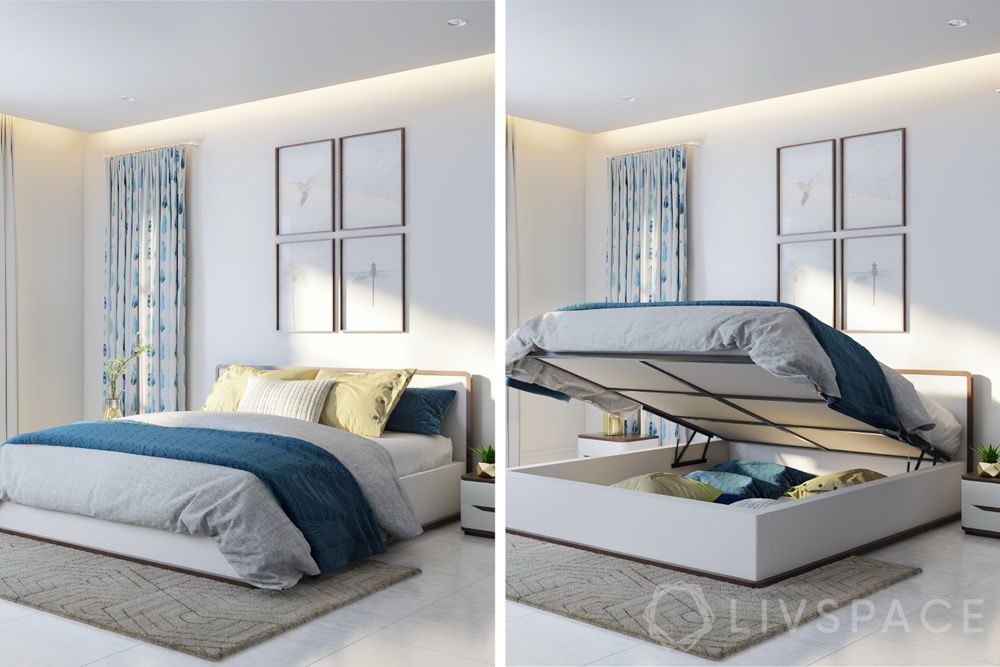 If you're decorating your space, and you're afraid that your bedroom might end up looking smaller, go for hidden storage. Multipurpose furniture paired with modular boxed units can work like a miracle.
Small bedroom ideas are never complete without adding boxed beds that can hold up a ton of stuff. For these reasons, go for a hydraulic unit, as it'll be easier to pull up stuff whenever important. Or, you can also opt for beds with drawers that can be accessed from the side.
7. Add Colour Magic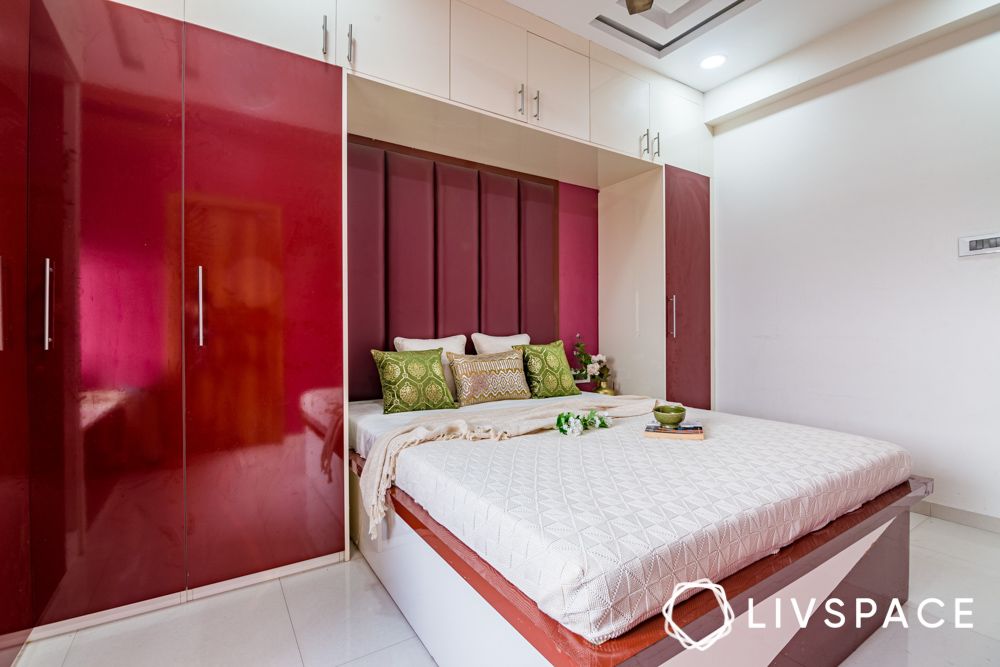 Out of all the small bedroom ideas, this one holds true especially for homes that have a minimalist and neutral colour palette. Wondering what we mean? See the small bedroom design above and see how cleverly colour has been used to pair beautifully with the otherwise white walls.
For these small bedroom ideas, opt for a bedframe that has colour. Do the same for wardrobes, bedside tables and any other furniture pieces you might have.
8. Create a Feature Wall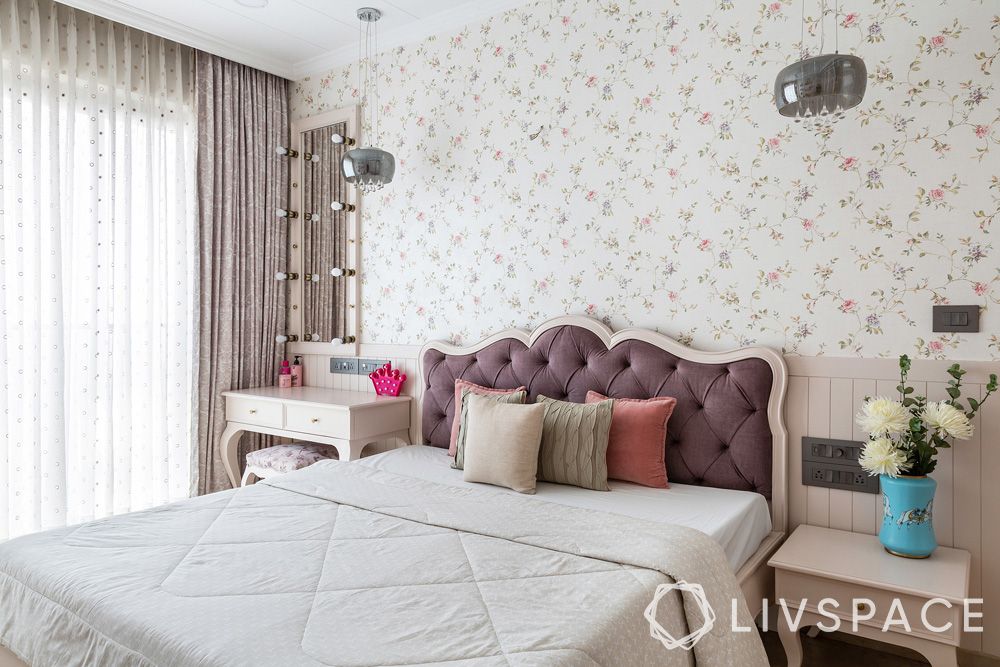 If you've a small space, and you're looking for small bedroom design ideas, why not create a feature wall to give your room an airy vibe? If you're not one for grand gestures and bold designs, go for subtle floral wallpapers like in the home above.
It blends in beautifully with the other white colour palette of the home. For small bedroom interiors, you can keep it simple and still hit a jackpot.
Also Read: A Complete Guide to Designing a Small Room
9. Pile Pillows for Elegance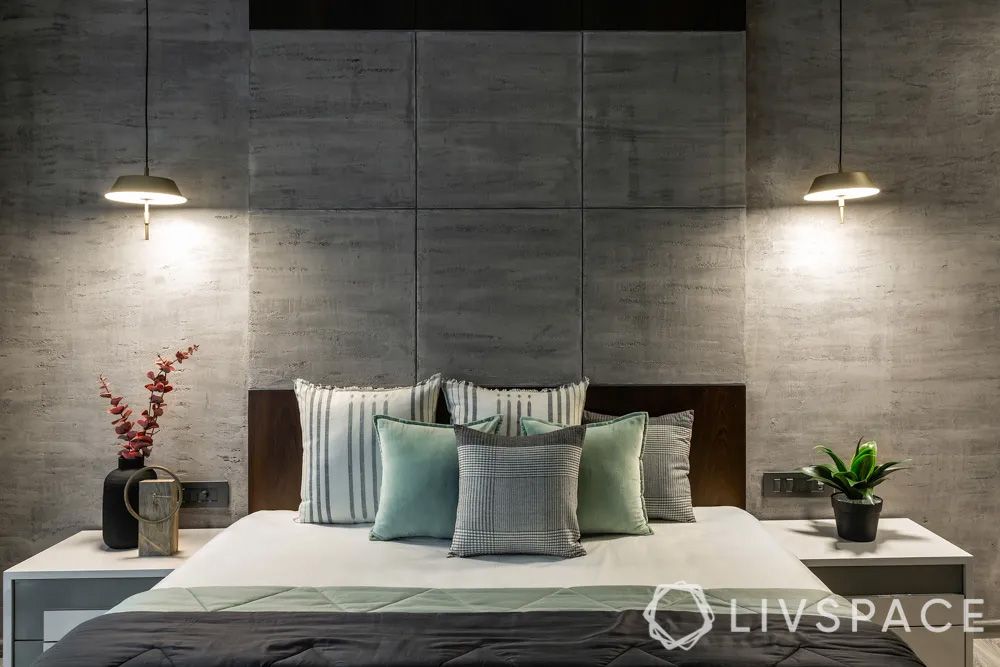 Apart from making your bedroom a cosy paradise, pillows have the transformative power to give your small bedroom interiors the edge they were missing.
You can also use cushions to eliminate gaps between your pillows and your bed and add a certain cohesive look to your bedroom. Opt for pillow and cushion covers that are pretty, colourful, or patterned. You'll have a lot to work with, and you'll never have another dull moment in your room.
10. Decorate Up (On the Walls)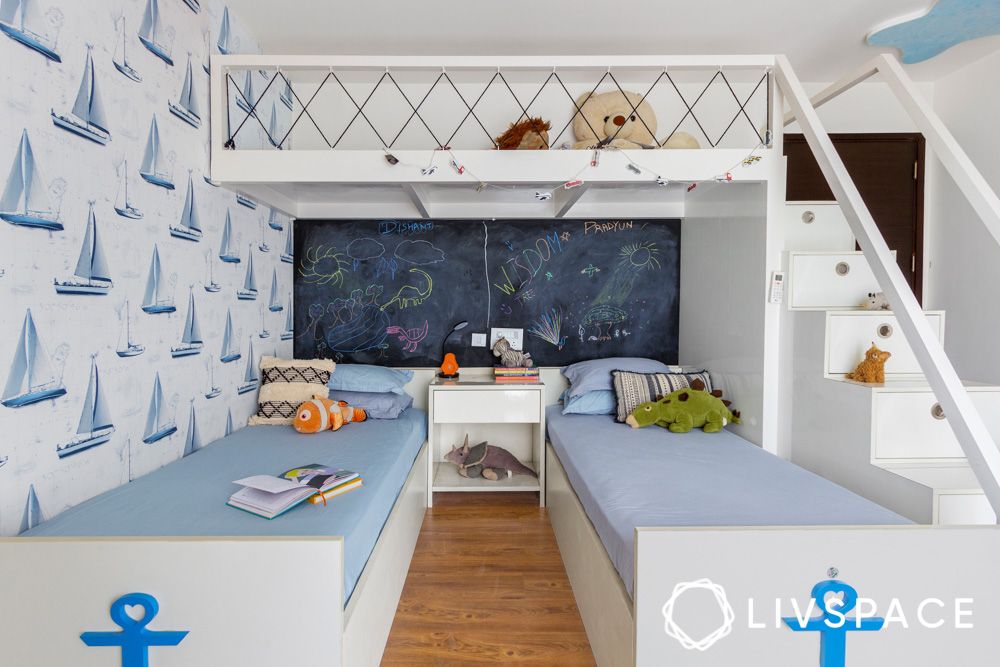 When you're dealing with small spaces and yet need your small bedroom interiors to pack in a punch, the only way to go is up. In small bedroom designs, we're never working with a lot of floor space. The bed covers most of it, so make lofts and space for storage above your bed.
That way, you add convenience and save space! In fact, don't just stop there – go for wall decorations or other utility things (like a blackboard for the kids in the picture). When you experiment, the best design comes through, and this kids' bedroom just proves it!
11. Get Creative With the Corners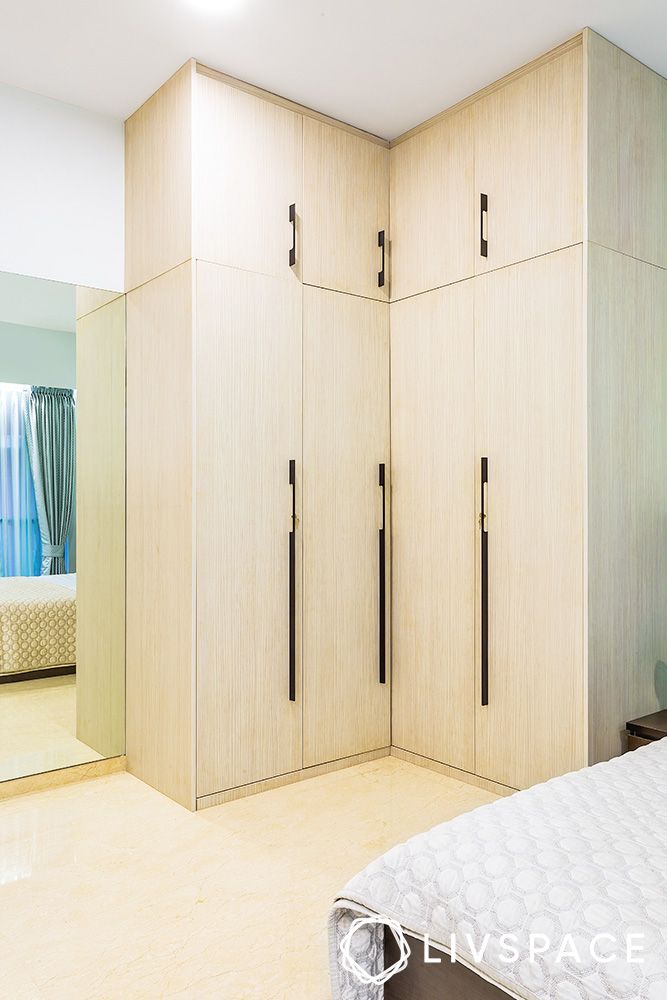 When you're working with small bedroom interiors, it's important to plan ahead and design well so that you can make use of all the space that there is. Small bedroom decoration ideas is all about utilising the entirety of your space without making it appear too cluttered.
The bedroom has fit in a beautiful wardrobe that makes use of the corner space, which otherwise would have remained unused. In fact, it has made life simpler with a corner solution. Amazing, isn't it? Now, the space you saved can be used to move around freely or pack in a work-desk if you can't help it.
Pro Tip: Try to sync the bedroom colour with the modular furniture – it can work wonders!
12. Make Space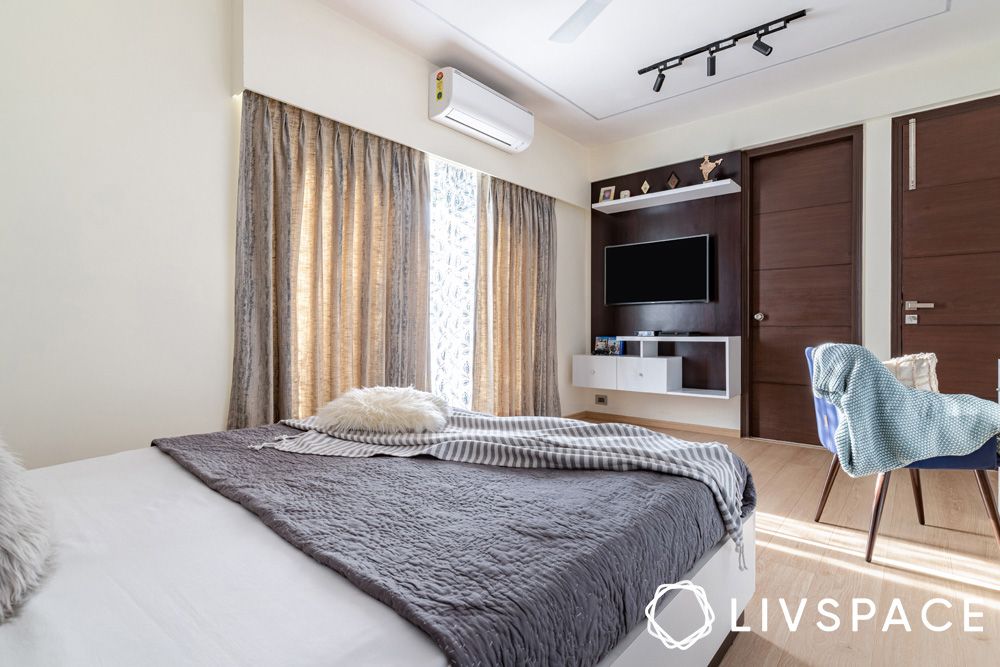 The key to the best small bedroom ideas is to find space. By that, we mean that you actively look for areas that can do with multipurpose furniture and make space. Great interior design is nothing if it can't work with what it has.
With that being said, look at the beautiful TV unit that's propped up on the wall. If your bedroom is even smaller than the one in the picture, there's no reason why you can't add a similar TV unit in your small bedroom design.
In fact, you can also prop up some easy-to-access storage drawers/cabinets below the TV unit to utilise the space better. Talk to an experienced interior designer and figure out all the brilliant ways in which your small bedroom interior design can be worked out.
Don't Let Small Bedroom Interiors Pull You Down
Lack of square footage shouldn't be a downer– as these small bedroom ideas show. Get creative and start experimenting with your small bedroom design.
Also Read: 10+ Simple Bedroom Interior Designs You'll Love
Check out bedroom design ideas:
---
How Can Livspace Help You?
If you want beautiful interiors for your home, book an online consultation with Livspace today. If you have any thoughts and suggestions you'd like to share with us, drop us a line at editor@livspace.com.