Do you have a designated chair in your bedroom that is always overflowing with your clothes? Congrats! You have successfully identified your bedroom storage problem.The first step to organising your bedroom is to have enough storage for all your things. But not everyone can afford a spacious home with big bedrooms considering the astronomical real estate prices. For a decluttered look, bedrooms need to be designed to look spacious with the help of smart storage solutions. Storage does not have to be bulky and space-consuming! There are so many types of sleek storage units available for your small bedroom makeover so that you will never run out of space for all your things!
How to Make the Best Use of Storage Space in Your Bedroom?
Here are a few of our smartest storage solutions that solved real-life bedroom storage problems for our homeowners
Heavy-duty storage shelves
Catch-all cabinets
Stud-space cabinet
Cabinet roll-outs
Wall shelves
Multifunctional furniture
Hydraulic bed
#1: Heavy-duty Storage Shelves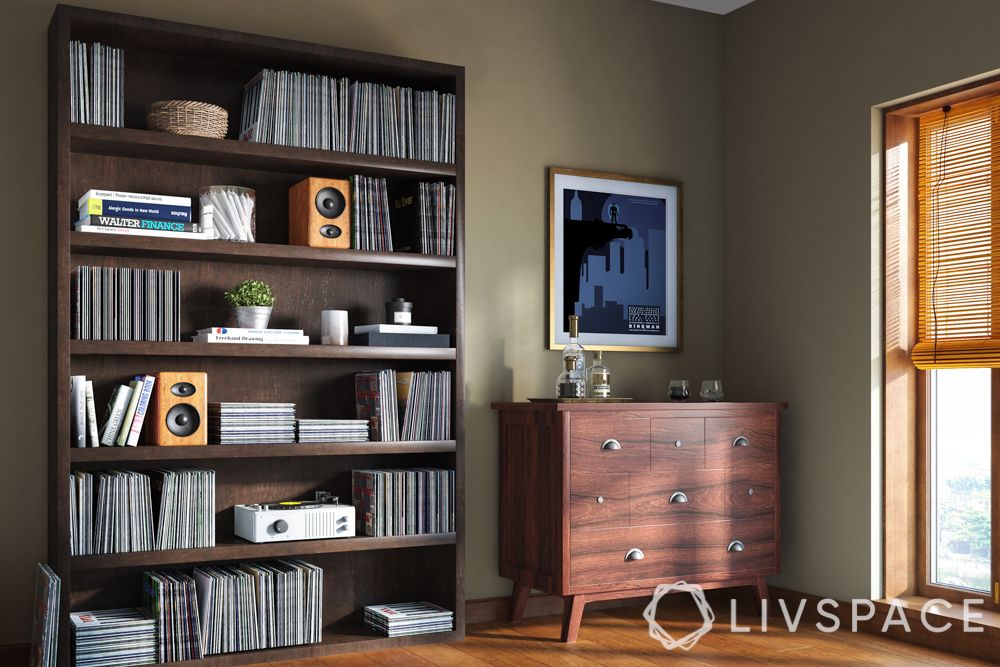 When we say storage, what's the first thing that comes to your mind? Yes, shelves and cabinets. A heavy-duty shelf is a must-have for your bedroom. While most apartments come with a bedroom wardrobe for clothes, having an extra shelf can be very beneficial for storing all your knick-knacks. And who said a heavy-duty shelf has to be bulky? Nowadays, there are several sleek designs available in the market that are perfect for a compact bedroom.
#2: Catch-all Cabinet
Organisation is key to making your small bedroom look spacious. If you are planning on a bedroom makeover, the first thing that you must do is get yourself a catch-all cabinet. A catch-all cabinet is a closed unit that comes with segregated shelves and racks to separate and store all your toiletries, accessories etc. If you are someone who keeps things lying around and can never find your keys, makeup, charger etc, this cabinet will be a Godsend for you!
#3: Stud-space Cabinet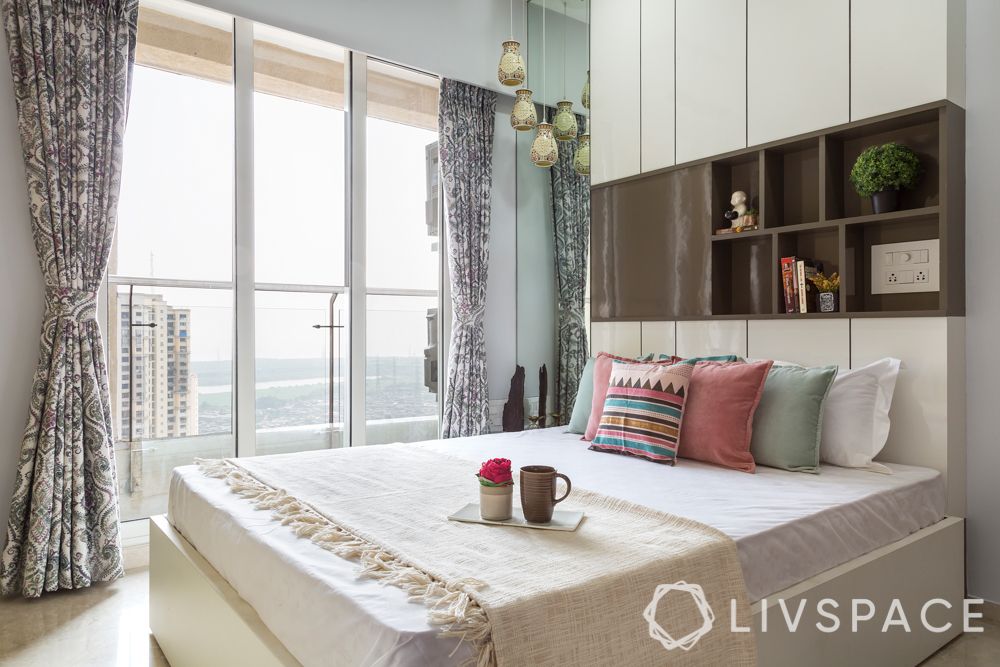 Before we get into stud-space cabinets, you first need to understand what a stud is. Studs are boards that support the walls of your home. They are often used for hanging heavy items like entertainment units and photo frames. While the studs provide extra reinforcement for hanging heavy items, the dead space between studs, known as stud space, serves as effective niches where you can fit in cabinets, which are known as stud cabinets. The biggest advantage of a stud cabinet in a bedroom makeover is that it is fitted on the wall, saving floor space.
#4: Cabinet Rollouts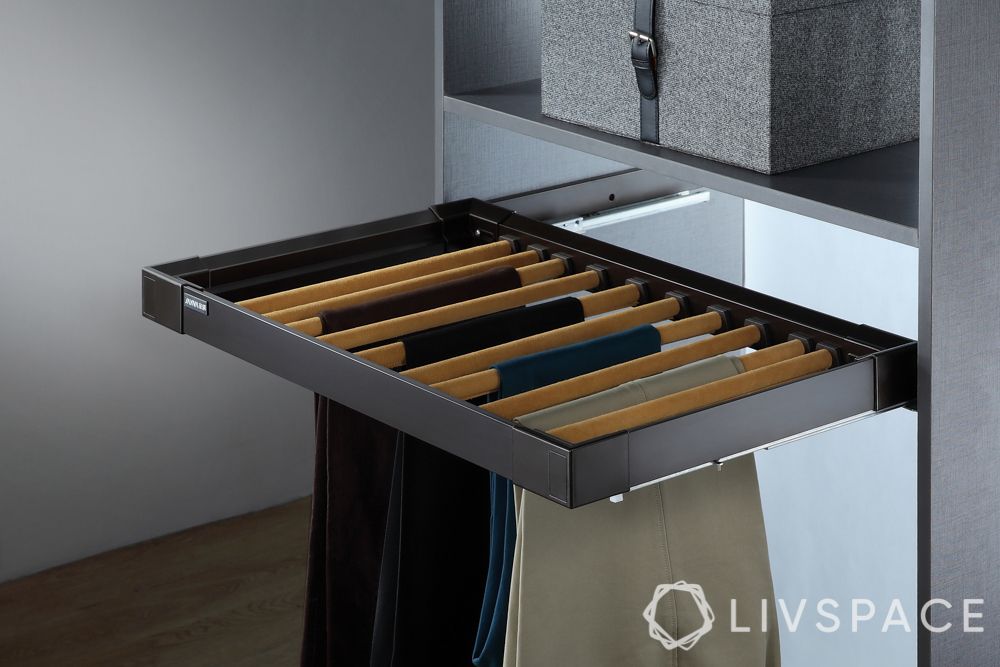 Bending over to search for that elusive scarf at the back of your wardrobe and you get a terrible spasm in your back — sounds familiar? A storage cabinet should be two things: spacious and accessible. This is where cabinet rollouts come in. A cabinet rollout is nothing but storage fitted into your cabinet or wardrobe that comes with a mechanism enabling it to be pulled out of the storage unit. Commonly used for keeping sarees, ties, formal wear etc, cabinet rollouts are convenient and also elder-friendly.
#5: Wall Shelves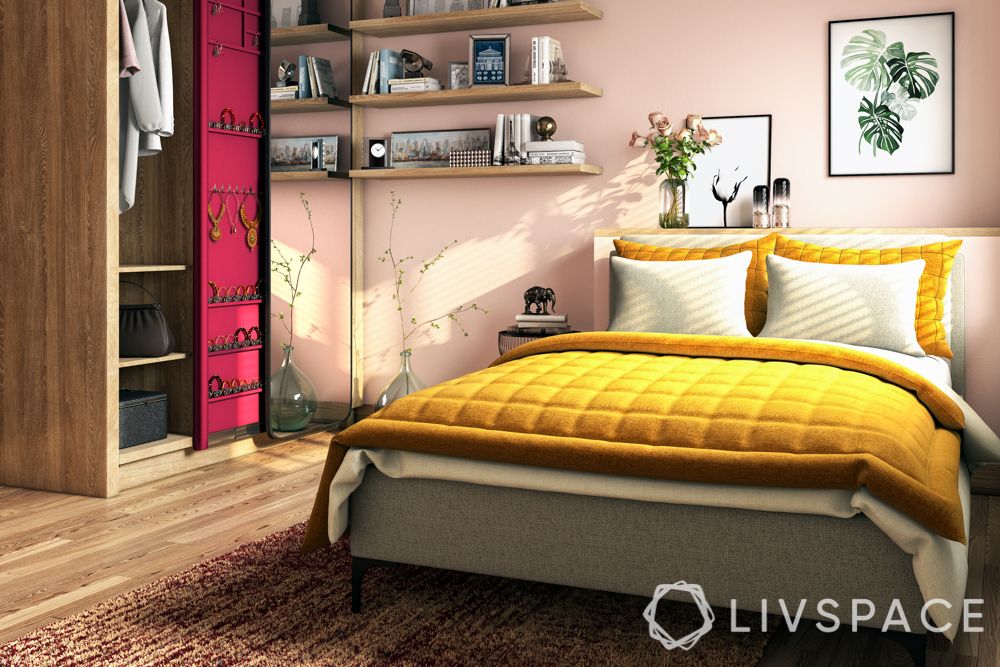 While we love innovative storage units, the dependable wall shelf will always remain our favourite! While wall shelves are must-haves in homes of all sizes, they are especially useful when you have a small bedroom to save on floor space. They are easy-to-install and rental apartment-friendly as well. With diverse designs and colours available both online and offline, wall shelves should definitely be part of your bedroom makeover.
#6: Multi-functional Furniture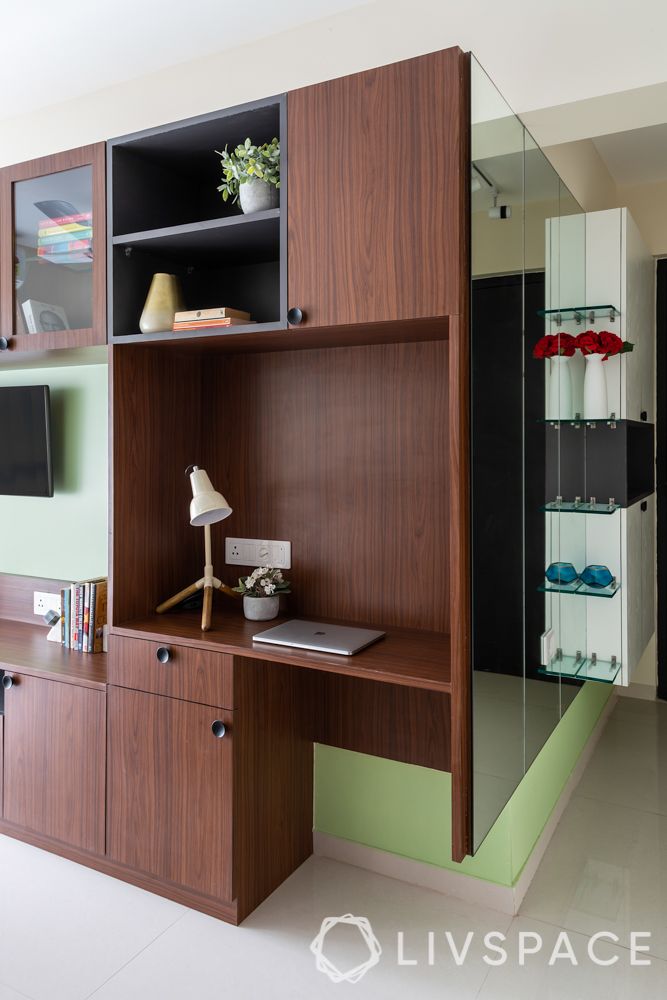 One of the most helpful compact bedroom makeover tips is to use multi-functional furniture. When space is scarce, you don't want to cram up the room with multiple pieces of furniture. For instance, in the above image, this unit serves four purposes — a study unit, a TV unit, pooja unit and a dresser. This makes it an invaluable piece of furniture for a small bedroom design.
#7: Hydraulic Beds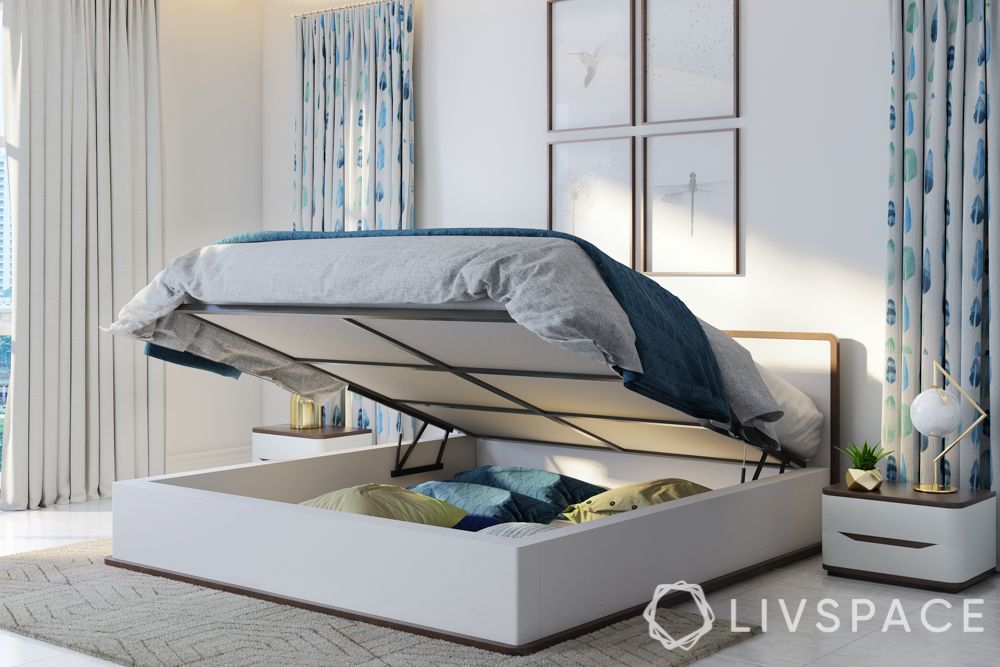 The bed is the focal point of your bedroom and that one furniture item that you can't do without. Guess what, it also takes up a lot of space. So why waste the space? Instead of buying an usual bed, get yourself a hydraulic bed with storage. Hydraulic beds have plenty of storage space within them, making them ideal for storing less-used, heavy items like blankets and woolens.

PRO TIP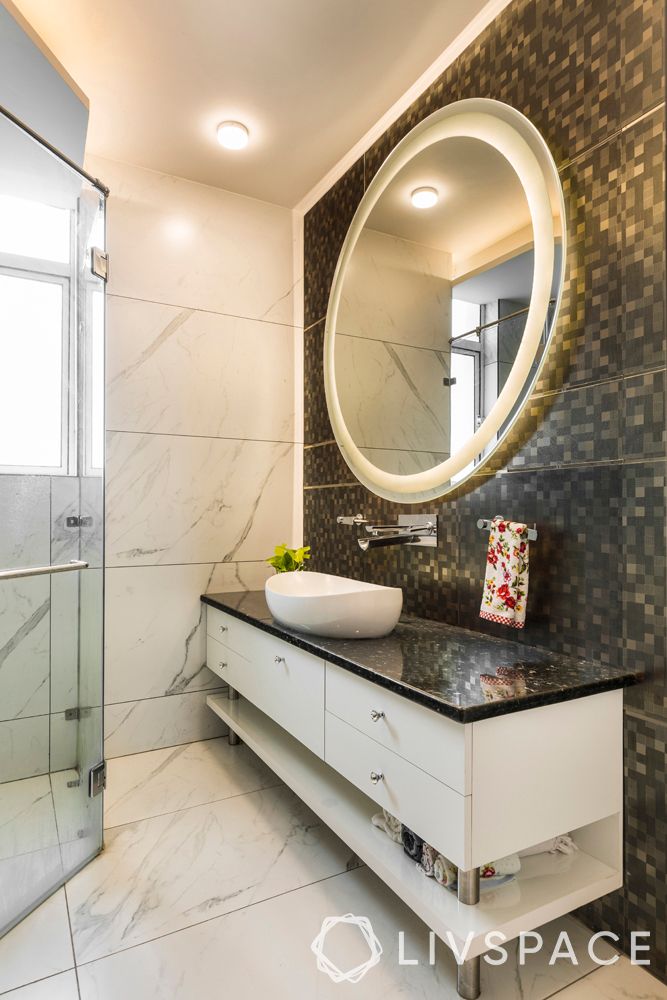 Success Stories of Our Storage Solutions
The following are some of the compact Livspace homes that we transformed into stunning spaces with the help of smart storage and expert design.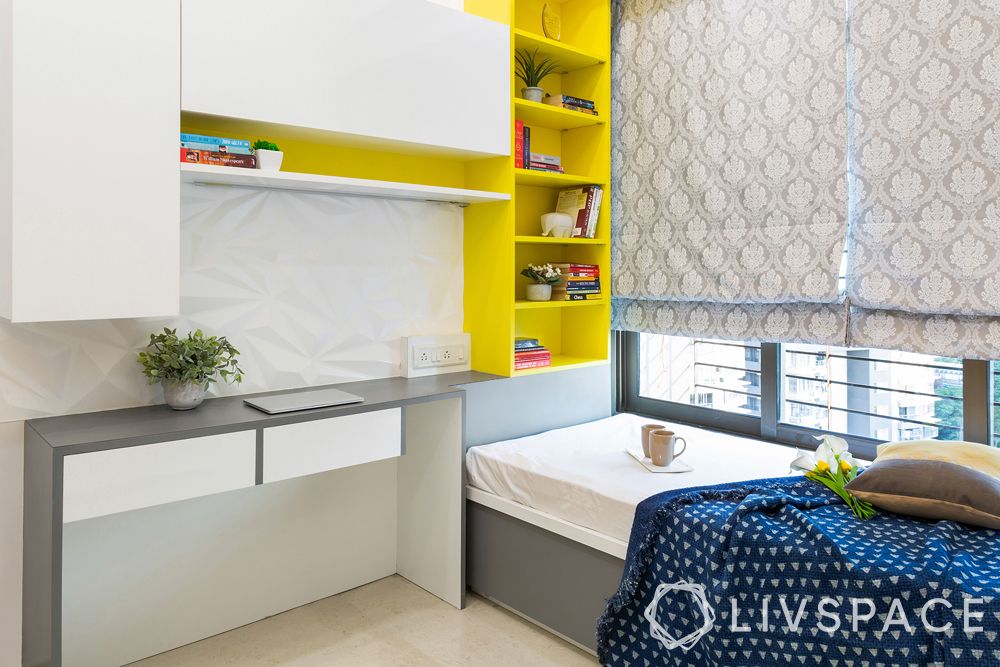 This Mumbai bedroom was tiny but had to fit in two people. Our designer added single hydraulic beds that would serve dual purposes. The study unit is sleek and comes with open storage shelves. And clearly, the family is thrilled for they said: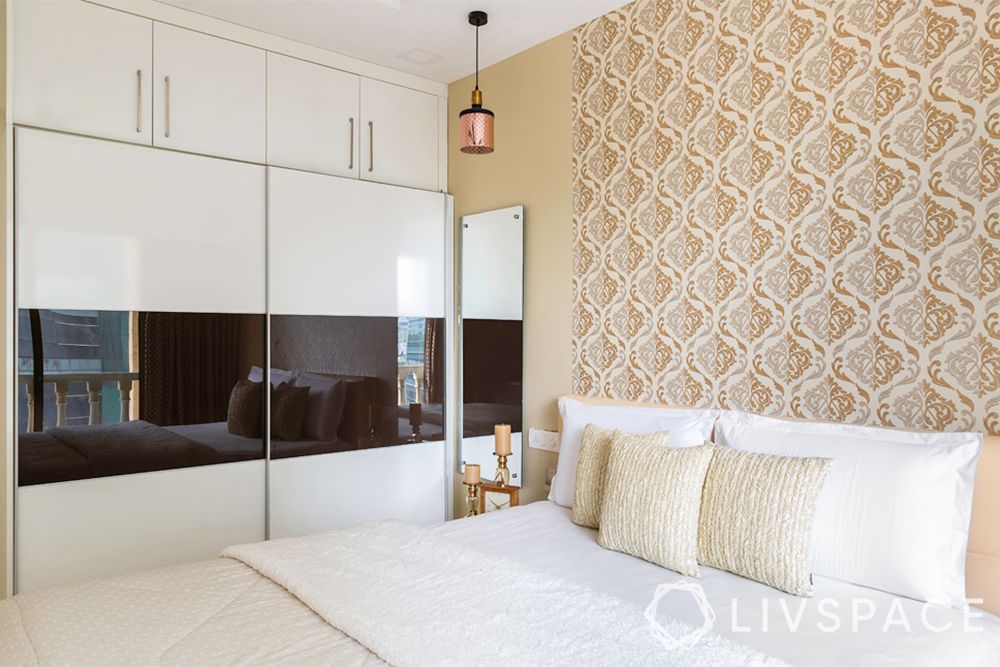 Sliding wardrobes are a great space-saving option, especially if you compare them to swing door wardrobes. The lofts on top of this wardrobe provide extra storage without taking up floor space. It certainly made the homeowners happy as this is what they said: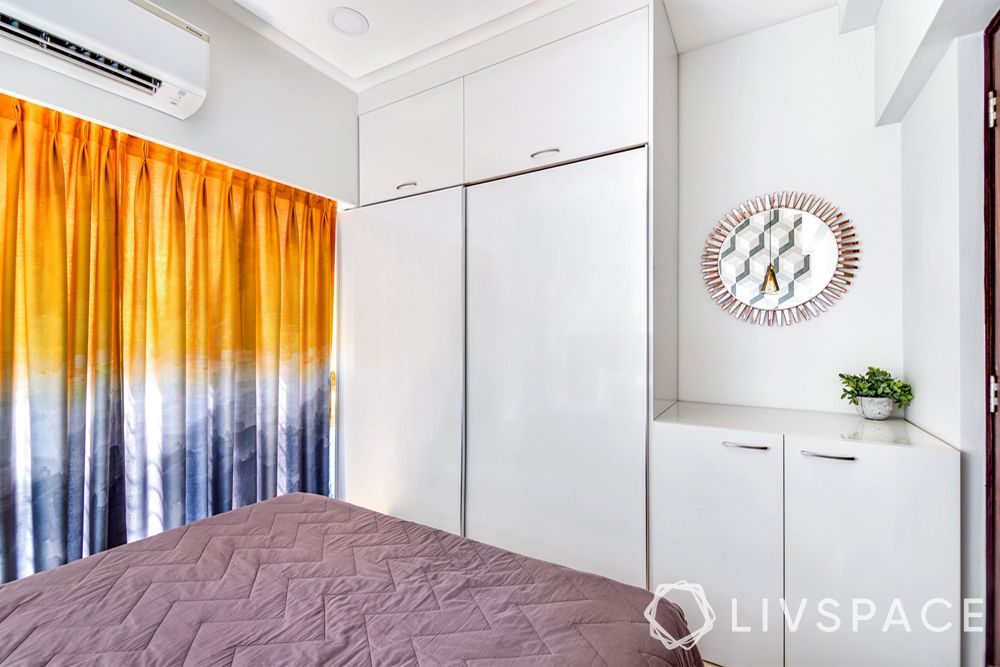 Even if your bedroom is small, a heavy-duty cabinet and wardrobe are must-haves! So how do you stop the space from looking bulky? Use white like we did! White is that one magical colour which can make any room look spacious. And our clients couldn't agree more!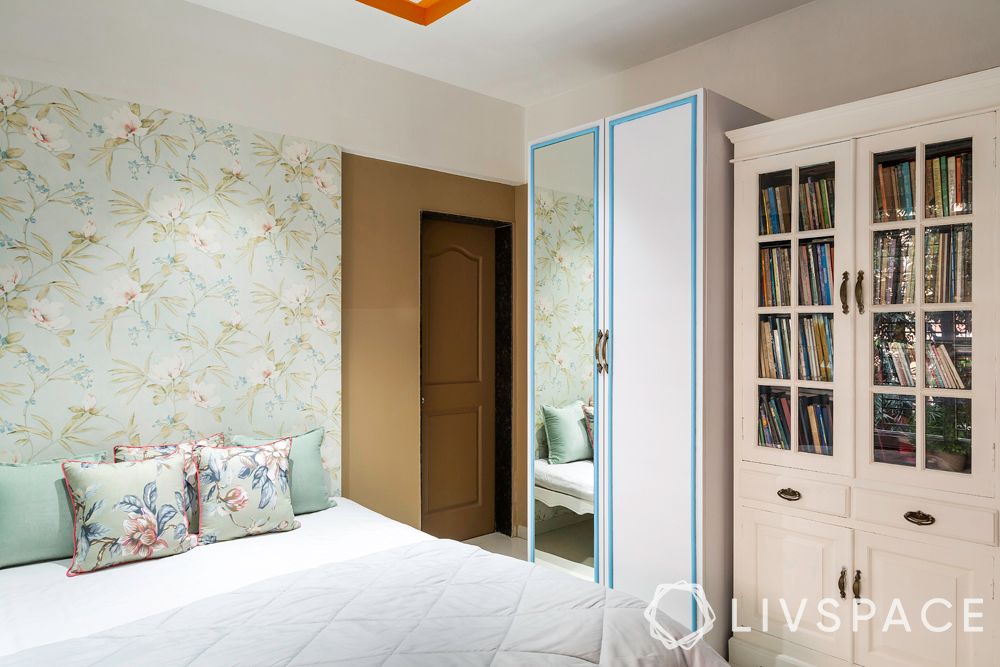 This bedroom was small but the owner wanted two wardrobes in that space. To ensure that the room did not look cramped, we added a mirror with the wardrobe — making it a multifunctional piece of furniture. The mirror and the glass shutters in the bookcase also help in creating the illusion of space. And Kruti just loves it!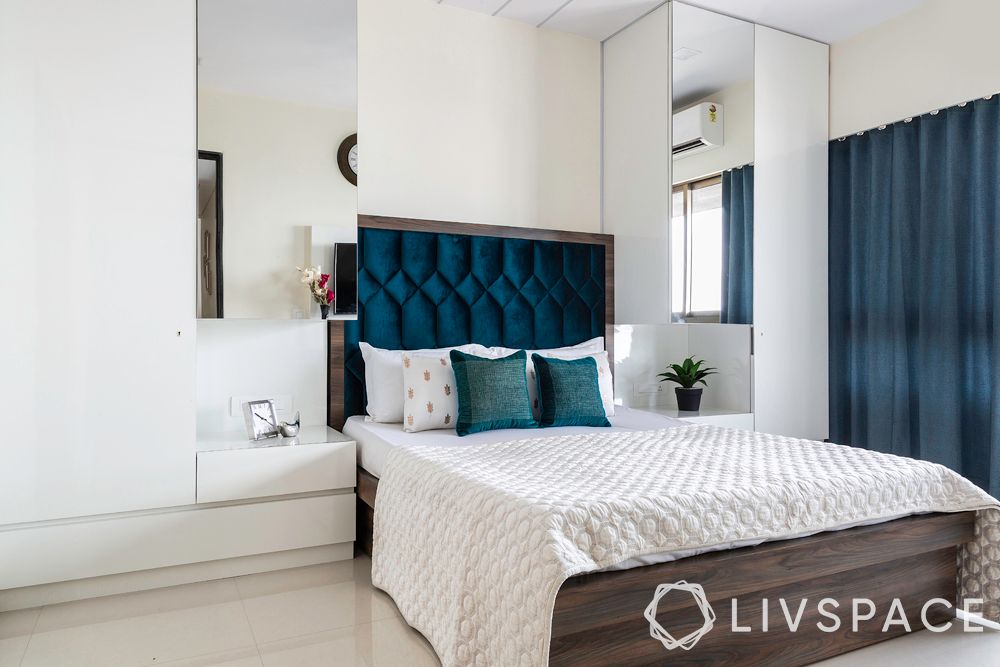 The owner of this bedroom had quite a huge collection of clothes and wanted a large wardrobe. So, to optimise the space, we added the bed in a niche between two large sliding wardrobes. Works for the couple and here's what they have to say:
If you are planning on a bedroom makeover, be sure to add some smart storage solutions from the above options for an organised and clutter-free home. For more help on designing a bedroom, reach out to our expert designers.
Read on to know 5 things that you should keep in mind while designing a small home.
We love hearing from you! Write to us with your comments and suggestions at editor@livspace.com