It's not often that we see a 2 BHK house interior design and go:
"Whatever colours you have
In your mind
I'll show them to you
And you'll see them shine…"
These lyrics from Bob Dylan's classic ballad Lay Lady Lay were going through my head as I walked around this apartment belonging to Kruti Gala, who is quite a colourful personality herself!
---
Who livs here: Kruti Gala with her mother|
Location: Shanti Niwas, Mumbai
Size of home: A 2BHK spanning 700 sq. ft. (approx.)
Design team: Interior Designer Sumit Patel  
Livspace service: Full home design
Budget: ₹₹₹₹₹
---
Almost all Indians love colours in their home, but not everyone has the courage to be as experimental with colours like Kruti and our designer Sumit Patel. However, let's not get blindsided by the sheer vividity of this home; it has some big lessons in space optimisation and lighting too! In other words, this 2 BHK house interior design balances aesthetics with functionality perfectly. That makes it just like Kruti herself who is both a freelance IT consultant and a full-time artist!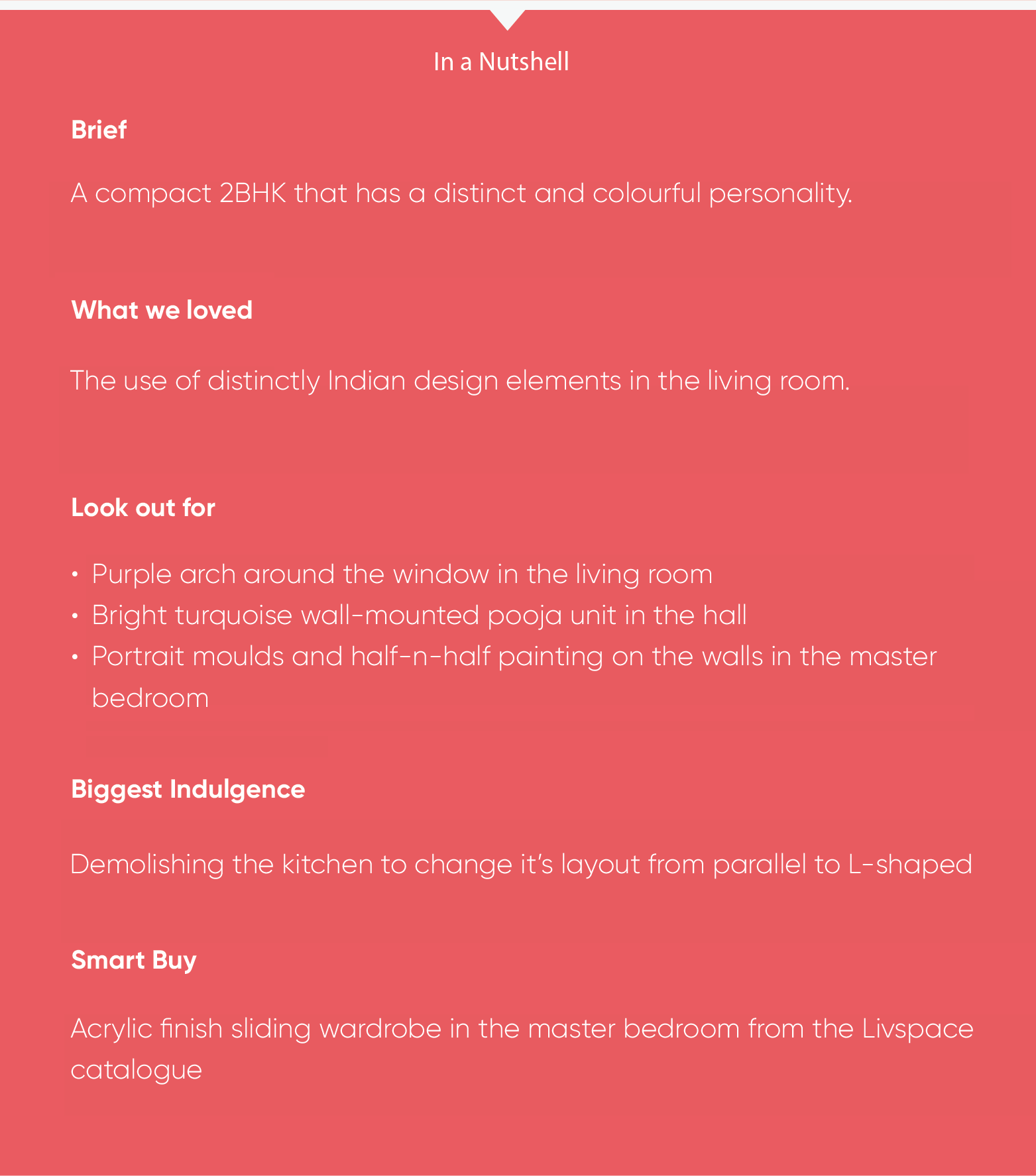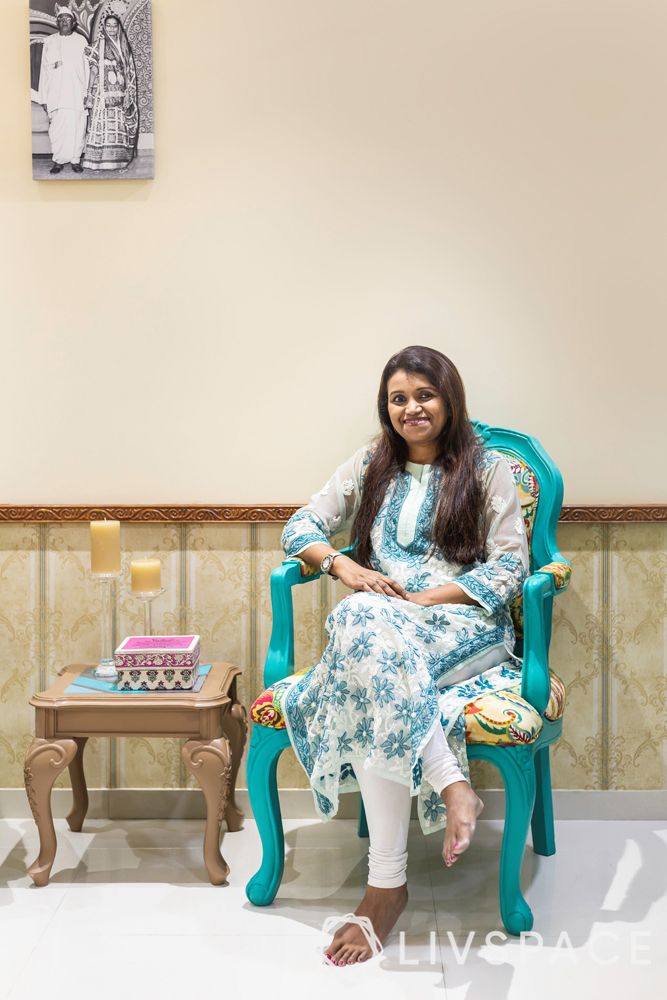 "As a designer, I was very happy to work with Sumit as he did not shy away from experimenting with colours. He understood my taste perfectly and designed options that were relevant for us. In fact, the design phase moved rather quickly for us!" 

– Kruti Gala, Livspace Homeowner
And we couldn't agree more! Designing a great home is all about understanding the person(s) who live in it. So, exactly what did Kruti want her new home to be?
#1: She has a self-confessed weakness for colours, so there were…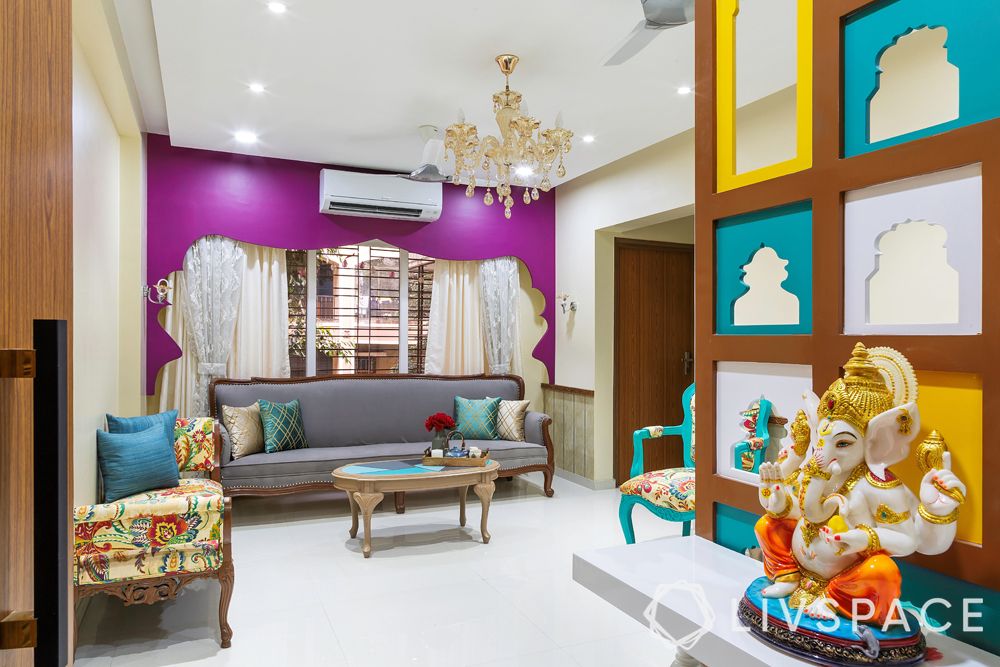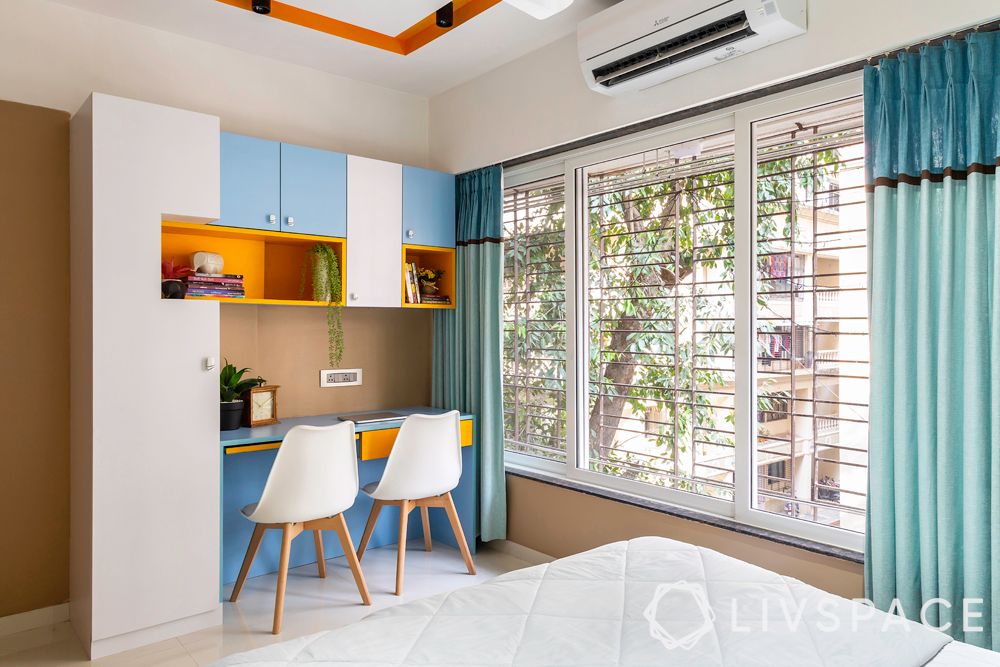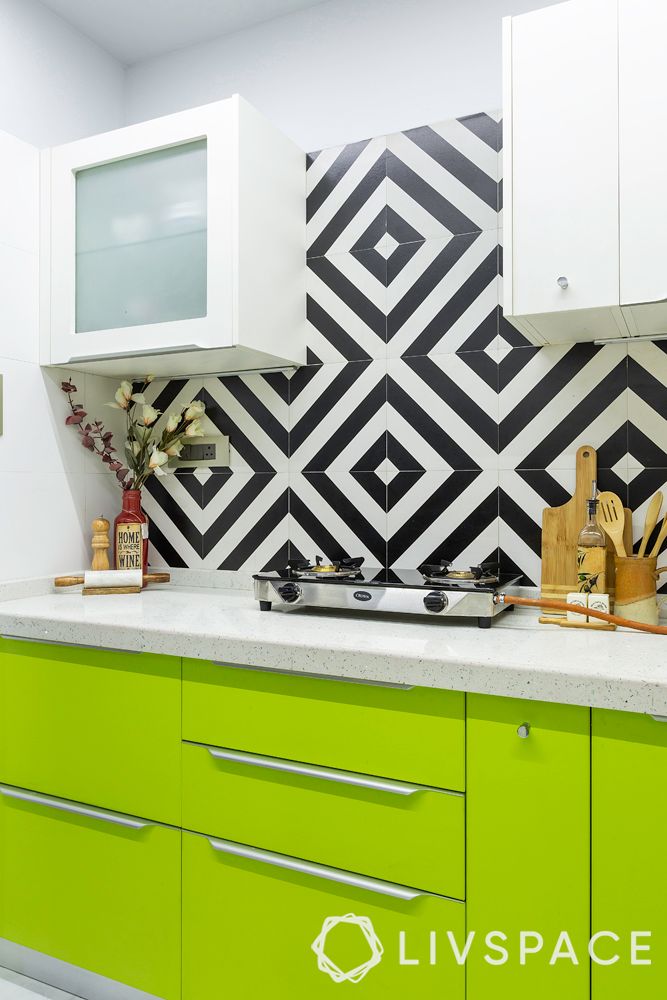 How did we provide this?
The theme of the living room is distinctly Indian, and a melange of colours usually go hand in hand with Indian decor. That wasn't so hard. Everything starting from the walls to the upholstery exuded shades of sunshine. In the guest bedroom, we see colours within the aesthetic boundaries of contemporary design. Also, the vibrant colours of this workstation are not all; its functionality is something Kruti managed to appreciate during the lockdown! Moving on to the kitchen, the bright green laminate finish on the cabinets is not the most common choice, but the shade is well-matched with the monochrome effect of the backsplash tiles! There is not a 'dull' area in this 2 BHK house interior design. 
#2: Distinct Indian elements was on the cards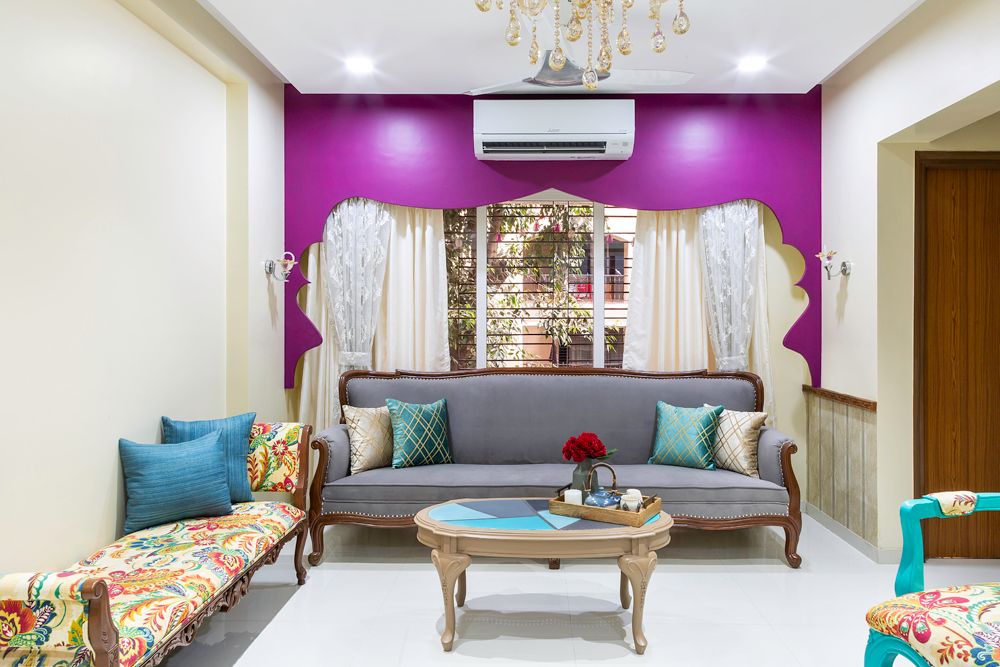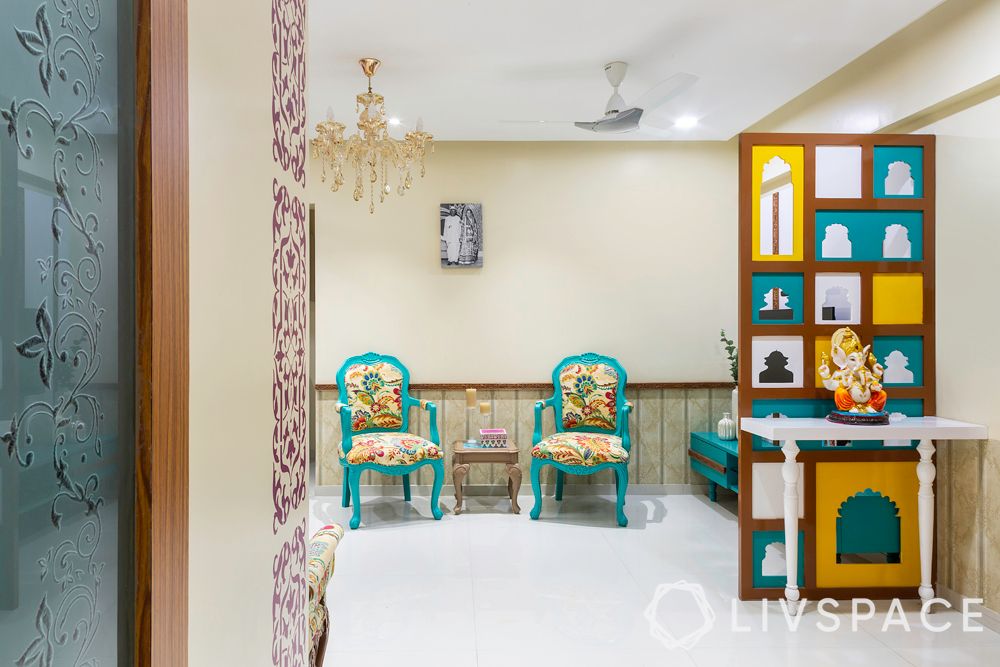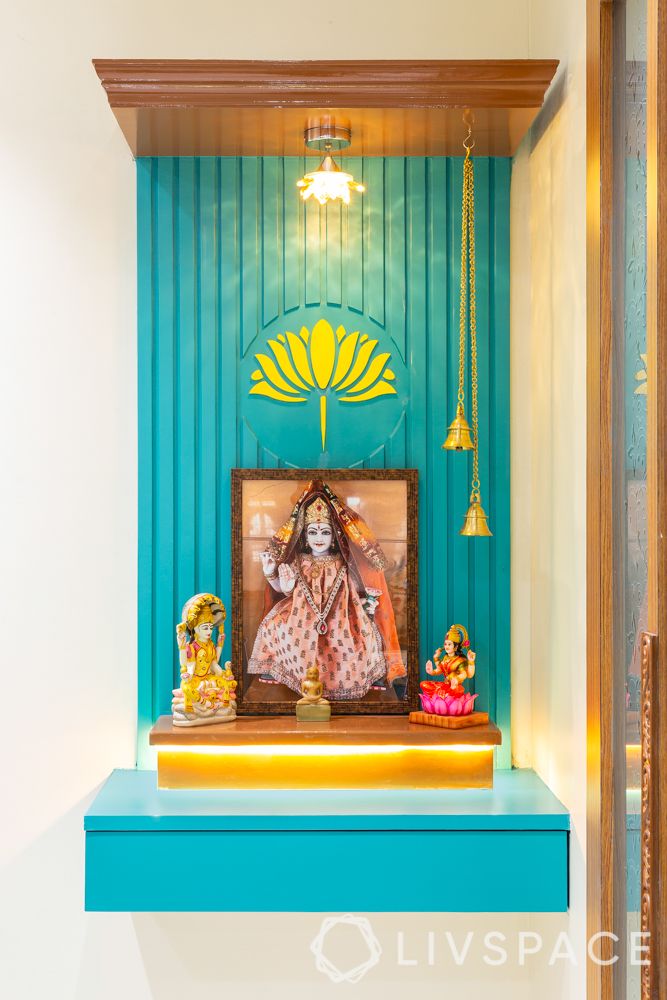 How did we provide this?
"I did not want a contemporary living room because it's all too common," says Kruti. Thus, Sumit added all these definitely Indian elements in the living room. The most distinct feature, of course, is the arch we see around the window; it is basically a plywood panel painted with PU. Similar arches are seen in the partition-cum-console at the entrance. Moreover, all the furniture in this space is made on site and has a distinctly curvaceous Indianianess to it. Kruti's favourite are the two turquoise chairs; she picked their designs from a design magazine!

#3: She wanted a kitchen with plenty of storage space and also one that follows the golden triangle rule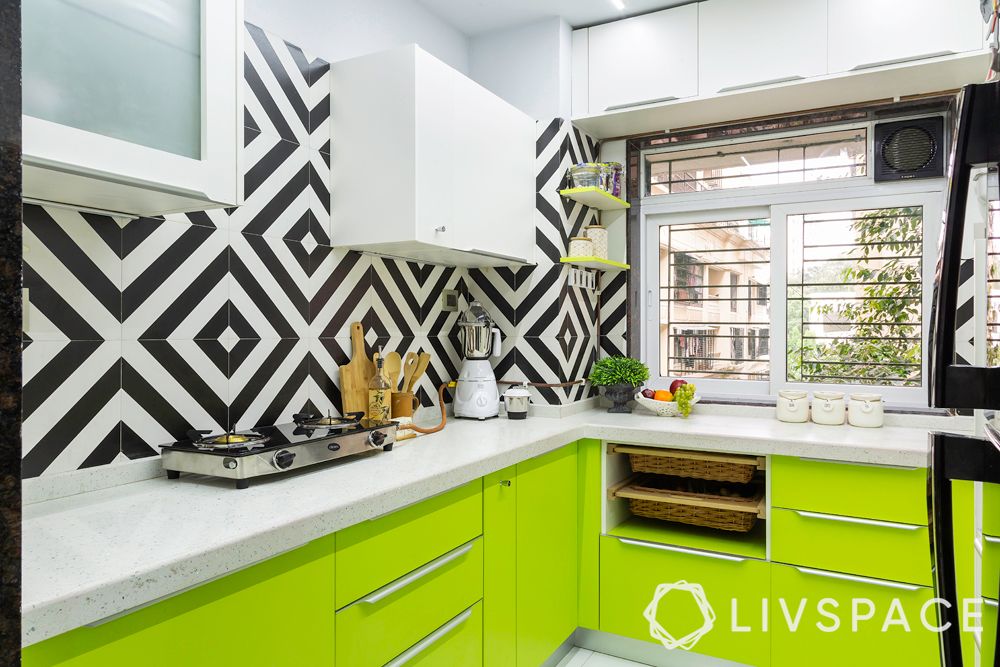 How did we provide this?
To put it quite simply, Sumit changed the layout of the kitchen. We demolished the parallel kitchen to make way for a L-shaped one. In the new kitchen, the hob, the sink and refrigerator form a neat little triangle. This change of layout also allowed Sumit to add plenty of storage space to the kitchen. 
#4: In an artist's home no two walls should look the same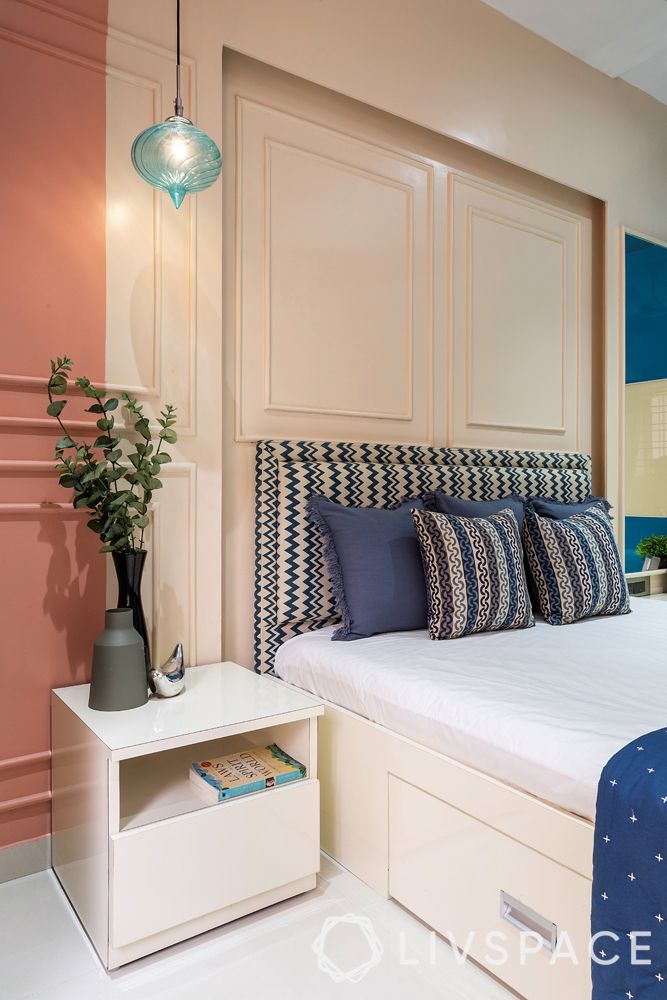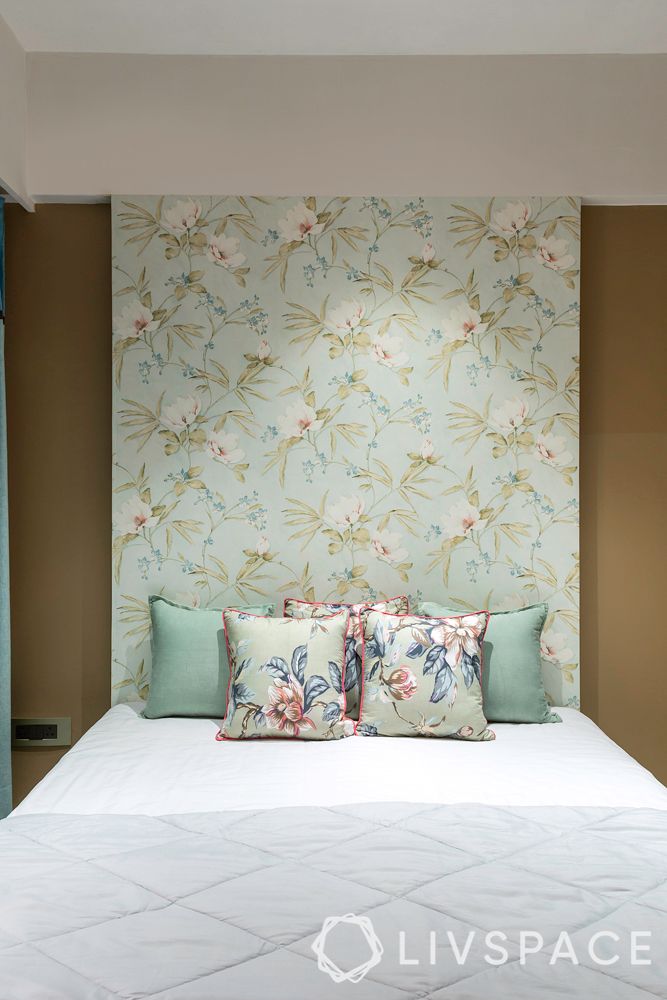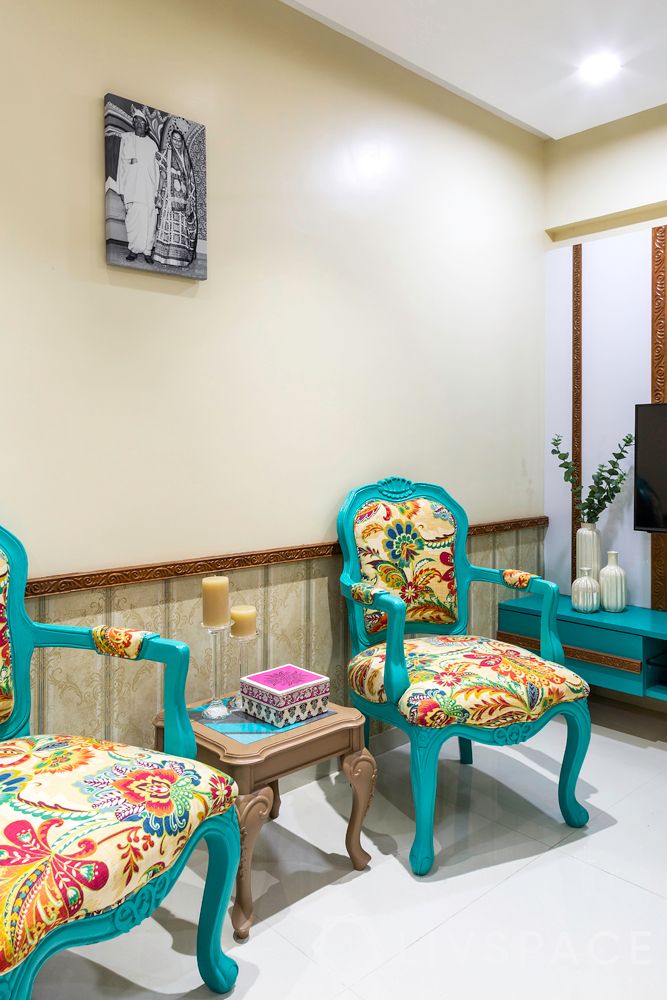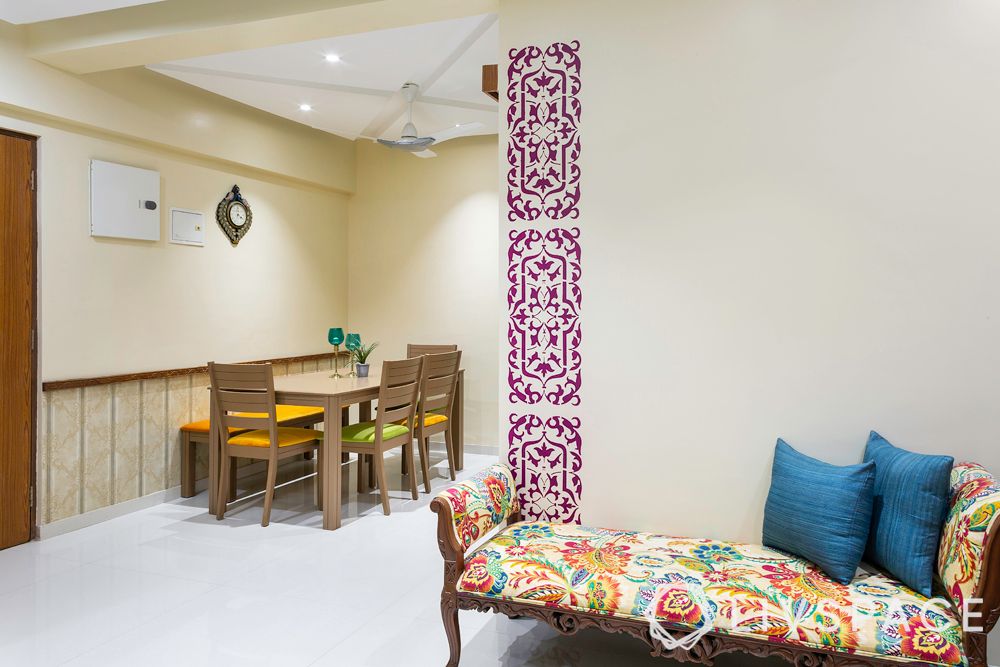 How did we provide this?
Whether it is the half and half wall painting in the master bedroom (with portrait moulds that add texture) or the wallpaper panel in the guest bedroom, every wall in this 2 BHK house interior design has a character of its own. This is something that is quite hard to get right! Our favourite is the red stencil painting in the living room, which adds an instant Indian vibe to the space. Also, don't miss the unusual wainscoting around the dining space. That wallpaper you see under the wooden patti!
#5: The lighting had to serve more purposes than one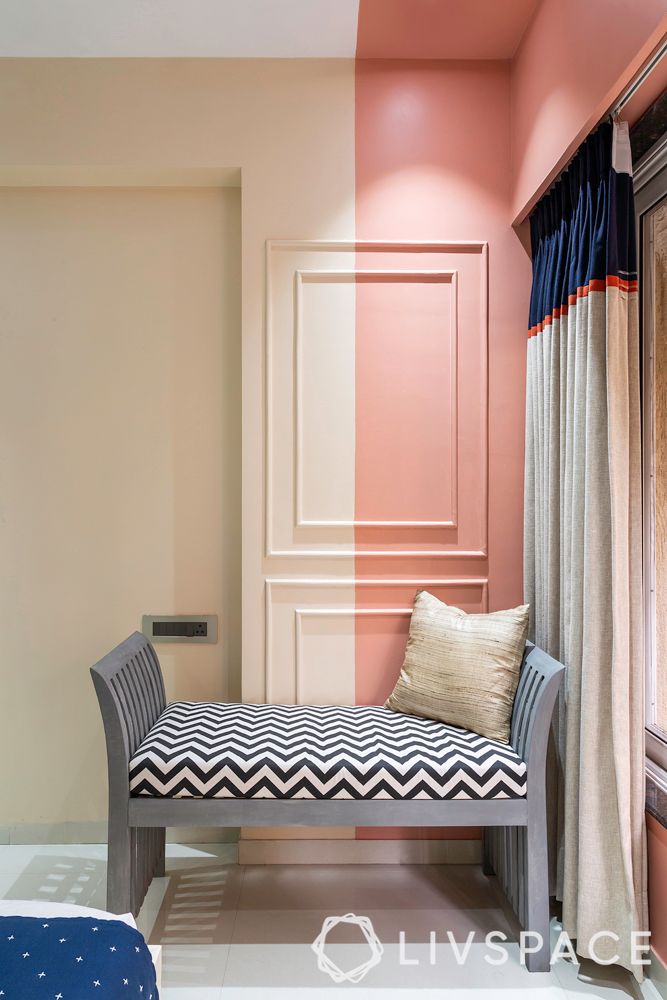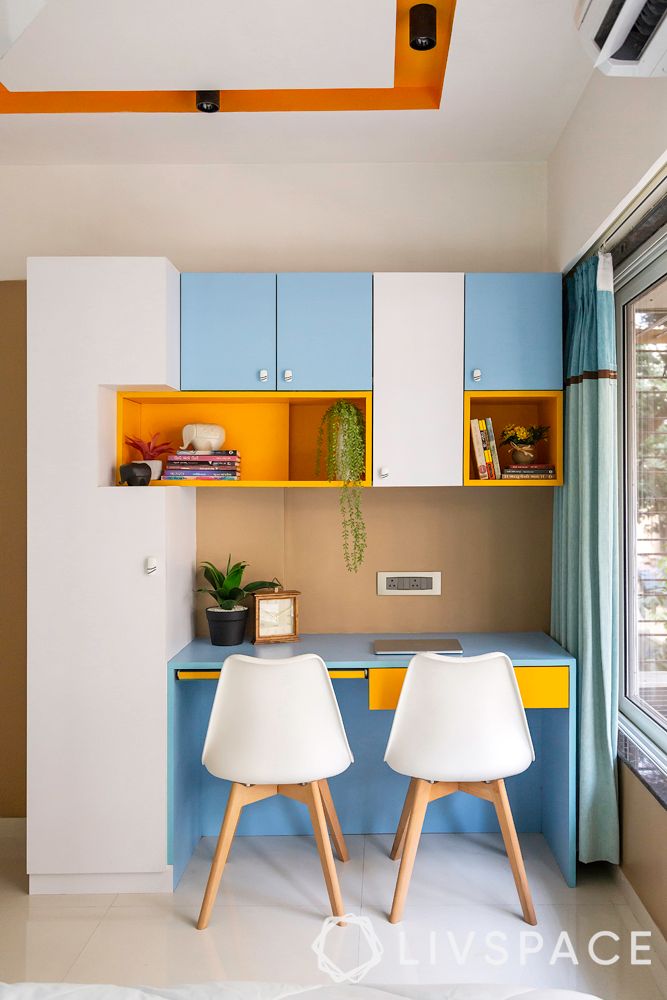 How did we provide this?
To make sure it does, Sumit has used spot lights in the false ceiling instead of recessed lights. So, these spot lights light up different areas like the workstation or the area around the wardrobe wonderfully. Kruti herself attests to this by saying, "my favourite spot in the house is the cosy two-seater in my bedroom because it's so well-lit! I do my reading there."
If you enjoyed touring this colourful home, here's another Mumbai home that was designed for an artist. 
Send in your comments and suggestions.