Mumbai – the city of dreams – and tiny apartments! If you are a Mumbaikar, you would have resigned yourself to the fate of living in a matchbox-sized apartment. Mahesh and his wife Meghana faced this conundrum – how do they make their 845 sq ft 2 BHK look more spacious? Read on to know how we created this subtle and elegant small house design inside Kanakia Sevens in just 10 weeks! 
---
Who livs here: Mahesh and Meghana B with their daughters, Divya and Sierra
Location: Mumbai
Size of home: A 2BHK spanning 845 sq ft.
Design team: Interior Designer Kshama Shah and Project Manager Santosh Vishwakarma
Livspace service: Full home design 
Budget: ₹₹₹₹₹
---
"They wanted a home that was open and spacious – with no bulky furniture and loud colours," says Livspace designer, Kshama Shah. The clients, Mahesh and Meghana, along with their daughters, Divya and Sierra, were very flexible about the design and look of their home. All they wanted was for their home to look spacious, with neutral tones. Also, they had a clear timeline within which they wanted to move into their new home from their rental accommodation. This is how we designed and delivered their dream home.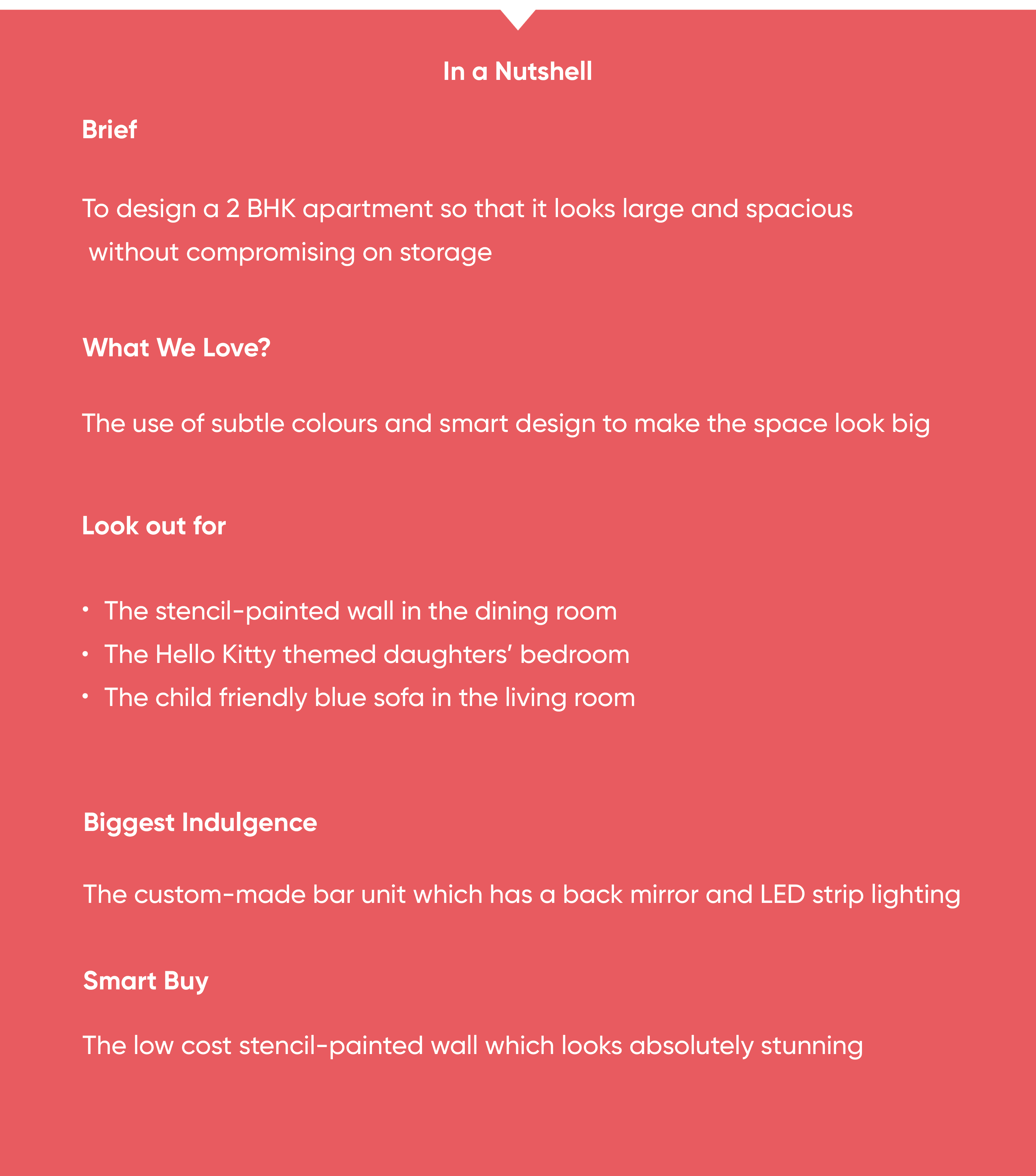 #1: A Bright and White Living Room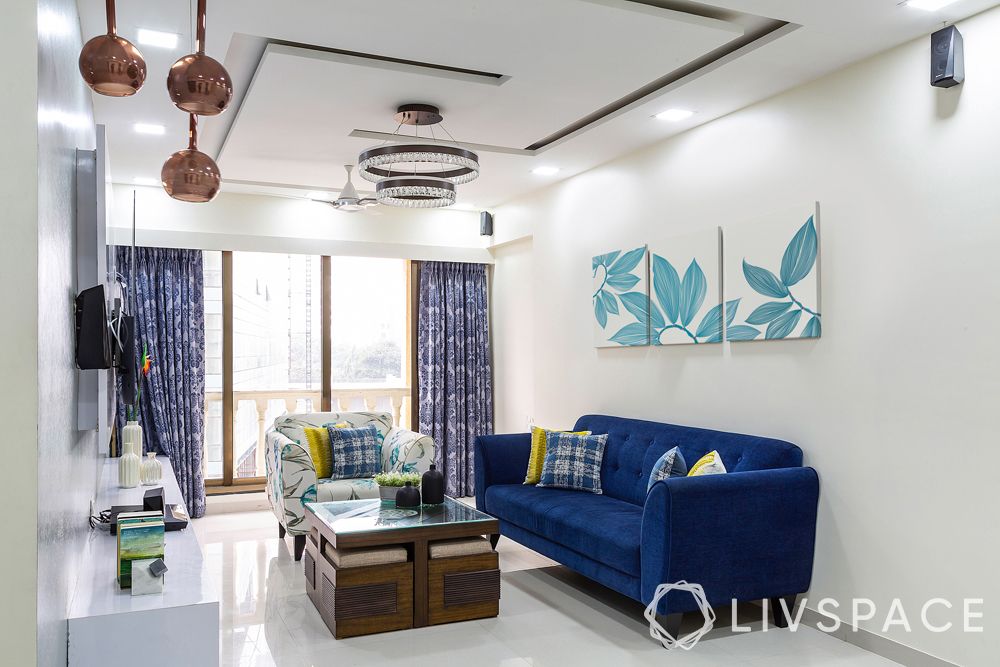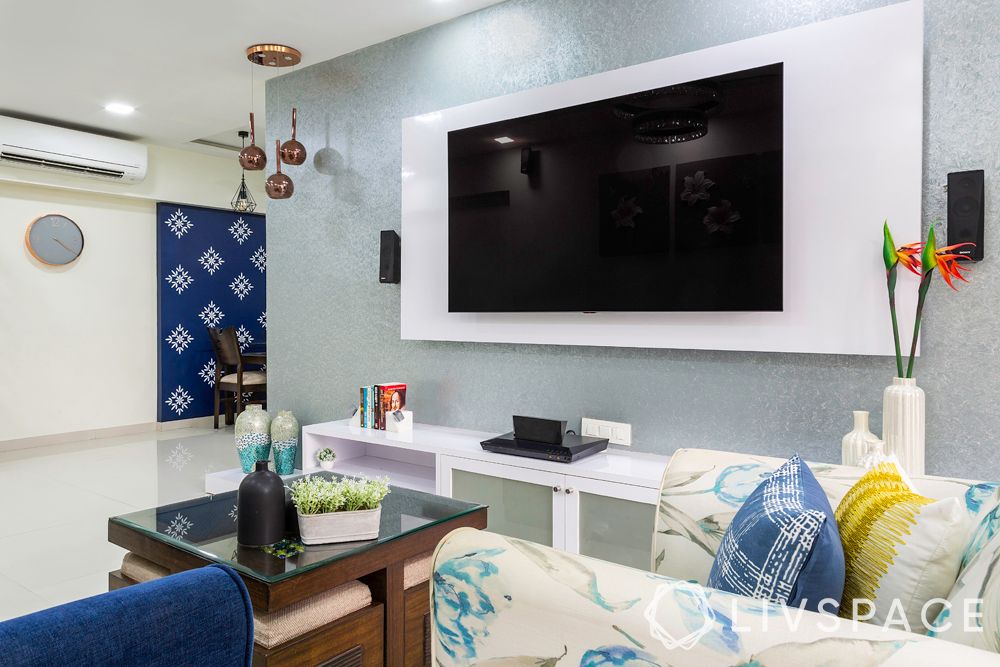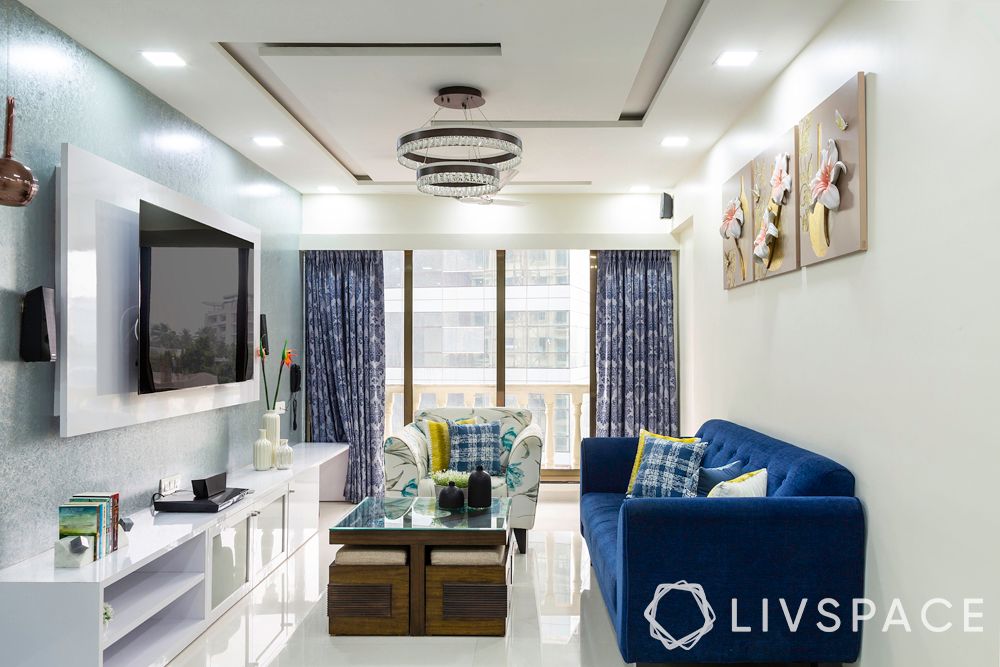 The living room is a lesson on how colours and lights can make any space look big.
"Their living room was in a nook and not very bright," says Kshama, who decided to go with a pristine white colour theme. Combined with a stunning false ceiling, the living room is as bright as it gets! The textured wall in a soft blue colour and the bright blue sofa adds a pop of colour to this otherwise simple room. The best part about the sofa? The deep colour keeps it child-friendly and easy to maintain.
#2: A Smart Bar Unit and a Stencil-Painted Wall in the Dining Room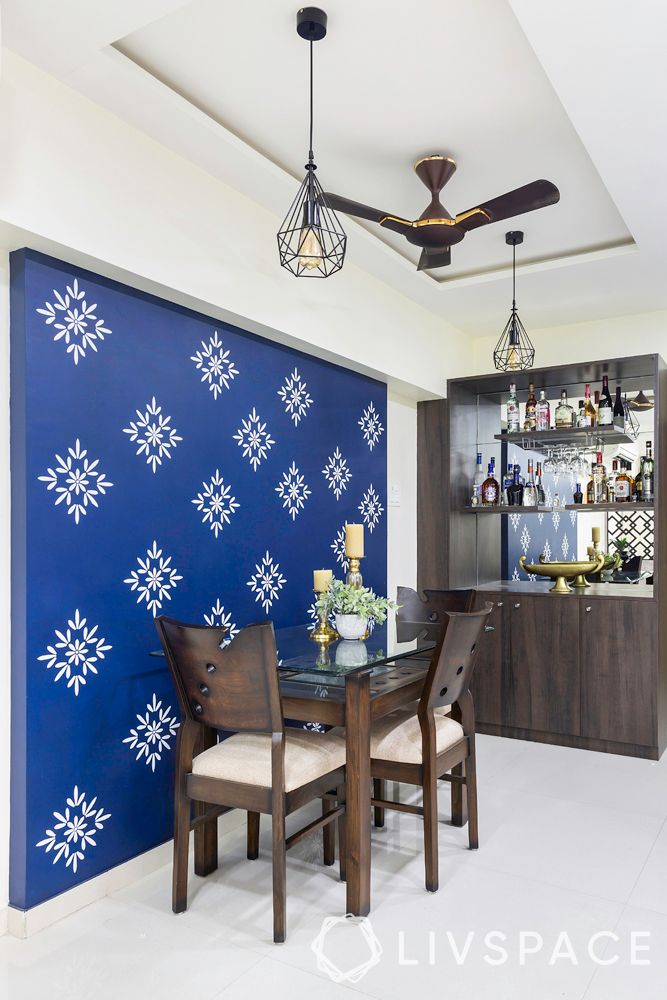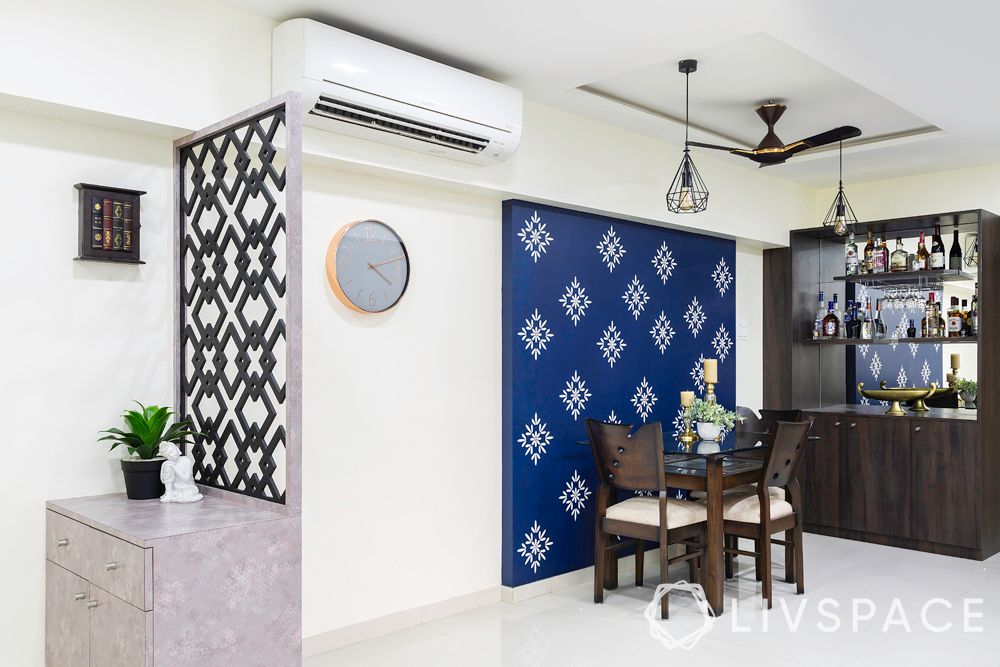 The dining room in this small house design inside Kanakia Sevens was part of the living area and very small. So how did Kshama keep the space from looking cluttered?
First, the choice of furniture. Be it the dining set or the custom-made bar unit, every piece of furniture in this area is small and sleek. The bar unit, for instance, fits into a nook and comes with a mirrored panel and LED strip lighting that creates the illusion of space. 
Second, the choice of colours. The shoe rack, in a neutral grey colour, keeps the look spacious. The jaali partition maintains privacy and also adds a nice desi element.
Third, the alignment. Kshama ensured that everything in this space, starting from the shoe rack to the bar unit, was in a single line, with nothing protruding out. This kept the look neat and clean.
But, by far, the showstopper is the gorgeous stencil-painted wall. The official selfie spot in Mahesh and Meghana's home, this wall with the ethnic design is a smart buy as the stencil paint kept it cost-effective. 
#3: Oodles of Storage in the Kitchen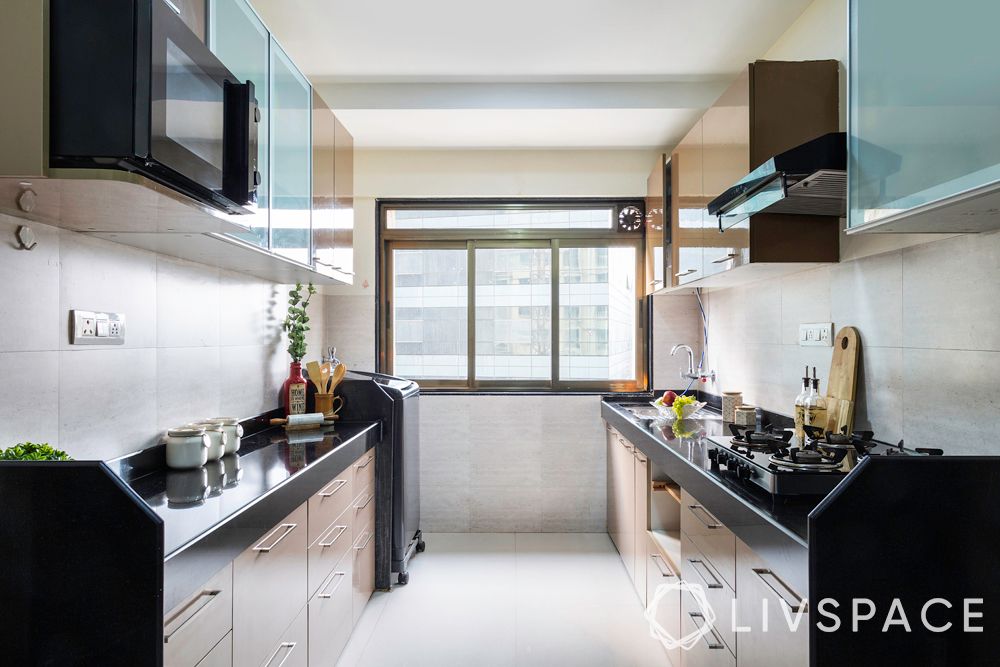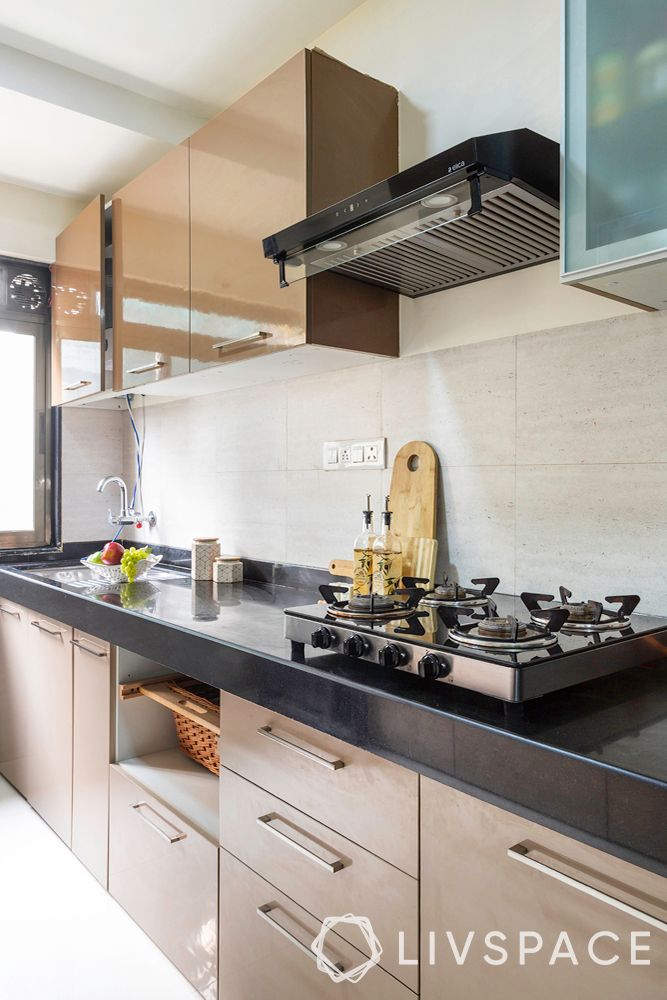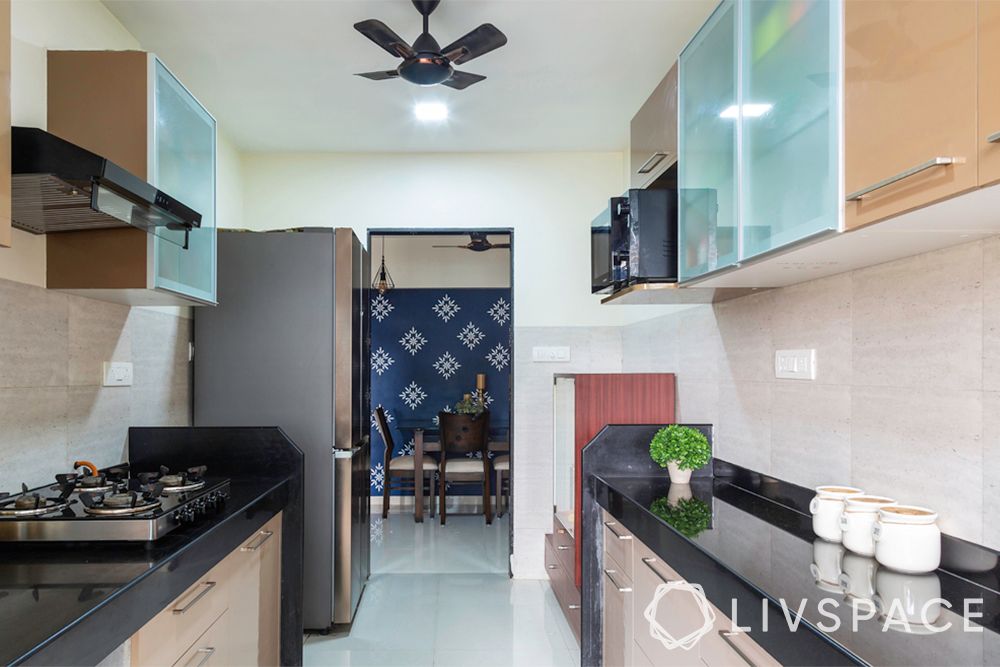 What is that one thing that binds all Indians together? Well, food, yes, but also our love for storage! This kitchen, for a Mumbai home, was quite spacious – with enough space for a family of four to cook together. This made it easy for Kshama to add ample storage. The light and dark beige colour theme keeps it elegant without being monotonous.
#4: A Luxurious Master Bedroom in Subtle Cream Tones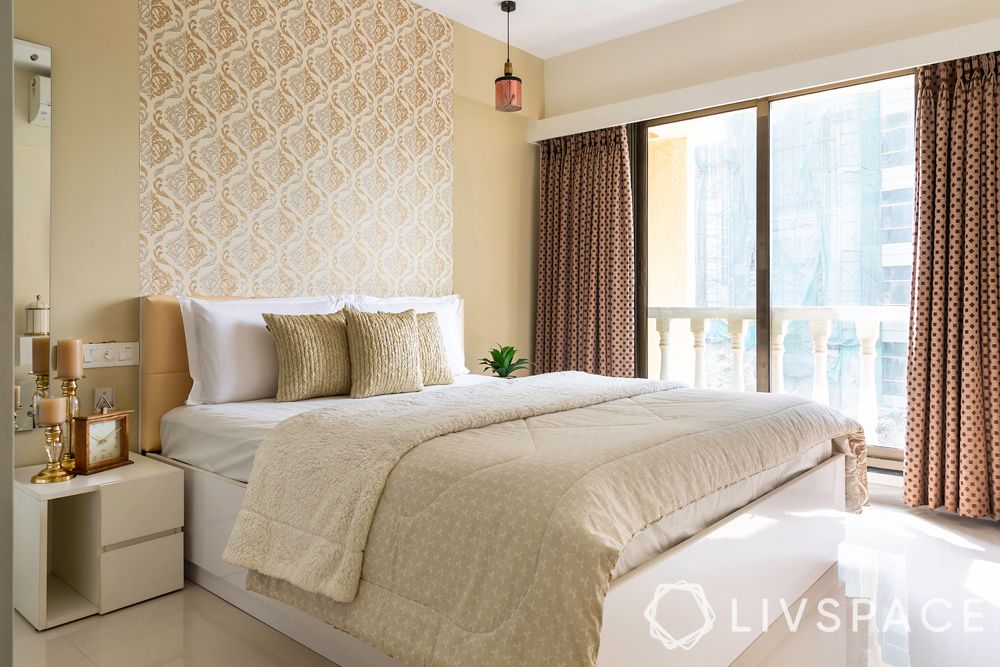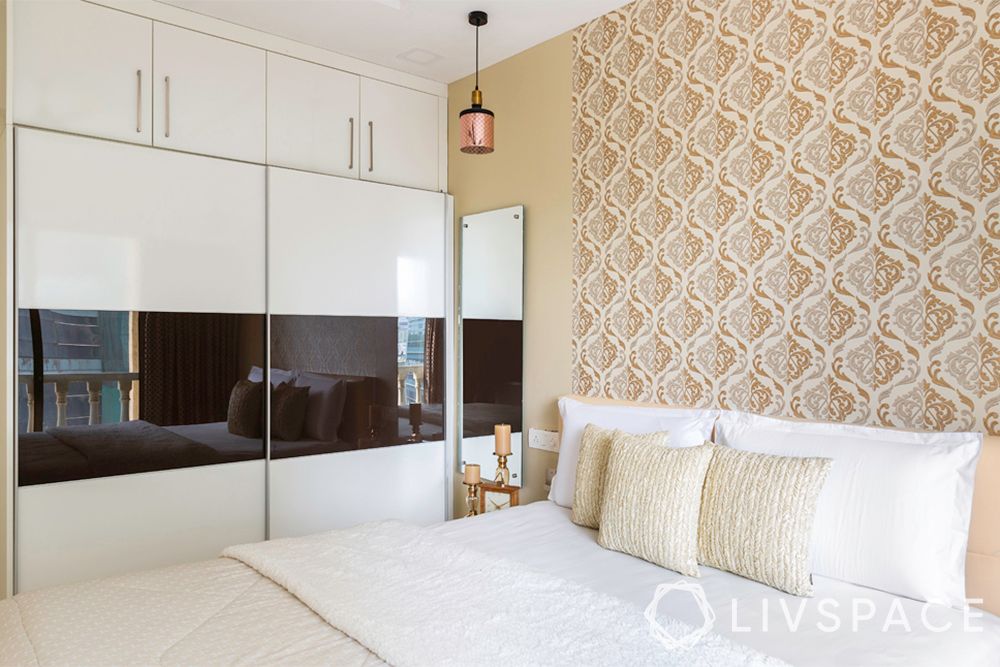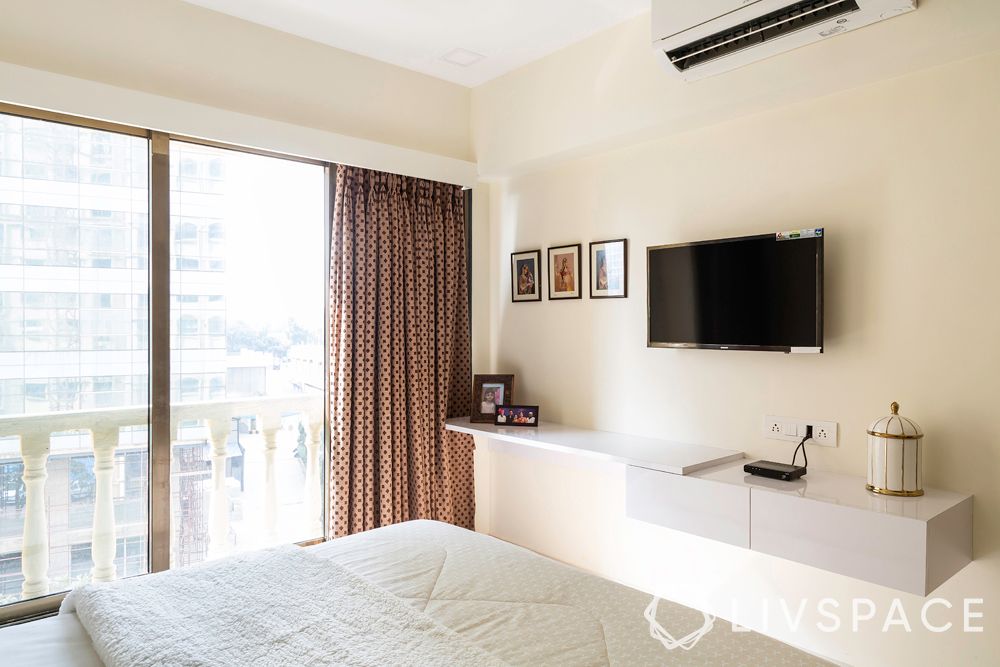 "Mahesh and Meghana wanted their bedroom to look rich and stunning, like a hotel room," says Kshama. The elegant colour combination of beige and white not only gives the room a luxurious look but also makes the space look bigger. An important tip here. Keeping a single focal point can make a small space house design look bigger. In this bedroom, that is the floral wallpaper. By positioning it in the centre instead of covering the entire wall, Kshama kept the look distinctive. 
The beige theme of the bedroom is complemented by the white custom-made TV-cum-study unit and the glossy laminate wardrobe. Also, did you notice Kshama's choice of selecting a sliding wardrobe with lofts? Sliding wardrobes consume less space and come with ample storage. The side tables and a custom hydraulic bed ensure that the couple would face no storage woes!
#5: A Hello Kitty Themed Daughters' Bedroom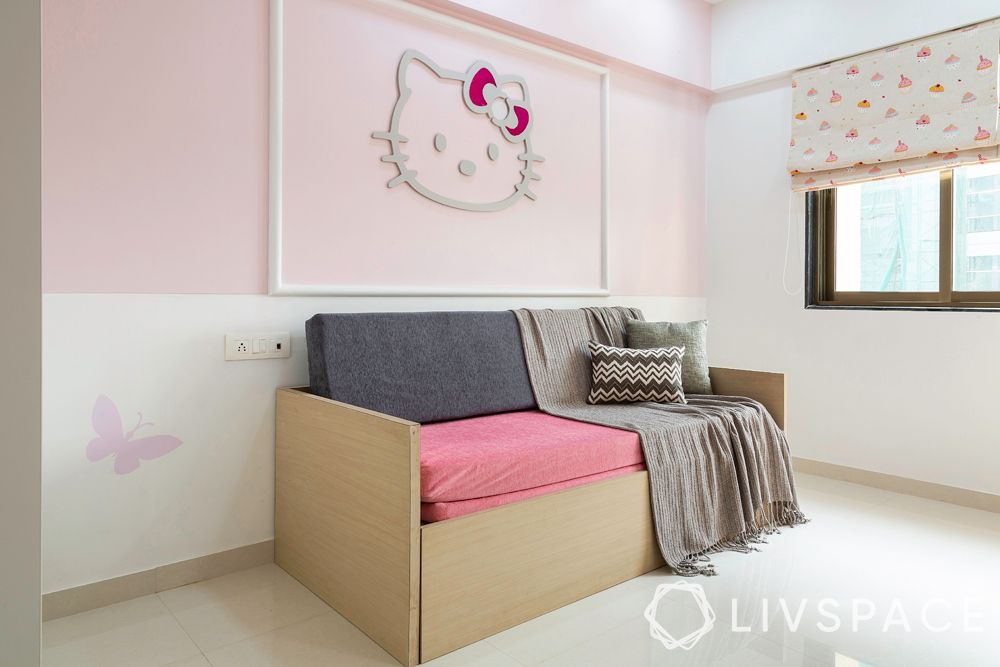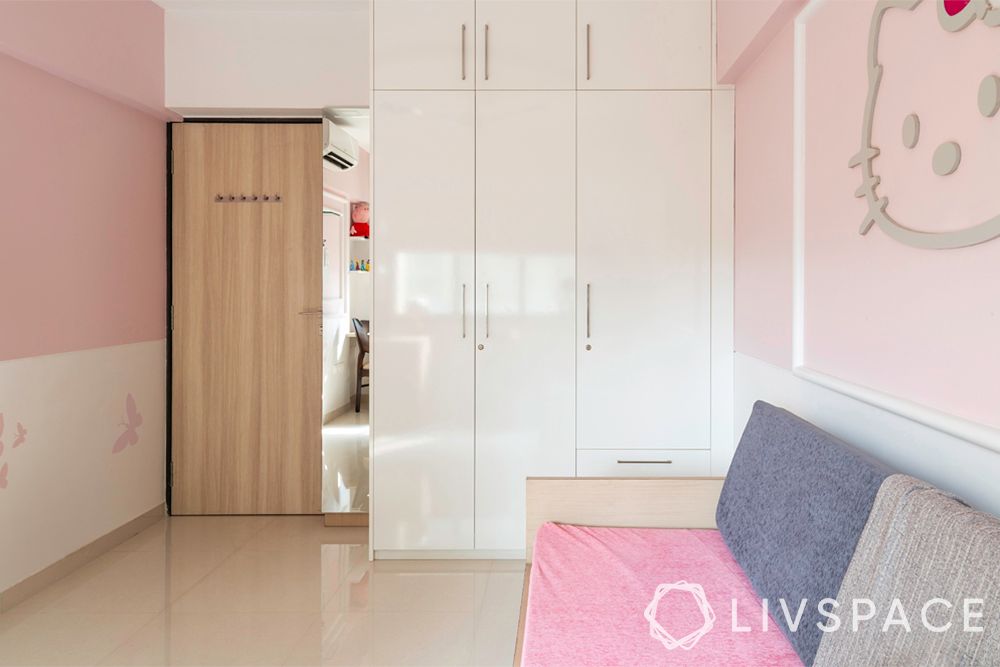 The younger daughter, Sierra, was a huge fan of Hello Kitty and wanted her bedroom to be Hello Kitty themed. Kshama used MDF to create the Hello Kitty face with lights inside the bow and moulding around it. While the theme is pretty enough, the actual star of this room is the way Kshama designed it to provide ample space for a growing child. Be it the L-shaped study table or the sofa-cum-bed, Kshama designed every aspect of this room to give Sierra enough space to play. 
"Kshama was very helpful throughout the design process. She did not treat our home design as just a project. It seemed like she was designing her own home! We are thrilled with the entire look of our home."

— Meghana B, Livspace Homeowner
Liked this small house design inside Kanakia Sevens in Mumbai? Check out this stunning and durable 3BHK in Mumbai.
We love hearing from you! Write to us with your comments and suggestions at editor@livspace.com