Designing a home with a unique floor plan can be a daunting task. But renovating an old home and giving it a modern touch is undoubtedly challenging. But not for Livspace! When Sandipa approached Livspace, she wanted her 3BHK Princeton Estate Apartment interior design to be serene and storage-efficient.
Our Livspace designers got out the best home renovating and remodelling ideas from their treasure trove and got started. Come, take a tour of this home and bag some renovation secrets for your own home remodel.
---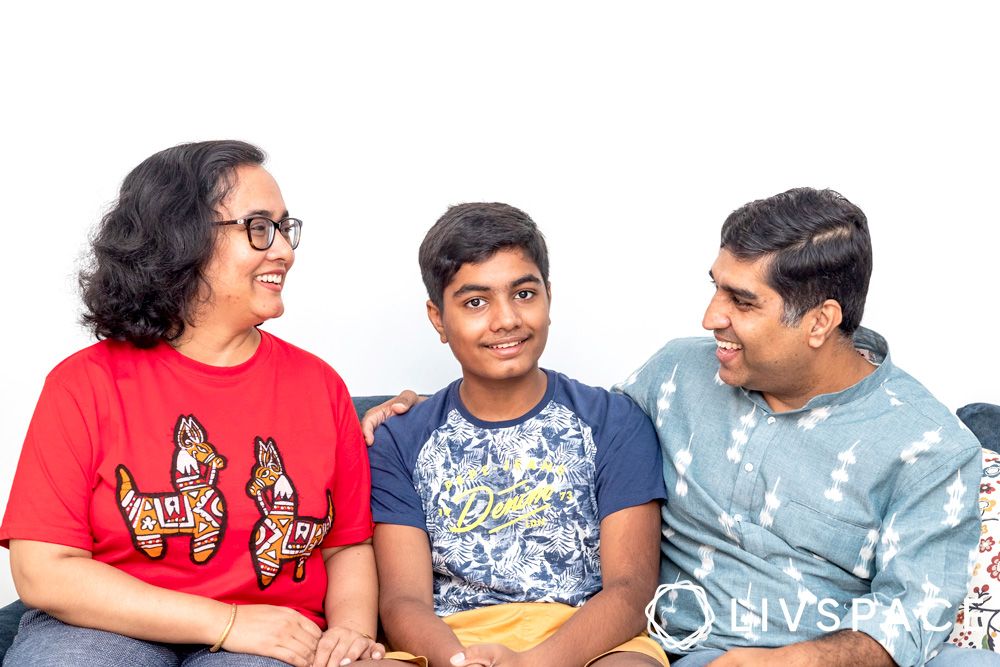 Who Livs here: The couple Sandipa Mukherjee and Saptarshi Ghosh with their son
Location: Princeton Estate, DLF 5, Gurgaon
Size of home: 3BHK spanning 1100 sq. ft. approx.
Design team: Interior Designer Kajari Laskar
Budget: ₹₹
---
IN A NUTSHELL


Design Brief
To create a serene home that's spacious and storage-efficient

What We Loved
The use of blue and beige colour scheme throughout, inspired from a liking of Mediterranean themes

Look Out for
-The storage-efficient C shaped kitchen that packs a punch, despite an odd floor plan
-The grooved ceiling in the living room that has a unique shape
-The trim wall panelling done in bedrooms

Smart Buy
The kid's bed as it's trendy and space-saving

Biggest Indulgence
The power-packed kitchen design with all best appliances


Having moved from Europe, Sandipa and Saptarshi had a liking for Mediterranean style design. That's why our designer Kajari tried to capture the timeless appeal of coastal styles and pack it with modern luxuries in this interior design for Princeton Estate, Gurgaon. Here are the home renovation ideas to copy:
1. Focus on Efficiency, Not Size of Your Kitchen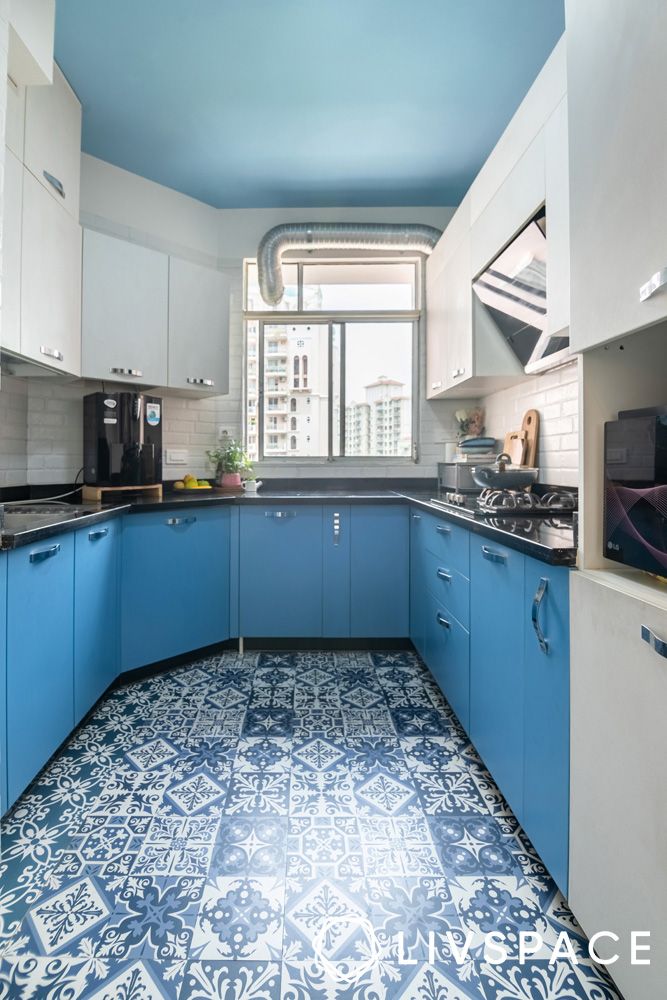 You might have noticed that the 3BHK Princeton Estate apartment interior design has a unique floor plan for its kitchen. In fact, initially, our designer Kajari wanted to remodel its shape, but later realised that might reduce the shape.
So, designer Kajari went along the curve and power-packed the kitchen to hold together all appliances, from a dishwasher to a refrigerator. She finished the lower and upper cabinets in laminate.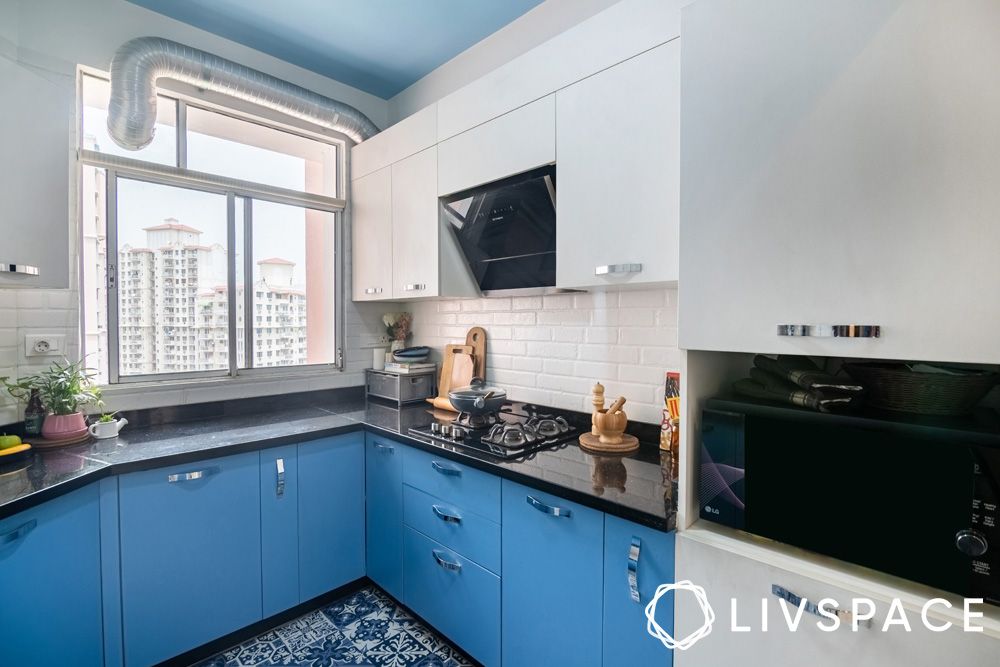 Moreover, the blue and white colours really add a visual dynamic that's complemented further with the window that opens up to a beautiful view.
2. Less Is More Styling for the Living-cum-Dining Room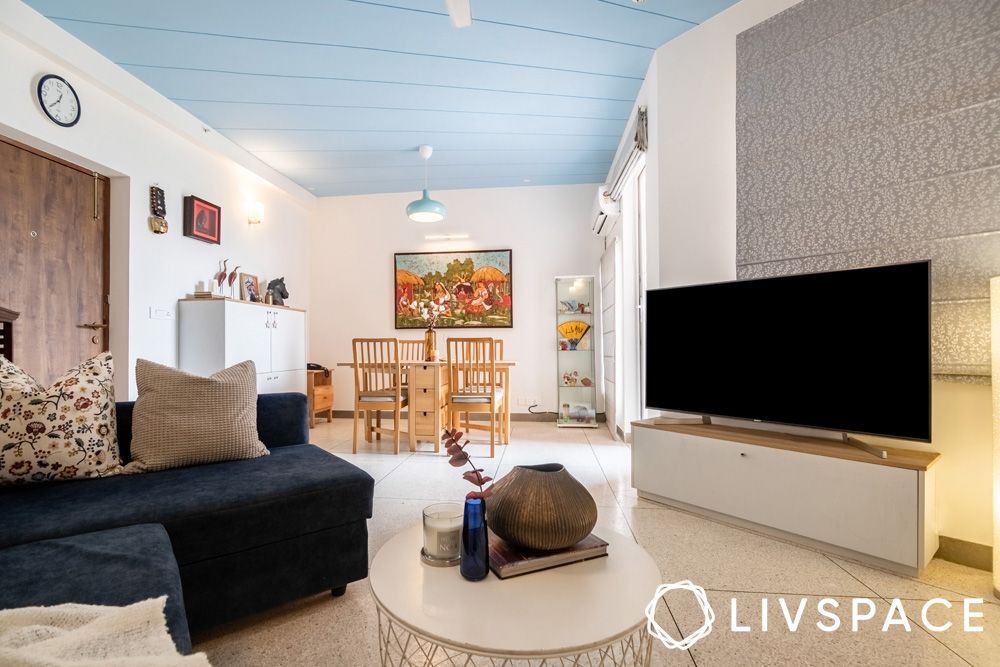 The interiors of Princeton Estate, DLF5, Gurgaon has a coastal Mediterranean vibe you can't ignore. Livspace designer Kajari kept the colours in this living-cum-dining room fairly simple, with a blend of white and blue.
She opted for a black L shaped sofa that complements the TV unit and chose to ground the place with a round centre table. As for the dining set, it has drawers that add more storage to the Gurgaon home!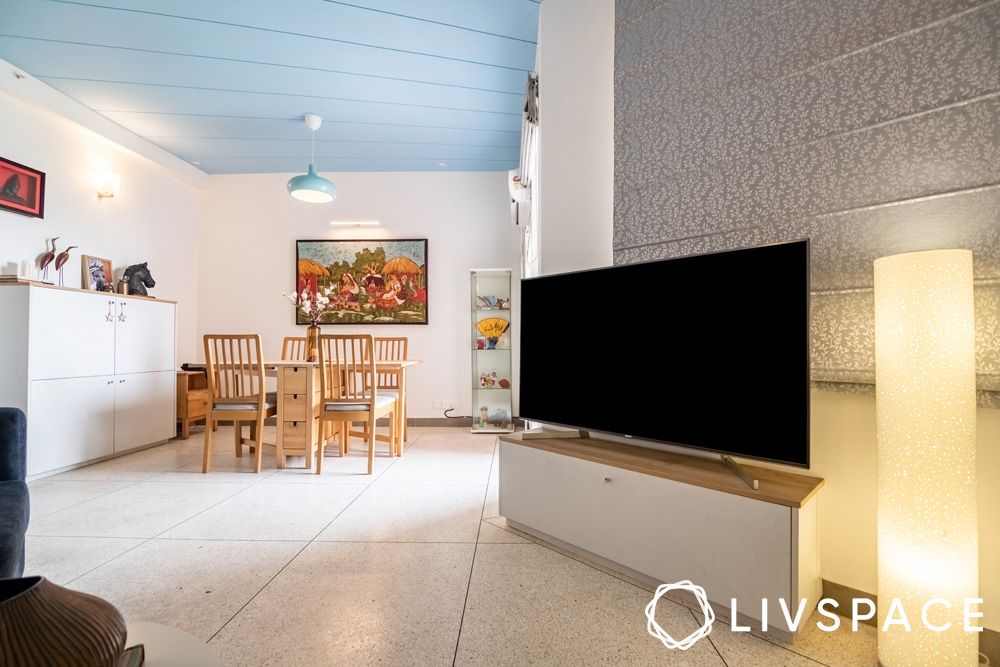 There's more, though! The home exteriors have an elevation, for which the ceiling is quite low. Livspace designer Kajari designed against a false ceiling to avoid making the space look too boxed up.
That's why she went with grooved ceilings in blue. They add a nautical inspired coastal edge to the space. The windows are large and equipped with blinds lights to let natural light pour in! That's another Mediterranean trick, Livspace designer Kajari employed.
3. Prioritise Natural Light & a View of the Outdoors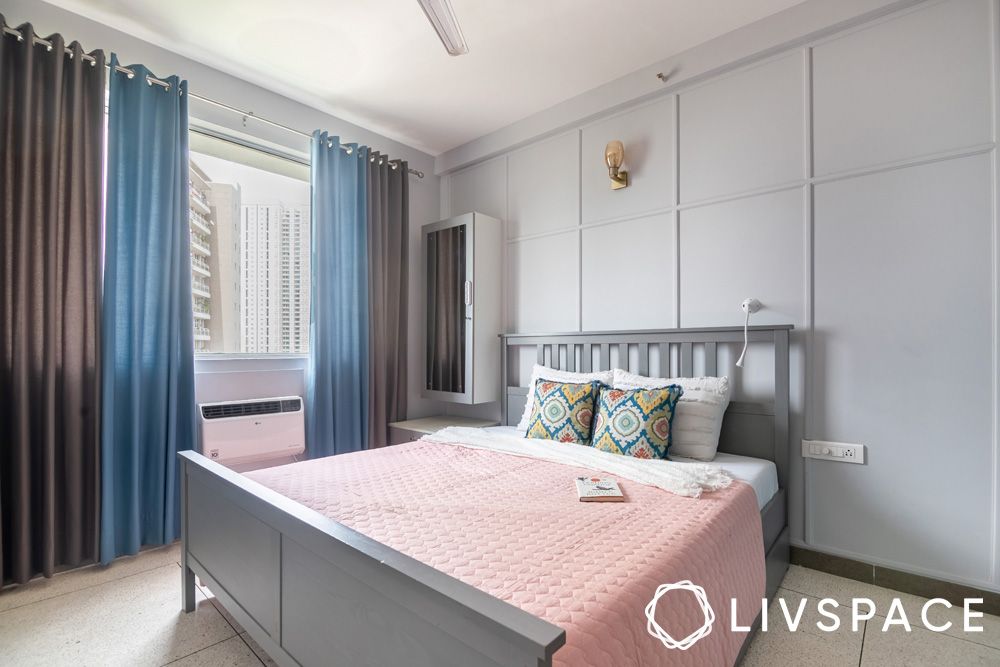 Whether you're taking a look at the two bedrooms, the kitchen or the living room, you'd see all of them have a beautiful view of the outdoors. Mediterranean style prioritises natural light, and Sandipa's home provided all the opportunity to amp it up with a glimpse of the outdoors.
By keeping multipurpose furniture that's also storage-efficient, Sandipa went light and in tune with her design theme. That helped her get an airy vibe for the interior design for Princeton Estate, Gurgaon.
4. Create Breezy Bedroom Interiors With a Calming Colour Palette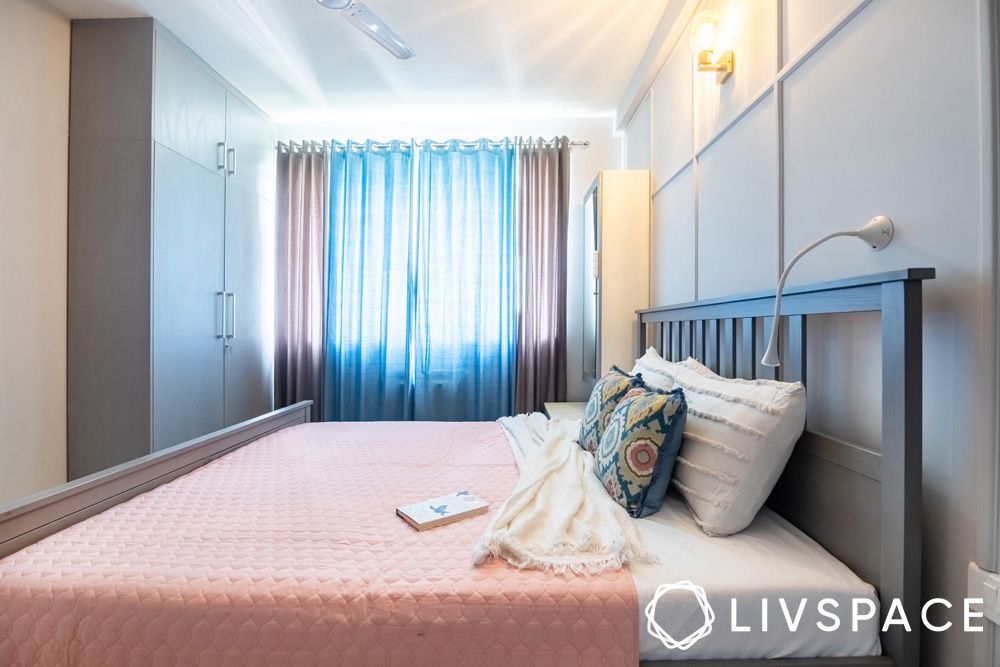 Colour is crucial. It dictates the design theme of your interiors and also has the power to make or break it. In fact, colours were so important for the 3BHK Princeton Estate apartment interior design that Livspace designer Kajari kept it consistent.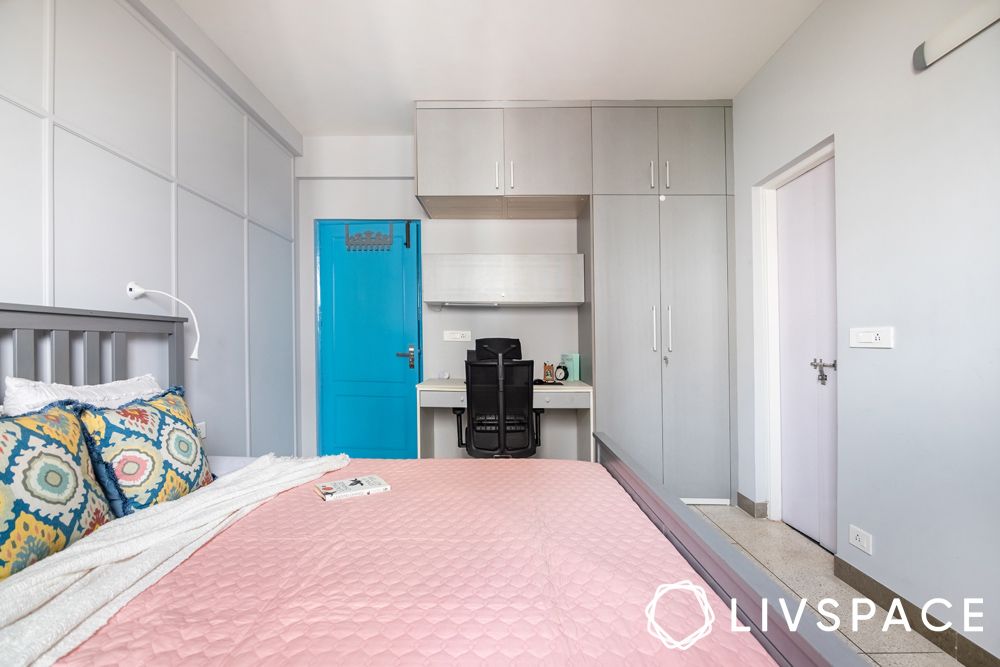 She used neutral shades and natural finishes so that the space had a coastal, Mediterranean vibe. The master bedroom uses greige (a new mix of grey and beige) to bring a soothing essence to this space. It has glossy wardrobes and a work desk for the perfect work-life balance.
5. Go Neutral for Other Bedrooms in Your Home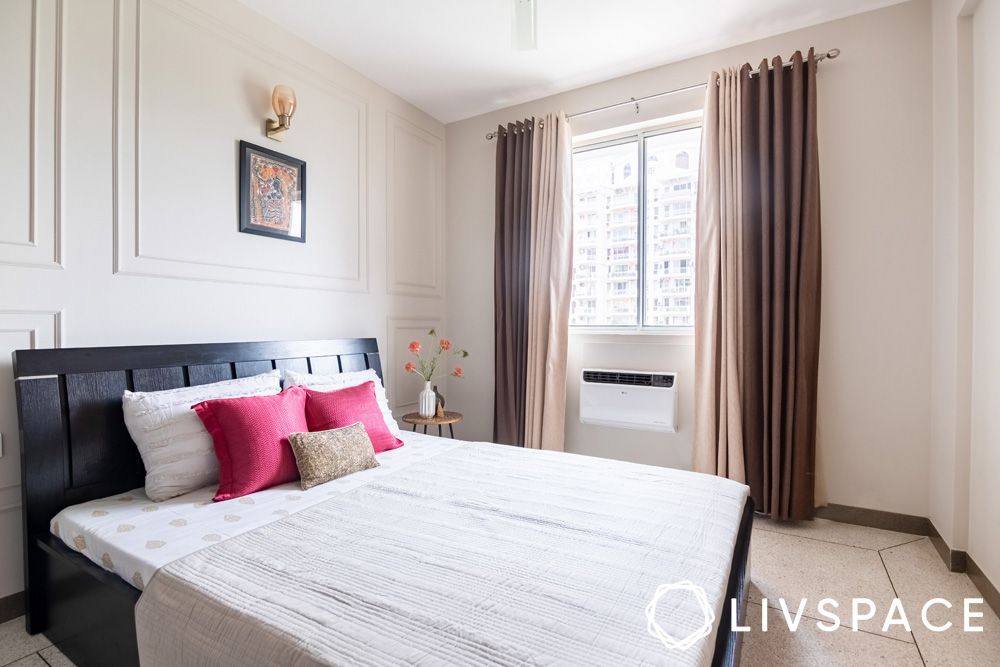 While the master bedroom plays around with greige, the guest bedroom has a classy case of neutrals.
With a black bed, brown and beige curtains and a great view of the outdoors, the 3BHK Princeton Estate apartment interior design really stands out and soothes your nerves! For their son's bedroom, they chose to go with a light blue – again, a classic calming shade that everyone loves.
6. Don't Keep Walls Bare, Try Wall Panelling
Wall panelling (or wainscoting, as it's also called) is quite popular in interior design. Why, you ask? Well, where's the magic in bare walls? While compact doesn't let you experiment with wallpaper designs or maximalist furniture, wall panelling looks like a rather easy option to add depth and dimension to your space.
Take a look at the grid of square wooden panels used in the master bedroom. They go elegantly well with the choice of colour palette and add an elegant subtlety of style you can't miss.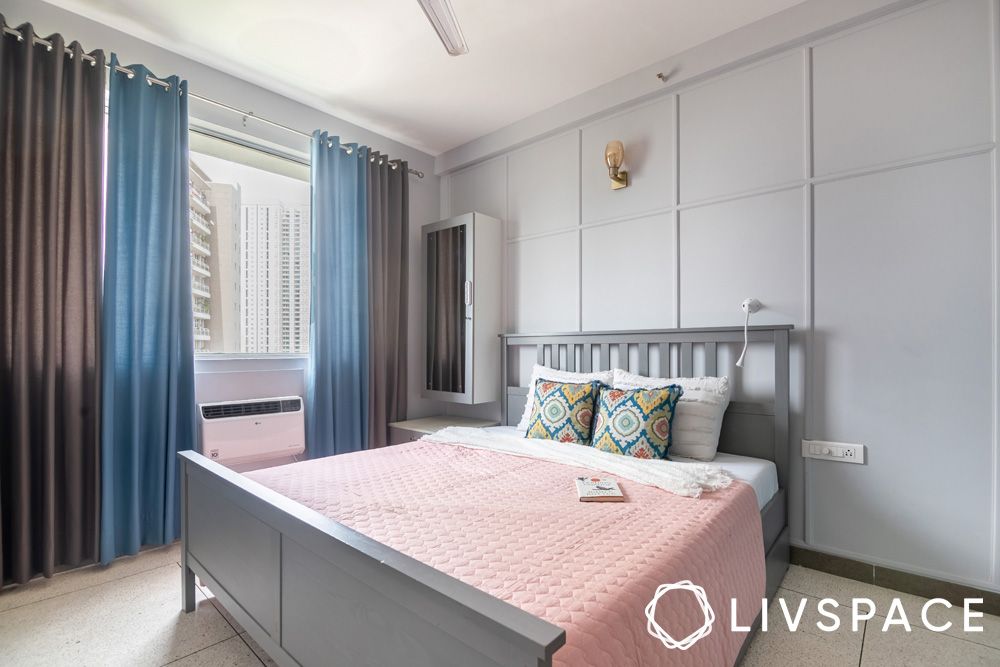 If you're considering wall panel moulding, take a look at the guest bedroom. It uses trim wall panelling to add a classy, sophisticated look to your space. Moreover, wall panelling can give compact spaces the edge they need – without making them feel too boxed up.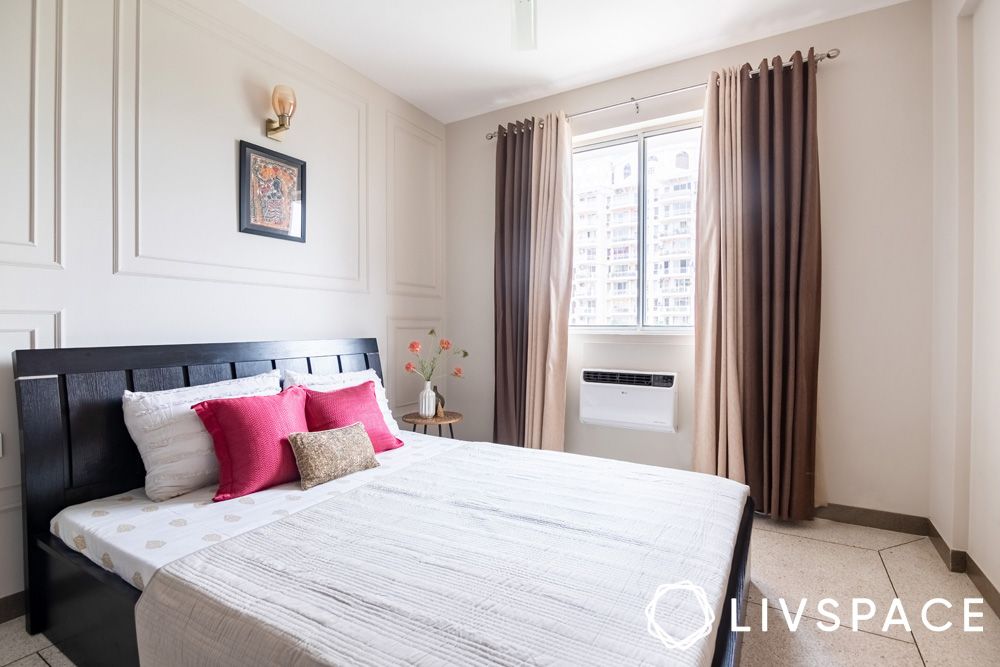 7. Cut Out on the False Ceiling Like This 3BHK Princeton Estate Apartment Interior Design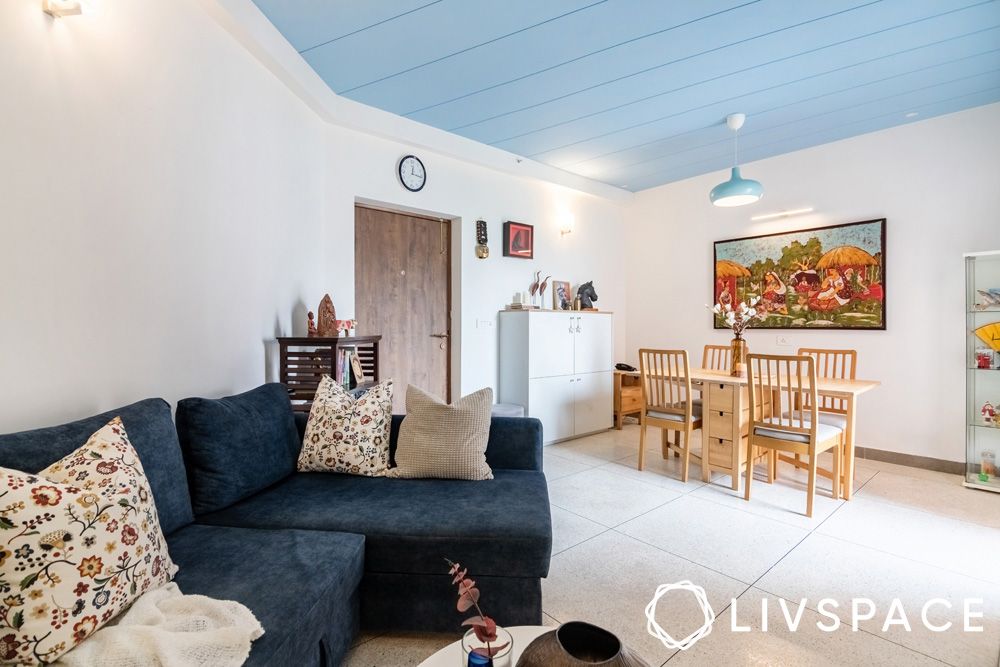 A false ceiling is great – but not always. A good designer will advise you against it when there are risks of it making your space look smaller.
Our Livspace designer Kajari went with a grooved ceiling and decided against a false one to retain the welcoming, inviting vibe of this space. Amazing, isn't it?
Hear It From the Designer
I believe a designer's role is to fix problems or at the least make the problems less difficult while keeping the aesthetics and ergonomics in perspective. The satisfaction achieved when we can understand the user problems and help resolve it, is unmeasurable.

Kajari Laskar, Livspace Designer
How Can Livspace Help You?
We hope you found our ideas useful! If you want beautiful interiors for your home, then look no further. Book an online consultation with Livspace today. If you have any thoughts and suggestions you'd like to share with us, we're all ears! Drop us a line at editor@livspace.com.