Modern interiors for a 3BHK in Hiranandani Thane.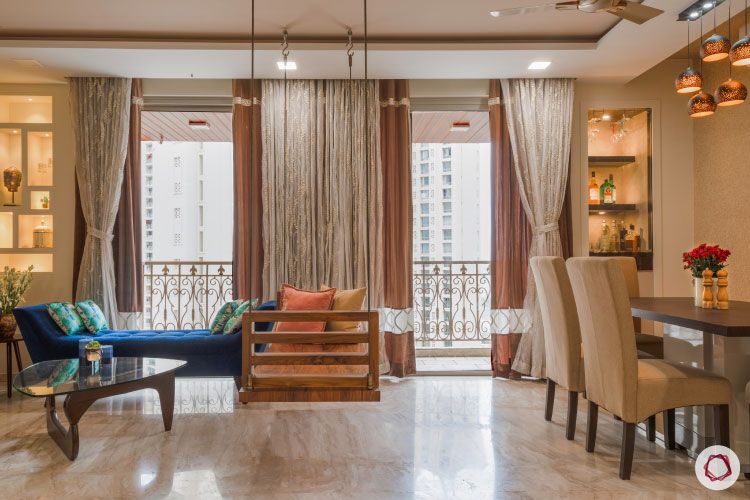 ---
Who livs here: Swati Shah with her husband Deep, their daughter Mishti and their dog Oreo
Location: Hiranandani Estate, Thane
Size of home: A 3BHK spanning 1,700 sq ft approx.
Design team: Interior Designer Jaya Hansrajani and Quality Manager Santosh Vishwakarma
Livspace service: Full home design
Budget: ₹₹₹₹₹
---
We love starting our day by looking at a beautiful home. And this one at Hiranandani Estate is a stunner! With a subtle palette, beautiful ambient lighting and a completely modern design, this apartment ticks off on all the design goals Swati Shah family had for their home. Designed by Jaya Hansrajani, the home is done up in neutral shades and has a good blend of hues throughout.
Awash in enticing colours, the living room immediately sets the tone of the rest of this home. With their busy schedule, both Swati and her husband Deep, do not have a lot of time to spare to maintain their home. Therefore, you will notice a lot of dark coloured furniture and finishes that can be wiped clean easily. Oh, and did we tell you? A cute little dog, named Oreo, completes this family. In conversation, Jaya told us how much she loves dogs and how she would have loved designing a tiny corner for the little member. Meanwhile, you can find him chilling by the balcony or just goofing around.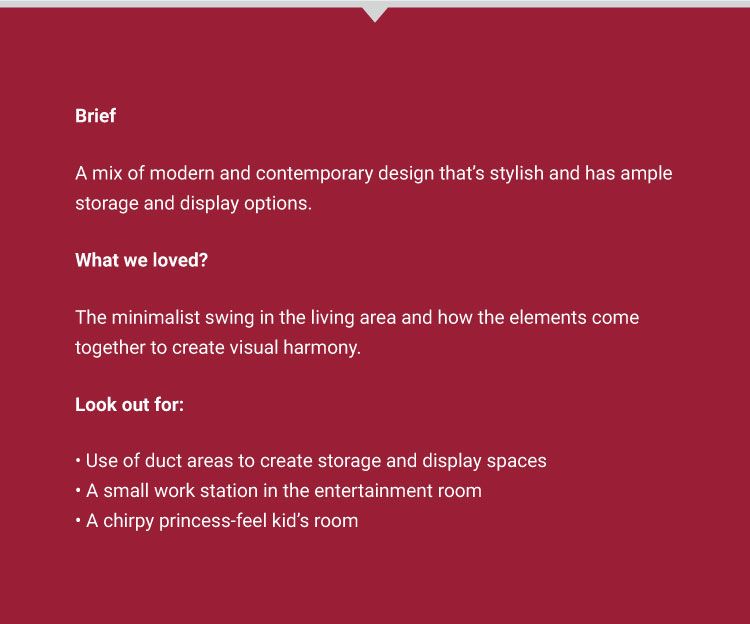 Subtly Stylish Decor at Hiranandani Thane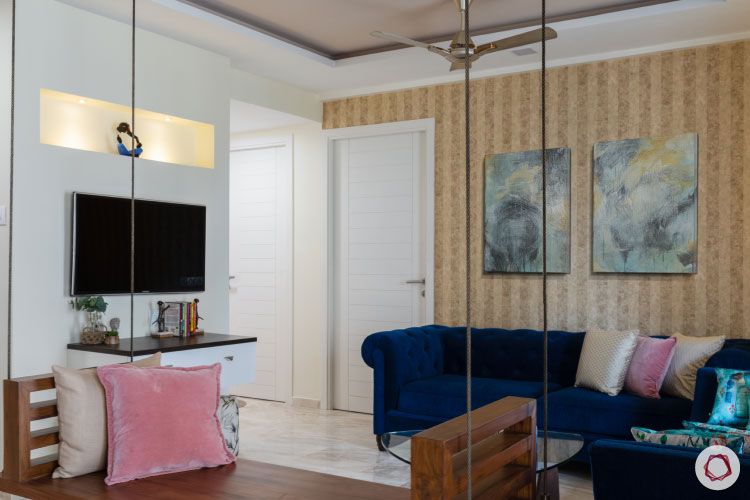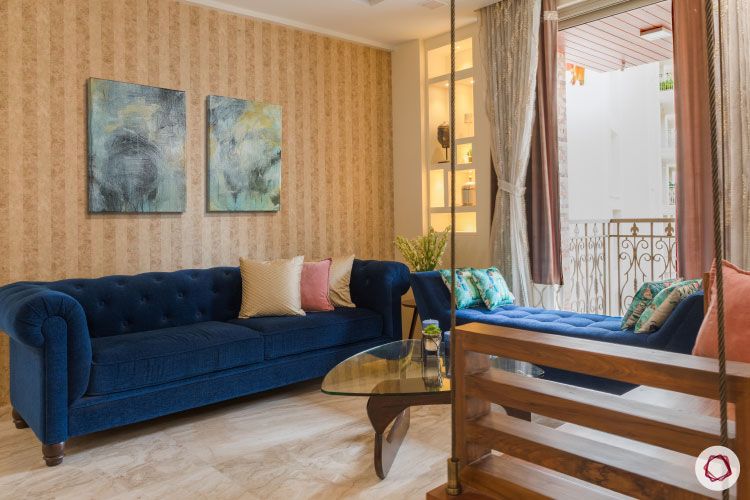 The first surprise for everyone who enters this sprawling 3BHK is the swing that sits pretty in the living room. While Swati and Deep were sold on the idea of having a swing indoors, they were certain about not having a traditional piece in there. So, Jaya suggested this sleek wooden jhoola suspended on minimal ropes.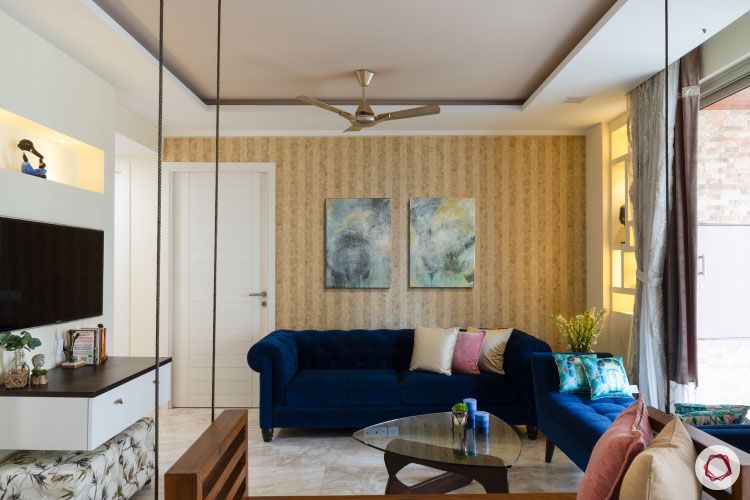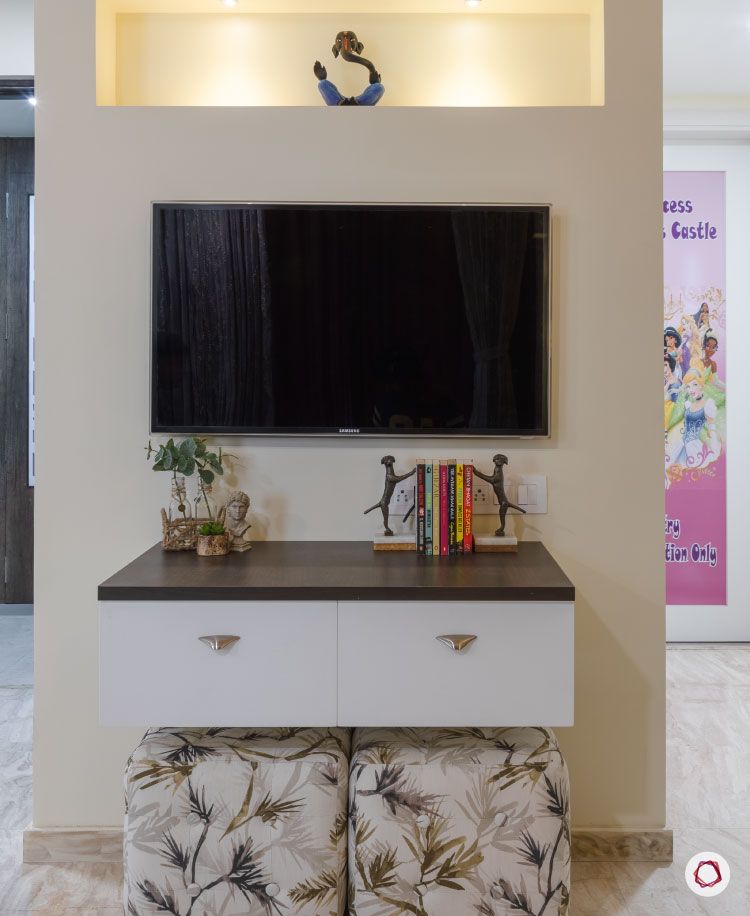 The rest of the living room is a style statement with electric blue Cassandra sofas picked up by the couple with a matching bench on the side. Strategically placed by Jaya, this bench makes sure that it doesn't interfere with the breathtaking view from the balcony. Also, it's always a good idea to have an assortment of seating options in your living area when you have few members in the family, but a lot of get-togethers. The two ottomans can just slide under the wall mounted TV unit when not in use. Saves space and serves the purpose!
Set in Cream at Hiranandani Thane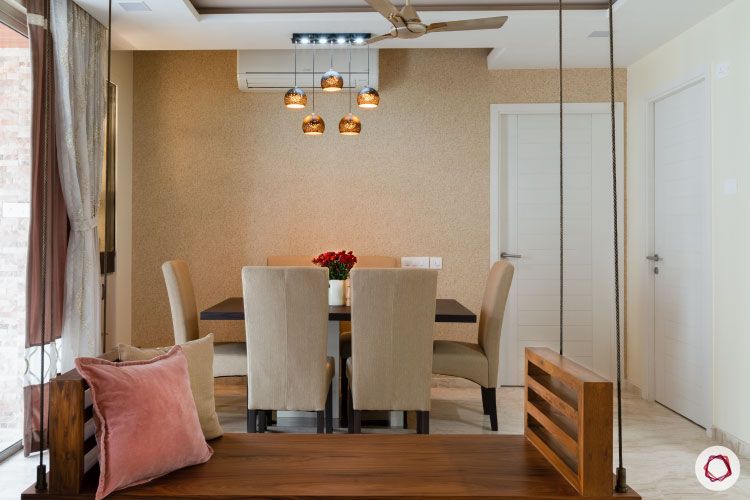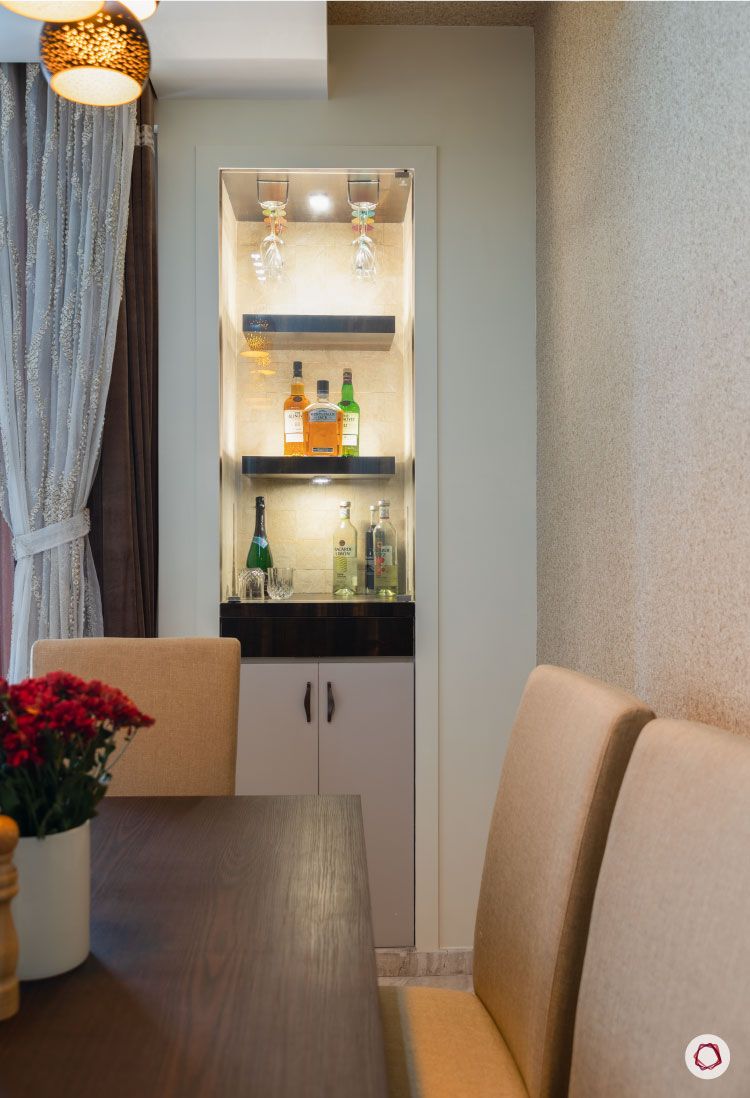 There's something about having a swing right in the centre of the living and the dining area. It breaks the room intelligently and the allows the family to face either way while they perch themselves on it. The dining room is a subtle style statement with a wooden dining table that matches the swing and beige chairs that blend in.
One striking feature in this area is the bar unit that is set inside a duct that runs in the wall. Making smart use of this dead space, Jaya gave the couple a mini bar area with ledge and spotlights to highlight it. It also features a pull-out mechanism that acts as a mini table where they can stand and enjoy a drink or two. So interesting!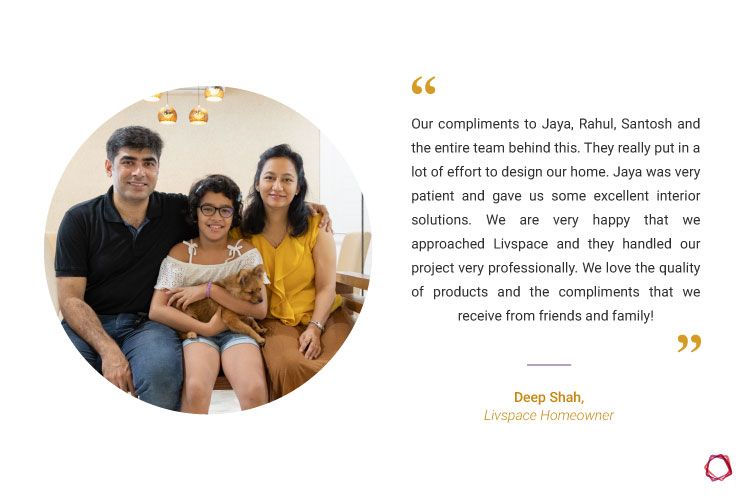 Fully-equipped Modular Kitchen at Hiranandani Thane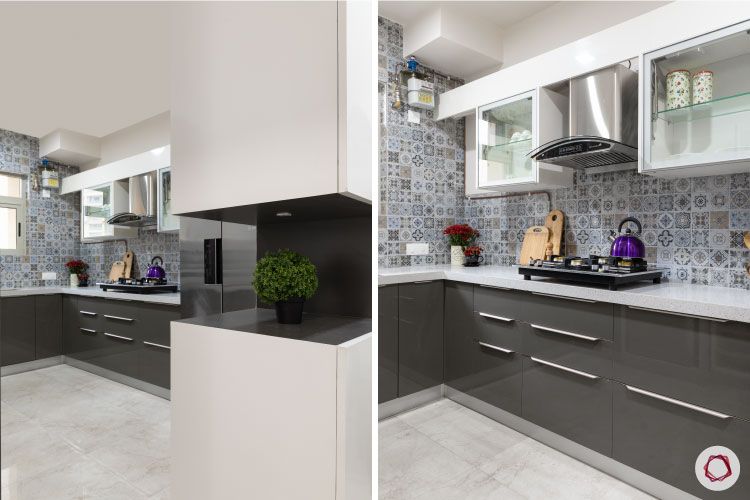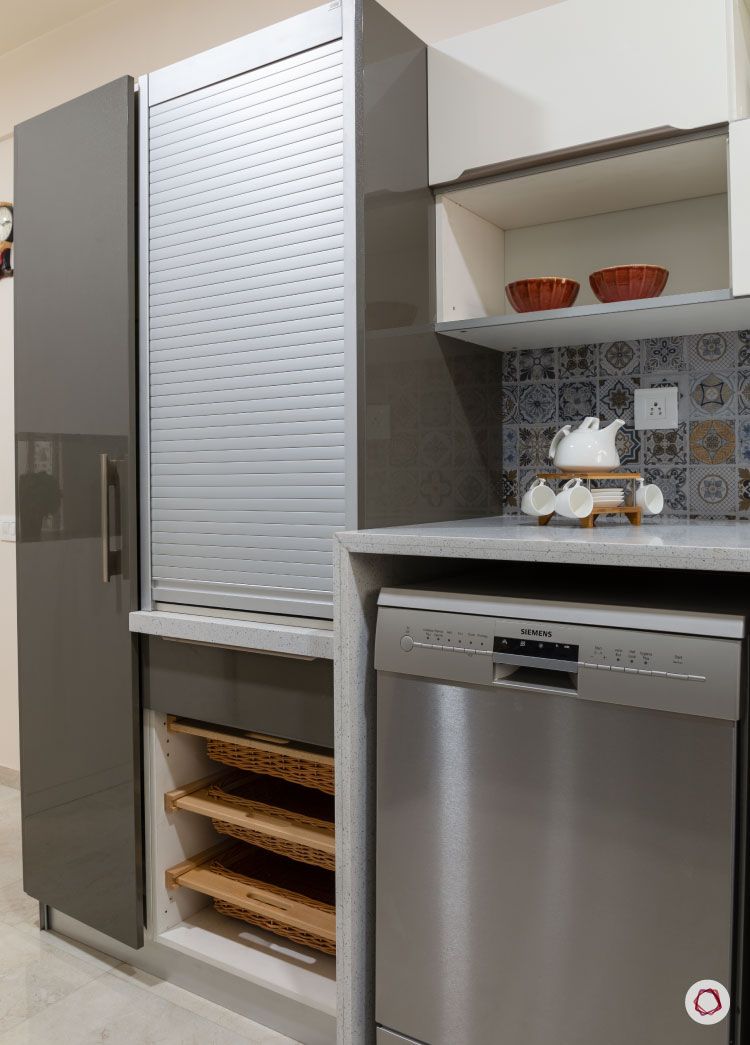 Since they are a working couple and do not find a lot of time at hand, this kitchen is mostly used by the help at home. Therefore, Jaya decided to keep the base unit darker in colour, so that they do not get stained easily. This kitchen had to be low maintenance, so the countertop wears quartz, which can be cleaned easily.
The backsplash is adorned by Moroccan design inspired tiles and the rest of the kitchen features all the basic elements of a modular kitchen. From drawers to wicker baskets and a roller shutter unit that houses their numerous appliances, this kitchen is fully loaded.
A Room for the Princess at Hiranandani Thane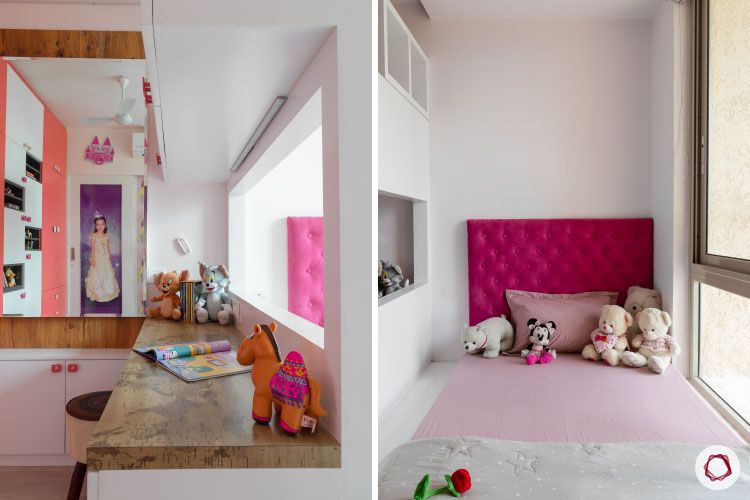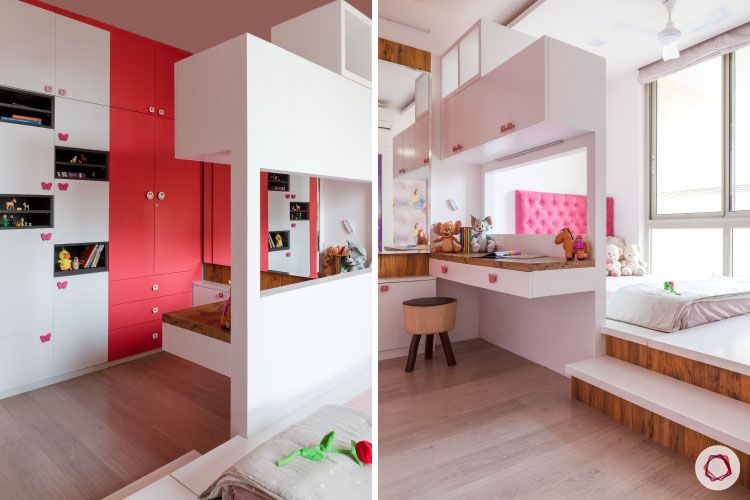 This room is as sweet as the name of the little girl who owns it — Mishti. When Jaya quizzed her about what she likes and dislikes, she revealed that she loves pink and that her room should be doused in it. Jaya had to oblige, but with her excellent taste in designing, she made sure that pink does not overpower the look of the room. It has been played down with white and wood.
In conversation, Deep mentioned that this was one the smallest rooms at home, and they were worried how it would turn out to be. And to their surprise, this is the room with maximum storage! Jaya was applauded for suggesting this platform bed with storage underneath, that the couple didn't even know existed. She also planned the layout in such a way that Mishti gets separate zones for sleeping and studying/playing. With ample storage in the wardrobe and a full length mirror, this room is perfect for a growing girl.
Purely for Entertainment at Hiranandani Thane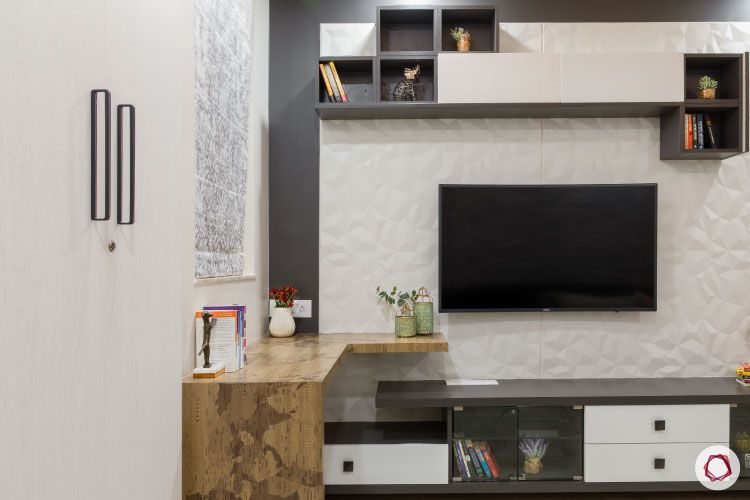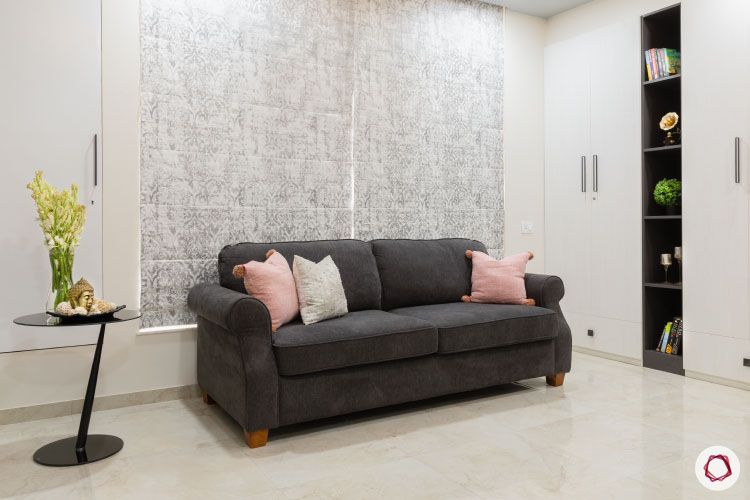 You have to see this to believe it! The couple likes to restrict their entertainment purely to the entertainment room, where they can binge watch movies and sitcoms. So, Jaya gave them a sofa-cum-bed in this room, which does not look like one in the first go. It opens up into a bed when they have guests over. Also, this is where they have an elaborate TV unit, complete with shelves and racks that hold all their gaming, movies and series collection.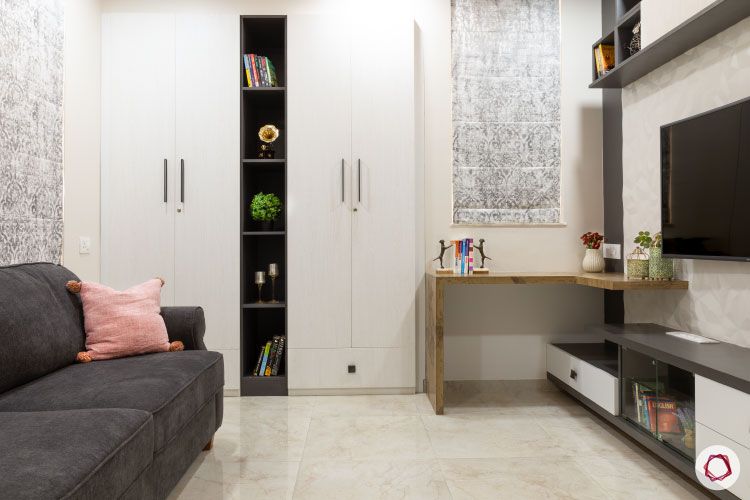 A small ledge makes its way into this room, that acts as a cozy area for the rare times when the couple need to work from home. The wardrobes with niches have ample storage space that are an added advantage for them.
Dotted with Colour at Hiranandani Thane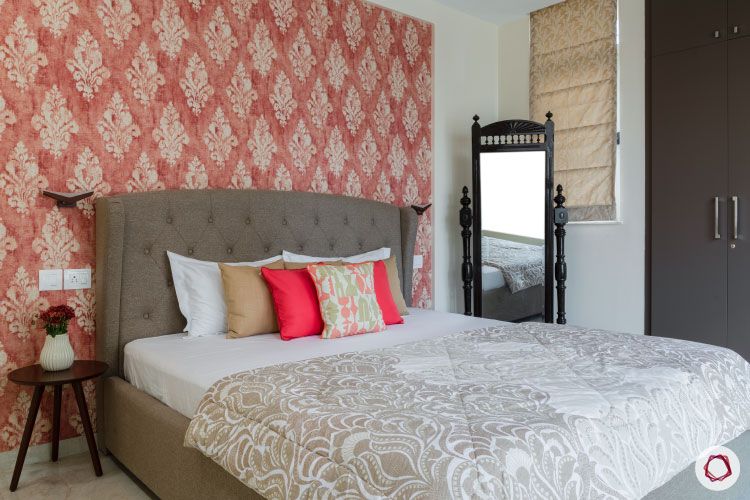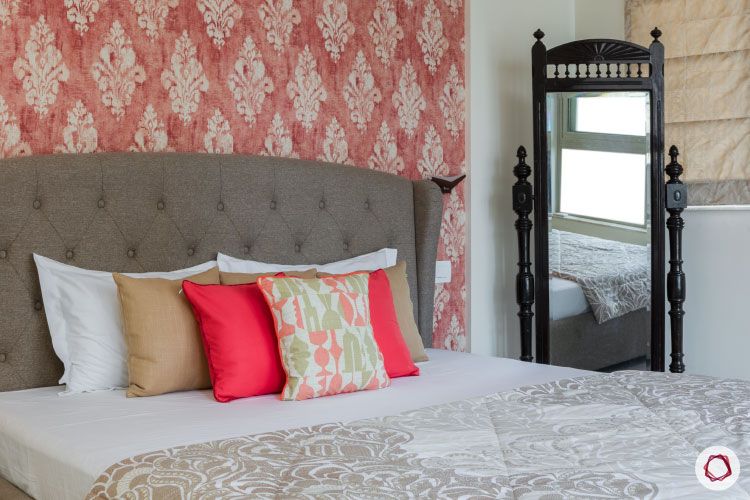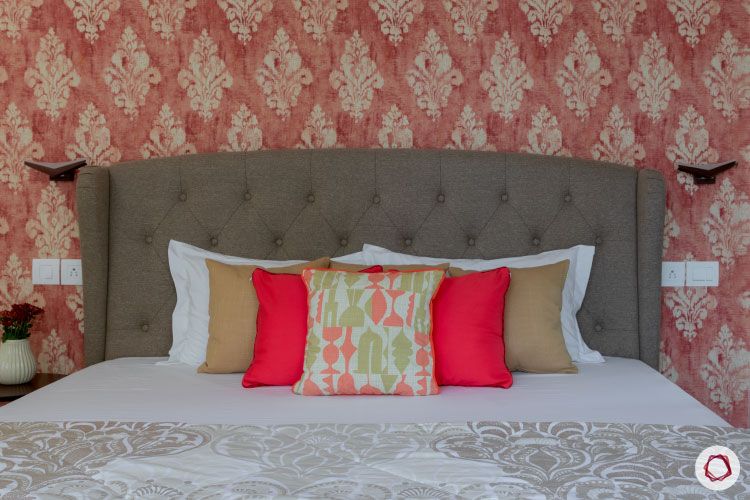 The master bedroom looks so different from the rest of the rooms in this 3BHK, that we have fallen in love with it. What's the first thing you notice when you walk into this bedroom? Is it the striking wall? Or is it the statement mirror? Well, we have our eyes all over the place for all the right reasons.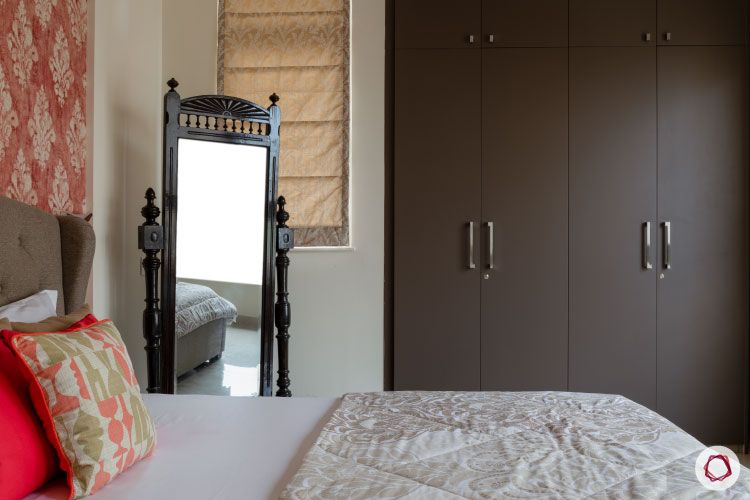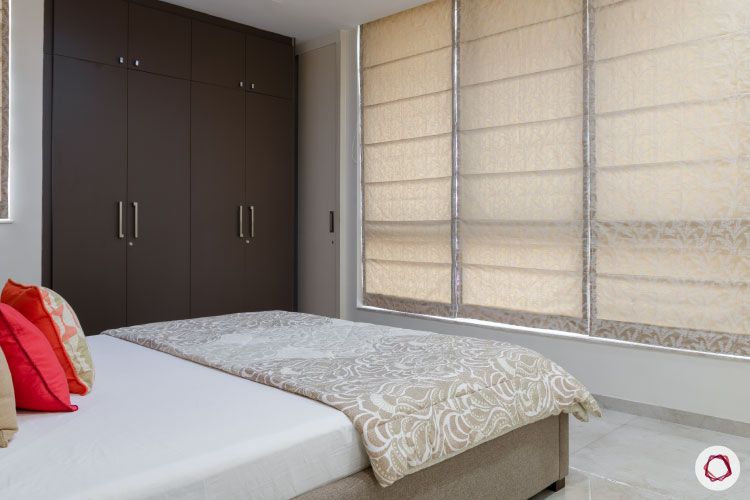 We love how Jaya has blended the heritage mirror into the modern design in here. Matching walnut finishes on the wardrobe and a rather earthy finish upholstery for the bed maintain the design flow in this room.
"This was my first project with Livspace and I must say, I enjoyed a lot. Both, Swati and Deep were really involved and took active part in designing their home. That helped me a big deal and I could churn out designs that they would like. The challenge was to cover up the ducts and turn them into smart spaces. The couple cooperated with us and gave us ample time for everything."
Jaya Hansrajani, Interior Designer, Livspace
Looking for designs in the same society? Look at this 4BHK Hiranandani Home Dipped in Shades of Red.
Send in your comments and suggestions.