Functional furniture is a necessity, but an expensive one! This statement is a myth. The best furniture designs are those that fit both your requirements and your budget. If you're looking for smart modular furniture designs under budget for your home, you have come to the right place. We have curated a list of 16 such masterpieces that meet all your storage requirements and don't burden your budget at the same time. For your convenience, you can also find these modular furniture designs with their prices given below.
Modular Furniture Designs Under Budget for Living Rooms
We, as Indians, tend to splurge on maximalist designs in our living rooms to impress our guests. But what if we told you there are other minimalist and eccentric modular furniture designs under budget that you can opt for?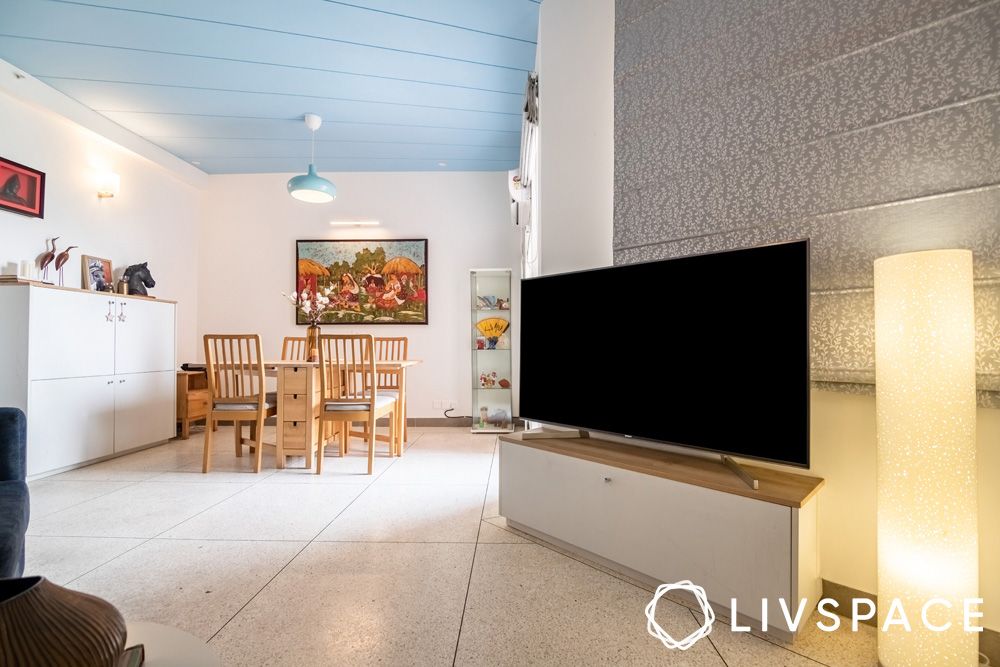 A simple modular tv unit design with a base cabinet and a laminated top. It has simple and economical laminates on it that are not only durable but also easy to maintain.
Cost of TV Unit: ₹14K
Check out TV unit designs: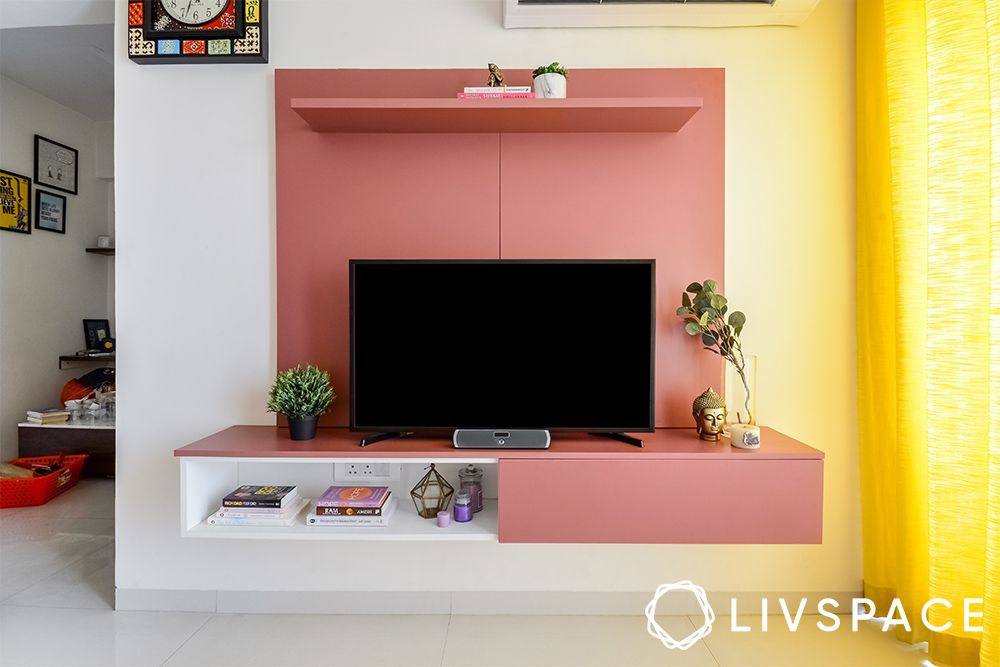 This is a Livspace catalogue design that comes in pre-set sizes and modules and hence, is cheaper than custom-made alternatives. You can choose laminates as you see fit to curate a design that's best for your home.
Cost of TV Unit: ₹23K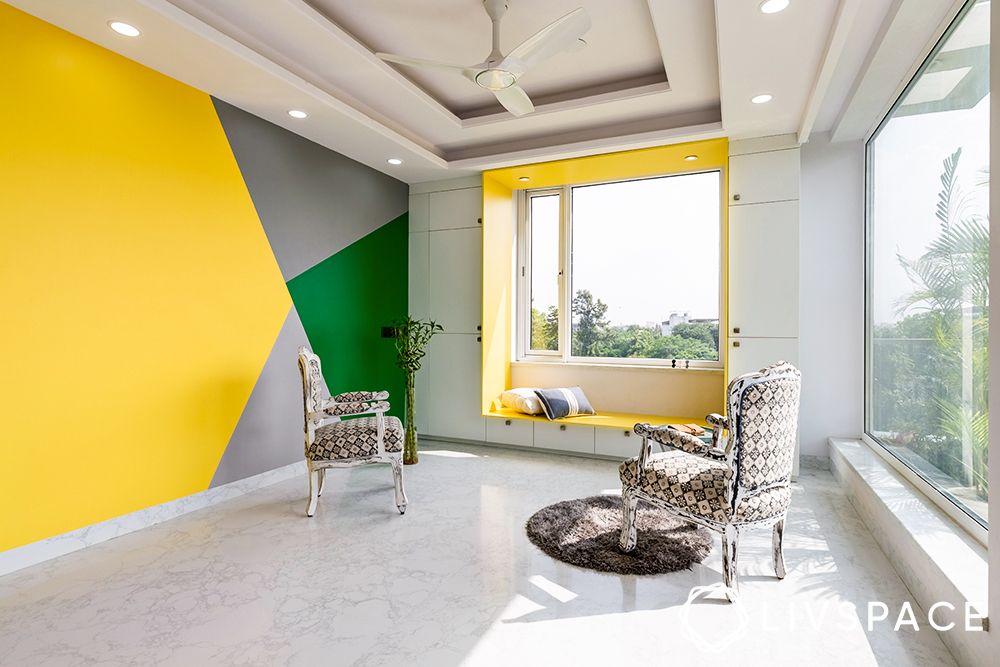 Many of us have begun to spend more time outside our bedrooms. And for Kanu Priya, who likes to read her books while basking in this fabulous view of Gurgaon city, a full-height bay window seating with plenty of storage made perfect sense.
Cost of window seating and storage: ₹1 lakh
Modular Furniture Designs Under Budget for Foyers
These days, foyers are required to have some storage space so that you and your guests can keep your shoes, coats or umbrellas near the entrance itself. This way you are less likely to forget these essential items when leaving in a hurry.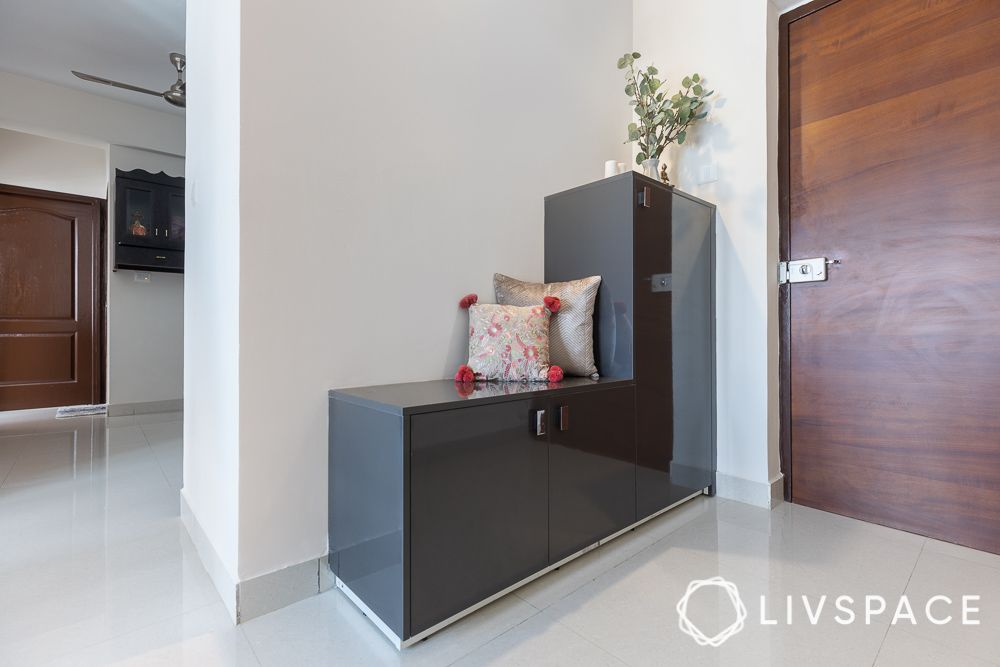 This shoe rack is a clever combination of a mid-tall unit and a small cabinet, to make room for some seating as well. It has glossy laminates which keep it looking new and classy.
Cost of shoe rack: ₹35K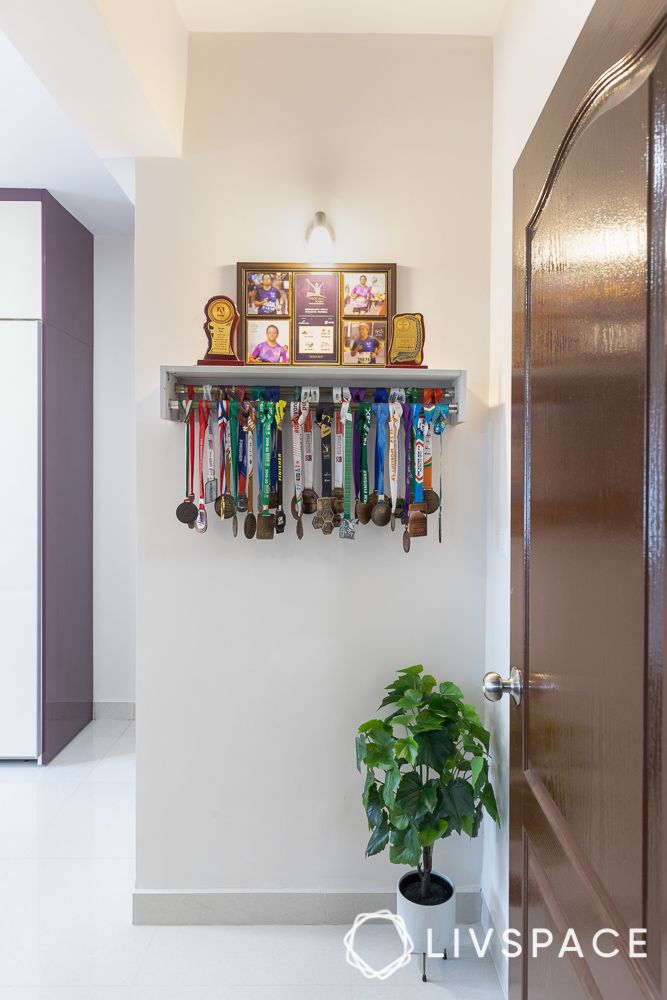 Deepa Roy didn't want the spare material for her interior to go to waste and hence asked for this modular unit to be made out of the leftovers for her medals and trophies.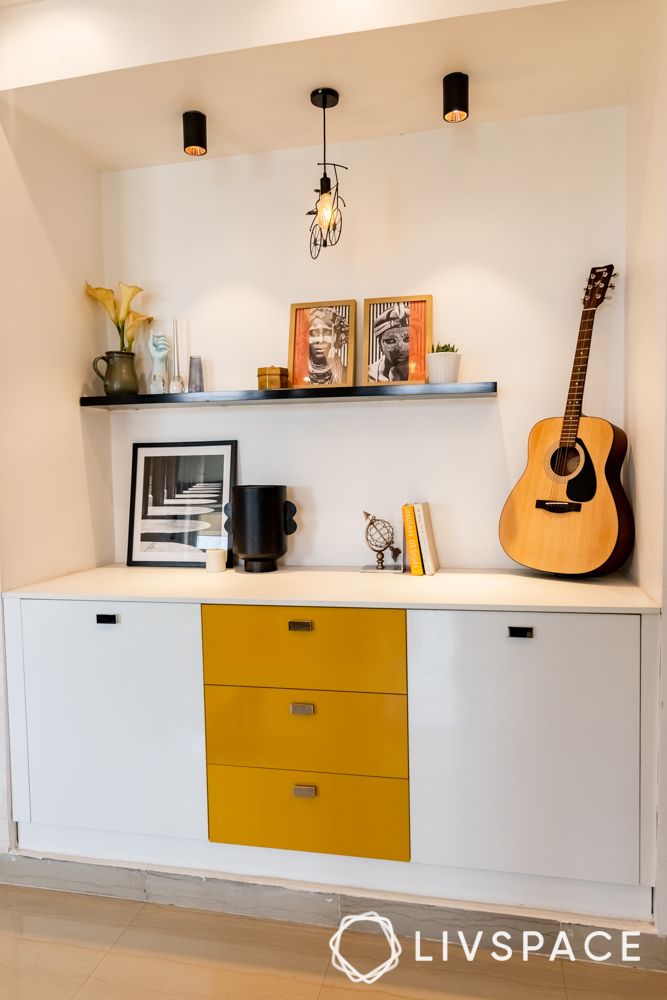 This foyer design is a great idea for compact homes where there may not be enough space to fit display units. You can use such modular furniture designs under budget to make up for the lack of space. For instance, this unit has both open and closed storage and is finished in a combination of laminates for a warm and appealing look.
Cost of modular storage for entrance: ₹59K
Modular Furniture Designs Under Budget for Kitchens
It is recommended you opt for a combination of kitchen modules to get modern modular furniture for your home. This is because building the same modules throughout your kitchen can give a mundane look and also restrict your activities. Separate stand-alone units distribute your tasks in various corners of your kitchen, thereby making it easier for many people to use them at once.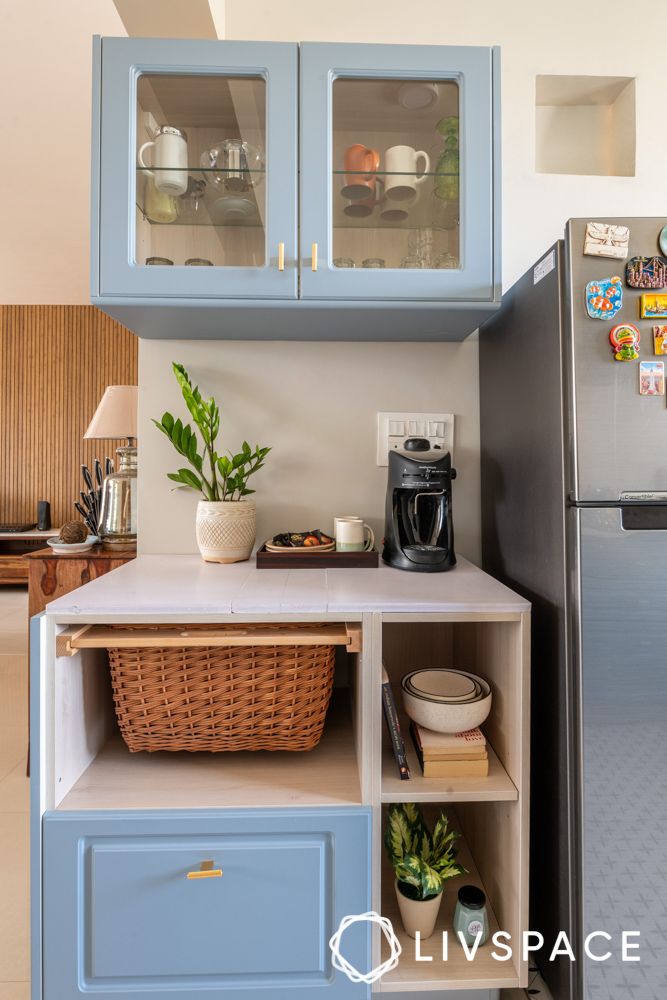 This pantry unit, which also doubles as a serving station, has a wicker basket, a closed drawer, a slim open cabinet, a wall cabinet with glass shutters and a stone countertop. Hence, it acts as a crockery storage, pantry unit and serving station as well. You can choose cheaper finishes like laminates to reduce the price of this unit substantially.
Cost of pantry unit (membrane finish): ₹65K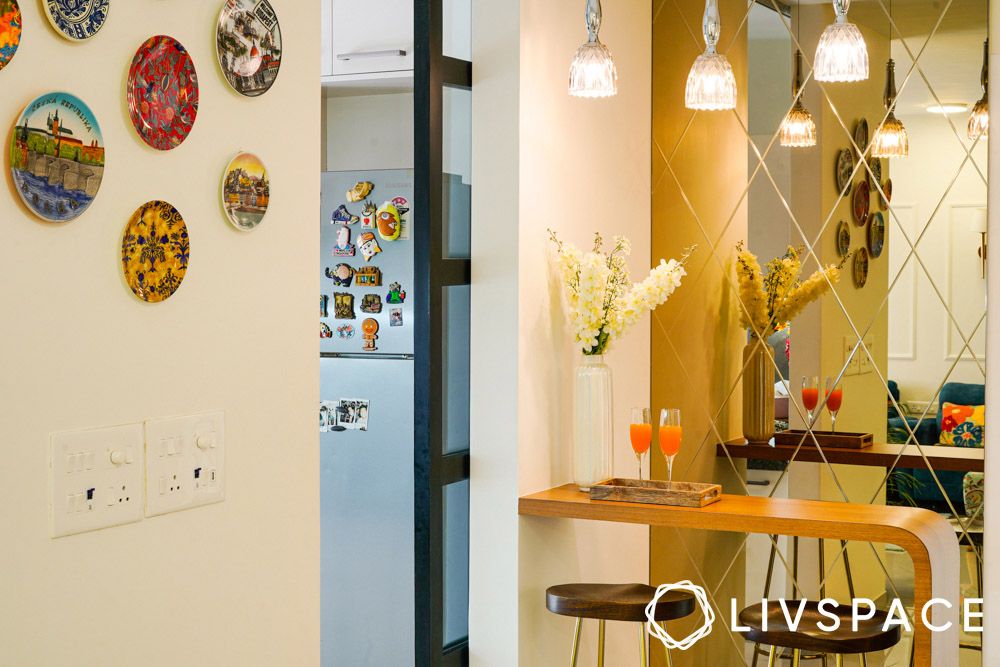 This bar table, which can also be used as a breakfast counter, is a budgeted yet modern modular furniture for home. It has natural-wood finish laminate on it to maintain that warm vibe of the space.
Cost of modular bar table: ₹22K
Modular Furniture Designs Under Budget for Kids' Rooms
Kids' bedrooms can be tricky when it comes to choosing modular furniture under budget. Most furniture sets for kids' rooms are expensive as they are specially designed to be space-saving. And the reason for this is that kids need a lot of free space, and with furniture that is spread across the room, they are liable to get hurt while playing. Hence here are some space-saving modular furniture designs under budget for you.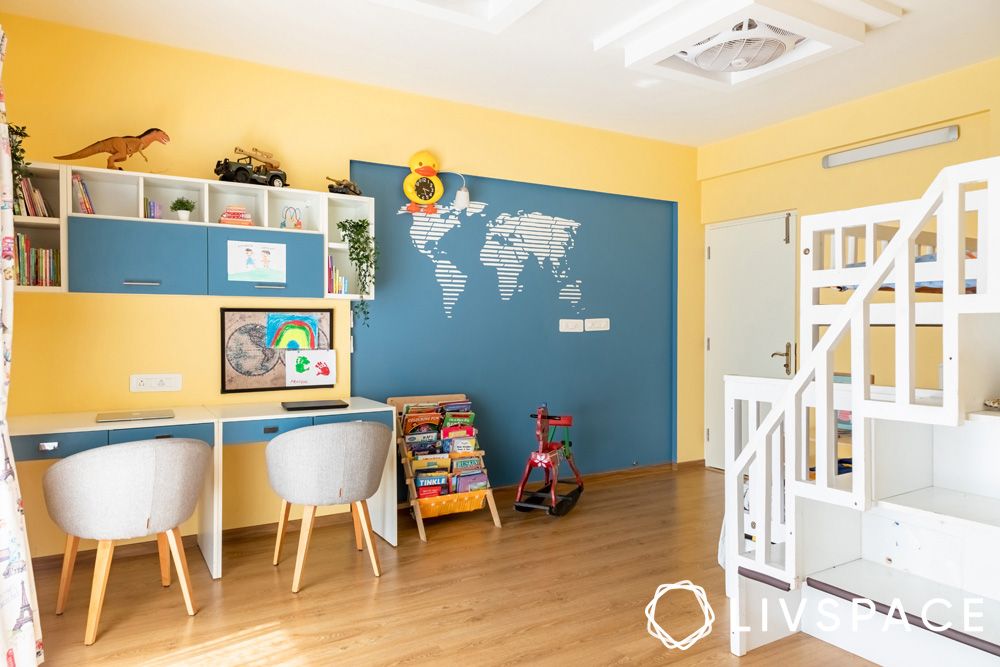 This study table, finished in plain laminates, has a combination of open and closed units to help the kids reach and store their belongings safely. Moreover, open cabinets make it easier for your kids to access their belongings anytime that they need. This will keep them busy and they will have more control on their choice of activities.
Cost of modular twin study table: ₹41K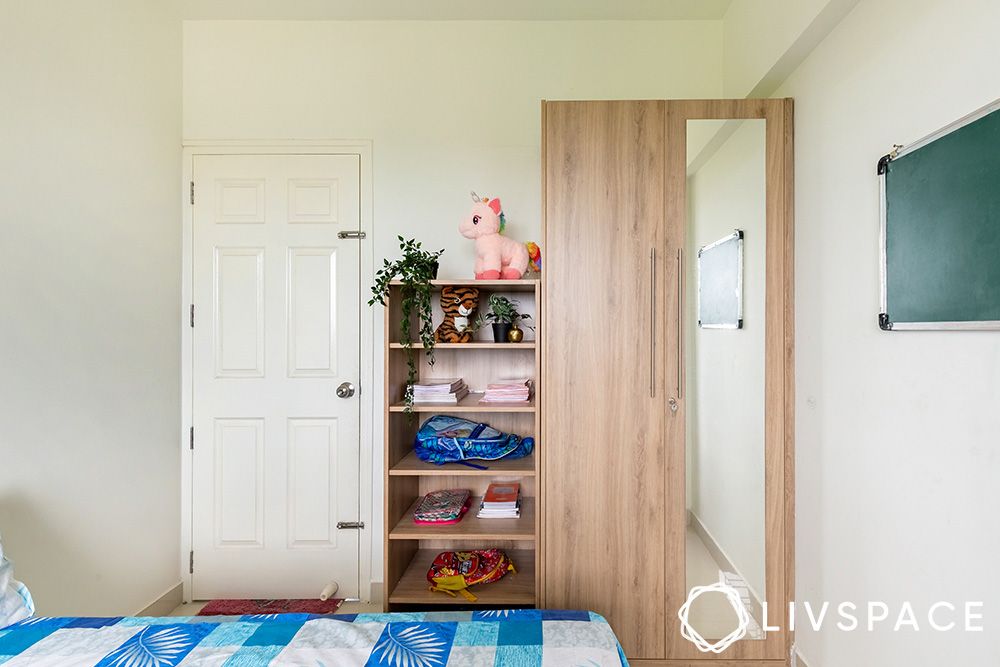 We know that making your kids maintain their wardrobes can be challenging. Hence, open mid-tall cabinets like these can help you train your kids better. They can reach the cabinets easily and you too will find that these cabinets are much easier to organise.
Cost of open mid-tall unit: ₹14K
Cost of double-door wardrobe: ₹41K
Modular Furniture Designs for Home Offices
It is unnecessary to point out the need for home offices these days; they have become essential modular furniture now. Take a look at some of these home offices and desks that have enough storage near-by to keep you laser-focused during your work hours.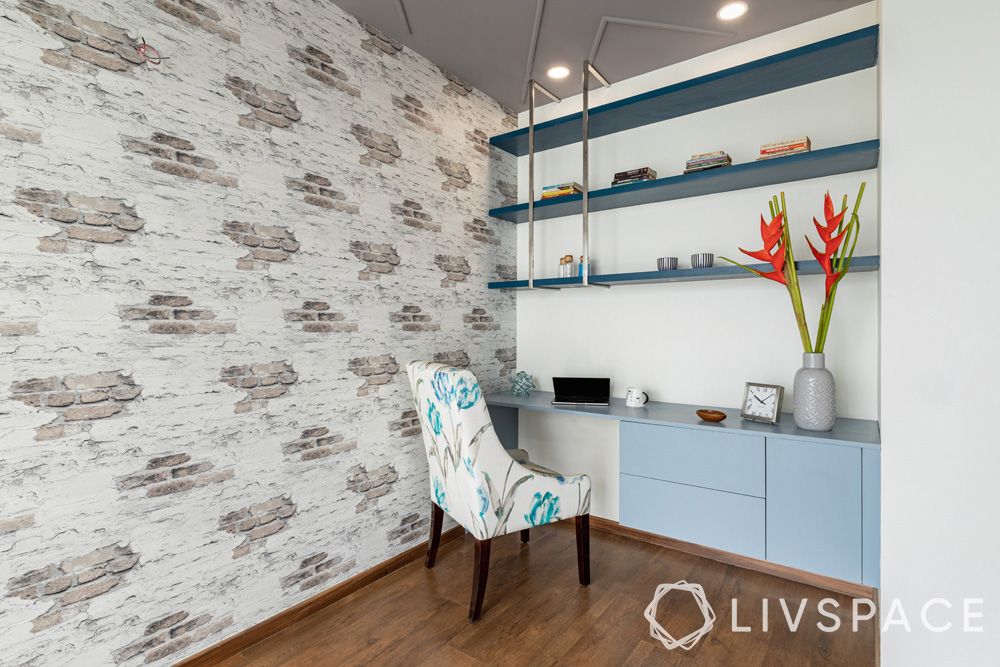 This desk for Himanshu, apart from the worktop and under-cabinets, also has three full-width ledges to add more storage. You can either opt for them or buy this desk without the ledges and hang a soft board instead to support your daily tasks.
Cost of the desk and under-cabinets: ₹26K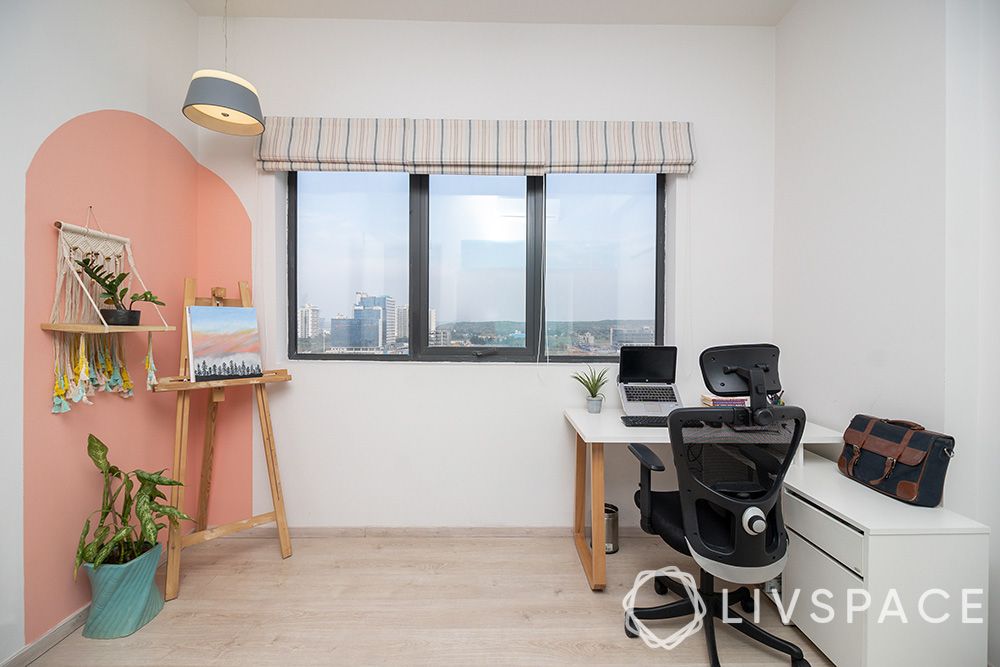 For compact rooms, an L-shaped desk like this is more layout-friendly. It has affordable laminate finishes and doesn't require a lot of maintenance despite its white colour.
Cost of L-shaped study table: ₹46K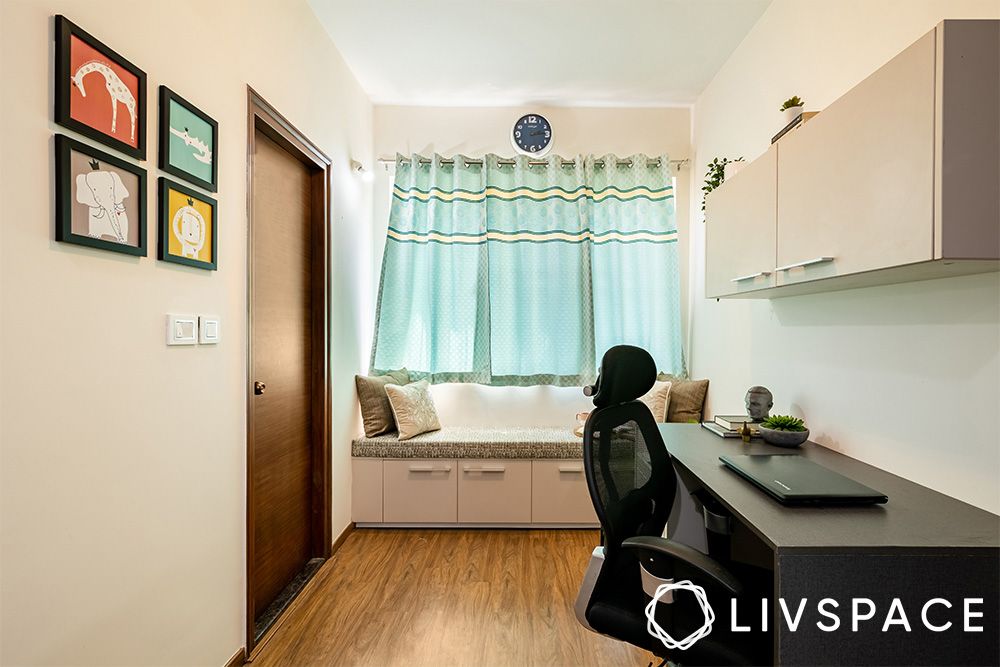 For those of you who love to stretch for a bit in between your work, you can opt for a relaxing seat like this that also has storage. The seats come for around ₹31K, and then there's the table with a bottom cabinet and two top lift-up cabinets.
Cost of modular home office furniture with seating: ₹53K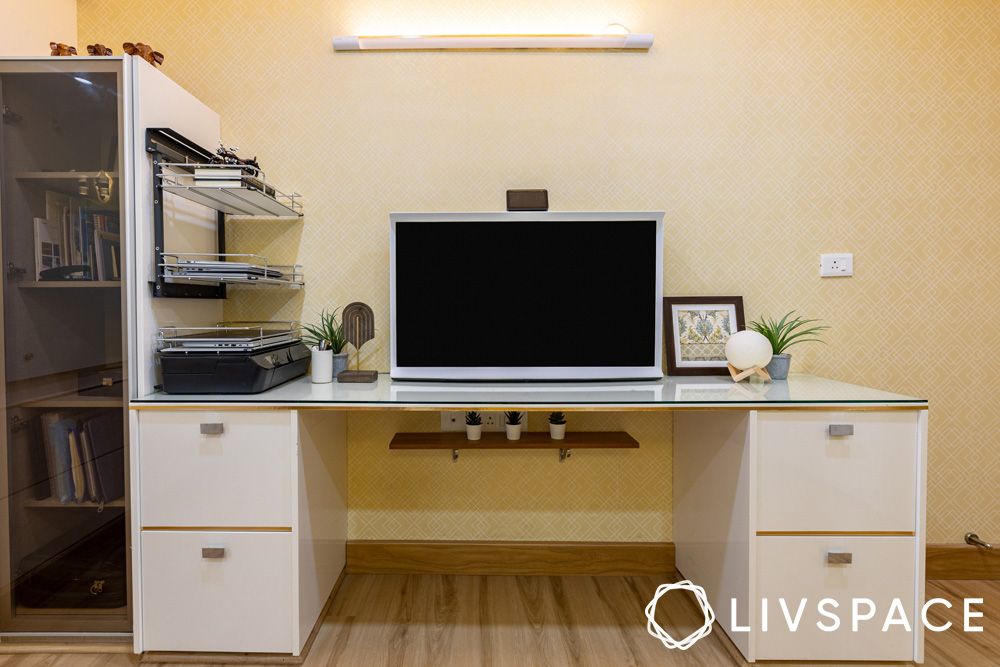 This neatly organised desk with distinct storage modules also has plain laminate finishes. The glass cabinet on the left is for storing reading material while the drawers are for your other files and folders. There is also the glass top placed over the primary ply, and a small ledge near the switchboard to organise wires and secondary extension boards.
Cost of study table: ₹87K
Modular Furniture Designs Under Budget for Bathrooms
Yes, modular furniture is not limited to your kitchen, living, dining rooms and bedrooms. There are some amazing durable and clever bathroom storage ideas like these: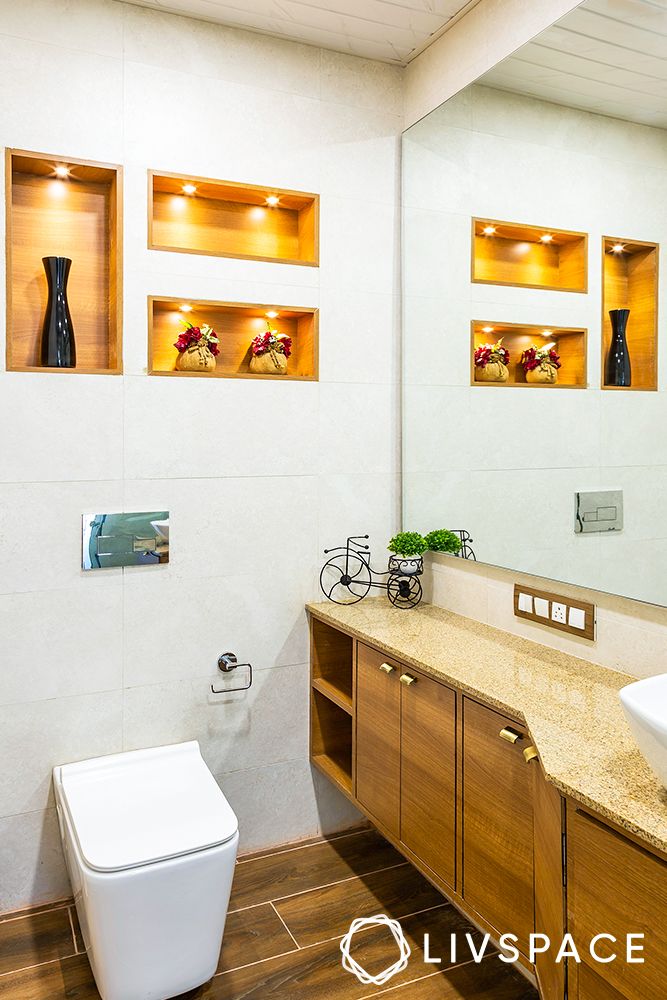 This is a simple and cost-effective way to add storage to your bathroom. These niches are best for shower areas as well. They are made of plywood and laminates to avoid any damage that moisture may cause.
Cost of niche storage: ₹2,100 each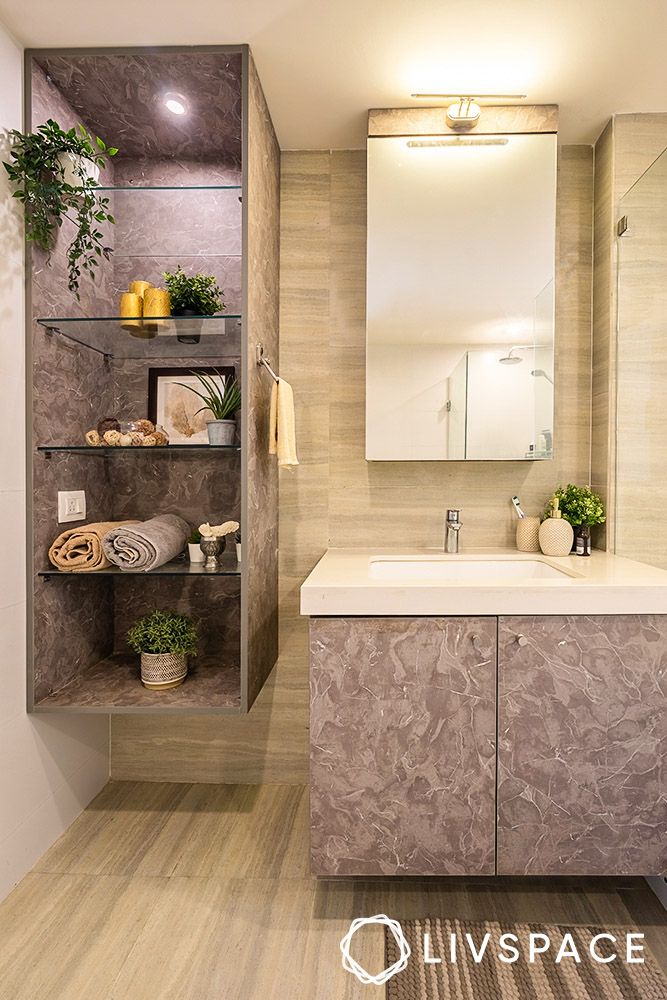 These storage-compliant bathroom ideas take things up a notch with the wall-mounted open cabinet. It is best for master and guest bathrooms where all the essentials may be stored inside the bathrooms themselves.
Cost of wall-mounted open shelf: ₹32K
Cost of vanity unit (under the sink): ₹22K
We hope these modular furniture designs under budget have given you a better idea of how to divide your budget to meet all your storage needs. If you are looking for more modular furniture designs with prices, read: 9 Must-Have Modular Kitchen Fittings With Price From Real Livspace Homes.
How Can Livspace Help You?
If you want your home to be just as beautiful, then look no further. Book an online consultation with Livspace today.
We love hearing from you! Write to us with your comments and suggestions at editor@livspace.com