What does it take for your kitchen renovation to look contemporary and timeless at the same time? Well, for Uma's L-shaped kitchen interior design for Sobha Winchester in Chennai, it took careful deliberation on where to save and splurge her money. She, along with our Livspace designer, Lakshmi Priya, sensibly prioritised different aspects of her kitchen which resulted in this trendy and long-lasting design. Let's find out how they made this possible.
---
Who Livs here: Bhavani Prasad, Uma and their family
Location: Sobha Winchester, Kovilambakkam, Chennai
Size of home: A kitchen spanning 100 sq. ft. approximately
Design team: Interior Designer Lakshmi Priya and Project Manager Adeshram
Livspace service: Kitchen renovation
Budget: ₹
---
IN A NUTSHELL


Brief
To design a well-lit and easy-to-maintain kitchen that is storage-compliant and spacious at the same time

What We Loved
The all-white cabinetry of the kitchen

Look Out For
– The loft to add extra storage
– The modular units to keep the small kitchen organised

Smart Buy
The mountable plate rack and cup holder


What Elements Make the Kitchen Contemporary and Easy To Maintain?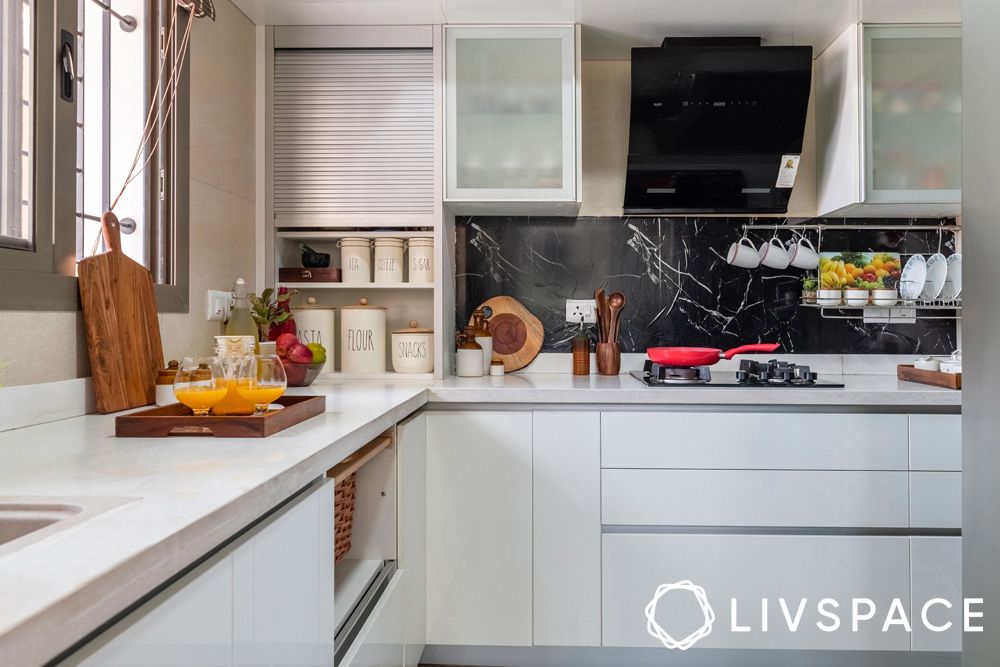 Evidently, the all-white cabinetry makes this kitchen look timelessly contemporary. And the white, engineered Kalinga Stone countertop adds to its effect.
Despite the popular presumption that whites are difficult to maintain, the whites in this kitchen are fairly easy to maintain. This is because Uma chose to splurge on the acrylic shutters for the base cabinets that can be cleaned with a single wipe.
Additionally, the modern-day modular units like the integrated hob unit, the glass shutters or the gola profile handles also make her L-shaped kitchen interior design for Sobha Winchester in Chennai look trendy.
What Are the Modular Fittings Included in the Kitchen?
Since Uma wasn't always going to be able to take care of the kitchen herself, she needed modular fittings that would keep it looking tidy at all times. So, Lakshmi suggested a few that could save her time and effort in organising the kitchen. Here are some of them:
The Tambor Unit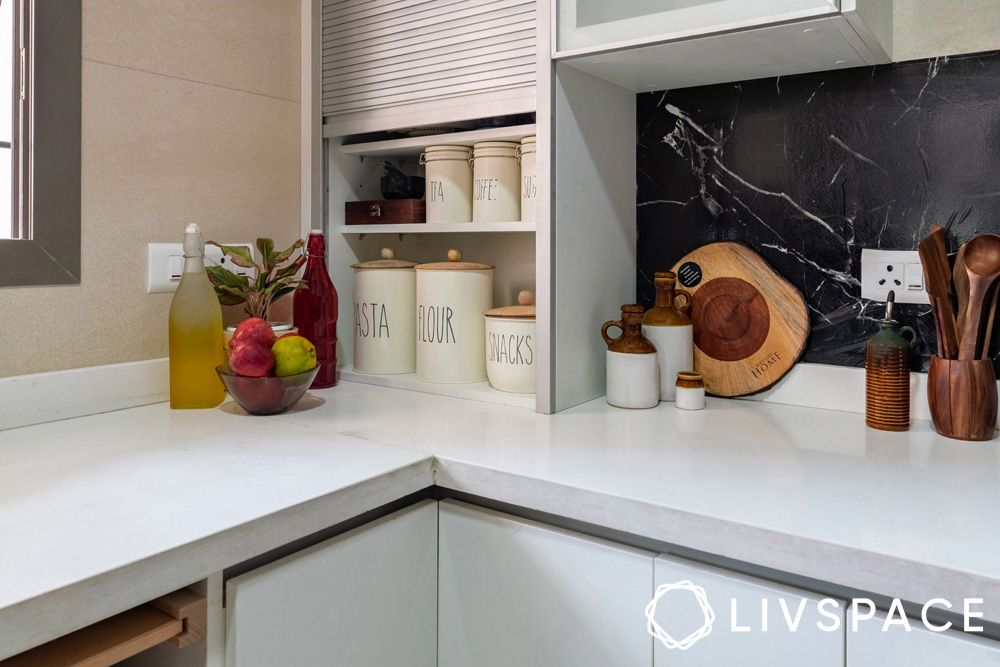 Worktop units, such as this Tambor unit, have helped Uma put away the frequently-used jars and other items that she keeps on the counter. As a result, her countertop looks clean and she has more space to work.
The Wicker Basket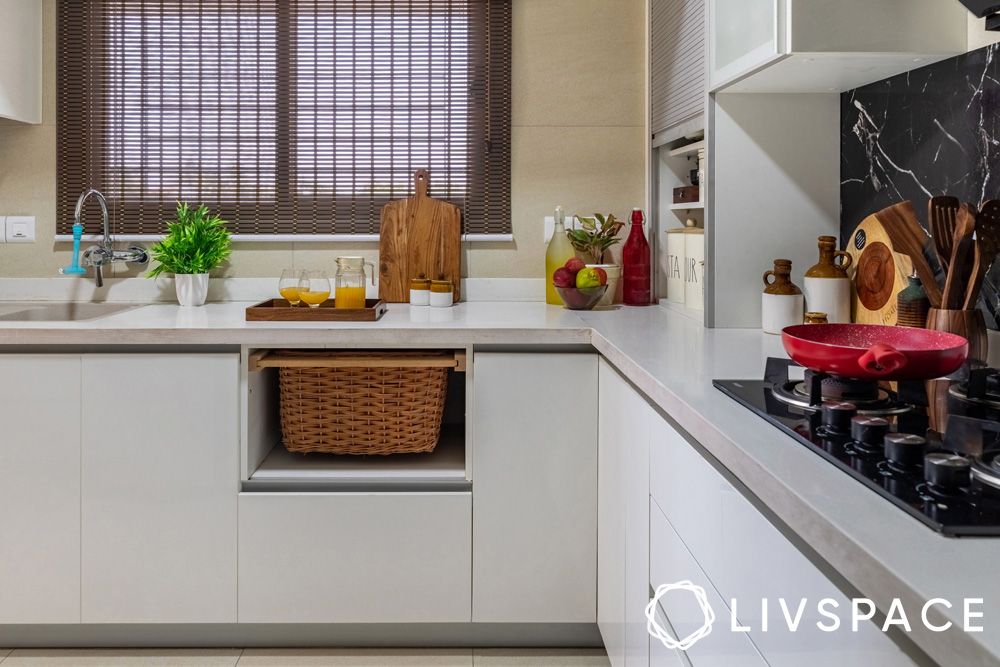 Uma uses the wicker basket to store vegetables that need good ventilation to stay fresh and edible. She chose this unit because it is well-ventilated and open, and it also has a pull-out PVC basket that is easy to access.
The Aquaguard Unit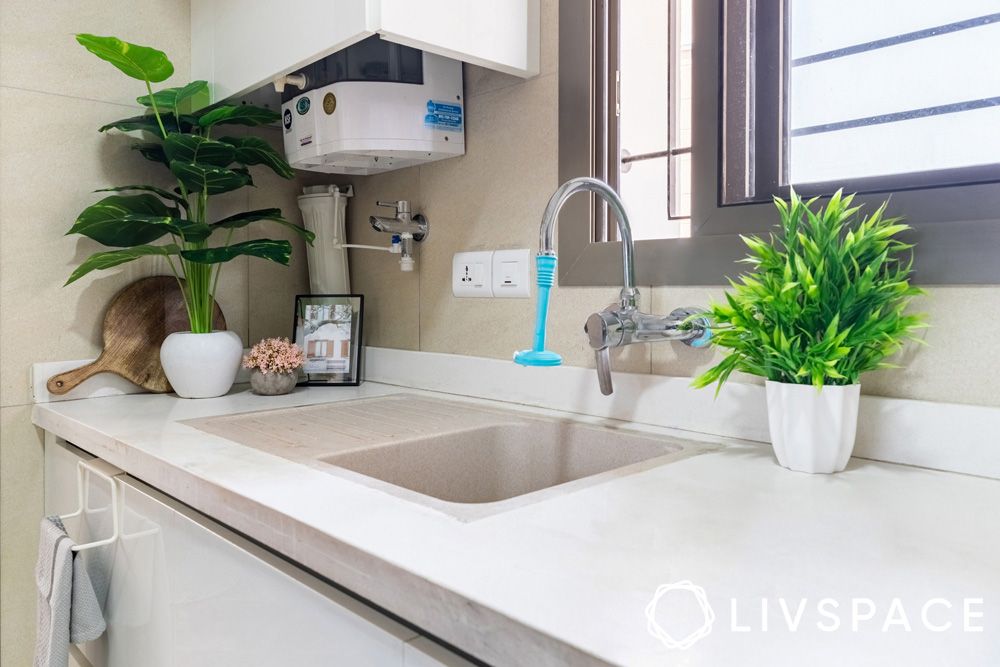 Like any of us, Uma didn't want to compromise on the looks of her L-shaped kitchen interior design for Sobha Winchester, just because of an exposed water purifier. So, she got this wall unit that helps her purifier blend in with the rest of the wall cabinets for a more appealing look. Additionally, it also protects her water purifier from the dust that accumulates on a daily basis.
How Did We Make This L-Shaped Kitchen Storage-Compliant?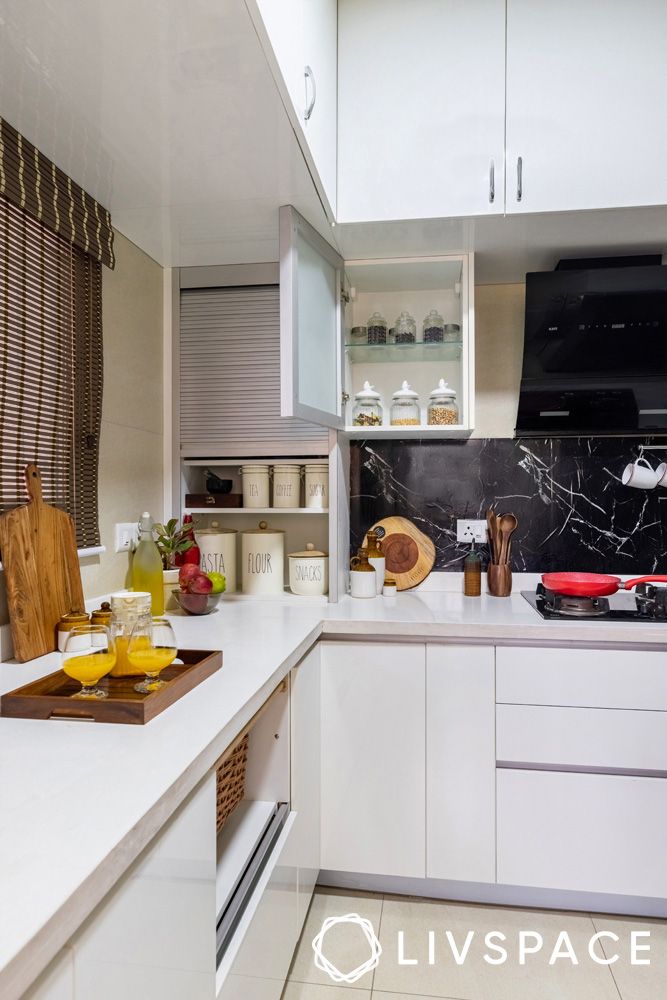 L-shaped kitchens are often compact and the users end up feeling the need to create more space. This is why Lakshmi added lofts over the wall cabinets to increase the closed storage space inside Uma's kitchen.
However, Lakshmi also informed Uma that adding lofts could make her kitchen look crowded. To resolve this issue, she suggested light colours like white for the laminates and countertop to keep it looking spacious and bright. Needless to say, Uma has benefited enormously from this advice.
Apart from this, in this L-shaped kitchen interior design in Chennai, Lakshmi added the Luzy Corner unit that helps utilise the corner space. Corner space, especially in such kitchen layouts, remains unused as it is difficult to access. But with modular units like the Luzy Corner, Uma can still access this space easily and even use it often.
Where Did This L-Shaped Kitchen Interior Design for Sobha Winchester Save Money?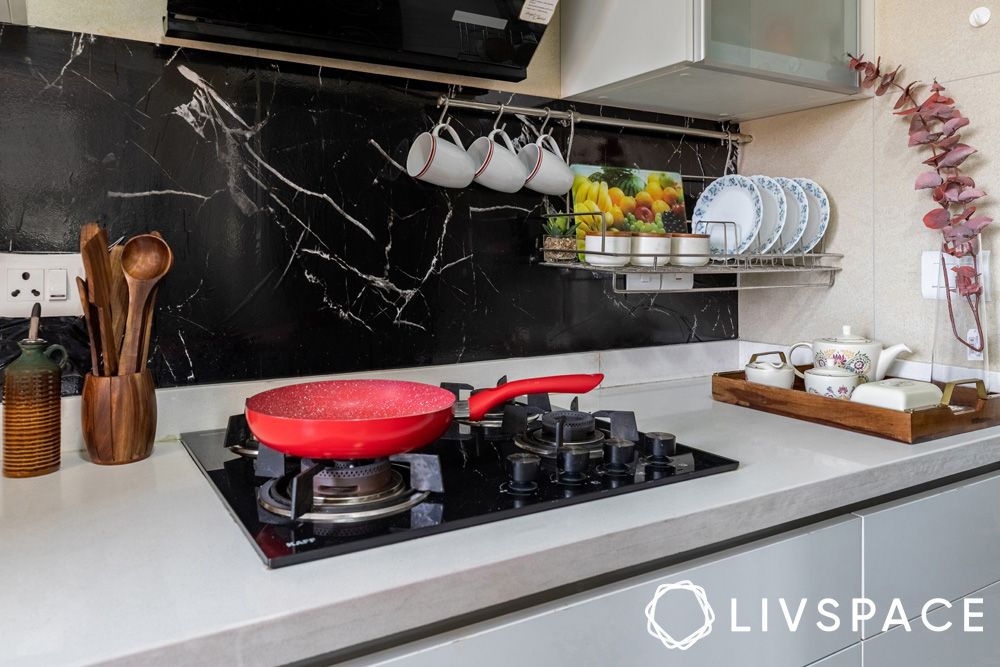 There are more ways than one in which our designer has managed to save Uma's money. For instance, these stainless-steel holders that have been mounted on Uma's kitchen wall are more economical; they are available in the market for less than ₹2000. They turned out to be a good substitute to the narrow spice/bottle racks and helped Uma utilise her money wisely.
Moreover, Lakshmi also took extreme care in preserving the wall, floor and backsplash tiles given by the builder. She worked her way around the colour of these tiles to avoid any costly civil work.
But that's not all! When she discovered that the placement of the domestic gas nozzle was not according to vastu principles, she drew a safe extension from the original spot without damaging any of the existing tiles.
As you can see, modular kitchens are more than fancy additions to your homes. They offer many perks that make your kitchens more organised and storage-compliant. We also make personalised and affordable designs, such as this one, to suit all your needs and budgets. What's more, Livspace offers a 10-year warranty on its modular furniture. Don't miss out!
Also Read: 9 Must-Have Modular Kitchen Fittings With Price From Real Livspace Homes.
How Can Livspace Help You?
If you want your kitchen to be just as beautiful, then look no further. Book an online consultation with Livspace today.
We love hearing from you! Write to us with your comments and suggestions at editor@livspace.com