For someone who lives alone, it might be simple to design their home. But when it comes to a family living together and designing their first modern house interior, it can be particularly challenging to meet everyone's requirement. But nothing is impossible with a little bit of creativity and a lot of skill. The Srinivasan family approached us with unique requirements for each of them and we swung into action—after all, we promise to personalise interiors.
In this home tour, we will show you how Rohit and his wife Aanchal had a varying taste in colours and how we gave each of them something they love. Read on to find out how we personalised each room in this 4BHK interior design at Bengaluru's Sobha Forest View apartment.
Room #1: A 'His & Her' bedroom that's perfect for both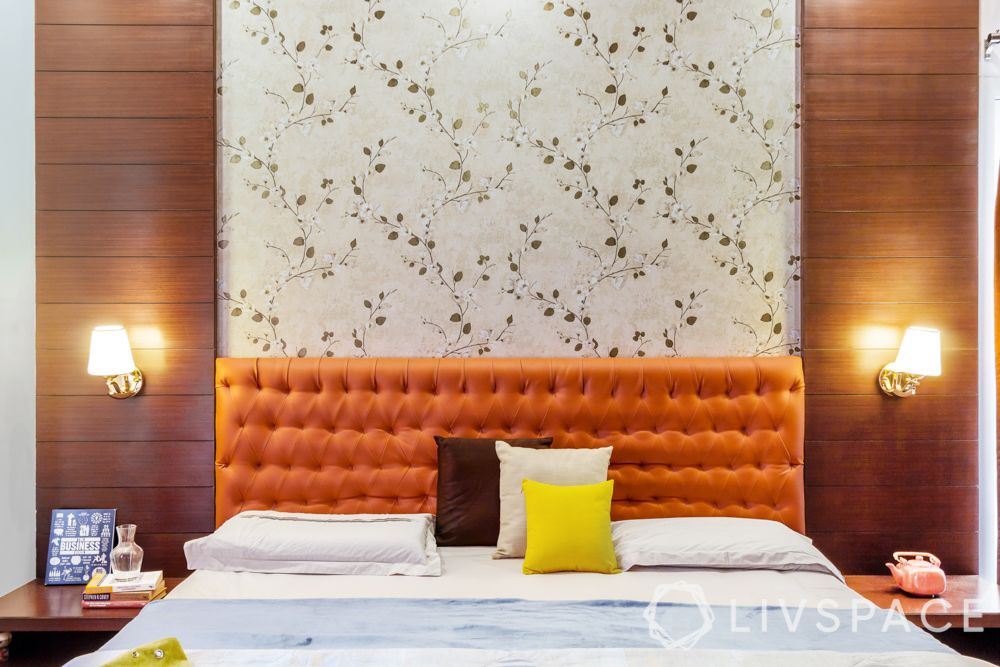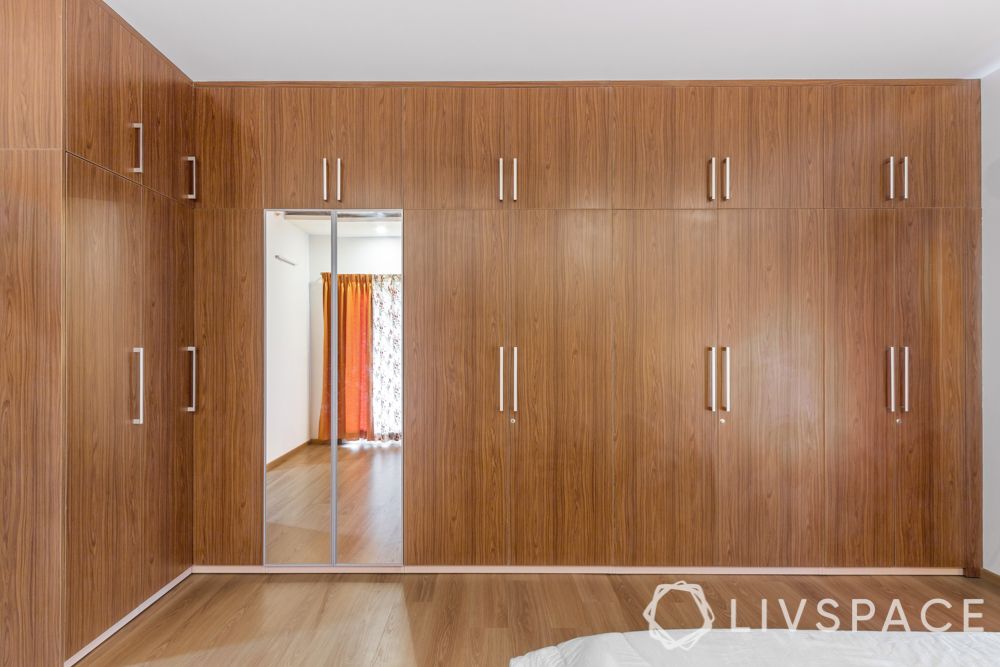 There were a couple of things that Rishab, the designer had to keep in mind while designing the master bedroom. The most important being the colour combination since Rohit and Aanchal had opposite preferences. So, very cleverly, he gave them a predominantly wooden look in the room, with a splash of orange in the headboard and the curtains. This way we found a middle ground for the couple.
Another major requirement for this bedroom was storage. And it shouldn't be a typical wardrobe with conventional storage. So what better solution than an L-shaped wardrobe that utilises corner space most efficiently. And we topped it off with lofts for an extra layer of storage. We put in a mirror as well so that they don't need a separate dresser that would take up more floor space. This way, we gave them their very own personalised bedroom.

Room #2: A study room that doubles up as a chill zone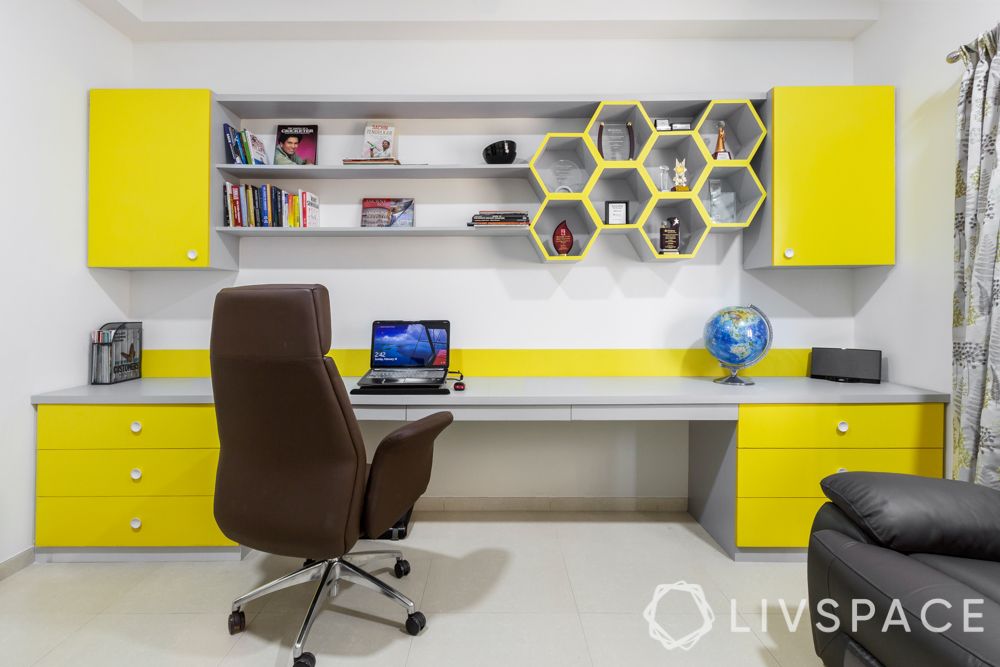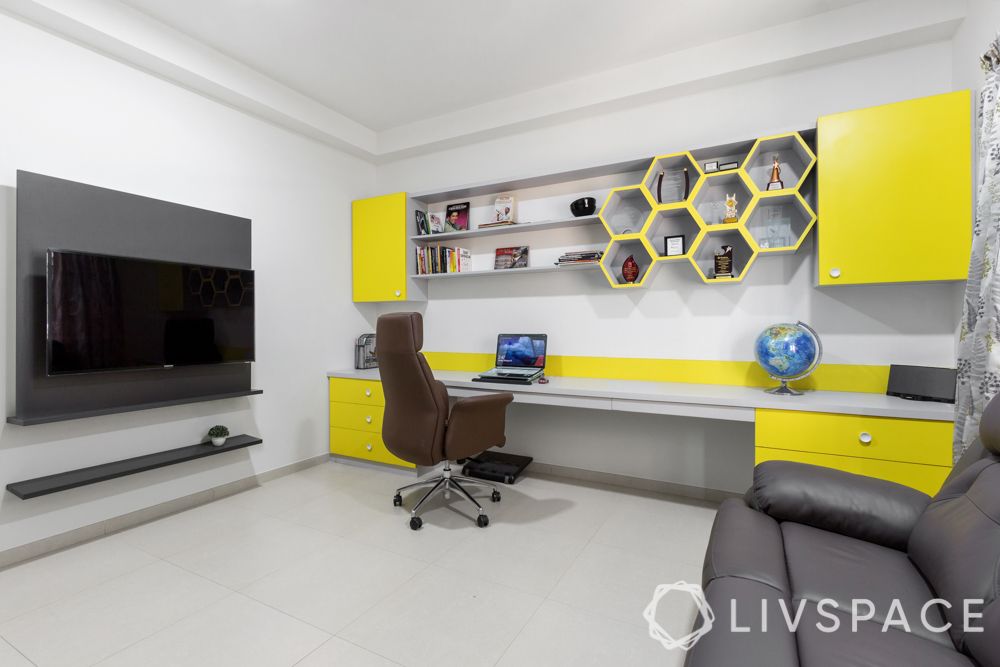 This is one room in this modern house interior that went through numerous design iterations. Why? Because Rohit was extremely particular about this one. He wanted everything to be designed according to his needs. And why not. After all, this was going to be the space where he spends most of his time during the day. He wanted a huge study table where he could place all his files and books along with his laptop. Rohit was also looking for some sort of display arrangement for all his awards.
Rishab surprised Rohit, who loves only dark colours, with this customised, bright yellow study unit. And guess what, Rohit was stunned by the way it turned out!
Room #3: A growing girl's room with all her favourite things in place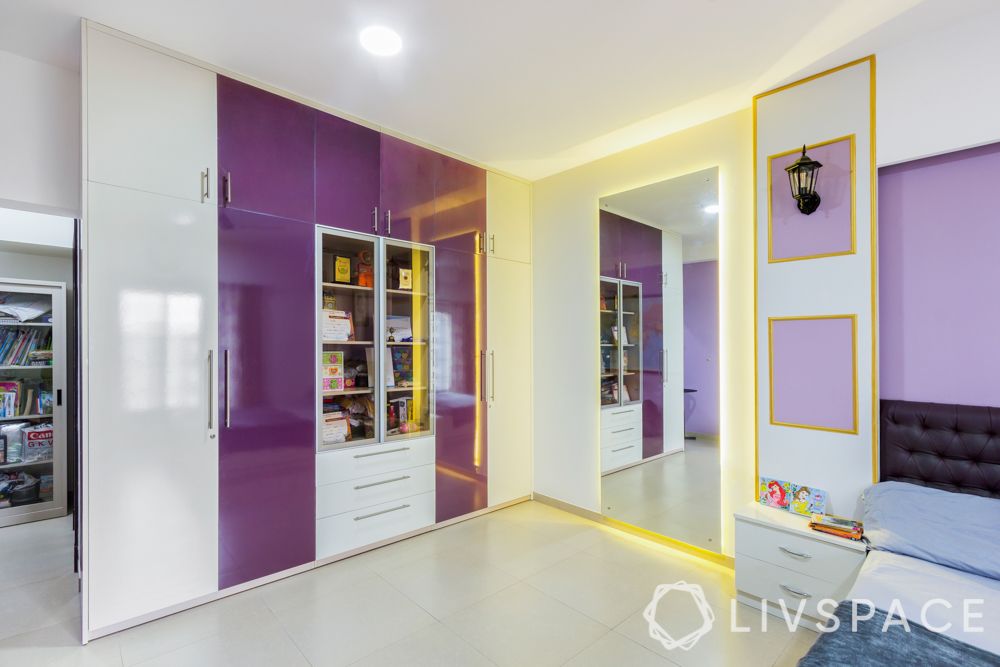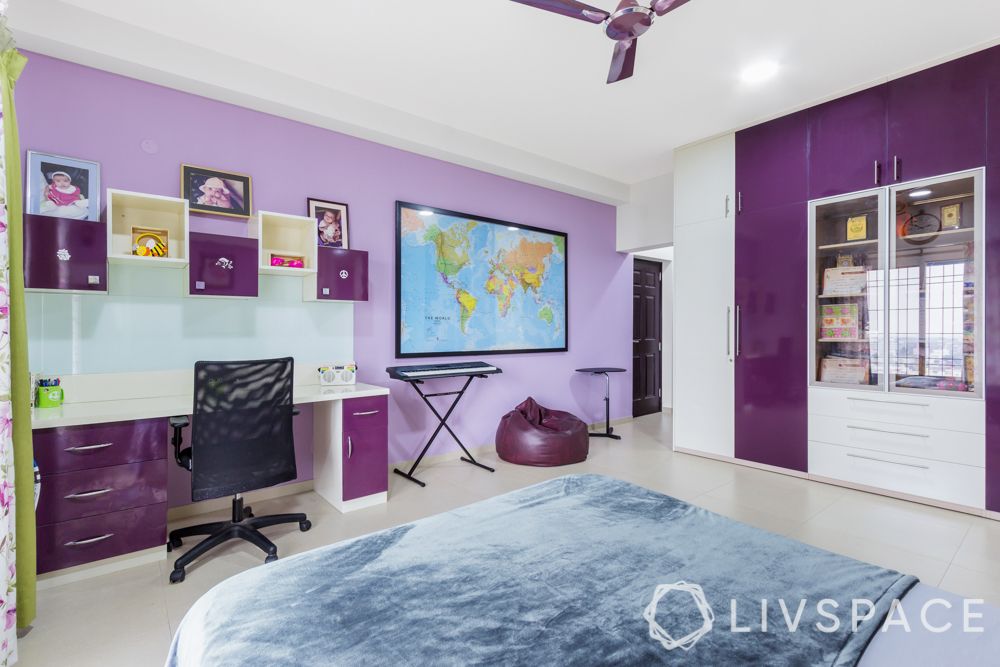 Coming to the last but not the least bedroom—their daughter's. We all know that growing kids require a lot of space for all their activities. And we wanted to personalise her room for her, in order to allow her ample space to do it all indoors if she likes. This room has a study table complete with storage and display shelves for her to keep all her books. The study table was designed in such a way that there's ample space to keep her piano and a bean bag.
And did you know? This bedroom in this modern house interior was a surprise from the parents to their daughter. They knew that she loves the colour purple and we knew how to mix and match it to give the room that perfect dreamy look.
Do you want to know more about how we customise homes for our homeowners? Check this out: Customised & Colourful 3BHK Interior Design.
Send in your comments and suggestions to editor@livspace.com.