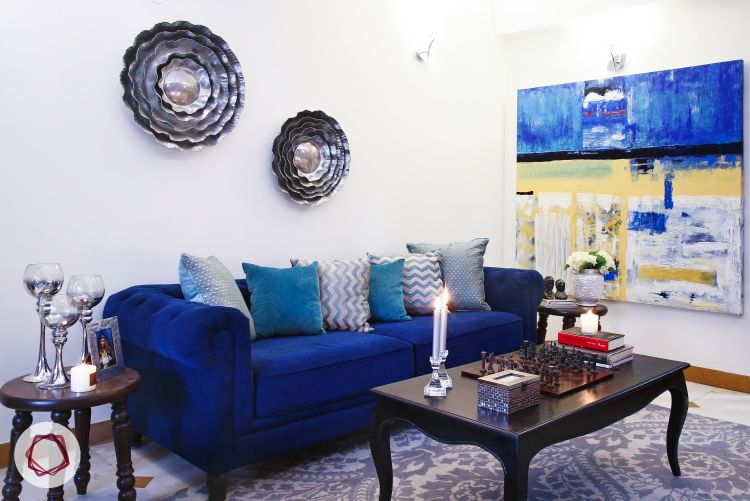 ---
Who livs here: N Arjun, Group Director Business Development, Bharthi Enterprises
Location: Rishi Apartments, Alaknanda, New Delhi
Room type and size: Living room, 180 sq ft
Design team: Interior designer Akanksha Mukherjee with project manager Kavita and design
manager Rohit Singla
Budget: ₹₹₹₹₹
---
Tucked away in a quaint suburb in Alaknanda, New Delhi, in one of the city's rare low rise settlements is this plush 3 bedroom apartment, home to Arjun N, a jet-setting professional who travels frequently. Feeling the need for a change in the overall decor of his flat, Arjun approached Livspace to revamp his living room. Interior designer Akanksha Mukherjee set about transforming this ordinary room into a tasteful and inviting space for relaxing and entertaining.
Originally painted in light purple, the existing living room only had an assortment of hastily arranged oversize sofas and a crockery credenza. Akanksha decided to retain the existing marble flooring and do up the space with blue, silver and white tones, a classic and elegant scheme. She then chalked out various layout options for the room before arriving at her final solution.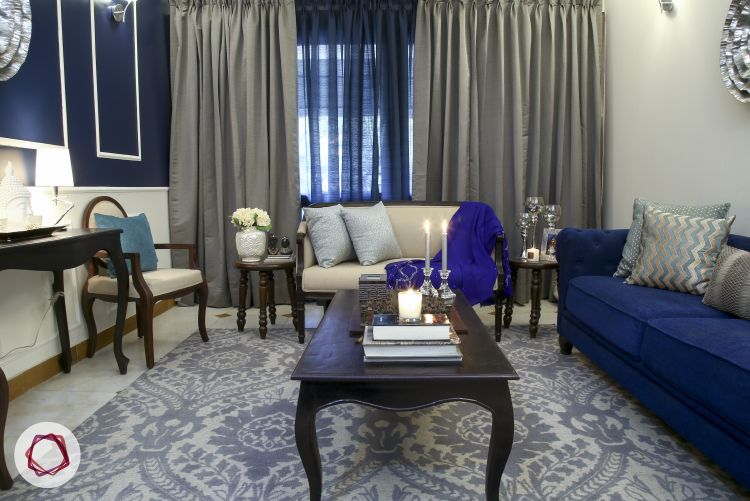 ---
The living room features a selection of elegant classical- inspired furniture pieces from Livspace, positioned so as to provide ample comfort while still allowing space for easy movement.
---


Akanksha settled on a U-shaped seating area with sofas, accent chairs and side tables delicately positioned to create an air of intimacy perfect for entertaining guests. Each wall is composed as a complete vignette by itself. Chesterfield and Cabriole sofas are placed on the right and center, while the left side features an arrangement with a console and accent chairs.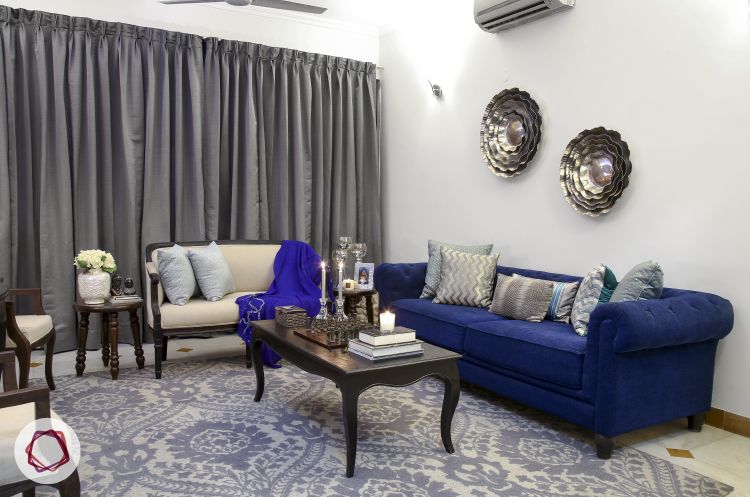 ---
Occupying the place of pride is a classic Chesterfield sofa with elegant button tufting, upholstered in royal blue.
---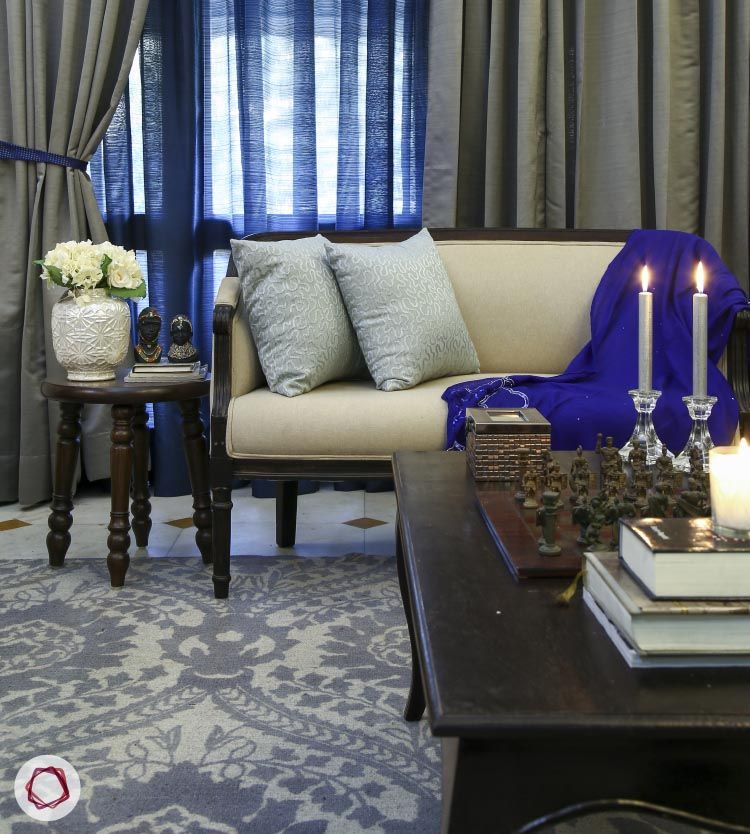 ---
A Cabriole style two seater upholstered in beige is placed by the balcony door, flanked by two side tables. Drapes and plush rug add softness and warmth to the space.
---
The cool blue, silver and white tones are balanced with the addition of warm neutrals like beige and brown on the furniture. The regal color scheme, symmetric proportions and classical accents combine to give the room an air of refined sophistication and elegance.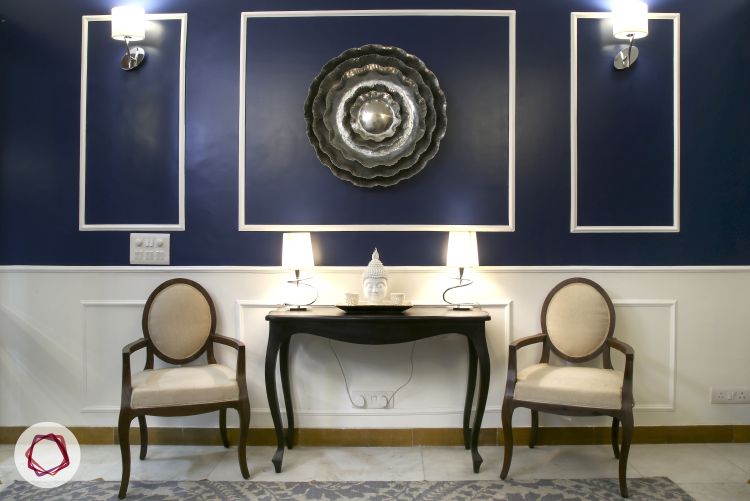 ---
The vignette on the left wall displays classical overtones, with a strong sense of symmetry. Wall trims add definition and bind the arrangement together.
---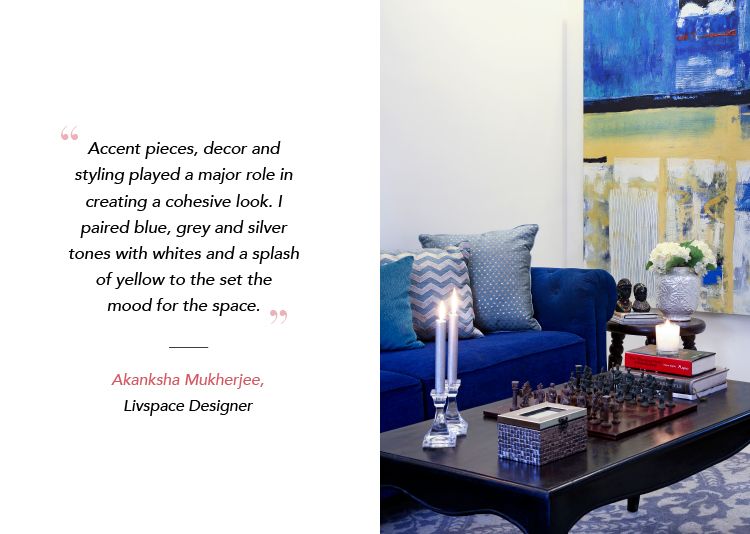 To add character to the room, Akanksha brought together a variety of decor accessories and accents including a large painting, silver mirrors, cushions, lamps and lights. The client's existing memorabilia which consisted of african masks and other curios were also incorporated into the scheme.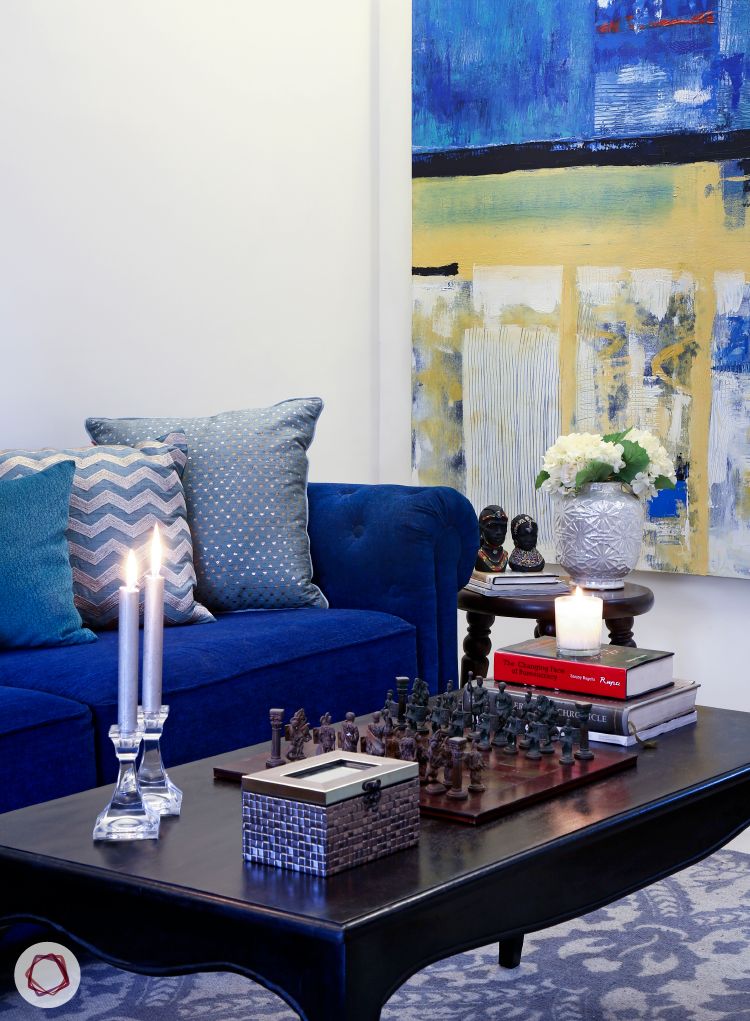 ---
The focal point of the room is an abstract painting, specially commissioned from an artist for this particular project. Swathes of yellow balance out the cool blue tones in the rest of the space.
---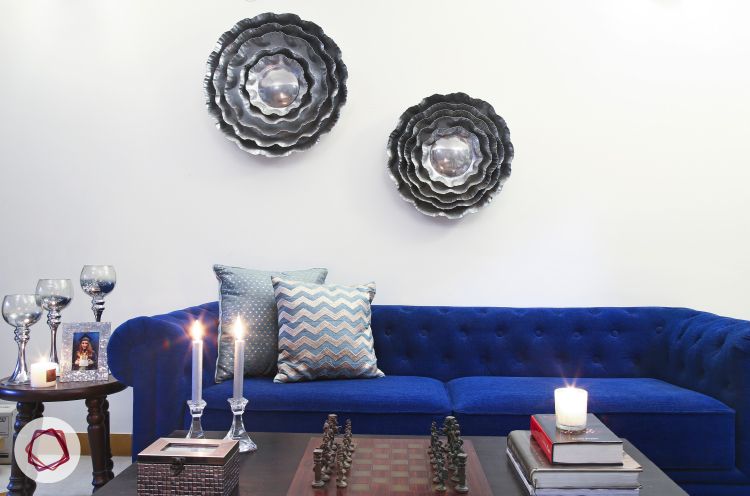 ---
Intune with the client's preference for Indian aesthetics, a set of decorative mirrors were chosen as wall accents.
---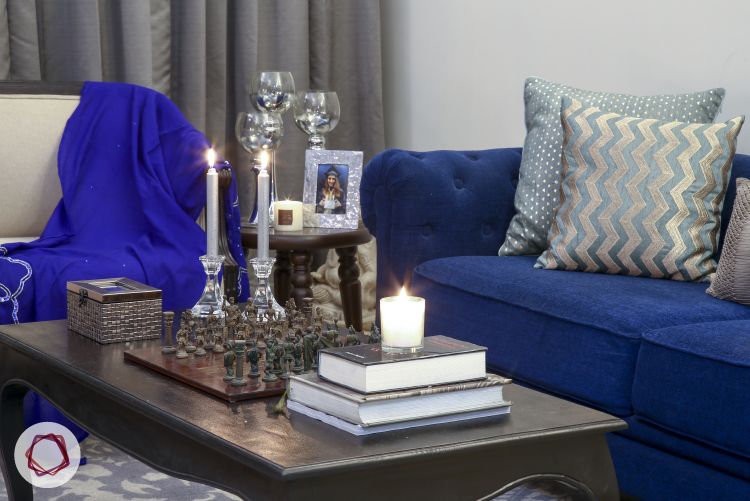 ---
Anchoring the arrangement is a French Provincial style coffee table that also serves as a place to display a vintage chess set, one of the client's treasured possessions.
---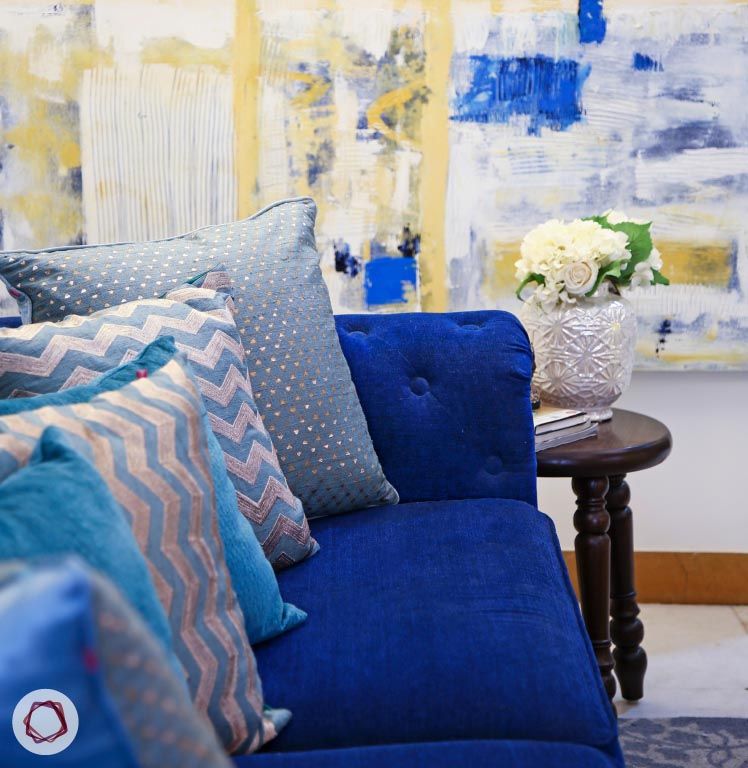 ---
Minimalist patterns like chevron and sequins were used for the cushion covers to complement and enhance the royal blue Chesterfield sofa.
---
The end result is a perfectly co-ordinated living room, designed in a timeless, sophisticated style and brimming with comfort and warmth.