A genius modern kitchen design for an exquisite culinary experience.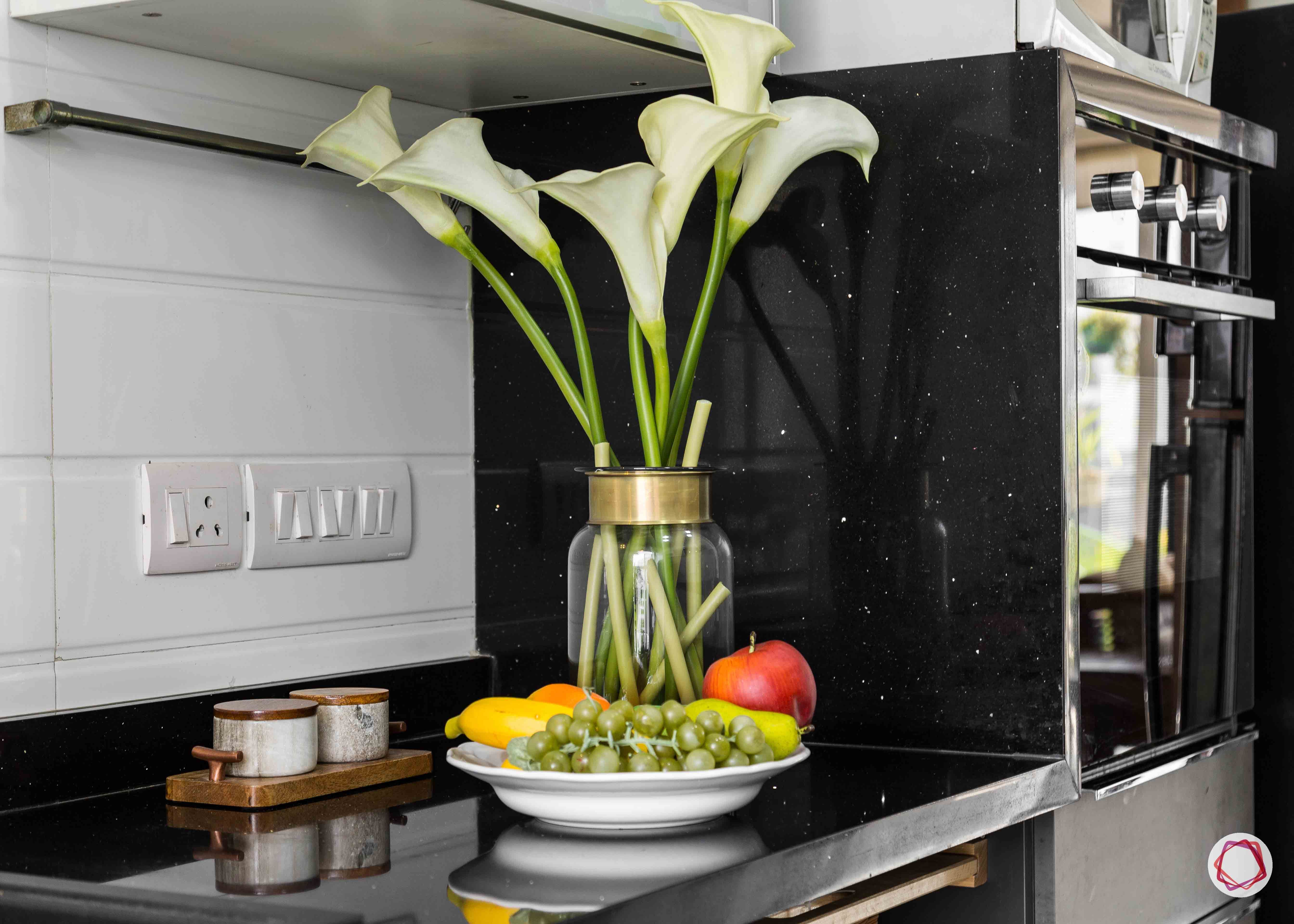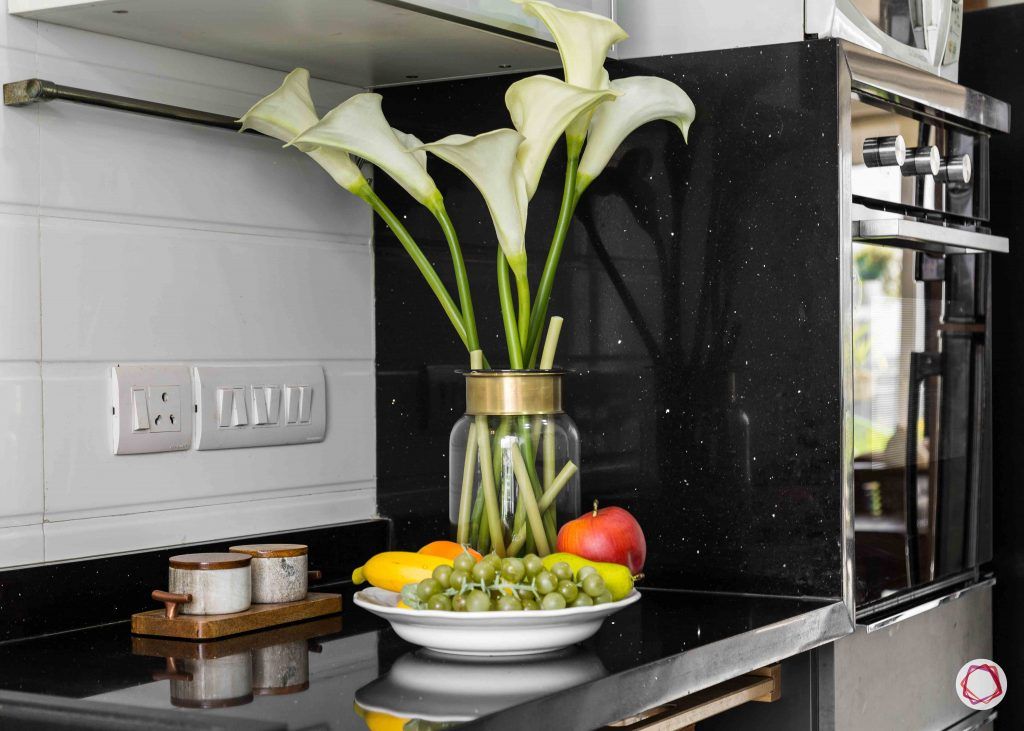 ---
Who livs here: Rohit Paul with his wife Shveta, two kids and their dog
Location: Acacia, Vatika City, Gurgaon
Size of kitchen: 130 sq ft approx.
Design team: Interior Designer Shilpa Garg and Project Manager Vikas Vishwakarma
Livspace service: Modular kitchen design
Budget: ₹₹₹₹₹
---
Are you someone who follows Masterchef ardently every night? Well, then this kitchen is going to give you the feels from the the moment you set foot inside it. Rohit and Shveta, both working professionals and extremely creative people, have always wanted a kitchen that makes cooking an enjoyable experience for them. So, while Rohit who is an avid biker and golfer, isn't hitting the road, you can find him showing off his skills in here. What does Shveta love doing here, you ask? Well, she just enjoys relaxing with a glass of wine and watching him cook. Perfect, isn't it?
Shilpa Garg, their designer, is great at picking up cues from clients. She took on this task and swore to excel at it. Their earlier kitchen, while having the same layout, looked a tad bit cluttered and was shouting for a makeover. Given the couple's love for all things food, it was about time that this space got more organised. Filled with muted colours and a lot of storage, this kitchen is now ready! Read on to find out how this took shape.
A Look at the Transformation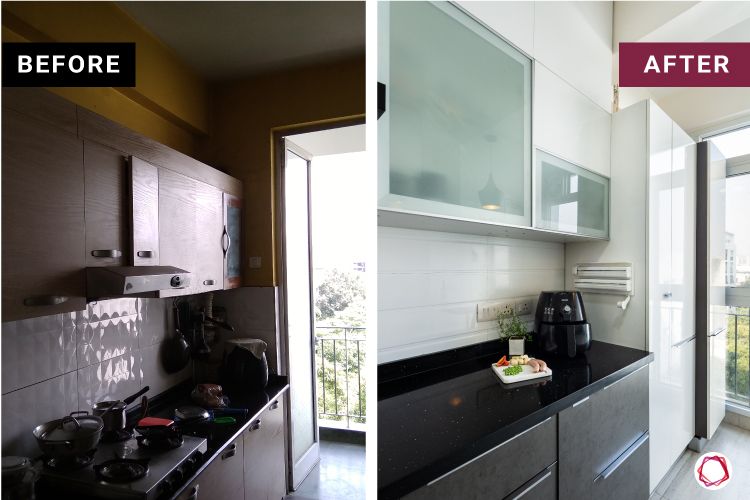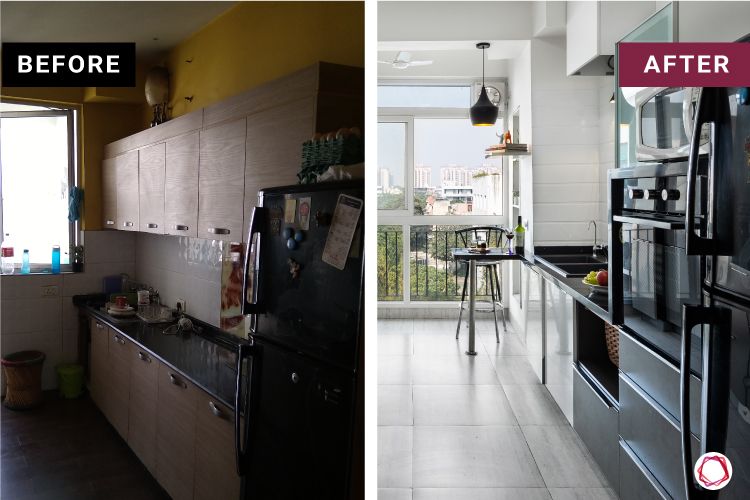 A Fully Loaded Parallel Kitchen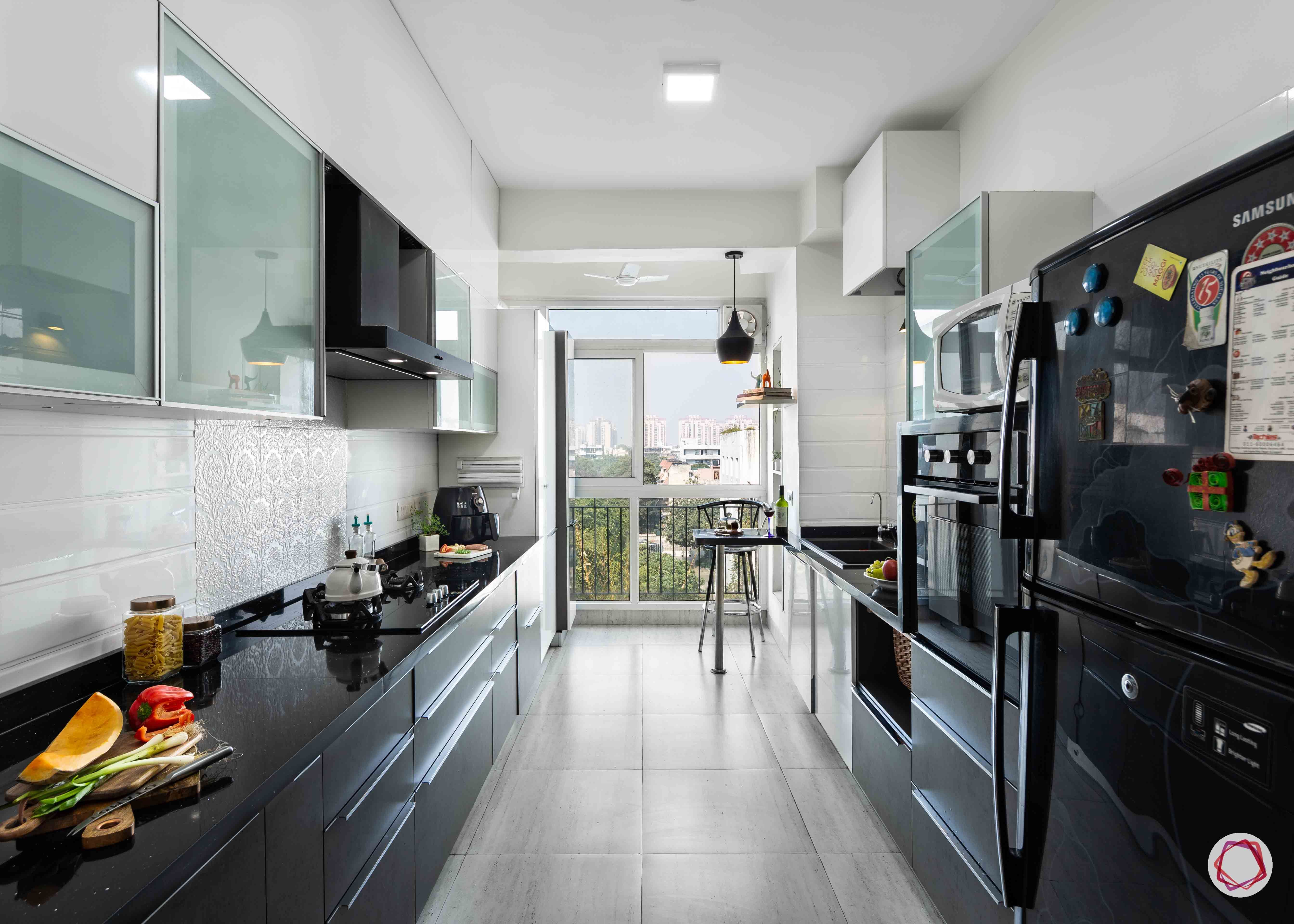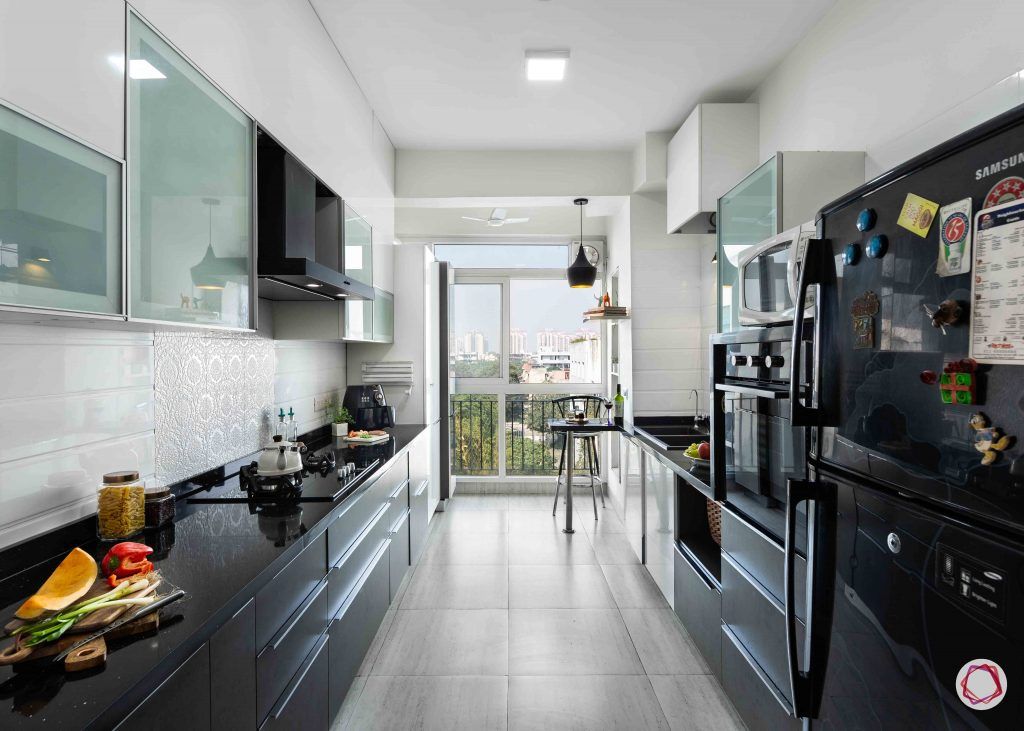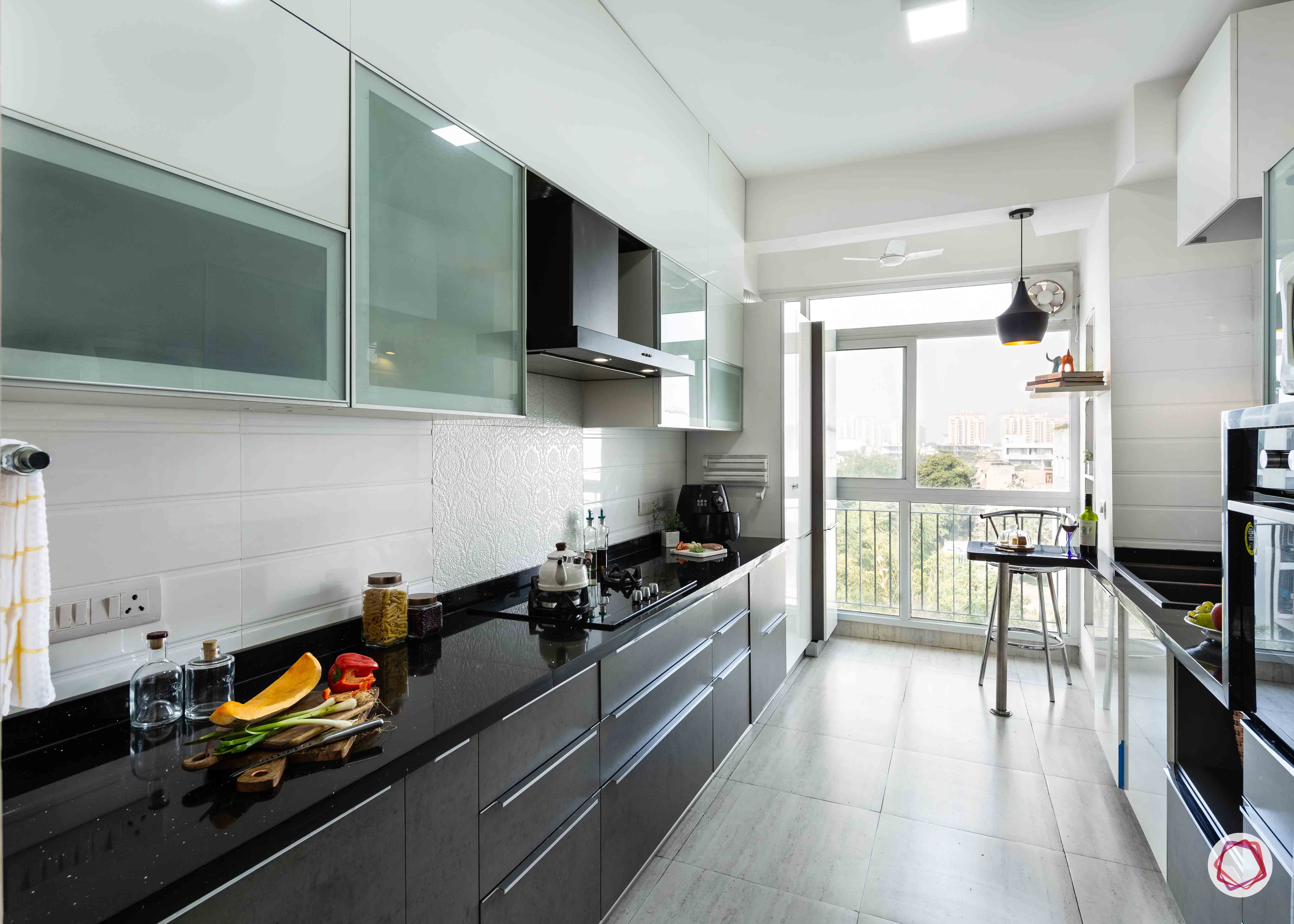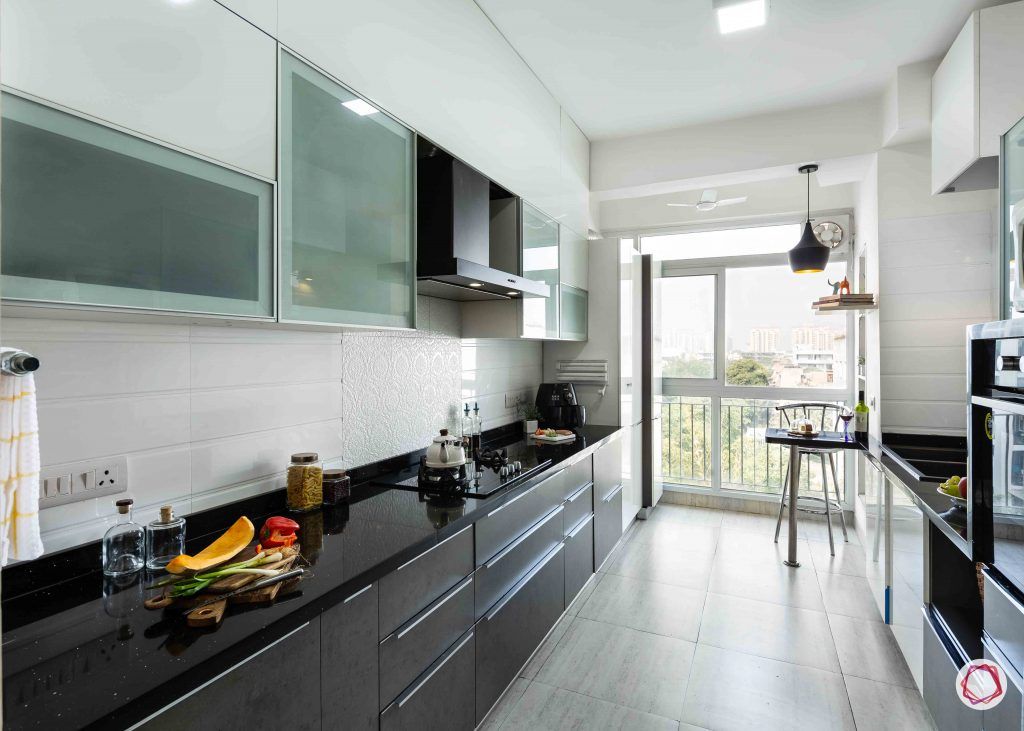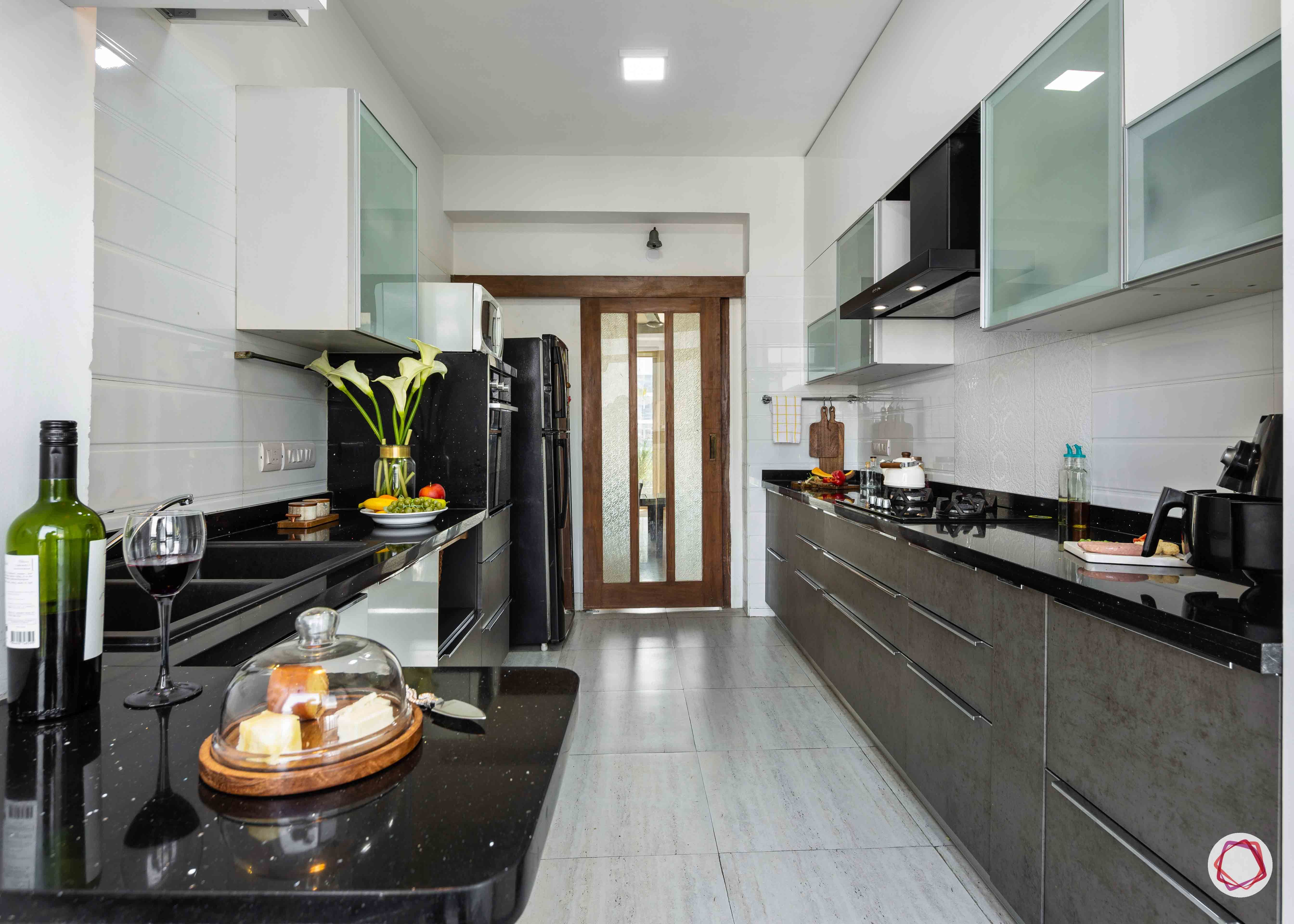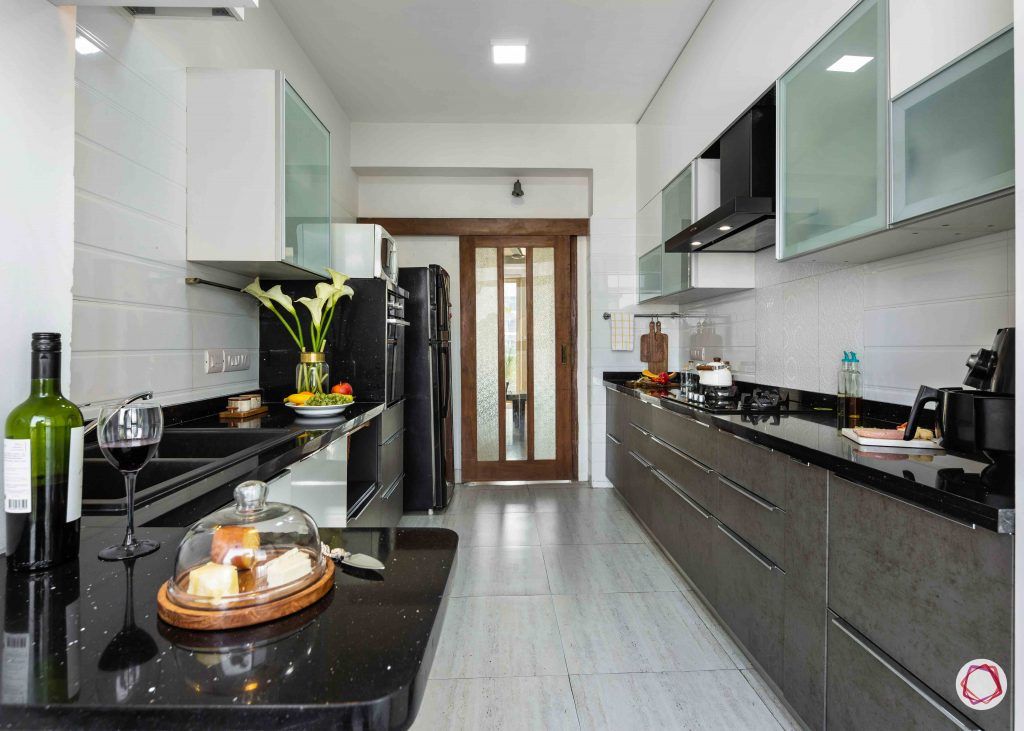 Parallel layouts work perfectly when you are super organised and want your zones to be separated in the kitchen. This kitchen features separate zones for cooking, dry storage, wet area, "chilling" and the likes. By chilling, we're hinting at the mini breakfast counter that is mostly used by Shveta when Rohit is cooking their favourite cuisine.
Shilpa tells us that she wanted to fill this space with light, therefore she selected white for the wall units and stone grey for the base units. This colour scheme makes the kitchen appear larger, visually. There's an envious view outside the window that makes us want to relax here for a bit.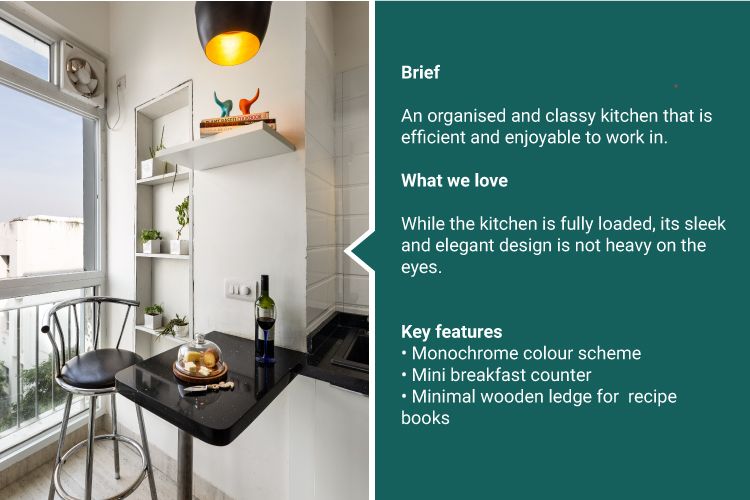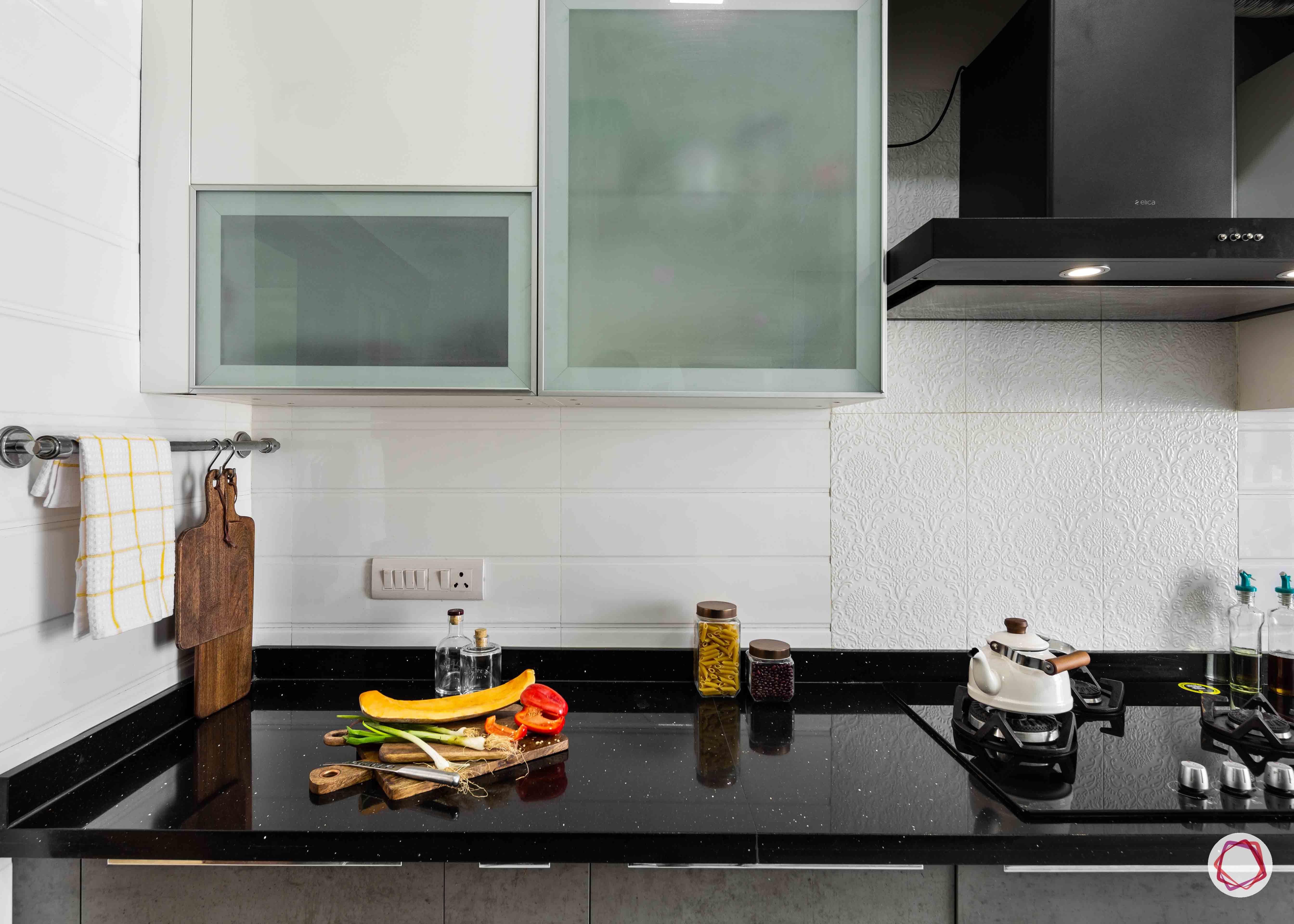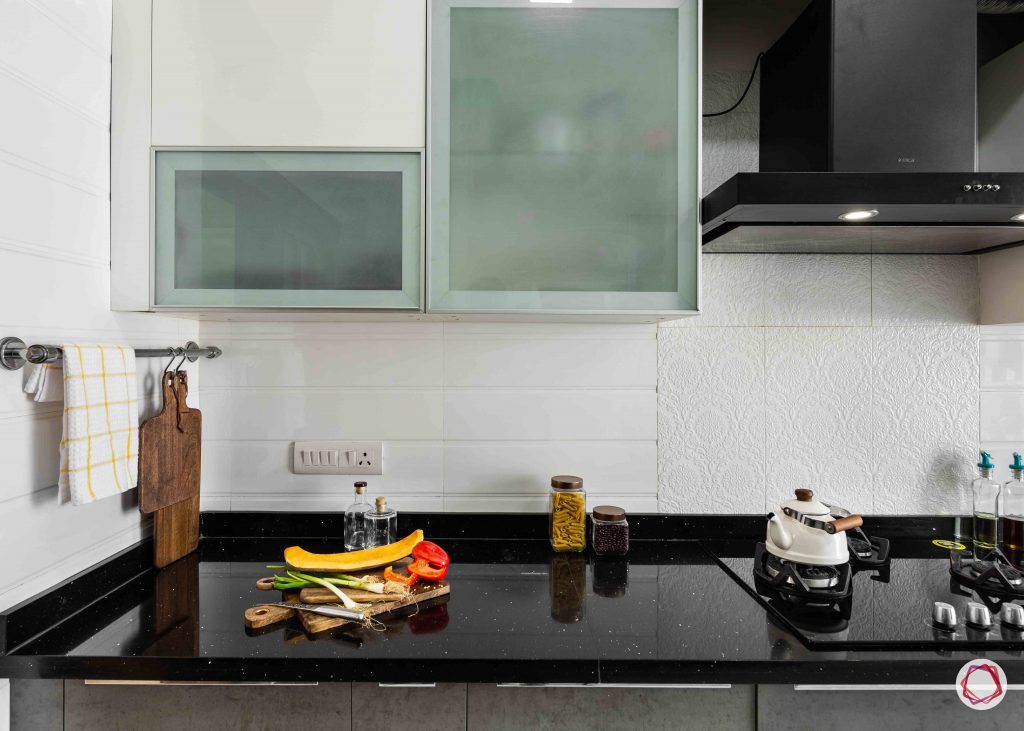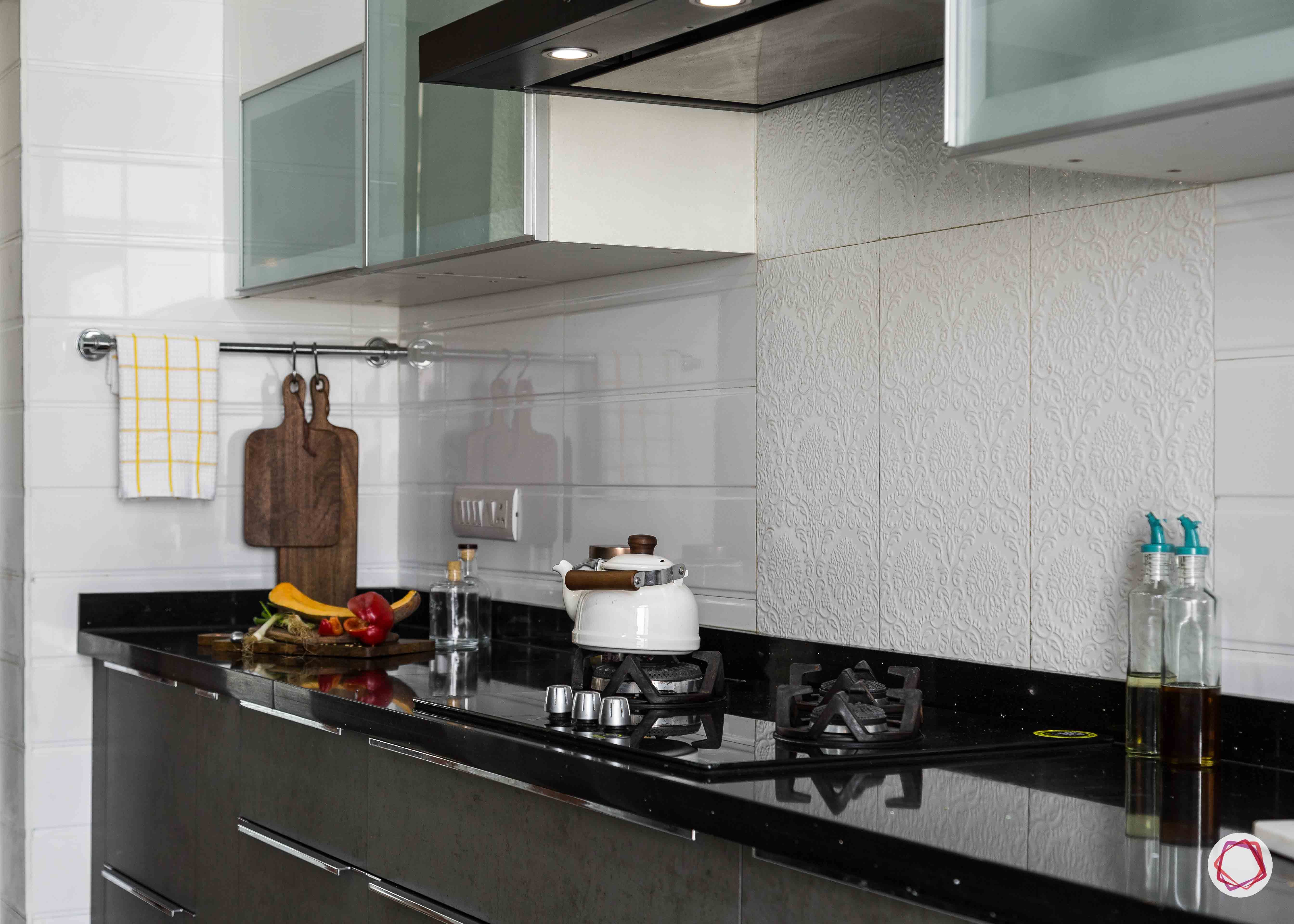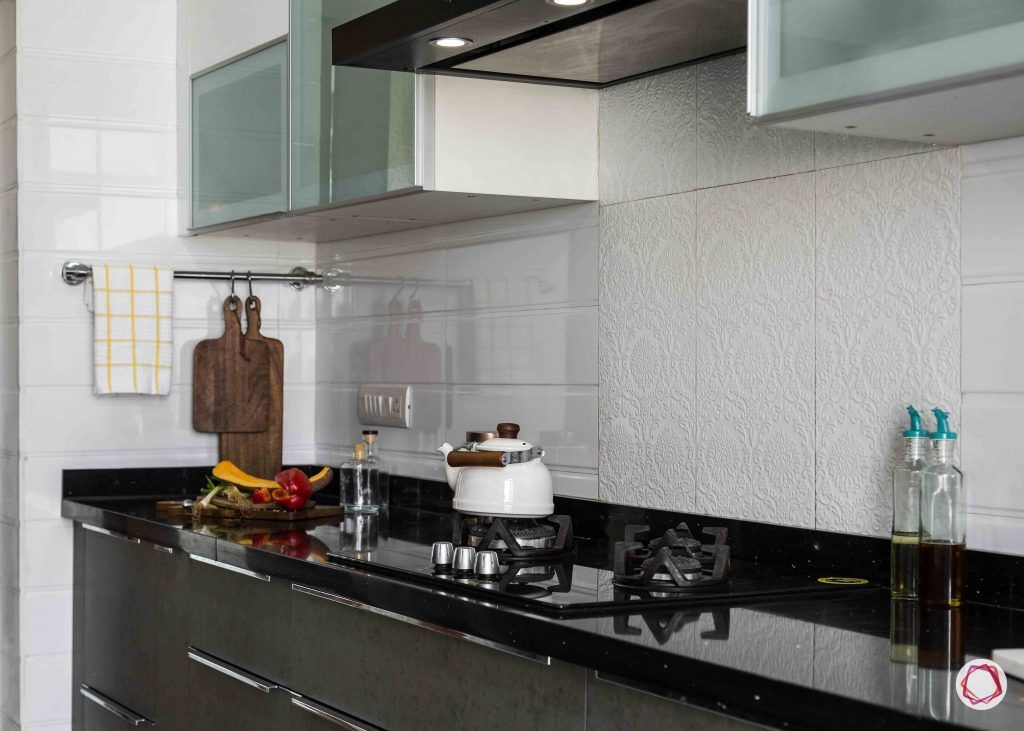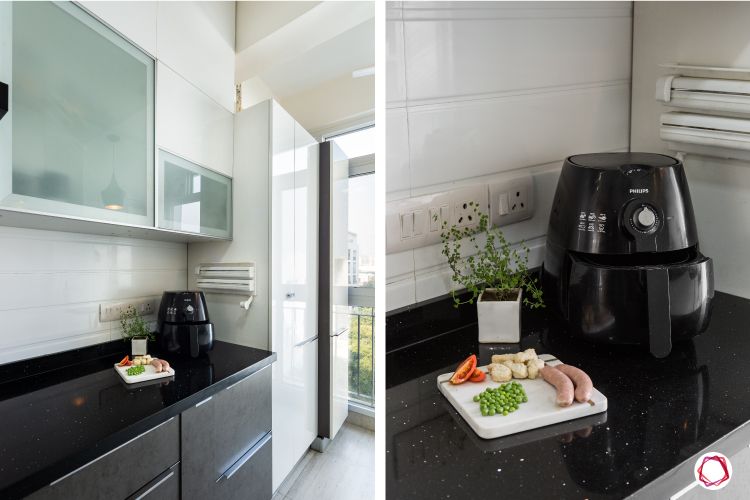 What does Rohit love the most about the revamped kitchen besides its organised zones? The retracting drawers! He exclaims that while he's busy with his intense cooking sessions, he tends to leave the drawers open and they close on their own. What more could someone ask for? The profile handles are a breeze to handle as well! Soft-close, frosted glass shutters add a nice touch to the look and feel of this space. Shilpa has also given the couple two tall units instead of one, so that storage is never a cause of concern for them.
The Right Highlight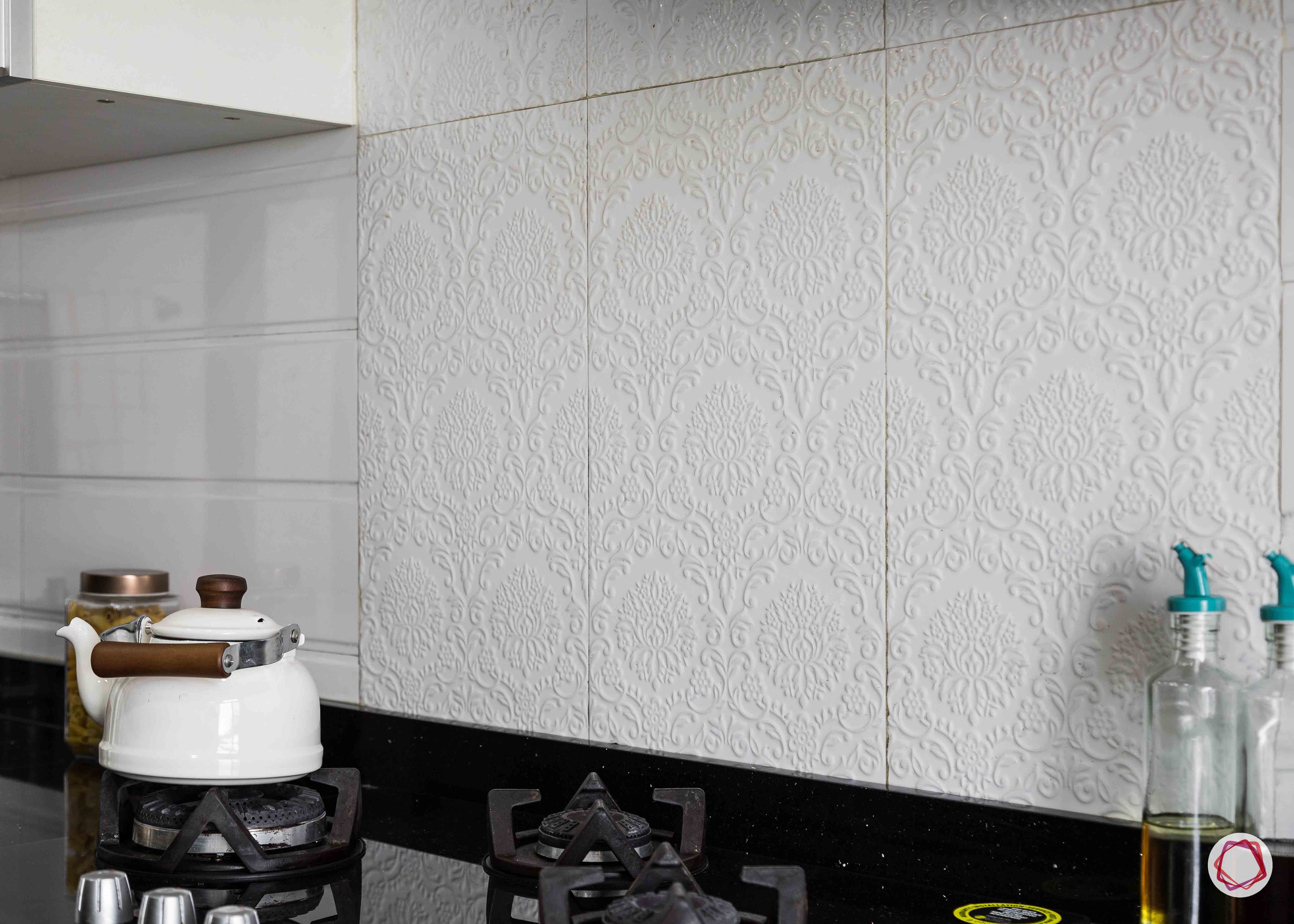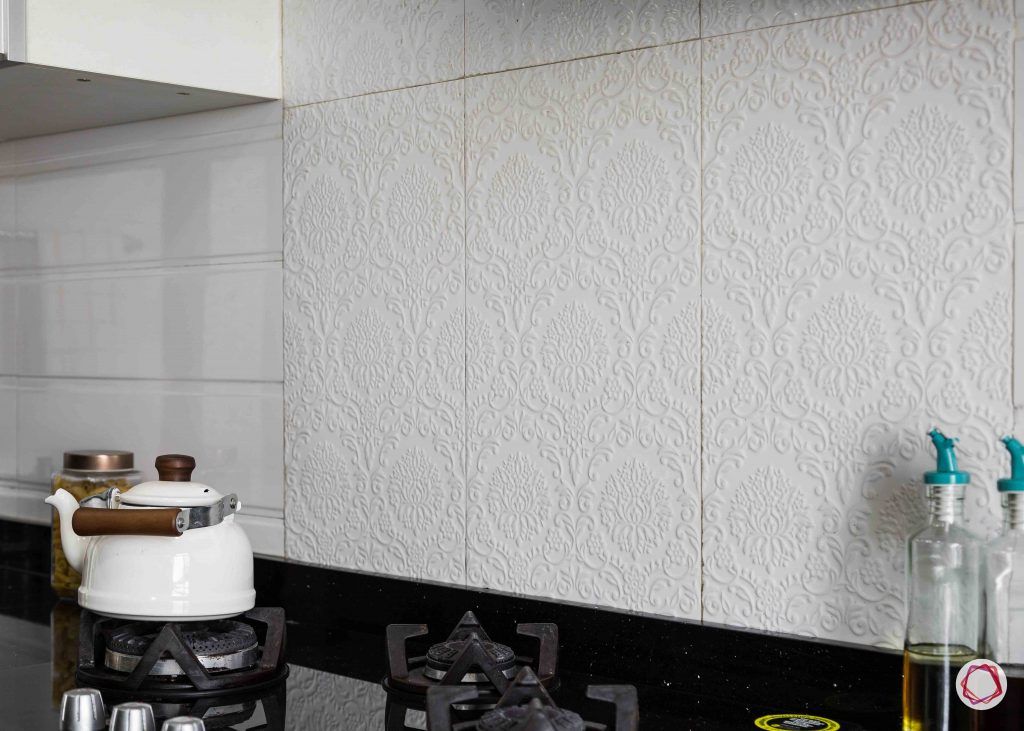 What makes a simple kitchen insta-worthy? It is the little details that make a space look more appealing. In this kitchen, it is definitely the highlighter tiles used in the hob area. While the entire backsplash wears subtle white tiles, this particular area has Parisian dado tiles that flaunt a pretty self-design. It adds a hint of style to this stunning and super functional kitchen.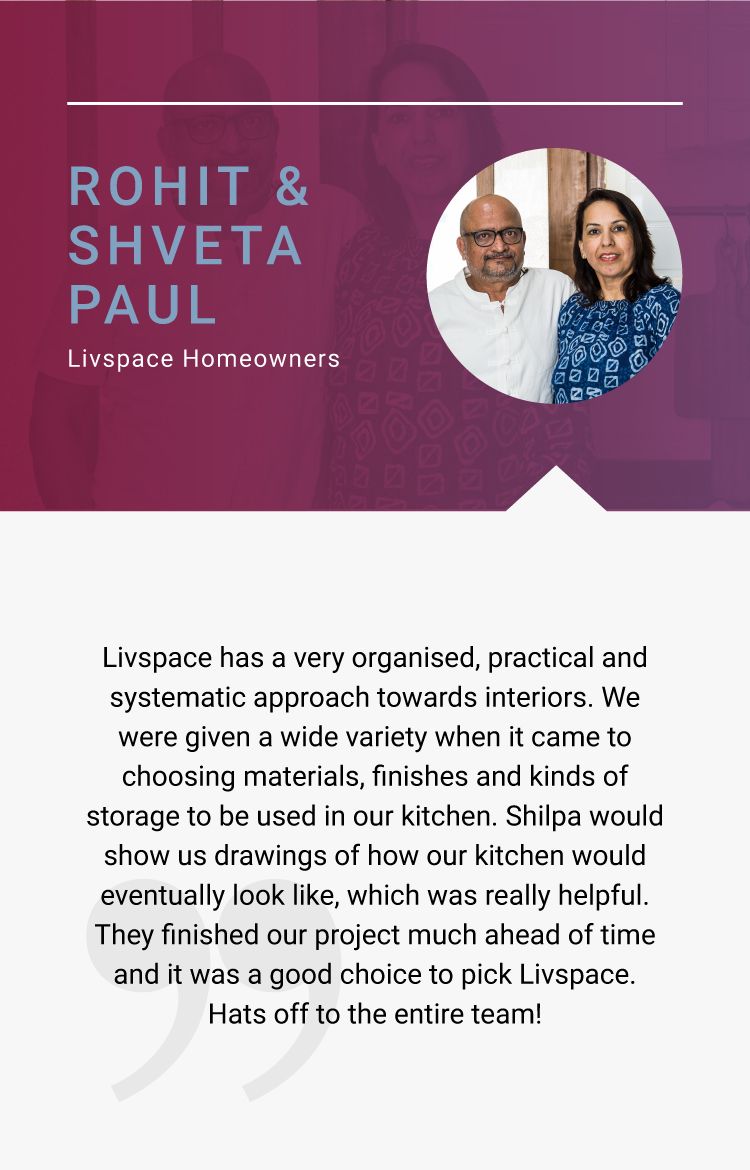 "To be honest, I was quite enthralled to design this kitchen. I love designing spaces to make them more functional and aesthetically appealing. Rohit and Shveta are amazing clients and very sorted about what they wanted for their kitchen. We decided on the colours, modules and design in a few meetings. It was a complete delight to design for them. I enjoyed it!"

-Shilpa Garg, Interior Designer, Livspace
Watch the clients take you through their kitchen here.
If you loved this superb kitchen design, then make sure you do not miss this 14-Year-Old Kitchen Gets An Unrecognisable Makeover.
Send in your comments and suggestions.
Disclaimer: All contents of the story are specific to the time of publication. Mentions of costs, budget, materials, finishes, and products from the Livspace catalogue can vary with reference to current rates. Please get in touch with a designer for more details on pricing and availability.