These days, commercialised compact apartments are an inevitable consequence of urbanisation. While they are favourable to the growing population, they can be a bit challenging to design for growing families. Nevertheless, such challenges also birth creative solutions and lead to innovative designs. Take this very apartment, for example. You might think it improbable that a 990 sq. ft. 3BHK interior design for DD Highway Gate can look bright and spacious. But our Livspace design experts did just that despite its compactness.
Anukumar Muraleedharan was looking for clever home solutions that were also child-friendly when he found Livspace. Our design partners, Nikhila Jacob, Rohit Ninan and Anjali Mohan, rose to the occasion and helped him get the home of his dreams for him and his family.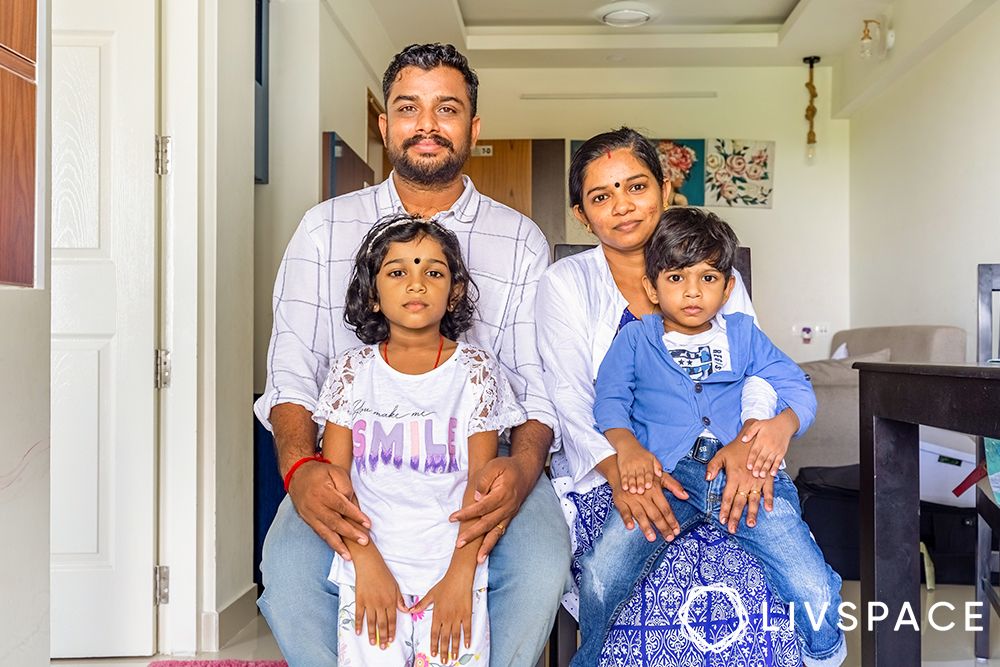 Nikhila Jacob tells us that the family was all that a designer wishes for in a client. They were open to new ideas and were incredibly patient throughout the project. The couple's most important objective was that their budget interiors for DD Highway Gate, Nettoor to be child-friendly.
---
Who Livs here: Anukumar Muraleedharan, his wife and their children
Location: DD Highway Gate, Nettoor, Kochi
Size of home: A 3BHK spanning 990 sq. ft. approximately
Design Team: Interior designers Nikhila Jacob, Rohit Ninan and Anjali Mohan
Livspace service: Full home design
Budget: ₹
---
IN A NUTSHELL


Brief
A child-friendly house design using dark wood furniture and the colour blue

What We Loved
The use of wooden finishes around the house along with blue laminates

Look Out For
– The CNC-cut wall-mounted pooja unit
– The blue laminates to break monotony around the house
– The niched wall storage in the kitchen that is away from the reach of children

Biggest Indulgence
The modular kitchen with Moroccan tiles

Smart Buy
The storage beds in all the rooms to compensate for the lack of storage space


Modular kitchens have become such an integral part of our homes that to go back to working in a basic kitchen can be frustrating. One of the major benefits of such kitchens in compact spaces like this 3BHK interior design for DD Highway Gate is the space management. Modular systems maximise the capacity of storage by clever organisation and customisation. Let's take a look at this DD Highway Gate apartment interior design's modular kitchen that is bright, cheerful and gives a Moroccan vibe.
The Modular Kitchen in This 3BHK Interior Design for DD Highway Gate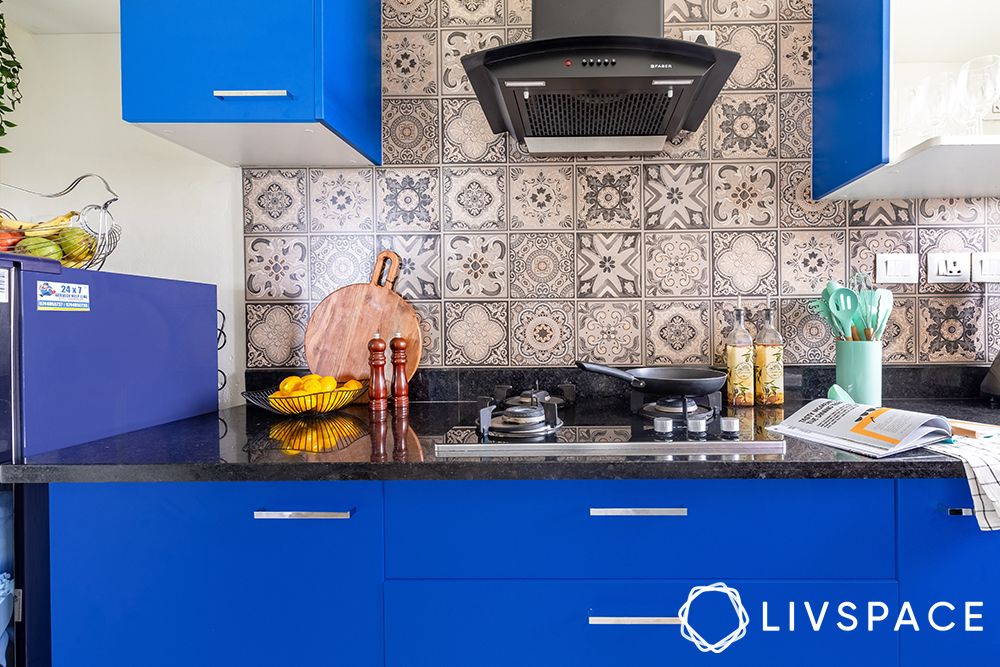 The kitchen for the budget interiors for DD Highway Gate, Nettoor flat has a blue coloured laminate. The bottom cabinets are topped by a black stone countertop that makes the transition from blue laminates to Moroccan tiles more beautiful. The countertop lines the edge of the tiles in a clean manner, adding a pleasing definition to the look.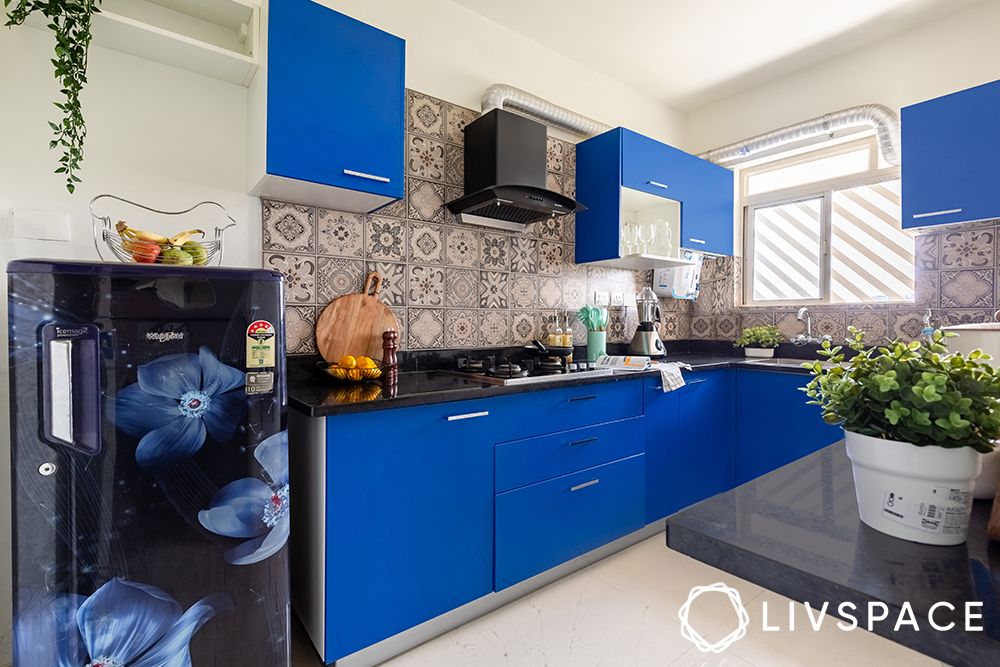 The L-shaped modular kitchen in this DD Highway Gate 3BHK home design includes dry, wet and hot. These areas are in close proximity to one another. This, in turn, increases the work efficiency in the kitchen.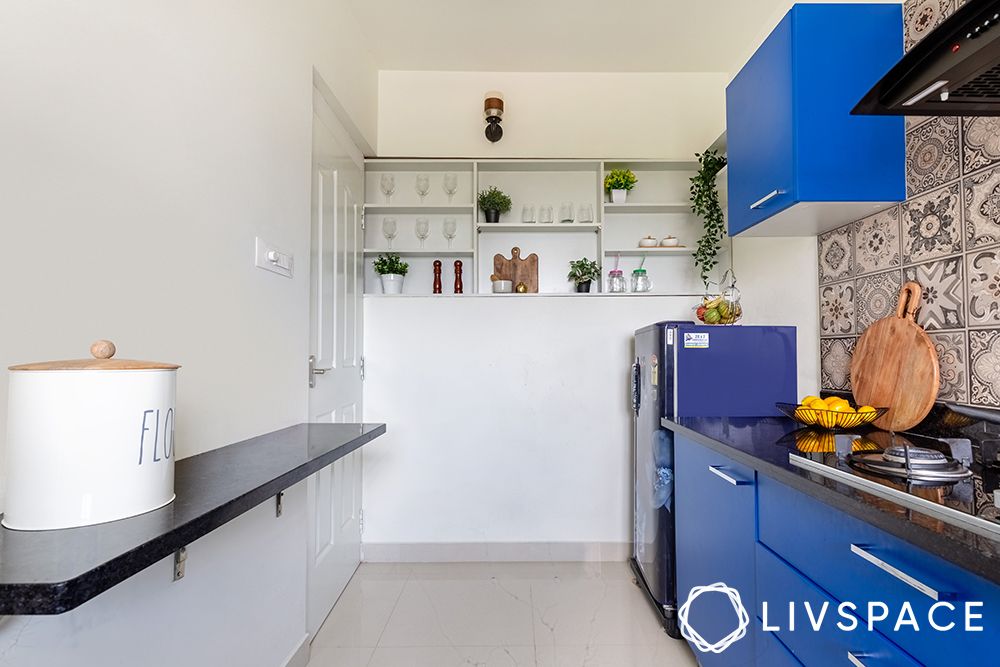 There is a narrow floating preparation station on the wall opposite to the hob. This stone ledge helps in keeping the kitchen organised, especially when in a rush. This is also a good way to reduce the expenditure on a parallel layout in this kitchen and go for only L-shaped modular units with a narrow ledge on the other side. It is one of many clever ideas by the designers in this 3BHK interior design for DD Highway Gate.
The other smartly planned element of this kitchen is the high niche storage that you can see in the picture. The crockery is safe and out of reach of the kids in this open niche. The white laminates used here blend seamlessly with the wall and integrate the storage in the design.
Other Details of the Kitchen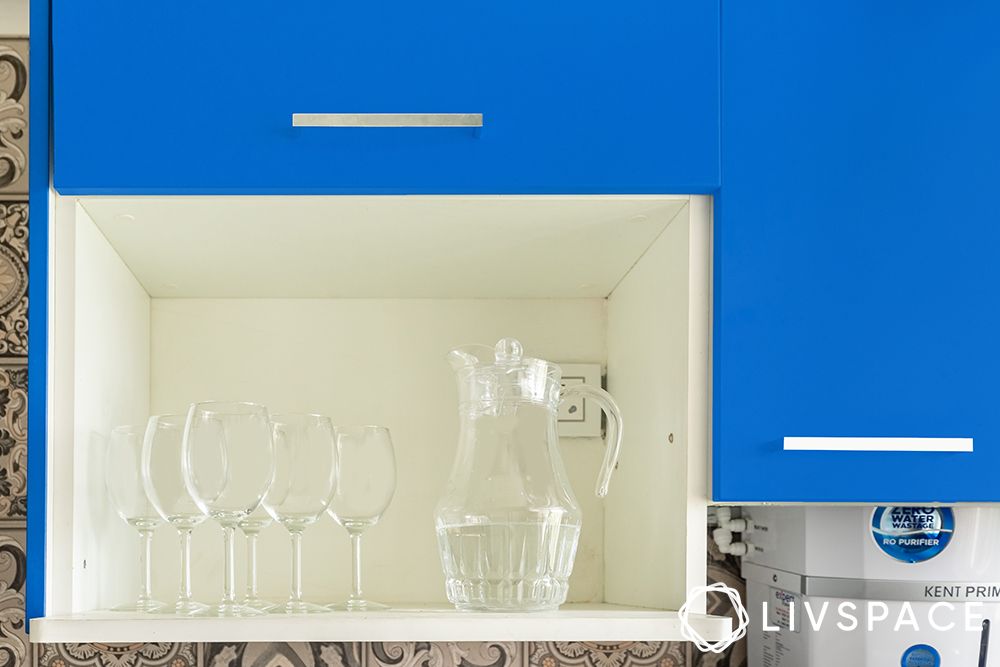 A mix of open and closed cabinets is a smart way to understand and support workflow in the kitchen. For instance, the crockery that the family uses most often when guests come over is in an open cabinet. Similarly, the Aquaguard water purifier is behind a shutter to avoid compensating the looks of the kitchen by it. Such deliberations regarding user behaviour as well as budget can be noticed in many areas of this DD Highway Gate apartment interior design.
The Living Room in This Budget-Friendly Compact Apartment Optimises Space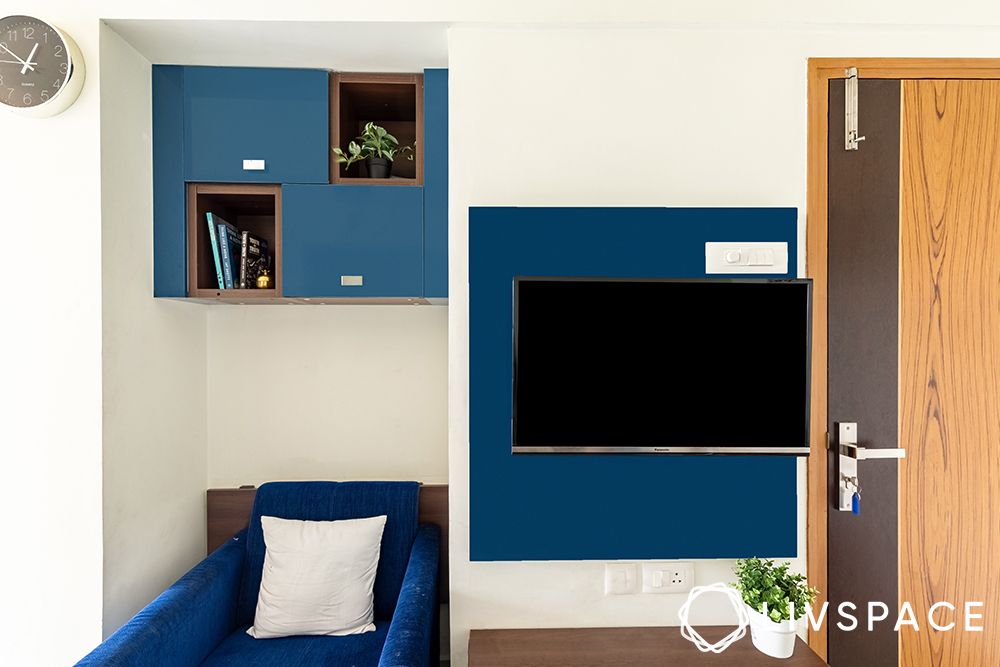 The small living room has standard modular units that are cost-effective. The sober blue laminate adds a calming vibe to the room and is perfect for making guests feel welcome. Also, these blue laminates with dark wooden laminates achieve a classic and tranquil colour combination with white. There is a plain but elegant TV panel that supports the device. All the elements finally come together to give the living room in this 3BHK interior design for DD Highway Gate a serene look.
A Wall-Mounted Child-Friendly Pooja Unit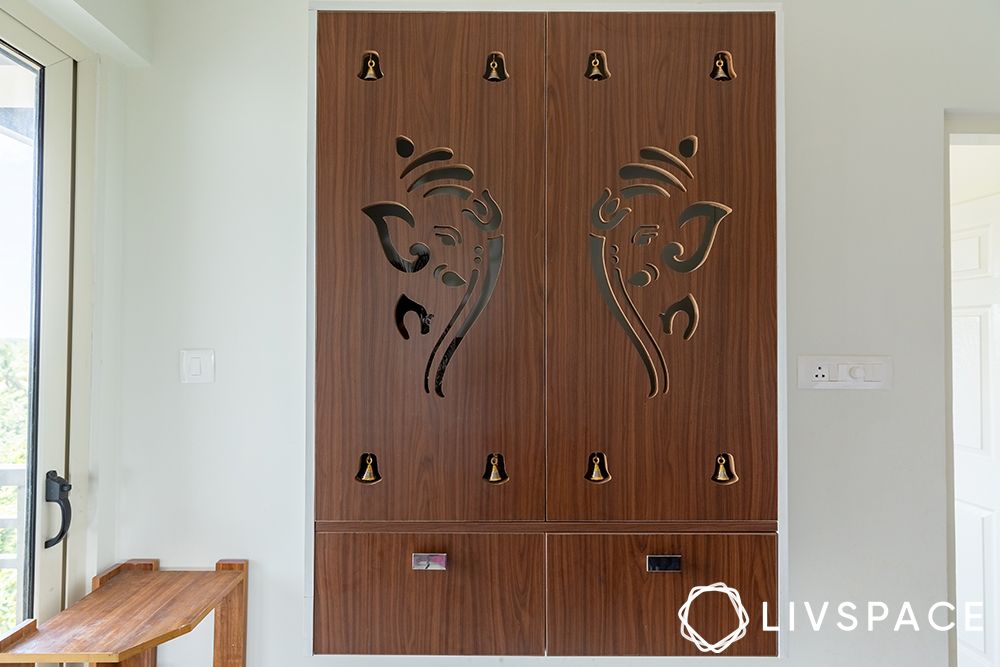 If you notice, the unit is mounted on the wall above the height of the windowsill. This is to keep the things stored in the unit away from the reach of the children. The cabinet also has CNC-cut designer shutters to discourage children from playing with the lit diya inside. All of this to achieve a child-friendly design for the owners of this 3BHK interior design for DD Highway Gate.
The Storage Units in This Budget Interior for DD Highway Gate, Nettoor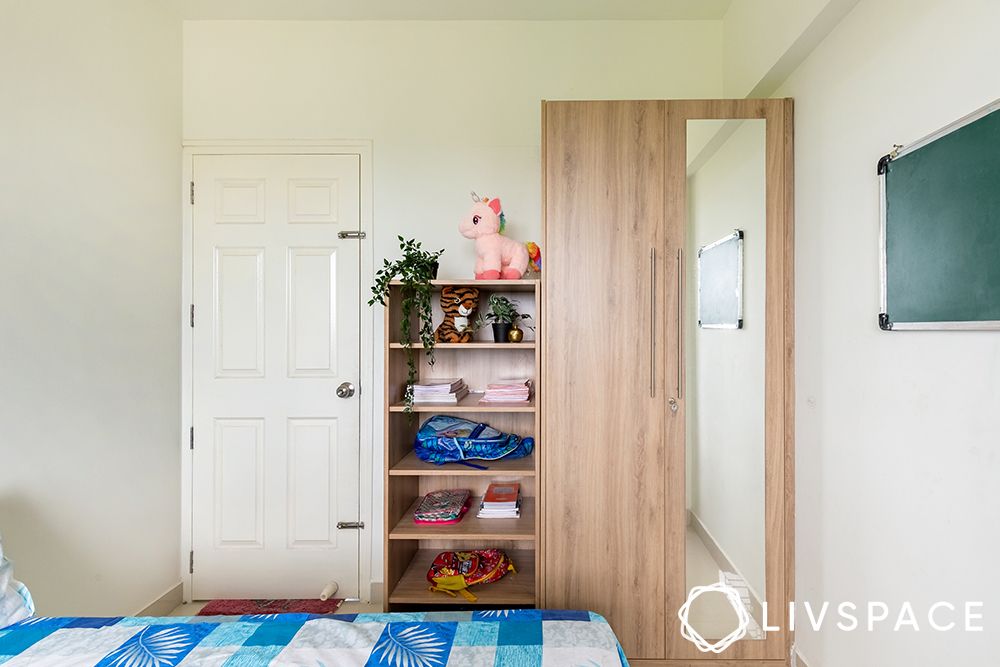 The couple chose to shave their costs on wardrobes by using mixed (open and closed) wardrobe units. They compensated their need for more storage by buying beds with racks underneath.
The wardrobe unit that you can see here is a more economical option than a fully closed cupboard with four doors and lofts above. Such heavy alternatives can also make your room feel more dense and compact. This can also result in less light and air circulation in the room. Keeping these points in mind, the designers opted for furniture that left the white bedroom walls open, thus making the room look more airy and spacious.
---
We hope you liked what we did in this 3BHK interior design for DD Highway Gate in Kochi. For more such designs, read How To Do a 3BHK Interior Design To Make It Look Spacious and Stylish. You can also read about the 8 Stunning Low-Budget Flat Interior Designs by Livspace. And if you wish to learn more about us, read 15+ Significant Ways of Cost-Efficient Room Designing by Livspace.
How Can Livspace Help You?
We hope you found our ideas useful! If you want beautiful interiors for your home, then look no further. Book an online consultation with Livspace today.
Visit us at the Livspace experience centre in Kochi to get your dream home designed.
Send in your comments and suggestions to editor@livspace.com