Kitchen door designs are possibly the most overlooked aspect of designing or renovating your dream kitchen. While choosing the right kitchen door design might look like a small detail, it not only fulfils a practical function, but also impacts the overall look and feel of your kitchen.
There are multiple kitchen door design options available, from sliding glass doors to wooden doors and uPVC custom doors. Which one should you choose and why? Take a look at the different kitchen door designs that are increasingly popular today, with design inspiration straight from real Livspace homes.
1. Modern Kitchen Sliding Door Designs That Glide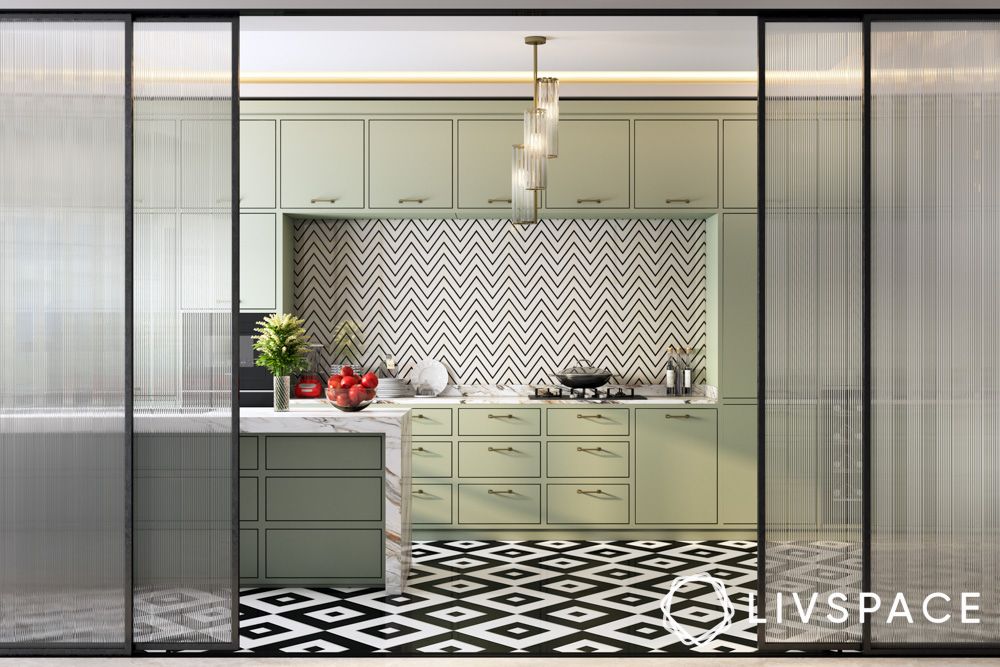 Modern kitchens have sliding door designs, mainly because of their space-saving functionality. Space is always scarce in modern homes, and hence an open layout is very popular. If you want to separate your kitchen from your living and dining areas, sliding doors are a great way to do that without making the space feel restrictive.
They complement an open layout and improve air circulation within your interiors. Whenever you feel your kitchen is too stuffy, you can open the sliding doors for a bout of freshness!
2. The Perfect-for-Small-Houses Modern Kitchen Door Design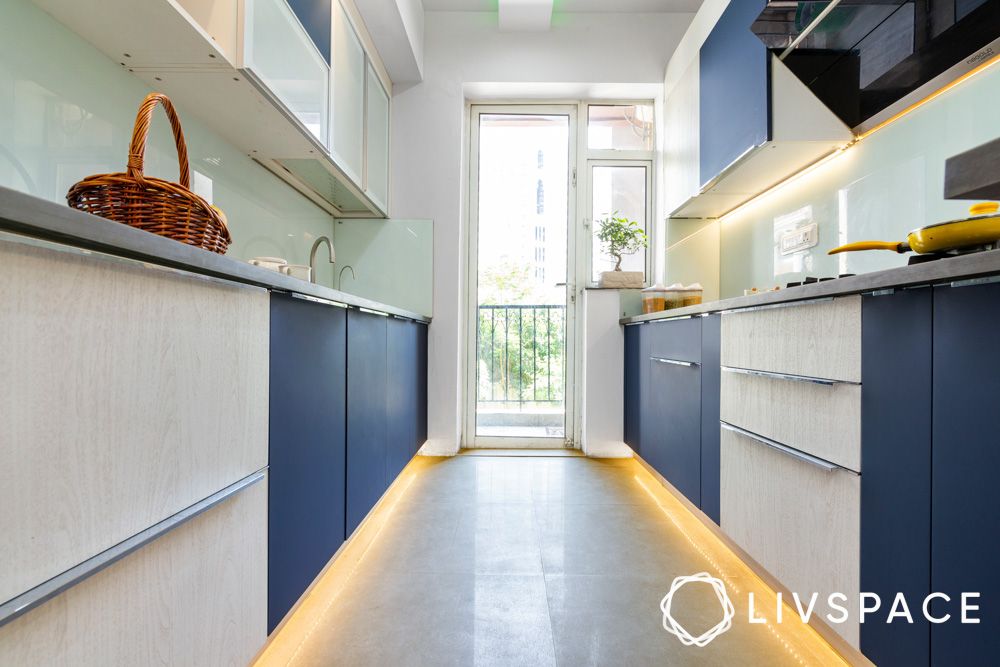 Fibreglass kitchen door designs are everywhere! This material facilitates minimal heat exchange. Hence, these doors help keep your interiors cool and save energy.
Plus, they are environmentally friendly and durable, and have varied design options to choose from.
3. A Kitchen Door Glass Design for the Minimalists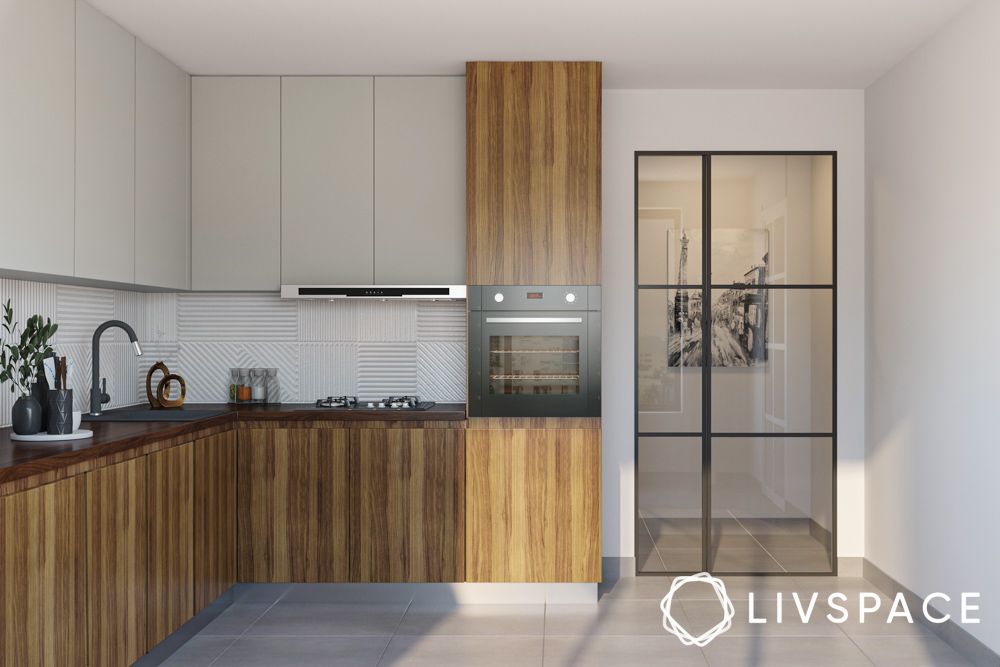 If you are keen on creating a home that's modern, minimal and trendy, opt for a kitchen door with a glass design. While there are many types of glass designs, a French door is both lightweight and energy-efficient.
Made up of glass panels, a French kitchen door glass design is usually installed in pairs and can mimic tall windows.
4. Fluted Glass Door Designs for Kitchen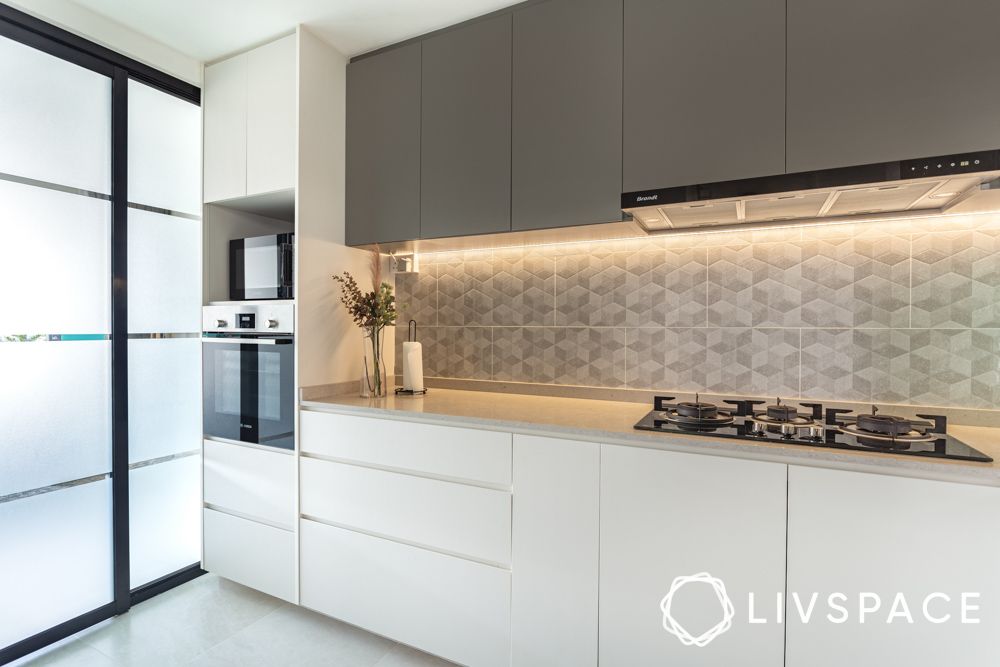 If you want to add privacy to the energy-efficient, lightweight and lovely glass kitchen door designs, opt for fluted glass. They provide sufficient opacity to ensure the same.
These kitchen door glass designs allow you to enjoy a bright and airy ambience, while also being low-maintenance. You can wipe them with either a cotton or microfiber cloth for everyday cleaning.
Also Read: 65 Timeless White Kitchen Design Ideas to Inspire You
5. Panelled Glass Door Design for Your Kitchen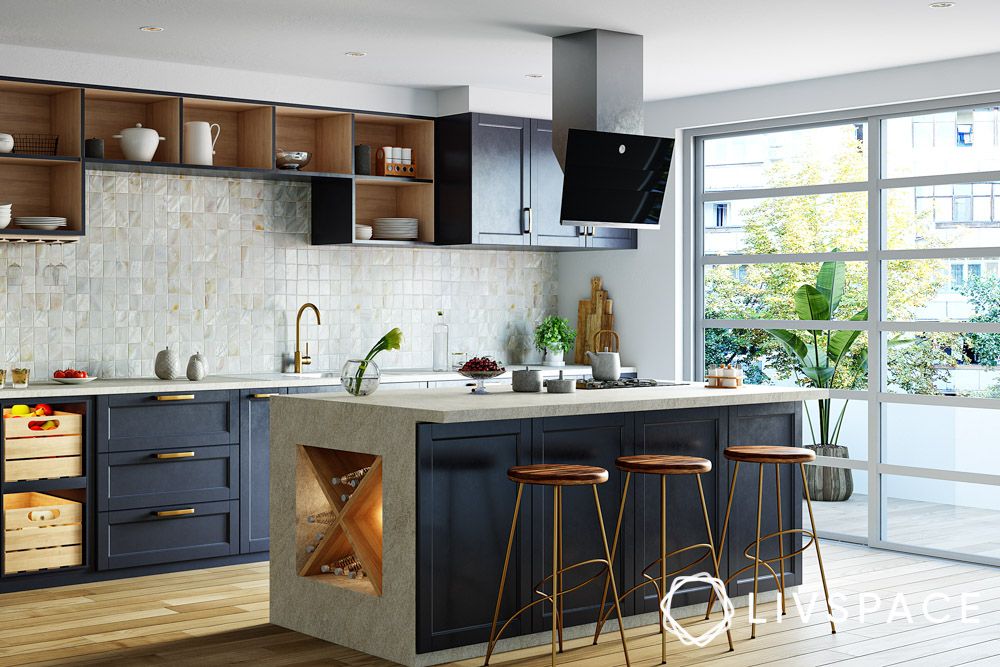 Stacking kitchen door glass designs, like the one above, resemble regular sliding doors at first glance. However, take a closer look and you will notice that they are thinner and better suited for enjoying a vista outside.
They take up less room, have aesthetic appeal, and can effectively help you control the airflow to your kitchen. Simply avoid opening the entire door if it's too windy.
6. Kitchen Double Door Design to Open Up Possibilities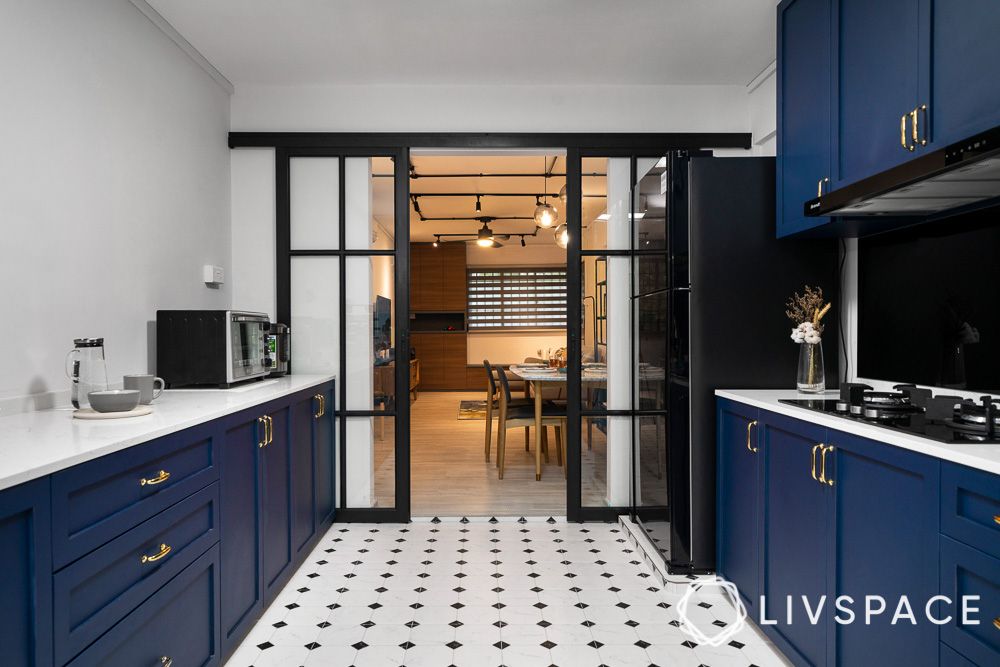 Double door designs for the kitchen, like the one above, resemble a mix of a French glass door and a sliding glass door. They mimic tall French windows while also allowing you to save room with a sliding mechanism.
If you take a quick look at these doors, they hardly take up space and work as a separator between the kitchen and the dining space.
7. Contemporary Kitchen Door With a Half Glass Design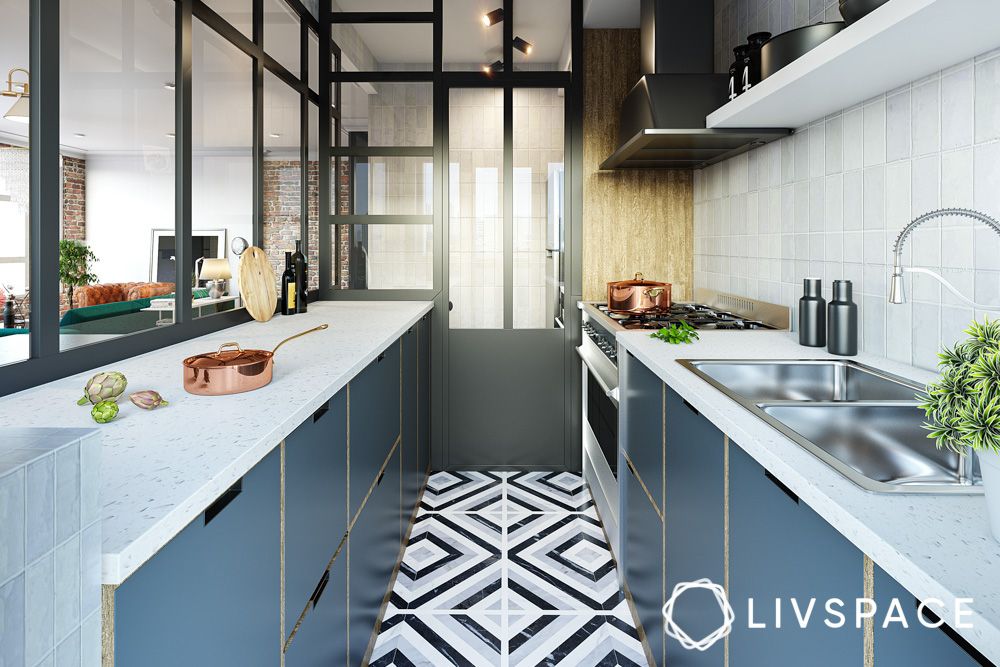 Resembling a French window but with its own distinctive features, this kitchen door with a half glass design is elegant, low-maintenance and convenient. As you can tell, this door is custom-built. It fits a narrow space. The wooden bottom lends support to the glass panel above, making it sturdier.
If the homeowners had opted for a covered door with no glass panels, that would have made their kitchen appear smaller and cluttered. Adding a kitchen door with a half glass design allows them to enjoy a cool and airy vibe without compromising on the aesthetics.
8. The Small-House Modern Kitchen Design Starter Pack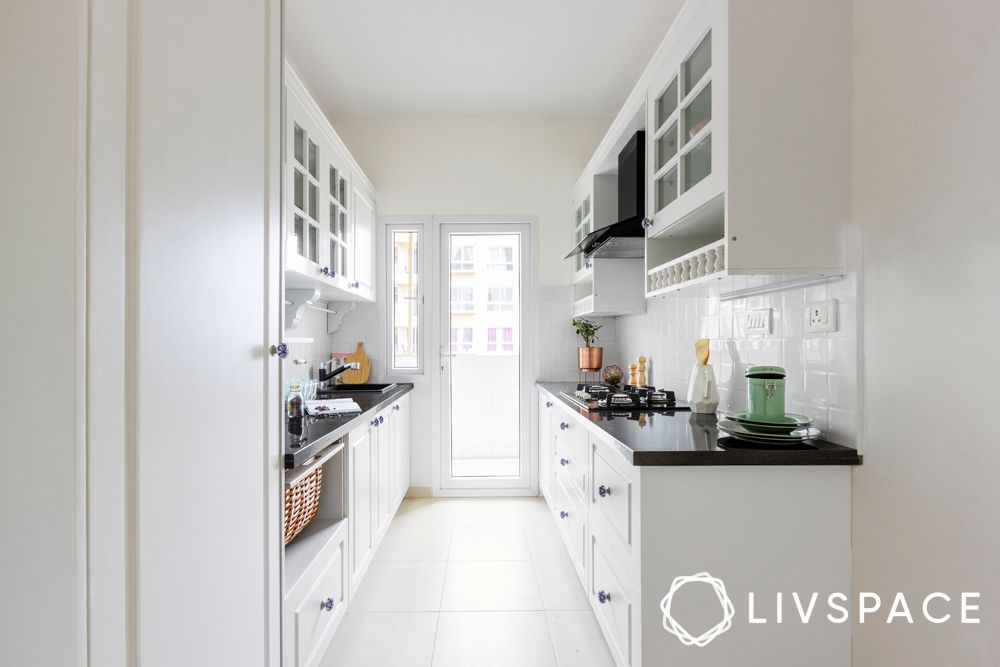 uPVC glass doors aren't actually glass doors. They are a sturdy plastic alternative to wood or metal, popular for their low-maintenance, high durability and cost-effectiveness.
uPVC doors can be custom-built for small spaces, are comparatively stronger than wood, and can retain their shape and aesthetic for a long time. Plus, why are we calling them the small-house modern kitchen design starter pack?
That's because they are resistant to extreme weather conditions, fire hazards, pollution, and natural rotting and rusting. They are incredibly sturdy and usually can't be forced upon or broken into.
9. A Kitchen Gate Design That Complements the Arch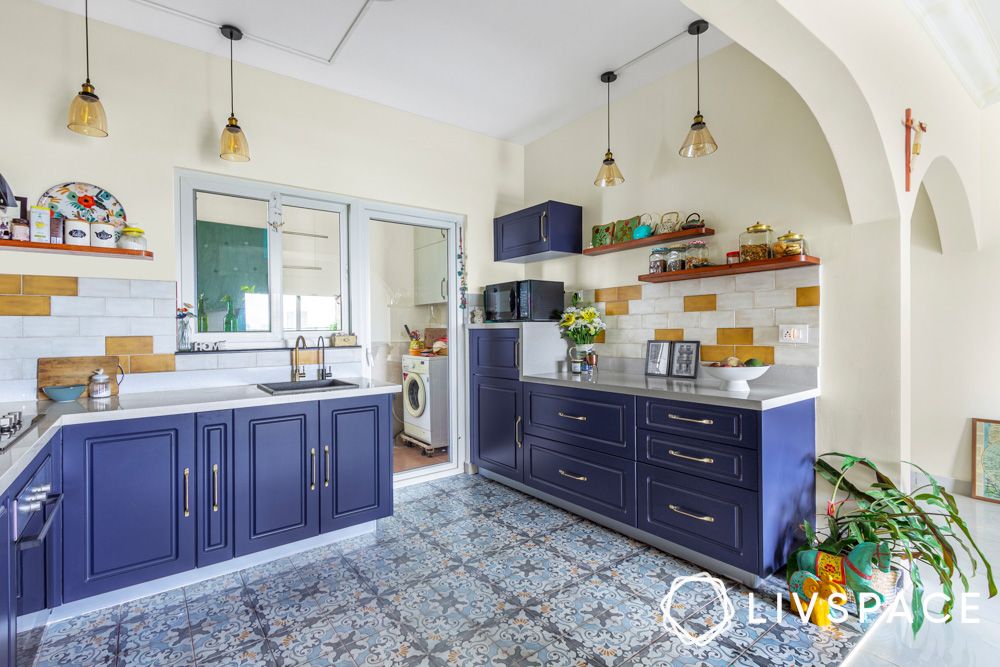 Another popular uPVC kitchen door design, this modern style is quite commonly used in kitchens.
That's because uPVC kitchen gate designs are resistant to chemicals, toxins, seawater and pollution. Plus, the kitchen's an area where fire hazards can happen. These doors are resistant to such hazards, and also ensure energy efficiency as they help maintain cool temperatures indoors.
10. The Indian Staple: Wooden Kitchen Door Designs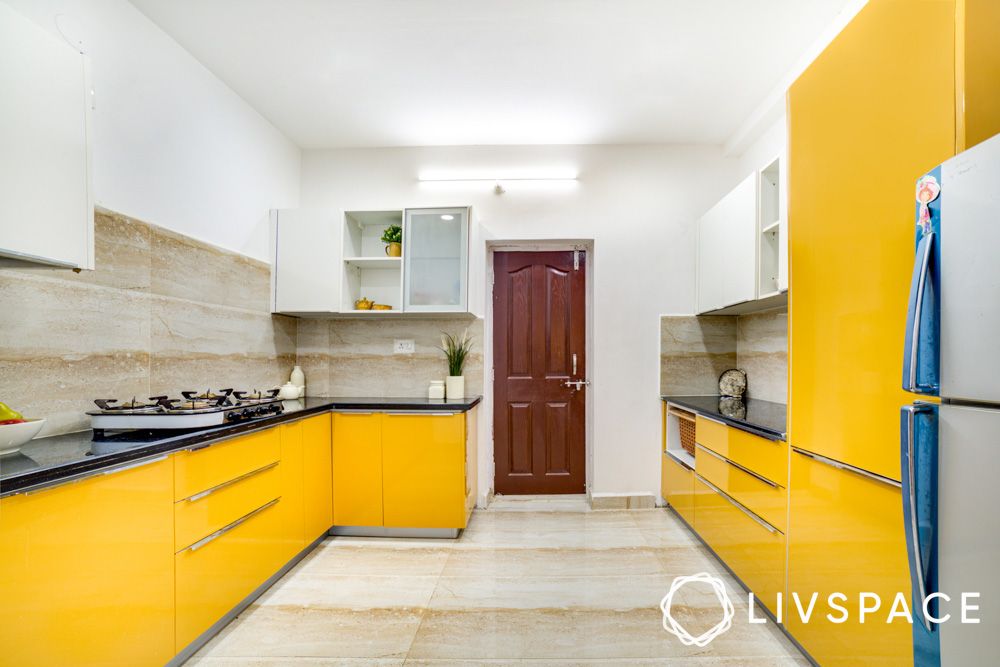 Wooden kitchen door designs are the Indian staple that we are so used to seeing everywhere. While the trend is shifting in recent times, wooden kitchen door designs are still one of the top choices for homeowners.
That's because wooden kitchen door designs provide insulation like no other, are durable when cared for, look elegant, and can stand the test of time.
11. The Classic Wooden Kitchen Door Design That Fits Every Style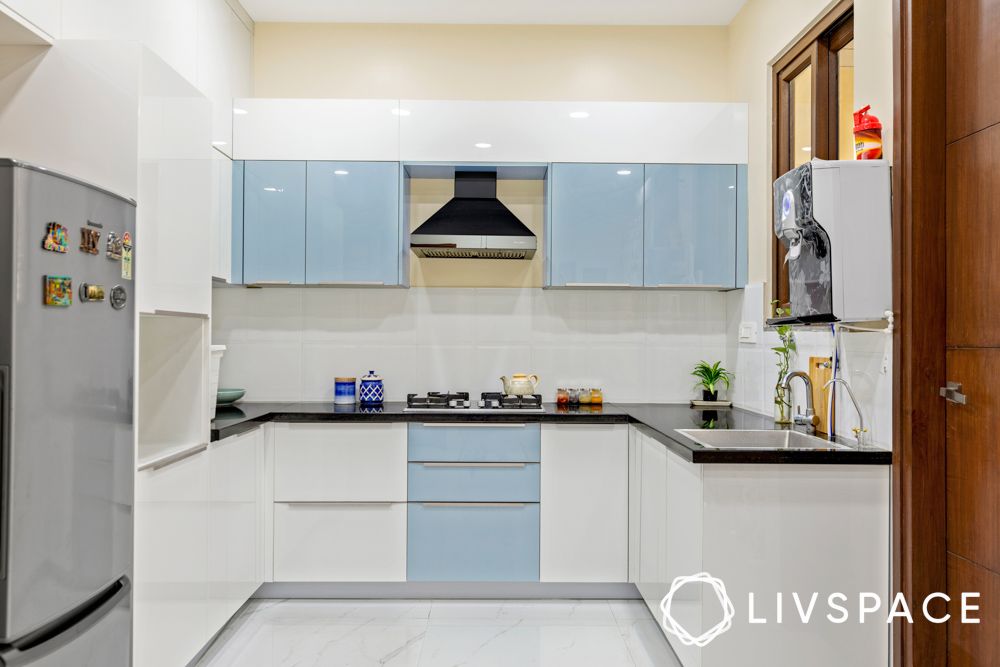 Another reason why wooden kitchen door designs are popular is because of their timeless appeal. They never seem to go out of style, especially in Indian households!
Also Read: The 10 Best Wooden Door Design Ideas You Can Try for Your Home
12. A Wooden Kitchen Door Design With an Enduring Appeal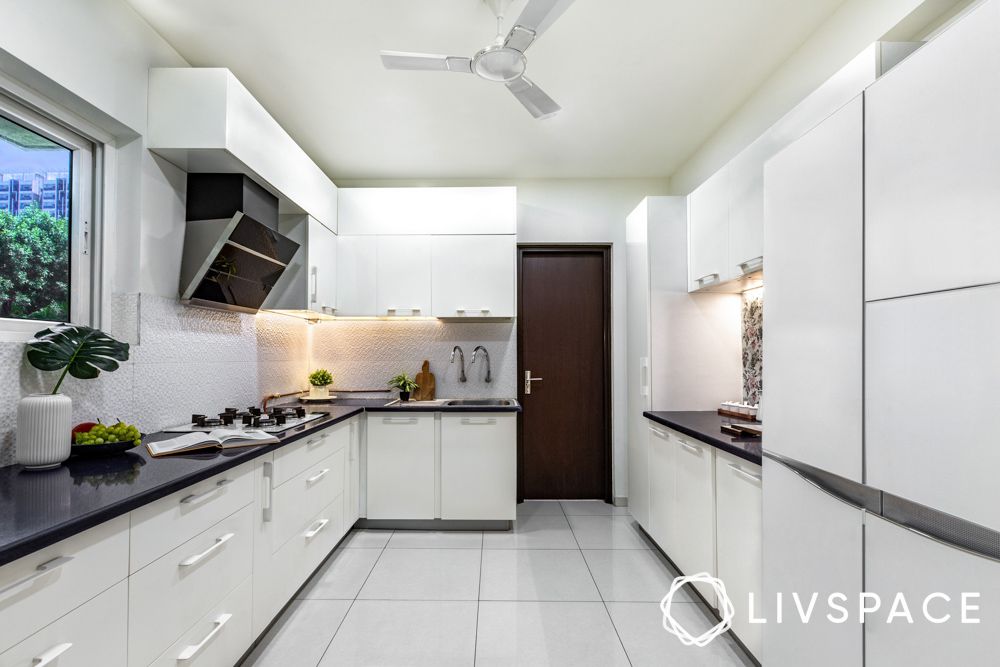 No matter the type of your kitchen—traditional or contemporary—wooden kitchen door designs are a versatile choice that's sure to fit any kitchen.
Wood is also a natural insulator, which means it will keep your home warm in winters and cool in summers. Plus, it's a durable material that can stand the daily wear and tear of a busy Indian kitchen.
13. THE Kitchen Door Design for Narrow Spaces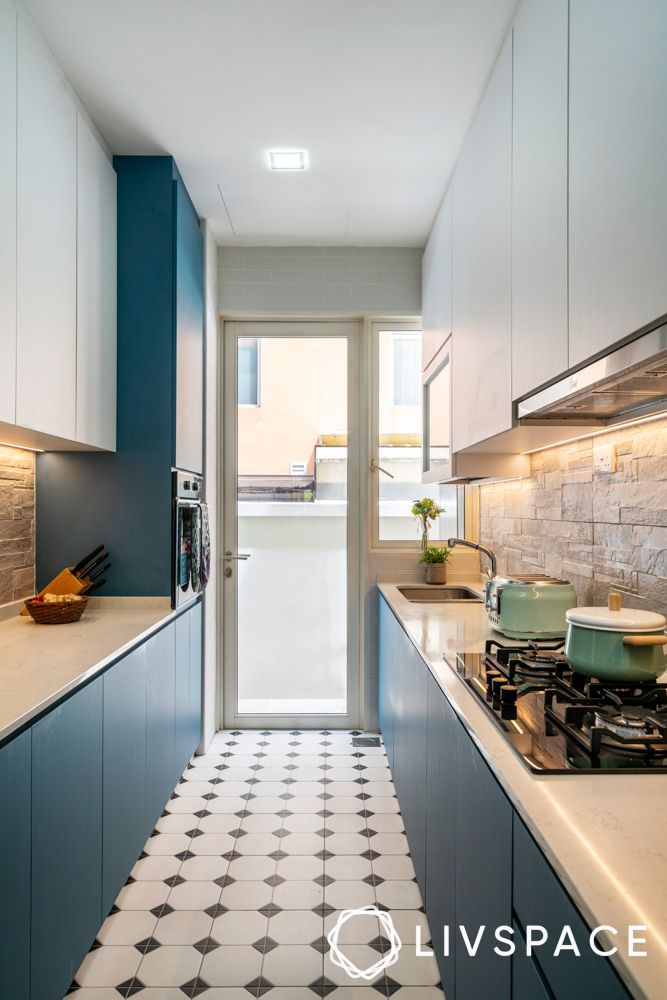 Yet another kitchen door design made of fibreglass, this one's a favourite because of the low upkeep it requires!
In India, a country with tropical weather, fibreglass ensures that your doors are protected from warping, chipping, and rotting. Not only that, it's perfect for a high footfall area like a kitchen because it's resistant to dents and scratches with proper maintenance.
14. A Spacious Kitchen's Double Door Design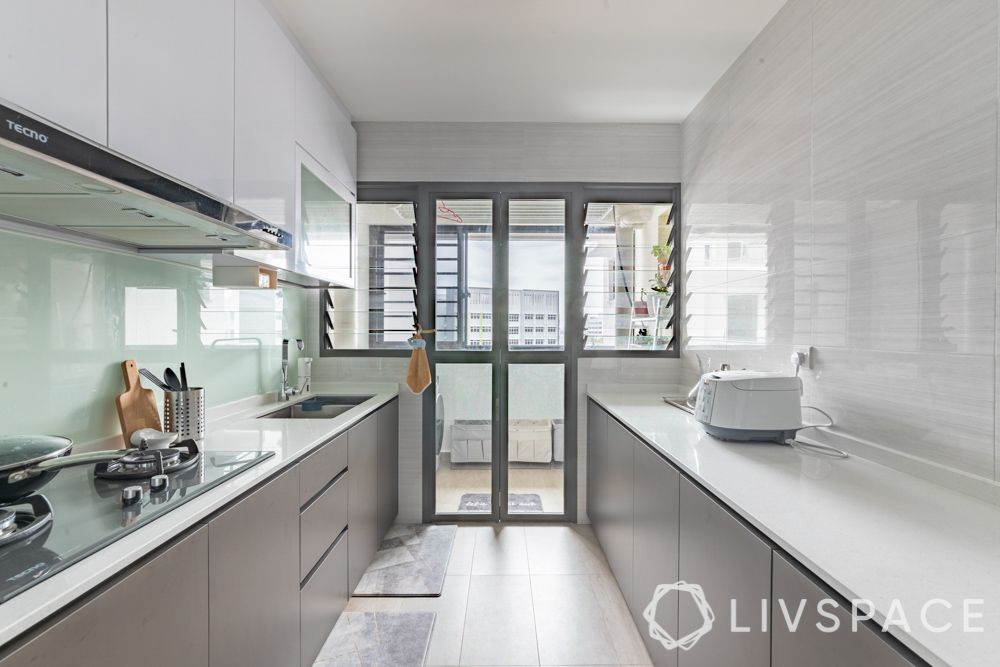 So far, we have shown you fibreglass or uPVC kitchen door designs that are perfect for small homes and narrow spaces. That might make you wonder whether these are great options for a spacious kitchen.
The answer is YES! They can be custom-built and offer the same level of safety (from hazards) and security (from break-ins), no matter the size or design you opt for. Plus, they are great insulators and contribute to energy savings.
In conclusion, your kitchen door design can impact the overall look, feel, and functionality of your kitchen. That is why choosing one may not be an easy feat. So, talk to a designer and understand what works best for your home and lifestyle.
How Can Livspace Help You?
With us, you get to choose your kitchen accessories or decor elements from over 20 lakh catalogue products
Our expert designers use the finest design principles to create a home that suits your requirements and lifestyle
We use only the best, branded materials that are precision-engineered and undergo 146 quality checks
Book an online consultation with Livspace today. Have any thoughts or suggestions you would like to share with us? We are all ears! Drop us a line at editor@livspace.com.
Please note that the designs showcased within the story are subject to availability and will vary based on the year the homes were designed in. Consult our designers for more details on the latest designs.