Open kitchen partition ideas are indispensable when it comes to adding definition to your open concept interior layouts. You can use these to demarcate your kitchen from the living and dining areas and add a little privacy to your kitchen. Also, if you want to reduce the load of maintenance that these open layouts bring, then a good kitchen partition design can aid that endeavour. From classic breakfast counter ideas to more contemporary collapsible partitions, here are 8 partition ideas to help you weave function and aesthetics into your open kitchen design.
#1: A Jaali Partition Design for Kitchen
It can be a tad unflattering to have your guests sitting on the living room sofa while you are busy arranging a meal. How to cover an open kitchen in that case? One of the artistic ideas that address this problem is a jaali divider. When choosing a divider for your home, make sure it ties in with the rest of the design elements in the area.
For instance, in the picture above, the white floral patterns lead one's eye to the back lit kitchen backsplash, and white modular kitchen set up, weaving a cohesive space.
#2: A Window-Style Open Kitchen Partition Idea
Transparent window partition designs for kitchen facilitate an unobstructed flow of light between kitchen and dining areas. To make the most of this modern kitchen partition design and get more storage space, support the frames on a breakfast counter. Use bar chairs that match the kitchen and dining partition and the colour palette of the walls. To complete the look, you can set up statement lighting above the counter.
#3: A Glass Partition for Kitchen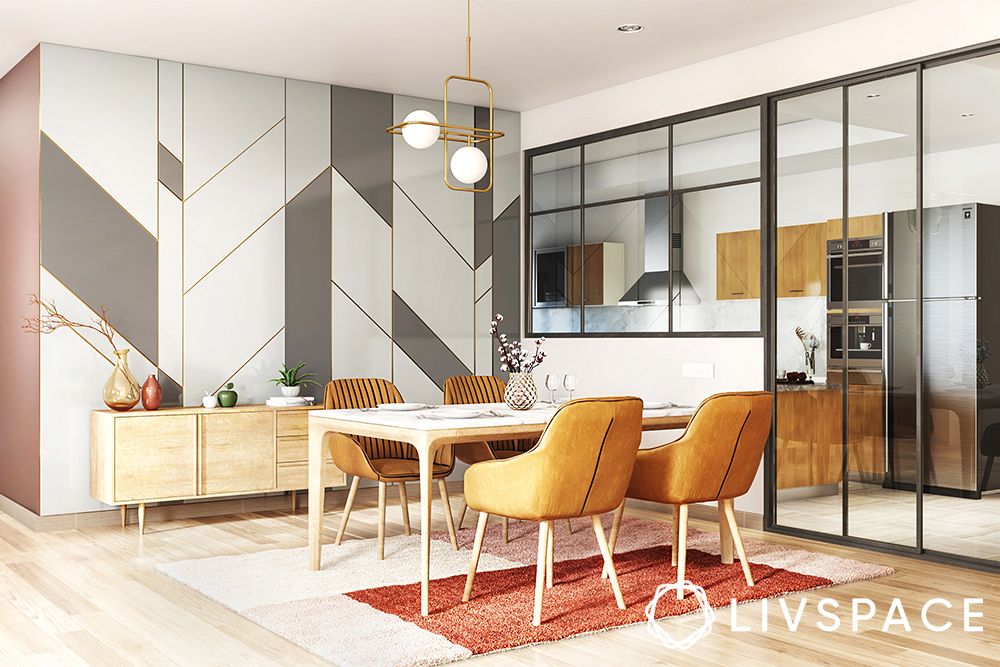 If you prefer the kitchen neatly tucked away from the dining space or the living room, a full-length glass partition is a great option. This will act as your perfect kitchen and dining partition, and keep the buzz of the kitchen, in the kitchen. Filtering in light, while still providing a view of the kitchen, this kitchen partition wall gives you that sweet semi-private experience that you want. Unify the style by using the geometric patterns on the adjoining feature wall to influence your modern kitchen partition design.
#4: A Collapsible Door for Small Kitchen Partition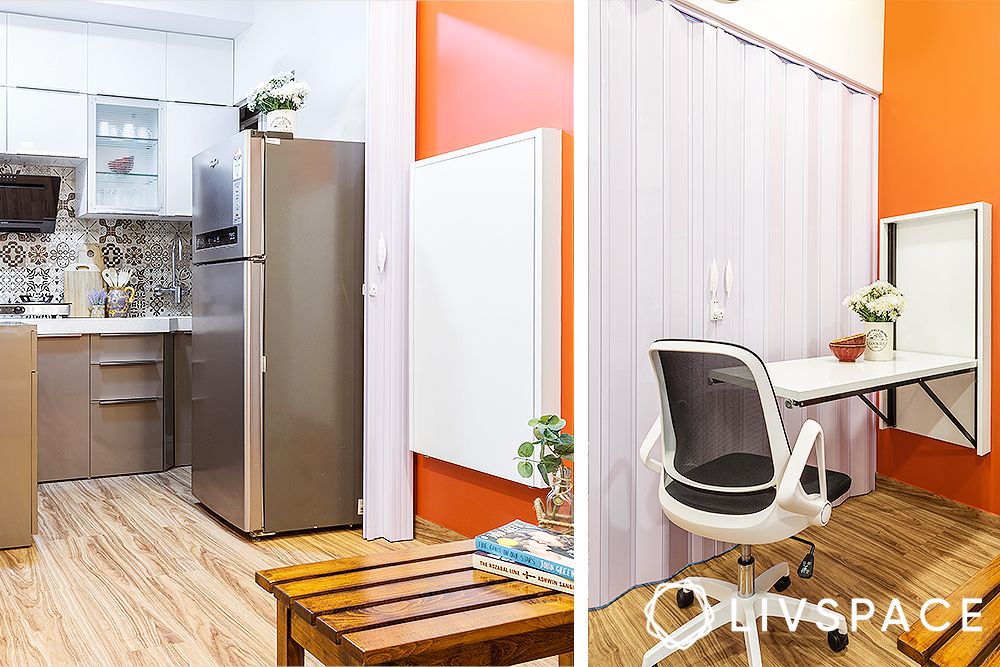 Collapsible partitions are invaluable for kitchens that are short on space. A sliding door cordons off the kitchen from the rest of the living room. Coupled with a pull-out table where you can slice, dice, cut, and eat your food, this set-up packs a lot of functions in very little space. For the colour scheme, lighter shades such as white work well in a lean space. Contrast this small kitchen partition with a rebellious burst of orange to demarcate the zones.
#5: A Breakfast Counter Partition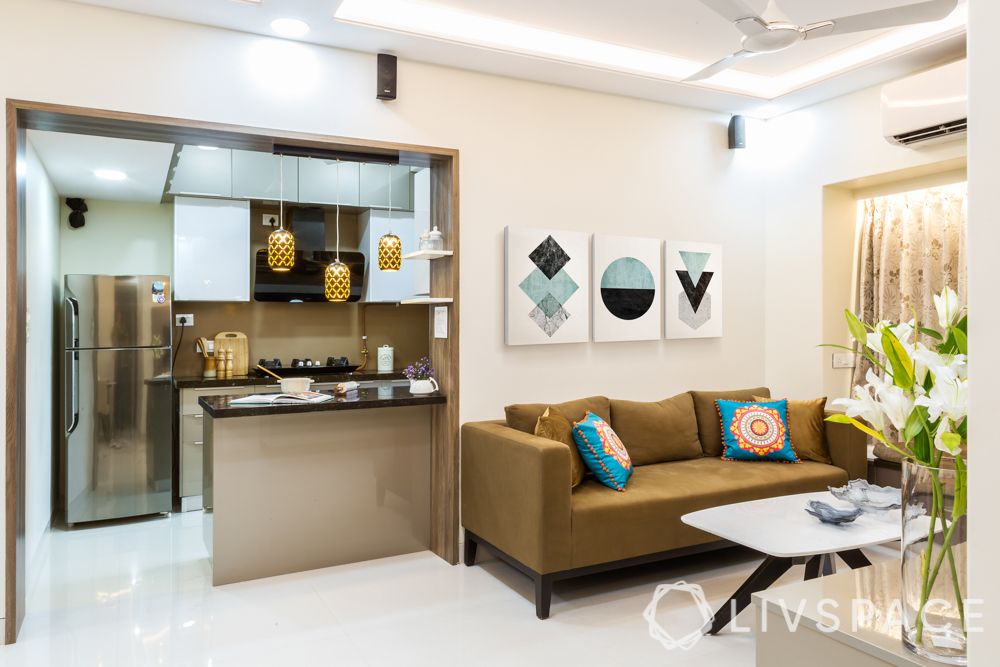 This is a classic partition idea that is simple to implement, and yet has a lot to offer. The breakfast counter in this kitchen above neatly segments the open kitchen from the hall. It is particularly useful in smaller homes, to keep the space free and uncluttered while making room for extra storage. Make sure the counter compliments the colour scheme of the adjoining walls. A few pendant lights will do for the finishing touch.
#6: A Wooden Partition for Kitchen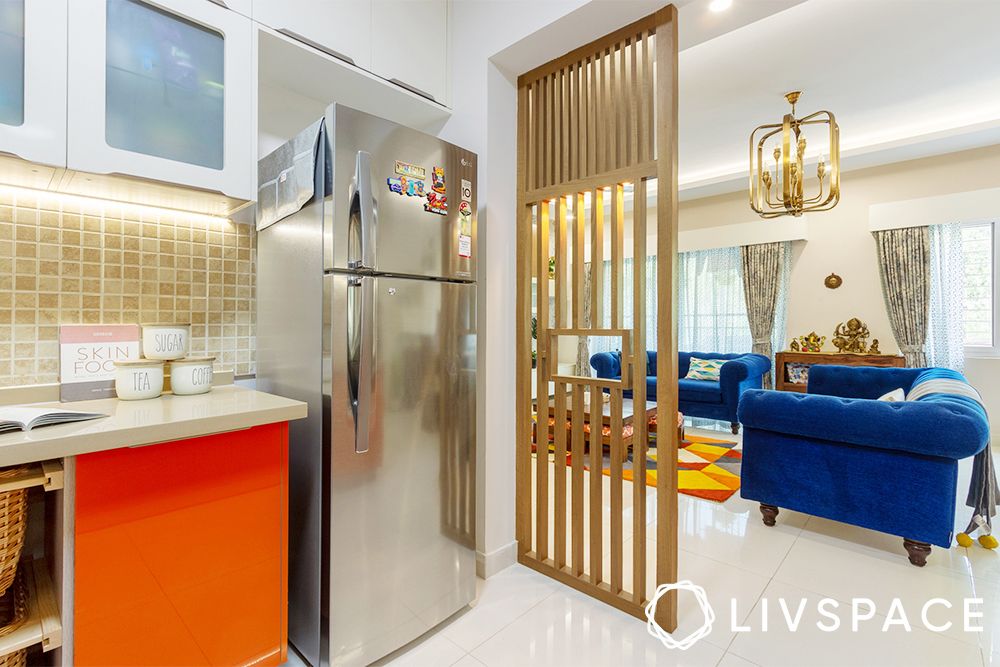 This playful design is gaining popularity as it subtly serves the purpose of partial privacy in open concept layouts. Since their designs are highly customisable, wooden partitions for kitchens make for the most aesthetic and convenient partitioning solution. They can be made of durable plywood or economical MDF. Either way, the variety in their configuration, colour and finish is vast.
#7: A Vertical Garden Kitchen Partition Design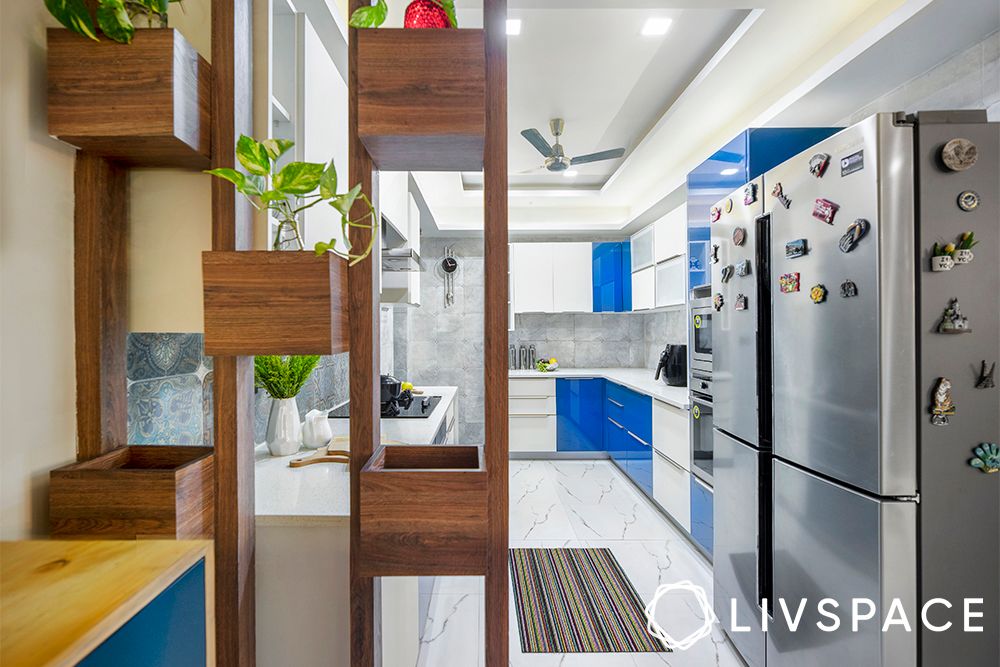 If you like keeping green and plants around the house, this partition idea might appeal to you the most. And you won't be disappointed. Since most colours used in home interiors benefit from pretty green details here and there, you cannot go wrong with this kitchen and dining partition. What's more, since it is made of wood, it is highly durable and easy-to-maintain.
#8: A Modern TV Panel Partition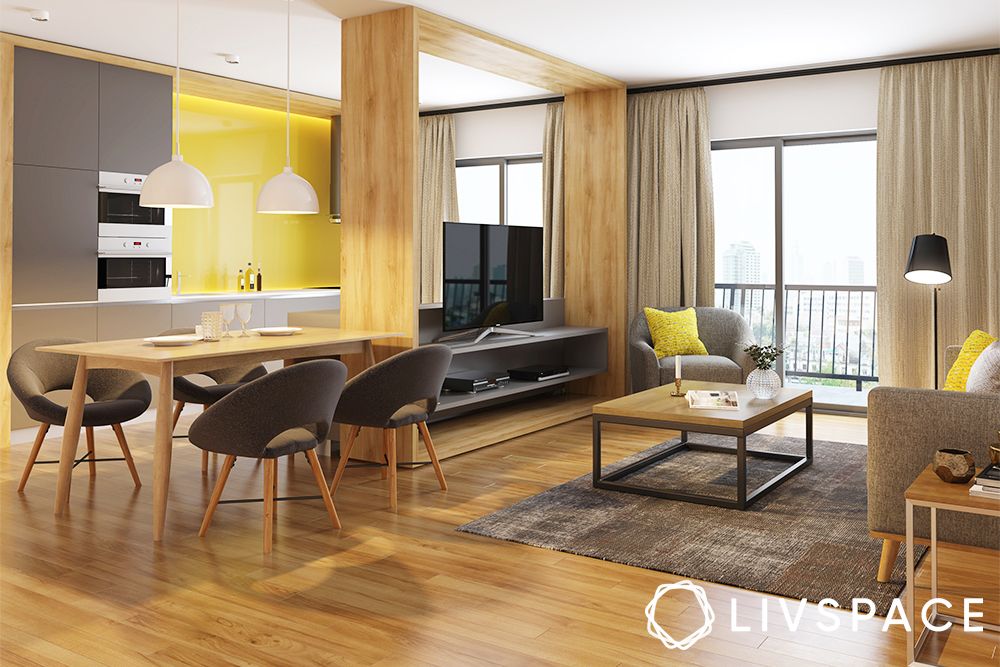 If you have a fully open concept layout like this your flat, then building a multi-functional partition unit like this will serve you best. This open kitchen partition idea is distinctly modern and relatively unique when it comes to Indian home interiors. Since the design is customisable, you can modify it to have more storage space than this to suit your individual needs.
Kitchen partitions are a great way to multiply the functionality while also elevating the aesthetics of the space. When done right, they offer the best of both worlds. Read about these 5 things to know before getting an open kitchen. And if you have already made up your mind to get an open kitchen, take a look at these 25 amazing open kitchen designs by Livspace.
Check out kitchen design ideas:
How Can Livspace Help You?
We hope you found our ideas useful! If you want beautiful interiors for your home, then look no further. Book an online consultation with Livspace today.
Send in your comments and suggestions to editor@livspace.com