Kitchen design is often influenced by several factors like cuisine, cultural insights and historical perspective. This is because the food that we cook in our kitchen is a sum total of all these influences. Let us begin with a piece of historical trivia: Did you know that kitchen designs in India were all for sitting kitchens till even 50 years ago? Our grandmothers probably sat down and cooked on low-height hearths and the storage around them was set up accordingly. So, the concept of a standing kitchen itself is new to our country.
But even if we assume that a standing kitchen is a modern mandate, how different is a contemporary Indian kitchen from the ones found in the rest of the world (read the West)? Let's find out.
What is the ideal Indian kitchen and how is it different from kitchens abroad?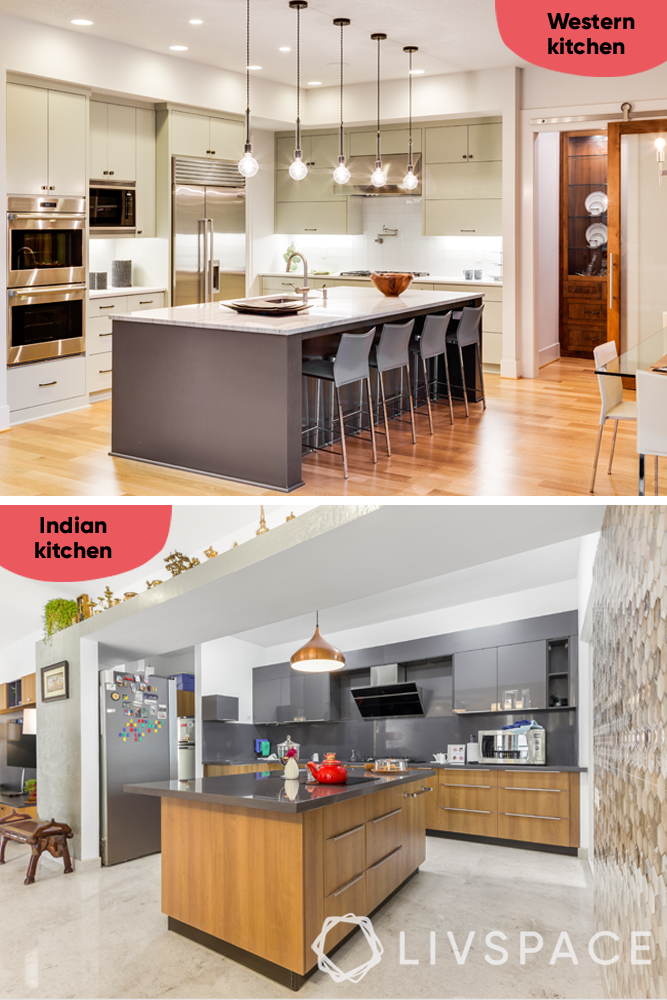 In a contemporary setup, kitchen designs in India are a wide spectrum. There are many different designs that can suit different lifestyles and family types. For instance, a single woman living alone would not need a kitchen that can support cooking for a large family with children and grandparents. However, if we are looking at the lowest common denominators for an Indian kitchen, they are as follows:
#1: Closed layout because there are too many strong flavours brewing in the kitchen
#2: Plenty of storage as we are known to hoard groceries
#3: Darker colours because the tadkas fly and make the kitchen oily very quickly
#4: Sturdy flooring and countertops with easy-to-clean backsplashes because we are most likely to cook up a storm!
*Not all Indian kitchens subscribe to these generalisations, so they are just directional and should not be considered thumb rules.
The best kitchen designs in India and why they work!
Design is all about variety, and to illustrate this very thing, we have picked over 25 best kitchen designs from our top #LivspaceHomes. Let the inspiration begin!
#1: Dual-toned parallel home kitchen design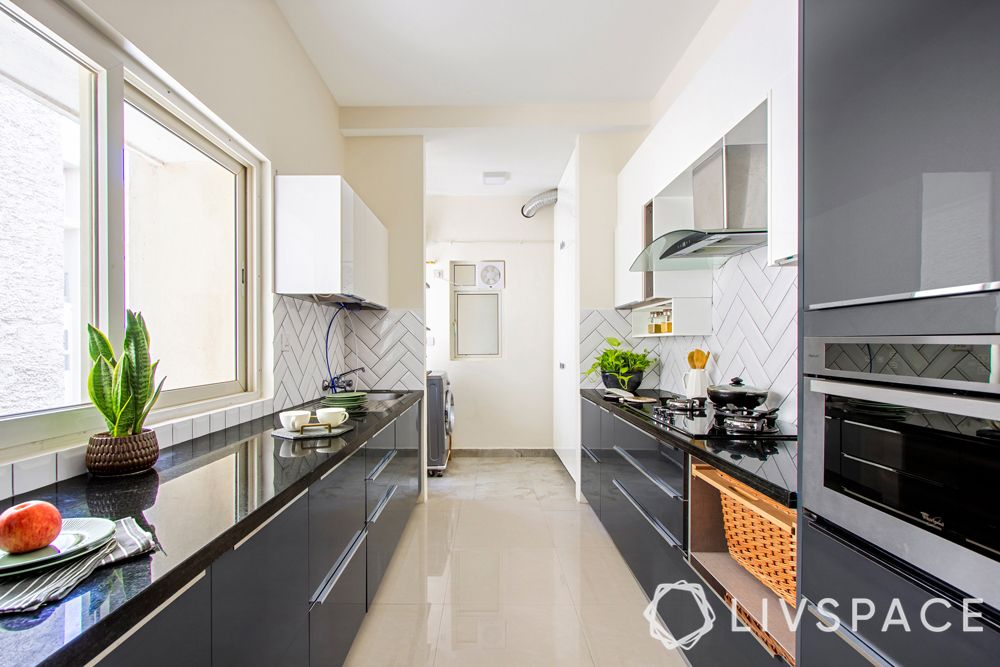 USP: This longish parallel kitchen provides enough counter space to cook for the big fat Indian family.
There is room here for multiple cooks. Also, don't miss the fact that all the base kitchen cabinets design are actually drawers that will significantly improve accessibility; this is one kitchen design that takes the elderly into account.
#2: The peppy yellow kitchen island design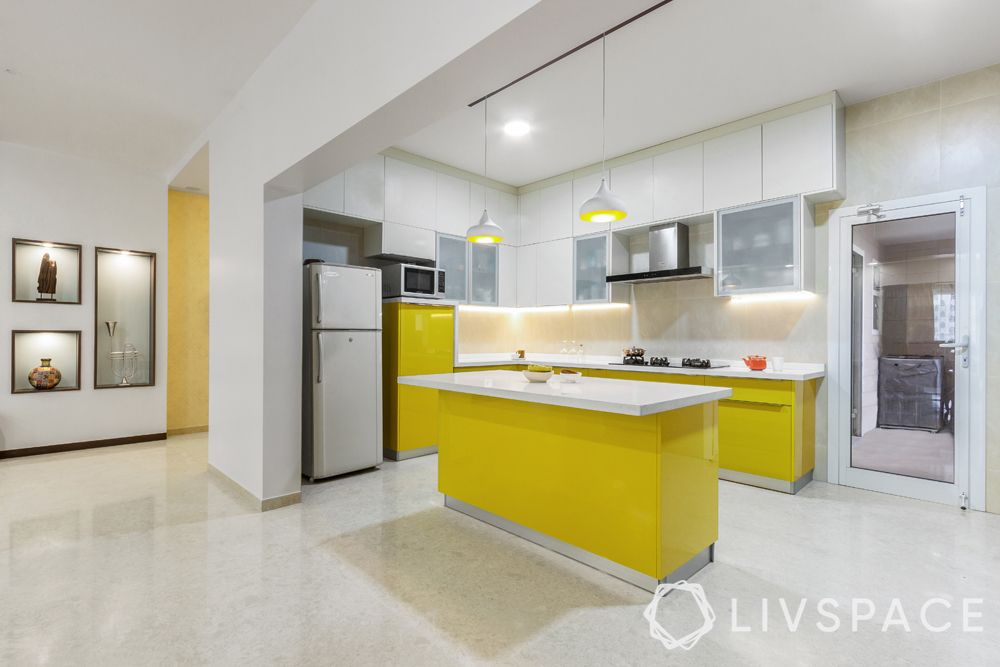 USP: Indians love pop colours and this is a 'pop' kitchen.
This is one of our favourite Indian open kitchen designs. It is highly unlikely that you will find that bold shade of yellow anywhere else in the world!
But don't miss the sheer scale of this kitchen island design either. The storage it offers (see the lofts) also gives it entry into the great hall of fame of Indian kitchens!
#3: 'Lofty' kitchen in neutrals and white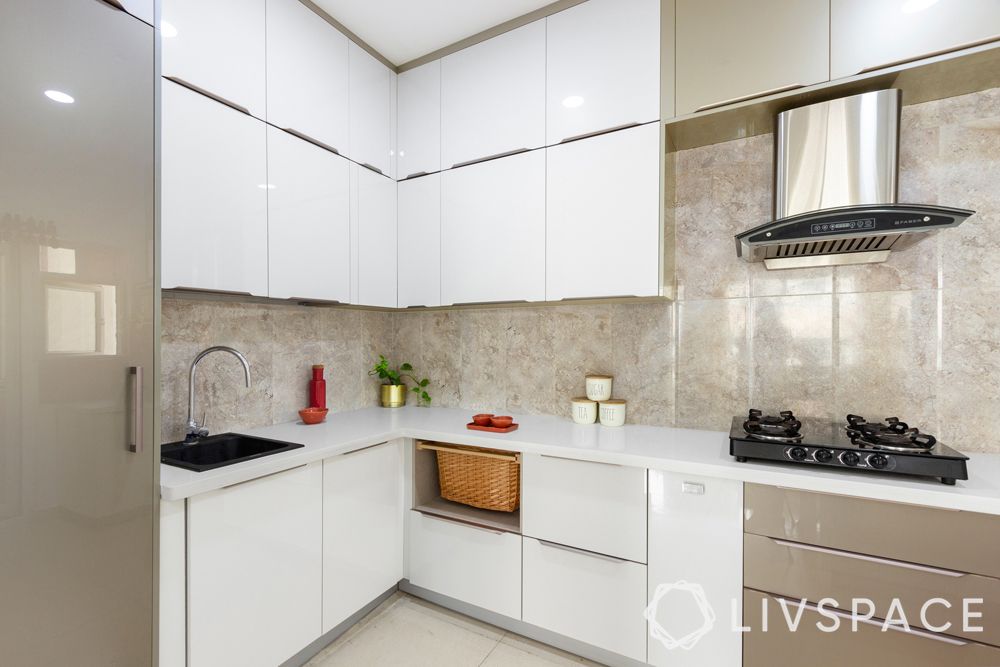 USP: Lofts are a definitive Indian element for kitchens. We can never have enough storage!
The floor-to-ceiling vibe of this home kitchen design is very desi. It would convince an Indian family that no space has been wasted. Moreover, we love how the whites form the prep area within the kitchen.
#4: A kitchen with all spoons in a row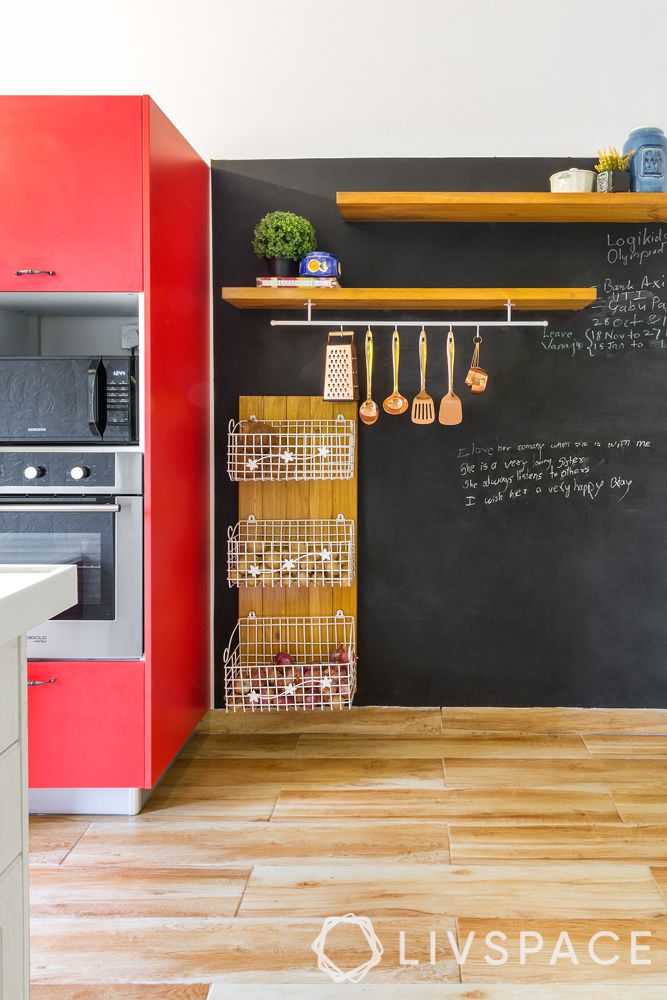 USP: There is no end to the number of kadchis we use. Best to have some space to hang them!
While it is really helpful to have all the cooking and serving spoons in a row, the blackboard behind the rack is a gamechanger, making this amongst some of the best kitchen designs for Indian homes. It can be used to plan menus or leave instructions for the household help. And guess what? It is really inexpensive too!
#5: The utility of kitchen designs in India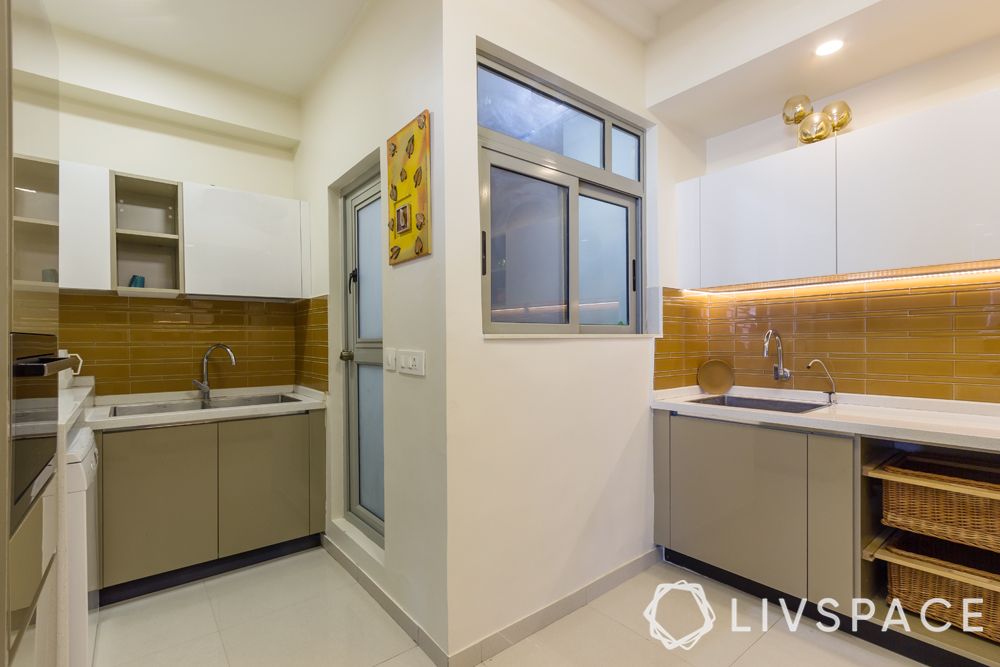 USP: The utility of kitchen designs in India is directly related to whether they have a separate utility area or not.
There is always a chance that our household help won't turn up on some days. It is therefore a good idea to have a separate utility sink so that the one in a traditional Indian kitchen design doesn't get filled up with used vessels. Besides, an extra sink will always be of use.
#6: Privacy is essential in the kitchen as well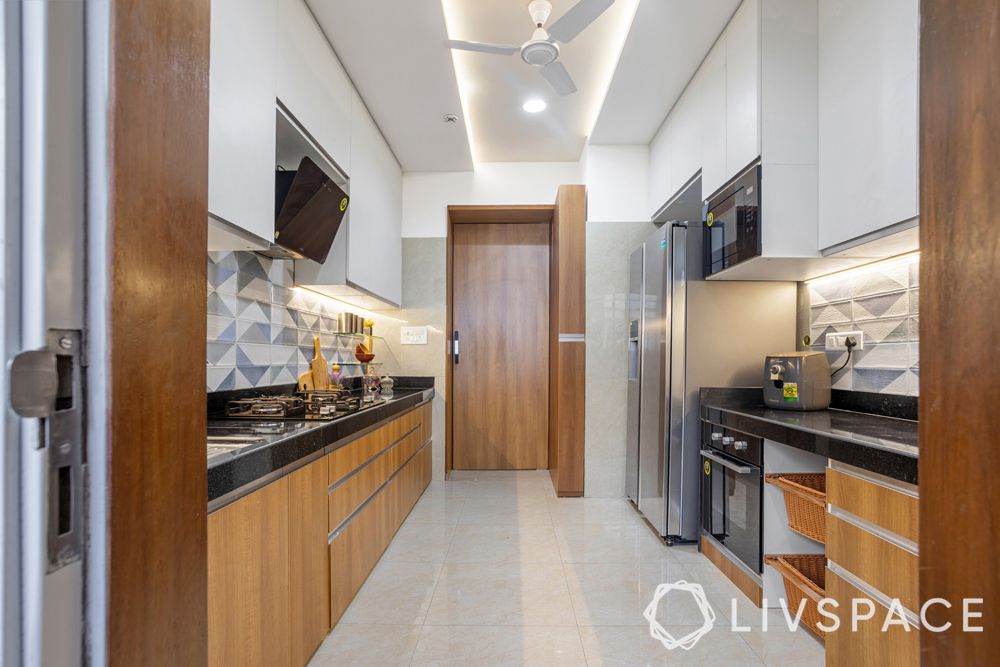 USP: Closed kitchen with doors works in keeping the simmering flavours away from the living room.
This particular kitchen has a traditional kitchen door design but you can also install a sliding door to save space. If none of that is possible, a partition can do the job too.
#7: The classic blue and white mix that will never go out of style!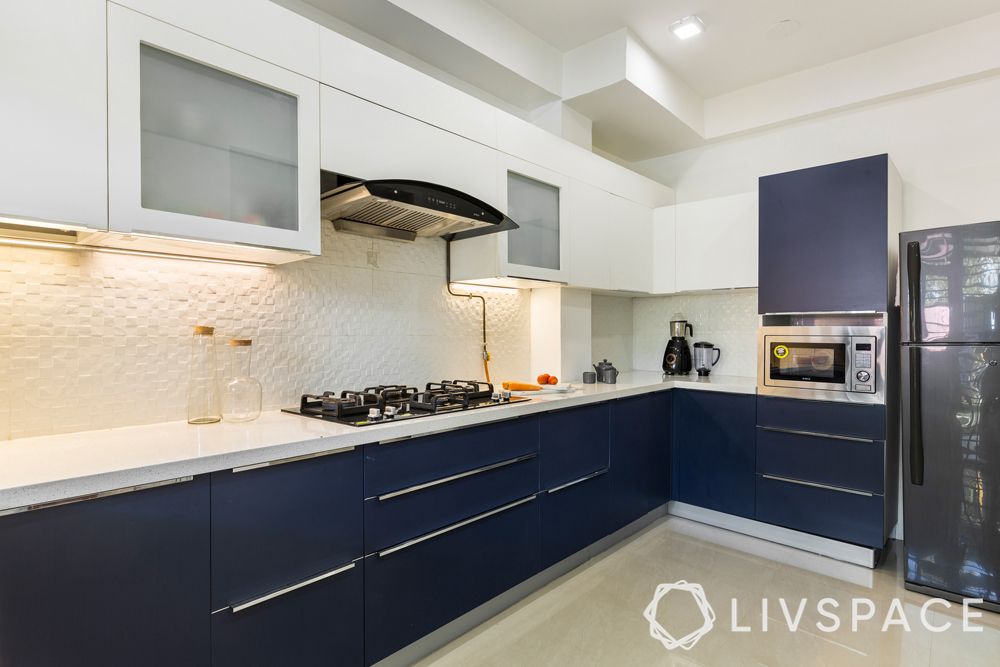 USP: Dark-coloured lower cabinets are protection against curry spills.
Don't be deluded by the white countertop. It is made of high-quality quartz that is not porous and can handle very high temperatures. So, it will hold up against curry spills too even if it's pearly white.
#8: Small kitchen ideas for the Indian summers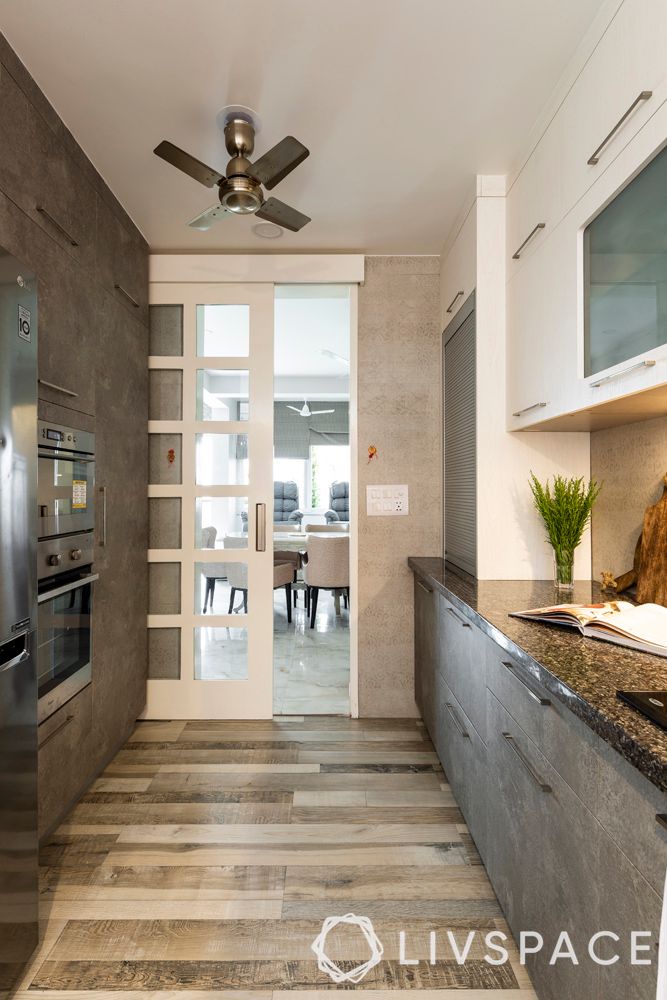 USP: A fan in the kitchen for the Indian summers!
It takes a person who has cooked in a stuffy kitchen at 45 degree celsius to appreciate the value of a kitchen with a fan! A fan also helps disseminate smoke and smells quickly, especially in compact kitchens. So, if you are looking for small kitchen ideas, ensure the kitchen has a fan.
#9: Artistically desi kitchen
USP: How often do you see Indian motifs for backsplash tiles?
This particular minaret pattern reminds us of Mughal architecture, one of the architectural styles that our country is famous for. Within a white or neutral kitchen, this backsplash would definitely be the statement piece.
#10: A home kitchen design that is stocked with storage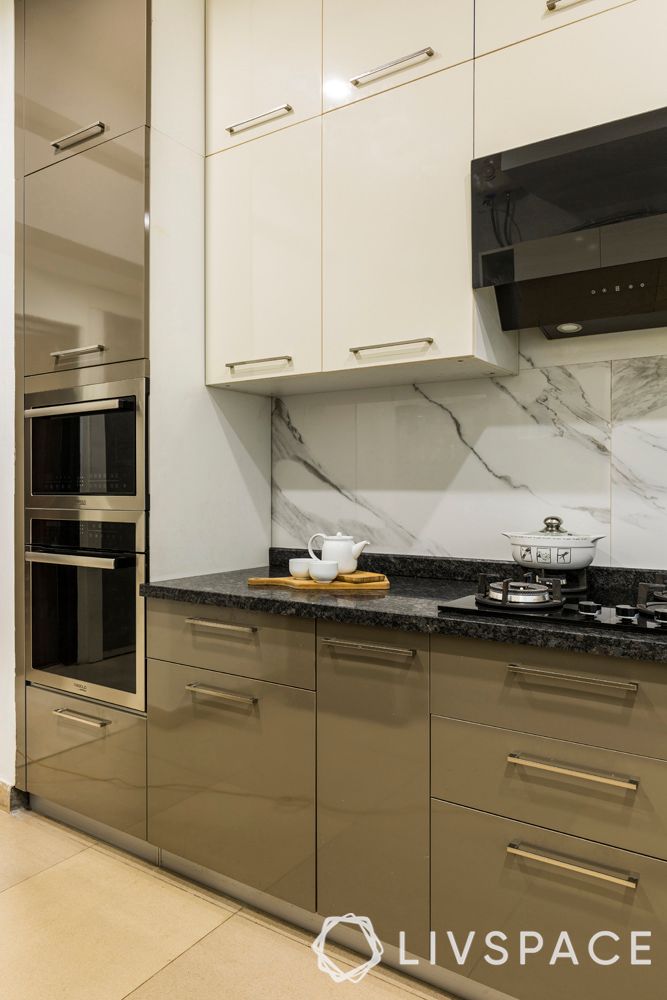 USP: Storage, storage and more storage.
As far as our eyes can see, we see only storage in this kitchen. And it's all covered, which protects it from oil and grime. That makes this one of the best kitchen designs suited for India.
#11: A well-ventilated kitchen island design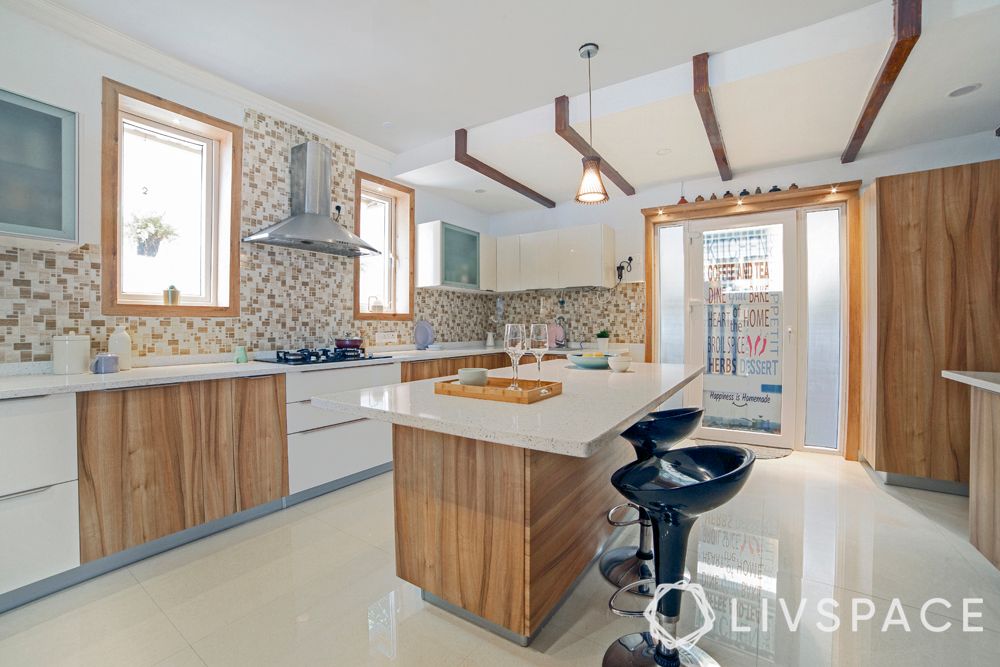 USP: A kitchen with many windows is a very Indian concept.
Even before exhaust fans existed, kitchen designs in India incorporated ventilation by having windows on both sides of the space. Together with its wooden tones and massive size, this kitchen island design is ideal if you have a large family to cook for.
#12: For the masterchef in you!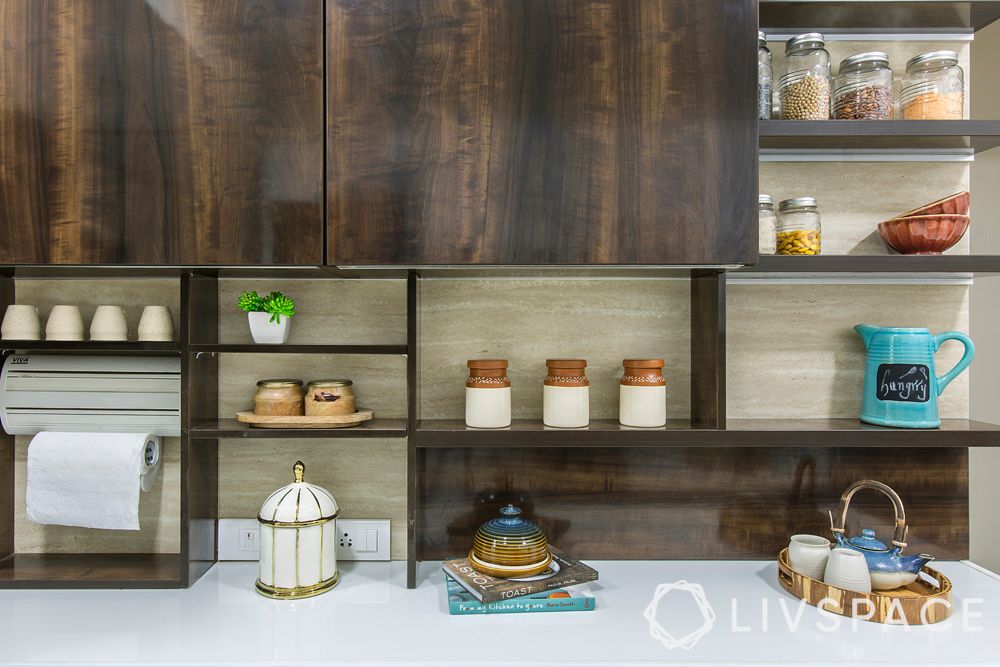 USP: Lots of open shelves for accessibility for those who cook in a hurry.
If you are a working mom or a busy homemaker, your hands would have developed muscle memory of where you keep things in the kitchen. You can finish cooking in your sleep, so it helps if you have open shelves that you can reach out to easily.
#13: A kitchen of spicy affairs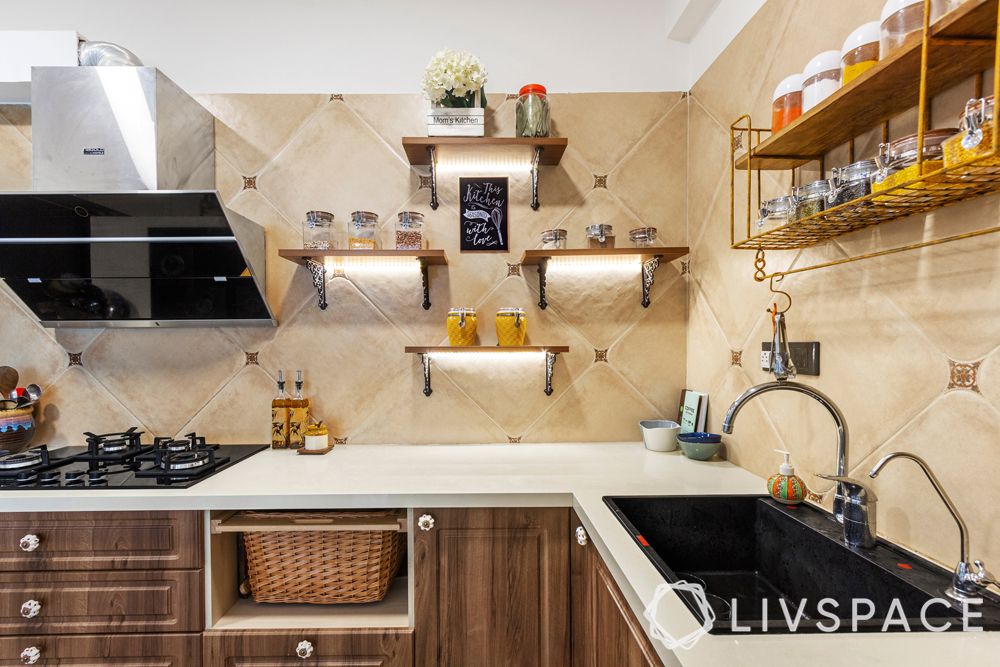 USP: Plenty of spice racks for our numerous spices.
This is an interesting point that sets apart kitchen designs in India. On an average, a kitchen in the West would have five to six spices at most. We have close to 20 on average! The number might be much higher depending on who is cooking. Thus, apart from modular kitchen cabinets, we need plenty of shelves just for stocking the spices.
#14: And the modular solution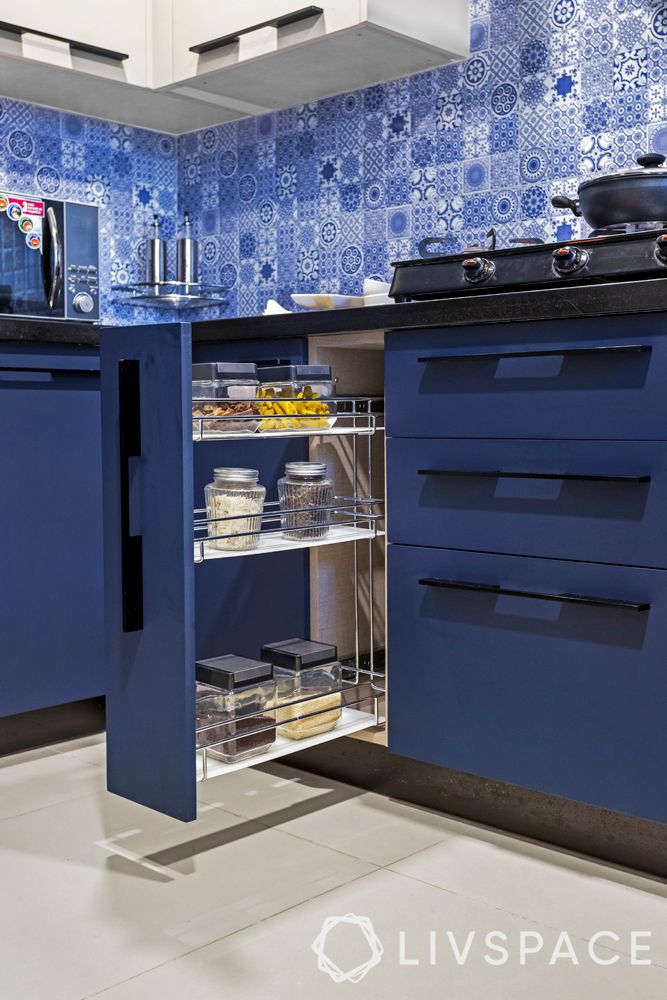 USP: Or pull-outs for spices.
For all the exotic spices that you don't use often, there are pull-out accessories. Modular solutions are a godsend for an Indian kitchen because they help us organise our extensive ware.
#15: Pantry pull-outs: Keeping families and groceries together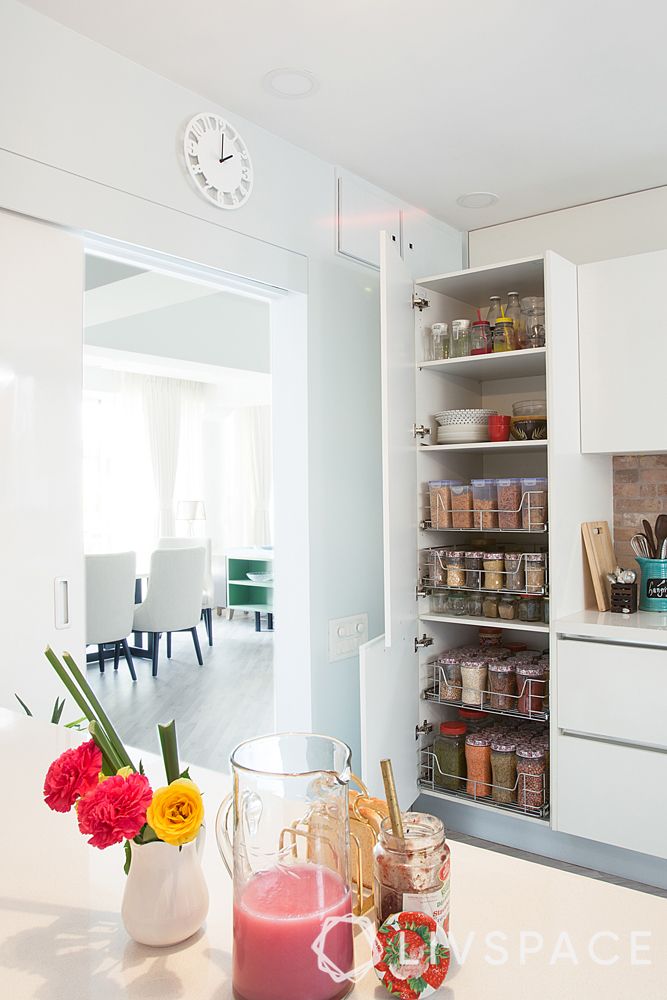 USP: One destination for all the groceries we store, usually installed within a tall unit.
In a modern Indian family, gender roles are fast fading. As a result, it is not just one person who is cooking in the kitchen most of the time. Multiple cooks in the kitchen can lead to domestic feuds as they would probably be storing the groceries in different cabinets. But with a tall unit that has a pantry pull-out, the entire magnum of the groceries are in one place.
#16: The happy yellow country kitchen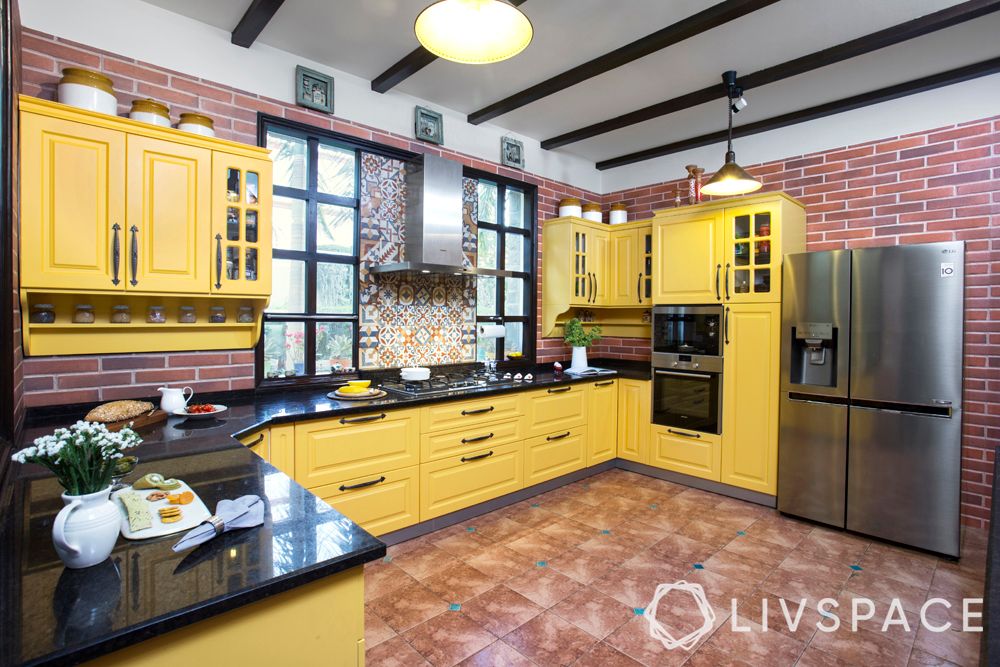 USP: Country-style Indian kitchen.
Country-style kitchens are characterised by their breezy design and accessibility in the West. Our desi versions aren't so different structurally. But the colours they flaunt make them unique. And don't miss the exposed brick wall, which adds a rustic touch.
#17: Thumping victory for the thali basket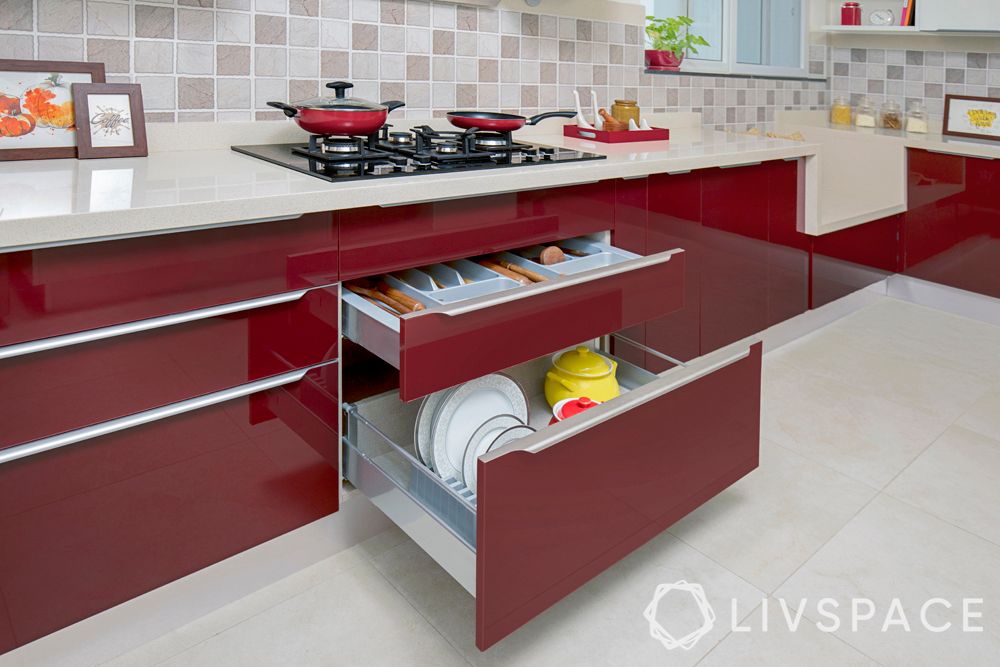 USP: We can't do without the thali and chamach basket.
No matter what Indian kitchen you walk into, you will inevitably find a thali basket in the lower cabinets and a tray for sorting spoons. These have become staples for us.
#18: The hob and the 'black' countertop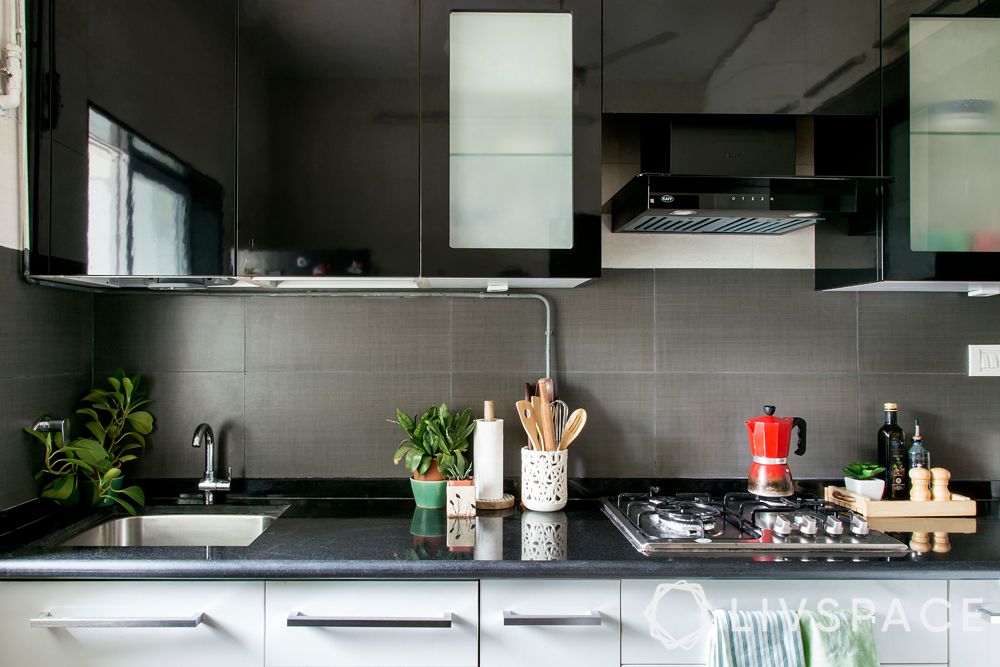 USP: The quintessential black granite countertop.
The shiny black countertop is what we have grown up seeing in our homes. Granite is still the most cost-effective and sturdy kitchen slab design in India. Plus, everything goes with black and you will not feel restricted while choosing the colour of cabinets.
#19: The energy of fire and food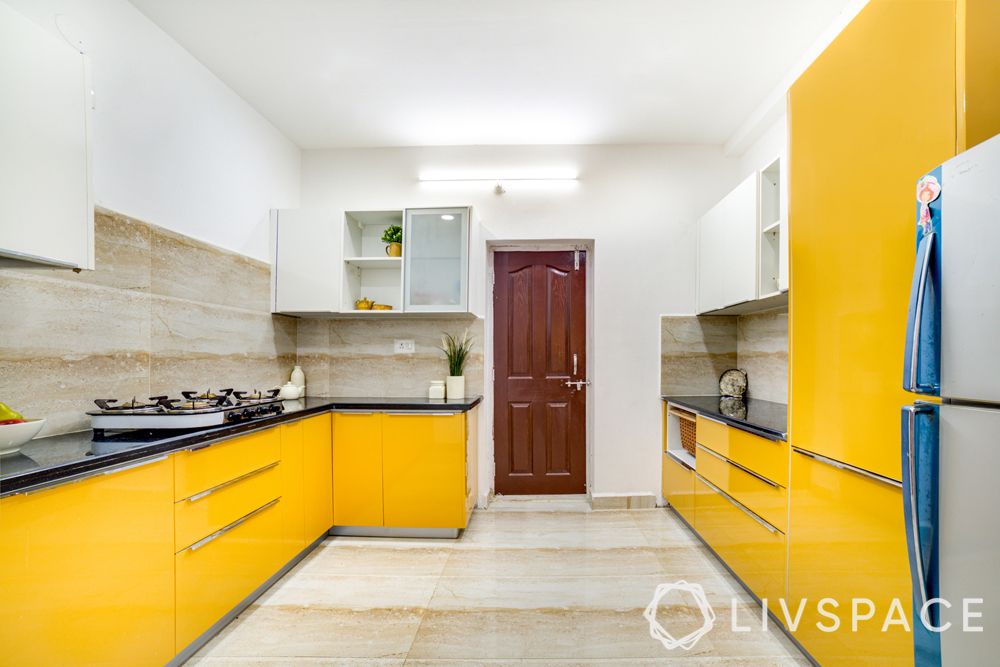 USP: Vastu-compliant kitchen.
If you are living or have grown up anywhere in the Indian subcontinent, you will understand the emphasis we lay on vastu shastra. And as per vastu, kitchen designs in India have the energy of agni or fire. Thus, they must be red, yellow or orange in colour to reflect their warmth.
For more, click here.
#20: Curves are back!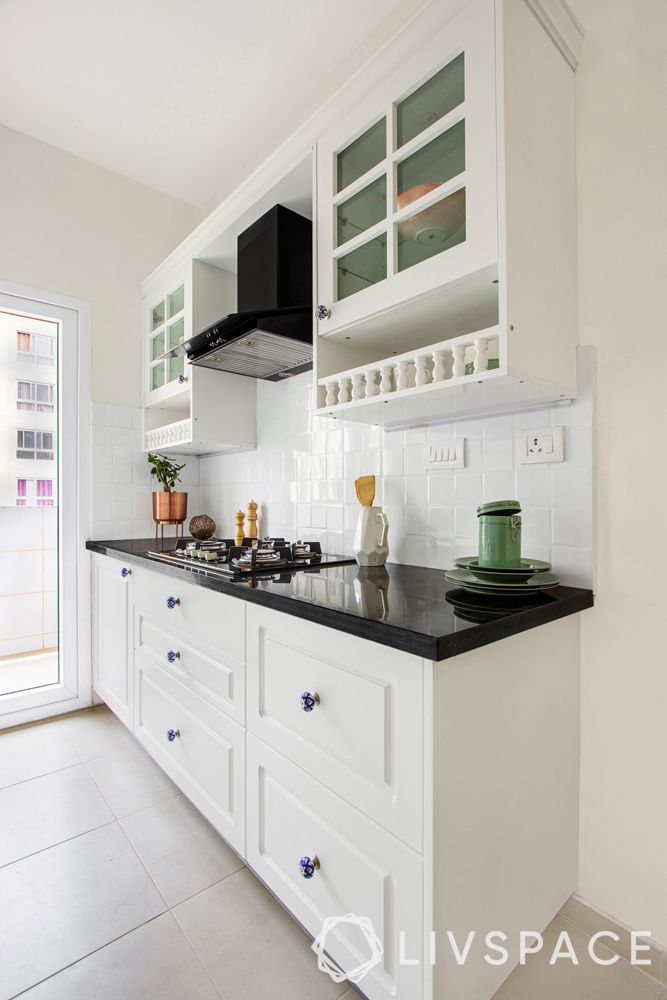 USP: Ornamental shelves go very well with our Indian sensibilities.
While the rest of the world finds straight lines and clean layouts attractive, we have our hearts set on curves. Those curvy spice racks are 'oh so Indian'!
#21: Eat. Pray. Love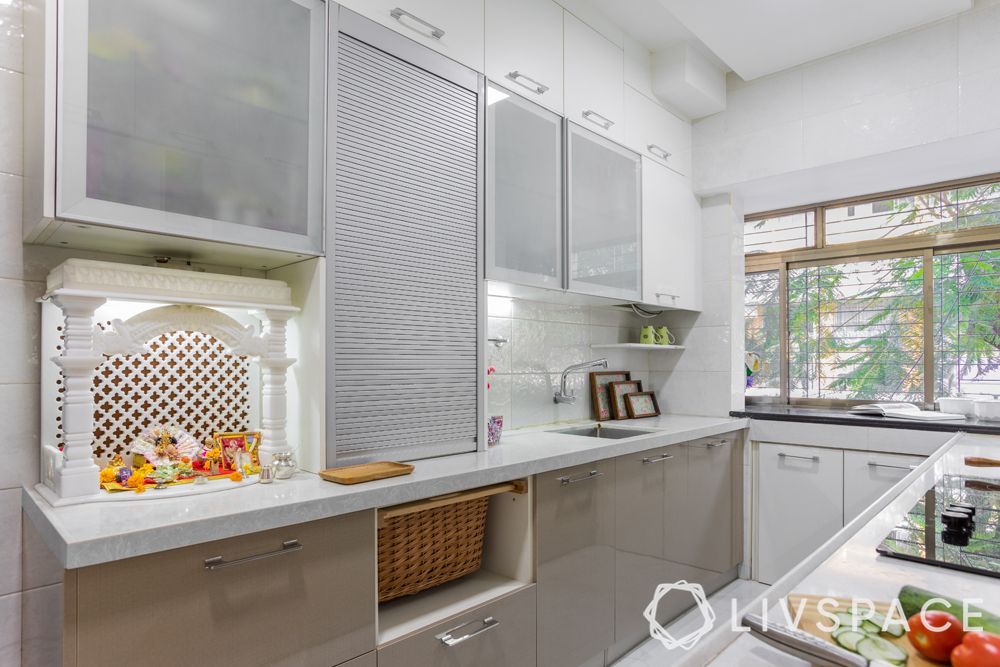 USP: Mandir in the kitchen.
In Indian households, the kitchen is second in sacredness only to the pooja room. And if you can bundle together the pooja room and kitchen designs in India, then there is nothing quite like it.
#22: Lighting up like a pro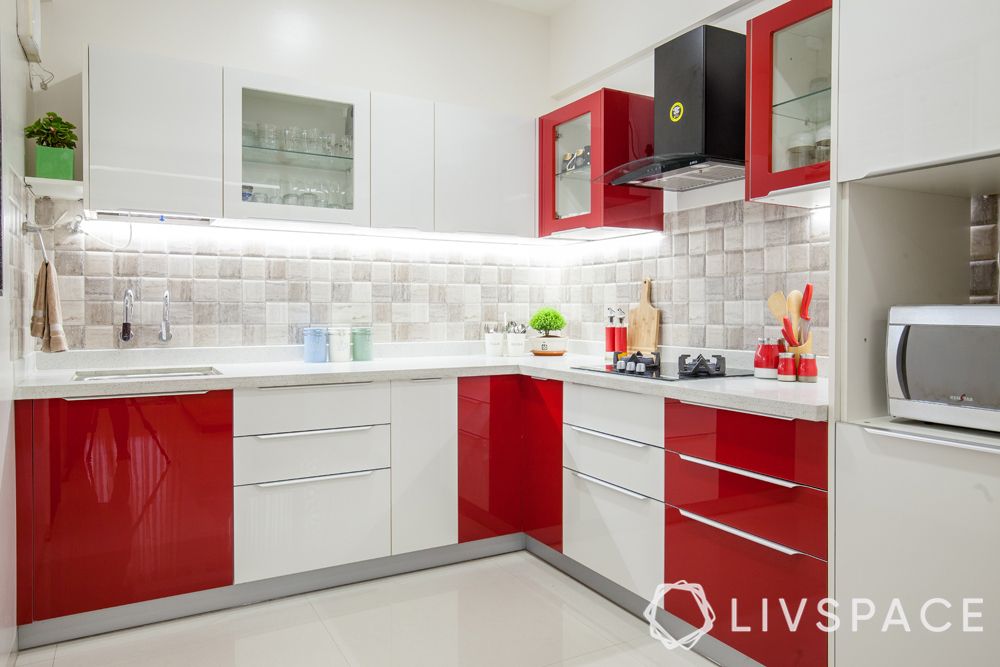 USP: Task lighting for all the prep work.
While our cultural aesthetic lays great emphasis on natural light for well-lit kitchens, task lighting is one of the modern tenets of design that we have made our own. And if you are looking for small kitchen ideas, lighting is a great way to make the space look bigger.
#23: The serving window for those who love to entertain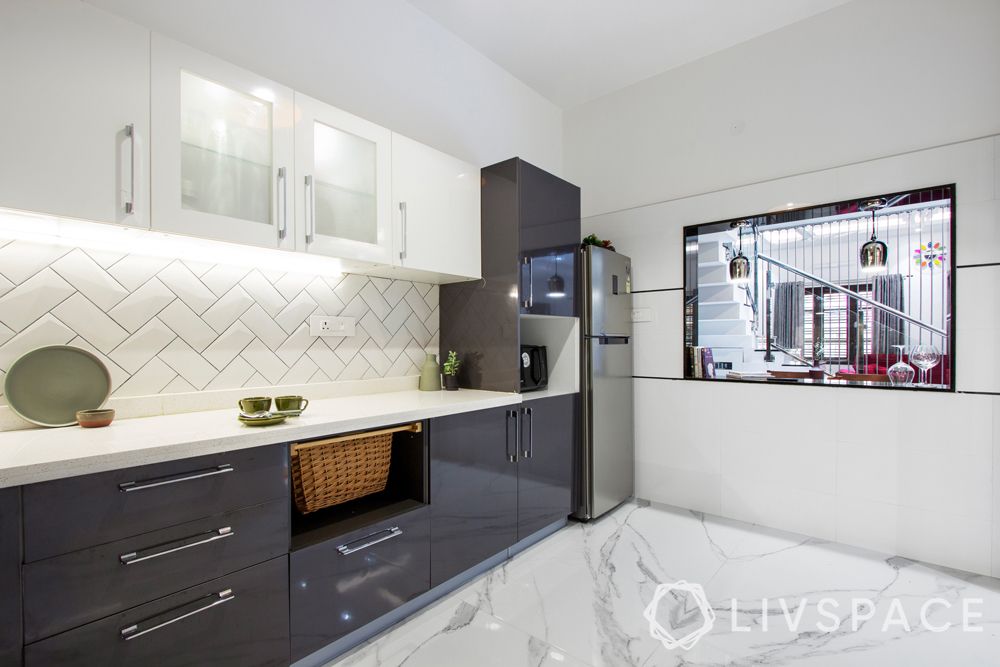 USP: The serving window allows easy access to food without compromising the privacy of the kitchen.
The serving window was part of colonial kitchen design that included an 'upstairs' and 'downstairs' culture. The staff prepared the food and served it without the hustle of the kitchen reaching the formal dining durbars.
#24: Keep it simple, silly!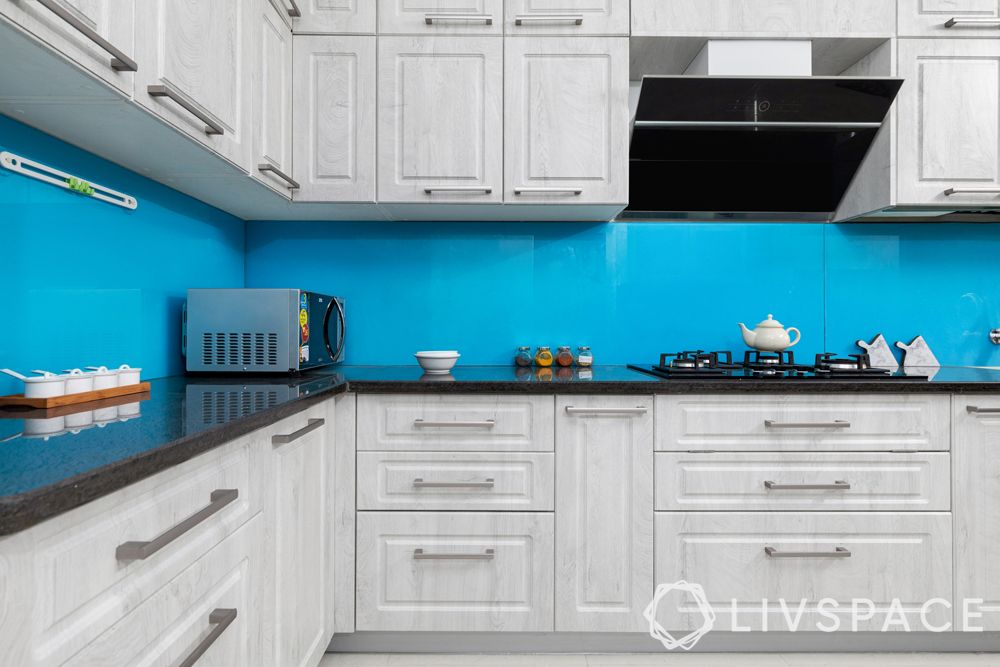 USP: The back-painted glass of the backsplash is very easy to clean.
We do have to clean the space so often because of all the oil, smoke and grime that are natural outcomes of our kind of cooking. Additionally, back-painted glass looks seamless and is much cheaper than most tiles, making it a good option for kitchen designs in India.
#25: The no-bend kitchen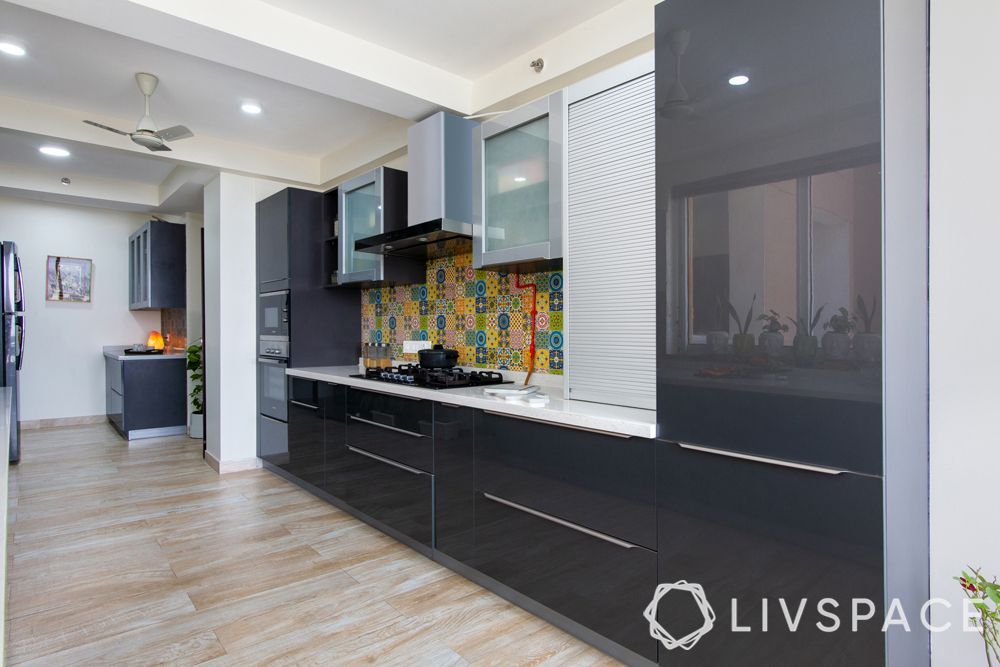 USP: All lower modular kitchen cabinets are drawers. So, there is no need to bend and reach in.
This kitchen design India clearly accounts for the elderly people cooking in our kitchens.
#26: Cast in wood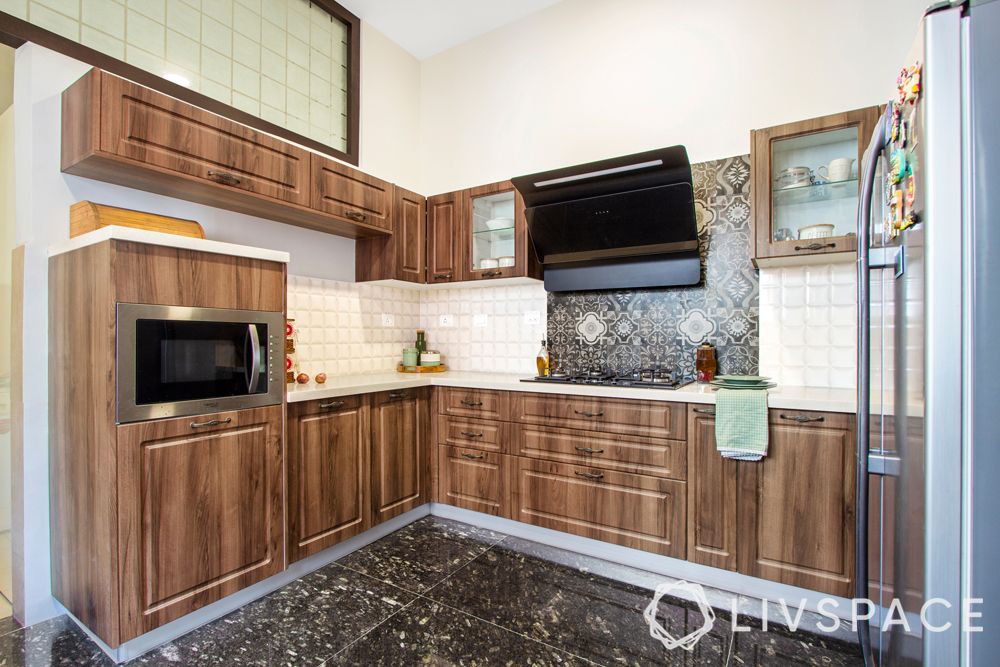 USP: Wooden tones are our favourite.
Try as we might, we are not part of the 'use and throw' culture prevalent in the West. At our core, Indians like to preserve for posterity, and we believe that anything made of wood will last longer. That is how we explain our obsession with wooden tones!
If you found inspiration among these kitchen designs in India, also explore 10 FAQs that will help you design the perfect Indian kitchen.
How Can Livspace Help You?
We hope you found our ideas useful! If you want stunning interiors, then look no further. Book an online consultation with Livspace today. Delivering safe home interiors has been our No. 1 priority. Click here to find out how interiors are being delivered following all safety protocols.
Wondering how our customers feel about working with Livspace? You can check out the Livspace kitchen reviews here!
Send in your comments and suggestions at editor@livspace.com