The sound of the whistle blowing in the kitchen was always a happy one for me. It meant comfort food was en route. That was the first association I made with Jeo Baby's magnum opus, The Great Indian Kitchen. The Malayalam movie, which has become quite the conversation starter and thought provoker, is wrought with so many different sounds of cooking like cutting, grinding, sizzling, simmering and more. But are these happy sounds for those who cook? And no, we're not addressing people who make pasta on the weekend for entertainment; it applies to the homemakers, mostly women, who cook four square meals a day, day after day!
Let's leave you with that thought and venture deeper into our subject instead. Metaphorically, the great Indian kitchen is a story of evolution that is both long and interesting. What used to be a disorganised space with smoke and bustling activity is now turning into a serene, organised space that is designed using the best of ergonomics and technology. So how did that transformation happen and why? We will explore that here with the help of our in-house kitchen expert, Gopal Dwivedi, who is something of a legend in the modular kitchen industry and our guru when it comes to all things modular.
DID YOU KNOW?
Is cooking a chore or an experience?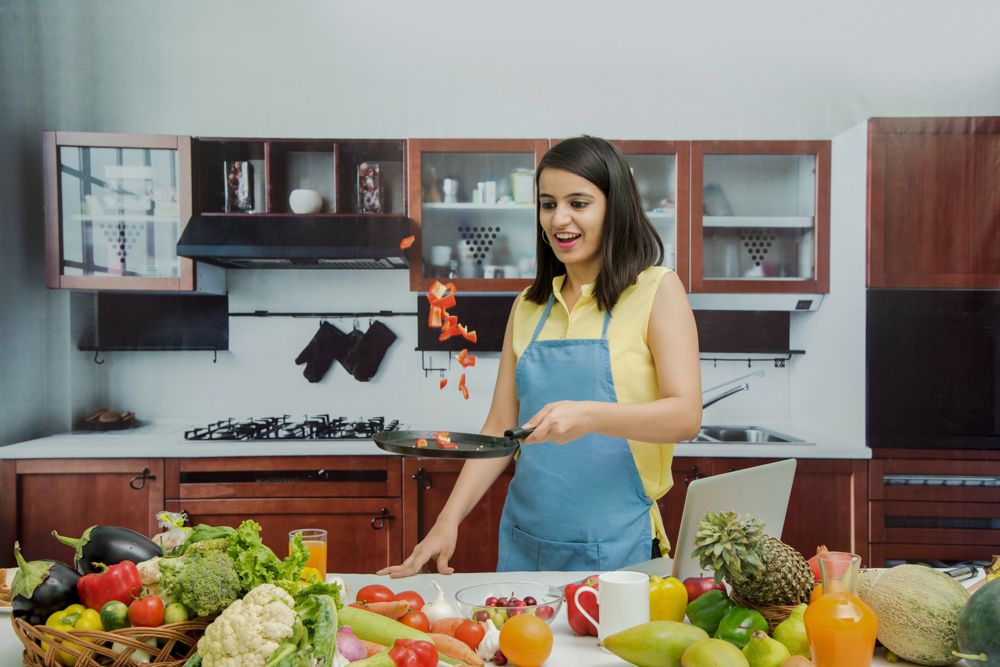 The physical changes in kitchens are obvious. These are changes precipitated by advances in technology, design and our lifestyles. Some of these changes can also be termed as evolution by association. For instance, how the sitting kitchen in India turned into a standing kitchen after the arrival of the European colonial forces.
But if we look below the surface, the story of this evolution rests squarely on a change of perspective. Do we see kitchens as a space of drudgery or a place of innovation? Is cooking a chore or an experience?
The traditional Indian kitchen was a place of hustle and bustle where an army of cooks, mostly the women of the house, worked from sunrise to sunset preparing meals for a large family. So yes, cooking was and still is a full-time job and not just a chore.
DID YOU KNOW?
Evolution of the great Indian kitchen: A timeline
| | | |
| --- | --- | --- |
| Time Period | Lifestyle/Technology Change | Resulting Kitchen Design |
| Before 1950 | Smokey fuel + earthen hearths | Outdoor kitchen |
| 1960-1970 | LPG or clean smoke-free fuel | Kitchen moves indoors |
| 1980-1990 | Breaking up of joint families | Smaller standing kitchens |
| 2000 onwards | More women joining the workforce | Modular kitchens |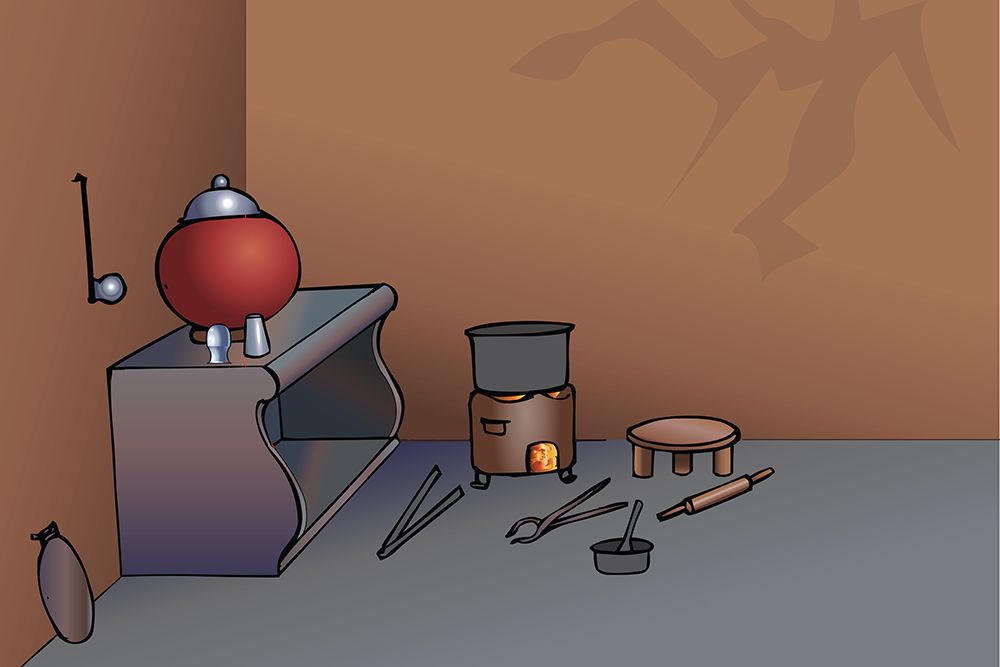 The main reason for having an outdoor kitchen till the 1950s was the use of coal or wood fires that emitted a lot of smoke. Such hearths also had to be stoked to keep the fire burning. There may or may not have been shelves to keep vessels that were open kept on top of each other.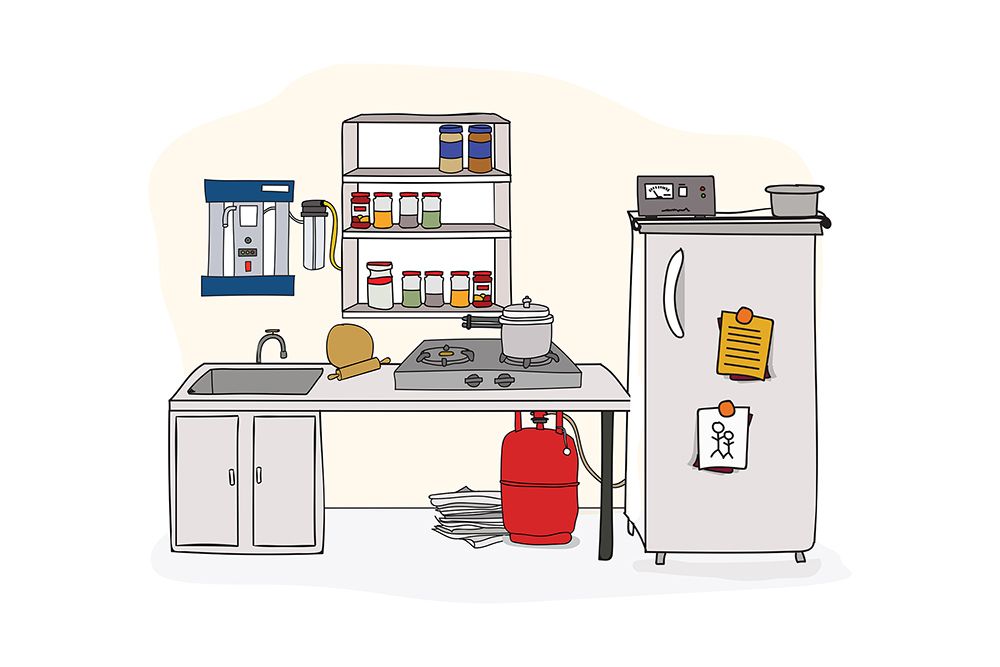 From there, we moved to the rudimentary form of indoor standing kitchens that had a countertop and basic cabinets. Such kitchens accommodated the quintessential red LPG cylinders under the slab and often had no covered storage, only stone racks. They essentially looked less sophisticated and were disorganised. It also took carpenters a very long time to make these kitchens using manual labour.
What's changed?
The modern Indian kitchens are different because they are designed to save time and effort – it's a product of science and empathy. Science to help make the most of the available space to give storage and an easy cooking experience and empathy to move beyond gender roles and make cooking a more joyous task. Hence, they are designed assuming that cooking is no longer a full-time job.
Many factors have influenced this paradigm shift, namely the breaking up of joint families into nuclear units, women joining the workforce and the lifestyle choice of recreationally experimenting with different cuisines. For instance, a traditional Indian kitchen that had an aattukkal or grinding stones to make idli/dosa batter down South has been replaced by the mechanised grinder/mixie. Up North, a tandoor to make rotis was more common. But today, well-travelled Indians have pizza once a week or bake cupcakes on Sundays for fun, so an oven is a must-have in a country that didn't bake.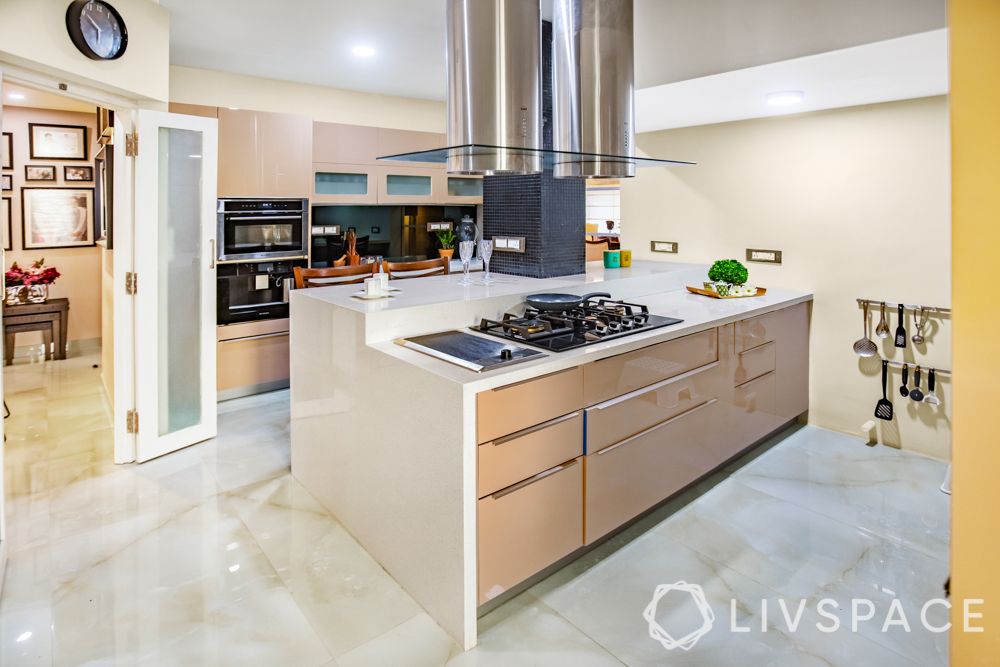 In 2000, modular kitchens, as a product, became available in India and it essentially meant that kitchen modules were made in the factory as per preset dimensions and fitted on site. But this also snowballed into a design movement where kitchens were designed more efficiently and builders started providing the basic setup for a modular kitchen to homeowners. Slowly but surely, the level of optimisation improved with the installation of accessories for specific purposes like the thali basket, the cutlery tray, the pantry pull-out, etc.

The transition from traditional to modular kitchens
#1: Chulha to Cooktop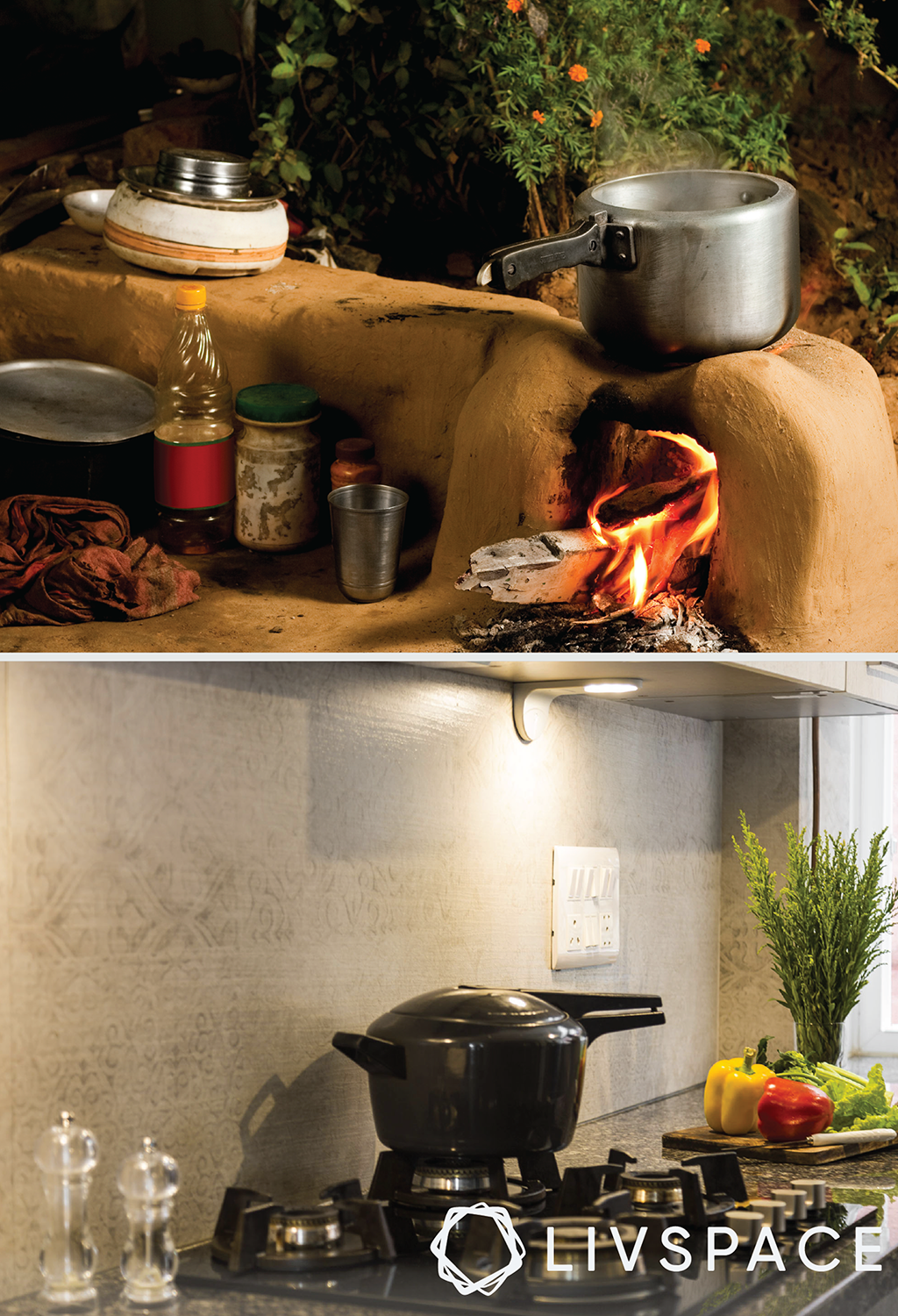 This evolution of the great Indian kitchen ensured that the kitchen can actually move into the home. This countertop or cooktop gives us space to prep for cooking while standing upright. Built-in cooktops, an attached chimney, and other accessories make it possible for the kitchen to be contained within the house. Also, space constraints, the development of apartments and a cosmopolitan lifestyle force us to bring the kitchen indoors.
#2: Storeroom to pantry unit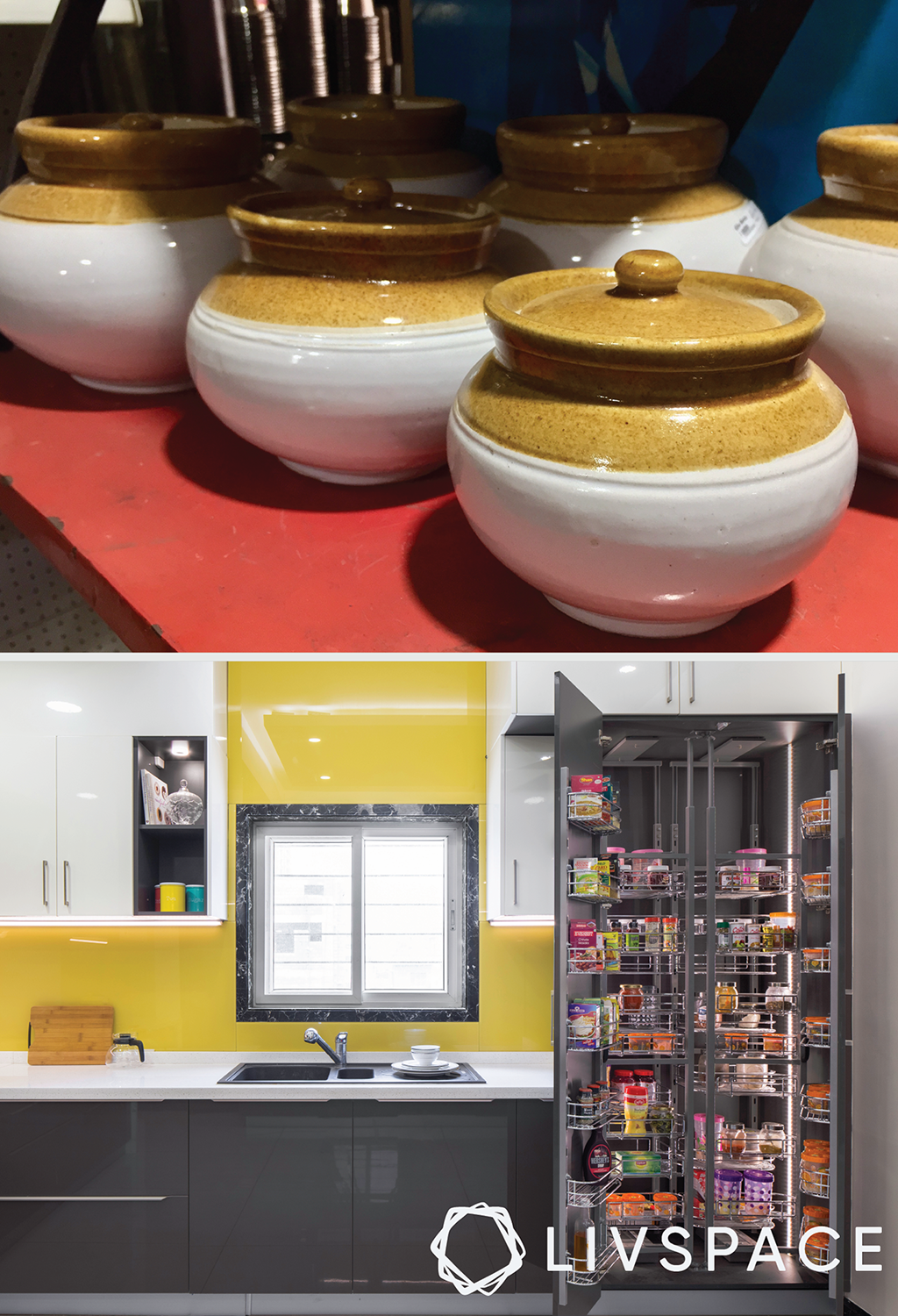 DID YOU KNOW?
Essentially, most households were agrarian and required space to store produce/grains for a year, until the next harvest. We also believed that digging into the food stocks with grimy or soiled hands could spoil the larger stock of groceries. Hence, this segregation of the kitchen. The storeroom was need-based and often caste-based, too, as only family members and not the household help could access the storeroom.
In the modern scenario, the entire granary can fit into a tall unit with a pantry pull-out with enough stock for a month. This ensures space-optimisation and also helps you find everything in one place. And with one/two people using the kitchen, it's easier that you don't go hunting for what you need.
#3: Mortar & pestle to mixer grinder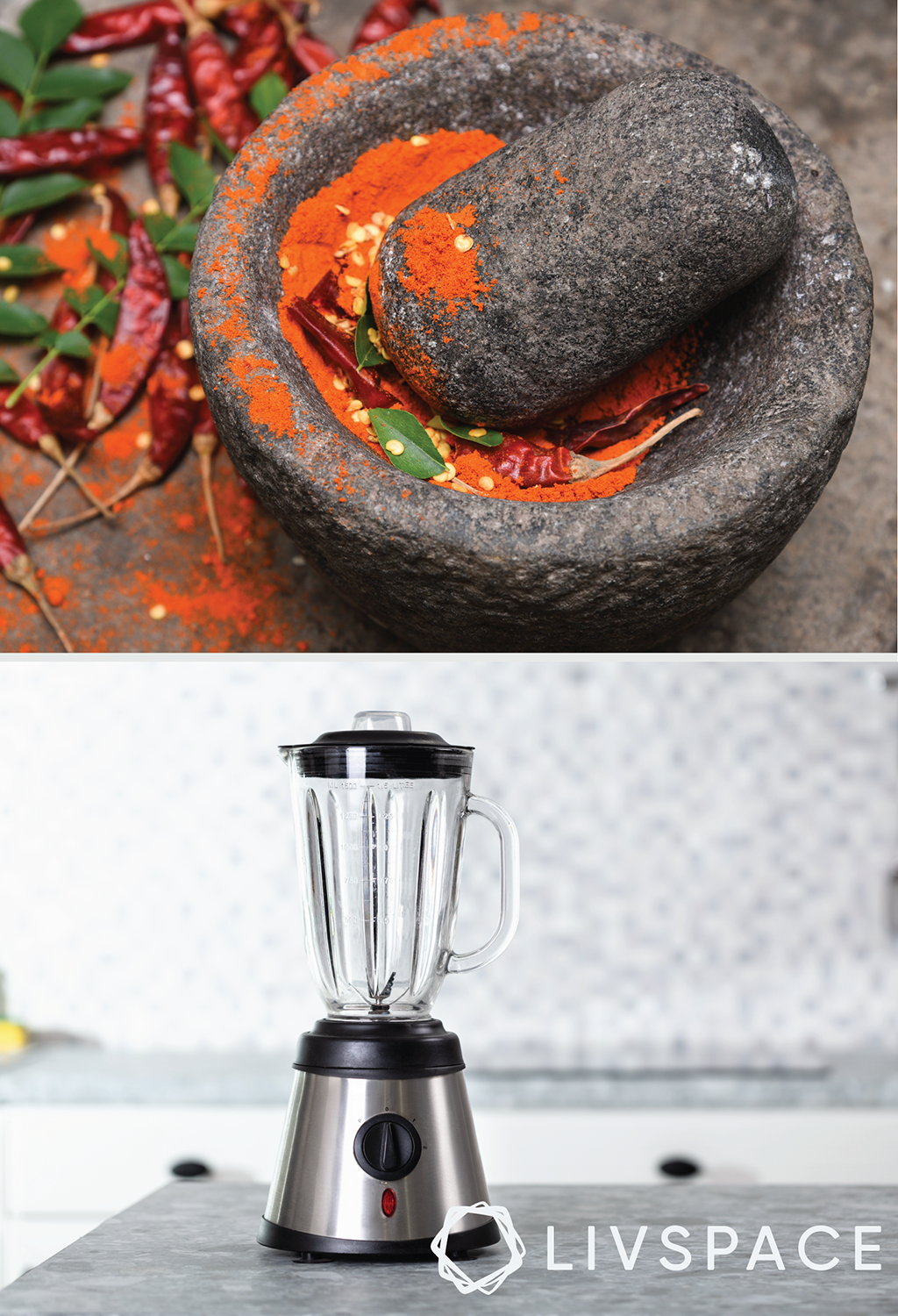 We may have never thought of the drowning noise of the mixer-grinder as a 'happy' sound. But for those who had to toil away at the mortar and pestle or the stone grinder to do something as basic as grind spices, the screeching sound of the mixer is a sound of freedom! You only need to take one look at the unnamed protagonist of The Great Indian Kitchen to know that this is true. Also, the kitchen can now have a roller shutter tambour unit to store daily appliances like mixers stowing things out of sight when you're done with it.
#4: Matka to water purifier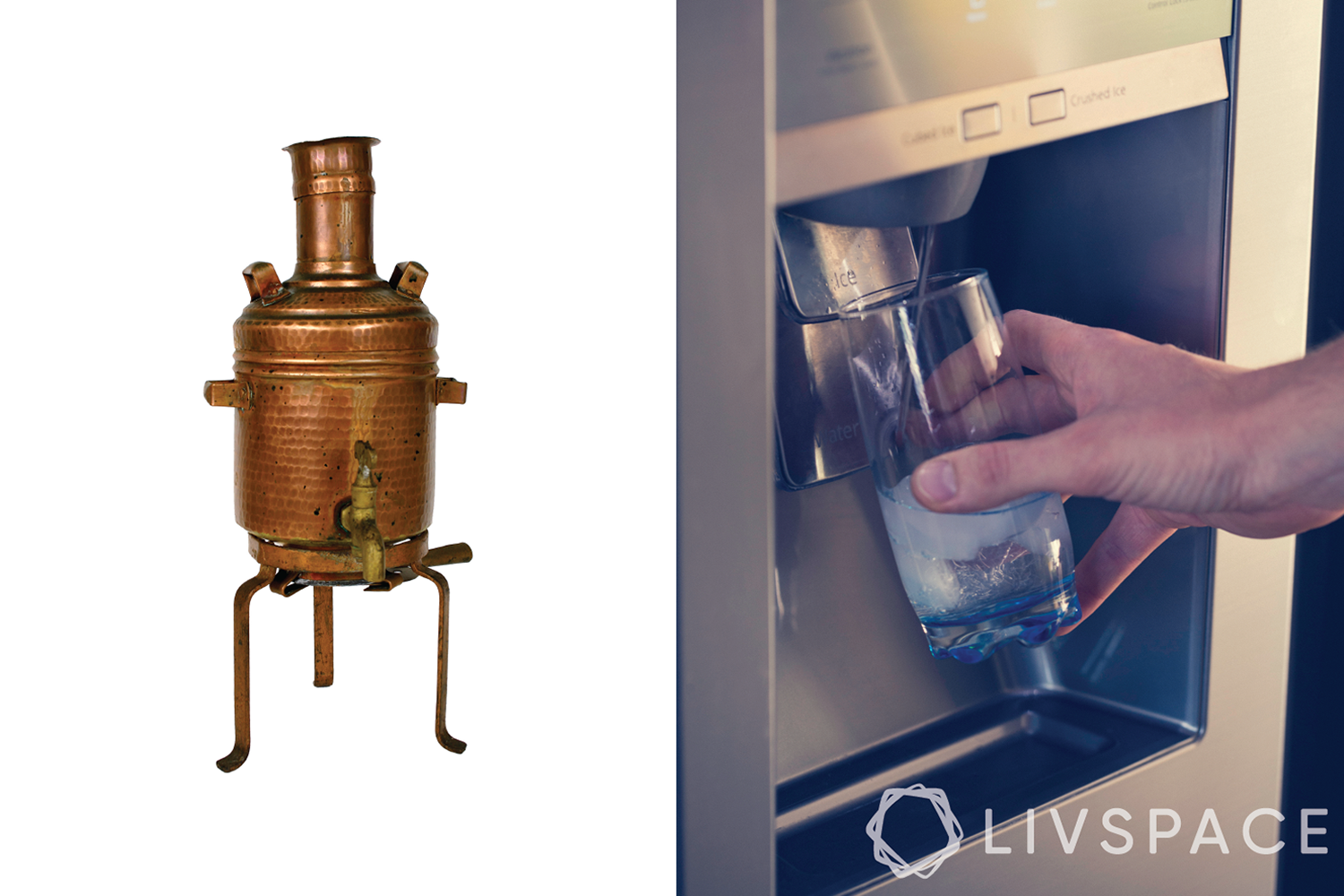 We aren't disputing the health benefits of drinking water from an earthen or a copper matka. However, we can all agree that there's no way we can do without a water filter now. Groundwater is just not as clean as it used to be in the 70s! The modular kitchen, thus, makes space for the filter that can be fitted into a special wall cabinet.
#5: Kadhai to non-stick cookware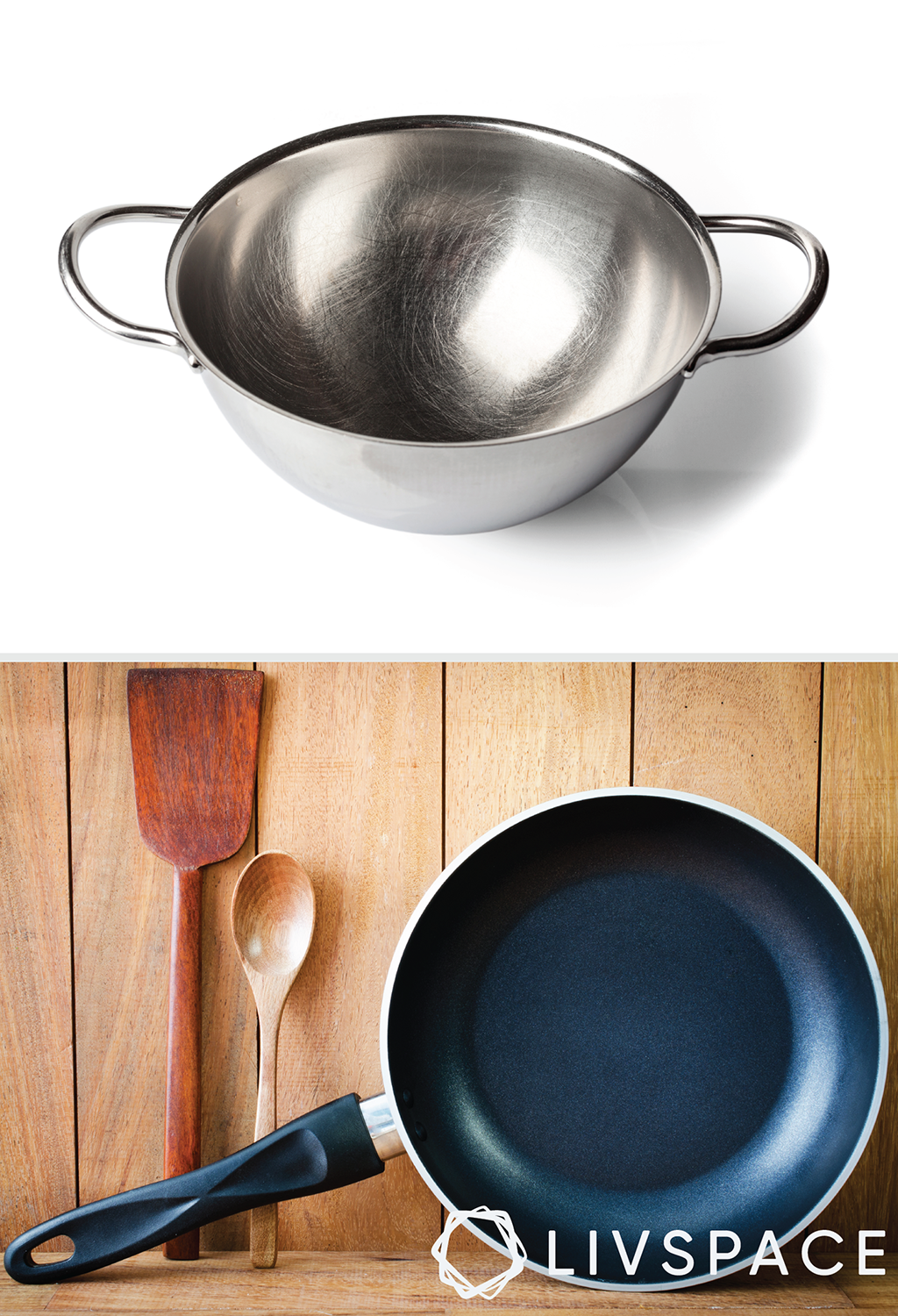 There's no disputing the health benefits of the once essential huge iron or steel skillets. But that's now made way for compact and ergonomically designed ceramic or non-stick cookware. We no longer need to cook meals for a family of more than 10. Also, cleaning the vessels needs to be a faster task involving less effort. Storing the smaller vessels becomes easier in a modular kitchen.
The additions
Over and above the technology change, some aspects of a modern Indian kitchen are new to include additional functions. The microwave, for example, is a faster way to heat food and save energy. And we now need the oven because baking is fast becoming a hobby. The dishwasher makes cleaning the vessels easier and faster but was not part of the traditional Indian kitchen.
The real transition: From a women-only to a gender-neutral space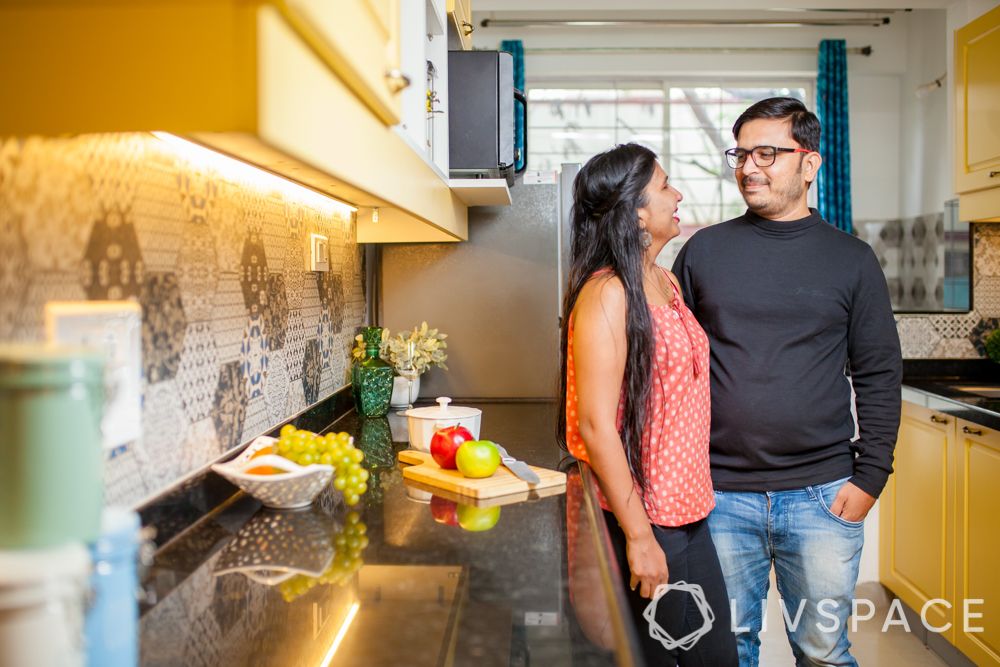 Among all other elements, the biggest change in the great Indian kitchen is in terms of its gender neutrality. Kitchens at homes were exclusively for use by women for the longest time. They still are, as we can gather from experience and Jeo Baby's movie. But modern modular kitchens are designed ergonomically without factoring in gender – because everyone needs to eat and cooking is also a question of passion now. They are built for convenience and for the joy of cooking. In a way, this changing definition of kitchen designs shows that we have at least started moving towards a society that is less patriarchal than it used to be.
What does Livspace do?
For us, kitchen design is a science and cooking is an art we honour. We take it very seriously. Look at some examples of kitchens we've designed and you'll realise that we use both science and empathy to design spaces that solve problems and make the experience of cooking easier and breezier while reducing time and effort spent. With society and families evolving, so have our ideas on building space-optimised kitchens that require lesser effort.
#1: Opening up a kitchen to make it look larger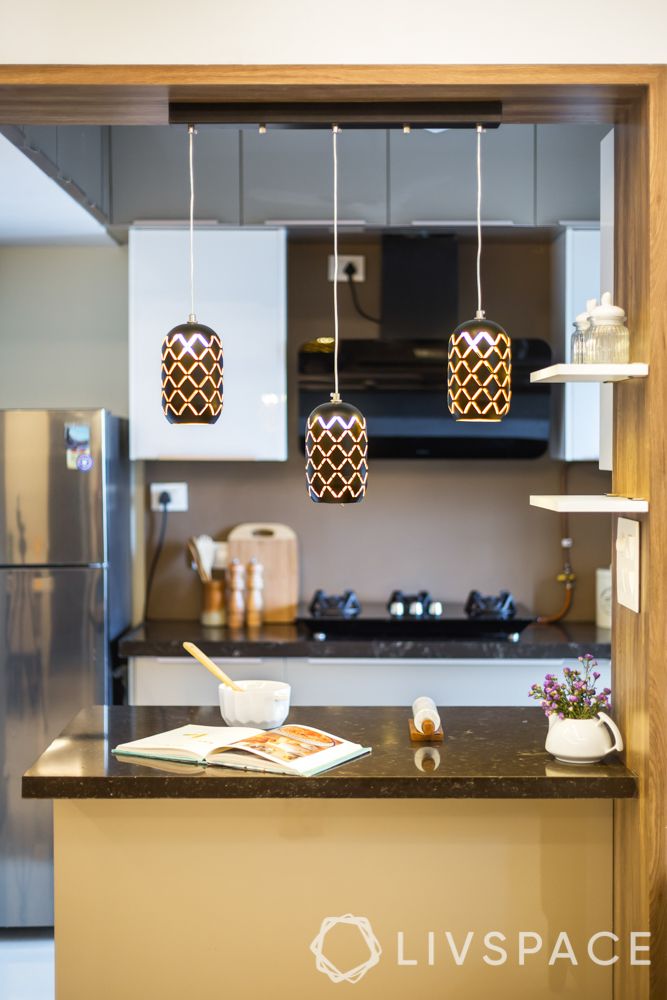 Even the smallest of changes can have far-reaching effects on a kitchen. In this case, we opened up a closed kitchen to make it look so much more spacious. So now Kavita can watch TV even as she cooks!
#2: Creating a separate utility space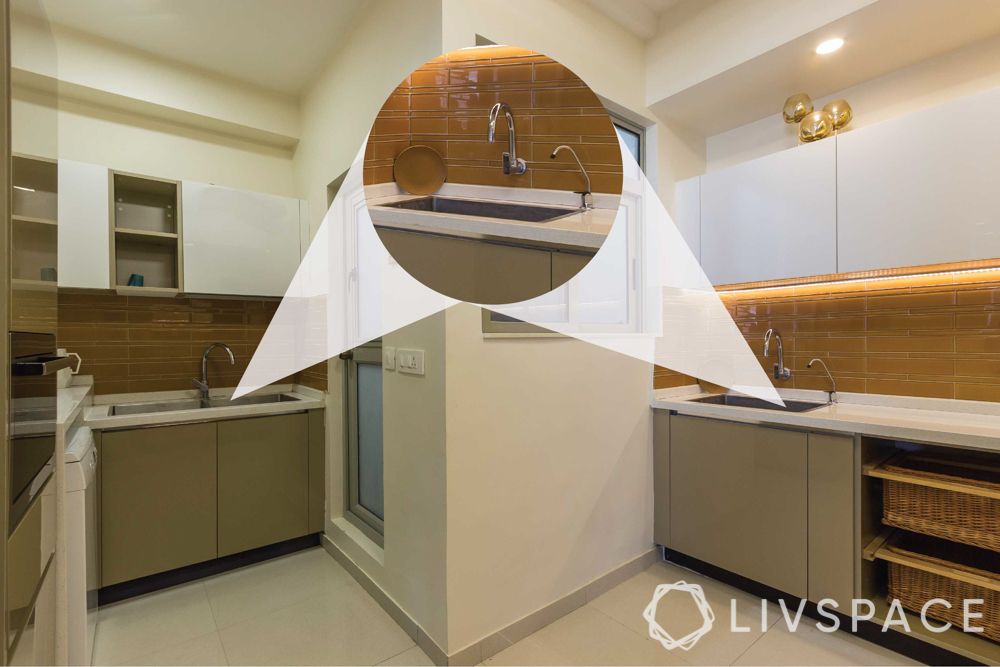 In this Hiranandani Hill Crest home in Bangalore, the couple didn't want their cooking to be interrupted when the maid came in to wash utensils. Hence, we gave them 2 sinks and a segregated utility area.
#3: Designing a kitchen for many cooks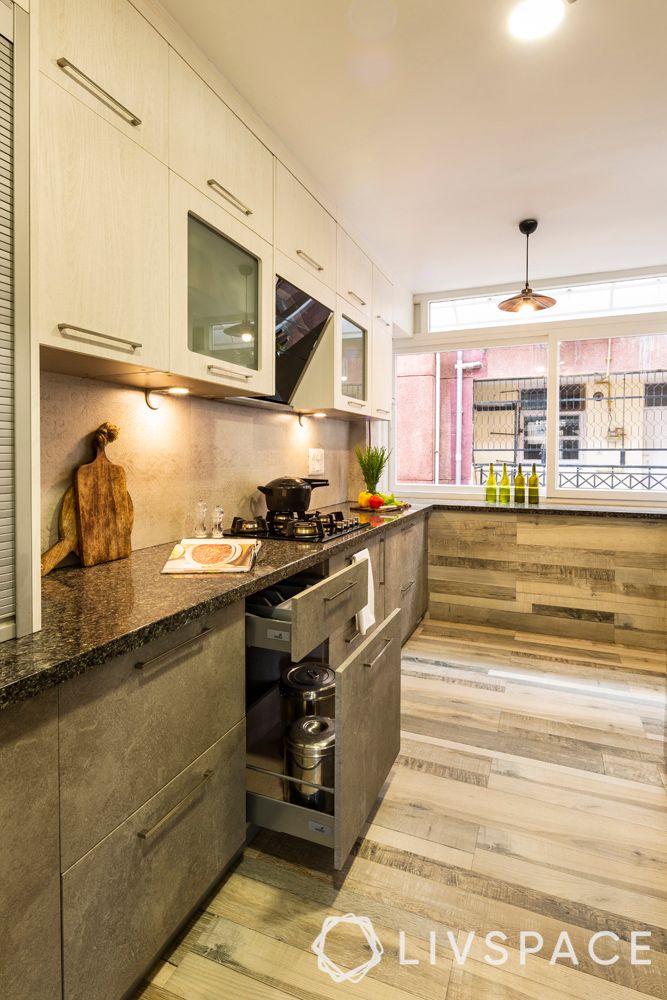 Everyone in the Gupta family including their teenage son loves to cook. But don't they say that too many cooks spoil the broth? Not if you get your kitchen designed by our experts at Livspace!
#4: A kitchen for the elderly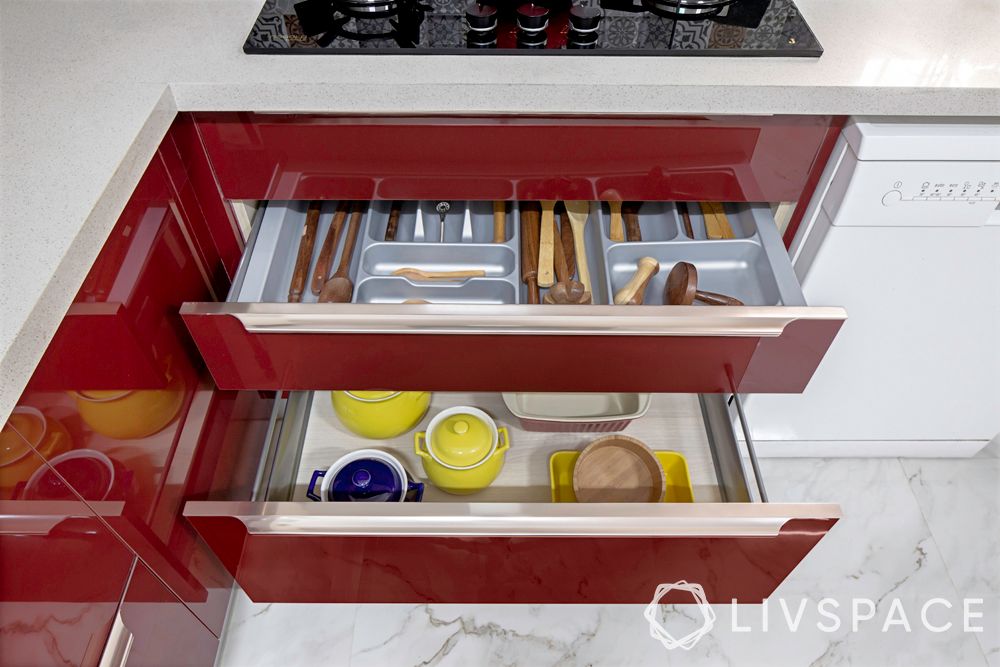 With advancing age, Rama was finding it difficult to access the lowest cabinets in her kitchen. So our revamp of their kitchen ensures that all base cabinets are drawers making access easy. Moreover, this kitchen was fitted with every conceivable kind of accessory so that everything stays in its place.
#5: A kitchen that accommodates busy working couples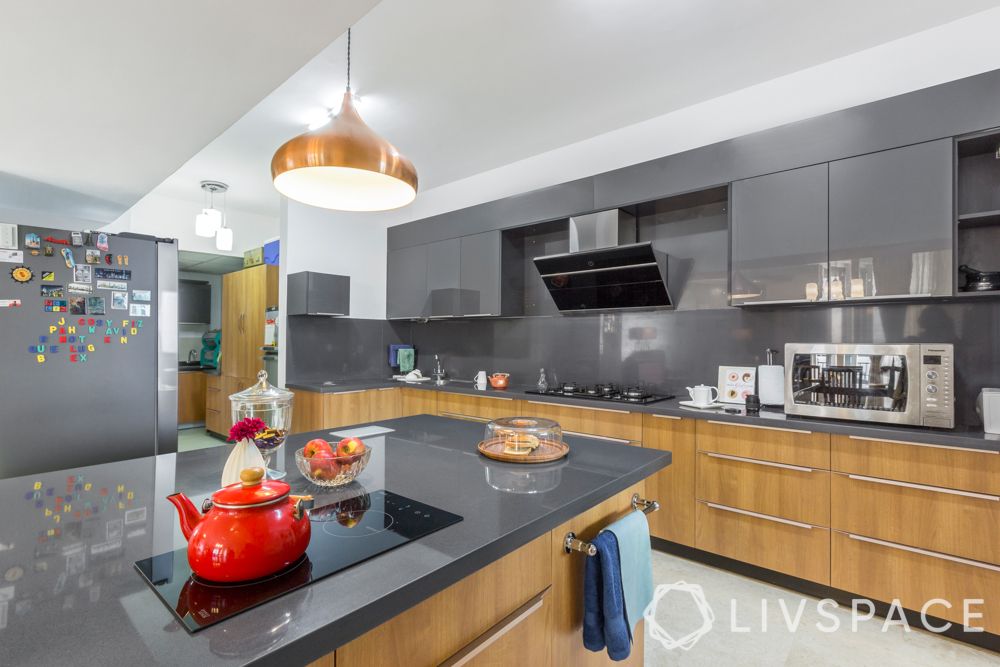 Rohini and her husband are techies who stay on calls all day. Hence, they need to sneak cooking into their busy schedules. So how do they do that? By using their very functional kitchen island that has an induction plate for cooking and also charging points for their laptops. Turnkey solutions don't get better than this, do they?
In conclusion, we would like to say, "Thank you, science". For helping us come this far.
This article was written based on historical research and inputs from Livspace Kitchen Expert, Gopal Dwivedi. For more details, you can buy his book, Modular Kitchen Planning & Designing Guide here.