Two things attract us most as homeowners: budget and luxury. While it may seem contradictory, most human reactions have their inherent contradictions. When we talk specifically about kitchens, functionality comes first. But, who doesn't like a bit of luxury too. So, how do you picture a luxury kitchen? Is it a kitchen that costs a ton? Does a luxury kitchen su[erior finishes? Is it more functional than other kitchens or just pretty?
Let's try and answer all those questions in our next section.
ALSO READ: 5 Kitchen Accessories That Make Your Life Easy
What is a luxury kitchen?
It is a kitchen that:
Costs more than the average kitchen
Has premium finishes and accessories
Is extremely high on functionality
Looks beautiful and follows the latest trends
What's Trending for Luxury Kitchens in 2021-22?
Trending designs for luxury kitchens this year include a lot of out-of-the-box ideas for Indian kitchen setups in terms of materials, finishes, styles and overall functionality. Modern interior design ideas are leaning towards elegant kitchen designs that introduce glass doors, seamless finishes, kitchen islands and more into an Indian luxury kitchen setup.
Let's dive into some details!
#1: Dark Colours Say Elegant Kitchen Designs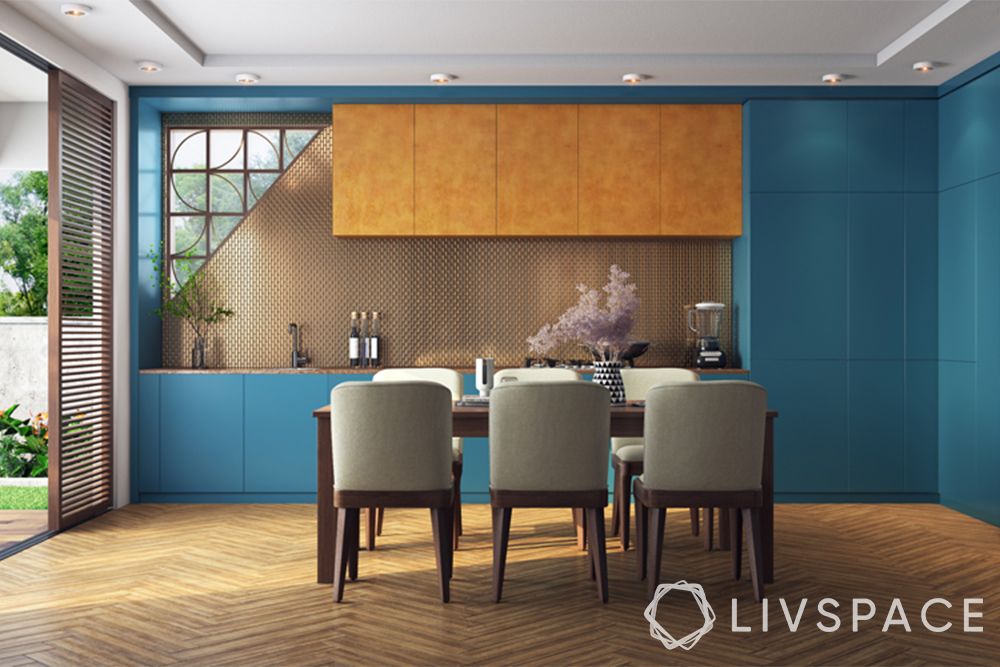 Using colour to your advantage is trending in 2021, but in a different way than you might think. Introducing darker colours to create a backsplash of tones for your luxury kitchen can be just the modernised idea you have been looking for. Creating the perfect accent with the simplest of tools is one luxury kitchen design idea you can't go wrong with. Additionally, if you can open up your kitchen space to ample natural light, nothing tops that. Look at the ground floor luxury kitchen with a direct view of a garden. The natural light brightens up the deep dark tones of the kitchen bringing it all together.
#2: Seamless Finishes for a Plush Look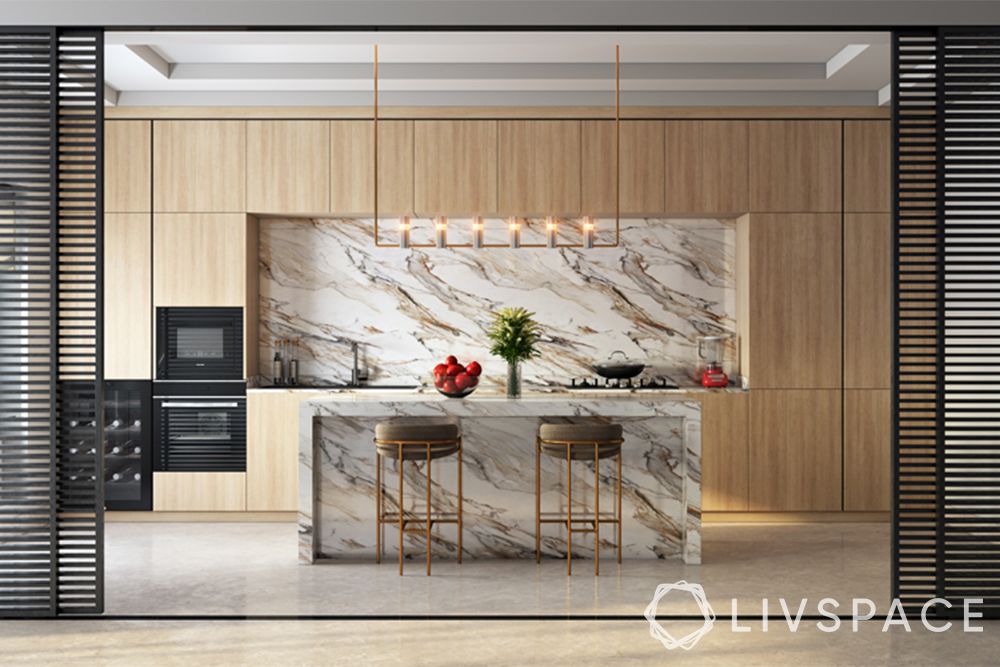 Create some drama with the finishes in your kitchen. Luxury kitchens are often known to make a statement with their striking features and contemporary designs. A custom standard marble finish coordinating beautifully with the wooden finish of the cabinets in the kitchen creates a lovely combination. This is especially true with regard to the contrast it creates with your appliances. This luxury kitchen elegantly sports a marble-stained wall and a kitchen island converted into a personal compact dining area while the wooden finish creates a cohesive style of its own.
#3: Cozy Vibes With a Kitchen Table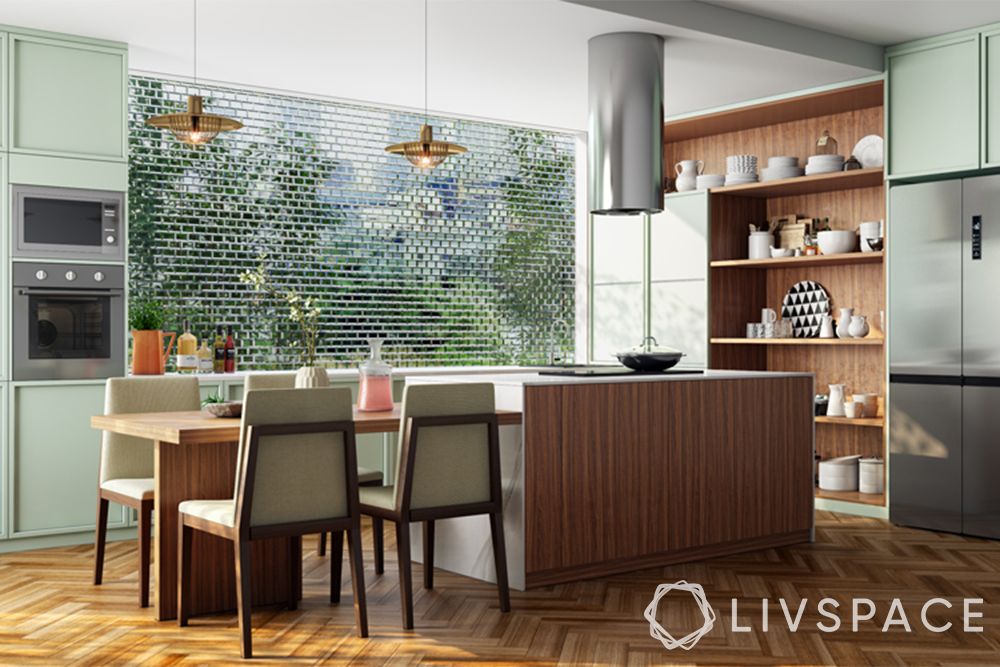 A cosy vibe is not only reserved for a personal space like the bedroom. Your luxury kitchen can have that too. Pair up the wooden finishes of the flooring and the cabinets with a pastel-coloured hood to create a two-dimensional accentuation of your kitchen. The top view of the window adds to the beautiful vibe of a modern Indian luxurious household and the statement lights hanging down above the table simply create a striking impact.
#4: An In-house Wine Cabinet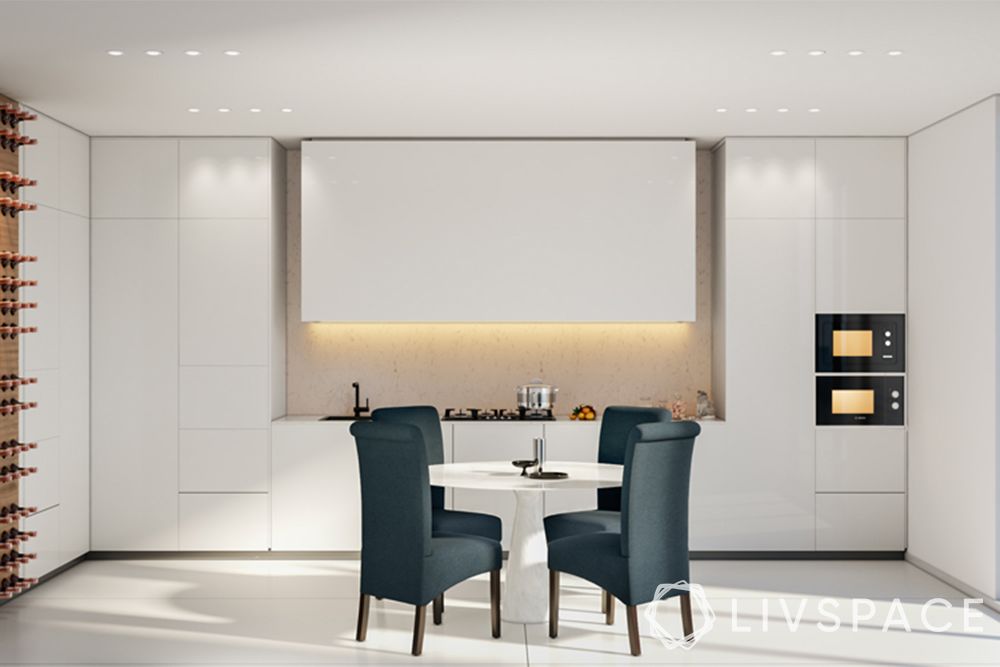 One out-of-the-box luxury kitchen design idea is to have a wine cabinet in your kitchen. Custom spaced and styled with a wooden finish that directly contrasts with the whitewashed stylish contemporary interiors of this luxury kitchen, a wine cabinet is a perfect way to to be plush! If you're going to go with the clutter-free minimalist design for your kitchen like shown in the picture, a wine cabinet is just what you need to add a touch of your own and step out of the typical idea.
#5: Bar-like Design with Open Storage and Counter Seating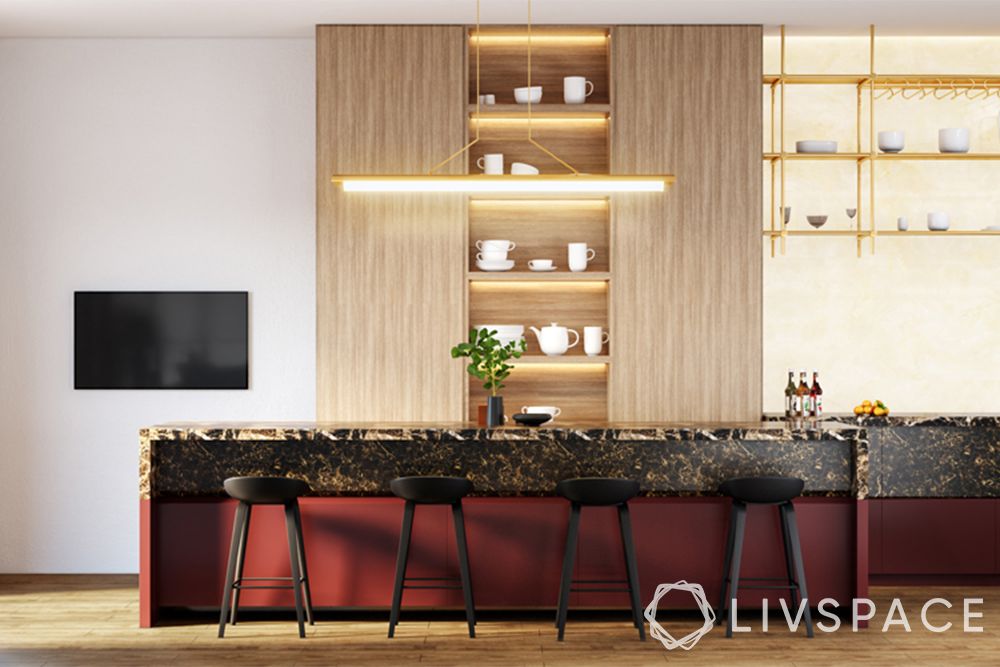 You can also choose to opt for open storage space and create yourself a bar-like setting in your luxury kitchen. The best part about open storage space is that it does not necessarily create visual clutter. In fact, if you're organised enough, the open storage space gives your kitchen quite the visual appeal. A counter with dark finishes and bar stools can give you the aesthetic you're most comfortable in, and isn't that what designing every space actually means?
The Best Luxury Kitchens Designed by Livspace
#1: Spacious Country-style Kitchen in White Membrane Finish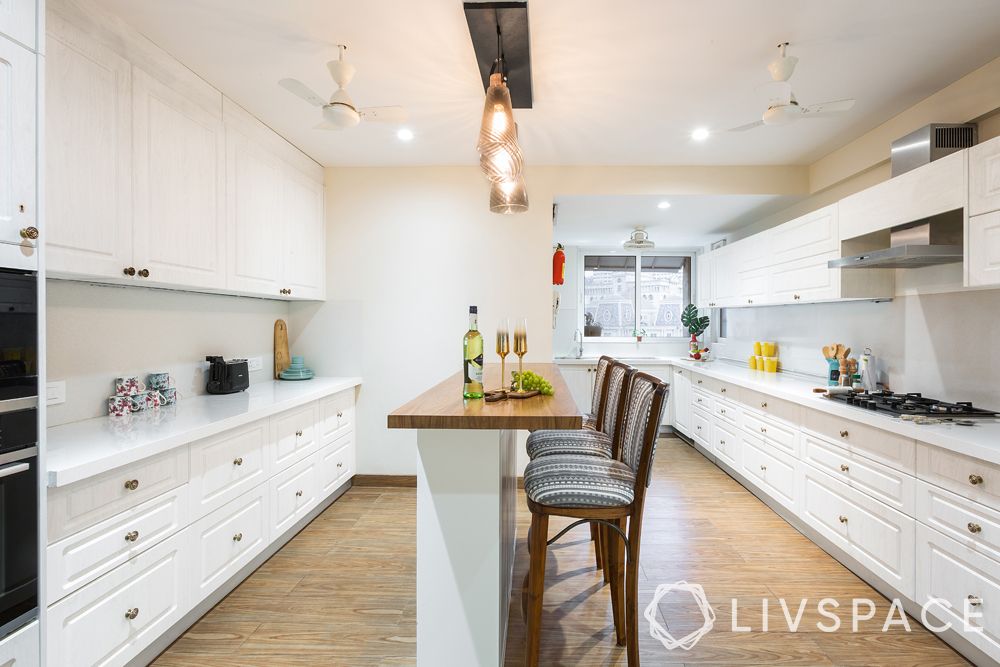 The sleek and rich wooden finishes of the countertops and cabinets bring together the entire 5×7 kitchen design as a cohesive element. The cabinets have an expensive membrane finish and the butcher block counter on the island is a striking feature for this country-style kitchen.
#2: Massive Island Kitchen in Wooden Tones and White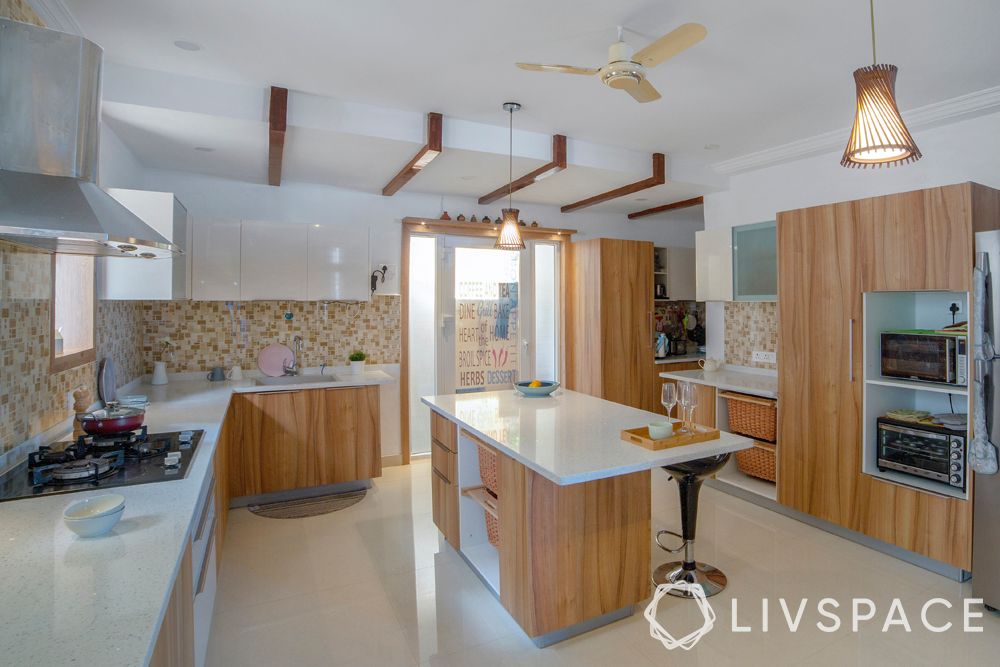 Whether your luxury kitchen is compact or spacious, organising your spaces well, such as the pantry, the island and the primary cooking space, helps you maximise functionality. Due to the size of this kitchen, it was a challenge to design it as a cohesive unit. But, we did manage to create a stunning luxury kitchen in the end thanks to design continuity.
#3: Elder-friendly Grey Kitchen With a Super Functional Island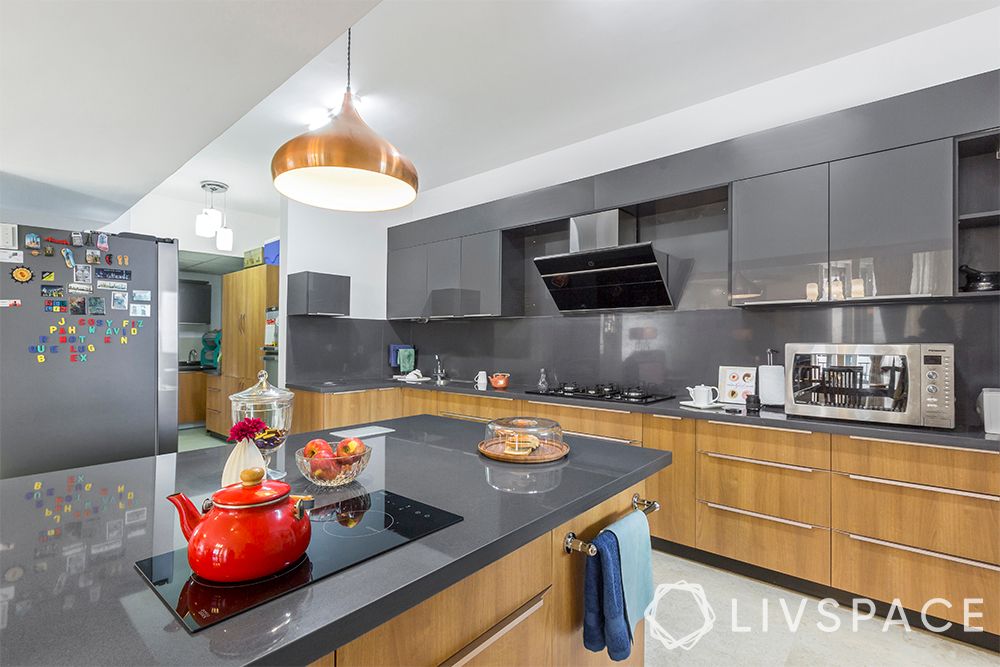 Firstly, do you notice that all the lower cabinets in this kitchen are actually drawers? It's to ensure that the elderly couple using this kitchen faces no problems. Secondly, the island counter of this kitchen is super functional with an induction plate and charging points so that the working couple (also using this kitchen) can have meals while attending meetings.

#4: Dark-coloured Industrial Loft Style Kitchen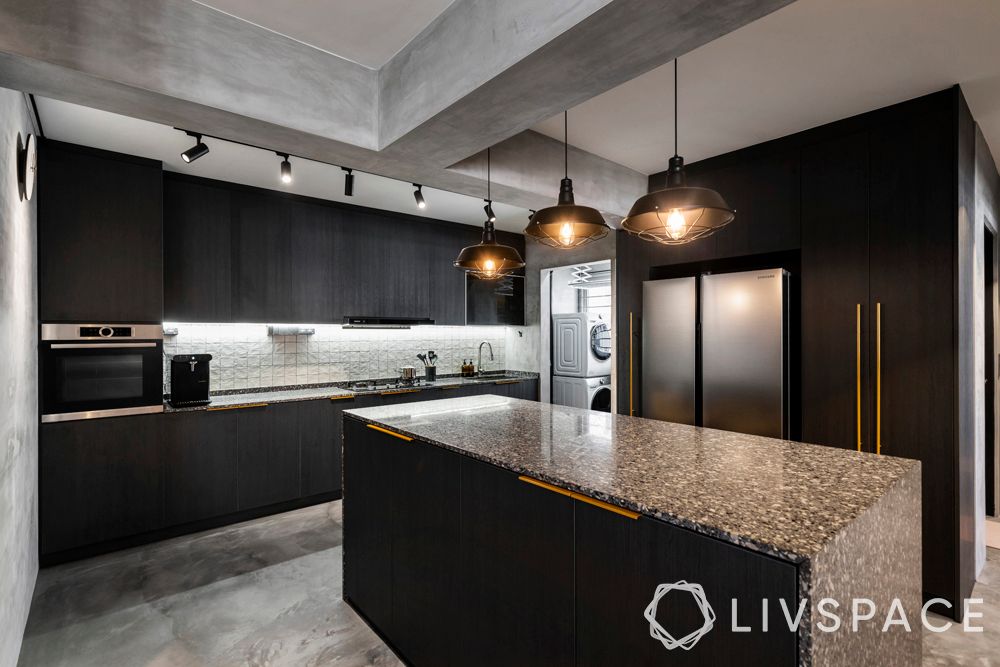 The heavenly pairing of this brown granite kitchen island with the black finishes in the kitchen is why colours are a trending topic for luxury kitchen design ideas. The kitchen lighting design brings the whole industrial mood together creating a cohesive vibe.
#5: Stunning Blue Island Kitchen With Beach Vibes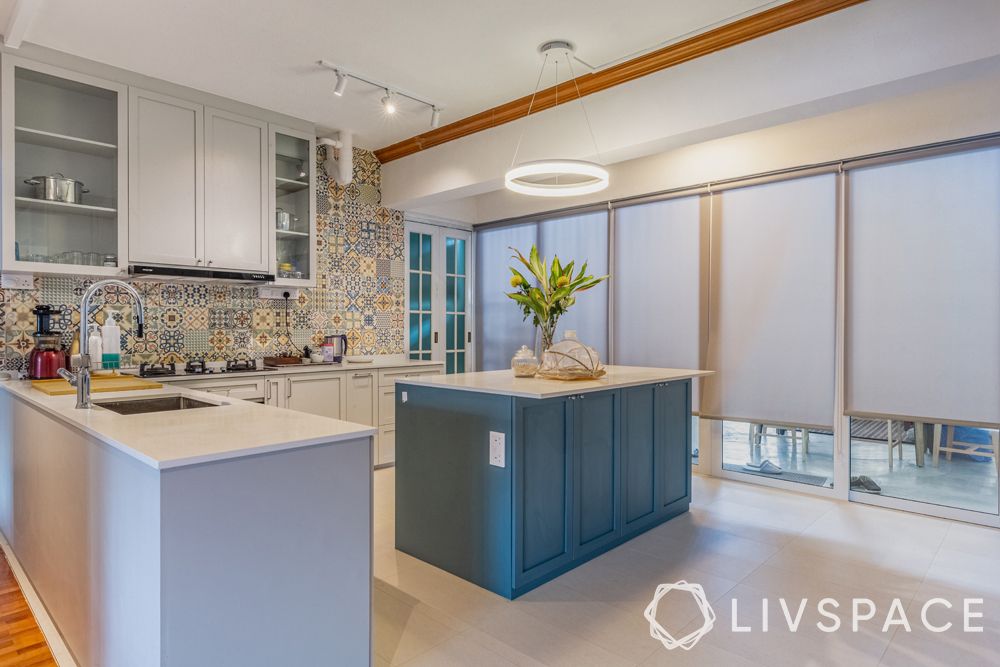 This not so over-the-top luxury kitchen still subtly gives off the classy vibe simply by the choice of neutral colours of grey and the style of the blinds. The statement light in the centre works perfectly like a ring light above the kitchen island and the combination of open storage cabinets along with a clutter-free countertop is absolutely stellar. The open layout makes the kitchen look larger than it really is.
How can Livspace help you?
Livspace is your go-to destination if you're looking to design your dream luxury kitchen. You can get expert advice by booking a design consultation as well. Learn more about our COVID-19 safety standard here.
Keep up with the trends. Read The 7 Kitchen Design Trends That Will Be Popular in 2021
Send in your comments and suggestions at editor@livspace.com