Welcome to the world of opulence with our brand-new range of luxury modern kitchen designs, aptly named "Regalia". Traditionally, kitchens have only been functional spaces. However, homeowners now want more than only functionality: they want something luxe that matches their lavish lifestyles.
The Regalia range of luxury kitchen designs addresses this need by combining the best of both worlds – aesthetics and functionality. This range is for those who value exclusivity – both in their lifestyles and their kitchen designs. Additionally, Regalia kitchens come with the promise of premium quality in beauty.
What's the Regalia Range of Luxury Kitchens?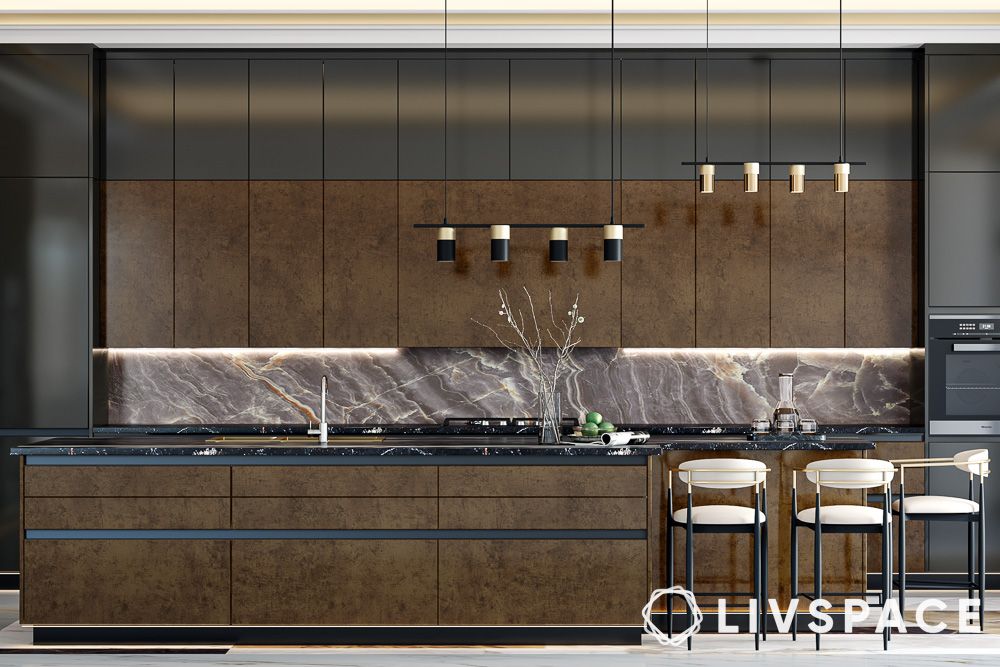 As the name suggests, the Regalia range consists of regal luxury kitchen designs. From the carcass to the shutters, our kitchen experts have introduced new elements that are not only opulent but also very unique and modern. Additionally, these stylish luxury kitchen designs also feature modern and stunning lighting features.
How Is the Regalia Range Different From Other Kitchens?
So what makes the exclusive Regalia range of luxury modern kitchen designs special? So many new features like premium carcass finishes, trendy glass shutters, anthracite hardware and accessories, recessed and skirting lights! In addition, this premium range guarantees world-class quality.
Also Read: 35+ Latest Kitchen Colour Combination Ideas for Small, Medium and Large Kitchens
Special Features of Regalia Luxury Modern Kitchen Designs
Regalia luxury modular kitchen aims to give you a lavish lifestyle. Moreover, these premium designs also ensure a high level of functionality. Here are the features that make Regalia luxury kitchens unique:
Category
New Features
Carcass Finish
— Burberry Beige
— Santona Oak
Shutter Designs
— Shaker Shutters
— Fluted Glass Shutters
— Tinted Glass Shutters
— Handleless Shutters:
Pontis and Navis
Hardware & Accessories
In premium
anthracite theme
Lighting
— Recessed Lights
— Dado Lights
— Skirting Lights
— Spotlights
What Are the Advantages of Regalia Luxury Modern Kitchen?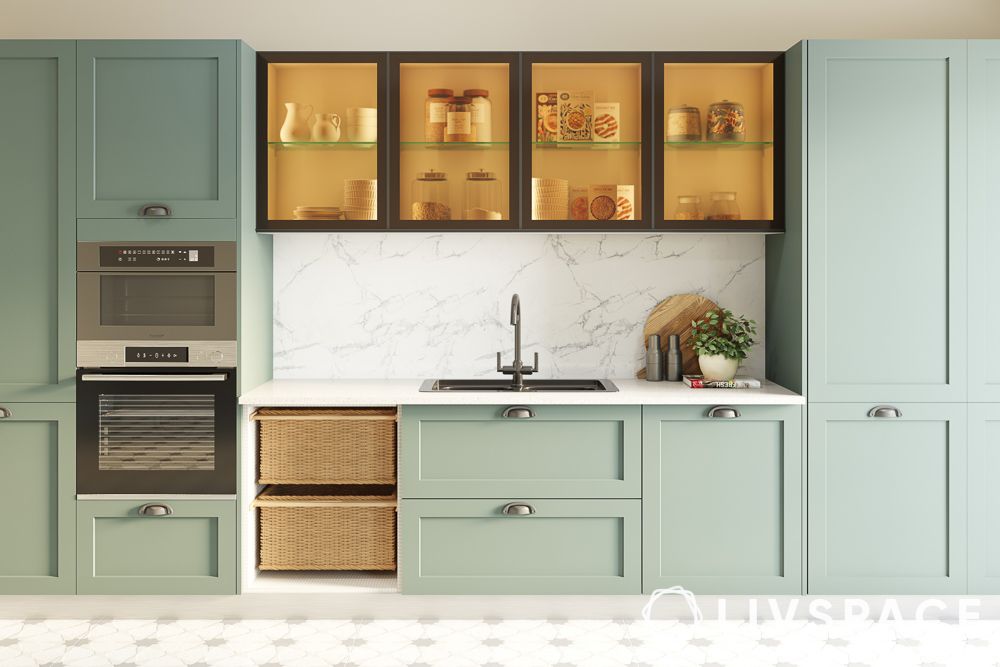 Aesthetic Appeal: These luxury kitchens are classy, opulent, contemporary and beautiful

Promise of Quality: Regalia kitchens come with the Livspace promise of quality. This includes 146 quality checks, DuraBuild cabinets, AquaBloc and AntiBubble technologies as well as a flat 10-year warranty*

Variety of Core Materials: We offer a wide range of core materials like MDF, HDF-HMR and Plywood

Stunning Finishes: The new Regalia range offers over 300 options across 4 finishes. Some of the finishes that you can choose from include PU, membrane, acrylic and laminate

New Features: From new types of carcass materials to shutter designs, Regalia premium kitchens come with many options. Additionally, you also have so many lighting types to choose from

Amazing Accessories: Regalia luxury kitchen designs come with modern accessories like swivel corner units, moving corner units, larder units and spice pull-outs. All of these come with the anthracite theme
*For full scope of warranty, please visit livspace.com/in/service
Also Read: A Helpful Guide on 7 Popular Kitchen Cabinet Materials and How Best to Use Them
Luxury Modern Kitchen Designs That Maintain the Livspace Promise of Quality in Beauty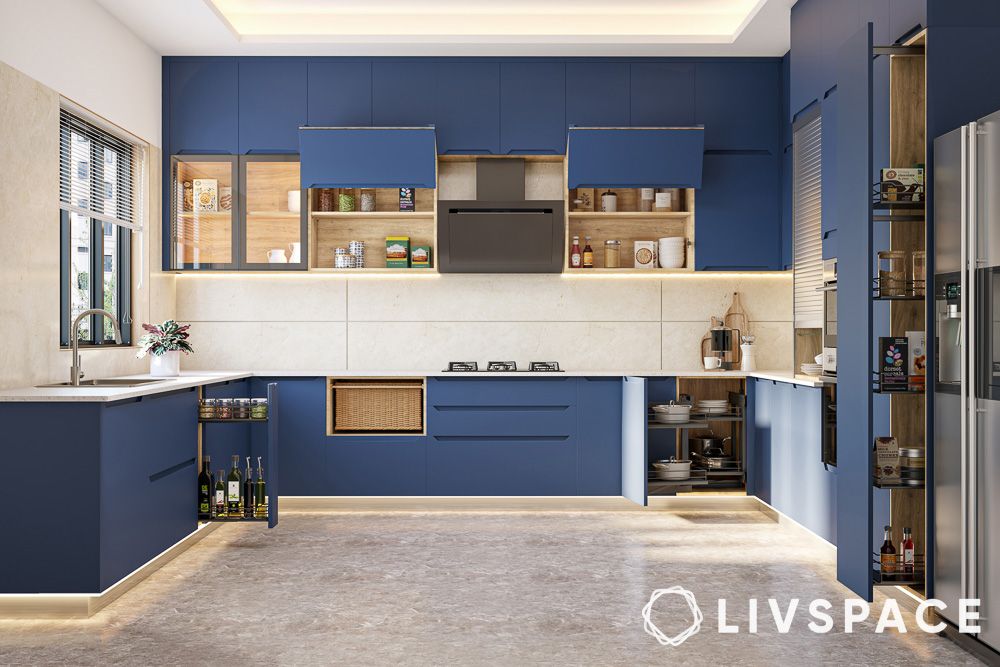 Whether something is premium or not depends to a great extent on the quality. And what makes our Regalia range exclusive is the vast range of quality checks we implement to guarantee the best quality of our units. These tests include:
Test
Description
Drawer Cyclic Test
— 60,000 cycles
— Ensure quality
drawer systems
Edge Band Pull Test
— Force up to 10N
— Check edge
band's strength
Shelf Load Test
— 60 minutes
— Ensure strength
and stability
of shelves
Vertical Force Test
— 10 cycles
— Ensure hinges can
withstand load
Shutter Cyclic Test
— 80,000 cycles
— Ensure best quality
shutters and hinges
Drop Test
— Ensure cabinets can
withstand abusive usage
Water Dip Test
— 24 hours
— Immersed in water
to evaluate edge band's
quality and glue adhesion
Horizontal Force Test
— Force up to 60N
— Ensure hinges
withstand pressure
Leg Strength Test
— Evaluate cabinet's
resistance against
external forces
Summary
You deserve the finest things in life, and the Regalia luxury kitchen interiors, created using the right blend of science and art, guarantee this. Additionally, these kitchens feature classy designs that will fit in with your sophisticated lifestyle.

How Can Livspace Help You?
With 146 quality checks, our luxury modern kitchen designs are long-lasting
Regalia luxury kitchen features DuraBuild cabinets
Moreover, this range comes with technologies like AquaBloc and AntiBubble
We offer a flat 10-year warranty* on our products
*For full scope of warranty, please visit livspace.com/in/service
If you want the Regalia luxury kitchen design, look no further. Book an online consultation with Livspace today. Additionally, if you have any thoughts or suggestions you'd like to share, we're all ears! Drop us a line at editor@livspace.com.
Disclaimer: All contents of the story are specific to the time of publication. Mentions of costs, budget, materials, finishes, and products from the Livspace catalogue can vary with reference to current rates. Talk to our designer for more details on pricing and availability.