Is it necessary to put so much thought into deciding your kitchen cabinet materials? Yes! Everyone wants a modular kitchen to ease their cooking experience, and yet, how much do we know about these kitchens? Unlike traditional kitchens, they are made by assembling different modules together to fit the size and utility of the kitchen. Thus, these can be manufactured at a factory and then assembled at home.
These kitchens can be dismantled and reassembled, as each kitchen cabinet is an individual module and not a single fixture. You can use different materials for different modules, for example:
The sink module can be made of a waterproof grade ply, while the rest of the modules can be made of MDF to save on cost.
There are many strategies that you can use to make your kitchen look just the way you want within your budget. Here are some common materials and their properties to help you decide what's best for your kitchen cabinets.
What Is Each Module Made Of?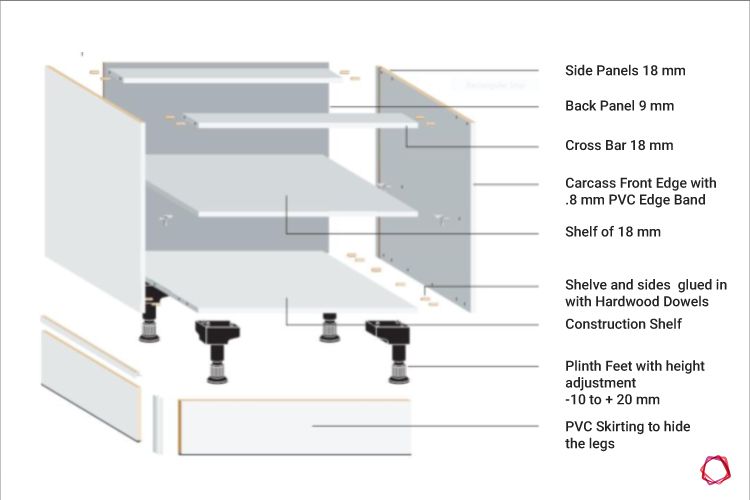 A carcass is basically the body of the module in which top, bottom, back and side panels joined with a crossbar. It is the main body that attaches to the wall, to which shutters, hardware and hinges are added. The base modules for the kitchen come with plinth feet or legs whose height can be adjusted. There is a skirting added to these base modules to hide the legs.
Now that we have broken down the parts of a cabinet, let's look at the list of common modular kitchen cabinet materials.
What Are the Different Kitchen Cabinet Materials?
Cabinet Material #1: Wood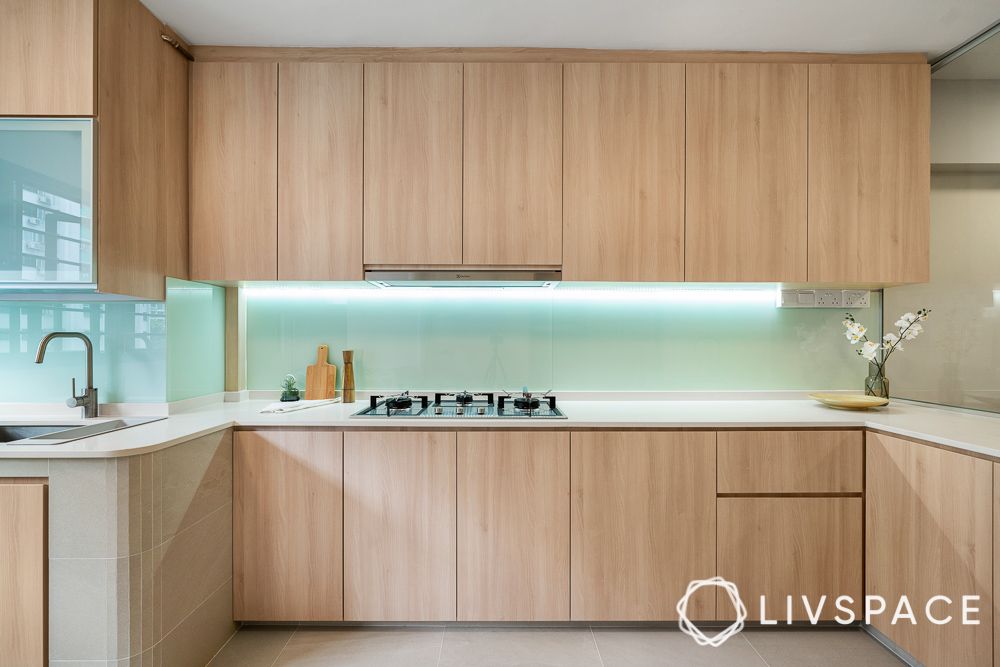 Although expensive, actual wood can be used to build a modular kitchen. However, the flaws like knots and splinters can affect the overall design. Also, termites may pose a serious threat to the wood if you live in a humid environment. However, if you have solid wood cabinets, you can take these measures to resist a termite attack.
Pro-tip:
If you are on a budget, opt for solid wood for the shutters of your cabinetry. More pocket-friendly materials and fittings can go on the inside.
Kitchen Cabinet Materials #2: Plywood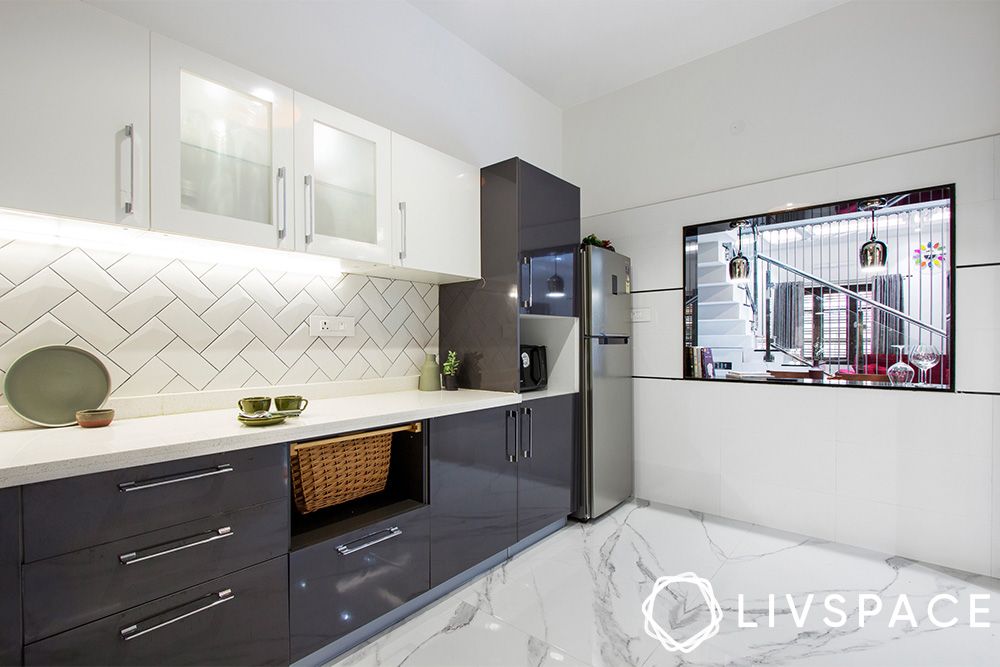 This is engineered wood made from sheets of veneer pressed together using resins. Though on the slightly expensive side, this is the most preferred cabinet material in the kitchen for its strength. It has variants like Boiling Water-Resistant Ply and Moisture Resistant (MR) Ply, which work well in kitchens due to their resistance to water.
Pro-tip:
As kitchens are exposed to steam and water, opt for Boiling Water-Resistant (BWR) ply, instead of commercial ply. These work well in kitchens due to their resistance to water. Though BWR is pricey, it is the best material for kitchen cabinets as it is more durable and also resistant to fungal attacks.
Kitchen Cabinet Material #3: MDF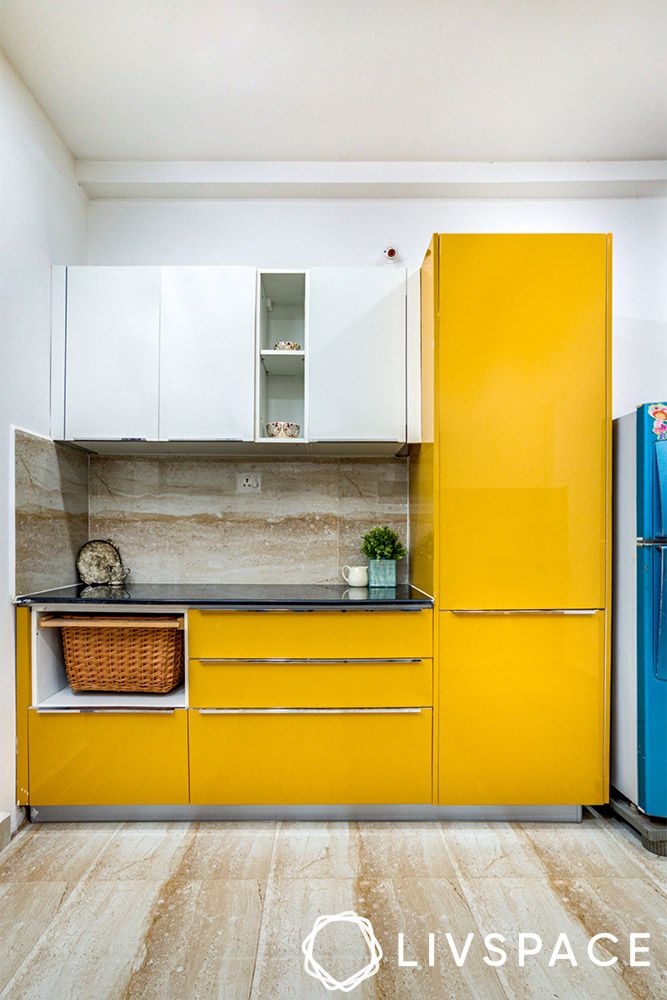 If you're wondering which material is best for kitchen cabinets when you're on a budget? The answer is MDF.
A Medium-Density Fibreboard is made of small wooden fibres glued together with resins and hot-pressed. This is a budget-friendly option and can have any finish fitted on top. Since this is an engineered wood, it has a better chance of resisting termites and has a smooth finish.
Pro-tip:
If you're going for MDF kitchen cabinets, you should still choose for BWR ply for the cabinets below the sink.
Kitchen Cabinet #4: HDFHMR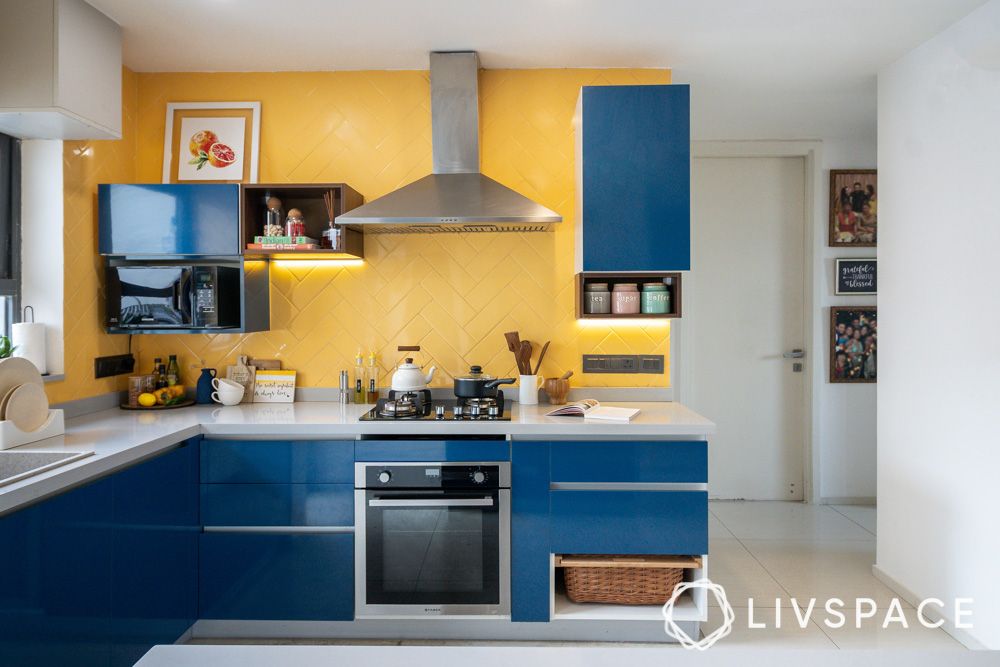 HDFHMR is costlier than MDF, but it has a higher resistance to moisture as well. Most homeowner prefer to use a combination MDF and HDF for best results in terms of quality as well as durability. In such cases, the carcass is usually made of HDF while the shutters are made of MDF.
Pro-tip:
If you live in a humid area, then it is best to use MDF instead of HDF to get durable furniture within your budget. However, in areas that are exposed to moisture for longer periods, like bathrooms, use a good waterproof grade ply itself.
Kitchen Cabinet #4: Particle Board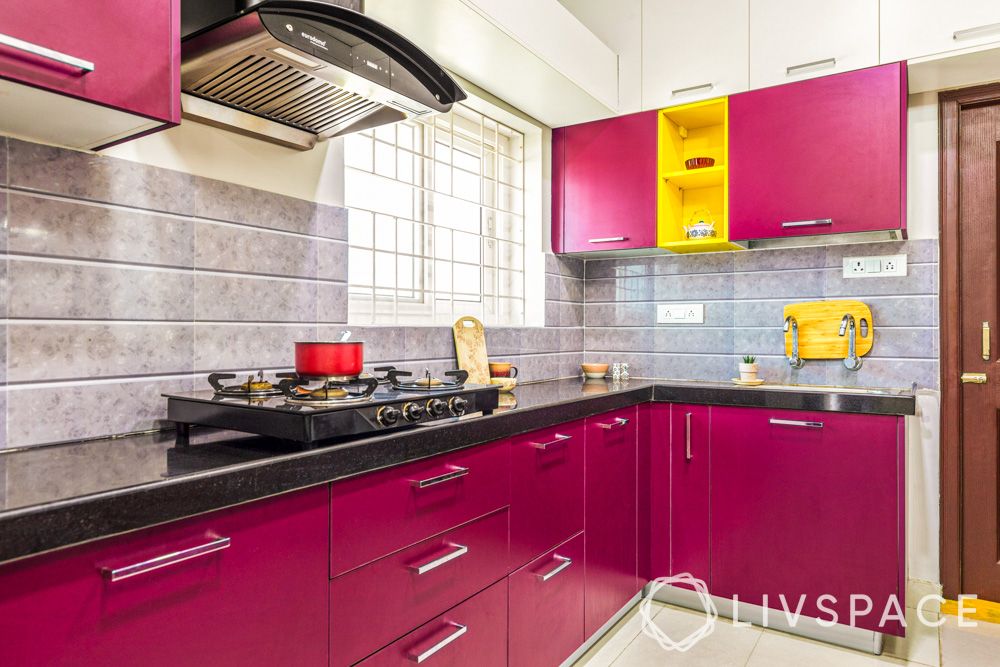 The cheapest material available in the market—particle board—is made from sawdust and waste wood, which is one reason why people question its quality. Since this kitchen cabinet material is not light, it cannot hold on to more weight. Hence, it is suitable where the kitchen is used for light cooking only.
Pro-tip:
Along with being economical, particleboard is also eco-friendly as it is made of the residue obtained in the manufacturing of other engineered woods, recycling the waste produced in these factories. If you are environmentally conscious, then this is the option for you. Additionally, these are also available in a variety of colours.
Cabinet Material for Kitchen #5: PVC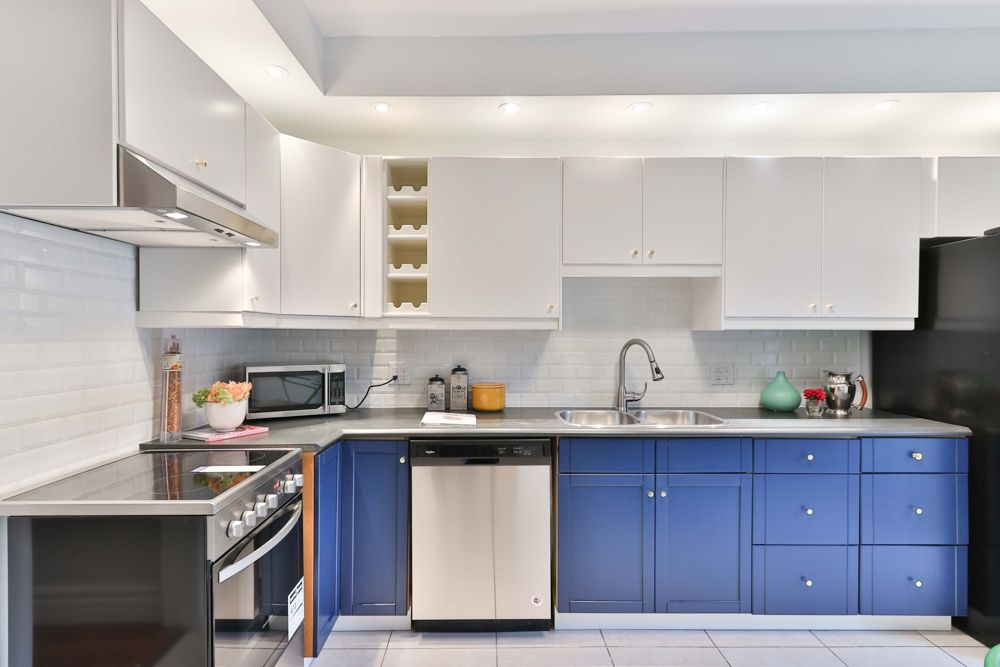 Another best pocket-friendly kitchen cabinet material is PVC, which is easy to clean and maintain. These days, PVC boards for kitchens come in two kinds: hollow boards and foam. While the former is heavier and sturdier, the latter is light and economical. The main advantages of PVC kitchens are that they are easy to fix and available in an array of colours. 
Pro-tip:
Choose foam board as it is sturdier and can hold more weight in comparison to hollow PVC boards. However, PVC is not as durable as other materials and should be considered only as a short-term solution. 
Also Read: All About PVC Kitchen Cabinets: A Comprehensive Guide With Pros and Cons
Latest Cabinet Material #6: Stainless Steel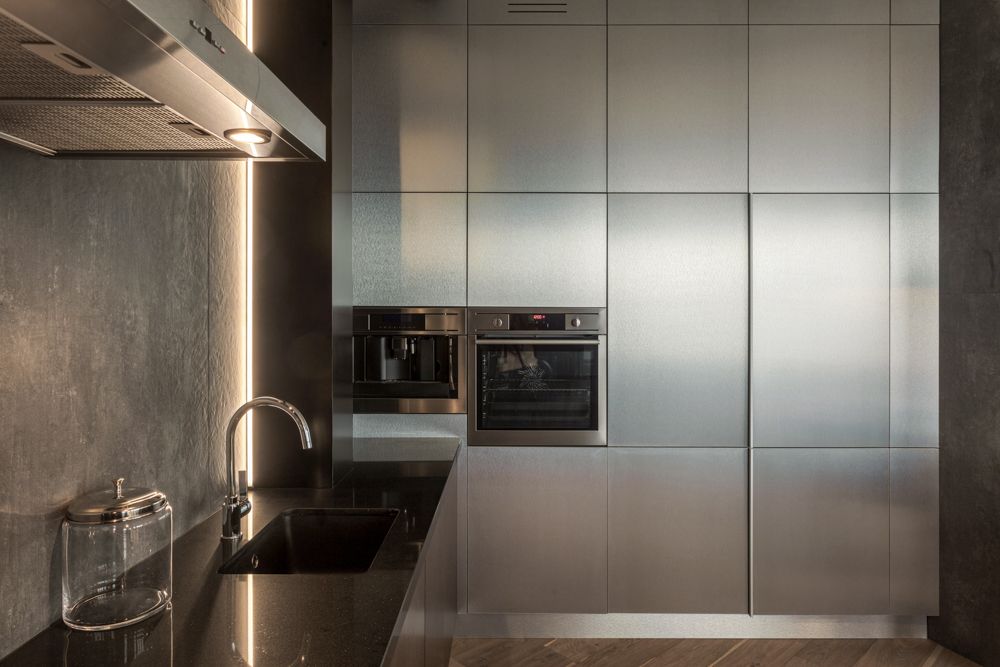 In the post-pandemic world, stainless steel is the latest material for kitchen cabinets and slowly penetrating the Indian market. It is because it can be modified to have antifungal and microbial properties. This makes them more durable, resistant to water and rust, and easy to clean.
Pro-tip:
If easy maintenance and a sleek look are your preferences, the stainless-steel kitchen is the best option for you.
| Material | Durability | Cost |
| --- | --- | --- |
| Wood | High | High |
| Plywood | High | High |
| MDF | Medium | Low |
| Particle Board | Low | Low |
| PVC | Low | Low |
| Stainless Steel | High | High |
What Are the Different Kitchen Finishes?
#1: The Durable and Economical Laminate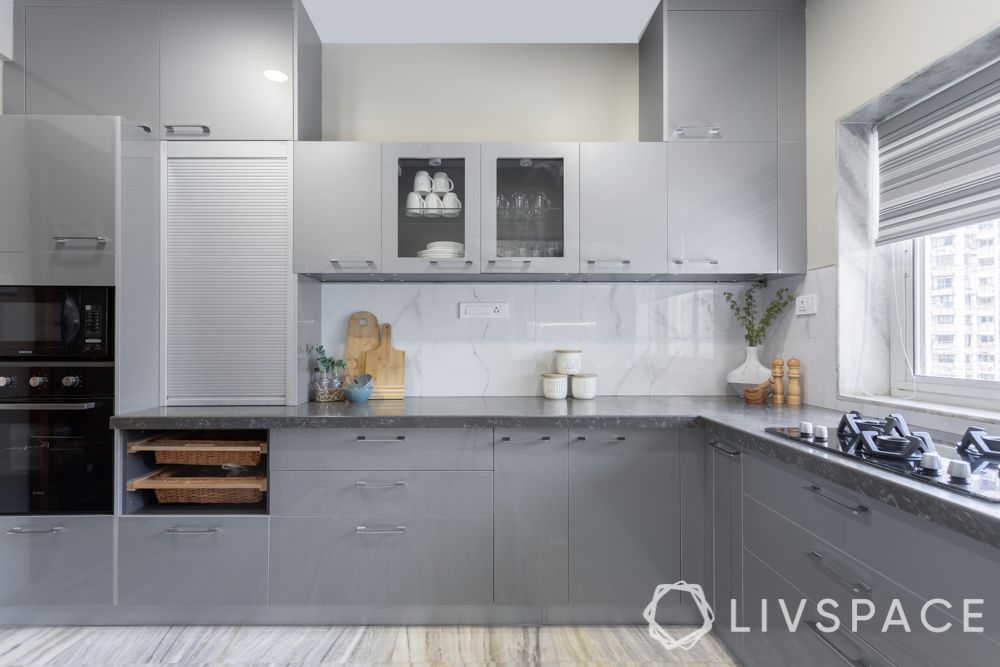 If you're looking for an enduring finish, then laminates come to your rescue and are also easy on the pocket. It is also heat- and moisture-resistant, making it the perfect match for a kitchen.
#2: Expensive Yet Stunning Acrylic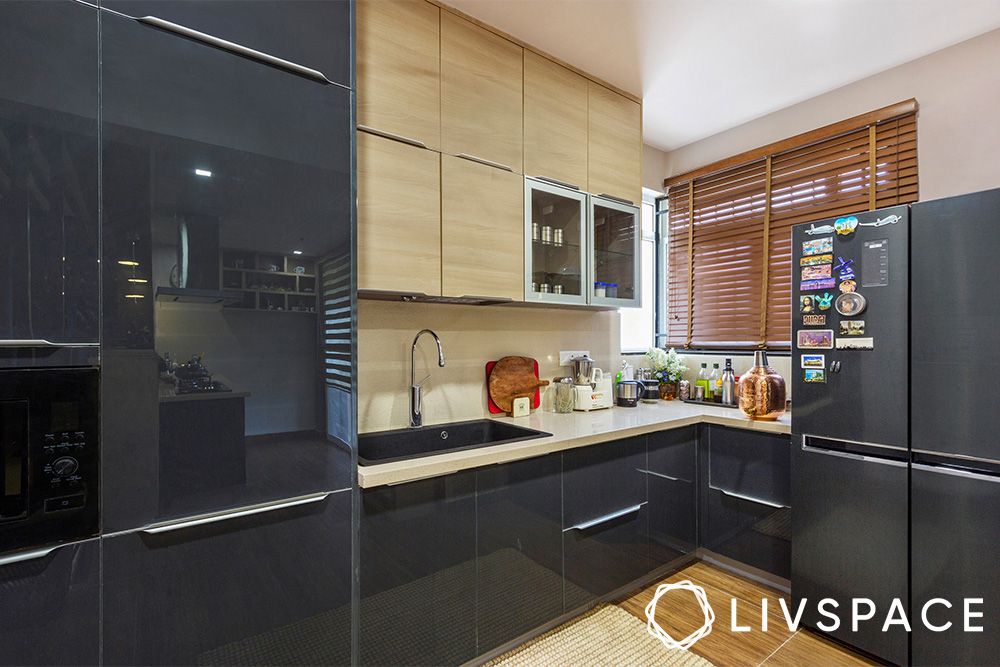 Want your kitchen to look stunning? Then acrylic finishes give it a luxurious touch with its glossy finish. However, this means that fingerprint marks, dirt and stains are more visible, and your kitchen cabinets will require regular cleaning. Also, this is an expensive variant in finishes.
Also read: Acrylic or Laminate: Which is the Best Finish for Your Kitchen Cabinets?
#3: Membrane, a Long-Lasting Option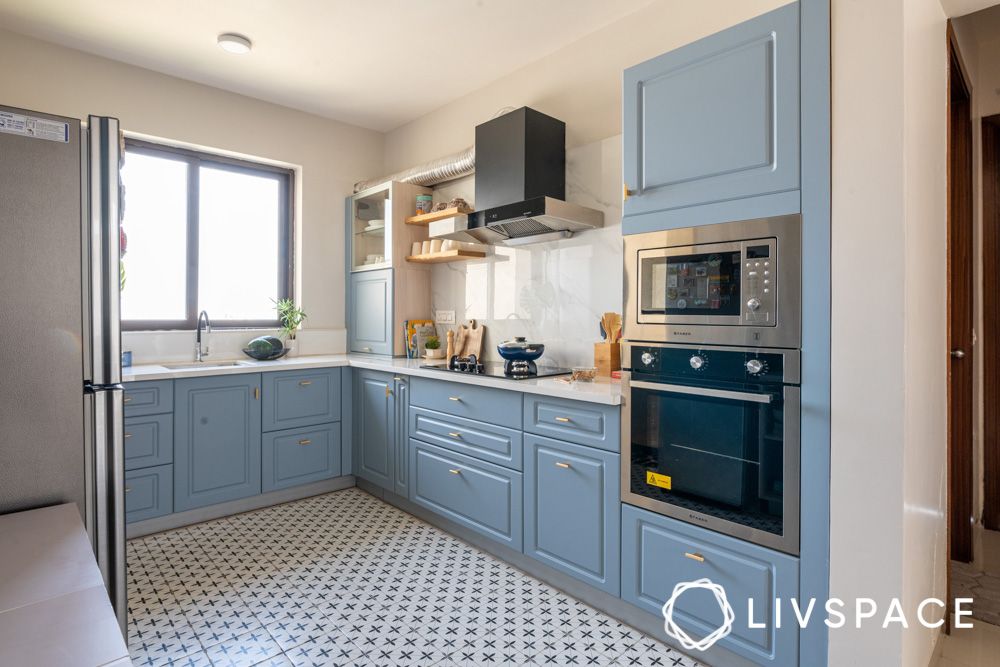 If you're looking for a mix of a durable yet elegant kitchen, membrane finish is a feasible option. It is hard-wearing and relatively easy to maintain. They are also easy to clean with a wet cloth and are not as expensive as an acrylic finish.
#4: PU for a Classy Look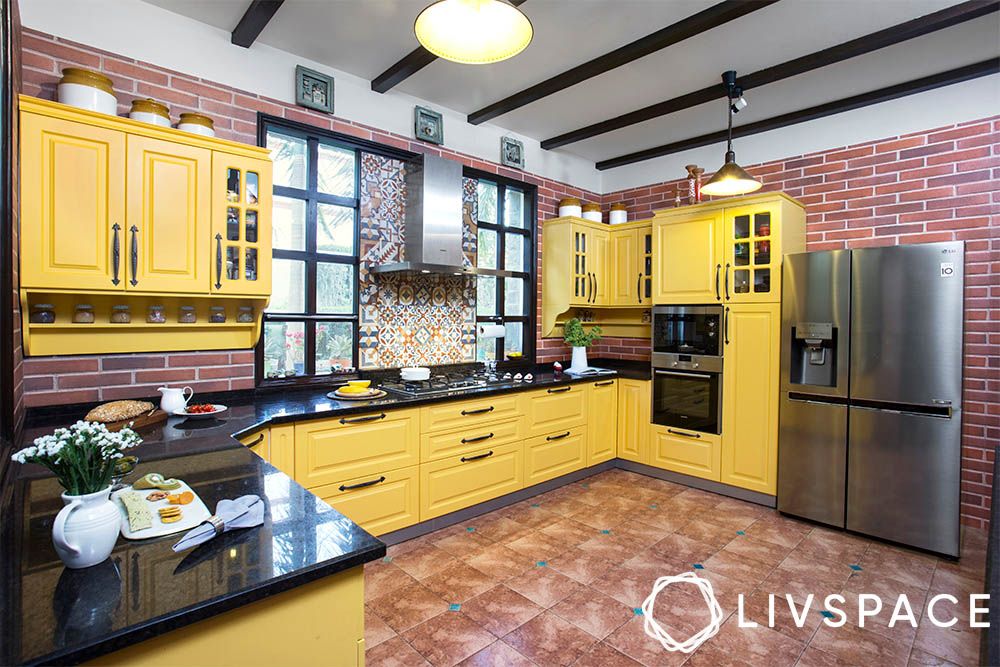 Not happy with the above choices? Not to worry, we also offer PU finishes for that classy look. PU finish is basically painted over the shutter and can be glossy or matte.
#5: Glass for a Brighter Kitchen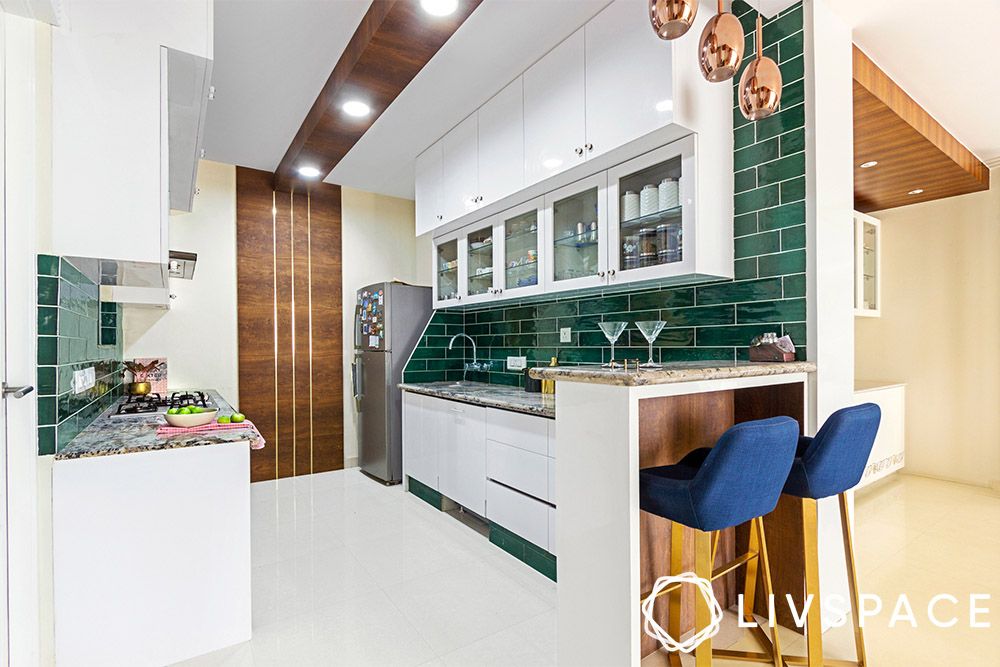 You can also opt for glass shutters in plain or frosted variants for a better view of your spices and groceries. This can make your kitchen look airy while easing your effort in cooking.
| Finish | Maintenance | Cost |
| --- | --- | --- |
| Laminate | Low | Low |
| Acrylic | High | High |
| Membrane | Low | Medium |
| PU | Low | Low |
| Glass | Low | Medium |
Also Read: A Master Guide To Kitchen Cabinet Finishes
If you liked reading this, you might even be interested to know all about acrylic kitchen cabinets.
How can Livspace help you?
The modular kitchen contains modules of different sizes and storage which are picked based on your requirement and the specification of your kitchen. Talk to our expert designers to get tons of options and quality kitchen interiors. 
Wondering how our customers feel about working with Livspace? You can check out the Livspace kitchen reviews here!
We love hearing from you! Write to us with your comments and suggestions at editor@livspace.com
Disclaimer: All contents of the story are specific to the time of publication. Mentions of costs, budget, materials, finishes, and products from the Livspace catalogue can vary with reference to current rates. Talk to our designer for more details on pricing and availability.
FAQs:
1. What Is the Best Material to Use for Kitchen Cabinets?
The best thing to do is to choose a combination of materials for kitchen cabinets, as this ensures you get a durable design with the best quality within your budget.
2. What Is the Most Common Material for Kitchen Cabinets?
The most common kitchen cabinet material these days is MDF for carcasses and laminate for finishes.
3. Is MDF Better Than Solid Wood?
MDF is more environment-friendly and cheaper than solid wood, but solid wood is far more durable.