Is it necessary to put so much thought into deciding your kitchen cabinet materials? Yes! After all, these kitchen cabinet materials form the foundation of a strong, modular kitchen. A modular kitchen is made up of separate modules which are assembled together on site. Which means, you can use different materials for different modules, for example:
The kitchen sink module can be made of BWR ply (boiling water-resistant) or BWP (boiling waterproof), while the rest of the modules can be made of MDF or HDF-HMR. That's because using BWR or BWP ply will make it water-resistant, whereas MDF or HDF-HMR will lend tensile strength and durability to the rest of the modular kitchen.
A Quick Overview of Modular Kitchen Components
Everyone wants a modular kitchen to simplify their cooking experience, and yet, how much do we know about these kitchens? Unlike traditional kitchens, they are made by assembling different modules together to fit the size and utility of the space. Thus, these can be manufactured at a factory and then assembled at home.
These modular kitchens can be dismantled and reassembled, as each kitchen cabinet is an individual module and not a single fixture.
There are many strategies that you can use to give your kitchen a makeover that suits your lifestyle as well as your budget. Here are some common materials and their properties to help you decide what's best for your kitchen cabinets.
What Is Each Module Made Of?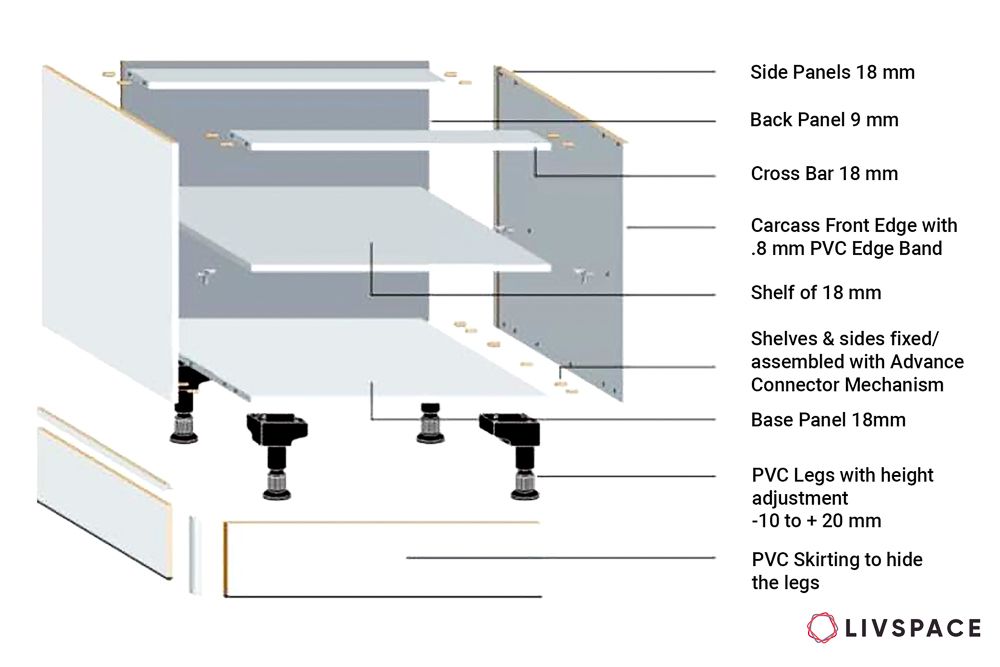 A carcass is basically the body of the module in which the top, bottom, back and side panels are joined with our mini fixes and dowels. It is to this carcass that shutters, hardware and hinges are added. The base modules for the kitchen come with PVC legs whose height can be adjusted. There is a skirting added to these base modules to hide the legs.
Now that we have broken down the parts of a cabinet, let's look at the list of common modular kitchen cabinet materials.
What Are the Different Kitchen Cabinet Materials?
There are different kitchen cabinet materials that you can choose for your modular kitchen, depending on their durability and your budget and lifestyle. While we at Livspace swear by HDF-HMR, MDF and plywood (you will see why below), let's give you an overview of all the kitchen cabinet materials you can choose from:
| Material | Durability | Cost |
| --- | --- | --- |
| Wood | Moderate | High |
| Plywood | High | High |
| MDF | High | Low |
| HDF-HMR | High | Moderate |
| Particle Board | Low | Low |
| PVC | Low | Low |
| Stainless Steel | High | High |
Kitchen Cabinet Material #1: MDF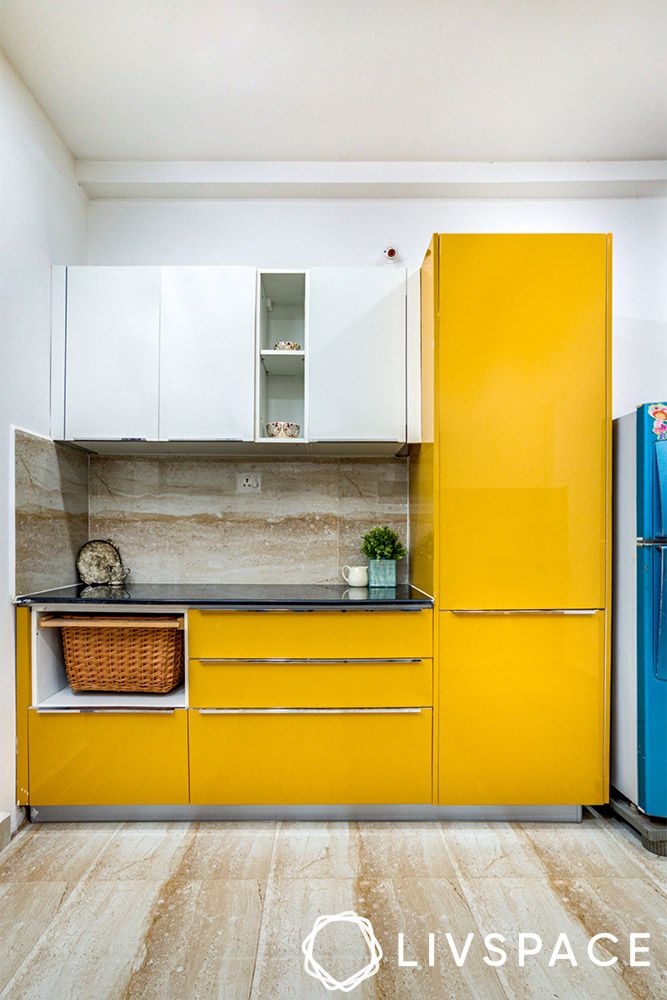 So, which is the best material for kitchen cabinets when you are on a budget? The answer is MDF or Medium-Density Fibreboard.
A Medium-Density Fibreboard is made of small wooden fibres that are glued together with resins and hot-pressed. This is a budget-friendly option and can have any finish fitted on top.
Since this is an engineered wood, it has a smooth finish. In fact, it is better than wood because it doesn't have knots or blemishes. It is also a homogenous material, and hence it is capable of having grooves or profiles. That makes it an ideal choice if you would like to opt for a traditional kitchen appearance.
We must also add that the MDF we use at Livspace can withstand moisture, thanks to our AquaBloc technology! As is the norm, MDF is used for all kitchen cabinets except for below the sink units and countertops.
A high-end MDF panel is sturdier and smoother than plywood or solid wood. Coupled with its affordability, it's a great choice for kitchen cabinets.
Kitchen Cabinet Material #2: HDF-HMR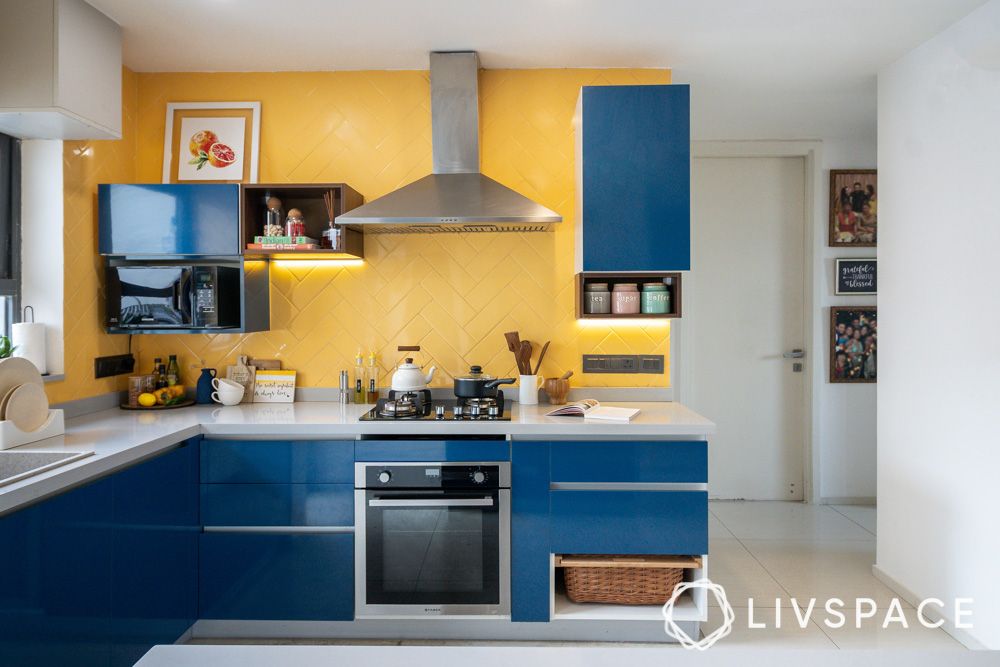 HDF-HMR might be costlier than MDF, but it has an even higher resistance to moisture. In fact, HDF-HMR or High-Density Fibreboard High Moisture-Resistance is mainly used in high-water intensity areas like the kitchen and the bathroom.
HDF-HMR, as a kitchen cabinet material, is stronger and denser than all other alternatives like MDF, wood or plywood. Plus, HDF-HMR ensures screw holding capacity of up to 10 times more than plywood.
Most homeowners prefer to use a combination of MDF and HDF-HMR for the best results in terms of quality as well as durability. In such cases, the carcass is usually made of HDF-HMR while the shutters are made of MDF.
At Livspace, we ensure that the back panels of all our modular products (kitchen, wardrobe and storage) are made of HDF-HMR (5.5 mm thickness). That's because the back panel is the closest to the wall, thereby being the most vulnerable to moisture. High density fibreboard, being moisture-resistant, ensures that the overall unit lasts for a long time.
Kitchen Cabinet Material #3: Plywood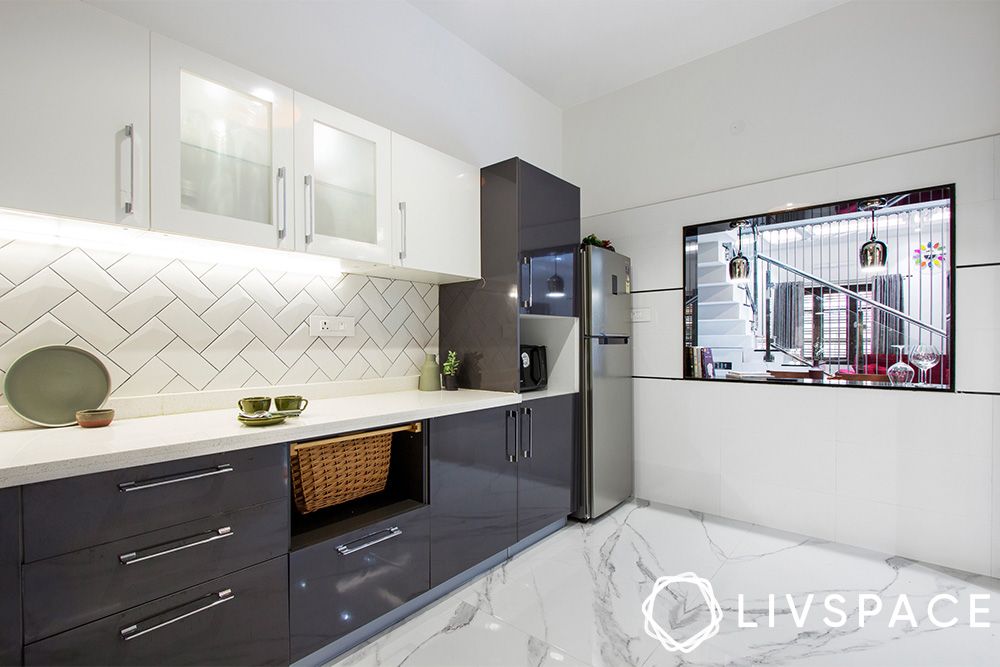 Plywood is engineered wood made from sheets of veneer stacked perpendicularly on top of each other. Though on the slightly expensive side, this has been the most preferred cabinet material in the kitchen due to its strength. If you are keen on going with plywood for your cabinet material, you might be interested to know the three plywood variants:
Boiling Water-Resistant Ply (BWR)
Boiling Waterproof Ply (BWP)
Moisture Resistant (MR) Ply
While BWR can resist moisture for up to 8 hours, BWP can stay moisture-resistant for up to 72 hours. You can opt for plywood kitchen cabinets if you stay in a place that gets flooded often.
If you don't, you can just use plywood for the areas that see a lot of moisture like below the kitchen sink units, or countertops. As plywood is heavier, it is never recommended for use in shutters. That's because the heavier the weight, the more the chances of the shutters getting dislodged.
It is not possible to carve or add grooves on plywood. When you finish a plywood with laminate or acrylic, the undulations are retained and your cabinets do not get a smooth appearance.
Cabinet Material #4: Solid Wood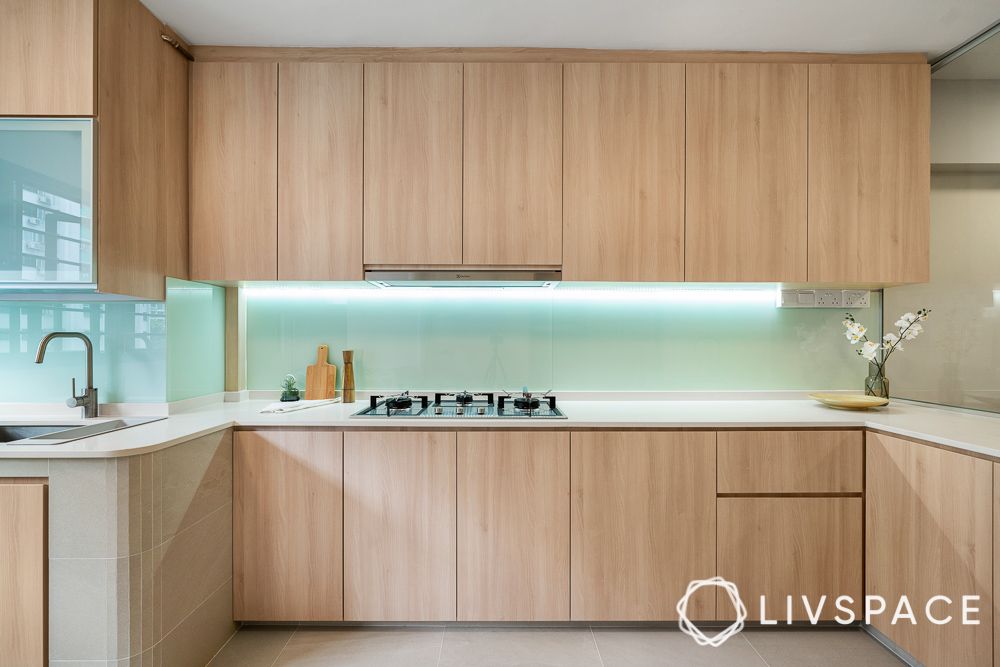 While traditionally used for kitchens, solid wood is no longer recommended by interior design experts to form the base of your modular kitchen. That's because exposure to moisture can make wooden cabinet materials swell or warp over time.
Looking for advantages of wooden cabinet materials? Well, they are sturdy and have a solid build when you can ensure that they stay miles away from water. Plus, each wooden grain is unique, so they can make your kitchen look amazing. However, these reasons aren't good enough to build a kitchen that can swell or warp in humid weather conditions or on prolonged exposure to water.
Kitchen Cabinet Material #5: Particle Board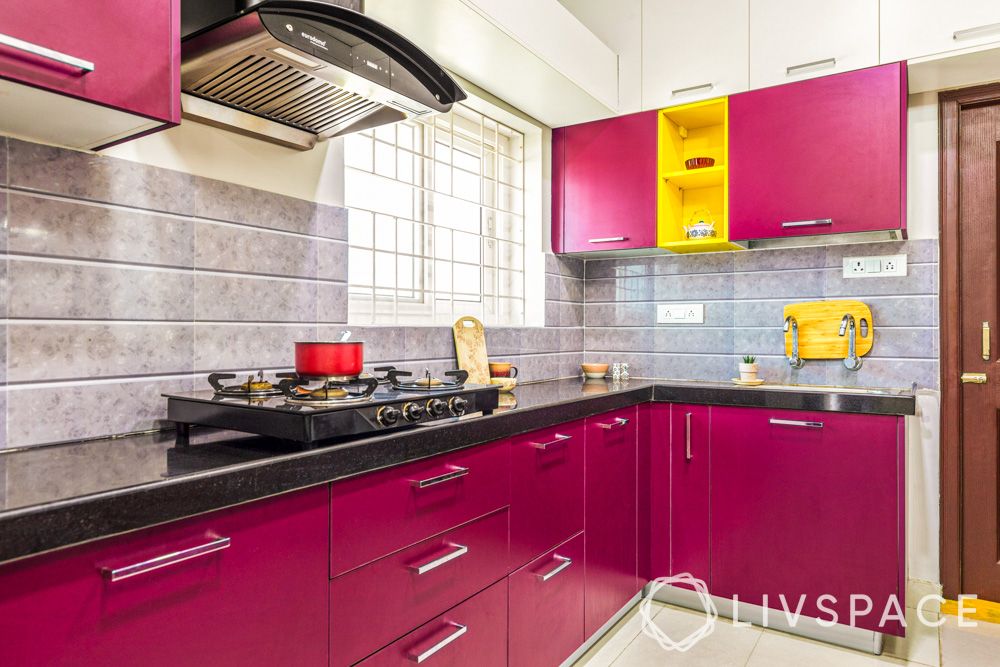 The cheapest material available in the market—particle board—is made from sawdust and waste wood, which is one reason why people question its quality. Since this kitchen cabinet material is not very sturdy, it cannot hold more weight.
Hence, you should ideally only use it to make shutters if you have budget constraints. However, we recommend that you always opt for superior materials like HDF-HMR or MDF.
Cabinet Material for Kitchen #6: PVC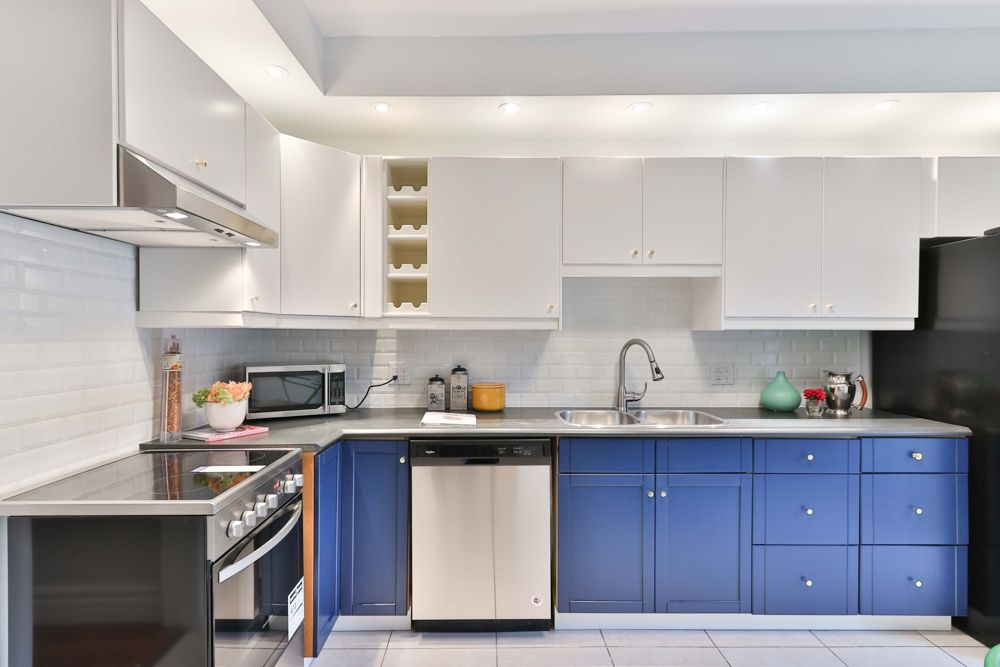 Another pocket-friendly kitchen cabinet material, PVC is easy to clean and maintain.
These days, PVC boards for kitchens are available as hollow boards and foam. While the former is heavier and sturdier, the latter is lighter and more economical.
The main advantages of PVC kitchens are that they are easy to repair, and available in an array of colours.
Choose foam board as it is sturdier and can hold more weight in comparison to hollow PVC boards. However, PVC is not as durable as other materials and it is not recommended for use in a busy and humid area like a kitchen.
Also Read: All About PVC Kitchen Cabinets: A Comprehensive Guide With Pros and Cons
Latest Cabinet Material #7: Stainless Steel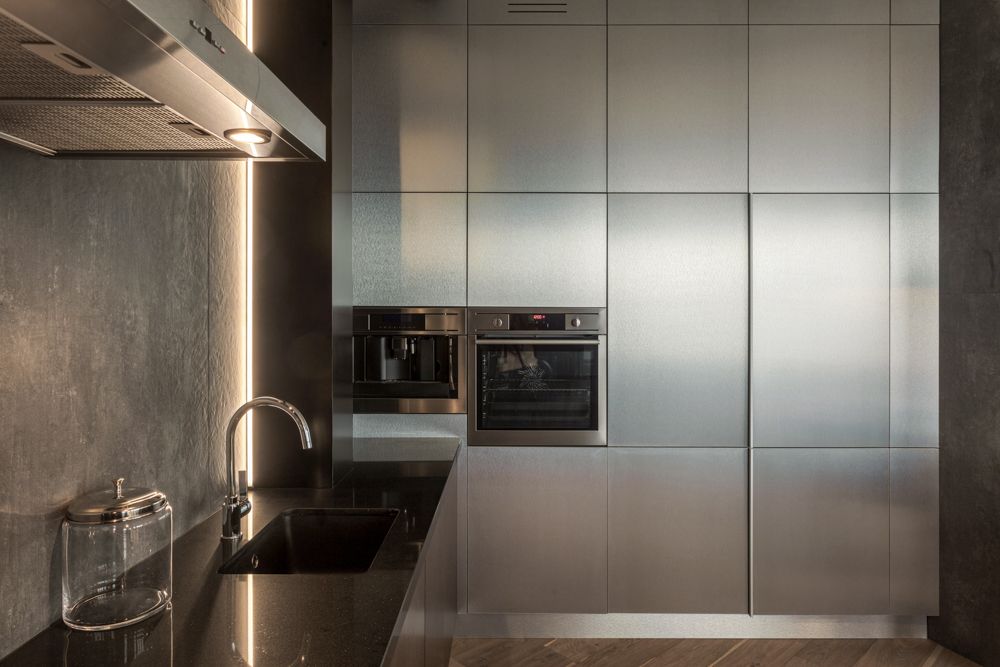 In the post-pandemic world, stainless steel is the latest material for kitchen cabinets that's slowly penetrating the Indian market. Stainless steel kitchen cabinets are durable, completely waterproof, and easy to clean. Typically, stainless steel kitchen cabinets are used in commercial kitchens, as they are meant for heavy-duty use.
What Are the Different Kitchen Finishes?
While choosing the right kitchen cabinet material is crucial to building a durable kitchen, opting for the right kitchen finish can help you seal the deal. Let's take a look at the different finishes available for modular kitchens:
| Finish | Maintenance | Cost |
| --- | --- | --- |
| Laminate | Low | Low |
| Acrylic | High | Medium |
| Membrane | High | Medium |
| PU | High | High |
| Veneer | High | High |
| Glass | Medium | High |
#1: Laminate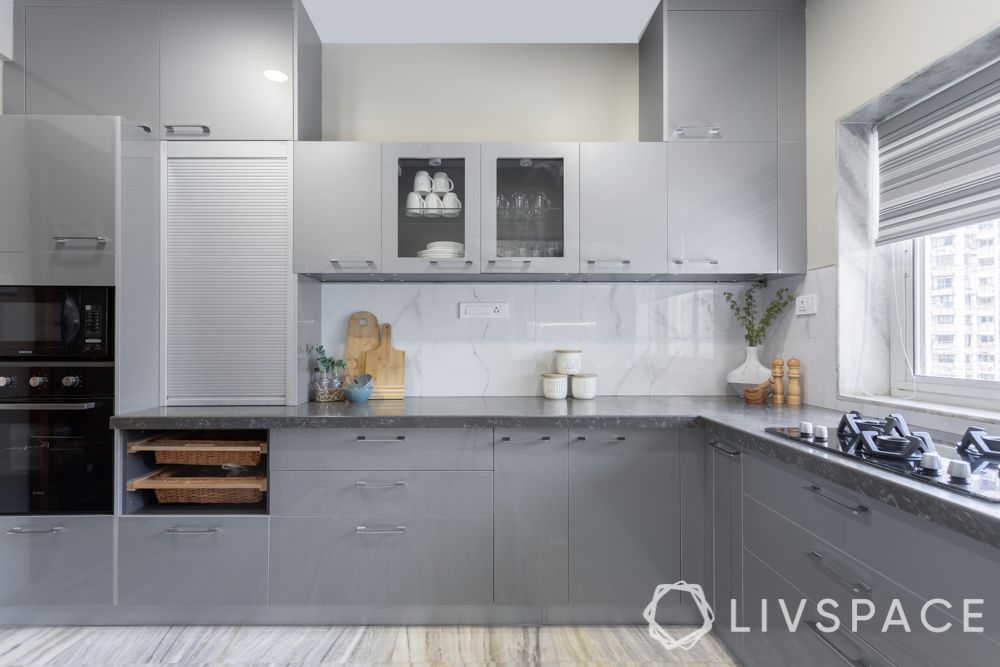 If you are looking for an enduring finish, then laminates come to your rescue. This finish is not only easy on the pocket but also moisture-resistant, making it the perfect match for a kitchen.
You can choose between matt, high gloss and textured laminates.
Price: ₹
Maintenance: Low
Usage: Kitchens, Wardrobes, Study Units, Vanity Units, TV Units, Pooja Areas
#2: Acrylic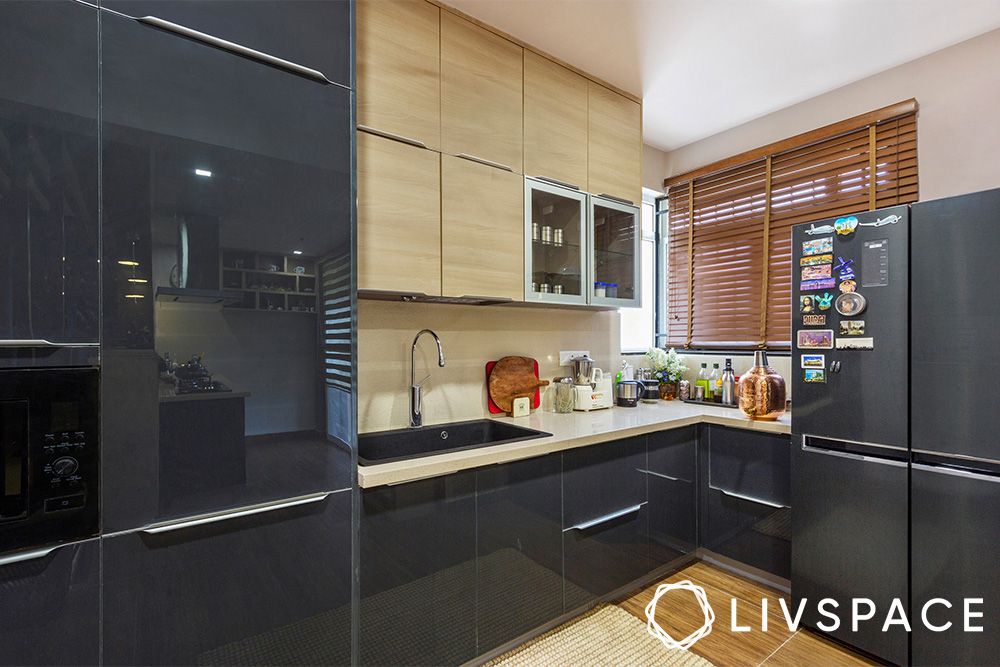 Want your kitchen to look stunning? Acrylic can give it a luxurious touch with its glossy finish. However, this means that fingerprints, dirt and stains are more visible, and your kitchen cabinets will require regular cleaning. Also, this is an expensive variant in finishes.
The acrylic finish is a lightweight, scratch-resistant alternative to glass, with mirror-like reflective qualities.
Price: ₹₹₹
Maintenance: High
Usage: Kitchens, Wardrobes and Storage Units
Also Read: Acrylic or Laminate: Which is the Best Finish for Your Kitchen Cabinets?
#3: Membrane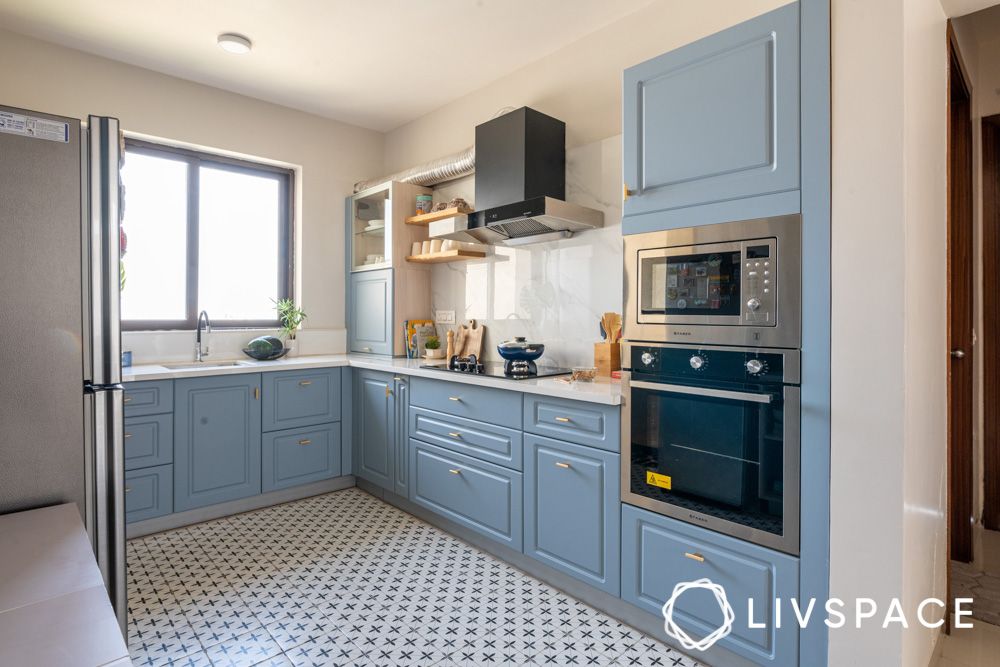 If you are looking for a mix of a durable yet elegant kitchen, the membrane finish is a good option. It is hard-wearing and relatively easy to maintain. It is also easy to clean with a wet cloth and not as expensive as an acrylic finish.
It is a highly mouldable finish that wraps around the core material with the help of a high vacuum pressure. Due to this, it is ideal for panels that have grooves and designs.
Price: ₹₹₹
Maintenance: High
Usage: Traditional-looking Kitchens and Wardrobes and TV Units that have grooves
#4: PU Paint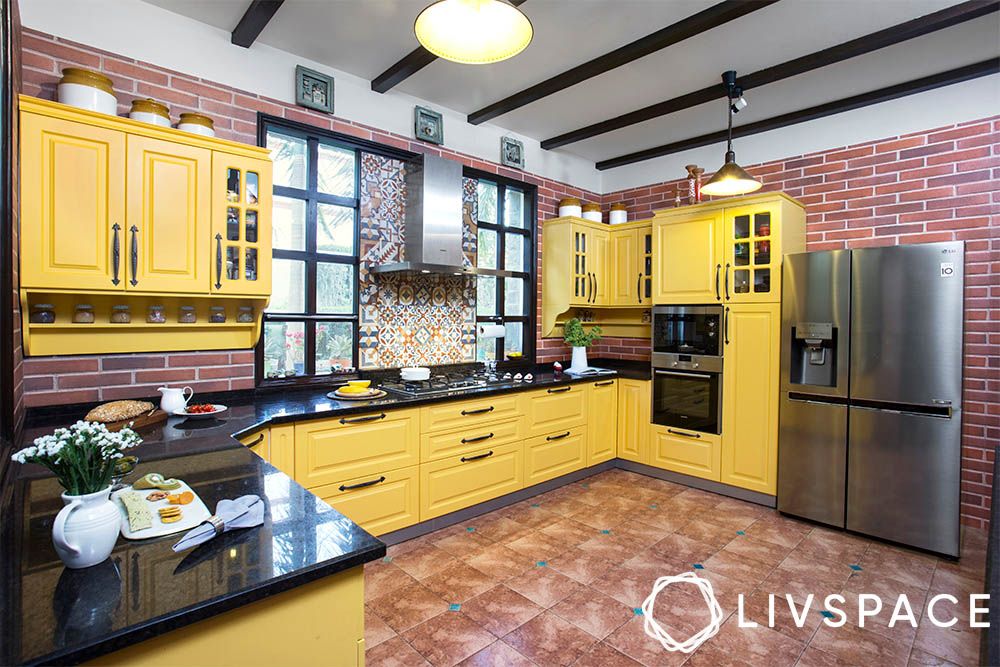 Not happy with the above choices? Not to worry, we also offer PU finishes for that classy look. PU finish is basically painted over the shutter and can be glossy or matt.
It is a high-end sophisticated finish that is smooth, long-lasting and can push up the premium quotient of your home interiors instantly.
Price: ₹₹₹₹
Maintenance: High
Usage: Kitchens, Wardrobes and Storage Units
#5: Veneer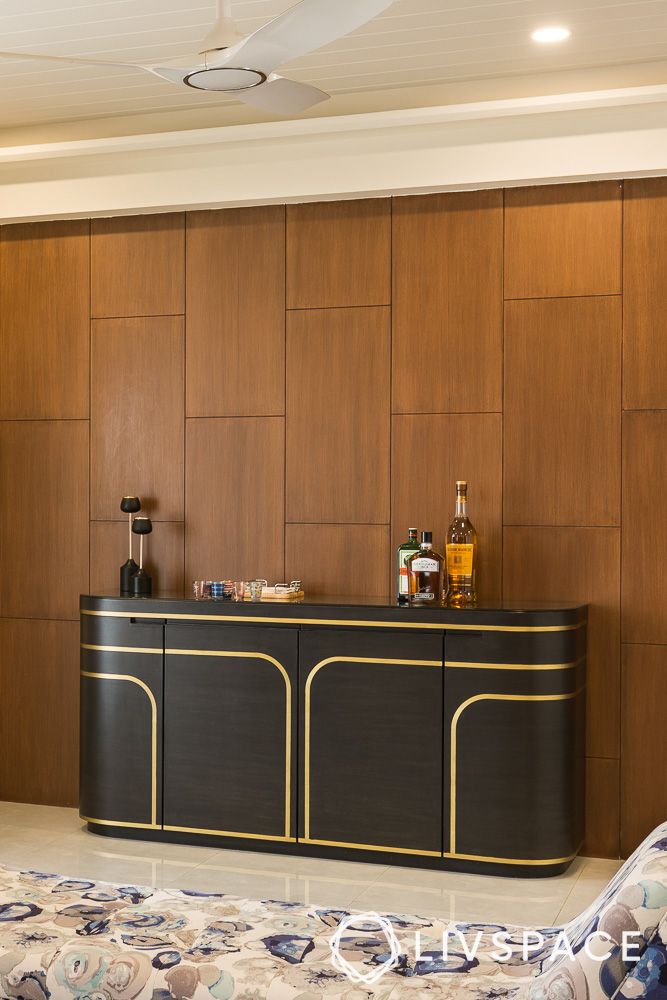 It is a thin layer of natural wood which is cold-pressed onto the surface of the core material using strong adhesives.
Every sheet of veneer has unique grains, which can help lend a striking look to your kitchen cabinets.
Price: ₹₹₹₹
Maintenance: High
Usage: Wardrobes and Storage Units
#6: Glass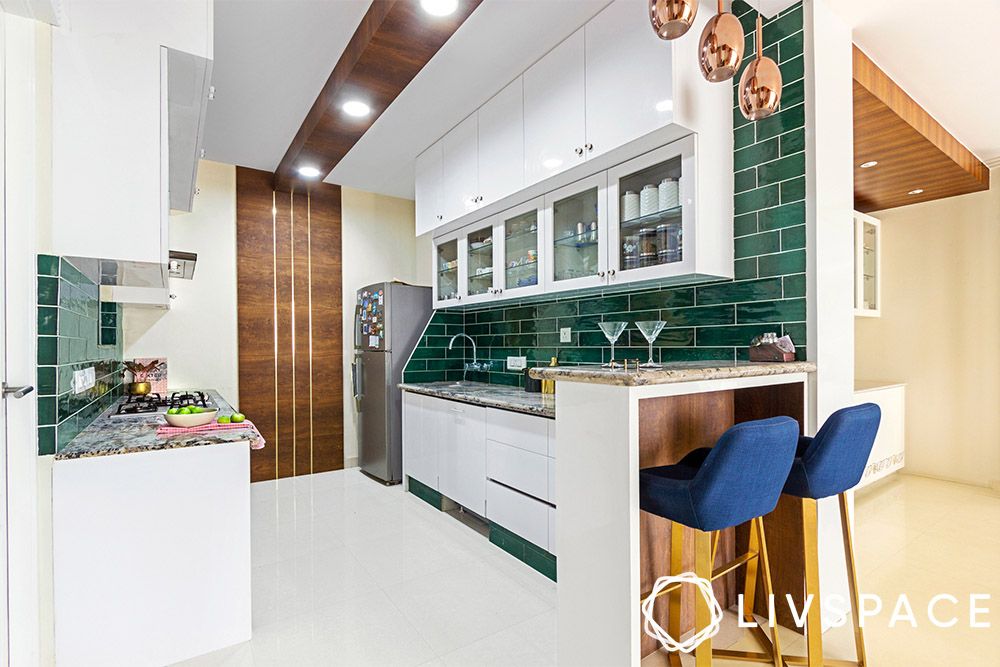 You can also opt for glass shutters in plain, fluted or frosted variants for a better view of your spices and groceries. This can make your kitchen look airy while making your cooking more effortless.
Price: ₹₹₹₹
Maintenance: Moderate
Usage: Wall Kitchen Cabinets
Also Read: A Master Guide To Kitchen Cabinet Finishes
How Can Livspace Help You?
The modular kitchen contains modules of different sizes and storage, which are picked based on your requirements and the specification of your kitchen. Talk to our expert designers to get tons of options and quality kitchen interiors.
Our kitchens come with a 10-Year Warranty
All our modular products are precision-engineered in factories
Plus, they are powered with superior technologies that keep air bubbles and moisture away
We love hearing from you! Write to us with your comments and suggestions at editor@livspace.com
Disclaimer: All contents of the story are specific to the time of publication. Mentions of costs, budget, materials, finishes, and products from the Livspace catalogue can vary with reference to current rates. Talk to our designer for more details on pricing and availability.
At Livspace, we offer MDF, HDF-HMR and plywood as materials. As for finishes, we offer laminates, acrylic, membrane, PU paint, veneer and glass.