Here's the truth: if you are rummaging through the entire shelf or kitchen cabinet just to find a pan, you need to reconsider your kitchen cabinet organisation plan.
But don't fret, it is extremely doable!
Every item has its place in a kitchen and finding the right spot for it can make your cooking experience enjoyable. Therefore, organising cabinets can make storing, meal prepping and cooking much easier. Which also means that less time gets wasted trying to find utensils and other items.
Why should you organise your cabinets?
Kitchen cabinet organisation will help with easy access to dishes and groceries.
Once you have everything in place, it's less time consuming to look for pots, pans and ingredients.
Moreover, since you have a clear view of everything in your pantry, you will end up saving on buying groceries that you already have.
Lasty, an organised kitchen is clutter-free and can streamline the cleaning process.
Let's start over and reorganise your cabinets together
Step 1: Empty your cabinets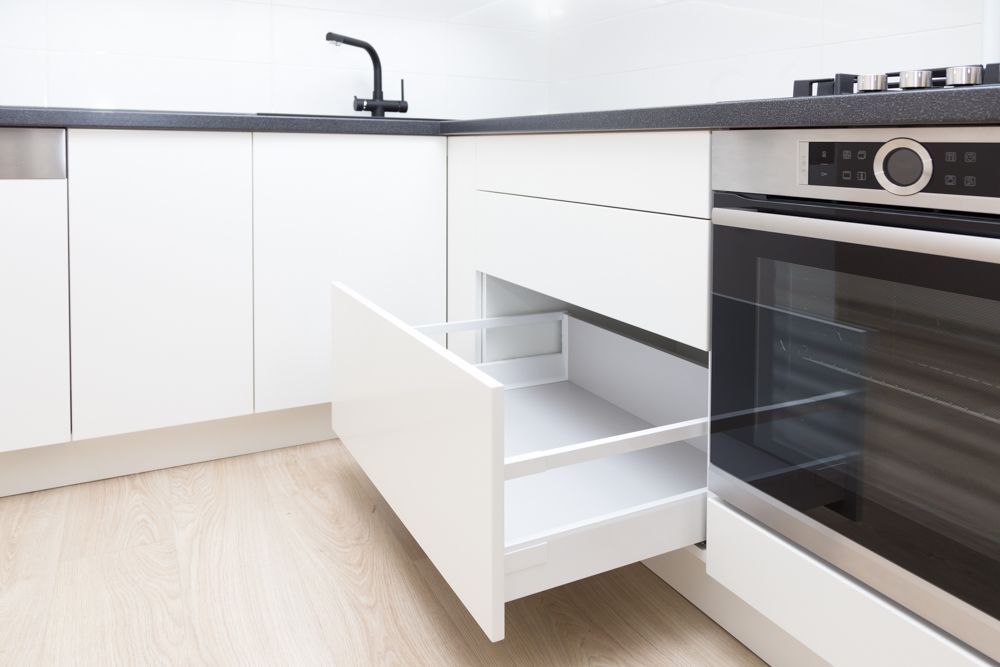 Reach out to your inner Marie Kondo and empty all your kitchen cabinets. This will help you figure out what appliances and items you have and if they're of any use to you. Once items are taken out and cabinets are decluttered, get down to discarding unwanted items. Separate them into piles of:
Step 2: Identify your layout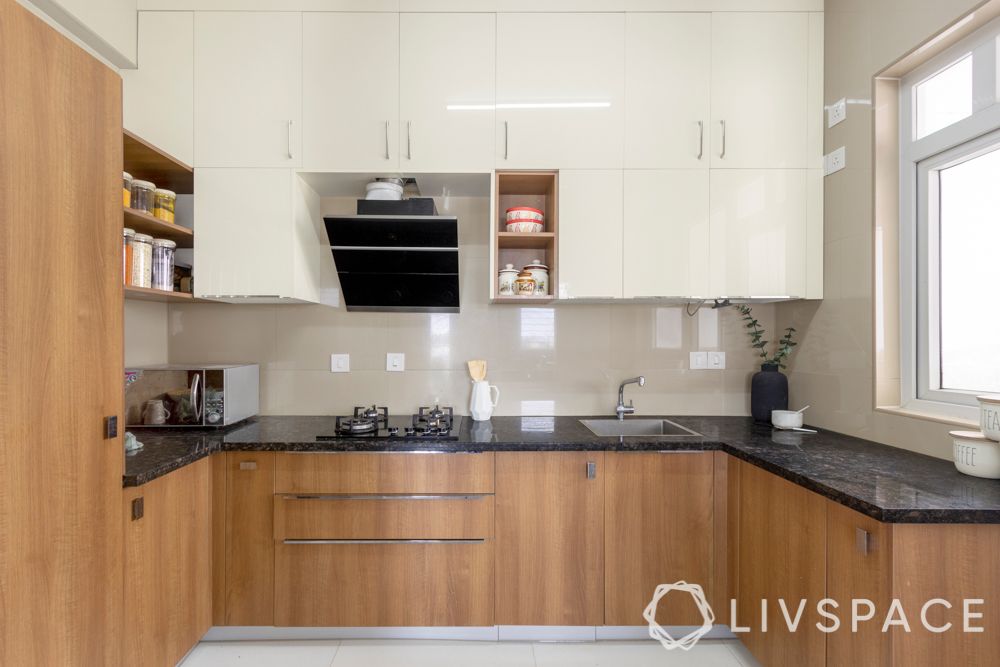 Not all kitchens are built the same. However, cabinets are prime real estate here. Therefore, it's important to listen to your layout. A great way to sort out a kitchen of any size or layout is to plan it by its golden work triangle.
Sink: Assign cabinets overhead this zone for daily use plates and glasses so you can do the dishes and put them away.
Prep zone: The prep zone is the work area of the golden triangle. It is meant for tasks like cutting, chopping, measuring and mixing. It is usually situated near the fridge for easy access. Assign cabinets in the prep zone with storage containers and lids. You can also store packed groceries here.
Cook zone:The cook zone is one of the main areas of the kitchen where all the action takes place. Subsequently, it includes cooking appliances, the hob, ovens and a chimney. Assign the maximum amount of storage in the cook zone for cooking utensils, oils, spices and dry ingredients like sugar, flour, salt, etc.

Step 3: Bring in kitchen accessories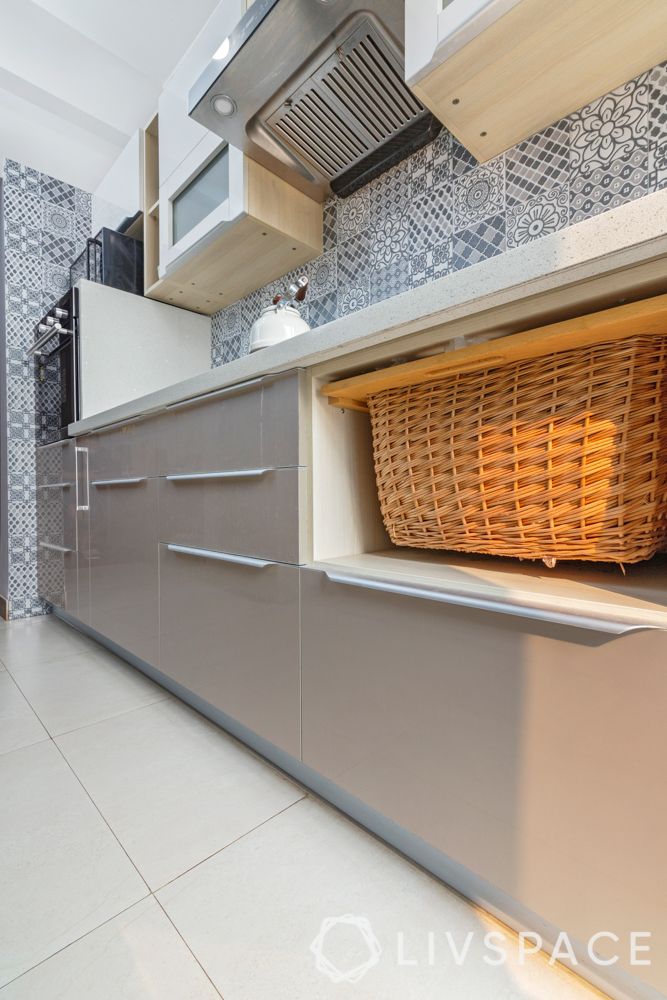 A definite way of avoiding any chaos in the kitchen is to invest in practical accessories for kitchen cabinet organisation. While kitchen accessories are not essential, they are a sure shot way of ensuring a seamless cooking experience for a compact kitchen. Take a look at this list of kitchen accessories you can opt for. Our favourites are:
Cabinet organiser
Pull-out cabinets
Cutlery trays for drawers
Wicker baskets for vegetables
The neat freak in you will thank us for this 'Amazon' list full of useful kitchen accessories.
Step 4: Arrange items into cabinets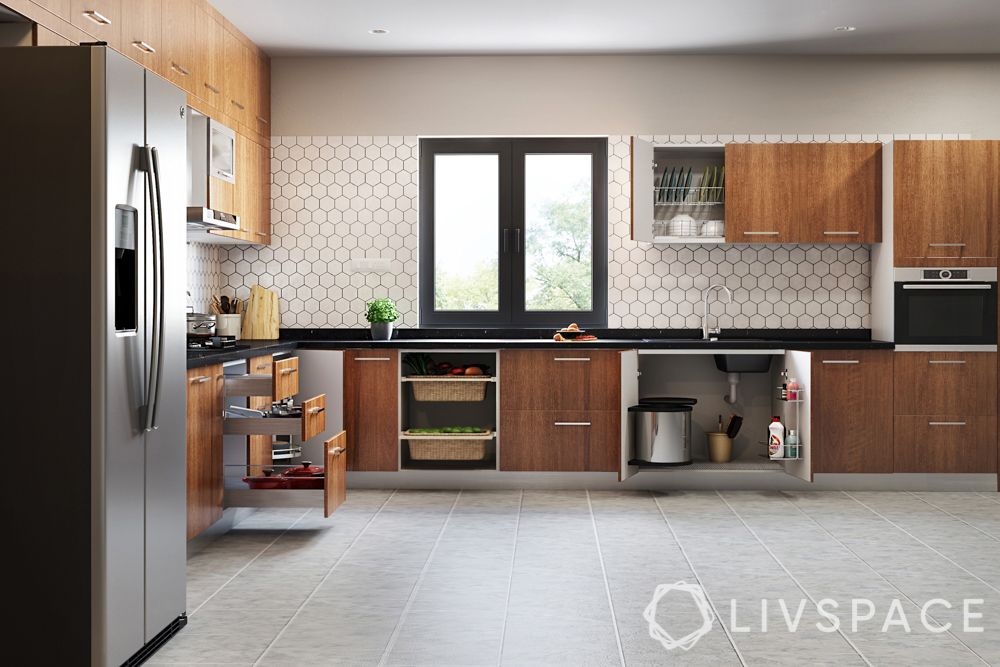 Take a good look at what needs to go into your cabinets. As a rule of thumb, always place frequently used items in cabinets and store away rarely used appliances in lofts. Subsequently, it's important to keep food, crockery and cleaning supplies in the right place to avoid mold formation and cross contamination. Take a look at this guide to help you categorise items into cabinets.
Install your spice rack to an overhead cabinet that is close to your hob
Store dry, packaged food in overhead cabinets
Place coffee mugs, glasses and crockery in a convenient spot near the sink
Oils need to be kept away from light, heat and air. Subsequently, store them in wall cabinets to preserve them for longer
Assign a drawer or two for cooking cutlery like spoons, spatulas, whisks, etc
Store away appliances that are used on a daily basis like blenders, electric kettles, etc
Assign the sink drawer for cleaning supplies and a dust bin
If you have the provision for it, assign hob's lower cabinet for a gas cylinder
Step 5: Stay organised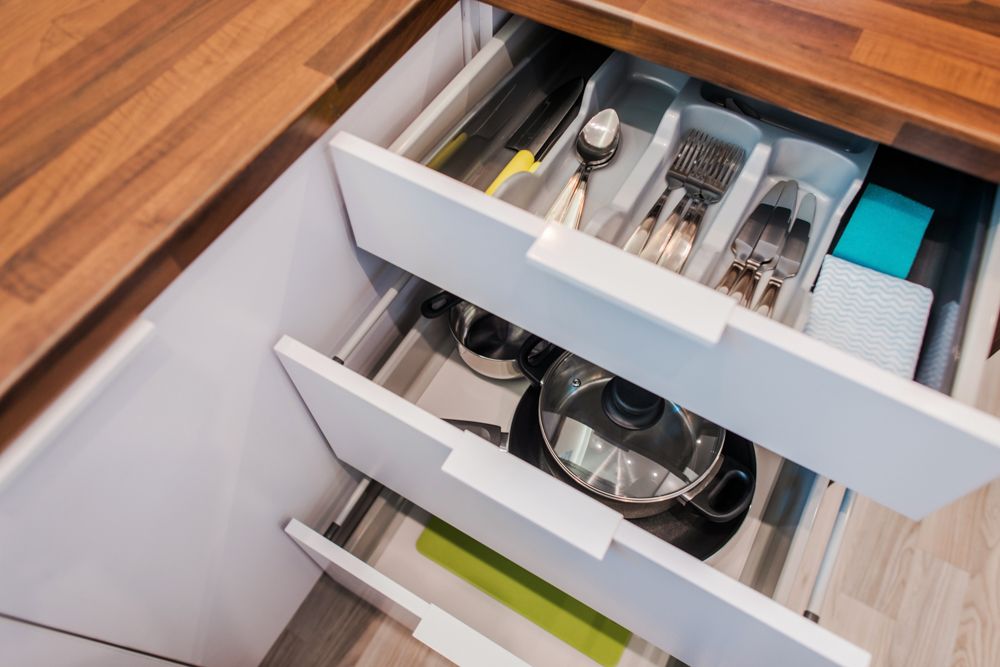 As one of the most used rooms in a house, this space is bound to get untidy and cluttered soon. Here's the right way to clean your kitchen, break up your cleaning tasks into daily, weekly and monthly tasks to avoid having to give into a 3 hour cleaning and kitchen cabinet organisation session at the end of the month.
Daily
Wash dishes as soon as they start to pile up or after every meal
Organise spoons, forks and knives into cutlery trays
Wipe down the countertop and stove
Give the sink a wash
Wipe spills as they happen
Weekly
Clear out the pantry and fridge of expired food items
Clean the microwave
Disinfect countertops, sinks and faucets
Replace and wash dish towels and rags
Monthly
Get rid of expired packaged food items
Clean out the fridge and pantry
Similarly, organise cabinets and drawers
Buying Groceries in Bulk? Increase Kitchen Storage Space with These Expert Tips to make the most of your space!
Have something more to add? Write to us at editor@livspace.com.